American Airlines
Contact American Airlines Corporate
Toll free phone number: 817-863-1234
---
American Airlines is a Fort Worth, Texas based airline and is one of the top two airlines in the world. After its merger with US Airways in 2013 it now trades on NASDAQ:AAL. The AA fleet is over 939 with over 6700 flights daily to 350 destinations in 50 countries. Third quarter earnings in 2015 were reported as over US 1.7 billion. Employees numbered over 113,000 in 2015.
If you have a problem with your American Airlines flight you are not alone. The best customer service phone number to call for help is 1-800-433-7300. If you are an AAdvantage member call 1-800-882-8880. Find helpful numbers here. If you would like to contact CEO, Doug Parker, you may address a postal correspondence to him with American Airlines, 4333 Amon Carter Blvd., MD 5675, Fort Worth, Texas 76155. The corporate phone number is 817-963-1234.
From its beginnings in 1930 as American Airways it was a consolidation of over 80 small airlines. It officially became American Airlines in 1934 and moved headquarters to Texas in 1979. The C.R. Smith Aviation Museum is operated by American Airlines as well as a Texas based flight academy. Social presence may be found on Facebook and Twitter.
American Airlines Contact Information
Report complaints to corporate and get satisfaction
American Airlines headquarters address

AMR Corporation
Fort Worth
TX 76155
United States

Company website

1-800 phone number

817-863-1234

Support email address

support@aa.com

Better Business Bureau rating
Browse reviews of other Airlines
Top American Airlines Complaints
Browse more than 427 reviews submitted so far

Mrs. T J Cottrell
from Bellevue, WA
On August 2, my family flew on AA Flight 530 from Seattle and experienced a layover in Philadelphia. We arrived at 6:06 AM on the morning of August 3 and made our way to our connecting flight 4855. A delay was explained as bad weather in Albany, NY. We checked and the ceiling in Albany was 12,000 feet. Then we were told of another delay. After waiting more time, we were told unceremoniously that the flight to Albany was cancelled. We could be wait-listed for the 9 PM flight that night.
My daughter and son-in-law decided it was best to take their toddlers and rent a car to make the trip north. Imagine being in the car all day with 2 toddlers from Philadelphia to Albany. Unable to rent a car one way to Albany and unsure how many days we would be stranded in the Philadelphia airport my husband and I decided to take the train. We were told to go downstairs and wait for our luggage, for which we had paid $25.00 for each suitcase. After 1 1/2 hours we were told that one bag was already on its way to Albany, the other was still being retrieved from the plane. At 2 hours I checked again and was told that both pieces of luggage were already in Albany.
Again, we could be waitlisted for the 9 PM flight for which there was already a long waiting list because the flight from the day before had stranded a number of passengers overnight at the airport. We thus chose to take the train into Philadelphia, proceeding to Penn Station and thence to Albany. It was an all day trip but we made it to Albany by 6 PM. Then we had travel from the train station to the airport to retrieve our luggage. (My daughter's family's reservations for the return trip from JFK on Monday, Aug 8 was cancelled without any notice from American.. They arrived at the airport to learn that just before boarding. Imagine their frustration with 2 toddlers to take care of).
My husband and I are petitioning for a refund on our luggage checked baggage fee ($50.00) plus the cost of our train fare, ($164.90). And we feel that we should be refunded for the Philadelphia - Albany leg of our trip. If there is no response to my letter I intend to contact my Washington State Senator who is on the Transportation Committee in the US Congress.

Valerie Henriquez
from Dallas, TX
I was scheduled to depart from LGA to DFW on a 6pm flight. Due to weather conditions the flight was delayed to 6:50pm, than 7:15pm, 9:30pm, 10:50pm, than 10:20pm. This kept going on al day, which resulted to me staying at the airport all day. After 12:00am the flight came in, and the passengers were informed the flight was cancelled due to illegality (In other words, the flight attendants are exhausted and opt not to fly to Dallas). Understandable.
However there was no courtesy provided to the customers who camped out at the airport all day. At one point we were told American Airlines are attempting to call other flight attendants (which never happened). We were then told the flight has been rescheduled for 7:30am on 02/16. No only were there no accommodations (hotel vouchers). we were told due to security reasons, we have to exit the gate and sleep outside of TSA.
It was absolutely humiliating to treat a customer this way. There was a lack of service and in most cases the customers were made to feel it was our fault. There was a lack of information, provided to the customers, and the manager "Sue" was less than helpful. There were customers on wheelchairs sleeping on the floor. I have always been prideful to fly American, and it is absolutely disappointed to have experienced this kind of treatment.

Sandra McDougall
from Calgary, AB
My husband Richard and I were booked onto flight 2806 out of Yuma flying into Pheonix. We had a e-ticket with assigned seating, which we had paid extra for by the way. We were at the Yuma airport by the designated time that your website had stipulated. We stood in line at the airport for 45 minutes and were second in line when half an hour before the flight was scheduled to leave your front counter staff shut everything down so that they could now become the ground crew. In the time that we stood in line a woman wearing a supervisors badge came out and talked to her staff for a moment then left and went in to the back leaving all of us standing in line, which there where approximately 16 of us. One of your front counter staff spent 20 minutes with a passenger will the passenger talked to someone on the phone instead of letting other people get booked in. We were than left to stand in line for another hour before anyone one would even talk to us again.
We were put on a standby list for the next flight which had already been over sold. The passengers who were over sold on that flight were given $600.00 and booked on another flight and were still standing in line without even being offered so much as a cup of coffee! Naturally we were not able to get onto that flight after we had stood in line for an hour to be put on standby and another 20 minutes to get through security and now had to stand in line for another half an hour to be put on standby for the next flight and another 20 minutes for the security line to again not be able to get on the flight. And once again could not get on a flight and had to stand in line for half an hour to get another standby ticket and another 20 minutes in the security line.
When I received my standby thicket this time I asked if we could have a lunch voucher as it was now 2:00 p.m. and was told you do not give out vouchers. We were finally able to get out of Yuma on this flight but of course our connecting flight to Calgary, Alberta had left the Pheonix airport at 10:00 a.m. and we were now on the 8:05 p.m. flight. We arrived at the Calgary airport, which is home at midnight when we should have been home at 2:42 p.m. I found your staff to be rude and uncaring. I am a manager in the food industry and I am appalled at the treatment and service that we received, if any of my staff would have treated one our customer in this manner they would be fired on the spot and that customer at the very least would have had their meal for free and offered a complimentary bottle of wine. I would appreciate a reply to this complaint.

Kim Lynam
from Des Moines, IA
Cancelled flight after sitting at airport for 5 hours! I was told at one point "we all have problems!" Also one lady told me after I said I had been up since 3:30 she had been up since 1:30! I told her she was getting paid and I was suppose to be on vacation! We missed our appointments in Phoenix and were not compensated at all. They could at least buy our lunch! I called customer service 3 times. One lady named Ashley from Charlotte was the only nice one.

I am writing this letter to express how disgusted I was with the Customer Service on my recent trip on American Airlines. Departing JFK was a complete nightmare. The flight was originally suppose to depart at 5:05 pm, Thursday, September 22, 2011. Upon arriving to the airport I checked the flight board and saw that my flight was scheduled to depart on time without any delays. Boarding the flight went smoothly until it was time to depart. We were sitting on the plane for an hour without any explanation from the pilots or flight attendants.
It's not until several passengers began to notice that we had not moved from our original spot that they began to stand up and ask questions. The pilot finally announced that due to weather that one runway was being used and we would depart.
The flight attendants service below average. I could not believe that on a flight from JFK to LAS would run out of beverages and snacks. Not to mention I was more appalled that American Airlines did not offer complimentary snacks but were selling snacks (that were sold out as well)! Worst flight I've been on in a long time!
When people fly they would like comfort when doing so. Good customer service should be mandatory! On a flight for 5 hours in misery is horrible. I will be sure to bypass American Airlines and take my business elsewhere until your company decides to step it up.

To whom it may concern, I am a teacher in the state of California. I was on my way home from a trip to Costa Rica. I had with me 5 students, a VP and a parent. We had spent a week traveling and learning about Costa Rica's Rain Forest/ ecosystem.
On our way home (3-29-13), we were on American Airlines flight number 177 out of JFK flying into SFO. What I experienced on that flight was very surprising to me. We were seated on the left side of the plane right next to the serving area for first class. Very early on in the flight we witnessed a tall black man that was working in the serves area (but not serving) have what I would categorize as a childish fit.
He was loud and putting down another airline employee for organizing the service area in a way he did not like. He was waving his hands above his head and talking loud in an angry manner. The two older employes that were waiting on first class had to go in and calm him down. They were explaining to him that people just do things differently and that it was ok. The black man spent the next twenty minutes banging and shoving thing around as he rearranging the service area.
Not only did my student get to hear him putting down another employee they got to witness this episode as well. The employee he was putting down was another black woman waiting on the section behind us. She was also rude to American Airlines passengers when talking to them.
About a half hour after this happened, a passenger behind me set a wrapper and a empty cup on the tray beside this service area. The black man let into him like he was a little kid. The man said he understood not to put his stuff on that tray anymore , but the tall black man kept yelling at him.
He kept saying "you do not ever do that again" "do you understand" in a angry loud voice over and over again. The man behind me told him he understood and could do without the lecture. I have never witnessed that kind of rudeness from an American Airlines service worker in all my fly experience.
I later got up to go to the bathroom. When I walked back to my seat, a bleach blond woman (American Airlines airline employee) with a double chin was standing behind the service cart at the service center for first class. The cart was right beside my seat so I could not get to it. So I was waiting for it to move. She turned around and in a rude and loud voice said " What are you doing". At this point, I could see why some people got irate on airplanes.
I was talking to my parent after the flight and he expressed a similar concern about these employees. He got up to throw away his trash. He walked to the back of the plane and held out his cup for the service worker to take. She was just standing in the back. She pointed to a plastic bag about three feet away on the floor.
The two older gray haired service workers in first class (man and woman)and the gentleman who worked the back section who wore am knit cap were always professional, kind, and worked hard. The black man and women and the bleach blonde should be transferred somewhere that does not have contact with the public. Their interpersonal communication skill match that of a seventh grader. The drama they brought to the flight left a bad impression of American Airlines.
I would expect to be treated and watch other people be treated much better than this on American Airlines flight.

To whom it may concern receiving complaints about the service Eulen America:
I hereby make a formal complaint about the mistreatment and disrespect observed an employee of Eulen America named Olga, Mrs. old lady, gray hair with glasses, skinny and short, who did not want to provide us with her name or show his identification, covering it with his hands so we could not see it when we express our feelings towrad the way she was treating passegners, specially Cubans. This happened this afternoon, February 24th, at 2:00 pm in the Concourse D / E (for connection flights). This lady by the name Olga. treated contemptuously Cubans who tried unguided to walk out that door, and even some discrimination actitude was noted in her actions when he shouted: "Cubans are not allowed to use this exit, they must go down". However, many other passengers used that exit, without having any connections, but she apparently only referred to Cubans, by identifying them by their appearence and look like. More than once we saw her mistreat and humiliate comrades of the same staff, in front of everyone. When we told, (three people who were observing their behavior), we intend to file a complaint against her and asked for her name, she brought her 'Supervisor' Mr Miche Sixtol, who told us that she was not there to serve the customer, and that he could not give us her name, nor his name, since they worked for a private company. Similarly we saw he tried to prevent us to see his name, but we could see it. Olga's name we knew because we asked one of his coworkers, since all the time she hide her identification with her hand, so we could not see it.
They laughed at us when they saw we could not find someone to take seriously our claim, at least make known the discriminatory treatment of this person towards Cubans, whoonly showed a face of bitter and frustration towards passengers. We approached her just to ask a question, without even letting us finish it. I had to explain to some Cubans thatalso approached her to ask about Cuban flights, but as soon as she heard the word "Cuba" she not even allowed them to finish formulating tjir questions, and simply pointing his finger she sai in a loud voiced: "Cubans must go down ".
For your information, there were people who had the decency to guide us and tell us that this was the best way to make the complaint, and told us that it was not the first time similar incidents had been reported about Mrs. Olga, but no actions had been taken.
This same complaint I have posted on the website of Eulen America, hoping it gets to the appropriate persons/executives, so that this time action be taken to avoid this kind of situations. It is important to note that attitudes like this make a very bad image of the companies involved in any work done at the Miami International Airport, which counts on such a great international prestige.
I would appreciate a response to my emial.
Sincerely,
Maria M. Brito
Email: margaret.brito@gmail.com

Alicia Kane McCracken
from Carmel, IN
We purchased a round trip ticket from Indy to NYC( LGA) on Thursday 2/4/16 and arrived just fine with no problems. However on Monday 2/8/16 we have a flight to leave at 2:00 p.m. and got checked in just fine however , it was delayed then cancelled with no explanation and just said you know be leaving at 7:35 and nobody told us or offered any vouchers just and the gate got changed several again with no explanations.
Then finally when we did boarded it was around 8:45 or so and they got us all on board deiced the plane went out to taxi and after sitting on the runaway for about 2 hours if not longer then told us we had to go back to the gate and at that time again we had to continue to wait until another gate was available for us and once back in the airport around 11:30 ish we had to stand in line and they said ( flight attendants & pilot ) that we would get a hotel on American Airlines because they had timed out on their work time.
We were not offered anything such as food/drink vouchers, hotels, taxi's fees, parking etc and then when we went to get our luggage my husband's luggage was soaking wet and we went to the baggage compliment area and put in a compliment his clothes were soaking wet and then to find out again that you guys over no Mercy.
We had to leave the airport get another taxi, hotel, taxi back the next day and miss work, pay for another day of parking in Indy and once again the flight was delayed on Tuesday and we had to change gates again and take a shuttle to a different terminal again with no one caring or offering us anything. We are very disappointed in how the whole event unfolded. You guys knew that they were not ever gone to be able to take off. We have flown with American Airlines many times over the years. Would appreciate some type of compensation or voucher.

Jane Wiggins
from Brandon, MS
I submitted a written complaint online the last week of January, 2015, regarding a request for airline credit for my experience flying from Jackson Mississippi to Lynchburg Virginia. My flight on the 23rd of December from Charlotte to Lynchburg was cancelled and I had to rent a car. The only one available was at the cost of $200. In addition to this, my bag was lost for two days. I have yet to hear back from someone regarding my submission of complaint. I would appreciate someone calling me.

Gail Golla
from Kingsville, TX
I have in hand my receipts from recent flights back home from Anchorage, AK to Dallas Ft Worth and then to Corpus Christi. My husband lost a new cap during flight in either the Anchorage, Dallas/Ft. Worth or Corpus Christi airport. I could not get the report claim to go through. It asked for destination and even though I completed it, it was all locked up. I needed to talk to a live person or have a help, technical button to push and there was nothing.
There no longer exists a live phone number or person to help. I could have used my home phone to call and paid for the charges but that was not an option. I do not have a SKYPE account as I do not use that. I could have used my cell phone but that was not an option. It looks as if the common courtesy that used to exists is not longer true for American Airlines. Surely their lines are no longer customer friendly. I am a professional person. I tried for over an hour to submit this request. The number for American Airlines is no longer functional at Corpus Christi, TX.
It would be very lovely to have a toll free number to call. Thank you!

Angel Rodriquez
from Sanger, CA
On March 9th, 2015, a group of friends and I tried to book a flight to and from Austin, TX. We all decided to book our flights separately. The total for the flight to and from Austin, TX, from Fresno, CA was set at $363.20. This was the total for the flights to Austin [American Eagle #5782 & US Airways $5570] on September 28th, 2015. The return flights were [American Eagle #5825 & American Eagle #2891] on September 28th, 2015. The members of my party include Joe Aguirre, Carlos Rodriguez, Matt Rodriguez and myself, Angel Rodriquez. We all booked separately and all saw the same price online of $363.20. Joe Aguirre was the first member to book and did so without any issues. I did mine online, was quoted the $363.20 and paid through PayPal. I was given a receipt from PayPal stating that the charges were made, totaling the amount of $$363.20. But there were errors on the website. The flights were not being confirmed.
I called 800-222-2377 to confirm my flight only to be connected to an individual that was no longer quoting me the price I was given on the website and on the receipt. I was being quoted a much larger price. These were not the terms established in our transaction. I sent over an hour being put on hold with this agent who did absolutely NOTHING to resolve my issue. The price I was being quoted now was $388.70, despite the fact that the agreed terms were already established by the very receipt and PayPal transaction record I have. After over an hour of dealing with someone who had no clue of how to respond to my complaint, I began to reach out on Twitter, but they were useless. I finally demanded to be transferred to a supervisor. He refused to give me his last name.
He simply identified himself as Javier and said his employee # was 1A. He seemed to not even care for my issue, refused to aid me in any way, and said it was impossible to stick to the price given on my receipt. I would have to pay the price of $388.70. After wasting away my cell phone minutes and time spent online with inept workers, I paid the $388.70 despite the fact that I knew US Airways was in the wrong! They didn't do a single thing for me other than waste my phone minutes and over-charge me after putting me on hold for close to 1 hour and 20 minutes!

Christine Kaye Campbell
from Rancho Cucamonga, CA
I needed to make a change in my reservation. I was on hold for four hours before I finally gave up. I will just have to try when I get to the airport to leave and take my chances. Very upset by the inconsiderate nature of this. If it is that busy, HIRE MORE PEOPLE!!!

on a recent flight to orlando from ireland i paid for 5 tickets with a travel agent in killarney southern ireland 3 adults 2 kids aged 8 and 9 years old flying from shannon to newark to orlando and orlando to newark and newark to shannon on both times we left newark 25 october and return on 2 of nov our kids were put sitting on their own as far as im concerned your company will have no luck in the future when your treating children like this i presume you alredy realise this is my last booking with american airlines

On march,10 2013 i made my stop in New York and i found my self with the situation of having one of my bags missing, i filed my report at that same day. Sinse then i've been calling day after day and having nothing in results, no one of your employees seems interested on helping by discovering when i Am having my personal belongings back. It have been a week on my waiting im afraid that Ill have to find another way to have results...

This is a follow-up to a previous e-mail complaint that I made earlier this morning, 3/19/2013. Because of our counselled flight, I requested had 2 (two) round-trip airfares. Reason for was because we lost one full day of our Cancun vacation. To add insult to injury ,we were booked on the next flight at 1;40 pm and that flight was also delayed.
On arrival to Cancun we waited patiently for our baggage, too no avail. Our luggage did not arrive. We are now without clothing and bathroom neccessities . Not only did we miss a full -day because of American Airlines ""mechicanical malfuncutions"" but we did not receive our luggage with clothing and were not able to eat out with friends this evening.
We are very dissappointed with this airlines. Doubt we will schedule another flight with your airline in the future. This is our first experience with American Airlines and it has not been good.
Sincerlyl,
David M. Minniear

Natalie Haddad
from Los Angeles, CA
In 2021 American Airlines issued me a COVID-related credit for a flight. I have emails from their customer service stating that I have one year to use the credit from the purchase date (October 30, 2021). When I tried to use it in late October 2022 for essentially the same trip as last year, after two-hours-plus on the phone with them I was told I had to book it through Cheap Tickets because I bought it through CT. When I called CT they said the credit was "suspended" and I had to call AA back. After another 45 minutes on the phone with an AA customer service supervisor she said I had 11 months to use the credit, not 12, even though emails from last year clearly state 12. When I disputed her she said her hands were tied and I had to email them. I responded to last year's customer service email multiple times with no response. I finally went through their website again and got a response. The customer service agent refused to offer me anything except a few miles even after I sent a screenshot of last year's email. After multiple email exchanges she just responded with boilerplate, so nothing that even engaged with what I was saying to her. I tried to call her number several times and left messages and no one ever called me back. So in sum, American Airlines issued me a one-year credit and when I tried to use it within the last month, they changed it to an 11-month credit and when I tried to complain they completely dismissed me and shut me down, for a nearly $900 flight. I desperately need help here. This is beyond unethical and I don't know what recourse I have.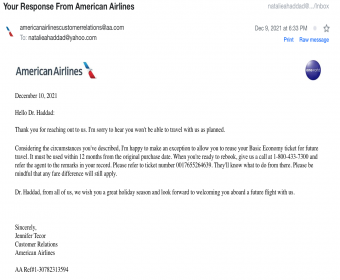 Gordon
from Grand Rapids, MI
Refused to allow my teen son to board a flight in Charlotte because they felt like he took boarding pass too brusquely. They are very sensitive folks. We were racing across airport to make connecting flight after typical airline-caused delay. They were already impatient that they had to wait for 30 passengers from Cancun flight bound for Detroit, but they also didn't want my son to hurry taking the boarding pass. They allowed a woman one of the reps had a dust up with right before we arrived, and that set stage for me and my son to be the ones they took it out on. Not first time adults had easier time targeting a teen when they don't have courage to confront adult. They allowed the belligerent customer and her husband who taped whole thing (reps forced him to erase it or not board) to fly and we were humiliated in front of people at the gate.

Nick & Susan Kast
from Chesterfield, MO
I called AA to resolve an issue about an airline ticket voucher that was about to expire that I had no idea even existed because I should have received a credit back instead of a voucher. This info was told to me when I canceled the flight due to my father having a stroke. When I called AA to resolve this info I spoke with supervisor Sylvia Smith from Raleigh NC. She was awful and the absolute worst customer service supervisor I have ever in my life dealt with. She continually ONLY repeated she would and could not do anything to help or change or extend the date of the voucher and refused to offer any other suggestions other than to email the complaints box. If this is the best customer service AA can offer then this is absolutely worthless and unacceptable. I was told by the AA rep when I canceled the flight the airline ticket would be credited back in the way in which it was purchased since the cancelation was due to my father having a stroke. Since the AA rep misinformed me and now the AA issued me a voucher (which I had no idea I had received since I got no notification of this being done) instead of doing what they said they would do, the voucher is now going to expire in less than 3 weeks. Now when I called the airline I spoke with your Supervisor - Silvia Smith - who refused to offer any help with AA's mistake. I would like AA to actually step up and offer me either an extension on the voucher so that I am NOW aware that I have it and can use it or I would like the original option of being reimbursed for the flight to take place. This ticket is worth a measly $350 and to AA this is chump change but to me, this is a lot of money. Not to mention the absolute worse customer service ever experienced due to a family member having a stroke. AA should be ashamed for having a supervisor as crappy as Silvia Smith from Raleigh NC representing them. I am willing to provide confidential medical information/records confirming my father had a stroke if AA feels the need to violate me further in order to either get a credit, extension of the original voucher, or refund. I would greatly appreciate some real customer service and someone who can empathize with me and my situation call me back

Jacquita Broughton
from Washington, DC
My entire trip was ruined 1st no luggage my entire weekend. Having to spend an entire day at the Airport and missing a full day of work which is a training day that will possibly effect my promotion without being compensated for anything!! I'm very upset and need some type of compensation for my money my time and the added stress..

Jaquita Broughton
from Washington, DC
First of all my trip was ruined from the beginning due to my carry on being checked as I was loading the plane made it to my destination late so if I waited in my bag I was gonna miss my connecting flight so I left the bag .. Fast forward from Thursday it's currently Monday night at 11:38 pm no luggage been in the airport and on a plane since 3:30 this afternoon and I still don't have clean clothes or haven't made it home to my destination which I should've been at an hour ago… This is by far my worst experience ever with you guys and I need to hear from someone and I'm demanding a credit or refund and now I'm gonna miss a days work all because of you!!

pierre geneau
from Saint-Aime-du-Lac-des-Iles, QC
On Feb the 20 I was in Charlotte Florida going back to ,Montreal Canada and ,had a few problems with my covid 19 test and my arrivecam ,thanks to two of yours employees at the counter .i was able to take my plane .ANTWON FLORENCE 775740 AND ROBERTO M 424152 where very professionnel and useful .and gental .Thanks ,to those ,two ,guy i ,got .home safely. Pierre Geneau

Vivienne Ross
from Palmerstown, L
To whom it may concern, I had booked two tickets with American Airlines from Dublin to Newark departing on the 4th of February 2022, and returning on the 17th of February 2022. I received an email two days ago (19th Jan) to say that my flights were now cancelled and to contact American Airlines, I phoned same and explained that I had received this email to contact them and the girl on the other end of the phone was exceptionally rude to me - saying it wasnt her fault that the flight was cancelled, I asked her what my options were and she said none. I had to then hang up and redial and get through to another section to request a refund. I then had to contact another airline and book tickets from Dublin to Newark, amending my whole trip as I was working around a connecting flight to another area. This whole fiasco has cost me extra for new flights, an extra for accommodation in New York, extra expense at this end to me with extra time off work, family expenses and I am extremely upset about this. I am extremely upset about this whole event, being so close to a trip of a life time - to have the major part of it (flights) cancelled at such short notice with no alternatives or explanation.
I trust you will look into this for me, and also realize the amount of stress and anxiety this has impacted on me, and look favorably to a very prompt response and compensation for my additional expenses.
I await a response.
Vivienne Ross

Gary Brown
from San Jose, CA
Flight #2197 was scheduled for 8:15 AM, 12/18/21, after American Arriving 2.5 hours early, I've never seen this level of absolute chaos. The counter line was shockingly massive and moving at a snail's pace.When it was finally my turn, 3 hours later (9:15 am), I was informed no seats were available to make it to Belize that day. Lucky I had the foresight to check backup flights while stalled in the long waiting line. I was told it would not be possible to reach Belize that day! I explained how there were absolutely seats available and requested to speak with the manager. After a long wait, the same agent returned. There were two optional flights out of Austin with seats available, but she refused to acknowledge these open seats, in both of the flights to Dallas and also availability on a later flight from Dallas to Belize.
After 20 more minutes and constantly on the phone, she explained since I hadn't booked a hotel, I would be required to quarantine for 24 hours, if flights were even available.
I explained this was not the case according to the Belizean government's webpage, as well as the Aggressor fleet company.
After another 15-20 minutes on the phone and running around talking with supervisors, she found this was not true and now wasted another 30 minutes of time.This uniformed agent had now foolishly misused the precious time needed to make the first of the two available flights. After another 20 minutes, now almost an hour at the ticket counter, I was issued boarding pass. Even then, the agent warned it was likely I would miss the connecting flight in Dallas. Once in Dallas, was forced to literally run 25 gates (39 to 14), with a 30 lbs backpack in only 10 minutes, not an easy task when you're 67. They were preparing to close the gate as I arrived and barely reached my seat before take off. Check your records and please explain why dozens, if not hundreds of fliers, arriving over 2 hours early, missed their flight that morning,
The original letter was 5 times longer, but had to omit so much to submit. ad already changed the time and planes from the original flight from Austin to Dallas. Connecting to a 10:40am flight to Belize City, my final destination. Once in Belize, I was to be shuttled to the ship, Aggressor III. The boat would depart Belize City that evening for 6 days at sea for a scuba diving trip.
Arrived at the Austin airport @ 5:45 am, leaving 2.5 hours for boarding time. Unfortunately, American Airlines would not allow me to pre-check online, with no reason given. I'm guessing it was due to international travel. I called American to find out why I was unable to pre-check. It took 20 minutes on hold to be told by your customer service representative that she also found no reason for why I was blocked. This left me with no alternative but to go though the process of counter check-in with bags to receive a boarding pass.
With over 40 years of flying, I've never seen this level of absolute disorganization. It took several minutes to figure out exactly where the counter line started because the line was shockingly massive and moving at a snail's pace.
After an hour and a half, a customer service rep came through the crowd and announced it would no longer be possible to make my 8:15 AM flight, since I was still 45 minutes from the counter.
Once I was close to check-in, something happened that made all those who had stood in line for the last 2.5 hours, very, very angry.
Your ticketing agents created a brand new line. This line was for those new arrivals at the back of the line, so they could be processed in front of us, allowing them time to make their later flights. This outraged and incensed the large crowd of people, like me, who desperately needed to rebook their missed flights as quickly as possible. Time was running out due to the extremely heavy holiday traffic and last minute flight changes were almost non-existent. We watched as many holiday travelers were told no flights were available and had to turn around and go home, in hopes of finding another flight in the next few days.
When it was finally my turn, 3 hours later (9:15 am), I was informed no seats were available to make it to Belize that day. The ticket agent went on to inform me that my rapid covid test would no longer be valid to fly the next day. To fly the next day would require another rapid test, which requires booking days in advance. On top of that, due to American's horrible check-in service, I would miss the dream trip I've planned for over 6 months (ticket booked in July).
Lucky I had the foresight to check backup flights while stalled in the long, long waiting line. Finally allowed to talk with a ticketing agent, I was told it would not be possible to reach Belize that day! I tried to explain how there were absolutely seats available and requested to speak with the manager. After a long wait, the same agent returned. There were two optional flights out of Austin with seats available, but she refused to acknowledge these open seats, in both of the flights to Dallas and also availability on a later flight from Dallas to Belize.
After 20 minutes and constantly on the phone, she explained since I hadn't booked a hotel, I would be required to quarantine for 24 hours, if flights were even available.
I explained this was not the case according to the Belizean government's webpage, as well as the Aggressor fleet company.
After another 15-20 minutes on the phone and running around talking with supervisors, she found this was not true and now wasted another 30 minutes of time.
This uniformed agent had now foolishly misused the precious time needed to make the first of the two available flights. After another 20 minutes, now almost an hour at the ticket counter, I was issued boarding pass. Even then, the agent warned it was likely I would miss the connecting flight in Dallas.
The new flight #1059 was scheduled to out fly at 10:30. So I scrambled through TSA in a mad rush to discover this flight was now delayed by 80 minutes. We finally arrived in Dallas @ 1:10 PM, with the Belize connection leaving at 1:30.
Now I was forced to literally run 25 gates (39 to 14), with a 30 lbs backpack in only 10 minutes, not an easy task when you're 67. They were preparing to close the gate as I arrived and barely reached my seat before take off.
This was the absolute worst flight experience in my life. American Airlines should be ashamed of treating your loyal customers with such indifference and uncaring action. American Airlines knows very well about the holiday traffic pattern and simply failed to put measures in place to avert this total meltdown. Check your records and please explain why dozens, if not hundreds of fliers, arriving over 2 hours before their flight that morning, failed to make their flights and most likely, we're forced to cancel their holiday plans❓

Casey del Carpio Barton
from Valencia, VC
Omg. Supervisor was outrageously rude after spending 2 hours trying to change an international flight- snapped at me after I was being so courteous and hung up on me without completing the reservation... I cant believe it... trying to change my flight for my wife and child who have covid...

Claudio Gatti
from Saronno, 25
It is impossible to get miles annoted of the program aadvantage when travelling with other one world airlines. I have shown all the proofs, tickets, receipts, nothing to do, they cannot explain me why but they don't give miles. A total fraud.

Traci Morris
from Weslaco, TX
My complaint is how rude the employee at gate e35b was to me when asking a basic customer service question. I paid to fly and I feel that your employees could treat customers better. All I did was go to the gate and ask her if I needed to check in, or my boarding pass was okay. She was so rude, I'd never give my money or business to her. I work in customer public service with the same struggles your employees have with the public. We could never be rude like that to our clients. I will not fly american again. I would like to mention I had an awesome customer service employee at gate 25 customer service. She was empathetic, took care of my delayed flight issues and was average kind. She was great. I can't understand why anyone would allow an employee like I encountered this morning to treat customers so rudely. I never leave any reviews but it made me feel so disrespected I took time to find out how to this morning. Also, I'd also add that she just called up a standby and was giving her rude eye faces and spoke hateful with her too. Then an older lady. Walked up and she didn't give her looks up n down or talk hateful. Thank you kindly, Traci morris

Katherine Dobogai
from Wesley Chapel, FL
Ticket agents at RIC were without a doubt the most unprofessional and rudest people I've ever encountered in any place of business. They behaved in a bullying manner to nearly every person who had to make contact with them. A truly appalling scenario. I don't understand.

Cindy Burns
from Newark, DE
My original flights were changed. When I went to change flights to next day there was a 61.00 charge per ticket. We only paid 98.00 for our original ticket.!!i would like a call back.

Cedric T. Muse
from Chicago, IL
I requested a refund a month ago and it's still pending review. Ticket Number 0012128776339.

American Airlines on our last flight out to Florida put us in a difficult spot by not allowing our family us to take a stroller to the gate. My wife has a hurt back, and we had arms full of luggage while having to carry a screaming 1 yr old because American Airlines doesn't care. Every time we've flown on Southwest, we've been able to take the same stroller to the gate area. We learned out lesson.

Everett E Williams
from Dallas, TX
I am submitting this complaint based on what I believe to be an unfair practice by this company as well as the unprofessional conduct of the customer service agent I spoke with this date (7/6/2020). I purchased a round trip tickets from New Orleans, LA to Shreveport, LA. My return date had to be changed due to medical problems (of course I had to pay for changes to my flight). On the morning of my flight I was contacted to inform me that my flight had been cancelled and I was booked on a flight the next day. I called customer service to inquire about an adjustment to the cost of my flight (mind you I have been charged a fee for changed I made to the original flight) and was told three would be no adjustment by AA despite the changes made by them. I was told I was accommodated with a flight the following day. My response was that how am I being accommodated for something I have already paid for. If I had to pay to make changes to my flight then if AA charged and booked me for a flight and they had to cancel I should receive some reduction in the amount I should have to pay (and at the same time I am trying to get to New Orleans for Emergency Medical Problems. After several more minutes of debate I realized I wasn't getting anywhere. My last response which was shaped in the form of a question was and I quote "so you can do whatever you want a I just have to take it". The customer service rep replied in a rude and a very unprofessional tone "YES". I can assure you, if this is the way AA treats their customers after my flight tomorrow I will never board an AA flight again. I will also be posting this on web (if I am still alive to do so). I will also be seeking retribution for damages. Thank you

Joseph J. Coury
from Leesburg, VA
I had an issue with trying to get a refund on my Family Reunion Trip. I had to cancel due to the Covid-19. However, because I cancelled before AA cancelled, I cannot get a refund. This is very unfair. We both cancelled for the same reasons. I was just smarter to cancel and then they cancelled the flight. I am asking a full refund and they will not give it to me. The worst was the customer relations department. They have no heart. very cold, They ask me to have my grandchildren fly by themselves if I could not have another reunion again. They are the worst airline to deal with and I will never fly AA. I hope they go bankrupt.

Deborah O. Stiewing
from Newtown, CT
American Airlines.
I'm a frequent flyer. I flew American two weeks out of the month.
I always use my AAdvantage Card (last 4# 0786) and my AA# 28XUC78.
For trip below- Record Locater # LYWSTU - Priority
On Wednesday March 11th my husband James Stiewing and I flew from HPN Westchester County Airport to CLT Charlotte Douglas - from CLT to Palm Beach Florida PBI. For this leg of the trip I was able to get my husband the 6" extra leg room as he's 6'4". A flight attendant saw that he took up all of that space as well and said, look you're welcome to move up a seat, there is no seat in front of you, you'll have all the leg room you need.
On March 16th we flew back using the same route in reverse. The difference was the Coronavirus had become a pandemic. There was maybe a dozen to 15 people on the flight. Everyone scattered as not to sit close to one another. My husband and I had regular seats; however, we were directly behind the seats that offered an extra six inches. I said to my husband "move up a seat. There is virtually no one sitting around us". As he started to do that a flight attendant was passing by. I said "he's moving up a seat, all the rows are virtually empty and he can use the extra leg room at 6' 4". She very indignantly said "oh no you can't you didn't pay for that seat". I said, "there's no one anywhere around us, and he needs the extra leg room". She said "you can't move up and walked away".
Two minutes later another flight attendant was passing us and said "hey you looked cramped why don't you move up one seat"? We told this fellow the female flight attendant said he couldn't do that. She must have been the senior attendant because he said "I'm really sorry I don't know why she would have said that, there is virtually no one on the plane…however I cannot override her decision".
So, for two and a half hours he sat cramped. Truly I would believe American Airlines Flight Attendant would have more common courtesy than the way my husband was treated. I took photos of the area around us just so you can see we were virtually alone row after row.
I'm hopeful American Airlines will be so kind to a 71-year-old offering him an airline ticket for such rudeness by one of their own flight attendants to a senior as well as a Vietnam Veteran Medic. He served his country, hopefully American will recognize his loyalty.
Deborah O. Stiewing
AA# 28XUC78.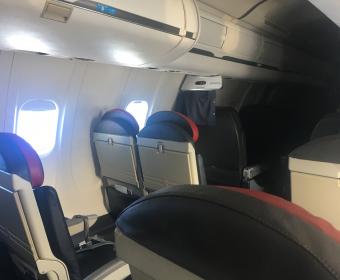 Steven A. Occhiuti
from Attleboro, MA
I don't normally complain when things go wrong, accept it for what it is but what I have encountered with American Airlines out of PVD airport is ridiculous. I booked a flight for a family member, C. Conklin in order for her to get back home to Maine. I understand that we have inconveniences due to CoVid 19 but the way they have handled flights out of this airport and the misinformation provided was absurd. I scheduled a flight from Providence to Bangor, ME by way of Philadelphia, The initial 3 flights were cancelled, the first one because the Crew did not show up. The Pilot was in, but 12 minutes to departure...no crew. Re-booked same flight for next day. That was cancelled, re-booked for the following day and the 10am or so flight was cancelled again. What the flight representative did not inform the passenger that there was a flight out at 557am that was going to go out. He did not even offer this flight, why? Just booked a flight around the same time as prev. flights between 8am and 10pm. This is incompetence!! Already knowing that multiple flights at the same time have been cancelled all week, Monday thru Thursday, he should have offered the earlier flight at 557am on Thursday April 2nd. The flight was rebooked on the internet and within 15 minutes I was issued a cancellation. I called AA representative and the first girl was not helpful...she couldn't even find the flights I was talking about, It was my roommate who noticed after searching on his I Phone that there was a fight at 557am and it left on time. I called back a 2nd time and this representative who appeared to be of Nigerian nationality was the ONLY one who was intelligent enough to figure out what happened...and "apologized" for the misinformation and the lack of not being offered the earlier flight. I requested a refund and she took it upon herself to say "Let me help you and I will do the refund application myself on line for you" Awesome...that is great customer service... not just pushing a button on a computer without any choices. While she was in the process of refunding my money, my roommate, again on his I Phone found a flight from Boston to Philadelphia then to Bangor that may be safe to book. Of course now this would have me to drive 60 miles for my friend to fly out, but that was ok. I informed this current representative to check into this before cancelling and she did, was able to book the flights with ease at no extra charge. I hope this flight will go out tomorrow April 3rd and her connecting flight in Philadelphia go out. This representative was very patient, professional and intelligent. She made the changes and I got an email within 30 minutes confirm-
ing these changes. Again I understand the difficult times we are in, but if you are going to offer a service to the public it should be with the least pain and inconvenience. The whole reason in trying to get my friend home to Maine was to get her out of the environment in Mass/RI with increase cases of the Coronavirus. It is taking a whole week with frustration to try and get her home. There was only 1 representative that I encountered at American Airlines who was informative, intelligent and up to the challenge with empathy and compassion. She should be commended!! If not for her understanding and efforts I would rate my experience as ZERO stars! Overall AA gets a ZERO, this rep gets 5 STARS! I hope you treasure and reward employees such as she! We will see what happens tomorrow with the upcoming flights? Stay Safe!

Joseph T
from Fort Worth, TX
I had a bad experience flying with American Airlines. The customer service agent was rude, and the plane was arrived late. I'll probably use Southwest next time.

Carol Meffley
from Rapid City, SD
I paid $700 for a one way first class ticket for my wheelchair dependent daughter to return to Virginia from South Dakota, a trip that should have taken approx. 5 hours in flight. She arrived at airport at 4:30 a.m. and because of delays did not depart S.D. until until 4 p.m. She sat in a wheelchair for 12 hours and no one called me. She was then flown to Dallas and then Carolina and then to Newport News, Va, instead of her Norfolk, Va, destination arriving at 8 p.m. that night. She has had 18 hip replacements (Yes 18) and has titanium from her hip to her ankle. Sixteen hours in a wheelchair due to flight delays and re-routing. No first class service--no service. Shame on American Airlines. They should have put her in a hotel overnight due to her severe disability. They need to refund the money I paid for this ticket at the very least. My daughter is still suffering from this trip and I cannot even get in contact with this airline.

On August 22, 2019 I was traveling from Pensacola, Florida to Detroit to see my daughter and grandchildren. I arrived early for my flight and waited at the gate for them to call my group. I was literally 20 feet from the ticket counter/check-in counter when they started boarding. I was in Group 9. I continued to wait for my group to be called and kept checking the monitor. The next thing I see is the gate is closed! I walk up to the counter and ask the two ladies working the ticket counter what is going on and they said, "we called final boarding". I explained that I was standing right there, never heard last boarding call, group 9 was never posted on the monitor. The very rude lady said, "oh, well … people miss flights all the time". I could not believe it! I was literally looking at both of them waiting for my group to be called. They looked at me several times and NEVER, EVER even offered to ask if I was on that particular flight. Needless to say, I had to wait 4 hours to fly stand by, missed a whole day of seeing my daughter and grandchildren. I was absolutely amazed at the lack, or need I say, the poor lack of customer service. I use to look forward to traveling, but this was the absolute worst experience I have encountered with two agents who could have cared less. There was also another gentlemen who missed his flight as well. We were both in shock at the lack of these two agents! They could have cared less. They literally chuckled and went on about their day without a care in the world! Horrible, horrible customer service and a lack for their travelers!

Juan chavez
from Orlando, FL
Flight was overbooked -people had questions and a lady at counter looked and sounded annoyed , a lady asked her a question and she put her hand out and used her painting finger gesturing hold on n said it's my daughter and she answered the phone - then im assuming told her daughter to hold on and addressed the customer- I tried to ask lady about seating and she was rude and said " you have a ticket don't you? I said yes - I'm just asking if it's window seats and again she said look at your tickets what seat # you have ? I told her n she tried to explain. Seating arrangements but, rolling her eyes and moving her head I said you know what never mind thank you, it's ok forget it , n I walked off while she was still talking and I sat down and she keeps staring at me n my bag , she told her friend she needs to finish arranging seats then they called to board and called our number to board n I had one small bag carry on suit case - lady keeps asking to check your bags in -then said if your group 7-9 you will need to get ready to check in the bags - she said if bags don't fit in the bag check it will need to b checked in, the people in front of me had huge bags and they were not asked to measure bags - when I get up to hand over me ticked that same lady walks all the way over and in loud voice she speaks out and said " sir" sir bring your Bag up her and see if it fits - I put the bag in the bag check and it went in but the corner of the bag bent and she said - seat number it's going in the bottom, asked her why it fits n said no it did not - I told her it has all my memorabilia glass from Disney and said " oh well it's going on the bottom it didn't fit and she grabbed the bag n took it from me and put it aside and went back to her standing spot ! We have an AA Credit card and own a business and I can promise you that I make more money then that lady does n treated her with dignity and respect until all I could do was terminate the conversation. but, every architect, GC , contractors and building business associates we deal with, when they asks about my experience- I will tell them exactly what I went through. AA flight 422 Gate 39 7:25 - if she is unhappy with her job she needs to quit and move on " we are the customers and pay her salary" she needs to understand. If my cups and glass memorabilia I'd broke I will be filing for reimbursement! The company I did work for did the American
Express edit card building in the airport in Dallas DFW and I know exactly how the luge is handled and I expect all the glass in my bag will be broke by the time I land in Dallas

Jacquelyn Brazil
from Milwaukee, WI
My family and I was on one of the American Airlines flights returning to Milwaukee, Wisconsin from Forth Worth, Texas on 7/14/19. My Mom and Auntie are elderly individuals age, 84+years old and has major disabilities, which requires a walker/wheelchair. I have never had a bad experience on a flight such as the one I had on your American airlines. First off, we were seated in the back of the plane, which was very uncomfortable, considering we are all tall and seniors. There was no leg room, ant to walk to the back of the plane, getting on and off was unbearable. I don't know what the selection process consist of or if I should have called ahead of my part to make special accommodation, which I knew nothing about. However, the entire situation could been avoided if I was made aware of where the seats were located in the first place. Second, we were taken off of one plane and put on another, which was time consuming. They claim that there was a problem with the first plane we boarded. Third, I anticipated returning back to Milwaukee, WI at 11:08p.m. or I would have to pay additional day for my car to stay at Economy Airport Parking & Shuttle, which I had to do any way. Fourth, the knob on my mother's walker was gone during the switch from one plan to another. The plane attendants gave the walker for my mother to sit on and the knob was on it then, but when we got off in Milwaukee, WI the knob on walker was missing. I will never book a flight with American Airlines again because of the miserable time I experienced coming back to Milwaukee, WI

Jessica Journeycake
from Denver, CO
If I could rate zero stars I would. Worst traveling experience of my entire life. I was supposed to leave savannah, ga at 4:22 pm and land in Houston, tx by 7:53 HOWEVER the flight was delayed 4 hours and I was ultimately rebooked to another flight to an even farther connection destination with new hopes of being in Houston by 9:53 pm. The new booking they put me on was also cancelled and the first leg of the trip sat grounded for an hour. I was then rerouted Denver, Colorado and the airline was switched to United who ended up telling me my ticket was put in incorrectly and i no longer have the seat selection choices that i paid for. I called American to ask them for a refund for my entire trip because they basically ruined 24 hours of my life and they told me they had no record of my flight since they switched me to United and there was nothing they could do for me. I will never ever again fly with this terrible company.

Krista Envick and Eric Envick
On July 7,2019 my husband and I were booked on a flight from Oklahoma city to Houston Texas and then to Seattle Washington. We were then told after waiting for departure that flight was delayed sand we would miss our flight to Seattle The customer service helper trying to help us kept complaining he had to use the restroom. Because of his carelessness he forgot to put my husband and I on standby and we spent hours being promised a flight home. We finally asked for a manager and he came down kept promising us flights and then later after a full wasted day at the airport he put us on a flight the next morning on United Airlines. When we arrived back at the airport the next morning ,Our flight on United was delayed for mechanical issues( which was the problem the day before on our American Airlines flight). I actually ran into the manager who helped us the night before and told him our problem again and he replied" you are not our problem now you are united airlines problem. what we haven't even stepped on a flight with united.He just walked away offering no help. My husband and I have flown for my7ears and never had such bad customer service . I finally found us a flight with Alaska Airlines later that day with no help from American Airlines. .Our flight originally was flight 2877 from OKC to DFW and then 2781 DFW to Seattle Washington on July 7,2019. Because of this my husband and I lost a days worth of work and spent money on expensive airport food we shouldn't have. Please tell me there is a way top compensate my husbands and I for this horrible customer service form all involved. Thank you, Krista and Eric Envick

Delayed flight 1029 from Los Angeles to Ohare on July 11,2019. Late notice, poor treatment, lack of care and concern.

On July the 3rd we were at the Louisville,Ky airport going to Orlando after arriving we were told that are flight was cancel,and told by a lady checking in folks,that there wasn't any more flights available until Thursday morning was very very unhappy about this problem,plus I already rental reservation,also resort reservation,so I went to another guy checking folks in he founded us a flight leaving 3ish the plane had a delay going Phil.this was the worse flight traveling we ever experience wouldn't recommend this airlines to anyone the customer service was terrible,didnt arrive in Philly until l after midnight,we had to set on this darn plane for about hour we were so pissed about this issue no gate open,American Airlines never again it will be known,checked in our resort after 3am on Thursday but however suppose to arrived in Orlando around 6pm on Wednesday this is a bunch of b/s my whole Wednesday was just gone this was the worse vacation we have ever been on,i will never ever recommend this air line to anyone I know.I wounldnt rate this airlines for nothing,i payed out all this money hoping for a good flight also good vacation this didn't even happen never again so disappointment.

Patricia Westburg
from Rutland, VT
I was very unhappy with my return flight with American Airlines that I took from Hawaii.0n July 6th I arrived in Philly. weather was a tornado warning we sat three hours in the plane. When we got into the terminal we spent 21 hours at the airport first flight to Albany was cancelled. the next flight was cancelled. People were leaving for hotels and rental cars. We waited until 10;00 to see if last flight was going to be canceled. There was no updated on monitors service desk people did not announce that the Albany flight was boarding. when we finally got to the desk after two hours in line to talk to someone that flight did not take off and the people that boarded had to come off the flight. But again no announcement was made so people going to Albany did not know they could have boarded even though it did not take off. When we finally arrived in Albany the 45 minute flight that ended up taking us 36 hours to get back there from Hawaii when we arrived in Albany had to drive two hours home after not having any sleep due to the fact we called over 30 places from the airport all rooms were taken by 9:00 that night. When I arrived home opened my 5 checked bags and everything was soaking wet. books, photos that I printed out and things I bought back for gift were ruined and had to be thrown out. My luggage was sitting out in the rain in Philly for who knows how long. Everything had to be washed and dried. Our shoes had water in them I dumped it out. Unbelievable .It was raining very hard for hours why did they unload luggage from the plane knowing flights were not landing or going out. Just left everything out in the pouring rain .Will never fly American again. Thank you for your time.

Brenda E Jack
from Miami, FL
I was traveling from the Cayman Islands to Miami on Flight 1088 on Tuesday, July 9, 2019. Because I was selected for a random search all my baggage, including the luggage that was checked in earlier was searched. This created a problem leaving me as the last passenger to board. On boarding the plane, I wanted to use the bathroom urgently due to medical reasons, and this angered the air hostess. I insisted that I must use the bathroom and nothing else was said from my end. In a loud voice, she said to the worker who brought my bag up to the plane ----all her bags must go to the top. What bothered me most was when she said---if she doesn't hurry I would put her out. I pondered to myself what I had done wrong to deserve this treatment. To top the bad customer service off, when the flight landed, she said to those passing ahead of me - have a great day. When I reached the door, she held her head down. This is my worst encounter with this airline. Never met such a rude air hostess.

thomas sustersic
from Cleveland, TN
i had a american airline worker trying to sell me tickets on a flight from atlanta to los angeles.he said i would get bussiness class,and they will be real cheap.i wired him 2 paymants and never received them.she being a american airlines worker,i feel that american is responsible,and should refund my money back. thank you.

cindytewes@gmail.com
from Chicago, IL
Airline made us miss connecting flight(sat on runway over 20 min before we could even get to the gate) Needless to say we had to connect on much later flight which made us miss our event. Then on way back flight was to leave at 7:38 pm we did not leave until after 9:15pm So we had to run from one end to the other We are both in our late 50s to catch the connecting flight. Once at home airport MCI We watched 4 red buses go by and no blue buses. I used the phone to call well 20 minutes later a blue bus came. This has been the worse flight both to and from. My son is in the airforce I travel alot I have used other airlines I have gone to hawii and no problems. I am so upset that your airline made us miss my granddaughters recital ( her very first) I believe we should be refunded some of our money if not all.If we are not satisfied with your reply we will not be using your services any more, as well as sharing this with all family and friends. I am a food director for a college , word of mouth seems to go a long way I do not complain very much because in my line of business you know mistakes happen and when I am at fault I take care of my customers. Hoping your company has the same morals that I do. My Record Locator is SEVNRY . i HOPE i HEAR FROM SOMEONE . Thank you for your time

elmer and marcella chacon
from Pueblo, CO
MY HUSBAND AND I WERE ON OUR WAY BACK HOME FROM A TRIP , WE WERE IN HOUSTON TX. WE WERE TRYING TO GET OUR FLIGHT HOME, SOME NICE YOUNG LADY WAS HELPING US,HER NAME WAS KRYSTAL BEREZ OR PERES,SHE DID A VERY GOOD JOB.BUT THE LADY WORKING WITH HER WAS A SPIRIT FROM HELL, SHE TOLD HER NOT TO HELP PEOPLE LIKE US,THERE MY NEICE AND HER HUSBAND,MY SISTER AND HER HUSBAND AND SHE MADE SURE, WE HEARD HER SHE REFERRED TO US LIKE WE WERE MEXICANS,HER NAME T.HARRIS,SHE TOLD THAT YOUG GIRL TO QUIT HELPING US. I NEED TO GET HOME I HAD RAN OUT OF INSULIN, AND MY HUSBAND NEEDED HIS OXYGEN,SHE SAID IF YOU NEED YOUR MEDICINE THAT BAD GO TO THE HOSPITAL. THAT WAS MY FIRST TIME ON A AIRPLANE,I HOPE I NEVER MEET UP WITH HER AGAIN.WE STAYED IN THE AIRPORT 2 DAYS THEY NEVER OFFERED US ANY FOOD OR ROOM TO STAY.MY HUSBAND IS A VET. AND SHOULD OF NOY BEEN TREATED THAT WAY.iAM TAKING HIM TO DR. ON TUESDAY.REPORT IT TO THE VET. ADMINISTRATION. THAT LADY NEEDS A GOOD TALKING TO.THANK YOU
FOR HEARING ME OUT WE PAY OUR WAY JUST LIKE ANY OTHER HONEST AMERICAN,THEY SEPERATED US ON THE PLANE ALSO, THANK GOD HE DIDNOT GET SICK, BECAUSE I NEED TO BE THERE BY HIM.MYPHONE NUMBER IS 7197786203 MY NAME IS MARCELLA,THANK YOU AND GOD BLESS.

SORRELL LOVE YARBROUGH
from Indianapolis, IN
I HAVE ALWAYS FLOWN WITH AMERICAN, MAINLY BECAUSE OF THE DIRECT FLIGHT TO MY HOMETOWN KNOXVILLE, TN. BUT THIS TIME WAS THE TRIP FROM HELL! FIRST OF ALL I DO NOT LIKE TO FLY, BUT DO TO MY HEALTH & ALSO RECOVERING FROM BEING PARALYZED FROM NECK DOWN, I CAN NOT DRIVE LONG DISTANCE ANYMORE. NOW I HAVE FRIENDS & FAMILY WHO WORKS FOR AMERICAN & THEY OFFER ME BUDDY PASSES WHEN I WANT TO FLY, BUT I DON'T LIKE THE CHANCE OF GETTING BUMPED OFF OF A PLANE LIKE I HAVE BEFORE AND BEING STRANDED IN AN AIRPORT. SO I BUY MY OWN TICKET & PAY EXTRA FOR DIRECT FLIGHTS & AISLE SEAT TO GIVE ME MORE ROOM BEING A VERY LARGE MAN & TO BE ABLE TO GET THERE & BACK WHEN I AM SUPPOSED TO BE & I ALSO ORDER WHEELCHAIR SERVICES TO ASSIST WITH MY DISABILITIES! NOW MY TRIP THURSDAY JUNE 20, 2019 STARTED ALL WRONG FROM THE START TO THE FINISHING TIME! I WAS TOLD THAT I WOULD HAVE WHEELCHAIR SERVICES WAITING FOR ME LIKE ALWAYS & I ARRIVED AT THE AIRPORT & THERE WAS NOT ANY CURBSIDE ASSISTANCE LIKE ALL THE OTHER TIMES I HAVE FLEW WITH AA. THEN I HAD TO GO THE ARRIVAL PART & GET DROPPED OFF & MAKE IT INSIDE MYSELF & THEN I WENT TO THE AA COUNTER & I SAID THAT I AM SUPPOSED TO HAVE WHEELCHAIR SERVICES WAITING ON ME & I NEED HELP CHECKING IN. THEN THE LADY AT THE COUNTER TOLD ME THAT I NEEDED TO GO TO THE SELF MACHINE & CHECK IN & THERE WASN'T EVEN A PERSON AT THE COUNTER. SO I TRIED TO & I WAS IN SO MUCH PAIN FROM WALKING & STANDING PUSHING MY SUITCASE & SWEAT WAS JUST POURING DOWN MY FACE AS I WAS TRYING TO FIGURE OUT HOW TO CHECK IN ON THE SELF CHECK IN MACHINE & THEN A GENTLEMAN FROM BEHIND THE COUNTER SEEN ME HAVING PROBLEMS & OFFERED TO HELP ME. THE LADY SEEMED LIKE SHE DIDN'T CARE, BUT SHE DID CALL FOR THE WHEELCHAIR SERVICE & THE MAN CHECKED ME IN & TOLD ME TO SIT DOWN OVER IN THE CHAIRS & THE WHEELCHAIR WOULD COME. NOW I SEEN OTHER PEOPLE COME AFTER ME & THEN CAME OVER IN THE CHAIRS BY ME & A WHEELCHAIR PICKED THEM UP BEFORE ME & I SAT THERE FOR ABOUT AN HOUR BEFORE THEY CAME TO PICK ME UP & BY THE TIME I GOT TO MY FLIGHT I WAS ABOUT THE LAST ONE GETTING ON THE PLANE. THEN ARRIVING IN KNOXVILLE THE SERVICES WAS EXCELLENT, UNTIL IT WAS TIME FOR ME TO COME BACK HOME TO DALLAS! THEN I GOT AN TEXT THAT MY FLIGHT WAS CANCELLED MONDAY JUNE 24, 6:20 AM DUE TO THE WEATHER & THEY WERE WORKING ON RESCHEDULING ME TO ANOTHER FLIGHT. SO I CALLED IN & TALKED TO AN AGENT & THEY WERE OFFERING ME A FLIGHT THE NEXT MORNING & THAT WOULD HAVE TO PAY SOME MORE MONEY TO GET ON ANOTHER FLIGHT THAT DAY & I TOLD THEM THAT I NEEDED TO BE BACK THAT DAY & I WASN'T GOING TO PAY AA ANY MORE MONEY BECAUSE I DIDN'T CANCELL MY FLIGHT, THAT AA CANCELLED MY FLIGHT. THEN THEY BOOKED ME ON FLIGHT AT 8:01 PM. THEN RIGHT BEFORE I WAS LEAVING TO GO TO THE AIRPORT I GET ANOTHER TEXT TELLING ME THAT MY FLIGHT WAS DELAYED UNTIL 10:15 PM DUE TO THE WEATHER. THEN RIGHT BEFORE LEAVING AGAIN I GET ANOTHER TEXT TELLING ME MY FLIGHT WAS CANCELLED AGAIN DUE TO THE WEATHER & THEY WERE REBOOKING AGAIN. SO I CALLED IN AGAIN & TALKED TO AN AGENT & THEN THEY ARE TELLING THAT WEATHER IS BAD IN DALLAS & THERE IN KNOXVILLE & I COULDN'T GET ANOTHER FLIGHT UNTIL LATER THAT EVENING. SO I WAS BOOKED ON THE 6:05 PM FLIGHT & THEN I GET ANOTHER TEXT SAYING IT WAS CANCELLED TO & THEY WERE BOOKING ME TO A FLIGHT TO WASHINGTON & THEN GET A FLIGHT TO DALLAS. SO I CALLED IN TO AN AGENT & SPOKE WITH A SUPERVISOR TOO. I TOLD THEM THAT I PAID FOR A DIRECT FLIGHT & I WAS NOT GOING TO DO A TRANFER FLIGHT AND BE STRANDED SOMEWHERE ELSE & IS THIS HOW AA IS GOING TO TREAT THEIR HANDICAP CLIENTS & THE SUPERVISOR SAID OH, I DIDN'T KNOW THAT YOU WERE HANDICAP, SO I AM LIKE THEN WHY DO I HAVE WHEELCHAIR SERVICES THEN? THEY SAID THAT NO DIRECT FLIGHTS WHERE ABLE TO GET ME TO DALLAS, THAT I NEEDED TO FLY TO WASHINGTON, CHICAGO OR CHARLOTTE, OR I COULD DRIVE TO TRI-CITY, ASHVILLE OR CHATTANOOGA & CATCH A FLIGHT FROM THERE IF I WANTED TO GET BACK HOME. SO ONCE AGAIN I STATED THE I WASN'T INTERESTED IN DOING A TRANFER FLIGHT & EXPLAIN TO ME HOW YOU CAN FLY ME SOMEWHERE ELSE BUT NOT TO DALLAS & HOW OTHER CITY CAN GET INTO DALLAS IF THE WEATHER IS BAD IN KNOXVILLE & DALLAS.! THEN I GET ON LINE & SEE THAT ALL THE FLIGHTS THAT I WAS TOLD WAS CANCELLED, ALL BUT ONE HAD ARRIVED OR WERE LEAVING ON TIME. THEN THE LAST FLIGHT THAT I WAS TOLD WAS CANCELLED, IT WAS SHOWING ONE SEAT AVAILABLE & IN THE MAIN CABIN SO I BOOKED MY BROTHER IN THAT SEAT & THEN CANCELLED IT. SO HOW COULD A FLIGHT BE CANCELLED & YOU ARE STILL SELLING TICKETS FOR IT? SO THEN I GO ON LINE & FILE A COMPLAINT ABOUT THIS & TELL AA ON HOW I WANT TO BE COMPENSATED FOR BEING LIED TO ABOUT ALL THESE FLIGHTS BEING CANCELLED FROM THE WEATHER & THEY WERE STILL GOING & FOR MAKING ME MISS DAYS OFF WORK & PUTTING MY JOB IN JEOPARDY & ALL THE MONEY THAT I WAS HAVING TO SPEND ON LIVING & LODGING DUE TO LIES! FIRST OF ALL I AM ASKING IS THIS HOW THE HANDICAPS ALONE OR ANYONE ELSE IS GOING TO BE TREATED BY AA? I HAVE MANY HEALTH ISSUES FROM HIGH BLOOD PRESSURE, OXYGEN USE, SLEEP APNEA & MORE & STILL RECOVERING FROM BEING PARALYZED FROM NECK DOWN & I STILL HAVE A FRACTURE IN MY BACK & OTHER RUPTURED DISCS IN MY NECK, A PARTIAL TEAR IN MY ACHILLES TENDON & HAVE HAD THREE ANKLES, BACK, NECK , BOTH SHOULDERS & HAND SURGERIES & I WOULDN'T THINK THAT A COMPANY WOULD WANT TO CAUSE ME ANY MORE PROBLEMS FROM WHERE I PAID EXTRA MONEY TO GET CERTAIN SERVICES & THEN TREATED LIKE I WAS NOTHING BUT DIRT ON THE GROUND! AFTER I SENT THE FIRST COMPLAINT IN, IT WAS NOT 30 MINUTES LATER BEFORE I GET A CALL TELLING ME THAT MY ORIGINAL FLIGHT I WAS BOOKED ON WAS BACK ON AGAIN AT 6:05 PM TUESDAY JUNE 25, & AA COULD GET ME BACK ON THAT FLIGHT. I STATED THAT MY ORIGINAL FLIGHT WAS MONDAY 6:20 AM & I DON'T ENOUGH TIME TO PACK & FIND SOMEONE TO GET ME TO THE AIRPORT WITH IN THE TIME THAT I AM SUPPOSED TO BE THERE & THAT I DON'T HAVE A CHOICE BUT TO STAY ON THE 6:20 AM WEDNESDAY FLIGHT THAT I AM ALREADY BOOKED ON, & THEN LATER I GET ANOTHER TEXT SAYING THAT THIS FLIGHT HAS BEEN POSTPONED TO 7:00 AM & I AM SAY HERE WE GO AGAIN & FEELING LIKE I AM NEVER GOING TO BE ABLE TO GET BACK HOME! SO NOW WE FINALLY LEAVE & I AM HAPPY & THEN WE LAND IN DALLAS & I AM WAITING FOR MY WHEELCHAIR SERVICE AGAIN & THEN I AM THE LAST ONE ON THE PLANE WAITING & WHEN IT FINALLY COMES, THE YOUNG LADY TAKES ME TO THE TOP WHERE PEOPLE ARE LINING UP TO BOARD THE PLANE I GOT OFF OF & LEFT ME SITTING THERE & SAID THAT SHE HAD CALLED FOR A MOTOR CART TO PICK ME UP & TAKE ME TO GET MY BAG & NUMERAL HANDICAPS CARTS PASSED ME SEEING ME SITTING OUT IN A WHEELCHAIR & NEVER EVER STOPPING & FINALLY THE LADY THAT IS STANDING AT THE BOARDING ENTRANCE COME & ASK ME IF I AM WAITING TO GET ON THAT FLIGHT & I SAID THAT I JUST GOT OFF THAT FLIGHT & SUPPOSEDLY WAS WAITING FOR A MOTOR HANDICAP CART COME TAKE ME TO GET MY CHECKED IN BAG & OUTSIDE TO GET MY RIDE. THEN SHE CALLED SOMEONE AND A LADY CAME & PUSHED ME TO GET MY BAG & ONCE AGAIN I AM THE VERY LAST PERSON THAT HAD BAGS AT THE BAGGAGE CLAIM & THEN SHE ROLLED ME OUT TO GET MY RIDE. SO NOW IT HAS BEEN TWO DAYS & I HAVE NOT HEARD FROM AA ABOUT MY COMPLAINT THE FIRST TIME BESIDES SENDING AN EMAIL SAYING THAT AA HAS RECEIVED MY COMPLAINT, SO I AM SENDING ANOTHER COMPLAINT & ASKING TO BE COMPENSATED FOR MY HORRIBLE EXPERNCE THAT AA HAS CAUSED ME & ASKING HOW MUCH MORE AM I GOING TO HAVE TO ENDURE FOR SOMETHING THAT WAS SUPPOSED TO BE A GREAT TIME FOR ME THAT I PAID FOR WITH MY VERY HARD EARNED MONEY? I DESERVED TO BE HEARD, COMPENSATED & I SHOULD RECEIVE AN APOLOGY IN A TIMELY MANNER!

On June 25, 2019 I flew on American Airlines starting from Martha's Vineyard (flight 4350) with layover stops in New York LGA (flight 1782 and Charlotte (flight 5315) with my final destination in Daytona Beach International Airport at 7:15pm. I started in Martha's Vineyard with only one small carryon luggage. While boarding in New York LGA I was told I needed to check my bag because it was a full flight and there was little or no room ln the overhead compartments. I was assured that my bag would be at my final destination when I arrived. However, it was not. I spoke with what I thought was a baggage handler for American Airlines who told me that perhaps my bag would be on a later flight at 11:59pm. Two problems for me existed, at the time. One being I could not wait several hours for the later flight, and two I live about 50 miles from Daytona Beach. At this time I was assured that my bag would be delivered to me, at my home in Palm Coast, the next morning. The next day after my bag had not been delivered, I called the online listed phone number for American Airlines (1-800-433-7300) and spoke with your representative by the name of Anne who informed me that my bag was indeed at the airport in Daytona Beach, and that I could go there and claim it. Or that I needed to fill out a delayed baggage report, at Daytona Beach Airport, before my bag could be delivered to Palm Coast. I informed her there was a distance issue for me, and she continued to state my need to fill out a baggage report at Daytona Beach, an additional three times. At this point I requested to speak with someone who had the authority to resolved this matter without imposing a hardship on me, and that I didn't create this delayed bag problem and that I needed my bag ASAP, which contained some very important documents. Finally she said she would forward this issue to American Airlines in Daytona Beach and they would call me, and that there was no certainty of my bag being delivered to me in Palm Coast. Sadly I was made to feel I made a mistake by not filling out a baggage report (which I wasn't informed of) at Daytona Beach. The baggage handler, who assisted me last night 6/25/19, did so at the ticket counter for American Airlines, as there were no ticket agents anywhere around your counter. Anne informed me that it was a mistake to get information from the baggage handler (an American Airlines employee and able to operate the computer attempting to locate my bag) and not a otherwise representative. Perhaps he wasn't the right person to speak with but he was the only one available and I did indeed appreciate his assistance. I feel that my experience with Anne was unacceptable. At this time 1:20pm on Wednesday June 26, 2019, I have not received a phone call concerning my luggage. 386-566-2809 18 Lincoln Lane, Palm Coast, Florida 32137
Have feedback for American Airlines?
Thanks for your feedback!
Sorry. Please try again later!