Denny's
Contact Denny's Corporate
Toll free phone number: 1-800-733-6697
---
Need to contact the Denny's? You can call customer service at 1-800-733-6697, this seems to be the best number to contact. No alternate complaint line was found at this time. We could not find a company email address for Denny's, their feedback form is linked below.
You can use the official Contact Us feedback form on their website to leave feedback or comments about your experience at your local restaurant. The company is also quite active on social media it appears. So, if you do not get an adequate response by phone or email you can connect with Denny's through their Twitter account or on the official Facebook page.
Founders Harold Butler and Richard Jezak opened Danny's Donuts in Lakewood, California in 1953. Jezak left in 1956 and Butler changed the concept to a coffee shop open 24 hours every day before later changing the name to Denny's in 1961. Today the chain operates over 1,600 restaurants around the world in over 12 countries including the United States, Canada, Mexico, Japan, and New Zealand.
The chain is known in North America for offering 24 hour dining at cheap prices with sometimes mediocre service. Today the corporate headquarters can be found in Spartanburg, South Carolina. If you would like to mail a letter, the address is 203 East Main Street, Spartanburg, South Carolina 29319.
Denny's Contact Information
Report complaints to corporate and get satisfaction
Denny's headquarters address

203 East Main Street, Spartanburg, South Carolina 29319

Company website

1-800 phone number

1-800-733-6697

Better Business Bureau rating

A+

Customer service hours

9am-5pm EST, 5 days a week
Browse reviews of other Restaurants
Top Denny's Complaints
Browse more than 328 reviews submitted so far

Kimberly Owens
from Tulsa, OK
I have come in to the Denny's the last two nights just to drink water at one of the booths and play on the internet. Now I have been a patron of the establishment for 30 years. And at one time I worked for the company. I have eaten meals here when I have come in to eat but for the last two nights. Both nights I have been drinking water. And have been ignored and when asked for more water or for ice. I even asked the manager cause the wait staff wouldn't get it. At two different times I got up to get it myself. cause no one else would. Even the manager wasn't around to get it.
Tonight I went and got my water cause no one else would. And they told the manager which is fine. But he came out and chewed me out for waiting on myself cause his staff wouldn't. And said "They only make two dollars an hour and they aren't going to go out of their way just to get you water." If I ignored my customers who are patients. If I spoke to my patients the way he did me I would have lost my job. Just because I'm only drinking water doesn't mean I should be ignored and talked to like I'm a nobody. This will be THE LAST time I patronize this business because of the way I was treated. by the staff and manager.

Nestor Urbina
from Palmdale, CA
Today i finally had it with seeing one of the "cooks" in the Palmdale CA, Denny's Restaurant located by the Antelope Valley Mall completely disrespect and verbally abuse his own Denny's co-workers, specifically the women. Its extremely unacceptable to have that type of treatment and actions going on in the store and to not have any sort of support from the manager and no stoppage to this act is very sad. This isn't the first time I've seen this. I come into this Denny's location about two times a week and i see this act almost "every single" time i go in.
And I'm not the only person that has complained about this poor act. People have notified the managers there of this guys sick actions and treatment, but it seems that management just swipes our opinions and concerns off their shoulders and continue to let this guy be the way he wants to be. I've gone out of my way to hopefully seek help for the Denny's employee's who have been taking this type of treatment, but mainly for the young waitress who I witnessed cry and fall into her emotions because of the way he spoke and rose his voice to this young lady, for a simple mix up that wasn't any of her fault. I asked for this guys name and the only information given to me was that his name is Juan.
I really strongly hope you being corporate can put a stop to this disgusting act and either terminate or physically force this guy "Juan" to fix his act and start giving respect to his co-workers. Either this comes to a stop or there will be further actions and reports to making sure this stops! I will frequently go in to check and ask Denny's members if this guy is still acting the same or if his actions and verbal abuse has come to an end. You will be hearing from me again, so please with the power you guys hold make this end.

Ann Lewis
from Los Angeles, CA
I also did the survey and explained this Denny's complaint. I was traveling and stopped into Denny's Pico Rivera for a cup of coffee and to use the restroom. I stopped by the cashier first to order a coffee to go, then proceeded to the back restroom when I slipped in a pool of water, fell backwards and hit my head on the ceramic floor so hard, my earpiece went flying. The patrons gasped and there was an employee in the very back by the restrooms who yelled at me and pointed to a "slippery when wet" sign placed by the front entrance wall/vending machines. The employee did not cordon off the area he was mopping and literally mopping right next to the patrons who were eating their breakfast...disgusting. The place smelled like mop water and now I did too.
I sat there for a moment until I could help myself up. I was never offered assistance by an employee. I then went to the restroom, dazed and wet from head to toe from the pool of water. When I went to get my coffee, I complained to the cashier who was having a jovial conversation with a coworker. When I complained, she said that she was unaware I had fallen (even though I was in the restroom for several minutes, trying to clean myself off, the mopping guy told no one). She did ask if I was OK and I said I think so. I was dazed. Then she charged me for the cup of coffee and sent me on my way. Guaranteed, if I was not dazed, there is NO WAY I would have paid for that cup of coffee and would have been much more vocal about the incident and insistent that proper protocol were followed.
If I wasn't dazed and did not have my dogs in the car, I would have photographed the location of the "slippery" sign which was not in plain sight, gotten names of both the patrons and employees and insisted a manager be called and a report written up. I was driving to Orange County and had to pull off the freeway 2 times because my vision was blurred, I am guessing a light concussion. This was yesterday, I am still sore today, but no more blurry vision. I'm sure I'll be fine eventually. An incident report was never completed, a manager was not called, I was yelled at AND charged for my cup of coffee (receipt attached). OMG , These employees need to be trained on safety, courtesy and protocol.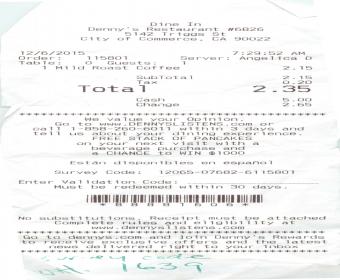 This last week my wife and I were eating at Denny's off of White Bear Ave just across from Maplewood Mall, MN. When a person behind my wife took a couple puffs off his e-cigarette. It was just like someone was setting on your chest. When I did make eye contact with that person then he put it away. But the vapors and smell was in the air for everyone else to enjoy. I did call this complaint in and was told your policy was not against anyone smoking them. If you would please take a good look at this web site. It was on national TV so a lot of people had to see it if not glued to a ball game.

Beverly
from Springfield, MA
This is the second time I have sent this complaint in. Sunday November 22, 2015 I went to Dennys on Boston Road in Springfield, Mass, At first we could not get a waiter to take our order. Finally after a 15 wait, we ordered our food at 12:30 pm. We did not get this food until after 2:00 pm. Now we did not order anything fancy, just eggs and pancakes. When we got up to leave, our food finally came. The waiter did give us the food for free. However, that is not the point. If you want this restaurant to make a go of it, some changes have to be made. By the way three other couples and familes, got up and left as well. Back to IHOP.

Dale
from Mountain View, CA
The dennys on south harbor across from disneyland is the worst I've ever experienced. slow service. Cold coffee. And defective jam at the table...old and gloppy. Bacon was stale. No refills offered. And not that many seats filled. The cheese was congealed on my grandsons mac and cheese. You would expect the best service given the location. The worst.

Ted Klink
from Galion, OH
Went to Marion Ohio Denny's at 1:00 pm. We ordered at 1:10, 2 pancakes and a value slam dinner. 45min. later at 1:55 we got our meal, which not only was it cold,but was also smaller in size.we have been having problems not only at Marions but also at Mansfield, which has a attitude problem. Sorry, NO MORE DENNY'S. Have a great day.

donna devalkeneer
from Mukilteo, WA
Just a few hours ago I was almost shot by the police over a dirty bathroom. Early this am friends and I met up at Denny's.. store # 7873 address 108 college st. se Lacy, Wa 98503 and I arrived first. Since I arrived first I used that time to use the bathroom. When I walked in the restroom it was vile; urine, food, caked on human droppings and tp all over the pace. The bathroom was in rough shape and had not been cleaned. I had to squat to relieve myself and use my shoed foot to flush toilet. piss every where.. Any who there is a sign that tells you to notify manger if bathroom is dirty and I did so nicely. Rachel the manager did not like my confronting about the bathroom, she became curt and made her way to the restroom. Only to return moments later accusing me of breaking an item. again, bathroom trashed.. After our encounter I said my good byes and explained to her because the conditions of her restaurant I could not spend our money there.
I walked out to inform party and everything was great.. as far as I knew.... My friends and were talking in parking lot, I ran to grab my car and as I was getting out I was surrounded by the police. We all put our hands up dnt shoot! They had their darn guns out threatening to kill us! We were surrounded by cops with their guns pointed right at us. I stated I was going to grab my cell phone to officer and the other officer pulled out his weapon and hubby jumped in front of the barrel. That cop was going to shoot me in the back! Denny's I am filing a lawsuit! Clean your bathroom!

Adelaida Medina
from Port Lavaca, TX
In Harlingen, Texas, we have a Denny's on Frontage road. We had a waiter named Estella. She was very rude and occasionally rolled her eyes when we were ordering. She paid little attention to our order and did not respond to our questions. The food was delicious but the service was no good.

Saturday, March 29th around 8:45 A.M. Kayla seated us took our drink order, brought them to the table and left quickly. She didn't return for 10 min. When we said something about how long it took, Kayla got very smart aleck with us for another minute or two. Food came out quickly and was served by another waitress. Then Kayla passed by the table again and made another smart aleck comment walked on off looked over her shoulder laughing. The order was not exactly right the first Time. She could have just apologized and all would have been well. Politeness goes a long way in earning a tip in my book.

Went to Denny's in Roswell New Mexico on North Main Street, finally got order taken, took over 40 minutes to get our COLD FOOD and burnt toast, wait staff had manager come to table, she replaced our meal with one that somewhat better. Please take a look at the toast we were served....unbelievable that anyone would think someone would want a cold meal.
Do not think we will be back to this Denny's. There was a table of 7 that came in after we did and they got up and left after waiting about 50 minutes and still had not received their meal. The manager had a very heated argument with these customers which was very unprofessional. Sad situation you have at this store..I have attached a picture of the toast for your viewing pleasure.

John Azeltine
from Lehigh Acres, FL
They did not want to take a valid coupon since Halloween was a holiday! We said it was not a holiday. Finally they accepted the coupon but then delayed our orders so they came cold. My salmon was overcooked and dry. My wife's chicken cheesesteak was good. We have eaten at Denny's many times since it is close by and always open. It has left us disgusted so we will drive a couple miles further and go to the Cracker Barrel on Daniels east of US 75.

Jan Cortez
from Sacramento, CA
My daughter, husband and I were seated. First the waiter came over took our drink order. Coffee for husband, hot chocolate for daughter, and water for me. The coffee was brought out pretty fast. The other two drinks were not brought out at this point. The waiter Cody, took our order. Husband ordered T-bone breakfast, eggs over easy, french fries instead of hash browns, white bread toast. Then I go to say my daughter's order, Kid's menu spaghetti ( she only eats this every time we go) the waiter looked at her and said, "Aren't you getting a little old to be ordering her that?" I was embarrassed to say the least, I didn't know why he would say that, what was the problem? I told him she is 12 and had ordered that for years, kids spaghetti with french bread and french fries. He had an issue with the food cost for kids menu and went on to explain the pricing scheme for kids and senior menus. I'm just sitting there nodding my head. WHAT HAD WE DONE WRONG? Nothing! He put us on the spot trying to get us to order a larger entree I guess was his goal, i guess. He even explained the fact that she would. Not be allowed to order that when she turned 13, my daughter was not thrilled, he embarrassed her to say the least. The family in the next table over overheard, and said that he really had no business getting into this discussion with me, as we had not violated any policy so forth. I was stunned, I felt like I wanted to leave at that point, but it was Easter so I ordered a Grand Slam Slugger. TURKEY BACON (I do not eat pork)' eggs over easy, hash browns, and pancakes. The coffee and hot chocolate they ordered would be the drinks for the slugger instead.
So after he left we waited, the water and hot chocolate never came, he never returned to the table, like 10 min had passed, I got up to look for the manager, to tell him what the waiter had said at the table. I told him we were about to walk out, and he apologized many times and said he would bag the order to go and offer 20% discount. I said no way, comp the ticket, Ill go home and eat it there. We waited over 30 min for the order to be prepared, another waiter gave us the bag, we got up and left. The manager did explain he comped the ticket as a way to show that he felt bad about what had happened. Anyway...
Husbands order... new York steak kinda raw, two eggs over easy, french fries (No toast...forgotten). Daughter's order... one box only containing kids spaghetti, (No garlic bread, no french fries, no cheese to put on top)....forgotten), and no hot chocolate from when we were inside the restaurant My order... 2 eggs over easy, hash browns and 4 PORK BACON (We do not, I repeat do not eat pork), I ordered turkey bacon. I was very clear about the fact i wanted turkey bacon, lastly was 2 pancakes. I called manager to tell him there were items missing, he apologized again, told me it was his fault as he was the one to bag the order, but did mot thoroughly check the order. I think that it has to easily be one of the worst dining (or attempted dining) experiences EVER. CODY THE WAITER was rude, the second waiter Kane was cocky and rude about bringing out our beverages after it was clear Cody was not our server at that point. The manager tried to do the right thing, but ended up making mistakes which made it worse. When I called he offered no further solution to this dilemma, that is why I spent my time sending thos complaint. I hope nobody would have to go through what we went through, just because the server (Cody) was being way to bossy and condescending. Outrageous that the table next to us witnessed the ongoing terrible service.

Leasa Thelen
from Clarksburg, WV
Went to pick up grandchildren, was to meet at Denny's. Went into the restaurant to eat. Took 15 minutes to get seated, was told upon being seated that it would be a few minutes before our ( 4 of us ) server would get to us. Twenty five minutes later I had to go tell the hostess that our server hadn't come for us or booth behind us. While waiting watched another booth who came after us being greeted and order placed. Also witnessed a booth get served their food, with the Mushroom Swiss burger part of the order being sent back. This was done 3 times because it was missing mushrooms and onions. Manager was called to their booth and informed of situation, managers response was to take the burger no one had eaten off the ticket. We also observed food from kitchen sitting in window 5 to 10 minutes. Restaurant was only half full. Was told one server went home sick, but counted 4 other servers. Food was cold when it arrived 45 minutes later. My family and I were extremely disappointed, always loved Denny's but probably not eat at this one again. Thank You

Early one morning, about three weeks ago I was having breakfast at Denny' located at 11320 North Freeway Houston, Texas 77037. I was sitting at the counter eating breakfast when a young black employee came out from the back kitchen removing his dirty uniform shirt and tossed it on the counter where I was eating.This employee was waiting for his ride home. Please train him, his actions were rude and nasty. Also on 5/1/2013 I had breakfast and find some of your Spanish speaking staff to be very unfriendly . I used to go to this location very often because I live near by and the food and service was great but I find that the Hispanic wait staff is not very friendly. I see that they don't like to greet customers as they walk in. I believe that this is something in their culture that they do not do. I also am Hispanic and I find your Hispanic staff unfriendly.

Marcellus
from Williamsburg, VA
hi
my name is Marcellus, and I had apply to you restaurant about a mouth ago. I was called in for two interviews for possible employment. the first interview went extremely well hosted by Dianna I believe. the second by a young lady name nicoletta... nicoletta than called me a day later to come fill out information such as w-2 contact information, etc. when I first walked in the door she and the GM were at the host stand talking. and told me to wait while she got the paper work, while I waited the GM never said a word to me, shook my hand, or acknowledge me as a rising stars the GM left 5 minutes after I arrived. while she was telling me how to fill out my information I had my cell phone out to get information off my phone and she demanded that I put my away and told me that if I had a problem with that I could leave and go else where, although I wasn't employed there yet she made me feel unwanted and unwelcome,
This restaurant has been getting negative reviews such as poor management mostly, some employee having issues with cashing there checks and having to travel nearly 30 miles to cash the own pay check, or checks bounces, are you serious!
for someone who has been giving an opportunity to work in this country and get a management position, she need an attitude adjustment . we don't treat people like this and we don't talk to people any kind of way, I've been in Williamsburg all my life. this is my town and the hardworking peoples town. When some like that is running a company like this they need have a respect for the people that work there and eat there as well. I will go to the papers if I have to, even though I choose to not lower my standard by working with a manager like that, I still care about the hardworking people who work there, and people that spend there hard earn money there. something seriously need to change in that stores location. thank you and have a blessed day

Rosemary Murphy
from Windham, NH
Auburn Maine Denny's 11:40pm-1am (possibly be here longer) Lisa who is in shift right now has been incredibly disrespectful, disruptive, and unprofessional. She took over 30 minutes to even take our drink orders. At which point my drink came back with a dirty cup and floating food in it. She then messed up during our orders in multiple ways. First, she didn't make the chef aware of this dishes ordered in a timely manner which resulted in me cancelling my entire order. The nacho appetizer sat in the window for well over 10 minutes before she finally brought it over saying she accidentally brought it to another table. When that never happened so why lie? Below is a picture of my proximity to the chef window. About another 20 minutes after that she came over to tell us that the bourbon sauce was limited to just one of our dishes. Which is fine if we hadn't already been here for almost an hour waiting. She didn't say ANYTHING to the cook letting him know that I no longer wanted my order at all, and the other dish was to be changed. Another 15 minutes pass and the food is being placed on the shelf because SHE didn't tell the cook to cancel both dishes and another burger to be made instead. All while she is telling the cook to "fuck off" (excuse my language) because he was never told to cancel the orders and it was all his fault. And she refused to take the blame for messing up the order. She also never told the cook that one of the skillets were to be replaced with a burger since there was no bourbon sauce. Again, all while she is being EXTREMELY RUDE to him and has been mumbling about how we are the ones at fault for her messing up.
So finally it's 1:13am. The food he prepared that we said to keep on the order is brought over I.e. a burger and salad for one meal. A breakfast for a kid (which didn't have chocolate chips) which was ordered. She then tried to bring over the two skillets which we are telling her that I had already cancelled mine and that the other was replaced with a burger which She neglected to update as well. 1:23am the burger comes out. Mind you the cooks food is delicious no issues with that but the server has no idea what she is doing. And is extremely rude and unprofessional. If I could do negative simply because of her I would. She doesn't belong in the customer service business. Absolutely vile woman who treats her coworker like dirt. Very disgusted.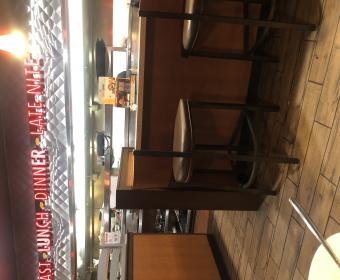 Dianne Ayers
from Denver, CO
Tried to order breakfast this morning. The machine denied all cards for a $6.31 order. I was the only person at the register & the guy was unwilling to cancel transaction & start over. Told me he didn't have time & told me to leave. I told him he was rude. He must be the owner. I have no intention to EVER go to Dennys in Red Oak, TX again

Joseph J Seminatore
from Bedford, OH
You need to check out Denny's at 6100 Rockside Road, Independence, Ohio. It has gone way down hill. Several times in the last few weeks I've gone in either for lunch or dinner, and have been told the wait is 20 -30 minutes - I see ten or fifteen empty tables, and am told "the wait is because the kitchen is backed up, there's only one cook and the manager is trying to cook as well" Not only that, there are only a couple of waiters, the "young ones just don't show up." Many tables have not been cleared, the place is a mess. You should be upset because this Denny's is directly across from the Holiday Inn, several other hotels and a business district. Business people use to come here for lunch, not any more. I see you have some good reviews on line, evidently these are made from people who are willing to settle for a table, a chair, and that's about it. You remodeled this restaurant a short while ago, the work you put into it is very nice, too bad the food and the service doesn't match up to your effort. Denny's doesn't have to be this bad, it was much better before.
Thank you.

Diane Peru
from Phoenix, AZ
My husband and I just left Denny's located on 21st Ave Thomas Rd Phoenix,Az . My husband ordered all you can eat pancakes,glass of water . I ordered the Value slam and coffee. My coffee arrived cold asked for a new cup of coffee told server it was cold, second coffee cold again . My food arrived ordered sunny side up eggs , they arrived burnt on bottoms and yolk was dried looked disgusting!! Pancakes were cold as well .,, we left our table told server our problem and that we leaving to eat somewhere else ..all he said was fine!!! Did nor even apologize!! And Denny's was not busy at all !! To receive this poor service ..at the least maybe three table with no more than 8 people total !! this was a very bad disgusting place to eat !!

David Heidenthaler
from Las Vegas, NV
The service took entirely too long. I ordered two grilled cheese sandwiches and two bowls of soup. Oddly enough, the sandwich came first.The sandwich was supposed to be grilled cheese on toast. The toast was not really toast, just warmed bread. Then the soup came and it was cold. We left it on the table untouched. When I went to the cashier, I told her the soup is on the table, we can't eat it, it is cold. She said oh well, swipe your card it does not have a chip. I had a doctors appointment or I would have taken this a lot further. The service here is terrible and the attitude is more disgusting. I know I am wasting my time writing because this is not the first complaint about this unit, store number 8563. But at least I tried. I spent 21.17 for absolutely nothing.

Tabb Laubach
from Denver, CO
I'm at 16751 Aurora, CO location.
This place is filthy. Dirty floors, silverware,
The cart used for picking up dishes extremely dirty.
I can't imagine what the kitchen looks like. The skillet my food was served on was beat up with chips & cracks.
The pad for handle filthy.
Somebody's going to get sick.

I was in restaurant #7996 the service was very bad wait fore food 45 minutes food was not good my wife had pot roast and 90%was mushroom never go back

John Keeney
from Port Isabel, TX
My wife and I both ordered the Country Fried Steak from the 55+ menu. We could not eat more than 2-3 bites because of the excessive salt and pepper amount on the brown gravy. Photo on menu shows white gravy. The very nice manager Gio, comped the items we sent back, and we ordered another entree. He explained he has had numerous complaints and that we were not the first. You changed the gravy makeup and it is terrible. The store is an South Padre Island, TX. #8653, date was Feb.17. John Keeney 913-633-5599

susan wright
from Casa Grande, AZ
Our Server was great the food was not, I requested eggs over medium and received very runny not even totally white egg whites they were very bad. I usually put my eggs on top of my pancakes but the pancakes came a good 5 min. later our server said she was trying to get the pancakes as quick as she could . I was drinking tea and a server came along and poured coffee in my tea didn't stop long enough to even offer me fresh tea just said oops and kept on going. The lemon for my tea had ad brown spots on them the fruit was soft and didn't taste good. I was very disappointed with my breakfast. We were at Denny's # 6750

Alexa Prince
from Washington D.C., DC
Denny's restaurant #7822
Henderson, Ky. Went to have some lunch after church, knowing it would be a little bit busy, I was seated at my table and wait about 7-10 minutes before a waitress named Terry P. Served me my drinks. She only came to my table once. I waited well over an hour to receive my meal. Which was fine, but I expected my food to be hot with waiting so long. My mozzarella sticks were like chewing on rubber and weren't cooked fully. Then I received my Cali club and fries. I asked for no tomato and extra cheese, and you guessed it. That didn't happen. I let it slide and just took the tomato off no biggie. But my fries might as well not have been cooked. So I complained about my crummy service and cold food. ONLY TO BE CALLED A DUMB BLONDE. No tip for the waitress, the manager was the one who called me a dumb blonde. I figured instead of getting attitude I would contact you, and let you address it. I still love your franchise. Especially the O'Fallon Denny's I always had the best service. Hopefully this will be resolved and both the manager and Terry will learn their lesson. Thank you!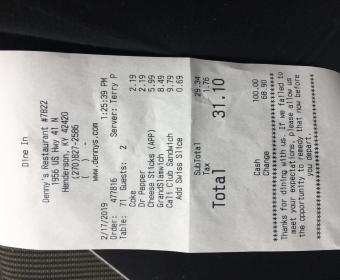 Mrs Lynne Simmons
from Parkville, MD
The worst experience ever at a Denny's. Waited for over an hour for our food. There were 6 of us and our bill was just about $69.00. We weren't there for the free pancakes or any free stuff! After the manager FINALLY came, she did make sure we got our luke warm food. I had the Greek vegetable omelette, which was cold, I got cold grits with it. Cold toast too! My husband got cold bisquits and gravy. My husband just about had to beg for a refill of coffee, even though several wait staff were asked for a refill.I expect much more from Denny's and usually get MUCH better food and service. We got there at 9 AM and food was finally brought to us at 10:10 AM. Our water was "Will". This was at the Joppa Road restaurant in Parkville Maryland! I am so disappointed! Other that came in after us ate, finished and left before we ever got our food.
Lynne Simmons

Rae Rae G
from Denton, TX
The staff is horrible in the Denton Texas location. They were literally turning people away at the door claiming there was a wait for 20 minutes and the lobby was damn near empty. My husband and I requested a booth, across from our booth another booth was full of nasty ass looking food and drinks which turned out to be the sorry ass drug addicted employees lunch. They would take turns and come to this gross ass mess and eat right there in front of customers but there was a so called wait. Incompetent with bad attitudes. Now to the awful ass food which the nasty ass high as a kite cooks sent out. I asked for onion in my eggs. They came out and there was literally brown ass sautéed onion on top of my shit and it looked like shit. My husbands eggs came out runny when he clearly ordered them and said fried hard. You could hear everything the staff was saying things like cursing and the bitch ass so called host getting an attitude about people ordering meatloaf and pot roast because they were out of it. There is no telling what they probably did to our food. During the time we were there we saw at least 3 parties leave the hellhole. I give this place 0 stars. -0 stars.

Did not get what we expected.

The food was the wors and thay took a long time to give us our fooodd it took likr an hour and 20 minutes.The manager there is the worst he does nothing but sit down he should be fired.Before u go to Dennys I recommend going to chilies or somewhere else. The maneger like to hug his girl worker a lot from what i saw.

Bill Bengtson
from Los Angeles, CA
First let me say I was surprised to see the 1.87 out of 5 rating. Although I have a complaint, I was surprised to see your national rating so low.
My complaint is how you try to fool the customer. First I am embarristed that a restaurant that I like would do such trickery to make a few bucks more. I asked the waiter what meet was on the Cobb salad since it showed in the picture but it was in the list of the contents of the salad. He explained that to get salad that was in the picture I would have to pay $4.00 extra. That is discussing and I refused to order such a misrepresented item on your menus.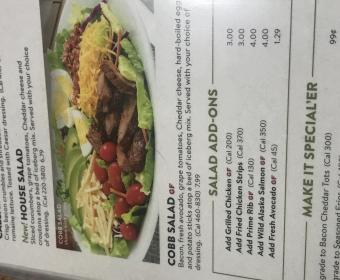 On 2-6-1 around about little after noon time I thought I come have me some lunch,the waitress who served me was extremely rude from the time I came in I order some fries,ibtold the serve they were not hot and not cooked all the way so the other server said to keep those and she will replace them so the one that was rude came after me getting my fresh order,she talking to me rudely in front of the customers I told her hey I don't deserve your rudeness,she then took my new order and tossed them out,and I told her your not going to take your bad day out on me she then got her mgr.after then telling me to leave her mgr.did not do nothing I didn't get what I came for ,the waitress was wearing a name badge her mgr.told her to remove it so I couldn't take her name down I've been coming here for years,the sad part about all this your mgr.did not once correct or said nothing to repremend her,I don't know if you allow this kind of treat ment to your customers ,as I'm putting this I'm very upset and was totally embarrassed I have alot of friends and family that attend Denny's and my church family,who also hold meeting at the other Denny's not to far from this one ,sorry I couldn't get the name she took her name tag off,my name is Vincent Jones,my ph#209-409-5595 thank you for you time to look at this complaint I'm very disappointed being a long time customer and all ,well have a good day .

Billal Murtaza
from Albany, NY
Ordered a tbone and eggs + oreo shake latenight, @ 4am. Arrived to pickup my order @ 5am and was told that this dennys location was all out of ice cream except for strawberry. Server asked if id like something else, which i did not want. Only ice cream available for shake was strawberry which i reluctantly agreed to. I also had to ask for cutlery, napkins, and condiments which ultimately were not in the bag.

We have breakfast at Denney's every Tuesday morning. Everyone that has ordered anything with gravy on it could not eat it. I tried a dish that had biscuits and gravy today and I could not eat it. Very very salty and a taste that was not good. I will not order anything that has gravy on it and if I am in the mood for biscuits and gravy I will go to another restaurant.

James Terranova
from Winter Haven, FL
I have a complaint about Denny's in Lake Wales, Florida. I ordered a Wild west omelette, and received egg bacon and sausage omelette without toast. I also ordered a build your own slam. The bacon was so over cooked that some of it was burnt, I also didn't received any toast.
When I came to pick the order up I waited at the check desk for 5 minutes while 3 waitress were at the counter just talking, one was wrapping silverware. A waiter who was waiting on the tables looked over and said to just take a table and he will be with me soon. I went to the counter where the 3 waitress and the waiter were and said that here to pick up an to go order. One waitress asked me who took the order. I told her that I did the order online. She then pointed to an order that was sitting on the shelf and said that that must be his there. The waitress then packed the orders and I left. It wasn't until I got hone that I realized how screwed up the ordegaine.r was. This is not the first time this has happened. I hope it doesn't happen again.

Art and Donna Larson
from Mesa, AZ
WE eat breakfast at Denny's a lot after church. Usually had your sausage gravy on Biscuits, but you have changed the gravy and it is terrible. Please go back to the old.. Also the new is way to salty, plus a bad taste.

Lawrence Clark
from Phoenix, AZ
I have been a regular customer at the Scottsdale Arizona Denny's on Scottsdale Road and Osborn for years and years I was treated like family there that was until I reported that one of the waitresses smell like marijuana I reported that to corporate after I reported it I went to that Denny's as usual and I was told I was no longer welcome there I was 86th no reason was given but I suspect they'd rather have drug addicts look for him then customers complained about the drug addicts that work for them

Engrid Thurston
from Key Largo, FL
My husband and i attended Denny's in Plantation Fl. I ordered the zesty nachos and BYO slam on 12/12/18. Almost done with my pancakes, i noticed a thick piece of hair in both of my pancakes. As i was waiting for my waitress to come to the table,i also noticed a another piece of hair in the nachos. When the waitress came over,i showed her the pancakes. I didn't mention the nachos cause i didn't want them to feel as if i was trying to get a free meal. She took my plate to the manager in the back. All he or she said was to take off $2. They didn't even have the audacity to come out and speak to me. That made me even more madder than the hair. I went on Denny's.com and sent a complaint..no response! I am extremely upset. I have pictures of the food and the reciept. If no one responds to me, i will take this to the news!

Irene Calton
from St Louis, MO
It is not a complaint, it is a complement, We had Christmas dinner at Denny's at 5789 Campus Pkwy, in Hazelwood, mo. 63042. The food was good, and the waiter, was very nice. His name was Valden C. -- time 4:54:18 pm. We enjoyed our dinner, very much... I just wish that the Denny's on north Lindbergh had good food, again, like they used to have before they closed and reopen.. We used to eat there two to three times a week. It is so nice and close to where we live. But never again. Food is so bad and the service is worst. Be Blessed...

Elizabeth Crawford
from Anniston, AL
An employee named Joyce Glaze was very dirty in appearance and had a fowl odor as well. She coughed on our food and when I asked for it for the food to be replaced she became very agitated. She used foul language and mumbled under her breath at what a bitch I was. She then just took our food to kitchen waited for a few minutes and returned with the same food that she had previously coughed on. This all happened at the Cullman, AL location on 157 on 10/23/18 around 8:30 a.m. I also feel that the employees should have proper dental health when working with the public as someone with broken and blacken teeth is unappealing to eat around.

Sara DeStout
from Baldwin, LA
My complaint is for the Denny,s on Prien Lake Road in Lake Charles, Louisianna. My husband and I went to this Denny,s because we liked it very much. Everything was GREAT until 10/22/2018. We stopped there to have lunch. We were seated and got drinks and there were 4 other couples that came in AFTER US. A man named Ernest took our order and took another couples order. The waitress took the rest of the orders. Everyone that came in AFTER US got their order. We were still waiting, I heard the waitress tell the Hostess that our order was up and she wanted to know if she should bring it to us, she said yes but Ernest told her NO, that no one was to deliver our order. The waitress felt really bad. Our order came up about 10 mins after we ordered. The other couples who were all black and so was ERNEST you want to talk about being prestigious, well he is the KING OF IT. Well my husband and I were brought up to respect everyone no matter what. Color, or where they came from did not matter. It was what inside that counted it was in the heart. And we still believe that.
So now I want something to be done about this man. If it was me to decide I would fire him. I will not returned to that Denny's until something is DONE. How many other couples did he do this to? That Denny's is usually very busy but not while ERNEST was there.I would like to hear something very soon. I hope!!! I would also like to hear that he was either transfered or fired
Thank You
Sara

paula stangler
from Great Falls, MT
My son and I ate in the Great Falls Denny's on 17oct18, our order was taken at 12:40. There were 5 tables besides us, four of which were already eating. The other table had ordered. Their food came right after we ordered. Another table came in about five minutes after us. Their food, clearly food that had been cooked, was delivered before ours. At 1:12, we were unable to get our waitress's attention, and asked the other server to check on our order, as my son had to go back to work. He came back with it, and it was cold, we advised the server of that, he said they had only one cook. We had no time left, so we ate it. When we paid, we told the cashier how long we waited, and that it was cold, his answer was that they were short 3 people and were "really busy". SEVEN tables is not busy. I have waitressed for years, and I was a manager for years. One of the servers could have helped that cook put up one hamburger and a turkey dinner. However, I did see one person who was dressed like kitchen staff out smoking, so maybe that was the delay. I realize good help is hard to find, but how can you stay in business? This is "rush hour" and you had no customers to speak of, and still couldn't take care of the customers. My son and I will meet at a less convenient place from here on,

Dennis K Ratliff
from Cleveland, OH
I was told it would take 1 hour for takeout order that the waitress would not take my order coz the cook has orders to the floor i was told to go to another store coz management was out getting supplys they were running low on products I've been working 16 hrs and trying to feed my son and me so i can get some sleep

Jerry and Diann Norton
from Lewisville, TX
We went into Denny's to eat a meal. No one was at front desk to seat us. Waited a few minutes and no one came. Hit bell at front desk and waited about five more minutes and hostess came and seated us and gave us a menu. Waited about ten minutes and no one came and brought water or ask us what we wanted to drink or if we were ready to order. Husband went to front desk to ask if we were going to have a waitress. Her reply was "we'll see." Then an employee came by and asked us a question but she did not speak good English, so we could not understand what she was asking. She left. We waited at least ten more minutes and no one came or acknowledged that we were there. We gave up and decided to leave. There was no one at the front desk so no one knew we were leaving. Very poor service or reall no service. We have decided that we will never try to eat there again.

Azucena Miranda
from Los Angeles, CA
The moment i walked in, no one greeted us, no one seated us, no one even gave us menus. The manager LIN was inadequate to take care of my daughters and I 's request. I asked for a milk shake and when i recieved It, it was a bloody mess. No napkins were provided to me. I had to get up and go around the counter and snatched a few napkins for my kid. Another thing, the milkshake contained CINAMIN. My kid is allergic to CINAMIN so i asked The manager Lin what were the contents of the shake she said just Oreos and milk, i thought That was strang so i tried The shake myself and i for A fact tasted CINAMIN. The waiter Rene gave us a new shake but through out our time there he kept on antagonizing me and asking if i was Still upset. Rene kept on saying The Denny's establishment doesn't carry CINAMIN But yet Lin told us that the kitchen must've used the same CINAMIN scoop for the milk shake, so not only is that a health hazard, it's just so unsanitary. It was just a horrible experience throughout. I just Can't believe what this staff put me through. The location is 1101 S Harbor Blvd. Fullerton, CA 92832

stetson fadden
from Gastonia, NC
Went to Denny's on Saturday morning about 9;30 taken to a booth 20 minutes later asked what we wanted to drink....15 minutes later no drink left restaurant two couples left while we were sitting there....

Larry Knowles
from Little River, SC
Me and my wife are locals in N. Myrtle beach. We went to Dennys in N. myrtle beach sc after a 12 hour day of work. it was around 10pm when we got there. Service was fair but not understanding what we wanted. But the big complaint was we has 20% off entire check from the chamber of commerce in N. myrtle beach Coupon calenders that has coupons for various businesses. Our coupon did not expire till december 31st , 2018. They would not take the coupon from chamber of commerce. False advertisement and making Dennys along with the chamber of commerce of N. Myrtle Beach like a bait and switch game of luring the locals in for business. Not good !

Melinda Gibbs
from Fitzgerald, GA
1125 BUCKSNORT ROAD, JACKSON, GA 30233. I stopped at the Denny's with my granddaughter. Customer's were waiting 30 minutes to pay bills. No on came out to seat customer's although there were many empty tables. The "manager" got into an ugly argument with a frustrated customer who hadn't been seated. There was even a exchange of "yo mama" word. It took almost an hour for my food to arrived and it was not edible. There was so much salt on the hash browns I couldn't eat them. My plate was swimming in grease from the bacon. The grease has soaked into my toast. With all hostile behavior going on I decided it was best not to complain. I paid my bill and clicked on 10% tip but it automatically 20%. I just paid it and got the heck out. I am also reporting this place for inspection. It needs to be shut down. Terrible experience.

Megan
from Centerville, IN
It is storming really bad in Clarksville Indiana I asked the manager Asia about the lights flickering and she replied to me are you afraid that your fat ass won't get their food and when I said it no I was concerned about the safety of the customers she told me to fuck off and walked away
Have feedback for Denny's?
Thanks for your feedback!
Sorry. Please try again later!