Super 8
Contact Super 8 Corporate
Toll free phone number: 1-800-454-3509
---
Super 8 Worldwide is a subsidiary of Wyndham Hotels and Resorts. There were 2100 Super 8 US and Canada locations reported in 2016 with locations in China. To reach Guest Relations, call 1-800-454-3509.
You can also find more online contact information at their website. To reach Wyndham CEO, John Valletta, address an envelop with 22 Sylvan Way, Parsippany, NJ 07054, USA.  The corporate office phone number is 800-454-3509. 
Super 8 is an active participant is protecting children from harm. They also offer military discounts, Wyndham Rewards, continental breakfasts and free WIFI. Social support is found on Facebook and Twitter.
Super 8 Contact Information
Report complaints to corporate and get satisfaction
Super 8 headquarters address

22 Sylvan Way, Parsippany, NJ 07054

Company website

1-800 phone number

1-800-454-3509

Support email address

customer.service@super8.com

Better Business Bureau rating

A

Customer service hours

8am-5pm EST, Monday-Friday
Browse reviews of other Hotels
Top Super 8 Complaints
Browse more than 256 reviews submitted so far

Malisa huntoon
from Brooklyn, NY
I rented a room for my daughter for a week. Well over $700. They were rude and demanded my daughter had to come up with $100 cash before she got the key. Then to her she cannot have visitors there period and told her friends that they have to get off the property and were not allowed back. They have never been there before. They were extremely rude and talked down to my daughter who has done nothing to these people

GEORGE ELDRIDGE
from Indianapolis, IN
Super 8 by Wyndham Little Rock/Otter Creek
First I'd like to say this is not the usual experience. I had made a reservation on line a few hours before showing up we had ot planned on stopping however, my disability was becoming a problem and I needed to rest. I was traveling with my wife and daughter and my service dog. Apon stopping I informed the front desk that I had him with me. At this point the lady at the front desk demanded I state my disability or she would deny me a room. I easily shocked that she was unaware of the law.what my disability is should and is mone of her business as far as I am aware she could only ask two questions
1 Is the dog a service animal required because of a disability?
2 What work or task has the dog been trained to perform?
Asking if I have a disability it much different then expanding.
I do feel as though I should identify what my Dog dose. I took two bullets as a young man and came close to death as a result I have severe ptsd that manifest in the form of night terrors that can cause violent out burst along with other things ..Max is trained to help my through them before they become a problem. Anyway the next day we decided to Stay an extra day so at around 11 I went to the front desk and what I bel is the owner did the same thing again but he was much worse he was rude implying the I was not being truthful. Even he ran my card I had forgotten to unlock it. At which he told me I had to check out and come back after 3. I am a high-school history teacher and a veteran I am not asking for special treatment but I'm now some bum either. It embarrassed me in front of my family. Please not I'll never go to that place again and we did go down. The road and stayed at another of your places and not one problem. I never do this buy I will be posting o. Every media I can. About the location and his intentional discrimination.and hostility toward vets.
Thank you for your time
George

Daryl Richter
from Saint Cloud, MN
We stayed at the Super 8 in Red Wing MN on Friday may 12th, and it was terrible. First off, we couldn't get to the motel because of construction, so after driving around for an hour in unfamiliar surroundings, we finally found the back route in. Someone should have emailed me and let me know about this so we had a clue. Then we get there and the guy tells us there is no complimentary breakfast because of.construction, that's bullshit, that's one of the reasons we picked this motel, so we had to make different plans for the morning. Then we get on our room and it was a dump. I have honestly stayed at better Motel 6s, and that isn't saying much. From the loose toilet seat that my wife almost fell off of, and we had to hold handle down about 10 seconds for it to flush properly, to the ceiling in the bedroom that clearly had water damage and got vey poorly spackled over (see pics), to the paint splattered all over the towel bar (see pic). I think we deserve a free night or two stay at a Super 8 of our choice. I don't think I could go back to that dump again.

Kathryn Kelley
from Oklahoma City, OK
On March 14, 2023 around 9:30 p.m. my hotel window has been broken into. The police were called and I filed a report. When I requested to move to another room the gentleman at the front desk. That the owner was mad that his window was broken and refused to switch to another room and requested that I just leave or that I would be held responsible for the $2500 window. I requested a refund multiple times with Priceline (through which the room was booked) and also through the super 8 in Norman Oklahoma where the incident occurred. Both sites refused because I had been there multiple nights had just renewed my room. Though I believe personally, it's due to the person breaking the window was my husband. My husband domestic violence from. My issues is that I had to leave because I wasn't safe in the room my attacker had broken into, was refused access to a new room and bullied into leaving on March 14th instead of March 15th as paid for. Because the police report was filed and that I was not criminally to blame, none of those things should have happened. It is hard enough to be on the run from a person that was supposed to protect you but to be treated so poorly by Super 8 by Wyndham was revolting and offensive. It left me surviving my attack but left out on the streets in the cold by no fault of my own. I believe that I am minimally owed for the one night I had been refused the ability to safety stay.

Sharon Osborne
from Tillmans Corner, AL
Yes I rented room three nights last night NY husband started afught he left but ten minutes later they putnriut in coldz 290 in the morning kept mydepizit abdno ey

Rebecca Hammack
from Lawrence, MA
Not enough space to list all the problems at the super 8 in Batesville Ark. It needs to be closed down. From nasty bedding, doors that won't shut and lock, bugs, no cleaning service, the smell is aweful, the floors are nasty, I could go on with more complaints.

Dana Hobbs
from Speedway, IN
This place was absolutely horrible! Bedding was stained and had cigarette burns in them. Carpets were stained and gross! The smell in the rooms was horrible! Mold on the bathroom walls, the faucets and the ceiling! The chairs were filthy and black! The smoke detectors were ripped from the ceiling! Liquor bottles were found in our "clean" room. Was told they could not make a key for our door so staff had to come unlock it for us or we were told to "prop it open" when we leave. We were given 1 towel for 3 people to share. Staff said "we might have another clean towel but you will have to come get it." The floor in the bathroom had a hole around the toilet! Overall, we could have stayed in a tent outside and it would have been cleaner than the garbage can they called our room.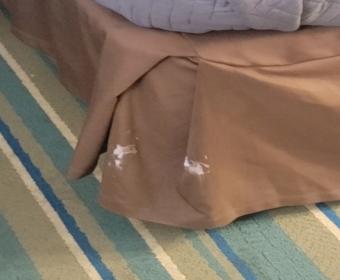 Kathy Fee
from Frankfort, IL
I had planned on stay at the Super 8 hotel in Mokena Illinois for 2 days. After 3 hours I receive a phone call that there was a family emergency and had to check out. I asked the girl at the front desk for a refund for the second day. I was told that a manager would call me. Didn't receive a call. Went back the following day and was told the manager was gone for the day. Went back again the next day and was told the manager was out sick. I called again today and was told she won't be back until next week. I think it is absolutely ridiculous that I'am being charged for 2 full days. I don't mind paying for 1 full day but I would like a refund for the second day. I really think that this is good customer service. I also called the customer care service which was a complete waste of my time. I would like a refund for $86.00 for the second day. That would be fair and good customer service.

Julie Simpson
from Newport, VT
We booked a one night stay January 4-5 at Super8 white river Junction,Vermont. The room was arranges so no night stand on one side. Got out of bed hit my head on rack. Tv was on side so couldn't watch it without sitting up to watch over husband. Tried to sit to read,but chairis next to tv. Heater kept blowing cold air . Was cold during the night so used the bedspread. About 12:30am ,woke up sneezing,eyes watering and itching. Got up to put a facecloth on my eyes. My husband joked if I had snuck a cat in our room .I'm allergic. Next morning,went to leave and my husband brought it to my attention,a note on the next neighbor door,please don't let our cat out. I believe they had the room before us,no one washed the bedspread. The pictures on the site is nothing like the actual Super 8. I tried lodging a complaint,but needed the reservation number, Called down last month to get the number. Was told they did not have that information any longer. I have pictures but it won't let me down load them. We have stayed twice since and chose another place. I want to bring this to your attention.So others will not experience this. The pictures will tell how bad it is if I could get them to down load.

Debra Perry
from Atlanta, GA
Wow what a long day. The AC in my room #128 did not work. The lady from the front desk came to check it put its not cooling at all. Good thing I had a box fan. It's was over 88 out side. Then my non smoking room smelt of smoke. I have a lung disease & smoke makes it where I can't breath.
Doesnt help when the room next door sits outside to smoke and it was also coming from the fan in the bathroom. This cost me nearly a $100 for this..I. very upset. I work hard for my $$. When I made the reservation your web site said tax and such was includedin the price! Then a $50 hold on my debit card what in the world! Not suŕe if i will stay with you guys again. Very disappointed.

William Randolph
from Indianapolis, IN
I stayed at super 8 and Madison / man over Indiana. The room was disgusting. The room had mold above the sink. The hot tub had dirt and filth on it. The mirror above the hot tub was just so bad it was hard to look through it and angle. The toilet was disgusting and never been cleaned after many uses you could tell. There was holes in the wall. There was sprinkler head hanging which I'm sure was a violation of local code because of safety. I have many pictures but I am only allowed download one. It's a shame I can't show you the full pictures. Please do not hesitate to contact me.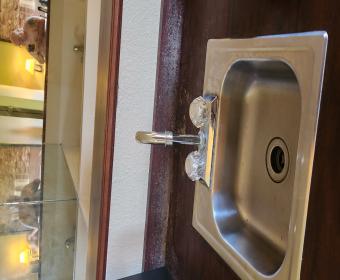 ben harmon
from Seattle, WA
Was the must dirty trash filled place I've been to the first room was flooded from the toilet over flowing when we walked in (not there fault I guess ) are 2nd room smelled so awful trash behind the bed dirty and stains on sheets worst of all junkie out front working on there car until 2am was the worst stay I would never come back there and would not recommend it

Alexis M Davis
from Charleston, WV
Was very nasty to me at check in, could not give me a valid reason why I was not able to rent a room I believe it's discrimination!!! Would not look at my ID for my birthday and middle name Front desk receptionist was really nasty about it April 1, 2023 at 3:00 PM

Tiffany Swigert
from Mundelein, IL
Front desk claims room smells like weed. We informed them as soon as we checked into the room it smell and our deposit was not given back to us.

Thom Cunningham
from Oklahoma City, OK
Found front desk unoccupied. Rang bell at least 10 times, shouted for help 3 times, called motel 2 times. After 15 minutes, Ria (employee's name) finally showed up, smoking. Said she was "cleaning the stairs" and "phone went dead". Said she would probably "go down for this one". I assured her I would report it.
I asked her if she was having trouble at the motel or something crazy going on. She assured me everything was fine.
Also, our room was not very clean. Stains on carpet and toilet needed cleaned.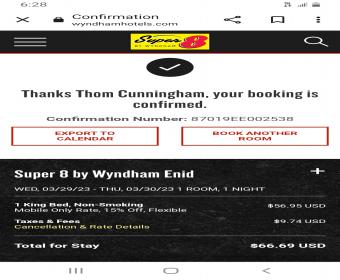 Clint Battle
from Atlanta, GA
My family was in Prattville for a base ball tournament. We decided to stay at super 8 because location to field. we were asleep between the hours of 4 am-6 am someone tried to break in our room twice . The only reason they didn't come in is we had safety lock in place. my children were terrified we call the front desk the receptionist to see if she accidentally gave a room key to another guest she was rude and said no I didn't I said well someone came I to our room she said if you feel like your in Danger call 911 well I asked her name she said she wasn't giving me her name I asked for manager name she hung up. I tried to call back for an hour the phone was disconnected I call police they went and got managers number for me. I will never stay at this HOTEL again it's not safe

Mauricio
from St. Albert, AB
On March 26th, 2023 we stayed at this hotel for 1 night. The following day, we exited the hotel at approximately 10:45 am. At approximately 2:00 pm, my wife realized that she had left both rings on top of the bed at the hotel. I called the hotel and spoke with front staff Roo and informed her about our situation. Minutes later, Roo called me back stating that nothing was found by the cleaning staff.
At approximately 3:30 pm, we arrived back at the hotel and spoke with front staff
Shiraz. He was very kind and allowed us to check the room we had stayed at, Room 215. Unfortunately the room was already cleaned by the cleaning staff, and had left for the day. Shiraz feels that hotel policy states if anything is found in the rooms, normally the items are brought to the front desk and logged in a Lost and Found binder. We left the site around 430 pm, very displeased with the situation.
I can only ask one more time to have your cleaning staff check the bedding sheets, and the washer machine in hopes it can be located.
These rings are my wife's wedding ring and the engagement ring both of great sentimental value. My wife was extremely upset and had tears all the way home last night. Please check every possible possibility that these rings are probably stuck inside a bedding sheet and can finally be returned to its rightful owner.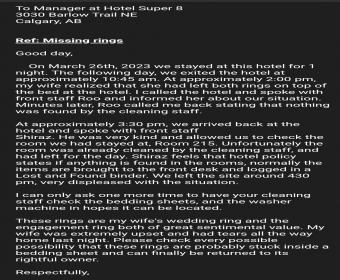 Leroy Lammey
from Denver, CO
The place was filthy. Smelled really bad when you walked in the front door. Big holes in the walls they were trying to fix. Beds was not even made in the room they gave me like they just pulled the blankets up. Looks like they have not used a vacuum in weeks. I will never stay there even in the dead of winter. I would rather sleep in the gutter in sure was cleaner. So I will never stay at the Laramie Wyoming hotel. I'm still waiting to get my money back.

Michael Genova
from Los Angeles, CA
I booked and stayed in room 212 at the super 8 motel in Pasadena, California on Colorado St. From March 17 through the 24th 2023. I checked in at 3pm pacific time, brought my items in, took a shower and left in the evening to spend time with my loved ones. When I returned that night a few hours later and turned the lights on, I was horrified to see roaches everywhere in the bathroom and running on the floor in the main room area. I immediately went to the front desk and complained I saw and killed 12 right before I came down to the office. She said she will let the manager know. When I returned to my room there were more. On the floor, on the walls, on the furniture. I tried to sleep with the lights all on to keep them away. Nothing was done about it. Every day I came back from work, visits or errands each day roaches were everywhere. Even when I was using the toilet they called on the toilet. When I checked out I spoke with the front desk about it and he acted like he was confused with a fake stupid look on his face as if he never heard of it before and looked at me suspicious as if I was suspect of something. With the army of roaches I had to witness and suffer under it is obvious that this population of roaches have been here and growing for years and the whole building has to be infested. There are way too many just in 212 alone for it not to be. I will never stay there ever again and should have the place shut down and condemned for health reasons. That was disgusting and the lack of care by those running it is offensive to say the least. They've always known about it and don't care. You lost my business and trust. I use to revere super 8, but now can never stay at one ever again. I'm afraid of what I may wake up to. Brings new meaning and reason why for we'll leave the lights on for ya. You have to or you'll be covered in roaches. I can't believe I paid for that. Never again. That location should be shut down.

Joann Lambert
from Saint Albans, WV
We were kicked out in the middle of the night accused of something that was not true was not provided with any proof of the incident had no money for another room both of us are on prescription medication that makes us sleep we believe it was racially motivated because as we were leaving Mexican and African American people were laughing at us We had 2 rooms for 2 nights my son was across from us and heard nothing going on we were there in the area shopping for a house to buy had been shopping all day had some dinner got to the room around 9pm and spent the next couple of hours talking about buying a house then we were accused of arguing and fighting our TV and heat was on
There was no screaming some laughing and talking and still hearing our TV we couldn't hear anything from another room but we were told by the lady from the front desk that we were fighting and that she had been informed from people beside us and above us however my sons room was across from us and he heard nothing she called the police we did have them to look in the room to verify that nothing had been destroyed because we had already been lied on and had no trust in the facility after informing my son we had to leave he decided to pack up and leave too because he didn't feel safe and comfortable to stay the night when he went to the lobby to return his room keys the lady said Oh you're part of them with that comment it was a racial incident
We had to drive for 6 hours to get home under the influence of prescription medication

Evelyn Jackson
from Utica, MI
I slept with roaches.And I paid 470 I want some of my money back
Roaches every where.Super 8 on 13 mile and little Mack

Melessia Riddle
from Cincinnati, OH
Well i'm not going to include all super 8s, because I have stayed in some very clean ones. But i'm shocked at the filth I saw in the one at Buttermilk apart Fort Mitchell. We have stayed her several times in the past with no issues, but they have changed soooo much. The coffee hadn't been cleaned in ages, black around the bathroom sink, door walls and window seals were absolutely gross. Dead cock roaches the the drawers. The heating unit has never been cleaned from the looks of it. Just no excuse fir this kind of nastiness. Don't think i'll stay here again. Room was tended in my Husbands name, 3/13/2023. And i'm not a complainer unless i feel it's the right thing to do. Plenty more images. bug won't upload.

Jason bundy
from Portland, OR
After booking the room I was told I could not use my debit card to guarantee the room and then pay with cash. I was told the manager would need an extra $200 cash deposit. Or just pay by card. So me n my dad decided we would just use the cacard. Then the manager tells my 73 year old father that I'd he doesn't have valid military I'd he can't receive a veteran discount.. granted he served in the air force in 69-75 and obviously isn't caring 47 year old military paperwork on him. Said all vets must show I'd.. my dad has never been required to produce I'd to get a vet discount. Ever. So we said ok fine let's just get the room. And when I gave the guy my debit card. With both me and my father's account he said he couldn't take the debit card because it was in my father's name . . . I explained to him that not only is it a box company card but we are both account holders to it.. as well as I have power of attorney as well. Not to mention we just stayed at the exact motel with the same credentials 2 weeks earlier.. . So we. Waisted about 4 hours of our time went through a huge hassle trying to book another room. Got screws out of my reward points and we're discriminated against and humiliated in your kelso wa lobby.. the guys name was Casey I believe. . And I no it's not your policy to be I'd police or have policy's that don't follow the laws such as power of attorney . Very upset very long drive. Very cold as we could not book another room and were forced to sleep in our car. . My dad's health is poor at best. And it was terrible for him. But thanks to your staff . We had no other choice. .sincerely Jason Roy bundy ibowhuntforlife@gmail.com. 458-232-6446

Jesse Lara
from New York, NY
I stayed at the Waxahachie, TX location. I'm state certified disabled and when booking requested a first floor due to my disability. Upon checking in I was not given a first floor. I again asked for one and was told no, I asked if there was an elevator since I cannot climb and was told and was not offered help. I once again asked if there was anything to help accommodate me with the stay and was told no. I would like a response to a satisfactory remedy or I will file a complaint with the American Disability Association. Thank you.

Kimberly Stover
from Denver, CO
I had booked a reservation for 2 days from March 2nd to March 4th and I called the front desk to see if they could help me I have blisters all over my left leg that are not allowing me to walk if I walk or if I get in my wheelchair they're going to be my first and I might have mercy then and I just wanted to know if I drove to the front of the the hotel and somebody could help me get my money and stuff like that and the lady Chelsea at the front desk told me that I had to do it all on my own cuz I was the only one in the room and I'm they were supposed to add my boyfriend yesterday but they were too busy I can't get up to the front desk I can't because I don't want my blisters that's very painful for somebody who has to go through that all I was asking for some help was if I gave him the money will they please put it on my room and this lady told me no that nobody was there to help us and they were super busy I just need to help I can't get up to the front desk if I can't get up there I can't get up there I'm hurting and very bad pain I just wanted to make a complaint because it's not right I'm disabled and I can't get up there

Mark Zimmermann
from Minneapolis, MN
Room not clean, nasty vents in bathroom looks like dead bats that's all dried up and never been taken care of, been here 2 nights and management says i have to request my room to be cleaned and I'm a Construstion worker so if I want the vent cleaned I should have the tools to do it myself-I'll never be back-I've lived in this hotel for 4 summers before these owners-never again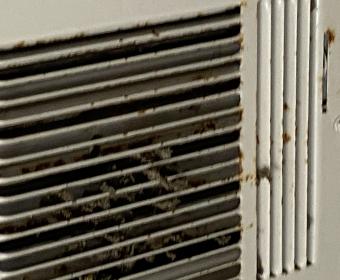 Mary Duke
from Burkburnett, TX
We had no heat. We stayed the 24th and 25th. The heater wasn't working very good the first night. The second night we had no heat at all. The man tried to fix it but it was broke. We asked can he give us extra blankets as it was my friend and myself she had 1 bed I had the other bed. He said they didn't have enough blankets to give only 1 blanket and a think bed spread. He couldn't give us another room he said they was full no vacancy. . Then a man and a woman was screaming outside in the parking lot by us they caught for way over an hr. I tried call front desk get him call police as I am not local anyways our phone all of a sudden wasn't working it was still plugged in and work couple hr before when I called about the heat. I called the number to the front desk I told him he said they r outside so they can't hurt you. I said they r screaming at each other. He said we would be safe he said ok . I really don't feel as though it was worth nearly 200. It was very cold that night. We didn't have the money to try find somewhere else to stay. Ty Mary Duke

Christopher Green
from Orlando, FL
Booked this hotel, confirmation # 72500518586805, for my 6 adult kids as online it said room could accommodate 6. When my daughter questioned it as the reservation didn't list a pull out couch, I called hotel and they confirmed the room did not fit 6 and they did not have roll away cots available . We called Hotels.com immediately to cancel reservation. During this time my daughter found an alternative hotel room that could accommodate 6 people. Hotel.com is claiming this hotel will not give a refund or credit. I would like a refund or full credit for the cost of the room as what was advertised on line was not correct.

Christina Ashley Williamson
from Brooklyn, NY
We booked a stay for 4 nights. The first night we found bedbugs crawling on the pillows. My daughter and i got bit up but we had no choice because refunds arent an option after you book. There were roaches outside of the door. The microwave stopped working although the front desk did replace it for us. The ac didn't work and it was almost 80 degrees outside. It got extremely hot in the room and the window was stuck shut. We had to sit outside to cool down. We only got 4 towels and 3 rags total for the 4 nights. The remote didn't even work for the TV. It was just overall pretty gross and uncomfortable.

John and Sherril Nephew
from Dunnellon, FL
Our advice to anyone considering staying at the Super 8 in Mount Hope Motel, Ontario, Canada is DO NOT STAY HERE. Without a doubt it is the WORST motel stay that we have ever had and we travel a lot. The motel appears run down. NOT ONLY DID the TV not work, but alarm clock and wall heater in the room did not work either. The bathroom toilet leaked onto the floor so badly that a towel had to be placed on the floor, to prevent wet feet. The motel is not near a restaurant, so if you are without a car as we were because we were between flights at the Hamilton Airport there is no where to get anything to eat. The motel serves breakfast only and after that you are on your own to find food other than vendor machine chips. . There is no shuttle at the motel, so that is not an option. The charge with CAA reduction was $120.00 plus taxes for this grossly overated motel. On top of that there is a flat fee of $25,00 for a taxi to or from Hamilton Airport. The only redeeming factor at this motel were the staff who appeared overworked and understaffed but did try their best to make things better. You cannot however make a silk purse out of a sow's ear. Never, never again for us. We have learned that the taxi cost to the Marriott Motel in Hamilton is the same, so that is where we will be going next year. The bonus to the Marriott Inn is that they do have a restaurant and there several nice ones nearby within walking distance.

Terrell Phillips
from Silver Spring, MD
We reserved a room here at 5151 B Allentown Rd
Camp Springs, MD 20746
United States.
The front desk clerk was a Wendy frloa or something close to that I did get the spelling. The room that we where giving at first did not have any heat and the tv did not work. I have full videos of what happened. I would like a phone call I pile a refund of my money we where basically forced to stay here she didn't have access to give a refund and said it would take up to 7 days we are traveling we have a FIXED budget $80 is a lot right now and didn't have money to go else where and sleep. I want to take this matter all the way up the chain of command. The way these hotels are run is not ok they need to be upgraded at the least to start with them management and the employees I would like a phone call asap

Richard Weaver
from Novi, MI
I cannot get a confirmation email from this location. Every time this is a huge hassle.

Theresa Joniec
from Portland, OR
I am staying at the Super in Roseburg OR. Last night when I was falling asleep I heard my door being pushed open. Thank goodness I had the latch on. I jumped up and went to the door only to find a couple and their pitbull outside of the door. The receptionist booked them into the room I am staying in. I could have been raped had it been some crazy person. I understand mistakes happen but that mistake could have cost me my life. I am a travel nurse from NJ and am jere on assignment. I will be reconsidering staying here in the future. There should be a system in place that prevents this from happening.

Joshua Harwger
from New York, NY
When ! went to breakfast this morning 02-12-
23, the juice machine was only putting out
water. I then walked to the front desk and
informed Kathy, the desk manager that the
juice needed to be replaced. She said, in a
not so polite tone of voice "yep, ! will fill it up
if there is any left". And then kathy proceeded
to continue her conversation with another
employee. When ! then walked back into the
breakfast area,! very politely informed one of the other lobby staff that the juice was out. But before I could get the sentence all the way out Kathy screams at me from the check in desk; "WHAT DID I JUST TELL YOU, I SAID THAT I WOULD REFIL THE JUICE IF THERE WAS ANY LEFT, SHE IS NOT ALLOWED TO TOUCH THAT MACHINES!" There was between 6-8 guests in the dining room at that time and everyone got quiet and tried not to look at me. I have never felt more belittled or disrespected by any hotel staff, from
any hotel chain l've ever
stayed with, and i travel quite a bit. Also, I was
charged nearly 300 dollars for three nights
and I was assigned a room with a broken
toilet seat and bathtub, and when i
mentioned it to Kathy she said all the other
rooms were booked. I really am not sure how
all this has happened. Also, I was
charged nearly 300 dollars for three night
and I was assigned a room with a broken
toilet seat and bathtub. When I
brought both to kathy's attention she informed all the other
rooms were booked.We are very
disappointed/frustrated but would like to give wyndam the opportunity to somehow make this right somehow, as in the past I've always had a pleasant stay with you guys.
Sincerely,
Joshua Harweger
@Super 8 University North Austin TX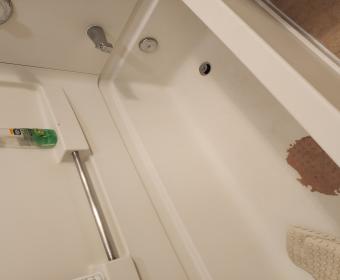 Kashena L Spann
from Chicago, IL
The blond girl is constantly telling me that I'm rude and it's like she needs to make this case that I'm rude and she must be having a bad day and then also there is an Indian guy at the front desk who says it is as well I'm at T-Mobile cellular store and I was folding clothes in my room I had to do not disturb sign on my door if it's such a big problem to have do not disturb sign on the door why even offer it at the motel

Marie chin
from Middletown, NY
I'd rather speak to a representative over the phone because I got 2 complaints here so please tell corporate to call my personal cell number at area code 845 423 1460 thank you this super is the one located on route 211 middletown ny thank you

Crystal Ansuini
from Utica, NY
I stayed at Super 8 in Canandaigua Ny last night and got almost no sleep because I was being bit by bedbugs all night. I caught one and brought it to the front desk and said I wanted my money back. She said she didnt have the authority to do so. They did it me in a different room but that meant having to wake my child up in the middle of the night to do so. They have yet to refund my money at this time. If they don't, I'll be plastering all over every social media how this place has bed bugs.

Jen LITTLE
from Halifax, NS
Ceiling fan hanging from ceiling
Non working phone
Non working fridge
Bathroom tap fell off
Drunk patron in hallway following my children
Broken thermostat
Broken door release

Medhat Elsayed
from Clifton Park, NY
I booked a room in Ticonderoga ,ny at 1144 wicker street . While staying there the front desk gave my personal information to someone and i don't feel safe staying here now I gotta sleep in my car . This is unacceptable as they violated federal law by giving my personal information out and telling someone I was staying at the motel.

Aaron Colmus
from Little Rock, AR
From the get go I was charged for 3 extra nights on my debit card that was paid in cash full. Then I was told to leave property due to vaping outside the room and cops were called on me for being accused of smoking dope and blowing it in employees face. Top it all off they don't want to refund my deposit and nights stay paid in full for the day I was thrower out.

Tasheka
from Clarksville, TX
I had luggage that was left in my hotel room and I was planning on extending a day then we had a death in the family it happened right on State line the car caught fire and they died so plans changed the lady that was working there Ashley said she got my things removed them from the room and put them in the storage area where they hold luggage for guests in room 101 behind the office and I told her I'd be there in a day or so back in town to get my things well it took about 3 days so I got back around the 12th or 13th and no one knew where my things were just listening to the two girls that work there I believe they literally just kept my things and I mean I have a Tommy Hilfiger purse which has my children's documents a sensitive information like you know social and things like that my kids phones just really really my purse is very important my jewelry clothes and they just like we don't see it we thought so maybe somebody else came and got it I didn't send anyone to get my things I told her I would come and get them and I was not going to be able to extend the room because I was not you know in town and Ashley girl told me if it was so important I would have came and got my things when I called her but she doesn't understand or has no remorse for losing a loved one due to a car wreck and the car caught fire and they have kept my things before the manager's not in so I guess the girls took it upon themselves to do what they do my wondering I would like to know if there's they say if you guys can run the cameras back to see who carried my things out they said they ran the cameras and they didn't see anything or see anyone go in but they also stated that the other side of the wall you can't see from the camera I really think they stole my my things and I've already had identity theft and fraud as far as hackers so I really would like something to be done like pulling the cameras because I need my things and the girl Sarah's you know she kind of got snappy with me like I said diamond member and I've been for a while I think just this year it changed over where you I have to start all over well I'm up Platinum now level and I come to y'all's horseshoe a lot I just recently stayed with Wyndham garden a couple of weeks before and the total was like $1,300 you know and paid it with no problem my thing here is I believe that the girls that work there are unprofessional they don't carry the Wyndham perspective as of the hospitality that I've had in the past and I just feel like they are stealing and something should be done about it step one perhaps if if possible if you all can see the cameras from where you're at you know by all means you can reach out to me I can give you some key dates. Like I say I've been with Wyndham for over 20 years and I've never had this happen I think they just took it upon themselves while the manager is out having heart surgery but I need my personal things and I know that they just did not walk up out of that hotel without someone who's at the front desk knowing so they are one earners involved or they are involved or however but I really need it rectified I like to speak to someone who speaks good English and understanding what what I got going on my number I would really like to hear from someone pretty soon over the phone preferably till
thanks a bunch

Tammy Lee Gallen
from Toronto, ON
They charged my credit card for a room and I called back 5 min later to cancel they were very rude couldn't even I stand them get getting detected back to the same person. Charge me for a too I didn't ask for and when I asked for the room I ordered they didn't have it . So they're telling me if I don't stay or come there they're charging my credit card . Very bad business and will be contacting higher up as well this is highway robbery. !!!!

Vicki Handsaker
from Beaverton, OR
Stayed in Super 8 in Corvallis, Oregon on Saturday, January 8
The hallway floors appeared to not have been vacuumed for a week or so; smelled strong of urine; there were dark hairs on the bathroom counter and there were 4 or 5 straight pins holding the hem of the window curtain up; and what appeared to be a tine from a plastic fork embedded in the carpet by the bed; and you could write in the dust on the night stand; and of course the pool was closed; unknown to us
Really, really disappointed in Super 8! Too late to get another motel.

Gary Smith
from Ogden, UT
I have been in the custodial arena for many years with school districts. I booked a room at your Super 8 in Elko, Nevada for Jan. 7 & 8, 2023. When we arrived and checked in to the room things were too obvious until we got somewhat settled in. then we started noticing things that were quite concerning, out of code and some even possibly dangerous. Too many electrical cords plugged in some electrical outlets, some outlets not working and very loose within the wall, lights flickering on and off, dirty carpets, unhealthy debris and trash behind bed stands and I could go further with this list. First use of bathroom sink water pouring all over the floor from broken sink trap and drain lines .This all trying to be held together by a C clamp! I requested another room and the agent at the desk put us into another room.
Upon entering the different room we found the same filthiness as the room before and some. We stayed the night as we were tired and needed rest. The next morning , the first use of the bathroom toilet, there was no water to flush the toilet nor any water running to the toilet.
We were, needless to say, pretty irritated at this point in time (Jan. 8, 2023, I went to the office a bit angry and let the lady at the desk know that I was irritated after being assigned of the problems and possible dangers of two rooms already that I would like another room. (Names unknown butt wish I had gotten names)..The lady flat out told me to "Get our belongings and get out now!!
This really set the my wife and I off being treated like that by a supposed customer service representative! I cancelled the remaining of the reservation through Priceline because your agent would not.
WE WILL NEVER STAY AT A SUPER 8 MOTEL AGAIN!!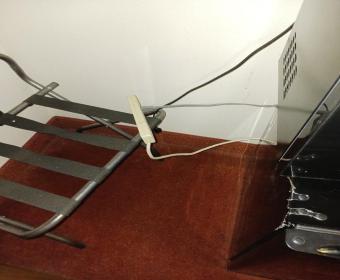 marissa ank
from Pocatello, ID
we paid for a room at Shelton super 8 motel and when we got there they told me that they were not going to give me a room because I did not have my ID and the incidental card in hand it was on my phone I don't have it in hand card it's on my phone ultimately we were not allowed to get the room that we paid for. already.

Deborah Garza
from Phoenix, AZ
I was traveling and the weather got bad, so I pulled over and decided to get a room. I stayed at super8 Tucson/Marana 8351 N. Cracker Barrel Rd. Tucson, az. New years day (01-01-2023) just for one night. This room was the dirtiest room I have ever stayed in. There was dirt in all the corners of the tiles, behind the door and in the bathroom. The toilet was nasty with black stains and you had to hold down the handle for it to flush. The bathrub wouldn't drain right and I was standing in dirty water while taking my shower. The fridge didn't work either and I called the front desk to inform them the the fridge was not working and if there was something I needed to do. She was so rude and said " geezz I don't know .not in the room am I ?" I would not recommend this hotel to anyone!!!

James Rife
from Brevard, NC
I stayed at the Super 8 in Pounding Mill VA on 12/30/22. I stayed there 10+ times in 2022 and at least another 6 times at Super 8 in Lebanon VA. I am a Wyndham rewards member, 129600982H. I was asked for a card for incidentals when I checked in however there was no mention of a charge being posted to my account.
On Sunday, 1/1/22, I was reviewing my online bank account and noticed a $60 charge to Super 8. I called the hotel and confirmed this was the "incidental charge" which is ridiculous as the hotel does not have a restaurant or bar, or any other service that I am aware of that a guest would incur incidental charges. Please understand it's not the amount, however I do not feel that guests, especially frequent guests, Wyndham reward members who have stayed at the hotel 10+ times and never once had an incidental charge should have a charge to their bank card that will not be reversed for days. And on top of that when I called the clerk had an attitude saying there's a sign posted at the desk, what happened to common courtesy, and good customer service?
I enjoy staying at Super 8 in Pounding Mill and Lebanon. I moved from southwest VA to North Carolina about 18 months ago and return to the area frequently to see my family.
Thank you in advance for taking the time to review my concern.
James Rife,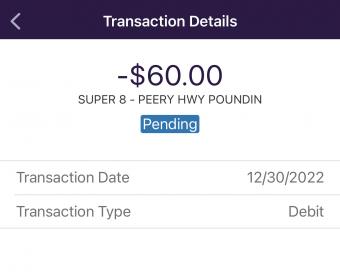 Jessica Jennings
from Lindale, TX
The hotel had a very bad smell, it was making me sick. My room had a smoke detector that was beeping every minute. The website states that breakfast is included but when you ask for it, they give it to you in a bag. I paid to stay there for 2 nights but only got to stay there for 1 night due to me having to come back home bc my grandfather passed away and I was refused to get reimbursed for the 2nd night.

Naresh Dwarika
from Sewell, NJ
This hotel is the worst the floor carpet is dirty the bed sheets look nasty cigarette burn on them the breakfast it's no breakfast a buns a water or tea a apple U have to pay for parking and it smell funny I have no choice to stay here I already paid : hour to get a bed sheet and the the old man in reception say they busy with a attitude
Have feedback for Super 8?
Thanks for your feedback!
Sorry. Please try again later!