Burger King
Burger King Complaints Continued... (Page 11)
847+ reviews added so far. Upset? Call Burger King corporate: 1-866-394-2493

Ms Freddie M. Cox
from Fort Worth, TX
I was in your store on 11/09/2017 with two of my great grand babies, grand daughter, daughter, and son in law. I order two ten piece nuggets, two small fries, and two of your whoppers for six dollars and was charged for another two ten piece nuggets. The number # 12033, 1670 East Chase Pky around 1:44 P.M. I went back to the counter and the manager attempted a refund but charged another $3.78, again I went back to let her know that she didn't refund either of them. I was out of $7.56 for food I didn't receive nor a refund. The ticket number for each transactions are order 19 ($19.85), order 22 ($3.78) this should have been a refund but was a charge. The manager made another attempt to refund but only did an over ring and saying she refunded $3.78 to my bank account but it didn't show. She eventually did a duplicate over ring order 20 ($7.56). Burger King manager ended up keeping my $7.56 plus called police out. I am a senior who get her money once a month, $7.56 may not seem a lots to some but it does to me. The receipt I have have nearly faded out with the information. I've called corporate trying to get a refund of acknowledgement but none of the owners have responded. Miss Freddie Cox, 817-891-8004, 4405 Crenshaw Ave, Fort Worth, Texas 76105

Craig Weaver
from Williamsport, PA
We stopped at Burger King 12790 while traveling across Ohio on November 18, 2017. There was one person in front of me in line. As the young lady took his order she was completely distracted as she talked with another employee. When his order was completed she completely disappeared for several minutes. By this time, there were two more people in line behind me. She eventually returned to take my order. When I went to the soda area, both machines were out of ice. Another person waiting for food told me had had to go to another vendor to get ice from their machine. I waited, and waited, and waited. There was one employee visible and he was preparing food. Eventually, a lady appeared to clean up a mess at the iced tea container. When I asked her if someone could help me, she said, she didn't know, that she actually worked at Starbucks and was just there to clean up the iced tea. When she finished, she spoke to the young man who was cooking and he stopped what he was doing to get my order for me. My wife and I both got the fish sandwich, which was terrible. She initially thought that it was chicken. When I went to get ketchup for my fries, one of the containers had leaked and the entire bin was messy and sticky. Honestly, this experience could not have been any worse. I hope you can speak with someone to address these problems. It really did turn me off to BK!

Jane Barry
from Oak Creek, WI
I and a guest visited store #3791 on 11/10/17 between 7:30pm-8:00pm for eating in, my guest and I both had a whopper with fries and a drink. When we received our food, the temperature of the hamburger meat itself, was not hot, more room temperature and did not taste very well. The fries ordered were not very hot, when I took them back to the counter to ask for fresh fries, the clerk said they just came out of the fryer, but when I received the newer FRESH FRIES, they were the same temperature (NOT HOT OUT OF THE GREASE). I know what hot out of the grease fries are like, and the ones I received were not even close.
As we were eating our food, 3 customers (2 very young adults and one child) came in and the female clerk that took our original order knew them because I saw her hug the female in the group. The customers then proceeded to HANG OUT AT THE COUNTER, laughing and talking, inhibiting other customers that were approaching the counter to place an order. I did not see those 3 young adults order any food and was wondering why they were at the counter. The child was doing cartwheels in the restaurant close to the front door which was not safe and I did not see a sign that the restaurant was a playland type of store.
My guest wanted to order food to go and when she went up the to counter to order, the female clerk had a lollipop in her mouth that she was sucking and it fell out of her mouth on to the counter. She laughed and threw it away. WHAT?????? I did not know that clerks should be eating candy, chewing gum, sucking a lollipop or anything when working behind the counter!! VERY VERY UNPROFESSIONAL AND SANITARY!! After my guest ordered her food, I noticed the same female clerk make the food in the back. I did not see her wash her hands beforehand, nor wear gloves to prepare the food. If she was handling money etc, before, isn't that the normal practice to wash hands before preparing food? And the cooks that WERE on the line, were just standing around and talking to each other, so I wondered why the clerk was making the food and not them???? I am very very disappointed in this restaurant and I want someone to reprimand these employees or retrain them in ettiqutte. I know this is not a normal practice and something needs to be done about it now!!! I will call the day manager next week and complain to her as well and hope that something is done about it! This restaurant is convenient for me and is close to my work and home, if I need to visit a different Burger King I will do so and tell everyone I know not to visit THIS PARTICULAR restaurant anymore!!!

Linda Hatfield
from North Las Vegas, NV
I ordered an orange juice and paid for it and then asked for a cup (it was in a carton) and was told I would have to pay for for the cup as they were out of the cups for orange juice. I explained that that was the stores issue, not mine and did he expect me to drink it out of the carton and he said sorry mam (really?!) No attempt to be flexible in the interest of customer service AT ALL!! I asked for my money back and left the store. I will also note that I am in that store at least 3 times a week and feel my business should matter more than a two cent cup!

Gary Brodman
from The Bronx, NY
Hello.
I'm normally not one to complain when sauce, napkins, or anything else small is missing form my drive thru order.
But on October 30th I ordered a breakfast combo.
Upon eating it, I noticed the cheese wasn't even melted.
Then I bit into it, and the middle of the sandwich was cold, and the tater tots were cold.
Like I said, not one to complain, but this was very disappointing.
I have a long drive to work, so going back to the store to address this was not an option.
Thank you for reading
Gary Brodman

Shirley Bennett
from Beloit, WI
This morning my son went to the Burger King in Beloit, Wi on 4th St using the drive thru. He ordered 2 original chicken sandwiches, 2 original fries and 2 mocha iced coffees. He had to wait 15 minutes, while the Mocha coffee ice was melting. Then an order was brought to his car. The person that brought the order recited what we ordered, but when my son checked the bag, it had a bacon cheeseburger, 2 croissants & fries. He got upset, and I admit he swore at the drive thru person, which I don't agree with. Linda, the manager, took his food back & told him to leave. I heard her tell him that as he was on the phone with me. She wouldn't give him the correct order. I called there, talked to her & went down to get the food. I went in and asked to talk to her personally. She didn't want to come to see me. Finally she did. I told her that I didn't agree with my son swearing at her, but he had waited 15 min & got the wrong order. I thought we should get a credit. She advised me "I will not give a credit. It wasn't her fault that I had to come back down there as it was my son's fault for swearing." While she was getting the order ready, I asked if she was giving me the original fries. In a VERY hard tone of voice, she advised me they don't have any other style. I asked when that changed & she said "We have always had only one kind". I know that is not true, as the other way the fries are made, make me sick. She then went into her office. I asked to see her again, but she refused. Pretended she was on the phone. I had to tell the nice young African American boy what I was going to tell her as she wouldn't come out. I was going to tell her that I have always worked with customers. If a customer isn't nice to me, I understand how she feels. BUT when a family member comes in to talk to me I don't treat them like they were the one that swore. I DIDN'T SWEAR OR RAISE MY VOICE to her, but she treated me like I was the one that did. That is why I am filing this complaint. Linda is the same one that on September 30, we waited in the drive thru for 20 minutes, then was finally told the drive thru speaker wasn't working. We won't be going there anymore & have heard from others that they always get the order wrong.

tom parrish
from Warner Robins, GA
warner robins ga. on Watson blvd. I went in for breakfast around 925 am. I stood at the counter and waited for someone to show up to take my order. a black female manage finally walks up to the front and is talking very loud about some man not getting his pork chop next time. She NEVER acknowledged me at all and while she was standing at the register still talking very loud to other employees and laughing and cutting up, still not acknowledging that I am a customer and want to order my food. I know I stood there for 2 to 3 minutes while she was acting foolish. I finally said out loud I want a number 1 with a coke for here. she slammed my cup down in front of me. never said Good morning, may I help you or any damn thing. I took my cup and went and got my drink and when I came back to the counter to get my food it was in a bag to go, not on a tray so I could eat inside. I think her name was Shirley. while I sat down, I watched her attitude with others, 6 black people men and women came in and she smiled and spoke to them like she should. if she don't like white males then she is in the wrong business. she better show some respect next time I go in there because I'm not gonna be treated like that shit again by her. she is always very loud in that store and does not respect people. do something this!

toni natta
from Waycross, GA
I ordered 2 whoppers and a large fry. First this isn't the only time. The whoppers had old wilted brown lettuce old onion and so much ketchup and mayo it was running down my arm. The frys where cold and rubbery.
The staff are not costumer are not focused. The store is dirty as well and freezing cold.

vanessa
from Cedar Crest, NM
On oct 20 i visited burger king drive thru at 7:27 pm.
wait a long time in line to get cold food not only that but found a marker cap in one of my burgers.

Donna Salazar
from Conroe, TX
I went into Burger King on College Park in the Woodlands, Tx. I ordered a Big Fish Combo, extra pickles and extra Tartar Sauce, with a small garden salad instead of fries, and a large Unsweet Iced Tea. My total came to $8.65. It occurred to me while my credit card was processing that the total was incorrect, and I expressed that to the person at the register. She explained that I was charged for the combo, (ok), a 40 cent upcharge for the tea (ok) and an upcharge of $1.90 for the salad (not ok).
I explained that the Big Fish Combo was $5.69, with an upcharge of 40 cents for the drink, and that I only wanted a small salad that was only $1.59 if ordered a la carte. Why was I being charged $1.90? She replied that it was the tax. No, it was taxed on the total after the additional $1.90.
The manager was standing there, so I explained it again to her. She said that was the only way they could put it in the machine to get a salad instead of fries.
Then why was I charged for a combo?
If I ordered everything a la carte, it would have even been less, with the Big Fish sandwich at $3.69, the salad at $1.59, and the Large Iced Tea at $1.99, the total would be just $7.87 instead of $8.65. When I am charged for the Combo with the upcharge for the drink, it is $6.58.
The manager insisted that was the way it was done.
Imagine my surprise when my order came out, and it had a meal-sized salad instead of a side salad! I kind of thought something wasn't right when the cashier (verified) during the order that I did not want meat....I had replied, no meat just a small (using my hands to demonstrate small) side garden salad.
I did not pursue the conversation any further. Since the bill was paid, I decided to have my lunch and notify you instead.
Here's the thing--I go into that Burger King often, and always order my combo the same way. They always charge me the Combo price with an upcharge for the Large Iced Tea. They have never charged me an upcharge for the salad since I don't have the fries. That said, even if they had to charge an upcharge, or charge me a la carte, the side garden salad is posted on the menu at $1.59, not $1.90.
There was no misunderstanding about what I wanted. It was repeated several times since the cashier kept saying "what?" and I kept repeating.
I am sure the order was entered incorrectly, and I am sure I was overcharged, and I am sure there was no effort to correct the problem.
The good thing is that the food was fresh and delicious as usual, which I do appreciate, since my diet is somewhat restricted and this is how I treat myself ..(I don't eat the bun, either, but refrain from ordering it that way due to the confusion it has caused in the past and that I understand).
I have attached photos of the menu, the meal as it was presented, and the receipt.
Thank you for your attention. I will look forward to your response.
Also, please note that when I went to your site and clicked on 'Complaint Form' I was routed to a complaint page for some energy company. I had to do a little work to get to this form. I do hope it is, indeed. the right portal for Burger King Corporate.
Sincerely,
Donna Salazar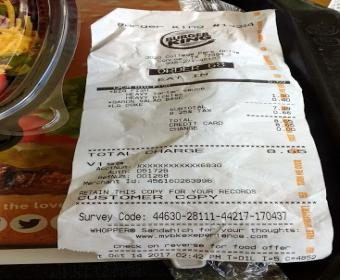 Mildred Estacio
from Haledon, NJ
At about 6:27 pm on 10/10/17, my husband and I paid for our order at this BK joint in Midland Park, NJ. Then we stepped aside at the other end of the counter to wait for our order. While standing and waiting, we decided to order another item. The guy who served us first, left the register as it was not that busy. I went back in front of the register and waited for someone to serve us. This woman, Nina (we found out her name afterwards), came up front but she just stared at me then looked away and turned her back on us while doing her stuff. I did not say anything as I thought maybe ringing the register wasn't her job. After awhile, she turned around again, stared at me then turned her back again… until my husband who was still at the other side of the counter, signaled to her that I need help. She then took my order. After that I looked at my husband saying in my native tongue "Why wasn't she asking me if I need help in the beginning?" Then all of a sudden, this Nina woman responded, also in my native tongue, saying "I thought you were served already" – with a big attitude.
First of all, I expected her to apologize – in my native language or whatever. Second of all, if she were not trying to be rude and do what is expected of her instead, working in a customer-service based establishment, she shouldn't have even opened her mouth and pretended not to understand what I said. After all, I am a paying customer who needs to be served with respect. Instead, she acted like she was all this high and mighty BK supervisor or manager or whatever her title is. My husband was all nice to her even after all that but she carried on with her condescending attitude… that's when my husband confronted her and put her in place. She then started saying she did not notice me… that I wasn't in front of the register, etc… You have cameras all over the place. Watch and see what exactly happened. She was not only rude but a liar, too!

Michele Amos
from Tallahassee, FL
I worked at BK for 4 years in 1984 and again as a part time job to supplement my income when I was single. I'm sure some things have changed but the way the employees are now they just don't give a damn that's from the managers on down. Every time I go to one the customer service sucks, the food is always wrong and most of the time the employees are playing. What happened to the secret shopper coming in and rating the store and actually getting disciplined when things were not up to standard. IF YOU GOT TIME TO LEAN YOU GOT TIME TO CLEAN, not these days fries are all over the floor visible for the customers to see. One time I went in to one of the stores and the manager was actually buying perfume in the lobby that a customer had brought into the store, instead of telling her to leave she allowed it. What about washing your hands after you take cash before you prepare food, its not being done. Wearing a hair net not being done. If you need a secret shopper I would be more than happy to go around to all your Tampa stores and tell you everything that is being done wrong and each store, just let me know.

Raymond littrell
from Knoxville, TN
Food was cold and hamburgers were burnt tasted like rubber was like they had been sitting around all day never had a worst burger in my life had to wait 10 minutes for the worst meal we ever had very dissatisfied service was terrible got food home only two miles away very cold could not even eat it it was so bad this burger king was located in memphis tn on summer ave and perkins road you really need to do something about this will never eat there again I would really like my money back dont know what they did food tasted old as hell would really like some compensation if I dont hear something from you will never go to a burger king again I will tell everyone I know it really sucked baf

Burger King just opened a new store a couple of months ago in Platteville Wisconsin. I was so excited to have a Burger King in this town. I have not heard one person who has had a good experience at this Burger King. The complaints have ranged from the food, the service and even the cleanliness of a new store. How does that even happen --you are only open a week and the floors are so dirty and sticky that you can hardly walk on the. The waiting time is another issue but I think that might be normal. I went there last Saturday and I got a whopper junior which should not be a difficult order. I got it to go and I could not even eat half of it. They had put so much of the special sauce and it almost seemed like they put the tomatoes, onions, pickles and special sauce in a blender and slopped it on top of the burger. It was the most disgusting tasting thing I have ever had. It will be a long time before I give Burger King another shot.

Johnny Smith Jr
from Lafayette, LA
Placed an order at 11:32 and didn't get it til 11:50 when only 2 other customers were ahead of me. Yet 5 other people were served before I received my food. So I'm pissed and let the cashier know and when I recieved my food it was so sloppy. I will never eat at restaurant number 501 at 1500 Johnston St .Lafayette, La. 70503 again. I dont even want your free whopper which is why I didn't take the survey.

Hello
I went to your Burger King on 68st in Hialeah today Oc 2,2017. I ordered thru the drive-thru and paid. At the moment they gave me the soda and told me to park as my food was not ready. I waited 15 minutes in my car and I noticed everyone after me paid and left and I was still there. I walked into the store regarding my order and it was sitting there. No one knew who it belonged to and the employees all looked at each other. I asked for a refund and to talk to a manager regarding the situation. She was very rude that she didn't want to give me a refund. Later she issued the refund but didn't want to give me a receipt regarding the refund issued. She was very nasty and not very helpful at all. I will never go back.
Regards,
Gladys

Catherine Rai
from Las Vegas, NV
I've been to your Flamingo and Cheyenne location 2x the last 3wks. The 1st time I ordered cheeseburger no ketchup and I had extra ketchup snd product eas cold wanted a refund because my bus was coming they refused and I mised my bus and had to wait another hour. Went yesterday and ordered another cheeseburger mo ketchup. Recieved what I ordered had cheese slappef on extra mustard that I did not order and cold. Hmmm is this typical? Don't give an excuse on food temp because I've been a food/bev manager for 20yrs. If I want cold food I can get a sandwich at Subway or at home. I wish your company continuous success.

Richard Ridenour
from Belton, TX
The location of Burger king in Belton, Texas. The facility ceilings are water damaged and stained with black mold growing on the ceiling tiles, the air ducks have black mold growing on them as well. there were a lot fries on the floor that looked as if they had be there for a few days, the food was way over cook and cold. the buns looked and felt like 5 day old bread hard and crunchy. I am a member of the Military community and have started to pass the word not to visit this store until improvements are made.

D.I. Lynch
from Saint Marys, OH
when did it become routine to not give change back to the customer? stopped at the store in celina, ohio this morning and my bill came to $2.99. I gave the person at the window $3.00. All she said was "thank you". While it is only one cent, I still expected my change back. If not I would have told her to keep the change. This has happened more than once. i don't know if they assume people wouldn't want the penny back but unless they are told to keep any change, they should give it back. I have worked retail for over 20 years and would never assume the customer wanted me to keep the change. regardless of the amount.

Krystal Cates
from Alexandria, LA
I love burger king and prefer the whopper to the big mac any day! However when my food is somewhat raw it becomes inedible and I can't enjoy my favorite fast food place. When my husband and I went through the drive through the server was rushing us so quickly that she spent more time interrupting to ask "anything else" than she spent listening. We got our food home and realized the whopper jr. didn't match our receipt and our bacon chicken burger was ice cold. It was so cold that it was hard to bite through. I'm not asking for a refund and I'm not asking for coupons. I'm asking for this problem to be addressed before the burger king (store #12673) in Alexandria gives someone salmonella.

Mike peters
from Olathe, KS
Hello there, I just wanted to say this is the first time I have ever made a complaint with any fast food place. On Sunday September 17, 2017. My wife and I and our children visited the burger king in Olathe Kansas next to the Wal-Mart on K7 and Sante Fe around 1:00 pm. We went inside to eat. The gentleman taking our orders was not rude but very impatient while we tried to give him our kids orders. We told the man the kids wanted Apple sauce with there meals and he said we don't offer Apple sauce. The menus board very clearly stated Apple sauce as a side item. We just let it go and got them fries instead. When we tried to get sodas from the machine, it was broke down so he had to get us soda from the drive through machine. When we finally got out meal first thing we noticed is how bad the French fries were. They were quite possibly the worst fries I had ever had. Over cooked and dry and not hardly even warm. My kids refused to eat them. I decided to get some ketchup to make them a little better. The ketchup hand pump machine had been filled with water Im guessing to make the ketchup last longer. It was most discusting. Most of the tables were not clean so we had to sit at a handycaped table. Our burgers were actually not too bad but my daughter's had slices of tomatoes that had small parts of stem still attached. I was so mad and disappointed we just left without saying anything.

Christa Florenz
from Minneapolis, MN
Just came from Burger King at 3342 Nicollet Avenue South, Minneapolis,MN. 55407. I ordered two(2) number ones(1) with cheese, which is a Whopper, fries and drink. Instead, I received two (2) double whoppers and some of the SALTIEST, NASTIEST fries I've ever had! We were unable to enjoy the fries at all, had to throw them away. Way too much mayo which made the bun soggy and also looked very unappealing. Spoke with the manager who responded that: "Corporate says to hold the salt shaker upside down and let it fall on the fries until the salt stops coming out on its own." That's got to be one of the most ridiculous responses I've ever heard. Needless to say, we are very dissatisfied with BK food service and the lack of quality in which they serve and present their food. I am a long standing customer of this particular BK, have been going there since I was in high school, year 1978. The standards and quality of the food and the manner in which it is presented to customer has severely declined. One would think and hope that standards would increase but sadly that is not the case. I give this BK experience a Negative 1.

Stanley Curtis
from Brunswick, GA
My wife and I usually have good experiences when we eat at Burger King. The food is normally very good. We visited the above mentioned store earlier today for lunch. We ordered the 2 for $6.00 Whopper special and were very disappointed in the quality and the taste of the sandwiches we purchased. The sandwiches were sloppily and haphazardly assembled and somewhat mashed down. The sauce appeared to be only an abundance of mayonnaise and not at all like your normal signature sauce. The sandwiches did not even have the flavor of a Whopper. This is the first that we have experienced this at the Brunswick store but have had similar experiences at the St. Simon's Island store. It almost seems like the personnel from the St. Simon's Island store have been transferred to the Brunswick store. We hope that was not the case.
We hope that an in depth investigation will be initiated in both locations and steps taken to correct this problem as soon as possible. We would again like to enjoy the original and great flavor of the sandwich that made Burger King famous.

Gayle Diehl
from Columbus, OH
I went to the Burger King in Columbus Ohio at the Carriage Place Plaza this morning (9/17/17) around 10:15 AM. There were 4 cars in the parking lot and initially there was no one behind me and to my knowledge in front of me though I could not see around to the side of the building. I ordered a breakfast combo and asked that my hash browns could be extra crispy. I have ordered them that way in the past and most of the time they have not been. At first my question was ignored and then when I asked again I was told "No." So much for the old commercial "Special orders don't upset us all we want is that you have it your way. Have it your way.....". Anyway when I got up to the window I saw a new woman who I am assuming was a new manager. I would have thought that a new manager would bring positive changes. I also found it very interesting that the receipt I received did not appear to have any identifying information about the store on it such as the store number etc.
I changed my order to exclude the hash browns because I don't want to pay for food I don't want.
In addition, most of the time when I have gone I have only seen 1-2 women of Hispanic decent I assume, and they can be very difficult to understand and I usu have to ask what they at saying again and they usu ask me the same thing. It is not that big of a deal as usu there is plenty of time because I don't want to hold anyone else up behind me and most of the time there isn't anyone. However, I don't understand why they are put at the drive thru due to the language barrier. I love that America is a diverse nation but I think they should be getting more assistance/tutoring from Burger King with their English. I am sure there are rude and demeaning people that are customers and it causes frustration for the customers and the workers as well.
Anyway thank you for your time and attention to this matter.
Gayle L Diehl

Robert Keck
from Royal Oak, MI
I purchased Chicken Fies for my children and there was a chicken bone approximately 3/4 of an inch in one of the chicken fries.
Please contact me to discuss further.
Thank you
Purchases 09/16/17 at 04:35 pm
Order 27
Store # 1312

Ray Darnell
from Independence, MO
Went to your independence, 23rd & 291 location approx. 7:30 pm, with my 7 year old son. They had on loud rap music in the kitchen area with some rather profane lyrics, I mean you could hear it through the entire store. Plus the supervisor, I'm assuming, since he was directing everyone, was smoking on the line. Right up at the front counter. Very poor experience. Really disgusted with my visit.

Cyndi Brawley
from Lake Charles, LA
Burger King in Lake Charles, La. on Prien Lake road--I oerder the ulitmate breakfast platter, they were out of pan cakes, so I asked if it would be cheaper or would I get a subsiture for pancakes, an employee, said very ugugy, that I was getting a biscuit , what was that suppose to mean, it came with a biscuit, all she had to say is I will give u an extra sausage or take .99 off or something, no , she was uguly, I am sure she was manager.

Randy corbitt
from Montgomery, AL
Beaufort sc .hwy 21.
The worse service ever. Waited for 20 minutes for 2 sausage egg biscuits. Then they had no coffee ready.waited another 15 minutes. They tried to give me a small decaf. They had just given it to the guy ahead of me. He noticed it was decsf after he tasted it. They tried to give me the same cup...gross.
Not only that...i paid for a large cup. Not a small.
The day before..15 min wait and they gave me 2 cold croissant sausage egg biscuits that were cold.
By the time i got my coffee on that second day my food was cold. Didnt save the reciept.
McDonald's is next door. Always packed. BK.. Empty.
The day ive told you about there were only 2 customers in the store.
corbittrcc33@gmail.com
843-271-7580

ernie morrison
from Montgomery, AL
We had to wait a long time for food .the new burger king had food on the floor.and the table was not clean it was a miss 106 N cumberland Lebanon TEn.I was very disappointed The old store was never like that.

Debi Nutcher
from Santa Cruz, CA
I ordered a cup of coffee at the Burger King on East Roseville Parkway in Roseville, CA. The young lady taking my order said they were out of coffee. She looked back at another young lady and asked if a pot of coffee could be brewed. The second waitress said, "Nope." I asked, "Really?" and she nodded. She then told me to go to the gas mart around the corner while pointing to her left. I had spent a long weekend at the Neuro ICU at Sutter Hospital with my gravely ill sister, and literally had not slept the previous night. I had a 3+hour drive ahead of me and needed caffeine. Luckily, I was able to get a delicious cup of coffee. Needless to say, I will never again patronize this establishment.

Fern Phipps
from Sparta, MO
There is a LOT of people complaining about the newly remodeled BK in West Plains, Mo. 65775. Sad since a Burger King is needed here, but the employees there is undesirable to say the least, no gloves and handling food while cashiering. The woman manager had attitude, slinging items. Flour on the cashiers pants.. dirty tables, ice cream machine broken, only 2 more patrons there, 5 of us left establishment went next door to McDonalds. Another time lately, walked in with lady & man no one around, no other customers, gentleman hollered for some help. Just needs to be something done.

Loretta Williams
from New Bern, NC
My husband and I experienced the manager with another young lady manager today, talking about an employee not doing something that the employee was supposed to have done that previous night. What was really hurtful was that he didn't care who was listening or who saw him. I was a supervisor in Food Service for over 30yrs. and the way this manager was flexing his authority was not called for. His name is Andrew at store #239 in Anderson,SC. When that employee came in, he sit him down in front of the people that was there and he was talking loud to him. I think that he fired the young man.Oh I see why they had on the sign outside, HIRING! This manager needs to be trained on how to treat his employees or you will always have a great turnover. I sure hope that the next time I come through your city, Andrew will have had the training he needs to handle problems and that"not in front of customers.

Victor Chavez
from Mustang, OK
When my daughter Sarah and I went to the Burger King at the Lambert airport, there was a line. Keisha the cashier with a bad attitude, rang us up, never greeted us, just stared at us. Older man with gloves on, was cooking and setting up prepackaged burgers and frying fries behind her. During this time Keisha is scratching her head, ear and nose, with No gloves on!!! I ordered an Angry Whp and with an attitude she says they're not making orders, just what is prepackaged on the shelf!!
So regular burger and Kid Nugget for Sarah with fries. She literally throws our food into the bags! She pours the fries into the little boxes and yes, threw those into our bags as well, without washing her hands or putting gloves on!! We threw the fries away!! Had to ask for our cups for drinks. Never said thank you or please come again! Just gave us her "go to hell look!!" And I've been sick, throwing up and diarrhea since 1am this morning. No, I'm not asking for refund or coupons, but just wanted to make you aware of your lack of service and hygiene procedures at this location.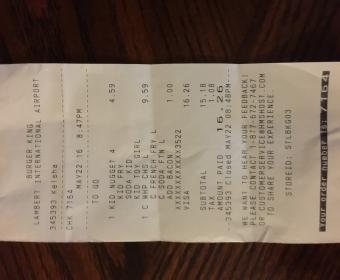 David Ohm
from Rochester, MN
Around a month ago right before the Austin BK closed i ordered 2 plain hamburgers for a quick snack. I order them plain since i don't like catsup, mustard, pickles, and onions. When i got home and started eating i discovered them with all toppings on them so i discarded them and cook something instead. Since they already closed for the night i went on the internet and sent a complaint about the incident. I got a reply the next day with an apology and they say they send me a coupon for a free whopper. I received the coupon now and tried to use it last night to get some supper. They looked at it and say they can't find coupon and i needed to find a BK that would honor it. I'm beginning to think it easier to cook or visit hardees across the street where I've never had a problem yet.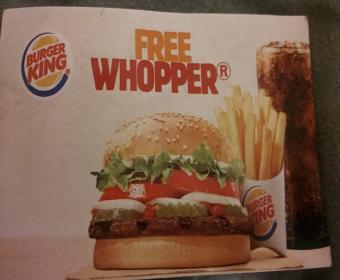 Tom Musser
from Bellefonte, PA
Tried the new grilled hot dog. Chili hot dog only 3 beans and some sauce no cheese, no ketchup or mustard or onion or relish. See there are 2 different ways to get this item now, was not told by clerk. the beef hot dog was good, no grill marks that I could see, obviously I was totally disappointed with this meal. Always liked the whopper over McDonalds or Wendy's really annoyed with this latest try. Talk to A&W their hot dogs are good 300 or 400% better than that thing I got the other day.

Olondo James Moore Sr.
from Orange Park, FL
On April 06, 2016 at 1422 military time the corner of 7900 Blanding Blvd Jacksonville, FL 32244 order 68. I order two whopper for 10.00, when I got home and unwrap my whopper. It was the messes whopper I have seen in years, the lettuces was brown, tomatoes was not fresh, meat was cold. The whole thing was just nasty.

Regina Campbell
from Jersey City, NJ
On March 11 2016 at 4:44PM an order was placed at store #1761. I purchased several items totaling $20.07. The order number is 534. My card ending with 3659 was used to make payment along with cash. However, the employee incorrectly inputted the transaction wrongly. The individual apologized and got the assistance of the manager. He corrected the matter in regards to the mechanical error, then he apologized. Afterwards, he informed me that I should receive credit on my account. He told me to check my account to see if the amount was put back, to date it has not. Fyi: I attempted to use the site listed on the receipt, it did not have the codes at the bottom and would not permit me to move forward. It says, Check Closed. Duplicate receipt.

Dan Antos
from Canton, OH
While I have felt Burger King was the best fast food restaurant for many years, I have to tell you that I had my first and last experience with your chicken fries. Absolutely terrible. I have since talked to others who tell me they did not get past the second piece. I got to the third because I couldn't believe how bad it was. I suggest you remove it from the menu. By the way, the french fries I received with my order were the best. I would give the chicken fries no stars.

Kimme Greer
from Belmont, NC
I specifically ordered 4 egg, cheese and hash brown and it had sausage on it. I do not eat pork and it made my head hurt so bad. I spit out the one bite and it stiill made me sick. I was clear in my order and it was still wrong. I was offered another but was turned off at that time.

Barb
from Weaverville, NC
On 2/11 @1:30 pm I went thru the drive thru @ BK4390 potters rd. Matthews NC Tried your new long fish meal. HORRIBLE It was luke warm and "funny" tasting. After 3 bites I bit down on what seemed like a stone. It was the size of a small pea. Knowing I would not eat the rest, I mashed the fish with a fork and found 2 more "stones" a little bigger than the first one. What have you done to my BK? A side line- the French fries (ordered well done) where pale and not even warm. AWFUL. Glad I didn't chip a tooth. I have the "stones" IF you're even interested.

Kate Campbell
from Olathe, KS
I went to the drive up window around 12:15 on Sunday Jan. 24th. I was asked to pull up and they would bring it out to me. I waited 10 minutes and went inside. They had bags made up, sitting there getting cold. I tried to get the woman behind the registers attention but she ignored me. I waited another few minutes and a young man finally got around to bring the food out. Everything was cold by then. I wouldn't give my experience even one star. You need to have a minus star on there to. These are the people that think their work is worth $15. Sorry no it isn't.

Kelly stinson
from Dearborn, MI
On 1--2-16 I went to the Hartland burger king. Ordered two frozen coke floats. Susie snootily replied. We don't make them anymore. I ask if she could just put ice cream in a frozen coke and charged me for both. Loudly and snotty she replied. I told you once we don't make them anymore. I said every other Burger King does cant you and her reply was worse then her last one was. I finally told her just give me two cokes and two ice creams and I'll do it myself. We came up to the window and another lady apologized saying it wasn't me that talked to you that way and she's being transferred tomorrow thank gosh. I will never go back to that store And will let everyone I know know that you get treated terrible at that store and not to go there.

Alan kowalski
from Niles, IL
Very disappointed, first service was slow and then getting back to my office this was the order of fries I received with my order. The location I visited was at 1094 North Main street, East Peoria IL 61611. Host who bagged this order was Jessica, after having to tell her the order was to go. Ticket stated To go! Now it is time to complete the process and email customer support this photo too so the executives at BK can see how the other half lives.

Roger R. Vales
from West Palm Beach, FL
On October 31, 2015 at around 10:15 pm, we had a bad experience at Burger King drive-thru located at 1721 Belvedeer Rd. West Palm Beach, FL 33406. (I was buying this meal for my wife. She was siting in the car with me). I drove thru the dive-thru and asked for a Whopper with Cheese meal, with no salt on the fries and a strawberry milkshake, with "no cream on the shake". The lady that took our order was very unprofessional and rude. She answered back in a mean and loud voice..."WE DON'T PUT ANY CREAM ON THE MILKSHAKE". My wife answered back "THANK YOU"! Every time my wife asks for a milkshake, she tells them "No cream on the shake". This is the first time someone get upset because we asked "no cream on the shake".
I was also asking for "no salt on the fires" but apparently the lady turned-off the speaker. I repeated this several times until finally she answered and I told her that she was very rude and I drove up to the 1st window. I asked for the manager and she replied "I am the manager". I asked for her name and said "Vilma" . I told her that I was going to complain about this and that she should not be working with the public. We then drove to the Burger King located at 4175 Okeechobee Boulevard, West Palm Beach, FL 33409 (See attached receipt). I asked for the same thing and to make sure, my wife said "no cream on the shake". The lady said "OK". We got out meal and drove back to the house.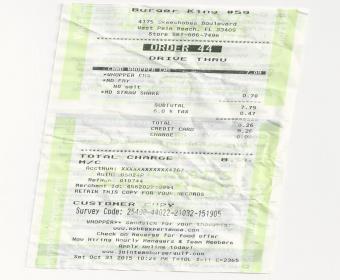 margaret botten
from Big Pine Key, FL
I stopped off at Burger King in Key Largo, Florida with my sister and nephew on my way home from shopping in Florida City. I do not know if this location is lacking a manager, but it was the most disgusting Burger King that I have had the misfortune of walking into.
The trash was spilling over everywhere. Over by the drinks dispenser was a mess. A large majority of the tables had not been cleaned either. Needless to say we did not hang around to buy our food there and a couple behind us obviously felt the same because they walked out as well. I wish in hindsight now that I had taken a photo, but all I wanted to do at that moment was get as far away as possible from this hell hole.

Monica Hernandez
from Plainfield, IL
On my way home I stopped in at Burger King located at 1290 W. Normantown Rd., Romeoville, Il 60446 around 8:10 pm. I did order 2 whoppers with cheese and I was very clear to the girl only ketchup on the burger and a large fries. I did look at the monitor and everything looked ok so far. When I got home like 30 minutes after after a long day of driving, I called my son to come to the kitchen and eat and when he started eating and found out that the Whoppers had everything on it. He got upset right away. and he did not eat. I tried like 40 times to call Burger King at 815-886-1229 and the complaint line was no help. I gave up. I am very upset, because this is not the first time that happened. We like the Whoppers, but I will never stop at a burger kind again due to this horrible customer service. It's just plain bad.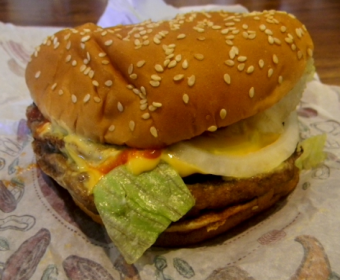 Lois Mitchell
from Dayton, OH
Went to Burger King #4547 this morning in Moraine, Ohio to get my breakfast to take to work with me. Sat down at my desk to egg my Sausage egg and cheese sandwich and they gave me the wrong sandwich. They gave me ham and I hate it. Help need to pay closer attention to what they are doing. Lesson learned for me to go back to checking my order.
Have feedback for Burger King?
Thanks for your feedback!
Sorry. Please try again later!