Burger King
Burger King Complaints Continued... (Page 3)
1013+ reviews added so far. Upset? Call Burger King corporate: 1-866-394-2493

Dennis
from Charlotte, NC
Name is Dennis with your Burger King is the drive-through had two cars ahead of me 15 to 9 before closing to Cars pulled off and I went to the speaker it that time it was 8:53. She said go ahead with your order I said I had three orders she waited for about 10 seconds. Came back and said she was close I looked at my clock and it was six minutes till nine before closing very disappoint did not get to eat. Very upset went back to work with my friends not have no food. Just burger kings in Newton North Carolina and it was last Thursday night thank you for listening hope they get in trouble

Jorge Montoya
from Garden Grove, CA
On January 28 2022 at 8:00 am I went to this Burger king located on 304 w. Century Blvd Los Angeles , CA 90003 I went to the drive thru when o wanted to place my order nobody answered on the speaker of the drive thru so i went to the window and i told the young lady at the window that nobody answer me when i tried to place a order her response was that she didn't answer because she was busy then i ask her can you take my order now and she and another guy told me no they told me that i have to do line again and the line was already too long they both refuse to take my order and walk away hopefully something can be done so this doesn't happen to another customer again thanks

Valerie
from Alexandria, LA
I am sending this concern on behalf of my elderly Father. He went inside to place an order for this wife, foster child and himself on today at the Burger King at 3705 S. Mac Arthur Drive, Alexandria, LA 71302. The staff refused to take my father's order stating that on another occasion that he threatened to shoot her. My father tried to explain to the staff that she has him confused with another person. He doesn't know this lady or never threatened anyone. The staff didn't want to hear my father's explanation and threatened if he does leave that she would call the police. My father is very troubled about this whole ordeal. This needs to be addressed. Thanking you in advance!

John wommer
from Philadelphia, PA
Went thru the drive through at the bloomsburg store today I always go there ordered my meal I was in a hurry so I didn't check my order I was short my cheeseburger I know it's under two dollars but I'm on a limited budget, they should have a system that double check drive through orders !

Charlene courts
from Chicago, IL
I have had food that was over cook and dryed out nit fresh I took pictures I was gone go on social media to shoe how bad 7225 s Stony island serve breakfast food .. this is inhumane . I could of got food posion merchant # 450203753995/Receipt# 8310 order# 25.. this is not my 1st time having bad experience at this location

william adams
from St. Petersburg, FL
For the second time in 2 weeks I have been extremely disappointed with my experience at Burger King. I love the food but my order has been grossly bungled or shorted and my wait time in the drive thru has been ridiculous. The Burger King on Park Blvd in Pinellas Park, Fl is the location. On the first occasion I ordered 3 Whoppers with cheese minus pickle and onion along with 3 large fries. All of the Whoppers had no cheese and only onions and pickles, the opposite of my request! Also, I only 2 fries and they were small orders, not large. I waited 21 minutes total. There was also no napkins in the bag. I was frustrated but let it go rather than drive 4 miles back to the restaurant. A few days ago, I went there again and ordered 5 Whoppers with cheese and one double Whopper with Cheese. I also ordered 4 large fries and 2 apple pies. Well it happened again. I was shorted 1 Whopper with cheese and the double whopper with cheese. Also, I only got one apple pie and again no napkins and waited 18 minutes. I don't complain easily but this was too much! I would appreciate this being addressed with this location and compensation for the missing/and botched food. My name is William Adams.

Pam Murphy
from Portland, OR
Visited a BK restaurant to pick up dinner. Long line. Got to order box when server told me he would be right back. A half an hour later I gave up and pulled my car up and around the drive through to find 2 cars parked. 15 minutes later got to the drive through and stopped to tell the server how disappointed I was to have no one take my order. He assured me he could help me right then. Got my drinks and was told to pull around the front and they would bring it out to me. 35 mins later went to the door and had to pound on the door to be let in. No one at the counter, although many of the boys saw me standing there. Finally a young man asked if I needed something. I explained about my order and found some sandwiches sitting on the counter. As I waited I looked around at how disorganized and dirty the place was. It would never had past the muster in any other time period. I certainly empathized at how they must be short handed, but I counted 7 to 8 workers meandering around. I asked to speak to the manager and he came over to the cash register when an employee asked if he was going to comp me for the cold meals I received after over an hour wait. He said no he was in the middle of a refund. I had witnessed what the refund snafu was about. One of the employees had taken food out of the customers sack to eat and then dipped back in for more. The customer saw it and was furious. Kid didn't seem to get what the big deal was. One of the workers was trying to explain it to him. I was sickened and afraid to take the food home to my immunocompromised husband. I will be contacting the health department in Pierce County Washington to have them investigate the store on South Hill Fred Meyer complex.

Didn't get kids meal tried calling several times rings appropriately 20 times picked up then hung up. Call back then busy signal. This happened several times. Burger King #11 @ 5200 west charleston, Las Vegas nv 89146 my order number was 54, Oct 31,2021 @ 1:39 pm

Susan Smith
from Clinton, MS
On Friday, October 15 at about 7:00 I went to Burger King in Clinton Ms. they were out of all burgers and ice f probably should have left but I went ahead ordered chicken sandwich with fries and Dr Pepper with no I've. (Thinking it would still be cold. Dr Pepper was hot and tasted flat. I pulled up to wait on my sandwich which took another 20 min. After the other two cars got their food and left I backed up to let the girl know if it wasn't ready I didn't want it she said it was almost ready. I told her it's been 20 min and she said I know. I'm not sure if the cook had walked out but a red truck pulled around and a "manager" yelled at them a guy got out and went into the kitchen area so I am assuming he was the cook. Manager yelled and cussed the entire 20 min I was in line waiting. She had one car pull around after she never answered the intercom she told them she refused to take their order from the window. They left! Very disappointed in the service food was just ok.

Tiffany A Dove
from Hampton, VA
I would give this resturaunt 0 stars if I could... I was working at Burger King in hampton va,, it was the most worst job I've ever had.. if you get to work you would be standing outside the building for a whole hr n a half knocking on the door and calling the store to let me in... they won't let you in or answer the phone making you late so they can write you up saying no call or no show... I experienced numerous of racist comments while working there,, I had started my monthly while at work they refused to let me clock out and go 2 minutes down the street to get sum pads the manager gave me a dish cloth washer and told me to use that till end of my shift... the manager Charlotte was rude,, treated me differently then all the other employees.. I got taken off the schedule due to no calls no shows when I have proof on my phone for all them days that I called them numerous of times trying to get into the building and they refused to answer.. as well as lfyt rides I waisted money on getting rides to and from work them days because after a hr of calling with no answer on store phone and knocking with them not answering the doors I got tired of being up there that long not getting let in I left.. I have witnesses as well that know I was there them days and witnesses that heard how the mangers talked to me and treated me... I don't think rasism or showing favoritism from one emplee then the rest should be tollerated... that manager should be fired and held accountable for how she treated me...

Jesse Walker
from Sacramento, CA
The man at the window was the meanest rudest disrespectful person I cannot believe he even still has a job I had to wait in line even after he would not take my order

I went to the burger king on Fairmont Ave in WV. There was 2 girls standing there talking one on her phone, while the drive thru was wrapped. The girl doing the fries used a pair of tongs filled it half way, it was the same tongs as she used for picking up nuggets. Completely nasty. My fries were cold, my burger tasted nasty, my dog wouldn't even eat it. The drink tasted flat. This is absolutely ridiculous.

Susan K Ferguson
from Morristown, TN
Gave that because you don't have the option to give negative!! I just was in the burger king on eureka in Southgate mi biggest mistake I ever made will never ever go there again, stood there 15 minutes listening to the crew bitch at each other! Then got an attitude from the so called manager, they lost my order when I tried to tell her what it was I got don't yell I was barely talkin!! She then gave me a cold cheeseburger even though I ordered a bacon cheeseburger and it like it came from a freezer I threw it on the sidewalk hope to let people know avoid the asshole workers and business!!!!!!

Frankie Alonzo
from Carthage, TX
Whoever is taking orders at the window is a smart ass making fun of me saying he wants to take my $10 thank you I am a cage fighter he's lucky I didn't get out and beat his ass it's terrible to have disrespectful employees

Sandra Malott
from Orlando, FL
Original chickens were ordered hot but were barely edible onion rings were the same way didn't have time to go back in store on my to see my son in rehab I got no receipt so I have no number of the store or anything don't think I'll eating at Burger King I'm going to mcdonalds

Jerry
from Panama City, FL
My wife and I visited the restaurant yesterday afternoon in Springfield Florida.We sat in the drive through for around 20 minutes after ordering our food. The young gentleman who took the payment and gave our drinks was very nice. The manager brought our bag of food to the window. Upon checking it was not our order. I went inside and told them we got the wrong order and gave them our receipt. The manager got rude and said she didn't make a mistake. I told her to read the receipt she did screw up. Upon opening the bag she said what is wrong. I said we ordered two sandwiches and two fries. She got a nasty attitude with her crew. Stating they needed to start doing there job right. I told her she was the one that screwed up not them. I also told her she should be ashamed to pass out cold hard fries. She only wanted to blame the crew. She never apologized and handed me a bag with two sandwiches no fries and walked off. She doesn't need to be a manager or employee of Burger King. I will not be coming back to this location.

Rudy Cera
from Pottsville, PA
I just called the Burger King in Hamburg Pennsylvania about a new burger on their website called "spicy as fire" whopper and a worker called my mom a "smart ass" for asking about a burger that he didn't know about. He then called back and said "do you have a million dollars I can borrow"

Sharon Gaynon
from Stilesville, IN
i order on your mobile app, And paid with my credit card 40.00.When I got there to pickup my order through the drive through, and the guy said very RUDE we don"t have no order,so I told him it was a burger king app order,he said we don"t have one.again very Rudely.So I drove up to the window and he just turned his back at me.So drove around and went in and asked for manager,she comes out and says their working on your order now it came up in back but not in the front .She then asked me if I had any drinks with this order I said, yes 3 choc.shakes.She said the machine is down because of inch of ice is build up on it.I am not happy after that. I get home with burnt chicken sandwhich.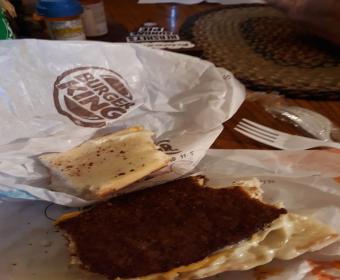 Aliyah Chatman
from Charlotte, NC
Hi I usually go to a Burger King that's located in knightdale NC. I work overnight and noticed that their schedule says that they're open for 24 hours. But everytime I go there they always come up with some excuse not to serve us just to see that same person just sitting down on their phone which is really disappointing.

Jackie Laughlin
from Arlington, TX
Nasty food ...threw away most of it...no salt or pepper...went toook for it and found filth under the counter....will not be back

David Firlik
from Taylor, MI
I went to your store on Fort street in Lincoln Park. Their broiler was down which ment no food there. I still wanted to go to Burger King so I went to the store on Eureka and Dix in Southgate. I gave the snotty girl a coupon code 8952 for the family bundle. she said it didn't workI had used the coupon at the Lincoln Park store last week with no issue. The manager at that store told me that the coupons never expire. The date on that coupon was 12/20/20. I prefer BK but settled with the Golden Arches today, only because of the rudeness of your employee. thanks!

Jesse Rodriguez
from Bradley, IL
The Burger King in Bradley on Kennedy Drive, 60915 needs to close, it is a poor reflection of a restaurant, today was the 4th time this month I was told we are out of biscuits? I want to know why so Bradley can have an explanation, many of my friends and relatives have warned me not to go there because of the piss poor operation, but i am 3 blocks from my place of employment, I dont want to drive across town to eat at a Burger King, if your signature breakfast item cannot be sold it needs to close, point blank, I am going to social media to ask who else has had this experience, you cannot have these TV commercials for just certain stores if this is not going to run correctly close it.

Terry Wallace
from New York, NY
On May 1st as I left Burger King in Pocahontas Ar , when I opened the door the upper door jam came off the door and hit me in the head. I pointed it out to a crew member sand he got the manager. My injury was a scratch on my head with a few drops of blood and a bump. When the manager came out he gave me an employ accident report sheet. I am not an employ. Later he brought me two other sheets to fill out. Never once did he ask me if I was ok or if I needed medical attention. Fortunately I had a witness at another table. When I took the papers back up to the counter a crew member took them and walked away with out saying a word. So I left with a bump and a bad headache. I am forwarding pictures of what hit me. I am just thankful I was not holding my grandson that day.

Judy Dalton
from Ottumwa, IA
This afternoon my partner and I stopped to order a couple sandwhiches through the drive-thru at Burger King in Fairfield, Iowa. The new special chicken sandwiches looked good and were 2/$11 something and a medium sweet tea. Got our food in a very timelyanner abd hesded for home in Ottumwa, Iowa (21 miles). By the time I got the sandwiches out snd ready to est we were half way home. I was amazed at what a big piece of chicken was on each sandwich but noticed that it looked greasy and darker than other chicken sandwiches I have eaten at our hometown BK. Being hungry we dug in and right away we could taste the rancidness of old grease. As the old found a peanut song goes....we ate it anyways. By the time we reached home both of us felt sick to our stomachs.
Just thought you might want tp know this so someone else doesn't get an adverse reaction.
Thank you for listening
Judy Dalton.

Sharon E Pole
from Escalon, CA
i have so much to say I need a rep to contact me about ALL the burger kings in central california, My first job at 15 1/2 was burger king. I am amazed at the quality that is allowed to continue with this brand, Are you guys just waiting for the market to crash are r u going to save this brand. I have had rude service, i have had filthy facilities I have watched a cook drop a burger and pick it up and put it back on the bun put ketchup and pickles an glance at me staring at him THEN he threw it away, I have seen 4 employees standing while one ius busting their butt while 5 customers are waiting for their order, I have had a clerk tell me that burger king is not fast food bc they make it fresh although I saw her micro wave the burger and when I worked there we had to make a whopper in like 92 secs ( or close) and I did it I was waiting for my food for 14 mins, I have had the store drive up do one car at a time take the order then take the money then get their food and then the next R U SERIOUS... i have watched a clerk put fries in the bag and grab some and eat them, and the best is in fresno, when to the drive thru and got informed that the eggs were frozen so if i wanted them it would be a min, so I ordered a sausage egg and sorry we are out of sausage, then i ordered a cheese burger and was told THEY HAD NO BUNS. r u serious. I went to the one in Modesto and was told, they had no cheese or buns then run to the damn store or go to another burger king. someone please contact me, i want to hire on as a store spotter, I also havent been able to fill out my survey bc the machine at all of the stores are not printing the entire information, 209-253-9874 sharon i want a call back

Judy Robbins
from Carnesville, GA
Workers are rude. The store its self just stays nasty and unclean. The workers wear their hair down men and women explains the hair in the food. And very slow workers they dont get in a hurry for no one. It took over and hour to get my food and order was still wrong.

Dorothy Smith
from Richmond, IN
Worst experience ever.ordered at 9 :17 pm had to 35 minutes to get order while waiting. The workers cussing like crazy dropping dishes that hold hamburgers and fries .when finally got order left go home to find order is all wrong both in at all I order I called and never got an answer.very disappointed in the workers there tonight and I rate them a 0 star

Betty Green
from Ormond Beach, FL
Hey my name is Betty Green myself and my daughter stood in the inside of the Burger King on Gulf to Bay just across from the Clearwater High .As we stood in the line we were recognized by a taller black female when she asked in a very nice soft tone if there's anything she could help us with upon taking our order. I heard her say to another young lady that was acting very irate that it was gonna be okay and not to get frustrated when this younger black female started to swear at her really loudly.The younger female begin to toss things from the back when the taller young lady meantioned to her you don't have to do that the younger lady started to swear again from the back . I told the taller young lady she was doing a good job and that I would report this.The taller young lady didn't deserve to be treated this way she meantioned to me she was new but wouldn't give the other younger females name she stated she didn't want her in trouble that it would be ok .This younger black female needs to be repimended her attitude was horrible

Rod Griffiths
from Layton, UT
Drive thru waited 18 minutes for two Whoopers and two fries. Plus they didn't take the cars in sequence and drivers were getting mad in the drive thru.

Coquiesa Jones
from Irving, TX
I have been trying to contact the owners of Burger King for over a year I worked there and when the pandemic started I did get my W2 they will not answer the phone at the store on Irving Boulevard in Irving Texas they don't answer I've been calling for months I reported this two weeks ago to headquarters no one call me back no one contacted me I want to file my taxes I need my W2 I need the employer number to the stupid franchise where I used to work

Krista L Sterling
from Flanders, CT
It should be a negative 5 and from what I can see from other online complaints you have a lot of work to do! Nobody seems to be paying attention though. I am so disappointed and upset by your lack of concern that your company has so many horrible reviews. My most recent visit to a Burger King was Saturday March 21st 2021 at around 2:30 pm Store #1421 in Concord NH on Loudon Road. I have kept my receipt for this purpose because I refuse to give up after basically throwing $20 in the garbage. My spicy crispy sandwich was a piece of shoe leather and my wife got a original chicken sandwich that she took one bite of and had to spit it out, smelled and tasted like FISH!!! the fries she got were burnt on the edges and limp and cold in the middle. the whole meal was a complete disaster! The girl at the drive thru was snappy and unfriendly and frankly rude. please do not ignore this message because I assure you I have no intention of letting this go you owe me an eatable meal or my money back.

Michelle Oliver
from Nashville, NC
3/10/21 - As far as a rating goes I would give it a zero out of five! Ordered from the Nashville, NC Burger King - only 1 order out of 4 was right. Took food back to be redone and same thing with second order - only 1 order right. Jalapeño poppers the cheese was dried, nasty and cold on the inside, the sourdough bread sandwich had no bacon and was not toasted either time; I also ordered a whopper Junior with cheese no cheese either time. Employee wanted to have a little bit of an attitude when we tried to have the order redone. Very unprofessional . We hardly ever visit Burger King and now I definitely will not be going back to the location in Nashville North Carolina. Had to get money back - guess that's why the place never seems busy.

Christine Gilliam
from Bossier City, LA
Burger KING Bossier La on Airline are not wearing mask. Have them on but not over mouth and nose. On 3/15 12 noon @ drivethru and manager wasn't cover either. Critical time to be negligent to customers

Kedric Williams
from The Bronx, NY
On 3/13/21 I placed an order. Upon arrival I discovered it to be less than satisfactory!.
Missing items:
Ketchup none
2. butter none
3. BBQ sauce none
4. Chicken & Bacon sandwich none
5. I ordered 2 containers of large fries, I received 3
I spent iover $33.00 for this very disappointing meal because it was too cold to venture out. Next time I will choose another alternative!.
The address of the deivery:
127 West 43rd Street Apt 402
New York, NY 10036
I didn't get close to the food or service I was overcharged for!!!

Muhannad Alhanooti
from Kuwait City, KU
Burger King (Salmiya Co-op branch) in Kuwait added water and ice cubes to my order of vanilla milk shake (delivery). Whether it is because they ran out of shake material or lack of managerial oversight, please relay to BK Corporate.

Dora Grissett
from Fultondale, AL
The other day Me and my brother went to your Burger King in Troy Alabama. We placed our order and my brother gave the girl a $20 . And she gave him his change back but we stood there waiting for our order and we watch her slip the 20 he gave her into her pocket. And I went to the restroom and saw one of the girls talking on her cellphone. She walked out behind me and one of the employees made a remark. Brandi how many times are you going into the bathroom to use your phone girl you're going to get caught one day when you're suppose to be working but she wasn't the only one using the cell phone we noticed 2 more employees using their phones. What are your managers doing apparently not their jobs. We said we wasn't going back to that Burger King anymore. It looks like their concerned about what they want to do instead of your customers. I have never seen the beats of this place. It was totally ridiculous. Just wanted to give you a heads-up on how your store in Troy Alabama is running. We like Burger King but not that one. Might be something you want to check on.

THOMAS BERGGREN
from New Orleans, LA
2 - person preparing food very loudly exclaimed "We do sell more then just burritos, if i have to make another burrito i will quit, 7 in 10 minutes.
Ordered an egg-normous burrito. I shouldn't have to feel like im bothering someone who is getting paid to do their job. Last time I go to Burger King, always a problem, will be going to chic-filet, pay a little more, but staff is alway friendly and helpful. No I don't want any coupons, just letting you know how your employees treat customers. Burger King 1800 block of Lapalco Blvd. In Harvey, La. 70058

David tomlin
from Minneapolis, MN
Today I stop at the Burger King in ozark al. This was about 12:15.The workers were out in the eating area,no ice in the drink machine.The drive through was all the way around the store.i order from the $10.00 menu and it took for ever to get the order.when I got it it was cold.we ate them any way.my wife wanted a refill on her tea,she was totally igorned.my point is your Burger King in ozark will close unless you get a good manager.i will never go back to this Burger King.

Precious
from Toronto, ON
The Burger King at woodbine mall usually has such pleasant service until last night an older Indian woman that served me had made horrible comments that made me feel degraded. Maybe some extensive classes on how to behave appropriately is necessary. From now on, I will never buy another King Meal Deal due to the degradation that I felt. Please deal accordingly
Sincerely, ex Burger King customer

Brent Moist
from Elk River, MN
Called to complain about how long it took to get my order and the manager hung up on me . Worst service ever.

On July 20, store number 3781 I used the drive thru, after arriving home I was missing a sandwich that I had been charged for on the receipt. I called the store and was told that the only thing he could do was refund the money I had paid for the sandwich and give me another sandwich if I drove back to the store and got it. What a joke, as it took me 29 minutes to commute both directions and my family ate while I was gone, it was also a combo meal and all they did was give me another sandwich my fries were stone cold at home. This is not the first time I have experienced a missing item from my drive thru at your store, maybe its time to up your quality checks. He said the only reason he could not do more than that is he could not get ahold of his GM, really now, the joke is all on you there at Burger King.

Debbie Hall
from Morgantown, WV
I only gave it one star because I couldn't go any lower. My husband has been wanting to try your tacos so we went today and I would not feed these to my dog, they looked like they were shipped frozen then microwaved to heat them up, they were so hard my husband said he could break a tooth with these needless to say he wont be getting them anymore and neither will anyone else if they look like the ones we had, I will attach a picture of the tacos you advertise and the tacos we received. Hope to hear back from you.
Thank you
Debbie Hall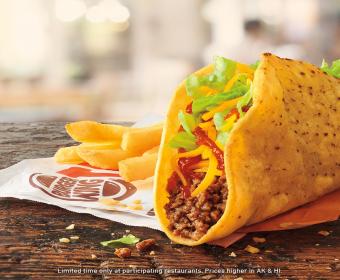 Lesia M Veit
from Waterloo, NY
I am in the business to provide quality service to our partners. When we were in the Seneca falls, NY burger king we ordered your new feature - tacos. First of all the pictures are deceiving, our tacos had very little filling in them. I understand just for a $1.00 but it should have had more filling in the taco. We ordered three, my husband ate one, I tried the second one and said to him - 'this is not good' he agreed. We went back to the counter and let the manager (at the time- after 5 pm) know they were unacceptable. She in response said we are not returning any money because you ate one. I ask you where is the customer service? I wasn't asking for any money and to be frank with you we were ordering other items, a dollar credit would have been ok but her attitude was unacceptable. It is not about the money, it has to do with customer service. If you look at the web-site for the Seneca Falls, NY burger king, I am sure you will see a lot of complaints. I do have the number for the manager - I did not call him. I think it would be best if I let you know. If the people that are working there are not happy, perhaps they need to find another place they would be happy to work and be civil to the people they come in contact with. Thank you for listening- it took me two days to write to you. We still will be using Burger King.

Poor customer service profanity language yelling change my on order she yell at me as to why

The Burger King at woodbine mall usually has such pleasant service until last night an older Indian woman that served me had made horrible comments that made me feel degraded. Maybe some extensive classes on how to behave appropriately is necessary. From now on, I will never buy another King Meal Deal due to the degradation that I felt. Please deal accordingly
Sincerely, ex Burger King customer

Joseph Mancuso
from Fairmont, MN
As you know there is a trend of licking peoples food etc so I ordered 7 tacos and a cheeseburger and a small fry with a side of chicken nuggets I stood there the whole 15 min I ordered my food and then a worker from back came upfront to just chat so I chated with that person and then in the mean time my burgers were waiting and nothing was being done so a few min later the lady started boxing old frys that sat there for the past 15 min and a gentleman worker coughed she looked he shook his head no and the made it clear why so the lady then proceeded to make frys and I waited till frys were done then went home I live close so no big deal however I found hair and I mean a wad of it not a single hair but multiple hairs so I proceeded to cal my local bk and they didn't answer so I tried again immediately and no answer i called 4 different time that day to complain i was watching my kids so i couldn't come in to complain so the next day o go to my local store and asked for cory who was the manager at the time they said he isn't there and wont be all weekend so I asked for the manager who was there I get Danny lamonte who earlier in the year stolen a Lenovo tablet from me in the store I talked to his step dad but he did nothing and the case is still open so I proceeded cautiously and notice that one of the workers in the back kept trying to but in the conversation or hear it and so I asked the manager Danny to step to the side for it's a privet conversation and dany rolled his eyes and said na just say what u need to and then I noticed when I said let's go over hear the worker went to the other side and was pretty much in the front now and then I asked why anyone hasn't answered the phone and he proceeded to say he did and that hes been here all day noone called etc so then I asked for him to call cory to straighten it out he refused then proceeded after I started getting load from frustration because he still didn't ask what was the issue and procedded to call the cops instead of finding out what the issue was and to try and reconcile however I was treated with such disrespect and paid for food I never git to eat so I'm not happy for the simple fact he still to this day wich is two days later know what was wrong with my meal wich could bring repercussions such as an investigation of the cleanliness of the kitchen erc

The new Trinity/Mitchell Plaza Florida~ Burger King is the worst!
Consistently receive missing items. Extra salty fries!
The most recent time ordered a custom Grilled Chicken (Premium) with just lettuce. Received a sandwich with extra mayo top and bottom of the Bun. (See picture)
It was appear to that the store and staff do not care but worse are seeking to poss people off!
Don't waist your time with store 27010!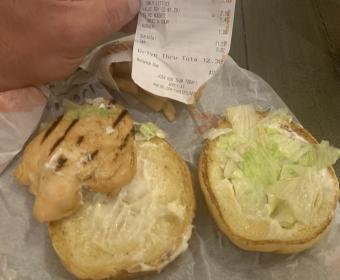 My brother was on a bicycle this evening and went to a drive thru in Hyannis Ma on North Street, he was refused service! The restaurant was closed inside but not the drive-thru. We have lived here all our lives, I remember when the Wyman family had this Burger King, at that time from how I knew them no person would have been treated as badly as my brother was treated this evening! Unfortunately if he was a "foreigner" he wouldn't have been refused. I work within the public eye and I will every chance I have let this be known.

michael j horn
from Pine Bush, NY
Please I don't how you get away with the new tacos they are simply horrible . The photo is really a fake advertisement I can't believe you selling them like this you goner hurt your business .P.S. Food for thought. SincerelyYours, Michael J. Horn

The Burger King at woodbine mall usually has such pleasant service until last night an older Indian woman that served me had made horrible comments that made me feel degraded. Maybe some extensive classes on how to behave appropriately is necessary. From now on, I will never buy another King Meal Deal due to the degradation that I felt. Please deal accordingly
Sincerely, ex Burger King customer

Precious
from Toronto, ON
The Burger King at woodbine mall usually has such pleasant service until last night an older Indian woman that served me had made horrible comments that made me feel degraded. Maybe some extensive classes on how to behave appropriately is necessary. From now on, I will never buy another King Meal Deal due to the degradation that I felt. Please deal accordingly
Sincerely, ex Burger King customer

Precious
from Toronto, ON
The Burger King at woodbine mall usually has such pleasant service until last night an older Indian woman that served me had made horrible comments that made me feel degraded. Maybe some extensive classes on how to behave appropriately is necessary. From now on, I will never buy another King Meal Deal due to the degradation that I felt. Please deal accordingly
Sincerely, ex Burger King customer

Rosemary Herrel
from Myrtle Beach, SC
On vacation Myrtle Beach from Texas had lunch at franchise #1215 on S King Hwy this is the nastiest most filthy restaurant I have ever seen the so does were so dirty you could not see out of them! The floors and counter were covered with trash and EVERY table was. DIRTY. The self serve drink machine was out of order so I went to the counter and ask for a refill knowing another ma nine was available for drive thru. I was told to wait for the broken machine a guy finally came out to show another emp!over now to "reboot" the drink machine ....In the almost 30 minutes this all took, I shot video of the disgusting condition for your viewing should you want to see. My first thought after seeing the dirt buildup on the front of the counter next to the drink machine, the employees handling food with NO gloves and the 3 homeless people filling theoretically is from the kitchen machine, was to call the Health Department! Please check into this franchise I am sure this is not the type of representation you want or deserve. Thank you for your time. Rosemary Herrel 1218 Elder Carrollton, TX 972 395 3676 rosemaryherrel@yahoo.com

AMANDA HILAIRE
from Philadelphia, PA
HI MY NAME IS AMANDA,
STORE#2947
MY NAME IS AMANDA AND MADE A PURCHASE ON THE KIOSK, WHICH RESULTED IN VERY UNSATISFACTORY BEHAVIOR OR CUSTOMER SERVICE FROM STAFF MEMBERS. i DID ASK FOR A REFUND AND WAS INSTRUCTED TO CAL;L MY BANK, MY BANK SAID THEY GAVE ME FALSE INFORMATION AND TOLD ME TO GET BACK INTOUCH WHICH I DID. HOWEVER, THE YOUNG LADY WHO ANSWERED THE PHONE SAID THERE WAS NO MANAGE RON DUTY AND THE SUPERVISOR IS BUSY AND SHE CAN TAKE THE CALL, , UPON ASKING HER , HER NAME, SHE HANGED UP THE PHONE. I CALLED BACK AND ANOTHER LADY ANSWERED AND WHEN PROMTED FOR TO SPEAK TO THE MANAGER SHE SAID I AM THE MANAGER. SHE TOO WAS VERY UNPROFESSIONAL, WHAT'S THIS ABOUT , I TOLD HER MY NAME AND THEN ASKED HER HER NAME WHICH SHE SAID WAS SHAKIRA. SHE SAID TO ME I HAVE TO SPEAK TO TONI WHICH IS A MANAGER ABOVE HER, WHEN ASKED WHEN WILLL SHE BE AVAILABLE SHE SAID SHE DON'T KNOW.
CAN SOME ONE PLEASE ASSIST ME WITH MY REFUND AND GETTING THIS STORE UNDER CONTROL?
THANK YOU.2679718092

Sharon Mitchell
from Denver, CO
Employees eating while waiting on customer and another while she was gathering the fries and burgers. I asked the manager, do your employees not get a break, he was putting ice in the machine...I getting ready to go said the Manager. I was trying to talk to him in Confidential. He started smiling then proceed to get loud saying, where, where. I said to him what difference do it make. He had just warned the employees of what I was saying.
I don't take this lightly when it comes to health because I'm at the point that I'm ready to contact the health department. Burger King do have cameras. These people was so relaxed with their chewing and eating if this is a normal thing for them.

George Cron
from Rockledge, FL
I have been eating at your restaurants for 50 years. Went to BK on Barnes blvd in Rockledge/Cocoa to pick up lunch for my family and the family next door. I was the only car at the order window with cars further ahead of me. Finally a voice says be right with you. Waited 4.5 minutes and then i said is anyone there. A womans voice says be with you shortly. I then waited 3.5 more minutes and then I said are you there and the response was be with you shortly. I responded by saying I could go somewhere else to get lunch and the female manager told me good bye. I stayed there as i wanted my food. After placing my order which included 6 tacos I asked them for enough hot sauce for the tacos as we all like hot sauce and after another short wait received my order. I received 4 packs of hot sauce which would barely work for two tacos and I am sure the manager told them not to give me anymore than 4. Today is the last day I will ever eat at BK thanks to her. Regards, George Cron
have never

Bruce Sampson
from Lincoln, NE
Store #13029
July 17 2019 8:11 am
Tried the app for the first time it dident work when I hit Iam here button told that to the speaker he dident seem to concerned after he said he had no order I said I would pull up to window got to window he still wasent much and there was only 1 car behind me when he got around to opening the window I had to ask him if he still had no info on order and in the same manner he always has at the window he said no that was it no what can we do what can we get you etc etc This guy SHOULD NOT BE IN PUBLIC SERVICE he is rude and uncaring when it comes to people as I said this is not the first time he has acted this way everytime he is at the window he is rude nothing at all like ALL the other people who work at this BK
Survey Code for this order was 82137-10120-17019-091935

Daniel cayer
from Calgary, AB
Went to get a whoper combo salad was old or out dated tomatos where gross forgot the ketchup on my whoper it was gross fries where cold i have been a customer to burger king since im 16 years old and im 48 now and this eestaurant was the worse one i ever went my name is daniel cayer my cell is 5062527955 i hope you will have a talk with this restaurant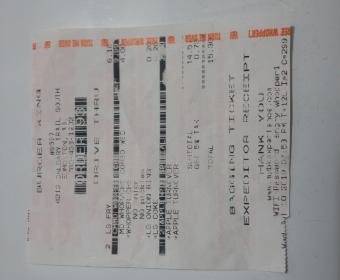 Karen Sanders
from Jones, MI
Your 99 cent tacos are the worst! Ordered 10 for the family, kids wouldn't eat them to spicy! Shells are to hard! No shredded cheese! They just slapped a piece of sliced cheese on them. I would like my money back please!

Stopped at southside Sheboygan Burger King for burgers at approx. 2:15 PM today. Three employees were taking a break in seating area and another was cleaning in the kitchen. I stood for a few minutes, looked at the group on break and the guy in the kitchen, but no one would even look my way. After a few more minutes, it was obvious nobody was disposed to wait on me. I walked out and on the way I said in a strong voice: "Thank you.…...for nothing." Nobody reacted at all !! My next stop was Culvers.

Trudi Deyoung
from Chicago, IL
Dix McQuire Burger King Store: 05455. Drove through the drive thru. The person over the PA said the Drive Thru is closed please come inside. This is the 4th time this has happened in a week during lunch. Once inside I asked why blockers were not up at the Drive Thru service person said because people drive over them. Placed my order and was told the only drink they have is Dr Pepper. When I took a drink of the Dr Pepper is was nothing but awful soda water.

Bruce Simpson
from Seaford, DE
I ordered two whoopers for lunch, and when I got them home, they were a mess. The first one had a whopper jr. burger in the bun and and about half a head of lettuce. It tasted horrible. The second one was no better. At least number 2, didn't try and hide anything with a head of lettuce. I couldn't eat them.
I called the store manager, and I got half way through my complaint and he HUNG UP on me. This store is located in Seaford, DE, This is the last thing you need with a new McDonalds, Arby's,, and a couple other places. I will NEVER step foot in your stores again. That's it for me.

joanne boyd green
from San Jacinto, CA
My husband and I went to burger king Friday July 12,2019, he wanted eat the tacos so badly before we went home from the doctors office,
To make my complaint brief once our order was done the tacos delivered to him as I went for water I turned around walk toward my husband he had a disappointed look on his face I asked him wants wrong he open up the taco showed me the taco had little meat a slice of broken up cheese on it , and they didn't have taco sauce in packets. The tacos advertised on commercial look nothing like the tacos my husband purchased. so he sent the tacos back and didn't. want them, so he asked for the value hamburgers.

Bruce Simpson
from Seaford, DE
I ordered two whoopers for lunch, and when I got them home, they were a mess. The first one had a whopper jr. burger in the bun and and about half a head of lettuce. It tasted horrible. The second one was no better. At least number 2, didn't try and hide anything with a head of lettuce. I couldn't eat them.
I called the store manager, and I got half way through my complaint and he HUNG UP on me. This store is located in Seaford, DE, This is the last thing you need with a new McDonalds, Arby's,, and a couple other places. I will NEVER step foot in your stores again. That's it for me.

Zevon
from New Cumberland, PA
After seeing your commercials about your new taco I decided to try them. The tacos that I saw in your commercials that drew me to your store showed a fair portion of GROUND BEEF taco meat with lettuce, tomato and cheese and it looked appealing. THE TACOS I GOT WERE NOT! There was a thin strip of some kind of a meat paste that looked like it came out of a tube, no visible cheese, no tomato and the rest of the taco shell was filled with 'rabbit food', aka lettuce. The taco shell was so greasy it almost slid out of my hand on the way to my mouth! I have to tell Burger King that you have failed miserably in this pathetically lame attempt at serving a taco that is wholesome and looks appetizing. What you show on TV is not what you are serving in your restaurants. Just once in my lifetime I would LOVE to get your food the way it appears on TV. Do you folks have any conscience at all about serving food that is so remarkably alien than what you show in your commercials? I normally prefer Burger King over other brands of fast food restaurants but lately I have found myself questioning this preference. I've watched your Whopper sandwiches go from a tasty burger patty of decent thickness to one that is pretty much see-through and wafer-thin, and which resembles more of a salad between two pieces of bun. You don't need two hands to handle a Whopper anymore, unless you count one hand holding the top bun while the other hand removes most of the filler crap BEFORE a person tries to eat your flattened pancake of a burger. It's time for the King to get with the program!!!

Diane Lauterbach
from Chicago Heights, IL
On 7/14 at 6:00pm I drove to Burger King on 183rd St. in Hazel Crest, Il. Drive up to drive up, ordered 4 tacos and was told their machine was not working and I would have to come in. The girl on speaker was very difficult to understand and she had to depart to me. So I parked my care in 90 degree heat and went in.. There were no adults behind counter, but 4 teens who were having a great time goofing around. Also the cash register inside was working, so they could have taken my order and had me just come in to pay/pickup....too lazy. This is not the first time I have had problems. The Icee machine is always "not working". When this establishment first opened last year service was pleasant an efficient, but it is so bad now. From now on I will go across the street to McD's. These kids should not be running your business..to them this is a funtime, not a job. As a teen i worked at a McD's so I know that this service is unacceotable. And I know I am not alone.

Just watched as 3 of your employees prepared my food without a single one of them wearing gloves on top of that they messed up my order 2 fold by forgetting a sandwhich and a toy for my sons kids meal...if this is not delt with in sanitary conditions at your location in manchester ia i will be reporting it to USDA or whoever i need to...and in my person for your terrible service by you i will no longer be a returning customer unless this is not corrected. john gager phone num 563-880-8124

I don't think the Burger King in Long Beach, MS even deserves one star. I got a Whopper and Chicken Sandwich along with a large order of fries.
The burgers were cold, but the chicken sandwich was so hard that I couldn't eat it. The fries were old and cold. This is ridiculous!
Your employee's that worked the drive-thru windows were not friendly, but I've been in the service industry and know sometimes you're going to have a bad day.
I don't know if I will be ever going back to this Burger King. I guess McDonalds or Sonic will get my business.
Don't get me wrong, I have always loved Burger King, but this just about broke me.
Thank you
Christie Wise

we went to the burgur kings in Istanbul (Turkey) at the beginning of the street in Istiklal it was so dirty and poor service most staff they can't speak English
and they are so cheating on us and charge us too much, so one of the staff which is he is named(TARK} so was rude and he made us so angry. I recommend nobody go there.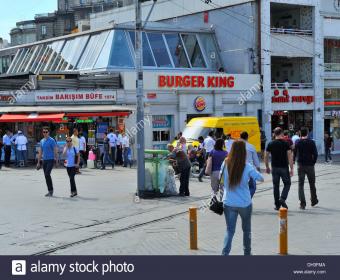 Larry Plummer
from Pawtucket, RI
Burger king Taunton ma horribly slow service. Breakfast in the morning hard biscuits and french toast. Lunch and dinner extremely slow. Long waits resulting in lukewarm food

My husband stopped in burger king on his way home today from a doctors appointment to get some of the great looking tacos that you are advertising. Well what you have done is tried to copy Jack in the Box tacos and failed badly. I had taken two bites of one and there were pieces of a tooth in it. I quit going to burger king years ago because of poor product and we will never go again. What kind of meat are you buyimg or did your employess lose parts of their tooth in our food?

the service was horrible the automative to place orders was broke the place was jam packed and full of smoke I stood there for almost 40 minutes and they still got my order wrong they were rude and unorganized, I will never go there again.

lillie rhodes
from Mountain Home, ID
I really don't like to complain, by the look of things your company has more than they can handle so I will get right down to it.
I saw the add on TV your NEW TACO it looked really good full of meat and lot's of other goodies so we thought we would go get some and see what they were like . Well I have to tell they looked nothing like they did on TV I ordered 2 there was hardly any meat and what Was in the Taco was dry I don't think it was even meat . I was very disappointed it was not money well spent I'm sorry to say matter of fact we didn't even eat them they went in the trash, such a lot of grease on the shells. Only one more thing I have to say I know you can do better than this. So come on you guys fill those TACO'S up with some good stuff and get rid of the grease.

charles allen
from Burton, MI
I wouldn't have given zero stars if I could have. Im not a hard person to please but the experience today 7/11/2019 was appalling. I took my two grandchildren to B.K at 11325 S,SAGINAW grand blanc mi 48439 for a late meal at 8:00 pm ,the place was dead yet it took 5 minutes to be waited on . and another 20 minutes before I asked for my money back and left. DURING the 25 minutes I was there the young cook in back continually was wiping his gloved hands on his pants after toughing food, the 1 customer in front of me complained about it and was aggravated she had been waiting so long too. the shift manager told the kid to change his gloves and as I watched he continually kept wiping his hands on his pants ,I should have took a picture of his pants (greasy and stains all over his pockets, a lady came in wanting her debit card back from the drive thru that the girl "accidently" hadn't returned after I asked for a refund the shift manager didn't apologize for the shoddy service,had nothing to say about the cooks hygiene and proceeded to short change me $6.00 which I promptly pointed out , he didn't apologize or even speak. I requested the store number and he couldn't provide it? I never got belligerent, I didn't get mad ,all I did was tell him the service was terrible and the cooks habits were unacceptable and I would be complaining to corporate as well as calling the health department tomorrow. AT no time did the shift manager acknowledge anything I was saying and offered no apology. my grandson really wanted bk so on the upside we went to the store on fenton rd flint and got excellent service and great food. I will never go to the grand blanc bk again and will make sure to tell everyone I know how bad there service and especially the hygiene is on the evening shift. . respectfully charles allen

Richard Vickerman
from Salome, AZ
The young girl (Madeline) that helped me with my order on Wed. July 10, 2019 @ 08:13PM, of 6 Taco's and a Large Fry and a Large Onion rings appeared great but the Taco's were not! I just watched the Burger King commercial on TV which shows a great Taco with visible Hamburger meat and packed with Lettuce and Tomato and topped with Yellow Cheese in a fried shell. My Six (6) Tacos only had a thin meat paste and no Lettuce and Tomato and no Yellow Cheese but did have the fried shell! The Fries and Rings were OK but not what I have experienced at many other BK's. The Store number is 5230 and my Order number had a survey code of: 03757-31022-10210-091000 with a merchant Id. 456204594992.
I make a trip to Palm Springs Twice a week from my home in Quartzsite, Az. 85346 Box 1888 G1 about 25 miles from this store and when I return home I always stop and pick up dinner at some of the Fast Food Stores that abound on S. Lovekin Blvd. in Blythe, Ca. 92225.
I just thought you should be told about this experience and of my displeasure with your Taco's! Richard (RC) Vickerman

Lisa
from Jacksonville, FL
Waited 25 minutes in drive thru..only had two people working the whole restaurant they said..it was at 545 pm..then the card machine didnt work asked if I had cash..what if I didnt after sitting so long...French fries and onion rings were hard an cold...something really has to change at this Burger King nothing ever seems to work when we go...North main st jax fl 32218 as I'm sure nothing will be done..thanks anyways

john davis
from Blue Mound, IL
July 6 I visited the Burger king in Litchfield,ILL. The young lady who served me was extremely nice, her name was Kylie. She put my order in for a whopper with nothing but onion and mustard. When the order came it was loa Ided with everything. I asked the young lady to return it and get my order as I wished, when she returned she was crying because she got yelled at and my order was still loaded the second time. I wanted to see the mgr. but was asked to please not do it. Your mgr. was helping make the order and I looked at the order slip and it says exactly how I wanted my order. Obviously you mgr. on duty does not know how to read an order, and she certainly doesn't know how to speak to her employees! My meal was a disaster and I don't plan on going back! The young lady that helped take my order did nothing wrong and everything right as far as I can see. I would highly recommend that young lady! John Davis

Today at 12:47 p.m. my husband stopped in at the Radcliff store at 225 S. Dixie Hwy to purchase lunch for us on his way home from running errands. He went through the drive thru to place the order. When the order FINALLY arrived, he was on his way home. Well, He alway's eats his fries on his drive home and he said they were barely even warm. mine were downright COLD by the time he made it home and it's only a 10 minute drive. MY sandwich was supposed to be a Spicy Chicken and his was Crispy Chicken. My Sandwich was absolutely HORRIBLE. It was BURNED Charcoal Black on one side. Upon trying to call the store right away I couldn't get through. Either the line was busy or when I could get someone to answer, they would just pick up the phone but never speak and then hang up . This went on for over 45 minutes of trying to get someone to talk to me. The sandwiches were marked WRONG as it were. This was just a VERY BAD Experience and I feel that nobody in this store is even checking the Quality of the food being sold. Nor is there a proper Manager doing his/her job properly. Shame on BK for Not making sure that their Standards in Every Store are up to Par.

I don't know if cooperate takes complaints seriously because the money still flows through their pockets, But BK has nasty service, nasty attitudes, nasty unfresh foods, and some racial behaviors, On 7 10 19 I went to grab breakfast sandwiches before a cooperate meeting as standing in line the cashier took two orders, before me was a young African American guy walked up to place order and the cashier said nothing and walked away into the lobby and began to sweep, another gentleman was there but was holding his phone as we waited a couple of minutes to be helped a cashier came from the back African American to wait for the line, as she began the first cashier return and walked over to the guy and he said he was trying to place an order online shopping but it won't let me ask her for help she as well had pulled phone scrolling as food was prepared they both remained standing on phones and slowly proceeded to bag food the lady didn't wash hands a hash brown fell to the floor and she picked it up and sat it on the counter area, continued to bag, the guy yes washed before handled any foods, I asked her why didn't she wash as she called my number realized it was my food I asked for money back poor service and poor food handling. Today my co-worker had the same experience walked away refused to serve African American's sadly this has become the norm in fast foods hispanic's attitudes towards the blacks in the communities

I was happy to see burger king would be selling tacos and couldn't wait to try it. When I finally brought one and took it out of the bag at home , I was very disappointed, the shell was stale, the filling soaked through the bottom of the shell and was soggy, and if there was a total teaspoon of filling that was alot. I Will never buy another one and will advise others do the same.

Food was cold buns stale and nasty mangers very rude would not fix order

JANET LEBLANC
from Morgan City, LA
I would do this on burger king experience, but I can't read the code on my receipt. I was as Burger King 10764 in Bayou Vista. Louisiana at 11:31 today. My 8 year old and 9 year old grandson were with me in the lobby waiting for my takeout order. The employees making the order began to all begin arguing among themselves in a very loud manner. After waiting patiently for my order, one of the workers said the f-word, At this time I felt like I had to say something, I said, excuse me but I have children with me, the worker did apologize and begin to make my order, my youngest grandson stated just make our food. By this time they didn't even know what I had ordered and I had to repeat everything. I will say the only name I got was the young lady DaJuan that took my order and she was very nice and stayed out of all the bickering and was very apologetic. I was uncertain who the manager was, but I did see a young man who I thought could be the manager, I wondered why he didn't step in, but then I felt he did the right thing by controlling his temper and was trying to not make it worse, I really thought they would fight. When I was driving away I did see the man in the parking lot and I asked him if he was the manager, he stated he was, I said what I just witnessed was appalling, he agreed and stated he was calling his boss and apologized. I had to apologize to my grandsons, because they wanted McDonald's and I talked them into Burger King. Not next time.

PAULA ROSICH
from Brooksville, FL
WENT TO BURGER KING IN SPRING HILL FLORIDA LAST WEEK FOR 2 MILKSHAKES--OUR BILL WAS $12.00 +--FOR JUST 2---NEVER AGAIN.

Susan Torres
from Pueblo, CO
Restraunt was extremely hot, no air conditioning, tables were all filthy, it was not busy. We were the only customers inside. There was no ice, so I asked if they had any ice in drive thru I could get, response was no! Soda was hot, should have been informed prior to ordering, was not able to drink soda, was not refunded
As we were preparing to leave a young kid went in, he was offered and given ice from the back! Manager on duty was up front talking crap about corporation and signage, hiring advertisements. Etc.
Was very dissatisfied with cleanliness as well as customer service!!! Quality of product recieving hot soda and being told there was no ice in the building, then watching them give another customer ice from the drive thru!!!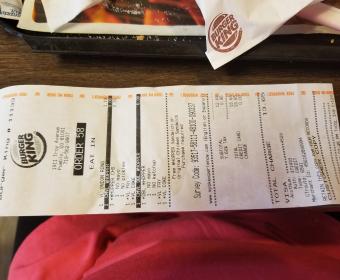 Jeffrey A Schott
from Kalāheo, HI
I returned a cold fish sandwich at Honolulu airport. The Manager tossed out the fish, the bag and the receipt and gave me another sandwich that was equally bad. I did not have time to return the second fish and could not eat it. I would like my money back $7.94.
Thanks.

Veronica Gutierrez
from Merced, CA
I Waited around 35 minutes in drive-thru. They ran out of sauce for the triple quad, didn't have coffee made. The brainless people had 35 minutes to make coffee, yet they didn't start making it until I got to the window, so I had to wait even longer. They had bad attitudes and when I told them I was contacting corporate, they just smirked and said "go ahead". They have rude, idiots working there.
This is the:
(Burger King 555 West Olive Ave). Merced,CA

Cathy Ford
from Indianapolis, IN
Fries were cold, ketchup dispenser was empty - let a team member know, but it was not refilled. Ordered sandwich without tomato, my sandwich had tomato. I am glad I am not allergic. Female member of team messed with her hair and then touched food without replacing gloves. It seemed as though known of the employees cared. The store location is 3650 S Keystone, Indianapolis, Indiana. We were at the location June 27 at approximately 6 pm.

On 6/26/2019 at 3:26 pm ordered thru the drive up...coupon for 4.99 includes 2 chicken sandwiches and two fries also one whopper jr and one small ice coffe...well to my surprise it totaled 10.18...well the ice coffee advertise for 1.00 was 1.79...when i asked the cashier he said they had no small size...he neglected to tell me that when ordering...also i wanted an order of cheese sticks he said they didnt have them...also advertised on your menu..on my whopper jr...mayo was addded when i asked for no mayo and the both order of the fries were so stailed i had to throw them out...i dont eat very often at burger king..and i see why now...your poor quality of food and poor customer service confirms my decision...please look into this matter for me...restaurant address. # 4676 4025 e bell rd Phoenix Az 85032 order # was (41) my # 602 733 3224 ...thank you for your time

Leona Randall
from Boston, MA
I placed a order online for the store on Maple Avenue in Zanesville Ohio and I got to the store and pushed here and it took the money off my card but they were closed so I had to find another Burger King store to go to in order to get my food in my ride was not very happy with me and then when I told them what I ordered they didn't have all of the food I had to get french fries instead of the onion rings I couldn't get the sandwich. I wanted because they didn't have the onion rings to put on the sandwich

Katherine Oliver
from Gonzales, LA

WENT TO STORE BY I 95 RALEIGH RD WILSON #13014 REC C0DE # BK 76815 WAS GOING FOR MY FREE WHOPPER. THERE HRS ( 10:30 AM TO 12:00 AM.) MIDKNIGHT ! ( THEY WERE CLOSED 10:30 PM ) !!!!!! AT LEAST THATS WHAT YOUR SHOWING AT SITE. ? WHATS THE DEAL ?????

leslie ginocchio
from West Palm Beach, FL
I just left BK store Palm Beach Lakes Blvd., West Palm Beach, FL.
1) 20 minute wait drive through in short line - Ordered Chicken Garden Salad
2) Chicken was cold and not fully cooked
3) Lettuce filled half way in bowl
4) Tomatoes old/shriveled
5) No croutons
6) The staff could not care less about the wait or anything else
I should have read the thousands of complaints posted before I went to Burger King. I have watched BK go downhill in the past 5 years. I will not eat there again and will pass this bad experience along to my many friends.

Sally Cox
from Simpsonville, SC
Stopped to eat lunch on Friday, June 7, at the Burger King, 2216 Bush River Rd in Columbia, SC. while we were traveling to NC. This restaurant was the worst BK I have ever been in. The floor was slimy, the tables not wiped clean, there was food all over the floor behind the counter, the staff's clothing, which was black, was soiled to the point of being repulsive and the restroom was even worse. Should have called the health department! This one should be shut down! Won't be eating at a BK anytime soon, which I usually like.

steve yarbrough
from Oneonta, AL
always out of something today no ketchup and napkins in drive thur last week chicken fries. i can get a pizza made faster than a whopper i eat at mcdonalds most of the time not because of the food but because of the service.if your service was as good you would do a lot more business.i eat at other burger kings and get good service this is the worst one i have ever been in, the reason i go here is i do not want to drive 10 miles to another store. but it may be faster.

Lubic Collins
from Union City, NJ
I have file complaints against a company that said that they have written permission to removed any vehicle park on public on store grounds for any amount of time. The store have a camera that can see that I went into the store to buy something and being that the store is full with other customers I went to the store across the street to make a purchase and in five minutes or less my company van was being towed from Burger King lot. The New York Law say that " a vehicle must have been on private property for at least one hour before any towing can be preform." My van being remove was illegal and any manager who signs a contract on property that they do not owned should be look into. Me being a good customer at your stores is bad business on your behalf. Stealing money and allowing your store to operated like that is not in good faith. It cost me $136.00 plus an extra 15 dollars to retrieve the company vehicle for a quick lunch break. Please investigate this store behaviour. See if towing was legit under the 2006 law, section 19-169 " The removal of Vehicles improperly park on private property". The store location is 149 and Brook avenue, Bronx NY. Please be advise the any public place active with parking lots must give a least one hour notice before towing can commence

Laura Pate
from Redding, CA
Regarding store #2298, Red Bluff, Ca. At 3:22 pm, my daughter, her friend & I went to the drive-thru. My daughter told the employee that she wanted two orders of the 2 for $5.00 sandwiches. Employee stated that "you can place your order in a minute". The manager, Kagen stepped in & took our order. The employee, Natasha then grabbed my debit card, which made my daughter & I very angry. When our order was bagged, Natasha threw the bag at my daughter & ran to the other side of the store by the registers, laughing. My daughter was furious. We left the drive-thru & came back less than 10 minutes later. I had ordered cheese on my sandwich & there was no cheese on my sandwich. I saw Natasha out of the corner of my eye as I set my bag on the counter & was talking to the employee. Natasha, still on her cell phone, told the employee that she would take care of my order. I told her I had paid for cheese on my sandwich. I asked her if she was going to work with me while she was on her cell phone. She laughingly told me that she was off of work. I then asked then why is she waiting on me. She left the store while I got my sandwich. I talked to the evening manager, Gabriel & complained about her behavior. I will not go to this Burger King until she is removed. I rate my experience with a zero.

cari coleman
from Boron, CA
First my soda was watered down, and the kid made little effort to fix and said both machines were like that. Then we get our bag of food, everything was crammed into 1 bag with the sandwiches on the bottom flat as pancakes. We ordered 2 chicken parm, which were in 2 diff wrappers and one was bigger then the other... and yes squished. Usually this place has wonderful food, today this was horrible. Worst ever in the 3 yrs of going . Burger King
locations.bk.com
6158 E State Highway 58, Boron, CA 93516 · ~9.4 mi
(760) 762-6187

kerry lynch
from Rhinelander, WI
I and my husband went to burger king 8733 Hwy51n in Minocqua two weeks ago to get the spicy chicken sandwiches the 2 for 6 ordered them and I always ask for the same thing a side of pickles they always give them to me. The place was not packed at all and the older lady she is short and very skinny she told me well I don't know if I have time for that right now but she did it we got our food and sat down I had to wipe the table off it was very dirty so we let that go I opened up the sandwich and the chicken was small like it was from the dollar menu I took it back up because I thought they made a mistake and the same lady came over to me and said that is how big they are it is a hit or miss on the size so I said ok I think she said we will make you another one I'm not sure but anyway's like I said I picked the sandwich up and went back to the table upened it up and said I don't want to deal with this I will just eat it so I put the pickles on it that I had a hard time getting from her took the first bite and all of a sudden this kid comes behind me and puts the new chicken on the table and just as I put the other one down didn't even get my hand off of it and he grabed it out of my hand whats up with that? I'm surprised he didn't grab it out of my mouth he told me they had to take it back no problem with that but come on now can I put it down first. That will be the last time we go to that one unless the supervisor is there she is a very very nice lady

Betty Rogers
from Fargo, ND
I was at BK 3441 Main St Kansas City MO on Sunday June 9th. I ordered the 2 for $4 breakfast sandwich of sausage egg and cheese biscuit, hashbrowns, and medium diet coke. I received my order in a to go sack which he didn't ask if it was for here or to go. I sat down on the dining area close to the counter and open up my sandwich and it's on a croissant not on a biscuit I ask for which I said out loud I said biscuits not croissant, the male employee that took my order told me I said croissant which I told him I didn't he kept arguing with me I got bad I just threw away all that I order including receipt and said few choice words as I went out the door. I spent $8.49 (I used my debt card) and I felt like the employee made no attempt to correct or refund my money, he just wanted to argue, I didn't even see any other employees. I WANT A REFUND. I'll be thinking twice about ever going to any Burger King again.

Jen Campbell
from Royal Oak, MI
We went through the drive through and ordered 3 breakfast meals. My husband and I both looked at the screen and everything was on it. Total came to $18 something. We paid with a $20 and was givin our $1 and change back. NO RECEIPT. The lady at the window gave us a bag. My husband checked it. His burrito and my kids french toast sticks were there. My ham, egg, and cheese meal was not. We sat for a few mins and the woman asked us to pull up to wait for coffee. I reminded her of my meal missing. She said "we have it. We are keeping it warm.."
Ok, why? Why not put it in the bag? So a young woman came out to give us our coffees 10 mins later and I also remind her. Then another young person come out to ask about the situation and I explained. They then said, "What is in his lap?" (Refering to the half wrapped burrito in my husbands lap that I unwrapped to show them) Basically accusing us of having the food because we didn't have a receipt that THEY didn't give us. They continued to ARGUE that all the drive through food had been handed out and they are "trying to figure out what happened to it". After waiting another 10 mins, my husband went inside to either get the food or our money back for that one missing meal, the They person flew up their arms in annoyance and accusation while the other poor lady just gave us a bag of food. One meal in the bag wasn't even ours. So basically THEY make mistakes and blame the customers. It is a franchise and I'll be messaging the owners too. Young and entitled kids running a restaurant with no social skills or understanding of customer service.
Richmond, MI location the morning of April 8th around 10a.m.

Tanky Carlyle
from Pisgah, AL
I haven't done nothing to Burger King but if I call my wife they're going to call the police. Lashanda Carlyle is my wife. I'm really trying to reach out to Burger King to get my understanding. Yes, she was fraternizing with the employee but I got to be the one to be looked over and talked about at Burger King when she's the one that made a mistake. . please call me

michael fletcher
from Yakima, WA
I just went to the drive-through at 10:25 in the morning they were open 9 yd but the lady at the drive-through window who was taking my order was rude didn't want to ask me what I wanted when I ordered when I went to order a second meal for a passenger in my vehicle she got all ruined and didn't even bother to ask me what drink I wanted for it and then started being all rude again to me screaming at me oh I can hear you I won't go back to there again it's bull for 15 bucks an hour and they're gonna treat customers like that

TerenceCarlyle
from Swainsboro, GA
I am making this complaint the CEO and the GL's are allowing this to happen with the fraternizing with Lashanda Carlyle Norman Gardner. Adam asked him several times will they separate them to but they always tell me no I am the husband and I do not like my wife working with the person she was fraternizing with. They don't want me up there because of all of this, they put a no trust passing on me. I haven't done to Burger King to be put in this situation. I haven't made a scene or nothing if they can continue to work together why I cannot come back up there to Burger King. I'm going to continue to make a complaint if nothing don't be done to this

Terence Carlyle
from Metter, GA
My name is Terence Carlyle I'm married, to Lashanda Carlyle she is a manager for Burger King. She was fraternizing with employee name, Norman Gordon. She has sex with him. I do not like the situation because nobody heaven and nothing about it. The general manager knows about it I went to her to have my wife move from Burger King she wouldn't do it so now they continue to fraternizing at Burger King is so disrespectful to me and I live with my wife is nothing to be done about this. I will continue to text and call corporate if you want to talk to me my phone number is 478 494-6296 they don't want me back at Burger King because of this Burger King put a no trust passing on me because of this, but the allow it to continue I was told they didn't put them on the board for fraternizing the general manager letting me know they wasn't going to do it because that was my wife didn't want to embarrass her but they want to continue to let her work beside the employee. That she still fraternizing with this is totally disrespectful to me and my kids if nothing don't be done about this I'm going to continue to make complaints about Burger King

Mary Mote
from Greenville, SC
Yesterday on Easter in McCormick SC...
209 S Mine St, McCormick, SC 29835
Extremely rude smart mouth girl at speaker I would give 0 stars if I could. What is a 5 minute wait I can understand a 5 minute wait after ordering but before plus there were two cars in front of us just the rudeness. We simply ask if we could go ahead and order while waiting she said "I said it's a five minute wait now you know." I assure you I will never return to this store again. Last time I checked that's not how you treat a paying customer.

Ms. G
from Redwood City, CA
I was rushed and ran out of my house due to a system outage at work and made this quick run to BK. I just happened to receive the worst experience at my local Burger King. I was very specific with my order, hot freshly cooked fries out of the grease, I did not check my order before pulling off. No wonder the young lady (Ashanti Smith per receipt) stood frozen at the window as if I was going to say something as I drove off. My sandwiches was not only cold, but a portion of my burger was burnt, I pulled out the receipt to complete the survey and the survey code was intentionally torn from the bottom of the receipt (I be darn). I tried calling the telephone , no one ever answered. I could not go back because I am still on my job for another hr. I want my money back $12.63.

Beth Napolitano
from New Port Richey, FL
Transaction ID # 38044-06021-14404-0311006. Date of purchase : 04/04/23 at 1:10 pm.
Address: 14139 US Hwy 19 N, Hudson, FL. 34667
We have always enjoyed the food at this location. However, today was the worst meal we have ever gotten anywhere! Our whoppers were COLD, the fries were as hard as rocks and inedible. And we spent $28.52 for food that was horrible. We do enjoy whoppers once in awhile, but based on the food we got today we will never return to Burger King. It was that bad. For what it's worth, the server had filthy fingernails-literally black dirt caked under her nails. I frankly hope we didn't get food poisoning. While the food prices are going up, apparently the quality is deteriorating.
This was a NO STAR experience.

Patrina Deese
from Atlanta, GA
One of your worker always saying things to a customer every time he come in so on yesterday it got out of hand and the manager didn't do anything she took up for her worker so call someone please call me at ms johnson

Debra strickland
from Strongsville, OH
I go to my local BK store #28513 in Strongsville Ohio almost DAILY for an ice cream cone. I feel the ice cream is the best of all the fast food chains. I place my cone order as usual and was presented at the drive thru window with a cone that had YELLOW ice cream that was sliding off the cone and dripping down the side. It was about 1 1/2 inches high. Because I indulge daily in BK ice cream I knew it didn't look right. I asked for another cone, politely but was told my the server that it was fine, that's all I get( I assume referring to the SIZE of the cone). I said No, it doesn't look right, it yellow and falling off, please make another. He told me very rudely "that's all you get now drive away!" I was floored, and ask to speak to the manager. He said "I AM THE MANAGER! I will not make another cone for you, now drive away !" He treated me like I was a sassy teenager, which I am not, I am a retiree nurse, and a former Dairy Queen and ARBYS manager before that. I happen to,know what the cone should look like, the color and consistency. I come to this store DAILY for ice cream and I can assure you it has never looked like this.. I am ashamed to say I threw the cone and drove away. That wasn't good behavior on my part but I was so disappointed and insulted I snapped. Needless to say I didn't get my money back, but then called the store and asked for the manager ( thinking this kid who was so rude could NOT be the manager) the person who answered the phone said he was the manager, and I identified myself as the ice cream cone lady to which he replied "you didn't have to throw the cone" and HUNG UP ON ME!!!!! If this is how you train your managers you have some improvements to make. Before becoming an RN I also managed an ARBYS and would have NEVER treated a customer this way or tolerated my staff doing so.

Eddie Colley
from Dallas, TX
Today I went into this Burger King #TA 150. I had a coupon #3778, the coupon was for "2 BACON Cheeseburgers meal". They person tells me they don't have a Bacon cheeseburger like this, I would have to PAY EXTRA for the bacon ??? How are you advertising #1. the bacon cheese burger #2. and you don't put the BACON on it #3. and I will have to pay extra for what it says on the COUPON ??? So I could not for the life of me understand this. My granddaughter and I frequently, in the pass have gone into THIS Burger King. I get the coupons in the mail and this is one of the few fast food places close by where I live when she comes over, it was our GO TO PLACE. So I had to instead get chicken nuggets. Also while waiting , I look up at the menu and there are four different items that say bacon (example the#4 bacon king) dahhhh..So I ask the person about that all he could say was mam I don't know what to tell you, I just work here, dahh. After being TOTALLY disgusted I took my nuggets and left, which by the way I was not satified with because ,had I wanted NUGGETS I would have ordered nuggets. I use to think service here was alright, but now I'm thinking about lumping ya'll into the same pile as Popeyes down at the next exit, it's truly Hell's kitchen down there. The coupon should say what you mean and mean what you say. Disappointed in ya'll Ms. Eddie Colley, Dallas,Texas (Burger King @1-20 and BonnieviewRoad)

South willow st burger king has a young man working tonight that has his hair hanging over his eyes and past his nose. No hair net or hat. The to lady's working outback on the line also had long hair with no hair net or hat on. The young man was also preparing food without gloves on. My experience at the counter ordering my food was like ordering from an inmate of a prison. Sorry but I don't think I'll be going back to gangster king. 3/27/23

LaDon Wells
from Atlanta, GA
Bainbridge Georgia Burger King the MANAGER y'all cussed my husband out because he ordered 1 pie and they rung him up for 4 and he said no I just wanted one and the manager started cussing him out calling him a dumb little boy then started mumbling to employees telling them how stupid and dumb he was and not to mention we had our 7 and 3 year olds in there

Temeko
from Birmingham, AL
I went to Burger King around 7:15 Saturday night. I pulled up at the drive thru and no one ever took my order. I said hello several time but no one said a word. I pulled around to the 1st window and tried to get the manager attention but he never looked up. I pulled up to the next window and the guy told me that he couldn't take my order and that I would have to go back to the drive thru. I also asked him for the number and he told me he couldn't give me the number to talk to the manager!!!!!

Tim
from Philadelphia, PA
This Burger King completely sucks I asked them to cook it fresh for me they did not it came when I got home it was cold not only that they forgot dipping sauce for my chicken fries so what do I do what can you do for me please contact me back because if you guys can't fix the crap that's going on there then I want to compensation for you guys messing up

Daniel Kelly
from Kingston, ON
I went into the restaurant at store # 29599
None of the employees wear hair or beard nets
The issue for me though is that I had to wait about 40mins for my food and saw multiple people that arrived long after me receive their food first
I wasn't even given our drinks while we waited
I have had much quicker service in dine in restaraunts that serve complex meals
This was by far the worst food ordering experience of my life, I only wish that I could give less then 1 star
I attached a screenshot of my order, I still can't believe the level of incompentance at that store
I don't even know if I can ever order from burger king again, because of this experience
Very unclean due to no hair nets used, and unacceptable wait
Brutal doesn't even start to describe the experience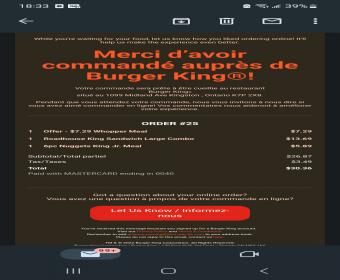 Kimberly Williams
from Duluth, MN
I had a puddle of water yes I went to Burger King yesterday and they got my order completely wrong and overcharged us so we called and told them that we wanted to get our money back and so after work my husband went there to get the money back and the manager said well you should have came earlier that was hours ago and only gave us half the money back it came to 26th almost $27 and she gave us $11.09 back and I would like a full refund and the manager needs to get reprimanded cuz how she was talking to me and to my husband in front of other people also was very uncalled for.

Cynthia Everett
from Chattanooga, TN
I am at the Argyle Forest Burger King next to McDonald's and it will be the last time I come here. I've been here five times in the last week. No iced coffee. We don't have any coffee. That's poor management right there. Now it is 306 and I'm sitting on line waiting over 10 minutes. It was 147 and I pulled right around, and that's how long I've been waiting to give them back these two big kings that are ice cold.

Mary jo Smith
from Albuquerque, NM
There supposed to be open at 6AM
For the past month it has not been open. I stop there every morning before work but it has not been open
There are lots of regulars that go there that early.. Your a big corporate company and when you say your hours start at 600AM dont ya think you should be open.. very disgusted with how you handle your business
McDonald's is never closed so I'll will be giving them my business from now on..

Daniel dyck
from Oshawa, ON
Went to Burger King in Oshawa Ontario on King Street for lunch with the family it was so bad I'd like to know why the food is always so cold and the staff does nothing about it when you ask thank you

Michael C Reagan
from Jacksonville, FL
I can't believe I take everybody to go eat at Burger King where I always like to eat and the french fries taste like French toast sticks where they haven't filtered the cooking oil since breakfast it was disgusting run the flavor of all the food tasted like French toast sticks very disappointed

Burger King on 4030 Montrose rd. Niagara Falls Canada used to make me perfect burgers a number of years ago but since the past few years they or someone is putting very little mayo in my Bacon Kings and Double Whoppers when I visit the take out window and also they have me waiting in the parking lot and today I waited 5 to 6 minutes. Last month a different employee was at the window and after he took my order the burgers were made quick with the perfect amount of mayo but this was not the case today and now for the 4th time at least there was very little mayo in my Double Whopper and Bacon King (picture of my opened Bacon King is included as a file as well as 2 images of the receipt). I tried to phone them now on 2 occasions and they don't answer the phone. Can you please contact this Burger King Location at 4030 Montrose rd. Ont, Can, 905-357-4907 and ask why is this happening to me and now for the 4th time?

I have been a customer at Burger King at this location since they first built the location 4 years ago I purchased food from this location about five times out of the week y'all had a new employee in there today and I know how much the order was I told her what I wanted I gave them the coupon number she messed up the order I tried to tell her that I wanted three french fries and two hamburgers she told me I know what I m do I got to the window and she said the meal only came with one french fry and I said I asked you for three french fries and you told me you already got it you know what you doing I shouldn't have to argue with her about what I ordered and then she try to give me what she want to give me when I specifically ordered two hamburgers two medium fries and a value fry I didn't immediately ask to speak to her manager then she cursed me out the girl I think they said her name was Natalie cursed me out disrespect me slam the window in my face and I told her I was going to file a complaint she said they don't care

Christine E Smith
from Philadelphia, PA
I did a drive through on Tuesday @ 10:46 a.m.
I ordered 2 whopper meals with cheese and 1 whopper Jr. meal with cheese. After receiving my order reached in to grab a fry. No one was in the drive through or inside of restaurant. Fries were COLD with hashbrowns in them. So I had to park and go in and ask for hot fries, the manager was coming on duty at that time. She replaced the fries, I said I hope the burgers are hot, much to my surprise when I got to the job( less then 5 minutes away) they were cold, and so was the cheese on them. I tried calling for 3 days with it saying they are not taking calls at this time. Today I stopped in with my receipt spoke with manager, she told me that I told her that they were hot. NEVER CAME OUT OF MY MOUTH! I was told to contact corporate. If I wanted cold food. I would have ordered salads. $28.77 is nothing to sneeze over. Cold food and no customer relations at the Laurel Delaware BK. I would appreciate if someone contacting me back, as I own my own business, and have for 24yrs.
Thank you
Christine E Smith

Stephanie Burt
from Nashville, TN
I recently visited a drive thru on poplar Ave in Memphis TN 38104. Ordered 3 double cheese burgers only to get home with 3 regular cheese burgers. I stated my order very clearly to the drive thru attendant. Was very disappointed , did a complaint online, I was suppose to hear back from you all within 24 to 48 hours but never did. Thanks! Dissatisfied customer!

Marquita
from Stephens City, VA
I want to burger king on valley ave about 11:10 pm Monday. I had just got off at 11. I had kids at home hungry. As well I was after work. The dude helping had an attitude because it was the family meal. So I get to the window he still had an attitude. I asked him is there a problem. Was he good? He said he was but I come there ordering a family meal at that time at night. I'm not thinking 12 they close. But still he had like 30 mins left to close. So I called at 3 yesterday to speak to the manager. I just happened to get him. Which he said he was the manager. Still rude what I want. I said I want to complain cause he didn't have to do all that. Then he hung up on me. His name is something like A'shawn

Allen Billings
from Navarre, FL
App sent order to wrong location, Navarre Florida, before submit button hit. Tried to cancel immediately but no option. Tried calling location but they refused to answer phone. The location I was at told me the order isn't started until customer check in and if no checkin order cancelled at closing. App sent me to website for help. Email sent but reply said too bad but I can still pickup order. As I wasn't in town that was not an option. Well Navarre Burger King charges me for an order they didn't prepare and they knew it. No ability to contact human on the phone. Have submit a bogus charge to my credit card company.

Phylett
from Shreveport, LA
Everytime I go to burger King on hearne ave in Shreveport,la. My food is always cold, patty taste like it's been sitting up for hours and the fries too. People work too hard for their money for them to serve people cold food. I am a cook myself and have been for 20 years. I wouldn't dare serve no one cold or old food or throwed together food Prices are up on everything. You have no room to be wasting or having people complaining. If they stay off their phones and stop having friends hanging out up there, the food would probably be better. It's been 2 months since I ate at this same burger king and they still serve people cold and stale food. Please get to the bottom of this. I am so upset about this. Please handle this situation.

Christopher Averino
from Buffalo, NY
On 3/8/22, as soon as I Christopher Averino walked into the 0ne Warren Street, Burger King Glens Falls NewYork, the manager Christina Ellinwood said that I'm not allowed in here. I asked her why, and she failed to provide me with an answer, and just yelled you got to go. So I yelled back and said I didn't do nothing.
Soon after I that, I proceeded to leave the restaurant, but was prevented when the team leader Emily Bennett got in my face yelled at me and said that she will kick my butt. This went on for 5 min. Finally the Police arrived.
I gave the Police my story, and was advised by the officers to contact Corporate.
From 3/9/22 until August of 2022, Icountless phone calls to the 1-866-384-2493 number. As of 1/3/23, I have yet to receive a response.
Each time I called, I was promised by customer service within 3 to 5 business days, there would be a response to my complaint.
All I know, I Christopher Averino walked into the restaurant with one thing in mind, to order food. Christina Ellinwood provoked me, and her coworker Emily Bennett threatened physical harm to me.
10 months. No response. What is going on here?
This incident should not be left without being looked into.
It is important that someone contacts me about this.
Sincerely,
Christopher Averino

David Sweeney
from Canarsie, NY
How is it possible that a burger king, center street,manchester ct has no salt?

Sophia johnson
from Lorain, OH
I waited in drive thru for over 10 minutes!!!! It's suppose to be fast food and every time I go there they always tell me I'll be right with you..usually when there's like at least 5 cars sitting forever...it's ridiculous!!!

Shereen F.
from Irondequoit, NY
I just came from your store at 3491 Mount Read Boulevard Rochester New York and I expect a full refund I was giving a bag overfilled with old food and an incomplete order. The time was 4:00 p.m. on 12/26/22 and I was met with attitude when I requested another bag and my receipt but a red-haired lady with wavy hair said the printers down the guy who brought us the order refused to give me another bag the whole place was just attitude and a mess. They didn't bother with our drinks or ice cream and this guy who gave me the bag just said no and talk to my manager. Then a skinny African-American woman came out and said whatever okay and didn't come back another guy came out got mad went inside finally. Finally a red-haired woman with wavy hair and a ponytail came out asking what the problem was. I explained that the bag was falling apart and that I cannot see if everything is in the bag she claimed the printer was down. Then as she went inside to take a picture of the order so we could go through it I heard her saying what is wrong with this woman? I asked her when she came back out if she insulted me and she claimed she was upset with the store and having to come in to help clothes and about how unorganized the place was. Half of my order I was positive was missing because when we got home we found a few sandwiches not the amount we ordered she even said that she didn't see some of my items on their seat so how was my order $43.43 then? She claims she packed it herself but of course every single thing including the Nuggets were hard and cold nothing was fresh, I was disgusted, we decided not to eat anything since we did not trust the freshness from the look of things. And I have never been treated worse in my life. We had had a great day before this and this ended our day awfully. I was there at 4:00 p.m. and I want a full refund of my $43.43 and they made us wait 15 minutes just to get the order. I think the general manager should be fired and every employee I saw looked sloppy and was rude so I will never go there again. You need to get your regional manager to get this place cleaned and straightened and do not keep the food so long and give it to customers it's disgusting. Thank you you can email me if you need to but I expect a full refund ASAP. So not only did the bag break from the grease and the things inside some of the food Not only was all over the floor that we had to clean up but the drink that they brought out after I complained was not the drink I ordered so frankly we just threw everything out now.

Neal Boyd
from Portland, OR
Today my wife went to buy the deal for whopper fries and coke for 2 @12.00 and she bought this 2 times. Told she wanted cheese on the whopper (all 4 of them didn't have cheese) The employee not only didn't give her the cheese, and messed up the drinks. Didn't give my wife a receipt and my wife gave the lady 100 dollar bill and received back 67.00 which was way more than what the food should have cost. My wife stated she was so upset with the wait time, said I didn't get my receipt and was so frustrated she had to go back to work. She than told me about it when she gave me and some other co-workers the food. The address at this Burger King is 17218 S.E. Powell Blvd. PORTLAND OR, 97236
5036613083

Aaron Ginn
from San Antonio, TX
I went to the BK on 8th st in meridian ms. Service keeps going down there. All of them here to be honest. I go through the drive thru. Place my order. Double whopper with cheese. Just the sandwich. No onion. No lettuce. No tomato. Heavy Mayo. I start to leave. Check my burger. Has no Mayo on it. Things like this has been happening a lot. I never get fries. I never get a drink. Just burger. Not that hard. I had to repeat it four different time. Had to repeat it three different times at the window. Still no Mayo. I go inside. Put the bag on the counter and said it has no Mayo on it. Everyone just stands there and looks dumbfounded. No one moves. I walk out and leave. I don't have time to wait. No one even bothered to try to stop me to help. So if that's how y'all are gonna run your business and service just keeps getting worse, then I'll just not go there. I spend quite a bit of money with y'all. Good luck

William T. Young
from Belmont, CA
Like most people out running around shopping when I thought I would take a lunch break. I used the drive through and I ordered a Whopper with no cheese. I was the third car in line so paid and picked up lunch drove to the parking lot. First of all the bread was previously frozen which makes it crumbly. What I had in my hands was a COLD disgusting burger cheese I did not want, the bread crumbled in my hands made it inedible. Yes I could have ordered another burger but would get the same thing. I threw it to the seagulls not even taking a bite and left swearing I would never step foot in a Burger King again.
William Young
49 Sea Bridge
Alameda, CA94502

Robert Laigle
from Sarasota, FL
I use to love your whopper and I am very disappointed in recent purchases. I order off the grill but still get cold and dried out burgers and buns that are not fresh!!! I live in Englewood fl and 2 locations same problem. There was a site next to Home Depot that closed but never had a problem there. Always great service and product.

Jaquilla Robertson
from Elgin, SC
I order a double bacon cheese burger from burger and I got back to office i checked my bag it was single cheeseburger with no onions.

Joshua Linehan
from Fort Lauderdale, FL
This is actually not going to be a complaint this is a praise and appreciation for the general manager that you have operating your store on 1p725 east sunrise blvd in Ft.Lauderdale Florida. The gentleman name is James that runs that location. James is the most professional and compassionate general manager that I have ever had the pleasure of talking to and getting 5 star customer service from ever in my entire time of eating at fast food restaurants. I am a homeless man here in Ft.Lauderdale and I usually don't get any food or water some days. Today I walked into the store in the morning and I approached James and I humble asked him if I could get a cup of water out of the sink in the bathroom. He replied to me that he was surprised and greatly appreciated me asking him for the water instead of just taking it upon myself to just take it from the soda machine
O. My own. That compliment he gave me made me feel so god because everybody just looks down on homeless people link filth.jamez gave me a cup of sprite to help quench. thirst. He deserved in my opinion to be recognized for the outstanding service that he provides here every day at burger King and all the other general managers should follow the way that he provides service to the public every day with out falter. Thank you for your time and reviewing my message and please give this gentleman a call to let him know how great he is and to keep providing the 5star service that burger King provides.

Brandy Hernandez
from Orlando, FL
I live in Oviedo Florida and we have a Burger King right around the corner on Alafaya trail, I must say this is the worst Burger King I have ever gone too!!! Today 12/6/22 at 6:36pm I waited online in the drive through for 10 minutes with only one car in front of me. In this ten minutes we both had no movement or any one on the intercom. I then reversed out of the drive through parked my car and went inside, as I wait inside with no one there no one greets me and I wait another 5 minutes with no one taking my order or even saying hi! I literally left the building went across the parking lot to Wendy's got my food drove off and saw the same car that was in front of me now finally at the service window. This is really unexceptable and unfortunately I will never go to this restaurant again which is unfortunate because it's by my house. And this is not the first time I have had bad service here but it will be the last time.

Shayla Tolbert
from Colorado Springs, CO
12/1/22 at approximately 7:55am, i was in the drive thru of the Burger King located at 4010 Lakewood Dr. I placed 3 orders and on the 3rd order as I was stating that I would like a small vanilla iced coffee, the lady taking the order cut me off to say that they were out, so to make sure i heard her I said "I'm sorry i didn't hear you" she replies "WE ARE OUT, O-U-T" I then replied "well you don't have to be disrespectful and you know what I don't even want it you won't spit in my food." I then proceeded to walk into the burger king to address the issue further. I asked the young man (manager) who was taking drive thru orders and proceeded to explain to him what happened, as I'm speaking with her the lady taking the drive thru orders walks up to the fry area to prepare an order and she's smirking about the situation, which I felt was even more disrespectful and at this point taunting. I have never had an experience as such at this particular store. And to add insult to injury, she was a black woman and I am as well and I found her attitude to be completely uncalled for at that time of morning. If she was having a bad morning should've stayed home or gone to take a smoke break. I work in the customer service industry as well and speaking to your patrons of the establishment in that manner will definitely put a stain on the businesses reputation.

Brainard Clark
from Mehlville, MO
Hello how r u I'm not da 1 to complaint but this was ridiculous I waited for 30 min for 1 of the best fast food burgers in got bam boozled my 2 whoopers we're cold as nd I ask for no cheese and it had cheese particles on the wrapper with no mayo or pickle and I specified extra mayo and ask for o-rings and got fries my wife had our mind fixed on some good burger king because y'all are 1 of our favorite when we eat burgers I didn't making a mistake but burger was extra cold with particles I'm allergic to cheese it was sad coming from da King and I was on break so it wasn't no need to going back complaining and it was 1 of da good BK's in Mphs on stage in Barlett we're alot of customers come I like to thank you for your time I'm not upset but Barlett Bk need to tighten up Happy Holidays and blessings to you....

Carol Proud
from Escondido, CA
Fish burnt,dry and overly salted, bun soggy, lettuce brown and no utensiles

Evie Lagon
from Tampa, FL
I am elderly we've been eating at BK for many years. My fish was cold my French fries were cold. We ate inside the placed our food on a greasy tray. When I complained I was
Ignore We Love BK
Thank you

Wallace
from Lakeland, FL
Not upset. Curious.
Why is hwy 5 Douglasville ga not taking app offers. They show on app as available for that location.
Thanks

Kitty Shore
from Bolivia, NC
I love Burger King but the local one has really gone down hill. Just tried again today to get a double whopper and a jr whopper. Both were cooked but the hamburgers were cold. The fries were not fresh. The lettuce was brown. Had to take all the lettuce off and then heat both burgers in the microwave.

Jon Adam
from Antioch, TN
On 23 November 21 I walked to the burger King on Signal Mountain Blvd in Chattanooga, TN at 11:30am since I work a couple hundred yards from there. The lobby was open as usual only to be told the registers are only working in drive thru. I was not allowed to make my order because I wasn't driving and so I went to Zaxbys instead. I didn't know my money wasn't any good there because I hadn't driven my car. Poor service and nonpeople skills.

George R Pleasanton
from Woodland, CA
I ordered a whopper combo and when I checked my burger I was missing all the veggies. When I brought this to the counter they thought it was a joke and started laughing about it. I will never go to another Burger King in my life. Woodland ca
Have feedback for Burger King?
Thanks for your feedback!
Sorry. Please try again later!