Burger King
Burger King Complaints Continued... (Page 6)
834+ reviews added so far. Upset? Call Burger King corporate: 1-866-394-2493

margaret botten
from Big Pine Key, FL
I stopped off at Burger King in Key Largo, Florida with my sister and nephew on my way home from shopping in Florida City. I do not know if this location is lacking a manager, but it was the most disgusting Burger King that I have had the misfortune of walking into.
The trash was spilling over everywhere. Over by the drinks dispenser was a mess. A large majority of the tables had not been cleaned either. Needless to say we did not hang around to buy our food there and a couple behind us obviously felt the same because they walked out as well. I wish in hindsight now that I had taken a photo, but all I wanted to do at that moment was get as far away as possible from this hell hole.

Monica Hernandez
from Plainfield, IL
On my way home I stopped in at Burger King located at 1290 W. Normantown Rd., Romeoville, Il 60446 around 8:10 pm. I did order 2 whoppers with cheese and I was very clear to the girl only ketchup on the burger and a large fries. I did look at the monitor and everything looked ok so far. When I got home like 30 minutes after after a long day of driving, I called my son to come to the kitchen and eat and when he started eating and found out that the Whoppers had everything on it. He got upset right away. and he did not eat. I tried like 40 times to call Burger King at 815-886-1229 and the complaint line was no help. I gave up. I am very upset, because this is not the first time that happened. We like the Whoppers, but I will never stop at a burger kind again due to this horrible customer service. It's just plain bad.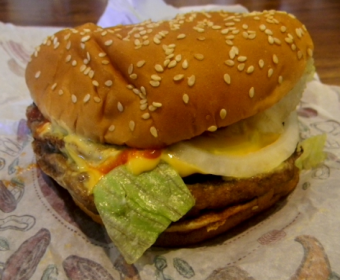 Lois Mitchell
from Dayton, OH
Went to Burger King #4547 this morning in Moraine, Ohio to get my breakfast to take to work with me. Sat down at my desk to egg my Sausage egg and cheese sandwich and they gave me the wrong sandwich. They gave me ham and I hate it. Help need to pay closer attention to what they are doing. Lesson learned for me to go back to checking my order.

John Csehek
from Youngstown, OH
This is not the first time this has happened and this is not the only complaint. I went to Burger King on Wednesday evening at around 6:30pm. I ordered two double whoppers with no cheese, onion rings and fries. After placing my order they wanted to give me the onion rings and the fries that had been sitting there for who's knows how long. I told them i wanted fresh ones which they did. When i got home both my Whoppers were only single Whoppers and when I called the manager said she would replace the order which is fine but how many times do I have to go there to get the right order. It cost me gas, travel time, my time, aggravation and why should I put myself out to do something that should have been done correctly in the first place. When I went in there were no other customers so that wasn't the issue. what I am thinking the workers were there looking at their cell phones and shooting the crap not paying attention to what they were doing. this is why I hate All fast food restaurants is because they can't get an order right and they want more money. There must be a bunch of lead heads working at these places. This happens quite a bit at these places.

Ronda Traband
from Pleasant Hope, MO
My husband and I went through the drive-thru in Sheridan, Arkansas on 29 October, 2015. It was a freakin disaster! EXTREMELY slow and the girl had me repeating the order numerous times...really? I am a teacher and I know I was speaking clearly and loud enough! ONCE the order was correct on the screen, I drove around to find that my order was $21.45....WHAT...I order a Whopper, Fish sandwich, 2 large fries and a large sweet tea (my husband had his drink in the car). I tried questioning and the attendant said that my receipt would be on the bag! When I finally did get the order...of course...it was wrong! People go through the drive-thru either because they are in a hurry or just lazy...regardless of the reason...the customer should not have to wage a freakin war to get food they are paying for! Burger King...you just lost a customer!

David Molz
from Olathe, KS
The local burger king in our town, at the corner of Santa Fe at Lindenwood IS NOT OPENING their local diner/dining in area and has not opened for business on the weekend for quite some time. The cop-out excuse is that they don't have enough employees to do so. But they can still serve through the drive thru window. So tell me, how many employees does it take to turn on the lights and unlock the doors? This has become a very annoying occurrence and we have stopped doing business there and will not do business there until this situation is remedied. Please fix this or you will see more Burger King complaints in the future.

Anita Hyde
from Manchester, ENG
I visited Burger King on Denby dale road be Jnc 39 of M1. I ordered our meal and asked for a coffee. I was told I could have black or a cappacino. But I wanted milk in my coffee. She said sorry we have black coffee or cappacino. :-(. Whilst it took them ages to do our food, the amount of complaints whilst there was unbelievable. A customer had ordered burgers with no mayo or mustard. She had to complain twice as the teller had not paid attention to what she had requested, both times she got burgers with mayo and mustard. A chap brought back his coffee as it had all curdled. Another couple had to dispute their order as it was incorrect. I don't really use Burger King and for quickness will use McDonald's. I think I will stick to Mc Donald's from now on.

Deborah Kuhn
from Seattle, WA
Stopped in at your store about a month ago for breakfast, so looking forward to it. I always order the ham and cheese croissant, my favorite. Well that store was out of ham. I ate nothing but did sit and watch my husband eat. This particular store shares the parking lot with Walmart, I pointed out to the cashier perhaps they should go and purchase some ham from the Walmart store. This just went right over the cashiers head. As I was leaving hungry I stopped at the counter and asked to see the manager, Amanda was the manager, I asked if I could have the corporate office phone number and Amanda stated "we don't have a corporate office". I said you have to have a corporate office. Nope she said. Needless to say this was just plain stupid. My own opinion is that you should maybe hire smarter people and/ or train your managers to include the number for the corporate office and put into place a back up plan to buy ham elsewhere. My experience at that particular store was a minus 5.

The burger King on E Mullan in Post Falls, ID. The order was wrong and the staff rude, and ordered a large fry, and came only half full. No apologies, nothing. They said they were busy, but that is not an excuse. Also, every time we have gone their coke ice machine is not working.

Jennifer
from San Antonio, TX
I bought my food from burger king and as I proceeded through the drive through I noticed that my fries weren't in the bag. Not only that but there was mold on the lining of the drive through window.was old. When I mentioned it to the staff they shut me down and said that the restaurant was old. I then noticed that my drink cup had ants dead and alive on it. So I checked the inside of the fruit punch I was drinking and saw that there were ants on the inside also. that in itself was enough to make me want them shut down. I will never go here again.

Jerome Ancrum
from Summerville, SC
On 7/1/2015 at 9:15 pm I went to the Burger King on 1117 Central ave, in Summerville SC. I drove up to the restaurant and there was an employee outside and I asked him (a male about 5'10", white with a mustache and wearing glasses) what time the dining room closed and he said it was already closed and that I would have to go thru the drive thru. I pulled my car around to the drive thru and after about 15 min I got my order and I asked the female employee working at the drive thru (white with long dark hair) what time the dining room closed. She said she did not know and then looked at the clock and said now and it was 9:30 pm. I feel like one I was lied to by the employees in the front because he said the dining room was closed, and she first said she did not know when the dining room closed and two she just looked at the clock and said now. I feel this needs to be addressed by the management at that store that Burger King is being represented this way.

Ilene Robinson
from Brandon, MS
I think it's sad that Burger King charges over $2 for a large cup of ice. The cup can't cost more than 30 cents and how much could ice possible cost. It's summer time and it's very hot in Mississippi. I can go to McDonalds and get a large cup of ice for 50 cents and that's where I'll be going from now on along with all my friends & family. We won't be back there ever again.

Went to burger king on highway 6 and beechnut 8404 highway 6 south Houston tx the employee female was rude to me refused to serve ne spit in my fiod and ask me not to come to burgerjing again. Sge slamed the window. At me, I asked for her name she refused to tell me yelling and screening at me. I complained to the manager he did nothing. It happened today 6-12-15 at 3:54pm. This is not the first time said emploee is doibg such to me.

Scott Thurlby
from Eureka, CA
My wife and I ordered 2 whoppers w/ fries and onion rings. They switched the buns (turtle shell type) without informing us. The franchise is in Fortuna Calif. The burgers were greasy and tasted terrible. The onion rings and fries tasted like rancid oil. I have always been a patron of Burger King vs. McDonald's. I asked for a refund, was told i could apply it to another order. I do not like this franchise. I will never eat at a burger king again. I will never recommend burger king to anyone, and i will tell them how bad it was..

Mark O Malley
from Lancaster, PA
The wifi at the Phoenixville pa store has not worked in over two weeks. I was a frequent patron, but now I go to McDonalds. I will not return until I am assured that Burger King in Phoenixville pa has a working wifi.

Natalie Jacoby
from Ellwood City, PA
I made a complaint about the Burger King in Ellwood City, Pa just a few weeks ago and today I received a coupon for a free whopper. I just went to use the coupon and they wanted to charge me tax. I think that is absolutely ridiculous! There is NO WAY anyone can charge tax on something that is free! I definitely will NOT be ordering anything from Burger King again! This has been nothing but a hassle. These people are extremely rude and they should not be working in public if they are going to be so ignorant. I do not understand why coupons are sent out for "free" whoppers to make up for the previous incident when they are trying to charge me.

Larry Buroccki
from Grand Rapids, MI
Ordered my food at the drive through window at the Grand Rapids, Mich. at the Plainfield Ave and Cannonsburg Road location. I ordered two woppers, 2 vanilla shakes and 1 water. I told them I had a coupon for buy one get one free. I got to the window, got my woppers and the water drove out. I realized I had forgotten the shakes, got back In the drive through line, ordered 2 chocolate chip cookies for a dollar, drove up to the window again said.... you forgot my vanilla shakes, and handed her the receipt.
Her response was can I please have a dollar 6 I gave her the dollar 6, she rudely hands me one shake, then says here's the other one. I was very offended by her attitude. No "I'm sorry" or any thing. I momentarily paused in the drive through line and looked at her wanting to say something to her but I held back. She looked out the drive through window and said sarcastically "do you need anything else?" I responded, "No" rather perturbed. Then she sarcastically waved her hand at me and said "Ok Good Bye."
This is not accepable behavior for someone who deals with customers on a daily basis If I were her manager. I would give her some well needed training or possibly the manager could use some also. I almost went back to that location and confronted the manager about it but decided to vent this way may be more productive. I am going to mention this to anyone who asks me about Burger King. If the subject ever arises. I am discusted .

Carol Ramos
from Miami, FL
My husband had ordered, in English, 2 croisandwiches through the drive way at this Burger King on 1701 SW 8th Street in Miami, FL at 7:30 AM today on 05/20/2015. When we got to the window he was given only one. He said he had ordered 2 and the employee started arguing that he had ordered only one. My husband again replied that he asked for 2, then she replied "if you do not speak English do not order in English but in Spanish" in a very disrespectful and rude manner. My husband had ordered in English was our reply, while she continued arguing in Spanish.
I asked for the manager and another male employee answered that "she is the manager." We both feel discriminated, and it is intolerable that this employee pointed out that my husband has an accent when the right way would have been an apology and supply the extra sandwich.
Finally we expressed our desire to complain about the incident and she cared less. It is obvious that the behavior of this employee is unacceptable and that hurts the Franchise's good reputation. I will not return to this store. I would appreciate that this incident is investigated and the Manager is retrained in customer service knowledge at least.

Denis Lee
from Pinckney, MI
The whopper has always been my favorite sandwich for over 20 yrs. I often stop at Burger King, #11248, after shopping in the area. BK is located on Zeeb road near Ann Arbor, Mi. Recently, I have noticed staff problems, often no cashier and a constant change in employees. Today I stopped at noon. There was a long delay in taking my order, no cashier and a long line of cars waiting for their orders. When I finally got to the pick-up window, I paid for my whopper. There seemed to be a lot of confusion inside and after 20 minutes, I just left. I think you need a new manager there. I'm sure you are losing a lot of customers there. I usually never complain about this type of thing but it was my favorite restaurant.
I will have to drive into downtown Ann Arbor for my whopper from now on.

Dennis johnson
from Englewood, CO
I have visited the new Burger King in South Holland and it is very nice, but the service is terrible! I was in their on 5/7/15 and ordered two whoppers and two fries and it took over thirty minutes to get my order and their was only two other people in the whole restaurant.
I love Burger King and was happy when they built the one in South Holland because I live their. I eat at other Burger Kings all the time but this one is the worst when it comes to service. I find it sad that they would build such a beautiful restaurant and not monitor the service. Those people who were working that evening acted like they just did not care about the customers. This has happened to me both times that I went in there. I hope this complaint makes it to the right person because it is such a nice facility but needs management attention badly.

Sharon
from Grand Forks, ND
We went thru drive thru for breakfast and it took them almost 10 min to get us our order then we didn't even get a sort for the long wait time! Had we not have already paid for our food we would have pulled out!! That was senseless considering we were the only ones in drive thru!!!!; not very professional since they represent burger king!!! Not a happy customer!!!

Shirla Cutler
from Rich Hill, MO
After my son's baseball game, we went to Burger King in Nevada, MO. It was a horrible experience. It took 24 minutes to get our food, 5 people walked out, and they quit taking orders for over 10 minutes! When our food finally came out without the frozen treats, I brought it to the managers attention the time on my receipt, and how long we had been waiting. He yelled at me saying they had done over $2,000 dollars in sales with 5 people and that is just the way it goes. Our team will be going somewhere else during tournament times.

Anne Roberts
from Wilmington, DE
I am complaining about the so-called coupons you give out. I always buy the double whopper meal when I patronize Burger King, so when I received some coupons for a whopper meal, I took them to my favorite Burger King restaurant.
Unfortunately, what I thought was a reward for buying so many whopper and patronizing Burger King (you are the only fast food burger joint I go to), turned out to be a false advertisement for the whopper. Instead, I got a very small burger that resembled nothing like the whopper.
I got all the way home and went all the way back to the store to tell them they gave me the wrong sandwich (silly me was actually expecting the double whopper I always buy that was advertised on the coupon. The manager told me I had the right sandwich and just to prove it he painstakingly pried the two sheets of burgers apart to prove it was a "double" burger sandwich, nothing like the picture of the sandwich on the coupon. I will never use your coupons again. Very disappointed.

Robert Volkman
from Corpus Christi, TX
Went through drive through at the Burger King in Corpus Christi, Texas on Waldron road, and through the window I saw drinking cups that were being served with trash on top of the once clean cups. I took pictures of the overflowing trash that was on the cups being served. This was disgusting and unsanitary and putting people's health at risk. I would be more than happy to share these pictures with you and would like this to be corrected and not to let this happen again. 5-3-15 3:00 PM

Robert Call
from Kernersville, NC
My Mother and I ate at a store in Kernersville NC today, Sunday May 3rd around 12:00 noon. I don't know the store number, I just didn't want to even talk to the manager at all. There was a family in front of us and we waited patiently before our order was taken. When we were ready to have our order taken, we gave the lady at the register a coupon. She took off the one sandwich that was free, with a buy on get one free coupon.
Upon waiting for our order, people behind us kept piling in. We waited and waited and waited. My Mother has a very bad back so she went and sat down. Our food was kept in the warming bin for a few minutes then put on a tray. The manager on duty was waiting on all sort of food from the grill area. We waited almost 20 minutes before we got our food. By the time we got it, it was cold. It sat on a tray for over 5 minutes.
I'm boycotting that restaurant from now on. We've been coming here for years. It has gotten slower and slower and the tables are hardly ever wiped off. I work at Macdonald's. You think that a Macdonald's restaurant would have that kind of sorry service. It's just pathetic how sorry that store has gotten. I'm sorry to give you this message, but I'm not eating at this store ever again. The rating system for today, was a minus 3

Debra Shearer
from Grinnell, IA
We were at the Burger King on Delaware Street in Ankeny, Iowa, today. We waited in line over 30 minutes and then ordered, and waited some more. The older couple in front of us was upset and told the manager, "We have waited for over 30 minutes" the manager smiled and thanked the older couple..... only smiled and said, thank you, to them.
Then I knew I had to talk to someone else. I hope that is you. We go into the Des Moines area, at least once a month. We will NEVER eat there again. The slowest, rudest people I've ever seen. They may have been short handed, but it was obvious the manager was micromanaging. It looked bad, and was awful to experience.

jeff
from Kings Mills, OH
I tried to use your feed back at mybkexperience.com. It said that your don't need my feedback since you reach your limit (Paraphrased). My suggestion is to either do the surveys or not. Don't limit them. This was my first survey that I tried to fill out. I eat at BK once a week or more and this really is a bad marketing if you go at it half hearted. I guess I can go to McDs for the next couple of weeks until I crave a Whooper again.

Rebecca Hunter 8235 E. Ridge Dr. Houston, Texas 77040
from Houston, TX
A Burger King on Ella Blvd in Houston, Texas (77008) just re-opened after remodeling. I've been by there twice within a two week period for breakfast. Both times I was told to move up and they would bring my food, however, there was no one behind me...I thought it strange the 1st time, but this morning when the same thing happened I asked "Why!, there is no one behind me." The nice worker working the drive-thru window said that they're on a timer and she need me to move up to stop the timer.
First, if there is a timer it is to time the delivery of the food to the customer; which is not happening correctly because you don't get your food when pulling away from the drive thru. I just think its ridiculous that they depend on those timers to get the food to the customer in a certain amount of time. So....I conclude that your wasting your time on the timers because your managers\employee's have manager to figure a way to beat the system and report the wrong stats! Well played franchises, well played. score 1 franchise score 0 The Real BK.. Fix it or get out of the business.

I went to Burger King 8238 N. Oak Traffic Way Kansas City Mo. this morning. The young lady in the drive thru was extremely rude. I told her that I wanted the sausage croissant meal with coffee. She stated, "you want the number one," in a very rude tone. I said no I don't want bacon, cheese, or eggs on the sandwich. So I repeated it. She stated the price and said pull up to the window.
When I got up to the window, there was no smile, just a disgusted look as if I was getting on her nerves. Well, I guess I set her off, because when I saw how small the coffee was, (still trying to be nice to her), I said "I'm sorry can you make that a large coffee please". She slammed the drive thru window shut, rolled her eyes and put the small coffee down and got a large cup. She then opened the window back up and took my money and handed me the coffee all the while with this mean look on her face.
I asked her when she gave me back my change, "What's your name?", that changed everything, she goes "Marissa, can I get you anymore creams or sugars?" I said nope and drove off. She didn't even give me a receipt. I was too out done to even go back to get it. And the food was cold. this was at about 6:50 in the morning. Everything should have been hot. This is unacceptable, not trying to get her fired, just some training on how to treat your customers. If she doesn't like what she does, there are hundreds who would love the opportunity.

Brad Schneider
from Richmond, CA
Order my food, Drove up to window, Gave the woman debit card. She gave me my card back. Then held my drink and bag out of the window. I took my bag first. Then reached back for my drink. And she said and I quote. I DONT LIKE PEOPLE SNATCHING THINGS FROM MY HAND. Looked to a girl standing behind her and said, REMEMBER THE LAST TIME THAT HAPPEND? I have been working in town for three months. I have been going to the same Burger King everyday. She has no right snapping at me that way. She was rude and very mean. In the 35 plus years of buying food at drive ups, I have never been treated like that.

Sheri
from Marksville, LA
Burger King in Mansura, Louisiana is sad and, its been horrible for years now. Manager is very rude yells on speaker at people while ordering she surly is not happy to be there at its very well known. if any one even answers the speaker at all you can see cars drive up for hours sit 5 - 10 minutes then drive off cus nobody even answered them. If any one is answering the speaker that day boy are you lucky because they still take forever and all the cars get backed up in the line most get frustrated and drive off. If your lucky enough to actually place an order when you get to window to pay they ask each customer to back up to reset their clocks then your stuck forever at the window waiting to pay and get your food. Better check your food while there cus if you drive off your screwed if you have to wait in line again till they answer you and chances are your order is wrong or they shorted you some thing.
I went there recently for a cup of coffee not a one car in line waited 5 minutes to place order manager yells we aint got no coffee made I said ok then just give me a large coke i pull up at window they did not even have change for a 10 ten dollar bill waited another 5 minutes for change and for some one to fix a coke. The place either needs a major employee change or shut it down cus its loosing business. I honestly quit going last year and now we in 2015 this was first time trying to again still aint nothing changed. Some one with the corp of bk needs to drive up there and surprise them all my advise go at night that is when its worse.

Angela Thompson
from Hope Mills, NC
I went to the drive thru and a employee, Jabreya, was so rude. First, She acted like she didn't want to take my order at the speaker. Then when I got to the window she didn't greet me, she just opened up and stared. After I let her swipe my card, she let doors slam. My daughter asked "why is she mad mom?" I thought it was the most disgusting behavior. then she brought my food and just handed it out the window with out a word. I am used to bad service from this location but this by far is the worst. This happened around 10:30pm

Hogan LeBlanc
from Westlake, LA
Ordered 2 sausage and egg biscuits W/cheese and two sausage and egg w/out cheese. Didn't check the price which is my fault, but it was $13.07 which is outrageous in itself. Check to make sure I had 4 biscuits. When I got home I had two sausage, egg and cheese and two sausage only (no eggs). Not only was the price terrible, but the order was wrong. Paid for more than I got. Last trip to the old BK! With that kind of pricing everything should be perfect.

Barbara Palombo
from Lafayette, LA
It's time someone needs to act like they care about this stores the store on miss street in lafayette, louisiana is about the most dirty store I've seen the workers are so dam lazy you go in and it's looks like no one cares and they look at you like a botheration you'll must be using this places as a tax cut just close the dam thing down shame on you'll we work hard for our money to go spend it in a nasty place if you don't care we so in the hell don't care.

Carolyn Blust
from Orlando, FL
I just got out of Winter Garden West Colonial Drive location where I was stuck in line for over 10 minutes honking my car horn, due to the fact that my two boys got sick & had to go to the bathroom-It was an emergency!!! My boys were forced to pee and throw up in a paper cup in the car line! Once I got up to the window, I was so upset & expressed in words what had happened. The young girl employee laughed and argued with me that they had to wait on French fries! What I can not even begin to explain how wronged we were. We never got food and then after a young man said he was sorry he went to take someone's order inside and laughed and had a wonderful time at our expense!! We were humiliated, disrespected, laughed at, and treated worse than animals! I will be contacting my attorney tomorrow!

Margie Martin
from Dearborn, MI
I was at the Burger King on Trumbull St. and Lafayette Detroit, Michigan on Friday April 10, 2015 around 4pm waiting on my order with 3 other customers. When a tall white guy started yelling at another staff member about her washing dishes and not being on the floor, he was cuzzing her out walking back and forth using the F word and being extremely foul I was in shock that was taking place in front of so many customers, so I asked who is the manager so that I could speak to them when she pointed to the same guy that was yelling and cuzzing. I couldn't believe my eyes that is was the manager, I'm not sure if this will even get to the appropriate hands but this type of behavior should not be tolerated and the staff there should not have to put up with cuzzing and foul language. Please do an investigation, I know I will never go back there.

I am very disappointment and upset for my experience few minutes ago at the location show on this email. This store is a very busy store normally the waiting time is longer than the average BBK, that's okay I go there for the convenience, but today after waiting for 15 min in line, of my 30 min for lunch, I realized that the store was out of patty for your signature dish, the Whooper, no whopper jr either. Where is the manager?, why don't tell the customers before the wasted their time on a line?, Why not closed the store or put a sign at the door, or even better have respect for your customers and have some employ informing people of the situation.
But not only is the aggravation of the waiting and not having what I was looking for, is the attitude of the cashier, very rude and very unsympathetic. Please train the manager of this store, if you have a situation like that put your best employ on the front, the faster taking order, the most accommodating. I think what trigger me sending this letter is the fact that she did not have any respect or consideration for other people's time, no customer service experience and very unacceptable attitude, rude and making faces like she was doing me a favor. Please I hope you can correct and train better your employees.

The bathroom is nasty at the Burger King on 23rd street, Chattanooga Tn. The paper towels were sitting on top of holder instead of in it, and the floor was soaking wet, full of urine. The most disgusting thing about the bathroom experience is that I almost slipped and fell. In the urine! The walls were covered in grime and the sink where I'm supposed to wash my hands is the dirtiest part of the bathroom. The place I'm supposed to get CLEAN is the DIRTIEST!?!? That doesn't make any sense! I was so nauseated from the experience that I left, not even bothering eating at the gross establishment. Just for proof, I took a picture of it.

Jeff Drinnan
from Austin, TX
This morning, after my girlfriend and I got breakfast, my girlfriend was harassed by one of your managers. When Sandi went to get her coffee refill, this manager, a somewhat chubby black woman with blond hair (I don't she's a natural blond) told her, out of the blue, that "you can't hang out here" and said she would be loitering. We have been frequenting this Burger King, at Beaver Dam Road and Bristol Pike for a few weeks, and never had a problem. Sandi is homeless, and sometimes when I have errands to do, I leave her here with some money to buy coffee or something. Today, like other days, we came in and quietly ate our meal and sipped our coffee. The problem is not that Sandi would be taken someone's seat when it's crowded, just that, evidently, this manager is discriminating against the homeless. Oh, and this manager said another manager complained about Sandi loitering (a dubious story). Why would this other manager not tell Sandi directly?
Sandi and I generally are quiet when we visit Burger King and don't bother other guests. In fact, we've gotten to know some of the regular guests here and enjoy talking with them. And we always clean up after ourselves, leaving the place the way we found it. Other customers have been extremely loud and leave trash on the table and the floor. Last night, three older teenagers almost blocked the way as they played their "music" loud and danced around. Another customer's little boy bounced a basketball around, almost knocking the ball and himself into customers. Sandi is undergoing chemo therapy and always wares a "cat hat", even inside as she has lost most of her hair. She doesn't cause problems like others have and cleans up after herself. This is clearly a case of discrimination and harassment of the homeless. The manager just coming out of the blue when Sandi got her coffee refill and telling her she can't stay long, while we were still eating breakfast, is arbitrary and capricious. Other people hang around and socialize and other managers don't have a problem with this. I've only seen this manager two or three times in the past couple weeks Sandi and I have been coming to this Burger King, and this incident has left a bad taste in my mouth (pun intended). Sandi is going through stress, with the cancer and being homeless. Burger King should not add insult to injury by harassing and discriminating against her. Please do something about this discrimination and harassment.

dirty floors, dirty around the drink fountain, and dirty tables. The food was not hot. This store was in Canton, Ga.
It was around 9 at night and it should be cleaner that that. I was very disappointed since I had eaten at the one in Acworth, ga the day before, and it was delicious and the food was hot and it was clean there.

I ordered 2 extra long cheese burgers and a fish sandwich and a small smoothie. I asked the cashier to explain why my order was 22.00 and she walked off and left me at the window. She started doing something and walked off frown on face like she did not want to help me. I stayed at the window puzzled and finally another employee asked if they could help. They went through the order and found I was being charged for a meal I didn't ask for. The cashier was very unprofessional and acted as if she did not care. I had to wait for a few minutes till my meal was re cooked. When I received my order, it was cooked to a crisp, black and hard. I have no intentions on going back. Burger King restaurant in blytheville, Arkansas!

Mavis Jones
from Akron, OH
Ordered my food, paid and was told (we will get that for you as soon as we can). I was waiting for my food when I looked up and saw the manager pick up a tray of food off the counter and put it back in the warmer. I walked up and ask if that was my food. She answered yes that my name was called by one of the girls. I responded no ma'am I was waiting and listening for my name and it was not called. She raised her voice and started to argue with me that yes she did. I am positive my name was not called. This was at 994 high st Wadsworth, Ohio. 4/10/15 at 4:59 pm.

Hi Paknik
from Atlanta, GA
I went through the drive through as I do each morning at 7:22 AM. The young lady that took my debit card swiped it then laid it face up, numbers exposed on the register while she went to make my coffee. I immediately called out to the girl to give me my card back. She tilted her head as to acknowledge my sounds but then ignored me, when she turned to give me my coffee I asked if she did not hear me. She then looked at me with a disgusted look and closed the window in my face. In todays climate with cameras and all sorts of tricks it is very dangerous to leave your card exposed. All the other times after the card is swiped they give it directly back to me. Not this girl. I did get a chance to speak with the manager, she did apologize but the issue is not with the manager, it's with the young lady that served me and possibly the training Burger King gives it' employees, both about how to handle cards, and secondly how to provide a paid for service.

Betty Lien
from Post Falls, ID
Several weeks ago, I was at a meeting listening to several women talk about their favorite take out restaurant. Several of them stated that they would not go to Burger King anymore because it was so dirty and the dining room was seriously neglected. I disregarded the comments, as my husband and I enjoy a whopper and a senior coffee there occasionally, but had not been in for a little while. Several days later we decided to go for a hamburger and ended up at Burger King in Post Falls, Idaho on Mullen Ave.( where we live). Entering the store, I noticed that the windows were very dirty,( first thing your customer sees and should be kept sparkling). We sat down at the table with a game machine, and proceeded to look it over for a game to play. It was so dirty, food in the crevices and screens were obscene. I asked for a bar towel to wash the machine, but the clerk was kind enough to come and wash it for me. I noticed that the windows were dirty, and the sills were dirty along with the chairs, floors walls. I used to work in fast food, and if our store was this dirty, we would have been fired. The next day I decided to stop by to get a senior coffee at the drive up window, and it was also disgusting along with the ledge in front of it. The clerk said she would take care of it. Yesterday we went to Spokane Valley, Washington, and stopped at a Burger King there. I used the bathroom, and it was terrible and obviously not cleaned recently. The counters, floors etc were also just as dirty as the ones at the store in Post Falls. I know you are thinking that it could be attributed to rush hour, but what I was noticing was not just recent occurrences. We would hate to give up our habit of selecting Burger King for our take out, but if something doesn't improve, it will happen.

John Johnson
from Connersville, IN
On 4/6/2015 at 9 am i was traveling for business and stopped at your store off exit 76(10385 N us 31). I was craving a burger,and im so glad you offer them early. I pulled into the drive thru ordered a double whopper meal, took a little while but I understand that.My food came out, I drove off ready to pull out onto 13 north, I opened the bag to find 2 tater tots,2 breakfast sandwiches. I was running late and almost went on, but as I said, I was really craving a burger,so I turned around. I waited through the drive thru again. The girl gave me a new bag, and told me to keep the other. I said what am I going to do with that,and she replied she cant take it back.I argued the point and told her to throw it away then, she reluctantly took it.I get back out on the interstate,and I don't know how, but I get hot fries, and a cold burger!

Sally room
from Oxford, ENG
On Monday 6th April at about 4pm my husband, I and my three children went to bk in cowley retail park. We were waiting in the quee at the tills when the man in front if us raised his voice to the girl serving, he was telling her that he spoke her language and what she said was very rude and she should think about what she said before she spoke. I took my children to find a seat leaving my husband to order. While waiting the man who spoke to the girl serving told my husband that the girl had told a co worker that I was fat. This lead to my husband having a word with the manager after he had spoke to my husband and I and said he would talk to the girl. He apologised and nothing else was said or done. I'm very disappointed as what was ment to be a treat for the children turned into an uncomfortable meal.

John Donaldson
from Hampton, NH
Your usual site not taking info - I want you to know that this morning's experience (04/05/15 at 10:20 am - Store 11659) was way below par. Unusual for the place - maybe the cat was away this Sunday! It took 9 and one half minutes to receive two croissants. I was the only one in the drive up lane - and there appeared to be 1 person at the counter. Caitlin never in that interim appeared at the window to indicate she was sorry for the delay (no cars ever came up behind me while I was in line). Nor did she indicate such when she passed me the bag. I asked for a receipt, for I never received one - "I threw it in the trash - I'll print a new one." Maybe it was the kitchen's fault, but she was the face of that business. Maybe some training - and a faster cook!!

Bruce Hey
from Brandenburg, KY
Store 2981; Approximately 10:00 p.m. April 3, 2015. 1) after finishing my meal (tasty)I went to counter and stood in line to order a sundae; second in line, behind a BK employee ordering. After the employee ordered the two employees chatted and joked without acknowledging me standing at the counter. I believe my presence at the counter alone ought to had been a cue for the counter worker to ask me if she could help me; instead I found it disrespect and poor business to allow me to walk away without acknowledging that I may want something. Good business is for employees to place the customer's time ahead of their own. I was on break from work - I guarantee that my time is well worth more than BK counter help. (2) I went on-line to complete survey.
After agreeing to answer a few more questions I was kicked off. I attempted to go back on-line but I received a message that no more surveys were being accepted. I just spent 5 minutes attempting to take the survey and now another 15 minutes to voice my complaint. Apparently, from the website notice, BK does not need my information and may not be honring the agreement. I believe I have valid concerns - I have been frequenting this BK location nearly weekly (or more) for over 7 years. Please give me a reason to return because good customer service is questionable at this time. Apparently, the newer employees have not been trained well. I do not have time to wait for good customer service. I am busy and I am certain you are as well. Thank you for your time!

I ordered a Whopper, Jr. meal with cheese. (this is a complaint against whoever made the sandwich, not the guy who took my order.) when I got home, there wasn't any cheese, even though I was charged for it....I put on my own cheese, and while looking at the inside of the sandwich, there was one pickle, one tiny slice of tomato, one tiny ring of an onion and the lettuce you could hardly find. I remade the sandwich, adding my own cheese, pickles, onion and lettuce.

I went into the store on Fairgrounds road in Bremerton on March 31. About 12:45 PM. I had to go into the store because the drive up lane was backed up about 4 or 5 cars. I ordered 2 BIG KING sandwiches (with no middle bun.) The lady who waited on me did a good job. I asked for 2 mustard packets. When I got my order. And left the store. I got on the road, on my way to work. I opened up one of the sandwiches and noticed there was only one patty in the sandwich. I opened the other sandwich and there was only one patty in that one as well. My order stated that I did not want the middle bun. NOT the middle patty? This has happened before at the same store and either the order is wrong? Or the fires are cold. So maybe it is time to go to Wendy's

I am writing this to you to let you know that two of your BK's that I go to are deliberately having their printers not print the receipt survey number out so that you can't read it, and can't do your survey. They are store #2956, and #7249. This has been going on for at least two months now. I was first told that the printer needed ink. Than a few weeks later I saw an employee at the mall, and when I asked if the printer was fixed, I was told that they don't want us to call in. The reason is because they don't want us to get a free item, and they won't make as much money as they would without the survey receipt. If you send someone to these BK's you will see what I am talking about. I will stop going to these places if they don't fix their printers.

Burger king @ 200 East Judge Perez D. Chalmette,la April 1st 815 a.m. Went in to order a breakfast meal. 2 employee 1 for preparing the food the other take the order from drive thru and front countner REALLY. you need to get more employee's or close down that is dam rite STUPID.

I ordered chicken fires today for lunch and much to my surprise there was no chicken or very little, what taste there was tasted like fried dough, very little flavor, they were also very dry. they should be dough fries. very disappointed.

i was visiting the burger king on peters creek in winston salem NC.. i arrived at around 1130 am.. i had palced my orger and waited for about 15 minutes all to find out that my meal had either been given to another customer or had not been made at all.. when i went to inquire about the reason i was waiting so long,, i was told nothing by the attendant,, she just yelled in the back and acted very irritated with me ,, i was embarrased because there were other customers there and she was so loud and rude. i decided to leave with out my money back or food because it was just going to make me more mad waiting on my refund

bill boyce
from Springfield, MA
i work at a laquinta very close to this burger king..which always seems to be short handed..anyway today sunday, 3/29..at aprox. 1230 I went in to order food for 5 fellow workers..there was a line which was not moving..a young think girl seemed to me having a argument with someone on the line...then she said she was not working and got her phone and went to texting..then yelled that there were no more burgers and she was not taking care of the people at the cunter...a lot of people left, me for one and went to the near by dunkin dounuts and got some very good sandwiches...why does this unit have suck a hard time with help....a couple weeks ago the dining room was closed cause they didn't have enough help...and we send a lot of our guest over there..maybe not so much if this place cant get it together....

M Stowers
from Pittsburgh, PA
This Bluefield Va Burger King has not had ice cream for over six weeks and we come for the shakes and Icey floats. Not a good representation for theis store in Bluefield Va.

Becky Ockman
from Picayune, MS
Went thru drive thru after paying was asked to drive up to wait for tens minutes which there was know other customers when i got home old fries so hard you couldnt eat them i ordered a double with cheese i got a single know cheese and burnt bun its really sad yall open for 24 hours and know customers and still I received a bad product!

Madia Wright
from Milwaukee, WI
On Wednesday, (3/25/2015) at 11:35 AM, my family, and myself went to one of you drive thru. I brought a spicy whooper ( without cheese), whooper junior with cheese, 9 piece chicken fries, 2 bacon cheese burgers,1 large onion ring, 3 small fries, 1 medium ice coffee, and 1 medium fruit punch. receipt number (217), my complaint is that we found hair on one of the cheese burgers and they did not contain no bacon, my other complaint is that my spicy whooper had cheese on it when I clearly stated no cheese. This is bad business, my son had ate off the cheese burger when he found a long black hair on his burger. I also have a complaint that no one in the store were wearing hairs nets, and they all has long hair. The store number I went to was #03456. Cashier 300169 Britney. Address: 5120 W Capitol Dr, Milwaukee, WI 53216.

Kayla ramirez
from Crescent City, CA
I went out to eat with my children and a lady worker camileigha set my burgers on the counter while waiting for my kids chicken nuggets by the time my kids food was done I sat down to eat and my food was ice cold so I respectfully asked for another burger she grabbed the burger felt it and said f***ing bullshit and tossed the burger, made a second one and let that one set then brought it to me and that one was also cold she then said to me that it was my own fault that my food was cold. And that it wasn't mcdonalds I can't have it my way. I was very disappointed I asked for a refund. Then left. I wanted to be reimbusted for the time I lost I didn't even get to sit down and eat with my children. Please call me at (707)-457-7899 thank you

Mike
from Panama City, FL
Addressing the Burger King in Panama City fl on 1396 w. 15 th st 32405 Store phone # 850 784 1660. I went in @4:51pm on 3/25/2015 I ordered a double whopper w/cheese and fries and a chocolate shake. I asked for a senior citizen discount the cashier said we don't do senior discount's I then informed him that yes you do I always get my senior discount. He said he is not allowed to gives discount's yet. He said I would have to speak to the manager I said ok can I speak to her he went and informed her that I would like to speak to her she said ok give her a couple of min so we waited patiently for about five min then I told him to go ahead and ring it ,regularly so other people could get waited on. My order cost $8.49. Then I steped aside to wait on my order and to speak to the manager by now 10+ min 's have passed I watching the young manager working and I waited patiently. Finally she told the young cashier his double whopper was up.
Now my order is ready and she still never took a moment to address my concern, I asked him who was her boss and he shrugged his shoulder's saying I don't no , then he told her I wanted to no who her boss was and she never informed me so I proceded to tell her that all I wanted to ask her was about my ,senior discount she said all I had to do was ask him which I said I did and he said I had to ask you. She told me she was busy and if I had a problem with that I could come back there and make burger I told her I'm retired and I have made more burger's in my day than she is old. I have grand kids older than she is and I have paid my time.i told her that she could have answered his ? From where ever she was and never stopped working. My problem is that this little girl would not take time out of her busy day to respect her elder's and it's sad because I'm a customer the reason she is able to be a manager @ Burger King.
All this over a senior citizen discount and a very disrespectful manager don't remember her name but she was working @ 4:49 pm on 3/25/2015 the young cashier was new I could tell because he really did not want to upset her by asking her my ?'s . My Host: was William order#219 I really would like for someone to address this issue I and my wife have had this happen to us a few times @ this Burger King five times we get senior discount then when a new employee comes in they don't understand the discount there should be proper notification plastered on the bulletins board for all employee to honor the men and women of the military and seniors who have earned the right . That young lady needs to know that some gave all and all gave some for her to be in the position she is in.

Renee' Konias
from Pittsburgh, PA
Yesterday apx 4:00pm my husband and i went to the north versailles, pa drive thru. 1st i couldn't understand what the girl @ the order window was saying. I asked her 3x to repeat herself she was not talking clearly and i couldn't understand her at all. i ordered 2 jr whopper meals and told her i left my coupon at home. she charged me like $9.39 for 2 meals. I threw away the receipt, you can check the register tape with my order. We then ate our meals when we arrived home and were very disappointed in the quality of the meal. the buns on both burgers were dry and stale. I called the restaurant and they said to bring it back. I said i'm not coming back when it's 20 minutes away each way from my home. I asked for a refund (for my next visit) they said they can't do that. Since They were unable to assist me, can you send me coupons for two (2) free meals at a later date. I frequently eat at burger king and this the 1st time in over 30 years i ever experienced a problem. Thank you for your assistance. Renee' Konias

Justine Hawthorne
from Macon, GA
I went to burger king in Macon Ga. ask for a chicken sandwich with light mayo ,when I got my sandwich it was fill with mayo,also it taste like it was cook in old oil and had bend under the heat lamp the sandwich was not freash.

A manager (Fea) came in yelling at a couple employees telling them to shut the up and putting her hand in their face, also was throwing creamer in one of the employees face.

I called Burger king last march 3rd about bolt in the milkshake and they said will send to big corporate office and they never call me. I call every once a week ... and they never call me until now.

Christopher
from Brooklyn, NY
Today I decided that I would have something from Burger King. I stand online to order a #1. Durning the process waiting for someone to take my order. You have one Clark notices me but not asking for my order just for at least 4mins doing what ever note even say sir I'll be right with u. Store is in Elmont ny.... I left and when somewhere else to eat ghetto service

Edward Sykes
from Gorham, ME
Every time I go here to the drive-thru at Burger King in Windham, Maine (04062) it is a 10 minute wait for my food. Its at least 3 -4 minutes before I can place my order, then a 5-10 minute wait for my order. Not just me , EVERY ONE! You can go to McDonalds across the street and be out of there in 3 minutes or less, usually less. You need to hire more efficient employee's. No one should ever have to wait that long. I got to McDonalds and as I'm leaving the same cars are at Burger King still waiting for their orders. This is like this ALL THE TIME. And at Burger King there is no way to get around the other cars in the drive thru so you have to Wait and wait and wait. WHAT IS WRONG WITH YOUR EMPLOYEE'S?

Orange juice was almost water at Burger King. If I go there I expect a certain level of customer service.

kelvin kearney
from Seagrove, NC
Went to go get a ice cream sundae manager claim that it was 4 oz. of ice cream wasn't even 1 and half. I don't think that customers should be treated that way.

burger king me and my 3 children where in burger king on the 3-9-15 and one of the employes was very rude her name tag said Cheyenne me and my 3 children was dinning and she came over to my table where we was eating our meal and she grabbed my 13 month olds high chair and pushed it back with my bay in it and began to clean our area it was upsetting to me she had no right to grab my babys high chair with her in it she should have waited until we where through with our meal before cleaning our table and swiping under our table it could have gotten trash in our food and my baby could have fallen out of her high chair when she grabed her and pushed her chair across the floor like she did that could be a law suite so please do something about this employe at burger king by the name of Cheyenne she is located at the burger king at 1605 town square SW

pamela orina
from Minneapolis, MN
One food was ice cold returned it and she had put already deep fried onion ring back in the deep fryer then my fish sandwich was so cold there was no warmth at all ice cold brought it back and the had that balls to microwave the fish patty and one it was still cold and so tough it could not be eaten at all this is the 2nd time I've been there and the 2nd time we got food poisoning and extremely bad service and food this place there is no way this place would ever pass a inspection of any kind its dirty filthy and the employees are just as bad I will NEVER go back to that burger king don't wanna be sick with food poisoning again even my son got sick off their food this burger king was on the corner of century ave / 120th ave and 36 in south Paul MN area I was told the place was closed down due to it not being up to code.

JERRY MOSEMAN
from Garland, TX
Rowlett, Texas has no burger king! Come on guy's i need a double whopper stat!

william kersting
from Hayward, CA
We went into burger king store 977 and we go in every morning and there was a sign on the window for two Breakfast cros. For 4.00 the employee at the window charged us 3.89 for each cros. We did tell her that the window sign stated 4.00 for two and she stated that the price is not on her menu code. We did ask her to check. The window and she stated she was not going to do that. We would like our money back 3.89 and she does need more training at the window she was very rude to us. She does not know her job.

mary mansfield
from Chalmette, LA
Went to the burger king in Chalmette, LA didn't have sausage but ham and bacon only really. Needs to be closed down.

Matt
from Hedgesville, WV
A very u satisfied customer in Martinsburg,wv been to both stores. Very poor,slow service. never get what you ask for always ask for Zesty might get it 2 out of 10 times.. zesty an being my daughters favorite place is the whole reason we eat there.. But after today were done...

Karen Carlin
from New Bedford, MA
Went to the BK in Fairhaven Ma about 7pm tonight. Ordered 2 fries and 2 Jr Whoppers got home a 4 min ride everything was cold! Really ! Now I had to listen to my husband complain. This is not the first time this has happened at this location, simple request I want my food hot.

Karen Van Westen
from Hull, IA
our orders of French Fries were extremely loaded with salt--what happened to the "no salt" to be added do to health issues? Also, the chicken sandwich had almost no sauce-making the sandwich very dry. Normally eat the Whopper Jr., but decided to try something different-what a mistake!

Went to the Traverse City Mi. BK at US31 South and M37 Intersection on Friday th3 13th ( should have known) and ordered 2 Bacon double cheese burgers and a large order of Onion rings. Getting home (about a 10 mile trip) I find an order of chicken nuggets. No cheeseburgers, no onion rings, just nuggets. No I didn't call or return that day, didn't know I was suppose to. The following Monday I stopped by on my way home from work ( something I would do 3 or 4 times a week. The manager was nothing short of rude. Frowning she asked if I had called I told her no, I didn't know I was suppose to. People standing behind me were getting mad at being held up. The manager finally came back and said I will do it this time but next time call. Really? So she thinks this will happen again? Instead of making me feel like a fool in front of the other customers she should have had a talk with the lady that put the napkins in the bag and was laughing and talking with her co-workers. BK is no longer on my list of fave places to stop. I realize this won't hurt your business a bit but at least I won't be treated like a fool anymore.

Hi, i visited burger king in istanbul the one by jawahir centre in the st called Halaskargzi cad, i bought a double whopper menu and it costs 14.45 lira approx. I gave the cashier 200 lira and he gave me the change i thought it would be the correct change but when i got home i found it was 50 lira less, when i went back they pretended they do not speak english and did nothing, i have always used BK but never tteated like this,

On Friday October 18th at 5:05 pm I entered the Burger King located at 1745 Silver Star Rd, Ocoee, Fl. I was with my Wife and 2 kids. There was nobody on line in front of me and there was (2) Female Employees I am assuming Supervisors (one had a white shirt and the other had a dark gray shirt) who were standing at a register talking amongst themselves. After approx 5 minutes another female employee came to take my order. By this time a few more customers arrived and waited on line while the (2) female supervisors continued their conversation and never acknowledged the customers. Approx 10 minutes later a young male employee who appeared to be overwhelmed handling drive through and now dining came to assist taking orders.
It took approx 20 minutes for my family to receive our food (not the complaint). A couple who was standing on line for approx 20 minutes approached the young male employee asking him if he is always working hard with no assistance from management. The couple then advised the (2) Supervisors (who were still having their conversation) he had taken their photos and is going to contact the district manager. I was appauled when they both responded by laughing in his face and telling him he should have let them know he was going to take a picture so they can pose for it.
At that time the couple left the business without purchasing any items. Upon the couple leaving the Female Supervisors began to laugh louder and calling them names loud enough for the whole restaurant to listen. My family and I left the establishment at approx 5:55pm and both Female Supervisors were still standing at the register talking and ignoring any customers who entered, leaving all the work to the young man.
I have been a Burger King customer for as long as I can remember and I have never seen such unprofessionalism and disrespect by an employee let alone a supervisor. My wife was so disturbed at what she had seen, she refuses to ever step foot into a Burger King again. I understand that socializing in a workplace is common, but it should be refrained in an area where customers might feel they are ignored. I understand I am only one voice and I will probably be ignored, and my family not eating at your establishment will not bankrupt your company, but I do feel this issue should be addressed.

Burger King # 12076 in Corinth Texas. I went through the drive through trying to place my order. The lady said she couldn't hear me and I should pull up to the window; I did.
I started ordering a burger with nothing but a patty and bacon, but keep in mind, I no longer have the menu in front of me as I am now at the window. so I ask what they have that meets my requirement and she says, a stacker from the dollar menu. I asked for that instead.
Well, after I pay, $8.22, for a dollar menu burger, I realized I was over charged, instead of saying she made a mistake she immediately starts blaming me and told me she figured I just wanted 2 Burgers. (Not sure if that was supposed to be a target since I'm not a tiny girl)
I asked for a refund but she said the GM was the only one with that authority and wouldn't be available til the next day. I was okay with that until the other girl came up to the window and rudely towards me, defended her coworker and reiterated everything the other girl said, but with a bit more sass I might add.
She then asked me to hold as she went to make my food.
After all that attitude and anger, there's no telling what she went to do to my food; heard too many fast food horror stories. Either way, they insisted on me taking BOTH burgers after I clearly said I only wanted one! I got fed up and drove off with NO FOOD AND NO REFUND.
I went next door to Jack in the Box and at first they started walking towards Jack in the Box, I thought they were coming to give me my food. But I guess they decided against it and went back to work. It's been 2 days, I've left messages, GM still hasn't called back. needless to say, I'm never going back.

On Saturday December 15, 2012 I used the drive-in at Burger King 5490 @ 517 Cahaba Park Circle Birmingham, AL. When we begin our initial order the worker was very rude and short. After we completed the order she then asked us to hold on, and then after several minutes she returned and asked that we repeat the order again. We asked about the special promotions that you advertised and she was very short and nasty in her response. Upon arrival at the food window our food was just dumped into our car and when we asked for ranch dressing-we paid for it and it was dropped into our car. There was never a greeting or even a thank you. I am not a regular BK customer because of the continued poor service I have received from your stores. The quality of your food has dropped drastically in the last few years and as just one consumer who would return I would suggest that your workers develop some speed in fulfillment of orders and some people skills realizing that without us there would be no need for them.

I bought 2 chicken royal meals and asked for no mayo as daughter is allergic to egg . They came with mayo on. Took them back and asked for them to be exchanged . Was told they would be brought over when ready . Twenty minutes past and went to ask about them ss i only get 30 minute lunch break . The assistant then asked for someone to make another Royale and then practically through it at me and only gave me one Royal when i had paid for two . I had t leave by this time as i had t get back to work and leave my daughter to eat her lunch on her own whilst i got no lunch except for a diet coke.Absolutely disgustin customer service and basically a waste of money . I would appreciate a reply

Hello and how are you doing? I stopped @ Burger King Store #5020 located @ 106 S. First Street, Garland, TX 75040 @ (972) 275-6599 to get some lunch. I asked for a Mocha FRAPPE and some chicken nuggets. The lady gave me the FRAPPE without the mouse in it. It was horrible.
I asked her why would I purchase a FRAPPE without the whip cream, I might as well drink the chocolate milk. She was unaware that she sold me a FRAPPE without the whip cream. Well, I was just in a hurry I drove away.
I would appreciate if Burger King refunded my money please. Thank you.

We visit the local Burger King on 98th street in Albuquerque, NM. Labor Day, we went in there and ordered lunch. The music was so loud we couldn't talk to each other and my wife is hard of hearing so she shut her hearing aids off to avoid getting a headache. It was still too loud. Also, this is the United States of America. They had a loud Spanish radio station on with no reference to the US. We are 65 years old and moved here to be with our Daughters family. I have had run ins with this store before for cold sandwiches. I will not go back to this place and will tell all my friends not to. You have another store on Coors and I40 that treats us great but we live too far for a quick meal. We tried to call the manager and he was not home. His voice mail was not set up so we decided to complain to you.

My god, the Chicken Parmigiana grilled sandwich is awful. It is not up to the standards that i have found at BK. I have been a customer of yours for decades. and nothing before prepared me for this. First- i cannot imagine that the chicken had ever come close to the flame grill -- it had to be microwaved. The flavor was non existent. The chicken would not stay in the bun the marinara sauce made it so slippery it kept sliding out.
It is not that hard --- grill the chicken to give it some flavor - put some parmigiana cheese on it put a little marinara on one (1) side and serve.

On Nov. 22, 2012 my fiancé and I went threw the drive thru at the Burger King in Browns Mills, NJ. I ordered a carmel and fudge sundae, I asked the girl taking my order if they had any sprinkles. She was very rude and ignorant to me and replied "NO!" with a very harsh tone. I completed my order and pulled up to the window. When I got there the girl that took my order refused to come over and take the money. She called over another employee to take my money and give me my order. The rude employee that took my order had a very bad attitude and bluntly refused to take my money or make my order, or hand me the items. I regularly go to this Burger King and every time their employees have horrible attitudes and treat customers like garbage. It's unfair and makes a bad reputation for this store. I rarely complain, but this one employee just really disrespected me for no reason. I am not happy with the customer service I received and I do not plan on returning to this store again.
Thank you for listening,
Brittany Jean Dickerson

Once again I wanted fast food, i was in a hurry and stopped by the Lafayette In location on Teal road. I only order the bk stacker with no cheese and no sauce. But every time, it is all messed up. I was the only car in drive thru. I got onions and a got of that sause which i despise, only to discover it when i get home. Plus the fries were cold...but they always are. I dont like to complain, but your burger king sucks there. I always get wrong food, and have to pay for something i cant eat. So you might say, just take the onions off, still taste like onions. I might tell you, oh sorry we added dog shit on your sandwich, just take it off..for real, i never going back there. And i ahould be reimbursed for all of the times my order was scrwwed up and i didnt have time to go baxk. I work tqo jobs and breakfast was convenient for me there. I qould stop by every morning, until i had enough of the breakfast ppl being just plain hateful and nasty. Imagine how much more business you lose because of bad attitudes and consistantly messed up orders. I would think in a recession, those things should matter.

Burger King has been my favorite "Burger" Restaurant for may years. I am not one to seek and complain but your Franchise has got to be notified about a certain location, if it has not already been. I am compelled to write to you today with concerns on your location at corner of
Lewis Street / Hwy 90, New Iberia, Louisiana, 70560. For over one month now this location has not taken debit/credit cards. Also have noticed the service has gotten extremely slow. I have been avoiding this location because of this and also the building is dirty inside and out! You really need to send representatives anonymously to review this place.
Best Regards,
Art

On March 15,2013 I went to the Burger King located at 4545 West 95th Street in Oak Lawn.
I wanted to order the Friday Lunch special which was the Alaskan Fish sandwich for 4.99 (included drink and a fry) The worker at the counter told me there was a deal buy one fish get one free. So I opted for that deal. After a fry and a drink my total was 7.33.
When I tasted the fish sandwich it was awful. It tasted like it was bad. I threw both sandwiches out.

The burgerking on Mendon Road Cumberland, Rhode Island 02864. I asked the manager and register worker if they accept debit cards because there were none on the counter, the attendant answered yes as long as u have money on it. She then asked me if i was set as i told her i was unamused with her answer. I then asked where was the menu because the wall behind them was empty. The attendent then pointed too a tiny sign hanging from the ceiling saying the three burgers on it were the only thing they were able to make. As the three burgerking workers laughed including the manager. Thanks for nothing as i left with no bk burger caring that they were loosing a sale.
If i wanted to be treated to a bad comedy stand up routine and no regard, i would have been in the right place. I'll never go there again.

ugh unbelievable what the manager of the north Loganburger king did! on Saturday night i went to burger king like i always do and their manager took my order, he greeted me right saying "welcome to burger king what can i get for you?" anyhow i understand its Halloween but his costume was offensive! he was wearing a simple whit blanket but you could not only see his chest but half his ass was out and he ricked of alcohol! not only that but after he took my order he went and smacked some little girl on the ass! i mean WTF! she looked like she could be 16 years old this guy needs to get FIRED!!!
I Stopped at burger kingon Filmore in Colorado Springs, CO #17384, and the guy that took my order sounded like he was on drugs, got to the window, one car ahead of me, car in front had to pull off and wait for his food, I waited over 20 minutes and could see into the the restaurant. The guy that took my order got it wrong and was standing around picking at his face the whole time, asked to speak to the manager and he said he was,when he walked out to give the guy in front of me his food after 15 minutes he had to pull his pants up twice walking to his car.
I eat very seldom at fast food but where did the fast food go and where are the manners. I am done going to burger kind id rather take my money and go spend it at MCDONALDS!

1/5/2013- Burger king Store number #443, 393 Washington Street in Weymouth, Massachusetts. 6:11 p.m. order number 65- Drive Thru I went to Burger King ordered two Kids Meals - one being a hamburger with ONLY KETCHUP-which it clearly indicated on my receipt, instead I got a hamburger with mustard and pickles---which made for a crabby,cranky,young girl---also my food which was a VM SM chicken ,fries,sm Dr.Pepper was extremely cold!!!
What is going on??? I pay 12.94 for three meals and most of it was tossed because there is NO WAY my daughter will eat a hamburger with mustard or pickles. I should not have to reheat my food -it should be hot ! Are employees not being properly trained or are they incompetent ? I understand it is considered fast food but this is ridiculous.
The mistakes need to be properly addressed and corrected. I am really ashamed and disgusted !! I just thought you should know and be aware of what is going on in your restaurants. A disappointed customer--Sincerely, Shannon Martin

I actually have more than on complaint about the Burger King restaurant on Missouri Boulevard in Jefferson City Missouri. Tonight I went thru your drive thru to order a sundae. The price listed on the board was $1.00 and nothing on the board indicated anything that might change the amount. The employee said it would be $1.39 and I asked why when the board said it was $1.00. He said the board was wrong. The same thing had happened a few weeks ago when I tried to order a cone and the price listed was fifty cents. There is a law in the state of Missouri which says the item has to be sold for the price that is listed. The prior time I talked to the employee and he said that he would be stealing from the company if he charged me the price listed. First of all, his customer service skills need to be reviewed and the store or company policy needs to be reviewed.
My other complaint on customer service is how slow they are. You have had some good employees in the past but apparently, they are no longer at this store. I think customer service is a skill that needs to be taught if you are going to deal with the public. Your place is not alone on this but I am not dealing with others tonight.
The third issue, and it is something I can do something about, is the dirty drive up area and window. The window is filthy and the ledge area outside the window looks like it has not been cleaned at all this year. It has been bad but it is getting worse. I don't know how it is inside but I assume it is not much better. I think someone form the company needs to review this location and if I do go through again, I will check to see if the prices are changed and if any visible cleaning has been done.

I tried to use a "Whopper's for 2 for $7.98" digital coupon I found on BK's website and was refused for not having a paper coupon in hand. I think as a loyal customer who frequents BK on a regular basis, I should be served & commended for NOT using paper. I used a cost efficient method. BK needs to get with the times. At least put a bar code on the coupon that can be scanned in store. I will not be visiting BK in the future just for this sole reason.

I am a Burger King employee and my bosses are treating me so unfair and so cruel to the point I don't want to show up to my job and just quit ! They take advantage of me because I will not speak up I am the only one who they ever tell to sweep the parking lot and scrub the floor etc ! Just today my boss took my name out the working Shuduele for tomorrow added her name with my hours and told me there cuts in hours and before I left she had told me " he's not good for anything he doesn't do anything" also " ha that's why I took your hours for tomorrow and you can't work". That was the embody cruel thing I ever witnessed in my entire life. I was getting 30 hours and within 2 weeks I'm barely getting 15. I feel like I'm seriously getting ganged up on in work by my own bosses. All the other employes talk, eat, use their cellphone etc and all I do is wash dishes or clean.

Please send me or call me to give me the reference number for my complaint. today on 07/12/2011 between 18:30 and 19:00 i visited the burger king in O'Connell Street i asked for order the total price was €8.30 i give to the woman €13.30 to refund me €5.00. but she not refund me €5.00 i asked her she say i give her €8.30 and she are very sure and she lie to me eyes by eys becase I don't have €5.00 not and I'm very sure I give her €10.00 + 3.30 coins to refund me Five Euro Note.
and some guy come maybe manger he ask me what is the problem I say to him and you can check the money he take the cash box money and check he reply to me sorry manager say our money are right you give us €5.00 euro  that he lie me easy by eyes and is not nice to me I lost my respect on the shop so I say to him you lie you can check the cctv security camera he say sorry so what I do I feel I lost my respect in your shop for people stolen me eyes by eyes  I say to him take my money as tips for you and I don't want food so I lost €13.30 and no east because is not nice to me to stay in your shop and people look at me.
when I speak with my friend at that problem he say to me that not first time happen in burger king in O'Connell street he has friend he pay €50.00 euro and the woman refund him as he pay €10.00 euro he ask her for €40.00 euro and the same happen to me. So when I chat my story today in face book. Some one say to me he has friend work as manger in some subway restaurant and he stolen customer as happen to me but just toust or foreigner but non Irish customer.
I'm sent that email to make a complaint against the manger not for my money because I lost my respected in the shop and people look at me as I lie but I'm very sure if you check the security camera you will find I'm right and that is only game from the manger of O'Connell street...

I've had the worst experience at Burger King. Wasn't no "Have it Your Way," there! This is my first complaint ever, and this bad customer service has happen twice at the same location. I went through the drive thru and ordered the two for three special.
I waited in line for about 5 minutes, mind you this wasn't rush hour, (breakfast, lunch time, or dinner) and then after I paid for my food I was told to pull up and wait. I did with my screaming 5 month old and three older children, and waited for a total of 15 minutes. I wanted to get my money back and just leave.
So as I went to go inside and ask for my cash back to take my business elsewhere, an employee came out and almost gave my order to one of the other three vehicles waiting for their food too. When I did finally get my small order, the food was cold! I called and let them know about it and I was told as long as I bring my receipt I can get the two burgers again, however I only have 48 hrs to redeem them.
I hope that something can be done about this because I enjoy Burger King food, and I won't be returning to any more Burger Kings because of the poor customer service.
Thank You,
Shalon
This happened at Burger King on Rt. 28 in Milford Oh. 45150 513)831-3392 my order# was 39 May 1, 2012

I'm not a person to complain but I really hate when I order something like a value meal with onion rings and not only do I get cold onion rings I also get a few cold fries and half a sweet potatoe fry, when I go somewhere and pay for my good I expect to get good service and hot food I'm very dissappointed in this because I go to burger king for my drinks in the morning before work and it makes me not want to go for anything anymore. This was at the location in Bardstown KY.

Went to Burger King last night at 7:15 pm asked the girl at menu if a Burger King stacker was single meat or double meat patiently waiting for a reply while she talked to another employee in the back ground. I said hello she then responded no! Then asked of I wanted one very very rudely! I then said well I dunno I asked a question and then she responded back very rudely again well I answered your question. No could not have answered the question I asked she wasent paying any attention. I then told her never mind I wasent going to get anything from there and left. I then called Burger King to talk to a manager called 8 times with no answer at all. I will probably not be going back because of there customer service its ridiculous. Not sure what y'all do with the complaints or how you handled them but please don't repeat my name to any employee .

I went to the burger king in walhalla,sc and ordered 2 chicken sandwiches and waited 28 minutes before I received my food. While was waiting people who ordred long after I did whome who have ordered much more food than I did somehow got there food before me. Needless to say I was very angry. When I confronted the burger king employee about this she proceded to curse at me and told me I shouldnt have came at that time of the night which was at 8:30 pm. She handed me my food and continued to curse. This experience has made me never want to visit not only this burger king but any burger king ever again. Very disappointed customer.

I was a a local burgee king on 902 phillips avenue at 11:00 pm on march 2. I ordered a double whopper meal and a whopper jr meal. The manager was cleaning the machine with purple gloves on and made our drinks with the same gloves on and put her fingers in the cup with the gloves. We get home and get our food out to eat and the double whopper was not a double it was a single whopper. I would like my whole order to be replaced and the manager to take classes on how to make drinks please

Dru Meyer
from New Bremen, OH
We ate lunch at the Burger King in Celina, Ohio today and boy was the service slow. They had a long line at the carry-out and people inside and we were all waiting. We could see the guys behind the counter making the sandwiches and they sure didn't know the meaning of hurry up people are waiting. When we finally got our meals, we were never asked if we wanted any sauces for the onion rings. AND the buns were very dry. It was like they had been leftover from another day - not soft and fresh. We were very disappointed. We had been looking forward to a whopper and then it wasn't even that good. I hope this gets rectified at this restaurant and others like it. Thank you. Dru Meyer

I drove through burger king in Dunbar pa. I ordered a grilled chicken sandwich with no lettuce or tomato.add mayo. The drive through lady goes it comes with mayo. Well it had honey mustard on it no mayo. So very unhappy to pay for a sandwich and even asked for it and got something else.

Judith Goodsell
from Waldorf, MD
On February 17th I talked my daughter into taking us to Burger King. It is my favorite fast food restaurant. We stopped at the Burger King, 15785 Livingston Road, Accokeek, MD 20607 and placed our order at 1:21 and waited while they served everyone else. After about 30 minutes, yes 30 minutes, I have the receipts to prove it, I asked the acting manager Bryant Parker what was taking so long. He told me he was busy at the window and I would have to give him a few minutes to go check, to which I replied I had been waiting a number of minutes. He then ignored me. When we finally got our order, I had to come back because they did not put in the onion rings. We then headed down the road when my grandson said, Nonna," I have to pick the mold off my bun."..…….yes, we discovered the entire bottom of two of the buns on the chicken sandwiches were covered with green mold. We turned around and went back. It was 1:53 when we returned, we had only gone a mile down the road. I went in to ask to speak to the manager, Bryant Parker, he saw me, turned his back and completely ignored me. The shift leader Xavier Waddell (names were taken from a "REAP" board at the counter) finally came up to ask what the problem was. We showed him the buns covered in mold. He threw them in the trash, did not even tell the "shift Manager" and then gave us a refund and fresh sandwiches. This was by far the worst experience I have ever had in ANY fast food establishment. The food was not eatable, the "manager" was rude and ignored us, and the entire experience took almost an hour...….yes and hour to get 4 sandwiches...….If I could have rated this experience less than one star I would have.

i was at your locate about a half hour ago i want threw the drive threw an i only live10 mins away but i got a family bundle on a coupon an it was three whoppers an three cheese burgers an three fries an the lady asked me if i want cheese on my whoppers an i said yes an when i got home my food was cold so i called burger king on ohio river blv an they was very rude an hung up on me now they did'nt give me a recipit an they could'nt help me so thats why i am getting incontace with you so my phone number is 412 415 1944
thank you ms mayhugh

Lincoln City Oregon
One customer been waited on---
Two employees VISIBLE
Waited 4-5 MINUTES and NO ONE ACKNOWLEDGED my PRESENCE
WALKED OUT AGAIN
THIS PLACE is a ZERO

On Feb.21-2019 at 12:54 PM my wife & i purchased a Whop JR & Regular 10 PC. Nuggets . The nuggets turned out to be very spicy which we could not eat. the woman at the window was very rude &almost threw our order at us.I know we are only talking about a $1.00 here but also the rude service.My wife aired a complaint on 2-20-2019 & received a standard letter stating we are so sorry but thanks for letting us know. If your people can't be civil when dealing with the public they have no business working there. We will not be visiting again any time soon. If you care to contact me please do it by e-mail:
lonewolf4378@aol.com
store #24786
Thank You: Frank Cullen

Received a gift card from parents that was purchased on Amazon. The following week I went to a local Burger King NJ to use my gift for a meal. I was told that the card could not be used and needed to be activated? The next day I went online but could not activate nor check balance - kept getting error message. I called Customer Support at 866-394-2493 1/24/19 who took my information and said they would have someone contact me. Never received a call. Called again today 2/22/2019. Rep said card seemed to be bad and for me to send pictures of card and then email to BK at: guestrelations@whopper.com. He said I would receive a replacement. Email came back not deliverable. I called back and woman I spoke to said to try guestrelaton@whopper.com (why doesn't anyone know the email address?). She then said card needed to be activated and that I needed to go back to a local Burger King and activate card??? Why wold I have to go to a local BK I asked. Why can't I activate online? She also said I needed to tell the the local BK to put money on card (about $5) and that I had no money on the card, which is ridiculous and absurd. If card is NOT activated then how can there be no money on the card? This is a $25 gift card that has never been used. I now am going to call Amazon and file a complaint as well as to write to the corporate headquarters about the incompetence of their customer service department.

Burger King on Malabar Rd...in Palm Bay Florida.......rude workers( probably not all of them i'm sure,) but the fat one that took our order was only nice to the black guys....and the place is nasty....won't ever go back there....

WE HAVE SEVERAL OF YOUR STORES IN OUR AREA. EVERY ONE I'VE BEEN TO HAVE ISSUES WITH THEIR STORE BEING CLEAN. MY WIFE AND I TRIED ONE OF YOUR NEWER STORES AND THE SAME THING. I WENT INTO THE BATHROOM AND HAD TO HOLD MY BREATH IT STUNK SO BAD. THE FIRST THING WAS WHEN WE WALKED IN THE MAT AT THE DOOR WAS FILTHY. WE ORDERED OUR FOOD AND HAD TO CLEAN A TABLE OFF BEFORE WE COULD EAT. I LOOKED AROUND AND ALL OF THE TABLES WERE DIRTY. THE FLOOR LOOKED LIKE IT HAD BEEN MOPPED WITH A DIRTY MOP. IT HAD STREAKS EVERY WHERE. THERE WAS FOOD AND TRASH ON THE FLOOR THROUGHOUT.
I AM NOT LOOKING FOR A FREE COUPON OR ANYTHING. I'M LOOKING FOR A CLEAN STORE WHERE I CAN ENJOY MY MEAL IN A CLEAN ENVIRONMENT. WE WERE THERE AROUND 1 PM AND THE STORE HAD ONLY ONE OTHER CUSTOMER IN IT. NOT SURPRISING. THE EMPLOYEE WAS CORDIAL.I'M NOT ASKING FOR A RESPONSE OR AN APOLOGY. I ASKING FOR A CLEAN STORE WHERE I CAN ENJOY MY FOOD.

It was 3:30 pm And I went through the drive thru and asked for some coffee,. I was told that they didn't make coffee on this shift. I was told that I had to request it and that I'd have to wait for it. I didn't have time for all that so I went to McDonalds instead. This was the Burger King In Marksville La.

The new location at 6501 W. Kilgore Ave, Yorktown IN has the WORST management ever. I, along with a line of cars in the drive through waited every bit of 25 minutes. There is no reason for this type of service. They call it a drive through for a reason. 2 cars drive off and went across the street to McDonald's and got served before we did. I will NOT be going to this location EVER AGAIN! IT'S THE SAME INSIDE. Hey did of the current management or this location will close down before you no it. I wondered why they never have business!!!

BOB HAYNES
from Gouverneur, NY
MONDAY BOUGHT A 2 CHEESEBURGER, FRIES, & DRINK $3.77 TOOK RECEIPT HOME DID THE SURVEY AND PLACED THE CODE ON BACK OF RECEIPT.
TUESDAY WENT THRU DRIVE IN AND BOUGHT THE SAME MEAL FOR MY SPECIAL NEEDS SON AND ASKED FOR THE FREE WHOPPER AND GAVE THEM THE RECEIPT WITH THE CODE ON IT,THEY WERE RUDE, CONDESCENDING AND REFUSE TO GIVE ME THE WHOPPER WITHOUT PAYING AN ADDITIONAL $5 THE BILL WAS $8.77. THIS IS A VERY BAD STORE THEY ARE ALWAYS SCREWING UP ORDERS AND NO ONE SEEMS TO KNOW WHATS UP HALF THE TIME. I WILL NEVER GO TO THIS STORE AGAIN I'LL DRIVE THE EXTRA MILES AND GO TO THE NEXT TOWN IN POTSDAM,NY
THIS COMPANY NEEDS TO FIX THE MESS THAT'S IS GOING ON IN CANTON,NY.
VERY ANGRY NEVER BEEN TREATED LIKE THIS AT ANY FAST FOOD PLACE BEFORE.

I am a frequent visitor to my home town BK and especially enjoy the fries, but as we traveled this past month we stopped at 995 West State Road 42 in Brazil, IN. ( 7806) We ordered several things and found the French Fries very dry and to be more like cardboard than fries. We were very disappointed, and will be careful not to eat at BK on the road on our next trip.

The weather was bad and it was closing in 15 minutes I ordered a large onion ring and 10 piece nugget When I gotmy order the onion ring werehard and cooked until they looked like fossils. Iwent back to the drive up window and I showedthem to the staff an done of them said there was a fresh order up and I also returned the nuggets too cause there was a rubber band in them.A heavy set guy told me to pull to the front for my order Iwaited and and employee came out with more nuggets and I said wheres my onion rings and she said you got them and I said No I didn't and she walked away.I waited for almost 20 minutes and she never brought them out but she kept looking out I think checking to see if I were gone If the couldn't provide the food I should have been given a refund.It happened at the kent wa. burger king at 22442 84th ave s. I would like my refund due to how the whole thing was handled It happened 2-11-19 between 3 30 and 4 pm

This Burger King on 1117 Central Ave . Summerville S.C> does not even deserve a one star ! My husband likes Burger King better for the most part versus McDonalds ,
. Today he had enough! First bad service the place wasn't even open at 9:00 am ! Second was he wanted biscuits they had none at 8:00 am so had to get crossants . Next visit he wanted crossants and they had none so he had to get biscuits and they were cold . Today was his limit , he asked for biscuits and they were not even baked done , they were doughy . He stops at the same time every week around 8:00 am at the same location on his way to golf . He has not tried to resolve with management because he feels they don"t care anyway . He said they must not care since new management took over . I have had issues as well at another BK . but this complaint is about this location . My husband Jim has had enough and you probably have lost a customer . It makes me wonder how internally the place is ran . Is it clean ? Very disappointed customer

I ordered take-out breakfast at the BK in Millennium Station on 11-11-19 about 8 AM, The filled orders were not marked with numbers or by contents. I picked up the bag the young clerk set in front of me and started to walk out.. Apparently, I was not familiar with how they served and was accused of "snatching" the bag of the person waiting behind me. I returned the bag unopened and apologized for my error.
The clerk was unfriendly and continued to ask me why I had picked up the bag. She continued to give a nasty look and stated she had called out the numbers, This BK clerk needs customer service training.. The older person who took the order was more pleasant.
In contrast, Dunkin Donuts has both the receipt stapled to your order and calls out the contents to minimize pick-up errors. Their service is friendly and makes you want to return. BK can take a lesson from Dunkin Donuts.

We ate that Burger King in Batesville Arkansas yesterday food was cold not cooked properly restaurant was cold my wife and I both got sick after eating there we were sick all night don't think We will be going back to Burger King

linda Fiore
from Stamford, CT
hi i went to the new remodeled burger king in stamford ct on high ridge road.the bathrooms were filthy toilet paper all ove the place.ordeered my food got in my hamburger was cold the soda had no fizz and was flat tasted like colored water.when i was at the soda area there was melted ice all over the place 3 young kids that worked there were stnding there doing nothing i mentioned the mess and not one of them grabbed something to wipe it up.someone could have eaily slipped on that ice and got hurt. Isnt there a manager that stays there and watches these kids .before it was remodeled the place was clean.the spanish ladies that worked there were always wiping and cleaning.i think someone needs to look in to this.a friend of mine was just there same expierience.thank you linda fiore

I ordered the Big XL as it is a new burger and was so excited -- the burger was such a disappointment, small patties, little torn pieces of lettuce, they didn't even put a large piece of lettuce on the burger, it looked like lettuce scraps. Then I noticed there was no tomato on the burger. I would think a new burger called Big XL would have all the makings of a good burger, this one didn't. And the fries were a bunch of small hard fries. I was truly disappointed in the fries as I've been hooked on Burger King fries since I discovered some months ago how long and beautiful they are and how much you get in an order. This was not the case, I promise you, I probably was given ten regular size fries and the small hard left over fries.
This happened at the Mancheser and Bellanca location. Thank you for your time!

Teena L Alexander
from Rienzi, MS
I just went to the Booneville, Ms Burger King. While through the drive thru I had to repeat my order 3 times to a very rude young man. Then once at the window I see him taking orders rolling his eyes making fun of the other people. I was ask to pull around as they stated they needed to cook my meat for the sandwich fresh. I pull around and some cars pull around behind me as they were ask to move forward as well. Once the same young man came to my car the order was in correct even after 3 times of telling him how we wanted it. I took the sandwich inside and the same rude young man was now working the front register. I did ask who the manager was and was told he was. I am in total disbelief that a company would allow a young man that is this rude and unkind of staff and customer hold a position as manager. As a manager is supposed to present themselves in a way that others would want to follow along. Making fun of people, rolling your eyes, and being flat out rude is not the answer. I am blown away at this actions.

When I do my weekly shopping, I always stop by Burger King in Midlothian, Va. or Burger King in Farmville, Va. I order the 10 piece nuggets meal with medium fries and coke most of the time. The price is $4.50 + tax .24 - total $4.74. Sometimes I go to Henrico, Va. and purchase the same meal. I have never felt like I was being over-charged at any of these locations.
Recently, a new Burger King opened in Powhatan, Va. which is closer to my home. I went there on 2/7/19 and ordered the 10 piece nuggets meal with medium fries and coke. the price was $6.89 + .37 - total $7.26. I understand the difference in the tax but not in the meal price.
Why does the meal cost $4.50 in 3 locations and $6.89 in Powhatan?????
I asked the drive-thru woman and she was very rude and said some stores charge a higher price for the same meal. The price was $2.39 higher.
I not only will never go to that store again but will also advise my friends they need to consider the higher prices. There are several fast-food stores in Powhatan including McDonalds which have not over-charged on their meals --what is so great about the Powhatan Burger King?
It's nothing special----the same food but apparently the owner wants a bigger profit.

When I get off work, its already late into the night (10:30 pm) so I would go the Burger King #2463 located in my town Temple, TX. an order the 2 for $6 meal. The past two times that I went to burger king to order my meal, I have received burgers that were made wrong, fries cup filled half-way or just thrown into the bag. I would look into the drive thru window and I could see are the employees just joking around. At one time I came thru the drive-thru and placed and order at 10:30 pm, I was told the store was closed because they were expecting a truck. I was able to place my order but it was rashly put together and put into my bag.
Yesterday 2-6-19, at 10:34 pm, I drove into the drive-thru because it looked like the store was already closed. I asked for the 2 for $6 meal and I was quickly informed that they had no more meat paddies for burgers. I became very confused because as famous as Burger King is, I never imagined a store running out of meat paddies. I asked the cashier what was available and she responded "only chicken products". I said okay and order 2 spicy chicken burgers (plain) and 10 nuggets. After paying for the meal, I was told to drive around to the front of the store and someone will bring out the meal.
After waiting 10 - 12minutes, two employees came out thru the front door to smoke. Both employees looked at me and one yelled back into the store in telling them to make my 2 spicy chicken burgers. My order was not placed and I believe one of the employees that came out to smoke was a supervisor ( very unprofessional and very bad customer service). When I received my order, my fries were just thrown into the bag. It took roughly 20 - 25 minutes for my order and I was the only customer.

why doesnot store number 8850 recognize viet nam veterans and senior ciitazens I don't understand for a discount

So I went to the Burger King drive thru in East Bay in Provo, Ut. I ordered 3 Whoppers w/o onions, since I'm highly allergic. I also ordered a crispy Chicken sandwich. One of my Whoppers had onions all over it. I tried to call and complain and was hung up on 4 times. Someone even said, whatever. This order was taken at close to 1p.m. today. I was gonna just try to get my sandwich replaced, but the fact I was hung up on 4 times is ridiculous. I'm now beyond frustrated and angry. I refuse to call them anymore today. I wanna know what can be done to rectify this situation.

I was in the Burger King tonight to order food for my boys and ordered a whopper meal and Chicken meal as well as chicken nuggets. When I got home the french fries were missing, but what makes this bad was when I was there the time before they forgot the whopper so this is why I am complaining. It seems to be a habit at this BK. I had to go back for the whopper but I was not going back for french fries, as suggested or getting free ones next time.
I don't believe this should be acceptable to you, it is not to me.

On 1-31-2019 at approximately 1:30 pm myself and a friend ate at the Burger King located at 1605 Town Sq. SW Cullman, Alabama. In all of my 51 years of eating at various restaurants, I have never been as disappointed with any restaurant. Service was marginal at best without a "thank you" or any other acknowledgement. Drink cups were not handed to us, but sat upside down on a clear cookie case that appeared to have not been cleaned in several hours. Closer inspection of the facility revealed scattered food on the countertops with mud, dirt, napkins, food and other general liter spread across the floor of the entire store. I considered requesting a refund and leaving however it was well passed my meal time. As we progressed further the drink dispensers were splashed with beverages running down the front of the machines and the ice bin was open with a chair in front of the dispenser. Napkins were scattered around the dispensing station as was additional mud. Every table in the store had either trash or debris from other customers with breakfast foods scattered in the seats and on the floor. Each garbage can in the store was overflowing and several were running into the floor with trays stacked15-20 deep on each waste disposal station. this was totally the worst experience I have ever had at a BK restaurant and would definitely not have been a good time for the health inspector to appear. The restaurant was well staffed however everyone was more concerned with talking amongst themselves rather than interacting with customers. Some behind the counter we even out of uniform giving the appearance they did not belong there. Long story short......my last trip to BK, especially this one. Nasty, just plain nasty with employees thta cared nothing about yur brand or their job! Just thought you might want to know!

Michael Rumpf
from Cochranville, PA
Went to ravine pa Burger King and ordered 5 of the 10 piece nuggets .... they didn't ask if I wanted sauce .... I asked for bbq sauce she said sure .... got my order and drove home .. opened the bag and no sauce .... so I drove all the way back and went in ... Told them what happened and gave my bag and they gave me 2 sauces .... 2 sauces for 50 chicken nuggets ... i May never eat Burger King again

Laura Luecke
from Tallahassee, FL
On January 25, 2019 between 3:00 and 3:30 p.m. I, my friend, and his aging father experienced an unprofessional and demoralizing lunch listening to Latonia Branch give a staff meeting at 1209 S. Jefferson St, Monticello FL 32344. She used foul language such as "our production has gone to hell". She referred to employee's lack of cleanliness stating "some people do not bathe, especially the night shift". She threatened them with less hours working and stated "if you don't like it here go work at Hardee's". She called out people specifically in a group setting. She said "I hired you, I can fire you". It was all very excessively loud and we could not hear our own conversation all the way across the room. I asked her for her name and told her I intended to make a complaint. She said "you want my phone number". I said no thank you.
Laura Luecke
706-315-2304

Kathy Hale
from Marysville, OH
I am complaining about the one off of park ave in Mansfield Ohio. I go to the drive Thru and waited for 15 mins. I got no services so I drove and parked it they were clearly open when I checked the door for the hours. Their employees were dancing acting like idiots and not paying any attention to anything but socializing there was also 5 cars behind me they also didn't help and lost business.

larry bland
from Orange, TX
do your employees get any training what so ever or can they even read i will tell them how i want my burger low and behold cant even get it right when it right in front of them i have tolod them no mayo heavy on ketchop and mustard get home a spot of ketchup and mustard or nothing but mayo try calling to complain but i guess managers are to busy to answer the phone so when i went and got my burger today told them make them dry and give me packs of ketchup and mustard low and behold nothing but meat and bun i cant figure out how the hell you stay in bussiness

April Hires
from Terre Haute, IN
Went to get 2 spicy chickens and an order of the funnel cake fries and the funnel cake fries were so hard I almost broke a tooth and when I went to get different ones the doors were locked at 1040pm when they don't close until 11pm. I'm really disappointed.this is the Burger King in West Terre Haute Indiana..

James Nold
from Bogalusa, LA
First, I ordered 2 BK XL Meals, 1 $6 box, and 4 ten piece nuggets. 2 sweet teas, and 1 unsweet. Pull to the window (I was in the drive thru) to pay, hand the gal my money, she hands me two straws. She gives me my change, I tell her I have three drinks and you only gave me two straws. I could see the look on her face like I was bothering her by pointing out a shortfall. I am then told to pull forward, they would bring my order out. Same gal brings order out, turns and goes back inside. I check my order, no chicken nuggets. Go back inside, another girl looks at my receipt, gives me the nuggets. I return to car, am leaving parking lot, grab a cold, limp fry! Getting home, I look in the bag, one of my burgers (XL) is on it's side in the bag, all the runny sauce has limped up the bun, everything is in the bottom of the wrapper! Who lays a burger on it's side anyway? The other bag has an order of fries that had to be thrown in the bag, because there were more fries in the bottom of the bag than in the fry holder cup! Your sauce on the XL is kinda tasteless and runny, and there was entirely too much of it! This was at BK# 7179, Bogalusa, LA @ 1:02 PM 25 Jan 2019. Amt of order $27.68

chequilaj42@gmail. com
from Norman, OK
I was in buger King checking up on a job and the hiring manager said someone told her I was a theft and it is dead for me working

suzanne Thompson
from Coatesville, PA
On January 22, 2019 my family and I went to the new Burger King located in Avondale, Pa. We were very disappointed in the service and the food that we ordered.
1) There were only 2 cashiers open and there were several employees standing around.
2) When the cashiers took our orders Burger King was out of fries and Med. size drinks so the customer was forces to pay for the small or large size cups. We were charged $2.32 for a large drink. That is unexpected especially since we could not get the size we wanted. .
3) We had to wait at least 10 minutes for our meal and there were only 2 others a head of us.
4) When we received our meals the food was wrong even though we reviewed with the cashier what the order was. The food was also very cold. I said something to someone and nothing happened.
We are so disappointed in the new restaurant that is the area. This is not the first complaint I have heard about the new place.

Harriet Jackson
from Livingston, TX
This is the second time my order has been wrong. I ordered the bacon king no mayo with mustard. It had mayo. My husband will not eat anything with even a tiny amount of mayo on it went in the trash. There were suppose to be 2 cookies but no cookies. Drinks were suppose to be Dr. Pepper and root beer but we got 2 Pepsi. My husband and daughter love Burger King but our local store is just terrible. After this last visit we will not been eating at this Burger King again.

kenny smith
from Blacksburg, VA
i always get onion rings when I go to BK, now you are charging extra for the zesty sauce that I like so well. I payed it this time but that was my last trip to a Burger King if you are getting that hard up. i eat breakfast and lunch there quite often so not happy at all. thanks for listening
Kenny

David Kurczi
from Lakewood, OH
Ordered PLAIN burgers and was sold burgers with all the fixings. My bride ate her burger and saved the other but I had to order pizza due to food allergy and preference.
Returned to Burger King with my receipt and four uneaten burgers and was told No REFUND because we didn't call in our complaint the day before.
Had I called after such a wonderful day and messed up dinner I likely would have used profanity. Now I really want to use it.
Eric said he was sorry but couldn't give me my money back because I didn't call and complain the day before and this isn't acceptable to me.

bernard maruszewski
from Bay City, MI
ok every month i go to midland from gladwin and go to my doctors befor i go i stop at berger king in mid last month i ordered 2 for 6 bucks chick san i got one chic san and one spicey chic let me tell u no one that i know can eat that spicy it so hot every one tells me make sure iwe dont get the spicy one well i got one so this month i orered 2 reg crip chic ok i got them both one was exc and the one i got was made of leather it looked like some one puled it off the bottom shelf after the end of the night just the 3 bites i got out of it was very nasty allso i woke up from a sound sleep 300 in the morning with my stomach hurting so bad i was in the bathroom for a half an hr tryen to get out of there with my stomach hutring so bad i craled in to my bed after takeing a half bottel of peptobizmo i will no go there again i have better luck in my hic town of gladwin with a drunk boss that goes to her car all the time oopps was i sapos to say that i hope u do some thing about that store in mid ! thanks a not happy cus! bernard !

Tammi Williams
from Alabaster, AL
My complaint is that every time I try to use this location, there is an issue with their equipment. If it isn't the shake machine, it is the frosty machine. Today, 1/13/2019 to my amazement the broiler was out of service. I would like to know how on earth do you bill your business on flame broiled burgers, and the broiler is down. I tried to place an order, only to be told that they were only serving chicken. I did not want chicken. I feel that if you cannot provide what you have built a reputation upon, that perhaps you should close the business for today, I know that you will not meet sales for today, because when I think Burger King, I think burgers..not chicken. I was told that the Area Director is Mrs. Rose Williams, and the manager I spoke with by the name of April, could not even provide me the Corporate offices information. As someone who is/has been in management for over 25 years, I know better than the answers that were given. Perhaps the location at 681 1st Street S.W. located in Alabaster, Alabama 35007 is due for a complete overhaul...including equipment & staff. I don't think that I will ever attempt to use the services from that location again. Thank You...very dissatisfied customer.

cathy colao
from Delaware, OH
To the head person whom runs and own s bk I was working for a while and i was threat ok until recent .I was told that would get 8 hours when i work in sun berry i did not yet at all then come to find out other things like manger s date other in epyees and I know that it cant be done been going for some time now .I have not said anything until now because i was lied to you under payed me and i quit on Sunday the 6th of jan year .I do not like to be use s or lied to i came in on days off and stayed late and still got treated like shit .I told christna that i would work with her on days that i did not work at my other job . Then things got bad there .I was only working a few day at a time then one week at a time and then it want were i wasnt even on the paper to work so that when i had it chould not do it any more so i truned in my stuff

Michael E. Peterson II
from West Des Moines, IA
My wife and I went through the drive through at the Burger King at 7275 Vista Drive in West Des Moines Iowa. The young lady in the drive through at approximately 5:00 pm filled our order completely wrong. I received a single instead of the double I paid for, my wife requested no lettuce or onions, both of which were on the sandwich. The fries were cold, both of our burgers were smashed. When handing us our drinks we received which I pointed and she did change it while muttering under her breath. After fixing the lid she handed me the wrong drink. After the transaction was complete, I said thank you and she said yeah. I worked in customer service for 17 years, and 10 of that was management, so consequently, I know how to treat a customer. This is not the way.

sandy coleman
from Germantown, MD
I WENT IN TO THE BURGER KING ON 306 11749 THE GM WAS RUDE THE LOBBY WAS LOCKED ON A FRIDAYBECAUSE THEY WERE UNDERSTAFFED ONCE AGAIN AS ALWAYS AND ROACHES ALL OVER COUNTER COOKS NOT WEARING GLOVES THE GM ACTED IF SHE DIDNT KNOW WHAT SHE WAS DOING AND YELLING AT HER EMPLOYEES IM IN UPPER MANAGEMENT AT MY JOB AND THAT WOULD NOT BE TOLERATED IF THATS WHAT YOU GOT AS MANAGMENT YOUR COMPANY REALLY NEEDS TO JUST SHUT ALL THE DOORS AS UPPER MANAGMENT SHE SHOULD BE ABLE TO HANDLE HER ISSUES AND NOT TAKE IT OUT ON THE EMPLOYEES THATS WHY THE SALES ARE DOWN AND YOU CANT KEEP STAFF BECAUSE SHE TALKS/YELLS AT THEM AS IF THEY WERE ANIMALS I WILL NOT AS LONG AS SHE IS MANAGMENT COME BACK TO ANY OF THESE LOCATIONS GET RID OF HER BEFORE YOU END UP HAVING TO SHUT THE DOORS

Sheryl Motsinger
from Salem, IN
I live in Salem,Indiana and we have a fairly new restaurant. When it first opened it was always clean and food good. For the last several months the restaurant is always dirty,tables not wiped off floors filthy food not hot. We love Burger King but we have been having to go out of town to other Burger Kings. No problem with any of the rest of them! And also a boy that works at Salem pants are way down below his butt crack. He can't hardly cook for pulling them up. I told the manager bout it one day we was in there she acted like no big deal. Didn't even say anything to him! I just don't understand why you would let a new restaurant get in that shape.

Tom DiCola
from Jeffersonville, IN
Been eating BK since a kid, now 65 years young. When this location first opened it was terrible, wrote office to a new location, new mgmt. and staff. Many months later still disappointed. Wait time at register. Wait for order. Then saw order in the delivery sleeve for about 12 minutes. Spoke to who I thought was a manager and asked for my money back. She refused telling me that my order was right there. I explained that it was right there for quite some time. She kept insisting I take it. I did because I was in a hurry. As I expected, cold whopper with cheese and fries are just terrible. Need a new crew in this location. Never again...
Sincerely yours,
Wed Jan 02 2019 05:53 PM T=01L I=3 C=867769 Burger King # 22721 3030 East 10th. Street Jeffersonville, IN 47130
Tom DiCola

Hannah Harris
from Sierra Vista, AZ
I am complaining about the Burger King on Cedar Creek Rd in Fayetteville NC. There have been several times that I have been to this BK and the employees are rude and the restaurant is not clean which has made me not go to this location. However today 190104 I stopped to get a mocha BK coffee and a sausage croissant. First off I don't know if you are told to ration the napkins but every time I have been to this location I am never given napkins thru drive thru. But back to my main issue, so I go to take a big gulp of my BK coffee and on my first drink of the coffee I felt something in my mouth which was horrifying. I pulled the mass out of my mouth to see what is was and it appeared to be a big wad of filth from either the coffee machine or perhaps the ice machine, I wish I had thought to take a picture but I was so disgusting and distraught from what I saw. Regardless it was nasty and very disturbing after the incident once at work I poured out remainder of coffee to look for any other foreign objects there was none. But regardless I was unable to finish my sandwich and now I'm done with BK. I decided to call location to inform them of this mishap before anyone else encounter same situation but phone stayed busy for several calls and when the phone did ring after several other attempts phone was pick up and the hung up. I am hoping this will maybe have some effect on store maybe more checks on cleanliness or something. Until then I'm done with Bk!!!!!!

Christy P
from Hannibal, MO
We were in the drive through 20 minutes! When we finally got to the service window we saw people standing inside for waiting for their order who didn't look to happy. They told us our chicken nuggets would take two minutes and to pull up. The woman that took our money also ran up to the "delivery" window!!! After waiting another five minutes I got out of the car and looked through the glass door. The dude that was preparing the sandwiches was waving his hands talking to the entire crew who was standing around doing nothing but listening to him. (except for the poor girl who took out money). The "talker" pointed at me and a young man came to the take out door. I asked, 'Where was my chicken nuggets' he said oh no! I forgot them! Then after about a minute he came out with piping hot nuggets and apologized. I hate going to this place because every time it's been a nightmare trying to get your food. I finally decided you need to know what's going on there. If you wonder why it's not busy??? Getting waited on was forever and some people are working and need their food quick. This is why McDonald's down the street is so busy...they get your food right and fast. Maybe you guys should rethink how you are handling your food line? I actually love your food but never go because of the poor survice. I was taking my son who wanted the nuggets. Thank you for listening. Gee I wish you guys would do something cause I love the food. By the way. By the time we left I noticed the same guys are still waiting on their food after about half an hour!

Michael Pope
from Omaha, NE
Service wasn't bad. People were not rude. The fries were not anywhere close to hot. I would describe as room temp. Sour dough burger meat very dry. Bread was poorly toasted. Like bread warmed in a microwave. Almost soggy. I don't eat out often and maybe this is why. Tonight it was a toss up between here and the McDonald's just down the street. I reckon I chose poorly.

Susan Keelan
from Miami, FL
I went to my local Burger King (7299 West Commercial Blvd., Tamarac, Fl 33319) yesterday, December 20, 2018 around 1 or 2pm.
I went to the drive-thru window and ordered a Veggie Burger which I have had from this store before about a month or so ago.
I remember how good the first one was and thought I was going to get another one just like it. Unfortunately, when I got home with my burger.... there was nothing on it but a wide piece of sliced onion and 1 little pickle. No lettuce, no tomato, no taste, etc.
My dog wouldn't even eat it! It was a dried up patty on a bun. It didn't even look appealing let alone taste good. I didn't go back because the last thing I need is to have someone there spit on my sandwich the next time I go.
I grew up loving the Whopper and French fries and when I heard about the Veggie burger I couldn't wait to try it. Too bad the caring by your employees to make your product appealing, tasty and enjoyable was not given! It ruined my afternoon and I don't think I've ever complained about a fast food product but this really made me mad! Somebody needs to be fired and whoever trains your employees needs to revisit this store and see how they are throwing these items together.

jackie campbell
from Long Beach, WA
I love your food especially the whooper. I also love that the burger king in Astoria Oregon is the only place I CAN EAT THAT PLAYS fox NEWS, MY FAVORITE. My complaint pertains to the Burger King in Astoria Oregon 350 Marine Drive. I've been going their for many years, 30 plus, because I like the food but I think that's going to stop soon. Lately each time I go all the employees and managers have the dirtiest greasy hair. I've seen them touch their hair and then get the fries. YUK !! In fact the whole crew looks dirty sloppy and bored. No one even pretends to like their job. Very poor moral. Extremely sloppy group. In fact the best I've seen from a fast food group has to be Dairy Queen, clean and cheerful.
Last time I was their two weeks ago I even spoke to the manager about this and she just nodded make some excuses and when back to doing what she was doing before. DID NOT CARE. Weird group. FYI only, Jackie Campbell.
Have feedback for Burger King?
Thanks for your feedback!
Sorry. Please try again later!