Burger King
Burger King Complaints Continued... (Page 5)
1013+ reviews added so far. Upset? Call Burger King corporate: 1-866-394-2493

The new location at 6501 W. Kilgore Ave, Yorktown IN has the WORST management ever. I, along with a line of cars in the drive through waited every bit of 25 minutes. There is no reason for this type of service. They call it a drive through for a reason. 2 cars drive off and went across the street to McDonald's and got served before we did. I will NOT be going to this location EVER AGAIN! IT'S THE SAME INSIDE. Hey did of the current management or this location will close down before you no it. I wondered why they never have business!!!

BOB HAYNES
from Gouverneur, NY
MONDAY BOUGHT A 2 CHEESEBURGER, FRIES, & DRINK $3.77 TOOK RECEIPT HOME DID THE SURVEY AND PLACED THE CODE ON BACK OF RECEIPT.
TUESDAY WENT THRU DRIVE IN AND BOUGHT THE SAME MEAL FOR MY SPECIAL NEEDS SON AND ASKED FOR THE FREE WHOPPER AND GAVE THEM THE RECEIPT WITH THE CODE ON IT,THEY WERE RUDE, CONDESCENDING AND REFUSE TO GIVE ME THE WHOPPER WITHOUT PAYING AN ADDITIONAL $5 THE BILL WAS $8.77. THIS IS A VERY BAD STORE THEY ARE ALWAYS SCREWING UP ORDERS AND NO ONE SEEMS TO KNOW WHATS UP HALF THE TIME. I WILL NEVER GO TO THIS STORE AGAIN I'LL DRIVE THE EXTRA MILES AND GO TO THE NEXT TOWN IN POTSDAM,NY
THIS COMPANY NEEDS TO FIX THE MESS THAT'S IS GOING ON IN CANTON,NY.
VERY ANGRY NEVER BEEN TREATED LIKE THIS AT ANY FAST FOOD PLACE BEFORE.

I am a frequent visitor to my home town BK and especially enjoy the fries, but as we traveled this past month we stopped at 995 West State Road 42 in Brazil, IN. ( 7806) We ordered several things and found the French Fries very dry and to be more like cardboard than fries. We were very disappointed, and will be careful not to eat at BK on the road on our next trip.

The weather was bad and it was closing in 15 minutes I ordered a large onion ring and 10 piece nugget When I gotmy order the onion ring werehard and cooked until they looked like fossils. Iwent back to the drive up window and I showedthem to the staff an done of them said there was a fresh order up and I also returned the nuggets too cause there was a rubber band in them.A heavy set guy told me to pull to the front for my order Iwaited and and employee came out with more nuggets and I said wheres my onion rings and she said you got them and I said No I didn't and she walked away.I waited for almost 20 minutes and she never brought them out but she kept looking out I think checking to see if I were gone If the couldn't provide the food I should have been given a refund.It happened at the kent wa. burger king at 22442 84th ave s. I would like my refund due to how the whole thing was handled It happened 2-11-19 between 3 30 and 4 pm

This Burger King on 1117 Central Ave . Summerville S.C> does not even deserve a one star ! My husband likes Burger King better for the most part versus McDonalds ,
. Today he had enough! First bad service the place wasn't even open at 9:00 am ! Second was he wanted biscuits they had none at 8:00 am so had to get crossants . Next visit he wanted crossants and they had none so he had to get biscuits and they were cold . Today was his limit , he asked for biscuits and they were not even baked done , they were doughy . He stops at the same time every week around 8:00 am at the same location on his way to golf . He has not tried to resolve with management because he feels they don"t care anyway . He said they must not care since new management took over . I have had issues as well at another BK . but this complaint is about this location . My husband Jim has had enough and you probably have lost a customer . It makes me wonder how internally the place is ran . Is it clean ? Very disappointed customer

I ordered take-out breakfast at the BK in Millennium Station on 11-11-19 about 8 AM, The filled orders were not marked with numbers or by contents. I picked up the bag the young clerk set in front of me and started to walk out.. Apparently, I was not familiar with how they served and was accused of "snatching" the bag of the person waiting behind me. I returned the bag unopened and apologized for my error.
The clerk was unfriendly and continued to ask me why I had picked up the bag. She continued to give a nasty look and stated she had called out the numbers, This BK clerk needs customer service training.. The older person who took the order was more pleasant.
In contrast, Dunkin Donuts has both the receipt stapled to your order and calls out the contents to minimize pick-up errors. Their service is friendly and makes you want to return. BK can take a lesson from Dunkin Donuts.

We ate that Burger King in Batesville Arkansas yesterday food was cold not cooked properly restaurant was cold my wife and I both got sick after eating there we were sick all night don't think We will be going back to Burger King

linda Fiore
from Stamford, CT
hi i went to the new remodeled burger king in stamford ct on high ridge road.the bathrooms were filthy toilet paper all ove the place.ordeered my food got in my hamburger was cold the soda had no fizz and was flat tasted like colored water.when i was at the soda area there was melted ice all over the place 3 young kids that worked there were stnding there doing nothing i mentioned the mess and not one of them grabbed something to wipe it up.someone could have eaily slipped on that ice and got hurt. Isnt there a manager that stays there and watches these kids .before it was remodeled the place was clean.the spanish ladies that worked there were always wiping and cleaning.i think someone needs to look in to this.a friend of mine was just there same expierience.thank you linda fiore

I ordered the Big XL as it is a new burger and was so excited -- the burger was such a disappointment, small patties, little torn pieces of lettuce, they didn't even put a large piece of lettuce on the burger, it looked like lettuce scraps. Then I noticed there was no tomato on the burger. I would think a new burger called Big XL would have all the makings of a good burger, this one didn't. And the fries were a bunch of small hard fries. I was truly disappointed in the fries as I've been hooked on Burger King fries since I discovered some months ago how long and beautiful they are and how much you get in an order. This was not the case, I promise you, I probably was given ten regular size fries and the small hard left over fries.
This happened at the Mancheser and Bellanca location. Thank you for your time!

Teena L Alexander
from Rienzi, MS
I just went to the Booneville, Ms Burger King. While through the drive thru I had to repeat my order 3 times to a very rude young man. Then once at the window I see him taking orders rolling his eyes making fun of the other people. I was ask to pull around as they stated they needed to cook my meat for the sandwich fresh. I pull around and some cars pull around behind me as they were ask to move forward as well. Once the same young man came to my car the order was in correct even after 3 times of telling him how we wanted it. I took the sandwich inside and the same rude young man was now working the front register. I did ask who the manager was and was told he was. I am in total disbelief that a company would allow a young man that is this rude and unkind of staff and customer hold a position as manager. As a manager is supposed to present themselves in a way that others would want to follow along. Making fun of people, rolling your eyes, and being flat out rude is not the answer. I am blown away at this actions.

When I do my weekly shopping, I always stop by Burger King in Midlothian, Va. or Burger King in Farmville, Va. I order the 10 piece nuggets meal with medium fries and coke most of the time. The price is $4.50 + tax .24 - total $4.74. Sometimes I go to Henrico, Va. and purchase the same meal. I have never felt like I was being over-charged at any of these locations.
Recently, a new Burger King opened in Powhatan, Va. which is closer to my home. I went there on 2/7/19 and ordered the 10 piece nuggets meal with medium fries and coke. the price was $6.89 + .37 - total $7.26. I understand the difference in the tax but not in the meal price.
Why does the meal cost $4.50 in 3 locations and $6.89 in Powhatan?????
I asked the drive-thru woman and she was very rude and said some stores charge a higher price for the same meal. The price was $2.39 higher.
I not only will never go to that store again but will also advise my friends they need to consider the higher prices. There are several fast-food stores in Powhatan including McDonalds which have not over-charged on their meals --what is so great about the Powhatan Burger King?
It's nothing special----the same food but apparently the owner wants a bigger profit.

When I get off work, its already late into the night (10:30 pm) so I would go the Burger King #2463 located in my town Temple, TX. an order the 2 for $6 meal. The past two times that I went to burger king to order my meal, I have received burgers that were made wrong, fries cup filled half-way or just thrown into the bag. I would look into the drive thru window and I could see are the employees just joking around. At one time I came thru the drive-thru and placed and order at 10:30 pm, I was told the store was closed because they were expecting a truck. I was able to place my order but it was rashly put together and put into my bag.
Yesterday 2-6-19, at 10:34 pm, I drove into the drive-thru because it looked like the store was already closed. I asked for the 2 for $6 meal and I was quickly informed that they had no more meat paddies for burgers. I became very confused because as famous as Burger King is, I never imagined a store running out of meat paddies. I asked the cashier what was available and she responded "only chicken products". I said okay and order 2 spicy chicken burgers (plain) and 10 nuggets. After paying for the meal, I was told to drive around to the front of the store and someone will bring out the meal.
After waiting 10 - 12minutes, two employees came out thru the front door to smoke. Both employees looked at me and one yelled back into the store in telling them to make my 2 spicy chicken burgers. My order was not placed and I believe one of the employees that came out to smoke was a supervisor ( very unprofessional and very bad customer service). When I received my order, my fries were just thrown into the bag. It took roughly 20 - 25 minutes for my order and I was the only customer.

why doesnot store number 8850 recognize viet nam veterans and senior ciitazens I don't understand for a discount

So I went to the Burger King drive thru in East Bay in Provo, Ut. I ordered 3 Whoppers w/o onions, since I'm highly allergic. I also ordered a crispy Chicken sandwich. One of my Whoppers had onions all over it. I tried to call and complain and was hung up on 4 times. Someone even said, whatever. This order was taken at close to 1p.m. today. I was gonna just try to get my sandwich replaced, but the fact I was hung up on 4 times is ridiculous. I'm now beyond frustrated and angry. I refuse to call them anymore today. I wanna know what can be done to rectify this situation.

I was in the Burger King tonight to order food for my boys and ordered a whopper meal and Chicken meal as well as chicken nuggets. When I got home the french fries were missing, but what makes this bad was when I was there the time before they forgot the whopper so this is why I am complaining. It seems to be a habit at this BK. I had to go back for the whopper but I was not going back for french fries, as suggested or getting free ones next time.
I don't believe this should be acceptable to you, it is not to me.

On 1-31-2019 at approximately 1:30 pm myself and a friend ate at the Burger King located at 1605 Town Sq. SW Cullman, Alabama. In all of my 51 years of eating at various restaurants, I have never been as disappointed with any restaurant. Service was marginal at best without a "thank you" or any other acknowledgement. Drink cups were not handed to us, but sat upside down on a clear cookie case that appeared to have not been cleaned in several hours. Closer inspection of the facility revealed scattered food on the countertops with mud, dirt, napkins, food and other general liter spread across the floor of the entire store. I considered requesting a refund and leaving however it was well passed my meal time. As we progressed further the drink dispensers were splashed with beverages running down the front of the machines and the ice bin was open with a chair in front of the dispenser. Napkins were scattered around the dispensing station as was additional mud. Every table in the store had either trash or debris from other customers with breakfast foods scattered in the seats and on the floor. Each garbage can in the store was overflowing and several were running into the floor with trays stacked15-20 deep on each waste disposal station. this was totally the worst experience I have ever had at a BK restaurant and would definitely not have been a good time for the health inspector to appear. The restaurant was well staffed however everyone was more concerned with talking amongst themselves rather than interacting with customers. Some behind the counter we even out of uniform giving the appearance they did not belong there. Long story short......my last trip to BK, especially this one. Nasty, just plain nasty with employees thta cared nothing about yur brand or their job! Just thought you might want to know!

Michael Rumpf
from Cochranville, PA
Went to ravine pa Burger King and ordered 5 of the 10 piece nuggets .... they didn't ask if I wanted sauce .... I asked for bbq sauce she said sure .... got my order and drove home .. opened the bag and no sauce .... so I drove all the way back and went in ... Told them what happened and gave my bag and they gave me 2 sauces .... 2 sauces for 50 chicken nuggets ... i May never eat Burger King again

Laura Luecke
from Tallahassee, FL
On January 25, 2019 between 3:00 and 3:30 p.m. I, my friend, and his aging father experienced an unprofessional and demoralizing lunch listening to Latonia Branch give a staff meeting at 1209 S. Jefferson St, Monticello FL 32344. She used foul language such as "our production has gone to hell". She referred to employee's lack of cleanliness stating "some people do not bathe, especially the night shift". She threatened them with less hours working and stated "if you don't like it here go work at Hardee's". She called out people specifically in a group setting. She said "I hired you, I can fire you". It was all very excessively loud and we could not hear our own conversation all the way across the room. I asked her for her name and told her I intended to make a complaint. She said "you want my phone number". I said no thank you.
Laura Luecke
706-315-2304

Kathy Hale
from Marysville, OH
I am complaining about the one off of park ave in Mansfield Ohio. I go to the drive Thru and waited for 15 mins. I got no services so I drove and parked it they were clearly open when I checked the door for the hours. Their employees were dancing acting like idiots and not paying any attention to anything but socializing there was also 5 cars behind me they also didn't help and lost business.

larry bland
from Orange, TX
do your employees get any training what so ever or can they even read i will tell them how i want my burger low and behold cant even get it right when it right in front of them i have tolod them no mayo heavy on ketchop and mustard get home a spot of ketchup and mustard or nothing but mayo try calling to complain but i guess managers are to busy to answer the phone so when i went and got my burger today told them make them dry and give me packs of ketchup and mustard low and behold nothing but meat and bun i cant figure out how the hell you stay in bussiness

April Hires
from Terre Haute, IN
Went to get 2 spicy chickens and an order of the funnel cake fries and the funnel cake fries were so hard I almost broke a tooth and when I went to get different ones the doors were locked at 1040pm when they don't close until 11pm. I'm really disappointed.this is the Burger King in West Terre Haute Indiana..

James Nold
from Bogalusa, LA
First, I ordered 2 BK XL Meals, 1 $6 box, and 4 ten piece nuggets. 2 sweet teas, and 1 unsweet. Pull to the window (I was in the drive thru) to pay, hand the gal my money, she hands me two straws. She gives me my change, I tell her I have three drinks and you only gave me two straws. I could see the look on her face like I was bothering her by pointing out a shortfall. I am then told to pull forward, they would bring my order out. Same gal brings order out, turns and goes back inside. I check my order, no chicken nuggets. Go back inside, another girl looks at my receipt, gives me the nuggets. I return to car, am leaving parking lot, grab a cold, limp fry! Getting home, I look in the bag, one of my burgers (XL) is on it's side in the bag, all the runny sauce has limped up the bun, everything is in the bottom of the wrapper! Who lays a burger on it's side anyway? The other bag has an order of fries that had to be thrown in the bag, because there were more fries in the bottom of the bag than in the fry holder cup! Your sauce on the XL is kinda tasteless and runny, and there was entirely too much of it! This was at BK# 7179, Bogalusa, LA @ 1:02 PM 25 Jan 2019. Amt of order $27.68

chequilaj42@gmail. com
from Norman, OK
I was in buger King checking up on a job and the hiring manager said someone told her I was a theft and it is dead for me working

suzanne Thompson
from Coatesville, PA
On January 22, 2019 my family and I went to the new Burger King located in Avondale, Pa. We were very disappointed in the service and the food that we ordered.
1) There were only 2 cashiers open and there were several employees standing around.
2) When the cashiers took our orders Burger King was out of fries and Med. size drinks so the customer was forces to pay for the small or large size cups. We were charged $2.32 for a large drink. That is unexpected especially since we could not get the size we wanted. .
3) We had to wait at least 10 minutes for our meal and there were only 2 others a head of us.
4) When we received our meals the food was wrong even though we reviewed with the cashier what the order was. The food was also very cold. I said something to someone and nothing happened.
We are so disappointed in the new restaurant that is the area. This is not the first complaint I have heard about the new place.

Harriet Jackson
from Livingston, TX
This is the second time my order has been wrong. I ordered the bacon king no mayo with mustard. It had mayo. My husband will not eat anything with even a tiny amount of mayo on it went in the trash. There were suppose to be 2 cookies but no cookies. Drinks were suppose to be Dr. Pepper and root beer but we got 2 Pepsi. My husband and daughter love Burger King but our local store is just terrible. After this last visit we will not been eating at this Burger King again.

kenny smith
from Blacksburg, VA
i always get onion rings when I go to BK, now you are charging extra for the zesty sauce that I like so well. I payed it this time but that was my last trip to a Burger King if you are getting that hard up. i eat breakfast and lunch there quite often so not happy at all. thanks for listening
Kenny

David Kurczi
from Lakewood, OH
Ordered PLAIN burgers and was sold burgers with all the fixings. My bride ate her burger and saved the other but I had to order pizza due to food allergy and preference.
Returned to Burger King with my receipt and four uneaten burgers and was told No REFUND because we didn't call in our complaint the day before.
Had I called after such a wonderful day and messed up dinner I likely would have used profanity. Now I really want to use it.
Eric said he was sorry but couldn't give me my money back because I didn't call and complain the day before and this isn't acceptable to me.

bernard maruszewski
from Bay City, MI
ok every month i go to midland from gladwin and go to my doctors befor i go i stop at berger king in mid last month i ordered 2 for 6 bucks chick san i got one chic san and one spicey chic let me tell u no one that i know can eat that spicy it so hot every one tells me make sure iwe dont get the spicy one well i got one so this month i orered 2 reg crip chic ok i got them both one was exc and the one i got was made of leather it looked like some one puled it off the bottom shelf after the end of the night just the 3 bites i got out of it was very nasty allso i woke up from a sound sleep 300 in the morning with my stomach hurting so bad i was in the bathroom for a half an hr tryen to get out of there with my stomach hutring so bad i craled in to my bed after takeing a half bottel of peptobizmo i will no go there again i have better luck in my hic town of gladwin with a drunk boss that goes to her car all the time oopps was i sapos to say that i hope u do some thing about that store in mid ! thanks a not happy cus! bernard !

Tammi Williams
from Alabaster, AL
My complaint is that every time I try to use this location, there is an issue with their equipment. If it isn't the shake machine, it is the frosty machine. Today, 1/13/2019 to my amazement the broiler was out of service. I would like to know how on earth do you bill your business on flame broiled burgers, and the broiler is down. I tried to place an order, only to be told that they were only serving chicken. I did not want chicken. I feel that if you cannot provide what you have built a reputation upon, that perhaps you should close the business for today, I know that you will not meet sales for today, because when I think Burger King, I think burgers..not chicken. I was told that the Area Director is Mrs. Rose Williams, and the manager I spoke with by the name of April, could not even provide me the Corporate offices information. As someone who is/has been in management for over 25 years, I know better than the answers that were given. Perhaps the location at 681 1st Street S.W. located in Alabaster, Alabama 35007 is due for a complete overhaul...including equipment & staff. I don't think that I will ever attempt to use the services from that location again. Thank You...very dissatisfied customer.

cathy colao
from Delaware, OH
To the head person whom runs and own s bk I was working for a while and i was threat ok until recent .I was told that would get 8 hours when i work in sun berry i did not yet at all then come to find out other things like manger s date other in epyees and I know that it cant be done been going for some time now .I have not said anything until now because i was lied to you under payed me and i quit on Sunday the 6th of jan year .I do not like to be use s or lied to i came in on days off and stayed late and still got treated like shit .I told christna that i would work with her on days that i did not work at my other job . Then things got bad there .I was only working a few day at a time then one week at a time and then it want were i wasnt even on the paper to work so that when i had it chould not do it any more so i truned in my stuff

Michael E. Peterson II
from West Des Moines, IA
My wife and I went through the drive through at the Burger King at 7275 Vista Drive in West Des Moines Iowa. The young lady in the drive through at approximately 5:00 pm filled our order completely wrong. I received a single instead of the double I paid for, my wife requested no lettuce or onions, both of which were on the sandwich. The fries were cold, both of our burgers were smashed. When handing us our drinks we received which I pointed and she did change it while muttering under her breath. After fixing the lid she handed me the wrong drink. After the transaction was complete, I said thank you and she said yeah. I worked in customer service for 17 years, and 10 of that was management, so consequently, I know how to treat a customer. This is not the way.

sandy coleman
from Germantown, MD
I WENT IN TO THE BURGER KING ON 306 11749 THE GM WAS RUDE THE LOBBY WAS LOCKED ON A FRIDAYBECAUSE THEY WERE UNDERSTAFFED ONCE AGAIN AS ALWAYS AND ROACHES ALL OVER COUNTER COOKS NOT WEARING GLOVES THE GM ACTED IF SHE DIDNT KNOW WHAT SHE WAS DOING AND YELLING AT HER EMPLOYEES IM IN UPPER MANAGEMENT AT MY JOB AND THAT WOULD NOT BE TOLERATED IF THATS WHAT YOU GOT AS MANAGMENT YOUR COMPANY REALLY NEEDS TO JUST SHUT ALL THE DOORS AS UPPER MANAGMENT SHE SHOULD BE ABLE TO HANDLE HER ISSUES AND NOT TAKE IT OUT ON THE EMPLOYEES THATS WHY THE SALES ARE DOWN AND YOU CANT KEEP STAFF BECAUSE SHE TALKS/YELLS AT THEM AS IF THEY WERE ANIMALS I WILL NOT AS LONG AS SHE IS MANAGMENT COME BACK TO ANY OF THESE LOCATIONS GET RID OF HER BEFORE YOU END UP HAVING TO SHUT THE DOORS

Sheryl Motsinger
from Salem, IN
I live in Salem,Indiana and we have a fairly new restaurant. When it first opened it was always clean and food good. For the last several months the restaurant is always dirty,tables not wiped off floors filthy food not hot. We love Burger King but we have been having to go out of town to other Burger Kings. No problem with any of the rest of them! And also a boy that works at Salem pants are way down below his butt crack. He can't hardly cook for pulling them up. I told the manager bout it one day we was in there she acted like no big deal. Didn't even say anything to him! I just don't understand why you would let a new restaurant get in that shape.

Tom DiCola
from Jeffersonville, IN
Been eating BK since a kid, now 65 years young. When this location first opened it was terrible, wrote office to a new location, new mgmt. and staff. Many months later still disappointed. Wait time at register. Wait for order. Then saw order in the delivery sleeve for about 12 minutes. Spoke to who I thought was a manager and asked for my money back. She refused telling me that my order was right there. I explained that it was right there for quite some time. She kept insisting I take it. I did because I was in a hurry. As I expected, cold whopper with cheese and fries are just terrible. Need a new crew in this location. Never again...
Sincerely yours,
Wed Jan 02 2019 05:53 PM T=01L I=3 C=867769 Burger King # 22721 3030 East 10th. Street Jeffersonville, IN 47130
Tom DiCola

Hannah Harris
from Sierra Vista, AZ
I am complaining about the Burger King on Cedar Creek Rd in Fayetteville NC. There have been several times that I have been to this BK and the employees are rude and the restaurant is not clean which has made me not go to this location. However today 190104 I stopped to get a mocha BK coffee and a sausage croissant. First off I don't know if you are told to ration the napkins but every time I have been to this location I am never given napkins thru drive thru. But back to my main issue, so I go to take a big gulp of my BK coffee and on my first drink of the coffee I felt something in my mouth which was horrifying. I pulled the mass out of my mouth to see what is was and it appeared to be a big wad of filth from either the coffee machine or perhaps the ice machine, I wish I had thought to take a picture but I was so disgusting and distraught from what I saw. Regardless it was nasty and very disturbing after the incident once at work I poured out remainder of coffee to look for any other foreign objects there was none. But regardless I was unable to finish my sandwich and now I'm done with BK. I decided to call location to inform them of this mishap before anyone else encounter same situation but phone stayed busy for several calls and when the phone did ring after several other attempts phone was pick up and the hung up. I am hoping this will maybe have some effect on store maybe more checks on cleanliness or something. Until then I'm done with Bk!!!!!!

Christy P
from Hannibal, MO
We were in the drive through 20 minutes! When we finally got to the service window we saw people standing inside for waiting for their order who didn't look to happy. They told us our chicken nuggets would take two minutes and to pull up. The woman that took our money also ran up to the "delivery" window!!! After waiting another five minutes I got out of the car and looked through the glass door. The dude that was preparing the sandwiches was waving his hands talking to the entire crew who was standing around doing nothing but listening to him. (except for the poor girl who took out money). The "talker" pointed at me and a young man came to the take out door. I asked, 'Where was my chicken nuggets' he said oh no! I forgot them! Then after about a minute he came out with piping hot nuggets and apologized. I hate going to this place because every time it's been a nightmare trying to get your food. I finally decided you need to know what's going on there. If you wonder why it's not busy??? Getting waited on was forever and some people are working and need their food quick. This is why McDonald's down the street is so busy...they get your food right and fast. Maybe you guys should rethink how you are handling your food line? I actually love your food but never go because of the poor survice. I was taking my son who wanted the nuggets. Thank you for listening. Gee I wish you guys would do something cause I love the food. By the way. By the time we left I noticed the same guys are still waiting on their food after about half an hour!

Michael Pope
from Omaha, NE
Service wasn't bad. People were not rude. The fries were not anywhere close to hot. I would describe as room temp. Sour dough burger meat very dry. Bread was poorly toasted. Like bread warmed in a microwave. Almost soggy. I don't eat out often and maybe this is why. Tonight it was a toss up between here and the McDonald's just down the street. I reckon I chose poorly.

Susan Keelan
from Miami, FL
I went to my local Burger King (7299 West Commercial Blvd., Tamarac, Fl 33319) yesterday, December 20, 2018 around 1 or 2pm.
I went to the drive-thru window and ordered a Veggie Burger which I have had from this store before about a month or so ago.
I remember how good the first one was and thought I was going to get another one just like it. Unfortunately, when I got home with my burger.... there was nothing on it but a wide piece of sliced onion and 1 little pickle. No lettuce, no tomato, no taste, etc.
My dog wouldn't even eat it! It was a dried up patty on a bun. It didn't even look appealing let alone taste good. I didn't go back because the last thing I need is to have someone there spit on my sandwich the next time I go.
I grew up loving the Whopper and French fries and when I heard about the Veggie burger I couldn't wait to try it. Too bad the caring by your employees to make your product appealing, tasty and enjoyable was not given! It ruined my afternoon and I don't think I've ever complained about a fast food product but this really made me mad! Somebody needs to be fired and whoever trains your employees needs to revisit this store and see how they are throwing these items together.

jackie campbell
from Long Beach, WA
I love your food especially the whooper. I also love that the burger king in Astoria Oregon is the only place I CAN EAT THAT PLAYS fox NEWS, MY FAVORITE. My complaint pertains to the Burger King in Astoria Oregon 350 Marine Drive. I've been going their for many years, 30 plus, because I like the food but I think that's going to stop soon. Lately each time I go all the employees and managers have the dirtiest greasy hair. I've seen them touch their hair and then get the fries. YUK !! In fact the whole crew looks dirty sloppy and bored. No one even pretends to like their job. Very poor moral. Extremely sloppy group. In fact the best I've seen from a fast food group has to be Dairy Queen, clean and cheerful.
Last time I was their two weeks ago I even spoke to the manager about this and she just nodded make some excuses and when back to doing what she was doing before. DID NOT CARE. Weird group. FYI only, Jackie Campbell.

jean chaffee
from Laramie, WY
I went to burger king on grand ave Laramie Wyoming yesterday 12/27/2018 bought the family coupon deal and a medium drink 3 whoopers. 3 cheese burgers and 3 small fries for 12.99 I think he asked us the code on coupon and we told him we wanted cheese on all the whoopers and a medium drink came to almost 18.00 dollars when we got home 10 minutes later we only had 1 fry at the bottom of bag and the burgers were ice cold I heated the burgers in m,icrowave and we ate with chips and after we ate I called them and told manager about not getting all the fries and burgers were ice cold he said if we come back up right now he would replace the whole meal but we werer already out all afternoon for sales and we didn't want to cook so that is why we stopped to begin with I asked him if I could ge the stuff today Friday 12/28/2018 and he said no not tomorrow today or forget it and was very rude...I can get burgers and fries any where and if I don't get some satisfaction I will not go there for awhile...

Judy Sparkman
from Neilson, FL
Poor customer service. Order not right, Waited 25 min to get to window. Only 4 cars in line, left out nuggets from order, and person at window was snippy when asked to repeat order. No smile, no customer service. This was at DUNN AVENUE in JACKSONVILLE. I will never go back again. One to 5 scale, I give it a ZERO

Joseph McAfee
from Barstow, CA
I went thier to eat with my family and once again they don't know who to do the egift card process this is the second time I've had to walk away disappointed ,and almost every other time I eat here I'm always missing an item . And the free meal they gave my
Son so I wouldn't call u the nuggets was burned

gary stroschein
from Linglestown, PA
my wife was in your burger king on w college ave in state college pa in the drive thru the other day and told me how the lady on front of her had a dog with its head out the window....the employee handing out the food proceeds to pet the dog on the head and nose area while the dog is licking the employees hand....then she hands my wife her order....how disgusting.....no more burger king for me

Angela Johnson
from Louisville, KY
I Went to the Burger King on Dixie Hwy. 40258 and was over charged. I called your corporate office to file a complaint and have not heard back. I called and spoke to one of the customer service reps. gave all information needed and I have not got a response from your office. I would appreciate some feed back from my complaint. Ph # 502 -294 - 8967

KC Lascelle-Hancock
from Denton, TX
On Thursday 12/20 at 5 pm, I presented a coupon for sandwiches at the Marinette, WI location. Buy 1 whopper, get 1 free. The same coupon I have been presenting for several years. It is in the weekly church bulletin. The manager on duty made the accusation that it looked like a copy, walked away saying she needed to check with the district manager as she has never seen this before. I know for a fact that I am not the only person who presents these coupons. I felt very bad she left a young girl at the window to possibly deal with an agitated customer! She said she was sorry, but that should not have been her place to apologize. This should have come from the manager. There were several cars lining up to pick up their orders. I did not want to make them wait any longer than they had to. I gave the girl other coupons as well, to show they were not exactly the same from week to week in the bulletin and left.
As I stated, this is from the CHURCH bulletin!! Of course it's a copy, don't you think the church makes copies of their bulletin??? Also, as stated, I have been using these coupons for quite some time now.
I DID NOT TAKE KINDLY TO THE ACCUSATION OF MAKING AND PRESENTING A COPY. This was a false accusation that was completely uncalled for and should not have been stated in such a manner. Possibly bordering on defamation of character!! The worst experience I have ever had at a fast food establishment! In a world where customer satisfaction is the #1 goal of companies, clearly Burger King is not interested in providing a good customer experience.
My husband and I are regular customers at Burger King, as we enjoy the food very much. However, if something is not done in regards to this, we will find another establishment to support.
I do expect a response to this complaint. I was treated extremely poorly am very upset with the false accusation that was stated.
My email address has been recorded above.

Rogers Norton
from New Orleans, LA
1.) I talked, to two other individuals then, my order was taken.
2.)The whopper juniors with cheese. Instead, no cheese, jalapeno peppers were placed on the junior whoppers.
3.)The staff acted as if, I was just there to waste time as they were.
4.) My children were just as shocked as I were!
This was the worst service I ever had at this particular store. It will make me second guess next time?
It was unbelievable, as well truly sad..... Thank you for your time and consideration. RJNSr.

Barbie Rudnicki
from Sault Ste. Marie, ON
The Manger Carla at Great Northern Rd Sault Ste Marie, Ontario store #900019. is of no use she wont leave bagging station to add fries to bag or deliver order completed to cash. Shes unkind when reminding cash girls to give cups. shes not smiling or thanking those sh does give order to. She was unable to fill the order and give to customer. Not a team player at all. We waited 33 min for two burgers. My number was 38 the where serving 20, 48, 33 just to say a few numbers. The heat grill holding area was full all she wanted to do is bag burgers but wasn't able to even do that. all The fries where under the heater ready to be bagged but she never put any in the bags to complete the order. Other workers from back would come help her but because she wasn't giving anything to customers the line continued to grow with people waiting for food.The fry girl and front cash girls and even the cook was helping her find the orders when they could. Then cause she wasn't bagging and handing to customer she shut down one till. I placed my order very quickly order #38 at 12:35 I received my order at 1:05. At some point I looked at the pop machine it was covered in drinks spill t and garbage and unused lids everywhere, I tried to clean it up. The burger was now cold due to the length of time it touch me to get it. then imagine being charged for bacon without any on my burger. I am very disappointed to think one person could cause so much delay by expecting others to do her job. Please mail me my money back $18.75 B Rudnicki 42 Heywwod Rd Sault Ste Marie,Ontario, Canada P6A-6K4 Thank you I hope she will be retrained and or find someone more suitable for manager and team player. All this could have been avoided if she would have left the spot and grabbed the fries and served the customer. Please renew my faith in Burger King.
Barbie Rudnicki

CHARLES WOOLFORD
from Germantown, MD
I received in the mail a burger king coupon sheet. During shopping I stopped at a Burger King Location at 740 E. Little creek rd., Norfolk Va 23509
Because of valuables in car waited for a half hour in drive thru line. When I finally made my order for myself and family and told them I was using your coupon long pause.. the manager informed me, because location is a franchise they do not accept coupons. I left looked on line and found all local BK locations are franchised so no BK locations accept coupons.
My compliant is why would you send coupons in the mail and when customers attempt to use no local locations where I received coupons are accepted . Bait and switch?
Please no longer send coupons or have locations put up a sign that says we don not accept coupons so I don't waste time again
Charles Woolford
2206 Willow wood dr. Norfolk Va.23509

mikewhite
from Newark, NJ
took my grand kids to your store they like nuggets , good deal , French fries not so good but livable, 4 medium sodas !!!! 8 bucks!!!! outrageous. tried to call of course put on hold. after 45 minutes hung up . why must you screw people over? makes people wonder about the integrity of burger king

Poor service at store # 6. I have called and left messages for Jesus Corrons twice to provide details of my experience . He has not returned my calls. Please have Mr. Corrons supervisor call me at 305 595 6033 for details. Thank you.

Tammi Marable
from Cordova, TN
My sister and I placed a drive-thru order. The order was the 2 for $6 whoppers. We added cheese so the total was $7.65. The cashier was given a twenty dollar bill and sixty five cents in change. In the process of checking order prior to driving away, we noticed the wrong bread and cheese directly under top bun. An African -American lady approached the window and loudly commented, " can I help you". I said, "these sandwiches are not properly prepared". The same lady rudely stated she was the manger and the sandwiches were correct. She also commented, " we outta regular bread, you getting potato bread and the cheese can go anywhere". I then asked for a refund. She gave me incorrect change and when debated she yelled, " these (hoes) can't count. my register not gone be short for these hoes". This was in reference to my sister and I. I asked for her name and she said, " ummm I don't do names". This is not my first dispute with this young lady but I am finally at my breaking point with the location on Germantown parkway. I was cursed at, given poor service and cheated out of money. Feel free to personally contact me at (901)570-3701.

Jeanette Wallace
from Dover, DE
I have stopped at this burger king on patapsco ave in Baltimore, Md for the last month. Everytime i order nuggets there is never any bbq sauce. Tonight i ordered four 10pc nuggets and four small fries. I waited over 10 mins at the window and when i finally got my food i was given the wrong sauce and all my fries where burnt and nasty.

Kelli Johnson
from Spokane, WA
Today I went to my closest BK for a snack on the way to an appointment. Of course it was 11:45 so the drive in had a long line. I popped inside where there was only one person in front of me. Oddly, there was ONE person at the counter....I assume a person in the drive through and ONE person cooking in the kitchen. I ordered and waited....and waited....and waited. I could see the food piling up on the pass, but no one was handing out food to customers. Now there is another make employee who is standing in the restaurant with the rest of us waiting for our food (is he on break??). A lady comes rushing in (who I now believe is the manager) and she proceeds to chat with staff, blocks the gal at the counter who is trying to wait on customers...but he's kind of acting like she has no idea what is going on. Still waiting. The man in front of me FINALLY gets his food and I wait some more. Now the lady goes in the back and now there are 2 older men just standing around doing nothing. More customers are standing around...food is still piling up on the pass but is not going out to customers. FINALLY she comes up and starts putting orders together and handing them out. I have been waiting for 10 minutes and I'm now going to be late to my appointment. I walk over to her and tell her that I'm not getting my food (FOUR CHICKEN TENDERS) because I have to go. She just looked at me and turned away.
After my appointment I call the store and ask for the manager...and she says she is the manager, Lynn. When I told her that I left her store without my food after a 10 minute wait...this is her reply: "It was 5 minutes and you can still have your chicken if you want it.". WOW! That is a manager's response to a customer????? WOW! I told her I'd like the number of the owner. She gets off the phone...gets back on and tells me this is a franchise store so she'll have to take my number and have the DM call me. I told her that I'd go online...she hung up on me!!!
I can't even believe this type of treatment. I wasn't really "angry" when I called her....but I'm angry now!!!
Kelli Johnson
509-990-5219
Spokane, WA

Lloyd Miller
from Elmira, NY
Twice I have been to Horseheads NY Berger King and asked for my military discount. First time two weeks ago the manager stated the food is already discounted. 12-13 18, I was told there is no military discount. I drive for a living and I pull into Berger King if the day is longer than usual. on the same day I [pulled into the Sayre, Pa Berger King and received my military discount....as I also do in Towanda, Pa. Being a veteran (disabled to be more precise) I enjoy my military discount. Why is this not so in Horseheads, NY?

They got my order wrong it was cold and they would not give my money back with the receipt I had I'm pissed something needs to be done

Clare Roller
from Lecanto, FL
Florida HOMOSASSA SPRINGS Burger King ALWAYS serves BELOW WARM - DRY BURGERS served on a DRY OLD BUN. Have had words with the Manager TO NO AVAIL. Things better change there or they may as well CLOSE UP. I have even asked for "HOT OFF THE GRILL" and that didn't work either.
We live close to them and WE DON'T INTEND ON GOING AGAIN FOR A WHILE (30-45 DAYS) We'll try it again then and see if the complaints have helped any.
Not sure how you can get through to this Manager. Burger King was our favorite quick burger even if they would give us a JUICY HOT OFF THE GRILL!!
TERRIBLE.

david godfrey
from London, ENG
missing 2 chips made a complaint through the app and still missing the 2 chips

Jerome Perry
from Ashford, CT
I'm from Willimantic Ct there's only one Burger King in this town. I have a complain. I never complained before. I'm a Black Vietnam Veteran and today a couple of Vet buddies we always frequent Burger King especially when we have our coupons. I got my order and walking toward the pick up area to get our cup for drinks there was this White manager. I have to describe him as White because as long as I've been going there's always been a Hispanic manager in charge. Anyways, this particular White manager appeared to either be training or showing off with some of the young female workers there. I asked the workers to please make our burgers fresh - only because during and after rush hour the burgers are sitting up under a HEAT lamp getting roasted and we didn't feel like eating burger with roasted lettuce and scorching tomatoes. I said yes ma'am can you make them fresh for me.. She said.. yessir and here they are. Them manager turn around and held up a French Fry in front of my face and stated: Do you want to check and see if this fry is fresh and hot.
I thought you should know that you shouldn't have a person of that capacity in a position of training new employees like that. It was not only unprofessional but insulting and uncalled for. You guys never know about these thing unless someone tells you. This happen today December 11th a little after 1:00pm if you need me further for verification please email me or call me I will be glad to have this conversation again 860-377-9934

William Mustari
from Homewood, IL
besides extended waiting for dine- in restaurant service (while customers walk out) HOW is it possible to be out of a simple bbq sauce condiment, week after week? I asked for it when placing the order, they said nothing, once paid & served your THEN told "were out"...and they walk off with NO ask of a substitute offering …..how is that even customer service??

Jacquelyn
from Elmhurst, IL
I Don't Know Who Does The Hiring For This Establishment However I Find That The People There Have Very Poor Customer Service and This Is Just Something I'm Not Use To For Burger King What Ever Happened To Great Customer Service Or As Your Model Says Have It Your Way ? Every Time I Go To This Establishment Here In Peoria, IL On The Corner Of Knoxville and Richmond I Have Some Sort Of Issue With Them I Already Put In A Complaint Before Because I'd Bought These Coupons From There ( That Mind You I Still Have Yet To Use ) That When I'd Went To Try And Use
Them They Weren't Able To Oblige, They Are Always Slow and Asking You To Park Ahead, One Time They Had Me To Pull Ahead and I Waited Over 30 Minutes Outside I Tried To Call Inside Because I Was Truly Tired After Getting Off Work And Just Didn't Want To Walk Inside Or I Wouldn't Have Used The Drive-Thru In The First Place But Ended Up Walking Inside Anyway Because No One Would Answer The Phone Calls They Aren't Very Friendly At All Excluding The Early Morning Shift Anyway Tonight 12-11-18 Around 9:30pm I Stop There And After The Girl Gives Me My Bag I Realize That I Need Salt Because They Never Put Salt On The Fries So As She Starts To Walk Away Completely From The Window I Yell Out Can I Get Some Salt but She Keeps On Walking As If She Doesn't Here Me But There's A Crack In The Window Which Tells Me She Does Here Me So I Open Car Door To Knock On The Window When The Manager Herself Comes Through But She Doesn't Even Stop To Ask If She Could Help Me She Sends The Boy To The Window I Ask For The Salt As He Gives It To Me I Tell Him To Tell Her That She Needs To Ask Before Walking Off If There's Anything Else The Customer Needs Before Just Leaving He Laughs I Start To Pull Off But I See Whom I Think Is The Manager Come Back Up And He And She Are Standing There Laughing At Me So I Bag Back Up And Start To Tell Her But She Weren't Respectful About It In Any Way At All In Fact She Started Trying To Mock Me She Is Truly Not Manager Material And Needs To Be Fired So Someone Who Knows How To Be And Act Like A Manager Can Run That Place In A Respectful and Caring Way
Signed Very Disappointed

Jerome Perry
from Ashford, CT
I'm from Willimantic Ct there's only one Burger King in this town. I have a complain. I never complained before. I'm a Black Vietnam Veteran and today a couple of Vet buddies we always frequent Burger King especially when we have our coupons. I got my order and walking toward the pick up area to get our cup for drinks there was this White manager. I have to describe him as White because as long as I've been going there's always been a Hispanic manager in charge. Anyways, this particular White manager appeared to either be training or showing off with some of the young female workers there. I asked the workers to please make our burgers fresh - only because during and after rush hour the burgers are sitting up under a HEAT lamp getting roasted and we didn't feel like eating burger with roasted lettuce and scorching tomatoes. I said yes ma'am can you make them fresh for me.. She said.. yessir and here they are. Them manager turn around and held up a French Fry in front of my face and stated: Do you want to check and see if this fry is fresh and hot.
I thought you should know that you shouldn't have a person of that capacity in a position of training new employees like that. It was not only unprofessional but insulting and uncalled for. You guys never know about these thing unless someone tells you. This happen today December 11th a little after 1:00pm if you need me further for verification please email me or call me I will be glad to have this conversation again 860-377-9934

mary stubert
from Georgetown, TX
broke tooth on big bone in burger JUNE16 now it is Dec 10 . called and BK told me to toss the bone.Manage at the time took a photo of the bone;so I took the bone and tooth piece to the dentist where he disposed of the bone. Got call from BK ins. co 4 months later, they NEED THE BONE> well , wrote the local BK where I bit the bone. NOT one reply from the BK corporate or the local one. NOT EVEN A BK COUPON< (could have used it for chicken)
needless to day not us or our friends go to BK anymore.
6 months and not even a coupon they should be ashamed.

Robert Hempel
from Sierra Vista (Fort Huachuca), AZ
Store# 18181 Fort Sill, Ok
I placed my order at 1118. I ordered a #1 with cheese, no onion, medium onion ring, 2 onion ring dipping sauces and soda. I was told to move forward because my order wasn't ready. I pulled forward and sat and waited for 19 minutes until I received my order. When I got back to work I opened my bag to begin my lunch, there were 7 bite size cold onion rings with no dipping sauce that I had asked for. They had 19 minutes to get this right. I'm not satisfied.

Dave Homer
from Cincinnati (Central Business District), OH
New promo ref Whopper for a penny when ordered from McDonald's location is not honored at all stores. No mention of this in the advertisements. Very underhanded attempt for attention. Hope it costs NO a lot of customers, which I'm sure it will.

steve Warren
from Smyrna, GA
The managment of the Smyrna bk let's a man called fast Eddie live in his car a black Toyota SUV and live in the restaurant watching sports TV and get manager meal discounts he harasses my wife and other females partons can't even watch news stories or be comfortable eating meals I will go to the local news if it isn't addressed soon the burger king on southcobb drive in Smyrna Georgia 30080

Christina Cramer
from Raleigh, NC
Today, 12-6-18, I ordered lunch at BK in Grass Valley, CA. I wanted the crispy chicken bacon cheese meal. I was told they were all out of any crunchy chicken. I asked if I could have a broiled chicken on it instead and was told yes. I even said to her how much I was looking forward to all that melted cheese and the bacon. I get home and what I got was a plain chicken sandwich that was rubbery and tasted like it had freezer burn. Also, there were raw fries mixed in with the cooked ones and the cheese nuggets were awful. In my youth, I worked at the BK in Oxnard, CA and was very proud of our food and service. I spent $40 buying food for myself and friends today. For that amount of money, I would have like to at least enjoyed what I got. I did not. Not to mention that last year I went through the drive through and used my card and never got it back....sadly didn't discover this until I got home. Yes I called and went back there. Unfortunately it was a debit card that you didn't need a pin to use. It has $30 on it. There are many fast food places to choose from in my town. I'm hoping to get some kind of redemption for the terrible food I received today or that will be the last time I patronize your establishment.
Sincerely
Christina Cramer

Krystal Gonzalez Hatch
from Farmington, NM
What kinda restaurant has a terrible General manager and allows bad customer service and don't not like my service and tells me to leave and eat some where else? Treat my kids terrible, never got my order until 45 mins away it's terrible, too make everything worst I seen this post on Facebook, fix your burger king employees or will take this to the news and get your word out, this sound very disgusting, now I want my kids check, this ain't allow due to HIV being toss around not right
charmaine the manger name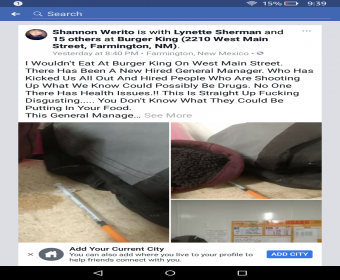 I am a retired 35 year Public Safety Police Det, as well as An Air Force Security Veteran. Currently, I am a member of Luke Greenway Post-1 American Legion, where I have playing Taps at Military Funerals and Memorial Ceremonies. Back in March of 2018, my wife and I went to the Burger King #16209, 1970 W. Baseline Rd, where we place an Order # 36, with Survey Code 3 70363-96111-37221-080944, where we purchased 2 Whop, 2-CHS BRG; 3- SM Fries, 4- SM Cokes. When we ate our foods, the burgers tasted old and stale; the fries were cold and tasted greasy and old. I called the Manager Diana and reported our dissatisfaction with the Order. Diana listened attentively, and said to keep the receipt and write her name down, and to come back in whenever we were ready and they, Burger King would Honor and replace the entire order. On Dec. 4, 2018 I returned to have the Order Honored. I met with Manager Karla, large heavyset Mexican female, and presented the receipt and conveyed to her what Diana had stated. Karla examined the receipt and said "You see the Date, it has been since May, 2018". I said we were never told there was a time limit or a mandate. Karla said her position for refusing to honor the receipt and what Manager, Diana promised us, was the date of back in May, when in fact it was March. I advised Diana, who said she has been with Burger King 10 years, I would contact Coperate Management to have them consider our plight and her refusal to honor what Diana had promised us. I then order another Meal Order # 67 for $ 12.14 and left. I strongly believe Diana's word should have been honored.Thanks

Sarah Blaisdell
from Lady Lake, FL
I was trying to order through the drive thru at around 615 a.m 11/28 and nobody acknowledged I was in the drive thru I pulled up to the window and there was about four people standing around smoking something inside the restaurant when the manager opened the window she said they wasn't open yet smoke was coming from her mouth and smelled like marijuana. Also to day 12/3 at approx. 630 a.m I and my daughter went thru the drive thru and this time was yelled at by the person who identified himself as the gm when we got up to the window to pay and he was cursing at us and being rude and said that Burger king corporate wont do anything to him go ahead and f*****g call them they wont believe you and he shut the window. I asked where my recpt was he said in the fu*king bag b*tch I looked my daughter looked and so I went inside and stood there until he finally printed me one 10 minutes later so I threw the food in the trash because they may have poisoned it also I have a video I am thinking about posting online also letting the news station for The villages Florida have a look at. That BK will be shut down after they see how this GM and manager treats customers.I would like to speak to the owner within 3 days or I'm sending the video out to the news For the villages Florida...3524189369

Alberto garcia
from Chicago, IL
No cheese on my sandwiches and my hash browns were so hard and not edible.Also no cream or sugar in either of my coffees

Maryanne
from Lancaster, NY
Kinda annoyed , went through drive thru yesterday morning . The girl asked me to pull around and she would bring my food to me, when I asked why there is not a car behind me , she said we get timed on the orders ????? Ok ?

todd malin
from Sierra Vista, AZ
I have been at the Fort Leonard Wood Missouri store two times at drive through in which the line of cars was lined up past the window that you pay in which the wait was so long that people just drove off. The workers there are in slow mode but are fast at taking your money. I have also been to the store in Waynesville Missouri twice in which when walked in nobody in sight after calling a man and woman came out and the second time nobody in sight again in which I just left. I guess I will give my business to Taco Bell or Mc Donald's . These two locations are a joke. They take no pride in job it seems . Have a great day.

Jaquita Lyons
from Concord, CA
On 11/30/2018 I ordered a Ham Egg and Cheese croissant meal and to my surprise when I got to work I opened my bag and they gave me a Chicken Egg and Cheese croissant instead. I called several no answer. I couldn't leave to take it back due to being at work. I am very disappointed because I should not have to check my order every time I go their in the mornings. Now I am hungry and out of $6.00.

Patty A Dela Cruz
from Chicago, IL
Went to get lunch saw all sorts trucks and yes saw drive thru tore up but no notice onbig sign saying anything about being closed. Parked walked up to first entrance and got jumped on for walking to door. Was told closed asked where was sign lady says here on door(which was open away from me) couldn t see it. Stated should be on sign on roadway instead of advertisement for food items after all have people coming off of I55 24/7. This is burger King in Litchfield, Illinois Went across street to Jack Box. This doesn t surprise me with the manager you have there.

Brenda Howell
from San Francisco, CA
.I visited your restaurant 9512 Preston Hwy. Louisville ky. I was extremely disappoint ed.I had to wait in line several minutes for someone to take my order. After that , I waited for 15 minutes to get my order. There were several other people having the same wait. One man on the grill was loud and extremely obnoxious. The lady that took my order apologized, and said they have to listen to him all day. When I received my order, it was not hot, as it had been sitting under warmer for awhile, fried were undercooked. I'm not sure I will return again. Thought you may want to check on this location, as there was a manager there and did nothing.

Lorraine
from Johannesburg, GT
Westgate 120 Ontdekkers Road Westgate
This was my first visit to this Ontdekkers Road.
The first impression was dirty and smelly.
The cooldrink fountain was empty and only had pepsi available.
No onion rings (but nobody warns you and only after paying the manager will announce "no onion rings)
The burger itself was on the dry side not as juicy as the other stores we normally visit.
Thank you for taking the time to read this mail.

Debbi Hill
from Toledo, OH
Drive thru was blocked. I went inside, informed the crew member at the counter. Another crew member stated she was happy because she could go home early and she didn't care because she had another job. The person preparing orders was eating chicken nuggets from the pan while preparing my order. I ordered nuggets, got my order, went home and put them in the garbage, because of the unsanitary crew member. The young lady who waited on me was professional, the manager did seem to be. I started to call the health department on the issue of the person eating of the food, but decided to let you guys take care of the situation. There is always something at this particular one. The location is on Monroe St. across from Franklin Park Mall, Toledo, Ohio. I look forward to hearing from your company.

Sharon Layton
from Livonia, MI
Tonight at 7:20 we went into the Burger King at Wayne and Cherry Hill Road in Westland, MI. One man had just ordered and was waiting on his food, another two men placed there order. The man working the order counter then left us standing in line to help with the food. We had no problem with waiting for our turn, we did have a problem with what happened next. All of the employees were fighting with each other, yelling at each other and complaining about what they had to do and what the others should be doing,about going home and leaving. They could of cared less that there was customers up front. Finally the one man working the counter came back, visibly mad, one of the other customers said such a nice friendly place to come to, at this point the man working the counter takes off his head set and slams them on the counter. He then asks us for our order, at that point we just said we would take our business elsewhere. Needless to say we will no longer be visiting this Burger King or any other one anytime soon.

Bonnie johnson
from Great Falls, MT
I was to the 315 Northwest Burger king on Thanksgiving morning with five women. I have never been in a dirtier place and had the worse service ever. I had to clean the sitting area we sat in because there was mud all over the cushions, I ordered a sausage biscuit and coffee. When I saw the biscuit it was burned and crumbled all apart. So I returned it and got another, same thing, I threw it in the garbage. I watched a couple and their daughter wait over half an hour for their food, said they would never come back. The place is so poorly managed and dirty I will use the coupon I got for filling out the survey at our other store on 10th Ave. South, Great Falls, MT. I have always liked Burger King and use to go there all the time because it is close to where I live, not anymore. I just wanted your corporate to know , it is a shame. Also the help was in a daze, it seemed like, but then again they were so short of help I could see why. They have no lobby person and I know that is the reason for the filth but the workers could at least clean the tables and places to sit. Thank you, Bonnie Johnson ( 4064536579 ) I appreciated the fact that they were open on Thanksgiving, but will not go there again till things change

Rude girl at the drive thru window scowled when I asked to add an additional nugget before paying. And then rolled her eyes instead of saying thanks or have a good night. No good reason to act like that.

Chief Thomas Berggremn
from Harvey, LA
Over charged for food, with a coupon. Tried to explain to cashier and manager 1 cheese whopper and large fry with a free whopper coupon was not $12.87. Took several tries to make manager understand they didn't take off coupon for free whopper. Manager was very rude, saying thats how it rang up don't know what to tell you. After explaining how much 1-whopper and 1- large fry add cheese should have been because 2nd whopper was free with coupon, finally manager swipped card. Have fire stations with 30 men plus 25 volunteers that did go to that Burger King, after talking to men at fire station that Burger King is known for being rude, and not getting orders right. Sorry Burger King, McDonalds down the street will be going there for now on. 6201 Lapalco Blvd. Marrero, La. Burger King with poor attitudes and work ethic. Not that this complaint will change anything. Just thought you would like to know you'll be loosing business from quite a few firefighters and their families.

Gretchen M Rusk
from Fairfield, IA
As a frequent customer, I don't expect to be charged for a condiment. My visit to the Fairfield Iowa location tonight will be my last visit there. When I asked for ranch dressing, the assistant manager rudely informed me that I needed to pay another $.22 on top of the $22.01 I had already paid. She bluntly stated that my order did not contain chicken nuggets or a salad so if I wanted ranch I would be required to pay for it. After paying for the condiment, and arriving back home, I discovered the cold hard french fries were't worth dipping in my $.22 ranch at all. I believe my $ will be spent at McDonald's, where I have never been asked to pay for a condiment. You might want to consider adding to your slogan because it it inaccurate. It would be better stated as "Have it your way, but only if it's ordered with nuggets or salads". thanks for listening to a former customer.

Chester Woodburn
from Urbandale, IA
On November 13, 2018 I stopped in at your Berger King Store located on *th Avenue in West Des Moines Iowa at around 1:00pm or so. I ordered two whoppers (which were to have been 2 for $6.00) and a small order offries. I used a visa card ending in endind in 3922 and when presented with the receipt noticed that the amount charged came too $13.22. I pointed this aparent mistake to the register attendant and she said she did not know how to reverse the transaction. She called another employee over and that employee acknowledged the error and told me that \he would tke care of it. I thought nothing further of the situation until I recieved my visa statement whick showed the the charge for the two whoppers and fries remained unchanged and the card remained charged for the $13.22. Two days ago I returned to the same store and tried to get the matted sorted out. This would have been in the early afternoon. The cashier told me she couldn't help but would get her manager. Even though the store was not busy at the time I stil had to wait for about 10 minurts for this person to come out to the coumter. After explaining the situation and showing her the resent visa statement containing the over charge she said ther was nothing she could do about it but that she would refer the matter to either "Jen or Mike" and one of the two of them would get back to em. I left my name and number with her but have heard nothing further. Although the amount in dispute is negligible, I find the situation highly irritatable. The experience rates negative stars.

Valerie Gaylord
from Key West, FL
Burger King #8 is the filthiest restaurant I have ever been in. The man after us got served before us. The staff was very unfriendly. My chicken sandwich was a deep fried greasy piece of cardboard that I didn't finish but still got sick a couple hours after. My husband got his whopper and was told his fries would be brought to him and after he finished his whopper he went and got his fries. I did not complain about my sandwich because the staff was so stiff and unfriendly. The Burger King in my town is very friendly and clean. We travel to Key West several times a year but will never stop at this Burger King in Miami again. No I don't want a free burger. I would rate my experience a minus.

joanne hitchens
from New Haven, CT
i waited @ drive thru for 5 minutes or morei called out hello 5 or 6 times no answer . i blew my horn 6 times no answer. So i drove up to the window and complained. So the order was taken there. when I got to the window they had me pull up to wait for my food. i went inside to complain to the manager. He came over and never said he was sorry. then one of the employees said "i shouldn't have even taken your order"

Bob Duckworth
from Cape Girardeau, MO
We stop to eat a bite at 495 S. Mt Auburn in Cape Girardeau, Mo.....this is a very new building......the floor around the counter felt like it hadn't been mopped since the place open, and if they had been mopped it sure wasn't with soap and HOT water, very slick, my wife just darn near fell. I went into the mens bathroom and my shoes kept sticking to the floor...this is terrible, especially for a new building. One employee was taking a dinner break I guess, she seated right behind me in the next booth, the smell was unbelievable, I know body odor when I smell it, so bad we couldn't even finish our sandwich. I know for sure I WILL NOT be going to that Burger King ANYTIME soon, what a waste of my money that meal was.
You need to clean this place up real soon before you lose all your customers for I know there are many that go there daily for there is a Hospital just across Mount Auburn Street

Dale Battrick
from Helena, MT
I was at store # 17433 in Helena Mt. on 11/10/18 in the drive through at about 500 pm. I told them my order and proceeded to the window to pay and pick up. The first thing I observed was that none of the employees that I could see were wearing disposable gloves. I ordered two sour dough king singles, two large fries, and two lg. chocolate shakes. The sourdough kings were doubles and cold. The chocolate shakes were more like chocolate milk and when I told the young man at the window that they were really thin he said "well they're a shake "shut the window and walked away without even asking me if I want a couple new shakes. I am a manager of a very busy deli here in town and from what I observed from this burger king was a very bad example of great customer service. Sincerely Dale Battrick

Susan G Rowe
from Exeter, NH
I would like to know if it is Burger Kings policy to lock the doors and make people go to Drive Thru if you don't have enough help?? I love Burger King but very disappointed to see this happen at Burger King in Stratham, NH on Nov 9th at lunch time. I found out that this is general practice for the one in Epping NH but had never experienced this before at any fast food chain. Needless to say I will never eat at either of these places again.
Not Cool Burger King

Daniel Bell
from Jacksonville, FL
I was treated very rudely and they couldn't get my order right. I ended up with things that I didn't like and I was disgusted and had to purchase food elsewhere. Total waste of money that I can't afford.

Patricia Judge
from Birmingham, AL
I bought the #2 meal and my meat was raw. Tried to call to let them know so they would check the burgers and make sure they're done but no one would answer. If the burgers are not cooked to a certain temperature it in Health Deparment violation..

Coy rogers
from Denver, CO
Ordered my food at 3:03 just now received my food at 3:30

Barbara Hilliard
from Houston, TX
I went to the Burger King in my neighborhood (about 2 miles away) and I ordered a TX DBL WHOP, No Onion, No lettuce. 1 LG FRY, 1 LG DIET Coke. total $10.71. When arrived home to sit down to my meal. I got my LG FRY and LG drink but my Whopper was just that. A reg. Whopper with Lettuce! I called, 713-964-9100 to let them know that should be more careful about what is in the bag when a customer leaves. And the girl just hung up on me! Not only did I not get what I ordered but the employee was rude!! It was the Burger King on 2803 Yale Street, Houston Texas
@12222 order # 51.
Sincerely an very unhappy customer
Barbara W. Hilliard

GLEN LAPOUBLE
from Kenner, LA
My wife and I went to the Burger King on West Esplanade near Chateau in Kenner, La. First "Ariel?" said she couldn't give us a receipt. Then my wife ordered a frozen coke which was a quarter filled, she said the machine was broken. My wife paid for the double king with grilled onions and when she took a bite she brought back to Ariel complaining that it only had 2 slivers of grilled onions and looked nothing like the photo they advertised on the board. She just shrugged her shoulders like there was nothing she could do. I got to tell you, there's too many fast food joints to waste my time.

Dorothy Dunaway
from Charlotte, NC
I went to Burger King in Lavergne Tennessee.. Went through the drive-thru.. Workers were unfriendly... got my food.... Get about 2 minutes down the road reaching bag to grab a fry..... The two Whoppers were cold and the cheese was not melted at all.. One was supposed to have onions lettuce mayonnaise only it had ketchup and mustard on it also... Fries tasted like they had been sitting there for ever... Chicken sandwiches had dry buns.... I ask for light ice in the drinks and they were full of ice... I also ordered a large onion ring and got for onion rings.. I didn't have time to turn around and go back because I was expected to be somewhere at a certain time... So we had to heat everything up and then that made it taste even worse. P. I do not go out to eat often at fast foods but when I do I expect my food to be hot and right...

Monty porter
from North Las Vegas, NV
Just tried the "philly cheese steak king"
Don't wat your money it is just a burger patty with some cheese sauce on it
No philly steak in sight

Paul McIntire
from Eugene, OR
Went to BK on west 11th in Eugene OR today 10/26/18 about 11:40 am. Did order and assumed it was ok but it did seem high. Cashier wouldn't wait for me to get change from my pocket even though I told her and gave her 8 cents so I could get all bills back. Bill was $8.08. She gave me 11.92 plus my 8 cents and did not provide another dollar and keep change. She put our cups mouth side down on counter (health issue) and rushed us off with our receipt. She did not ask what dip I wanted for nuggets. Had asked for a bacon cheeseburger but receipt showed a double. A senior drink was ordered but receipt showed value drink. Nuggets were undercooked. Tables were dirty. Bathroom was dirty. Sink had been pulled from wall and extreme caulking fix had been made and sink was grimy like an auto mechanic had been washing there. Could not find a manager and it had gotten busier. Definitely a bad experience which included being overcharged. Should not have happened. I enjoy BK and eat at BKs often. Just thought someone should know about this.

Raymond mullins
from Fayetteville, NC
The manger at your staunton va store charge me for one whooper win i ask for two then win i ask her to correct the order she got very rude about it i left went to mcdonalds and will never return staunton virgina store ty

kim
from Simpsonville, KY
waited 10 minutes in the drive thru only to find nobody was working it. eventually everyone just drove off. There were people working inside but nobody would answer at the order kiosk or come to the window. A lot of lost business.
Blankenbaker location Louisville KY 7:10am

I never had any problem with Burgerking until tonight. I had to place a order for my brother since we had went out of town due to my father having a interview at a car lot. Afterwards we stopped by the Burgerking located in Lima, Ohio the address to this place is 1860 Harding Hwy, Lima, OH 45804. I ordered and as we approached the window I kindly asked the woman for a cup holder. She has no problems getting me one. Yes, I only ordered three burgers, a fry and a drink. But, my fathers truck sometimes is awful and has no cup holders so I asked for one so it could be easier to hold during the ride back home. I noticed the girl behind her ask the girl who was handling giving me my order : Why are you getting a cup holder? I can't tell you what was said but because the girl who was handling my order's back was turned. The other girl gives me a dirty look and goes back to the girl handling my order and says: For one drink? That's stupid. And then looks back at me all with a rude disgusting look and laughs while she makes fun of me from the drive thru window. I called the main place up and don't know honestly if the situation is gonna be handled but I have a funny feeling it is not. But, I have NEVER been disrespected like that at all and I don't tolerate being treated with disrespect or made to feel that what I ask for is stupid. How I feel is that we are customers don't ever ask for much and its their job to make sure are orders are full filled to our desire and our happiness is meant. Which tonight mine was not. My number is 567 295 0493 If you have any other questions but just wanted to file a complaint but I won't tolerate that kind of disrespect.

Barbara Gomez
from Napa, CA
I live in Napa California. Burger King advertises 10 chicken nuggets for a dollar but I have been to the Burger King in Napa 4 times in the last week, and they are out of chicken nuggets. When I have tried to speak to the manger about it, all I get is that they just run out of them fast. If your going to advertise something for a redused price then you should make sure you have enough of the item .

akash
from Chandigarh, CH
I had ordered 9 burgers on 12th July 2022 from Burger King outlet located at BESTECH SQUARE MALL, MOHALI-59 with bill amount Rs 576.36 and order number was 2326. The distance from the outlet to my house was less than 2 kms but i was so harassed that day that the order didnot come for more than an hour. I had some guests waiting for the order who had to leave the town that day but they kept on waiting and waiting. We were so embarrassed that day. We kept on calling the customer care and got no assistance. We called the store number but it was coming off. We called the deliver boy number sent to us but that number was with some boy sitting at burger king store . He said that the order has been sent but still after waiting for another half an hour order didnt come and he ultimately switched off his number as well. Later he gave another number of delivery guy which said that he was given order just now which was approx one and half hours after the ordered time. I just want to say that if this is the kind of service been offered by such a reputed branch , you will loose alot of customer base in India due to some non efficient staff. And no staff was supportive enough to call and console for the order delay and harassment we faced. Really disappointed with the services of Burger King. I am a regular loyal customer of burger king but they have lost a loyal customer now.

Geraldine Riley
from Fuquay-Varina, NC
Like i said before I received 2 burgers and 2 fries and no sodas which I payed for. There response while dancing was no ice all machines broke but no signs saying out. All Jessica wants to say is you can get $5.00 toward a new order. I never got my money back for the sodas I didn't get. All I know is management is lacking and corporate is not doing their job.

Rudy brown
from Brooklyn, NY
I stop by Burger King at 70 airport road in Hartford, Connecticut to grab a bite, but before I did that I went to the men's room to pee, upon entering the men's room, the floor, walls, toilet faucets and urinal had feces all over. I was blown away by the condition the men's room was in, so I went to the manager to let her know that the men's room is in a beastly state and needed some attention. Surprisingly, the manager immediately got offended and aggressively by informing me that she doesn't go in the men's room and so the cleaning crew will clean it some time later when they arrive. MMM. Immediately the only thing went through my mind was, so isn't all those young men and women I see back there preparing meal's for customer using the same disgusting restroom customers are using! This is bad, awful, I'm done with fast food restaurants…especially Burger King! They made sure to hire enough staff to serve and grab our money, but ignored the health and safety of the customers.

I went to the Burger King on park street in Regina saskatchewan I ordered just special that 2 for $8 I've got the king deal and the quarter pounder I've seen it sitting there for about 10 minutes 15 minutes the staff are running their around they don't even know what they were doing He doesn't even acknowledge that their customer's standing at the tells she looked like she was running around with her head cut off

Paul Petrovic
from North Versailles, PA
I visited your North Versailles Pa. store and what a joke to say the least! In line for the drive thru for 20 mins get to box I hear the girl 4 times itold her I could barely hear her for 10 mins, so I pulled up to window and told her and said want to order she told me to go back around I said where's the manager. Well she was at the other window and me to come in she'll take my order so I did reluctantly. I place my order for 2 original chicken sandwiches with heavy pickles med fries large onion rings well the rings were so damn hard I pitched them almost 3.00 out the door and my sandwiches barely had lettuce and no pickles What a waste of my 11 plus dollars I really appreciated that!

cugrad16
from Grand Rapids, MI
Most of the 20 locations in my area have closed in recent years, if that says anything. Blame it on the Covid or what. Professional service flew the coop apparently. The last few times I visited one of the few remaining stores left, they had 3 workers on-duty, who were somewhat courteous, and got my order right. But the price hikes got ridiculous, with declined food quality. A small fry that was $1.69, is now $2.29 etc. I know I'm not game on that, when I received a pack of fries that aren't fresh. And going back through drive-thru becomes a waste of time. The workers no longer seem to care. Sick of working fast-food I guess. Its insane how much the stores have declined over the years. Vehicles once wrapped around the buildings during lunch/dinnertime... now just empty lots. Its truly sad because I enjoyed a good whopper sandwich on occasion.

Barry Pittard
from Atlanta, GA
I really jus waited almost 40 minutes & then still got my order wrong I spent almost $30 & didn't even get som of the stuff I jus wish I could get a refund because I'm unsatisfied

Myra
from Philadelphia, PA
Worst experience ever slow service wrong order wen I addressed my issue a young kid claiming to be a general manager was completely disrespectful when I asked to talk to his boss he was completely ignorant to my problems with this store and his answer to me was don't come in my store again this happened in Buena NJ totally unprofessional will never go back to that store again

Miller Gary
from Charlotte, NC
So I went through the drive through and ordered two hamburgers one double-bacon cheese burger plain and a small onion ring. So I got to the window she read my order as two double bacon double cheeseburger I told her that is wrong. She said no it is not. I said yes it is. Well that's what I got a wrong order. This was 5;00 last night at the Bk on leetsdale in. Denver Co.

Mellody Jones
from Highland, IN
I recently had a issue with an order that was placed and I was compensated with a $10 off coupon so I placed my order again to redeem at the restaurant by my house which doesn't close until midnight however they decided that they were going to close at 11:30 which is against the law like you can't just close when you want to close and that's the problem with this restaurant they have hired workers who don't want to work and they're unprofessional and I'm sorry they're disrespectful and I'm tired of it.... so I placed my order and I pull up mind you they don't close till midnight I pull up at 11:30 and the lady lies to me and says that they're closed and I said I have a mobile order and it's already been redeemed she then asked me what my order is and I stated it to her only for her to lie and say everything that I ordered supposedly is out of stock so now we have blatant lying I not only want my money back for the original order but I want to be compensated for this as well this is ridiculous my first order was messed up then I was compensated for the issue then I go to the restaurant and they close 30 minutes early their sign says they close at midnight they closed at 11:30 then lied and stated that none of the items I ordered were available.. when I asked her how could I get this fixed she stated that she had no idea how to fix it she had no idea how the mobile app work nor did she have any idea of how I can get my money back now this is one of your workers she needs to be fired to be honest and she works at the Griffith Indiana location located on ridge Road this was placed at 11:30 tonight so it shouldn't be hard to see who she was but she needs to be fired you're lying to customers you refusing to fill their orders simply because you don't want to like this is not how the restaurant industry works I am a small business owner and thankfully can work for myself but I used to work in the restaurant industry and I know that you can't close early because you don't want to work and you cannot lie to customers nor can you take their money and you need to be informed of what they need to do to eradicate situations she may know attempt to eradicate anything so this is ridiculous this is my third complaint

Lodgy J Dugas
from Lafayette, LA
on 06/03/ 2022 I arrived in Franklin La. to visit friends from NY. I stopped at Burger Kind 1829 Main St, Franklin, LA 70538 for coffee and a sandwich because I was a little early, at the drive thru when I was handed the coffee the top was not put on correctly and the whole thing spilled in my lap. The manager came and filled out an accident report, She told me someone would get in touch with me as of now i have not heard from no one. I had to drive back to Lafayette La. to change clothes and return back to Franklin forty eight miles away.
Plus the seat cover on driver side was was destroyed . It is bucket seat and only driver seat is involved.
I would like to get this resolved with out having to employ a lawyer, all I want is to recoup my extra mileage and my pants and seat cover.
If i don't hear from anyone from Burger King I will be forced to talk to a lawyer to see what can be done about this.
Hope to hear from some soon.

Jeremiah Ferguson
from Mount Vernon, OH
We order a lot to Burger King and the store on South Main St. Mansfield Oh ,on June 12/at 8 I done a online order and It said my food was enroute to my door and it never showed this has happened several times . I was charged for it . The store closes early a lot and the managers are very rude . I feel this store should be checked out BC this has happened more than one time. Whoever is in charge dont care what the workers do either BC I've been though there drive thru and they messed the order up and instead of fixing it rote there they made me go back and get in line before they would fix my order before . Ridiculous service I hope somome checks into this place BC chargeim people for food they domt receive is theft. Ty have a great day .

The manager had a bad attitude. When she came out from the back room to run the cash register. She shook her head in disbelief. As if she could not believe there were this many people waiting to order. My wife mentioned we were not able to get into another Burger King's so we came here. She memtioned to my wife there were not enough people scheduled. The manager said she was about, and later did, close the dining room. After she took all of the people's orders. She locked one of the two entrances. When she saw people come into the dining shd raised her voice and told them the dining room was closed.

Diane Kelly
from Phoenix, AZ
Went to Burger King SW FL Airport catching a flight last night at 6pm to St Louis. The flight was slightly delayed so went into BK. I should of known the whopper meal would not be any good just by looking at the restaurant and how dirty the tables, floors, everything was filthy. I should of walked away but was hungry. So my husband & I had a whopper meal each and the whopper was stone cold and the fries, I'm sure, had been sitting for some time. Not crispy at all. Wanted you to be aware how my favorite place to eat let me down. Whoever manages that BK needs to look at the lack of cleanliness. Get the health authority in. The 2 guys working were chatting not busy at all. Needs much improvement.

Cyndi Miller
from El Paso, TX
I came in and got a double Walker Texas meal and to your waymeals and they screw them up they brutum up the gave my husband a small fry and his drink was completely wrong and they didn't make a Burger right at all and then the your way meals were missing the chicken. I called the manager and she said she would put my name in the book and the sky here saying that he can't find my name so I'm sitting here waiting for the manager to come back and I'm now gonna be late for my day because she didn't put my name down like she said she would. I feel like I am not being treated like a good customer and I don't think these guys motor on the store the floor is disgusting and filthy which which that's pretty normal for a fast food place but good place but it seems kind of stupid that I have to sit here and wait and the more I look at the floor the more I think I don't wanna eat here.

Yovana D Brown
from River Park, FL
It's ridiculous how this location at 7667 is never open on time in the mornings and in the afternoon it be closed early it's ridiculous that's why they don't have any customers come here now because they have no employees they open late they close early how do you have breakfast if you're not even open at least by 8:00

Joanne
from Abbotsford, BC
On Saturday May 14 at 1:32 pm my family and I went to the drive thru at Burger King at 1843 Sumas Way. We did our order and when we got to the window we had a coupon on the phone for free fries and drink. The lady, older, would not take it, she said we should have told her when we made the order. We said we saw no sign to indicate this and asked to use the coupon and again she said no and shoved the debit machine towards my son. RUDE, NO customer service skills at all. If we cant use the coupon at the window there should be a sign saying this when you order at the machine. Not everybody is a mind reader.

Bonnie Jolly
from Arvada, CO
My husband ordered a double cheeseburger and a order of fries off the value menu. He told the gal at the front counter and even ended up telling the guy that was on the grill as well as another gal that he wanted light mustard only! He told them three times. We had already rated 20 minutes to place our order inside of the restaurant. He gets to the table open the sandwich up and it has everything on it. I told him it looked like it been on the floor as well. He said he was too hungry and did not want to wait for 20 more minutes and worry about them doing something else to his food. They were all speaking Spanish. I guess they didn't realize that my husband was very fluent in Spanish. They were being very disrespectful and they had absolutely no reason to be disrespectful. I took the hamburger wrapper with everything that was on the sandwich that was not supposed to be there to the front counter. I set it on the counter and I told the girl to come over and I told her that my husband told her three times as well as the gentleman in the back on the grill that he only wanted light on the mustard nothing else! She just looked at me like I was stupid and she did not care. I get it they don't make that much money. I don't make that much money myself. But if they're going to work someplace and totally not listen to the customer no matter how much they spend and be disrespectful about it I won't be going back to your business. I didn't spend very much money less than five dollars but it's the principle of the thing. I got food poisoning from a Burger King here in Colorado about 25 years ago. I just started going back to your restaurant. I guess I will have to quit coming back with the kind of service and attitude that I got

Elaine Geary
from Orlando, FL
I'm not sure where to start, the new BK on County Line Rd in Lakeland is worse than horrible. I live 3 min from here and I try not to come because of the quality of food ,poor service and the fact that its always wrong.But today might have topped the cake when I was ordering in the drive through told me "I CAN COME INSIDE THE LOBBY TO GET MY TEA BECAUSE THEY WERE OUT IN DRIVE THROUGH" ! And my sandwich that I asked could be fresh , WASNT but instead not even barley warm and hard.

We had a Whiskey burger today but it wasn't like you advertised on tv. There was very little sauce and the beef was tastless.

Joann harris
from Jackson, MS
On Wednesday May 4,2022 , approximately 1710 hours , my sister and I entered Burger King located at 1470 Canton Mart Rd , Jackson Ms. There was one customer seated and another picking his food up from counter from employee #1. There was another employee , I assumed to be manager because her uniform shirt was different. She came over I thought to get our orders but instead she fumbled with the card machine on counter for probably ten minutes or more. Not once did she say I'll be with you or give me a second or even acknowledge us in any way. Employee #1 began bagging orders and at least twice looked over at my sister and I but never asked to take our order. We stood maybe 5 more minutes and still no service. My sister then said come on Joann we don't have to stand here like this and not be served. Even after that statement neither employee said anything or motioned for us to stay. We frequent Burger King often but usually that location. We have never experienced such rude and horrible experience. This experience has left a bad taste with me. I would not want my business represented by these so called employees. They were clearly rude unprofessional and uncaring. I Wanted you to know the type of service being rendered at your establishment. This is not fair to your business or the customers. We just were not treated right today. Thank you for listening
Joann Harris
Rosemary Harper

Jennifer R Phillips
from Antioch, TN
I went thru drive on hall road in alcoa around 6:45 today and I had a coupon for 2 whopper meals,as I was trying to order ,when I finally got up to the speaker the person that was taking my order was rushing me and asking me if that was all before I could finish telling him how I wanted my burgers but I managed to to tell him that I wanted both with cheese only pickles, ketchup and mustard on one and on mine no lettuce or onion, when I got home to eat I noticed that my burger was wrong and they didn't put a receipt in the bag,but when I tried to call nobody answered, I thought they were in a rush so I waited a little longer to call, finally at 8:57 I called and a girl answered the phone but I didn't get her name,I asked for a manager and she said that the manager was busy and paused for a minute and I asked when I could call back because I needed to speak with them and she told me 10 minutes, I waited til 9:07 and finally got ahold of the mgr,Josh and I explained to him what had happened and that I had been trying to call since 7:00,he basically dismissed me and acted like it was my fault that they didn't put a receipt in my bag,I explained to him that I had saved my uneaten burger and simply wanted what I paid for remade and he said he got in trouble for replacing food,I can understand,not being able to replace my whole order but he wouldn't replace my one burger that was made wrong,I was the only person that didn't get to eat tonight and I paid for it

Brian Romero
from Los Angeles, CA
Brian Romero here after spending $25 for the family and I to eat at you burger king restaurant and besides the wait have the food come to us as poorly prepared missing cheese but having mayo which was not asked for fries not of standard temperature. I'm requesting my money back this is last time these teenage kids will get over on me .Just a refund thank you.

Patricio Cordova
from Denver, CO
I went into the BK because of the posters on the windows advertising the 2 for $6 special (choose from one of three sandwiches) and the $5 meal special. I went to the counter and inquired about the 2 for $6 special and asked what the three sandwiches were because I couldn't read the poster from where I was standing and the lady/manager told me that they didn't have that special. I asked why not and said that legally, because it's advertised, they have to offer the deal because otherwise it's false advertising, deceptive advertising or something to just lure customers in. She said that they hadn't yet put the offer into the computer. I said that even though it's not in the computer, they could still give it to me and I could pay what the cost is. She refused. She did the same for the $5 meal special.
I'm a senior on low income so I thought I could get a meal for $6 or so, but since they wouldn't give me what was advertised I ended up paying $8.85 which is more than I planned on paying, more than I can really afford.
Also, when going through all the "contact BK" choices online after googling it, most of them don't seem to work.
BK seems to be pretty inept and I don't see how you can be competitive in the current market. I, for one, will not patronize BK again, and that's sad for me because I like the sandwiches better than Mc Donald's, Wendys, etc.

Andres Madrid
from Los Angeles, CA
It's past 6 am and they haven't open the restaurant doors.. I can see the lady's laughing and now they ignoring me and my spouse. I been a loyal customer for the last 10 years at least.

W. J Ramoutar
from Jacksonville, FL
Burger King (Burger King 302 Racetrack Rd Nw) We went into the restaurant at around 3.45pm on Sunday. We walked to the front counter. there were three cars in the drivethru and about six people eating in the tables. We waited for about ten minutes before a young blonde girl turned and said pleasantly someone will be with you shortly. We stood for a further fifteen minutes until the young girl walked back to the office I'm assuming and an older lady came out, walked up to us and when I went to say what we wanted she said, we do not have any burgers from #1 to # 6 available as they are not up to temp. I said well what do you have she said the #7 and up.... I ordered the spicy chicken for me and the big fish sandwich meal for my wife. I paid the nineteen dollars and we waited while employees checked out one after the other and fifteen more minutes later we were called to the counter for our order. By this time there was I assume the older lady who spoke to us and the blonde girl left. The food was coldish and certainly took too long to prepare because if you are assembling the meal and don't wrap it quickly it goes cold. I have been in catering and ran restaurants with 50 and 60 staff but I believe we were lied to as the staff were not there to handle the orders as small as they were. Everyone who walked in was told the same as us and after we were served all the staff had left and the blonde girl went out to sit and vape on the front window. We were never apologized or even smiled at with such lousy service I wish them the very best because they are going to need some luck to stay open when none of the staff care about the customers enough to apologize or even be pleasant or advise the customers the food is going to take much longer than usual. I have to say in thirty five years of being in America I have always preferred the taste of the Burgers from Burger King but when you can't get one and no one cares I won't be back to that location. I understand the manager could have been under stress but then the owners need to support her before they have their store close. When we left there was no one in the drive thru or customers in the restaurant. Sad experience. I threw away my receipt etc so I apologize that I cannot prove this but I hope you will take some notice of it.

Daniel Hanson
from Shickshinny, PA
I go to the Burger King in Shavertown, Pa. ( not offten) NO MORE - The food is always luck warm/room temp. - Check there sales - probably not up to par - I only go there when the line at McDonalds is out to the road and the same at Wendys - The food is always not up to par at this Burger King - This place should get a MINUS Star - don't want anything

Lenzy Huffman
from Tazewell, TN
Some of the worst service I've had placed order then went to the window service ask me what I ordered then took my money and then she came back and ask what did I order so I told her again then she wanted me to pay again showed her the receipt and then I got my order was not my order so I asked about my order three other customer had problems also they just couldn't get there orders right finally had to ask for a refund ( just wanted mustard ) for my orders

Anita Hardy
from Ashburn, VA
I got a take out order from the Burger King drive through in Brandenburg,KY(#20639).I ordered two Whoppers with cheese, a fish sandwhich, small fry, and two coffee. When I ordered the coffee, I was told they didn't have coffee "right now". When I asked if they were making some, I got a blank stare. Finally I told her I would wait while they made some, which they grudgingly did. When I got home and looked in the bag, there was no ketsup, one tiny, thin napkin, and all sandwhiches were cold! All in all a really bad experience for 20.92! I realize the kids working there are not highly motivated, but this is ridiculous! They will not get another penny of my hard earned money, and I will warn everyone not to go to this location!!

Warren Norberg
from Portland, OR
To whom this may concern,
This is just an FYI that my family and some friends of ours will not be visiting Burger King until you close down your businesses in Russia.
Warren

Tracie S
from Gladewater, TX
My order was completely wrong. I was yelled at by a young lady who said she was the manager & blamed me for bringing it to her attention that my order was wrong. I asked for her name & she told me her name was "name". "My name is my name"! I didn't understand her hostility toward me. I told her, it's not that serious because mistakes happen. It was a mobile order and the only receipt I had was my mobile receipt. She preceded to tell me that she didn't know how mobile orders work. I told her I was not mad, hoping she would de-escalate the situation. So, she Yells in the back at the cook saying "Ugh, GET THIS LADY ORDER SO I CAN GET HER OUT OF MY STORE "!.. I was appalled by her behavior! One employee, an older lady, kept apologizing to me for this manager's behavior. I don't want anything from BK but we are living in stressful times. This lady is dangerous to have as a manager in your establishment because one day, she is going to speak to the wrong customer and it's going to be a war at the Bk in Longview, Tx off 701 W Marshall Ave. I work down the street at the hospital and that's the only reason I stopped. Other than that, I would have gone somewhere else. My co-workers, peers, and family will no longer patronize this store because of this one person's bad attitude! I am a 57 yrs, old nurse & I see attitude with patients because of illnesses & stress but this young lady will cause a war in your store if you don't get her the training she needs.

Lisa ayres
from Newark, NY
We went to Burger King on 3/8/2022. We were not explained how to get the 10.00 2 whoppers 2 fries and 2 drinks meals very well and she got nasty about expecting it to us. Then when we got it the roll was dry and hard the Burger was cold like it came straight from the fridge. The fries seemed like they had been around for a while.

Marie Antanelis
from Lincoln, NE
My friend and I went thru the drive-thru at the Burget King on 17th and South St in Lincoln, NE, she wanted to use three coupons and the person working told her she could only use one coupon because there was only 2 people working. I worked for Burger King for 7 years and we always had more than 2 people working
I would like to know what is going on at this Burger King that only 2 people work there. That is just ridiculous.

Mercedes Gagas
from Amherst, WI
Tonight I was served raw chicken nuggets after sitting in the drive thru for almost 15 minutes for 2 things… when I called about the raw nuggets I was laughed at and mocked by the employees and told "aww that's too bad I'll be more than happy to assist when I'm done with my new customer" the employee then put the phone down and proceeded to laugh at me with others to which my boyfriend began recording the phone call because he was just appalled. During the time waiting for her to acknowledge I was still on the phone I felt the urge to throw up. Which I did… all over my car and had to abruptly end the call. My boyfriend sent me home to get cleaned up and drove to the Burger King and asked to speak to the manager and asked what the gentleman's name was who was serving me to which he was asked, " why what for" he responded with you served my girlfriend raw nuggets to which the associate said " no we didn't" my bf informed them we had a picture and video of the nuggets and a recording of the rude service we recieved. Associate was quiet for a bit before responding," we told her we would REHEAT them for her. I'm calling the cops for you recording you know I can call the cops for you recording the phone call" my bf informed him that by law we can record wi state law requires only one person has to have knowledge that anything is being recorded unless it involves sexually explicit content to which your employee responded " well then I'm calling the cops for harassment" and slammed the window in his face. I now have to pay to get the puke out of my car and missed out on about 60$ extra door-dashing due to the carelessness of your employees and suffered 2 panic attacks due to the insensitive treatment of your staff. I'm appalled. It was as simple as treating me with common decency. I would have been happy with just a true apology to be honest but instead I was mocked laughed at humiliated and treated with no dignity and respect. As well as my boyfriend. They were raw nuggets. Soggy gross and even cold in the center.

Jeffrey Harwood
from Ashburn, VA
Waited 5 minutes at speaker,said hello got no response pulled up, another 5 behind a car, . The .anger opens the window and was informed we had to pull up speaker didn't work. She all it called us liars and told us per policy we had to go back around. Time spent being pissy with us could have taken our order and parked us but she chose to refuse service as if we had been rude. I have never been through such a n indifferent hostile

Unknown
from Fairmont, MN
Went to have lunch on Sunday the 20 February 2022 and went threw drive threw placed order for three people all order messed up burnt food and missing items assistant manager did not even come to fix anything staff was rude and didn't care sad I use to work there and it was so much different back then now no respect dirty unclean nasty food over charged asked to talk to manager they refused to show their face asked for regional manager number was refused WOW SO UN COOL. All staff need firing and manager included and assistant manager no one even knew how to correct anything

Kristina Perez
from Beeville, TX
THE BURGER KING IN BEEVILLE TX IS HORRIBLE!!! THERE IS 1 YOUNG LADY THERE I BELIEVE HER NAME WAS BENITA SHE WAS THE ONLY ONE THAT LOOKED LIKE WHAT SHE WAS DOING. I HEARD A MANAGER CUSS TO AN EMPLOYEE I COULD NOT BELIEVE WHAT I WAS HEARING. I BELIEVE THE MANAGERS NAME I BELIEVE HER NAME WAS KRIS!!!! SHE LOOKED LIKE SHE HAD NO CLUE OF ANYTHING. I WILL NOT GO BACK WHEN THE "MANAGER KRIS" IS THERE.

Store #949
Store had table dirty.I ask for a towel to clean the table I was given a dry paper towel. I ask again for a wet towel to clean the table the employee was Bothered about it. Restroom is nasty men are using the women Restroom when the is a men Restroom too. That is unsanitary.

Kristopher Banks
from Waterloo, IA
I have never had a good experience at your store location at 111 East Donald Street in Waterloo Iowa. From getting the wrong food to getting cold food and now trying to order any kind of food 20 minutes before closing your only choices are whatever they have already cooked. I honestly think I will never stop at another Burger King again because of the way things are handled in the store, this is ridiculous

Dennis Brown
from Arnold, MO
After waiting for 20 minutes for my order no other customers ahead of me I got my whopper and junior whopper meal. Both of th find on the burgers we're cold and hard the Patty's were cold as well as the fries. Edges of the buns were soggy very bad service and food was inedible. It was the burger king in cape Girardeau Missouri on mount auburn street. Very disatisfied former customer.

Dennis
from Charlotte, NC
Name is Dennis with your Burger King is the drive-through had two cars ahead of me 15 to 9 before closing to Cars pulled off and I went to the speaker it that time it was 8:53. She said go ahead with your order I said I had three orders she waited for about 10 seconds. Came back and said she was close I looked at my clock and it was six minutes till nine before closing very disappoint did not get to eat. Very upset went back to work with my friends not have no food. Just burger kings in Newton North Carolina and it was last Thursday night thank you for listening hope they get in trouble

Jorge Montoya
from Garden Grove, CA
On January 28 2022 at 8:00 am I went to this Burger king located on 304 w. Century Blvd Los Angeles , CA 90003 I went to the drive thru when o wanted to place my order nobody answered on the speaker of the drive thru so i went to the window and i told the young lady at the window that nobody answer me when i tried to place a order her response was that she didn't answer because she was busy then i ask her can you take my order now and she and another guy told me no they told me that i have to do line again and the line was already too long they both refuse to take my order and walk away hopefully something can be done so this doesn't happen to another customer again thanks

Valerie
from Alexandria, LA
I am sending this concern on behalf of my elderly Father. He went inside to place an order for this wife, foster child and himself on today at the Burger King at 3705 S. Mac Arthur Drive, Alexandria, LA 71302. The staff refused to take my father's order stating that on another occasion that he threatened to shoot her. My father tried to explain to the staff that she has him confused with another person. He doesn't know this lady or never threatened anyone. The staff didn't want to hear my father's explanation and threatened if he does leave that she would call the police. My father is very troubled about this whole ordeal. This needs to be addressed. Thanking you in advance!

John wommer
from Philadelphia, PA
Went thru the drive through at the bloomsburg store today I always go there ordered my meal I was in a hurry so I didn't check my order I was short my cheeseburger I know it's under two dollars but I'm on a limited budget, they should have a system that double check drive through orders !

Charlene courts
from Chicago, IL
I have had food that was over cook and dryed out nit fresh I took pictures I was gone go on social media to shoe how bad 7225 s Stony island serve breakfast food .. this is inhumane . I could of got food posion merchant # 450203753995/Receipt# 8310 order# 25.. this is not my 1st time having bad experience at this location

william adams
from St. Petersburg, FL
For the second time in 2 weeks I have been extremely disappointed with my experience at Burger King. I love the food but my order has been grossly bungled or shorted and my wait time in the drive thru has been ridiculous. The Burger King on Park Blvd in Pinellas Park, Fl is the location. On the first occasion I ordered 3 Whoppers with cheese minus pickle and onion along with 3 large fries. All of the Whoppers had no cheese and only onions and pickles, the opposite of my request! Also, I only 2 fries and they were small orders, not large. I waited 21 minutes total. There was also no napkins in the bag. I was frustrated but let it go rather than drive 4 miles back to the restaurant. A few days ago, I went there again and ordered 5 Whoppers with cheese and one double Whopper with Cheese. I also ordered 4 large fries and 2 apple pies. Well it happened again. I was shorted 1 Whopper with cheese and the double whopper with cheese. Also, I only got one apple pie and again no napkins and waited 18 minutes. I don't complain easily but this was too much! I would appreciate this being addressed with this location and compensation for the missing/and botched food. My name is William Adams.

Pam Murphy
from Portland, OR
Visited a BK restaurant to pick up dinner. Long line. Got to order box when server told me he would be right back. A half an hour later I gave up and pulled my car up and around the drive through to find 2 cars parked. 15 minutes later got to the drive through and stopped to tell the server how disappointed I was to have no one take my order. He assured me he could help me right then. Got my drinks and was told to pull around the front and they would bring it out to me. 35 mins later went to the door and had to pound on the door to be let in. No one at the counter, although many of the boys saw me standing there. Finally a young man asked if I needed something. I explained about my order and found some sandwiches sitting on the counter. As I waited I looked around at how disorganized and dirty the place was. It would never had past the muster in any other time period. I certainly empathized at how they must be short handed, but I counted 7 to 8 workers meandering around. I asked to speak to the manager and he came over to the cash register when an employee asked if he was going to comp me for the cold meals I received after over an hour wait. He said no he was in the middle of a refund. I had witnessed what the refund snafu was about. One of the employees had taken food out of the customers sack to eat and then dipped back in for more. The customer saw it and was furious. Kid didn't seem to get what the big deal was. One of the workers was trying to explain it to him. I was sickened and afraid to take the food home to my immunocompromised husband. I will be contacting the health department in Pierce County Washington to have them investigate the store on South Hill Fred Meyer complex.

Didn't get kids meal tried calling several times rings appropriately 20 times picked up then hung up. Call back then busy signal. This happened several times. Burger King #11 @ 5200 west charleston, Las Vegas nv 89146 my order number was 54, Oct 31,2021 @ 1:39 pm

Susan Smith
from Clinton, MS
On Friday, October 15 at about 7:00 I went to Burger King in Clinton Ms. they were out of all burgers and ice f probably should have left but I went ahead ordered chicken sandwich with fries and Dr Pepper with no I've. (Thinking it would still be cold. Dr Pepper was hot and tasted flat. I pulled up to wait on my sandwich which took another 20 min. After the other two cars got their food and left I backed up to let the girl know if it wasn't ready I didn't want it she said it was almost ready. I told her it's been 20 min and she said I know. I'm not sure if the cook had walked out but a red truck pulled around and a "manager" yelled at them a guy got out and went into the kitchen area so I am assuming he was the cook. Manager yelled and cussed the entire 20 min I was in line waiting. She had one car pull around after she never answered the intercom she told them she refused to take their order from the window. They left! Very disappointed in the service food was just ok.

Tiffany A Dove
from Hampton, VA
I would give this resturaunt 0 stars if I could... I was working at Burger King in hampton va,, it was the most worst job I've ever had.. if you get to work you would be standing outside the building for a whole hr n a half knocking on the door and calling the store to let me in... they won't let you in or answer the phone making you late so they can write you up saying no call or no show... I experienced numerous of racist comments while working there,, I had started my monthly while at work they refused to let me clock out and go 2 minutes down the street to get sum pads the manager gave me a dish cloth washer and told me to use that till end of my shift... the manager Charlotte was rude,, treated me differently then all the other employees.. I got taken off the schedule due to no calls no shows when I have proof on my phone for all them days that I called them numerous of times trying to get into the building and they refused to answer.. as well as lfyt rides I waisted money on getting rides to and from work them days because after a hr of calling with no answer on store phone and knocking with them not answering the doors I got tired of being up there that long not getting let in I left.. I have witnesses as well that know I was there them days and witnesses that heard how the mangers talked to me and treated me... I don't think rasism or showing favoritism from one emplee then the rest should be tollerated... that manager should be fired and held accountable for how she treated me...
Have feedback for Burger King?
Thanks for your feedback!
Sorry. Please try again later!