Burger King
Burger King Complaints Continued... (Page 7)
1013+ reviews added so far. Upset? Call Burger King corporate: 1-866-394-2493

Trudi Deyoung
from Chicago, IL
Dix McQuire Burger King Store: 05455. Drove through the drive thru. The person over the PA said the Drive Thru is closed please come inside. This is the 4th time this has happened in a week during lunch. Once inside I asked why blockers were not up at the Drive Thru service person said because people drive over them. Placed my order and was told the only drink they have is Dr Pepper. When I took a drink of the Dr Pepper is was nothing but awful soda water.

Bruce Simpson
from Seaford, DE
I ordered two whoopers for lunch, and when I got them home, they were a mess. The first one had a whopper jr. burger in the bun and and about half a head of lettuce. It tasted horrible. The second one was no better. At least number 2, didn't try and hide anything with a head of lettuce. I couldn't eat them.
I called the store manager, and I got half way through my complaint and he HUNG UP on me. This store is located in Seaford, DE, This is the last thing you need with a new McDonalds, Arby's,, and a couple other places. I will NEVER step foot in your stores again. That's it for me.

joanne boyd green
from San Jacinto, CA
My husband and I went to burger king Friday July 12,2019, he wanted eat the tacos so badly before we went home from the doctors office,
To make my complaint brief once our order was done the tacos delivered to him as I went for water I turned around walk toward my husband he had a disappointed look on his face I asked him wants wrong he open up the taco showed me the taco had little meat a slice of broken up cheese on it , and they didn't have taco sauce in packets. The tacos advertised on commercial look nothing like the tacos my husband purchased. so he sent the tacos back and didn't. want them, so he asked for the value hamburgers.

Bruce Simpson
from Seaford, DE
I ordered two whoopers for lunch, and when I got them home, they were a mess. The first one had a whopper jr. burger in the bun and and about half a head of lettuce. It tasted horrible. The second one was no better. At least number 2, didn't try and hide anything with a head of lettuce. I couldn't eat them.
I called the store manager, and I got half way through my complaint and he HUNG UP on me. This store is located in Seaford, DE, This is the last thing you need with a new McDonalds, Arby's,, and a couple other places. I will NEVER step foot in your stores again. That's it for me.

Zevon
from New Cumberland, PA
After seeing your commercials about your new taco I decided to try them. The tacos that I saw in your commercials that drew me to your store showed a fair portion of GROUND BEEF taco meat with lettuce, tomato and cheese and it looked appealing. THE TACOS I GOT WERE NOT! There was a thin strip of some kind of a meat paste that looked like it came out of a tube, no visible cheese, no tomato and the rest of the taco shell was filled with 'rabbit food', aka lettuce. The taco shell was so greasy it almost slid out of my hand on the way to my mouth! I have to tell Burger King that you have failed miserably in this pathetically lame attempt at serving a taco that is wholesome and looks appetizing. What you show on TV is not what you are serving in your restaurants. Just once in my lifetime I would LOVE to get your food the way it appears on TV. Do you folks have any conscience at all about serving food that is so remarkably alien than what you show in your commercials? I normally prefer Burger King over other brands of fast food restaurants but lately I have found myself questioning this preference. I've watched your Whopper sandwiches go from a tasty burger patty of decent thickness to one that is pretty much see-through and wafer-thin, and which resembles more of a salad between two pieces of bun. You don't need two hands to handle a Whopper anymore, unless you count one hand holding the top bun while the other hand removes most of the filler crap BEFORE a person tries to eat your flattened pancake of a burger. It's time for the King to get with the program!!!

Diane Lauterbach
from Chicago Heights, IL
On 7/14 at 6:00pm I drove to Burger King on 183rd St. in Hazel Crest, Il. Drive up to drive up, ordered 4 tacos and was told their machine was not working and I would have to come in. The girl on speaker was very difficult to understand and she had to depart to me. So I parked my care in 90 degree heat and went in.. There were no adults behind counter, but 4 teens who were having a great time goofing around. Also the cash register inside was working, so they could have taken my order and had me just come in to pay/pickup....too lazy. This is not the first time I have had problems. The Icee machine is always "not working". When this establishment first opened last year service was pleasant an efficient, but it is so bad now. From now on I will go across the street to McD's. These kids should not be running your business..to them this is a funtime, not a job. As a teen i worked at a McD's so I know that this service is unacceotable. And I know I am not alone.

Just watched as 3 of your employees prepared my food without a single one of them wearing gloves on top of that they messed up my order 2 fold by forgetting a sandwhich and a toy for my sons kids meal...if this is not delt with in sanitary conditions at your location in manchester ia i will be reporting it to USDA or whoever i need to...and in my person for your terrible service by you i will no longer be a returning customer unless this is not corrected. john gager phone num 563-880-8124

I don't think the Burger King in Long Beach, MS even deserves one star. I got a Whopper and Chicken Sandwich along with a large order of fries.
The burgers were cold, but the chicken sandwich was so hard that I couldn't eat it. The fries were old and cold. This is ridiculous!
Your employee's that worked the drive-thru windows were not friendly, but I've been in the service industry and know sometimes you're going to have a bad day.
I don't know if I will be ever going back to this Burger King. I guess McDonalds or Sonic will get my business.
Don't get me wrong, I have always loved Burger King, but this just about broke me.
Thank you
Christie Wise

we went to the burgur kings in Istanbul (Turkey) at the beginning of the street in Istiklal it was so dirty and poor service most staff they can't speak English
and they are so cheating on us and charge us too much, so one of the staff which is he is named(TARK} so was rude and he made us so angry. I recommend nobody go there.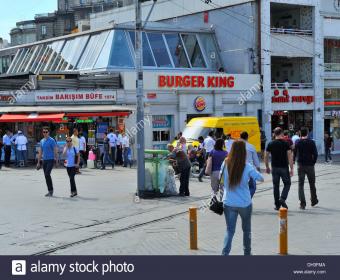 Larry Plummer
from Pawtucket, RI
Burger king Taunton ma horribly slow service. Breakfast in the morning hard biscuits and french toast. Lunch and dinner extremely slow. Long waits resulting in lukewarm food

My husband stopped in burger king on his way home today from a doctors appointment to get some of the great looking tacos that you are advertising. Well what you have done is tried to copy Jack in the Box tacos and failed badly. I had taken two bites of one and there were pieces of a tooth in it. I quit going to burger king years ago because of poor product and we will never go again. What kind of meat are you buyimg or did your employess lose parts of their tooth in our food?

the service was horrible the automative to place orders was broke the place was jam packed and full of smoke I stood there for almost 40 minutes and they still got my order wrong they were rude and unorganized, I will never go there again.

lillie rhodes
from Mountain Home, ID
I really don't like to complain, by the look of things your company has more than they can handle so I will get right down to it.
I saw the add on TV your NEW TACO it looked really good full of meat and lot's of other goodies so we thought we would go get some and see what they were like . Well I have to tell they looked nothing like they did on TV I ordered 2 there was hardly any meat and what Was in the Taco was dry I don't think it was even meat . I was very disappointed it was not money well spent I'm sorry to say matter of fact we didn't even eat them they went in the trash, such a lot of grease on the shells. Only one more thing I have to say I know you can do better than this. So come on you guys fill those TACO'S up with some good stuff and get rid of the grease.

charles allen
from Burton, MI
I wouldn't have given zero stars if I could have. Im not a hard person to please but the experience today 7/11/2019 was appalling. I took my two grandchildren to B.K at 11325 S,SAGINAW grand blanc mi 48439 for a late meal at 8:00 pm ,the place was dead yet it took 5 minutes to be waited on . and another 20 minutes before I asked for my money back and left. DURING the 25 minutes I was there the young cook in back continually was wiping his gloved hands on his pants after toughing food, the 1 customer in front of me complained about it and was aggravated she had been waiting so long too. the shift manager told the kid to change his gloves and as I watched he continually kept wiping his hands on his pants ,I should have took a picture of his pants (greasy and stains all over his pockets, a lady came in wanting her debit card back from the drive thru that the girl "accidently" hadn't returned after I asked for a refund the shift manager didn't apologize for the shoddy service,had nothing to say about the cooks hygiene and proceeded to short change me $6.00 which I promptly pointed out , he didn't apologize or even speak. I requested the store number and he couldn't provide it? I never got belligerent, I didn't get mad ,all I did was tell him the service was terrible and the cooks habits were unacceptable and I would be complaining to corporate as well as calling the health department tomorrow. AT no time did the shift manager acknowledge anything I was saying and offered no apology. my grandson really wanted bk so on the upside we went to the store on fenton rd flint and got excellent service and great food. I will never go to the grand blanc bk again and will make sure to tell everyone I know how bad there service and especially the hygiene is on the evening shift. . respectfully charles allen

Richard Vickerman
from Salome, AZ
The young girl (Madeline) that helped me with my order on Wed. July 10, 2019 @ 08:13PM, of 6 Taco's and a Large Fry and a Large Onion rings appeared great but the Taco's were not! I just watched the Burger King commercial on TV which shows a great Taco with visible Hamburger meat and packed with Lettuce and Tomato and topped with Yellow Cheese in a fried shell. My Six (6) Tacos only had a thin meat paste and no Lettuce and Tomato and no Yellow Cheese but did have the fried shell! The Fries and Rings were OK but not what I have experienced at many other BK's. The Store number is 5230 and my Order number had a survey code of: 03757-31022-10210-091000 with a merchant Id. 456204594992.
I make a trip to Palm Springs Twice a week from my home in Quartzsite, Az. 85346 Box 1888 G1 about 25 miles from this store and when I return home I always stop and pick up dinner at some of the Fast Food Stores that abound on S. Lovekin Blvd. in Blythe, Ca. 92225.
I just thought you should be told about this experience and of my displeasure with your Taco's! Richard (RC) Vickerman

Lisa
from Jacksonville, FL
Waited 25 minutes in drive thru..only had two people working the whole restaurant they said..it was at 545 pm..then the card machine didnt work asked if I had cash..what if I didnt after sitting so long...French fries and onion rings were hard an cold...something really has to change at this Burger King nothing ever seems to work when we go...North main st jax fl 32218 as I'm sure nothing will be done..thanks anyways

john davis
from Blue Mound, IL
July 6 I visited the Burger king in Litchfield,ILL. The young lady who served me was extremely nice, her name was Kylie. She put my order in for a whopper with nothing but onion and mustard. When the order came it was loa Ided with everything. I asked the young lady to return it and get my order as I wished, when she returned she was crying because she got yelled at and my order was still loaded the second time. I wanted to see the mgr. but was asked to please not do it. Your mgr. was helping make the order and I looked at the order slip and it says exactly how I wanted my order. Obviously you mgr. on duty does not know how to read an order, and she certainly doesn't know how to speak to her employees! My meal was a disaster and I don't plan on going back! The young lady that helped take my order did nothing wrong and everything right as far as I can see. I would highly recommend that young lady! John Davis

Today at 12:47 p.m. my husband stopped in at the Radcliff store at 225 S. Dixie Hwy to purchase lunch for us on his way home from running errands. He went through the drive thru to place the order. When the order FINALLY arrived, he was on his way home. Well, He alway's eats his fries on his drive home and he said they were barely even warm. mine were downright COLD by the time he made it home and it's only a 10 minute drive. MY sandwich was supposed to be a Spicy Chicken and his was Crispy Chicken. My Sandwich was absolutely HORRIBLE. It was BURNED Charcoal Black on one side. Upon trying to call the store right away I couldn't get through. Either the line was busy or when I could get someone to answer, they would just pick up the phone but never speak and then hang up . This went on for over 45 minutes of trying to get someone to talk to me. The sandwiches were marked WRONG as it were. This was just a VERY BAD Experience and I feel that nobody in this store is even checking the Quality of the food being sold. Nor is there a proper Manager doing his/her job properly. Shame on BK for Not making sure that their Standards in Every Store are up to Par.

I don't know if cooperate takes complaints seriously because the money still flows through their pockets, But BK has nasty service, nasty attitudes, nasty unfresh foods, and some racial behaviors, On 7 10 19 I went to grab breakfast sandwiches before a cooperate meeting as standing in line the cashier took two orders, before me was a young African American guy walked up to place order and the cashier said nothing and walked away into the lobby and began to sweep, another gentleman was there but was holding his phone as we waited a couple of minutes to be helped a cashier came from the back African American to wait for the line, as she began the first cashier return and walked over to the guy and he said he was trying to place an order online shopping but it won't let me ask her for help she as well had pulled phone scrolling as food was prepared they both remained standing on phones and slowly proceeded to bag food the lady didn't wash hands a hash brown fell to the floor and she picked it up and sat it on the counter area, continued to bag, the guy yes washed before handled any foods, I asked her why didn't she wash as she called my number realized it was my food I asked for money back poor service and poor food handling. Today my co-worker had the same experience walked away refused to serve African American's sadly this has become the norm in fast foods hispanic's attitudes towards the blacks in the communities

I was happy to see burger king would be selling tacos and couldn't wait to try it. When I finally brought one and took it out of the bag at home , I was very disappointed, the shell was stale, the filling soaked through the bottom of the shell and was soggy, and if there was a total teaspoon of filling that was alot. I Will never buy another one and will advise others do the same.

Food was cold buns stale and nasty mangers very rude would not fix order

JANET LEBLANC
from Morgan City, LA
I would do this on burger king experience, but I can't read the code on my receipt. I was as Burger King 10764 in Bayou Vista. Louisiana at 11:31 today. My 8 year old and 9 year old grandson were with me in the lobby waiting for my takeout order. The employees making the order began to all begin arguing among themselves in a very loud manner. After waiting patiently for my order, one of the workers said the f-word, At this time I felt like I had to say something, I said, excuse me but I have children with me, the worker did apologize and begin to make my order, my youngest grandson stated just make our food. By this time they didn't even know what I had ordered and I had to repeat everything. I will say the only name I got was the young lady DaJuan that took my order and she was very nice and stayed out of all the bickering and was very apologetic. I was uncertain who the manager was, but I did see a young man who I thought could be the manager, I wondered why he didn't step in, but then I felt he did the right thing by controlling his temper and was trying to not make it worse, I really thought they would fight. When I was driving away I did see the man in the parking lot and I asked him if he was the manager, he stated he was, I said what I just witnessed was appalling, he agreed and stated he was calling his boss and apologized. I had to apologize to my grandsons, because they wanted McDonald's and I talked them into Burger King. Not next time.

PAULA ROSICH
from Brooksville, FL
WENT TO BURGER KING IN SPRING HILL FLORIDA LAST WEEK FOR 2 MILKSHAKES--OUR BILL WAS $12.00 +--FOR JUST 2---NEVER AGAIN.

Susan Torres
from Pueblo, CO
Restraunt was extremely hot, no air conditioning, tables were all filthy, it was not busy. We were the only customers inside. There was no ice, so I asked if they had any ice in drive thru I could get, response was no! Soda was hot, should have been informed prior to ordering, was not able to drink soda, was not refunded
As we were preparing to leave a young kid went in, he was offered and given ice from the back! Manager on duty was up front talking crap about corporation and signage, hiring advertisements. Etc.
Was very dissatisfied with cleanliness as well as customer service!!! Quality of product recieving hot soda and being told there was no ice in the building, then watching them give another customer ice from the drive thru!!!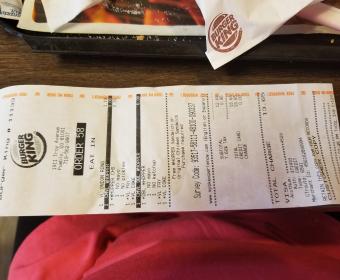 Jeffrey A Schott
from Kalāheo, HI
I returned a cold fish sandwich at Honolulu airport. The Manager tossed out the fish, the bag and the receipt and gave me another sandwich that was equally bad. I did not have time to return the second fish and could not eat it. I would like my money back $7.94.
Thanks.

Veronica Gutierrez
from Merced, CA
I Waited around 35 minutes in drive-thru. They ran out of sauce for the triple quad, didn't have coffee made. The brainless people had 35 minutes to make coffee, yet they didn't start making it until I got to the window, so I had to wait even longer. They had bad attitudes and when I told them I was contacting corporate, they just smirked and said "go ahead". They have rude, idiots working there.
This is the:
(Burger King 555 West Olive Ave). Merced,CA

Cathy Ford
from Indianapolis, IN
Fries were cold, ketchup dispenser was empty - let a team member know, but it was not refilled. Ordered sandwich without tomato, my sandwich had tomato. I am glad I am not allergic. Female member of team messed with her hair and then touched food without replacing gloves. It seemed as though known of the employees cared. The store location is 3650 S Keystone, Indianapolis, Indiana. We were at the location June 27 at approximately 6 pm.

On 6/26/2019 at 3:26 pm ordered thru the drive up...coupon for 4.99 includes 2 chicken sandwiches and two fries also one whopper jr and one small ice coffe...well to my surprise it totaled 10.18...well the ice coffee advertise for 1.00 was 1.79...when i asked the cashier he said they had no small size...he neglected to tell me that when ordering...also i wanted an order of cheese sticks he said they didnt have them...also advertised on your menu..on my whopper jr...mayo was addded when i asked for no mayo and the both order of the fries were so stailed i had to throw them out...i dont eat very often at burger king..and i see why now...your poor quality of food and poor customer service confirms my decision...please look into this matter for me...restaurant address. # 4676 4025 e bell rd Phoenix Az 85032 order # was (41) my # 602 733 3224 ...thank you for your time

Leona Randall
from Boston, MA
I placed a order online for the store on Maple Avenue in Zanesville Ohio and I got to the store and pushed here and it took the money off my card but they were closed so I had to find another Burger King store to go to in order to get my food in my ride was not very happy with me and then when I told them what I ordered they didn't have all of the food I had to get french fries instead of the onion rings I couldn't get the sandwich. I wanted because they didn't have the onion rings to put on the sandwich

Katherine Oliver
from Gonzales, LA

WENT TO STORE BY I 95 RALEIGH RD WILSON #13014 REC C0DE # BK 76815 WAS GOING FOR MY FREE WHOPPER. THERE HRS ( 10:30 AM TO 12:00 AM.) MIDKNIGHT ! ( THEY WERE CLOSED 10:30 PM ) !!!!!! AT LEAST THATS WHAT YOUR SHOWING AT SITE. ? WHATS THE DEAL ?????

leslie ginocchio
from West Palm Beach, FL
I just left BK store Palm Beach Lakes Blvd., West Palm Beach, FL.
1) 20 minute wait drive through in short line - Ordered Chicken Garden Salad
2) Chicken was cold and not fully cooked
3) Lettuce filled half way in bowl
4) Tomatoes old/shriveled
5) No croutons
6) The staff could not care less about the wait or anything else
I should have read the thousands of complaints posted before I went to Burger King. I have watched BK go downhill in the past 5 years. I will not eat there again and will pass this bad experience along to my many friends.

Sally Cox
from Simpsonville, SC
Stopped to eat lunch on Friday, June 7, at the Burger King, 2216 Bush River Rd in Columbia, SC. while we were traveling to NC. This restaurant was the worst BK I have ever been in. The floor was slimy, the tables not wiped clean, there was food all over the floor behind the counter, the staff's clothing, which was black, was soiled to the point of being repulsive and the restroom was even worse. Should have called the health department! This one should be shut down! Won't be eating at a BK anytime soon, which I usually like.

steve yarbrough
from Oneonta, AL
always out of something today no ketchup and napkins in drive thur last week chicken fries. i can get a pizza made faster than a whopper i eat at mcdonalds most of the time not because of the food but because of the service.if your service was as good you would do a lot more business.i eat at other burger kings and get good service this is the worst one i have ever been in, the reason i go here is i do not want to drive 10 miles to another store. but it may be faster.

Lubic Collins
from Union City, NJ
I have file complaints against a company that said that they have written permission to removed any vehicle park on public on store grounds for any amount of time. The store have a camera that can see that I went into the store to buy something and being that the store is full with other customers I went to the store across the street to make a purchase and in five minutes or less my company van was being towed from Burger King lot. The New York Law say that " a vehicle must have been on private property for at least one hour before any towing can be preform." My van being remove was illegal and any manager who signs a contract on property that they do not owned should be look into. Me being a good customer at your stores is bad business on your behalf. Stealing money and allowing your store to operated like that is not in good faith. It cost me $136.00 plus an extra 15 dollars to retrieve the company vehicle for a quick lunch break. Please investigate this store behaviour. See if towing was legit under the 2006 law, section 19-169 " The removal of Vehicles improperly park on private property". The store location is 149 and Brook avenue, Bronx NY. Please be advise the any public place active with parking lots must give a least one hour notice before towing can commence

Laura Pate
from Redding, CA
Regarding store #2298, Red Bluff, Ca. At 3:22 pm, my daughter, her friend & I went to the drive-thru. My daughter told the employee that she wanted two orders of the 2 for $5.00 sandwiches. Employee stated that "you can place your order in a minute". The manager, Kagen stepped in & took our order. The employee, Natasha then grabbed my debit card, which made my daughter & I very angry. When our order was bagged, Natasha threw the bag at my daughter & ran to the other side of the store by the registers, laughing. My daughter was furious. We left the drive-thru & came back less than 10 minutes later. I had ordered cheese on my sandwich & there was no cheese on my sandwich. I saw Natasha out of the corner of my eye as I set my bag on the counter & was talking to the employee. Natasha, still on her cell phone, told the employee that she would take care of my order. I told her I had paid for cheese on my sandwich. I asked her if she was going to work with me while she was on her cell phone. She laughingly told me that she was off of work. I then asked then why is she waiting on me. She left the store while I got my sandwich. I talked to the evening manager, Gabriel & complained about her behavior. I will not go to this Burger King until she is removed. I rate my experience with a zero.

cari coleman
from Boron, CA
First my soda was watered down, and the kid made little effort to fix and said both machines were like that. Then we get our bag of food, everything was crammed into 1 bag with the sandwiches on the bottom flat as pancakes. We ordered 2 chicken parm, which were in 2 diff wrappers and one was bigger then the other... and yes squished. Usually this place has wonderful food, today this was horrible. Worst ever in the 3 yrs of going . Burger King
locations.bk.com
6158 E State Highway 58, Boron, CA 93516 · ~9.4 mi
(760) 762-6187

kerry lynch
from Rhinelander, WI
I and my husband went to burger king 8733 Hwy51n in Minocqua two weeks ago to get the spicy chicken sandwiches the 2 for 6 ordered them and I always ask for the same thing a side of pickles they always give them to me. The place was not packed at all and the older lady she is short and very skinny she told me well I don't know if I have time for that right now but she did it we got our food and sat down I had to wipe the table off it was very dirty so we let that go I opened up the sandwich and the chicken was small like it was from the dollar menu I took it back up because I thought they made a mistake and the same lady came over to me and said that is how big they are it is a hit or miss on the size so I said ok I think she said we will make you another one I'm not sure but anyway's like I said I picked the sandwich up and went back to the table upened it up and said I don't want to deal with this I will just eat it so I put the pickles on it that I had a hard time getting from her took the first bite and all of a sudden this kid comes behind me and puts the new chicken on the table and just as I put the other one down didn't even get my hand off of it and he grabed it out of my hand whats up with that? I'm surprised he didn't grab it out of my mouth he told me they had to take it back no problem with that but come on now can I put it down first. That will be the last time we go to that one unless the supervisor is there she is a very very nice lady

Betty Rogers
from Fargo, ND
I was at BK 3441 Main St Kansas City MO on Sunday June 9th. I ordered the 2 for $4 breakfast sandwich of sausage egg and cheese biscuit, hashbrowns, and medium diet coke. I received my order in a to go sack which he didn't ask if it was for here or to go. I sat down on the dining area close to the counter and open up my sandwich and it's on a croissant not on a biscuit I ask for which I said out loud I said biscuits not croissant, the male employee that took my order told me I said croissant which I told him I didn't he kept arguing with me I got bad I just threw away all that I order including receipt and said few choice words as I went out the door. I spent $8.49 (I used my debt card) and I felt like the employee made no attempt to correct or refund my money, he just wanted to argue, I didn't even see any other employees. I WANT A REFUND. I'll be thinking twice about ever going to any Burger King again.

Jeannie Pilcher
from Clermont, FL
Starting @ 5:05 PM I tried calling the BK @ 2350 W Atlantic Blvd. I called a total of 28 times. On the 3rd call a young boy answered & I asked for mgr. He said is it bad, I said it was important, well she's in the bathroom & hung up. I called back 10 min later & got no answer. Called several more times & no answer. Then someone picked up phone but didn't say anything, I kept line open for couple min all the time saying hello, hello. No response, So I hung up & called back. Then three times they picked up phone & dialed #'s in my ear, never said a word. Where was the manager? I'm really upset. The call was RE: A missing person that I believe the mgr could have helped with some information. So thanks to those immature idiots nothing was accomplished. So I sit here & cry.

Herman Vogel
from Trumbull, CT
TV ad claims 3 types of meals with drink, fries and three types of burgers: 1) Junior Wopper for $4; 2) Wopper for $5; and 3) Double Wopper for $6.
I purchased No.2 for $5, and got a Junior Wopper vs a Wopper! They did not happen honor your ad!

Susan Spotz
from St. Petersburg, FL
I went to the BK located at 7371 Seminole Blvd,. Seminole FL. I have been going to this location for years. Today, I used the drive through and ordered two double cheese burgers and a small fry. I waited at the drive through for some time, at the window I had a few minutes wait time again. There was only one car ahead of me and the parking lot only had a few cars in it. I received my order, the beef on the burgers were BURNT! I mean black burnt, the fries were cold! No napkins in the bag, never asked if I needed condiments. The employee never said a word about thank for the wait, be right with you, not a word. This is the second visit with poor service and food. What's happening at this location? I chose to write to corporate because there are several poor reviews on this location on YELP. No sure if YELP is reviewed by corporate. Thank you in advance for reading my concerns.

mark hallam
from Omak, WA
we pay police officers to manage the law in our state, we do not need your rude night personal at bk to tell customers we cannot smoke in our own cars! I caught one of your employees texting , they were in uniform behind the counter, when I mentioned he was texting, the night manager jumped in my face at the drive up window yelling he is on his break, but he was still on the floor and in uniform.If. I am A diabled Veteram and if the night manager is not discharged. I will pursue this matter on the local internet costing you. I have never been treated this was, being persecuted as a vet is always a factor with younger people. sorry I have to bring this up

Bryce Keith
from Atlanta, GA
Asked me to leave, so that paying customers could have my table. I was still enjoying my soda and was about to get a refill. After being asked to leave, I was very upset and disappointed ☹️. My wife Kelly Keith called corporate and complained, but it seemed to me they only wanted to hear about the problem not do anything to compensate me for the inconvenience.

Barbara McKim
from Houston, TX
June 3 Burger King corner of Skyway and Norte Dame Blvd. Chico Ca, approx 12:48 in the afternoon, drive up window; I ordered a Whopper meal, got slightly warm fries, stale hamburger bun with no meat, no dressing of any kind, just lettuce and two skinny tomatoes. I expect to be reimbursed for my purchase.

Cashier named Tyrone was just plain incompetent and you cant really just blame him especially when the manager stood at her office door saw there was 8 people waiting in line with only one register and the manager did nothing. But thank.god for Kay, let me tell you this girl was on point handling the drive thru KITCHEN and the front register

Angela Lewallen
from Dayton, OH
I went to Burger King on East Central Ave in Miamisburg, OH on 6/6/2019 and I Ordered 2 kids meals 1- 4pc chicken nugget & 1- 6 pc chicken nugget meal and a grilled chicken parmesan combo meal. The 2 kids meals were correct but what I got was not what I ordered. I received a regular crispy chicken sandwich with nothing but 1 tomato slice and 1 piece of lettuce and barely any mayo, and the chicken was so overcooked and greasy it was dark brown. I didn't go back to complain because I was already home when I realized it and I was really aggravated that they couldn't even get the sandwich correct, and to top it off the sandwich I did receive was so gross I took 2 bites and threw it away. We also came to this exact location 2 weeks prior and they forgot both mine and my husbands sandwiches and we had to turn around and go get our sandwiches. I would either like my money back for my meal or I would like replacement meals because it was a disappointment and disgusting. My order number from 6/6/19 is #43

Luis Vargas
from Hartford, CT
The customer service was horrible the person on drive thru made bad hay remarks tours me I will never go back

Waited in the drive through line 15-20 minutes with 3 cars ahead of us, 8:30 at night. Got home and the hot fudge sundae ordered was not a hot fudge sundae. Looked like a bunch of young kids were in there running the place poorly. Did not have change for us- had to give them extra money to make change.
Will drive the extra 2 blocks to Mc Donald's next time.
Lockwood Ridge Rd and Rt 70 Sarasota
Have feedback for Burger King?
Thanks for your feedback!
Sorry. Please try again later!