Burger King
Burger King Complaints Continued... (Page 10)
968+ reviews added so far. Upset? Call Burger King corporate: 1-866-394-2493

I don't generally get up in a tizzy about the occassional foul up at a fast food place, it goes with the territory so to speak. However, if Burger King is trying to get more business, it appears they may be taking one step forward and two back. My wife and I are senior citizens, and we like to find a coupon or bargain as much or more than most. We got a coupon booklet from BURGER KING in the mail today, and were excited to see a new "california whopper" and the coupon for buy one get one free made it even more appealing. We had pretty much quit our local BK as they were slow, and often got the order wrong, but thought – hey they need the business – lets try again.
So I go and order 2 California Whoppers, a BK Single Stacker, and a fry (after a fair wait in line). By the time I get to the window my son calls to say he wants one also. I had handed the girl my debit card and the coupon and she had gone off to who knows where. I waited there at the first window for a good 5 minutes then she returns and says the coupon is for whoppers only – not California Whoppers. I explained that it was on an advert for California Whoppers, and showed her the picture on the back of the coupon… no. Did I still want the two California Whoppers ? Yes.. actually now I need three of them. Ok..
I gave her my card again and she gave it back to me and walked off again. I assumed we were done and pulled up to the food window. A minute or two later she came with a ticket for me to sign. Shortly after, the girl working the drive thru window handed me the order. I quickly checked it and found only two of the green boxes that said CALIFORNIA WHOPPER. I mentioned this to her, and she said my ticket only shows 2. I said check with the fellow in the black shirt – on order #97 they had a change. (I had heard him shout that out when I added the 3rd sandwich). 8 minutes and lots of hunting around and they "found" the 3rd sandwich.. sitting on the counter near the girl all along.
The girl had pulled my copy of the reciept from the bag to go looking – but did not put it or any other updated receipt on the bag. When I got home with the sandwiches I found no receipt – and instead of the single BK stacker I had a whopper with cheese and a standard whopper – and of course the 3 California Whoppers. I called to see if I could find out more about what happened – but got a generic cheap telephone answering machine message "theres no one here to answer you call" and click.
I ate the sandwich – which was advertised to have Swiss cheese, guacamole, bacon on a whopper.. none of them had the Swiss or any cheese. and the two my wife and I had had only one strip of bacon – covering only half the sandwich. The guacamole was applied more like a person would apply butter to bread with a knife.. a thin layer on most of the sandwich and a dab or two that was thicker. You could taste it – but it was pushing credibility to say it was more than 2 teaspoons total.
If you are having trouble staying afloat BK, it would make sense to deliver something close to the picture when you serve it – taking half the bacon, half or more of the guacamole, and all of the cheese off may impact profits a bit initially but the lack of return business and no way to send an email complaint to either the store or corporate does not bode well for those who expect to have it their way or at least be able to complain if not. Sending a coupon book advertising 30 plus dollars of savings and free items does no good if you can't use it.
And if I find that I got charged for two whoppers that I did not order… well thats really pushing the limits of understanding. I have taught classes on customer support matters and I always tell folks that in a market where you sell the same things as the other competitors – what makes you stand out is how you handle mistakes. Burger King Hobbs NM left me with some serious worries about how long they can stay open. I will think seriously twice before pulling in there again – and we have been here over 30 years.

Me and my kids were outside shopping and the kids said they were hungry and I asked the kids where they want to go and they said Burger King at 20430 Germantown Road, Germantown, MD 20874 and we went there and the cashier had an adittude (like she didn't want to work.) and we ordered food (chicken tenders, four mini burgers and two larger fries.) And we took the food home and we only saw the burgers and the fries without the chicken tenders and I had to drive back to Burger King and I explain to the cashier that I'm missing the chicken tenders and she just gave me the chicken tenders without saying anything I will never ever go to take my kids to that Burger King again.

Kelly M.Less than a minute ago. I saw the add for the California Whopper and was so excited to try it. I live in Downtown and there are very few Burger Kings close to me. I found one on Lemmon Ave. store # 542 and couldn't wait to try one. Well I went to try one. When I got there I asked about the price for just the burgers, no one knew. They had to go ask someone? After finally getting the price, I ordered two! I thought this will be so good! I get home and not only was there no guacamole on either of them, but they put so much mayonnaise on them we couldn't eat them. We were charged for the Cali Whopper and got mayonnaise and lettuce sandwiches!
I tried to call and no one would answer the phone. My next avenue was to contact you all, this was no easy feat! I don't think I should have to drive all the way back over there seeing how gas is $ 4.00 + a gallon these days! So much for " Have it your way" huh! I think you should change it to "Take it like you get it! & we'll charge you for whatever we want sucker!" I will NEVER eat there again! I will go to McDonalds, Wendys, or even the local roach coach! They probably have better service & food! VERY VERY disappointed!
Kelly M.

I have always said if you will not eat the food yourself then don't serve it to your customers. Burger King has a habit of serving bad food the sandwich itself or the toppings just doesn't work. In the 70's they were probably the best burger place to go now I see why they are closing them down. Extruded fries, thin burger meat, plastic like onions with skins, no lettuce on the sandwich, ground onion rings, many different sandwiches that no one would order. Think about the KISS theory get back to keeping it simple and forget the stupid king and all the silly food selections nobody wants..

I went to the Burger King on Austin Bluffs in Colorado Springs tonight and tried to place and order. I told the girl 2 mini burgers and 2 mini chicken sandwiches. She rudely tells me that "you can't do that". (no explanation that they come in packs and they can not be seperated or anything) I repeated my order more clearly 2 8 packs of hamburgers and 2 8 packs of chicken sandwiches. She does not repeat the order back but the screen is showing only one order of each. When I try to tell her that I want 2 orders of each I hear nothing on her end to indicate that she has heard me or that she is changing my order. The screen remains the same.
My daughter in the car calls out that the customer service sucks. She tells me that she will not take my order "good bye"! I have had multiple problems with this particular location and never seem to get any satisfaction. Its a shame because this location is closest to my house. Burger King did not get my money tonight Taco Bell did. Their customer service is always impecable! The employees are glad to have a job as opposed to Burger King where we are just interuptions to their day.

I made a purchase of 3 dbl.cheeseburgers, 1 small coffee and a 4 pc.tenders. that order came to 5.87 plus 47 cents tax. They did not give me the coffee so I went back to exchange the item I did not receive for another dbl cheeseburger. BK charged me .39 cents as the tax would have made the item 1.39 cents. I asked them why they were taxing me .39 cents when they never refunded the tax they put on the coffee.They told mre that the coffee had no tax. I told them that the burgers were 3.87 cents, the coffee was 1.00 the tenders were 1.00. the subtotal came to 5.87.The tax was .47 cents and that all items were taxed according toPa. law of 8%.
Devlyn and Jessica, the person who snatched the receipt from my hand did not refund the tax I had already paid, were sarcastic and rude in dealing with my situation and furthermore stated"Go ahead call the corporate office, I will give you the number. They are always rude here and inadequately staff.The icee machine as usual was not working. They have lost me as a customer.

First off, No receipt through the drive thru. I ordered the number 6 breakfast. Potatoes were barely warm, so I skipped them. The bottom half of the english muffin was as hard as a rock. I mean it. It was so hard I would have broken a tooth. I turned around and went back. I walked in and nobody was working the counter. After a minute I asked for help. A male employee with a black eye comes out and I tell him my story. He blandly asks if I want another one, no interest no care at all. At this point I cut my losses and ask for my money back. Without a word he tosses the food in a garbage can, gives my money back and walks away. That was awful.
6767 N.E. 84th Street
Vancouver, WA 98665-0000
(360) 574-3000

The award goes to the Burger King on route 219 in Ellicotville NY. I am used to high traffic washrooms at rest stops along the interstate but never have i entered a washroom in a burger king that was so disgusting i was afraid to buy food there. The stench upon entering was overpower (and it wasn't from a previous customer) They must be on a septic system that is overdue for empyting and have no water in the drain trap. the floors and walls were sticky with grime. It reminded me of the filthy bathroom used in the movie SAW. I didn't even want to touch the taps to wash my own hands.
I did not purchase food in fear they might have the same standard of hygene for food preparation. If someone from head office is reading this-you need to get down there and rectify the problem ASAP !!!!!!!!!!!!!!!!!!!!!!!

Burger King located @ 2626 S 108th, West Allis, WI. I went to the above location after 8am and found the doors were locked. I then went to the drive-thru, and was informed it would be another 30 minutes before they would open. I then mentioned that the hours on the front door showed 6am as opening time. The response was "we won't open for another 30 mins". When I asked what the problem was, I was told "sir, I don't have to explain anything to you." Please be assured that this creates doubt of ever returning to Burger King. Your reply would be appreciated.

Me and my daughter went to the Burger King in Springfield, GA on Hwy 21. We decided to go inside to order since the drive thru was backed up. While standing in line a gentleman came in the lobby with an item in his hand and stated that it was the wrong order. He ordered four little burgers but received four chicken sandwiches. The girl behind the counter reached into a bag that was apparently for another customer at the drive thru window. She handed the gentleman in the lobby food from the bag and placed the food he brought back inside in the bag and handed the bag to the folks in the drive thru.
To top that off, the gentleman left and returned a minute or so later to state that his food was still chicken and not burgers. This time a guy behind the counter took the food from the gentleman and placed it on the warming racks and instructed another employee to fix four small burgers. We sat in the dining room to eat and the guy behind the counter never threw away the food the gentleman had brought back in.

Went to BK this morning. Was going to go through the drive thru but there was a car blocking it, so we went in. We being me and my two small children. I ordered the food and we sat down to wait. When the order was called I retrieved the food and went back to the table. While sorting food I noticed a wrong breakfast sandwich and was about to go up to trade it when the employee who had taken our order came out and demanded a sandwich back. I said this one is wrong and went to grab it but then he touched my child's sandwich and said it was the one. Touched his food… so the wrong sandwich was taken awsy, my child's food had to be replaced, and then the employee hadn't noticed I didn't have mine.
So I had to pay for a sandwich I had already paid for. Will never go there again. Poor service and bad manners.

Went to BK this morning and ordered a breakfast platter and a gravy biscuit to go. Got home and the platter was Eggs really scrambled all over the tiny plater a biscuit cold and crubby and tastless two tiny pieces of under cooked bacon which was bad but the gravy was served in a small round bowl with a crubbled biscuit with some flour water poured over it. You can bet your sweet butt that I'm going back to Jacks and I swear tht I will never visit BK again, The lower price meal at Jacks has gravy grits the gravy biscuit does not appear to be something that someone threw up…YUCK

ok so i go to Burger King maybe once every 2 weeks..usually just for a burger on the go. So today i went and got a burger and nuggets for my daughter. we get to our destination to sit in the car for a minute to eat. her nuggets are fine. My burger though..well wasnt a burger..it was bun special stacker sauce and cheese..and a burnt taste. i opened it up to see that the burger patty itself was the size of one of my daughters nuggets!! and half the thickness!!! so i took pics of if it. id post them on here if i knew how or could to show you. i even put one of her nuggets on top of it to compare size.
Ok i know they are "grilled" pattys..whatever..but the patty shouldnt have shrunken that much..well needless to say..were getting out burger and nuggets on the go from McDonalds.

We have enjoyed Burger King Whoppers since it opened in our town, Ville Platte, La. While the whopper is still good, the attitude of your employees is hiting a new low in rudeness,lack of social skills and very non caring. Tonight we ordered a whopper meal and whopper junior. I wanted milk as my choice of drink. When your employee gave me the total I asked her if the milk was included or if it cost extra. This apparently insulted her very much as she rolled her eyes and said it is extra and that's how it is. I realize most of your employees are not the top of the class, but their actions reflect on Burger King.
On a differnt occasion I watched as my whopper was being fixed and was very surprised to see them fix it with bare hands, even stopping to scratch their face, lick their thumb and put a slice a tomato back in the serving tray. I'm sure Burger King will not go out of business being I'm not going back, but I think you need to know. Thank you

I recently stopped at the Burger King drive thru In North Saint Paul MN. the crispy chicken sandwich was barely warm and tasted strange like soap or a chemical was on it. Had to throw it away!! This happened to a friend a week ago and I thought she was wrong till I tried it. Is the grease old or what. I will never stop there again. I only write this for the sake of other costumers. What happened to great service!!

The Burger King in Canton, NY originally was a clean restaurant that you enjoyed visiting. Over the past 6 months, I stopped in to grab a couple of breakfast sandwiches. I had to return them as they were hard as a rock. The employee took them back and made a comment to coworkers within my hearing that I "said" they were cold and hard. Very rude but replaced them. Another time a couple months ago, I ordered three double cheeseburgers to take home. I live 25 minutes away. When I got home, they were plain hamburgers. We ate them as I did not want to drive back to have them replaced.
Just yesterday, I ordered the new Bacon Ranch Chicken Tendercrisp. Again…took it home and when I opened it, regular tendercrisp sandwich. Apparently you have to physically open the wrapper before leaving the store to be assured you have the right order. They don't have a coffee dispenser now out where you can get your own and one of the soda dispensers has been out of order for months.

I am writing this, not due to a one time complaint. I owned restaurants for years, & before owning them i ran hotels & mom & pop rest. in Daytona Beach Fl. Over the years i found myself stopping at Burger King, you always had something i enjoyed on your menu, even when i was on my way to MY own RESTAURANT. I would stop for a breakfast sandwich. I was a loyal customer Since the age of five yrs. old. Over the years, something happened to your restaurants! You must Franchise them to anyone who has the money. The one's In central Fl. Are filthy dirty, serving old food, horrible customer service, rude dirty looking Mang. That i would not let wash dishes in any rest, I was involved with!!
You must have the worst training program. I am not all mad, that is not why i wrote this, I am ashamed of all you don't do about trying to clean your act up. At one time you really were the KING of fast food….No longer will i ever eat at your restaurants. I myself have a proven track record for the opening new rest. & going back once a month to them, making sure they stay great…

My family and I went to Burger King for a late night dinner after watching the Monster Truck show. Burger King #3746, the girls name was Kayla, in Radford Va. I ordered 3 nugget kids meals and a whopper meal, my boyfriend got a plain chicken sandwich. While ordering she kept turning around and talking to her co-workers and not paying attention to my order. So when the order came she had charged me for 3 extra small drinks, and put cheese on my whopper. I order no cheese because I am lactose intolerant. We waited for about 15 minutes for the first order and when we got it it was cold, instead of waiting for another whopper I scraped the cheese off best I could.
I then had to remind her about my refund for the 3 small drinks, she didn't like that at all. She was rude and so was the manager on duty, no apology or anything. She basically threw my money at me, and took off. My boyfriend went up to order a chicken sandwich to go and he had to wait on Kayla to turn around and take his order, she was busy talking to her co-workers again. I love BK when we are on the run, but now, not so sure we would ever go back to that one at least again.

On 29 June 2011 at 18:57pm I proceeded through the drive though of a Burger king. Location was the closes to 500 B Carteret Ave Beaufort, NC 28516 right across from a McDonald's and a Domino's Pizza. As I placed my order (two wopper specials, lite mayo, lite lett, and cut in half totalling $7 and change) and drove to the window the young lady took my cash and gave me my change. I then looked though the window to the preparation area and saw my food being made. It was the worst thing I had ever seen im my life. The preparer was gloveless. I visually saw the member put my meat pattie on the bun. Then he got my pickles froms some compartment with his bare hand and unfolded the pickles and placed them properly on the pattie.
Next the burger king individual pushed a button on some streen he was watching, wiped his hands on his shirt then proceeded to finish making my burgers. An African American hand came into the picture and tossed the top of the bun onto the counter of the preparation area. This gentleman was also not waring gloves. The main preparer pushed a button on the streen and continued to make my burger. I had seen enough. I told the cashier to hault my order and give me a refund. The cashier turned to the food prep personel and told them to stop making the order and that i no longer wanted it. She called the manager whom was a farely heathy set gentleman and told him I no longer wanted the order.
The manager refunded my money. Never asked if I had a problem, was I dissatisfied, or what was the reason for the refund. I will never eat at that establishment again. My burger king experiance has been ruin and I now thin all burger king establishments are the same behind blind eyes.

My husband and I like so many others are trying to ride out this economic crisis by working part time in the evenings. Needless to say we don't always have time for home cooked meals. The Burger King,#3847, in Houston,Tx. is the closest establishment near our home that is open late. Twice, within the past month I have driven up to purchase a meal. Twice, I have not recieved the meal ordered. The first time the attendent asked me to wait a moment, that he would return to take my order. He immediately disappeared and he didn't return for my order. After about ten minutes of a no return and no else visible, I left.
This evening I drove up again. My order was taken and after taking my money, I was asked to wait in the front, though there was no one behind me. I waited, I saw employees leave with their orders in hand, I saw employees messing around, but my order did not come. After about ten minutes I drove around to the window again, showed my receipt, and asked for my money back. One employee was sitting on the counter eating french fries, while a young woman looked over my receipt called the cook over, and tried to figure out what happened to my order. At no time was I given any kind of explaination, nor an apology, nor did the manager appear.
These are not isolated incidents as we have had problems before and I'm talking about years. The night manager at #3847, I was told is David Villa. It seems to me that he is not your best manager or perhaps not sufficiently able to supervise his crew.

Again, I did not receive my order. Twice this month, I have driven up to Burger King, #3847 in Houston, Texas. I first time, the attendent disappeared and didn't take my order. I waited as he had asked me to do, but he didn't come back. There was no one visible, so I left. This evening I went again. This time my order and money were taken, but my order didn't come. As I waited, I saw employees leaving with their orders in hand, I saw employees messing around, but my order did not come. I drove around the window again and saw an employee sitting on the counter eating fries. I asked for my money back and handed a young woman my receipt.
She called the cook and both seemed confused as they tried to figure out what happened to my order. There was no explaination, no apology, no manager visible. I do not go to Burger King because the food is terrific. I go there because my husband and I work part time jobs in the evenings trying to supplement our income. The Burger King is the closest restaraunt to our home that is opened late.It seems to me that your night manager is not able to supervise or better train his crew.

on Friday night, I went to burger King my order was incorret the staff was visiting with each other and the drive area was conjested I had to go inside after a long wait in line to get spenda for my tea, I had asked for mustard and no seed on my burger top. I was with a friend on Saturday and recieved the same type of treatment. I had no choice but to go to the same burger king We were leaving and need quick food I can not understand the employes and they do not get the orders correct. I experienced bad attitudes and rude service. I have always love burger king, however this was awful. 2403 w.wheatland The number for concerns listed was a burger king store in calif. I need a refund

I have taken my 6 year old son to the local Burger King in Dearborn at 25300 Michigan Ave. BK # 495. Once a week for the last 4 weeks. No childen's toys. The first 2 times were drive through visits. At $4 a gallon, it is not worth turning around and getting the lame excuse I finally got. Burger king is between toys, so how about a bad necklace for your son? No thanks. it still made it's way into the bag. The last straw was 2 days ago. Manager Dennis was the person who waited on me. Nice enough person. Shocked about my previous experiences. I said this plainly and clearly, " how about taking your keys and opening up the toy display and getting me 3 of the squirt guns that you are out of?".
I am not sure, what do you say to someone that will not listen. I wanted to smack that guy upside the head. But having my 6 year old next to me, I decided that would be a bad example. If the toy display is empty, maybe the BK is out of the toys? Ya think? He gave me a Transformer old toy from the backroom. My son has duplicates of those. WOW, thanks…I went to my car before I left and took out of the trunk the necklace still sealed and in the burger king bag. I gave it back to him… Why would I go back there? Lets add some more insult to injury. I get home last week from one of the burger king trips and a burger king commercial comes on and says. "get a free drink with any Whopper sandwich order."
I looked at my receipt and I was charged for the small drink I ordered. Why pay for a large if you dine in and can refill. Too celebrate 1st week off from school, we went to McDonalds. My son does not like onions, he gave me the burger and he ate the fries and had his coke. McDonalds is cleaner, cheaper and more polite and he got a cool & correect toy in his "Kid's Meal". I am done with burger king.

I have had problems over and over with the Burger King in Sturgis MI. The people are rude and act like its a chore to serve you. The burgers come with almost no toppings. If you order a fresh BK big fish they never put down a fresh one. You have to go back in and get a fresh one. Have it your way, only if the person working feels like it, which is almost never. I cannot believe this store allows their managers and employees to be so rude when they screw up. It is no wonder McDonalds across the parking lot is always busy and this Burger King is never busy! Save your self the hassle and eat somewhere else!

at burger king in jax florida at hodges and JTB I was treated so rudely by the girl in the drive thru, she said that what I ordered would take several minutes to prepare I told her ok, she snapped at me if you dont like it leave, I went to another BURGER KING told the person there what happened he said "yeah we hear that alot about her dont know how she still has a job. I quess burger kings motto have it your way is no longer applicable. there are to many fast food places for me to be treated this way,I honestly can not believe the manager or owner condones this kind of behavior.
I spoke to many of my neighbors " this burger king is in my neghborhood" there were several people who have experienced the same type of treatment, this reflects very poorly on Burger King as a whole. I hope this does not fall on deaf ears as this could and should have a negative impact on Burger King as a whole if left unresolved.

5-30-2011 At 9:09 PM, I took my son through the drive-thru at Burger King on Highway 82 West in Tifton, GA, as I do most every night, Order # 100 Check # 50189, I gave the girl at the drive thru $ 5.00, my change was $ 1.05, she never got it to me, the wind was blowing and she let it fly onto the parking lot, she dropped the nickel on the ground, I was at the Burger King drive in window and could not get out, my son got out, we never found it. All She said was I am sorry. I do not have extra money to throw away. I am a widow and having a hard time. My son likes your products so I take him.
She never offered to help look for it. All she said, I'm sorry. I did not appreciate the way this was handled. You need to check with your people and make sure when they are giving change, they make sure the customer gets their change. I feel like she should have replaced my change, since she is the one who let it fly away. Not sure I will be going back to that Burger King.

this is the 2nd time in a month that i have visited the burger king in the 4000 block of veterans pkwy. at both times, i was the only one in line, there was not a line in the drive thru. Both times i had to wait for someone to wait on me and then wait about 5-10 min. for my order, while the employees ran their mouths and piddling around. I have worked retail off and on for over 20 yrs. customer service MUST come first, especially in this day and time. The time i went last month, one of the mgrs. or someone over the other employees was in line and i told him about the waiting time and he said he would check into it.
With so many out of work, people everywhere need to be customer conscious, because there is always someone that is willing to show appreciation for a job. The food is always good, but the service is sorely lacking.Thank you.

I go to Burger king in guayama PR Carr 54 and it was not good for me that is. I go there because wherei live ther is no internet. While i was at Burger king last night two of the Employees at Burgerking were treating me like a gay person when i have never in my whole life been gay. Now the Manager of Burger King a young lady was talking to an employee about me as i heard them speeking in a suspiciuos manor. Then the lady manager approached me and asked me where could she take here daughter for dancing lessons and i replied i don't know why would you ask me such a pathetick question,woulden't you ask a girl that insted of me thats very disrespectful of you to ask me that question.
Then she laughed out loud as if it was funny. I felt raged i wanted to jump over the counter and grab her by the neck or smash everthing i could get my hands on . what should i do in a situation like this. Should i let them get away with it. Should i take action and sue' them for this. I mean i am a customer. And thats no way to tret a customer. Somebody help me because i go there every day. And i have to put up with this evey time i go there. I am mental health patient. Burger King is one of my favorite fast food restaurants and this is what i get for being a good customer.
And by the way I will forgive the lady manager because i knowit was not her fault itwas Christians fault for telling the lady manager things about me thats not called for. And to Burger king headquarters please for give me for writing this letter i just wantthis to stop and for my safty i will try not go there any more.

On May 25 about 10:06 pm My niece and I ordered by way of the Burger King drive through, I told the clerk that I wanted a whopper with extra onion and no mayo for myself along with fries. My niece ordered the whopper junior without cheese with onion rings both of these items were meals. Not only did they make us wait, the order was wrong. My whopper had mayo, no extra onion, the bun looked as if they had been using it as putty. The fries were cold and taste as if they had been out all night. My niece hates cheese her Burger King whopper Jr. had onions and cheese. her onion rings were cold and chewy.
She asked for tea without ice they gave her a coke. We did not find this what amounts to enedible food or garbage until we got home too far to return it. If this was the end of their day they should not had said the food would be off the grill… I thought that the first time they got my order wrong that it may have been a mistake now it looks as if they just do not care! The Burger King store number is 1515400 Forest Park, Ga. I kept the receipt.

I go to Burger king in guayama PR Carr 54 and it is was not good for me that is. I go there because where i live ther is no internet. While i was at Burger king last night about 11:pm 5/24/2011 two of the Employees at Burgerking were treating me like a gay person when i have never in my whole life been gay. Now the Manager of Burger King a young lady was talking to an employee about me as i heard them speeking in a suspiciuos manor. Then the lady manager approached me and asked me where could she take here daughter for dancing lessons and i replied i don't know why would you ask me such a pathetick question.
Woulden't you ask a girl that insted of me thats very disrespectful of you to ask me that question. Then she laughed out loud as if it was funny. I felt raged i wanted to jump over the counter and grab her by the neck or smash everthing i could get my hands on . what should i do in a situation like this. Should i let them get away with it. Should i take action and sue' them for this. I mean i am a customer. And thats no way to treat a customer. Somebody help me because i go there every day. And i have to put up with this evey time i go there. I am mental health patient.
Burger King is one of my favorite fast food restaurants and this is what i get for being a good customer. By the way the employee who's been causing this issue goe's by the name of Christian. The lady manager i don't know hename but i can identify her if you need me to.All i wanted to do was use the intenet an i did purchase it's not like i didn't buy nothing. But i will talk to a lawyer about this situation because i can't let them get away with it.

Dear Burger King, I went to Burger King at 1709 rd in Goshen Indiana and got a double cheese burger 1.00 fry a a cheesecake the guy who took my order was just blah not friendly or rude got to the 2nd window paid for my food and waited then the manager her name is Holly i asked basically threw my food at me was very rude didn't say thank u come again nothing until i asked her what her name was then she said Holly and i started to drive away and she opens the window and screams out have a nice night i thought that was very rude and did not look good for your company!!
I love Burger King but will not be treated like that when i am spending my money there!! So i will no longer be going to that Restaurant anymore there are 50 other places to choose from on the same road but i thought you should know how i was treated at your Restaurant!!! Thank You for your time and have a nice day!! My name is Christina Horn and my e-mail is buckeyegirl77 [at] comcast.net

I went to a Tim Hortons in the morning about 8:30am and they were so busy with lineups out the door, so I decided to go to Burger King which is just up the road from them and I like the Croissantwich Sandwiches. I ordered black coffee with 3 sweetners and a Croissantwich with bacon and the little potato fries. The woman gave me my order in a bag with my coffee. I opened the bag less than 5 minutes later and my coffee also. The coffee had milk in it (ordered it black) and there wasn't any sweetner in it, so I threw it away. The croissantwich was fine although barely warm and the potatoes were also barely warm. I threw the whole thing away.
It wasn't a lot of money but still unacceptable. I thought to myself, "no wonder Tim Hortons was so busy and I was the only customer at the drive-through of Burger King. I live in Ottawa, Ontario and the Burger King I went to is in Kanata on March Road.

I went to the Dewey Ave Rochester NY Burger King drive through on Saturady 5/14/11 at 8:14 am. I advised that I had a coupon for a BOGO breakfast croisant "of greater or equal value." I ordered a double croisant and was told the coupon exlcuded this item. Nowhere on the coupon does it state that. I spoke to the manager who said his name was Ron Mass. He showed me a placard that states the coupon does not apply to the double breakfast croisant and that it is displayed INSIDE the restaurant. I disagree. I told Mr. Mass that this is fraudulent, classic bate and switch. I also pointed out that the outside signs do no indicate that the double is excluded from this coupon and that drive-through patrons don't see the disclaimer inside the store.
Even if they did, the coupon explicitly states "greater or equal value" so no disclaimer on a placard is valid. This deception gets partons to return with the expectation that the coupon, as written, will be honored. Is there any class action going against Burger King? They should revise their coupon, not spend money printing worthless placards.

I went through the drive through today at the Burger King on Main st in Lewisville TX and ordered a whopper with cheese and an A-1 burger. I did not look in the bag, which I remembered you should always do at Burger King. When I got to my office I opened the bag to see there was only the A-1 burger in the bag and nothing else. I then took a look at the burger to see the meet was burnt and cold and the bun was flat and rock hard. I had to toss the burger out because it was not edible. This location has to be the worst experience with a burger King I have ever had and I will not be returning to that location even if it was the only fast food in the state of TX.
I only work 5 miles from there but I run a business so I cannot take the time to run back and make a complaint. Otherwise I would be there complaining about the food quality and the fact that they did not get my order right, even though they charged me for everything.

It doesn't seem to matter what Burger King I'm at, (Denver,St. Louis,etc). I've noticed and watch the staff reheat the burgers to melt the cheese and warm up the bacon before wrapping and serving. What has happened to a fresh flame broiled hamburger served hot the first time? The taste is horrible and when I asked for a fresh burger the cashier turned her back on me and walked away! Just remember that to have it your way is to go someplace else!

we was traveling thur afternoon and hubby was a little hungry so we stopped @ Burger king in bellee chasse ,La hubby and i went in others stsyed in carit was 7:05 thursday may 5 aked the girl we would like 4 #12 Bacon cheese 4 fries she sais sorry we have no burgers, we said how can we not have burger this is burger king we have no burgers no buns i said do you have a manager here she said yes told her better fire her littlee tiny thing looked stunned never ever heard of no burgers sas sas sas.

today i visited my local burger king and order 3 whoopers and 1 double whooper i waited 10 mins for my order and when did get it home i found that i was shorted one whooper. when i tryed call the number on the ticket i was hungup on and when i called back the number just rang and rang. every time i visit bk 11119 at lunch or dinner time i have a long wait and my order is wrong "I HATE THE BK IN CLEWISTON FL. AND WISH IT WOULD JUST BE CLOSED DOWN" the managers and staff suck!

My wife and our three little children were in the drive through. There has been over five other times in the past year that we have gone to this Burger King, and we had other issues. But, besides these five other times, I will let them be and tell you about this one that we had tonight. We love to eat at Burger King. We will no longer eat at the Atmore, Alabama Burger King location, unless there is drastic changes in the customer service. I know that it is ran by the manager and on other occasions the manager was there. To narrow it down. I am tired of looking forward to great food from Burger King (like we always do at other locations), then only to come to the Atmore, Alabama Burger King and get poor service and cold food.
I am tired of being asked to pull ahead from the last drive through window, to park up front… and then the drive through employee say's "pull ahead and we will bring your food out to you!" A while back I asked why do you always ask us to pull forward and you will bring out my food, when all I ordered is one combo, just like it comes. The drive through person said, "our drive through is timed… and the big people will see if your drive through time takes too long." WOW?!? On other times in the past year, we received food that was not even warm, it was actually cold… I mean cold like it just came from the freezer.
I pulled back into the drive through asked to speak to a manager and the employee said the manager was busy… She said, "What do you want?" I then asked again… I need to see the manager please? The employee blew a sigh of frustration and then threw her pen down and walked away, about 4 minutes later a manager came to the window and asked what is wrong? I said my daughter's food is cold, like it just came from the freezer, she then said what do you want me to do? I said… I would like what I ordered but warm.
But, besides the fact of having to pull forward, so you guys will not know that it takes this franchise in Atmore 15 minutes to bring our food, I want to tell you the rest of our experience. I am tired of getting poor service from this location. I know that if you have a good team and a great manager a business will thrive. You may also ask me, if I do not like the service so much, why I don't just go somewhere else. Well to answer this question, why should I have too, when it is how hard to offer great service? I keep hoping it will change.
Tonight my family ordered our food, and from the start it was like we were not even a customer. Every one looked frustrated to be there and then we were told to pull forward and someone would bring our food out to us. 15 minutes later!!!! And some of our food was not even warm/hot!! Tonight, none of the employees were helpful, nor did they have a good attitude. My wife said that none of the employees even tried to help or offer good customer service. They acted as if they did not care. Even after being asked to pull ahead and having to wait for 15 minutes, the person that brought our food, did not even say, "I'm sorry for your wait." WOW… besides being common sense and the right thing to do or say.
It is not hard to say… "Sorry for your wait" When the food was brought out to our vehicle, and it was not even hot, there were no ranch condiments in which we asked for when we first ordered. NO BIG DEAL, BECAUSE WE ARE USED TO THIS BURGER KING LOCATION IN ATMORE, NOT EVEN PLACING NAPKINS, STRAWS, OR PLACING IN THE BAG WHAT WE ASKED FOR. So my wife asked for the ranch condiment. The employee said that it would be $00.27 a piece. OK… I understand Burger King having to charge. But when we asked for it when we ordered it, IT SHOULD HAVE BEEN RANG UP THEN!!!
SO WE DO NOT HAVE TO PUT CENTS ON OUR DEBIT CARD. AND ABOVE ALL OF THAT… COMMON SENSE TELLS A SMART PERSON… THAT IF AN ORDER HAS TAKEN SO LONG… AND YOU ASK THE CUSTOMER TO PULL FORWARD SO THAT CORPORATE WILL NOT SEE HOW LONG THEY WERE IN THE DRIVE THROUGH… COMMON SENSE WOULD TO GO BACK INSIDE… GET THE RANCH… AND NOT BRING UP AN EXTRA CHARGE… WHEN YOU HAVE ALREADY OFFERED A HORRIBLE EXPERIENCE AND HORRIBLE CUSTOMER SERVICE.
I would love to talk to the managers at this location about the problems that we have had, but we have talked to them in the past, and they act as if they do not care and blow you off. We are not ones to complain, but we have had enough. We have not shared our experiences with anyone else, yet. I am hoping that you will make a difference at this location. Thank you for your time.
Sincerely,
order number 572

Your slogan "have it your way" doesn't apply in Rainsville Alabama. Tonight after driving 20 miles to and from the burger king location located in Rainsville Alabama I saw when I got home that my order was not complete so I drove back to the burger king location. I approched the manager (Maggie) and told her my order was short she in turn told me that she would have my ONE WHOPPER in 20 min. that she had a lot of orders ahead of me (I could clearly see 3 whoppers on the platform infront of her not being issued) I then ask to speak to a manager and she said she was the supreme manager and noone was higher.
I then ask to speak to the owner of the burger king and (Maggie) the manager informed me that he lived in Las Vegas and I was welcome to drive out there and see him, after this smart ass remark not only will I not be returning to this Burger King, Unless Maggie is gone! No business needs managers that treat any customers like there pcs. of trash. So When shes gone please inform me and I will return in the mean time I have no choice but to instruct the whole area where this burger king is located of this horrible woman and ask that no one eats there again as well as contacting the Health Dept, and all resturant permit issue dept for places of business in Rainsville And or DeKalb County Alabama.
Burger King @ 323 Main Street West
Rainsville, AL 35986-5909
(256) 638-7799 Supreme Manager Maggie
You can email me back with notice of her dissmissal.
My email: ctshort [at] hotmail.com
Thank You for the most horrible experence I have ever encountered in a resturant.
Not Your Customer anymore
Christopher Short

I loved the buck doubles at Burger King and usually had one every day for lunch, now they are gone, replaced by the bk stacker. It looked good with the burger bigger than the bun and bacon all over the top so I ordered one. Got back to work, pulled it out of the bag and was surprised to see a buck double wrapper around my burger. I opened it to find what looked like a bun only, the small burger was totally inside the bun, and there was one piece of med. Cooked bacon cut in half in the middle, NOTHING like the picture on the Burger King ads.
The manager said he is not responsible for the pictures sent from the Burger King corporate office as they are just a franchise. Hello, I asked if it were not his responsiblity to make them look like the picture. He replied "we can talk about the picture all day but I am not responsible for the pictures sent from the corp. office". On top of this they charged me $2.11 for half a buck double. Maybe my fast food days at Burger King are coming to an end…

I am writing to report contemptible behavior by a drive-in clerk and her co-workers at Burger King Restaurant #2471, 24th & Oregon Avenue, Philadelphia, PA 19145-4112. It was approximately 10:20 PM on Saturday, April 23, 2011. Dtore personnel had locked the seating area doors. I walked to the drive-in area, stepped up to the ordering microphone/speaker and waited for about 30 seconds for the clerk to say something, whether to ask for my order or to tell me that she couldn't serve pedestrians. The drive-in clerk, however, said nothing.
Over the next several minutes, I asked perhaps 15 – 20 times whether the restaurant was open, was anyone there, did I need a car to be waited on in the drive-thru lane? The clerk said nothing. I was yelling loud enough for the 20 or so people waiting for a bus along Oregon Avenue to hear me. I tapped on the microphone/speaker with my hand a few times – gently enough not to harm it in any way. Finally, I walked towards the service window and as I stepped about 10 feet from the microphone/speaker, I heard the formerly mute clerk ask the car that was right behind me whether she could take their order.
When I reached the window, I finally saw this clerk. I asked her why she said nothing to me when I was standing in the drive-thru lane and that she wasted several minutes of my time. I asked her whether the restaurant was open. She bowed her head, put her fingers on either side of the ridge of her nose, shook her head and whispered "Oh, God." This gesture was clearly aimed at making me feel unimportant and as though I were some crazy person, deserving of ridicule, that her fate in life was to have to deal with such insanity, that she clearly had something better to do or some place better to be.
I insisted on an explanation for her silent treatment, so I waited until she unbowed her head. She searched for something to say as she fought back an insulting smile, She claimed, variously, that she could not hear me when I was in line, that she didn't know I was there, or that she had no explanation, or that, by inference, I wasn't deserving of one. She joked with her co-workers with words that I could not hear and they began laughing and looking at me. One tall dark-skinned male came over half-smiling, half-supporting the clerk, giving me a quizzical, unhelpful look, and seemingly agreeing with my question – "So, you can't wait on someone who walks into the drive-thru lane?" I had no idea of what he was trying to accomplish, other than to partake in the amusement. In the end, I received no direct answers from anyone at that window. Everyone just treated this scenario as a big joke.
As I waited in front of the restaurant for my bus, EACH TIME I GLANCED INTO THE RESTAURANT, I could see the same drive-thru clerk and several of her co-workers turning around to laugh at me and look contemptuously at me — stares I'm simply not accustomed to. One of the co-workers who had delighted in the situation came outside for a meal and to sit on an Oregon Avenue BK trashcan. He offered absolutely no explanation to me. I told him that I would report this behavior to a manager and he uttered that there was a manager inside the restaurant at that moment. I looked in and saw two employees dressed differently than the others (I assumed that they were managers or supervisors), but they were having a good laugh, also turning periodically to stare at me. I could tell from the tone of the worker sitting on the trashcan, and I otherwise concluded, that the entire crew was unprofessional, managers and clerks alike, so I would do better speaking with another manager or the franchisee at a later time.
I came to your restaurant innocently attempting to purchase a veggie burger. If I could not be helped in the drive-thru lane, I should have been told that immediately. There should have been signs to that effect as well. If safety was a consideration, then keeping me in that lane for several minutes by not responding to my questions harmed safety, not helped. The clerk and other employees had an obligation to tell me immediately that I could not be served — or to serve me immediately. If the clerk couldn't hear me, then she could have taken my order when I saw her at the actual window. But, she did nothing of the sort – she was too busy having a good time at my expense. This was some sort of game, perhaps they were betting on how long I would stay in the lane before giving up. The laughter, stares, contemptuous looks after wards reflected an entire organization out of control and the exact opposite of good customer service. This was humiliating.
The clerk in question and the manager on duty should be fired. Neither I nor my family will eat at any of your restaurants until I receive a proper explanation and this matter is resolved in a fair manner.
Regards,
Al

My wife and I were in the Burger King (at 2880 S.W. Port Saint Lucie Blvd in Port Saint Lucie, Florida 34953) eating our meal about 8:30 P.M. I believe the store number is: 9123. While we were eating one of the employees came out and shook a rug within 10 feet of our booth. Dust was flying all over the place and the stench of the dust was quite evident in our booth. There have been several things happening at this restaurant that need to be addressed also. Such as during business hours cleaning fixtures with a mop and dust pole above the french fryers.
Also have observed employees sweeping the floors at the tables and booths where people are sitting and then on top of that going right back to the area of food prep and not washing their hands. My wife and I love Burger King and would go to a different store if there was one more convenient than this one. But they are too far away.
Thanks for listening.
Ron Reynolds
772-237-4288

To whom it may concern, I recently bought a meal at a Burger King location in philadelphia, Pa on Castor street next to the Oxford Circle, i have noticed the employees take orders on the cash register then put fries and get in touch with alot of food without gloves or washing their hands! i love burger king and i always rather my food from Burger King than any other fast food place but i will not have someone ealing with money and then my food, i do not want to call inspection i just thought it would be helpful to write this complaint
thank you so much. maghrooma_feek [at] yahoo.com

The Burger King down the road from me in Orlando, Florida on East Colonial Dr. Store # oh wait I can't give you a store # because it is not on the receipt. Gee I wonder why?? I order at the drive through and no matter what I order each time I am told to pull around to the front of the store and they will bring my order out. there is no one behind me, no one in line so why do I need to pull around to the front? Well because mam we are on a timer and have to have the food out to you in a certain time. Ok well have it out in a certain time. I need you to pull around mam. Let me speak to a manager.
Manager comes and tells me to pull around to the front of the store it is policy they cannot have someone waiting at the drive through waiting for their food I guess. So needless to say I pull around to the front 12 minutes later, I go inside the store. NOt a sole in sight, no one in the store eating or ordering, it;s not like they were even busy. I ask gee did you forget me? No mam your order is here. I think they do this on purpose so you get pissed off and go inside to get your food so they dont have to bring it out to you. I get home and on my whopper is one little shred of wilted lettuce and about 10 pickles.
I don't like tomatoes or onions so I ask that to be removed. You would think they would realize that I want a whopper without tomatoes or onions, I would like lettuce!!! So what I got was a stale bun, a shriveld piece of lettuce (one itty bitty piece) and pickles and a patty. If I wanted a hamburger I would have ordered a hamburger. Then I get the onion rings a large that costs what $2.89 for a large that is half full. Once I get home and find all of this out I call the store and ask for a complaint line, she gives me a toll free number and when I call it is the employee line, the gentleman tells me that I want consumer telephone number and gives me the number so I call that number and it is a number to open a franchise.
I have looked online to find out Burger Kings cooperate headquarters and am going to call and boy you better believe they are going to hear some words from me. Fast food is going up in price and quality and service is definitely going way down! I don't think I will ever give Burger King another dime of my money…they suck!!!

i went to burger king at foothills roseville and i was suprised to experience the customer service so poor from this location. i ordered a burger meal w/ fires there yesterday. i saw her preparing an onion fries instead so i told her i want a regular fries. the lady she got mad right away and was stomping and snorting. and making indirect remark in a SPANISH language that was very rude sounding to me. she was arguing although i'm calm the entire time about the fries. the CRUE's name was GABBI/GABRIELLA. she was really2 rude and because of this i am pretty sure that we're not going back to burger king anymore ever!

On the night of 4/2/2011 I went through the drive-thru of Burger King store # 17110 on Walzem Rd, at 09:38 p.m. in San Antonio. I ordered the 20-piece Tenders for $4.99. After paying at the window, the clerk asked that I park further up the lane that he would bring out my order. I thought, "Great", they were frying the tenders. A few minutes later I was brought my order, and upon tasting one piece, I realized this product had been cooked many hours' before, and apparently micro-wved to heat them up for my order. They were hard, tough, and practically inedible. I would like either a refund from Burger King, or a new order made of this product, that is fresh, hot, and edible.

I really believe Burger King needs to train their employees on better customer service. They need to be taught to listen to the customer and not behave like they have something better to do and not act like were bothering them. The employee at drive through was curt, and was trying to rush my order. I had to tell her to hold on when placing my order (she still got it wrong) I drove up to pay and. she took my money with no words at all and gave me my change, no thank you nothing..My burger was soggy, my lettuce was all wilted and I had ordered a whopper combo no pickle, onions and no tomatoes, tomatoes, they went ahead and still put in.. What a waste of time and money going to Burger King.

Standing @ the front counter at Burger King for 15mins before they waiting on me. There was no one in line, they were talking to each other in the back, and on the cell phone, not to mention that the place was dirty. If I was the Burger King manager they would leave there phone in there car, and when not busy would be cleaning and mopping the restaurant. Instead of clowning around like they always are, how about getting some work done? I am just saying! If you want to know this burger king is located @ 1-10 and hwy 73 in Prairieville La. Every time I come in here its the same stuff, Poor Management!

Complaint about Burger King at 49 West Hamilton Campbell CA. Went to this location and they did not bother to put a label saying they are out of certain sodas in self serve drink area. March 25,2011 at 6pm. They had only 3 of the 7 or so available. This was not the first time this Burger King location was out of soda as they were out of one a month ago. The BK staff knew as i asked him and he told me the ones available. When i left a half hour later they still did not label out of stock and they also did not have any soda covers as well. Be warned check your sodas before filling up or better yet dont go to Burger King on Fridays. Who ever is the manager of the West Hamilton location sure is not doing thier job at customer service. email for this place on receipts is comments02012@sracbk.com

today we went to burger king at palencia on us 1. we have had bad experiences there before but we are just sick of it now. our nuggets were cold chicken sandwich cold bread hard as a rock. whats going on there are never any customers in the place and the employees were outside. i wish i had my camera so i could have taken pictures of the girl putting fries in a plastic bag off the floor. oh my god will someone please help this burger king does the poor owner even know or care. we will notify the health inspector. burger king manager on duty was a idiot. whats going in people always playing around dirty store and fat nasty people with no gloves. whoever owns this place needs to watch the tapes and fire everyone and start over. we might also call the news reporter to check this out this place needs help thanks!

There is one Burger King in Zachary, Louisiana. There is one McDonalds in Zachary, LA. You can get in and out of McDonalds drive through even with a long line of vehicles in very few minutes. More than once, I have sat in line (there is a curb when you get so far in and you can't get out) for an extraordinary long time considering the number of cars in line. One night it took 50 minutes to get a Burger King kid's meal. There was a truck at the order box with nothing but space in front of him (se was yelling at the order box), one car behind him and then me. That was the longest time but I was told by someone else that was complaining about this it was quicker to go in.
I did that yesterday and found Burger King employees arguing about who was going to take an order out. I believe the manager was there and leaving and it was chaos in there. Three people in the kitchen part, the manager, and three other employees up front. I still had to wait for the kid's meal. No one else in line when I came in. When I had to wait the 50 minutes, I called a Burger King store the next day and got a supervisor's name and left him a message, he never returned my call…he knew it was about the Zachary location. The store manager I talked to in Baton Rouge said, Zachary had "help" problems.
It does not help to complain to the store personnel in Zachary….they DO NOT CARE. If this is OK with you, fine but the only reason I go there is because my grandson has to have those onion rings. He has autism and he does not want any substitutes. Also, my 87 year old Mother loves whoppers. I thought you should know…it's been this way a long time and I think you have lost a lot of customers due to this…Zachary has really grown since hurricane Katrina but I know they could find employees that care somewhere in the area.

we went to burger king last night at 8:00 pm. we placed our order inside and went to get the drink for the meal. I turned to get ketchup but the pump was empty so we had to ask for packs. they gave us 3 packs for a large fry. we had to get more. our food came then we went to find a seat. most of them were dirty and the tables had not been wiped off. but we found a clean one. I unwrapped my veggie burger to find no pickles or ketchup or onions. only 1/2 of a tomatoes was on it as well.I went back up to ask for pickles and onion in a cup to put it on myself and the burger king manager said well what kind of burger did you get they all do not come with that. I said I got the veggie burger and she just turned and walked away.
the girl next to her put some in a cup and gave it to me and walked away with out a word. my husbands burger was a double stacker. when opened it there was only one patty not two. so he took it back up and they were just going to put one patty on it and give it back but he said to the lady you have had your hands on it i want a new one to eat. when we got up to leave all of the trash cans had been turned to the wall so you could not get trash in them. we had to sit our tray with trash on the top of the cover to the trash can. it was bad in there and all of the burger king workers had the attiude that they did not care one bit if people came in to eat or not. I just dont understand people anymore. so many people are out of jobs and the ones that do have them just dont care.
they should replace all of the ones in that store with new ones. the burger king is store # 07957 on franklin blvd in gastonia n.c.

You'll don't offer buck doubles anymore??? WHY McDonalds has double cheese for a $1. They have fried pies 2 for a $1, Spicy chicken $1 & a really good dollar value menu & have for many yrs. U people r right across the street & can't hold a candle to McDonalds business. McDonalds open at 5am/Burger King suppose to be 6am. I get a sausage biscuit/coffee 4 $1.08 cents at Big Mac every morning at 5am sharp everyday on time. Burger Kings Breakfast menu wow not good at all & HI PRICED/the burgers, onion rings everything way out of line price wise. the strawberry & grape jam r jelly YUK. Try McDonalds sometimes it is much better, not great but much much better.
The NEW Stacker 1 Meat 2 Meat 3 Meat No No Try again terrible value for the price. Sometimes Changes r bad. This is 1 of them. This was a change in the wrong direction No Buck doubles & The Stacker Wacker Packer deal SUCKS Sorry Just being honest here. I do like the flame broiled patty but I can do that myself at home & get more bang for my buck. The service is great/employes super/nice new clean building but too high price wise. Jack in the box WOW Chicken sandwiches/2 tacos & a real good dollar value items. Dairy Queen has 2 double cheese (really good burgers with bacon everything on them for $3/Chicken & doumplins for $3.99 Great.
Thanks for your time Kelvin Bourque. Good luck!

Good morning, I was really feeling like a burger this morning so I decide to go to burger king because most are cooking breakfast at this time. It is a rainy days…cold…so a nice hot burger would of been great. I have several issues with your restaurants. 1. The cook who makes the burgers at burger king had no GLOVES on while making my sandwiches…he picked up every ingredient with his bare hands. I not sure what you policy is…but when customers can see you make there food, it would be nice if you cooks were wearing gloves. 2. I watch him put my food in the microwave …why would he have to do this if the food was hot.
Even microwaved my food was cold…amazing. What ever happen to serving hot food. I had ordered the whiplash burger…it was cold and one of the crispy chips(not sure what the were) one was so hard I could not ever eat it. I can send it to you…you should have a product that does not get rock hard. I have tired this burger and have decided I do not like it. It to spicy for me. I can honestly say I will not be returning to burger king …I love hot food and food that is not microwaved. If this is how you run a business..you might want to put up a wall so customers cannot see you prepare their food.

I went in to Burger King fast food restaurant and asked for a buck double with no cheese. The man at the register said that he could not give me a buck double with no cheese. He said he would have to enter it as a double hamburger and charge me 30 cents more. I asked why it cost extra to get it with no cheese and was told that the buck double was a Burger King special and I either had to have it the way it comes or pay for a double hamburger. I left and went to McDonalds and they were happy to provide a double cheeseburger with no cheese at the same price as a double cheeseburger.

I have contacted Burger King Corporate Headquarters and multiple HR representatives. I have someone working at Burger King using my name and SSN. Burger King has made no effort to contact me to resolve this issue. I have left messages for their legal department, HR, general support techs, and anyone else i have come in contact with. I have filed police reports and reported it to multiple identity theft sites. They do not care about this apparently. Or think it is not a serious offense. I need to get this removed from my credit, and have this reported to the IRS. I think this is a tactic by the Burger King company to help their employees to continue to work using my info for cheap labor.
I'm thinking of going to a lawyer and having them call Burger King to get some traction because apparently they do not want to cooperate with me to help the police catch this person and press charges for fraudulently using my info to gain employment. This is BS and i think a company as big as Burger King would be willing to assist me and the police department in finding this person. I want to start a boycott of this company as this is not right in any way!!! I believe if this happen to them they would be just as concerned as i am about this.

I am an everyday customer at the Burger King at newark delaware. I eat breakfast and lunch their on a nearly daily basis. I am constantly receiving either the wrong order or food that simply should never be eaten by any human. On a few occasions I have even brought the food to show to the manager and asked them "would you ever eat this sandwich" upon which they responded by saying that they would not. This week on two separate occasions I received the wrong order at this Burger King.
The first time I saved my receipt and was given the missing food but the second time I had already thrown away the receipt upon returning home and noticing that i received the wrong food. I would like some consideration for the fact that I am constantly receiving the wrong orders and am met with hostility upon complaining, and in addition, was still never compensated for my screwed up order since I did not have the receipt. This is simply not acceptable from Burger King.
Thank you for your time and I look forward to your response. My email address is Mdevivo@udel.edu please contact me on this email to discuss this issue.

Had a very disappointing experience at this Burger King in Standish, Mich..Feb. 15, around 6:00 pm.We waited over 20 min. for our food, they were more concerned about the drive through that the indoor customers. When I got my Burger it was dried out bad. The worst part was when I used the rest room, one of the Workers came in and went then left without washing his hands, and I think it was a manager, what a piece of work. I will be calling the place tomorrow to continue my rant!!! I won't be eating there again.

My husband and I stopped at the Burger King on I-49 in Alexandria, LA this morning. It was so cold (59) I asked the clerk to turn up the heat and she told me she needed a key. I asked where the Mgr. was so that he could do it and was told he was at home. It was 8:00 in the morning, this is at Burger King mind you, and they didn't even have coffee brewed. I was told I would have to wait for that too. I got my money back and went across the street and ate at McDonald's instead.

I went to Burger King for breakfast this morning. The service was very rude. I didn't get a HOW ARE YOU or other nice greeting or a THANK YOU. They pulled me and 5 other cars out of the drive thru and told us to park and that theyd bring our food out. I waited ten minutes for two sandwiches. I had asked her to put jelly in the bag, when they brought my order out they hadnt, so i had to get out of my car and go in there and wait for jelly. They were rude once again and didn't apologize for leaving the jelly out of my order. This is ridiculous that they are supposed to serve the customer in a friendly timely matter and i have to go thru a rude hassle at Burger King just for a biscuit. Ill go to McDonalds next time!!

I went into burger king at 6:35 am on 2/5/2011, the person behind the counter was very slow moving (i figured he worked all night maybe tired not the problem) well he looked at me and said what do you want. I handed him a burger king coupon for buy one get one free breakfast bowl (which are very good). I said give me this and a medium black coffee please. He looked down at the coupon looked back up at me with a look of are you kidding me like i asked him for his first born. He said we don't have any coffee, i said are you kidding, he looked back with the same blank look said no. I have been waited on before by this person with the same look, so maybe that is just his look. Burger King not serving breakfast and NO COFFEE R YOU KIDDING ME.

I just went to burger king to get food for my daughter…..I saw one guy in there…..Pulled up to drive through sat there for 10mins. Drove to the front and they disappeared…..all lights are on in the place……Its only 940p……this location is in Montgomery NY 12549…..Also when you do get someone they make you wait 10 to 15 mins for food…….I was reading reviews and they are bad with your company. Something needs to be done about this burger king location…….It has bad service……..I will go to Micky D's right across the street…..they are nice and food is fresh and fast…..hope something is done about this……thank you for your time……..

Today on my lunch break I decided to go to the Burger King. As I approached the building I was really greatful that no cars was in the drive thru. As I was turning in a car did make it to the drive thru before me, the car was at the ordering speaker for about 10 mins before he pulled around. I then waited for 8 mins and no Burger King employee said anything as if there were closed. I pulled around only to find the same car that was in front of me is still at the window. after waiting for another 5 min the car drove off with no food or money being exchanged.
I then pulled up at the window and look at the Burger King employees who tried very hard to make no eye contact as they were looking at paper working and doing other things. After waiting at the window for close to 10 minutes I blew my horn which made no impact on them at all. Now cars that have arrived after me are pulling around and speeding off. The Burger King staff never did acknowdlege that they were not taking orders.

The head manager, Am making a serious complain about how staff are being treated in burger king in Gloucester most especially by the manager (stephen). First of all,there are no permanent hours for staff,they tend to do it every week where they give there own people more hours. One can't even pay for one's bill. We staff worked hard for the company,and the only we can be paid is with the harsh treatment. If only the HR of burger king can please come into the case, every staff should have specified hours they are working the days and time both the full and part time staff,at least we all have a sense of belonging.
I am working in burger king in Gloucester,employed as a full staff but being as a part time,even with the part time,i can be given just two days to work, how can I pay my bills! If I ask, the manager (Stephen) is going to tell me that they too much staff and they have to cut the hours,my question is why employ so my people? Please find something to the situation cause burger king Gloucester is not a loving place to work at all. All staff working with anger cause hey can meet up with financially and the stand in manager is not helping at all instead messing up the whole thing, it was a lot better when the manager was in (kamar) but immediately he left stephen feels his new manager and everything upside down. Please do something about burger king in Gloucester. Thank You!

During the busy lunch rush, i waited at the burger king counter for my order while this woman texted. My food was done and in the staging area. I waited a total of five minutes while this lady texted and/or facebooked on her phone. She laughed and was pointing at the phone while showing others. Another burger king counter person asked her to do something and she said… "just go ahead and do it…" indicating that her job was simply not important to her. Really, if you don't like your job at burger king or anywhere else, go find another. I heard she later got fired by her boss, but honestly it was too little too late. You shouldn't be texting at the counter!

What kind of company believes that an Oreo Shake is serving a vanilla shake with crushed Oreos and whip cream on top? I'll tell you who, Burger King! Their service and quality keeps getting worse and this was the last straw. And to make it worse they gave me no receipt so no Corp number to call. Then I look online and there are no e-mail or numbers to call. Dammit I actually wanted to help BK and still they don't even let me do that. Obviously they could care less about their customers. I'll stick with In and Out, Jack in the Box and McDonalds…

Burger King — such crap! Every single one of their stores shut down in my area. Poor customer service is poor customer service. I had a bad customer experience. Oh it was 6 minutes to close of breakfast and they didn't want to make a batch of biscuits? Oh, boo hoo hoo for the Burger King franchise! They lost a customer, and possibly the lifetime value of that customer, to save a buck on a biscuit batch. Burger King corporate will waste millions of dollars on advertising this year. But lost a customer on a freakin' biscuit.

I am pretty upset about this. I am on disability and social security, so my budget is very much limited by that. Went in to burger king the other to get a burger, and was very surprised by the rising prices of fast food. Instead of a few dollars for a hamburger, it was almost 5 dollars. If you want fries and a drink, it will cost you almost $7.00, with a regular drink being $2.25. I ended up getting a few things off of the dollar menu, and went home frustrated. I know times are difficult for everyone, but it is very difficult to keep up with the rising costs of living. I don't eat fast food like burger king all the time, but it would be nice sometimes to get a hamburger. I just don't think I can justify spending that much money anymore, it's just not worth it to me anyways. Burger king and probably every other fast food place keeps going up on their price, and you keep paying it. Why???

Clare Roller
from Lecanto, FL
Florida HOMOSASSA SPRINGS Burger King ALWAYS serves BELOW WARM - DRY BURGERS served on a DRY OLD BUN. Have had words with the Manager TO NO AVAIL. Things better change there or they may as well CLOSE UP. I have even asked for "HOT OFF THE GRILL" and that didn't work either.
We live close to them and WE DON'T INTEND ON GOING AGAIN FOR A WHILE (30-45 DAYS) We'll try it again then and see if the complaints have helped any.
Not sure how you can get through to this Manager. Burger King was our favorite quick burger even if they would give us a JUICY HOT OFF THE GRILL!!
TERRIBLE.

david godfrey
from London, ENG
missing 2 chips made a complaint through the app and still missing the 2 chips

Jerome Perry
from Ashford, CT
I'm from Willimantic Ct there's only one Burger King in this town. I have a complain. I never complained before. I'm a Black Vietnam Veteran and today a couple of Vet buddies we always frequent Burger King especially when we have our coupons. I got my order and walking toward the pick up area to get our cup for drinks there was this White manager. I have to describe him as White because as long as I've been going there's always been a Hispanic manager in charge. Anyways, this particular White manager appeared to either be training or showing off with some of the young female workers there. I asked the workers to please make our burgers fresh - only because during and after rush hour the burgers are sitting up under a HEAT lamp getting roasted and we didn't feel like eating burger with roasted lettuce and scorching tomatoes. I said yes ma'am can you make them fresh for me.. She said.. yessir and here they are. Them manager turn around and held up a French Fry in front of my face and stated: Do you want to check and see if this fry is fresh and hot.
I thought you should know that you shouldn't have a person of that capacity in a position of training new employees like that. It was not only unprofessional but insulting and uncalled for. You guys never know about these thing unless someone tells you. This happen today December 11th a little after 1:00pm if you need me further for verification please email me or call me I will be glad to have this conversation again 860-377-9934

William Mustari
from Homewood, IL
besides extended waiting for dine- in restaurant service (while customers walk out) HOW is it possible to be out of a simple bbq sauce condiment, week after week? I asked for it when placing the order, they said nothing, once paid & served your THEN told "were out"...and they walk off with NO ask of a substitute offering …..how is that even customer service??

Jacquelyn
from Elmhurst, IL
I Don't Know Who Does The Hiring For This Establishment However I Find That The People There Have Very Poor Customer Service and This Is Just Something I'm Not Use To For Burger King What Ever Happened To Great Customer Service Or As Your Model Says Have It Your Way ? Every Time I Go To This Establishment Here In Peoria, IL On The Corner Of Knoxville and Richmond I Have Some Sort Of Issue With Them I Already Put In A Complaint Before Because I'd Bought These Coupons From There ( That Mind You I Still Have Yet To Use ) That When I'd Went To Try And Use
Them They Weren't Able To Oblige, They Are Always Slow and Asking You To Park Ahead, One Time They Had Me To Pull Ahead and I Waited Over 30 Minutes Outside I Tried To Call Inside Because I Was Truly Tired After Getting Off Work And Just Didn't Want To Walk Inside Or I Wouldn't Have Used The Drive-Thru In The First Place But Ended Up Walking Inside Anyway Because No One Would Answer The Phone Calls They Aren't Very Friendly At All Excluding The Early Morning Shift Anyway Tonight 12-11-18 Around 9:30pm I Stop There And After The Girl Gives Me My Bag I Realize That I Need Salt Because They Never Put Salt On The Fries So As She Starts To Walk Away Completely From The Window I Yell Out Can I Get Some Salt but She Keeps On Walking As If She Doesn't Here Me But There's A Crack In The Window Which Tells Me She Does Here Me So I Open Car Door To Knock On The Window When The Manager Herself Comes Through But She Doesn't Even Stop To Ask If She Could Help Me She Sends The Boy To The Window I Ask For The Salt As He Gives It To Me I Tell Him To Tell Her That She Needs To Ask Before Walking Off If There's Anything Else The Customer Needs Before Just Leaving He Laughs I Start To Pull Off But I See Whom I Think Is The Manager Come Back Up And He And She Are Standing There Laughing At Me So I Bag Back Up And Start To Tell Her But She Weren't Respectful About It In Any Way At All In Fact She Started Trying To Mock Me She Is Truly Not Manager Material And Needs To Be Fired So Someone Who Knows How To Be And Act Like A Manager Can Run That Place In A Respectful and Caring Way
Signed Very Disappointed

Jerome Perry
from Ashford, CT
I'm from Willimantic Ct there's only one Burger King in this town. I have a complain. I never complained before. I'm a Black Vietnam Veteran and today a couple of Vet buddies we always frequent Burger King especially when we have our coupons. I got my order and walking toward the pick up area to get our cup for drinks there was this White manager. I have to describe him as White because as long as I've been going there's always been a Hispanic manager in charge. Anyways, this particular White manager appeared to either be training or showing off with some of the young female workers there. I asked the workers to please make our burgers fresh - only because during and after rush hour the burgers are sitting up under a HEAT lamp getting roasted and we didn't feel like eating burger with roasted lettuce and scorching tomatoes. I said yes ma'am can you make them fresh for me.. She said.. yessir and here they are. Them manager turn around and held up a French Fry in front of my face and stated: Do you want to check and see if this fry is fresh and hot.
I thought you should know that you shouldn't have a person of that capacity in a position of training new employees like that. It was not only unprofessional but insulting and uncalled for. You guys never know about these thing unless someone tells you. This happen today December 11th a little after 1:00pm if you need me further for verification please email me or call me I will be glad to have this conversation again 860-377-9934

mary stubert
from Georgetown, TX
broke tooth on big bone in burger JUNE16 now it is Dec 10 . called and BK told me to toss the bone.Manage at the time took a photo of the bone;so I took the bone and tooth piece to the dentist where he disposed of the bone. Got call from BK ins. co 4 months later, they NEED THE BONE> well , wrote the local BK where I bit the bone. NOT one reply from the BK corporate or the local one. NOT EVEN A BK COUPON< (could have used it for chicken)
needless to day not us or our friends go to BK anymore.
6 months and not even a coupon they should be ashamed.

Robert Hempel
from Sierra Vista (Fort Huachuca), AZ
Store# 18181 Fort Sill, Ok
I placed my order at 1118. I ordered a #1 with cheese, no onion, medium onion ring, 2 onion ring dipping sauces and soda. I was told to move forward because my order wasn't ready. I pulled forward and sat and waited for 19 minutes until I received my order. When I got back to work I opened my bag to begin my lunch, there were 7 bite size cold onion rings with no dipping sauce that I had asked for. They had 19 minutes to get this right. I'm not satisfied.

Dave Homer
from Cincinnati (Central Business District), OH
New promo ref Whopper for a penny when ordered from McDonald's location is not honored at all stores. No mention of this in the advertisements. Very underhanded attempt for attention. Hope it costs NO a lot of customers, which I'm sure it will.

steve Warren
from Smyrna, GA
The managment of the Smyrna bk let's a man called fast Eddie live in his car a black Toyota SUV and live in the restaurant watching sports TV and get manager meal discounts he harasses my wife and other females partons can't even watch news stories or be comfortable eating meals I will go to the local news if it isn't addressed soon the burger king on southcobb drive in Smyrna Georgia 30080

Christina Cramer
from Raleigh, NC
Today, 12-6-18, I ordered lunch at BK in Grass Valley, CA. I wanted the crispy chicken bacon cheese meal. I was told they were all out of any crunchy chicken. I asked if I could have a broiled chicken on it instead and was told yes. I even said to her how much I was looking forward to all that melted cheese and the bacon. I get home and what I got was a plain chicken sandwich that was rubbery and tasted like it had freezer burn. Also, there were raw fries mixed in with the cooked ones and the cheese nuggets were awful. In my youth, I worked at the BK in Oxnard, CA and was very proud of our food and service. I spent $40 buying food for myself and friends today. For that amount of money, I would have like to at least enjoyed what I got. I did not. Not to mention that last year I went through the drive through and used my card and never got it back....sadly didn't discover this until I got home. Yes I called and went back there. Unfortunately it was a debit card that you didn't need a pin to use. It has $30 on it. There are many fast food places to choose from in my town. I'm hoping to get some kind of redemption for the terrible food I received today or that will be the last time I patronize your establishment.
Sincerely
Christina Cramer

Krystal Gonzalez Hatch
from Farmington, NM
What kinda restaurant has a terrible General manager and allows bad customer service and don't not like my service and tells me to leave and eat some where else? Treat my kids terrible, never got my order until 45 mins away it's terrible, too make everything worst I seen this post on Facebook, fix your burger king employees or will take this to the news and get your word out, this sound very disgusting, now I want my kids check, this ain't allow due to HIV being toss around not right
charmaine the manger name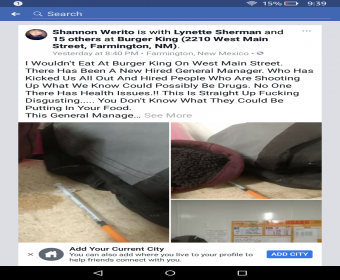 I am a retired 35 year Public Safety Police Det, as well as An Air Force Security Veteran. Currently, I am a member of Luke Greenway Post-1 American Legion, where I have playing Taps at Military Funerals and Memorial Ceremonies. Back in March of 2018, my wife and I went to the Burger King #16209, 1970 W. Baseline Rd, where we place an Order # 36, with Survey Code 3 70363-96111-37221-080944, where we purchased 2 Whop, 2-CHS BRG; 3- SM Fries, 4- SM Cokes. When we ate our foods, the burgers tasted old and stale; the fries were cold and tasted greasy and old. I called the Manager Diana and reported our dissatisfaction with the Order. Diana listened attentively, and said to keep the receipt and write her name down, and to come back in whenever we were ready and they, Burger King would Honor and replace the entire order. On Dec. 4, 2018 I returned to have the Order Honored. I met with Manager Karla, large heavyset Mexican female, and presented the receipt and conveyed to her what Diana had stated. Karla examined the receipt and said "You see the Date, it has been since May, 2018". I said we were never told there was a time limit or a mandate. Karla said her position for refusing to honor the receipt and what Manager, Diana promised us, was the date of back in May, when in fact it was March. I advised Diana, who said she has been with Burger King 10 years, I would contact Coperate Management to have them consider our plight and her refusal to honor what Diana had promised us. I then order another Meal Order # 67 for $ 12.14 and left. I strongly believe Diana's word should have been honored.Thanks

Sarah Blaisdell
from Lady Lake, FL
I was trying to order through the drive thru at around 615 a.m 11/28 and nobody acknowledged I was in the drive thru I pulled up to the window and there was about four people standing around smoking something inside the restaurant when the manager opened the window she said they wasn't open yet smoke was coming from her mouth and smelled like marijuana. Also to day 12/3 at approx. 630 a.m I and my daughter went thru the drive thru and this time was yelled at by the person who identified himself as the gm when we got up to the window to pay and he was cursing at us and being rude and said that Burger king corporate wont do anything to him go ahead and f*****g call them they wont believe you and he shut the window. I asked where my recpt was he said in the fu*king bag b*tch I looked my daughter looked and so I went inside and stood there until he finally printed me one 10 minutes later so I threw the food in the trash because they may have poisoned it also I have a video I am thinking about posting online also letting the news station for The villages Florida have a look at. That BK will be shut down after they see how this GM and manager treats customers.I would like to speak to the owner within 3 days or I'm sending the video out to the news For the villages Florida...3524189369

Alberto garcia
from Chicago, IL
No cheese on my sandwiches and my hash browns were so hard and not edible.Also no cream or sugar in either of my coffees

Maryanne
from Lancaster, NY
Kinda annoyed , went through drive thru yesterday morning . The girl asked me to pull around and she would bring my food to me, when I asked why there is not a car behind me , she said we get timed on the orders ????? Ok ?

todd malin
from Sierra Vista, AZ
I have been at the Fort Leonard Wood Missouri store two times at drive through in which the line of cars was lined up past the window that you pay in which the wait was so long that people just drove off. The workers there are in slow mode but are fast at taking your money. I have also been to the store in Waynesville Missouri twice in which when walked in nobody in sight after calling a man and woman came out and the second time nobody in sight again in which I just left. I guess I will give my business to Taco Bell or Mc Donald's . These two locations are a joke. They take no pride in job it seems . Have a great day.

Jaquita Lyons
from Concord, CA
On 11/30/2018 I ordered a Ham Egg and Cheese croissant meal and to my surprise when I got to work I opened my bag and they gave me a Chicken Egg and Cheese croissant instead. I called several no answer. I couldn't leave to take it back due to being at work. I am very disappointed because I should not have to check my order every time I go their in the mornings. Now I am hungry and out of $6.00.

Patty A Dela Cruz
from Chicago, IL
Went to get lunch saw all sorts trucks and yes saw drive thru tore up but no notice onbig sign saying anything about being closed. Parked walked up to first entrance and got jumped on for walking to door. Was told closed asked where was sign lady says here on door(which was open away from me) couldn t see it. Stated should be on sign on roadway instead of advertisement for food items after all have people coming off of I55 24/7. This is burger King in Litchfield, Illinois Went across street to Jack Box. This doesn t surprise me with the manager you have there.

Brenda Howell
from San Francisco, CA
.I visited your restaurant 9512 Preston Hwy. Louisville ky. I was extremely disappoint ed.I had to wait in line several minutes for someone to take my order. After that , I waited for 15 minutes to get my order. There were several other people having the same wait. One man on the grill was loud and extremely obnoxious. The lady that took my order apologized, and said they have to listen to him all day. When I received my order, it was not hot, as it had been sitting under warmer for awhile, fried were undercooked. I'm not sure I will return again. Thought you may want to check on this location, as there was a manager there and did nothing.

Lorraine
from Johannesburg, GT
Westgate 120 Ontdekkers Road Westgate
This was my first visit to this Ontdekkers Road.
The first impression was dirty and smelly.
The cooldrink fountain was empty and only had pepsi available.
No onion rings (but nobody warns you and only after paying the manager will announce "no onion rings)
The burger itself was on the dry side not as juicy as the other stores we normally visit.
Thank you for taking the time to read this mail.

Debbi Hill
from Toledo, OH
Drive thru was blocked. I went inside, informed the crew member at the counter. Another crew member stated she was happy because she could go home early and she didn't care because she had another job. The person preparing orders was eating chicken nuggets from the pan while preparing my order. I ordered nuggets, got my order, went home and put them in the garbage, because of the unsanitary crew member. The young lady who waited on me was professional, the manager did seem to be. I started to call the health department on the issue of the person eating of the food, but decided to let you guys take care of the situation. There is always something at this particular one. The location is on Monroe St. across from Franklin Park Mall, Toledo, Ohio. I look forward to hearing from your company.

Sharon Layton
from Livonia, MI
Tonight at 7:20 we went into the Burger King at Wayne and Cherry Hill Road in Westland, MI. One man had just ordered and was waiting on his food, another two men placed there order. The man working the order counter then left us standing in line to help with the food. We had no problem with waiting for our turn, we did have a problem with what happened next. All of the employees were fighting with each other, yelling at each other and complaining about what they had to do and what the others should be doing,about going home and leaving. They could of cared less that there was customers up front. Finally the one man working the counter came back, visibly mad, one of the other customers said such a nice friendly place to come to, at this point the man working the counter takes off his head set and slams them on the counter. He then asks us for our order, at that point we just said we would take our business elsewhere. Needless to say we will no longer be visiting this Burger King or any other one anytime soon.

Bonnie johnson
from Great Falls, MT
I was to the 315 Northwest Burger king on Thanksgiving morning with five women. I have never been in a dirtier place and had the worse service ever. I had to clean the sitting area we sat in because there was mud all over the cushions, I ordered a sausage biscuit and coffee. When I saw the biscuit it was burned and crumbled all apart. So I returned it and got another, same thing, I threw it in the garbage. I watched a couple and their daughter wait over half an hour for their food, said they would never come back. The place is so poorly managed and dirty I will use the coupon I got for filling out the survey at our other store on 10th Ave. South, Great Falls, MT. I have always liked Burger King and use to go there all the time because it is close to where I live, not anymore. I just wanted your corporate to know , it is a shame. Also the help was in a daze, it seemed like, but then again they were so short of help I could see why. They have no lobby person and I know that is the reason for the filth but the workers could at least clean the tables and places to sit. Thank you, Bonnie Johnson ( 4064536579 ) I appreciated the fact that they were open on Thanksgiving, but will not go there again till things change

Rude girl at the drive thru window scowled when I asked to add an additional nugget before paying. And then rolled her eyes instead of saying thanks or have a good night. No good reason to act like that.

Chief Thomas Berggremn
from Harvey, LA
Over charged for food, with a coupon. Tried to explain to cashier and manager 1 cheese whopper and large fry with a free whopper coupon was not $12.87. Took several tries to make manager understand they didn't take off coupon for free whopper. Manager was very rude, saying thats how it rang up don't know what to tell you. After explaining how much 1-whopper and 1- large fry add cheese should have been because 2nd whopper was free with coupon, finally manager swipped card. Have fire stations with 30 men plus 25 volunteers that did go to that Burger King, after talking to men at fire station that Burger King is known for being rude, and not getting orders right. Sorry Burger King, McDonalds down the street will be going there for now on. 6201 Lapalco Blvd. Marrero, La. Burger King with poor attitudes and work ethic. Not that this complaint will change anything. Just thought you would like to know you'll be loosing business from quite a few firefighters and their families.

Gretchen M Rusk
from Fairfield, IA
As a frequent customer, I don't expect to be charged for a condiment. My visit to the Fairfield Iowa location tonight will be my last visit there. When I asked for ranch dressing, the assistant manager rudely informed me that I needed to pay another $.22 on top of the $22.01 I had already paid. She bluntly stated that my order did not contain chicken nuggets or a salad so if I wanted ranch I would be required to pay for it. After paying for the condiment, and arriving back home, I discovered the cold hard french fries were't worth dipping in my $.22 ranch at all. I believe my $ will be spent at McDonald's, where I have never been asked to pay for a condiment. You might want to consider adding to your slogan because it it inaccurate. It would be better stated as "Have it your way, but only if it's ordered with nuggets or salads". thanks for listening to a former customer.

Chester Woodburn
from Urbandale, IA
On November 13, 2018 I stopped in at your Berger King Store located on *th Avenue in West Des Moines Iowa at around 1:00pm or so. I ordered two whoppers (which were to have been 2 for $6.00) and a small order offries. I used a visa card ending in endind in 3922 and when presented with the receipt noticed that the amount charged came too $13.22. I pointed this aparent mistake to the register attendant and she said she did not know how to reverse the transaction. She called another employee over and that employee acknowledged the error and told me that \he would tke care of it. I thought nothing further of the situation until I recieved my visa statement whick showed the the charge for the two whoppers and fries remained unchanged and the card remained charged for the $13.22. Two days ago I returned to the same store and tried to get the matted sorted out. This would have been in the early afternoon. The cashier told me she couldn't help but would get her manager. Even though the store was not busy at the time I stil had to wait for about 10 minurts for this person to come out to the coumter. After explaining the situation and showing her the resent visa statement containing the over charge she said ther was nothing she could do about it but that she would refer the matter to either "Jen or Mike" and one of the two of them would get back to em. I left my name and number with her but have heard nothing further. Although the amount in dispute is negligible, I find the situation highly irritatable. The experience rates negative stars.

Valerie Gaylord
from Key West, FL
Burger King #8 is the filthiest restaurant I have ever been in. The man after us got served before us. The staff was very unfriendly. My chicken sandwich was a deep fried greasy piece of cardboard that I didn't finish but still got sick a couple hours after. My husband got his whopper and was told his fries would be brought to him and after he finished his whopper he went and got his fries. I did not complain about my sandwich because the staff was so stiff and unfriendly. The Burger King in my town is very friendly and clean. We travel to Key West several times a year but will never stop at this Burger King in Miami again. No I don't want a free burger. I would rate my experience a minus.

joanne hitchens
from New Haven, CT
i waited @ drive thru for 5 minutes or morei called out hello 5 or 6 times no answer . i blew my horn 6 times no answer. So i drove up to the window and complained. So the order was taken there. when I got to the window they had me pull up to wait for my food. i went inside to complain to the manager. He came over and never said he was sorry. then one of the employees said "i shouldn't have even taken your order"

Bob Duckworth
from Cape Girardeau, MO
We stop to eat a bite at 495 S. Mt Auburn in Cape Girardeau, Mo.....this is a very new building......the floor around the counter felt like it hadn't been mopped since the place open, and if they had been mopped it sure wasn't with soap and HOT water, very slick, my wife just darn near fell. I went into the mens bathroom and my shoes kept sticking to the floor...this is terrible, especially for a new building. One employee was taking a dinner break I guess, she seated right behind me in the next booth, the smell was unbelievable, I know body odor when I smell it, so bad we couldn't even finish our sandwich. I know for sure I WILL NOT be going to that Burger King ANYTIME soon, what a waste of my money that meal was.
You need to clean this place up real soon before you lose all your customers for I know there are many that go there daily for there is a Hospital just across Mount Auburn Street

Dale Battrick
from Helena, MT
I was at store # 17433 in Helena Mt. on 11/10/18 in the drive through at about 500 pm. I told them my order and proceeded to the window to pay and pick up. The first thing I observed was that none of the employees that I could see were wearing disposable gloves. I ordered two sour dough king singles, two large fries, and two lg. chocolate shakes. The sourdough kings were doubles and cold. The chocolate shakes were more like chocolate milk and when I told the young man at the window that they were really thin he said "well they're a shake "shut the window and walked away without even asking me if I want a couple new shakes. I am a manager of a very busy deli here in town and from what I observed from this burger king was a very bad example of great customer service. Sincerely Dale Battrick

Susan G Rowe
from Exeter, NH
I would like to know if it is Burger Kings policy to lock the doors and make people go to Drive Thru if you don't have enough help?? I love Burger King but very disappointed to see this happen at Burger King in Stratham, NH on Nov 9th at lunch time. I found out that this is general practice for the one in Epping NH but had never experienced this before at any fast food chain. Needless to say I will never eat at either of these places again.
Not Cool Burger King

Daniel Bell
from Jacksonville, FL
I was treated very rudely and they couldn't get my order right. I ended up with things that I didn't like and I was disgusted and had to purchase food elsewhere. Total waste of money that I can't afford.

Patricia Judge
from Birmingham, AL
I bought the #2 meal and my meat was raw. Tried to call to let them know so they would check the burgers and make sure they're done but no one would answer. If the burgers are not cooked to a certain temperature it in Health Deparment violation..

Coy rogers
from Denver, CO
Ordered my food at 3:03 just now received my food at 3:30

Barbara Hilliard
from Houston, TX
I went to the Burger King in my neighborhood (about 2 miles away) and I ordered a TX DBL WHOP, No Onion, No lettuce. 1 LG FRY, 1 LG DIET Coke. total $10.71. When arrived home to sit down to my meal. I got my LG FRY and LG drink but my Whopper was just that. A reg. Whopper with Lettuce! I called, 713-964-9100 to let them know that should be more careful about what is in the bag when a customer leaves. And the girl just hung up on me! Not only did I not get what I ordered but the employee was rude!! It was the Burger King on 2803 Yale Street, Houston Texas
@12222 order # 51.
Sincerely an very unhappy customer
Barbara W. Hilliard

GLEN LAPOUBLE
from Kenner, LA
My wife and I went to the Burger King on West Esplanade near Chateau in Kenner, La. First "Ariel?" said she couldn't give us a receipt. Then my wife ordered a frozen coke which was a quarter filled, she said the machine was broken. My wife paid for the double king with grilled onions and when she took a bite she brought back to Ariel complaining that it only had 2 slivers of grilled onions and looked nothing like the photo they advertised on the board. She just shrugged her shoulders like there was nothing she could do. I got to tell you, there's too many fast food joints to waste my time.

Dorothy Dunaway
from Charlotte, NC
I went to Burger King in Lavergne Tennessee.. Went through the drive-thru.. Workers were unfriendly... got my food.... Get about 2 minutes down the road reaching bag to grab a fry..... The two Whoppers were cold and the cheese was not melted at all.. One was supposed to have onions lettuce mayonnaise only it had ketchup and mustard on it also... Fries tasted like they had been sitting there for ever... Chicken sandwiches had dry buns.... I ask for light ice in the drinks and they were full of ice... I also ordered a large onion ring and got for onion rings.. I didn't have time to turn around and go back because I was expected to be somewhere at a certain time... So we had to heat everything up and then that made it taste even worse. P. I do not go out to eat often at fast foods but when I do I expect my food to be hot and right...

Monty porter
from North Las Vegas, NV
Just tried the "philly cheese steak king"
Don't wat your money it is just a burger patty with some cheese sauce on it
No philly steak in sight

Paul McIntire
from Eugene, OR
Went to BK on west 11th in Eugene OR today 10/26/18 about 11:40 am. Did order and assumed it was ok but it did seem high. Cashier wouldn't wait for me to get change from my pocket even though I told her and gave her 8 cents so I could get all bills back. Bill was $8.08. She gave me 11.92 plus my 8 cents and did not provide another dollar and keep change. She put our cups mouth side down on counter (health issue) and rushed us off with our receipt. She did not ask what dip I wanted for nuggets. Had asked for a bacon cheeseburger but receipt showed a double. A senior drink was ordered but receipt showed value drink. Nuggets were undercooked. Tables were dirty. Bathroom was dirty. Sink had been pulled from wall and extreme caulking fix had been made and sink was grimy like an auto mechanic had been washing there. Could not find a manager and it had gotten busier. Definitely a bad experience which included being overcharged. Should not have happened. I enjoy BK and eat at BKs often. Just thought someone should know about this.

Raymond mullins
from Fayetteville, NC
The manger at your staunton va store charge me for one whooper win i ask for two then win i ask her to correct the order she got very rude about it i left went to mcdonalds and will never return staunton virgina store ty

kim
from Simpsonville, KY
waited 10 minutes in the drive thru only to find nobody was working it. eventually everyone just drove off. There were people working inside but nobody would answer at the order kiosk or come to the window. A lot of lost business.
Blankenbaker location Louisville KY 7:10am

I never had any problem with Burgerking until tonight. I had to place a order for my brother since we had went out of town due to my father having a interview at a car lot. Afterwards we stopped by the Burgerking located in Lima, Ohio the address to this place is 1860 Harding Hwy, Lima, OH 45804. I ordered and as we approached the window I kindly asked the woman for a cup holder. She has no problems getting me one. Yes, I only ordered three burgers, a fry and a drink. But, my fathers truck sometimes is awful and has no cup holders so I asked for one so it could be easier to hold during the ride back home. I noticed the girl behind her ask the girl who was handling giving me my order : Why are you getting a cup holder? I can't tell you what was said but because the girl who was handling my order's back was turned. The other girl gives me a dirty look and goes back to the girl handling my order and says: For one drink? That's stupid. And then looks back at me all with a rude disgusting look and laughs while she makes fun of me from the drive thru window. I called the main place up and don't know honestly if the situation is gonna be handled but I have a funny feeling it is not. But, I have NEVER been disrespected like that at all and I don't tolerate being treated with disrespect or made to feel that what I ask for is stupid. How I feel is that we are customers don't ever ask for much and its their job to make sure are orders are full filled to our desire and our happiness is meant. Which tonight mine was not. My number is 567 295 0493 If you have any other questions but just wanted to file a complaint but I won't tolerate that kind of disrespect.

Barbara Gomez
from Napa, CA
I live in Napa California. Burger King advertises 10 chicken nuggets for a dollar but I have been to the Burger King in Napa 4 times in the last week, and they are out of chicken nuggets. When I have tried to speak to the manger about it, all I get is that they just run out of them fast. If your going to advertise something for a redused price then you should make sure you have enough of the item .

Pamela Bekowitz
from Indianapolis, IN
I have been to this Burger King lots of times over the years. Located at 72 st AND Blondo omaha Ne .and have been disappointed more times thsn
. Today my boyfriend and I tried again through the drive through. Not surprised at all, we were informed they were out of hamburgers and chicken nuggets. Now im sorry to compain, I never have before. But we were in a hurry and had no time to go to another Burger King. I believe that that Burger King coupd be a thriving restaraunt if under the right management. If their having roblems keeping food stocked then someone isnt doing their job. We love Burger King and will continue to eat there just never again at that location. Thank You for your time
Pamela Bekowitz

Barbara Marvin
from Hillsboro, OR
In the past one and half months. I have been told by personnel at the store at 2246 Baseline St., Cornelius, OR 97113,
1. The Grill is not working.
2, They only have Chicken Product.
I know that most times that I have gone to Burger King there are more new faces. I do like your product, we go at least every other week. Sometimes the wait in the Drive-through is slow. So we now go inside. The tables are not wiped down, the floors are not kept clean around the soda machine. The people who are working there are all busy and trying to get out the product in a timely manner, we do see that. Maybe there needs to be a couple more people working. I have always gotten what is ordered, it is well prepared. The last set of coupons said "Grand Reopening", Really!

Lawrence Baber
from Fort Myers, FL
Thanks for being one of the few fast food chain to offer a vegetarian burger. For MANY years I've received your corporate coupons in the mail. NEVER have your offered a discount and/or promotion for your BK Veggie Burger. This is very unfortunate. Vegetarians are keenly aware of your unwillingness to promote and discount the BK Veggie Burger, and we share it throughout our ever-growing community.

carol forbing
from Redford, MI
I just went to burger king on plymouth road in Livonia Mi. They were out of whoppers, fries, and sauces. I went in to ask where there was another burger king. I first said You have no whoppers? The lady was rude and said Thats what the sign says!! This is not the first time they were rude at this locacation. I don't know if they don't like white people or what!!! I have never been rude to them and I wil never go to that location again!!!

bob ewing
from Butler, PA
There is a sale go\ing on, two for $10.00 whopper meals, good value. Wanted a third meal @ 3 for $15.00 and was denied, third meal would be @ regular price, that is crappy so went to Wendy's....
Have feedback for Burger King?
Thanks for your feedback!
Sorry. Please try again later!