Burger King
Burger King Complaints Continued... (Page 10)
847+ reviews added so far. Upset? Call Burger King corporate: 1-866-394-2493

Debbie Frichette
from Auburn, WA
Yesterday I went to do laundry on 72nd St in Tacoma Washington. I had clipped a coupon for 2 cheese burgers w/ bacon etc. Figured I would treat myself and enjoy while doing my laundry as I hadn't been to a fast food place in a couple years. After what was done to my food I'm still sick and I doubt that I could ever ever eat there again. One of the burgers had a regular sesame seed bun and the other I have no clue what the bun was. No sesame seed and the bottom had weird markings and black Mars everywhere. I stood there speechless. But that's not the worst .The bacon looked like it was set on the grill for one sec. It was almost completely raw. I only wish I had thought to take pictures cause seeing is believing. My stomach is still sick. Needless to say it went in the garbage. All of it. I worked in fast food at McdMcDonal fir 14 yrs and I'm not one to take the food back and cause a seen. But I also know that's not how the bacon is supposed to look. Something needs to be said before people get really sick. I tried contacting through a survey but the store number they gave me 12886 isn't working. I can't call cause I'm hearing impaired so you were my next option and hopefully some how some way this will reach the corporate office. Sincerely Debra Frichette. I don't have a receipt to look for a survey number because the food was unacceptable for human consumption. That bad.

WHY IS THIS BK 9310,VICTORVILLE LOCATION, SERVING PRE COOKED BUGER'S AGAIN. ORDERED 2 F 6 WHOPPERS, IT ONLY TOOK ABOUT 1 MIN AND ORDER WAS READY. COMMIT FROM MGR, WE DON'I HAVE TIME TO COOK AS YOU ORDER BECAUSE I'M SHORT PEOPLE. YOU COULD SEE BURGER'S AND ITEM'S ALREADY PRE COOK IN THERE READY FOR ORDES TRAY. BURGER WHERE NOT EVEN HOT OR WARM.

At drive thru they didn't get both sandwiches I ordered. I repeated & still was wrong. A man gets on so I tell him.
He told me to drive up. Took my card swipes it & refused to give me food telling me to l leave.
Very rude & then got phone & spoke like he was talking To police!
This was so rude to refuse me after they swiped my card.
E 1st st Ankeny ia

MICHELLE KING
from Las Vegas, NV
The food wasn't fresh cold, old fries and still bread!!!
Drive-thru @ 05:32 pm 05/11/2018 total $17.73 money wasted for still food cold fries need order REPLACE. Order 3 2 whop chs, 2LG FRY 2lg coke. If further action needs to be taken please on my part about my food don't hesitate to let me know whom to contact. Since that was money wasted. Do I need to place my order and ask for my food Hot and Fresh? Let me know what should I do on my part to assist Burger King employees. The young man customers service was acceptable nice and polite on the drive-thru window. If this not the area for a complaint please let me know whom to contact the food was UNACCEPTABLE, NOT FRESH FRIES COLD. Please have management speak to the employees contact me about my complaint and when will my order get REPLACE Hot and Fresh.
burger king 820 N. Rancho
702-648-7820

Marva Williams
from Baton Rouge, LA
Approximately 1:15pm 05/11/2018 the supervisor on duty at your 10130 Coursey Blvd location in Baton Rouge, LA 70816 berated an employee in front of customers and then got into a shouting match with me, the customer when I suggested that it was not what she was saying to the employee but how she was saying it that matters The supervisor then spoke to me in a loud tone that if I (the customer) knew what was going on "on the back end" then I would not be telling her that she should not be speaking to the employee in that tone. WRONG!!! The employee was "obviously" challenged with performing the tasks at the drive-thru and the supervisor exacerbated the problem by "belittling" the employee in front of her co-workers and customers. She offered to give my husband and I our money back when my husband asked where his order was but we declined and instead again told the supervisor that she needed to learn how to speak to her employees. This supervisor needs some additional training on how to communicate with people to include her employees and customers. She totally disrespected the young employee and behaved in an unprofessional manner with me, the customer, by thinking she could engage in a "tit for tat" shouting match with me. We left your establishment with the supervisor holding steadfast to her justification that she could and would continue to talk to the employee in the inappropriate tone because of "what the employee was doing wrong on the back end." (her words) Terrible experience. I hope the young lady decides not to return to an establishment where she was not valued or respected; and, hopefully the other young workers will follow suit.

Karen Jones
from Dallas, TX
On 5/11/18@12:35pm. Burger King 6510 at Sam Rayburn Tollway, McKinney, Texas
At Drive Thru window I asked for a Kids Meal Hamburger with only pickles and mustard due to ketchup allergies. I repeated again to ensure the order was correct, and was told my amount came up to approximately $5.89. I asked the young lady to repeat the order and was told to drive up to the window. Once at the window, I asked why was the order that amount and was told that I also ordered an additional burger, which I did not. I understand that sometimes the intercom systems can be difficult to give and receive information. So I informed her that I would go ahead and pay for the order, but make sure each burger had only mustard and pickles. She then puffed up and snatched the sandwich out of the bag. I informed her that I did not want the order due to her rudeness. I walked in and asked the man at the register if I could talk to the manager, and he informed me that he was the manager. I explained to him what happened above and asked for the number at corporate. He informed me that it wouldn't do any good to call the office. He gave me a phone number 512-818-8172. I called the number and got a voicemail of Alturo Garcia. I walked back in and informed the gentleman at the cash register that this was not a number for the corporate office. This gentleman then stated it was his district manager. He then stated he would talk to the lady about her rudeness and he would not fire her over this. I informed him I just would like to be heard as a customer in regards to my concerns and I was not requesting anyone be fired. I asked his name and pointing to the lady that I interacted with at the window. He stated his name was Julio and her name was Rosalee.
This situation could have been handled differently without a problem if I would have been given the common decency of being heard with respect, which is what was lacking in this situation. We need more human kindness, respectfulness, accountability, integrity and generosity in this world today. I would love to sit down with all involved and make this a productive and teachable moment.
Karen

nitu
from Pleasant Hill, CA
BG#6841,604 BAILEY ROAD ,PITTSBURG,CA Location,this is not my first time visiting his location,forget about poor and rude service but does BG pay money to the health officers to keep this location in business,its a FAST FOOD location the service is the opposite the manager is as RUDE as she can be everyone talks in Spanish.This location does not deserve a 1 star, deserves nothing.I am not sure how the corporate will take this complaint but i have listed my email address so hopefully other customers will see a difference.
Hire happy people , these employees are grumpy because they don't have enough workers and they are tired .

ELLA HOUSTON
from Philadelphia, PA
UNHAPPY WITH SERVICE,WHOPPER WASN'T WHAT I EXPECTED, PLUS ONE OF YOUR WORKERS WAS BELLIGERENT TO MY WIFE. Her NAME IS LAURA. 2300 HUNDRED BLOCK OF OREGON AVE.

Sherry Hall Shelton
from Lake Jackson, TX
At BK #17892...my usual order is fish sandwich w/LITTLE sauce, NO pickles and ADD tomato ...and...LARGE frozen Coke. The Coke is my "cheat treat". I'm known there and the manager of chefs is Phillip. He sees me come in and immediately hands me the Coke. Today was different. New lady took my order. Whomever made it put lots of sauce, pickles (which is easy for me to remove) but no tomato. Young lady gave me a small Coke even when I asked for "El Grande" size. She said that's their only size. (Not so) I've been given five different sizes in the times I've been there to eat. ???What gives?~! I said I'd be back for a refill.....and sat down to eat. She later brought an "El Grande" cup of Coke to me saying she didn't want to get in trouble with her manager (who was NOT Phillip). Manager is a woman today. In all the time I've eaten there...no one has gotten my order right...except when Phillip was working. I quit going to the other BK near the mall (#8574) because their Coke machine is always broken (more than three years now) and their fish sandwich patties are tough and half the thickness of BK # 17892.~!!! Feel free to call me anytime.
979-265-2690

Charlotte Wilson
from Centre, AL
No complaint with service. It was OK.
My complaint is that I visited Burger King store 469 on Thursday, 4/19/2018 at 05:13 PM and the receipt said on the back that if I responded to a survey within 48 hours and told about my experience in the store, I would receive a free whopper on my next visit. I went to the site within the 48 hours as it is still not up at this time as it is only 3:17 on 4/21/2018 and was told that they already had all the information they need and the survey was closed. I did my part according to the receipt and I expect my whopper. The survey code is: 16304-31011-19414-080901.

Dan Weidner
from Freeland, PA
On 4/16/18 i went to Burger King located in Ames Plaza Carbondale Pa Rt 6 Upon entering i went to mens room my girlfriend went to ladies room both were dirty and disgusting (tp on floor urine on floor ) The lobby was dirty also (dirty tables not cleaned ) we ordered our meals that were barely warm ! Upon eating my girlfriend bit into her whooper pulling out a piece of PLASTIC WRAP witch was almost as big as burger We went to the counter to complain an employee offered to re place burger and refunded cost of burger THE half dressed manger was to busy watching TV to take care of customer complaint What a dirty disgusting restaurant !!!!!

MRS PATRICIA GISLER
from Sacramento, CA
I went to drive thru window and ordered a chicken sandwich meal. When I arrived at the drive thru window I was reprimanded by the sales person for not mentioning I had a coupon. Then I received my order which the chicken sandwich was very cold and so were the fries. I paid for my order and was not given a receipt. I am upset with the way I was treated and with the quality of the chicken sandwich which was served cold also the chicken was Very Chewy/tough,
Not a very good meal at all. I went to the 5300 folsom blvd location ( I was on the 59th street in Sacramento)

Allan Richardson
from Shenyang, LN
Very unusually, I have had an unpleasant experience at one of your restaurants, specifically the one in Shenyang, China, at Taiyuan Beijie. My burger was adequate, the fries were cool when served, so they were cold before I had finished eating them. However, my main complaint was of a young Chinese couple sitting at a table and kissing passionately. They were doing this when I arrived, and still doing it when I left. Even in my countries - the UK and Germany - this would have been unacceptable, and the staff would not tolerate such behaviour. In China, demonstrations of affection in public are taboo, yet all this took place for at least 15 minutes and in full view of your staff, who ignored the pair. I was not the only person who was embarrassed. Of course, I will continue to eat at your restaurants, as in general I prefer your products.

I went through drive thru, employee misunderstood about a taco and took it off my order, that's understandable I also had a happy meal a 10pc nugget and cheesy tots I left had to come back and told them the forgot some things in my order the employee was rude and tried to recharge me I ask to speak with management and she rudely said she was the manager said her name was jazmin but the receipt reads TC not sure if that the same person or what but I'm highly dissatisfied .

chamblee tucker
from Norcross, GA
Burger King Indian trail Norcross ga no working phone number listed

Delilah Porter
from Jackson, MS
This morning I went to Burger King, store#12137, located in Jackson, Mississippi. I was charged $9.81 and did not received the correct. I tried talking to the Manager and explained I was at work and could not come back. I called the one 1-800 number and spoke to Jacqueline and everyone was in a meeting at 7:40 am. I WANT MY MONEY BACK AND YOU AND HAVE WHAT YOU GAVE ME BACK. I TRIED CALLING THE MANAGER, THE YOUNG LADY WOULD NOT GIVE HER NAME AND DID NOT TAKE MY NAME BECAUSE THEY DO NOT HAVE A INK PEN. THIS CONVERSATION WAS RECORDED!!! YOU HAVE YOUR PRODUCT AND MY MONEY. I GUESS STEALING FROM THE CONSUMER IS HOW YOU MAKE IT IN THIS WORK. Delilah Porter 601-826-4988

Deanna Ganss
from New Kensington, PA
I visited the Natrona Heights, Pa store and when I pulled in I seen 2 managers outside taking a break and smoking a cigarette. As I placed my order I went around to pay for it and as I waited for my food I seen the 2 managers coming in from outside and ONLY ONE of these managers went right to the sink to wash her hands named Sandy, the other one named John went right to a ordering screen and took an order, then he went over to the sink and I thought he was gonna wash but NO HE DID NOT. he grabbed some paper towels and blew his nose and wiped his face (which he has some infection going on on his face.... looked like infatego) threw the paper towel away and started bagging my food. I took my food and tossed it in the garbage because he touched the fries I was gonna eat with his hands that he did not wash nor had a glove on. Very upsetting that a grown man and manager would not set an example for the rest of his crew.
Thank You for your time.
Ms. Deanna

Kila Clements
from Victorville, CA
Chicken nuggets - cold
All 4 cheeseburgers bread and cheese we're hard.
Overall everything was nasty

Michael masseri
from Paterson, NJ
The complaint I have is with Burger King on Mclean Boulevard in Paterson New Jersey all right they have a man renting out the parking lot to sell stolen some of it stolen cuz he told me so toys and carpets and fake Timberland boots he told me he pays the manager is $3,000 a month and I don't like the way he acts with little children especially little females rubbing their legs and their back he's just a weird guy it's illegal to rent out a parking lot for someone the pedal and I want them shut down I want to shut down and I want to know where the money is going that they're paying this manager for him to use the parking lot

Abraham
from Federal Way, WA
I had to most horrible customer service at your tukwila store.. first they took a long time to get my order, then they asked us to park and they will bring our food. After a long wait they bring out food and it's missing an tiem(French fries) so I get out of my car and explain what's missing. I get to he item and the cashier lashaya in tukwila gives me an attitude( like I made a mistake and forgot to put an item in my bag) and is super rude.. so I leave then realize after I got home that a burger was missing then I had to drive all the way back and explain that I wa missing yet another item. The manager try to help and re do my Oder ,but the workers were so rude and unprofessional. The manager had no control on his employees. After they re did my order they still forgot one of my item..( this is ha fast food place, not a hospital or a customer service oriented place) but still how hard is it to get an order right? Yet you charged me the right way. During hat same time 3 over customer came how an complain that they were missing items. This is so unexpecteble.. I need feed back from corporate ASAP I have all the store info and cashier Ifo( the cashier did refused to give me her and cover her name tag and said "fuck youn lot giving you my name" I will not stop till I have N answer

Tanya George
from Cherokee, IA
I went to the Burger King on Joliet Ave. Missouri Valley, Iowa STORE BK10219. I was VERY disappointed in the quality of the food and the slowness of the service! My husband ordered a double whopper and received a king double hamburger without the right condiments. The catsup dispenser was empty the whole time we was there, even after we asked for catsup and other customers doing the same! My husband ordered a med combo and received small fries. A couple behind us ordered their food after us and was still waiting for their meal even after we was almost finished eating ours. They finally left, without food after paying for it. Tired of waiting! The tables were sticky from not being wiped off! Burger King should be ashamed permitting such a store with their name! Order 255 03/14/2018 12:41p.m. total bill $16.23 try to do survey on the back of the receipt but ink on the receipt was too faded. (needed new ink)

Barbara Montgomery
from Sanford, FL
I rarely eat fast food, but when I do, it is always burger king because I crave the onion rings with the zesty sauce. I stopped in on my way to work and ordered a number 1..whopper with cheese meal large with a coke and requested onion rings. I failed to look in my bag. I get to work and we were extremely busy so I had to wait awhile. When I finally had a minute to eat, I found a double whopper with jalapenos and French fries. I cant eat spicy food and I don't like the fries. so in a nutshell, it was a whole meal that went into the trash. I am an emergency dispatcher , so I could not leave room to call or go exchange.

Jose Rivera
from Orlando, FL
I go to Burguer King number #16278 address-728 S Alafaya Trail
Orlando, FL 32828 and I was eating at the restaurant with my children and a group of people arrive and 2 of them identify themselves as employees in a defiant way talking with GM Miguel Baez. Suddenly a brunette woman named Tanya arrives and identifies herself as an employee of the restaurant without saying a word. they begin to beat and fight all the clients we retire from the restaurant and we leave until the food we feel threatened several clients we refer to the GM he identified himself as Miguel Baez and we asked him why he allowed this and that the man identified as Joseph and another william They beat a woman and he did not call the police. He did not do anything. We also asked him how he could have these violent people as employees. He just smiled and said goodbye to us. I hope that the top management of this aforementioned restaurant will fire those people I think there was also a person identified as Sandra and another Bryan in the store I hope that the corporation responds to ste complaint and do not have those people working in any of its restaurants and that GM Miguel Baez can not use them thanks for your attention

Thomas C. Royer
from Pineville, LA
first of all the people at the burger king on Monroe highway pineville La are very rude and lazy since bk has had the cinnamon toast crunch shake every time I order it no matter how early or late the never have shakes or ice cream never but when u go in you can see the machines running also i haven't yet had one correct order from then in the last 2 years every order has been messed up from wrong burger to no burger i have already have been giving no meal at all in drive thrue went inside and they give me additude telling me i have it and i show them the order and they still argue with me and i get burgers that look like they have been thrown on floor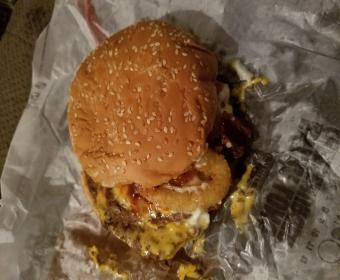 alberta roux
from Glen Mills, PA
aston,pa...ordered 2 whopper jrs & fries...one jr. with no onion & cheese...one with no sauce ,onion or tomato...# 2 they left the onion & took off the lettuce...the wait was 10 min or more...which isn't that bad during lunch...but during my wait...I heard her tell the guy...what was on the whopper jr....few minutes later....told him again.....later told him again...really.....special orders do upset you...a 5 yr old could probably get it right...im assuming its an adult working and shouldn't have to be told that many times...as I was standing right there waiting ...she was able to fill other orders behind me...and the burgers were way overdone...I think maybe that person filling the orders should take another burger king course...anyway...very disappointed

Shirley
from Campbellsville, KY
I went to bk in Albany ky today and first thing the food was nasty the ff were hard as rocks cold they don't get it order right and the girl working the window had a problem I didn't get my change when got home order was wrong i called back and she was rude as hell I won't ever be back and I will tell everybody I know it's only got a 3 rating so what does that tell u new help or new management talked to me like I was stupid don't think so I couldn't fill out survey because I don't get a receipt

Dennis P FitzGerald
from Roswell, GA
Berger King Market Square Roswell GA is beyond a shadow of a doubt the worst experience I've ever had at a "fast food" - that's a joke - store.
Approached the counter to a Hugh Black woman who looked at me with such distdain I felt dirty. Stood sideways with her hand on her hip as she shouted out instructions for me to give her my order. Crispy Chicken Sandwich with Onion Rings "WHAT SIZE"? Medium. punched it into the register then ripped off the tape and threw it on the counter as she walked away. Never looked back at me once.
I waited and waited while car after car was served at the drive up window. Finally I asked another Black young woman not in uniform with Pink Hair braided when I was going to get my order. She SHOUTS OUT "You go this guy's order?" It's produced on a tray with onion rings strewn all over the tray out of the box and a wrapped sandwich. I went to my table then realized there was no onion ring sauce. Went back and politely asked for the sauce. I get the look of death from her, she grabs one and flings it on the counter and turns her back to me. I go back to my table proceed to put the rings back into the container when I see it's about half filled. Unwrap the Sandwich and find "Crispy Chicken" is a soggy mess of fat dripping half cooked whatever that's completely inedible. I tray an onion ring it literally drips of fat as I bit into it. I put everything back on the tray walk up to the waste bin and as I'm putting it inside the Hugh woman behind the counter notices what I'm doing. I said to her this is disgusting. I exit the building.
I get in my car and start to back up when the door flings open and a small black woman comes out with a Mad as Hell look on her face and she's shouting "Get back in here" and starts walking to my car. She gestures for me to get back and park while shouting "Get back in here" I waved good by and drove off with her walking after my car. Thank god she wasn't armed.
We have few fast food stores in East Roswell. It's a shame your unit is here and should be closed. You need to send in secret corporate personal to experience "Fine Dining" at Burger King in Market Square in East Roswell GA 30076. An experience you will never forget. My wife said she won't go back there ever again.
I failed to mention the time. It was 2:30 PM. The place, floor, counters, tables were disgustingly filthy. While I was waiting two tall black men came in. The entire counter staff started whooping it up - jive talk - high fives all around talking all at once very loud. Everyone was looking for "some sugar" what ever that means. All food prep stopped and it was talk time. Everyone behind the counter with a uniform looked like they hadn't washed them in a week. Stained - filthy. Disgusting

Storme Smith
from Boiling Springs, SC
No receipt, bought 14.43 dollars worth of food from store #12668 2 stone cold croissanwiches one was hot of the three. Ripped me off hiding them at bottom of bag, cold no like refrigerated cold. I need a response or a refund.

We opted for Burger King today as we wanted a burger and didn't feel like a sit down restaurant. I have been a B K customer since the late 60's; spent my career in restaurant management. WE went to the BK on the Roseville Parkway, in Roseville, CA, where CNN was blaring. We asked if it could be changed to a more upbeat program. Olympics? The cashier asked the manager, who said it had to stay on CNN. He tried to turn the volume down, but could not. The manager looked right at me, but didn't acknowledge. Why would we eat a fun burger, listening to the week's tragedies??? Told we could sit in a big empty room, no booths. We were the only customers. Wonder why.

Linda Pernini
from Cumberland, RI
On Wednesday morning (2/7/18) I went to the drive up window at the Social Street location in Woonsocket Rhode Island. I ordered 2 egg and cheese sandwiches on biscuits and a large hash brown. When they handed me the bag I noticed it looked a bit "wet" on the side. Didn't think much of it then but when I got home and picked up the bag there was a "wet" stain on my passenger side seat. Upon further investigation I realized it was grease! I opened the bag "lots of grease" unwrapped a sandwich. I immediately threw the piece in my mouth as well as the entire contents in the bag. I always go to The Burger King on Eddie Dowling Hwy in North Smithfield, Rhode Island and have never ever had any kind of problem. The staff were very courteous and fast but the food was just horrible!

Antoinette
from Glendale Heights, IL
i went to the Burger King located at 1021 E. Saint Charles Rd, Lombard Illinois. I arrived at the location 8:00 p.m. there were approximately 4 to 5 people in the dinning area. When I went to the front counter there was no one at the front counter and I smelled an odor of marijuana, I dismissed it and looked to the back of the store in the kitchen area and noticed that the back door was open. Finally the employee walked to the front to take my order and never stop to wash her hands, I gave her my order and the smell of marijuana became noticeable again so I asked her if she had been smoking? She admitted to me that she had been smoking cigarettes and I than told her that she doesn't smell like cigarettes but marijuana and cancelled my order and walked out. This was only my second time visiting this Burger King. I'm so angry with what took place here and so shocked with what I saw, smelled and witnessed I will never go there again and will tell others about my visit. Thant entire shift of employees needs to be disciplined.

vickie abel
from Fairfield, OH
I recently purchased 2 bacon/egg/cheese croissants from your Fairfield OH location#3466---after getting back to work with them, we discovered the were sausage/egg/cheese. I called the manager--Katrina and she issued a credit for 2 sandwiches made correctly. I went this morning and asked to redeem my credit---which I was greeted quite rudely. She shoved 2 sandwiches in a bag and walked away. Again upon arriving at work with them, we discovered they were FLAT, thin, the croissants were hard on the bottom and soggy on the top. the whole sandwich is about 3/4 of an inch thick. What is going to be done about this? I am severely disappointed in my whole experience. Please respond

Norma Newman
from Erie, PA
My husband and I are frequent visitors to Burger King. Why are the burgers coming out of a steam table all watery and nasty. The fries are given to us old . Been sitting around for a few hours. Food is terrible any more and service half the time we are missing food from our orders. Also I got a secret Santa Gift Card for Christmas and cant use it cause a scratch on the bar code. I was trying to get this resolved since Christmas when we went to use it and it was declined. I checked to make sure money is on the card and there is but cant use it. What kind of business is this? Burger King has really gone down hill. Need to correct this problem. Thank you!!

Matthew Prowker
from Salisbury, NC
Me and my wife stopped to pick up dinner and the king here in Salisbury has bend pour for a long time but new face lift was done so we stopped in anyway. Ordered 4 whoppers in drive through. Had to pull up and wait which was fine got order drove 1mile up the road and check the order and they were stone cold very very pour service

bill johnson
from Barstow, CA
(over salting or not salting fries)I have had great consistent service at the Burger King 1540 East Main, Barstow; however the store in Walmart doesn't meet the same standards. On one occasion, I informed the cashier that he forgot to salt the fries. His answer was that there was salt in the bin warmer. Not So!! On other occasions I observed the cashier just lacing too much salt on the fries which caused me and my wife to throw them in the trash because we couldn't eat them. We live close to Walmart and frequent it often. We would like to have Burger King there live up to the same high quality standards as other stores. We love the store at 1540 E. Main; but why should we be forced to go there for good food?

david barber
from Grand Rapids, MI
I ordered and original chicken sandwich, add cheese, plus onion, light mayo. 4 pm on Tuesday afternoon. I waited in line about 10 minutes behind 2 cars.i got home took a bite and it was completely flat, it had been under the light or the heater for many many hours. I cant believe they served that anyone. I don't have the address but I talked to the district manager laura and she apologized and offered me food or money back, I drove back down there and wanted to talk to her they told me she was gone. I did get a refund I don't have the address but the phone number is 616 531 6353. I would never complain, but the sandwich was unedible, I will never eat at "that" burger king again and in my opinion the manager should be fired.

The Burger King on 184th and Halsted has the worst managers ever. I have been a faithful and loyal company and is just amazed at how poorly and how rudely they are to their own employees. There are new people working in there and are learning and they are very rude to them and talk to them like they are dogs. Some of the customers are horrible as well to the employees and the Managers chimes right in with the customers and are talking and treating their workers bad and siding with these customers that are often wrong, don't ever seem to know what they want in line and changes their orders constantly and then gets an attitude with the workers who I have seen ALL who have done outstanding jobs in dealing with customers. There is one new girl that stands out and her name is Deja, I believe and she is a very pretty girl and is almost pleasant to her customers and the customers gives her a hard time and I have even seen the managers talk to her rudely and nasty. Have given her major attitude and I see her almost all the time I go in there she is always polite, she smiles. I would not allow my child(ren) to work there just because of how I see them treat their workers. Something needs to be done. You would think them moving into a new facility, they would have new attitudes.
Very Disappointed customer and will NOT be going back there. Cannot understand how these managers get away with treating especially some of these young adults like this.

Stephanie Powell
from Navarre, FL
On 1/29/2018 at 11:50am I went into the Burger King location at 8590 Navarre Parkway, Navarre, FL. Store #7736 I had previously completed a survey and had the receipt with the code on it for a "free sandwich". I was the only customer in the building at the time I entered. I was greeted by a employee and I presented the receipt and started to tell the young woman my order. She quickly told me that she did not "know how to do that". I stopped and then waited for another woman to come to assist. At this time, I was not aware she was the Manager on duty. Again I repeated my order, which was a Whopper, add cheese, bacon and extra onion, small fries, medium drink and a cheeseburger. I told her that I know I will have to pay for the "extras". Once again, the "Manager" could not ring up the order. She and the first employee stood at the register and tried several times. Finally, they gave me a total of $10.83. I snickered and said "that's not correct". The Manager looked at me and said, yes it is. I pointed at the board above her and said, there's no way that a cheeseburger ($1.00), a Medium drink (2.39) and a 1.99 fry is $10.83. Even with the bacon and cheese, its not 10.83.
She became really angry and said, HOLD ON. Finally a 3rd employee came from the back and showed the "MANAGER" how to ring up the order so that the sandwich would come up with the PROMO price. I then said, don't forget that I owe you for the extras. She said, yes ok. Finally the 3rd employee, gave me a total of $5.76. I did not argue because at this point I had already been there 15 minutes of a hour lunch break dealing with this. My order came up and I asked for ketchup, 1 zesty sauce and some pepper. No pepper in the building I was told, so I took my order and left.
When I got to my office to eat my lunch, I opened the bag to find a whopper, no cheese, no bacon and no onion. the burger hardly had any lettuce on it and so much mayo that it was running off the sides. The cheeseburger we ordered was so cold that the cheese did not even melt and the mustard was all over the paper. I packed it up and went back to the store. Upon entering the store, there was a line of about 8-9 people. The Manager was at the front counter taking orders. As I walked up, she said in a loud voice, OH GOD, now what?? Everyone turned to look at me. I was already angry and it got worse. When it was my turn, I explained that what I received and it wasnt what I ordered. She and the other (3rd employee from earlier) both stood there and argued about my order instead of just fixing the order. I am personally an Administrator of a Home Health Agency and deal with the public everyday, I could not believe this was happening in front of the entire restuarant and people behind me in line. She finally (very rudely) shouted to the guys on the line to make another sandwich. When it was done she shoved it into the bag and slid it across the counter at me. Never even looked up. No offer to give me fresh fries (which I returned in the bag) or even a apology.(Not even a napkin in the bag !) The employee that stated she was "The Manager" had on a teal colored hoodie over her uniform top and no name tag. She was very unprofessional in her actions as well as appearance. Her hair was pulled up and you could see that she had many " hickies" on her neck. None of the employees on the front line had on name tags, which I found odd, as it makes it very hard to address them. I do not normally complain, I am usually every easy going and will just take what I get, but this is the 3rd or 4th bad experience I have had in this particular location in less than a month and will probably not be visiting this location again in the near future. My office which has 15-20 employees have all had similiar problems with this location and I just felt someone needed to be aware of why Burger King is losing so much business in our area. This BK is in a prime location (Beaches) and if has good staff, it could really grow.
My order number was 131 at 11:50am, Host: Lisa

Store # BK03418. This is not the first time that I have had a problem with this store. This time I asked for the new double quarter pound burger with no pickles ane onion rings. All through the drive thru. First it had pickles and then I recieved fries. Also was given merchant copy with no survey numbers. Very dissapointed.

love BG when i buy out its the one ,always use the coupons .but today I was told it was no good)but it has 2/25/18 and when I told them that I WAS it was over,and did i want something else or i could get the 2 whoppers for 6 dollors . and what i got was 2 of the dryest burgers i ever ate,i have ever eat,im 65 yrs,old and been eating BG all my life.hell i turned my wife from micky-ds' TO BG .I just hope this is a one time deal

Janice Earley
from Arlington, TX
I don't even want to give ONE STAR. The Burger King located at I-30 and Cooper St, Arlington, Tx, has the worst customer service I have EVER experienced in my 37 years living in Arlington. Not only were we waiting in the driver-thru line for over 10 mins, we encountered the rudest customer service ever by the young lady working the window. Told me to " hold on a second" and then came back 4 mins later and asked me what do I want. Not, sorry for the long wait or anything remotely apologetic about having me wait 4 mins, but for her to rudely ask me "what do I want". Wow, and when I expressed that she should show some kind of explanation to the delay she told ME I didn't need to talk to her like that?? Like what?? Why are you taking 4 mins to ask me for my order in a DRIVE THRU??? Needless to say, because of the dynamic drive-thru at this location, I couldn't even get my vehicle out of this mayhem and foolishness because I was sandwiched in between other cars all stuck in their mess of failure to provide ANY customer service to any of us.
When I asked to speak with the manager.....she somehow discovers she can't speak any ENGLISH and looks so disheveled and confused she probably wasn't even the manager. NO ONE had on name tags therefore, I cannot provide any names. I was attempting to eat there on 1/27/2018 @ 8:40 pm, it shouldn't be hard to pinpoint whom may have been working there at that time.
I will choose to give my business to other establishments and have no future need or want for that matter to ever attempt to purchase from ANY Burger King establishment ever again.

bill edge
from Meridian, ID
Why do the print ads and the TV commercials show a Burger that you do NOT get. The cheese burger special shows the hb patty bigger then the bun, in truth it is much smaller. That is true of all their burgers, they are not the only company that does that. Wendys, McD et all all misrepresent
the food they sell.
Looks like false deceptive ad. to mee

Tamala P. Heard
from Cincinnati, OH
I drove into Burger King's drive-thru on 1/17/18 @ 8:15 p.m. at 9427 Colerain Ave. Cincinnati, Ohio 45251. I ordered a Garden side salad with an extra ranch dressing. The girl said 1.79, pull to the window. The order board had 1.59 for a side salad and I was like I was not paying 20 cents for an extra pack of dressing. When I pulled to the window I asked the cashier how much was the salad and she said 1.79? I said the menu board says 1.59 for the salad and she said she would ask her manager. He came to the window and I told him the price of the Garden side salad was 1.59 and you all are charging me 1.79. He said well I can't change it and can't do anything about it. I said well I will go to McDonald's. They honor their prices and they have better salads. The manager said something smart and I pulled. I was going to pull back around to the window and ask for his name and badge number because I was going to file a complaint. It was too crowded when I pulled back around towards the drive thru and too cold to go into the restaurant. I was so angry when I pulled off That I went home without getting anything and ate what was in the house which saved me 1.79. That Burger King has always had rude managers and worker's employed there. I know it has been over 3 years since I've been there and I see why different employees, still rude.

Laura Moore
from St. Petersburg, FL
New sausage biscuit for 79 cents is the worst I have ever had. Buscuit was hard... stale.... inedible... bought 3 . Trashes 3 . Will never buy again.........

Veronica
from Williamsburg, VA
I entered the Gloucester, VA store on Wednesday afternoon, December 13 and went to the restroom before ordering. Someone entered the other stall, used the facilities and came out of stall a second ahead of me. I noticed the person exited without washing their hands and this person was an associate of Burger King. I washed my hands and when I came out and walked up to the counter to order that person was the cashier at the counter. I just spoke and left. I did not want any food at that point from there. Maybe, management needs to reiterate the importance of washing hands. Food safety is a serious issue.

Michelle Jackson
from Miami, FL
Good morning, I just left the Burger King in perrine and I am very disgusted at how the Manager with the red hair was talking to the employees. I've seen and heard her do this more than once. I feel the way she carries herself as a manager she should not have a job with the company..... workers like her make employees and customers very uncomfortable.

Kara Martin
from Charleston, WV
I am very dissatisfied with my visit to my local burger King. After waiting a total of about 40 minutes our order was still wrong but my children were hungry. I spoke with management and requested a full or partial refund. He walked away from me and i assumed he would get back to me. They were so busy and I was so stressed that I want back to my table to be with my family. A full thirty minutes later I still had not had the issue resolved and they kept my receipt. I couldn't find any management to speak with before we left and I was so frustrated by the experience with my boyfriend and there children that we left. I don't plan to eat here anytime again soon but thing management should be investigated as well as efficiency and friendliness. I understand it's a job and it can be difficult .. since I've worked in the industry but this store is losing business. I watched six people walk out without ordering and saw many dissatisfied customers. Karawood.hsu@gmail.com

Kristin Quirke
from Long Beach, CA
Letter to Mr. Daniel Schwartz: . dschwartz@whopper.com
12-02-2017
Mr Schwartz,
I visited your Burger King 12-01-17, on 127 4th Street Long Beach CA. Before I ordered I looked back in the kitchen and to my surprise the female chef had no gloves and was preparing food. I asked the man at the register, before I order could you ask the chef to put gloves on. He yelled in Spanish, "you need to put gloves on!" I did not hear the response. And he went about his business. I then asked for the manager. He said he was the manager, Ricardo. He said "The gloves will not arrive until tomorrow!" I took a lot of pick of the restaurant, the kitchen, the chef without gloves handling food and Ricardo the manager.
I left the premises without ordering and told other patrons that the chef is not wearing gloves. This is the second time I have been there same issues… no gloves. Just be a shortage!
I do live close by and always have Burger King at least once a week, after a ling day at work and Im too tired to cook or its too hot!
Attached with this email you will find photos from 12-01-17
I filed with the California Health complaints department as well with photos!
Regards,
Kristin Quirke
350 Cedar Ave Apt 502
Long Beach CA 90802
786-803-0568
krisquirke@yahoo.com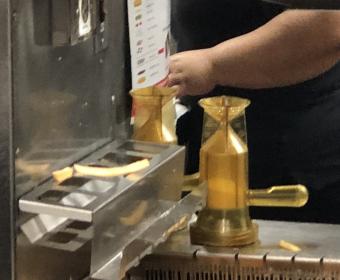 TIM Porter
from Sioux Rapids, IA
My complaint is my wife and I stopped at Burger King in Storm Lake, Iowa 50588 tonight. I had a Whopper, LG fry, LG Diet. My wife had a Bacon King and a LG Fry. When we arrived at home my wife found a large amount of hair in her sandwich. She found a piece of hair first then a larger amount. She couldn't finish the food after that. I'm sending you the sales slip from the store. Hopefully you can address the issue with them. We have always other then this time had great food, but now it might be questionable if we would trust them again. Thanks for listening.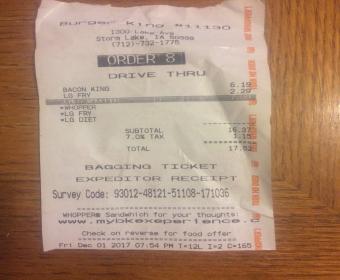 David torres
from Marion, NC
when your person taking the order has a bad attitude and a name tag that says Jay-jay all you have to do is add A V now you're talking about A woman's vagina when you order tater tot's and they normally have no salt to get even with the customer they added a lot of salt thank God that the salt didn't affect me all I did was throw out the tater tats and the manager didn't care because she's the one that started the tater tot's that's not how a business needs to be ran and this was done on November 17, 2017 the person taking the order was Jamie who had the name tag saying Jay-jay this was store number to 11 in Marion North Carolina
Have feedback for Burger King?
Thanks for your feedback!
Sorry. Please try again later!