Burger King
Burger King Complaints Continued... (Page 8)
783+ reviews added so far. Upset? Call Burger King corporate: 1-866-394-2493

Since it opened a couple of years ago as a 24 hour BK, I would get good service and food and the BK at 28644 Sw 137 Av in Homestead, Florida. Since I am a Musician, it was convenient after midnight, 2 to 3 times a week. However, the past two months has been a major disappointment. It's either no food, no power, cash registers down, computer down or something else. What happened? I hate Wendy's… don't make me go there…my husband and I have been going to your burger king located at 28644 SW 137th Avenue in Homestead since it opened at least 3 times a week.
Over the last two months it has been really bad. We usually go between 2 and 4 am, my husband is a musican and we stop by on ur way home. You advertise to be opened 24 hours, however lately we cannot order, your computers are down, you are out of fries, no sodas, sorry no cones as you advertise we can get with a meal, sorry we can not serve you….. I am very disappointed, we really like Burger King, when you opened, service ws great, now it is not…… I truly hope you do read this and try to do something…

I stopped in burger king In Saluda S.C we ordered but what we order we didnt get so we ordered the other sandwiches while we were waiting for the other food the same girl that took our order pick up our order and threw it in the garbage we were there over an hour . waing because they didnt know what they were doing. it took a long time for someone to come up and take orders again this was an unorganized work force .and a sorry one i will promise one thing i want buy nothing from that store ever and its up in the air about any of your stores since seen alot of the complaints against burger king ??
depends on how and what you all do to get this mess solved ????i use to be a waitress for years and i never seen anything like that mainly when you were not even bussy on Saturday Oct/22/2011 around 3or 4 pm we got our money back and left !!!!! just no excuse in the world for this poor excuse for your help !!!!!

I went to Burger King in Rio Grande NJ on Oct. 17, 2011 at 2:00 PM. I was at the drive through. I ordered 3 side salads. I was told that they only had one left. I told her that I would take the one and I also wanted 2 Garden Salads. I was told that they only had one of them also. So I ordered just the two of them. When I pulled around to pay I had to wait for about 5 minutes for them to bring me my salad. I thought just by chance that they were making me the other salad's that I requested but I was wrong. It actually took them that long to get me two salads. The car behind me ordered coffee and was told they were out of coffee and it would take about 15 minutes to make.
He said never mind and ordered a coke he was told they were all out of cokes. He then asked what they did have and the girl had to let him know of 3 choices he could choose from. He ordered a sandwich which contained of mushroom and was told that they were all out of mushrooms. The manager then told the girl at the window that she told her earlier that day that they were out of mushrooms. The two of them were yelling back and forth at each other in front of customers that is very unprofessional. They need to get there act together. We use to have another burger king about 6 miles up the road and they closed up.
They should have kept that one open and closed up this one. I will never ever go back to this burger king again. McDonalds here I come. At least they have better customer service and when they are out of salads they are willing to make one, which only takes a few minutes. Way to go BK you suck.

I went to the burger king in lady lake, fl tonight. First thing I see when I walkedin was a messy and dirty dinning room. The manager (natalie) looked like she just crawled out of bed. Look like she had two open wounds on her left arm. A friend that was there with me said it could have been a tattoo. If it was a tattoo, it should have been covered up. Then as we ordered our meals, it was like talking to a robot. For a manager to be on the front counter. But as I said, not very friendly. She noticed a burning smell Natlie walked in the back to take care of it and find out what was burning. When another employee came up to the front I ordered a Double Stacker without chesse.
Both my friend's order and mine came up so we grabbed it and went to sit down. My Double Stacker had chesse on it. My friend's onion rings were cold, and her fish sticks could be used as hockey pucks. Now we know what the burning smell was. So, I bring my sandwich back up to the counter and speak with Natalie. I tell her I make sure that I can't have cheese because I am allergic to it. My friend's and two other customer's said they heard me ask for it with no cheese. Natalie did replace the sandwich about 20 minutes later.
Also when I was at the counter there was an older couple, that had ordered a cup of coffee.
I saw Natalie explain how to brew a pot of coffee. which did no good, because Natalie had to go over and make it herself. I can understand have to make a new pot of coffee, but what i couldn't understand was the way she(natalie) was talking to the older couple. Natalie asked them what they were waiting for and told then that she had to make a new pot, but the man didn't hear her(remember old man in the old age center of florida), she turned and looked at and said she had to brew another pot like he was 2 years old. And then not so politely told them that they could go sit down and she would bring it out to them. The older couple was so upset over that, they didn't even wait to get there coffee. Just walked out.
Customer Service was and always is number 1 in the fast food industry. I know for a fact that I will not go back there again. And, I would even venture to say that the older couple will not go back there. And, this is coming from a former emloyee of yours.

I went to BK w/granddaughter to get dinner and free Sundae(free coupon). I needed to buy a "value meal" to get the free sundae. There was nothing on the overhead menu that said "value meal" so I asked the cashier where it was. He pointed to to the sign that said "value menu" so I placed my order from that. 2 orders of tenders and 1 onion ring, gave him my coupon for free sundae. He could not get the free sundae price to be subtracted from total. I think a manager (red shirt) came over to help and could not do it either. She finally said I had to buy a "value meal" in order to get the free sundae. So instead of letting me reorder from the "value meal" menu she just handed back my coupon and said I could use it next time.
So I paid for the food and sundae, threw coupon away and left. The tenders and onion rings were cold sundae was strawberry, not caramel that I had ordered. Now I know why I never go to BK. As I was waiting for my food a lady came in complaining that her order was wrong. Bad food bad service.

Hi, my husband I went to the Burger King in Ocala Florida. There was only one other car ahead of us in drive-thru. So, when we got up to the mirocphone we sat there and sat there. It,wasnt until my husband said "hello excuse " (and my husband wasnt rude)then we got an employee to answer us. But, she did even greet us. All, she said to us was to us was "go ahead" and nothing else. Now, I have been working with the public since I was 16. I could never ever speak to a customer the way this young girl did. And, the one thing that you ALWAYS do is greet a customer.
We, got to the Burger King at 8:05/our order number was 25/ an this happened on October 2,2011. At, the Burger King store # 6095/the address is 2900 S.E. 36th Ave Ocala Fl 34471 Someone needs to speak to this young lady about her customer service skills or lack there of!!! We, just wanted this brought to your attention. Thank you very much
Kim and Tom Land.

I was attending a business conference the week of 09/25/2011 in Elizabethtown,Pa. On the evening of said day,I stopped at Burger King and ordered a California Hamburger without cheese, french fries and a beverage and was served a California Hamburger with cheese. I have severe allergies to cheese and requested my order be corrected. The response was quite loud "it only comes with cheese…can'you read". The response was so unprofessional and uncalled for the Manager, Tracy, came to my aid and refunded my money. Tracy tried to reason with this employee to no avail as I was leaving.
This happened a week earlier through the drive through and I wasn't aware until I returned to the Holiday Express and losing the money I purchased the meal with. I don't think I'll be returning to Burger King for anything after that treatment…thank goodness you have an employee such as Tracy.
Sincerely.
Donald Miller

We called in to your Pease Pottage outlet at 0926. The "service" was apalling,the two behind the counter one called Ryan Norris, the other,wearing a rather sad looking grey T Shirt, were most incompetent and it was very hard to make them understand our order.I was asked three times what sort of burger I wanted until,finally,I got through to him my request. I also asked for a small coffee only to be told that I would have to wait for the machine to fire up.I would have thought that by 0926 in the morning all should be up and running.
I then asked for tea instead but was told the same,so I had to settle for some wretched cold drink.I finally got my "meal", got to the table only to be disappointed further as the fries were cold.This is the second time it has happened as we called in approx.a year ago on our way to London and the service was the same.I thought that, after a year, things would improve but I was wrong.My brother was with me and his experience was the same.He ordered a Whopper and large fries,got to the table,opened the bag and they had forgotten the Whopper.Crass!
Also,the prices were steep too. £2.19 for fries,£6.29 for Whopper and £3.24 for a little Cheeseburger is over the top.Then,at the bottom of the receipt, it tells me that "The Value Meal Savings" were £2.18. which means that the gross would have been £11.71.All for a Whopper,fries,regular Cheese burger and cold drink. Are the prices loaded for the position of the site,i.e. near the motorway thereby you have a captive trade as I've never paid these prices at other outlets?
My receipt number was #8020 and the outlet number is 10106. We were definitely not impressed and there was no one to complain to at the time,hence this letter of complaint. I've added a copy of our receipts for your perusal and proof of our visit.We will,in future,unless you can assure us that things will change,use McDonalds,as in the past we've always had good service,hot food and reasonable prices.

I went to the Burger King off 820 and N. Beach St. I ordered the #11: BK Double Stacker Meal(Medium). when I rushed back to school, which was less than a few miles I opened the burger wrapper and realized I couldn't see the meat or the bacon. The buns dwarfed the two meat patties and I had one bacon slice bent in half to look like two slices. The cheese was also cut in half to fit the meat patties. They look like kids meal meat patties. I also got watered down sprite and my fries were half full. I was thinking they fell out in the bag, but I was sadly mistaken.
I took a picture but I don't know what to do with it. Imagine the length of a ketchup packet and that's the diameter of the meat patties.

I stopped at Burger king store number 12033 located on 1670 Eastchase Prky, Fort Worth, TX, 761112 phone number 817-226-1447 to have a Dinner with my Fiancee at 9:33pm on Sept/15/2011 soon I got to the door that was locked, there was customers inside eating but doors was locked, I knocked but nobody came to attend us, so I got back into my car me and my Fiancee, and went to drive through once we got to place our order ANOTHER SURPRISE. We had a coupon for to complete our order and enjoy our meal when they said we couldn't use that coupon.
When we start to complain about they closed earlier and we were allowed to use the coupon they said they closed earlier because they manager Mr Gabriel said so. Also he said not to accept the coupon because were two coupon and we were driving one car, so then I asked to talk to the manager he came abusive and rude saying that he didn't have time to argue with us and also asked us to live from the window.
So I asked them to give the store number and the manager name suddenly Mr David came from behind his manager and verbal abusing closed the drive through window locking my arm between the two parts and started pushing my arm out so he could close completely and tell me to leave. So now is this the type of customer service Burger King train they stuff to do?
Please I would like to have some feedback on this Employees attitude.

Burger King Janesville WI, Mistakes and pissed off customers on every order. I was there on a day when my order took 20 minutes, the employees were fighting with each other complaining how much they hated their jobs. Every customer had a mistake. Our order they left out the cheese on a cheeseburger. Drive-through customers had to come back to get the right order. The restaurant was filthy and had flies. Another customer had to wait ten minutes for coffee. There were no napkins anywhere in the restaurant. This was a nightmare and surprisingly typical of other visits to Burger King locations, like the one that went out of business by my work.
When nobody wants to come back, the King becomes a distant and horrible memory that nobody wants to remember.

Why is the Sheppard AFB BK the slowest I have ever seen. The drive through is rarely open. The service is very slow and I have yet to see more the 3 people working there. I had to walk I with two toddlers to order their meal because as I said the drive through wad closed. No biggie needed the exercise. But I placed my order at 635 pm (according to the receipt) an they it took them 23 min just to get me 2 hamburger kids meals. The total number of people in the BK ordering food was 3 both of them ordered on meal each and I was the third.

I had orderd through the drive thru at BurgerKing, at the Port Orange, FL location. I had ordered two number sevens (clasic chicken with cheese)The Bill turned out to be $5 less then what the original price should have been so I asked the employee why the price was so cheap. Come to find out I had recieved two spicy chicken sandwhichs' with cheese instead. I Kindly asked the employee to exchange the Two wrong sandwhich's for the two correct ones. he did not charge me the diference for the two sandwhich's. As I arrived home and checked to see if the order was correct.
Their was no cheese on either sandwhich, and I had noticed their was a large amount of saliva on one of the sandwiches. I will Never Return to that location again. I am severly disgusted and I would appreciate it if one of your associates would take care of this.

I have been to BK 3 times in the last 2 months. Figued after the first time or 2, it was just a fluke, and would get better NOT!!! The first 2 times were fairly late evening, no one in the store, and the order took inordinately long — like someone was out back slaughtering the beef. Today my son cleaned a table for us, and afterward I asked the manager to clean the soda station (completely fouled with spilled sodas and straws and sloppy ketchup–ick). Also every table in the place needed cleaning. No one in their right mind would want to eat in this place. Unfortunately for you people, this is not at all what patrons want to see, or how they expect to get served in a FAST FOOD place.
Next door at McDonalds, they have it down pat. Take note.

I stopped at the store at 6240 highway 287 in Arlington Texas today Sept 3–about 12 noon. I only had a couple of bucks in my pocket so I thought I would order the bk single stacker off the value menu. I went thru the drive thru and picked up my food–opened it and took a bite and it was COLD. I turned around and went thru the drive thru again and told them my food was cold and wanted a replacement burger–the person on the other end didn't undersstand and said that will be 1.08–got to the window and told the young man my problem so he just replaced the cold burger. I left and took a bite of the replacement burger and It was not only COLD it tasted old.
I was afraid to eat it so I threw it away. The purpose for the complaint is to tell you that you have a store out here selling garbage and someone is going to get sick eating their food.

I don't generally get up in a tizzy about the occassional foul up at a fast food place, it goes with the territory so to speak. However, if Burger King is trying to get more business, it appears they may be taking one step forward and two back. My wife and I are senior citizens, and we like to find a coupon or bargain as much or more than most. We got a coupon booklet from BURGER KING in the mail today, and were excited to see a new "california whopper" and the coupon for buy one get one free made it even more appealing. We had pretty much quit our local BK as they were slow, and often got the order wrong, but thought – hey they need the business – lets try again.
So I go and order 2 California Whoppers, a BK Single Stacker, and a fry (after a fair wait in line). By the time I get to the window my son calls to say he wants one also. I had handed the girl my debit card and the coupon and she had gone off to who knows where. I waited there at the first window for a good 5 minutes then she returns and says the coupon is for whoppers only – not California Whoppers. I explained that it was on an advert for California Whoppers, and showed her the picture on the back of the coupon… no. Did I still want the two California Whoppers ? Yes.. actually now I need three of them. Ok..
I gave her my card again and she gave it back to me and walked off again. I assumed we were done and pulled up to the food window. A minute or two later she came with a ticket for me to sign. Shortly after, the girl working the drive thru window handed me the order. I quickly checked it and found only two of the green boxes that said CALIFORNIA WHOPPER. I mentioned this to her, and she said my ticket only shows 2. I said check with the fellow in the black shirt – on order #97 they had a change. (I had heard him shout that out when I added the 3rd sandwich). 8 minutes and lots of hunting around and they "found" the 3rd sandwich.. sitting on the counter near the girl all along.
The girl had pulled my copy of the reciept from the bag to go looking – but did not put it or any other updated receipt on the bag. When I got home with the sandwiches I found no receipt – and instead of the single BK stacker I had a whopper with cheese and a standard whopper – and of course the 3 California Whoppers. I called to see if I could find out more about what happened – but got a generic cheap telephone answering machine message "theres no one here to answer you call" and click.
I ate the sandwich – which was advertised to have Swiss cheese, guacamole, bacon on a whopper.. none of them had the Swiss or any cheese. and the two my wife and I had had only one strip of bacon – covering only half the sandwich. The guacamole was applied more like a person would apply butter to bread with a knife.. a thin layer on most of the sandwich and a dab or two that was thicker. You could taste it – but it was pushing credibility to say it was more than 2 teaspoons total.
If you are having trouble staying afloat BK, it would make sense to deliver something close to the picture when you serve it – taking half the bacon, half or more of the guacamole, and all of the cheese off may impact profits a bit initially but the lack of return business and no way to send an email complaint to either the store or corporate does not bode well for those who expect to have it their way or at least be able to complain if not. Sending a coupon book advertising 30 plus dollars of savings and free items does no good if you can't use it.
And if I find that I got charged for two whoppers that I did not order… well thats really pushing the limits of understanding. I have taught classes on customer support matters and I always tell folks that in a market where you sell the same things as the other competitors – what makes you stand out is how you handle mistakes. Burger King Hobbs NM left me with some serious worries about how long they can stay open. I will think seriously twice before pulling in there again – and we have been here over 30 years.

Me and my kids were outside shopping and the kids said they were hungry and I asked the kids where they want to go and they said Burger King at 20430 Germantown Road, Germantown, MD 20874 and we went there and the cashier had an adittude (like she didn't want to work.) and we ordered food (chicken tenders, four mini burgers and two larger fries.) And we took the food home and we only saw the burgers and the fries without the chicken tenders and I had to drive back to Burger King and I explain to the cashier that I'm missing the chicken tenders and she just gave me the chicken tenders without saying anything I will never ever go to take my kids to that Burger King again.

Kelly M.Less than a minute ago. I saw the add for the California Whopper and was so excited to try it. I live in Downtown and there are very few Burger Kings close to me. I found one on Lemmon Ave. store # 542 and couldn't wait to try one. Well I went to try one. When I got there I asked about the price for just the burgers, no one knew. They had to go ask someone? After finally getting the price, I ordered two! I thought this will be so good! I get home and not only was there no guacamole on either of them, but they put so much mayonnaise on them we couldn't eat them. We were charged for the Cali Whopper and got mayonnaise and lettuce sandwiches!
I tried to call and no one would answer the phone. My next avenue was to contact you all, this was no easy feat! I don't think I should have to drive all the way back over there seeing how gas is $ 4.00 + a gallon these days! So much for " Have it your way" huh! I think you should change it to "Take it like you get it! & we'll charge you for whatever we want sucker!" I will NEVER eat there again! I will go to McDonalds, Wendys, or even the local roach coach! They probably have better service & food! VERY VERY disappointed!
Kelly M.

I have always said if you will not eat the food yourself then don't serve it to your customers. Burger King has a habit of serving bad food the sandwich itself or the toppings just doesn't work. In the 70's they were probably the best burger place to go now I see why they are closing them down. Extruded fries, thin burger meat, plastic like onions with skins, no lettuce on the sandwich, ground onion rings, many different sandwiches that no one would order. Think about the KISS theory get back to keeping it simple and forget the stupid king and all the silly food selections nobody wants..

I went to the Burger King on Austin Bluffs in Colorado Springs tonight and tried to place and order. I told the girl 2 mini burgers and 2 mini chicken sandwiches. She rudely tells me that "you can't do that". (no explanation that they come in packs and they can not be seperated or anything) I repeated my order more clearly 2 8 packs of hamburgers and 2 8 packs of chicken sandwiches. She does not repeat the order back but the screen is showing only one order of each. When I try to tell her that I want 2 orders of each I hear nothing on her end to indicate that she has heard me or that she is changing my order. The screen remains the same.
My daughter in the car calls out that the customer service sucks. She tells me that she will not take my order "good bye"! I have had multiple problems with this particular location and never seem to get any satisfaction. Its a shame because this location is closest to my house. Burger King did not get my money tonight Taco Bell did. Their customer service is always impecable! The employees are glad to have a job as opposed to Burger King where we are just interuptions to their day.

I made a purchase of 3 dbl.cheeseburgers, 1 small coffee and a 4 pc.tenders. that order came to 5.87 plus 47 cents tax. They did not give me the coffee so I went back to exchange the item I did not receive for another dbl cheeseburger. BK charged me .39 cents as the tax would have made the item 1.39 cents. I asked them why they were taxing me .39 cents when they never refunded the tax they put on the coffee.They told mre that the coffee had no tax. I told them that the burgers were 3.87 cents, the coffee was 1.00 the tenders were 1.00. the subtotal came to 5.87.The tax was .47 cents and that all items were taxed according toPa. law of 8%.
Devlyn and Jessica, the person who snatched the receipt from my hand did not refund the tax I had already paid, were sarcastic and rude in dealing with my situation and furthermore stated"Go ahead call the corporate office, I will give you the number. They are always rude here and inadequately staff.The icee machine as usual was not working. They have lost me as a customer.

First off, No receipt through the drive thru. I ordered the number 6 breakfast. Potatoes were barely warm, so I skipped them. The bottom half of the english muffin was as hard as a rock. I mean it. It was so hard I would have broken a tooth. I turned around and went back. I walked in and nobody was working the counter. After a minute I asked for help. A male employee with a black eye comes out and I tell him my story. He blandly asks if I want another one, no interest no care at all. At this point I cut my losses and ask for my money back. Without a word he tosses the food in a garbage can, gives my money back and walks away. That was awful.
6767 N.E. 84th Street
Vancouver, WA 98665-0000
(360) 574-3000

The award goes to the Burger King on route 219 in Ellicotville NY. I am used to high traffic washrooms at rest stops along the interstate but never have i entered a washroom in a burger king that was so disgusting i was afraid to buy food there. The stench upon entering was overpower (and it wasn't from a previous customer) They must be on a septic system that is overdue for empyting and have no water in the drain trap. the floors and walls were sticky with grime. It reminded me of the filthy bathroom used in the movie SAW. I didn't even want to touch the taps to wash my own hands.
I did not purchase food in fear they might have the same standard of hygene for food preparation. If someone from head office is reading this-you need to get down there and rectify the problem ASAP !!!!!!!!!!!!!!!!!!!!!!!

Burger King located @ 2626 S 108th, West Allis, WI. I went to the above location after 8am and found the doors were locked. I then went to the drive-thru, and was informed it would be another 30 minutes before they would open. I then mentioned that the hours on the front door showed 6am as opening time. The response was "we won't open for another 30 mins". When I asked what the problem was, I was told "sir, I don't have to explain anything to you." Please be assured that this creates doubt of ever returning to Burger King. Your reply would be appreciated.

Me and my daughter went to the Burger King in Springfield, GA on Hwy 21. We decided to go inside to order since the drive thru was backed up. While standing in line a gentleman came in the lobby with an item in his hand and stated that it was the wrong order. He ordered four little burgers but received four chicken sandwiches. The girl behind the counter reached into a bag that was apparently for another customer at the drive thru window. She handed the gentleman in the lobby food from the bag and placed the food he brought back inside in the bag and handed the bag to the folks in the drive thru.
To top that off, the gentleman left and returned a minute or so later to state that his food was still chicken and not burgers. This time a guy behind the counter took the food from the gentleman and placed it on the warming racks and instructed another employee to fix four small burgers. We sat in the dining room to eat and the guy behind the counter never threw away the food the gentleman had brought back in.

Went to BK this morning. Was going to go through the drive thru but there was a car blocking it, so we went in. We being me and my two small children. I ordered the food and we sat down to wait. When the order was called I retrieved the food and went back to the table. While sorting food I noticed a wrong breakfast sandwich and was about to go up to trade it when the employee who had taken our order came out and demanded a sandwich back. I said this one is wrong and went to grab it but then he touched my child's sandwich and said it was the one. Touched his food… so the wrong sandwich was taken awsy, my child's food had to be replaced, and then the employee hadn't noticed I didn't have mine.
So I had to pay for a sandwich I had already paid for. Will never go there again. Poor service and bad manners.

Went to BK this morning and ordered a breakfast platter and a gravy biscuit to go. Got home and the platter was Eggs really scrambled all over the tiny plater a biscuit cold and crubby and tastless two tiny pieces of under cooked bacon which was bad but the gravy was served in a small round bowl with a crubbled biscuit with some flour water poured over it. You can bet your sweet butt that I'm going back to Jacks and I swear tht I will never visit BK again, The lower price meal at Jacks has gravy grits the gravy biscuit does not appear to be something that someone threw up…YUCK

ok so i go to Burger King maybe once every 2 weeks..usually just for a burger on the go. So today i went and got a burger and nuggets for my daughter. we get to our destination to sit in the car for a minute to eat. her nuggets are fine. My burger though..well wasnt a burger..it was bun special stacker sauce and cheese..and a burnt taste. i opened it up to see that the burger patty itself was the size of one of my daughters nuggets!! and half the thickness!!! so i took pics of if it. id post them on here if i knew how or could to show you. i even put one of her nuggets on top of it to compare size.
Ok i know they are "grilled" pattys..whatever..but the patty shouldnt have shrunken that much..well needless to say..were getting out burger and nuggets on the go from McDonalds.

We have enjoyed Burger King Whoppers since it opened in our town, Ville Platte, La. While the whopper is still good, the attitude of your employees is hiting a new low in rudeness,lack of social skills and very non caring. Tonight we ordered a whopper meal and whopper junior. I wanted milk as my choice of drink. When your employee gave me the total I asked her if the milk was included or if it cost extra. This apparently insulted her very much as she rolled her eyes and said it is extra and that's how it is. I realize most of your employees are not the top of the class, but their actions reflect on Burger King.
On a differnt occasion I watched as my whopper was being fixed and was very surprised to see them fix it with bare hands, even stopping to scratch their face, lick their thumb and put a slice a tomato back in the serving tray. I'm sure Burger King will not go out of business being I'm not going back, but I think you need to know. Thank you

I recently stopped at the Burger King drive thru In North Saint Paul MN. the crispy chicken sandwich was barely warm and tasted strange like soap or a chemical was on it. Had to throw it away!! This happened to a friend a week ago and I thought she was wrong till I tried it. Is the grease old or what. I will never stop there again. I only write this for the sake of other costumers. What happened to great service!!

The Burger King in Canton, NY originally was a clean restaurant that you enjoyed visiting. Over the past 6 months, I stopped in to grab a couple of breakfast sandwiches. I had to return them as they were hard as a rock. The employee took them back and made a comment to coworkers within my hearing that I "said" they were cold and hard. Very rude but replaced them. Another time a couple months ago, I ordered three double cheeseburgers to take home. I live 25 minutes away. When I got home, they were plain hamburgers. We ate them as I did not want to drive back to have them replaced.
Just yesterday, I ordered the new Bacon Ranch Chicken Tendercrisp. Again…took it home and when I opened it, regular tendercrisp sandwich. Apparently you have to physically open the wrapper before leaving the store to be assured you have the right order. They don't have a coffee dispenser now out where you can get your own and one of the soda dispensers has been out of order for months.

I am writing this, not due to a one time complaint. I owned restaurants for years, & before owning them i ran hotels & mom & pop rest. in Daytona Beach Fl. Over the years i found myself stopping at Burger King, you always had something i enjoyed on your menu, even when i was on my way to MY own RESTAURANT. I would stop for a breakfast sandwich. I was a loyal customer Since the age of five yrs. old. Over the years, something happened to your restaurants! You must Franchise them to anyone who has the money. The one's In central Fl. Are filthy dirty, serving old food, horrible customer service, rude dirty looking Mang. That i would not let wash dishes in any rest, I was involved with!!
You must have the worst training program. I am not all mad, that is not why i wrote this, I am ashamed of all you don't do about trying to clean your act up. At one time you really were the KING of fast food….No longer will i ever eat at your restaurants. I myself have a proven track record for the opening new rest. & going back once a month to them, making sure they stay great…

My family and I went to Burger King for a late night dinner after watching the Monster Truck show. Burger King #3746, the girls name was Kayla, in Radford Va. I ordered 3 nugget kids meals and a whopper meal, my boyfriend got a plain chicken sandwich. While ordering she kept turning around and talking to her co-workers and not paying attention to my order. So when the order came she had charged me for 3 extra small drinks, and put cheese on my whopper. I order no cheese because I am lactose intolerant. We waited for about 15 minutes for the first order and when we got it it was cold, instead of waiting for another whopper I scraped the cheese off best I could.
I then had to remind her about my refund for the 3 small drinks, she didn't like that at all. She was rude and so was the manager on duty, no apology or anything. She basically threw my money at me, and took off. My boyfriend went up to order a chicken sandwich to go and he had to wait on Kayla to turn around and take his order, she was busy talking to her co-workers again. I love BK when we are on the run, but now, not so sure we would ever go back to that one at least again.

On 29 June 2011 at 18:57pm I proceeded through the drive though of a Burger king. Location was the closes to 500 B Carteret Ave Beaufort, NC 28516 right across from a McDonald's and a Domino's Pizza. As I placed my order (two wopper specials, lite mayo, lite lett, and cut in half totalling $7 and change) and drove to the window the young lady took my cash and gave me my change. I then looked though the window to the preparation area and saw my food being made. It was the worst thing I had ever seen im my life. The preparer was gloveless. I visually saw the member put my meat pattie on the bun. Then he got my pickles froms some compartment with his bare hand and unfolded the pickles and placed them properly on the pattie.
Next the burger king individual pushed a button on some streen he was watching, wiped his hands on his shirt then proceeded to finish making my burgers. An African American hand came into the picture and tossed the top of the bun onto the counter of the preparation area. This gentleman was also not waring gloves. The main preparer pushed a button on the streen and continued to make my burger. I had seen enough. I told the cashier to hault my order and give me a refund. The cashier turned to the food prep personel and told them to stop making the order and that i no longer wanted it. She called the manager whom was a farely heathy set gentleman and told him I no longer wanted the order.
The manager refunded my money. Never asked if I had a problem, was I dissatisfied, or what was the reason for the refund. I will never eat at that establishment again. My burger king experiance has been ruin and I now thin all burger king establishments are the same behind blind eyes.

My husband and I like so many others are trying to ride out this economic crisis by working part time in the evenings. Needless to say we don't always have time for home cooked meals. The Burger King,#3847, in Houston,Tx. is the closest establishment near our home that is open late. Twice, within the past month I have driven up to purchase a meal. Twice, I have not recieved the meal ordered. The first time the attendent asked me to wait a moment, that he would return to take my order. He immediately disappeared and he didn't return for my order. After about ten minutes of a no return and no else visible, I left.
This evening I drove up again. My order was taken and after taking my money, I was asked to wait in the front, though there was no one behind me. I waited, I saw employees leave with their orders in hand, I saw employees messing around, but my order did not come. After about ten minutes I drove around to the window again, showed my receipt, and asked for my money back. One employee was sitting on the counter eating french fries, while a young woman looked over my receipt called the cook over, and tried to figure out what happened to my order. At no time was I given any kind of explaination, nor an apology, nor did the manager appear.
These are not isolated incidents as we have had problems before and I'm talking about years. The night manager at #3847, I was told is David Villa. It seems to me that he is not your best manager or perhaps not sufficiently able to supervise his crew.

Again, I did not receive my order. Twice this month, I have driven up to Burger King, #3847 in Houston, Texas. I first time, the attendent disappeared and didn't take my order. I waited as he had asked me to do, but he didn't come back. There was no one visible, so I left. This evening I went again. This time my order and money were taken, but my order didn't come. As I waited, I saw employees leaving with their orders in hand, I saw employees messing around, but my order did not come. I drove around the window again and saw an employee sitting on the counter eating fries. I asked for my money back and handed a young woman my receipt.
She called the cook and both seemed confused as they tried to figure out what happened to my order. There was no explaination, no apology, no manager visible. I do not go to Burger King because the food is terrific. I go there because my husband and I work part time jobs in the evenings trying to supplement our income. The Burger King is the closest restaraunt to our home that is opened late.It seems to me that your night manager is not able to supervise or better train his crew.

on Friday night, I went to burger King my order was incorret the staff was visiting with each other and the drive area was conjested I had to go inside after a long wait in line to get spenda for my tea, I had asked for mustard and no seed on my burger top. I was with a friend on Saturday and recieved the same type of treatment. I had no choice but to go to the same burger king We were leaving and need quick food I can not understand the employes and they do not get the orders correct. I experienced bad attitudes and rude service. I have always love burger king, however this was awful. 2403 w.wheatland The number for concerns listed was a burger king store in calif. I need a refund

I have taken my 6 year old son to the local Burger King in Dearborn at 25300 Michigan Ave. BK # 495. Once a week for the last 4 weeks. No childen's toys. The first 2 times were drive through visits. At $4 a gallon, it is not worth turning around and getting the lame excuse I finally got. Burger king is between toys, so how about a bad necklace for your son? No thanks. it still made it's way into the bag. The last straw was 2 days ago. Manager Dennis was the person who waited on me. Nice enough person. Shocked about my previous experiences. I said this plainly and clearly, " how about taking your keys and opening up the toy display and getting me 3 of the squirt guns that you are out of?".
I am not sure, what do you say to someone that will not listen. I wanted to smack that guy upside the head. But having my 6 year old next to me, I decided that would be a bad example. If the toy display is empty, maybe the BK is out of the toys? Ya think? He gave me a Transformer old toy from the backroom. My son has duplicates of those. WOW, thanks…I went to my car before I left and took out of the trunk the necklace still sealed and in the burger king bag. I gave it back to him… Why would I go back there? Lets add some more insult to injury. I get home last week from one of the burger king trips and a burger king commercial comes on and says. "get a free drink with any Whopper sandwich order."
I looked at my receipt and I was charged for the small drink I ordered. Why pay for a large if you dine in and can refill. Too celebrate 1st week off from school, we went to McDonalds. My son does not like onions, he gave me the burger and he ate the fries and had his coke. McDonalds is cleaner, cheaper and more polite and he got a cool & correect toy in his "Kid's Meal". I am done with burger king.

I have had problems over and over with the Burger King in Sturgis MI. The people are rude and act like its a chore to serve you. The burgers come with almost no toppings. If you order a fresh BK big fish they never put down a fresh one. You have to go back in and get a fresh one. Have it your way, only if the person working feels like it, which is almost never. I cannot believe this store allows their managers and employees to be so rude when they screw up. It is no wonder McDonalds across the parking lot is always busy and this Burger King is never busy! Save your self the hassle and eat somewhere else!

at burger king in jax florida at hodges and JTB I was treated so rudely by the girl in the drive thru, she said that what I ordered would take several minutes to prepare I told her ok, she snapped at me if you dont like it leave, I went to another BURGER KING told the person there what happened he said "yeah we hear that alot about her dont know how she still has a job. I quess burger kings motto have it your way is no longer applicable. there are to many fast food places for me to be treated this way,I honestly can not believe the manager or owner condones this kind of behavior.
I spoke to many of my neighbors " this burger king is in my neghborhood" there were several people who have experienced the same type of treatment, this reflects very poorly on Burger King as a whole. I hope this does not fall on deaf ears as this could and should have a negative impact on Burger King as a whole if left unresolved.

5-30-2011 At 9:09 PM, I took my son through the drive-thru at Burger King on Highway 82 West in Tifton, GA, as I do most every night, Order # 100 Check # 50189, I gave the girl at the drive thru $ 5.00, my change was $ 1.05, she never got it to me, the wind was blowing and she let it fly onto the parking lot, she dropped the nickel on the ground, I was at the Burger King drive in window and could not get out, my son got out, we never found it. All She said was I am sorry. I do not have extra money to throw away. I am a widow and having a hard time. My son likes your products so I take him.
She never offered to help look for it. All she said, I'm sorry. I did not appreciate the way this was handled. You need to check with your people and make sure when they are giving change, they make sure the customer gets their change. I feel like she should have replaced my change, since she is the one who let it fly away. Not sure I will be going back to that Burger King.

this is the 2nd time in a month that i have visited the burger king in the 4000 block of veterans pkwy. at both times, i was the only one in line, there was not a line in the drive thru. Both times i had to wait for someone to wait on me and then wait about 5-10 min. for my order, while the employees ran their mouths and piddling around. I have worked retail off and on for over 20 yrs. customer service MUST come first, especially in this day and time. The time i went last month, one of the mgrs. or someone over the other employees was in line and i told him about the waiting time and he said he would check into it.
With so many out of work, people everywhere need to be customer conscious, because there is always someone that is willing to show appreciation for a job. The food is always good, but the service is sorely lacking.Thank you.

I go to Burger king in guayama PR Carr 54 and it was not good for me that is. I go there because wherei live ther is no internet. While i was at Burger king last night two of the Employees at Burgerking were treating me like a gay person when i have never in my whole life been gay. Now the Manager of Burger King a young lady was talking to an employee about me as i heard them speeking in a suspiciuos manor. Then the lady manager approached me and asked me where could she take here daughter for dancing lessons and i replied i don't know why would you ask me such a pathetick question,woulden't you ask a girl that insted of me thats very disrespectful of you to ask me that question.
Then she laughed out loud as if it was funny. I felt raged i wanted to jump over the counter and grab her by the neck or smash everthing i could get my hands on . what should i do in a situation like this. Should i let them get away with it. Should i take action and sue' them for this. I mean i am a customer. And thats no way to tret a customer. Somebody help me because i go there every day. And i have to put up with this evey time i go there. I am mental health patient. Burger King is one of my favorite fast food restaurants and this is what i get for being a good customer.
And by the way I will forgive the lady manager because i knowit was not her fault itwas Christians fault for telling the lady manager things about me thats not called for. And to Burger king headquarters please for give me for writing this letter i just wantthis to stop and for my safty i will try not go there any more.

On May 25 about 10:06 pm My niece and I ordered by way of the Burger King drive through, I told the clerk that I wanted a whopper with extra onion and no mayo for myself along with fries. My niece ordered the whopper junior without cheese with onion rings both of these items were meals. Not only did they make us wait, the order was wrong. My whopper had mayo, no extra onion, the bun looked as if they had been using it as putty. The fries were cold and taste as if they had been out all night. My niece hates cheese her Burger King whopper Jr. had onions and cheese. her onion rings were cold and chewy.
She asked for tea without ice they gave her a coke. We did not find this what amounts to enedible food or garbage until we got home too far to return it. If this was the end of their day they should not had said the food would be off the grill… I thought that the first time they got my order wrong that it may have been a mistake now it looks as if they just do not care! The Burger King store number is 1515400 Forest Park, Ga. I kept the receipt.

I go to Burger king in guayama PR Carr 54 and it is was not good for me that is. I go there because where i live ther is no internet. While i was at Burger king last night about 11:pm 5/24/2011 two of the Employees at Burgerking were treating me like a gay person when i have never in my whole life been gay. Now the Manager of Burger King a young lady was talking to an employee about me as i heard them speeking in a suspiciuos manor. Then the lady manager approached me and asked me where could she take here daughter for dancing lessons and i replied i don't know why would you ask me such a pathetick question.
Woulden't you ask a girl that insted of me thats very disrespectful of you to ask me that question. Then she laughed out loud as if it was funny. I felt raged i wanted to jump over the counter and grab her by the neck or smash everthing i could get my hands on . what should i do in a situation like this. Should i let them get away with it. Should i take action and sue' them for this. I mean i am a customer. And thats no way to treat a customer. Somebody help me because i go there every day. And i have to put up with this evey time i go there. I am mental health patient.
Burger King is one of my favorite fast food restaurants and this is what i get for being a good customer. By the way the employee who's been causing this issue goe's by the name of Christian. The lady manager i don't know hename but i can identify her if you need me to.All i wanted to do was use the intenet an i did purchase it's not like i didn't buy nothing. But i will talk to a lawyer about this situation because i can't let them get away with it.

Dear Burger King, I went to Burger King at 1709 rd in Goshen Indiana and got a double cheese burger 1.00 fry a a cheesecake the guy who took my order was just blah not friendly or rude got to the 2nd window paid for my food and waited then the manager her name is Holly i asked basically threw my food at me was very rude didn't say thank u come again nothing until i asked her what her name was then she said Holly and i started to drive away and she opens the window and screams out have a nice night i thought that was very rude and did not look good for your company!!
I love Burger King but will not be treated like that when i am spending my money there!! So i will no longer be going to that Restaurant anymore there are 50 other places to choose from on the same road but i thought you should know how i was treated at your Restaurant!!! Thank You for your time and have a nice day!! My name is Christina Horn and my e-mail is buckeyegirl77 [at] comcast.net

I went to a Tim Hortons in the morning about 8:30am and they were so busy with lineups out the door, so I decided to go to Burger King which is just up the road from them and I like the Croissantwich Sandwiches. I ordered black coffee with 3 sweetners and a Croissantwich with bacon and the little potato fries. The woman gave me my order in a bag with my coffee. I opened the bag less than 5 minutes later and my coffee also. The coffee had milk in it (ordered it black) and there wasn't any sweetner in it, so I threw it away. The croissantwich was fine although barely warm and the potatoes were also barely warm. I threw the whole thing away.
It wasn't a lot of money but still unacceptable. I thought to myself, "no wonder Tim Hortons was so busy and I was the only customer at the drive-through of Burger King. I live in Ottawa, Ontario and the Burger King I went to is in Kanata on March Road.

I went to the Dewey Ave Rochester NY Burger King drive through on Saturady 5/14/11 at 8:14 am. I advised that I had a coupon for a BOGO breakfast croisant "of greater or equal value." I ordered a double croisant and was told the coupon exlcuded this item. Nowhere on the coupon does it state that. I spoke to the manager who said his name was Ron Mass. He showed me a placard that states the coupon does not apply to the double breakfast croisant and that it is displayed INSIDE the restaurant. I disagree. I told Mr. Mass that this is fraudulent, classic bate and switch. I also pointed out that the outside signs do no indicate that the double is excluded from this coupon and that drive-through patrons don't see the disclaimer inside the store.
Even if they did, the coupon explicitly states "greater or equal value" so no disclaimer on a placard is valid. This deception gets partons to return with the expectation that the coupon, as written, will be honored. Is there any class action going against Burger King? They should revise their coupon, not spend money printing worthless placards.

I went through the drive through today at the Burger King on Main st in Lewisville TX and ordered a whopper with cheese and an A-1 burger. I did not look in the bag, which I remembered you should always do at Burger King. When I got to my office I opened the bag to see there was only the A-1 burger in the bag and nothing else. I then took a look at the burger to see the meet was burnt and cold and the bun was flat and rock hard. I had to toss the burger out because it was not edible. This location has to be the worst experience with a burger King I have ever had and I will not be returning to that location even if it was the only fast food in the state of TX.
I only work 5 miles from there but I run a business so I cannot take the time to run back and make a complaint. Otherwise I would be there complaining about the food quality and the fact that they did not get my order right, even though they charged me for everything.

It doesn't seem to matter what Burger King I'm at, (Denver,St. Louis,etc). I've noticed and watch the staff reheat the burgers to melt the cheese and warm up the bacon before wrapping and serving. What has happened to a fresh flame broiled hamburger served hot the first time? The taste is horrible and when I asked for a fresh burger the cashier turned her back on me and walked away! Just remember that to have it your way is to go someplace else!

we was traveling thur afternoon and hubby was a little hungry so we stopped @ Burger king in bellee chasse ,La hubby and i went in others stsyed in carit was 7:05 thursday may 5 aked the girl we would like 4 #12 Bacon cheese 4 fries she sais sorry we have no burgers, we said how can we not have burger this is burger king we have no burgers no buns i said do you have a manager here she said yes told her better fire her littlee tiny thing looked stunned never ever heard of no burgers sas sas sas.

today i visited my local burger king and order 3 whoopers and 1 double whooper i waited 10 mins for my order and when did get it home i found that i was shorted one whooper. when i tryed call the number on the ticket i was hungup on and when i called back the number just rang and rang. every time i visit bk 11119 at lunch or dinner time i have a long wait and my order is wrong "I HATE THE BK IN CLEWISTON FL. AND WISH IT WOULD JUST BE CLOSED DOWN" the managers and staff suck!

My wife and our three little children were in the drive through. There has been over five other times in the past year that we have gone to this Burger King, and we had other issues. But, besides these five other times, I will let them be and tell you about this one that we had tonight. We love to eat at Burger King. We will no longer eat at the Atmore, Alabama Burger King location, unless there is drastic changes in the customer service. I know that it is ran by the manager and on other occasions the manager was there. To narrow it down. I am tired of looking forward to great food from Burger King (like we always do at other locations), then only to come to the Atmore, Alabama Burger King and get poor service and cold food.
I am tired of being asked to pull ahead from the last drive through window, to park up front… and then the drive through employee say's "pull ahead and we will bring your food out to you!" A while back I asked why do you always ask us to pull forward and you will bring out my food, when all I ordered is one combo, just like it comes. The drive through person said, "our drive through is timed… and the big people will see if your drive through time takes too long." WOW?!? On other times in the past year, we received food that was not even warm, it was actually cold… I mean cold like it just came from the freezer.
I pulled back into the drive through asked to speak to a manager and the employee said the manager was busy… She said, "What do you want?" I then asked again… I need to see the manager please? The employee blew a sigh of frustration and then threw her pen down and walked away, about 4 minutes later a manager came to the window and asked what is wrong? I said my daughter's food is cold, like it just came from the freezer, she then said what do you want me to do? I said… I would like what I ordered but warm.
But, besides the fact of having to pull forward, so you guys will not know that it takes this franchise in Atmore 15 minutes to bring our food, I want to tell you the rest of our experience. I am tired of getting poor service from this location. I know that if you have a good team and a great manager a business will thrive. You may also ask me, if I do not like the service so much, why I don't just go somewhere else. Well to answer this question, why should I have too, when it is how hard to offer great service? I keep hoping it will change.
Tonight my family ordered our food, and from the start it was like we were not even a customer. Every one looked frustrated to be there and then we were told to pull forward and someone would bring our food out to us. 15 minutes later!!!! And some of our food was not even warm/hot!! Tonight, none of the employees were helpful, nor did they have a good attitude. My wife said that none of the employees even tried to help or offer good customer service. They acted as if they did not care. Even after being asked to pull ahead and having to wait for 15 minutes, the person that brought our food, did not even say, "I'm sorry for your wait." WOW… besides being common sense and the right thing to do or say.
It is not hard to say… "Sorry for your wait" When the food was brought out to our vehicle, and it was not even hot, there were no ranch condiments in which we asked for when we first ordered. NO BIG DEAL, BECAUSE WE ARE USED TO THIS BURGER KING LOCATION IN ATMORE, NOT EVEN PLACING NAPKINS, STRAWS, OR PLACING IN THE BAG WHAT WE ASKED FOR. So my wife asked for the ranch condiment. The employee said that it would be $00.27 a piece. OK… I understand Burger King having to charge. But when we asked for it when we ordered it, IT SHOULD HAVE BEEN RANG UP THEN!!!
SO WE DO NOT HAVE TO PUT CENTS ON OUR DEBIT CARD. AND ABOVE ALL OF THAT… COMMON SENSE TELLS A SMART PERSON… THAT IF AN ORDER HAS TAKEN SO LONG… AND YOU ASK THE CUSTOMER TO PULL FORWARD SO THAT CORPORATE WILL NOT SEE HOW LONG THEY WERE IN THE DRIVE THROUGH… COMMON SENSE WOULD TO GO BACK INSIDE… GET THE RANCH… AND NOT BRING UP AN EXTRA CHARGE… WHEN YOU HAVE ALREADY OFFERED A HORRIBLE EXPERIENCE AND HORRIBLE CUSTOMER SERVICE.
I would love to talk to the managers at this location about the problems that we have had, but we have talked to them in the past, and they act as if they do not care and blow you off. We are not ones to complain, but we have had enough. We have not shared our experiences with anyone else, yet. I am hoping that you will make a difference at this location. Thank you for your time.
Sincerely,
order number 572

Your slogan "have it your way" doesn't apply in Rainsville Alabama. Tonight after driving 20 miles to and from the burger king location located in Rainsville Alabama I saw when I got home that my order was not complete so I drove back to the burger king location. I approched the manager (Maggie) and told her my order was short she in turn told me that she would have my ONE WHOPPER in 20 min. that she had a lot of orders ahead of me (I could clearly see 3 whoppers on the platform infront of her not being issued) I then ask to speak to a manager and she said she was the supreme manager and noone was higher.
I then ask to speak to the owner of the burger king and (Maggie) the manager informed me that he lived in Las Vegas and I was welcome to drive out there and see him, after this smart ass remark not only will I not be returning to this Burger King, Unless Maggie is gone! No business needs managers that treat any customers like there pcs. of trash. So When shes gone please inform me and I will return in the mean time I have no choice but to instruct the whole area where this burger king is located of this horrible woman and ask that no one eats there again as well as contacting the Health Dept, and all resturant permit issue dept for places of business in Rainsville And or DeKalb County Alabama.
Burger King @ 323 Main Street West
Rainsville, AL 35986-5909
(256) 638-7799 Supreme Manager Maggie
You can email me back with notice of her dissmissal.
My email: ctshort [at] hotmail.com
Thank You for the most horrible experence I have ever encountered in a resturant.
Not Your Customer anymore
Christopher Short

I loved the buck doubles at Burger King and usually had one every day for lunch, now they are gone, replaced by the bk stacker. It looked good with the burger bigger than the bun and bacon all over the top so I ordered one. Got back to work, pulled it out of the bag and was surprised to see a buck double wrapper around my burger. I opened it to find what looked like a bun only, the small burger was totally inside the bun, and there was one piece of med. Cooked bacon cut in half in the middle, NOTHING like the picture on the Burger King ads.
The manager said he is not responsible for the pictures sent from the Burger King corporate office as they are just a franchise. Hello, I asked if it were not his responsiblity to make them look like the picture. He replied "we can talk about the picture all day but I am not responsible for the pictures sent from the corp. office". On top of this they charged me $2.11 for half a buck double. Maybe my fast food days at Burger King are coming to an end…

I am writing to report contemptible behavior by a drive-in clerk and her co-workers at Burger King Restaurant #2471, 24th & Oregon Avenue, Philadelphia, PA 19145-4112. It was approximately 10:20 PM on Saturday, April 23, 2011. Dtore personnel had locked the seating area doors. I walked to the drive-in area, stepped up to the ordering microphone/speaker and waited for about 30 seconds for the clerk to say something, whether to ask for my order or to tell me that she couldn't serve pedestrians. The drive-in clerk, however, said nothing.
Over the next several minutes, I asked perhaps 15 – 20 times whether the restaurant was open, was anyone there, did I need a car to be waited on in the drive-thru lane? The clerk said nothing. I was yelling loud enough for the 20 or so people waiting for a bus along Oregon Avenue to hear me. I tapped on the microphone/speaker with my hand a few times – gently enough not to harm it in any way. Finally, I walked towards the service window and as I stepped about 10 feet from the microphone/speaker, I heard the formerly mute clerk ask the car that was right behind me whether she could take their order.
When I reached the window, I finally saw this clerk. I asked her why she said nothing to me when I was standing in the drive-thru lane and that she wasted several minutes of my time. I asked her whether the restaurant was open. She bowed her head, put her fingers on either side of the ridge of her nose, shook her head and whispered "Oh, God." This gesture was clearly aimed at making me feel unimportant and as though I were some crazy person, deserving of ridicule, that her fate in life was to have to deal with such insanity, that she clearly had something better to do or some place better to be.
I insisted on an explanation for her silent treatment, so I waited until she unbowed her head. She searched for something to say as she fought back an insulting smile, She claimed, variously, that she could not hear me when I was in line, that she didn't know I was there, or that she had no explanation, or that, by inference, I wasn't deserving of one. She joked with her co-workers with words that I could not hear and they began laughing and looking at me. One tall dark-skinned male came over half-smiling, half-supporting the clerk, giving me a quizzical, unhelpful look, and seemingly agreeing with my question – "So, you can't wait on someone who walks into the drive-thru lane?" I had no idea of what he was trying to accomplish, other than to partake in the amusement. In the end, I received no direct answers from anyone at that window. Everyone just treated this scenario as a big joke.
As I waited in front of the restaurant for my bus, EACH TIME I GLANCED INTO THE RESTAURANT, I could see the same drive-thru clerk and several of her co-workers turning around to laugh at me and look contemptuously at me — stares I'm simply not accustomed to. One of the co-workers who had delighted in the situation came outside for a meal and to sit on an Oregon Avenue BK trashcan. He offered absolutely no explanation to me. I told him that I would report this behavior to a manager and he uttered that there was a manager inside the restaurant at that moment. I looked in and saw two employees dressed differently than the others (I assumed that they were managers or supervisors), but they were having a good laugh, also turning periodically to stare at me. I could tell from the tone of the worker sitting on the trashcan, and I otherwise concluded, that the entire crew was unprofessional, managers and clerks alike, so I would do better speaking with another manager or the franchisee at a later time.
I came to your restaurant innocently attempting to purchase a veggie burger. If I could not be helped in the drive-thru lane, I should have been told that immediately. There should have been signs to that effect as well. If safety was a consideration, then keeping me in that lane for several minutes by not responding to my questions harmed safety, not helped. The clerk and other employees had an obligation to tell me immediately that I could not be served — or to serve me immediately. If the clerk couldn't hear me, then she could have taken my order when I saw her at the actual window. But, she did nothing of the sort – she was too busy having a good time at my expense. This was some sort of game, perhaps they were betting on how long I would stay in the lane before giving up. The laughter, stares, contemptuous looks after wards reflected an entire organization out of control and the exact opposite of good customer service. This was humiliating.
The clerk in question and the manager on duty should be fired. Neither I nor my family will eat at any of your restaurants until I receive a proper explanation and this matter is resolved in a fair manner.
Regards,
Al

My wife and I were in the Burger King (at 2880 S.W. Port Saint Lucie Blvd in Port Saint Lucie, Florida 34953) eating our meal about 8:30 P.M. I believe the store number is: 9123. While we were eating one of the employees came out and shook a rug within 10 feet of our booth. Dust was flying all over the place and the stench of the dust was quite evident in our booth. There have been several things happening at this restaurant that need to be addressed also. Such as during business hours cleaning fixtures with a mop and dust pole above the french fryers.
Also have observed employees sweeping the floors at the tables and booths where people are sitting and then on top of that going right back to the area of food prep and not washing their hands. My wife and I love Burger King and would go to a different store if there was one more convenient than this one. But they are too far away.
Thanks for listening.
Ron Reynolds
772-237-4288

To whom it may concern, I recently bought a meal at a Burger King location in philadelphia, Pa on Castor street next to the Oxford Circle, i have noticed the employees take orders on the cash register then put fries and get in touch with alot of food without gloves or washing their hands! i love burger king and i always rather my food from Burger King than any other fast food place but i will not have someone ealing with money and then my food, i do not want to call inspection i just thought it would be helpful to write this complaint
thank you so much. maghrooma_feek [at] yahoo.com

The Burger King down the road from me in Orlando, Florida on East Colonial Dr. Store # oh wait I can't give you a store # because it is not on the receipt. Gee I wonder why?? I order at the drive through and no matter what I order each time I am told to pull around to the front of the store and they will bring my order out. there is no one behind me, no one in line so why do I need to pull around to the front? Well because mam we are on a timer and have to have the food out to you in a certain time. Ok well have it out in a certain time. I need you to pull around mam. Let me speak to a manager.
Manager comes and tells me to pull around to the front of the store it is policy they cannot have someone waiting at the drive through waiting for their food I guess. So needless to say I pull around to the front 12 minutes later, I go inside the store. NOt a sole in sight, no one in the store eating or ordering, it;s not like they were even busy. I ask gee did you forget me? No mam your order is here. I think they do this on purpose so you get pissed off and go inside to get your food so they dont have to bring it out to you. I get home and on my whopper is one little shred of wilted lettuce and about 10 pickles.
I don't like tomatoes or onions so I ask that to be removed. You would think they would realize that I want a whopper without tomatoes or onions, I would like lettuce!!! So what I got was a stale bun, a shriveld piece of lettuce (one itty bitty piece) and pickles and a patty. If I wanted a hamburger I would have ordered a hamburger. Then I get the onion rings a large that costs what $2.89 for a large that is half full. Once I get home and find all of this out I call the store and ask for a complaint line, she gives me a toll free number and when I call it is the employee line, the gentleman tells me that I want consumer telephone number and gives me the number so I call that number and it is a number to open a franchise.
I have looked online to find out Burger Kings cooperate headquarters and am going to call and boy you better believe they are going to hear some words from me. Fast food is going up in price and quality and service is definitely going way down! I don't think I will ever give Burger King another dime of my money…they suck!!!

i went to burger king at foothills roseville and i was suprised to experience the customer service so poor from this location. i ordered a burger meal w/ fires there yesterday. i saw her preparing an onion fries instead so i told her i want a regular fries. the lady she got mad right away and was stomping and snorting. and making indirect remark in a SPANISH language that was very rude sounding to me. she was arguing although i'm calm the entire time about the fries. the CRUE's name was GABBI/GABRIELLA. she was really2 rude and because of this i am pretty sure that we're not going back to burger king anymore ever!

On the night of 4/2/2011 I went through the drive-thru of Burger King store # 17110 on Walzem Rd, at 09:38 p.m. in San Antonio. I ordered the 20-piece Tenders for $4.99. After paying at the window, the clerk asked that I park further up the lane that he would bring out my order. I thought, "Great", they were frying the tenders. A few minutes later I was brought my order, and upon tasting one piece, I realized this product had been cooked many hours' before, and apparently micro-wved to heat them up for my order. They were hard, tough, and practically inedible. I would like either a refund from Burger King, or a new order made of this product, that is fresh, hot, and edible.

I really believe Burger King needs to train their employees on better customer service. They need to be taught to listen to the customer and not behave like they have something better to do and not act like were bothering them. The employee at drive through was curt, and was trying to rush my order. I had to tell her to hold on when placing my order (she still got it wrong) I drove up to pay and. she took my money with no words at all and gave me my change, no thank you nothing..My burger was soggy, my lettuce was all wilted and I had ordered a whopper combo no pickle, onions and no tomatoes, tomatoes, they went ahead and still put in.. What a waste of time and money going to Burger King.

Standing @ the front counter at Burger King for 15mins before they waiting on me. There was no one in line, they were talking to each other in the back, and on the cell phone, not to mention that the place was dirty. If I was the Burger King manager they would leave there phone in there car, and when not busy would be cleaning and mopping the restaurant. Instead of clowning around like they always are, how about getting some work done? I am just saying! If you want to know this burger king is located @ 1-10 and hwy 73 in Prairieville La. Every time I come in here its the same stuff, Poor Management!

Complaint about Burger King at 49 West Hamilton Campbell CA. Went to this location and they did not bother to put a label saying they are out of certain sodas in self serve drink area. March 25,2011 at 6pm. They had only 3 of the 7 or so available. This was not the first time this Burger King location was out of soda as they were out of one a month ago. The BK staff knew as i asked him and he told me the ones available. When i left a half hour later they still did not label out of stock and they also did not have any soda covers as well. Be warned check your sodas before filling up or better yet dont go to Burger King on Fridays. Who ever is the manager of the West Hamilton location sure is not doing thier job at customer service. email for this place on receipts is comments02012@sracbk.com

today we went to burger king at palencia on us 1. we have had bad experiences there before but we are just sick of it now. our nuggets were cold chicken sandwich cold bread hard as a rock. whats going on there are never any customers in the place and the employees were outside. i wish i had my camera so i could have taken pictures of the girl putting fries in a plastic bag off the floor. oh my god will someone please help this burger king does the poor owner even know or care. we will notify the health inspector. burger king manager on duty was a idiot. whats going in people always playing around dirty store and fat nasty people with no gloves. whoever owns this place needs to watch the tapes and fire everyone and start over. we might also call the news reporter to check this out this place needs help thanks!

There is one Burger King in Zachary, Louisiana. There is one McDonalds in Zachary, LA. You can get in and out of McDonalds drive through even with a long line of vehicles in very few minutes. More than once, I have sat in line (there is a curb when you get so far in and you can't get out) for an extraordinary long time considering the number of cars in line. One night it took 50 minutes to get a Burger King kid's meal. There was a truck at the order box with nothing but space in front of him (se was yelling at the order box), one car behind him and then me. That was the longest time but I was told by someone else that was complaining about this it was quicker to go in.
I did that yesterday and found Burger King employees arguing about who was going to take an order out. I believe the manager was there and leaving and it was chaos in there. Three people in the kitchen part, the manager, and three other employees up front. I still had to wait for the kid's meal. No one else in line when I came in. When I had to wait the 50 minutes, I called a Burger King store the next day and got a supervisor's name and left him a message, he never returned my call…he knew it was about the Zachary location. The store manager I talked to in Baton Rouge said, Zachary had "help" problems.
It does not help to complain to the store personnel in Zachary….they DO NOT CARE. If this is OK with you, fine but the only reason I go there is because my grandson has to have those onion rings. He has autism and he does not want any substitutes. Also, my 87 year old Mother loves whoppers. I thought you should know…it's been this way a long time and I think you have lost a lot of customers due to this…Zachary has really grown since hurricane Katrina but I know they could find employees that care somewhere in the area.

we went to burger king last night at 8:00 pm. we placed our order inside and went to get the drink for the meal. I turned to get ketchup but the pump was empty so we had to ask for packs. they gave us 3 packs for a large fry. we had to get more. our food came then we went to find a seat. most of them were dirty and the tables had not been wiped off. but we found a clean one. I unwrapped my veggie burger to find no pickles or ketchup or onions. only 1/2 of a tomatoes was on it as well.I went back up to ask for pickles and onion in a cup to put it on myself and the burger king manager said well what kind of burger did you get they all do not come with that. I said I got the veggie burger and she just turned and walked away.
the girl next to her put some in a cup and gave it to me and walked away with out a word. my husbands burger was a double stacker. when opened it there was only one patty not two. so he took it back up and they were just going to put one patty on it and give it back but he said to the lady you have had your hands on it i want a new one to eat. when we got up to leave all of the trash cans had been turned to the wall so you could not get trash in them. we had to sit our tray with trash on the top of the cover to the trash can. it was bad in there and all of the burger king workers had the attiude that they did not care one bit if people came in to eat or not. I just dont understand people anymore. so many people are out of jobs and the ones that do have them just dont care.
they should replace all of the ones in that store with new ones. the burger king is store # 07957 on franklin blvd in gastonia n.c.

You'll don't offer buck doubles anymore??? WHY McDonalds has double cheese for a $1. They have fried pies 2 for a $1, Spicy chicken $1 & a really good dollar value menu & have for many yrs. U people r right across the street & can't hold a candle to McDonalds business. McDonalds open at 5am/Burger King suppose to be 6am. I get a sausage biscuit/coffee 4 $1.08 cents at Big Mac every morning at 5am sharp everyday on time. Burger Kings Breakfast menu wow not good at all & HI PRICED/the burgers, onion rings everything way out of line price wise. the strawberry & grape jam r jelly YUK. Try McDonalds sometimes it is much better, not great but much much better.
The NEW Stacker 1 Meat 2 Meat 3 Meat No No Try again terrible value for the price. Sometimes Changes r bad. This is 1 of them. This was a change in the wrong direction No Buck doubles & The Stacker Wacker Packer deal SUCKS Sorry Just being honest here. I do like the flame broiled patty but I can do that myself at home & get more bang for my buck. The service is great/employes super/nice new clean building but too high price wise. Jack in the box WOW Chicken sandwiches/2 tacos & a real good dollar value items. Dairy Queen has 2 double cheese (really good burgers with bacon everything on them for $3/Chicken & doumplins for $3.99 Great.
Thanks for your time Kelvin Bourque. Good luck!

Good morning, I was really feeling like a burger this morning so I decide to go to burger king because most are cooking breakfast at this time. It is a rainy days…cold…so a nice hot burger would of been great. I have several issues with your restaurants. 1. The cook who makes the burgers at burger king had no GLOVES on while making my sandwiches…he picked up every ingredient with his bare hands. I not sure what you policy is…but when customers can see you make there food, it would be nice if you cooks were wearing gloves. 2. I watch him put my food in the microwave …why would he have to do this if the food was hot.
Even microwaved my food was cold…amazing. What ever happen to serving hot food. I had ordered the whiplash burger…it was cold and one of the crispy chips(not sure what the were) one was so hard I could not ever eat it. I can send it to you…you should have a product that does not get rock hard. I have tired this burger and have decided I do not like it. It to spicy for me. I can honestly say I will not be returning to burger king …I love hot food and food that is not microwaved. If this is how you run a business..you might want to put up a wall so customers cannot see you prepare their food.

I went in to Burger King fast food restaurant and asked for a buck double with no cheese. The man at the register said that he could not give me a buck double with no cheese. He said he would have to enter it as a double hamburger and charge me 30 cents more. I asked why it cost extra to get it with no cheese and was told that the buck double was a Burger King special and I either had to have it the way it comes or pay for a double hamburger. I left and went to McDonalds and they were happy to provide a double cheeseburger with no cheese at the same price as a double cheeseburger.

I have contacted Burger King Corporate Headquarters and multiple HR representatives. I have someone working at Burger King using my name and SSN. Burger King has made no effort to contact me to resolve this issue. I have left messages for their legal department, HR, general support techs, and anyone else i have come in contact with. I have filed police reports and reported it to multiple identity theft sites. They do not care about this apparently. Or think it is not a serious offense. I need to get this removed from my credit, and have this reported to the IRS. I think this is a tactic by the Burger King company to help their employees to continue to work using my info for cheap labor.
I'm thinking of going to a lawyer and having them call Burger King to get some traction because apparently they do not want to cooperate with me to help the police catch this person and press charges for fraudulently using my info to gain employment. This is BS and i think a company as big as Burger King would be willing to assist me and the police department in finding this person. I want to start a boycott of this company as this is not right in any way!!! I believe if this happen to them they would be just as concerned as i am about this.

I am an everyday customer at the Burger King at newark delaware. I eat breakfast and lunch their on a nearly daily basis. I am constantly receiving either the wrong order or food that simply should never be eaten by any human. On a few occasions I have even brought the food to show to the manager and asked them "would you ever eat this sandwich" upon which they responded by saying that they would not. This week on two separate occasions I received the wrong order at this Burger King.
The first time I saved my receipt and was given the missing food but the second time I had already thrown away the receipt upon returning home and noticing that i received the wrong food. I would like some consideration for the fact that I am constantly receiving the wrong orders and am met with hostility upon complaining, and in addition, was still never compensated for my screwed up order since I did not have the receipt. This is simply not acceptable from Burger King.
Thank you for your time and I look forward to your response. My email address is Mdevivo@udel.edu please contact me on this email to discuss this issue.

Had a very disappointing experience at this Burger King in Standish, Mich..Feb. 15, around 6:00 pm.We waited over 20 min. for our food, they were more concerned about the drive through that the indoor customers. When I got my Burger it was dried out bad. The worst part was when I used the rest room, one of the Workers came in and went then left without washing his hands, and I think it was a manager, what a piece of work. I will be calling the place tomorrow to continue my rant!!! I won't be eating there again.

My husband and I stopped at the Burger King on I-49 in Alexandria, LA this morning. It was so cold (59) I asked the clerk to turn up the heat and she told me she needed a key. I asked where the Mgr. was so that he could do it and was told he was at home. It was 8:00 in the morning, this is at Burger King mind you, and they didn't even have coffee brewed. I was told I would have to wait for that too. I got my money back and went across the street and ate at McDonald's instead.

I went to Burger King for breakfast this morning. The service was very rude. I didn't get a HOW ARE YOU or other nice greeting or a THANK YOU. They pulled me and 5 other cars out of the drive thru and told us to park and that theyd bring our food out. I waited ten minutes for two sandwiches. I had asked her to put jelly in the bag, when they brought my order out they hadnt, so i had to get out of my car and go in there and wait for jelly. They were rude once again and didn't apologize for leaving the jelly out of my order. This is ridiculous that they are supposed to serve the customer in a friendly timely matter and i have to go thru a rude hassle at Burger King just for a biscuit. Ill go to McDonalds next time!!

I went into burger king at 6:35 am on 2/5/2011, the person behind the counter was very slow moving (i figured he worked all night maybe tired not the problem) well he looked at me and said what do you want. I handed him a burger king coupon for buy one get one free breakfast bowl (which are very good). I said give me this and a medium black coffee please. He looked down at the coupon looked back up at me with a look of are you kidding me like i asked him for his first born. He said we don't have any coffee, i said are you kidding, he looked back with the same blank look said no. I have been waited on before by this person with the same look, so maybe that is just his look. Burger King not serving breakfast and NO COFFEE R YOU KIDDING ME.

I just went to burger king to get food for my daughter…..I saw one guy in there…..Pulled up to drive through sat there for 10mins. Drove to the front and they disappeared…..all lights are on in the place……Its only 940p……this location is in Montgomery NY 12549…..Also when you do get someone they make you wait 10 to 15 mins for food…….I was reading reviews and they are bad with your company. Something needs to be done about this burger king location…….It has bad service……..I will go to Micky D's right across the street…..they are nice and food is fresh and fast…..hope something is done about this……thank you for your time……..

Today on my lunch break I decided to go to the Burger King. As I approached the building I was really greatful that no cars was in the drive thru. As I was turning in a car did make it to the drive thru before me, the car was at the ordering speaker for about 10 mins before he pulled around. I then waited for 8 mins and no Burger King employee said anything as if there were closed. I pulled around only to find the same car that was in front of me is still at the window. after waiting for another 5 min the car drove off with no food or money being exchanged.
I then pulled up at the window and look at the Burger King employees who tried very hard to make no eye contact as they were looking at paper working and doing other things. After waiting at the window for close to 10 minutes I blew my horn which made no impact on them at all. Now cars that have arrived after me are pulling around and speeding off. The Burger King staff never did acknowdlege that they were not taking orders.

The head manager, Am making a serious complain about how staff are being treated in burger king in Gloucester most especially by the manager (stephen). First of all,there are no permanent hours for staff,they tend to do it every week where they give there own people more hours. One can't even pay for one's bill. We staff worked hard for the company,and the only we can be paid is with the harsh treatment. If only the HR of burger king can please come into the case, every staff should have specified hours they are working the days and time both the full and part time staff,at least we all have a sense of belonging.
I am working in burger king in Gloucester,employed as a full staff but being as a part time,even with the part time,i can be given just two days to work, how can I pay my bills! If I ask, the manager (Stephen) is going to tell me that they too much staff and they have to cut the hours,my question is why employ so my people? Please find something to the situation cause burger king Gloucester is not a loving place to work at all. All staff working with anger cause hey can meet up with financially and the stand in manager is not helping at all instead messing up the whole thing, it was a lot better when the manager was in (kamar) but immediately he left stephen feels his new manager and everything upside down. Please do something about burger king in Gloucester. Thank You!

During the busy lunch rush, i waited at the burger king counter for my order while this woman texted. My food was done and in the staging area. I waited a total of five minutes while this lady texted and/or facebooked on her phone. She laughed and was pointing at the phone while showing others. Another burger king counter person asked her to do something and she said… "just go ahead and do it…" indicating that her job was simply not important to her. Really, if you don't like your job at burger king or anywhere else, go find another. I heard she later got fired by her boss, but honestly it was too little too late. You shouldn't be texting at the counter!

What kind of company believes that an Oreo Shake is serving a vanilla shake with crushed Oreos and whip cream on top? I'll tell you who, Burger King! Their service and quality keeps getting worse and this was the last straw. And to make it worse they gave me no receipt so no Corp number to call. Then I look online and there are no e-mail or numbers to call. Dammit I actually wanted to help BK and still they don't even let me do that. Obviously they could care less about their customers. I'll stick with In and Out, Jack in the Box and McDonalds…

Burger King — such crap! Every single one of their stores shut down in my area. Poor customer service is poor customer service. I had a bad customer experience. Oh it was 6 minutes to close of breakfast and they didn't want to make a batch of biscuits? Oh, boo hoo hoo for the Burger King franchise! They lost a customer, and possibly the lifetime value of that customer, to save a buck on a biscuit batch. Burger King corporate will waste millions of dollars on advertising this year. But lost a customer on a freakin' biscuit.

I am pretty upset about this. I am on disability and social security, so my budget is very much limited by that. Went in to burger king the other to get a burger, and was very surprised by the rising prices of fast food. Instead of a few dollars for a hamburger, it was almost 5 dollars. If you want fries and a drink, it will cost you almost $7.00, with a regular drink being $2.25. I ended up getting a few things off of the dollar menu, and went home frustrated. I know times are difficult for everyone, but it is very difficult to keep up with the rising costs of living. I don't eat fast food like burger king all the time, but it would be nice sometimes to get a hamburger. I just don't think I can justify spending that much money anymore, it's just not worth it to me anyways. Burger king and probably every other fast food place keeps going up on their price, and you keep paying it. Why???

Valerie
from Cleveland, OH
The Burger King located at 4625 Northfield Rd, in Cleveland , Ohio 44128. SUCK!!,, the store is scheduled to open at 6:00 am m-f, HOWEVER, you can bet at least once a week they are not open. Either changes the hours of operation or find dependable staff, I'll just spend my $ at Panera or Chick-fil-a, they are dependable.

Lori Bowman
from Jeddo, MI
I took my 5 & 6 year old granddaughters to Burger King today. Was very upset! Both girls ordered the ice cream coke float, which I paid $2 each and they received a regular frozen drink that sell for $1 so I was overcharged. They did not refund any money because they had already started to drink it. Then we ordered chicken fried with sweet/sour sauce and fries. We were allowed 1 sauce each and 4 catsup packets. When my 6 year old granddaughter asked for more we were charged 11 cents per sauce and 6 cents per catsup! Unbelievable! They are children and had to ask me for more money to get extra condiments! I was in disbelief! Any place else is happy to give you more, not charge you. Also the last time I visited the same Burger King, they had no salt! Wouldn't even offer to give us some from the kitchen! I love BK, but for the cost of the food I can't get the little things that probably cost them 2 cents? Wow!

Keith Goldstein
from Loveland, OH
Burger King Location: 9065 Union Cemetery Rd, Cincinnati, OH 45249
I'm not one to complain about service and quality of fast food places, but today set me off.
I visited this location today, just before noon and went through the drive-thru
I pulled up with about 4 cars in front of me at 11:54AM. I sat there like usual for a few minutes, and carried on. Then it got to be about 12:10 and we have not moved a single car in the drive-thru.No mind you, i have a 30 minute lunch.. this is already half of my lunch already wasted. Meanwhile, 3 cars behind me and one in front of me had to back out and go somewhere else.
So, at 12:10 i sat at the order screen for a few seconds, and was greeted with 'What can i get ya". I ordered, saw my order pop up and then nothing else was said, so i just pulled away after staring awkwardly at the screen without them even acknowledging me or my order total.
I pull to the first window, and it says move to the next window for payment. Who closes the first payment window during lunch rush hour??
Next, i pull up to grab my food from the window. A young woman opens the window and stares back at me without even greeting me, and has her hand out for my card, i had to ASK what my total was. She took my card, scanned it, gave me it back and shut the window on me without even saying a word. about 3 minutes more go by and she comes back (with my HUGE order of 2 cheeseburgers) and hands it to me and shuts the window. Not a single emotion, nor "Have a nice day".
Like i said, i am not one to bitch about customer service. But this was so RUDE. I ended up sitting in your drive-thru for 17 MINUTES!!!!!!!
I get back to work to eat my burgers, and guess what... they're smashed and you can tell they didn't even try to make them correct.
I got 2 bacon cheeseburgers. Each had one small piece of bacon, a drip of mustard and no onions. I mean seriously? do you value my business? because this is enough for me to just stick with the new McDonald's at the road.
I use to work for BK and i know how the entire process works. Slow service, complete shit customer service.

Carol Siewert
from Lake City, MN
Burger King located in Lake City MN is disgusting....filthy, filthy, filthy. The floors were/have been so dirty they're light grey and if cleaned workers are to stupid to clean entry ways and when mentioned to employee I was told it was because of garage sale people coming in----REALLY. When asked staff up front why this BK is so filthy I was told evening crew is to clean and they don't and then was told by employee that if you think it's bad out front you should see the kitchen. A long time retired employee walked out a few weeks ago as his "bacon" station was left so filthy from night before. Employees are on there phone talking with a line-up of customers waiting for service, always running out of food items as not ordered, dirty windows along with soda dispensing area not being cleaned and the list goes on and customer service horrible. The last straw for me was attempting to get breakfast through drive-up. Drive-up is to be opened at 6 AM. Drove around to front entry and doors locked although two children was sitting in booth while mom opening up. At 6:15/20 door unlocked and I got my coffee and breakfast sandwich. When asked where my tater rounds were they said oil was heating up and I left as I didn't have time to waste any longer. The two kids sitting out front then got up went behind counter and loaded up with beverages and food--obviously this goes on everyday. My next step now is to call the department of health. Our coffee group which would come in every morning no longer does because of such poor employees and filth of place. Another large lunch group no longer goes there either because of conditions. HORRIBLE UNTRAINED EMPLOYEES WHO COULD CARE LESS--only want pay check. If there is an actual supervisor for day/evening they are not doing their job. DO SOMETHING!!!!!!

Mary boyea
from Greene, NY
I went to burger king main st hi Binghamton by a nd got a mocha ice coffee the girl took the syrup from the jar. And put in cup very littleice. no milk or cream it was like mud. I took it back up she said that's the way it comes it wax s bad I asked for a milkshake i it was really bad and tasted like syrup only

Donna L Smith
from Honolulu, HI
On Wednesday July 18, 2018 at 2:45pm I went to the burger king inside of the Kahului Airport on Maui. I ordered a Junior Whopper Meal with no pickles or onions and with cheese. I waited about 7 minutes for my order. When I opened my sandwich, it had onions and pickles, the hamburger was cold and the cheese wasn't melted and the bun was old, it was falling apart. This was the worst Jr Whopper I have ever eaten.
I didn't have time to return it because my flight was getting ready to board. I'm not sure who own's this franchise, but I hope that you will follow up on my complaint.
Thank you, Donna L Smith

Regina Portis
from Montgomery, AL
First of all I didn't get a receipt with my order, but I ordered a sourdough burger and it was the worst thing I've ever ordered from Burger King. If I wasn't back at work already I would have taken it back. It was dry with no taste at all and I wanted to let you know that was $6.59 down the drain and that I wish I had spent it on a personal pan pizza, I would have been much happier.
P.S. Sorry I threw it in the dumpster, didn't know I had to upload a picture, but just wanted to let you know I didn't like it.
thanks,
~rp~

This is the first complaint I have ever submitted with any company. In this case I feel a complaint is warranted so that service is improved and I can continue to enjoy eating at the restaurant. I went with my children to dine in on Sunday evening at 9:45 pm, but there were no customers inside and the door was locked. The dine-in hours stated closing hours at 12:00 am. We settled for going through the drive -thru. At the speaker I asked for an order of chicken fries, a hamburger w/no pickles, a crispy chicken sandwich and 2 small onion rings. When I arrived to the window I payed using my debit card and checked my order. I had an extra order of chicken fries and reviewed my receipt. I realized I paid for the extra order. However? I was told that I could not be reimbursed because the cash register was in the process of closing. I was offered ab extra fry instead and accepted it because I didn't want a confrontation at the time and there was a long line of cars behind me. I was upset but accepted the fries instead even though the fries cost much less than the chicken fries. I then asked for a zesty sauce and was told it was already in the bag. After arriving home I realized the zesty sauce was not in the bag and furthermore the hamburger had cheese in it. My son can not eat cheese as a result of medical issues. I did not return to make the change because at this point I was quite upset as were my children. I believe this to be awful service. I am not seeking any reimbursement, but I do hope that the lack of adequate service is addressed and remediated. Thank you for your time.

Steven L Balog
from Goshen, IN
Ordered the 2 for $6 chicken sandwich 1 crispy 1 spicy at drive thru, got home I opened mine and only had half of a tomato on it, I ask my wife to look at hers and she only had half of a tomato on hers, is this normal? If so, this is pretty weak on Burger King.

james r chandler
from Tampa, FL
i had a coupon for 10 pc chicken nugget and fries for 3.99, i added another 10 pc nugget 1 plain cheese burger, and 1 hamburger ketchup only. i watched 7 orders go ahead of me, manager said he made my fries large for the wait. when i got home i had 2 whopper jrs with everything on them. my grand children are very picky about what they eat.

Marieann Nobbie
from Dublin, OH
Hello I had visited a Burger King on Wednesday July, 11, 2018 at 500 Rexdale, Blvd unit L001 in Etobicoke, Ontario M3W 6K5. I had waited in the line which was backed up as 2 employees was chatting and laughing in between serving customers. When my time came for me to place my order the server named Mike, would not stop chatting and making conversation with his co-worker. In between placing my order he kept interrupting me to talk with his co-worker! I was annoyed as I waited over 10 minutes just to be served to not only be constantly interrupted when trying to place my order. So I decided to stand there and let him continue to talk away with his co worker. They were talking about another customer and laughing at the situation and in the meanwhile other customers 2 to be exact came back to the counter and said that both of their orders were wrong. I stood there as they tried to figure what went wrong with those orders...still waiting to finish placing my order. Finally after another 4 minutes he looked at me and asked me what did I want again? I repeated my ordered to him again be rudely interrupted yet again! so that he could finish his previous conversation with the same co-worker. That is when I spoke up and asked when will he be done with his conversation that I would love to complete my order! He finally took my ordered to then repeated a wrong order. I then corrected him and paid with my debit card... As I waited for my order to be prepared, he once again started talking with his co -worker, I then interrupted him and asked for my receipt. He proceeded to say to me that I had to pay first? I said I just did, maybe if you stop chatting so much and pay attention to your customers you'll know what's going on? He threw the receipt on the counter and said very loudly "just relax and wait for your order" I then asked for a refund and he yelled out she's "cancelling her order" " forget it". This person was not only rude but when I brought it to his attention that his chatting is causing a back up and producing wrong orders to be filled he got angry! I only brought up that the constant chatting is causing issues with orders and me as a customer who stood there patiently waiting for him to talk away with his co-worker... I believe he was being rude and very inconsiderate towards me as a customer instead of trying to resolve the situation, he made it way worst by not admitting his faults for all of the delays! I should also mention that he was the only server with only one cash register open...so customers were relying on his performance to keep things going smoothly, which unfortunately did not happen.
Signed,
A very unsatisfied customer.

Mike Geddry Sr
from Lompoc, CA
Burger King #4694 120 S Nicholson St Santa Maria
6:57PM 7/12/18 Order # 137 Cashier 2
1.Dining area(Floor, Tables, & Seats) not cleaned up to include trash on floor Roof Air Conditioning Condenser contaminated water dripping into area adjacent to customer tables (evidence that this has been a long term event by ceiling plaster missing & decorative wall paper hanging) Employees acted like they.had no prior knowledge of it. Yet they told us that it only occurred when the air conditioner was on for extended period. This is a major health hazard that can bring about Legionnaires Disease.
2. Fish sandwich was served burnt. Employee was advised of this. She said that if she re-did the sandwich it would be the same way. She is correct because the oil was not changed or skimmed as required. Second sandwich was the same way plus I had to pickup the sandwich instead of it being delivered to our table.
3. Television was on the MTV Channel subjecting us to abusive language. I asked to have the channel changed to another channel. Employee told me they have no idea where the remote is.
The dripping of the contaminated condenser water is a major health hazard which I am planning to notify Santa Barbara County Environmental Health Department. If this did not have evidence of a long term occurrence event I would not do this.
Mike Geddry Sr.
805-345-9001

jeff falkenhage
from Raleigh, NC
burger king
3955 new bern ave -Raleigh nc
I stop by at night at 2.30a.m I waiting in drive -over 20 minutes not a word came over the speaker so I drove to the second I waiting 10 minutes til someone saw she open the window I am sorry we not doing breakfast til 30 minutes I said I do not what breakfast then she said we run out all meat
I said I what a number 14 which is a fish meal
no one was wearing a head set
no one know the menu
there is no dress code they in street stuff - did not look professional
this year I have make 5 complaints about the 3 shift -doing
thank you
jeff

Jose Arvizu
from Los Angeles, CA
Hello no complaint about the service its always great, I received an email saying congrats i won a $1,000 bbking gift card I said its about time since i go there 2-3 times a week. It said click here to redeem so i did and it wanted me to take a 20 min survey which i did then it wanted me to buy something it said i won so i won why should i have to do all that and not get it i believe i should get a gift card since it said i won one thank you. 438 E Prince rd. Tucson Az 85705 # 228 you can send my card to this address unless that is just a scam to have people take surveys which is wrong

Becky Wilson
from Tallmadge, OH
Stopped at the Burger King at 1560 Norton Rd Stow, Oh 44224. I purchased an sweet tea. When I took a drink, it was clear the ice tea was fairly old and had not been kept cold to avoid spoilage. When I reported it and asked for a different drink the man at the drive through said they never keep it cool. They make and it sits in a pitcher on the counter until they make the next batch. I personally make sweet tea at home several times a week and even in air conditioning it has to be put in the refrigerator or it goes bad pretty quickly. When he walked away, my son happened to notice the pitcher on the counter and pointed it out. It looks like it has not been washed in quite a while. Another reason for the tea going bad. I took a picture and it is disgusting the amount of old tea clinging to the sides of the pitcher. Will not sure I will purchase anything at this Burger King again if they are so open about their unsanitary conditions, who knows what goes on behind the scenes. I am attaching the pictures. I think they are lucky the Health Department has not seen this. I believe McDonalds got in trouble several years ago for problems with their sweet tea going bad also and some people got sick from it.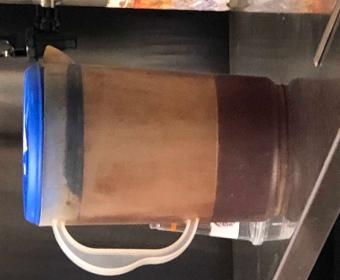 Sharon Eltz
from Walton, NY
The Burger King that my husband, myself and daughter was at on July 5th had ants crawling on the window seal at the table we sat at. We informed the server and changed tables and not one employee while we ate ever went to that table to check out the situation and close that table. Also the floors were not clean and could have used a good cleaning. We will not visit this Burger King again.

Martin Linex
from Garland, TX
On July 3rd, 2018 I stopped at Burger King on Campbell Rd just West of Hwy 75 in Richardson, TX at 7:30 PM. Was the only person in there; Stood there in line for over 5 minutes while the young girl working there stood talking on a cell phone knowing I was there walking around. A drive through pulled up, she put the phone on hold and took the drive thru order and then picked up the cell phone and continued talking on it. I waited aprox. 3 more minutes and she still never came over to me but did look at me several times knowing I was there. So I told her while she was talking I would go elsewhere to eat if I could not get my order taken. She never acknowledged my response so I left and decided to go to the Burger King on Hwy 544 just West of Hwy 78 in Wylie,Tx. I went in at aprox. 8 PM and placed my order and ask for my Senior discount as I have done several times at this location. The young man at the counter went back to the office and told someone I was wanting a Senior discount and he was told that they could only honer it on the drink only. But no one came up to honor or discuss anything. I told the boy I eat there on a week;y basis and have always got the discount. He said he did not know but that was what he was told. I told him to cancel my order and I would go elsewhere if it could not be honored. He cancelled it and I left going to McDonald's around the corner. 2 strikes in one day for a meal I was in the mood for. If you have any questions you can contact me by email or phone at 972-494-5651 Noon to 7PM CDT. Thanks, Martin

Sandra Lahaie
from Goodyear, AZ
I went through the drive thru at our local Burger King #21281 located in Goodyear, Arizona on Thursday July 5, 2018. I was told to pull forward and park because the chicken nuggets I ordered were not ready. The problem was that I didn't receive a receipt for my cash transaction. When the young man came with my order he said that he would bring it right out. Well, I waited a good 5 minutes before I went in to ask what the problem was. They told me they threw it away and couldn't find it. I find this hard to believe thinking there was only one person behind me and how much trash could they be going through to find a receipt that was just printed 10 minutes earlier? I spoke with the manager and she said they don't give receipts. I was shocked because if I had a problem with my order how could I proved to them anything was wrong without a receipt. I'm sure Burger King doesn't pay it's vendors without a receipt. I'm not sure what's going on since this is the same problem my husband and daughter had 2 days before. I will longer visit Burger King and take my business down the street to Jack in the Box or Taco Bell.. I can't wait til McDonalds opens a store closer to us. And NO I didn't have it my way!

Jerry Matisak
from Easton, PA
Tuesday,, July 3rd, 2018, a few of us stopped by the Burger King Restaurant on Tilghman Street in Allentown, Pa. for lunch. Surprised to say that we waited 12 minutes in line with no one taking any of our orders. No manager was present to voice our complaint and people were frustrated with the non-service. How can you run a fast food business with no authority present? I kept asking the workers behind the counter to please take our orders as the line of people were obviously on lunch break and can not afford to wait a quarter hour just to place an order. Such poor management at that restaurant that i will no longer consider Burger King a viable option for lunch. The three of us were so fed up with the inability of the staff that we would not consider this establishment a fast-food restaurant. Anything but fast! Poor service, poor communication, poor overall!

Jacqueline Williams
from Worcester, MA
Hello, I just went to Burger King at 711 W. Boylston Street in Worcester, MA and ordered 2 McChicken sandwiches for $6.00 at the drive up window around 8:40PM on July 4th, 2018. The girl that took my order just gave me the price to pay. When I got to the window to pay, I said to her, "you did not ask me what kind I wanted". Her reply was, "I don't have to ask you, you have to tell me which one you want." It certainly was said in a nasty manner. I said so your telling me when I order I am suppose to tell you that? She said yes. Then, she had the nerve to pass me my bag and say "Here" in such a nasty tone. Any other customer would have just thrown the bag at her but I don't condone violense. There was no reason to be that rude and nasty. Mind you I've been there inside and ordered the same thing and the worker always would ask which one do you want. If you don't have people skills, you should not serve the public. I called and ask for the name of the Manager and she said her name was Websee (she said she is the manager. (I even wonder about)

Kara Ernsberger
from Jackson, MI
Hello I live in Battle Creek Michigan and had my 4 nieces come stay with me for a few days. They love Burger King so that's where we decided to go for dinner. I ordered and 1 original chicken sandwich meal. 2 whopper meals, and 2 rodeo burgers and fries and a drink.
We were heading out of town therefore went thru the drive thru. It was a really hot day so the lady at the window handed me everything in a rush and assured me everything was in the bag. Well first of all we received our drinks (no straws). secondly the fries tasted like they had sat on the warmer all day! And we were shorted to orders of fries at that! The whopper was so sloppley made when you tried to bite it that it practically slid off the bun right into my lap. My pop was flat and had no ice! the original chicken I asked for plain with cheese only and it was loaded with lettuce and very sloppley made. My nieces and I were disappointed, shorted food, the fries were nasty and the sandwiches to say the least were very sloppley put together. I spent over $40 for this meal and still ended up going thru another drive thru restaurant to get more food because of this.
Very disappointed in Burger King and would really like some compensation for this!

Lisa Lawson
from Virginia Beach, VA
This occurred in the Cleveland Ave Fort Myers BK: Ladies and Gentleman of the Line!!
I was the Officer who was served a burger at Burger King at 4004 Cleveland Avenue in Ft Myers with dirt in it, At first I thought it was just burned old bacon, I was hungry and ate the burger, at the last bite I saw dirt and grit on the burger. In disgust, I threw it out of the window. I quickly noticed that my receipt had big block letters with the word POLICE on it. this has never been the case previously. I went inside and made contact with the manager who said "sorry, what do you want me to do?" Just before speaking to the manager the staff member from the drive thru asked "what the matter officer something wrong with your order?" Then she and the other staff had a good laugh. Some day we first responders just want to grab a quick bite because we are overwhelmed with calls, and this is how we are treated. I contacted cooperate offices and they said "not our problem we'll have the franchise owner contact you", When contacted by the franchise owner he said "It is impossible for dirt to get into food, you're crazy!"
So to my brothers and sisters I say this. only eat at safe places and check your food before hand. EXCELSIOR!!!!!!
THIS IS BEYOND UNACCEPTABLE!!!!

william reese
from Challis, ID
there is only one fast food burger restaurant in salmon Idaho which is burger king .the cashier Judy hatch is old and not all there .she is very rude.And often messes up the change.my daughter has Autism and chooses to eat at this place .I didn't like it when my daughter ordered a meal for 3.79 and with tax it came to 4.02 my daughter gave Judy Hatch a five dollar bill and Judy asked if my daughter had two pennys and my daughter said no so judy grabed two pennys out of a cup and told my daughter to bring more pennys.

Wanda Johnson
from Southfield, MI

Tina smith
from La Grange, GA
I always go the Burger King on parkway in Lagrange. One lady who always smiles,Charlene she had me laughiing, I was in s bad mood but when i left there I was in a better mood, theses people are tthe ones Burger King on the parkway needs not the one who does not smile or act crazy. Thank you, Tina smith

I ordered the 2 for 6 and received two cold poorly made sandwiches forty minutes later. You lost two families as customers today and I personally believe Burger King would be better off if the store on 544 in Wylie Texas didn't exist.

Linda and Roger Neff
from Saint Marys, OH
On 6-25-18 went to Burger King in Celina,Ohio. It was around dinner time. There was an employee that was cleaning the bathroom . He went in with gloves on he came out of the mens room with toliet brush in his hand. He proceeded to put his gloved hand on the counter walked back into the food preparation area and came back from there into the womens bathroom.Came out the door carrying the tb in hand. Once again gloved hand was placed on the counter ,behind the counter touching everything. It made me sick. Hep A can be spread . He should know better than contaminate counters and everything else he touched. He should have taken off dirty gloves and replaced them. Just want to keep people from getting sick. We enjoyed eating there but can't get that out of my mind. Thank You for listening.

Arthur Hughes
from Haddonfield, NJ
Due to your La. Burger King refusing to serve Police, I will never shop Burger King again.
You do not even get the one star low review.
Arthur Hughes

George Smith
from Prairieville, LA
On Tue. June 25, 2018. I stopped at a BK and went inside to order. 2 locations - Prairieville,La, Airline Hwy and Duchtown, La Hwy 73, about 3 -4 miles apart. Prairieville One kid at the inside order counter. No one else in sight, not at drive thru, no one cooking. no one in sight. I left, No reason to stay.
Drove to the Dutchtown location. Went inside. One girl hosing out a sink in the back. No cooking, no one waiting on customers,.Again I left. No one to talk too. This was all between 6:30 - 7:00.
I have never seen anything like this before. You have lost me as a customer. I am just dunbfounded.
Good by BK.

will rogers
from Kinston, NC
am very disappointed in burger king the reason why is for refusing to serve police officers very disappointed will never eat at a burger king again

Debra Shamaly
from Houston, TX
I live in houston, Texas and just ate Burger King with my family today. I am extremely disappointed in hearing the story of the Louisiana location that refused to serve police officers and then the audacity of the owner to demand an apology from the police. I will not hope for bad fortune to fall on this store but this is a very bad precedent to set. Officers will be needed one day and maybe they will decide THEY do not want to serve these pathetic individuals.
No comments from Burger King, no more visits from my family of five. We have been 3 times in last 10 days.

Eddie Pereira
from Miami, FL
I am complaining about a child who works at the Burger King in Lake Placid Florida on Highway 27, the childs name is Caleb Roberts he is 17 years old male and was fired a few weeks ago for threatening and grabbing another employee. He was later given his job back cause his aunt is the manager of another Burger King in Highlands County his aunts name is Sam and she works at Burger King in Sebring. This child Caleb Roberts should have never got his job back at the Lake Placid Burger King or any other Burger King. The manager of this Burger King i believe does not even want him working there, but his aunt named Sam maybe also a district type manager who has gotten many complaints also. Caleb Roberts has been seen spitting in food by other employees and taking money. If he continues to work there i will have this matter taken up with health inspectors and other authorities to look into the matter and possibly have this Burger King shut down, his Aunt and Uncle also need to be investigated for their actions at the Burger King in Sebring, not sure if they have the same last name but the Lake Placid female manager who is not named Sam knows who they are. I hope this gets taken care of soon before you get further complaints or people getting sick. Again this child name is Caleb Roberts who is a 17 year old male who works at the Lake Placid Florida Burger King on Highway 27. Who was already fired and should of never got his job back and his aunt Sam is also the blame. This has become a problem for this Burger King and it's continued business.

Gary Howerton
from Richardson, TX
I just went to store # 4599 i placed my order to go and wanted the bugers plain and no cheese and they got it wrong i checked before i left they took them back and gave me two other bugers when i got back to work they still wasnt plain i dont get it that they cant even get it right the second time.

Kimberly Tanner
from Logan, OH
Hillsboro, Ohio restaurant. First they gave us the wrong food. They had no ice. No ketchup. We were the only customers so they had plenty of free time to take care of that. They knew it was empty because she asked us if we wanted ice in our cups. And the play area was still closed for maintenance. This has been the last two visits. Someone is not doing their job!

Thomas Heimburger
from Clearwater, FL
On Thursday 06-14-2018 at 9:48 pm I entered the drive thru at Burger King store #2646 in Dunedin ,Florida and was asked to wait a minute before placing my order. At 9:59 pm I was allowed to place my order of the 2 for 6.00 crispy chicken , whopper sandwich , large fry, and an order of pretzel chicken fries and was told to proceed to the window for payment. At 10:06 pm I was told the broiler was down and they could not make the whopper sandwich so I changed my order to two chicken sandwiches, large fry and pretzel chicken fries. At 10;18 pm I was informed that they could not complete my order at all and was told that they had planned on closing at 10:00 pm because they could not cook any food at all. I then asked for the corporate phone number to lodge a complaint for being kept in the drive through for 29 minutes. At that time Kyle employee # 552 gave me my original receipt and told me the corporate number 727-216-6704 was listed at the top under the address. When I called the number Kyle answered to take my complaint so I guess we all know how far my complaint was going to go after that.
sincerely Thomas Heimburger
1275 Belcher Rd. lot # 67
Dunedin, Florida
34698

doug lowers
from Fargo, ND
my complaint is in Wadena mn I went for breakfast ordered couple bacon egg cheese crosants meals started off when they got my order wrong and the lady at drive thru tells me I should've made myself more clear to her then rolls her eyes tells me pull ahead there were no cars behind me so I asked for what she tells me there on timer don't wamt bad review times I made it very clear I would not move ahead if she did her job right she wouldn't have to be trying to fool her employer she goes and begins swearing at me and calling me few other names I tell her stop right there give me my money back now she slams window shut and goes over and gets bag ready and wait for food I slid window open told her again she can stop waiting for food and get my money now she still ignores me gets food then goes with food into back again for about 60 secends then sends cook -manager to window and trys to give me my food by now im pissed fourth time I said want my money back now the other mgr mubbles something rolls her eyes leaves for about 2 minutes gets my money opens windows to give me money and drops it on ground I told her this is far from over there response was good bring it on dick I didn't even give a shit about $ 430 cents I left money on ground drove away this bullshit will be addressed or you can damn well bet well make it public over these 2 smart ass bitchs you can contact me at 2186393856

Debbie Frichette
from Auburn, WA
Yesterday I went to do laundry on 72nd St in Tacoma Washington. I had clipped a coupon for 2 cheese burgers w/ bacon etc. Figured I would treat myself and enjoy while doing my laundry as I hadn't been to a fast food place in a couple years. After what was done to my food I'm still sick and I doubt that I could ever ever eat there again. One of the burgers had a regular sesame seed bun and the other I have no clue what the bun was. No sesame seed and the bottom had weird markings and black Mars everywhere. I stood there speechless. But that's not the worst .The bacon looked like it was set on the grill for one sec. It was almost completely raw. I only wish I had thought to take pictures cause seeing is believing. My stomach is still sick. Needless to say it went in the garbage. All of it. I worked in fast food at McdMcDonal fir 14 yrs and I'm not one to take the food back and cause a seen. But I also know that's not how the bacon is supposed to look. Something needs to be said before people get really sick. I tried contacting through a survey but the store number they gave me 12886 isn't working. I can't call cause I'm hearing impaired so you were my next option and hopefully some how some way this will reach the corporate office. Sincerely Debra Frichette. I don't have a receipt to look for a survey number because the food was unacceptable for human consumption. That bad.

WHY IS THIS BK 9310,VICTORVILLE LOCATION, SERVING PRE COOKED BUGER'S AGAIN. ORDERED 2 F 6 WHOPPERS, IT ONLY TOOK ABOUT 1 MIN AND ORDER WAS READY. COMMIT FROM MGR, WE DON'I HAVE TIME TO COOK AS YOU ORDER BECAUSE I'M SHORT PEOPLE. YOU COULD SEE BURGER'S AND ITEM'S ALREADY PRE COOK IN THERE READY FOR ORDES TRAY. BURGER WHERE NOT EVEN HOT OR WARM.

At drive thru they didn't get both sandwiches I ordered. I repeated & still was wrong. A man gets on so I tell him.
He told me to drive up. Took my card swipes it & refused to give me food telling me to l leave.
Very rude & then got phone & spoke like he was talking To police!
This was so rude to refuse me after they swiped my card.
E 1st st Ankeny ia

MICHELLE KING
from Las Vegas, NV
The food wasn't fresh cold, old fries and still bread!!!
Drive-thru @ 05:32 pm 05/11/2018 total $17.73 money wasted for still food cold fries need order REPLACE. Order 3 2 whop chs, 2LG FRY 2lg coke. If further action needs to be taken please on my part about my food don't hesitate to let me know whom to contact. Since that was money wasted. Do I need to place my order and ask for my food Hot and Fresh? Let me know what should I do on my part to assist Burger King employees. The young man customers service was acceptable nice and polite on the drive-thru window. If this not the area for a complaint please let me know whom to contact the food was UNACCEPTABLE, NOT FRESH FRIES COLD. Please have management speak to the employees contact me about my complaint and when will my order get REPLACE Hot and Fresh.
burger king 820 N. Rancho
702-648-7820

Marva Williams
from Baton Rouge, LA
Approximately 1:15pm 05/11/2018 the supervisor on duty at your 10130 Coursey Blvd location in Baton Rouge, LA 70816 berated an employee in front of customers and then got into a shouting match with me, the customer when I suggested that it was not what she was saying to the employee but how she was saying it that matters The supervisor then spoke to me in a loud tone that if I (the customer) knew what was going on "on the back end" then I would not be telling her that she should not be speaking to the employee in that tone. WRONG!!! The employee was "obviously" challenged with performing the tasks at the drive-thru and the supervisor exacerbated the problem by "belittling" the employee in front of her co-workers and customers. She offered to give my husband and I our money back when my husband asked where his order was but we declined and instead again told the supervisor that she needed to learn how to speak to her employees. This supervisor needs some additional training on how to communicate with people to include her employees and customers. She totally disrespected the young employee and behaved in an unprofessional manner with me, the customer, by thinking she could engage in a "tit for tat" shouting match with me. We left your establishment with the supervisor holding steadfast to her justification that she could and would continue to talk to the employee in the inappropriate tone because of "what the employee was doing wrong on the back end." (her words) Terrible experience. I hope the young lady decides not to return to an establishment where she was not valued or respected; and, hopefully the other young workers will follow suit.

Karen Jones
from Dallas, TX
On 5/11/18@12:35pm. Burger King 6510 at Sam Rayburn Tollway, McKinney, Texas
At Drive Thru window I asked for a Kids Meal Hamburger with only pickles and mustard due to ketchup allergies. I repeated again to ensure the order was correct, and was told my amount came up to approximately $5.89. I asked the young lady to repeat the order and was told to drive up to the window. Once at the window, I asked why was the order that amount and was told that I also ordered an additional burger, which I did not. I understand that sometimes the intercom systems can be difficult to give and receive information. So I informed her that I would go ahead and pay for the order, but make sure each burger had only mustard and pickles. She then puffed up and snatched the sandwich out of the bag. I informed her that I did not want the order due to her rudeness. I walked in and asked the man at the register if I could talk to the manager, and he informed me that he was the manager. I explained to him what happened above and asked for the number at corporate. He informed me that it wouldn't do any good to call the office. He gave me a phone number 512-818-8172. I called the number and got a voicemail of Alturo Garcia. I walked back in and informed the gentleman at the cash register that this was not a number for the corporate office. This gentleman then stated it was his district manager. He then stated he would talk to the lady about her rudeness and he would not fire her over this. I informed him I just would like to be heard as a customer in regards to my concerns and I was not requesting anyone be fired. I asked his name and pointing to the lady that I interacted with at the window. He stated his name was Julio and her name was Rosalee.
This situation could have been handled differently without a problem if I would have been given the common decency of being heard with respect, which is what was lacking in this situation. We need more human kindness, respectfulness, accountability, integrity and generosity in this world today. I would love to sit down with all involved and make this a productive and teachable moment.
Karen

nitu
from Pleasant Hill, CA
BG#6841,604 BAILEY ROAD ,PITTSBURG,CA Location,this is not my first time visiting his location,forget about poor and rude service but does BG pay money to the health officers to keep this location in business,its a FAST FOOD location the service is the opposite the manager is as RUDE as she can be everyone talks in Spanish.This location does not deserve a 1 star, deserves nothing.I am not sure how the corporate will take this complaint but i have listed my email address so hopefully other customers will see a difference.
Hire happy people , these employees are grumpy because they don't have enough workers and they are tired .

ELLA HOUSTON
from Philadelphia, PA
UNHAPPY WITH SERVICE,WHOPPER WASN'T WHAT I EXPECTED, PLUS ONE OF YOUR WORKERS WAS BELLIGERENT TO MY WIFE. Her NAME IS LAURA. 2300 HUNDRED BLOCK OF OREGON AVE.

Sherry Hall Shelton
from Lake Jackson, TX
At BK #17892...my usual order is fish sandwich w/LITTLE sauce, NO pickles and ADD tomato ...and...LARGE frozen Coke. The Coke is my "cheat treat". I'm known there and the manager of chefs is Phillip. He sees me come in and immediately hands me the Coke. Today was different. New lady took my order. Whomever made it put lots of sauce, pickles (which is easy for me to remove) but no tomato. Young lady gave me a small Coke even when I asked for "El Grande" size. She said that's their only size. (Not so) I've been given five different sizes in the times I've been there to eat. ???What gives?~! I said I'd be back for a refill.....and sat down to eat. She later brought an "El Grande" cup of Coke to me saying she didn't want to get in trouble with her manager (who was NOT Phillip). Manager is a woman today. In all the time I've eaten there...no one has gotten my order right...except when Phillip was working. I quit going to the other BK near the mall (#8574) because their Coke machine is always broken (more than three years now) and their fish sandwich patties are tough and half the thickness of BK # 17892.~!!! Feel free to call me anytime.
979-265-2690

Charlotte Wilson
from Centre, AL
No complaint with service. It was OK.
My complaint is that I visited Burger King store 469 on Thursday, 4/19/2018 at 05:13 PM and the receipt said on the back that if I responded to a survey within 48 hours and told about my experience in the store, I would receive a free whopper on my next visit. I went to the site within the 48 hours as it is still not up at this time as it is only 3:17 on 4/21/2018 and was told that they already had all the information they need and the survey was closed. I did my part according to the receipt and I expect my whopper. The survey code is: 16304-31011-19414-080901.

Dan Weidner
from Freeland, PA
On 4/16/18 i went to Burger King located in Ames Plaza Carbondale Pa Rt 6 Upon entering i went to mens room my girlfriend went to ladies room both were dirty and disgusting (tp on floor urine on floor ) The lobby was dirty also (dirty tables not cleaned ) we ordered our meals that were barely warm ! Upon eating my girlfriend bit into her whooper pulling out a piece of PLASTIC WRAP witch was almost as big as burger We went to the counter to complain an employee offered to re place burger and refunded cost of burger THE half dressed manger was to busy watching TV to take care of customer complaint What a dirty disgusting restaurant !!!!!

MRS PATRICIA GISLER
from Sacramento, CA
I went to drive thru window and ordered a chicken sandwich meal. When I arrived at the drive thru window I was reprimanded by the sales person for not mentioning I had a coupon. Then I received my order which the chicken sandwich was very cold and so were the fries. I paid for my order and was not given a receipt. I am upset with the way I was treated and with the quality of the chicken sandwich which was served cold also the chicken was Very Chewy/tough,
Not a very good meal at all. I went to the 5300 folsom blvd location ( I was on the 59th street in Sacramento)

Allan Richardson
from Shenyang, LN
Very unusually, I have had an unpleasant experience at one of your restaurants, specifically the one in Shenyang, China, at Taiyuan Beijie. My burger was adequate, the fries were cool when served, so they were cold before I had finished eating them. However, my main complaint was of a young Chinese couple sitting at a table and kissing passionately. They were doing this when I arrived, and still doing it when I left. Even in my countries - the UK and Germany - this would have been unacceptable, and the staff would not tolerate such behaviour. In China, demonstrations of affection in public are taboo, yet all this took place for at least 15 minutes and in full view of your staff, who ignored the pair. I was not the only person who was embarrassed. Of course, I will continue to eat at your restaurants, as in general I prefer your products.

I went through drive thru, employee misunderstood about a taco and took it off my order, that's understandable I also had a happy meal a 10pc nugget and cheesy tots I left had to come back and told them the forgot some things in my order the employee was rude and tried to recharge me I ask to speak with management and she rudely said she was the manager said her name was jazmin but the receipt reads TC not sure if that the same person or what but I'm highly dissatisfied .
Have feedback for Burger King?
Thanks for your feedback!
Sorry. Please try again later!