Domino's Pizza
Contact Domino's Pizza Corporate
Toll free phone number: 734-930-3030
---
Domino's Pizza is a publicly traded NYSE:DPZ Italian/American cuisine operating internationally with independent and franchised locations. It has been consistently called one of the top 5 companies in online transactions thru Amazon and Apple. The food line caters to business, schools and homes. There are 13,000 stores in 81 countries and as of 2015 there were over 260.000 employees worldwide.
Revenues as of 2016 were reported as US2.21 billion. You may get in touch with customer service here and give feedback here. To send a letter to CEO, J. Patrick Doyle, address your envelop with: Dominos Corporation, 30 Frank Lloyd Wright Drive, Ann Arbor, MI 48105. The corporate phone number is 734-930-3030.
Advertising Dairy Goodness, Dominos offers voice order, iPhone and Android apps. Featured items are marble cookie brownies,  pastats, wings, salads, sandwiches and over 100 kinds of pizzas. Social presence is found on Facebook, Twitter, Instagram, LinkedIn.
Domino's Pizza Contact Information
Report complaints to corporate and get satisfaction
Domino's Pizza headquarters address

30 Frank Lloyd Wright Dr
Ann Arbor
MI 48105

Company website

1-800 phone number

734-930-3030

Support email address

contactus@dominos.com

Better Business Bureau rating

A-

Customer service hours

24 hours a day
Browse reviews of other Fast Food
Top Domino's Pizza Complaints
Browse more than 173 reviews submitted so far

Natasha Allen
from Charlotte, NC
I ordered chicken Alfredo w/extra chicken & sauce. It didn't have extra chicken out sauce. I got a free pasta after I spoke with April. The next pasta was also incorrect. When I called the store, the manager (Deandra?) put Amanda on the phone, who fixed the pasta. April's voice & tone were RUDE & she implied that I was a thief & liar, saying 'this is the last free pasta you will get'. If it was correct the 1st time, I NEVER would have called & complained! I was never RUDE, but Dominos staff was Very RUDE! I asked for a refund & was told to contact 1-800 DOMINOS.

Ronald Pitchford
from Gallipolis, OH
After being a customer of Dominos for 8 years and having delivery made to our home. We were informed that delivers could no longer be made to our residence due to it being out of the area. Our home is approximately 1/4 mile from the cutoff . After trying to explain that the other route to our home would put us in the delivery area the manager informed me that the district manager would not allow it . Being in the restaurant business myself I hope that any employee I have would be a little easier to deal with or more understanding to the needs of our customers .

Tony rosato
from Vista, CA
I ordered two large pizzas neither one had no sauce over cooked taste horrible my roommate was sick to stomach for four hours I liked to send the rest of this crap to the CEO on that stupid commercial make him eat the rest of this crap this pizza their selling us is dog crap.

A. Carvajal
from Collierville, TN
On Tuesday, September 29, 2015 I placed order #685920 at 6:53 p.m. using the Dominos app. The app provided a estimated delivery time of 41 to 51 minutes. I called at about 1.5 hrs after placing the order to find out the status and was told that the app was wrong that my order would take more than likely 2 hrs to be delivered because that was the estimated time provided to customers that place their order by phone. I waited the over two hours and called again to find out that because I had complained about the service during my initial phone call they thought I had cancelled my order. I believe my order was cancelled in retaliation to my initial complaining that it was the second time I placed an order and the delivery time was over two hours.
The first time it happened the app stated 2 hours; it took 2.5 hrs. and this second time well my order was just cancelled. I advised your personnel that I would never place an order at this location ever again. I just moved to this neighborhood and this is our local Dominos (Store # 3801) but their service is horrible, to say the least. I had to call a second time to ask if my card had been reimbursed, turns out it had not. I had to request reimbursement for an order they cancelled and charged me for...never again.

Ryan Cowley
from Burton-on-Trent, ENG
I order a pizza at 22:10, still waiting around at 00:00 still nothing, so I rang them up and said where is the pizza I order 2 hours ago, they then said it's on it's way, we'll give you the pizza and we'll refund the money! Now I have to wait till Tuesday to go back in my account and the pizza never turned up.. I'm gutted that one they have no communication skills and two that they promise you a free pizza to compensate and don't deliver!

karen cope
from Lansdowne, PA
They burnt my bread stick's my pizza wasn't made right I asked for extra pepproni and didn't receive my extra and I called to tell them they preceed to argue with me I order once a week from dominos I know exactly what my pizza should be I order the same pizza each time I'm so angry and disappointed! This was Saturday April 10th at 8:00 pm in Elkins West Virgina.

milton kelly
from Durham, NC
I just ordered a pizza from the university store in Durham,nc.When my pizza gets here it is the wrong pizza, so I called the store to let the manager know that I had paid for the pizza already with my credit card.They act as if no mistake on their behalf had happen and they guess someone would be back out, I will no longer be doing business with Dominos. Thank you. Mr. Kelly

Pizza was in prices stacked on top of one another. I put the pieces back together to form a pie and was actually missing a piece. Call and talked to manager who flat out said she didn't believe me and that her driver would not have eaten a piece of the pizza? I would certainly hope not. She offered to remake and deliver another pizza but I do would prefer not to eat anything they made me after our conversation. Manager was very rude! I took pictured of the pizza but I am not able to attach

Charity Fox
from Batavia, IL
36 minutes for 2 orders of parm bites? ARE YOU KIDDING ME? I could understand a little longer wait time if the store was busy, but with the driver's cars parked out front and no one in the store, 36 minutes was WAY TOO LONG! My son walked in to pick up our order as he has done every other week for the better part of the year, only to watch the person manning the pizza oven not able to handle pulling our order from the oven. She even asked the crew lead for help and was told she could do it herself. She dropped the order all over the floor!
To top off the wait time, the crew lead's idea of 'making it right for the customer' was to tell my son "just give me ten and keep the 80 cents for your trouble. He did not ring the order in the register." NO CUSTOMER SERVICE equals NO BUSINESS!
I am SO totally disgusted by the treatment my son received (just because he was a kid?) that everyone we know will hear about this. I cannot believe that your management level staff did nothing to make this right. Is that really how you run your business? I don't know at this point if there is anything you could do to make it right for my family.

Katina Brooks
from Redmond, WA
I placed a delivery order at 4:26pm on Sunday 4/19 to the location on Elgin in Houston Tx. The estimated time for my delivery stated 24-34mins. After I looked at the time, it was 5:16pm in which I contacted the location to get the ETA on my delivery since it had been well over 45min and I live only a few minutes away from the store. When contacting Dominos Pizza, I requested to speak with a manager. The manager Erica got on the line I asked about the order, and she said it was on the way. I explained it had been almost an hour at that time. She then got rude with me and said it can take up to 2 hours. I asked for the corporate number she said "call corporate they don't do deliveries" and hung up. My delivery did not arrive until 5:36pm and was cold. I am very displeased about my order and customer service, I will never order from that location again.

Matt Griffiths
from Toronto, ON
I was ordering a pizza at the domino"s pizza at #ueen and Berkely st. On Camera. The supervisor on duty pocketed the money I gave him for my pizza. I asked him why he was putting it in his pocket as opposed to the cash register. This created quite a bit of controversy. At that point it got out of hand. I asked for my money back and it was given. However his employees started to insult me. It included giving me hand gestures of the inappropriate manner. Later on, the supervisor shoved me off premises. This was all caught on your survellience camera's. I called the police and their is a reference. I am going to retain a lawyer to this matter and will eventually be making a formal assault charge against the supervisor and your company. This incident was all on your video footage. What has upset me the most is that the local authorities made this out to be petty. The camera will tell the story however in a different light. Tomorrow morning I will be making a formal complaint to the toronto police department.

William Mallory
from Brooklyn, NY
I am a long time customer, but was treated like a drive by for a special. I ordered the carryout large, 2 toppings for 7.99. I got to dominos and they had made 2 large with 1 topping each. I was given a choice, pay 7.99 for the 1 choice or wait there 20-30 minutes for a complete redo of my original order, 1 large with extra cheese and bacon. I simply paid the full amount for the extra cheese 1 topping. I felt treatment was like it was my first order and a gotcha. Never will I do business there. In fact, the 1 topping extra cheese did not have extra cheese.

I placed my order over the phone, the lady said it will be ready in 15 to 20 minutes. I get to pick up my order the store the first thing I see is a employee standing in front of the store smoking a cigarette. talking on his phone in some foreign language, then he comes in the store and starts bossing people around and yelling in a foreign language to some and the girl behind the counter says it will be 10 more minutes we have to make one of my pizza's because they only made 3 of the pizza's or my 4 pie order. so I was not very happy with the waiting and in the 10 minutes I waited the man did nothing but talk on his phone.

We have ordered several times from Dominoes at 1230 Rose St, #a, Elgin, SC. All orders were delivery and all were terribly slow, but the last one took over 1 and1/2 hours to get to us. Guess what? By then it was so cold it was ridiculous. If that's the way you operate your business we can just switch pizza stores. Maybe you should look into the management?

James Lewis
from Lake Saint Louis, MO
We order 2 pizzas ...1 hand tossed and one thin crust....the thin crust was supposed to have x sauce x cheese onion green pepper bacon and pineapple. Well the thin one arrived with sausage green pepper ham onion pepperoni mushrooms. Not exactly what I ordered. No one seems to care at the store, oh sorry.....great customer service. 6366974745. Gave one star none lower. And to think we order from this location all the time. I am thinking of checking out Papa Johns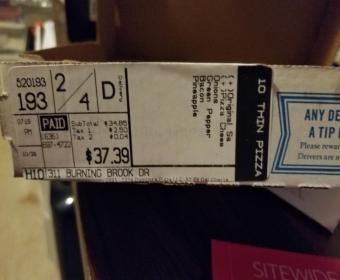 michele Bloise
from Albuquerque, NM
I received my med. pizzas and they were burnt so I called and had them bring me new ones - they were awful - crust was burnt and ham and pepperoni were over cooked and tasted old :-( --- they moved from Indian School to 12th st. and now it's not any good - wish I didn't have kids to feed when I was sick - wouldn't have had such awful food to feed them :-(. they are over cooking the pizzas - please let them know how disappointed me and the kids were - thanks .

Roxann Cheeney
from Minneapolis, MN
Your service is HORRIBLE! I ordered a pizza and it took 3 hours to get to my house and was stone cold. I live 1 mile from the location, it is a 4 minute drive and the pizza was out for delivery for over 2 hours. I received a credit, but haven't been able to use it , because you get put on hold for over 30 minutes to just try to order. How can I get my $25.00 credit returned to me in cash. I am through with this company.

Mark Harris
from Oaklands, SA
I went into Blackwood store in South Australia to order pizza and garlic bread for my sons 6th birthday party.I ordered 25 $5 pizzas and 10 garlic bread which came to $170.Then asked how much to deliver and was told $320.i think $150 delivery fee is a bit exhorbitant as it is only 3 minutes down the road.So now I will collect them myself and will no longer use Dominos for my corporate or private events.I hope this is an error on your part as am most disappointed with this service
Mark Harris

Maureen McDade
from Lancaster, CA
Ordered online 2 large pizzas with light sauce..
When pizzas arrived, there was no sauce or so little sauce it was not noticeable visually not taste wise. Called the Dominos at 4606 E Ave S. Palmdale, Ca 661 265-7400. To complain.
I asked the employee if I needed to return the pizzas and was told no. MARCOS the Manager confirmed they would replace the pizzas and to give my phone number when ready to pick up. Tried to pick up pizzas and was told they could only replace 1. Gave me corporates 800 number which says to call where we ordered and ask for Manager to complain. I guess Dominos has all ends covered.. How soon they forget that not to long ago they were a dying breed. With this kind of service, can be back in that position again..

wafi akbary
from Arlington, VA
this complain is for the location of 4811 Lee Hwy , arlington va 22201 .
i order by phone 2 pizza one plain and 2nd one veggie but i received that in 45 min with peperoni instate and i am alergic with peperoni and
i called ask for the manager and no one comes to the phone to assist me , then i drive over and they are not busy at all was 3:30 pm and
i am very hungry due to type 2 , and manger very rude and telling me ya i remember you that you repeat 3 times and ask for the receipt .
then he given me running a round and i ask my money back and i will never order pizza from domino at all ...
i will never recomend any one to go or order pizza from 4811 lee hwy , arlington va .. thank you wafi

Bernadette Cawthorne
from Hesperia, CA
I live in Adelanto, Dominos is in Adelanto yet they live not deliver where i live, when i asked why not was told they only deliver up to Air express way, this is so friggen unreal yet your ad on tv shows where you deliver anywhere, some thing needs to change Thanks

Charles Clolinger
from Greenville, MS
My problem is I placed a delivery order at 11:23 pm on 08 30 2018 they get to me at 12:39 am pizza cold without my extras i paid for they wouldn't answer when i tried calling after the delivery left or before he got here i buy alot of pizza from them and if you pay for something that what you want right so if they don't like their job then they should close the business and stop taking people's money for something they don't stand by it really upset me to know that they think they can get away with this it is unethical and not honest see the delivery guy said he would bring back the thinks i didn't get but hasn't shown and gave him tip anyway something should be done
THANK
Reconsidering Customer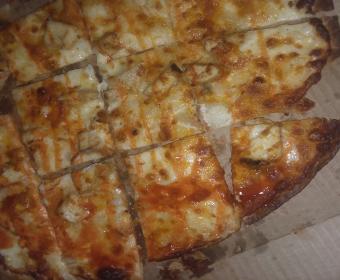 I called to place an order - they answered and then put me on hold for 10 minutes. I hung up and called back, they answered and then put me on hold again. After another couple of minutes - they finally took my order. I spoke to the manager about the hold time. The manager was not too concerned about it, she gave no apology and then tells me the hold time was justified because they were really busy and the fact they only had 3 phones and all were busy taking orders. The manager also said that the corporate office would agree with that 10 minute hold times on the phone is acceptable if really busy is the reason. The manager is basically saying it is ok to give bad customer service and not make it a priority if too busy is the reason or perhaps it never existed in the first place regardless of the time of day or how busy. I am very disappointed in this message, in the experience, in the leadersip or lack there of and in Domino's overall. In closing, I am a weekly customer and spend approximately $70 dollars and deserve better - all customers do. Hopefully, this complaint will create positive change for the better and prevent it from occurring again.

mark ashdown
from Carole Park, QLD
The service at your tannum sands store is terrible, on a number times when going to store for a pick-up either the order is wrong or has not been cooked. Tonight was it for me , after ordering on-line and tracking it on my phone I go to the store to pick up and pay and am confronted with the young girl behind the counter on the phone trying to explain an order for what seemed like minutes,then when she serves me she cant find my order and tells me that there must have been a mistake and I would have to wait for another one.Noone in the store would be over the age of 21, you have kids under pressure trying to run a store.Disgraceful. And by the way I did leave the money on the counter.Not happy.........

Garry Thurman
from Coshocton, OH
brought enough Domino's to get a free 12" pizza called ordered 3 extra toppings and a root beer plus delivery they said it was $7.02 more when it got here the price was $20.48 I told the delivery driver they said $7.02 he said that was okay I said wait a minute while I called them they said they didn't put it was a free pizza and if I only had the $7.02 for the order this young man would of took it on his self to cover the $20.48 price I paid the full price but I live on a limited income I don't want your coupons or anything else but if you let them keep doing this you won't be doing much bussiness cause you lost min

dan45@yahoo.com
from Peoria, IL
you have a rather nasty person working in your Pekin Illinos store Lori not very clean has rotton teeth and a foul moth will not buy anything from that place Hi pizza hut

Bruno Bruner
from Monahans, TX
so I ordered a pizza tonight from monahans texas location online, I put in what I wanted and even went thru your online menu to delete peppers and asked for my pizza to be square cut and my pizza showed up with peppers and was not square cut, why do you give us options if your not going to follow them?The only reason I complain today is that I eat quite often at dominos and lately have been having multiple small issues, I am a paying customer and deserve to receive exactly what im ordering. its to late to fix as im on a busy schedule and don't have time to wait for another pizza tonight. today is 7-26-18, 9287 is store I guess, order number 211518

Maribel M Menjivar
from Peachtree City, GA
at 6:49pm I called the Atlanta Hwy store (706 354-1179) and asked them if they will delivered to 345 Hollow Ridge Dr. Athens 30607 & they said yes so I placed the order for 10 large pizzas to be delivered at 8:55 as my party was going to be over at 9 O'clok, at 8:36 I got a call from the Baxter store telling me that they got my order transferred to their store and will take 30 to 35 minutes to be delivered I told them it was still OK as I couldn't do anything else because i had my party going on already. I called @ 9:04 & the guy told me my order left the store 10 minutes ago, called @ 9:15 and the guy told me my order was on its way and told me they got my order @ 8:40 & basically was not their fault because I ordered to the wrong store. they delivered my order @ 9:40pm, they gave me some cinnamon bread twist for free for the inconvenience but some guests had left already.

Darlene Daniels
from The Bronx, NY
I started this complaint by telephone but my phone is dying so I will submit my complaint here. On Saturday night 7/14/2018 around 9pm, I went to the Dominos at 3484 Boston Rd. in the Bronx. I ordered the 2 large pizza for $10.99, I ordered 4 pizzas, thats $22.00. The cashier told me the total was $40.00, I said that's impossible the tax is almost the same amount as the bill. He was nasty did not know what he was doing, could not tell me why the tax was so much, kept sucking his teeth and saying well that's what the computer says, I don't know, your bill is $40.00, over and over. I told him there is only a 8.25% sales tax in nyc and there's no way a $22.00 bill is going to be almost the same amount in taxes. Eventually someone else came over and rang it up and said it was $32.00. I complained to the manager about the first cashier arguing back and forth with me, that cashier even gave me the finger, and when the manager told him to stop arguing with me and go in the back he had a back and forth with the manager before he would go in the back. He acted like he was outside and able to argue with someone if he chose to.
After I left and got home I realized they did not give me a receipt. I was so angered over something so basic for a business which is to be able tell you what you are being charged for including the tax, and for any employee to know something is not right when they see taxes that almost totally a person bill, that's just common sense. They should know to ask for assistance rather than stand there and argue with someone over what obviously is a problem. When I realized they did not give me a receipt I was even more annoyed. If you have some kind of dispute with a customer about what you are charging them for that would seem to be the one thing you would want them to get a RECEIPT. I feel that the $10.00 in taxes I paid was to much, and I don't trust them because they had to deliberately not give me a receipt, doesn't the computer automatically print a receipt. What kind of deal is it to buy something for $22.00 and have to pay $10.00 in taxes. I want to make sure I was not over charged.

On July 11th at approximately 7:23 pm I went to pick up my order from Dominos Pizza located at 2002 Nickerson Blvd., Hampton, VA 23663. While paying for my order, I observed 3 employees preparing pizza without any gloves on which alarmed me due to sanitary concerns. Further, one of these same employees tapped the other on his back bare handed, then returned to preparing the pizza.
Please take the appropriate measures to ensure staff are wearing the proper protective gear while preparing food.
Thank you.

Lynda Chavez
from Bartlesville, OK
Last night(july 6th,2018) I ordered a pizza and sandwich. The problem was the pizza dough and sandwich dough was gooey. After cutting away some of the crust, I was able to get 1/2 of the sandwich down. Same for the pizza. This use to be my favorite place to buy pizza. I need to go back to pizza hut.

Cynthia DAvis
from Atlanta, GA
5819 Campbellton Rd SW Atlanta GA The service is terrible the customer service is terrible the pizza is terrible

Tangeria Spencer
from Oak Park, IL
Why is it so hard to order on line this has been happen alot. That's why I stop order on line period. I also try to order on line on cell phone still I was not able to order. So forget you also Domino's pizza forever good bye

Yani
from Philadelphia, PA
Dominos never want to take orders after 12 am and if they do the waiting time is OVER AN HOUR even if you going to pickup! Ridiculous.

Chris Westerfield
from Atlanta, GA
A driver comes past my house at least 2 times a wk delivering to a house past me but store says they have to meet me 2 miles away further in town because I'm out of area.

Jo-Ann Caron
from Dunnellon, FL
First time ordering from our new Dominos in Dunnellon, FL What a mess,, no system, lost orders, my pizzas over an hour later were found & COLD. . They had to remake my Dads sandwich again as they could not find it. Where were the apologies? Gift Card? Even a Manager? They made sure they got the delivery orders out. What was the Problem? They need training....Customers First!!! What was their issue??

Mae
from Santa Monica, CA
To Whom it may concern:
We ordered from the Dominos on 500 North Henry St. in Alexandria, Va. last night.
It arrived burnt and cold and slicers were piled on top of each other. It was inedible! Order # 294828
In California when I order it's usually delicious!
I would like to be compensated someway!
Dissatisfied customer
Mae

I just ordered a pizza and wings from Dominos today. When the order got here I found the pizza was lukewarm well I am used to that about now as every pizza place usually delivers it this way so you have to re heat it.
What bothered me was the chicken wings. I ordered via phone and told them mild sauce this was that Buffalo hot sauce put on the chicken wings instead! I had to rinse off the chicken and recook it with my own BBQ mild sauce which he should have come with in the first place or no sauce whatsoever just not that buffalo hot sauce hate that and it is bad on my stomach as well.
Other then that was ok just not the lukewarm pizza and the hot sauce on the wings!
Thanks.

danscotty@hotmail.co.uk
from Northampton, ENG
Order number 225106821 was placed with Domino's and PAID for by my direct debit card. Food NEVER DELIVERED, despite phone calls to my local outlet. I visited my local Penrith outlet the following day and was met by rude member of staff who would not issue refund. Referred my complaint to the website. I have done this and so far have only received one voucher for a free pizza, considering my order was for £23+ this hardly amounts to half the value of my order. Plus the experience of your most unhelpful member at your local staff and various emails via resolver website, I am disgusted with your service and customer care.

MY WIFE AND I ORDERED 2 SANDWICHES AND A L PIZZA. WE ATE HALF OF THE SANDWICHES AND MY WIFE WHICH SHE HAS THE CHICKEN SANDWICH FOUND A PLASTIC GLASS ON THE EDGE . I CAN'T BELIEVE THE PERSON WHO PREPARE IT DIDN'T SEE . VERY SCARE IT . WE THROW THE REST OF THE SANDWICHES AND THE PIZZA ON THE TRASH. WHO KNOWS HOW MANY PIECES OF PLASTIC GLASSES SOLD TO YOUR CUSTOMERS :(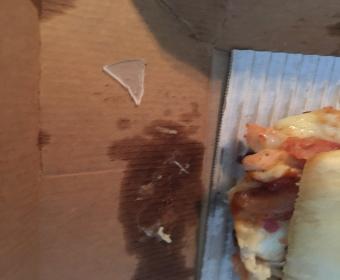 david corns
from Auburn, NSW
DOMINOS DECIDED I WAS A CHILD MOLESTOR AND PUT SHIT LOADS OF SALT IN MY PIZZA AS WELL AS DELIVERING ONE THAT WOULD FEED A DWAFTH STYLE STEREO TYPE ASS . FALSE ADVERTISING AFTER REFUSING TO DELIVER, YEP........................................................................................SHLO

Cory Walton
from Norcross, GA
I order 2 pizza on lunch break and never received my pizza so I call the store back they say my phone number wasn't a working number ,I waited my whole break and didn't have any food

Barbara Newton
from Concord, NC
The last two pizzas I ordered came dry hard and Luke warm. I called and spoke with the manager about my concern and she wasn't sure how to handle my concern. At the end of our conversation she ask if I would like a credit for a future pizza and I state that would be very nice of her. She said she would put a credit under my phone number so when I called to order my pizza just tell them the credit would be under my phone number. I called today 3/16/18 to order my pizza and the manager said she didn't remember my conversation and she is good about putting in credits that she could give me a 5.00 credit that's all she could do because the credit wasn't put in the computer. The Dominos in question is located in Mt Pleasant, NC 704-436-1117. The manager I spoke with was working on 3/16/18 at 6:30p as I didn't get her name. Customer Service is less than satisfactory. Thank you for your help.
Barbara Newton, Concord, NC 28025

Rafael Hernandez
from Lake Worth, FL
My name is Rafael Hernandez. I chose Dominos tonight over pizza hut because is closer to my home. I feel I made the worst decision today just for driving closer. I ordered a pizza with extra bacon and pineapple. When I went in to pick it up the bacon was almost unseen. I paid extra, and this happened 2 weeks ago when I ordered. I thought maybe it was just a mistake. The young man who helped me at the time was friendly and apologized. Today was a difference experience. The young lady who stepped to talk to me, was very bold. I asked her, " If this is considered extra bacon which I am paying for, what would it look like without bacon? HER REPLY WAS , WELL LESS BACON. SHUT MY BOX OF PIZZA CLOSE AND SAID, HAVE A GOOD DAY, AND WALKED AWAY. I am very disappointed how I was treated. I am a Retail Store Manager and this is not the type of customer service you give. This was at store in Lantana and congress. In florida. Just east of I-95. I believe is Store# 5169. Phone number is 561-533-0905. Order number # 331966. I ordered the pizza under my nickname Tony Hernandez.
I would like some to reach out to me ASAP. My number is 561-907-0151.

STEPHANIE SHACKELFORD
from Mountain Pine, AR
On the night of 2/15/2018 I used the dominos in Hope Arkansas and used a fund raiser card that was a buy one get one free , I understand that the way the card works is that I pay for the higher of the 2 pizzas I order . I ordered a large meat lovers add mushrooms and onions and a plain pepperoni , I was told the price was 23.88 and when I showed my card I was told the same order was 28.00 something . So I was lead to belief that it was cheaper to not use my card . I have never paid this much for this order in all the years I have been using these cards. but we were hungry and we live a hour drive away so we placed the order and waited our time when we picked up our order we were in a hurry and did not think to check so I made my hour drive home to find my pizza was raw and I had to recook it. this morning I called the store and reported this and was told yes I was charged to much and that this was not the first time it has happed with this employee. But was not offered any help on the fact that it was raw and over charged . I just felt this was something that you might want check in to , because this is the only pizza we eat .
thank you for taking the time to read this
Stephanie Shackelford

Phone ordered Pizza and Wings at Dominos in Shawano, Wi. 2/9/18 picked up after work and was charged $21 + for two items that should have been $5.99 ea. Person who took order was very rude and seemed irritated with order. Usually very happy with service but not this time

diana
from Winchester, TN
I called the Winchester Domino"s on 02/08/18 to place an order of several pizzas. The girl who answered did not act like she had time to take the orders. She kept rushing me. I asked what specials for delivery, "we dont have any what you want? How much are 1 toppings ? "What Kind"?, pepperoni," 13.88 be there 30 or 40 minutes," I would like another," what kind," let me think..."hello you there?" what kind. "Forget it. I called papa johns because they had patience and asked if I would like anything else. Papa Johns didnt act like they were in hurry to get off phone.
I always order Domino's and usually they are helpful and nice. If i am paying for something i would like to get my whole order placed and not feel like i am an inconvenience to them.
The time was around 4:45pm

emerson shaw
from Richmond, VA
Worst service at any pizza place was Domino's last night! Took over 1 1/2 hrs, pizza was over cooked (2) brownies were literally BURNT(see attached pix) and cold as was the pizza. With tip cost me just under $60! I could have gone many places and got a good steak for 2 for the same or less! I want my $60 reimbursed! I deserve it LOUSEY service and PRODUCT!!@!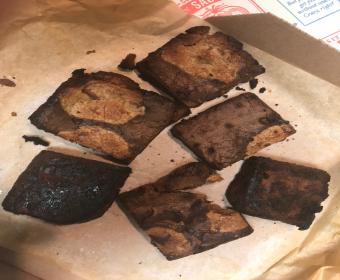 fay goodman
from Nelson, NSN
last friday did not receive delivery of my pizza order $48.97 taken from my bank waswrung and told order went to wrong store and you would refund my payment this has not been done please rectify and return my payment as goods not received thankyou fay goodman phone 035456430 nelson
Have feedback for Domino's Pizza?
Thanks for your feedback!
Sorry. Please try again later!