Domino's Pizza
Contact Domino's Pizza Corporate
Toll free phone number: 734-930-3030
---
Domino's Pizza is a publicly traded NYSE:DPZ Italian/American cuisine operating internationally with independent and franchised locations. It has been consistently called one of the top 5 companies in online transactions thru Amazon and Apple. The food line caters to business, schools and homes. There are 13,000 stores in 81 countries and as of 2015 there were over 260.000 employees worldwide.
Revenues as of 2016 were reported as US2.21 billion. You may get in touch with customer service here and give feedback here. To send a letter to CEO, J. Patrick Doyle, address your envelop with: Dominos Corporation, 30 Frank Lloyd Wright Drive, Ann Arbor, MI 48105. The corporate phone number is 734-930-3030.
Advertising Dairy Goodness, Dominos offers voice order, iPhone and Android apps. Featured items are marble cookie brownies,  pastats, wings, salads, sandwiches and over 100 kinds of pizzas. Social presence is found on Facebook, Twitter, Instagram, LinkedIn.
Domino's Pizza Contact Information
Report complaints to corporate and get satisfaction
Domino's Pizza headquarters address

30 Frank Lloyd Wright Dr
Ann Arbor
MI 48105

Company website

1-800 phone number

734-930-3030

Support email address

contactus@dominos.com

Better Business Bureau rating

A-

Customer service hours

24 hours a day
Browse reviews of other Fast Food
Top Domino's Pizza Complaints
Browse more than 153 reviews submitted so far

Natasha Allen
from Charlotte, NC
I ordered chicken Alfredo w/extra chicken & sauce. It didn't have extra chicken out sauce. I got a free pasta after I spoke with April. The next pasta was also incorrect. When I called the store, the manager (Deandra?) put Amanda on the phone, who fixed the pasta. April's voice & tone were RUDE & she implied that I was a thief & liar, saying 'this is the last free pasta you will get'. If it was correct the 1st time, I NEVER would have called & complained! I was never RUDE, but Dominos staff was Very RUDE! I asked for a refund & was told to contact 1-800 DOMINOS.

Ronald Pitchford
from Gallipolis, OH
After being a customer of Dominos for 8 years and having delivery made to our home. We were informed that delivers could no longer be made to our residence due to it being out of the area. Our home is approximately 1/4 mile from the cutoff . After trying to explain that the other route to our home would put us in the delivery area the manager informed me that the district manager would not allow it . Being in the restaurant business myself I hope that any employee I have would be a little easier to deal with or more understanding to the needs of our customers .

Tony rosato
from Vista, CA
I ordered two large pizzas neither one had no sauce over cooked taste horrible my roommate was sick to stomach for four hours I liked to send the rest of this crap to the CEO on that stupid commercial make him eat the rest of this crap this pizza their selling us is dog crap.

A. Carvajal
from Collierville, TN
On Tuesday, September 29, 2015 I placed order #685920 at 6:53 p.m. using the Dominos app. The app provided a estimated delivery time of 41 to 51 minutes. I called at about 1.5 hrs after placing the order to find out the status and was told that the app was wrong that my order would take more than likely 2 hrs to be delivered because that was the estimated time provided to customers that place their order by phone. I waited the over two hours and called again to find out that because I had complained about the service during my initial phone call they thought I had cancelled my order. I believe my order was cancelled in retaliation to my initial complaining that it was the second time I placed an order and the delivery time was over two hours.
The first time it happened the app stated 2 hours; it took 2.5 hrs. and this second time well my order was just cancelled. I advised your personnel that I would never place an order at this location ever again. I just moved to this neighborhood and this is our local Dominos (Store # 3801) but their service is horrible, to say the least. I had to call a second time to ask if my card had been reimbursed, turns out it had not. I had to request reimbursement for an order they cancelled and charged me for...never again.

Ryan Cowley
from Burton-on-Trent, ENG
I order a pizza at 22:10, still waiting around at 00:00 still nothing, so I rang them up and said where is the pizza I order 2 hours ago, they then said it's on it's way, we'll give you the pizza and we'll refund the money! Now I have to wait till Tuesday to go back in my account and the pizza never turned up.. I'm gutted that one they have no communication skills and two that they promise you a free pizza to compensate and don't deliver!

karen cope
from Lansdowne, PA
They burnt my bread stick's my pizza wasn't made right I asked for extra pepproni and didn't receive my extra and I called to tell them they preceed to argue with me I order once a week from dominos I know exactly what my pizza should be I order the same pizza each time I'm so angry and disappointed! This was Saturday April 10th at 8:00 pm in Elkins West Virgina.

milton kelly
from Durham, NC
I just ordered a pizza from the university store in Durham,nc.When my pizza gets here it is the wrong pizza, so I called the store to let the manager know that I had paid for the pizza already with my credit card.They act as if no mistake on their behalf had happen and they guess someone would be back out, I will no longer be doing business with Dominos. Thank you. Mr. Kelly

Pizza was in prices stacked on top of one another. I put the pieces back together to form a pie and was actually missing a piece. Call and talked to manager who flat out said she didn't believe me and that her driver would not have eaten a piece of the pizza? I would certainly hope not. She offered to remake and deliver another pizza but I do would prefer not to eat anything they made me after our conversation. Manager was very rude! I took pictured of the pizza but I am not able to attach

Charity Fox
from Batavia, IL
36 minutes for 2 orders of parm bites? ARE YOU KIDDING ME? I could understand a little longer wait time if the store was busy, but with the driver's cars parked out front and no one in the store, 36 minutes was WAY TOO LONG! My son walked in to pick up our order as he has done every other week for the better part of the year, only to watch the person manning the pizza oven not able to handle pulling our order from the oven. She even asked the crew lead for help and was told she could do it herself. She dropped the order all over the floor!
To top off the wait time, the crew lead's idea of 'making it right for the customer' was to tell my son "just give me ten and keep the 80 cents for your trouble. He did not ring the order in the register." NO CUSTOMER SERVICE equals NO BUSINESS!
I am SO totally disgusted by the treatment my son received (just because he was a kid?) that everyone we know will hear about this. I cannot believe that your management level staff did nothing to make this right. Is that really how you run your business? I don't know at this point if there is anything you could do to make it right for my family.

Katina Brooks
from Redmond, WA
I placed a delivery order at 4:26pm on Sunday 4/19 to the location on Elgin in Houston Tx. The estimated time for my delivery stated 24-34mins. After I looked at the time, it was 5:16pm in which I contacted the location to get the ETA on my delivery since it had been well over 45min and I live only a few minutes away from the store. When contacting Dominos Pizza, I requested to speak with a manager. The manager Erica got on the line I asked about the order, and she said it was on the way. I explained it had been almost an hour at that time. She then got rude with me and said it can take up to 2 hours. I asked for the corporate number she said "call corporate they don't do deliveries" and hung up. My delivery did not arrive until 5:36pm and was cold. I am very displeased about my order and customer service, I will never order from that location again.

Matt Griffiths
from Toronto, ON
I was ordering a pizza at the domino"s pizza at #ueen and Berkely st. On Camera. The supervisor on duty pocketed the money I gave him for my pizza. I asked him why he was putting it in his pocket as opposed to the cash register. This created quite a bit of controversy. At that point it got out of hand. I asked for my money back and it was given. However his employees started to insult me. It included giving me hand gestures of the inappropriate manner. Later on, the supervisor shoved me off premises. This was all caught on your survellience camera's. I called the police and their is a reference. I am going to retain a lawyer to this matter and will eventually be making a formal assault charge against the supervisor and your company. This incident was all on your video footage. What has upset me the most is that the local authorities made this out to be petty. The camera will tell the story however in a different light. Tomorrow morning I will be making a formal complaint to the toronto police department.

William Mallory
from Brooklyn, NY
I am a long time customer, but was treated like a drive by for a special. I ordered the carryout large, 2 toppings for 7.99. I got to dominos and they had made 2 large with 1 topping each. I was given a choice, pay 7.99 for the 1 choice or wait there 20-30 minutes for a complete redo of my original order, 1 large with extra cheese and bacon. I simply paid the full amount for the extra cheese 1 topping. I felt treatment was like it was my first order and a gotcha. Never will I do business there. In fact, the 1 topping extra cheese did not have extra cheese.

I placed my order over the phone, the lady said it will be ready in 15 to 20 minutes. I get to pick up my order the store the first thing I see is a employee standing in front of the store smoking a cigarette. talking on his phone in some foreign language, then he comes in the store and starts bossing people around and yelling in a foreign language to some and the girl behind the counter says it will be 10 more minutes we have to make one of my pizza's because they only made 3 of the pizza's or my 4 pie order. so I was not very happy with the waiting and in the 10 minutes I waited the man did nothing but talk on his phone.

We have ordered several times from Dominoes at 1230 Rose St, #a, Elgin, SC. All orders were delivery and all were terribly slow, but the last one took over 1 and1/2 hours to get to us. Guess what? By then it was so cold it was ridiculous. If that's the way you operate your business we can just switch pizza stores. Maybe you should look into the management?

Yani
from Philadelphia, PA
Dominos never want to take orders after 12 am and if they do the waiting time is OVER AN HOUR even if you going to pickup! Ridiculous.

Chris Westerfield
from Atlanta, GA
A driver comes past my house at least 2 times a wk delivering to a house past me but store says they have to meet me 2 miles away further in town because I'm out of area.

Jo-Ann Caron
from Dunnellon, FL
First time ordering from our new Dominos in Dunnellon, FL What a mess,, no system, lost orders, my pizzas over an hour later were found & COLD. . They had to remake my Dads sandwich again as they could not find it. Where were the apologies? Gift Card? Even a Manager? They made sure they got the delivery orders out. What was the Problem? They need training....Customers First!!! What was their issue??

Mae
from Santa Monica, CA
To Whom it may concern:
We ordered from the Dominos on 500 North Henry St. in Alexandria, Va. last night.
It arrived burnt and cold and slicers were piled on top of each other. It was inedible! Order # 294828
In California when I order it's usually delicious!
I would like to be compensated someway!
Dissatisfied customer
Mae

I just ordered a pizza and wings from Dominos today. When the order got here I found the pizza was lukewarm well I am used to that about now as every pizza place usually delivers it this way so you have to re heat it.
What bothered me was the chicken wings. I ordered via phone and told them mild sauce this was that Buffalo hot sauce put on the chicken wings instead! I had to rinse off the chicken and recook it with my own BBQ mild sauce which he should have come with in the first place or no sauce whatsoever just not that buffalo hot sauce hate that and it is bad on my stomach as well.
Other then that was ok just not the lukewarm pizza and the hot sauce on the wings!
Thanks.

danscotty@hotmail.co.uk
from Northampton, ENG
Order number 225106821 was placed with Domino's and PAID for by my direct debit card. Food NEVER DELIVERED, despite phone calls to my local outlet. I visited my local Penrith outlet the following day and was met by rude member of staff who would not issue refund. Referred my complaint to the website. I have done this and so far have only received one voucher for a free pizza, considering my order was for £23+ this hardly amounts to half the value of my order. Plus the experience of your most unhelpful member at your local staff and various emails via resolver website, I am disgusted with your service and customer care.

MY WIFE AND I ORDERED 2 SANDWICHES AND A L PIZZA. WE ATE HALF OF THE SANDWICHES AND MY WIFE WHICH SHE HAS THE CHICKEN SANDWICH FOUND A PLASTIC GLASS ON THE EDGE . I CAN'T BELIEVE THE PERSON WHO PREPARE IT DIDN'T SEE . VERY SCARE IT . WE THROW THE REST OF THE SANDWICHES AND THE PIZZA ON THE TRASH. WHO KNOWS HOW MANY PIECES OF PLASTIC GLASSES SOLD TO YOUR CUSTOMERS :(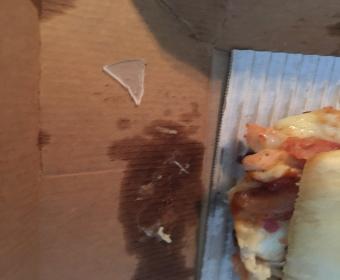 david corns
from Auburn, NSW
DOMINOS DECIDED I WAS A CHILD MOLESTOR AND PUT SHIT LOADS OF SALT IN MY PIZZA AS WELL AS DELIVERING ONE THAT WOULD FEED A DWAFTH STYLE STEREO TYPE ASS . FALSE ADVERTISING AFTER REFUSING TO DELIVER, YEP........................................................................................SHLO

Cory Walton
from Norcross, GA
I order 2 pizza on lunch break and never received my pizza so I call the store back they say my phone number wasn't a working number ,I waited my whole break and didn't have any food

Barbara Newton
from Concord, NC
The last two pizzas I ordered came dry hard and Luke warm. I called and spoke with the manager about my concern and she wasn't sure how to handle my concern. At the end of our conversation she ask if I would like a credit for a future pizza and I state that would be very nice of her. She said she would put a credit under my phone number so when I called to order my pizza just tell them the credit would be under my phone number. I called today 3/16/18 to order my pizza and the manager said she didn't remember my conversation and she is good about putting in credits that she could give me a 5.00 credit that's all she could do because the credit wasn't put in the computer. The Dominos in question is located in Mt Pleasant, NC 704-436-1117. The manager I spoke with was working on 3/16/18 at 6:30p as I didn't get her name. Customer Service is less than satisfactory. Thank you for your help.
Barbara Newton, Concord, NC 28025

Rafael Hernandez
from Lake Worth, FL
My name is Rafael Hernandez. I chose Dominos tonight over pizza hut because is closer to my home. I feel I made the worst decision today just for driving closer. I ordered a pizza with extra bacon and pineapple. When I went in to pick it up the bacon was almost unseen. I paid extra, and this happened 2 weeks ago when I ordered. I thought maybe it was just a mistake. The young man who helped me at the time was friendly and apologized. Today was a difference experience. The young lady who stepped to talk to me, was very bold. I asked her, " If this is considered extra bacon which I am paying for, what would it look like without bacon? HER REPLY WAS , WELL LESS BACON. SHUT MY BOX OF PIZZA CLOSE AND SAID, HAVE A GOOD DAY, AND WALKED AWAY. I am very disappointed how I was treated. I am a Retail Store Manager and this is not the type of customer service you give. This was at store in Lantana and congress. In florida. Just east of I-95. I believe is Store# 5169. Phone number is 561-533-0905. Order number # 331966. I ordered the pizza under my nickname Tony Hernandez.
I would like some to reach out to me ASAP. My number is 561-907-0151.

STEPHANIE SHACKELFORD
from Mountain Pine, AR
On the night of 2/15/2018 I used the dominos in Hope Arkansas and used a fund raiser card that was a buy one get one free , I understand that the way the card works is that I pay for the higher of the 2 pizzas I order . I ordered a large meat lovers add mushrooms and onions and a plain pepperoni , I was told the price was 23.88 and when I showed my card I was told the same order was 28.00 something . So I was lead to belief that it was cheaper to not use my card . I have never paid this much for this order in all the years I have been using these cards. but we were hungry and we live a hour drive away so we placed the order and waited our time when we picked up our order we were in a hurry and did not think to check so I made my hour drive home to find my pizza was raw and I had to recook it. this morning I called the store and reported this and was told yes I was charged to much and that this was not the first time it has happed with this employee. But was not offered any help on the fact that it was raw and over charged . I just felt this was something that you might want check in to , because this is the only pizza we eat .
thank you for taking the time to read this
Stephanie Shackelford

Phone ordered Pizza and Wings at Dominos in Shawano, Wi. 2/9/18 picked up after work and was charged $21 + for two items that should have been $5.99 ea. Person who took order was very rude and seemed irritated with order. Usually very happy with service but not this time

diana
from Winchester, TN
I called the Winchester Domino"s on 02/08/18 to place an order of several pizzas. The girl who answered did not act like she had time to take the orders. She kept rushing me. I asked what specials for delivery, "we dont have any what you want? How much are 1 toppings ? "What Kind"?, pepperoni," 13.88 be there 30 or 40 minutes," I would like another," what kind," let me think..."hello you there?" what kind. "Forget it. I called papa johns because they had patience and asked if I would like anything else. Papa Johns didnt act like they were in hurry to get off phone.
I always order Domino's and usually they are helpful and nice. If i am paying for something i would like to get my whole order placed and not feel like i am an inconvenience to them.
The time was around 4:45pm

emerson shaw
from Richmond, VA
Worst service at any pizza place was Domino's last night! Took over 1 1/2 hrs, pizza was over cooked (2) brownies were literally BURNT(see attached pix) and cold as was the pizza. With tip cost me just under $60! I could have gone many places and got a good steak for 2 for the same or less! I want my $60 reimbursed! I deserve it LOUSEY service and PRODUCT!!@!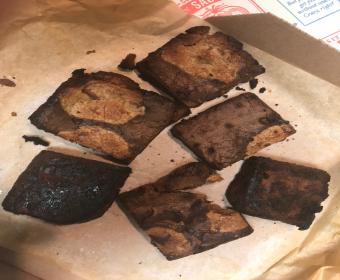 fay goodman
from Nelson, NSN
last friday did not receive delivery of my pizza order $48.97 taken from my bank waswrung and told order went to wrong store and you would refund my payment this has not been done please rectify and return my payment as goods not received thankyou fay goodman phone 035456430 nelson

Brandon C
from Durango, CO
One star is too many tonight. We ordered online, and it came 45 minutes late. 20 minutes after the online tool said it had been dispatched, we called the manager Gabby. She was very rude and acted like she didnt care. Then 25 minutes later here comes a sloppy tall high school kid to my doorstep. I asked him what took so long and he became immediately became defensive and copped an atttitude with me. Because I have had issues with the drivers lying from this Dominos before, I recorded the exchange I had with the kid on my porch. He went as far as to tell me and I quote... "shit happens" when i asked him further about what kept him so long, since my house is not even 2 minutes from Dominos. (I have the conversation if you would like to hear it.) He because very flippant and when he left, he left driving fast and carelessly up the street to Dominos. By the time it took me to put the pizza on the table, dail the number to Dominos, "Jacob" answered the phone. I asked for the manager on duty and I was promptly hung up on. I called back, and Gabby, Who was also not nice, as her tone was a i dont care tone once again, said sarcastically that she would speak to him after she got off the phone... Neither one wanted to give me the number to the boss, nor the name of anyone above them from the store. The first call, we were given a number to a Greg and the number went to a voicemail. These two people were not professional at all... It will be a really long time before we eat at Dominos, and when i cut and paste this on my fb, and ask everyone to share it, I hope they realize that no one appreciates service like this.

Patrick Low
from Greenfield, IN
I ordered 2 medium pizzas with extra sauce online. After ordering, I seen the order details and realized that I had forgotten to put the toppings on the pizzas, and also forgot to put cheese on them as well. After seeing that I had already paid, I felt I needed to contact them by phone. A man answered the phone, and I began informing him of the mix-up. He seemed confused with what I was trying to tell him, He asked me to just order it again online. I assumed that he was going to cancel the previous order, but I didn't want to order it again until I knew that that transaction had been canceled. While sitting at my computer, I heard him asking another person whether they had already placed the order in the oven, which was followed by a yes. He then proceeded to ask me, "So, what did you want instead of the pizzas?" I told him (after already informing him multiple times) I still wanted the pizzas, I just wanted to call and make sure that the toppings were on the pizzas and that it did have cheese. After a few moments, he then repeated the pizzas back to me followed by saying, "we will have it out to you shortly." When he repeated the order I noticed that he did not say extra sauce, so after he was finished naming the toppings I said "and extra sauce." After getting off of the phone I received a phone call from a girl, who claimed that she was the GM of the store, and she said "I do not like the way that you spoke to my employee, you sounded like you were blaming him for the online difficulty. I just wanted to say that was very rude and disrespectful." I first informed her that I did not recall being disrespectful in any way, and I asked her what I had said that was disrespectful. She sounded as if she misread the situation, but continued to throw accusations. After she tried to complete the phone call, by saying that I should come in and order. I told her that I no longer wanted my order, and I wanted it cancelled. My fiance then, went to the donimo's location and asked for a paper receipt and spoke with the manager, who was laughing at my fiance's expense.
We will no longer be doing business with Domino's Pizza due to this incident. We feel it is absolutely unprofessional to call back a customer to insult them with beyond wild accusations, thus ending in a cancelled delivery order.

ms.farnan
from The Bronx, NY
My children called store #3486 to order pizza because I was working late. After 1/2 hr, the children called back to find out how much longer it will be for delivery. The worker left them on hold for 7 mins then hung up. The workers were heard in the back ground saying "f**k her, let that B***h wait. This language & behavior is unacceptable, especially if we, as patrons are willing to utilize your store. They then got in a cab to go pick up the food. When they got to the store the worker refused to service them & even turned his back to the counter. My daughters did not deserve this service, nor does anyone else. It wasn't until they said they would call their brother to address this disrespectful worker, that they were given their order: 10 mins later. When the girls got out of the cab & went into the house (which is only 11 blocks away) the 2 pies were cold & not what they ordered. They were instructed by me to not return to your store EVER!!!!

jennifer ameen
from North Andover, MA
On December 18, 2017 I placed an order through my Domino's app for $33.13 My kids LOVE Domino's and we patiently waited for our order however 2 hours later if finally came and we were not a happy bunch. I watched the app because it told me our pizza was on it's way and we live right down the street. After waiting about 30 minutes I called and the girl told me he was on his way which wasn't the case because we waited about another hour. The delivery boy got to the house and told us that he had to wait for a jump because his car wouldn't start and he never left the Domino's parking lot. Why didn't the girl who answered the phone let us know that because we would have just went down to pick it up because the kids were starving at this point. The food we ordered was cold and my kids were not happy because it didn't taste good. I called back and spoke to someone who I thought was the manager, explained what had happened and they advised I would get a full refund. Well I never got my refund so I made a complaint again and never heard back from anyone. Like I said we order from here a lot but with this kind of service I have been taking my business else where. I will consider giving this Domino's another chance if I get what I was promised which was a full refund of $33.13
Thank you

to whom this may concern,
I'm a long time customer of dominos and currently reside in Stoughton ma 02072 which we would order from your canton Massachusetts store near cobbs corner. literally 85% of the time I order from there somethings wrong. just as recent as last night. placed an order for delivery which I usually pick up because its always wrong. placed order at 730 pm was told a half hour for delivery. I used the tracker on my app to make sure everything went ok.at 7:49 it said it was out for delivery. I live 6 min away. 830 I called and asked where the driver was because food was still not delivered after 40 min on the road. employee stated we are waiting for your wings because it keeps on going out with the wrong orders (which this has been an excuse many times before). so I said I want a new order since my wings and pizza have been sitting for over 45 min now which would be cold , employee Alex said no its still a little warm and ok for delivery. so of the last 7out of 9 times ordered this has gone wrong with food having to be comped for the huge inconvenience. I'm not the only one because when I'm there waiting for my order there is also other people there with the same issue. There is no way this store is going to last with such and under performing staff or something within the company needs to change. good luck with this store because you need it as I don't see it lasting another year. after many attempts of being a valued customer i believe you have lost me and probably many more from the people I have spoke with in the store with the same issues.

Dannie Carter
from Ballwin, MO
while waiting to pick up my order, I watched as a worker prepared a pasta dish.
She was not wearing gloves , This made me ill. The food I was buying only the chicken
was for me, to share with someone else. So I asked ,"Do you not wear gloves?" The casher
without a care said, "no". My concern is ,its flu season: even not its a fast food restaurant, please.
I couldn't eat, the thought of it. I feel even worse not telling the others. They were starving, when I walked in they started
eating. GLOVES are a necessity. Something should be done. This took place at 12317 Old Halls Ferry rd.@9:30pm, my total was 23.75
under the name of Carter. I really believe if people knew their food was being handled like this , they would not buy it.

Your app is awful. Why can't I just go on there and see what is on a specialty pizza? Or price your items? Why do I have to ORDER and say Delivery or Carryout if I do t even know what I want. Major turn off I'll order elsewhere.

todd daugherty
from Kokomo, IN
i order a pizza they made it wrong i call them about it they told me i would mail me a gift card 5 day later about it the manager would not talk to me was told to call the office call the office 10 times left messages never got a return call got a email from a nick lane said he was a gen. manager for Kokomo area said he send too sent one said 3 to 5 day its been 12 day now nick wont email or talk to me i feel its a joke to them and they don't respect their customer only their money

if i cold give this zero stars I would. I had my friend over and she took my phone to call dominos to ask the # for our local pizza pizza because there is no dominos around us, when they answered the phone it sounded like a male teenager. my friend then prosodies to ask what the # for the pizza pizza is and the worker says with a lot of attitude "are you serious" my friend then says "yes we don't have a dominos around us" she then hangs up. about 1 minute later we get a back from your company asking if had found the number and i had answered and said "sorry my friend took my phone" the same teenage male then said "oh yeah sure they did" at this point the male was very rude and then hung up. this is horrible serves.

Janise gallagher
from Fort Lauderdale, FL
The last pie i ordered was the only bad pie ive gotten in a ling time. The crust was super dry hardly any cheese and i asked for extra cheese and mushrooms didnt get any extra the sauce tasted like it wasnt cooked.

michelle
from Goodna, QLD
I phoned 131888 voice put me through to wrong store, i asked for miami & got mermaid which i had know idea at the time of ordering. young male who took my order said 30 min for delivery, after 50 min i then called to find out where pizza was. my pizza was stone cold, didnt taste nice, crust was rubbery, very dry & my desert was hard as a rock i couldn't eat.

michele hearon
from Chicago, IL
I placed an order on 12/13/17 for total of 4 pizzas brownies and beverage online. after I placed order I called the store and requested my second order be delivered to the same main address the female I spoke with said sure no problem. after almost 2 hours I called the store to see what happened to my order, I was told by a manager that they were backed up and my order should be up soon I verified delivery address again. After another 45minutes the driver showed up with 3 ice cold pizzas and 1 pop. I asked where the other order was and he said 'I only have what's written on box and left it at that. he had no customer service skills what so ever. I called the store and again spoke with a manager , told him about the cold pizzas and the missing order, he said he would personally remake the pizzas and find the missing order. (these were already paid for online). After another hour and 15 minutes I called the store and spoke with a different manager who knew nothing about the situation and said the manager I spoke with was gone! She offered no resolution so I told them to refund my money! by this time it was 9p that's 4 + hours, I had to get something else to feed my kids . Nobody at the store has any skills for keeping customers. This is by far the worse experience I have ever had .

Linda owen
from Northampton, ENG
Just had mixed pizza it's the worst I have ever had from dominos I have had better from Aldi or lidl

Chad coyne
from Dearborn, MI
Hi I work at the Monroeville store up on William Penn highway Im only filing this complicate because I had one day left on my 2 week notice and he told me He don't need me anymore because I got a new job and I wanted to finish my 2 weeks and he told me no and for the time I worked there he called me fat to my face and I'm German and he made racist comments on me saying that I should do the Hitler salute to the inspector and say welcome to domino's I felt so disrespected when he did that and at the time I didn't want to have problems at the work place plus he picks on everyone up there if they don't do what he wants he cuts there hours he'll send them home early take away days and make sure they get the worst deliveries thank you for your time and I no nothing is probably going to be done with the GM mozi but he doesn't deserve to have his job all I can say is when Kevin was in charge the store ran perfect.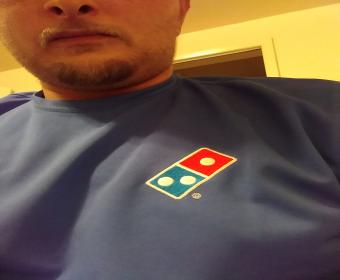 I ordered a pizza and boneless chicken nuggets about 830 pm. Pretty sure it was 8:33. At 9:54 no delivery yet. Called several times. Was told the last time there was only 1 delivery person and she left the store with 10 orders. Crazy thing is I was only about 2 miles from the store. The man I spoke to the last time informed me that his delivery time was around 3 hrs. That would have been nice to know upfront. The overall score for dominos is a 1. Something. It would be lower if people could give a 0. Its not the food. Its the service. If you don't correct this problem. Your business will eventually close. Do you care? People are taking the time to tell you. What are you going to do about it? I won't order from you ever again. Sorry if I have typos my vision is bad, and I still sent this to you. PLEASE do something to correct this! Is customer service a thing of the past? Surely not.

Mario campos
from Mission, TX
I placed an order at 12:20 and was waiting for the food: pizza and pasta. It was already 1:30 and called the store and food was still at the store. The reason they gave was that they didn't have enough drivers and that it will take them 30 minutes to deliver the food. I cancelled the food, very poor service. Store number is 6585 in Mission, Texas. My order: 1088421 under Mario Campos.

While back it took over 3 hours for a very rude delivery driver to bring our pizzas so I asked that he not deliver to me again. This evening I tried to order from the wellston store again. The manager tells me that the rude guy is the only driver. So I said he could deliver my 3 pizzas if he could be on time and not rude. I was then basically told NO. She told me I would have to come pick them up. Since that's not possible I asked 4 him 2 deliver 2 b told NO. Lost the business of a family of 14.

Sameitha
from Las Vegas, NV
I irder a large cheese extra cheese they charge me eighteen dollara an brought me a mediyn cheese pizza qith no extra cheese . i ask the delivery guy qhata this. He replied i dnt kno i aint a cook. Rude. I gave him 20 bucks for a med cheese pizza qhen i turn around he was runnun to hus car. No change. He kniws a med pizza is 6$. No change an he didnt ask me did i need change. I am so disgusted.

rosie enriquez
from Los Angeles, CA
I got a text on my phone 3days ago.telling me I had enough points for free twist bread.Today I ordered 2 med pizzas on line,i called and explained about my free twist breads the worker said ok we will have them ready when I pick up my pizzas.i went to pick them up and the worker said he didn't know what I was talking about. another female worker ask me questions I explain AGAIN she looks on her register and she says well I guess if you say so you can have them but it will 20min.i told her what the other worker said about them being ready and she said well like I said it will be 20min I was very upset if your not going to honor the free bread then stop sending me text.i am very disappointed..been a regular customer but not happy with service lately.
Have feedback for Domino's Pizza?
Thanks for your feedback!
Sorry. Please try again later!