Woolworths
Contact Woolworths Corporate
Toll free phone number: 1-800-638-434
---
If you are a Woolworth's customer with a complaint, use our free feedback form and let us know what happened. Another great way to reach the company is by sending a quick email to customer service, using the address feedback@woolworths.com.au or shoponline@woolworths.com.au.
Woolworth's does have a customer support number and contact info section under the FAQ and help website, but it is difficult to find. You will have to look on the left hand side of the page to see the link to the contact phone numbers. If you do want to call the Woolworth's customer service hotline to report a problem, the phone number is 1800 000 610 and the best time to reach them is Monday-Friday 6am-12am. It seems like rather odd hours for a customer hotline, but you might still give it a try.
Woolworth's has a fairly active Facebook page if you would like to post a complaint there, but they are not yet active on other social media accounts like Twitter. Like any social media post, make sure your feedback is honest and detailed. Some customers choose to write a letter to the Woolworth's corporate mailing address at GPO box 4535, Sydney 2001. The Woolworth's CEO is Grant O'Brien.
Woolworths Contact Information
Report complaints to corporate and get satisfaction
Woolworths headquarters address

Company website

1-800 phone number

1-800-638-434

Support email address

feedback@woolworths.com.au

Better Business Bureau rating

A
Browse reviews of other Supermarkets
Top Woolworths Complaints
Browse more than 688 reviews submitted so far

Mark Phillips
from Sydney, NSW
Homophobic staff vilified me as a member who was also encouraging a member of the public(friend) to also engage on this behavior. This violates your staff code of ethics. When I complained to the manager she told me that she was gay and had no problems from staff. Implying that i was making it up about staff treating me differently. She told me that she would get back to me that afternoon and i am still waiting to hear from her 5 days later. This is professional mismanagement from your manager and the Woolworths corporate team should hear of this. I managed to get a photo of the customer but the staff member quickly ran out the back of the store.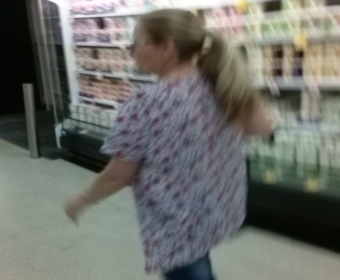 Shirley Bold
from Perth, WA
I am a senior with little money, but i started to collect dominoes. I was told today that the promotion is ended. The promotion is said to go from 4th March to 14th April, it is only the 7th April today, our store in Wellard has not had any dominoes for at least 2 weeks, and i still need 16 to complete the set of 44. I purchased the collector box but now can't fill it, shame on you Woolies.

I am very upset that I got email from Woolworths saying that my email had won a $1000 voucher to spend in store. I had to make a phone call go number and enter to claim. But it wanted a survey. I just hung up, a big wast of time. It was so upsetting because it gets your hopes up and it is a big take. why tell people that they have won and then let them down.

wendy hill
from Canberra, ACT
I have a major concern about the Queanbeyan Woolworths. I have had a gut full of complaining to them they look at me as if I'm dumb and try to tell me they are unaware of the times. On the 3/10/16 a public holiday the trucks came in at 6:30 am this is totally unacceptable I work five days a week and enjoy my sleep ins. This has been happening so many times I am just sick of complaining to them and they do nothing but continue to not stick their opening and closing times. I really hope you can sort this out. Today the truck reversed in at 5am though they opened the roller doors at 5:55 they have to make the trucks wait at the gate and not reverse around the side of the building. Also the sign has no limit on when it can open on a Saturday please let me know what are the hours on a Saturday.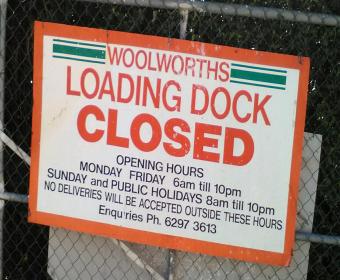 I am disgusted at the amount of money I pay for your so called fresh food, for it either to be shocking the day I buy it, or for it to look okay in the shop and then the next day it is rotten. Yesterday I bought a few bananas, and went to eat one today, only to find it was all mushy and rotten (even though it had been firm the day before). It took less than 24 hours for it to be rotten. This is not the first time. I buy lettuce very regularly, and every single time, the price is ridiculously high, and the lettuce is tiny!!! once you take away the bitter leaves of the lettuce, hardly anything is left. I cannot believe it costs that much for the tiny vegetable. Another fruit I am very displeased about is the apples. For months pink lady apples were terrible and bruised and flavourless! I decided to start buying granny smiths but then they began to have mould growing inside them, and I wouldn't find out until I cut it open. I have wasted so much money on your products and I am sick of this so called freshness. It is not fresh at all and Woolworths need to fix this. If you don't do anything about this, make a new slogan, because that is false advertising!

Robyn Courtney
from Sydney, NSW
I went shopping on Friday 22nd January at 7.30am to Woolworths Richmond NSW. After I had purchased all my fruit & vegetables I headed to the deli section to buy some ham, there was no-one around to serve me but I noticed a woman off to the side of the deli section who was placing chickens in bags.
She was not wearing gloves though she was using tongs to place the chickens into the bags. I then witnessed this same woman tearing off bits of the cooked chicken & placing those bits in her mouth then licking her fingers before placing the chicken into the bag. I witnessed her do this with not just one chicken but three (3). I will NEVER be buying any cooked chickens from this store again. Had I not been so horrified I would have thought to film her behavior. If you wish to contact me regarding this my phone number.

Karen Jakavicius
from Brisbane, QLD
Today I received my online order and all my cold stuff was off. I contacted the online department and they have issued me a refund on the off items. I had been ordering on line for a while up until a few months ago when every time that I would get me order the cold items never felt cold enough, so I thought I would try again as it is convenient for my family, unfortunately it will be the last time I will be using it as even though a refund has been given I now need to go to my local woollies which by the way I dislike going to as there is never anything on the shelves and never enough staff working and we seem to get all the crap when it comes to fruit and veg.
I really think that you need to look at the cold side of your trucks or make sure that all the cold stuff is kept in a refrigerated compartment in the truck. I have added the photo of the milk carton when it was received it was blown up (the way they go when they are off) the photo isn't very clear but you can see that it isn't the same as the other one, all the chicken was very smelling. I think if nothing is done about this problem you may end up making a lot of people sick.

S. Butler
from Brisbane, QLD
I purchase the Classic Marinated Roast Beef on a semi-regular basis and usually find that the cut of meat is a silver-side roast. However on carving a rather large roast tonight, I found it to be not one cut but a collection of off cuts 'glued' / welded and rolled together. This was obvious by the meat grains heading off in all directions plus encasing an extremely large amount of fat in the center of same. Looks like my expensive roast was a collection of the cutting bench leftovers netted together. Extremely disappointed Woolworths.

Hunter
from East Minto, NSW
In the morning around 9 o'clock 28 August 2016 I went shopping in Woolworths Cabramatta, I went in with the chemist I purchased two days ago from Chemist Warehouse because I wanted to post overseas. I did not notice the sigh at the entry. When I checked out the shop manager asked me to show her the docket. I showed her the docket but she confiscated four items, I said they are all on the docket list, I showed her then she returned one to me, I said there were two dockets the remaining three items on the other dockets, but she said, "I don't care". I called police and showed the other docket to the security then I got my items back. I by mistake brought my staff into the shop without notifying them but she did not want to resolve the problems but we ran into big argument. She and the front desk lady manager are not fit for their positions. I was very angry by the way they handled the problem.

Kevin Skinner
from Bundall, QLD
We had a problem with Masters regarding a return I wont go in great detail.We considered we were right so sent letters to managers of Woolworths head office in Brisbane and Melbourne some 2 weeks ago.Got a call from Brisbane from some one that had no interest in what we were saying and asked were should he send the letter. Nothing from Melbourne it appears that they don't even reply to good customers. The upshot was unless this problem was fixed in some way we would not be shopping in any Woolworths stores the value was $34-00 so that was not the point. How ever Masters finally fixed the problem but as both head offices showed no interest in our complaint and one did not respond Coles is now our shop in both food and fuel.

My self and quite a few other customers were looking for a certain Easter egg, that was in a Woolworths catalogue witch was due to start on Wednesday the 1st of April 2015. That is today and todays date. We approached a Woolworths staff person and asked where we could find them,( Woolworths select chocolate hollow bunny 125gr 90C each ), she then told us they went on sale yesterday, yesterday was Tuesday the 31st of March, and that they had sold out at 10am, this is false advertisement, there was quite a lot of upset and hurt people, I then went to the check out to get my purchases, asked for the dominoes that I am collecting and was told they had no more left and weren't getting anymore in. I am very disappointed with Woolworths, as I haven't got all the dominos ,I paid $5 for the album to put my dominos in now cant fill it I have around 60 domino that are all the same, the same thing happened with my Shrek. I no longer have faith in Woolworths and I will let all my face book friends and family know, I also am considering on going to another supermarket that don't have false advertisement. I am a very unhappy customer,

Peter Davis
from Fairfield, NSW
I am a lacto vegetarian but our household also eats seafood. Because we have no shops within many kilometres I buy frozen prawns, squid and fish in multi kg packs. Often two or more if on special. I ask sales assistants if they have larger packs out the back not "thawed for you convenience" as those are useless to me. These packs clearly state Nett Weight which of course means dry weight before packaging.
In the past your assistants weighed a package marked 5 kg Nett Weight and tried to charge me up to $16 extra for packaging weight. Most staff including many managers were (and still are) oblivious to meaning of Nett Weight. This often caused embarrassment to me in front of waiting customers when I stood my ground against being ripped off. I was told one time to "take it or leave it". Some offered to unpack the contents from its thick double plastic, cardboard box and strapping which I prefer remain intact to ensure more secure freezing at home. Even when unpacked they would charge me 0.2 or 0.3 kg extra for the accumulated ice crystals. I accepted this extra charge frequently through sheer necessity.
I complained to you over 8 years ago that I was being regularly overcharged for these bulk frozen seafood. I was sent an apology and voucher with assurance the problem was fully rectified and would never happen again.
It did though and often. Then I stopped using Woolworths altogether for some years after finding new Manager at local Windsor store to be an extremely arrogant, very tall football type bully. I had asked to see him after still being overcharged repeatedly he said he had never heard of any such directive from above on this subject and that I was talking nonsense when I pointed out consumer affairs had imposed huge fine on Costi Seafoods for similar practices. I didn't go back there and made sure friends etc online were aware of the Woolworth's malpractice. I found many other Woolworths stores to have the same problem on our holidays in QLD, VIC, ACT and other areas of NSW.
I recently went to Windsor store again and encountered same problem but didn't call manager. Explained again to staff the meaning of Nett Weight and described previous manager behaviour. Shocked and said they didn't remember one fitting description. They then used five I kg packages of dried goods in place of Box of prawns. Label was still about 4% heavier than 5 kg net shown due plastic wrappers, but I paid.
I suggested previously that you need to better train staff and supply a set of 1 2 & 5 kg weights for complete accuracy on pre packaged goods. Our lost custom over past few years would have paid for a gold plated set. It would be less expensive than loosing so many customers. I will be copying this complaint to consumer affairs as it really annoys me that you still let this unfair practice continue after so many years.

Susan Greenwell
from Sanctuary Point, NSW
I am writing to inform you of an item that was listed in your catalog that went on sale on Wednesday 28 October 2015 page 11, it mentioned that when you purchased zooper dooper cosmic flavors 24 pack you would get 2 free tube holders, when I purchased this item on the 28 October 2015 at the Woolworth's Bega Store I asked about this offer and they informed me that they did not receive these items, then 2 days later I entered the Tura Beach Woolworth's store to again be told that they did not receive this item, my disappointment was that my children were quite excited to get these tube holders and to be told by 2 stores that they were not available was not good enough that is why I am sending this email, I don't normally complain however in this instance I have a sound reason to, firstly for the advertisement in your brochure that took up half a page and really stood out and secondly not even being informed that someone would look into this for me, we shop at Woolworth's department stores all the time and purchase quite a lot of zooper doopers especially over summer so I would like an explanation as to why you would advertise an item for 'FREE' and not provide it. I look forward to receiving an explanation, what would you like me to tell my children?

I am really ticked off. I went out of my way to do my shopping at Woolworths today in order to collect Domino's in the hope of getting the ones that my little cousin is missing. We have managed to collect a full set for my grandson. I thought "Great" now I can shop wherever! What? NO DOMINOS! NOT HAPPY. I asked if I would be able to claim them when they came in. The young girl just shrugged and said "Keep your receipt - jut in case" - Just in case? What does that mean? I wouldn't have minded had I been warned before entering the store. A sign would have been nice. All the promotional crap is still on display. NOT GOOD. I wont be falling for your "Collect some more junk" promotions again. I know I sound nasty but I am really annoyed. Thank you for taking the time to read my gripe. Normally I would have given the Carousel store a 5 star rating BUT not today.

Noella Bloomfield
from Perth, WA
Sorry Woolies I am getting sick of the quality of meat that is being provided, tonight it was round steak that when I was cooking it produced a full 250ml of water, yes I measured it. Once a week its the skinless chicken breast, I buy 1 and half kg that I still have to get skin off, cut out gristle, cartilage and veins, losing about half a kilo in the process. The whole reason I chose to buy the skinless breast chicken is so I don't have to do this as I am a busy mum. I have taken photographs to support my complaint. It's not good enough, I really think its time you look out your outside distributor of your meat and poultry products as if the standard does not change I will be forced to shop else where for these products just as many people already are.

We shop at Woolworths for several reason mostly due to the kids wanting to collected what ever is being given when you spend spend and spend some more. The last week you have no dominos to give in any store. If you have kids you would know what its like and the disappointment on their face. UP YOUR GAME WOOLIES!

Dr. Patrick Goss
from Hobart, TAS
My wife is disabled and wheel chair bound over past 4 years we have shopped at your business in Legana and always have found difficulty getting through this stores check-outs. Today, Thursday 8th September 2016 near to midday I had cause to walk away from check-out leaving our basket of groceries on counter. My reasons for this are two-fold-- firstly the operator of this particular checkout disregarded my wife and self to continue to inform another customer on shopper application form rather than direct this person to the Information desk.
Secondly because aisles are narrow between opposite checkouts there is not enough room for my wife's wheelchair and the other customer's trolley hence this other customer became abusive towards my wife. Sorry you pick on my wife you pick on me for my darling wife did not ask to be disabled-- so understandable I became irate and leaving our basket of purchases on the counter I walked out pushing my wife from your store vowing to never return. After further discussion with Woolworths Legana senior staff we, that is my wife, Myra, we re-entered your store and purchased previous selected articles leaving store thanking Senior Staff.
This not the first time we have had this problem in this particular store over the past four years. I am 80 and my is 76, I am my wife's Government designated carer. This world is for all- the young--the old and the able and disabled. I am a Doctor.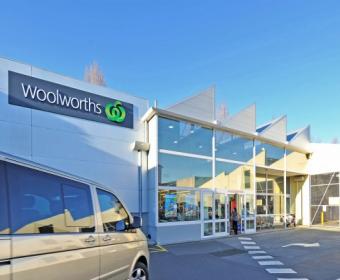 Denise Haldane
from Hawthorn, VIC
Today I went to my local Woolworths here in Colac and decided to get a blue swimmer crab based on the emphasis that they were advertised as FRESH. To me, for crab to be fresh it means it must have come in that mornings delivery. I asked the girl serving I she could confirm when they arrived. She couldn't nor could anyone else begin the counter.
Being such a precious and possibly volatile creature, I just presumed Woolworths would serve FRESH if the description said fresh and given the lack of knowledge behind the counter I decided to trust your brand and its protocols and buy. I also got some marinara mix and was set to have a feast with a couple of friends for dinner. When it came to taking it out of the wrapper it REEKED of a gnarly rancid fish smell.
I knew it was bad but I continued to see just how bad. Taking the back plate off I noticed the tell tale black lines around the edges of all the shell compartments. I took off the plate and instead of a delicious pink and firm liver etc it was black...black and runny with green slimy throughout. It was one of the most foul and disgusting thing my worldy eyes and nose have had the misfortune to meet. Needless to say, there was no dinner. Once everyone helped me clean that up, no one was game to eat the marinara or anything at all from my kitchen tonight.
Blue swimmer crabs are a rare thing here and that's why I wanted that little bit of crab meat in my dish. And might I say, when the marinara was unwrapped, although it didnt stink, the mussels had been sitting around in the fish juices so long they literally disintegrated between my fingers. I cannot express to you how disappointed and embarrassed I was. And can I add, this is not the first time. There is seriously something going wrong in that fish department. I have had to bring back prawns and fish fillets for similar reasons.
Frankly, I'm done with the fish dept. at Colac Woolworths. I bought these today in the late morning. Someone should have checked them for I they did, they wouldn't have been able to put them out. Is it the lack of knowledge of staff to identify the tell tale signs of bad shellfish? Are they educated about smell, black lines, grey meat? Is it a temperature problem in the case? Who's checking it every day, a few times a day especially in these successive hot days? Is it delivery refrigeration?
Is it laziness in getting it out of the truck? All these are possible factors and considering it happens more often than anywhere else in the store, it really should be looked into. Meanwhile, I have had a crap night thanks to this scenario and as I said, thats it for me. One loyal customer exiting the fish deot post haste. Thanks for taking the time out to read this and I look forward to some kind of response soon. Kind regards, Denise. (photos attached)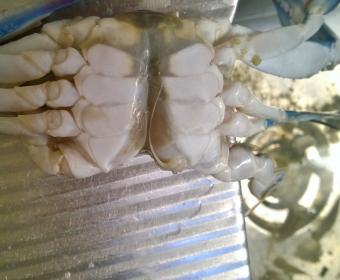 Glenys mccarthy
from Melbourne, VIC
I Shopped at Canterbury gardens Woolworths in Melbournes outer eastern suburbs the other day and purchased a 2kg pack (24) of the WW barbecue thin sausages. I have been buying these for over 20 years and a loyal customer of yours for over 40. In the last month at two different stores the quality has been discgracefull. Dry, tasteless and hard, obviously something has changed. If so will this be an ongoing thing? Would quite happily do my shopping elsewhere if this continues.

Ms Josephine Mueller
from Perth, WA
My complaint with Woolworths Store in Kelmscott, Western Australia is firstly the amount of choice is very limited (other customers agree and have "moved on" to other outlets, the meat is thoroughly tasteless and tough! Secondly, your recent Dominoes promotion I have dutifully spent, to gain the dominoes for my grandchildren. Last week, I should have received 11 dominoes, but was told, the store was "out" and the cashier signed the receipt and said, try and redeem them next week - good naturedly I accepted this, only to be dismayed this week - the receipt says I should have a further 6 dominoes (total 17) but the cashier said "all finished, no dominoes - see they are swapping outside the store"....
I went to the service desk and asked for this complaint to be escalated to the Manager, the operator was red faced and said, there was nothing to be done (although she did offer to call the Manager, which I declined) - as no dominoes available!!. I replied that Woolworths have made a "killing" out of this promotion, what with the parents and grandparents spending to get the dominoes, plus, buying the merchandise and this in a way was false advertising on Woolworths part and that this always happens and people will get well and truly disillusioned with the promotions and vote with their feet as many have already. Why is the Kelmscott store being downgraded in oh, so many ways?

connor
from Clearview, SA
I have worked for Woolworths for 7 years, I finally decided to quit. When I first started I enjoyed the job, however in the past maybe 3 years, it has been a nightmare. Budget cuts occur so frequently, leaving people with less hours and full and part-timers being bullied into taking annual leave and even going home sick as annual leave and sick pay are apparently not paid with the stores weekly budget. Managers are so mental unstable, they would cut your hours and then expect you to stay back in your own time and not take paid teabreaks. The company would treat you like crap, but then expect you to give back so much. Hence why the store aisles always look like absolute crap, aisles used to be completely faced, nowadays may one or two aisles would get faced.
Also the company treating there employees like sh**, does make the employees feel happy and hence why the customer service is never there, and if you do get decent customer service at woolworths, you must have donated a limb or something. woolworths no longer give a crap about there employees and the SDA union is absoutely useless they wont even stand up for you, they have no balls. I now refuse to shop at woolworths or coles, i would prefer to go to foodland and pay the extra $20 a week on groceries than support, what should be classified as worse than the nazi's. I will never step one food into a woolworths store, unless i could was allowed to use my force inside the shop. I urge people who want customer service and who do not want to be raped later, when all the independent people have shut down and woolies and coles are the only supermarkets left.
I have heard of atleast 7 managers walking out on the job over the last 6 months, and others are desperately seeking other employment. no longer are employees treated as a person, they are treated like a number, as woolworths know they can fire you, and have somebody else, waiting to be employeed. it is an absolute disgrace, it is certainly not australian, its sounds like a dictatorship to me.

Treat your staff better, treat your customers better, don't try and hush your staff up about the poor condition of your meat, don't leave pallets of chicken mince out in the sun on there own. Pick up your game Woolworths.

mark jones
from Sydney, NSW
if you spend over 20 dollars you get the latest dinosaur cards, but not if you spend at the cigarette counter...your refused because you smoke, your made to feel like your scum..its ok for them to sell the product and to take your money and make a profit but you are not allowed the rights as other customers. This is discrimination and they deserve to be taken to court over this matter, this was at he Moe store and every local gippsland paper is going to hear about this. Woolworths you are a greedy disgusting company, it is not illegal to smoke or to sell the products so you have no right to humiliate and degrade people who have spent money in your store, my money is as good as the next persons and you take it readily, there is now a small boy who hates you as much as I do......I will not let this matter drop.

Bought your so called scotch fillet steak, we could not eat it. I am an excellent chef, but this steak was appalling. Your butcher at the Busselton store should be reprimanded over this. All the steak is good for is cooking it up for the dog, if he is able to chew it. A response would be appreciated but from what I have read I will not hold my breath. I very rarely shop at Woolworths as I find all your products very expensive. Love Coles real value and good customer service.

Margaret grima
from Saint Peters, NSW
I haven been a Woolworth customer for many years. My complaint is about the dominos folder. I have been asking at the store for about 5 weeks to buy one and they keep on telling next week next week. Now 2 days ago I was told that they don't not have any more and won't be getting any in, so now I have a very upset child as she doesn't have a folder to put them in. It has cost a fortune trying to collect all of them, and now have nowhere to keep them. If Woolworth is going to do something like this they should make sure that they make enough! You cannot advertise one thing and then you don't supply, very disappointed.

Metin Demircan
from Yarraville, VIC
I have been a loyal customer to Woolworths, to the Ararat Woolworths, for over a decade and so have many of my friends and family. Lately in the past few weeks and months, every time I go in there it is filthy. Every department looks horrible, shelves are empty and not everyone but a very large majority of staff particularly management,  their uniforms are so dirty and they absolutely stink. It has come to my attention and also to my friends and family that shop here and also to many other customers that shop there, the assistant store manager Chris is an absolute asshole. He knows nothing about customer service and how to treat people. His loudness really makes everyone feel so uncomfortable and he disrespects and insults his own staff whilst there are customers around him. Is this the professionalism of a manager that works at Woolworths? He likes to verbally belittle, bully and harass his staff and also a lot of great workers have left because of that asshole! He also swears a lot too especially in front of customers! When customers ask him something he just gives the shortest and blunt answer and the customer walks away regretting that they asked him something in the first place. There are many many wrong things I have seen him do, there is too many too list so I can't name them all.
Everyone is sick of him and all this bullshit with him it is happening too much lately and he acts all smart-ass to whatever is asked to him and he acts like he owns the entire woolworths company. Now as I said I have been a loyal customer for well over a decade and I spend at the very least $400 a week and my friends and family each spend a lot more than that a week. Now because of this asshole, everyone i know and myself who shop there regularly, will no longer never ever again go into Ararat Woolworths. We're all just going to go somewhere else like IGA or Aldi, there's plenty other supermarkets here and I will be telling other people also to not go and shop there at the Woolworths. Because of 1 germ, you are losing hundreds of customers and tens of thousands of dollars. And there are so many other people I know that hate him and wont shop there and won't go in there purely because he is there. Now because i shop there very regularly (not anymore) i would easily notice when something in the staff is different, it is easily noticeable when the staff and particularly the managers work harder because then straight away all the customers know that the higher bosses of this store are coming and they're trying to make it look good so they can cover their asses and make it look as if they're doing something.
If my complaint gets read by somebody important and by somebody who actually cares about the Woolworths store in Ararat and also for the future of this store then please as a higher managers DO NOT tell them when you guys are coming! Just come unexpectedly without notice and then you will see the true face of the store and how rubbish the store truly looks and you will see what we as customers walk into everyday.  It is not alright for that prick to bully his staff, let alone do it in front of customers. I don't understand whether he gets enjoyment from that because he seems really mentally sick and fucked in the head. Please, somebody has to do something about him because he is absolutely fucking up that stores image and giving the Ararat Woolworths a shit name. Please no one go and shop in that store.

Athena
from Johannesburg, GP
Went into Woolworths to get some dinner however no stock of soup. Your Breyani, told me the delivery did not take place. Ended up buying the Durban style chicken curry.
How disgusting! The potatoes were hard, and there were so much tomatoes. Terrible! Cannot believe Woolworth's would approve such a product. Woolworth's needs to be better at deciphering what products they keep on their shelves!

Anne Johnson
from Sydney, NSW
Yesterday at approximately 5pm I bought a bbq chicken which had been put out at 3.50pm. Store 1063 cost $11 barcode 0270149 011 001. I cut the chicken about 5.45pm, it was not fully cooked and the flesh was pink. Put in my oven at 180 degrees for 35 minutes until it reached 87 degrees C on my thermometer (the recommended temperature for chicken). I think the oven at your Forest Way store needs the temperature checked to make sure it is accurate and/or lengthen the cooking time to ensure that the chickens are properly cooked. Not impressed.

I am currently still awaiting the 'promised' call from the 6 July 2016 from the Business Team for Woolworths Supermarkets since a carton of milk leaked all throughout the boot of my car on the 5 July 2016. I have since made 3 more calls to the Contact Centre but to no avail. What is their problem? Such a big Corporation but with such poor communication skills. Has anyone out there experienced the same experience from Woolworths Supermarkets? If I could give them 0 stars on this site I would for sure.

Pamela Hawkins
from Durban, ZN
I purchased some items at the Seadoone Mall store in Doonside KZN. I presented my account card to the cashier who subsequently rang all the items up and once complete she handed me my slip and said I was not required to sign and I could go. I found this rather strange as the option of using a pin number is not available and she did not know whether I was actually the account card holder. I asked her since when the procedure had changed and that how did she know it was me. I could be anyone . She did not reply but began a frantic search around her . She could see I was not going to leave so I asked her again as to when the procedure had changed, She finally replied that it had not changed. So I once again asked her why she told me I did not need to sign?
She finally answered and said that she did not have a pen whereafter she suddenly produced one for me to use. I asked for the Manager of the store and the cashier pointed to a lady that was on the phone behind her. I waited for quite awhile and her phone call never ended nor did she acknowledge my presence. It appeared as if she was busy with a personal call. This store has not offered the service that they used to when I first moved to KZN which is only two years ago.
Often they have no stock of items and long life milk for sale is normally very close to the expiry date and the packaging is damaged in some way or another. Normally handles are not able to be used or box itself is soft and damaged. I am continuously asked whether they can raise limits and am a very loyal customer. However when the client becomes a hinderance to the employees then I guess its time to move to a different retail store that offers quality and friendly service. Very dissatisfied with this shopping experience to say the least.

Julie McCallum
from Kallangur, QLD
I am sending this as I can't afford to keep throwing out food that I have purchased from various stores in Brisbane only to take it home and it being off. I purchased about 3 weeks ago yogurt from your Cannon Hill store and when I went to eat 1 of the 6 pack the next day it had a very funny taste to it so I threw that one out. I opened a second one and the same taste to it as well. I purchased 2 x 6 packs of yogurt ( different varieties) from your Park Ridge store on the weekend and I have had to throw out one lot of the 6 pack as this had curdled. I didn't ring the store as I had already thrown out the receipt. I have shopped at Woolworths for years and would like to continue but as I said in my first sentence I can't afford to keep throwing it out at $5 a pack. This adds up over time.

Sueanne
from Melbourne, VIC
I want to share my frustration - I have a Coles within walking distance to me in Cranbourne, however as my 4 year old is in to the new Disney Dominos so I had to drive out of my way, battle for a car park only to find out when I finish at the checkout that the store has no dominos.....if you are going to run a promo like this make sure you have stock. The staff couldn't give two hoots, some customer service would be nice....sorry we are out but keep your docket and come back when we have more would have been enough...but NO.
I then had to deal with a 4 year old tantum for the next 20 minutes as he had been waiting all week for these. Not only that most things I purchased I could have got cheaper at Coles. This may be a minor thing that you wont take any notice of, but let me tell you I will be thinking twice before going out of my way to shop at one of your stores.
Very disappointed customer!

Roslynn Parkhill
from Penrith, NSW
On Saturday evening we stopped at woolies seven hills to pick a a handful of groceries. At the express checkout we were distracted because the girl who should have been monitoring this section had wandered off. We wanted our dominoes we collect for our grandson. To this we left two items in a bag at the express checkout. We went home noticed drove all the way back. The girl on the service desk probably the service manager on duty told me I had not left the groceries. How dare she brush me aside we did not drive all the way back for no reason. The other girl said too bad nothing she could do. Now I know it's not your fault we left the bag but if the girl was in position she may have noticed. Obviously someone took it. To be dismissed like I am lying is such bad customer service. These people are the face of woolworths. We have shopped in that store for 36 years. Probably going to aldi or coles now in the same centre. Train your staff with good customer service skills. Very disappointed and probably not coming back to your store!

Hello I shop for 2 families and spend heaps at this store as u would see with my orange card which I do not use half the time but it will give you some idea.I also shop at coles and aldis so I spend $$$s.I never get any of the promo but today I was so upset with Miller staff I wont be shopping in woothworthless again.You have lost a good customer and others that use this shop will no longer shop there.This may sound petty but this annoyed me to the max.I went today to miller at the checkout a lady in berka was being served she bought a small amount of items 4 items or so and the checkout lady gave her change and a handful of the dominos the lady was very grateful.I bought $100 worth of shopping got asked at payment if I wanted the dominos and for the first time ever I said yes that would be nice and she handed me 4 after I SAW HER GIVE A LARGE HANDFUL.I stood there and thought that's not fair I went and asked 2 girls at the cigs counter one I was told was the manager and all she was interested in was who the person was .There was only 2 on the checkout.You would think they would be obliging and say positive things instead they where like big deal she gave heaps to other and u 4 keep your orange card and the staff at miller are pathetic lazy and dirty shop.Aldis is my new shop now.

The so called "FRESH FOOD PEOPLE" slogan is NON EXISTANT!! Especially when it comes to the fruit! I have been shopping at the Chullora branch for over 10 years and rather than improving, it is getting worse and worse. In the past 5 weeks I have been buying royal gala apples as they are supposed to be in season. Now by being in season you would think the apples would be hard and crisp but this is not the case. 2 out of 5 apples that I have been buying are absolute CRAP! They are chalky mushy and tasteless! its as though they have been frozen then thawed out. This has also happened to me previously with the Pink lady apples. To me, this is false advertising as there is nothing "FRESH" about a frozen and then thawed out apple. I am sick to death of getting ripped off by this very large company! and I will not be buying anymore fruit and veg from woolworths anymore. They should also call themselves THE FROZEN FOOD PEOPLE!

I was in the store early Monday morning on my way to work and I noticed that one of the female employees in the front desk with blonde hair
was very rude and abrupt towards another female employee. It was very unprofessional and made me feel uncomf0rtable while i was doing my shopping. She has served me on numerous occassions and it seems to me like her attitude to her work is giving a negative vibe to the woolworths brand. Since this person is behind the front desk she should always look and act professional towards her employees and customers.

Linda Passingham
from Sydney, NSW
I went into Cumberland Park, SA Woolworths yesterday to buy groceries and tobacco. I requested a pouch of JPS tobacco at the checkout and paid by card. I was in a hurry and foolishly, neglected to check docket while still in store. Once home I opened the tobacco and realized it was a very similar packet but not the JPS I had requested but was Winfield. Consequently I had been charged an extra $5 and could not return because it was opened already.. I am an older, single woman on Newstart. Money is short and I can do without service staff who pay no real attention to what you ask for. It is only a week since I had to return to that supermarket for a refund because I had been incorrectly charged. I can only hope your people actually read this at least but I don't actually believe anything comes of making a complaint.

Richard Parsons
from Canberra, ACT
On paying for petrol, I presented my Amex card and was not advised that this now carries a surcharge, a fact I only discovered later on checking the till slip. My complaint therefore is twofold, a) that a surcharge was levied and b) that I was not informed that this would occur.

Derek N Lyle
from Perth, WA
The Kalamunda branch of Woolworths has a problem with shopping trolley collection. On occasions, at least once per day, the trolleys are left all over the car park in a most random, untidy and bogan manner. The effect of this is to prevent people (customers), from being able to park to go shopping. It is also impossible to walk along the paved area due to the number of trolleys simply left there. The effect of this is to deter both myself and other customers from entering Woolworths in order to spend money.
I now do the bulk of my shopping at Coles which is approx 2 km away. It appears that the old saying that the customer is always right has disappeared and has been replaced with the need and greed associated with today's larger businesses. It should possibly be remembered that the customers actually pay Woolworths and your business advisors don't. Indeed, it is suspected that Woolworths pay their advisors (possibly lawyers and accountants) reasonably large amounts. At the end of the day, do you listen to your customers or ignore them and listen only to your paid staff ?

Kime Wilson
from Glenwood, NSW
Hi my complaint is with Woolworths Nowra in Stockland. Every time over the last month there has been a mistake on my docket and every time a get a grumpy girl with a false smile if a smile at all making be feel like Iam cheap for complaining.
You have to remember this is all in the last month I am disabled so waiting every time hurts. It is never less then a 5 minute wait today 15 minutes. First time scale were out so my shop come to nearly 100.00 dollars more. My water melon was over 50 dollars tomatoes 25.00 and so on. They refunded me after re-weighing every item then charging the right price.
Next my husband buys 3 boxes of Pepsi max get charged over 90 dollars they have a sign on saying 15 a box. They refund then recharge. Freddo frogs got charged full price for each four packet's this time refund with a packet for free. bbq chips maxi got charged over 3.50 a packet but on sale for 2,15 got refund and one packet for free. Tin of milo this time was on sale for 8.00 got charged over 10 dollars.
12 pack of pepsi max got charged 15.00 a packet price was 5.90 got refund. I have always shopped at Woolworths but am getting stressed what if I am missing some I am on a pension and every cent counts and what of all the others out there getting ripped off. When I go back to get my money they should show more respect and not make me feel so bad about it yours sincerely a very unhappy family that shops at Woolworths

Nomkhosi Hlongwane
from Johannesburg, GP
I have an in store card with Woolworths and I fully paid the account. Also wanted them to remove my name on credit betray and to close the account. I paid R1500 via EFT only to find out that I was owing 1370. I was promised by Woolworths that they will reverse the difference on my account I sent the statement to them it's been more than 2 weeks with no response. I'm very disappointed with bad service from Woolworths

rex travers
from North Tamborine, QLD
See Woolworths are considering putting off 400 staff a couple of suggestions to maybe avoid this 1. Out of stocks you cannot sell blank shelves, my local Woolworths Hermit Park Qld is a great location but poor stock control 2.Have stores do an out of stock report daily and send to HO you will see problems we face. 3. Get the Managers on the floor especially at checkouts occasionally to watch how the customers suffer with poor staffing at registers 4. Side stack and off location displays put fast moving stock in these areas not slow movers to relieve the shelf holdings. But no stock on shelves is the biggest problem.

martin fitzpatrick
from Baldivis, WA
I have been collecting domino stars from my local Woolworths store and now find that the promotion has come to an end. My daughter is 9 short of the full collection,she also has over fifty domino's from the same collection. We were told over a month ago to keep our till receipts and we would receive domino's when they next became available. My daughter is heartbroken and i am disappointed to say the least. I understand that promotions have to end sometime but to get so many of the same domino's and for promotion not to last long has made it impossible to collect them all. Needless to say i will not take part in any future promotions should i choose to shop in Woolworths in future.

Shirley billing
from Moonee Ponds, VIC
You are Woolworthless. I am totally offended by you using Anzacs in a marketing campaign that up you claim is not marketing- it has your branding all over it. Tasteless, crass, disrespectful and totally unaustralian. Marketing gone sick!

Nyrelle armitage
from Burwood, NSW
This complaint is in regards to the everyday rewards $30 offer. I followed the steps correctly even though it would have been easier and a lot less travel to shop at the local IGA yet I still have not received the $30. If Woolworths were not able to honour this offer in the time they specified they should not have done it at all. Very disappointed

Tricia bell
from Canberra, ACT
for the last two weeks grocery shopping at many Canberra woolworths store the dominos have not been there.. You hype up the kids with the dominos lure and yet when i shop they r not there for the promos..buying items that guarantee an extra..or the staff don't offer and u have to ask or they run out all together. Lanyon are the only store that seem to have any and they won't accept dockets from other woollies stores. I have foster care children and grandchildren. It's hard enough collecting for them all 4 in total but when the stores run out the kids are devastated. Really really disappointed with this promo. It's been a nightmare.

A manager, Sam is his name could not exchange a pair of boots for my son because of a dirty sole on one of the boot. The boot is in good condition but the sole on one boot and I am not even sure if it was caused by my son or I could have bought it like that. I still have the boots and want to exchange them for a right size.

Evert and Kandice Van kleef
from Kingston, QLD
Dear Sir/Madam, My husband and I have lived in the Cairns Suburb of Redlynch QLD for the past 4 years and up until recently have always been Woolworths customers - prior to that we have always shopped at a Woolworths store wherever we have lived. We are also Woolworths shareholders. there are two reasons sending this feedback to you. Reason 1: As Woolworths shareholders (and self-funded retirees) your shares and dividends are a part of our income and for the past couple of years we have noticed a distinct lack of service and stock in our Redlynch store. When we first started shopping in that store is was clean, efficient, well stocked and the staff were accommodating and friendly.
Today the same store has deteriorated to the extent that the staff can be quite rude, unhelpful and look as though they don't really want to be there. The shelves are never fully stocked and the whole look is tired, dated and slovenly. If this is the state of other Woolworths stores then it is no surprise that many past customers have stopped shopping there. In contract - the Redlynch Central shopping centre has recently expanded and Coles Supermarket and Liquor land have opened branches in the Centre. In stark contract they are fresh, new and the staff are exceedingly friendly, clean and helpful. Reason 2: We believe that the Masters Stores are a huge mistake and they will never be able to compete with Bunnings.
As Shareholders we would like to continue to support Woolworths as customers but if the Redlynch branch is any example of your other branches, as a company you have an awful lot of work to do to regain a lot of lost customers and as shareholders we would like to know what is happening with this company on a financial basis and what are you going to do to regain your place in the supermarket chain? As across the board Coles & Bunnings (Wesfarmers) are killing you.

Yesterday (4/11/2012 at 7.15pm) I had visited one of your Woolworths shops at Rockdale, NSW which I do a lot of my groceries shopping at. I had chosen to use the self-serve as the lines for the check-out personal were extremely busy. I finished scanning my items in and had noticed that two of my items had not scanned up as per the special ticketed price. I waited for the customer service lady who was helping others at the time. Once I had informed of her my predicament, she walked off and calls someone from the back to come up and asked if I was in a rush and I responded yes I need to pick up my partner. She then processed remove my order from the machine and advise me to wait for someone to come from the back to clarify the price, stating they are extremely busy and need to push people through. I look back at the line to see two other customers waiting to use the self-service machines.
The extremely friendly and polite gentleman came and asked where the item was and I showed him the price. He advised me that it was last week's special but he will give the two items to me for that price. As I came back to where I left my groceries I come to find them moved and waiting on the front desk. The Lady at the front desk was advised of my situation was finishing an transaction with another customer and left the front counter for 10 minutes. Not only leaving myself but two other women how have been waiting on her service. When the front desk lady finally returns she removes both items which was not scanning up at the original price and advises me to pay without informing me what she has just completed.
I then find out that the was giving them to me free of charge. When I got home that evening I was unpacking my groceries and I come to the realization that she had only put one of the two items which were on sale back into my back and another two more items which I had purchase were removed from my bag. I did not return to the shop as it was 1 hour and half after the incented and it would have been a waste of my time. The service plus the way I was treat by both the customer service lady on the self-service machines and the front desk lady was disgusting and made me feel like less of a personal for bringing to the attention of two of my items which did not scan up correctly.
Then on top of that to find items which I had paid for and one of the items I was told I will have free of charge to be removed from my shopping bag. This has not been a pleasurable shopping exercise and I will not rush back into your shop after the way I have been treated. I will be informing other of the lack of customer service which I had received from your shop. I do hope this is not the way all staff carrying on as you will quickly loss shoppers. Yours sincerely a very disgusted shopper awaiting your response.
Have feedback for Woolworths?
Thanks for your feedback!
Sorry. Please try again later!