Wendy's
Contact Wendy's Corporate
Toll free phone number: 614-764-3100
---
Need to contact the Wendy's complaint department? You can call customer service at 1-888-624-8140, this seems to be the best number to contact. An alternative complaint line is by calling 614-764-3100 or by fax at the number 615-764-3489. We could not find a company email address for Wendy's, their feedback form is linked below.
There have been more than 230 customer complaints registered about Wendy's corporate so far. Unfortunately the founder of Wendy's Dave Thomas, would probably not be happy to read what customers are saying about his chain today. He founded the first restaurant in 1969 in Columbus, Ohio. Today, the corporate headquartes is located in Dublin, Ohio. If you would like to mail a letter, the address is One Dave Thomas Blvd., Dublin, Ohio, 43017.
You can also use our free online feedback form to add a review about your local Wendy's restaurant. Or you can use the official "Talk to Wendy's" feedback form on their website to take a survey about your experience at your local restaurant. The company is also quite active on social media. So, if you do not get a response by phone or email you can connect with them on Twitter or on their Facebook fan page.
Wendy's Contact Information
Report complaints to corporate and get satisfaction
Wendy's headquarters address

One Dave Thomas Blvd.
Dublin
OH 43017
United States

Company website

1-800 phone number

614-764-3100

Better Business Bureau rating

A-

Customer service hours

9am-5pm CST
Browse reviews of other Fast Food
Top Wendy's Complaints
Browse more than 1668 reviews submitted so far

Milagros
from Brooklyn, NY
I visit this Wendy's working days for coffee, No one at window in the morning. Store is locked due to COVID. When they do come to the window, they have poor customer service. Will never get my coffee there again. Very intimidating.
Hopefully they don't get the wrong one to challenge their attitudes.
Oh, and your customer service Hot Line to call. Never answers the phone. You start off with 14 people ahead of you and by the time you have 2 people left ahead of you, your call is cut off. Thanks. Great Job. I'll stick to McD's. They have better folks working for them.

Wilma Howell Harden
from Matthews, NC
My husband and I went to Wendy's in Wadesboro, NC and I have never in my 54 years been treated with such disrespect! Not only did I not get the correct change, the workers were eating on the floor and Serve Safe says that is a no no! But my food and drink were slung out the window towards me. I have never!!!! And I most certainly will never go to this place again! On top of that, I tried to call to talk to the manager and for some strange reason, no one was available to answer the phone!

March lane wendy's stockton ca employee just threatened to have someone come out to fight a customer on camera it will go viral she needs fired before something worse happens

Jennifer Furr
from East Northport, NY
I always buy the Wendy's single. I've never had a problem. As I was eating one, today September 25, I swallowed and I realized it wasn't a hard piece of lettuce, it was a piece of plastic. It was too late. It's slightly lacerated my throat. I had to do everything I could to keep it down so I wouldn't regurgitate it and re-lacerate my throat. Never going there again. I'm going to relentlessly call on Monday. Today is Saturday. They are conveniently not open. Will not let this go.

Taniqua Scott
from Antioch, TN
I'll get straight to the point. #1 the wait time was ridiculous. Not only was the wait time in line ridiculous. Once I approached the speaker to order, I was not greeted, I had to say hello at least 3 times before even being acknowledged. The crazy thing is when I was greeted you could hear the horse playing going on in the background. Finally when my family & I approached the drive through window to pay. The employees were having a conversation amongst themselves regarding something on one of their cellphones. In any event what took place after I payed was totally uncalled for. Again speaking on the 1st issue of the wait time in line just to place the order, 2nd issue is the conversation being had amongst the employees at the drive-thru window, but what happened is this I asked for a manager, the young lady ignored my request. So I asked again. Yet again no verbal response, But I did get a response, & this response was a slam of the drive through window. I also was handed drinks I didn't order. Then when i explained this to the young lady she snatched the drinks back out of hand, said something to the other employee, & then then just stood there. Finally the manager approached the window with a nonchalant attitude. I explained to him my issues, The main one being they are food handlers & are handling my food & their cellphone. Germs! Point blank period. So in any event I asked that I be refunded my money. So now this becomes an issue, such an issue that law enforcement had to be contacted. Now this shouldn't have at all gone this far. During this conversation with 911 operator the employees decided to express heir feelings by putting up their middle finger. Now remember earlier I stated I'm with my family my wife & 2 children ages 6 & 7, who are witnessing these actions. This was supposed to be just a good experience for my children. Instead it turned out to be a disaster. The manager finally came back to window, & asked with an attitude " What's the problem" Really? What's the problem, ok. So here's your product back & may I have my money. I was eventually given my refund, but the experience that my children received can't be refunded. A kids mind is fragile. the entire ride home my kids asked why did that happen. I couldn't give them an answer. The experience was horrible. To sit there for almost an hr just to order for the entire experience to go ugly. I'm seeking to speak with someone regarding this matter to discuss some type of reprimand for the employees as well as the manager on duty. thank you for you time.

Sharon Pfeifer
from Minot, ND
Dear Wendys execs: Is there ANY way possible the Minot branch could get a new oven? Various non-returning customers have repeatedly talked about Wendy employees telling us (the customers) the "oven was broken" or whatever other excuse they have given over the past few months. I have been there on 10+ occasions in the past 4 months where I ordered potatoes and every time the oven was "still broken"; especially in the evening hours when everything is broken, no management + short staffed. stay tuned for the wait time

The Wendy's in Jesup ga the food was cold and the personnel was rude

Phillip Vera
from Rock Hill, SC
624 Tinsley Way, Rock Hill, SC 29730
Very rude drive thru made everyone wait over 15 mins with no response other than the initial can you wait.

Kelly
from Cincinnati, OH
I'm literally in line at McDonald's because our Wendy's in rossford ohio is so God awful. I waited 20 minutes behind 2 cars in the drive thru and left before I could even place my order. This site should just be closed as it's been awful for so many years.

Connie Bland
from Spring Hill, FL
The last 3 times i visited store on Cortez spring hill Fl the tomato on hamburger was paper thin and pink pale not red and hard..lettuce has a hard white steam in middle this is Florida not Alaska...please make changes to better tomatoes and lettuce...

David Cyr
from Brockton, MA
Went to Wendy's on route 44 in Raynham Ma on Tuesday August 10th at 7.20 pm. Waited 25 minutes for service with 4 cars ahead of me. Told that if I wanted to place a order cash only. Two weeks ago I was told could not take any orders because of computers down When I reached the window 3 employees were hanging around the window with no urgency to fill orders. Hard to go back to this location again even though you have the best fast food of all the chains

Roy Richardson
from Covington, KY
Was using drive thru paid went to next window ask what I ordered told them he went ask the guy if I paid guy said no I said I did pay called me liar I'm 67 years old dont need still food 41 yr old daughter was with me called the next day and woman manager said that they call me back well this guy said he was there last night so nothing settled I dont want anything but somebody got that money I'm not a thief and I will never be back to another Wendy's How rude that night manager and his staff unbelievably my number I want someone with a mind to talk to me about this

Elena C Loera
from Jackson, CA
This is the 2nd time that the location on Dublin road has screwed up my order. I asked for a small sprite and a 6 piece nugget get to the window no sprite because she thought I said fries now I can understand why that would sound alike right come on now and then the other day they screwed up my order again I asked for regular nuggets..I get spicy..ugh give them a second chance well guess what 3 strikes you're out of here

Shannon Nufer
from Newark, NJ
Wendy's at 3050 s. Chase st. Milwaukee, WI 53027 phn# 414-743-9160
Tuesday, June 22 2021 8:15 a.m.
I am a truck driver stopped to pick up breakfast at this location.
Walked out your doors doors were locked. Sign on door that says: Lobby is open for carry out or drive-through only, no dine- in, no problem for me. Also says lobby hours open at 6:30 AM.
Again the doors are locked!
I look up the phone number and call the restaurant. The person that answers, in which would not disclose their name, says due to Covid they cannot open their lobby until 11:30 AM well past breakfast hours. I asked why does it say 6:30 AM on the door they told me I was wrong, I said I am standing at your door reading the sign. She said well too bad we can't open till 1130 due to Covid I will change the sign later. She told me to use the drive-through I then said please look out your front window you'll see my semi I cannot do that. I said can I order over the phone or use the app and have you bring it to me and she said nope there's nothing I can do for you and hung up.
Milwaukee Wisconsin does not have any restrictions anymore on any restaurants there's no longer a mask restriction either.
This restaurant is using Covid as an excuse not a valid reason, just to be lazy.
I expect this to be addressed and the proper people to be disciplined.
I expect somebody from Wendy's to inform me of what actions were taken upon the situation.
And NO!!!! I will not except any coupons or compensation in the way of food as I will not return to a Wendy's after this!

I ordered thru the drive thru. 2 jr baconaters . One cheese one no cheese!! It was $13 for 2 jr burgers!! No drinks or fries!! I know the order could not have been $13. No lettuce or tomato! I didn't argue because the line was long and it's hot here in PA

Ronald Wise
from Abington, MA
I have been waiting over a month to hear back from a district Manager. No wonder there is so many complaints.

linda michael
from Spring Hill, FL
I have been 3 times now to ur wendy;s in wesley chapel florida and all three times has been bad I don't know what is going on but yesterday was the last for me, I ordered 3 5.00 biggie bags and 2 kids chicken nugget meals and 2 med, frosties which is wow really small and an extra 6pc nuggets the burgers in all 3 bags were cold and hard and the nuggets were greasy and rubbery. I only get to go out once a month taking my husband 50 miles 2 the doctors so when I had to here my children complain, I was really upset. just though u should tell them to do better not everyone has money like that to throw it away,

This review is for the Wendy's at the Interstate 16 exit in Dublin, Georgia, only. We always go to Wendy's when we travel, which is often. We have had good service and food almost everywhere until today. The people taking the orders were inattentive and rude, the order was incorrect and the food was tired and cold. It was obvious that the burger, the chicken nuggets and the fries were far from fresh. We were very disappointed this time.

I work for a delivery company and there is a very clear prominent sign reading "dining room now open" oddly the doors are locked. So unlike 95% of all other fast food locations who work with drivers I have to wait in the drive thru line. The line itself is slow and the workers don't acknowledge you at the speaker. This system is not customer friendly in anyway and will make me not come back as a driver or a customer.

joyce everswick
from Flanders, NJ
On our way home from Myrtle Beach, SC, to NJ, we needed a QUICK stop for lunch. The 4 of us all like Wendy's and saw a Wendy's at exit 173, NC, and stood in line to get our meal. It was utter confusion behind the counter. There was only one person to take orders with a line up to the door. The others were making food, taking drive through orders and just general chaos. People started leaving because it was taking so long. My order was messed up so the manager had to come and straighten it out. She stood at the computer and punched in numbers for 5 minutes. To get 3 chicken sandwiches and 1 hamburger with fries, it took about 30 minutes. Is this considered fast food? We lost time on the almost 12 hour trip.
CORPORATE NEEDS TO SUPERVISE THIS LOCATION. It is a busy rest stop. We would never use that place again.
The plaque on the wall said TAR HEEL CAPITOL CORPORATION, Boone, NC.
Thank you for your consideration of this matter.

I went to your location at 149th st and 3rd ave bronx, ny this morning 04/20/2021. I waited until 7:00 am along with a armor truck. The young man that open up at 7:00 am and gave greetings. I was walking to place an order and young woman with a turquoise shirt on stated they were no open and was very nasty to me. I stated the sign had said 7:00 am and she became nasty stated it would not be open for ten mintues. I have been a loyal customer for over 15years. However; i may have re think. No customer should ever be spoken to . like that. I am really sad that you allow staff to speak to customers like that when the word mom appears under wendy's.
Thank you unhappy customer,
Dawn

Anthony Morris
from Cleveland, OH
On March 24th I placed an order through your app hoping I would not have to wait found out differently upon arrival and further review of the order on the app. After waiting for about 30 plus minutes we pull to the order board tell the cashier it is a mobile app order there was no clear cut order number. The cashier stated that ordering was gone. I requested a refund and was told I could not get one if it was a mobile app order. I have now been pursuing my 20.93 for some time and I would like to get my money back.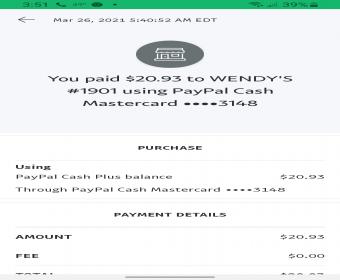 Nora canton
from San Antonio, TX
Good morning to whom it may concern I would like to make a complaint on a employee that works on south Zarzamora and Military Wendy's her name is Margaret if I'm not mistaken she works in the morning I'm just letting you know that y'all need to investigate her she is selling pills to workers medication that doesn't even belong to her we are trying to keep someone off of buying medication and she's over here at work selling them how can you let somebody like that work at jaws company oh hellos she has nothing but drug addict people living with her and we know because my aunt goes over there and she works at a different place

Oladapo Ajayi
from Cleveland, OH
I buy Wendy's for lunch every other day, this is the third time, I will go to Wendy's on 8104 Broadway Ave, Cleveland, Ohio. 44105. Twice I bought the Southwest Avocado salads, without Avocado in my Salads twice, the third time, I explained to the Crew Member about this on the P/A, so I changed my order after being on the line for about thirty minutes, to go ahead and give me Apple Pecan chicken Salad. I asked for receipt but the receipt was not given.
When I went back to the office, only to find out it does not have pecan and blue cheese in my salads. I was really mad but could not go back because my break its over.
They should stop them of ripping of citizens by selling incomplete salads and charging full money for service not rendered. I wish they gave me my receipt, so I can go there and act a fool, but the line is too long.
Sincerely,
Oladapo Ajayi (AJ)

Walter Monsauret
from Strongsville, OH
I just drove through the drive-through at Wendy's on Bellfountain Avenue in Lima Ohio I ordered a breakfast burrito she said she did not have any, I asked her if she had any breakfast sandwiches, she replied Huh? Then I asked her for a cream for one of my coffee, she replied to pull over by the curb and she would have someone bring it out to me, that never happened. Then I want to take a drink of my coffee and it was cold.This was the worst service I've ever experienced in a drive-through, rated at zero stars, was wondering why all drive-through's were full and not one car at this Wendy's and now I know, will not be going back ever

Carrol L Mills
from Louisville, NE
During the past 8 months, Wendy's at 4308 W Dodge, Omaha NE, has become the worst place to visit. They are extremely slow. Sometimes it my visit to the drive-thru eats up so much of my lunch hour that I have to pull out and leave. The current employees have become exceptionally rude. To top it all off, the quality of the food served has gone hastily downhill. I used to visit this establishment very frequently. Employees were really on the ball and hopping to ensure your food was 1) what you ordered and 2) it was ready just as soon as humanly possible. Over the last 7 - 8 months, I just swing by now and then to see if anything has improved. And it hasn't. After yesterday's (03.22.21) horrible visit, service and food, I will ensure I don't go back to this establishment at all. I'm thoroughly disgusted with trying.
Thank you,
Carrol

Lacey
from Birmingham, AL
Whoever on this speaker on Monday March 21, 2021 is very very rude. It's not my fault that they are busy. It's ways to handle customers. Then it's a very long line and you guys have employees outside smoking weed. This is very unprofessional & needs to be corrected....

Rhonda Sinclair
from Rock Hill, SC
Ordered a taco salad, large chili w/ cheese and baconator meal. First the guy in window reached me my drink and chili. OK I'm sitting there the manager taking orders told him to give lettuce part of salad. I'm still waiting then was asked what I need. The rest of combo manager turned around and slammed my fries in a bag which while making to bag half wasted. Then baconator must have been son of baconator small burger with two small pieces of bacon. Think I'm done

Leisa Richmond
from Lynchburg, VA
For the second day in a row I went to the drive thru at Wendy's in Wytheville, VA at the Walmart plaza. Each time I ordered a Southwest Avocado Salad and BOTH times the VERY RUDELY said that it would be a 11 minute on the grilled chicken. The customer service at this location is horrible and they are consistently ill prepared. I'm very dissatisfied!

Tim Dibble
from Bedminster, NJ
NO COMPLAINT just wanted to let know about my breakfast experience the other day. Wendy's has knocked it out of the ballpark. I had the bacon,egg,cheese on a biscuit absolutely the best in the industry among your other competitors. The home fries were seasoned just right also. I hope this breakfast idea works out for Wendy's waiting to make sure you had the best product before rolling it out was a great idea. Hats off to the team that put this together.

Wes Cox
from Indianapolis, IN
I had went to the restroom after finishing my meal. The entrance door to the food service area was open. As I walked past, I saw a large quantity of rodent feces at the edge of the counter by the soft drink cups. It was gross. I went on into the restroom and when I exited the rest room my wife was waiting on me, and the door to the food service area had been shut. My wife told me the next day, a staff had slammed the door while she was standing there. If this isn't addressed, my next step is to call the health department. These incidents happened at;
Wendy's10623 W Markham, Little Rock, AR
My phone number is (479)207-0271

Mike Voytovich
from Salt Lake City, UT
Went to the 3259 E 3300 S, Salt Lake City, UT 84109 location and used the mobile app to order and get the offered Bacon fries.
What a Fing joke!!
Didn't get the fries because the order didn't print it even though it WAS on the order i sent....
What a waste of my time the app took TWICE as long to enter the order vs just walking up to the counter!!!
Why is there not a no star option???

Bojan Mahic
from Oak Ridge, NC
At 8:34pm today i visited the Hickory Ridge Rd location in greensboro nc. I was a passenger in my mothers vehicle but was the individual whom ordered the food. At the drive thru, i used to visit everyday for lunch until recently i was involved in a heavy accident that has left me unable to drive. So i finally get around to getting my fix (wendys) and had a $2 off coupon so i decide to order a Baconator combo large (coke no ice) instead of the usual biggie bag i used to get. The total was 11 and change then with the coupon it was 8 and change. After a longer than normal wait i get the food. To my surprise it is my standard lunch bigge bag :/ i let the wendys lady know about the mistake and she insisted that the baconator is the same thing -_- i know it isnt. She tried to argue saying i got free nuggets out of the deal and i should be happy... But i know better and let her know if i got a biggie bag and used my $2 off coupon why on earth was my total almost $9?!?! She was not wearing a name tag unfortunately, nor did i receive a receipt. I decided to let her "win" the argument as she did not have the slightest intentions on correcting the problem or charging me the correct amount. (My elderly mother being the driver i couldn't allow myself to match her attitude, i would have loved to though.) so we drove off. At the first intersection i gave the entire order away to a homeless panhandler and we drove to the west market street wendys to purchase the correct items. Because a Baconator craving has no substitute (ever)! Obviously i am highly upset about the whole ordeal mainly because i have not been able to drive myself anywhere since my accident. This is my first EVER complaint written/verbal to any establishment and i hope i never get this kind of service and pay PREMIUM price for the service i received tonight. (i do not want a pitty party because i am unable to for myself any longer but i would like this fixed and to have the employee at least take a hospitality Class.

I am 70 who travel frequently between Atlanta and Chattanooga. I ordered chicken nuggets at Exit 290 on I-75. They were dry and old. I walked back to the counter, placed them there, said nothing, and turned to leave. A young man asked why. I said because they are not any good. A young woman yelled loudly across the restaurant "Well you didn't have to throw them." At that point I went back to the counter and announced to the manager that they have lost a frequent customer. My phone number is 678-704-3146 if anyone cares about this incident. I am appalled.

I've never had a bad Wendy's until... the Salem Ohio location. And it hasn't been just one time. Not sure what's happening there. Smells awful when you walk through the doors, service is absolutely terrible. Frie set out on counter long before order ready which by then food is cold. No one wearing gloves that's touching my food. Just bit a good situation.ine I said , it's every single time we go. Everyone makes mistakes, I get that , but continuously the same thing? We definitely have gave them the benefit of the doubt but will no longer go to that Wendy's. Boardman location is a little further but never had bad service there. Even ate at one last weekend in PA, all good there.

Alex Archuleta
from Denver, CO
I am here in Denver Colorado and I had one of the worst experiences ever in my history of eating fast food. The location I went to is 2070 south federal Denver colorado 80219. I ordered the number 5 which is currently the bacon, jalapeno cheeseburger. The quality of the burger on a scale of 1-10 10 being good. I'd rate the quality a 1. I also ordered without onions which was repeated back to me and yet completely ignored. My bun was very soggy from the grease on the patties. Also had some very disturbing very disgusting chicken nuggets. The customer service was also very disappointing as I was treated with a lot of disrespect and ignored by employees helping themselves to some icecream while I waited a good half hour on a to go order inside! I spent 22 dollars and am very disappointed that veteran such as myself cant get a decent meal when in the mood to eat out. I will never return to this location again. I did speak to a representative on the complaint hotline however I really want and need to get it across to your corporate office that this type of behavior represented as customer service is not ok and it's not fair for someone to be trapped into paying for food that could possibly get somebody very sick! I will be leaving my phone number on this email because I'd like to speak over the phone rather than back and forth email. (970)426-8925.

j train
from Abbotsford, BC
i had the absolute worst customer experience at your Wendys located in abbotsford off of mccallum road.i order from here at least 3 to 4 times during the week as its close to my.So work.tday being a day off I thought i would run over and pick up some food thru the drive thru approx 1130 am..After returning home i was missing 2 items ,a bacon poutine and 5 chicken strips (there where 4..yes only 4 mcnuggets in there)so after returning to let them know what happened i was treated very rudely and told my order was correct and i was given everything .after trying to explain i was not they said i was...needless to say i will not be returning ,you have lost all my weekly business including that of my staff ..THIS IS THE ABSOLUTE WORST CUSTOMER EXPERIENCE EVER AND I WILL BE POSTING IT ALL OVER NY SOCIAL MEDIA AS WELL...you have lost my business from this location forever ..

Brooke Harris
from San Jose, CA
You guys really do suck. The customer service is awful. I'm so sick of going to the Springboro, Ohio Wendy's and the employees being nothing but rude. Acting as if you're order is an inconvenience to them. Maybe you guys should not hire people who have no business talking/being around people. I'm extremely disappointed, again at this company. I'll make it my job to make sure no one visits the Springboro one again.

Hello, I would like to report a concern about a manager at the Harrisburg Pike Wendy's in Lancaster Pa. My husband arrived at the store around 10:10am and when he went to open the door it was still locked. The manager who gave her name as "Dee" opened the door at 10:15am. The associate running the register apologized to my husband and said he needed to finish setting up the register, my husband said it was not a problem. Then Dee began to curse and say "he can f***ing wait" when my husband didn't say anything at all. Once my husband ordered his food, he asked the associate if that is the manager, and he said yes. My husband then asked if he could get her. The associate got Dee, and my husband asked for her name. She said "Dee" and walked away, my husband said excuse me I am not finished speaking to you, which then my husband pulled his phone out and started recording, he asked what the name of the manager above her is, and she said "Presilla." My husband asked how to spell that, and she said "Presilla, your guess is as good as mine." The whole thing was unacceptable. Your hours says you open at 10am, why was the manager now prepared with the doors open or the associates prepared with the cash register open and prepared for orders. Very unprofessional manager, and when I called and asked to speak to Presilla, Dee got on the phone and said she is not in today.

Doug Perdue
from Boston, MA
My family and I go to Wendys twice a month, however I had a meeting at the Holiday inn in Eastgate Batavia, Ohio and must say it was the worst experience ever at Wendys! I ordered 2 jr. cheeseburger deluxe, small fry and a small drink and it cost me $8.72! DID NOT RECIEVE A RECIEPT! As I was waiting was asked if wanted something other than coke as they were out! At 12:30 pm on a Saturday! I got a sprite! Continued to wait and was looking, if your CSR was good they would have offered me a 4 for 4 and ordered and extra jr cheese deluxe and would have been 6.19 instead of $8.72 and would have gooten 4 chicken nuggets also! So i sat down to eat and the fries were old and cold, and the fries are the main reason to go to wendys! Not happy at all!

Yaisha lawrence
from Upper Marlboro, MD
The person at the drive through window was very rude. I ordered fries they had no ketchup. I ordered a ceaser salad and they gave me taco salad. When I told the person it was wrong she got an attitude and told me she can't take the salad back.

Lolita R Whitfield
from Charlotte, NC

So I called and asked if they have environment safe straws because my little brother wants to save the turtles and that's the only straws he'll use and when I asked, they hung up on me

I attempted to use a coupon today at your restaurant #1106. The coupon clearly states, ¨Buy one, get one free.Any large chicken sandwich. (Of equal or lesser value). EXCLUDES ASIAGO RANCH CHICKEN CLUB¨. I ordered 2 spicy avocado bot sandwiches. The manager stated that she was unable to honor the coupon as it only applies to regular chicken sandwiches. This is not how the coupon reads.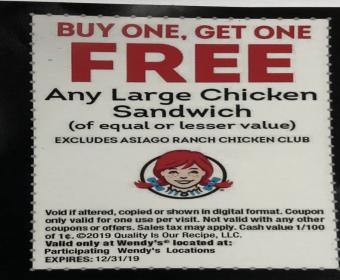 Amelia Hale
from St Louis, MO
I didn't receive one of the sandwichs with my order while going through the drive through. Didn't see it until I got home. Also didn't receive a receipt and they were about to close. Nothing I could do about it. Money wasted.

Robert DiMichele
from Homosassa, FL
We go in late nights in order from the drive-thru. 50% of the time they asked us to pull up out of the drive-thru window to wait for a food as there is no one behind us or ordering. Seems to me they're trying to cheat some service time for your company would be something that should be checked into

Chris M Miller
from Richmond, VA
If i could take away that one star I would. Had the worst experience. I was the third car in line in one of your drive ups. 36 mins later i gave my card to window one. The payment window. 15 mins later my payment was still not processed. I asked for my card back and went to Mc Donalds. At least they could have done was talk to me and explained to me what was going on. I had a $19.00 order. I have been eating at your establishment for many years and have never been this dissatisfied.
Chris M. Miller

Melissa Logan
from Louisville, KY
I was on lunch break and there was only two cars in line so I thought I would be able to get back before thirty minutes well it took almost 5 minutes for the girl to take my order then I set in line for 20 more minutes.. I was late to get back to work and I didn't get my food because I was in such a hurry to get back to work so I didn't get in trouble.. I will never go there again.. and I still got in trouble..

The Wendy's in swansboro, nc is very slow. It is slow when the lunch crowd is there or at night when there are five customers. There seems to be no organization. When the cashier takes your order, he or she leaves the cash register to get drinks, frosty's and leaves the other customers waiting to order. It's not unusual to wait 15 to 30 minutes to get your order. At lunch, many do come in because they don't have time to wait. The other night there were 6 people waiting for their orders and there was no one making hamburgers. It's taken me 10 minutes to get two frosty's because the girl working the cash register just left to look for something. It's so bad. There is no organization in the way they work. The people are nice but they need to get organized. Send someone there to sit and watch, someone not known to them.you will see what I mean. Thank you

Bradley Hulse
from Hutchinson, KS
The Air Conditioning system hasn't been working in the Hutchinson KS restaurant. The Staff service is excellent under the conditions They're working in and They all should be given a special thank from Wendy's corporation. It was 101 degrees outside and easley that hot inside. My Daughter and Myself had eat outside cause of how hot and miserable it was inside. Please make sure to give a Special thanks to your Crew for their dedication and a bonus wouldn't kill Them either...though the heat might.

Lorraine Cox
from Toronto, ON
I had a meal at Wendy's on the weekend and I tried to recycle my containers and there wasn't 1 bin of recycling, I can't believe in this day and age, that they don't have the recycling bins. I will never eat at Wendy's again.

Ken Capo
from Chicago, IL
I waited about 15 mins in the drive thru & then left the drive thru, went insife & waited another 14 mins. 1 guy working the front end & NOBODY had any sense of urgency. Terrible..

They closed the doors early last night around 9:30 and it was dark in side and one of the new guys were jerks last night

Hi, I went to Wendy's yesterday and got one of there southwest (large) salads. The lady at the window had a big smile and was very friendly.
When I got home I had to small salads. I called the manager and was told that they had run out of salads and that's why I got two small instead of one large? I said I just wanted to call because I thought I might have gotten someone else's order.
I ate one of the salads yesterday and it was just okay some of the lettuce was brown and I threw that away and something burnt my tongue like a spice not hot temperature . Today 7/18 had the other one for lunch and it was horrible, the lettuce especially on the bottom was completely brown and the cheese was lumped together. avocado had a strange taste, the dog wouldn't even eat it, it also had that spicy burn the tongue taste. I ended up throwing the whole salad away. I know they said they ran out of lettuce and I was the last person to get a southwest salad, so I feel I got all the left overs, and on the second salad there was only one piece of bacon. Thank you

Very dirty..peru ind..sticky floors..dirt..papers everywhere..wont go back

Denise Steward
from Washington, DC
On 07/16/2019 I was in the Wendy's on 3620 Washington Blvd around 8:45pm. It took 15 minutes to get my order. I ordered a spicy chicken sandwich and a bowl of chili. The chicken was soggy and greasy I had to take the breading off just to eat the sandwich the chili was fine. While wait for my order the cashier and the young lady at the drive thru window started arguing about how she was cleaning the frosty machine. The cashier told the young lady that she was cleaning it wrong and that some could get sick and the young lady said that she didn't care they went back and forth for about 5 minutes the manager didn't do much to stop them. What disturbed me the most is how the young lady working in the drive thru didn't care if someone got sick if the frosty machine wasn't cleaned properly. Neaveah was the cashier that was telling the other young lady that she was wrong.
Thank you
Denise Steward

Ross Gilbert
from Colorado Springs, CO
My wife and I decided to try the berry burst salad from the store in Canon City, Co. Great salad, no blueberries!
We decided to try another salad at a different store, Fountain/Security, Co. We ordered the apple pecan. No pecan, but they gave us 2 bags of almonds. Maybe we're expecting too much or not ordering right. Probably won't try it again. Thanks for your time.

Ed Powell
from Lee's Summit, MO
First, my wife and I enjoy eating at Wendy's very much which is the reason I am reaching out. Who owns the Wendy's in Lees Summit MO? It is and has been for a long time a terrible experience. Some would say a joke. The service is bad, often out of things, very slow, very unprofessional, food cold too often, just a very poorly managed restaurant. This is a shame since it is the only one in our area. Can you not inspect or audit or train the owner/manager to run a better store? This has been an ongoing problem with this store for a long time...poor management, unskilled workers, unprofessional service and always dirty.

Barnett Williams
from Indianapolis, IN
My daughter slipped and fell on some water at this location and hit her head on the drink machine. She got a concussion from this injury and they altered the video footage to make me look like a lier!!!! Y'all will not get away with this! At the minden location!

Mai Orama
from Buffalo, NY

Tracy Mcduffie
from Santa Ana, CA
Very poor service I will not never go back there sun city.ca

Mark Brown
from Boston, MA
I do not appreciate being asked to donate money to a charity that I don"t know anything about. Also, I went there to purchase food, not to be panhandled. This puts a customer on the spot. They lost a customer.

Clayton Ga. store and Franklin N C store. I eat at Wendy s a min of 4 times per wk. these 2 stores are a disaster compared to the many I visit. Staff are are the same. Sandwiches ore made. Tough meat. Tasteless. Fries yesterday trashed by all. Cold fries. Gee. A a min small drink. 2.29. Really??? Mgr to the district level. No response Sad

Jenna Kocher
from Pittsburgh, PA
I went to the wendys on butler st. in pittsburgh on 7/16/2019. I ordered the chicken parmesan crisp salad @ a large unsweet tea. The salad was to have grilled chicken in it. When I got home. The whole order was wrong. I received spicy chicken on my salad. And a large sweet tea. I'm a diabetic so the tea was dumped out. And I don't eat spicy foods. So that went in the trash. It was a waste of close to 10 dollars. Very dissapointed.

RANDALL L HILL
from Baltimore, MD
My wife and I were coming home late from a Hospice where her brother was being kept and we stopped here because they were open late. (Not Busy).
We had a simple order. I ordered the triple Baconator , my wife ordered the Homestyle Chicken Sandwich. We were told that they were out of the Homestyle so they gave us two pieces of I really don't know what, instead of what was supposed to come on the sandwich.. We didn't check our bags until we arrived home, so we had no recourse at this point. My wife tossed hers in the trash. I ate mine even though it was cold and tasteless. "I was hungry" You know what I mean?
This visit was a very sad excuse, even for fast food. (fyi: We had a long wait in line).
I usually enjoy Wendy s food, but I'm not sure any more.

Margaret Haskell
from Satellite Beach, FL
I had checked menu before stopping g at store. I went in and asked for the Mushroom burger only to be told it was no longer offered! I was so so disappointed. As stated , is shown on WEB menu. Please please consider bringing back. Mushrooms with grilled onions would be delicious! Why was decision made? Have been going there in 5 states I 've lived.

Jeff Aldrich
from Olympia, WA
Went through the drive thru at 7530 Martin Way E, Olympia, WA 98516 and ordered a Baconator combo w/ coke and NO ketchup about 25 minutes ago. When they asked if I wanted a receipt, I said no thank you. Now I'm home and this burger is covered in ketchup (including the wrapper) and there are 2 - 1 1/2 in. by 2 in pieces of bacon (that is ALL - on something called a baconator???). I'm all the way home and pissed. The staff was very nice and the service was quick. I'm just upset that after craving this burger, that's what I got. Not okay Wendy's!!! I don't have a receipt, but my card was swiped: Jul 16 WENDYS 11196 - OLYMPIA WA $10.48. Approximately 3:05pm PST.

Grace
from Woods Cross, UT
I was recently on a road trip with my family and stopped at the Wendy's located in Nephi, Utah (7/11/19). I stood in line for at least 30 minutes so should have known I was wasting my time and just left but thought I've waited this long and I have a long drive ahead of me and a lot of hungry mouths to feed so I'll just stick it out since I'm only the 4th person in line.There was a gentleman that was inline between me and my son who left shortly after I arrived making me the 3rd person in line. My son decided to put his order through the online app so we had to wait for his food anyways (making me the 2nd person in line). When I finally got to the front of the line (after a 30 minute wait) the kid at the register wouldn't even take my order. He just kept looking back to see if the 5 people working in the kitchen was ready for him to put in another order. Being at the front of the line gave me a good view of what was going on. While waiting (at the front of the line) I noticed the lady in the kitchen pushing the meat down on the grill without gloves on and then touching other items in the kitchen without having washed her hands, so essentially cross contaminating. I've worked in fast food before so I'm assuming the reason they wouldn't take my order as soon as I reached the front of the line was because it would make their prep times look bad having it take so long for my order to be cleared off of the order board. The lady touching the food without gloves and the fact that I knew it would be at least another 10 to 15 minutes AFTER they took my order (which they wouldn't even take) helped me decide that I wasn't that hungry after all and I didn't have any more time to waste. I left without having placed an order and drove to the next town and found a Carl's Jr who quickly and efficiently took my money ($60) in exchange for food for my family of 8

Deb Kral
from Plainville, MA
My granddaughter and I were just at Wendys in Mansfield,Massachusetts. We were in the drive thru line for 10-15 minutes and during that time we saw two different people have to get out of their car and go inside due to wrong orders. When we ordered our food we were very specific as to what we wanted which included a PLAIN Doublestack with NOTHING on it including no condiments just the 2 burgers and a bun. The person repeated our order back to us correctly and it showed up correctly on the screen as well. However, when we got our order the Double Stack came with EVERYTHING on it! My granddaughter also had a hair in her milkshake! Needless to say, she did not enjoy her lunch. Three wrong orders within 10-15 minutes does not seem like a very good record. Hopefully this will be looked into and improvements made.

I had to place my order 3 times and it still came out wrong and the crispy chicken sandwich was simply awefull. It was dried out piece of chicken with a piece of lettuce I wouldn't give to a rabbit. The slice of tomato was almost invisible. Some thing has gone wrong with your company! Maby you should go back to Daves principles. Crispy s chicken is going to hurt your business in this area of you don't get your act together.

N Greiner
from Chesapeake, VA
There are girls that work here with very long and unruly hair that are not wearing hair nets. They are serving food without following proper hygienic practices.

I have been a customer for 30 years.Iam also a truck driver. My wife and came to store and placed order as always got it and left. Was at truck stop in kenly nc I-95. Dont have a reciept do I would have went to any other store and complained.we ordered awesome bacon double cheeseburger comb. A Daves double combo, and a baconator combo. We left with order we was gave, got down the road about 60 miles and found out this was not correct order, or it was made wrong. Either way it was wrong. We ask you to please fix this. We are very loyal customers. Thanh you Terry Jones, phone# 252-469-6881

Ruthie Paul
from Evansville, IN
I ordered 2 S'Awesome cheeseburgers last at the First Ave. location Evansville, In. 2 sandwiches and fries cost $13. It was worth 0! Sandwiches didn't look anything like the picture and clearly was not fresh. It should have had 3 pieces of bacon and had maybe 1 all broken up and 1 pickle, no lettuce and it was not a third of a lb. of meat. It must have been microwaved because the bun was flat and stuck to the food. A $1 McDonald's cheeseburger would have been better! Absolutely the worst fast food ever!!!!!!!!!!!!!

Patricia Hillman
from Mount Prospect, IL
Really Wendy's 60 cents for cheese on a small chilli I can see extra charge up to 25 cents but that is really unreasonable charge for a small amount of cheese

Kristine
from Arbutus, MD
Tables and floors were disgusting. Had to wipe our own table off before we sat down. Then I went to the bathroom and there was NO toilet paper in either stall!

We recently had lunch at the Wendy's located at 1507 E Fowler Ave, Tampa, Fl. I've patronized Wendy's restaurants for many years but never had I seen such a disgusting location before.
Dirty inside and out. Tables and chairs in disarray and unkempt tables. The staff were very rude especially the woman behind the cash register. The cook next to her was equally as rude as she continued to engage in conversation while preparing our food.
The cheeseburger that I was given was most likely cooked several hours prior to our visit as it was hard and barely hot. The French fries were equally as bad as hey were cold and old.
I will never return to a Wendy's restaurant again as I was appalled at the conditions and determined the money spent was a complete waste.
Thank you.

Pamela G Prince
from Fennville, MI
The Wendy's in question is in South Haven, Mi. I was there with my family 7-12-19. First the drink machine had no ice, the soda was flat and warm And they were out of straws. Instead of letting people know when they ordered, or even running across the street to Walmart, they let every single customer discover it themselves. To which they replied " the truck is on it's way". Very disgusted we sat down opened our burgers to discover they were cold. Who is running the ship??!!! Very disgusted!!!

After work I had gone to Wal-Mart in Harriman commons to shop it was 11:30pm. I ordered a number 1 single large with a coke. I only have one word DISGUSTING! The burger was set and sloppy and the fries were soggy and cold. The kid working the window didn't seem to care at all and from the drive through window I could see another employee handling food with no gloves on. I will never go back to that Wendy's again at the Harriman commons and will let people I know as well. PLEASE GET ROBOTS that will actually serve a hot decent meal.......

Karen Harper
from Birmingham, AL
Very poor customer service at restaurant #00001253
Did not receive chili with taco salad order. Called store and no answer after 3 attempts with several rings. Drove back ro drive thru. Given chili with no apology, no recognition of my Wasted time

Damon Hinton
from Lawrenceville, GA
pulled up to drive thru,. manager working window asked for my order loud and aggressive.. I replied give me a second please.. he replied "O SURE,. TAKE ALL NITE IF U WANT, I GET PAID BY THE HOUR!"... i never placed my order but drove to window to see face to face... still being rude trying to justify his actions I asked for the store #... he never returned.. I will never return to Wendys.. this was the store on Lawrenceville-Suwanee rd. just off 85 n.. in Suwanee

Jerri Wetherington
from Simi Valley, CA
This location is a fairly new store to our city. I have been a regular customer since they opened, visiting at least 2 to 3 times a week. I usually get the taco salad (half size) and the apple pecan salad (half size). They are the BEST salads ever! However, on July 10th approximately 3pm I went to the drive through and ordered my salads. It was hot, so I also ordered two large chocolate frosties. I gave the gal at the window my debit card, she was friendly and efficient. After receiving my debit card and receipt, my salads and frosties followed quickly. She just handed me the bags and never said thank you. My friend and I decided to go to the local park to eat our salads. When we open the bag(s) neither one had napkins or utensils. My bag with the apple pecan salad had NO DRESSING and NO PECAN package in it. So...there we were unable to eat our salads. Even if we had utensils, I would have had to eat dry lettuce with white cheese chicken and apples. The packets were not in the bag. So, we did get spoons for our frosties and thats what we had for lunch. I thought it was procedure that my order is repeated at the window as it is handed to me. I have never had to make sure there were napkins, utensils and related food packets in my bag on previous visits to the drive through. This left a bad experience for me and I am not sure I will visit this location again anytime soon. There is another location at the west end of town on Los Angeles Avenue. I may try that one because like I said, the salads Wendy's now offer are very good. I was pleasantly surprised!

Betty Harbin
from Louisville, KY
On Saturday, July 13, 2019, I purchased a full sized Apple Pecan Chicken salad at the drive through at 978 Breckinridge Lane in Louisville, Ky. After paying for my order, I was left at the pick-up window for about 10 minutes with no other interaction until the person at the window brought my order to me and informed me that the chicken had to be grilled. I thanked her and left. Later when I started to eat my salad, I found that there were no pecans at all and almost no blue cheese. I tried calling the store 6 times and got no answer. I finally gave up and called 888-624-8140 to report this issue. The representative promised to have someone to call me. Last year I had a problem with an order (I asked for a full-sized salad and got a half-sized salad at full price) and when I called and explained what had happened, the manager gave me his name and said to come anytime to get a replacement. I love this particular salad and the location. Please get them straightened out.

Pat Anzalone
from Forestville, NY
It was July 11th between 8 an 8:30 pm Wendy's on Rt 60 in Fredonia NY I went threw the drive through an ordered a med frosty, chocolate. I pulled up to the cashier an proceeded to sit an wait almost 15 min while the girl took orders !!!!! There was no one in front of me as they had received there food an were gone. Not wanting to wait any more I drove off !!!!! I nor my family will not be ordering anything from your establishment again.......there's plenty of other fast food restaurants to choose from.....you need better service !!!!!! I've heard others complain about you store.

mary allen
from Modesto, CA
I ordered a rootbeer float with a special request of more ice cream and less rootbeer at the restaurant located at: 3250 Dale Road, Modesto, CA. My order number is 3259, date of incident 07/13/19 at 7:57 PM. When I approached the drive thru window I attempted to inform the cashier of my special request, but was ignored, as all three cashiers were involved in a conversation regarding an order that they must have been having problems with so I waited. When they were finished with their conversation, I attempted again to get their attention and asked the black woman with red and white braids, who I assumed was a manager since I visit this restaurant regularly and see her there, but she did not hear me. She went to get the rootbeer float, then came back and it was more rootbeer and less ice cream, which was not what I ordered. I mentioned again that I wanted more ice cream and less rootbeer. Then she proceeded to pour the rootbeer out in the sink sloppily in front of me and went to put more ice cream in the cup, then handed it to me disrespectfully. At that point I had no appetite for it, but just took it anyway so as not to cause an altercation. I have already made a complaint to a telephone representative, and I also contacted the restaurant and spoke to a person who said they were a manager. There were two black ladies working there tonight, one with braids and one without braids. The one without braids is alway very nice, but the one with braids is mostly rude and I noticed she is rude and pushy towards the other employees as well. In closing, the lady with the braids was very rude and disrespectful toward me tonight. She handled my food with gross negligence simply because I asked for my order to be a certain way and because she did not listen to me, she got it wrong. I hope someone will contact this restaurant and let them know not to treat people this way, and to handle every customer's food with care. My contact number is (209) 303-0235. Thank You Mary Allen

Tanisha culbert
from Norfolk, VA
They took our order without sayin the credit card machine was down and then she got an attitude and slammed the window in our face screaming out in our faces and she also said don't give us our food

Debbie antonio
from Stuart, FL
Placed an order at the take out window tonight. At island crossing in HOBE sound Florida., got home, and all of the order was not in the bag. Was missing a spicy chicken sandwich and lg fries. Had to wait for our order, this is uncalled for, it was not busy, it should not have been a problem filling an order that they had to bring out to our car. If this is Wendy's way of doing business, I am very dissapointed, and will not be visiting again to soon.
Debbie Antonio

Diana hoyd
from Hebron, OH
Wendy's in downtown newark ohi o is a drug house. You should be
Sad to put your name to this place. Go there and see what is going on. It is sad that you let this happen.

I think the New Philadelphia 4th street Wendy's should fix their drive thru screen so you can see what they say you ordered and also make sure they give you a receipt with your change, ordered burger with no onion, got home and had onion. No receipt or board to know if they did right.

Dana Gilbert
from Cleveland, OH
We stopped at your restaurant in Cleveland TN, to feed our youth group. We traveled here for Warrior Fest, people come from all over to this every year. Let me just start by saying I hate to complain and tried not to in front of the children as for we are their youth leaders. But, we will never come back to eat at this place again. The service was horrible for starters, the food was beyond cold and stale. We didn't receive half our order. I showed them the recipe before leaving the counter with the food, over and over and still ended up getting it all. We had to repurchase another meal, and some of our combos didnt receive their fires. The bathroom had roaches crawling around in it. Beyond nasty was the words. Please see to this place because it by far is giving Wendy's franchise a HORRIBLE reflection.

Gerald McCormick
from Washington D.C., DC
I am at 2245 n meridian st Indianapolis Indiana location.
Was in drive through for 25 mins with 3 cars ahead of me. Was told at the speaker that I should just go inside for faster service
Once inside I see the problem there are 6 young people behind the counter, they have very vulgar music playing from a cell phone. They're are dancing and laughing it up. One guy is walking around back and forth with his phone in his hand.
I ordered my food and paid, it's been 10 mins and they tell me they are out of mushrooms so I told them to make me a single and keep they change.
Very poor service you need to do something about this.
Also the entire floor is very very sticky.

James franklin
from Orlando, FL
My name is James Franklin I am a big rig driver for McLane.I eat at Wendy's very often an as you know I have to park out back.So you all need to know that one of your employees is outside almost every time I come there to eat,out back sucking another employees dick...I usually come between 2 or 4 in the morning an I've seen her several times...I do not know her name but I know she's the chubby black girl,that usually works drive thru...I know this because she's taken my order before after coming from outside doing nasty things.I do not appreciate seeing this type of prostitution or whatever.An I don't care for her to take my order anymore..an I will not be eating there anymore,until I know she is no longer there.Please handle this situation or i will refer to higher powers

Kathryn Brumitt
from Centralia, IL
My husband went through the drive up and ordered a summer salad, in Edwardsville Illinois, when he was driving out, he threw his trash out into the trash can in the parking lot and the lid from the can wasn't on tight and fell onto our car door that caused a scratch. Just wanted to let you know so the workers can make sure the trash lids are on tight!

David Cross
from Hampton, VA
the store on GW. Memorial Hwy. was in the drive thru, about 2pm on JUly 11,2019 the drive thru was very slow , two cars ahead. i order a double stack, with just mustard and pickle. when i finally got it, the server did not say nothing, no thank you or sorry for your wait. when i opened it, the meat was cool and just a dap of mustard. Wendy's has gone done hill. you need to get back to customer service..retain your employees and maybe the owner. this is not the only wendys that does this. sad.

Richard Gonzales
from Sacramento, CA
i went to the store in Sacramento Ca.on Power Inn Road at apx. 10pm on 7/12/2019 .. I ordered a 4 for 4 .. a frosty and a sunday .. When I recieved my order I noticed that the frosty I ordered was melted .. I asked the girl why my sunday was melted and her reply was she didnt know and that i should have gotten chocolate instead of vanilla .. I used to be a chef and I manage a couple of fast food stores early in my career .. So I know that the product comes from the same machine and doesnt matter if its one flavor or the other .. She didn't offer to get me another sunday .. She just gave me some random excuse that makes no sense .. WHAT SO EVER !!! By the time i drove to the street which is about a hundred feet from the window the sunday was completely melted and spilling out of the cup in my car .. I had to throw it away ..

Chad Welch
from Swansboro, NC
I have not visited my local Wendys resturant since Mid April of this year. It is typically a great experience and the food is awesome. On July 11 a $20+ charge applied to my account. I have not been to this resturant in months. I am being told now that the resturant had a new system installed in April and that it had glitched and that any person who has been to this resturant since April to current is being charged again. I have cancelled my debit card for fraud reasoning and have a new card on the way. I am disputing this charge and any other charges that appear on my account. Regardless if it was a technical issue due to new equipment or not I find it very disturbing and unbelievable that it would take the resturant or corporate nearly 3 months to figure out there was a problem. I know several others in my nieghborhood who have been affected by this issue and are taking the same measures. This same charge was on my wifes account as well.
Please help me understand, especially with the economy the way that it is, that it would take nearly 90 days to realize there is an issue. At this point, the problem becomes yours not the consumer. You can not just out of the blue recharge an account without the consumer being notified in advance. This ignorant oversite has my bank account overdrawn.I am a disabled retired military and am on a fixed income. This is unsatifactory.

Tammy Spears
from High Point, NC
Me and my family went to Wendy's on south main street in High Point NC. We had to wait for a very long time. And then we had to pull up and wait again they made us wait so long.

Everytime I go to Wendy's its for your taco salad. First they never have one. But tonight instead of telling me they were out they took one of the other salads took every thing off it. Never added cheese or diced tomatoes. I was in drive thru. I know to check bag went b ack in asked the lady to tell me what kind of salad was this she couldn't tell me the manager told me that was a taco salad. I got home all the condiments go with your chicken salad only the chili was there. I will never and I mean never eat Wendy's again. I will start a boycott of the one I dealt with. In Worcester. Mass. Near holy cross college

Lynne Belsito
from New Windsor, NY
I went to the drive through at location #4344. My order number is #377076 the date was 8/5/2016 at 7:05 pm, with such a short order I didn't expect to be asked to pull up ( a common practice at this location to keep drive thru times low). I refused to be moved forward without my change or order. I ordered a lg chocolate frosty which was mostly liquid and a waste of money. The single and baconator I ordered were both half cooked and bloody at the center of the meat ( I had to microwave them to fully cook the meat).
The nuggets were only luke warm and a little hard like they were sitting around for a long time. As I received my order after some time I could hear the Assistant Manager (a heavy set white woman with very short hair) state to another employee and I Quote "what's wrong with that bitch, why wouldn't she move up. give her the f**king food and get her out of here. If this is the type of supervisory staff this location hires no wonder the food was so terrible. The cashier was very apologetic to me since he knew I heard every word the Assistant Manager said.
About six hours after consuming said products both my husband and I both had severe stomach and lower intestinal issues In the middle of the night . I am demanding a total refund not only for the $17.03 I paid but also for the missed day of work. Since I work in the food environment I can't go to work this morning with Diarrhea costing me Over $175.00 for a lost days wages. It will be a long time before I go to this location again, And if I see that manager there again I will make it a point to tell others in line about her conduct.

kalee burnett
from Odessa, TX
On may 29, 2016 I was punched in my side by another coworker and I told my manager on duty that night what he did and she didn't say anything to him about it so I text my mom and told her what happened and she told my dad what happened and my dad came up their and talked to my coworker who punched me in my side and the my coworker threatened my dad. My dad didn't threaten hm at all cause I was beside my dad and then my dad called the cops and waited for them to show and the general manager Lupe I am filing assault charges on him and I want Lupe fired and I want brice to talk to bobby about what happened.
I contacted bobby and so did my dad and he hasn't returned any of our calls and I want to talk to brice personally and fill a lawsuit against wendys for firing me for no reason and I didn't do anything wrong. Do not go work at Wendy's on parkway in Odessa next to hooter they treat y like shit and find away to get rid of u or make u quit. I want wendys corporate office to be aware of the situation and handle it properly and if it doesn't I will take legal action.

Bill Horewitch
from Gilbert, AZ
I went to the Wendys in Chandler Az on Chandler Blvd and was totally disgusted and upset and have vowed never to enter a Wendys again and will tell all of my friends also I ordered to go1. the Large Summer Berry salad advertised and asked for extra tomatoes and ranch dressing. When I got it home it had a very small amount of salad 3 yes 3 total berries and the wrong dressing and 2 total tomatoes what a total rip off. 2 ordered a double cheeseburger and when home it was ice cold.
Thats not the worst. When I ordered a blackberry lemonade no ice and it came out with ice I told the counter person who rolled his eyes and said get this "what's so bad about ice" and said I guess when i said i want it no ice and get this he dumped the ice out and said here. He was totally rude and when I said looks like no berries he stated get this Well that's the way it comes and threw it at me. I expect a total refund ( no I did not take the receipt) and other compensation for the trouble and bother.

My girlfriend took a french fry from my sons chicken nugget kids meal to eat and when she bit into it, something hard inside the fry chipped her back tooth. We were driving and when she bit into it, there was a loud pop sound, which startled me. Followed by immediate pain on her tooth. She felt around in her mouth and found the chip immediately.

Latesha Allen
from Roseville, MI
My husband purchased an Apple Pecan Chicken (full) salad, my favorite, last evening for my lunch at your location on 12mi Rd in Warren, MI. I am a midnight shift RN and when I tell you I was so very disappointed, it is an understatement! When I finally got a chance to eat, I found myself picking out the old, brown, wilted lettuce, brown apples and the chicken that had a almost a spoiled taste and half my salad was gone.
I was so very upset. I wanted to inform you of the quality of food being sold at this store. I took photos and I will attach them. Please address this store's service and quality practices because people can get really sick consuming ill-prepared and not so fresh food. I know it is your goal to serve fresh, quality fast food, this store has definitely missed the mark.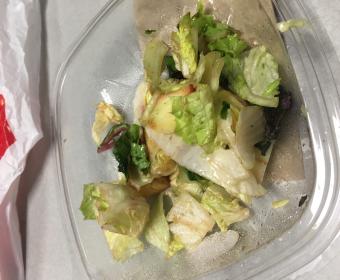 Wendy's on 58 highway Chattanooga Tennessee I went in to eat as soon I walked in the door to give my order 1St the bathroom door was opened with a disgusting smell. Of a bathroom where someone used the rest room The smellwas obvious of a stinch of a smell of a nasty rest room a man in front of me complained to the employee of Wendy' she smiled and just said sir may I take your order he addresssed the smell again he told her no thanks to Wendy's I was next in line I addressed your employeeof the terrible smell told her was ashame to come order for lunch I also told her where her manager was she said the manager was not in but to come back.. I will not return to this Wenfy's until they can do better cleaning or better yet have a new building A Secret Shopper would give this Wendy's a Failing score!

Kelly Thies
from San Antonio, TX
I went into the Wendy's on Guilbeau Rd. last week and bought 2 small frostys for $0.50 each. I asked how long they had the sale on and the guy told me until the end of the month. So this evening I went in and they told me it ended on the 11th. I told the guy that was waiting on me(same guy that told me the end of the month) that isn't what he told me last week and he said that he was told it ran through the end of the month and that they were normal price now. I asked for the manager and he was a real piece of business he told me the same thing and didn't care if I ever came back.
The bad thing about this is, if I were manager I would have told the customer I am sorry about the misunderstanding and honored it then, but knew when I came back in a couple days it would be normal price. I feel that the manager, if you want to label him as so, doesn't back up his employees. This whole thing had nothing to do with price, but a lot to do with principle. If the manager trains his employees like this I can only imagine what will become of the store on Guilbeau will become or if it could do better with better management. I own a business and know how a customer can get a bad taste in their mouth and not come back. I hope someone in Marketing or Administrative reads this.

Lakeisha Ross
from Brookhaven, PA
In the month of may 2016 I went to the Wendy's restaurant in Boardman Ohio I purchased a large container of chili I went to my car to eat the chili I ate 3 spoon full of it. On my 4th spoon of chili when I dipped the spoon in I realized that it was black ink all on my spoon &in my chili and all on my hands. So I took the chili back in the Wendy's & confronted the manager & showed her the chili &she said someone must have dropped the ink marker in the pot of chili that just have been made & she would have to change the whole pot into a new pot.
She act like she didn't have a bit of concern about this ink marker being in the chili didn't say sorry or I apologize for ink being in your chili the same night I got sick. Vomiting nausea diarrhea &chills. The point is the ink in the chili made me sick &nothing was done about it when I approached the manager about it. &now meantime I'm seeking a lawyer to get something done about it. Because Wendy's doesn't give a dam about their customers.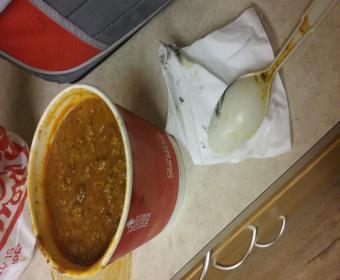 Robert Stinchcomb
from Dublin, OH
My family stopped at the Wendy's off of US71 (Jeffersonville, Ohio). We ordered through the drive thru, received our food/bags, and continued on our trip. My wife ordered the black bean burger. She took a bite and thought she was biting a stem of a cut tomato, which unfortunately turned out to be a plastic piece from a bread bag (image attached). Needless to say, her appetite was over and she threw the burger out.
This could have been a more serious situation than it turned out to be! It will be awfully difficult for us to choose using Wendy's in the future because of this. Having a 2 year old, it was convenient to stop at Wendy's for a meal for him, but we may need to reconsider our options.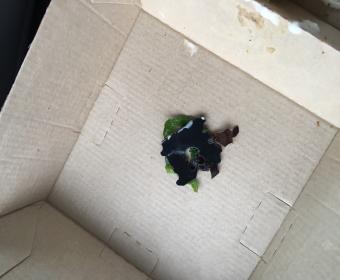 Kenny Howell
from Oak Lawn, IL
I received a screw in my Wendy's junior bacon cheeseburger. The woman who was at work was a manager named Curiston and she then told me no refund. What horrible attitude from a Wendy's employee after a potentially life threatening situation. I will think twice before ordering at this place again!

Mrs. William Griffith
from Lima, OH
This was the condition of the Elida Road , Lima, Ohio location of Wendy's on October 14, 2016 when we entered (see photos below) and it remained the same until we left forty five minutes to an hour later. There were dirty tables and debris on the floor. The carpet was filthy. We could hardly find a clean table. Other customers were noting the same thing. It was not an appetizing atmosphere to say the least. We will not return to this location any time soon. We are regular Wendy's customers wherever we travel because usually they offer a consistent product but service and cleanliness are very important. Dave Thomas would shut this location down if there was not drastic improvement.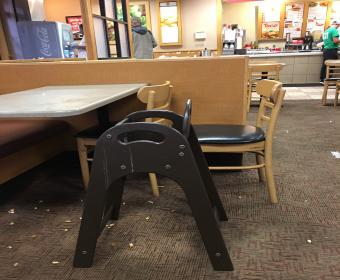 Eric L
from Huntington, NY
As a Company I find my employees go to Wendy's often at 1210 E Jericho Tpke, Huntington, NY. I honestly can say I have had an issue most every time either go in or take out from Wendy's. I am in a financial and Insurance field which can be stressful on a daily basis. The instrumental obligations of my Job are tremendously imposed on how I perform on a daily basis. Seeing the pictures below of my spoiled Lunch after opening and revealing this under the Bun is definitely not a quality of management or high priority for Customers satisfaction IMO.
I have had issues in the past and I believe no company is perfect but with a 95% unsatisfactory rate from almost every time I have been to this location I feel someone best get over there to find out what the heck is going on. Would you eat that Tomato? I have had issues with stale rolls and well done burgers from there as well. I finally took the 10 minutes to speak out and hopefully someone acknowledges this.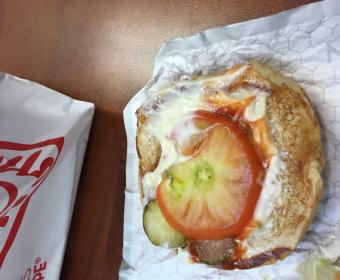 Triana Finn
from Toledo, OH

I went to your store #00001222 in Delaware on Friday night to purchase dinner for my family. When I walked into the store the first thing I noticed was the fact that all the employees, with the exception of the manager, were sitting out in the eating area just talking, laughing, and carrying on. One of them got up and went behind the counter to take my order. After placing my order she handed me a bag and 3 drinks and said I can't give you a carrier because we are out. We then discovered that I didn't have my whole order. She told another person to make my sandwiches, I am guessing that was the person in charge of that particular sandwich, but it was taking forever. I waited and waited and waited. The man who was behind me left the store because no one ever took his order. The girl that waited on me had clocked out and was leaving when the manager came out with a till in her hand and said not to leave because they had to count the till. Anyway, I was waiting and waiting and someone said, "they are making your order" and I waited and waited even longer. Finally the manager says to me, "I am making your sandwiches" and I told her that I understood that.
The point to this is that the employees were not where they were supposed to be, I had to wait an extremely long time for my food so that when I finally got my sandwiches the other stuff was cold. I didn't get a carrier so when I was carrying the stuff to my car my soda was all down the front of my shirt.
I work in customer service and this was truly the most unprofessional experience that I have had. We love Wendy's food and it is a shame that I will probably never go back. At least not to that one. That manager leaves alot to be desired. She maybe needs more training or something.
And because I work in Customer service, I feel as though I should be compensated in some way for this.
This was a terrible experience and I would hope that you will find a way to make it right.

Diana Williams
from Blacksburg, VA
I was at Wend's on 9/7/16 at 4:52 PM, and there was no one in line, I order the 4 for 4 and she ask me if I wanted the Chicken or the Bacon Cheeseburger, and I said bacon Cheeseburger and before I could say anything she said what kind of sauce and what do I want to drink and I said can I have time to talk, and I told her how I wanted my cheeseburger and my drinks, and she said come to the second window and I said you have to give people time to talk, and she did a jerk expression on her face and shrugged her shoulders and once she handed back my card she said next time I will give you more time. I go to Wendy's all the time and never dealt with Tiffany before and with her smartness I would never want to again. Store number #00005371.

Anne Kirkpatrick
from East Syracuse, NY
I ordered the Mediterranean half salad with no chicken and was told the price would be the same regardless of the no chicken. So I paid $4.99 for the attached picture of the salad. I was extremely disappointed with the size of the salad and the price. I have visited other Wendy's location and they do decrease the price when I order no chicken so I don't understand why this location (store #00001214) did not. Also, I ordered a small fry $1.99 and my friend ordered the Baconator fries(cheese & bacon) for $1.99. Why would I be charged the same price for just fries? I am very disappointed with my experience with this location and will not return to Wendy's in the future.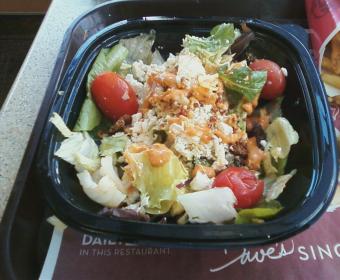 Hello,
We just ordered from drive through and a young man took our order. When we drove away, I notices there was no cheesburger in my son's kids meal. We then turn around to go back and ask for the cheeseburger. We were told to go to the second window and when we pulled up, a young woman with blonde hair that was tied up & bangs parted to one side, very quickly tossed/sorta chucked the bag with the cheeseburger. She then shouts thank you and shuts the window in my husband's face, no apology, just rudeness.
My family and I have been avid Wendys customers for over 12 years and I would have hoped for better service... Especially for something where the error was on their part. I hope to hear back as soon as possible and that proper action is carried out. Whatever was done to correct the matter, I'd like to know why exactly was done. Thank you.
Sincerely,
The Larnards

I came in about 10:30pm and an older lady was helping serve some girl who almost left without her drink. I looked at three different ladies and they pretended not to see me. I stood right in front of the older lady who looked like she was going to take my order and then went and did something else. Instead of saying anything I just turned around and left. Why give business if they don't want it? No one stopped me, they didn't care to work. This location doesn't close till 1 so it wasn't as if I got there as they were closing.

Sue Rosati
from Cincinnati, OH
My husband and I visited your store on Sunday, September 11, 2016 at 7:59:23 pm. We walked in and there was a shop vac in the entryway with the cord stretched to and into the men's room. The vac was on and the noise was loud so no one came to assist us. We said "hello" a few times and finally one of three people who were standing around on the side (we could see them) finally came over. A man took our order, but rang it under a woman's name- Destiney C.
As we were ordering, a girl came out of the men's room with the hose of the shop vac and was cleaning the floor leading up to the front. The man at the register asked her to take over and he disappeared. The girl took our money and then went to get our fries. I stopped her because she had just come from the men's room with a shop vac, handled our money and then without washing her hands she was going to touch our food. There was no one else around to fill our order.
It was a terrible experience, and I don't even know how fresh our meal was. We were so disappointed.

Phil
from Havre de Grace, MD
There was an employee smoking right next to the public entrance door. Every time the door opened smoke rolled inside for the patrons to smell. Then the service was slow and they didnt have the service machine loaded and ready. Terrible experience for my child and me wont go back there. I was there 6/14/16 at 8:04 PM.

Gregory Thompson
from Marion, AR
I went there around about 3:30pm. I was the only customer standing at the counter when i heard one of your employees (male) using a lot of profanity. When the cashier (female) came to take my order i told her that she might want to tell the young man to be aware that there are customers at the counter and that he might want to tone down the language. He took the "I don't care attude" and kept on with the language by saying quote " that he was a grown ass man". When I heard that statement i shook my head in disgust and told the young lady to forget my order and then I left. This experience left very bad taste in my mouth. I have had other not so pleasant experiences at other Wendy's restaurant but I kept going back. This particular experience has lost my business with Wendy's forever.

Michelle Van Pelt
from London, ON
I ordered a baked potato with cheese and bacon, when I got home and began to eat it I found a piece of broccoli. I am not sure broccoli is on your menu and I am concerned it came from an external source (employee's supper). Even if broccoli is somewhere on the menu cross contamination between foods is evident.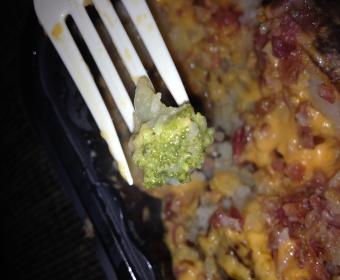 lisa holmes
from Palmdale, CA
My fiance and I went to visited a wendys in lancaster ca on 10/06/15. We placed an order and went to go sit because we was dinning in. About 3 to 5 groups of people came in after we did and order. They all received their food before we did and they was not of color. We waited between 10-15 mins before we had to say something, they never called our number. We asked for our money back and got it, we also got the meal we order. We would of been sitting of not had said anything. We don't appreciate the way we was treated because we are of color, ignored, disrespected and looked over. We never ever want to visit another wendys no matter what state or city it's in. We are and still feel pissed off and disappointed in the behavior of the employee.We are appalled at this situation. We was only treated this way because of color. The manager didn't seen to care to much because she gave us our food and money and went back to work. The employer needs to pay attention and look at who they have hired. We are just so upset at this situation. We are disgusted and lost for words.

This evening I, close to 10 p.m., I went through the drive thru at Wendys on Park St. in West Springfield, MA 01089. I ordered 2-4 piece nuggets, 1 double stack (due to allergy), a small fry with NO SALT, and 4 frostys. Besides having to wait over ten minutes for food, I expected it to be fresh. I was asked to pull up to wait for my food. The initial time I was brought the wrong order, the boy went inside, came back out and asked me again what I was waiting for, I insisted it was a burger with no onions, 2 nuggets and a fry with no salt. 5 more minutes after that another boy brought me my food.
When I went home to eat with my husband, I was given fries with no salt, but they were greasy and soggy, extremely soggy. The double stack beef patties were the color red to the naked eye, and it was loaded with onions. I tried to call this particular restaurant as I refuse to drive back after having wasted gas idling my car for 15 min. No one answered the phone and I am forced to use this as a resource to complain. If this is how the food is going to be every time I go, I will not eat there again. It shouldn't matter what time of day I go there, if you are open to 1 a.m., food at 10 p.m. should be fresh and cooked to it's proper temperature, and food made the way a customer asks, thank you for wasting my time, gas and money.

I would just like to inform you of an illness I had after eating at Wendy's at the Iowa 80 Truckstop on Friday March 21. I stopped and got a single combo hamburger and fries. I thought that the hamburger tasted stale-it was not hot and just tasted old. I also had fries with ketchup and a Diet Coke. Within two hours of eating, I had projectile vomiting and diarrhea, along with profuse sweating and chills. This persisted through the night. The next morning I felt dramatically better. I had felt completely fine before I ate. I just want to make you aware in case others were affected, or this store has had other complaints.

Recently my husband and I were in Langley, BC for several days and stayed at Canada's Best Value Inn on Fraser Highway. Right behind the motel was a Wendy's. The service was so bad that one time I was there by myself I actually left because two of the customers had waited so long for service that they were about to get into a fight! The first time we were there I ordered a pecan apple salad and got no pecans. My husband's fries were actually cold. The second time was when the fight almost happened. At that time another customer had been waiting a very long time because the staff had given him the wrong meal. I have no idea when or if he ever got the correct one.
The third time I ordered another pecan chicken salad and again there were no pecans. All three times I went in there was no staff at the register. Instead you could hear them talking in the back in whatever language it was that they spoke. I can assure you that it will be a very long time – if ever – before I go back to a Wendy's. I'm sure that this is not what Dave Thomas had in mind for his restaurant. It has gone downhill faster than Lindsey Vaughn!

Michael Westenberger
from Burnsville, MN
I had ordered a double stack hamburger with a large fry and a chocolate shake on 7/11/2016, but they had given me a chicken sandwich instead. I am not sure if they confused my order with another, but I was disappointed that by the time I got home I had realized I had paid for something I didn't order. I had just gotten off work so did not want to drive back, but I'm a little upset at Wendy's.

Dayna Molloy
from Oklahoma City, OK
I want to thank Wendy's for being so kind to my daughter today. We went to the Wendy's on 6th street in Stillwater Oklahoma around 11:00 AM today June 10, 2016. My daughter has a peanut allergy and due to a reaction a few months back, she has alot of anxiety. She asked the cashier if there were any nuts in the frosty. The cashier had the manager come out and talk to her. The manager took her over to the allergen chart that they have posted and showed her the Frosty with only allergen as milk. She made my daughter smile. When we got our Frosty's, they gave her one size bigger at no charge. Later the manager came by and asked her if it was good and my daughter had the biggest smile. The manager told her that she is allergic to pine nuts and that she understands nut allergies. I did not get the names of the cashier or the manager but we are so thankful for their kindness : )

Celia Coats
from Smithfield, NC
I go to the Wendy's on hwy. 70 in Clayton, NC about 3 times a week to get an apple chicken salad. I ordered a full size apple pecan chicken salad and told them that last time my salad did not include the blue cheese crumble so I asked them to please make sure it is on there this time and when I got home and took out my salad I noticed it did not have an blue cheese. This was on Thursday March 10th around 7pm.

Cindi gast
from Wellfleet, MA

Brenda Daniels
from Cedar Falls, IA
We stopped at the Wendy's in Hannibal, MO at 8:00 pm last night to grab two salads and 2 large chilis. They took our order and payment and at 8:30 we were still waiting to receive our chili. I approached the young man taking the orders after the first 20 minutes(they were not that busy last night) and said we still had a 3 1/2 hour drive ahead of us and needed to get going. They said sorry, but we ran out of chili and it's just about done. They gave us our salads and wondered if we wanted a substitute. We declined the substitute, but at that time said we would just take a refund and be on our way. They said "It's just done now, they are adding the meat and we'll have it right out to you". Another 10 minutes later I approached a different gentleman up front and was told the same thing only this time it was because there was someone new added to the "it's done" comment.
We then asked again for a refund and a lady walked by and rudely said "WELL IT'S DONE NOW!" but still no chili delivered to us. She then disappeared to the back. My husband then went up and asked to talk to the store manager and it was the rude woman that commented that it was done. She then gave us a refund and we left. If they had explained to us at the beginning that they had run out, we would have gotten the salads and then continued on down the road and stopped in Palmyra to get the chili. The manager was full of excuses that she had been on break, but the service was beyond slow. A gentleman that ordered a chicken sandwich and fries right after we ordered was still waiting on his meal. Another two men finally left after 15 minutes of the wait, not sure if they got any of their order.
We have stopped at this same Wendy's for years on our trips to and from St. Louis. It will be our last for a while.

I visited the Wendy's in Harper Hospital, Detroit, MI (Tuesday, March 5, 2013 at 6pm). I go to this restaurant because I like and it is very convenient because I work in the hospital. Today I visited Wendy's and receieved the worst service. It took me over 40 minutes (my hold lunchtime) get my order. The staff was playing behind the counter; laughing, playing around and using profanity. My cashier was not friendly at all Then I get my order and return to work to see that I have the wrong order, so now I have no lunch. I wish I had taken the moment to get the names of these employees, but I was so angry. I have never experienced anything like today. It was absolutely a terrible experience.

Esther Castro
from Beaumont, TX
I have had many problems with the Wendy's location on twin city highway in groves tx, but I've just had enough. I was rushed with my order and after everything I asked for kept getting a "is that it?". I specifically asked for spicy nuggets and if she would have actually listened instead of rushing me then I would of had spicy nuggets in my bag. When I pulled to the window I asked for sweet and sour sauce, ad of course it was not in m bag. At this moment I am so fed up with this location and their employees I will not visit this location again. Terrible customer service and accuracy.

I didn't receive my order complete. I make my order my window. I order 3 JR bacon 4 pack and another 4 pack of nugget additional JR Ch Deluxe. Missing on my order 1 JR bacon. I notice at my home. I may need to spend gas to drive back to get a hamburger. Next time I will double check order. store 76 at Añasco Puerto Rico.

Sharon Foster
from Charlotte, NC
Employee Tianda took my order for two kids' meals. She told me there were no toys available. I then ordered two small Frostys. While I was waiting for my order, the shift manager called Tianda over and told her to offer me two free Frostys, in place of the no toys. When she brought the rest of my order, I asked her what the lady said. I had heard her, and wanted to know what the employee would say. Taken aback, she relayed what had been told to her, and when I asked why she hadn't said anything: she indicated it was because I had already Bought the Frostys. I asked for a refund for them. She was not happy. Refund was a multi-step process. As I left, I stopped by Tianda at register and told her I didn't appreciate what she'd done, and while I was speaking, she gave me a dirty look and walked away. I expect the worst at Walmart or McDonald's. Wendy's should be a cut above. Dave would not be pleased.

Sheila Reese
from New York, NY
My experience is the workers at the establishment is to slow, I work at the New York Presbyterian Hospital at 165th Street &Broadway in Manhattan, I work the night shift, every time I come there the line is long and the workers are to slow, I can't get my food because I'm on line to long, I have to cancel my order to get to work on time. Thank you!

patt hogan
from Meridian, MS
We had to go to Meridian MS. I have always had good service there, but this time the service really bad. I only ordered a little and had to wait for 15 to 25 minutes. I don't no what to say if other customers were treated this bad. The food was cold and we had to wait so long. Wendy's is going to lose business. The store number #00007923 order number232497 price 764 on my visa. The manager. Bob Dominy, please get them right

Recently went to the Wendy's on rte 352, Middleton twp, Delaware county, pa, and ordered a baked potato,and hot and juicy hamburger. Was told they had no potatoes so substituted a cheese burger. The fact that a basic staple ,like a potato was not available,bothered me. Further when I returned home, both sandwiches where far from "hot and juicy" but cold. Obviously the ingredients had been laying around for a while. I'm not sure what the overall problem is,but if not corrected Wendy's will lose business the the several nearby fast food establishments.As for myself, I will hesitate to revisit Wendy's for a while. Thank you for your time!

Alyssa Murphy
from Clifton, NJ
At Wendy's on Main Avenue in Clifton, NJ they completely got my order wrong. Too crowded and too many people to keep track of. Very dissapointed.

Iv been working a Wendy's for a little over 3 months and sence then iv put up with working 10 pluss hour straight with no break iv opened a bank account jst so I can have direct deposit so my bills could be paid on time and it's been almost 2 months sence then and my direct still hasn't gone threw and on top of that I asked them to tweak my schedule because I'm going back to school and they took me off the schedule every day but the one I asked for which to me seems a little unfair and some what retaliatory.
But if it is I don't know why cause iv never missed a day I'm always on time and I always come in when Im called but any way thanks for Lisening if any one is. I WENT TO THE WENDY'S LOCATED IN plaza in troy ny. I went there for lunch and the manager was rude , slaming my food on the tray and nasty. first i asked for the manager and to my surprise it was the person who was waiting on me. She needs to go back to management school or maybe not be working with the public at all. to have a manager slamming food telling customers to wait and then act like she was doing us a favor by taking our orders.
POOR POOR DISPLAY FOR A MANAGER TO SHOW HER EMPLOYEES LET ALONE THE CUSTOMER. I WILL NOT BE GOING BACK TO THAT WENDY'S. VERY DISSATISFIED CUSTOMER.

Young people loitering in front of the Order line. There was no line at all but for those people standing there making it uneasy for customers. These batch of friends had more friends come and go in and out of the service area coming from outside. No uniform changing, no hand washing, phone calls made in srevice and food prep area, unkempt people loitering.. They come and go as they please. It was disgusting I started filming it on my phone. They would go out into their cars and dig around into their dirty cars/vans and just come back in and go straight into the food prep/service area and just walk around touching surfaces.
I wanted to puke after noticing this as I have finished off food I bought. The building looked so dingy. No wonder it does not look like a success story, this particular store.

On my way home from work (hospital evening shift) I was hungry and stopped at the local Wendy's in Port Orange, Florida. Ordered fries (ad said 'Natural' whatever that means) chicken nuggets and a small frostee. The nuggets were cold and had a BAAAD taste. The fries were worse..limp cold. I wanted to write to the corporate offices as this has happened before. I will NEVER go to this Wendy's store again.

My Mother In Law received several $20 bills in change from this Wendy's ALLLL of which were counterfeit. When she called the store to complain, they told her to just bring the money back in and they would exchange them. She took the money back the next day and they simply gave her more money no questions asked!!! Weird huh, I mean who just takes someone's word that they received counterfeit money from their store and you replace it with NO QUESTION ASKED and NO INVESTIGATION!!! Needless to say if you go to this Wendy's I would suggest you NOT use cash!!! I will NEVER go back to Wendy's AGAIN as when I filed a complaint with Wendy's no one even bothered to call me back!!! So much for Customer Service or Satisfaction!!!

Milagros
from Brooklyn, NY
I visit this Wendy's working days for coffee, No one at window in the morning. Store is locked due to COVID. When they do come to the window, they have poor customer service. Will never get my coffee there again. Very intimidating.
Hopefully they don't get the wrong one to challenge their attitudes.
Oh, and your customer service Hot Line to call. Never answers the phone. You start off with 14 people ahead of you and by the time you have 2 people left ahead of you, your call is cut off. Thanks. Great Job. I'll stick to McD's. They have better folks working for them.

Wilma Howell Harden
from Matthews, NC
My husband and I went to Wendy's in Wadesboro, NC and I have never in my 54 years been treated with such disrespect! Not only did I not get the correct change, the workers were eating on the floor and Serve Safe says that is a no no! But my food and drink were slung out the window towards me. I have never!!!! And I most certainly will never go to this place again! On top of that, I tried to call to talk to the manager and for some strange reason, no one was available to answer the phone!

March lane wendy's stockton ca employee just threatened to have someone come out to fight a customer on camera it will go viral she needs fired before something worse happens
Have feedback for Wendy's?
Thanks for your feedback!
Sorry. Please try again later!