Starbucks
Contact Starbucks Corporate
Toll free phone number: 206-447-1575
---
Starbucks is the world's largest coffee chain with thousands of locations worldwide. Their corporate office is located in Seattle, Washington and the CEO is Howard Schultz. The company was founded in 1971 and remains headquartered in the same area as it was originally started today. If you have Starbucks customer service, the best phone number to call is 1-800-782-7282. You can also use the toll free number which is 800-Starbuc. 
The company keeps pacific hours of operation, from 3am-Midnight Pacific Time, 7 days a week. If you want to write a letter to Starbucks customer service, the corporate office provides a different mailing address then their main location Seattle. Inquires should be sent to PO Box 6363, Dover, DE 19905-6363. This is likely because the busines is incorporated in the state of Delaware for tax reasons.
Starbucks Contact Information
Report complaints to corporate and get satisfaction
Starbucks headquarters address

2401 Utah Ave. South
Seattle
WA 98134
United States

Company website

1-800 phone number

206-447-1575

Support email address

support@starbucks.com

Better Business Bureau rating

A

Customer service hours

3am-Midnight PST, 7 days a week
Browse reviews of other Fast Food
Top Starbucks Complaints
Browse more than 151 reviews submitted so far

Like most Americans, I need my caffeine fix and Starbucks truly does make the best coffee.  All the coffees have rich bold tastes and amazing flavors.  And they will make it whichever way you want.  If you would like a venti soy milk vanilla latte hold the whip with a double shot of espresso, they will make it no questions asked.  Any asinine way you want your coffee they will make.  And the free wifi, that's a plus.  Comfy chairs, table, and a cozy living room vibe makes starbucks a perfect meeting place.  Only downside is that it is a chain coffeehouse.  I have found a local coffee shop down the street to my house that is family owned, free wifi, more of a homey feel with books and games on bookshelves, and has amazing coffee as well.  I prefer that kind of place over Starbucks because it draws a more homey, comfy vibe.   

Julie Stolarz
from Bedminster, NJ
I visit Starbucks often. I also purchase Starbucks pods for my Starbuck espresso machine at home. I support Starbucks. Imagine my disappointment when I tried to cash in my free birthday drink the day after my birthday. I was told that I had to use it on my birthday only. I can see putting a limit of maybe 1 week to cash in but 1 day? Really?

Tim Pergram
from Mesa, AZ
The worse service ever terminal 3 near gate F3 Delta has Americano that was nothing more than Pikes Place coffee I told young lady not an Americano and stated yes it is your drink I gave it back. At least in my hometown Starbucks employees care this was a terrible reflection of you product and staff. Thanks

Denise F Mallett
from Huntington, WV
On July 15, 2019, my husband and I bought a Mocha Frappuccino, Grande and a iced coffee at the Starbucks, in the Target Dept. Store, in Medina, OH. I asked for Non Fat Milk and No Whip Cream. She repeated it back to me. We picked up our orders and left the store, it was pouring rain so we rain for the truck. When we got in our truck, we noticed my frozen Frappuccino wasn't made correctly!! It was pouring outside, so we didn't go back into the store. It isn't often that whomever is making my frozen drink gets it wrong....but the gal making it on the 15th GOT IT VERY WRONG. She ADDED waaaaay too much chocolate, more then what the recipe called for, so much so that neither one of us could drink it!!!! Neither of us asked for extra chocolate... This has been my only drink I order since Starbucks arrived in Medina, OH.
It was soooooo horribly sweet and Dark in color, we poured it into a glass jar when we arrived home, thinking to use it as a flavoring in my husbands coffee. When we poured it the whole bottom of the Starbucks cup was thick with chocolate.... WHY would you add in double the chocolate when NOT asked to add anything in our drink????
How do you train your employees? Perhaps you are not thorough enough? When asking for no whipped cream, don't have your employees compensate with double the chocolate for customers.

Cole Veeder
from Federal Way, WA
I ordered a caramel cloud macchiato, I then asked them to blend the drink and ice and they refused. I'm not sure why as it seems like a simple request. They didnt give a reason when I asked why they just flat out said no.

I live in Cranford, nj and I frequently visited the Starbucks on south avenue in Cranford. The baristas are great and the location is in a perfect spot but the last 3 times I've been there I have to stay have made me want to stay away from this location. Around 8pm there's a group of young guys who hang out blocking the entrance and don't even bother moving and even stare you down as you are making your way up the stairs. I had my young daughter with me and I had to walk around them to get up the stairs and I even said excuse me and one of the kids didn't even bother to move. These kids had their duffle bags and slip on shoes all over the front entrance and we're running in to get free water and check on their phones that were plugged into the wall charging their batteries. Not one of them had a drink they paid for just the free water. Now I don't mind at all that you offer paying CUSTOMERS to come in and have a seat, charge your phone and grab a drink of water but these kids are making your paying customers feel uncomfortable. As I was walking out 2 older ladies were sitting outside at one of the tables the store has Set-Up and they even thought it was ridiculous no one had said anything to them because they were running up and down the stairs and jumping off the railings. I'm sorry to say but I won't be returning to this location. Good luck!

Linda J Johnson
from Safety Harbor, FL
I have been going to the following Starbucks twice a day for the last 9+ years. Below is taken from your Website for
Starbucks Coffee at Northwood Plaza. As you can see store hours are 5:00 AM until 11:00 PM.
Visited 1930 times, 1 Visit today
2560 a N McMullen Booth Rd, Clearwater, FL
Website
(727) 723-3289
Mon – Sun 5:00 AM – 11:00 PM
The employees are like family to me and I care for each and everyone of them. However, when new management came into the store, they changed the store hours to 5:30 AM instead of 5:00 AM M-F.....the Northwood Plaza store had regular customers everyday at 5:00 AM. Talking to other stores that I visit they were shocked to find this out and wished they could open later and also informed me this is not corporate standard practices when it does have business that early in the morning.
Can you please explain why the store hours for the morning changed and could you also explain to me why this store has been out of Sweet & Low for over three weeks? I'm having to bring in my own to make my coffee just right

1304 F St Washington DC location really let me down. I preordered a drink. When I walked in, the cashier said, "Oh it just got here."
There was no one in the store waiting. They just didn't care enough to get started on my order. They asked me to walk up to get a Stevia for them to make my drink.
The location was dirty and in disarray- at 5:47 AM. See picture of trash on the stairs. The barista didn't have an apron on. I took a pic of that, but I can only upload one pic.
I love Starbucks, and today made me feel like Starbucks doesn't love me.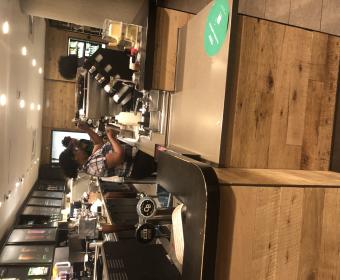 I go to Livingston nj location on Mt Pleasant Ave every morning to get 2coffees. The staff is great except for one new person today named Liz. I always get a tray for the coffee by the staff. Today Liz put the coffee down and pointed me to end of store to get tray where I had to wait for customers on line picking up orders. I told her staff everyday provides the coffees in a tray and I said you must be new. She ignored me and I left. If she's around next visit I will stop getting coffee there and go across street to Dublin donuts

Natasha
from Rego Park, NY
Worst experience ever was humiliated ignored waiting 20 min and leaving without drink sound like perfect place lol actually I was on my break decided to get drink from you I left stressed humiliated why just why I'm not sure that's Starbucks thing please let me know it's to my stress in life I will talk about it everywhere just because people come to Starbucks and expect some kind service but I guess we shouldn't expect nothing from you

Your team at Laguardia terminal B D gates had 1 person on the register 10 staff talking to each other. and a line to the door and beyond.
I eventually asked them to add another register (which was live but not manned). They finally did, with attitude, so I left not trusting them to make my drink.
You need a manager there

I go to Starbucks daily. I love the double smoked bacon sandwich.
Recently my last two sandwiches only have 1 pc of bacon. That's a ripoff. Please make sure preparers know it's two Pieces. That is what double means. Thank you.

Shantell
from New Iberia, LA
I visit a Starbucks location every day of my work week and I'm pretty much a creature of habit in what I order.
I love having a slice of Lemon pound with my specialty coffee. Almost every time I order one, it gets put upside down in the little brown bag only to have the icing get stuck in the bag.
I'd like to see the employee's put them right side up in the bag.

Waited for over 10 minutes for drink at Baton Rouge Perkins Rowe Bluebonnet store. Complained to employees. Told me that there had been mobile orders ahead of mine. The point that I was making is that a couple of folks in line behind me , white guys,received their order before me.. Employees were not courteous.

just bought a medium vanilla cold brew at the starbucks at the providence place mall in Providence ri. gave the girl a twenty(thats all i had was 20.00!s as i had just cashed a check she gave me change back for a 10. and refused to check the drawer. my last time visiting starbucksmost expensive coffee i have ever had and the worst service. guess she got a big tip and no reciept. gwen george

I'm a huge fan of Starbucks but the drive through of the one on Olio Rd/116th in Fishers is painfully slow. I'm aggravated lately every time I'm on line.


Gail Miley
from Waltham, MA
Service, coffee, everything customer service related was great.
Only complaint is the entry door needs to be fixed!!! Door has no mechanism on it to prevent it from slamming EVERY time the door is opened. Made it very difficult to have a business meeting w/ the VERY loud banging from the door literally every 5-10 seconds. Ended up leaving & moved the meeting to Panera. Too bad.
Starbucks - please, please fix the door!!!!

I've been a Starbucks loyal customer for years. Yesterday morning my coffee was not even warm and it had lots of coffee grinds inside my cup? I mentioned it to my barista this morning. She simply said o well! I ask if I was not satisfied with yesterday coffee it should be on the house , she says I should of reported it that day? I have a work schedule can't be late. She charge me my coffee! It's been a few unpleasant service here jamacha in spring valley. My history shows which Starbucks am texting about. For now on I will be going to a different location spend more of my morning traveling further to another Starbucks and spend more gas. In order to not encounter bad service. Hopefully this takes care of my problems! Luis E.

I've been a Starbucks loyal customer for years. Yesterday morning my coffee was not even warm and it had lots of coffee grinds inside my cup? I mentioned it to my barista this morning. She simply said o well! I ask if I was not satisfied with yesterday coffee it should be on the house , she says I should of reported it that day? I have a work schedule can't be late. She charge me my coffee! It's been a few unpleasant service here jamacha in spring valley. My history shows which Starbucks am texting about. For now on I will be going to a different location spend more of my morning traveling further to another Starbucks and spend more gas. In order to not encounter bad service. Hopefully this takes care of my problems! Luis E.

I ordered a caffe almond milk latte after a hard days work and just wanted to have my cup of latte . When I ordered I specifically mentioned "Tall almond latte , xtra hot and no foam and please fill my cup !!"
And what I got was half cup of latte with foam and same temp that is made normally .
When I reached home I talked with Josh and he said I can get another one if I come back . So today I went to get my coffee and guess what I get ,again the same damn thing and this time it was literally less than half cup .
Please hire people who are smart and pay attention to the customers and deliver what is asked !! I am not paying for half or 3/4 cup of latte . And you are not doing me a favor by replacing the previous cup and saying we are giving you free this time . DON NOT FORGET YOU ALREADY CHARGED ME FOR THE ONE I HAD ORDERED FOR FULL CUP !!

They were out of a lot of stuff

Kathleen Thomas
from Oakland, CA
Waited 25 minutes for a lemonade at Winchester and Magliocco in San Jose. I think the two young guys are smoking too much week and enjoying messing around with customers.

Likely the poorest back office (customer service) system I've ever dealt with. Can't log on to my account. Tried everything. Changed password, get a "successful password change", but still doesn't allow me in. Unbelievably poor system.

Wrong order, when I told the clerk it's not my order she ignored me, I wait about 7 minutes waiting and about 5 customers after me got their orders, tried to ask her about my order she ignored again, another clerk came an fix my order, then I asked her about her name she also ignored me with a very rude way. This is location is at west Belfort and grand parkway. Richmond tx

I got off I-80 in York,NE 2 days ago to grab an iced coffee at the Starbuck's right off the interstate. I purchased the most unenjoyable stale chocolate chip cookie I've ever had. Didn't even eat it. Found that out about 20 miles down the road. I'd appreciate my money back! It was around $2.50 or so (wasn't provided with a receipt, so I don't know), but I know it's headed for the trash. Disappointing.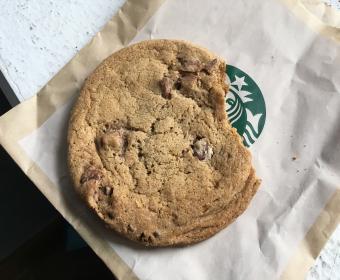 I visited the 272nd location on pac.hwy, the girl was new! Not even trained, I ordered a venti starbucks double shot on ice, she handed me a venti cup with a shot of espresso and a scoop of ice!! When telling her this is not what I ordered she raged that she was new and it wasn't her fault she was alone!! She went to "call" someone on how to make my drink, I told her never mind I could tell her how, she continued with am attitude!! I then asked for my $$ back, she then kept mumbling unfer her breath , asked me how much it was and then proceeded to throw my money @ me, having to pick the change up off the floor!! I then asked for a manager, " she said, sorry she's gone" I said that was ok I would ask to speak to the Safeway manager, she then leaned over in my face and said, "remember my beautiful face" !! Who say's that!! BASICALLY THE MANAGER DIDN'T KNOW WHAT TO SAY, JUST ASKED IF i ALREADY GOT THE REFUND????? Worst Starbuck's experience in 30 years!! Will NOT go back to this location ,except to see if the girl still has a job!!???

This past week on 4/24 at the Dallas Airport I purchased a grande frappe. I ordered a mocha but realized after I had left that they gave me a caramel. I was hurrying to my plane so I didn't have time to take it back. I don't like caramel and threw it away. I would ask to please reimburse me 150 stars to make up for my lost purchase.
Thank you. Pat

Anne
from South Charleston, WV
I will start off by saying I'm not complaining about customer service. What I am complaining about is the quality of the drinks that I get there. I go to Starbucks almost everyday and have had to start actually parking and walking into the mall (Charleston Town Center or driving 5 miles out of my way to get a good tasting coffee. The one on the Kanawha Blvd in Charleston WV is just not good most days. I will go there every now and then when I'm in a bind and it's the only one around with a drive thru (very convenient) thinking well today will be the day that my drink is going to be good, but always seem to be very disappointed, spending over $5 for a coffee that you just can't drink is not good. I know that I should take it back in but I don't have the time and I'm just not that type of person that likes to complain. That's why it has taken me so long to write this.
I just think that this store should be reevaluated on how to make drinks. I know they are super busy but who isn't. I can say the Starbuck inside the Charleston Town Center and the Starbucks On RHL Blvd and even in one in Target in South Charleston are great.

Daniiel PANTELL
from Bellmore, NY
I tried to walk into the above location and while I was in the doorway a young woman stated that they were closed. I asked what time do they close and she responded 11pm. I looked at my phone and it was 10:58pm. I told her that it was not yet 11pm. I said don't worry, I will go to another location. She responded by asking me " are you sure"? I said why even ask me that? You didn't even give me a chance to enter the store before you stated that you were closed. There was another gentleman there who heard everything but didn't respond at all.
All I needed was a $50.00 gift card to give my employee tomorrow morning. I was so upset that I didn't explain that all I wanted was the gift card. The lack of hospitality by your employee was astounding. Thank god there is a Walgreens nearby where I purchased the card.
I don't think I will be patronizing this location again, or perhaps any location for that matter.
Anxiously waiting for a response,
Daniel Pantell

I was at the Orlando airport for an early flight and the barista made my drink wrong I went up to the counter and told her this isn't what I ordered she argued with me that it was I spoke to someone else and they also stated that was what she made you. I ended up leaving upset and disappointed for my flight home.i three the drink away and have called the phone on the receipt to file a complaint each time they tell me someone will contact me with in 48 hours I never hear a thing so I'm filing another complaint in hopes of getting some resolution for this horrible experience!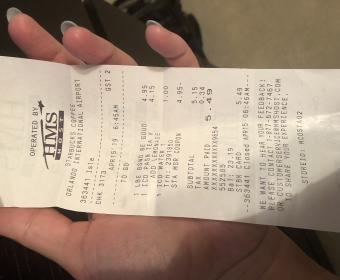 Every time I decide to try Starbucks again. I get more disappointed! As I see it your only job is provide a cup of coffee with a good experience!? None of which I get ever.
Visiting the Kirkland store today. 10 people behind the counter and at time no one was working the register. 3 people looked at me like we will get to you when it good for us. No acknowledgement what so ever. How long you you believe it should take to get a shirt double cap? I would say 20 minutes is too long.

Tan tran
from San Diego, CA
On 4/13/2019 I was loaded $100 on my Starbucks Card but it never go to my card until today I check with the girl but they said I have no receipt it nothing they can do .
I hop next time there should do a better job so I don't have to lose my money.

Fort Knox Starbucks customer service has went down .. The employees the management are very rude. The store cleanliness has went down food looks old like been sitting for days . Heather is the worst never smiles. I love Starbucks but I will drive 20 mins to go to Etown just for better service .

Tan tran
from Los Angeles, CA
On 4/13/2019 I was loaded $100 on my Starbucks Card but it never go to my card until today I check with the girl but they said I have no receipt it nothing they can do .
I hop next time there should do a better job so I don't have to lose my money.

Angela Myles
from Altadena, CA
On Sunday, April 07, 2019 at the store located at 743 N. Lake Ave., me and my grandson went to get a birthday cake pop (one year old) I notice when he was eaten it the color was wrong. I took it from him and the inside of the cake pop was raw. Please help me understand how that could of happen?
Angela Myles, Consumer
amyles@dveal.com
626-318-5716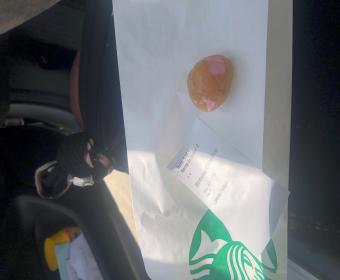 Marlene F. Hamlette
from Roanoke, VA
On 2/14/19 I went into the local Starbucks located on Williamson Road/Orange Avenue, in Roanoke, VA 24012. I was the only customer in line with (4) clerks behind the counter. I stood and stood at least (5) minutes making eye contact with several clerks as they fixed drinks for others? One customer at the window and no one in the line but me. I turned and left the store, no one spoke to me nor addressed me the entire time I was in the store. When I got to my car, I decided to return and ask for the manager, Robert Mullins I informed him as to "Why he would allow any customer to walk out of the store without being addressed by staff". He offered a lame excuse, I left and then called customer service to report my experience to this date no response. On 3/15/19, went to the other Starbucks to get a gift card for a friend, reported my experience, they took my info and promised me a call. To date no response. On 3/25/19-called Customer Service spoke with Yoli, promised me a call. Today is 4/11/19, no response. Terrible and Unprofessional Customer Service from the store to the telephone. You all must do better!

Erin Brantley
from Cleveland, OH
My birthday was in March and I never received my birthday reward.

Ralph Deppe
from Fort Wayne, IN
Hello , April 3rd I was in Vegas airport .. Being a regular customer in my home state of indiana. I stopped In the terminal for a coffee . It was so old it was too bitter to drink .had to throw it away. After about an hour in the terminal I wanted a cup so bad I tried another cup ,holding It wood be better .well at least it wasn't bitter.but it didn't taste like your normal brand of coffee ,I had to throw it out. I ? If they are using your products or sliding in something else. Note It was bad . PS.I am a share holder

Chelsey Hansel
from Gilbert, AZ
I went to a Starbucks today, ordered the same drink that I've had for months. The girl said it would take a few minutes because there was no iced coffee so she would need to make it. Got my drink. It was horrible. I told her it didn't taste right and it was lukewarm. There was no sticker on the cup so i wasn't sure what it was that was made. I told her the order again. I was the only customer ordering and the only one waiting. There was no drive thru. She remade the drink. This time it was at least cold and i saw her choose the right milk but i order sugar free and it was so sweet that i could t drink it. So i took it as i walked out and didn't try again. I hadn't ever had this problem with baristas before. But the before and after cups were both horrible. There was not a sticker on either cup. She was the only barista in the place. Super disappointing.

Vickie Hanna
from Topeka, KS
Bought a hot green tea this morning, it had zero flavor, just tasted like hot water. I waited 20 minutes for this mobile order. Because it was busy I waited to come back to ask for a different tea. I was told that was how that one tasted. So I said then I would rather have a tea with taste. I was told again, that's how it tasted, it's very light. They just stood there a stared at me. I got angry and left, they offered nothing to replace. As you can see we have been a Gold customer since 2006, this was not service as you advertise or that I have experienced in the past.

Brycen
from Bedminster, NJ
For the past five months, every time I have went to any Starbucks in Greensboro or Kernersville N.C., they told me I was only able to order one birthday cake pop. Although, when I went back 30 minutes later, they gave me another; therefore they were not out of birthday cake pops. This doesn't include the many times I've been that they haven't had ANY birthday cake pops whatsoever. They have also gotten my order wrong multiple times. I'm am very disappointed in their work ethic.

Sonia M
from Hutchinson, MN
I was on vacation and forgot to purchase a gift so I stopped at the Starbucks in the Nashville TN airport and bought a coffee mug. When I got home I noticed that the handle had a crack and it appeared to be glued back on and there were coffee spots on it. I thought this was rather odd. I know this may seem odd but the photos are taken as soon as I got home. I am not asking for a hand out just a exchange on my mug and I can send the old one back. My service was great I was just dissappointed that I couldn't give this as a gift. Thank you for your time and awesome service.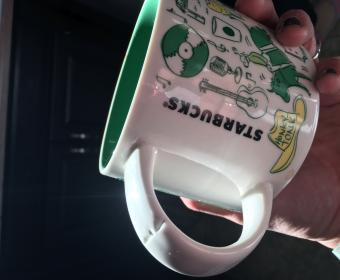 May Yip
from Westfield, NJ
I purchase a cup from Starbucks and asked them to put my drink in it. They paced the order sticker on my cup and when I tried to remove it later, it was impossible. It wound up destroying the surface of the cup. I paid over $12 for this. I can't return it because I purchased it at Dallas airport during my business trip.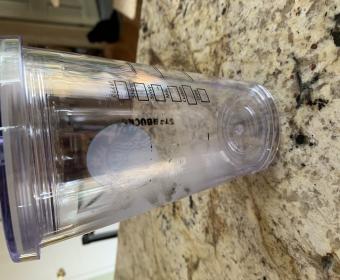 Christina
from Roseville, MI
I go to the same Starbucks at least 3 x a week. I order the same drink every time.
I went Saturday March 16th ordered a grande triple mocha frap. Got a triple mocha frap in a grande cup but it was filled like a tall. The whip cream didn't even go into the dome. It was below the dome. So I paid for a grande but got a tall. I went again on Monday March 18th ordered a tall triple mocha frap. Got a tall mocha frap. I ordered triple! I won't be going back to that Starbucks. Hall rd and Hayes Clinton Twp mi. Or maybe that's Sterling Heights mi. I will be inconvienced and go to a different one. It's not the only 2 mess ups. It has happened in the past but two days in a row is too often for the price I pay.
I do have a photo but it won't download.
Thank you, Christina Chester.

Marie Sylvia
from Nashua, NH
Went to your Taunton location to try your new Green tea Matcha! My husband got the venti iced with 2 shots of expresso and it tastes like water . He received his after waiting about 15 min . I then continued to wait for mine, after about another 5 min the server said it will be awhile longer be Ouse it was hot not iced as she continued talking to her friends! When I did get mine , I left and the first sip was a lump of green tea! It was so strong I could not drink it. When I did dump it out , it was nothing but clumps of green tea! Customer service 0.. Quality of drinks 0. 15 dollars down the drain

baylee pembleton
from Salina, KS
almost everytime i go they mess up my order. like today i got a white chocolate mocha frappe chino and it's hot. not iced and blended like it should be. another time i got a pink drink and they gave me some refresher that was disgusting. then a different time i got the pink drink again and they gave me someone else's order!! i'm tired of it. i'm done going there, i never get what I want.

Jillynn Rotolo
from Honolulu, HI
I visit my Starbuck's every single day I'm at work. My coffee costs me $5.92 each day. I order my coffee with LIGHT foam because it's so expensive I want to get as much coffee as possible. Two weeks ago on two separate occasions I picked up my coffee and I could tell by the weight that it wasn't full. When I opened the lid, I could see that it had inches of foam. I didn't want to complain, but I wasn't happy. Last week when it happened again, I decided to say something. I stuck my finger in the cup to show them how much foam and how little coffee I was receiving. They offered to remake it and I said no, that was okay, but I wanted them to know so when they see my name to please make sure my coffee is full with light foam. I order every day. They know me. Today...it happened yet again! This time I told the manager and he had them replace it. But this is frustrating for me. A $6 coffee should be full.
Have feedback for Starbucks?
Thanks for your feedback!
Sorry. Please try again later!