Starbucks
Starbucks Complaints Continued... (Page 2)
151+ reviews added so far. Upset? Call Starbucks corporate: 206-447-1575

Angela Dierckman
from Noblesville, IN
Downtown Noblesville, IN Starbucks 530 Westfield Rd, Noblesville, IN 46060
I ordered (drive through) a grande non fat, no whip, white mocha frappe when I received my drink, it had whip cream on it. I asked them to remove it but I notice the barista who made the beverage stir the whip cream into the drink instead of taking it off! I asked could u remake it....nothing was said or done. I went to a different Starbucks where they made me a new one, but when you witness first hand of your barista staff; not have very good "Customer Service "!

Mary Ann
from Philadelphia, PA
I order coffee from my app 5x a week. The App notes order will be ready in 3 to 5 minuets. Today, as it is most days, 35 minuets later,coffee is not ready. This is the store in the US Steel Bldg in Pgh PA. Total chaos is typical at this store.

Verna
from Fort Lauderdale, FL
Visited Starbucks in Sunrise, Fl. Today on 3500 block of University Blvd. went into ladies room and shortly in the next stall I saw men's shoes . There was a partition but I waited to be sure and it was a man (I am female). I went to the Manager and told her. She apologized and proceeded with the next customer.
Though the men's room was unavailable or out of service still the manager should've quickly had someone do something to put up a sign or something so that no man is going to walk in the ladies room next time. For all the many many visits my family and I make to Starbucks that experience was a very disappointing...

Laurie Stinson
from Pickerington, OH
I ordered my drinks off the app. There was no one in the store or at the drive-through when I arrived. There were three barista's standing behind the counter talking next to the printer. But nobody bothered to make my drinks so when I got there I had to wait and I was in an extreme hurry. Then they proceeded to tell me they don't have any almond milk. And this is the way I receive my drinks smashed with a lid. The one time I'm in an extreme hurry and this is what happens.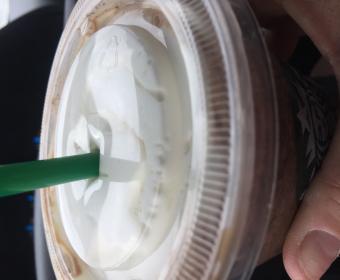 I would rate the Delta Highway Eugene, Oregon store a zero if that were an option. I was treated rudely by an employee while I was sitting outside on a work break with my boss. We were minding our own business, enjoying a break from work, when an obvious homeless man pushing a heavily loaded shopping cart full of dirty clothes and trash, decided to leave. As he was pushing his cart, he began to have trouble getting it over an unlevel section of the drive-thru area. Just as this happened, a female employee walked by us and, in a smug a rude tone while staring at us, said, "Oh, you're not going to help him, huh?" She then walked over and placed her arms (wearing short sleeves) and upper body onto this dirty and disgusting shopping cart to help push. I then watched her walk back near us and give us another smug look while walking back into the store. She then walked directly behind the counter where she began handling food and drinks. This creates an obvious health hazard to customers.
I do not appreciate any of this. Starbucks has already lost me as a customer at the downtown Eugene store because it has become a homeless shelter, not a coffee shop. Now, to be treated like this at the Delta store...I just don't know what to say??? I gave the Delta store another chance today, using the Driv-thru. However, once again, I am more than displeased:(. Pictured below is my wife's drink as it came to her. She paid for a Venti, got a Venti cup, but as you can see from the picture below, she got about a Grande worth of drink. This Delta store is slow. We waited in the Drive-thru for about 20 minutes for this. So, we didn't have time to find a parking space, walk inside, stand in line to complain, because the Barista couldn't do their job and fill a cup properly.
Shame on you, Starbucks.

Fayth Stephenson
from Charlestown, MA
I ordered the new Starbucks protein drink. I didn't like it, so I went back and kindly explained. I proceeded to ask if I could be refunded what I paid onto a Starbucks card. The manager was not very kind in telling me that he can't do that. I explained that I've been to many Starbucks where my friends have been refunded for drinks.

Jenifer Tiffany
from Renton, WA
I moved to Seattle 5 years ago and since have been a very loyal customer. I'm a working mother who is always on the go. About 3 years ago I was introduced to your mobile app and it changed my world. Those extra 10 minutes I'd spend in line were now spent helping my daughter get ready for school. I valued that. Roughly 2 years ago I started using your Juanita Village Kirkland WA Location and continue to be disappointed. Today was the last time they won't have my order ready in less than 10 minutes. Today is the last time they don't greet me when I walk in. On the plus side, today they at least had my order in stock versus being sold out and not informing you until you're there to pick up. I've had as much patience as I can take with this location. I'm sure you can see the amount I spend each month is constantly declining. When I first fell in love with Starbucks they were convenient, friendly and consistent with experience and product. This location doesn't and hasn't been representing you well. Please advise.

Michael H Tucker
from Orlando, FL
At 5:13 on 10/12/18 I took my son to Starbucks at 3520 Massachusetts Ave in Lemon Grove, Ca. for breakfast. After leaving the drive through and dropping my son off at school, I received a photo of his Smoked gouda bacon sandwich which had no gouda chees or bacon. My Vente latte, was 2/3 full. It does not take a person with an MBA to figure out that every forth cup of coffee sold at that rate would be pure profit. My wife and I are true fans of Starbucks, I'm sure this was just a QC issue.
Regards,
Michael H Tucker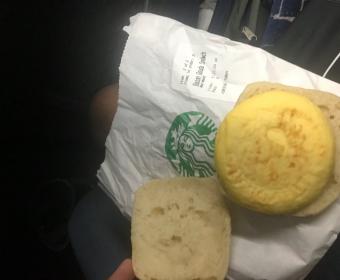 mary mcbride
from North Shields, ENG
Last Sunday October 7th my daughter and I visited your starbucks coffee café in the red mall near the lego shop Metro Centre Gateshead for coffee at 11am. I and my daughter had our coffee and needed to use your toilets my complaint is these toilets were absolutely filthy, they had not been touched that morning. There was a cleaning chart on the wall and had been signed to say these toilets had been cleaned or checked at 9am and 10am if they were someone was not doing their job. It makes me think if the staff cant be bothered to make sure the toilets were not up to scratch what else is not. I end by saying we were not the only people mentioning to each other about the state of your toilets

Klaas Pauli
from Las Vegas, NV
This is the second notice of the issue with charges to my Debit card. Since January my card has been charged double for my morning coffee 12 times. I do have the evidence to support this claim. I always go to the same location before work and only receive 1 coffee. I do this every day, Monday to Friday. The staff there know me very well. Could someone please respond to this email and see if we can resolve the issue. Thanks, Klaas Pauli

Nicole john
from East Hartford, CT
Billerica, Ma 9/22/18. 3pm. Service was unatenative , extremely slow. Continue taking orders with out a Barista. Asked 10min in waiting for my three coffees at $16.50. If anyone one making coffee. Blond on drive through yells out "no, not yet" with major attitude while 10plus empty cups sitting at at bar waiting. Partrin stayed I want my money back. Blond then yells out. no Problem even more attitude we had three call outs. I'm sorry that isn't my problem that's yours. Poor customers service, "I would be fired in my profession with an answer like that! Got our money back with no apologies or "we'll make that right!!! The amount of money my husband and I spend in Starbucks, and that's our thanks! All set. NEVER GOING BACK. This isn't our first issue. It is our first formal complaint and LASt!

Carole S
from Harbor City, CA
some of your employees do not know how to make a simple hot latte. they leave the foam...after telling
them you do not want foam or even if you state ...light foam...you get 1/2 foam and 1/2 latte.
please train all of your employees. this is the good for the Starbucks company.

Denis
from Petionville, OU
Services in airport kiosks is very very bad; I insist, very bad!!
My experience is mainly at Miami airport.
Line is constantly over 15 people and very often up to 30.
The reason why it is not higher, is because people goes somewhere else.
waiting time: minimum 15 minutes and up to 40 minutes!!
3 people to serve; including one cashier and 2 slow helpers.
SUGGESTION:
- Your list of products and possibility to serve them is unlimited. List of products should be shorter and cooking and serving options much more limited.
Please "fresh products" and no need to re-heat!
- 2 Cashiers minimum would be a MUST!
- you need a visible and active manager.
Today was my last Starbucks visit unless you reply to this message.
Thank you!

I went to a Starbucks inside of the target in Windsor CT. I got there at about 8:35pm and there was nobody in the Starbucks kiosk. I asked a target employee if Starbucks was still open and she said they are open until 9. She told me she thinks he went out to take the trash out and should be back in just a few minutes. I waited 10 minutes and the employee came back at 8:45 and said he was closed for the night. I let him know that I was told Starbucks was open until 9 and the Starbucks employee said he "had to close up early because he had too much to do". I was very frustrated with the situation because not only did I waste 20 minutes driving to this location and waiting but any other Starbucks nearby would be closed by 9 (there scheduled time to close).

Marylin
from San Diego, CA
Mission Beach Starbucks on Mission Blvd. the people who work here are not the generally friendly Starbucks crew. They rarely greet us when we stop to get a $6 drink and they are rarely able to make the drink we order right. My husband goes every morning during our vacation to pick up a London fog latte, some breakfast sandwiches and OJ. 2 of the 4 trips this week have had absolutely the wrong drink. That's 50% accuracy... if they treated him well, it would at least be tolerable. This is Starbucks at it's worst. Tomorrow we will go to the local coffee shop. I don't want a free drink. I just want you to know.

Colleen mcmahon
from Barrington, NH
I have been disappointed in starbucks coffee quality for some time now. Also, when you closed your stores for the "workshop" then raised your prices to cover your loses that was the last straw for my husband. He won't give starbucks any more business. Today I went to get coffee and it took 3 tries to get a hot cup of coffee. The barista could not have cared less. It took another barista to get me a hot coffee in a blend I did not want. I don't know what happened to starbucks quality or customer service, but if you paid as much attention to paying customers as you do to non-paying customers you would be better off.

Greg Eades
from Fort Worth, TX
I buy a lot of Venti White Chocolate Mocha's which range from $6.50 to $7.00 depending on location. About half the time I get a White Chocolate Mocha and the other half just a Mocha. The price doesn't change only the quality. So I was thinking that between diversity training sessions you might throw in a quality training session and teach your baristas to the pump all the way down all 5 times like the customer paid for.

Jessica Dadgar
from Tulsa, OK
I live inTulsa Oklahoma which borders Broken Arrow and the cascara flavoring repeatedly over the past 4 years gets discontinued. I think this flavor doesn't get the recognition is deserves. Just as a vanilla or mocha, this happens to be my favorite. Please bring it back and stop taking it away. Also if they could get more chicken sausage egg sandwiches that would be great too!!

Ken Pirter
from Alexandria, VA
I went to Hilton Starbucks in Alexandria and for the third time over the course of at least 6 months I was told the starbucks card machine was not working, but the credit card machines were or I could pay cash. I told her no thanks if you don't accept my pre-loaded card I won't be purchasing here anymore. Why don't you just be honest and say you don't accept the card because you are in a hotel, similar to a lot of the vegas casinos which want to see
cash.

Silvia
from Fort Myers, FL
I go to the same Starbucks and have been for over 2 years now - in the last 4 months or so the "price " for my drink Changes DAILY! I I am aware there was several increases for the coffee prices however literally I went yesterday and paid 1 price and today another . I asked the manager and she explained yet I went the next day and stated it how she told me to and it was more . Why am I constantly being overcharged ? I can tell you the other sb by me I NEVER ever have this issue and will start to use them instead but I am troubled by this and wonder how many customers this is happening to.

carolyn hetherington
from Dayton, OH
I work at the Dayton International Airport and we have 2 Starbuck locations. I buy coffee with the app on my phone and the machine that accepts that app has been down for 2 days. Things are not maintained properly in airports. I am missing my points on my purchases because he can only take cash or credit.

Angela
from Sacramento, CA
7/5/18 1:45 pm Starbucks at White rd and story rd. San Jose Ca 95127. Jose was chatting with a friend who was holding up the line , so I went before him with a other attendant who helped and had no idea what flavor was cookie I had a question about She then directed me to Jose I asked questions about cookie and was very rude in answering. The friend Jose was chatting with was given a discount by Jose just for being a friend . After I ordered he placed his friend's order at the register of the attendant who helped me. He then went to the prep room to get drinks ready. When it came to get me my drink,which was only 1 drink, Jose bumped my order after his friends and made me wait! His friend had 5 special coffees made. I don't understand the whole special treatment . First the discount , second the bumping of my order after his friend's. Third, can he be at register and prep room at same time. Isnt this health code violation? Please explain and give me a good excuse for this. ??? I have been a long time customer in Los Gatos Ca and believe me I have never recieved this treatment.

Joe Altounian
from Los Angeles, CA
Your Primm location is hands down the worst location I have ever seen, super under staffed and not a care in the world to work fast, will never come back to any Starbucks again, it shocks me how a company this successful can allow this

Theresa A Giffin
from Nazareth, PA
Last year I did not get my FREE BIRTHDAY DRINK. I received no e-mail. The location in Wyomissing, PA was quite rude to me about it and said there was nothing they could do.
Now, this year the same thing happened. I contacted customer service via phone on July 11, 2018 and spoke to Nick who told me that an e-mail would be sent to me after 12am on July 12, 2018 which is my Birthday. No such e-mail arrived. Called again in the a.m. on July 12, 2018 and spoke to a girl who said it would come later in the day today. Was told it is only valid for the actual day of my Birthday.
Well, it is 7:35 p.m. Eastern time and I have received NOTHING.
I have been supportive of Starbucks totally throughout the year even though the drinks are quite expensive and yet, when it comes time to give me a FREE DRINK for my BIRTHDAY, just ONE FREE DRINK A YEAR, apparently it is expecting too much!!!!!
Cracker Barrel, Ruby Tuesday, Olive Garden, Redbox, etc. all offer something for your birthday and they even allow quite a bit of time to get to actually use it. Not just for one day. Great Customer Service from all these places.
Starbucks should follow their lead when it comes to Great Customer Service, because you surely don't care about the little guy that supports your place of business a whole year long.

Angela
from Pittsburg, CA
7/5/18 1:45 pm Starbucks at White rd and story rd. San Jose Ca 95127. Jose was chatting with a friend who was holding up the line , so I went before him with a other attendant who helped and had no idea what flavor was cookie I had a question about She then directed me to Jose I asked questions about cookie and was very rude in answering. The friend Jose was chatting with was given a discount by Jose just for being a friend . After I ordered he placed his friend's order at the register of the attendant who helped me. He then went to the prep room to get drinks ready. When it came to get me my drink,which was only 1 drink, Jose bumped my order after his friends and made me wait! His friend had 5 special coffees made. I don't understand the whole special treatment . First the discount , second the bumping of my order after his friend's. Third, can he be at register and prep room at same time. Isnt this health code violation? Please explain and give me a good excuse for this. ??? I have been a long time customer in Los Gatos Ca and believe me I have never recieved this treatment.

Jeff Armstrong
from Marshfield, WI
I placed my order through the app including reduced fat cream cheese. It did not go through the first time and said it could not be processed. I read did it thinking it was the Internet and it went through. When I arrived my bagel is not ready they did have the sticker for it I went to the restroom came back out and they said we do not have reduced fat cream cheese. No worries. Three more times they tell me that I could not order reduced fat cream cheese in different way I placed my order through the app including reduced fat cream cheese. It did not go through the first time and said it could not be processed. I read did it thinking it was the Internet and it went through. When I arrived my bagel is not ready they did have the sticker for it I went to the restroom came back out and they said we do not have reduced fat cream cheese. No worries. I did say back to them I had it here yesterday. I ordered the same thing every day and they said it's been forever we don't have anymore. No we don't have that you have to be mistaken. I don't know why you think that and I finally said thank you for the information and left . Super frustrating at five in the morning to be told you're wrong about something that you're able to order online. They were not rude just short and quick to the point. Maybe that's OK maybe not.

Brian Gallagher
from Pennsburg, PA
Location in Stow Ohio could not of been less helpful with an order. Give excuses on why they don't have boxes, did not help carry out large order and generally walked around with arrogance and indifference. Manager with glasses and beard gave excuses and never once thanked me for a large order. If you don't care, don't do a customer service job.

Susan
from Fredericksburg, TX
Marble Falls Texas 1 Starbucks. I drove through ordered a Grande coffee with 2 pink sweet lows and some cream. The barista repeated order correctly except asked if I said 3 sweet n low I said no 2 sweetnlow in a grande coffee with cream. They repeated order correctly. When I drove up the window barista took my debit card and handed me my coffee. He then handed me my card with 4 sweet n low packets. I asked do I still need to add this and they said yes I don't want to get your order wrong oh and here is a stir stick. I said ok I pulled out stopped to fix my coffee there was no cream. I parked and went in to add my cream asked to speak to manager and I was told she was on break. I did voice my complaint to 3 people my concern about paying a price for coffee and it was still an incorrect order that I had to remedy myself. Maybe they should pull that person off working the window. Such an inconvience I don't think I'll visit that place again.

Patterson, Gerald
from Washington, DC
I'm Gerald Patterson, retired Soldier and I've been a frequent customer at the 1649 Crystal Square Arcade Space, Arlington VA 22202 location for years. Approximately six months ago I reported to the store manager that her barista (Rose) seemed to have issue with me for some reason unbeknownst to me where she'd ignore me when I came into the store and when I mobile ordered she would not acknowledge me. When I'd ask for my Mobil order she would eventually get to me and then not acknowledge that it was in fact my order that was ready.
I spoke to the manager, Susan about it and she acknowledged that she had had complaints about Rose and she appreciated me bringing it to her attention and she would address the issue which I believe she did.
I had shared my experiences with my colleague who said Rose always greeted her with a smile and conversation and was very quick to serve her. She and I were amazed that we had such opposite experiences from the same person on the same day during the same mornings. I avoided going there for a while and when I was going to speak to the manager, Susan again about it, I was told she had moved to another store.
As a retired Soldier, I would like to know what is your policy on mobile order. What is the policy on customer relations?
Lastly, I hesitate to bring in the dynamic that exists but I feel it's necessary for the context of understanding and assessing the situation. That dynamic is I'm black, Rose is white, and my colleague is a white female. I would also offer that I have observed Rose acting friendly with black females but black males seems to be quite different as I observed on a couple of occasions. I'm a retired Army Military Policeman and Corrections Officer with more than 21 years experience, with a Masters degree in Management and bachelor in criminal justice, so I've been trained to observe people my entire adult life.
Thanks for your attention and I look forward to your response.
V/R,
Gerald Patterson
703-899-1197

Kimberly Duncan
from Tampa, FL
At the Tampa airport I tried to order my usual order but the woman behind the counter was being extremely difficult. She actually had to call the manager over to argue about my order.
Venti light ice lightly sweet chai tea latte with no liquid cane and one pump of sugar free vanilla. I order the same order almost every day and have never had someone argue with me that they didn't put liquid cane in their drink and that the sugar free vanilla had sugar in it.

D. Romero
from Detroit, MI
I have been a Starbucks lover and supporter for many many years! I frequently stop at my local Starbucks throuout the week and have never had any issues with customer service until today. The employee who waiting on me was extremely rude from the very beginning. Upon asking for my order at the drive thru, I felt extremely rushed as she asked me several times if I was ready, which I felt I wasn't taking long at all, just reading the new summer drinks that were out. When she finally said are you ready yet!! At the window I gave her my money and felt as if she snatched my card from me. After handing me my watered down drink, the window was slammed without the usual thank you or have a nice day that I usually get. I sat there another few minutes honking my horn because I didn't receive a straw, which was actually thrown in my car. I have never felt so disrespected in my life and have never experienced such horrible service!! I'm 100% completely disappointed. The employee could've ver well just had been having a bad day but that is no reason to be ugly to paying customers.

Jonathan Price
from Tampa, FL
Hey, as a former employee, I'm the biggest Starbucks fan! Heck, my wife and I incorporate Starbucks coffee cups into half of our family traditions. However, the manager at the
84001 Overseas Hwy
Islamorada, FL 33036
United States
Location was so aweful I almost publicly confronted her as she was openly shaming a new employee. The other employees followed suit. The manager goes, "who had the card last! I know it was you! I swear if you lost my card it had my debit card! Everyone stop what you're doing, so-en-so lost my card." Embarrassed, the poor girl bowed her head and kept denying and then all of the others jumped in her and the whole process stopped with her hiding her face and everyone biting off her head. She was so flustered that she got our order wrong. Normally I wouldn't complain about this type of stuff, but because I respect and love my Starbucks experience, I want to make sure that it was enjoyable for everyone.

tony dyer
from Las Vegas, NV
first, the store @ Bi-centennial parkway and Sun city anthem in Henderson Nevada is managed and run by a great manager, Summer Ard.
Myself and 10-12 other gentlemen are in that store 7 days a week 364 days a year for the last 7 years that i know of.
This store was remodeled and reopened on the 19th of April, our group visited another Starbucks while waiting for the completion of the remodel.The store re-opened and seemed not to be condusive to groups of more than 4 people. ( 4 small tables). Our group, taking up the 4 tables
were discussing the remodel, the lay out and how it seemed to bottle neck the serving area and tighten the seating area. During the discussion regarding seating a women (Ms. JEN SIMMONS) who we recognized as your district manager interjects with a shocking comment ...." you are lucky you even got this". to a man (11) of us were appalled to say the least and now looking for another place to have breakfast 364 days a year.
This is the second run in we have had with Ms.Simmons.
As mentioned your manager at this store is loved by all of us who frequent this store and she has a staff that is second to none.
thank you for your attention to this matter and we hope to hear from someone.
sincerely,
Tony Dyer

John Stroman
from Philadelphia, PA
Hello,
incident at 13th and Chestnut Street Philadelphia PA. I purchased a coffee with my Gold card. When I asked to use the
Restroom I was denied based on the fact that I hadn't made a purchase. The manager who had waited on me said
that he didn't remember the purchase and that I would have to leave the store, and I did so.
I am a senior citizen and I am appalled by a lack of respect and courtesy. This is the second time that this has happened
at this location to me.
I recognize store policy however when I abide by said policy I should be allowed to use their facility. Angry much, Yes.
On a lighter note the coffee here is always good.

Wesley VanKeuren
from Buffalo, NY
I am perplexed about how to communicate my issue with the Center Place SB, located in Greece (Rochester suburb) NY. A barista, by the name of Alyssa, is seemingly scared to wait on me. She ducks in back when I enter the store. This happens each time for about a week. All the baristas seem to be in on the problem. When I first was attended by her, she was attentive and did her job well. I worked as a busboy, waiter, and cook. I know when a person working in the food service business does a good job. I chit chat with everybody, enhancing my SB experience. I love SB. Even down in South Beach, Fla. I probably said something stupid, for I work night shift, and don't get enough sleep most of the time. I was going every night to pick up my order of coffee or Tervanna tea, but I will desist frequenting that location. Please tell her I apologize and tell Randy, Joe, and Mary Ann I will miss them dearly. They are all great at that location. My favorite store. Sincerely,. Wes.

I am perplexed about how to communicate my issue with the Center Place SB, located in Greece (Rochester suburb) NY. A barista, by the name of Alyssa, is seemingly scared to wait on me. She ducks in back when I enter the store. This happens each time for about a week. All the baristas seem to be in on the problem. When I first was attended by her, she was attentive and did her job well. I worked as a busboy, waiter, and cook. I know when a person working in the food service business does a good job. I chit chat with everybody, enhancing my SB experience. I love SB. Even down in South Beach, Fla. I probably said something stupid, for I work night shift, and don't get enough sleep most of the time. I was going every night to pick up my order of coffee or Tervanna tea, but I will desist frequenting that location. Please tell her I apologize and tell Randy, Joe, and Mary Ann I will miss them dearly. They are all great at that location. My favorite store. Sincerely,. Wes.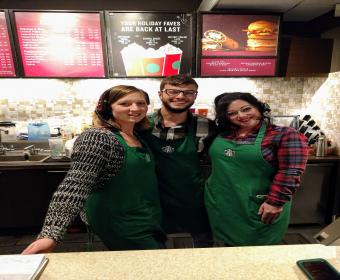 Michael Nelson
from Santa Clara, CA
Michael Nelson
6107 9590 5463 2868
(858) 336-7139
801 Palm Ave, Suite 104
IB,CA 91932
(1) Asked for Vente ICED Carmel Latte w/ Whole milk (Received Hot) Redo
(2) Asked for Vente Iced Carmel Latte W/ WHOLE MILK (Received w/ 2% milk) Redo
(3) Asked for Tall Carmel Machiatto w/ SOY MILK as wife is lactose intolerance (Received w/ 2% milk (she got very sick)
(4) Asked for New Tall Mable Pecan Latte w/ Almond Milk this morning (Received very bitter w/ chunks in it (trashed it)
My wife and I have been members for a very long time and go to Starbucks everyday. We know this Starbucks is new but something needs to be revisited. I don't know if they need more training, or just not paying attention to customer requests. We have to go into the store and can't go thru the Drive-thru to verify or drinks now.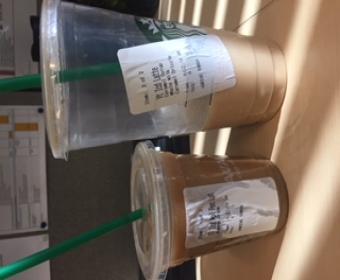 Taking over an hour for counter service , at new location Vermont & western, not coming here again,even if this is the closest to me,

Maureen Piazza
from Valley Stream, NY
I go every morning to get my ice coffee and today Starbucks was out of Whole Milk and another time brown sugar. Don't understand how Starbucks Coffee can run out of milk and brown sugar in the morning. So I had to go back home to get my whole milk cause I only drink the ice coffee that way. Very disappointed today.

kelley hunt
from Chicago, IL
Ordered coffee specific way but was incorrect and too strong. Asked for another coffee and it was just like the first one. Didn't have time to wait for another had to pick up kids from school. The quality of Starbucks continues to go down in my opinion and the CEO should know about it. Maybe they should try to focus more on customer service and less on profits.

Sasha Jory
from Newbury, ENG
Tiia in Starbucks at tower bridge refused my 9 year old daughter from using their facilities, despite the fact that I have been a loyal Starbucks customer for 20 years, just because I had bought my beverage from Starbucks down the road. Tiia could see my daughter was in distress but she wasn't budging, great customer service and empathy Starbucks NOT! That's one less family to support you.

Starbucks - Shameful - I ordered a Grande Strawberry Acai Refresher - I received a 12 oz size drink - when I questioned the size of the drink - the service idiot stated a Grande is 12 oz - wrong - your website states Grande iced size is 16 oz - what a rip and all for the low price of $3.72 - loaded with ice and so only about 6 oz of actual liquid in your Grande sized drink.

Amalia Arna
from Los Angeles, CA
I feel compelled to write this note to you because what I witness today, Saturday, April 9th at around 11:30am is not the first time and as a customer it is bothersome. You may not realize but it is a bad reflection of Target and Starbucks management. It certainly did not give a good impression of your establishment to customers. I was not the only customer that was bothered…
I am a regular customer of the Target on Capitola and basically always get my usual at your Starbucks kiosk. Today while I was waiting in line, and there were several other customers also waiting to be serviced, I witness Target employees inside the kiosk area questioning the Starbucks baristas while they were trying to service customers. I will assume these were either Target supervisors or managers by their tone and in the manner they were speaking to the baristas.
Not only were they delaying Starbucks customers getting their orders but they were loud enough for customers to hear what the issues/problems were. As I am also in the customer service field, I was bothered by their behavior and plain disregard for customers waiting in line and quite frankly for the Starbucks baristas that were working there at the time. And let me emphasize that the baristas were obviously trying as much as possible to keep the service flow moving while being interrupted. I actually felt bad for the baristas and I was quite bothered not only for me but for them.
I hope you take in consideration that customers also notice the behavior of supervisors and managers and the way employees are treated. Today was an example of how little regard you have for your Starbucks baristas.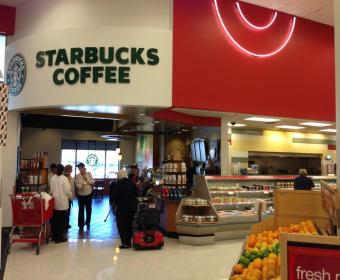 Roger Wayt
from Akron, OH
I visited the Service Plaza on the Ohio Turnpike today at 8:30am. There were 3 of us. There was no person attending the counter. I shouted "Is anyone here"? Finally, the Starbucks employee surfaced with a frown. Shes was upset because she was working 12 hours (5:00am - 5:00pm). I refused to purchase anything from such a rude person. I went next door to Panera. I was greeted with a warm smile. I want Starbuck Management to be aware of this employee. She is not looking out for your best interest.

Dawn
from Little Rock, AR
I got a coffee today and it tasted burned and horrible. I complained to the manager and she ignored me!

Tony
from Johannesburg, GP
My wife and I had cappuccino's (20 Nov. 2015.) We noticed that the menu's had been updated., along with the recent upgrade of the café. While we are not complaining, we found that the sugar supplied, was in a glass jar. We are not sure why the sachets of sugar have been replaced with a glass jar. We were not supplied with separate sugar spoon, so we had to put the coffee spoon into the jar ,again, to get the right amount of sugar. Just concerned about contamination.

Samuel Cardarelli
from The Bronx, NY
The bathroom at Starbucks west 86th st and Columbus Ave has been out of order for 2 days due to a light bulb not being change. This is a little much don't you think New York City? I know Starbucks as a company makes a ton of profit, especially at this location. You would think that they could at least have a working bathroom.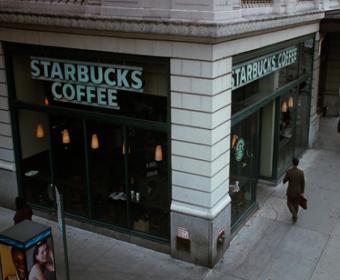 keith stevens
from El Cajon, CA
I have been buying starbucks by the bag from the grocery store. The bags use to have printed on the bag that if it was empty I could get a free cup of coffee. Not so any more. Its not printed on the bag and no starbucks will redeem an older bag even if a free cup was printed on the bag. I am sure you know what I am talking about. Is starbucks that hard up and to hell with customer satisfaction? I keep seeing more complaints online about their coffee. I will not purchase any starbucks bags of coffee any more.

Nick Sameso
from Southlake, TX
Why do I feel like Starbucks makes 99% profit off their coffee? I mean it only costs a few cents to make, but they charge customers an arm and a leg. Wow! Their executives must be rich off the markups. I guess I like my coffee like every one else, but the problem is I am not willing to pay 5 dollars for something that cost them 20 cents to make me.

Like most Americans, I need my caffeine fix and Starbucks truly does make the best coffee.  All the coffees have rich bold tastes and amazing flavors.  And they will make it whichever way you want.  If you would like a venti soy milk vanilla latte hold the whip with a double shot of espresso, they will make it no questions asked.  Any asinine way you want your coffee they will make.  And the free wifi, that's a plus.  Comfy chairs, table, and a cozy living room vibe makes starbucks a perfect meeting place.  Only downside is that it is a chain coffeehouse.  I have found a local coffee shop down the street to my house that is family owned, free wifi, more of a homey feel with books and games on bookshelves, and has amazing coffee as well.  I prefer that kind of place over Starbucks because it draws a more homey, comfy vibe.   

Tracie cramer
from Louisville, KY
I order a 7 pump chi tea nonfat no water no foam xtra hot and it was not made right. It tasted like hot milk. When I asked them to remake it the reply was we are really busy right now if I wanted to park and come inside and wait they would remake it. This was not okay. I paid $5.02 for a drink that was not drinkable.

Sharon Price
from Gig Harbor, WA
February 13, 2019, between 3 and 4pm we were at Sea-Tac International Airport Main Terminal waiting for our departure on Alaska Air for 10 days in Kona/Hilo, Hawaii. We stopped by the Bistro in the main terminal. It was very busy due to all the weather delays but your staff were organized though swamped. Very pleasant.
We received our drinks and I sipped my latte, it was super hot. I let it cool down before drinking more. By the time we boarded our plane I felt a blister forming. I got a glass of cold water to relieve the discomfort. The blister the size of a marble formed on the roof of my mouth. When it broke a couple days later leaving a painful open wound. This experience certainly put a damper on a long awaited vacation but the only positive thing was the 10 lbs. I lost instead of gaining on holiday.
Respectfully Submitted,
Sharon F. Price

Dede Dighero-Tuso
from Steamboat Springs, CO
The worst drink I have ever had. When asked for your barista to correct it they argued. I have gold status w/ Starbucks because I'm there so I often. Copper Mtn location sucks.

There should be a different approach to your mobile orders. I stood inside Starbucks for 20 minutes before they even made my drink. The only reason we went inside was because NO ONE was there. This is completely ridiculous. Staff was rude after I asked if my order was being made.

this week I went through the drive through and bought a hot chocolate, it was half full and half hot. It cost nearly $4.makes no sense why anyone would pay $4 for a drink like that??

Nancy C Moore
from Squamish, BC
Three times recently my drink has taken so long my friend has been ready to leave by the time I get mine, and she even ordered after me, First time it happened they did not even have my order, When I ask about it, which I have had to do all three times they say they are really busy. I see that, but people who ordered after me have already got their drinks and left already. I frequent this location quite regularly and by the third time this happened I am not happy about the service, and not happy about the response when asked why it was taking so long,
Your attention in this matter will be greatly appreciated
thank you
Nancy Moore

orderedCecafe coffee k cups received Cafeescapres chai latte

ordered Dunkin Donuts original DECAF coffee k cups received instead Cafe escapes chai latte keurig.

I have been to this target Starbucks and there is only one person to take orders & make coffee. It always pretty awful.

I'm a Starbucks loyalist usually visiting a drive thru 5-6 days a week. The Starbucks in Muskego WI needs help. Drive thru times consistently range from 15-20 min sitting in line during weekends. They are under staffed and not efficient at all and it continues to be very frustrating for the regulars. I go to several others throughout the week and never experience this type of slow service. Please talk to manager get them son training, help and more staff to handle the large volumes of customers.

Sandra Silagan
from Sacramento, CA
Went to Starbucks in West Sac. CA. It was cold and I wanted a hot drink. The machine to make hot drinks was broken. I had to get cold drink! So dissappointed. As I needed to have a caffeinated drink at they time to finish my work day.

Why is Starbucks only located in Kroger supermarket in Smithfield VA. This store is not a real Starbucks. You can't get specialty coffees. It really be great to have a Starbucks store — drive thru or standalone either in my area!!! Will that be possible???

Richard Bernstein
from New York, NY
On Feb.4th I tried to use the rest room at the 770 8th ave ,NYC 10036, location. The restroom indicator showed Vacant, when I asked the Barista for the code she told me that there was no bathroom in the store. Suggest that a sign be placed on the door that is apparently is the bathroom for customers to indicate that this is not a bathroom.

Mrs Laney
from Greenville, SC
There's a new Starbucks in Malden South Carolina there are coffee cold or hot doesn't taste the same or as strong as the new one up on Lawrens road South Carolina so we drive a little further to get a better coffee

I often stop at the Belle Meade Shopping Center Starbucks, Harding Road in Zip Code 37205, on Sunday mornings. It's always painfully slow, so reliably slow that the slowness is the usual topic of conversation of those in line.
This morning was particularly maddening. When I walked in 4 employees working. One person ordering, one in line, so I became the second in line. 12 people by actual head count seated and reading or talking. From speaking first word of my order, with no hemming & hawing, 12 minutes to receiving my Chirizo & Cheese toasted sandwich. I asked why so slow and the counter person, with no irony, said, "Oh, we have a big back log of orders". Total bullshit !
Then one of 3 of us waiting for our orders said, "Oh, the slowness of this Starbucks is believed by it workers to be its charm".

Jake S B
from Phoenix, AZ
I was sitting at an 8-person table in the back of the Santa Ana (17th & grand) location @ around noon on 2/2/19 which was incidentally the first rainy day of a 4-day storm. The store manager (think her name is Rosalia) approached & asked 'who do these bags (1 backpack & a small duffel) under the table belong to?Bags aren't allowed inside.' Promptly, I got my duffel & took it outside to sit in the rain & then returned inside to my seat.
Shortly after I sat, she came back & asked if we were 'gonna get any coffee soon' & that 'the seats are reserved for paying customers.' EVERYONE but me got their things & exited out into the pouring rain.
Now, I had decided earlier that I would get a cup of regular cuz I'm a 'gold rewards member' & gold members get free refills of regular coffee. However, her actions & ultimatums APPALED me!!
I googled starbucks' policy's & quickly found that NOBODY is forced to buy anything to enjoy the cafe OR the restroom(s) & this 'open-door' policy statement is found in different words in countless articles.
SOO here I am, voicing my EXTREME disappointment in the store management @ 17th & grand in Santa Ana, California.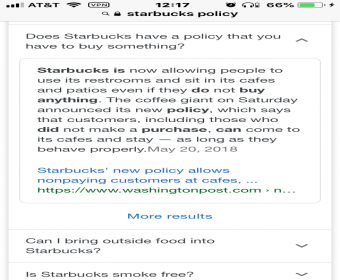 Have not received a replay from your concerning replacement of my Gold Starbucks Card. You issued me a #190115-008731 . My old card is almost ten years old and information on front is gone. The charge slip is still good. I can barely see the information on the front of the card. I would appreciate an issue of new Gold Card. Do you still issue them? Thank You . Mr. Randolph

Nancy Foster
from Cleveland, OH
I went through the drive thru this morning and ordered Venti black ice tea sweet and double smoked bacon sandwich. The order was repeated back to me. I received and drove off. The tea was unsweetened and I was not able to turn around and go back. I had no sweetener and had to throw out. Th sandwich was also different than the usual. Seemed old and not really hot as usual. I very seldom ever have a complaint but this really frustrated me. Thanks for listening. Nancy Foster

Phillip wampler
from Chicago, IL
Ordered a grande caramel machismo and it was only 3/4 full

Alberta Patterson
from Santa Cruz, CA
I live in Santa Cruz, Ca. There are four Starbucks I frequent here. I always order a venti iced cappuccino.
The price ranges from 4.45 to 5.25 for the same drink depending on location and or server. Sometimes it comes with cold foam, sometimes not. Once it was served with no ice. Once I was told Starbucks doesn't make an iced cappuccino. Once the drink came half coffee half foam. All the time the price varies.
Please tell me how to order this drink to have it priced and made the same each time I order it
Sincerely,
Alberta Patterson

Lusine Arabchyan
from Glendale, CA
My husband and I visit the Starbucks store in Glendale, CA on 1360 E Colorado St, 91205 on a regular basis. This is our ultimate coffee house experience on weekends, however for the past several times we noticed the homeless male wondering around the store. He uses the restroom several times and parks his belongings on several tables. Most importantly this individual hasn't taken a shower for several months most likely and creates an unpleasant environment for customers. These are the customers who are willing to spend money at the store and enjoy the experience. I understand that the company has gone thru some social media scandals, however the corporate and store management need to take responsibility ensuring the store is clean and welcoming for Starbucks customer.
In addition, my husband was and is a loyal customer for the past 20 years. Lately we noticed that Starbucks either changed or significantly modified the mocha recipe which tastes horrible. To make sure this is a not a specific store, we've tried others in the city and they all have changed the taste. Hope my complaint on two issues will be addressed by your customer complaints and proper department will be notified for further actions!

Kim Schrader
from Indianapolis, IN
I won't be using the mobile ordering anymore. I am tired of it not being correct. Today I ordered a hot drink and was given a cold one. I'm done. I just complained a few days ago and I am just done. I will use up my money in there and stop using it. I'm FED UP. Below is what I ordered and then what I got. And I also ordered the same thing on the 10th at a different location- they gave mine away and then remade mine but did not put the vanilla in but charged me!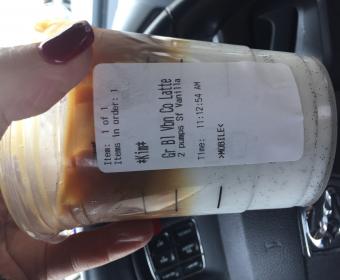 DEBI KELLNER
from O'Fallon, MO
I am a regular at your store on K and 40 in O'Fallon, MO 63368, we are supposed to have a manager in that store, Hannah. However, she is on bedrest and they brought in someone from California, Ashley. We have yet to see her and customers are starting to feel this. Your staff, who is excellent in the regulars opinions are working very hard to please all of the dissatisfied customers. This store has been out of green tea for a month and other product is getting very limited. You took out the manager, Konoko, that all of us regular have a very high respect for. She was bringing a lot of the staff up to be responsible team players. Now, you can see the street on their faces, they are doing the very best, however, they need a manager in there that has their back and can provide them with the support they need day or night. Also, she should make sure they have the products in that store. Bring Konoko back, and please do not let any of our fine staff leave. I do not normally complain, but this has gone on since the holidays and several of us are getting ready to go to Dunkin Donuts.

Lucy Finelli
from Wallingford, CT
I purchased a venti cafe latte at the drive throu. The coffee was Luke warm with not much froth. I was very disappointed.

Berenice Thomlinson
from Fort Worth, TX
I went to store 2013 at 8601 South Freeway Fort Wort, TX off Everman this morning. I ordered a white & black mocha venti, blueberry oatmeal & banana bread. I confirmed it on the screen. About 3 mins after I left I looked in my bag & discovered my banana bread was missing & I was given a classic oatmeal. I called the store & asked if I had been charged for the banana bread. I was driving & didn't have the receipt and had not looked at my checking account yet. The barista who answered told me I had not been charged. I checked my bank account this evening and my debit card was charged $12.83. I realize $3 may not be a lot but I don't appreciate being lied to.

Jeanette
from Houston, TX
Victoria location sucks! Line of customers in the store and all they are waiting on is the drive thru!! I've seen 50 cars or more go through the drive thru, while customers inside are waiting for a fucking coffee that's over priced and not that good!!! Glad I don't spend money in there!

Lauren Morris
from Cleveland, OH
I got the new beautiful red holiday twenty four ounce tumbler as a Christmas gift and I was so excited to use it because I love Starbucks coffee.As I was carrying it to my local Starbucks to use it slipped out of my hands and the lid shattered. so I looked around the internet to see if you could purchase a new lid and I can't find one, I saw others review about the lid being cheaply made which sucks because Starbucks is usually a very good quality of cups. So now I have a brand new cup with no lid and was asking if you could help me out on finding a lid.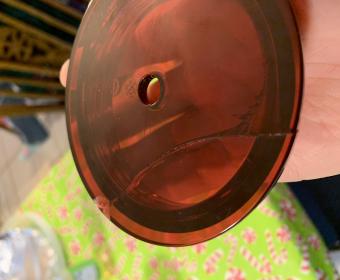 Jonathan Belkhalfia
from Hayward, CA
On Friday 14 of December 2018, I went to Starbucks located on Webster in Alameda City, California to get my regular coffee, Ms. Katelyn was talking to a customer after she gave her a receipt but kept talking, I was waiting and did not have much time, so I asked her for a regular coffee, she said that she was talking to the customer and I did not like the tone of her voice, I had to tell her what I needed 3 times when she replied: Tall Pike , I said that what I said. She looked up me with an attitude then she got me the coffee and the way she put it on the counter, she slammed it on the counter until coffee came up the lid and all over the cup as well as the counter, she also put it at the edge of the counter closest to her, I did not say anything. I got $5 bill and placed it on the edge of the counter closest to me, she looked at it for 3 seconds then reached for my money on the counter.
I felt like she was giving me charity or doing me a favor, so, I asked for my money back because I did not like her attitude treating me as a customer.
This happened between 9:10 m and 9:14 pm. If you cameras in store are working, you can review the video.
I've been coming to starbuck since 2010 and I spend an everage of $300 a month.
I do not know if you will take diceplinary action against her not because it does not matter to me, there are plainty of coffee shops around and by the way I am a restaurant owner and buy a lot of coffee from Starbucks but guess what? No more.
Best regards and happy holidays to you all.
Shalom

Patrice Wilbur
from Bedminster, NJ
Very slow service at the Bartram Oaks Julington Creek Florida location. Possibly not enough people working here.

David goh
from Seattle, WA
The whole load of banana was almost rotten, I search thru the lot and found one that is eatable
Secondly , lemon pound cake cannot warm up
But at another store in Aurora ave me
Possible
The store I am having bad experience is at north gate way , Seattle opposite total wine
Starbucks quality is really getting worse

Sandy Cummins
from Denver, CO
I visited the Starbucks located in Centennial Colorado at Smoky Hill Rd. and Buckley Rd. It was 7:45 PM on Monday December 10th. I went through the drive through and asked the option of having a blonde pour over for a venti coffee with hazelnut and almond milk, I was told my only option was Pike,that is all they had at the time. Ok... that was fine except for the following experience, when I arrived at the window I waited until someone appeared and quickly handed my coffee through the window and walked away. I have never received a cup of coffee from any coffee company where the cup was lukewarm, its always hot. I tasted it before fully pulling away from the window. Sure enough the coffee was lukewarm! I waited until the window clerk who took my order and payment returned, I mentioned my coffe was not hot, she stated the heater had been turn off under the Pike because they were trying to close. She offered FIRST a refund and reluctantly to make a pour over for me. I opted for the refund, she could have let me have my blonde pour over to begin with! I have heard other bad things about the service at this location, it's a newer location but these people should be up to spreed when the doors opened the first day. Boo hiss in this store, my worst experience ever!!!!!!

Victor Agueros
from Houston, TX
Drive thru took forever and not opened on time, then no one inside made the almost $6 coffee, almost 7min. later at the drive thru window, and i had to get their attention by using the horn on my car, i was the only person at the drive thru and there had to be at least 4 ppl in the store, when the cashier finally came back to the drive thru she made up an excuse as to why the ordered coffee wasn't ready,(venti white chocolate mocha) the girl who made the coffee made it wrong, and it tasted very watery and it was the wrong size. she had an attitude about fixing a syrup pump, didn't ask for help from anyone to get the coffee out in a timely manner and her focus was more on chewing gum behind a serving line with an attitude and talking on the damn headset. it's unacceptable and ridiculous when coffee that expensive can't even be made to specification and when the manager can't take charge of the floor to make sure the product and the line are moving in a timely manner. 214-662-5866

Latonya Bullard
from Sierra Vista (Fort Huachuca), AZ
I ordered a grande chai latte from the Concord in Arlington VA and when I received it it tasted like coffee instead of chai tea. I go to this Starbucks a lot so I was definitely surprised by this. I was really busy at work and could not leave to go back.

Yulma González
from San Jose, CA
I sent my daughters to buy 4 caramel frappe. When they got there, and asked for the drinks, the person behind he counter (Maya was her name) rolled her eyes at them and thoughout the transaction she gave them a really bad attitude. When my daughters got the drinks they said "thank you" as to Maya responded "don't come again"

Shane Stroh
from Salt Lake City, UT
Shane Stroh
640 Springhouse LN
Murray, UT 84107
Cell Phone: 801-949-7741
Email: shanestroh67@yahoo.com
November 29, 2018
Starbucks Corporation
Seattle, WA.
2401 Utah Avenue South, Suite 800
Seattle, WA 98134
Re: Your insured: Starbucks Employees
Date of incident: 08/03/2018 through 11/21/2018. Store Location 6835
To whom it may concern:
I notified Starbucks complaint line on 8/3/2018 to report a complaint regarding an employee Katie. First, I'm a Registered Nurse is my provision. I'll provide a brief description of what my daily activities consist of when I come to Starbucks and Chipotle which is usually around 11:00 or 12:00 both stores share the same parking lot. I'll pull in park and wait in my car texting, listening to music, documenting patient's notes sometimes up to 60 minutes the time varies. Then, I'll usually go into Chipotle get something to eat and return to my car, and/or at times I'll go into Starbucks and grab a Teavana or string cheese and sit down turn my computer and listen to music and research daily news events. I don't disturb or disrupt anyone. I vary seldom have conversation with individuals. So, I received a call from the company's area manager on 08/07/2018 he didn't leave his name or contact information to return a call in his voice message. I did have his call back number on my phone. I called him back he didn't answer I left him my name and contact information to return my call. I never received a call back. My initial complaint was your insured, Mrs. Katie, Katie knows two former employee's that I had worked with Cara Stewart and Sarah Boykin. Sarah and I came in together occasionally to Starbucks. Katie mentioned she had heard from Sarah Boykin and that Sarah Boykin made defamed remarks to Katie. I asked what the defamed remarks involved. She stated, I had stolen medication from various patients. Katie didn't elaborate on the other accusations as there were customers behind me. Katie had shared this defamed comment to various employees at Starbucks. Furthermore, this information was shared with the store manager Dixie who would be able to verify this information, Trevor, Arron, Jodi, and various other employees working at this location. Katie shared this information with several employees at Chipotle (Josey) I know it was shared with a customer named Chris (AKA Buck) The store manager Dixie would be able to validate this. Nevertheless, the slanderous comments and false claims continued about me.
As a result of Katie's comments and various other staff I've listed above this has had a detrimental impact on my professional vocation as a Registered Nurse. I'm currently unemployed and this defamed information as impacted by ability to work as I've been unemployed for 4 months as this has impacted my character and good name in the health care field. The statements I've listed above are factual and truthful. It has exacerbated by depression and anxiety severely due to these false egregious deplorable comments
I had earnings of $50,000 a year at Valley Behavioral Health and had to resign due to negative impact this placed on my character, as this information was shared with various employees. I've noticed people are less friendly to me now in the community. The healthcare field is a large group of individuals and news like this is dispersed into the healthcare industry. To put it bluntly, I was and am humiliated, harassed, embarrassed, shame, intimated, and bullied. As a result of your insured's negligent and outrageous actions.
The information I'm about to present to you next is an allegation that Starbucks Corporation and the employees assisting law enforcement when I arrived and/or entered Starbucks. I can't imagine this would have been approved by the Starbucks head corporation level. Although, it may have been approved at the local level without Starbucks Corporation being notified and permanenting approval for this type of activity. I'm sure the area manager Jay and store manager Dixie would have information to validate that this occurred. If true, I'm assuming they were attempting to monitor my computer activity and possible hack into my computer to obtain personal information on my computer. This is a serious privacy violation that would involve computer crimes. The unauthorized access to someone computer tamper with personal information, transferring data, disclosing this information of tampering, and monitoring internet access is a crime. I believe Starbucks approved this to action to take place and was in collaboration with private investigator and/or law enforcement with intent to obtain personal information from my computer. The staff would have been made aware and instructed to notify law enforcement upon my presence in Starbucks. This can be validated with the area manager Jay, or the store manager Dixie. I can provide two examples of when this may have occurred. I'm not sure how long Starbucks keeps their daily video logs. The first incident took place on November 12th 2018 around 11:00 to 1300 a gentlemen entered Starbucks I can identify this individual. He may have been providing legal documentation. The second incident took place November 21st around 1400 to 1600. I can identify this individual. If this was activity had taken place, Starbucks would have required a Judge's order to obtain a warrant for this type of surveillance activity against an individual. This is clearly alleged speculation and can be validated or disproved by management.
I contend that your insured employees committed defamation of character: slander and libel through text messages. This information would be easily proved as individuals would not lie under oath as they would commit criminal perjury. I've been a loyal customer of Starbucks for over 20 years. The fact I've had to bring this type of allegation is disheartening and disturbing. I have not gone public with this information, I haven't hired an attorney. There has been enough pain and suffering and humiliation. I believe the staff were simply misinformed and mislead. It is not my intention to have these individual's disciplined, nor transferred. I've always been a firm believer in educating individuals through policing and procedures. I realize discussing these issues I've presented with the staff will create more anger and ill will toward me. I would ask that you please be mindful of this and keep this as confidently as possible.
I think it may take several years to restore my good name. It may require a transfer out of state to work to restore my good name and get my earnings back to where they should be. The pain and suffering is immeasurable. I haven't had the founds to see a counselor I'm currently on medication of depression and anxiety. I've had difficulty concentrating, restlessness, racing thoughts, insomnia, fatigue, fear, heart palpitations, my blood pressure has increased dramatically, thoughts of doom and sadness daily. I've lost weight, loss of appetite, and loss of interest in daily activities. It has directing effected my family. It has been brought into my committee where I live. This is absolutely sickening and disturbing. This is quite embarrassing, frustrating, and very embarrassing.
In conclusion, I have brought this to your attention to bring resolution to the defamation of character, the emotional and physical distress I've experienced. Take into account your insured's absolute liability and my serious financial and emotional and physical damages in this case, I would like to know what Starbucks legal team would consider a fair and balanced amount to settle this case. I would appreciate a response with 10 days of receiving this letter. If I do not hear from you within 10 days, I will contact my lawyer and have a lawsuit filed.
Thank you.
Respectfully yours,
Shane Stroh

Recently, a group of legionnaires disease old retirees have haggin out at Starbucks, inside when cold and outside with a dog when hot. The inside legionnaires disease men have one individual who is always talking so loud I can't hear the music or my name called for the drink I ordered. It's a shame. I started going elsewhere just until these legionnaires disease men croak or go away. so sorry for the lose of your business due to dementia of old folk.
Marble Falls TX

I used to stop by Starbucks at Chula Vista Mall at least twice a day. They have a manager who does not know how to interact with customers or his staff. I do mobile orders and when I go in to pick it up still not ready. This morning I ordered several items. My order has not been started and the young barista behind the bar seemed surprised that I was standing there waiting for my order. I told her to canceled my order then she called Shannon who started my order. It was just the worst experience. It's too bad you don't see welcoming faces in the morning at Starbucks Chula Vista mall. They should just close. All the familiar faces are no longer there. Only a few baristas that I've seen for years are not there in the morning to greet customers with a smile and a simple hello.

neil mattson
from Winder, GA
while visiting your store at 800 Rue de la gauchetiere in montreal I asked to use the restroom. I was told I could not and was directed to another part of the mall.It was quite a hike for a 70 year old Vietnam vet with a disability from agent orange. I was upset by this treatment and will not return any time soon. thank you

Maribel Thomas
from McHenry, IL
On Black Friday 2018, I placed an ordered at the Lake St and Jefferson location which started with a coffee beverage that they said couldn't make because they didn't have all the ingredients. I also ordered a almond chai latte, chocolate croissant, sugar sprinkle cookie and a berry danish. I was is a hurry. However no one was warming up the chocolate croissant nor the berry danish. The staff was working very slow. I got very upset because I did not receive all my order and I had left out. The sprinkle cookie was missing and I was given the wrong danish. I had to return back to Starbucks with the possibility of getting to my son basketball game late. The sadness of all this drama is that not one of your employees apologize or admitted to making the mistake. They have made mistake with my orders in the past in which I tend to avoid coming to your location at Lake St. and Jefferson although you are very close to my condo. Your employees lack customer satisfaction performance and empathy skills. This is not the first time I get this poor service from this location. I just had enough and don't deserve this. It wasn't even crowded that morning.

Frank De Leon
from Palm Desert, CA
I want to complain about your Starbucks on Hwy 111 and Deep Canyon in Palm Desert, Calif 92260.
I went in and there was a dog in your shop.
There is a sign that states service dog and this dog is not a service dog.
They have been letting people bring dogs in the shop and need to stop this crap.
and start telling people not to bring their dogs.
Also they try and say they are companion dogs which is not allowed.
They do not observe the laws and tell them anything.
I would like them to do their job as I go there everyday.
I would like a call back at 760-8612395

Dennis Klein
from Lawrenceville, GA
Atlanta airport concourse c waited in line 15 minutes get to line the guy 2 in front of me ordered coffee he said they were out !!! I said no coffee at a Starbucks ? He said no ! I I said maybe tell people before they wait in line ???
No response from him ! I had to go to my flight no time to go run around
Thanks Starbucks ? No coffee at 7 pm ?

Bill Butchart
from Birmingham, ENG
Having used starbucks for years i am standing in s dmall queue at the premium outlets mall food court in international drive orlando
Must be the slowest service i have ever experienced 20 mins for a coffee is ridiculous

Cathy Lorraine Mounts
from Farmingdale, NY
Around 8:30 am, 11/20/2018 I went to pick up my mobile order at the Starbucks located at: 7090 Deepage Dr, Columbia, MD 21045. When the Barista called my name I picked up my hot tea and it spilled all over the back of my left hand because he did not put the top on properly. I cried out in pain and told the Barista that I just burned my hand because he didn't put the top on properly. He said: "Sorry about that" and continued with his work. I asked for the manager and he said: "he's not the manager."
So I asked the next barista if he was the manager. He said he was not, but pointed me to the correct person. I explained to the manager what just happened to my hand when I picked up my Venti Citrus Honey Mint tea. He did apologize and offered to give me burn ointment for my burn. I proceeded to put the burn gel on the back of my hand in the store and told the manager that I was going to report it to corporate in case the burn is serious.
I went to my car to get my cell phone to take pictures of my hand, the barista that served me and I took a picture of the store manager. When I got to work, I put ice on my hand because it still burns. I routinely go to that Starbucks every morning before I come to work, but I will not go back there again. I am also attaching the pictures that I took at the store and will upload another picture of my hand after I see what it looks like 24 hours later. Thank you and I hope to receive a reply or response back.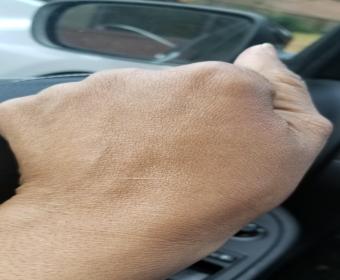 Evelyn
from Los Angeles, CA
Asked for a coconut milk decaf maciatto and I have allergy to milk and have anxiety so I need decaf. The lady gave me a hot latte and I saw her put whole milk in my drink! And give someone else what I asked for and when I complained they said it was coconut milk and that it just prints latte I've been to Starbucks before ordered same thing never got it wrong !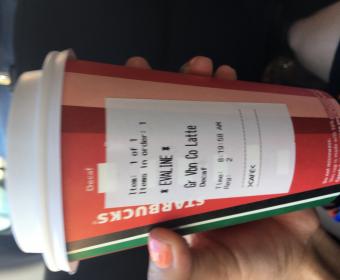 Aidalee G Sierra
from Miami, FL
I had ordered a peppermint mocha Frappuccino and it wasn't made right. It was so bad I couldn't even drink a quarter of the drink and at this point I was a 1/2 a mile away from the (target) Starbucks so it was pointless to run back. I spend a lot of money on Starbucks drink to be walking out unhappy. Totally unacceptable!

Lori Preston
from Salt Lake City, UT
Just went to Starbucks on 9000 and Redwood in West Jordan Utah ordered two hot espresso coffee's, Venti size. Picked up my drink, I was like, these are pretty light, took the lids off and yep, both coffees are about an inch and a half down. So basically received medium coffees for the price of venti. I think this store is cheap!! Just ridiculous and not okay. Thieves!!!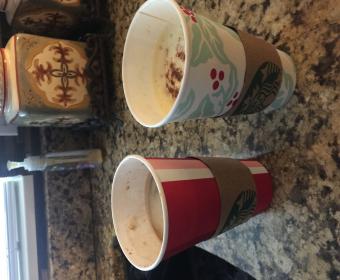 Mary
from Minneapolis, MN
The Minneapolis NICOLLET Mall store was supposed to be open at 5 AM but it wasn't. The two workers make and female just looked at us and ignored us. They could have yelled thru the door why they weren't open yet. It was rude and they should be reprimanded or fired for not being open at hours posted and not communicating with customers why.
Date of occurrence today Tuesday 11/6/18.

Ellen Randall
from Bernalillo, NM
I'm complaining about a specific Starbucks Hwy 550 & NM 313 Bernalillo NM. My husband and I go to this Starbucks usually twice a day and spend about $20 a day on coffee. We have been going there for 3 years but have been customers of Starbucks for at least 14 years. In the last 8 months the manger has changed multiple times. Every time we think it will get better but it's only gotten worse. I can't tell you how many times we have got our coffees home and tasted like warm milk. Not only do the drinks taste bad but several times they don't have Grande cups or Venti and wanted to put them in tall cups and I have been sold coffee and told sorry we don't have lids. Yesterday I was excited for the holiday drinks to come out and it was early morning and no reusable red cups. Today I ordered a Caramel Brûlée Latte and no Caramel crumbles to put on it. I told them they should tell us when we ordered they were out instead of giving it to us not made correctly. I got an I'm sorry the crumbles melted in the truck. Please please please get someone at this store who can manage it. We live in Placitas NM and another Starbucks is in Albuquerque which is to far to go. We love our Starbucks and really are hoping this email doesn't fall on deaf ears. I have never complained to a store or restaurant so not sure if I'm wasting my time. You can check our rewards cards and see our loyalty to Starbucks Thank you Ellen and Tom Randall

Teresa Grove
from Logan, OH
I went to the newly opened Starbucks in Kroger in Logan, Ohio. I waited in line for 45 minutes. I understood it would be a long wait because they opened three days earlier. I ordered a grande chai tea latte and a grande double chocolatey chip Frappuccino for my daughter. I took hers to her. I hadn't tried mine yet knowing it would be too hot. While I was waiting for her, I took a sip of mine and gagged. It was green. I went back to the store and told them they gave me the wrong drink. I was told it was chai tea. It is green because it is made from a green powder. They offered me a different drink. I said no thanks because it is the only drink I like. I don't think Lydia knows the difference between a chai tea and green tea latte. I looked it up online.
Have feedback for Starbucks?
Thanks for your feedback!
Sorry. Please try again later!