Wendy's
Wendy's Complaints Continued... (Page 2)
1668+ reviews added so far. Upset? Call Wendy's corporate: 614-764-3100

Marilyn Rios
from Sebring, FL
Whent yesterday bough a southern avocado salad the big one when I opened in my work it was no avocado in the salad. I call and ask for manager explained she ask me to come back any time and I will get a new one. Went today in my lunch break and explain the situation agan to the lady in servicar and one guy was there tooo. He start acting like I want to get advantage or I was complaning with no reason. He serve me the guacamole in a separate container and mention more than 3 times she can't say we don't gived to her this time and keep bringing up and down the gucamole. I think that is disrespectful they get pay because we keep businesses if you mistreat your clients not giving for what they pay and them treating them like they have no reason to complain for what realy happened. Thay have no knowlage to handle situations they sould be train to work and treat costumers with respect.
Very very disappointed with all the servis. Avon park florida

Philip Mowbray
from Reynoldsburg, OH
I visit the Wendy's on South Hamilton Rd. Groveport regularly. Yesterday (Thursday) there were eight cars in the parking lot in close to the door spaces an I was the only customer in the dining room. There is a shopping center parking lot attached to this lot. It seems the crew, out of consideration to the customers park there. Thanks for listening.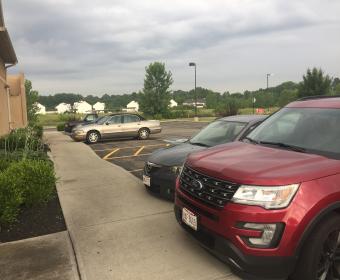 Ive been sitting waiting on a order for about twenty minutes, unacceptable. Wendy's four winds st. Thomas. Additionally you are always out of stuff. Need better service.

Jermeka Lesure
from Cleveland, OH
Your employee Jasmine Pegues was very rude and was asked to come back to the window for I could ask for more sauce and she didn't come back

Sharonda Henry
from Bloomfield, NJ
I ordered with door dash. Bloomfield Avenue Bloomfield NJ I called them directly to let them know I was missing an item. Manager was rude did not understand English I asked for her bosses contact information then hung up I called back she didn't answer.

Tammy M Lawson
from Colton, CA
Went to drive thru, ordered 2-10 PC chicken nuggets, med fry, leg fry, and a baconator. They said they would give the total at the window got to the window, $14. I asked to repeat the order, no baconator repeated. I added it, they asked if it was baconator fries, I said no a burger. The conversation was not good, their coworker asked them if everything was ok, employee said I'm good. My order had the worst fries, stale, over cooked, cold. I live 1 block from them. They did this on purpose!

janet sneeringer
from Mansfield, OH
just came from there and had ordered a triple cheeseburger and got a single cheeseburger, ordered a large fry and got a small one, no hot sauce which I asked for and no receipt. got 2 large chili's which was fine. but the burger and frys sure not going to fill my husband up and not driving back. this was at the lex. avenue wendys. very disappointed. the man filling the orders was acting very disgusted he was there. kept mumbling stuff and when I told him he forgot the frys he just grabbed one and threw in the bag, probably why I got the wrong one.

Kenneth Leitch
from Bel Air, MD
My granddaughter had a softball game nearby the Emmorton Road store so we stopped there prior to the game with my daughter and the kids on Wednesday July 10th. It was 5:00 PM (early dinnertime). The hamburger patties were burned on the edges, the French fries were cold like they just came out of the freezer, the order was wrong on two items that we had to return to the counter. We had to wait a long time for them to make-up the fruit cups. We regretted stopping in there and will never go to Wendy's again. You should stop at a Chick-Fil-A sometime. The employees are top notch, the food is hot, the service is quick. Everyone at CFA is courteous and the stores are clean. And CFA is always busy. But no matter how busy they are you know that you won't have to wait long. And the CFA employees are never standing around looking at their cell phones as they were in this store. We always wondered why the Wendy's parking lots were nearly empty. Now we know why. They act like they could care less that they don't know what they're doing. How do you expect to stay in business with that kind of attitude?. Shame on you. I wish I could rate you with less than one star. You're not even worth that. Get your house in order or go out of business (which you will do anyway with your bad business practices).

I went to my local Wendys today and learned you are discontinuing the Peppercorn burger. This is my favorite and I'm hoping it's not true. If true I'll need to find another place to shop. Say it's not so. Thank you.

Tracy Hamilton
from Burnaby, BC
I go to Wendy's on a regular basis with an elderly lady I care for in the downtown Victoria location. The service is always really good. My concern is you can see the employees visibly sweating. I was told there's no fans etc. If I see beads of sweat on employees faces there's a good chance it's going into the food!!
This is s health concern and not ok.

My husband was food poisoned yesterday after eating at your restaurant

The Wendys on Pearl rd, cleveland Ohio is about 1/2 mile from my home. I went there yesterday and the driveway was in such disrepair I was afraid I would damage my car. Even though it is convenient I shall not return A close location is not worth damaging my car.

Disaster from the get go! Inside the dining area is falling apart, dirty, FILTHY actually. There was an employee (Angel), he had given his notice because he was upset that another person made manager instead of him. Well listening to him complain about this to another customer inside the dining room was inappropriate at best. The current manager should have fired him and sent him home. My 7 year old knew that this man was not behaving properly.
And they guy that took our order, he was condescending. How hard is it to keep a fast food place somewhat clean and keep the employees acting somewhat decent?
Looks like the place should just be condemned, never going there again.
Warwick Ave, RI

Wendy's on Clayton St and Scenic Hwy, Lawrenceville, Georgia One of your employees has hepatitis and anyone eating there for a 2 week period in June needs to get a hepatitis shot and be tested for hepatitis. My wife ate there and now is terrified she may have hepatitis. She went to health department and got a hepatitis shot. They are charging her insurance. That is wrong, where do I need to send this bill. Also if my wife gets hepatitis from this Wendy's employee where should we have our attorney contact you?
My number is 770-329-3999.

Steve Poynter
from Richmond, KY
I used to work at Wendys way back in the day, I always loved to eat there due to knowing how management made us keep the place spotless etc.
I have been to a local restaurant 2 times in the past month and I won't be going back.
The general time is 7-8pm est.
Their is constant talk about things you wouldn't want to hear at any drive thru.
They leave the window open and don't care what is said, there has been racial comments going on inside, along with very perverted talk, all of which my 12 year old really didn't need to hear and I honestly didn't care to either.
Location: Richmond Kentucky
Keeneland drive location

Andrea Malkanova
from Fort Erie, ON
The Indian Woman Manager who was on Drive Thru last night, 10th July 2019 was the most inhumane person i have ever met. I used to love eating at Wendy's because they have good food. But yesterday i told the lady on drive thru that i needed an extra sour cream with my potato and some extra napkins. And i told her that i was willing to even pay for it but it should be definitely be there in the bag. She guaranteed me that she would give me it. When i reach the window which was like a very long time, i paid for the meal and she gave me the bag and told me that she had herself put extra sour cream in the bag and extra napkins as well and to have a good night. When i drive by, i start checking my stuff that she gave me, not only she had not put it in, but for her to guarantee me that she did make me even more upset. i parked in the parking lot and went into the dining room which was filled with customers and ask the other employees for the sour cream. i take it and walk away. When i reach my car and place the sour cream in, i look to see that just one paper napkin in the bag. I thought that should give at least two or three with a regular order, and i had personally asked for more so i thought would be a couple more. i walk back into the dining room, and go to the condiment section to grab napkins. Then i walk back she is staring at me and i just say that you told me that you put extra napkins in personally. And she goes with a "I'M SORRY". When i reach the end of the dining room and open the door to leave, i hear a loud "FUCKING BITCH" come from her mouth. I looked back and she continues to abuse me while going to the back of the restaurant. I cant believe that she literally started abusing me over the sour cream and napkins that she forgot to put. I was so embarrassed being the fact that she just abused me in front of her colleagues and not to forget the dining room full of customers, i just walked out of the restaurant. NEVER WILL BE WALKING INTO A WENDY'S EVER AGAIN.
The location was the Wendy's on Lundy's Lane, Niagara Falls

Kingsley
from Fairfax, SC
The store is supposed to open at 10am. When i arrived at 10:07am the doors were locked and I was told i could not have my order taken. The female employee who told me had an attitude about me wanting to order. I was given no apology for the inconvenience from a manager. Highly disappointed in this store

I WAS AT THE WENDYS ON BROWARD IN FORTLAUDE FLORIDA AND THEY CLOSED 10 MINUTES EARLY I REALLY THINK THEY CLOSED WAY BEFORE THAT THERE CLOSING TIME SUPPOSED TO BE 3AM NOT BEFORE

Jessica
from New York, NY
Rating...0... pulled in drive thru 9:14 pm at your location 377 Lynn way Lynn ma. Ordered 3 salads. 2 full taco and 1 1/2berry. 13 min later we get to window. The cashier rung in only two salads. 1 full taco 1 full berry. Upon explaining that wasn't correct. He told me the 2 were what I ordered and asked for the payment. I explained that was not what I ordered and told him again my order. He said "I will add another taco.. that's it" told me the price. I paid, and another employee handed me 2 salads and told me" pull up there you have to wait". It's now 9:35. At 9:45 I was still waiting.. I went in. Was told I was forgotten about. "Wait". 9:50... i said give me the chilli and sides of sourcream,salsa for the salad i have and my $ back for the one i do not have. Was told "1 min"... 9:55 I get the salad with...sorry... he walked away... I was so angry at this point... I still had no chili or sides for either salad. I stoped the employe and stayed I want my $ back for this salad and my chili and sides for the one i have...9 :58 Extrmly angrily my refund and chili with sides was put on the counter with a refusal of my request for a receipt.... I will never visit a Wendys in this city again. Boston street is just as bad never has salads and never gets order right... A real disgrace to your brand

David kolpack
from Cleveland, OH
Tonight I witnessed the most unprofessional leadership I ever seen the employees were asking for direction on help and she would yell at them and call them names she sent the guy Jeremy home and he did nothing but everything she asked he said can we have a better day next time she said I'm tired of hearing your voice and made him clock out with no liable cause she has a bad attitude does not handle her authority right she treats her employees like dogs no respect and degrades them laughin behind there back I seen outta everyone there is a employee so humble with the proper knowledge that by the overall success of Wendy's to succeed I ask that she be stripped of her authority as manager tameka and replaced with elrod mcgowan this boy has a awesome communication circle with his team he teaches them helps them he's the opposite of tameka he is great enough and ready to take the spot thank you sincerely David kolpacko

Lola Wainwright
from Cleveland, OH
During my last 4-5 visits to Wendy's restaurent I experience very poor service. The drive thru lane was very slow moving.I stayed in line for 25-40 minutes each time, had to wait the order window for at least 5 minutes, and the pick-up window about 2-3 minutes. and inside was even worse. lots of people left the line. and on 2 occasions I left also. I could see what the holdup was except the help was very slow and uncaring.
I won't be going to Wendy's as often any more, if I even go at all. I do not like waiting that long for fast food.
Thanks,
Lola Wainwright
216-225-3584
lolo513@sbcglobal.net

Hi my name Rena my kids always loves the restaurant Wendy's .I go there like 2 or 3 times a week. But last week I went there I buy lunch for my kids and my husband I pay 39 dollars and the food was uncooked the hamburger and sorry disgusting. We throw the food

Dajuan Nash
from Houston, TX
The store on Livingston before you get to james rd...they always have inside closed when they shouldn't...slow ...rude..it's almost like they do not care...I will not be surprised if they close down
..so fed up with their nonsense....RIDICULOUS

j johnson
from Madison, WI
visited the location on 914 27th street on 7/10/2019 about 12:30p the young lady at the 1st drive thru window( didn't get her name sorry) light skinned with long black straight hair was just very rude, such a nasty attitude to be working with the public, rolling eyes and snatched money which made some of the change fall on the ground then wanted me to give her more money due to her dropping it. I didn't say anything to keep down a possible argument or worst. Pulled to the second window young lady with red hair was VERY polite, thanked me for my order and all. It was defiantely such a difference in the mannerism of these two young ladys. I really hate I didn't get their names called back to the store to inquire and the phone just rang and rang.
This location is near work so I visit it often and I admit the wait time is LONG but the worker usually have decent attitudes but this young lady was terrible

Robyn Klimczuk
from Oshawa, ON
On Mon July 8/19. I drove throught the drive thru on garden ave Brantford at around 5:10 pm with my sister. I got a Apple pecan salad full size and my sister got a taco salad half size. We waited in line for at least 10 mins. When we got to the window the girl knocked the bag with the chilli in it on the floor. We paid and got out salads. My sister did a quick check. We drove to our destination and were putting our salads together and to our surprise I had no dressing for the Apple pecan salad. The chili that was knocked to the floor was never replaced either. I always buy the same salad. This was the worst one yet. For the price u pay u would hope u got a great salad. Do not think I will go there again. Sincerely Robyn K

Latoya
from Middletown, NY
I will like to stay anyomous.
I want to get something to eat real quick at Galleria mall in middletown,ny 10940
I order a 6 piece chicken nugget. That was it.
As I was waiting for my order the cashier as me if I want a cup of water?
I said " No thank you. I be drinking water all day.
The reason I ask of you water a cup of water because the nugget are dry and I don't want you to choke.
I saw them take the nugget out and they where not dry.
I ate all my nugget and there was find!
I don't want go back if I going get this type of service.
I did not have time to speak to a manger because I had to go into work.
This was the worst service , I every had.

Dstdiva9
from Marshfield, WI
Horrible customer service. Management was very rude.

Michelle Dayton
from Columbia, MO
Ordered two combos (among other items), but only received one fry.
Store address: 2116 Bernadette dr. Columbia, MO 65201. Store #3271
Order # 30254 7/9/19 5:50 pm
Would like someone to make this right for me. Thank you,
Michelle Dayton

Sincere Nelson
from The Bronx, NY
Hello I was at one of your establishment in Milford PA and as my wife order meal the food was wrong and as I mentioned it to the personnel the general manager intervene and told me that I was supposed to pay for a new meal and also said that if I didn't want to then I would have to leave his store now I myself has worked in the fast food restaurant and have never treated anyone in that way I was treated the manager name is Robert I didn't appreciate the obnoxious and and disrespect that I got while being in that establishment

Neil Shaffer
from Cincinnati, OH
Ordered take out from Montgomery/Symmes Twp. (?) restaurant on Montgomery Rd., Cincinnati. Wife ordered double w/cheese onion & pickle side salad and small chilli. Double was about half again larger that a white castle and patties were slightly thicker. Has your restaurant changed their portions?

Jennifer DeLaney
from Waleska, GA
Side salad was old! The lettuce was brown, the tomatoes had spoiled & the cheese was all stuck together in clumps. The plain baked potato was rotten on one end, smashed like it'd been dropped & cold! We eat at Wendy's after church every week, never again!

Pam Powell
from Cincinnati, OH
We was at the Wendy's on Colerain down my 275 on 7/8/19 at 7:45. My friend and I ordered our food then as we was getting our condiments we realized the fries were old and ice cold. I walked back to the counter and the boy asked me if there was a problem, I said yes, the fries are cold and taste very old. He snatched them out of my hand and yelled they want new fries. He did get us new fries. Then manager came out of the drive thru and picked up a fry out of the bucket and said this is how you tell if they are hot, you pick one up and if its hot you serve them. Then she looked right at me and said did you try them are they up to your satisfaction!! OH my at this point my blood was boiling, and she kept saying what did you say. Then she walked back to the drive thru, at this point I was so fed up I wanted my money back. Her tone was so rude I think I was in shocked that a manager would talk that way to customers. Then the boy said they want their money back, well she was all confused not sure why we didn't want to stay and eat, and she did apoligize and I think she really meant it. I was just done at this point, then i hear the cook in the back say Really how may times do you need to apoligize to someone, they need to go on. SO there went my blood pressure again, I told the manager, that going on is so un called for, then I seen him on the side, and I said to him. That was very uncalled for you talking like that when I can hear you out here, he said don't you even talk to me, you get your food and go on. REALLLY!! WOW!!!...
I have always gone to that Wendy's but I was so shocked of the unprofessional act of the Manager. I did feel bad for her I do feel she is a nice lady, but it was uncalled for. When the boy took our newer fries back he dumped them back in the fryer. They need to get better workers at that place.
I don"t think I will ever eat there again. Which is sad cause it is one of my favorite fast foods, but wont be there again.
Thank you!!
Pam

For the past several months now every time we stopped into the Bouttee Louisiana location the chocolate frosty machine has been down. I complained about the cleanliness of the restaurant about six weeks ago and it looks a lot better. I waited in line for 17 minutes to be told old the ice cream machine is acting up. I left without purchasing anything. McDonald's is right down the street.

A Casillas
from Del Rio, TX
The Del Rio Texas store is consistently going downhill on service and quality of food. We usually go thru drive thru for a simple salad order. Last week, it took me 17 minutes to get the two salads after I was asked to pull ahead. Other times, the service is slow, but this was the slowest.
The Wendy's salads are typically the best of the fast food franchises, so my wife and I like to eat perhaps one or sometimes two per week. As the service has gotten worse, we are reconsidering.
So today, I decided to walk inside and place the order inside the store to observe what could be happening. After standing at the counter for about 6 minutes (only one other customer standing next to me waiting to get order corrected), a cashier, walking around the back and joking with other employees, finally acknowledged me. Why it took her, or any of the others walking around and laughing so long to greet the customer, is most likely lack of or poor training, or the manager/asst are not present. If they are, that is not a good sign of leadership. I paid with my debit, and never received a receipt. I thought it might have been placed inside the bag, but it wasn't when I checked at home. Also, one of the salads was missing the top lid, so they covered it with plastic cellophane (??? seriously?)
Also, there was a young lady waiting at the counter for someone to acknowledge her. Her order was not correct, and the young man that attended to her was not rude, but rather abrupt. She walked away, and most likely will not return.
Suggestion, try walking into Chick Fil A, and you will see the difference in customer greetings. Heck, even Jack in the Box, traditionally the worst in Del Rio, is a tad better. Placing your restaurant at the bottom of the customer satisfaction is not good business.
Respectfully,
Abelardo Casillas

Devin Durham
from Washington, DC
I was attempting to order and asked for a moment to decide what I wanted to order. At that point the manager was very rude she said I needed to hurry up I asked her to please be patient she then began to curse and use foul language so I got out my car and went in to get her name. She began getting very combative and neede to be restrained by workers. The most horrible and degrading experience ever at the Dobbin Rd wendys

Brandesha
from Marshfield, WI
My name is Brandesha Carpenter and I went to Wendy's on Headland Dr right beside Dollar General Plaza and ask for a large water and a bacon cheeseburger deluxe they would not put bacon on it because they said they didn't understand. My question was what don't you understand about a bacon cheeseburger deluxe? So I requested my money back and the manager was nasty and rude and I waited 39 minutes for two dollars. That was ridiculous I will never eat there again! I give 0 stars if I could for that Wendy's

Cheryl L Cain
from Sacramento, CA
I have been to the Oroville Wendy's two nights in a row trying to get a baked potato the first night I said Oh shute that's the only thing he can eat the guy told me to watch my mouth that this was a family-run business and they don't appreciate that kind of language here and I said excuse me I'm an adult and for somebody to reprimand me specially a teenager is uncalled for I'm here again tonight no baked potatoes I think I'm going to take my business someplace else that don't treat me like I'm a convict because I said the word Shute

Shannon may
from Boston, MA
I am rather disappointed in your advertising. I went to Wendy after hearing a commercial for a 0.50 frosty only to be told well it may be advertised but we Arnt doing it. My children were rather upset when we left.

Malinda Pate
from Cleveland, OH
The is for the Tell City Indiana Wendy's. We eat always 2 times a week, using drive through. The last month every time we r missing items, always make my order is right on the screen. Half the time we don't get a receipt. On one visit the order was right on screen, I paid no receipt and I was missing two baconatter FF so we pull around, I go in and the girls that took my order said I just her one order , I said it showed all three on the screen and she walked off I had to pay for the two missing ones again. Next week. G

Rob Sellmansberger
from Collierville, TN
Someone who works at 714 W Poplar in Collierville, TN threw this trash in my yard or it was a customer who knows where I live because an employee who they are friends with told them. These morons are vengeful. They punch people in there and act like a bunch of negligent monsters. It looks like a dump. I left the job.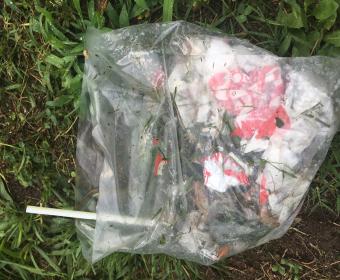 Patricia F Olson
from Palm Harbor, FL
My husband ordered two small southwest chicken avacado salads about 5:30 this evening (6/29/19). We just finished eating them and there we NO avacado (gucaomole) on them at all. I have been getting them at the Boot Ranch location on East Lake Rd with no problem. This store of Wendy;s had been notoriously inferior. Even after a total rebuilding of the structure, the service and quality of the food is deplorable!!!!!!!!!!!!! Someone from the corporate office needs to intervene!!!!!! I have always trusted the quality and uniformity of Wendy;'s foods and service. This will cause me to look to other fast food services for my needs. Shame on YOU!!!!!!!!!!!!!!!!!!!! Patricia F. Olson Palm Harbor, FL

Diane Rice
from Portsmouth, VA
Last two times I have been to the Wendy's on College Dr in Suffolk, VA they have not had baked potatoes
One time at lunch one time at dinner. This has been my go to Wendy's since service at the store on Western Branch Portsmouth, Va is terrible, long wait in lines both inside and drive thru. I've complained about this site before

Rex Barton
from Elkhart, IN
For the past two years, we make a trip to Holland, Mi. to pick up honey bees which we supply to our friends here in Elkhart, IN. We have stopped at the same Wendys Rest. both years and have been terribly disappointed by the food from this location. My partner and I got luke warm sandwiches and cold french fries. What a shame that Dave took so much pride in his food and quality to have current management not give a care what they serve or how it is prepared.

Aaliyah
from Bethel Park, PA
I ordered a home style chicken avocado blt. On multiple occasions you people have managed to screw it up. Every time I go to Wendy's something is wrong with my meal whether it is an entirely different sandwich, the proportion size, or cold fries. The one time in particular tho I asked for no ranch and no cheese on my sandwich add mayo. They gave me ranch and when I went up to the front desk they claimed it was mayo when I clearly no the different of taste between the two. This is absolutely unacceptable. The #1 rule in fast food or in any restaurant is to never question the customer.

Dixie evans
from Georgetown, KY
Waited in drive-thru 30 minutes from 1000 to 10:35 when I reach the speaker to order. Waited on food from 10:35 till 11:11 order two children's meals they forgot ff had to ask for them they forgot the drinks had to ask for them and frosty. Had sent out earlier for children food and family and they also forgot childrens meal. Manager said she just got back from training and did nothing to correct problem. Sad sad sad for my favorite place to eat. It's a disgrace

First of all I just want to say it was a pleasure going to the Marshalls Creek Wendy's. I experienced problems today that I was not happy about first off I got a chicken sandwich that was made to crave the chicken was good the sandwich was good but the lettuce was not good the lettuce was rotten and when I went to take a back they said because I had already eaten the sandwich I could not get a refund also I got a side salad of the berry burst salad the salad was good but the lettuce was rotten and damaged as a result the lettuce needs to be freshly washed cut and dried and not soggy also upon leaving the restaurant there were two bags of straws where the utensils are and I just wanted to bring that to someone's attentionalso the cashier did not know how to use the coupon codes the codes are on the app and when you click on them there's a number and I told her and she and she shrugged her shoulders as if she didn't know nothing I am very dissatisfied and I will not be returning to Wendy's for a month due to this matter because that's not a good thing thank you very much

I went to the gilroy 10th st Windy's today to get a salad I bought 2 and a backed spud get all the way home and open my salad and it was full of long black hair not cool I won't be going back to a Windy's not that u care

Ron Cole
from Theodore, SK
threw out fries and chicken because of salt, salt, salt. frostys were good. Tables were all very dirty as were the floors.Glad yorkton sk. has a dairy queen and a&w Wendys, NEVER AGAIN, THE PLACE SUCKS.

Dan Millspaugh
from Bedminster, NJ
The only complaint I have is your single coke machine, when you have a line of customers ahead of you they have to go through picking the type of soda they want, it takes forever. The new single machine that handles all your coke products isn't worth standing in line. I will no longer go to Wendys, Spangles now has my business.

Mrs Baker
from Commerce City, CO
We spend about 50.00 3 times a week in the commerce city store! Everytime the food is cold tastes old ! We keep giving them a try hoping it will get better . At this point we will not return to Wendy's i live 5 min from this location and believe my food should be hot when i het home the burgers were ice cold and the nuggets were luke warm. We stopped ordering frys a month ago do to quality and switched to nuggets! This store needs a lot of help. Even when we come in the food is just okay ! I think we will have to try a diffrent chain at this point .

Elizabeth
from Memphis, TN
I went to Wendy's o on 6156 Macon Road, Memphis Tennessee 38134 at approximately 11:30am. I ordered a Double Cheese Burger Combo. My food was terrible. The meat was cold and tasted like it was left over from the night before. My bun was hard as a brick in some areas. This was the most nastiest burger I have ever eaten in my entire life. This place should be closed for business.

Amy Whittaker
from Hannibal, MO
My family and I visit our local Wendy's in Hannibal often. My kids really like the 4 for $4 option on the menu, it's a great value too. I don't believe in leaving negative feedback for single incidents as every restaurant has off days. That's definitely not the case here.
The whole purpose of visiting a fast food restaurant and using the drive through is usually because you are on your way somewhere and don't have time to sit down and eat. What do you consider a reasonable wait time in a drive through is?? At our local restaurant it is 30 min plus. This is not an isolated incident, this is every single time you visit this location. Every. Single. Time. Unacceptable! And when the wait time is mentioned to the staff it's painfully obvious not two shits are given.
As a whole, you're prices are higher than other local fast food restaurants. I pay the higher prices on regular menu items because the quality and flavor are better when the food is fresh. WHEN the food is fresh. I don't enjoy paying over $30 for cold food that I waited in line over 30 minutes for. Cold, under cooked fries, sad ugly burgers that are supposed to be "premium" sandwiches, not value menu items. And on more than one occasion I have had to turn back and return because my order has not been correct.
Please get a manager in this location who knows how to run a business with customer service. I fear if this crappy service and food continues we will no longer have a local Wendy's. Although we prefer your food to other local choices, we will probably not be back for awhile as this is very frustrating and needs to be seriously addressed.

Razz maningas
from Bahay Pare, 03
Wendy's branch at eastwood has a very poor customer service. I waited for 10mins for my single patty bacontor ala carte. Just this nad it took them 10mins to serve. They did not provide a waiting time so i exoected that it wouldn't take that lone. And the store in charge is rude. I approached him to follow up on my orderand he just moved his eyebrowsas a sign that he acknowledge my request, just that and then he went to cleaning the table first before he attend on my concern. Then he just hand my order without even apologizing.

Kimberly
from Kalamazoo, MI
This is for the Wendy's in Kalamazoo Michigan on sprinkle road I'm just trying to figure out if an employee quites or get fired why are they being hired back I'm guessing this is a family run business or they're just playing favoritism in hiring back people that they are friends with or some kin to I'm trying to figure out why is Denise still working there as a manager because when I was trying to get my order right she was being really rude and talking stuff about me saying that I was a liar and I didn't no what i was talking about I thought that once you quit or get fired you are not allowed to be hired in any Wendy's corporation that's in Michigan after being fired or quitting I know this girl named Yolanda she quit probably about five times and they keep hiring her back as a manager but give all the other employees a hard time they drive them all out and bring back family they only hire family and friends

First of all I bought a small fry and this is getting ridiculous, I get maybe 10 fries and I pay almost 2$ it's such bullshit, you need to give more fries out. There soo cheap to make and yet every Wendy's does this. Please start giving more fries or at least make it fair. We work hard for our money just like you do. Also I buy salads all the time and you never get enough salad dressing. Please start packaging your dressing so you get enough for your salad. I usually have maybe enough for half of my salad. It really sucks I would buy more salads cause I like them here but unfortunately I can't cause I don't get EVEN CLOSE to enough dressing. Thanks I guess

margery Tannenbaum
from Virginia Beach, VA
We went to Wendy's in Williamsburg Va while on vacation. We ordered a kids meal for my daughter. She ate the meal in the car and brought the frosty to eat in our room. I notice something black in it while she was eating it. It had a bug in it. We frequent Wendy's but now she is nervous to eat one again.

Regina
from Ponchatoula, LA
The fries was cold they forgot to give me my debit card back and had nasty attitude

Tonia Saunders
from Ashburn, VA
There are a lot of young people working in your restaurant with no adult supervision your restaurants are becoming very dirty garbage is overflowing out the garbage cans the floors are sticky and nasty but the tables are not clean there's no supervision not just one but two windy stores have been like that that I've been through and Garner and in Knightdale these restaurants are in North Carolina Raleigh North Carolina

Don Swilling
from Washington, DC
Drive thru is moving very slow

You went yesterday to grab a quick supper after practice,and had to wait over 20 minutes. When we finally got our food it was sloppily made and the fries were cold. The ice in our drinks was melted also. We thought the food would at least be fresh since we had to wait so long. Not happy after spending almost 40 dollars.

Barry benningfield
from Eaton, OH
The last two times I went to Wendy's I ordered a single with no cheese and a large fry. Got home and found out that I received a hamburger half cooked and fries half full and cheese on the hamburger.

Jim Baker
from Arbutus, MD
Visited Wendy's on route 30 in Hamstead Md after drinking my soda I found 2 ants in my cup I am a frequent customer but no longer

Ralph Wilson
from Portsmouth, OH
I was at the drive thru at your Lucasville store in Ohio. I believe Aaliyah was the cashier in the drive thru. She was very rude. I usually have no problem at this Wendy's. There was more but I'll just say maybe she shouldn't work drive thru if she can't take orders and hand out money with a smile on her face and be a little more polite to the customers. I won't be going to this Wendy's anymore.

Dan Carpenter
from McConnelsville, OH
Went in to wash my hands before ordering and the bathroom was absolutely disgusting!! Urine on the floor and what looked like blood all around the sink and faucet. Ask to see a manager and no one took the time to come talk to me. I will never return to this Wendy's ever!!!
The Wendy's spoken of here is on Emerson Ave. Parkersburg West Virginia.

Hi there
When placing my order through drive thru the girl taking order working Wednesday June 26 2019 was very rood because I couldn't hear her while taking my order so she raised her voice very loudly yelling at me than cuts me short with my order I feel she doesn't need a job working at that Wendy's than she got my order wrong I asked for Dave's double with cheese and ketchup only and I got everything on it so I had go back to have corrected I hate that Wendy's they never do things correctly

The Cy Ave store in Casper Wyoming has the worst customer service I've ever seen, their service is slow from greeting the customer to handing the food out. It Should not take a half hour to take three customers orders. This is by far the worst Restaurant I've ever been too, it's been like this the past couple times I've been here. I was hoping it was just the staff but it's obviously the management of this store.

It should be No stars! How the hell dont you have any Frostys?...Terrible, I blame the management. Wendy's on Torrence, in Lansing,Il

Denise Shepanski
from Bloomington, IL
I have tried to contact the local restaurant and then was on hold for 20 minutes on your customer care line. I expect that I will receive an immediate response to my phone @ 585-794-2074. I purchased a full size Parmesan Caesar Salad today. On my 3rd bite I was stabbed on my gum as I chewed. I found a hard green piece of plastic in my salad! This is ridiculous and unacceptable. I have a cut in my mouth and almost swallowed it.

Glenn Frankenfield
from Pottstown, PA
I recently went to Wendy's in Dorneyville Pa and it was the worst service ever,Everyone stands around ,it takes 20 minutes before anyone even takes your order and then another 25 to 20 minutes to get your food ,I ordered a baked potatoes sat waiting only to be told 15 min later they were out,The manager wasn't even concerned ,Someone needs to really look into this Wendy's ,It's awful when other paying customers said the exact same thing,Send one of your personal there and you'll see for yourself,Thank You

I am not. Happy. You. Got. Rid of the green tea. For. These other drinks. I. Do not like please bring back green. Tea
Thanks
Debbie

Kathy Puff
from Lapeer, MI
Was there at lunch around 11:10 am. Got your 4for4 got coffee the lid wasnt on spilled hot coffee all over my hand asked the girl for sugar 3 times the double stacker was so dry could barrly swallow it and the chicken nuggets werent even cooked. Maybe if the girls were paying attention not laughing and joking around you could get better service.i was in the drive through.why do i never get a receipt there is that so you csnt be sued for negligence when you get hurt im totally discussed. This is an on goin issue.never fresh food.

Joe Polak
from Florham Park, NJ
I am a regular Wendy's customer as I like the food, service and consistency. On Sunday June 23rd between noon and 1pm I stopped at the Wendy's at 2450 Possum Run Rd in Mansfield, OH to purchase two chicken sandwiches, one without tomato and one without mayo. After placing this order which took 10 minutes (real time number), I went to the mens room which was filthy including the mens entrance door which only closed half way because the spring / piston at the top of the door was broken of the door and hanging lose (safety issue too). This also means that the door was jammed half open as well. Once that experience was over I grabbed the take out as we were heading to Columbus. Once we were back on I-71, we opened the sandwiches and both had tomato and mayo. Both orders were wrong. Overall a zero on a 1 to 10 rating chart. You should close that place before the health department does.

JUSTIN WOOD
from Troutdale, OR
cashiers name is Khaleelah has a really nasty attitude i had order single with cheese combo plus a spicy chicken on the side
of that she put so much salt on my Fries i could not even eat them then when i tried to take them back up there
she got really Defensive and did not want to get me a different order of them the store number is #00001507
address is 490 NE Burnside RD Gresham Oregon 97030 i would like this fixed i had to throw them away they were so Heavly salted
it was like she did it on Purpose please let me know if this can be Fixed i have been eating at this location for over
a full yr this is the Gresham wendys 503-667-3781 i also saved the Recipt as well
thank you
Justin

Susan Hogg
from Norwich, CT
I can not believe what I got a your store today I ordered a chicken sandwich and what I got you should be a shamed of your company and for the price really I will never!!!!!!!! Go to Wendy's again so upset I used to love your chicken sandwich not anymore!!!!

First of all, it was hard to try and write this complaint because the lady did not give me a receipt so I had to try and google everything. I ordered it from the drive through window. I got a full southwest chicken salad and a kids meal. The salad was missing guacamole which was very unfortunate because I love guacamole and was looking forward to eating it. That's pretty much the reason why I ordered that specific salad and I didn't even get any. But I couldn't tell there was none until I opened the salad at work. While I was eating the salad my coworker had told me that she enjoys that salad as well, but she usually gets the half order. Apparently I paid for the full but got the half portion. I've never gotten a salad from Wendy's so I wasn't aware. I got the 4piece nugget kids meal to split with my other coworker and got the wrong drink and didn't notice til after I drove off. It was suppose to be strawberry lemonade and I got regular lemonade. My fries were cold. And I asked for ketchup twice and still didn't get any. The service wasnt that great either. The employees always look miserable and are sometimes rude and always smell of marijuana. I go to this specifc Wendy's because I love Wendy's and it's the closest one to my job but there's always a problem when I come here. I'm very upset and possibly never returning to this location ever again. I feel ripped off and unsatisfied. I'm tired of the inconveniences

Wendy's 630 Puuloa Road 9:30-9:40a.m..Ordered #12 medium....Paid $10.69 received no receipt ....Chicken was dry and hard,fries was so cold ....Not worth your $$$$...They need Help!!!!

John Leming
from Newport, KY
There is a store at the richwood Ky exit off of I-75 in Kentucky. We are very frequent customers and something has gone wrong at this location which I would term as bad management. My son and I eat there every Saturday Morning at 10:30. Newer staff has appeared and has remained consistent for about 2-3 months. We have witnessed on the Saturday morning shift that employees seem to think they are extremely busy, and cant manage the job. For the past month or so we stand in line for 15-20 minutes and witness many errors in order and very poor service. Our most recent visit was Saturday June 15th. There were 3 people in the store eating. One approached the register to complain that he ordered a plain hamburger and received one fully dressed. The next came up and complained about his drink order. The next complained because she ordered coffee only but the coffee was old. The register employee stated that it was in fact old and began to make new coffee. When we ordered and received our order it was short the correct sandwich and short a large chile. I would normally not complain, but this has been going on now for many weeks as we stop by, same crew and same manager. Please look into this asap, these people obviously need some very intense training. and you may need a new manager there. I told him about the situation and all he could say was "Wow!"

Frank Komisar
from Springfield, OR
Everytime my wife and I go thru wendys no matter what time of say or night it is they never have baked potatoes. We are vegetarians and salad and potatoes are our go to meal at wendys. We wait in the drive thru for 15 mins and get to order only to be told there are no baked potatoes and were told we had an hr. Wait if we wanted to come back. Not worth it. We love wendys buy waiting in line only to wind up with no food is such a disappointment. Don't advertise them if you don't have the potatoes ready. Sorry Wendy's we love you but wasted many of times waiting for food only to be told there is none. I tried calling from the drive thru to see if there was potatoes and no answer. Burger King veggie burger and Carl's Jr. Beyond burger here we come. Thanks for listening! Frank K

Charles Henry
from Palm Bay, FL
Two months ago in palm bay fl wendys i order food online when picked they asked for card to pay i said i all ready paid no we have your order but is not paid so i paid when i got home checked bank and i paide twice 27.00 order i have ticket numbers to prove it manger saide he will check he said i did pay twice i said ok refund or equivalent in gift cards never received anything

Ordered large taco salad with an order of chili cheese fries. I did not know the salad size changed to a small container salad and that you do not give the bag of chips, taco sauce and a small chilli to go with it anymore. The wait in line was long which I don't mind and I was asked if I wanted the receipt and I said no. I think I payed $9.68 and am very disappointed. I did not want to call the store because I had to get back to work. I only received 3 sour cream packages for the salad too. Went to the store around between 9:00 p.m to after 9:30 p.m.
Not a Wendy's fan today

Kevin Gonyea
from Detroit, MI
I was at the Hoover and 10 mile location person came on speaker as she was takeing my order I could hear the manager screaming at other employee I finally got to the window and the manager was still screaming at the employee sat there for 15 min all I ordered was a baconator meal very disappointed in the service and managers way of dealing with her employees

mike pittman
from Newton, KS
Newton KS Wendy's is so dirty my shoes were sticking to the carpet. The brown carpet is mostly black with sticky grease. The entire restraunt is just covered in a film of grease . When are they going to be forced to update. This franchise is hurting your brand.

GARY SMITH
from Keansburg, NJ
MY WIFE WAS AT YOUR WENDY'S IN MIDDLETOWN NJ 07748, AND SHE WAS GOING TO ORDER FOOD THERE BUT CHANGE HER MIND DUE TO THE FACT THERE WAS A GIRL IN BACK PREPARING THE ORDER FOR PEOPLE IN FRONT OF HER AND SHE NOTICE HER RUBBING HER NOSE WITH HER WRIST,AND BACK OF HAND NOT CLEANING HER SELF OFF ALSO THE PERSON TAKING ORDER WAS PUTTING HIS FINGERS IN THE CUP,EATING FRENCH FRIES WHERE THEY WERE BEING STACK. ALSO RUBBING HIS BEARD WITH HIS HANDS WHILE TAKING ORDERS. VERY UNHEALTHY. PLACE VERY DIRTY. NEVER GO THERE AGAIN UNTIL THINGS IMPROVE TIME WAS 7:12, ON 06/15/2019. RESTAURANT #00007405

Robert Cacioppo
from Newark, NJ
I just had the misfortune of eating a meal at a Wendy's restaurant in Rockville Maryland on Rockville Pike and lost about $19 in the process for two meals
The food was absolutely horrible and the chicken sandwiches that we bought taste like cardboard. I will never eat at a Wendy's restaurant again the manager of the restaurant seemed like he couldn't care less. He basically just said sorry and too bad without saying too bad. He basically didn't really care.
I feel like Wendy's restaurant has stolen my money.
Robert Cacioppo

John ingram
from Tucson, AZ
We stopped at the Wendy's on Oracle in Tucson. I ordered the new mushroom burger and my wife ordered the Asiago chicken burger. My burger was cold, maybe room temperature at best. My wife's burger had the worst looking slice of tomato that was white. I went back through the drive up, had to wait in line again, and they cooked and gave me a new burger. Showed the drive up girl the tomato from my wife's burger and she said "would you like a new tomato?" Really? And we paid $11.00 for this service and experience (no drinks or frys or anything extra!) Plus they are the worst tasting burgers I have ever had! Never again, Wendy's is permanently off my list!!!!

Marc Tolson
from Hyattsville, MD
Literally just sat in line for 40 minutes in the drive through. Sat behind a car at the window for over 15 minutes. Last time I will ever visit a Wendy's.

JoRita Moore
from San Jose, CA
Let's just start with...I am typically one of those people that likes to write good reviews regarding service, however, I unfortunately have NOTHING good to say about the Wendy's in Hannibal, MO. I would give this Wendy's ZERO stars if I could. I can't even give you a store number because they didn't bother to give me a receipt. I looked up the store phone online and tried to call it to talk with a manager and get the store # but no one answered. Unfortunately first impressions did not help to set us off on the right foot. Headed to the restroom to wash hands, trash overflowing and all over the floor, no paper towels, TP available but laying on edge of sink not in dispenser. Husband said same thing about men's room. Next up, placed order. No receipt. Waited on food for roughly 20 minutes. While waiting we filled our drinks. Service area was filthy, Don't think it had been wiped down or serviced all day. Floor sticky. I could understand if it was busy dinner time but it was 8:00 at night and only 2 other families were in the store. Finally got our food and took it to go as we were traveling cross country. We are now back on highway when we discover our order is not only incorrect but VERY poorly made. We actually had extra food in our order which probably means the next customer's order was incorrect also. Hamburger was burnt and our 3 frostys were literally chocolate air bubbles with the consistency thinner than a melted down milkshake.
We travel cross country frequently and Wendy's is typically one of our top choices, however this experience has left a VERY bad taste in our mouths. (no pun intended)
Please feel free to contact me at the email provided.
Thank you for your time.
JoRita Moore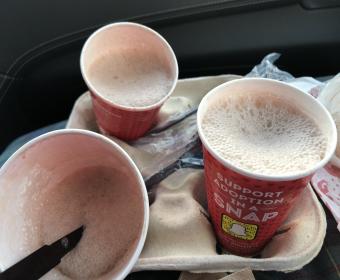 Devin Williams
from Spartanburg, SC
At the location on Hwy 108 I'm Columbus NC the employees will not answer the intercom at the drive thru nor will they turn on the outside lights when it gets dark out. We have gone by in five separate occasions, waited for over 10 minutes at the intercom and was completely ignored each time. We have seen several other cars leave also.

Anonymous
from Chicago, IL
Hello I am a regular at one of the stores located in Bangor Maine on Union street. And I noticed a manager there that I had stopped go to the Bangor Mall Blvd Wendy's location because of and his name is Bryon and he is very poor at customer service as I have had issues with him in the past and I noticed that he was talking down to one of the managers and made her cry. Everyone I know in the union street store looks miserable since he had started working the union street location and I see other customers giving not so pleasant feedback about him as well. I think the bryon character aught to be looked into seeming how he has so many complaints against him. And the regional manager Jeff Marshall isn't the best at treating his employees right either I have noticed all the times I have been to the union street location.

Debbie Duzan
from Woodbridge, VA
Second time this has happened when we order a cheeseburger kids meal, it came with pickles, onions and mustard which was not wanted or asked for and no fries came with it. Can't ever get ahold of anyone at the restaurant to try and rectify the situation. It's getting ridiculous and you will lose customers.

Fay
from Missouri City, TX
1. We went through the drive through at 4:50pm. We did not get our food until 5:20.
2. Once we got our food, there were multiple things wrong...no ice in two of the sprites, the frosty was liquid and foamy and the food was completely cold.
3. The staff was very disorganized and when I looked in through the pickup window, several purses were just sitting on the counter by the ice tea dispenser.
We will never return to Wendy's again near our house. It needs major work.

Rachel
from Buena Park, CA
Me and my brother went and ordered through the drive-thru today and got home and almost our entire order was wrong .i asked for a double bacon cheeseburger plain and got everything on it minus the bacon, and the bread was soggy with mustard . We are frequent customers of Wendy's and had didn't have a great experience at all this time .

Samuel pryor
from Charlotte, NC
I,m in charlotte, nc and very upset and disappointed with your store on sunset road. This makes the third time straight, i,ve went there to sit down to eat my meal and found the doors locked. If you go to the drive-thur which has a long line, it may take you 20.mins. before you get up to the speaker. I,ve seen people comming to the door and then the same thing at the drive-thru. It,s rediculous and ther,e loosing lots of customers.Please look into this.

Christian
from Douglasville, GA
I really enjoy your salads; however, I hate the "hit or miss" quality of your salads. Your salads are not too expensive, but expensive enough for customers to receive top quality each time a salad is purchased.
Thank you for listening.

K Calderon
from Grayson, GA
It took roughly 5 minutes to be noticed in the drive thru.
Ordered a Dr. Pepper but got I think diet coke or Pepsi. When I told the girl she said ok she would change it. Then came back to the window and said we are out of Dr. Pepper. So basically, I received what she wanted me to have, not what I paid for.
Then still had to wait on food.
Then had to ask for my receipt. And sure enough diet coke was on the receipt not what I asked for.
Bottom line I paid $8.35 for 10 chicken nuggets and fries. The drink went in the trash.
#00009894

Jack Dawes
from Norman, OK
The wife and I went in to the Wendy's on NW Exp. in Okla. City and asked for two salads and a black lady told the cashier they didn't have what we wanted so, I asked the cashier what they had and he had no idea what to tell me. Then a cook said they have them all and then the cashier was told again they don't. Apparently they had no idea how to take an order.
Why should I walk into your business to spend money and be messed around by employees who apparently don't know their job or enjoys jerking around old people.

Lionel Poissonier
from East Hartford, CT
I went into your location in East Hartford CT I went through the drive throw for lunch on 6/13/2019 and i order 2 big box the food was cold and not good at all I ask very upset with the food

Jennifer Furr
from East Northport, NY
I always buy the Wendy's single. I've never had a problem. As I was eating one, today September 25, I swallowed and I realized it wasn't a hard piece of lettuce, it was a piece of plastic. It was too late. It's slightly lacerated my throat. I had to do everything I could to keep it down so I wouldn't regurgitate it and re-lacerate my throat. Never going there again. I'm going to relentlessly call on Monday. Today is Saturday. They are conveniently not open. Will not let this go.

Taniqua Scott
from Antioch, TN
I'll get straight to the point. #1 the wait time was ridiculous. Not only was the wait time in line ridiculous. Once I approached the speaker to order, I was not greeted, I had to say hello at least 3 times before even being acknowledged. The crazy thing is when I was greeted you could hear the horse playing going on in the background. Finally when my family & I approached the drive through window to pay. The employees were having a conversation amongst themselves regarding something on one of their cellphones. In any event what took place after I payed was totally uncalled for. Again speaking on the 1st issue of the wait time in line just to place the order, 2nd issue is the conversation being had amongst the employees at the drive-thru window, but what happened is this I asked for a manager, the young lady ignored my request. So I asked again. Yet again no verbal response, But I did get a response, & this response was a slam of the drive through window. I also was handed drinks I didn't order. Then when i explained this to the young lady she snatched the drinks back out of hand, said something to the other employee, & then then just stood there. Finally the manager approached the window with a nonchalant attitude. I explained to him my issues, The main one being they are food handlers & are handling my food & their cellphone. Germs! Point blank period. So in any event I asked that I be refunded my money. So now this becomes an issue, such an issue that law enforcement had to be contacted. Now this shouldn't have at all gone this far. During this conversation with 911 operator the employees decided to express heir feelings by putting up their middle finger. Now remember earlier I stated I'm with my family my wife & 2 children ages 6 & 7, who are witnessing these actions. This was supposed to be just a good experience for my children. Instead it turned out to be a disaster. The manager finally came back to window, & asked with an attitude " What's the problem" Really? What's the problem, ok. So here's your product back & may I have my money. I was eventually given my refund, but the experience that my children received can't be refunded. A kids mind is fragile. the entire ride home my kids asked why did that happen. I couldn't give them an answer. The experience was horrible. To sit there for almost an hr just to order for the entire experience to go ugly. I'm seeking to speak with someone regarding this matter to discuss some type of reprimand for the employees as well as the manager on duty. thank you for you time.

Sharon Pfeifer
from Minot, ND
Dear Wendys execs: Is there ANY way possible the Minot branch could get a new oven? Various non-returning customers have repeatedly talked about Wendy employees telling us (the customers) the "oven was broken" or whatever other excuse they have given over the past few months. I have been there on 10+ occasions in the past 4 months where I ordered potatoes and every time the oven was "still broken"; especially in the evening hours when everything is broken, no management + short staffed. stay tuned for the wait time

The Wendy's in Jesup ga the food was cold and the personnel was rude

Phillip Vera
from Rock Hill, SC
624 Tinsley Way, Rock Hill, SC 29730
Very rude drive thru made everyone wait over 15 mins with no response other than the initial can you wait.

Kelly
from Cincinnati, OH
I'm literally in line at McDonald's because our Wendy's in rossford ohio is so God awful. I waited 20 minutes behind 2 cars in the drive thru and left before I could even place my order. This site should just be closed as it's been awful for so many years.

Connie Bland
from Spring Hill, FL
The last 3 times i visited store on Cortez spring hill Fl the tomato on hamburger was paper thin and pink pale not red and hard..lettuce has a hard white steam in middle this is Florida not Alaska...please make changes to better tomatoes and lettuce...

David Cyr
from Brockton, MA
Went to Wendy's on route 44 in Raynham Ma on Tuesday August 10th at 7.20 pm. Waited 25 minutes for service with 4 cars ahead of me. Told that if I wanted to place a order cash only. Two weeks ago I was told could not take any orders because of computers down When I reached the window 3 employees were hanging around the window with no urgency to fill orders. Hard to go back to this location again even though you have the best fast food of all the chains

Roy Richardson
from Covington, KY
Was using drive thru paid went to next window ask what I ordered told them he went ask the guy if I paid guy said no I said I did pay called me liar I'm 67 years old dont need still food 41 yr old daughter was with me called the next day and woman manager said that they call me back well this guy said he was there last night so nothing settled I dont want anything but somebody got that money I'm not a thief and I will never be back to another Wendy's How rude that night manager and his staff unbelievably my number I want someone with a mind to talk to me about this

Elena C Loera
from Jackson, CA
This is the 2nd time that the location on Dublin road has screwed up my order. I asked for a small sprite and a 6 piece nugget get to the window no sprite because she thought I said fries now I can understand why that would sound alike right come on now and then the other day they screwed up my order again I asked for regular nuggets..I get spicy..ugh give them a second chance well guess what 3 strikes you're out of here

Shannon Nufer
from Newark, NJ
Wendy's at 3050 s. Chase st. Milwaukee, WI 53027 phn# 414-743-9160
Tuesday, June 22 2021 8:15 a.m.
I am a truck driver stopped to pick up breakfast at this location.
Walked out your doors doors were locked. Sign on door that says: Lobby is open for carry out or drive-through only, no dine- in, no problem for me. Also says lobby hours open at 6:30 AM.
Again the doors are locked!
I look up the phone number and call the restaurant. The person that answers, in which would not disclose their name, says due to Covid they cannot open their lobby until 11:30 AM well past breakfast hours. I asked why does it say 6:30 AM on the door they told me I was wrong, I said I am standing at your door reading the sign. She said well too bad we can't open till 1130 due to Covid I will change the sign later. She told me to use the drive-through I then said please look out your front window you'll see my semi I cannot do that. I said can I order over the phone or use the app and have you bring it to me and she said nope there's nothing I can do for you and hung up.
Milwaukee Wisconsin does not have any restrictions anymore on any restaurants there's no longer a mask restriction either.
This restaurant is using Covid as an excuse not a valid reason, just to be lazy.
I expect this to be addressed and the proper people to be disciplined.
I expect somebody from Wendy's to inform me of what actions were taken upon the situation.
And NO!!!! I will not except any coupons or compensation in the way of food as I will not return to a Wendy's after this!

I ordered thru the drive thru. 2 jr baconaters . One cheese one no cheese!! It was $13 for 2 jr burgers!! No drinks or fries!! I know the order could not have been $13. No lettuce or tomato! I didn't argue because the line was long and it's hot here in PA

Ronald Wise
from Abington, MA
I have been waiting over a month to hear back from a district Manager. No wonder there is so many complaints.

linda michael
from Spring Hill, FL
I have been 3 times now to ur wendy;s in wesley chapel florida and all three times has been bad I don't know what is going on but yesterday was the last for me, I ordered 3 5.00 biggie bags and 2 kids chicken nugget meals and 2 med, frosties which is wow really small and an extra 6pc nuggets the burgers in all 3 bags were cold and hard and the nuggets were greasy and rubbery. I only get to go out once a month taking my husband 50 miles 2 the doctors so when I had to here my children complain, I was really upset. just though u should tell them to do better not everyone has money like that to throw it away,

This review is for the Wendy's at the Interstate 16 exit in Dublin, Georgia, only. We always go to Wendy's when we travel, which is often. We have had good service and food almost everywhere until today. The people taking the orders were inattentive and rude, the order was incorrect and the food was tired and cold. It was obvious that the burger, the chicken nuggets and the fries were far from fresh. We were very disappointed this time.

I work for a delivery company and there is a very clear prominent sign reading "dining room now open" oddly the doors are locked. So unlike 95% of all other fast food locations who work with drivers I have to wait in the drive thru line. The line itself is slow and the workers don't acknowledge you at the speaker. This system is not customer friendly in anyway and will make me not come back as a driver or a customer.

joyce everswick
from Flanders, NJ
On our way home from Myrtle Beach, SC, to NJ, we needed a QUICK stop for lunch. The 4 of us all like Wendy's and saw a Wendy's at exit 173, NC, and stood in line to get our meal. It was utter confusion behind the counter. There was only one person to take orders with a line up to the door. The others were making food, taking drive through orders and just general chaos. People started leaving because it was taking so long. My order was messed up so the manager had to come and straighten it out. She stood at the computer and punched in numbers for 5 minutes. To get 3 chicken sandwiches and 1 hamburger with fries, it took about 30 minutes. Is this considered fast food? We lost time on the almost 12 hour trip.
CORPORATE NEEDS TO SUPERVISE THIS LOCATION. It is a busy rest stop. We would never use that place again.
The plaque on the wall said TAR HEEL CAPITOL CORPORATION, Boone, NC.
Thank you for your consideration of this matter.

I went to your location at 149th st and 3rd ave bronx, ny this morning 04/20/2021. I waited until 7:00 am along with a armor truck. The young man that open up at 7:00 am and gave greetings. I was walking to place an order and young woman with a turquoise shirt on stated they were no open and was very nasty to me. I stated the sign had said 7:00 am and she became nasty stated it would not be open for ten mintues. I have been a loyal customer for over 15years. However; i may have re think. No customer should ever be spoken to . like that. I am really sad that you allow staff to speak to customers like that when the word mom appears under wendy's.
Thank you unhappy customer,
Dawn

Anthony Morris
from Cleveland, OH
On March 24th I placed an order through your app hoping I would not have to wait found out differently upon arrival and further review of the order on the app. After waiting for about 30 plus minutes we pull to the order board tell the cashier it is a mobile app order there was no clear cut order number. The cashier stated that ordering was gone. I requested a refund and was told I could not get one if it was a mobile app order. I have now been pursuing my 20.93 for some time and I would like to get my money back.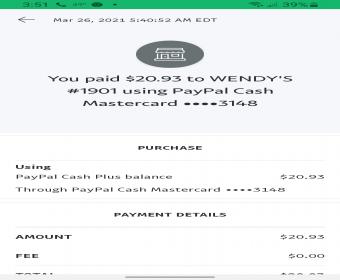 Nora canton
from San Antonio, TX
Good morning to whom it may concern I would like to make a complaint on a employee that works on south Zarzamora and Military Wendy's her name is Margaret if I'm not mistaken she works in the morning I'm just letting you know that y'all need to investigate her she is selling pills to workers medication that doesn't even belong to her we are trying to keep someone off of buying medication and she's over here at work selling them how can you let somebody like that work at jaws company oh hellos she has nothing but drug addict people living with her and we know because my aunt goes over there and she works at a different place

Oladapo Ajayi
from Cleveland, OH
I buy Wendy's for lunch every other day, this is the third time, I will go to Wendy's on 8104 Broadway Ave, Cleveland, Ohio. 44105. Twice I bought the Southwest Avocado salads, without Avocado in my Salads twice, the third time, I explained to the Crew Member about this on the P/A, so I changed my order after being on the line for about thirty minutes, to go ahead and give me Apple Pecan chicken Salad. I asked for receipt but the receipt was not given.
When I went back to the office, only to find out it does not have pecan and blue cheese in my salads. I was really mad but could not go back because my break its over.
They should stop them of ripping of citizens by selling incomplete salads and charging full money for service not rendered. I wish they gave me my receipt, so I can go there and act a fool, but the line is too long.
Sincerely,
Oladapo Ajayi (AJ)

Walter Monsauret
from Strongsville, OH
I just drove through the drive-through at Wendy's on Bellfountain Avenue in Lima Ohio I ordered a breakfast burrito she said she did not have any, I asked her if she had any breakfast sandwiches, she replied Huh? Then I asked her for a cream for one of my coffee, she replied to pull over by the curb and she would have someone bring it out to me, that never happened. Then I want to take a drink of my coffee and it was cold.This was the worst service I've ever experienced in a drive-through, rated at zero stars, was wondering why all drive-through's were full and not one car at this Wendy's and now I know, will not be going back ever

Carrol L Mills
from Louisville, NE
During the past 8 months, Wendy's at 4308 W Dodge, Omaha NE, has become the worst place to visit. They are extremely slow. Sometimes it my visit to the drive-thru eats up so much of my lunch hour that I have to pull out and leave. The current employees have become exceptionally rude. To top it all off, the quality of the food served has gone hastily downhill. I used to visit this establishment very frequently. Employees were really on the ball and hopping to ensure your food was 1) what you ordered and 2) it was ready just as soon as humanly possible. Over the last 7 - 8 months, I just swing by now and then to see if anything has improved. And it hasn't. After yesterday's (03.22.21) horrible visit, service and food, I will ensure I don't go back to this establishment at all. I'm thoroughly disgusted with trying.
Thank you,
Carrol

Lacey
from Birmingham, AL
Whoever on this speaker on Monday March 21, 2021 is very very rude. It's not my fault that they are busy. It's ways to handle customers. Then it's a very long line and you guys have employees outside smoking weed. This is very unprofessional & needs to be corrected....

Rhonda Sinclair
from Rock Hill, SC
Ordered a taco salad, large chili w/ cheese and baconator meal. First the guy in window reached me my drink and chili. OK I'm sitting there the manager taking orders told him to give lettuce part of salad. I'm still waiting then was asked what I need. The rest of combo manager turned around and slammed my fries in a bag which while making to bag half wasted. Then baconator must have been son of baconator small burger with two small pieces of bacon. Think I'm done

Leisa Richmond
from Lynchburg, VA
For the second day in a row I went to the drive thru at Wendy's in Wytheville, VA at the Walmart plaza. Each time I ordered a Southwest Avocado Salad and BOTH times the VERY RUDELY said that it would be a 11 minute on the grilled chicken. The customer service at this location is horrible and they are consistently ill prepared. I'm very dissatisfied!

Tim Dibble
from Bedminster, NJ
NO COMPLAINT just wanted to let know about my breakfast experience the other day. Wendy's has knocked it out of the ballpark. I had the bacon,egg,cheese on a biscuit absolutely the best in the industry among your other competitors. The home fries were seasoned just right also. I hope this breakfast idea works out for Wendy's waiting to make sure you had the best product before rolling it out was a great idea. Hats off to the team that put this together.

Wes Cox
from Indianapolis, IN
I had went to the restroom after finishing my meal. The entrance door to the food service area was open. As I walked past, I saw a large quantity of rodent feces at the edge of the counter by the soft drink cups. It was gross. I went on into the restroom and when I exited the rest room my wife was waiting on me, and the door to the food service area had been shut. My wife told me the next day, a staff had slammed the door while she was standing there. If this isn't addressed, my next step is to call the health department. These incidents happened at;
Wendy's10623 W Markham, Little Rock, AR
My phone number is (479)207-0271

Mike Voytovich
from Salt Lake City, UT
Went to the 3259 E 3300 S, Salt Lake City, UT 84109 location and used the mobile app to order and get the offered Bacon fries.
What a Fing joke!!
Didn't get the fries because the order didn't print it even though it WAS on the order i sent....
What a waste of my time the app took TWICE as long to enter the order vs just walking up to the counter!!!
Why is there not a no star option???

Bojan Mahic
from Oak Ridge, NC
At 8:34pm today i visited the Hickory Ridge Rd location in greensboro nc. I was a passenger in my mothers vehicle but was the individual whom ordered the food. At the drive thru, i used to visit everyday for lunch until recently i was involved in a heavy accident that has left me unable to drive. So i finally get around to getting my fix (wendys) and had a $2 off coupon so i decide to order a Baconator combo large (coke no ice) instead of the usual biggie bag i used to get. The total was 11 and change then with the coupon it was 8 and change. After a longer than normal wait i get the food. To my surprise it is my standard lunch bigge bag :/ i let the wendys lady know about the mistake and she insisted that the baconator is the same thing -_- i know it isnt. She tried to argue saying i got free nuggets out of the deal and i should be happy... But i know better and let her know if i got a biggie bag and used my $2 off coupon why on earth was my total almost $9?!?! She was not wearing a name tag unfortunately, nor did i receive a receipt. I decided to let her "win" the argument as she did not have the slightest intentions on correcting the problem or charging me the correct amount. (My elderly mother being the driver i couldn't allow myself to match her attitude, i would have loved to though.) so we drove off. At the first intersection i gave the entire order away to a homeless panhandler and we drove to the west market street wendys to purchase the correct items. Because a Baconator craving has no substitute (ever)! Obviously i am highly upset about the whole ordeal mainly because i have not been able to drive myself anywhere since my accident. This is my first EVER complaint written/verbal to any establishment and i hope i never get this kind of service and pay PREMIUM price for the service i received tonight. (i do not want a pitty party because i am unable to for myself any longer but i would like this fixed and to have the employee at least take a hospitality Class.

I am 70 who travel frequently between Atlanta and Chattanooga. I ordered chicken nuggets at Exit 290 on I-75. They were dry and old. I walked back to the counter, placed them there, said nothing, and turned to leave. A young man asked why. I said because they are not any good. A young woman yelled loudly across the restaurant "Well you didn't have to throw them." At that point I went back to the counter and announced to the manager that they have lost a frequent customer. My phone number is 678-704-3146 if anyone cares about this incident. I am appalled.

I've never had a bad Wendy's until... the Salem Ohio location. And it hasn't been just one time. Not sure what's happening there. Smells awful when you walk through the doors, service is absolutely terrible. Frie set out on counter long before order ready which by then food is cold. No one wearing gloves that's touching my food. Just bit a good situation.ine I said , it's every single time we go. Everyone makes mistakes, I get that , but continuously the same thing? We definitely have gave them the benefit of the doubt but will no longer go to that Wendy's. Boardman location is a little further but never had bad service there. Even ate at one last weekend in PA, all good there.

Alex Archuleta
from Denver, CO
I am here in Denver Colorado and I had one of the worst experiences ever in my history of eating fast food. The location I went to is 2070 south federal Denver colorado 80219. I ordered the number 5 which is currently the bacon, jalapeno cheeseburger. The quality of the burger on a scale of 1-10 10 being good. I'd rate the quality a 1. I also ordered without onions which was repeated back to me and yet completely ignored. My bun was very soggy from the grease on the patties. Also had some very disturbing very disgusting chicken nuggets. The customer service was also very disappointing as I was treated with a lot of disrespect and ignored by employees helping themselves to some icecream while I waited a good half hour on a to go order inside! I spent 22 dollars and am very disappointed that veteran such as myself cant get a decent meal when in the mood to eat out. I will never return to this location again. I did speak to a representative on the complaint hotline however I really want and need to get it across to your corporate office that this type of behavior represented as customer service is not ok and it's not fair for someone to be trapped into paying for food that could possibly get somebody very sick! I will be leaving my phone number on this email because I'd like to speak over the phone rather than back and forth email. (970)426-8925.

j train
from Abbotsford, BC
i had the absolute worst customer experience at your Wendys located in abbotsford off of mccallum road.i order from here at least 3 to 4 times during the week as its close to my.So work.tday being a day off I thought i would run over and pick up some food thru the drive thru approx 1130 am..After returning home i was missing 2 items ,a bacon poutine and 5 chicken strips (there where 4..yes only 4 mcnuggets in there)so after returning to let them know what happened i was treated very rudely and told my order was correct and i was given everything .after trying to explain i was not they said i was...needless to say i will not be returning ,you have lost all my weekly business including that of my staff ..THIS IS THE ABSOLUTE WORST CUSTOMER EXPERIENCE EVER AND I WILL BE POSTING IT ALL OVER NY SOCIAL MEDIA AS WELL...you have lost my business from this location forever ..

Brooke Harris
from San Jose, CA
You guys really do suck. The customer service is awful. I'm so sick of going to the Springboro, Ohio Wendy's and the employees being nothing but rude. Acting as if you're order is an inconvenience to them. Maybe you guys should not hire people who have no business talking/being around people. I'm extremely disappointed, again at this company. I'll make it my job to make sure no one visits the Springboro one again.

Hello, I would like to report a concern about a manager at the Harrisburg Pike Wendy's in Lancaster Pa. My husband arrived at the store around 10:10am and when he went to open the door it was still locked. The manager who gave her name as "Dee" opened the door at 10:15am. The associate running the register apologized to my husband and said he needed to finish setting up the register, my husband said it was not a problem. Then Dee began to curse and say "he can f***ing wait" when my husband didn't say anything at all. Once my husband ordered his food, he asked the associate if that is the manager, and he said yes. My husband then asked if he could get her. The associate got Dee, and my husband asked for her name. She said "Dee" and walked away, my husband said excuse me I am not finished speaking to you, which then my husband pulled his phone out and started recording, he asked what the name of the manager above her is, and she said "Presilla." My husband asked how to spell that, and she said "Presilla, your guess is as good as mine." The whole thing was unacceptable. Your hours says you open at 10am, why was the manager now prepared with the doors open or the associates prepared with the cash register open and prepared for orders. Very unprofessional manager, and when I called and asked to speak to Presilla, Dee got on the phone and said she is not in today.

Doug Perdue
from Boston, MA
My family and I go to Wendys twice a month, however I had a meeting at the Holiday inn in Eastgate Batavia, Ohio and must say it was the worst experience ever at Wendys! I ordered 2 jr. cheeseburger deluxe, small fry and a small drink and it cost me $8.72! DID NOT RECIEVE A RECIEPT! As I was waiting was asked if wanted something other than coke as they were out! At 12:30 pm on a Saturday! I got a sprite! Continued to wait and was looking, if your CSR was good they would have offered me a 4 for 4 and ordered and extra jr cheese deluxe and would have been 6.19 instead of $8.72 and would have gooten 4 chicken nuggets also! So i sat down to eat and the fries were old and cold, and the fries are the main reason to go to wendys! Not happy at all!

Yaisha lawrence
from Upper Marlboro, MD
The person at the drive through window was very rude. I ordered fries they had no ketchup. I ordered a ceaser salad and they gave me taco salad. When I told the person it was wrong she got an attitude and told me she can't take the salad back.

Lolita R Whitfield
from Charlotte, NC

So I called and asked if they have environment safe straws because my little brother wants to save the turtles and that's the only straws he'll use and when I asked, they hung up on me

I attempted to use a coupon today at your restaurant #1106. The coupon clearly states, ¨Buy one, get one free.Any large chicken sandwich. (Of equal or lesser value). EXCLUDES ASIAGO RANCH CHICKEN CLUB¨. I ordered 2 spicy avocado bot sandwiches. The manager stated that she was unable to honor the coupon as it only applies to regular chicken sandwiches. This is not how the coupon reads.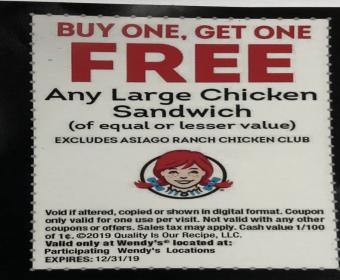 Amelia Hale
from St Louis, MO
I didn't receive one of the sandwichs with my order while going through the drive through. Didn't see it until I got home. Also didn't receive a receipt and they were about to close. Nothing I could do about it. Money wasted.

Robert DiMichele
from Homosassa, FL
We go in late nights in order from the drive-thru. 50% of the time they asked us to pull up out of the drive-thru window to wait for a food as there is no one behind us or ordering. Seems to me they're trying to cheat some service time for your company would be something that should be checked into

Chris M Miller
from Richmond, VA
If i could take away that one star I would. Had the worst experience. I was the third car in line in one of your drive ups. 36 mins later i gave my card to window one. The payment window. 15 mins later my payment was still not processed. I asked for my card back and went to Mc Donalds. At least they could have done was talk to me and explained to me what was going on. I had a $19.00 order. I have been eating at your establishment for many years and have never been this dissatisfied.
Chris M. Miller

Melissa Logan
from Louisville, KY
I was on lunch break and there was only two cars in line so I thought I would be able to get back before thirty minutes well it took almost 5 minutes for the girl to take my order then I set in line for 20 more minutes.. I was late to get back to work and I didn't get my food because I was in such a hurry to get back to work so I didn't get in trouble.. I will never go there again.. and I still got in trouble..

The Wendy's in swansboro, nc is very slow. It is slow when the lunch crowd is there or at night when there are five customers. There seems to be no organization. When the cashier takes your order, he or she leaves the cash register to get drinks, frosty's and leaves the other customers waiting to order. It's not unusual to wait 15 to 30 minutes to get your order. At lunch, many do come in because they don't have time to wait. The other night there were 6 people waiting for their orders and there was no one making hamburgers. It's taken me 10 minutes to get two frosty's because the girl working the cash register just left to look for something. It's so bad. There is no organization in the way they work. The people are nice but they need to get organized. Send someone there to sit and watch, someone not known to them.you will see what I mean. Thank you

Bradley Hulse
from Hutchinson, KS
The Air Conditioning system hasn't been working in the Hutchinson KS restaurant. The Staff service is excellent under the conditions They're working in and They all should be given a special thank from Wendy's corporation. It was 101 degrees outside and easley that hot inside. My Daughter and Myself had eat outside cause of how hot and miserable it was inside. Please make sure to give a Special thanks to your Crew for their dedication and a bonus wouldn't kill Them either...though the heat might.
Have feedback for Wendy's?
Thanks for your feedback!
Sorry. Please try again later!