Instagram
Contact Instagram Corporate
Toll free phone number: (650) 543-4800
---
Instagram is one of the world's largest social media apps for iPhone and Android. Common issues with Instagram include temporary blocked accounts, spam, registration problems, and follower complications. If you need to contact Instagram, the customer service phone number is 650-543-4800.
Now that Instagram is owned by Facebook, the best support comes through Facebook help pages for Instagram users. That is the best way to resolve any issues you may have. Some users report problems getting a response from Instagram, as most of the service is automated at this point. Unfortunately, this leads to accounts being restricted from one week up to a permanent ban.
Instagram corporate office is located at 1601 Willow Rd, Menlo Park, California 94025. The company shares headquarters with Facebook which is also located in Menlo Park.
Instagram Contact Information
Report complaints to corporate and get satisfaction
Instagram headquarters address

1601 Willow Rd, Menlo Park, California 94025
Menlo Park
CA

Company website

1-800 phone number

(650) 543-4800

Support email address

support@instagram.com

Better Business Bureau rating

A

Customer service hours

24 hours a day, 7 days a week
Browse reviews of other Social Media
Top Instagram Complaints
Browse more than 166 reviews submitted so far

I tried to log in my Instagram and it not letting me. I think someone hacked my account as it has been 1 month. I still can't log in and I forgot my email too I can't remember my name, as soon as possible please could you report that account so corporate fixes it.

sean anderson
from Prahran, VIC
I was liking someones photos then suddenly I was blocked. I liked 3 photos in a row and that was over 2 weeks ago. I still can't like any photos. Can we please get this fixed.

Amos
from Wollstonecraft, NSW
Very dissatisfied with being blocked on my business page when adding follower to our page. No support when you report the something isn't working feature. And as I pay to advertise on Instagram you would imagine they would sort out the issue or contact you quite quickly, but that is not the case. It's been well over 24 hours and my account is still temporarily blocked. Very displeased with the lack of support and service from this company.

Georgia Macdonald
from Coquitlam, BC
I created a Instagram account for fitness uploads and my account was disabled after left than 5 hours of use. I apparently violated the terms of use however, I follow multiple accounts who upload picture very similar to mine. These photos were not taken in a provocative manor but simply fitness reasons and I would like my account back. I cannot find a way to contact the company or Facebook (parent company) over this complaint.

Jim
from Mountain View, CA
I would like to warn all other users of Instagram that they are selling your email to a third partie and giving it to scam spam businesses. Please do not join Instagram as you will be bomb barded with spam

mz_mesmer
from Long Beach, CA
I suspect my Instagram account has been hacked, since I cannot access it anymore. Not only that, but it appears the account has been deleted / suspended for some reason. I contacted the customer support. They responded after 2 days, gave me a number, asked me to provide a picture showing my face, my user name and the number in the e-mail. I sent the picture and got another answer stating that my account has been restored. Nada. No restoration whatsoever. I contacted the customer service again, showing them the entire chain of previous e-mails. Guess what? They asked me for my e-mail again, as in my very first exchange with them.
This whole exchange has been going on for about a week now, maybe a few days more. I am sincerely hoping they will not make me go through the whole process again. Also, they would not give me an answer as to what exactly happened to my account. I am not famous and I do not post what they deem to be "inappropriate" content either. I have no idea what is going on. This is very frustrating, as I put a bit of work in curating that account. Gah!

My account was hacked. Hackers changed the name and put ugly sexual description under it and using my photos followed 4,000 accounts from my account. I have reported the issue of a blocked account to Instagram Team. They send some steps to followed and I did. I have send them verification photo and so on. Instead of acting on it they disabled my account. Then they wrote to me that I was not following community guidance. Surprise, It was not me, but hackers from my account.
After providing all details when I created my account and how, Instagram Team apologized and unblocked my account. However, as they are really unprofessional, they forgot that account was hacked and returned the account to hackers. As email and password on it was changed by hackers. I cannot access it and it is still open with not my name, ugly sexual description and my photos. I have submitted several hacked account reports to them. No reaction! I have never see so bad customer service. What is worst it feels like you are talking to robots! I really do not know what to do and how else to make the issue know.


Austin
from Youngstown, OH
I have a very old account on Instagram. I don't know the password to it and the email is fake. I need the account to be deleted. I was young and dumb but I don't want it on anymore. I've already tried to delete it before with you guys and I couldn't. If you can't delete it atleast make it a private account please. Thanks for the time.

Amber Bean
from New Hope, PA
I was on Instagram, scrolling through feed and then it logged me out. It said I had to ensure my safety and put in my password. I put in my exact password and it didn't work. I then proceeded to try emailing the password to my email, but apparently I couldn't remember my email from the account. So I went through Facebook, knowing that it would have to work because I'd done it multiple times before. It basically told me it was not hooked up with my account when I knew it was. I can no longer get into my account. I've never told anyone any of my information on my account, either. And I'm very upset that they don't have a customer service number that works because This account is extremely vital to me. Now, I can no longer get onto it.

Hello my name is Shauna Cronin and I have made two accounts with instagram and both of then have been deactivated without warning and now I have lost all my followers and pictures and I would like to know why this happened I would like both my accounts back and I would like all my followers to be restored! I hope to here from you soon.

Joshua Dewet
from Cape Town, WC
Its a disgrace. Its worst than a porn site now with the types of images being shown.

Lisa Kau
from Limerick, M
I was on Instagram and then I had been signed out and told my account has been disabled! I received an email asking for a photo of me holding a piece of paper with my name, username and the code I was given, hand written. I really am at my wits end I'm crying all morning this is now my 3rd account I have had to make, could someone please tell me is there anything else can I do?

Hi it says on the Instagram content page about uploading nudity but there are still images showing full body nudity on instagram, but when i uploaded a image that did not show any male nudity at all my account was blocked. Could you explain the reason for this?

Gabriel Martinez
from Corona, CA
I'm getting kicked out of my Instagram account after a update. After receiving the latest update for Instagram, my iPhone 3G would kick me out of my account. it would show me a blank screen and it would kick me out. I demand that the latest update be taken back this is outrageous.

Richard
from Kaysville, UT
You guys just added a feature that shows pictures of post that people search or that are popular at the time on Instagram. The problem is most people in America just search for porn so that's what I get on my search page. A week ago everything was fine. I just find it annoying that you guys allow so much of this on Instagram.

Shilpa thapa
from Delhi, DL
My followers decrease everyday people are not un following me they are still showing on my followers list but followers are decreasing.... It's been more than 8 months im facing this problem. Because of this I've made new instagram account but still it's happening again n again. I reported the problem many times but you guys didn't bother to reply me or give me conclusion! Im really pissed of with this issue. Please try to help me.

Please I am begging you, there should be instagram direct message. Instagram is the exact same on computer as it is on mobile except for one thing -- DM. Please somehow make it possible to DM on a computer or laptop.

I am instagram commenting spamming other users without my knowledge it notifys me I'm commenting on unknown people's photos with put my consent please stop or let me know what I should do. I love using instagram but if this continues I will have no choice but to quit the service and uninstall the app. I'm tired of this. Where is the instagram help department or support group online? They have no number to call. I always check the following list and I always end up with more following people on my list than the day before, currently I follow 68 people but the next day I check and I am following 80 people, and these followings appear without my consent in my list, I think this needs to be fixed ASAP as I only really use this instrgram for keeping a up to day memories of my daughter, please could you sort this issue out as I don't want random people on my lists. I do not have an Instagram but someone posted a photo of my nephew and my son and I would like it removed. This photo was taken when my mother was at a bus stop and I was not present. The photo was brought to me attention by my mothers neighbor who lives in a different city. How do I request removal of an image on Instagram, if there is a form online I can complete please let me know so I can be aware and attempt to post on it please.

charity fodor
from Lexington, KY
for the last 2 months i have had a harde time with trtying to update and access my email. i know that i got locked out for 60 days but this is very inappropriate and uncalled for.

Ali mehdi
from Hyderabad, TG
Hi sir/mam I'm a instagram user, I have created my account in the beginning year 2019 in the month of January or February, I used to upload songs on this account, on 21 April 2020 when I was trying to login my account it tells that my account has been deleted due to policy violations but I did nothing, my username is princess__2o04, please help me i want my account back please sir please help me

christine barish
from Los Angeles, CA
My instagram page is totally blank, and I can't get into my account. What happened?

Sidnaaz Fans
from Lucknow, UP
My account is disabled from 3 days i filled several appeals and requested many times that i have done nothing wrong due to which my account is disabled there was someone else who was pretending to be me its not my fault i requested many times to give me permission to access my account because i am facing lots of problems due to disability of my account. My husband want to check that account he is thinking i had done something wrong he want to check my messages that if i talked to a guy otherwise he will give me divorce, he is beating me due to this, that is why i am begging to instagram team that please enable my account it is a question of my life and death but then also instagram team is not considering my request seriously i am very upset from 3 days if they will not enable my account my husband will leave me and i have to commit suicide.

I cannot log in to your sites because every password I create I forget!! I am not good with short term memory, and am severely restricted from participating in any form of online life. This causes unbelievable stress and frustration, and then I say or do something that is almost always misinterpreted by literal people. Please help me, or give advice besides the usual Go Away and Die.

I'm a instagram user 2 years. Been very nice. #1But being attracted by other instagram users mainly males. #2 receiving dozens of fake profiles I have details and is fact. #3 Is singling me out personally for a month now from other instagram users and they are commenting with nasty words yet I've haven't said anything close and I'm blocked immediately. Yes I've sent feedback reported it as if it's a technical issue weeks ago. And still being single out. It will stop with or without you guys is Cooperating no I don't mean any disrespect to you hope you understand. Thank you Sincerely Mr. Liles

LaQisha Cuthbertson
from Gastonia, NC
My account was hacked can u please look into it lc.uord

Laura Bekdas
from Paramus, NJ
By mistake I sent one of my post into Archive and I don't see anything in the archive. Can I restore my post? Also can Instagram create a way to switch photos without deleting the post. When u press edit the only option you get is to tag someone or change the caption/writing
There is no switch photo option.

Jasmine Seager
from Myrtle Beach, SC
Are you guys just gonna sit there and let everyone get hacked with no way to stop it, they have our sensitive information and nobody wants to make new accounts because we have important things on there and they'd just get hacked anyway. There have been so many complaints and you guys haven't even done anything about it, you act like it all fine but it's really not.

I've been trying to send a simple message to Melissa Benoist, Supergirl and your system keep blocking it. there is nothing rude or crude about its just a simple greeting to her and her co-star Katie Mcgrath, Melissa is sitting on Katie's lap and and they are smiling. There is nothing rude in my comments it entails only a greeting as follows:
Supergirl is Carol Susan Jane Danvers, whilst Supergirl is Super Lena Luther is Daper meaning calm, cool and debonair...
Does that sound disrespectul. Most of these famous ladies have liked my funny and daper comments including Jenneifer Love Hewitt when I make a play of words on her poingnant and extradnory middle name. When you see her she exudes nothing but love in a Lovely, Voluptuious Cleavage Intense & Heavy Breasted Young Woman., who has great Sense of Humour.
H. Kennedy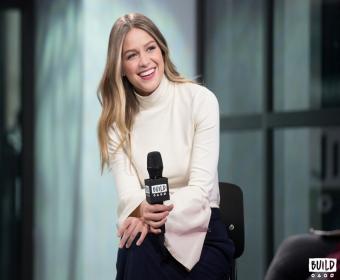 Daniel Bartlett
from Rotherhithe, ENG
My account was hacked a week ago I have sent all the requirements Instagram have asked for. My account has been reported to Instagram yet Instagram are just sending me around in circles and the problem is not being dealt with and now they are failing to respond to me

there is a site bbtfootwear on insta , it has taken money from me for shoes , non arrived I have messaged them several times asking for info , they have ignored all correspondence and now have blocked me , I think this is a fake site taking money for goods which never arrive .

There is a page on instagram by the name of "truedealers". I bought hotstar premium account for 400/- from that website and they sent me account details of 2 people with password and when i used that i couldn't browse premium content. I was shocked by their reaction when i asked my money back,they muted me on instagram. I want my money back and it would be nice if i get details about the name of the admin.

Brooke Ruby
from Orange Cove, CA
I think that you should be able to change the order of posts with multiple pictures and delete/archive individual pictures out of the post. This way, if you like one of the pictures in your post but eventually don't like another one, you'd be able to change this and would cut back on archiving whole posts.

skylar
from Bedminster, NJ
A picture I recently posted mysteriously got deleted and I am not very happy about it. I would like for it to appear back on my account.

Isabell Nunley
from Waycross, GA
My Instagram page, the search page and the home page would not load or would not load new posts so I uninstalled the app and reinstalled it. When I tried to log back in, every time I put in my username and password and click log in, it tells me I am having connection issues but all other internet using apps on my phone work perfectly fine.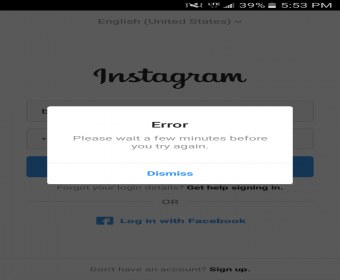 I have never posted anything political on my page until recently, and I posted a picture in support of President Trump. Now I feel like Instagram is messing with my account. My number of followers drastically decreased almost immediately..Although, each day in my notifications it shows that a ton of new people are following me, yet the number on my profile never increases. I have heard of this happening to multiple people and conservative based accounts. This problem NEEDS to be fixed, we feel that Instagram is discriminating against us.

Yajas Modi
from Mumbai, MH
I have 2 problems
1)I am not able to resize the image which I want to upload on my Instagram story.
2) Story which I upload on my Instagram is doesn't disappear after 24hrs. That means I still able to view my 2 days ago's story also

sandra cattich
from Cape Town, WC
I have researched the use of Instagram and realise that there are people who follow and unfollow. I also realise that there are healthy habits to grow one's account. But I am HIGHLY SUSPICIOUS of the fact that my number of followers has stayed within the EXACT same range for 6+ months. I think it's fixed. And I think Instagram is the only entity able to do this. How is it possible, with new followers all the time (and I have to accept that at least some of these are genuine followers), the number of followers to my account stays between 68-72, usually under 70? It's statistically unlikely. PLEASE UNFIX IT! Otherwise Instagram is just corrupt.

Jeremie loble
from Missoula, MT
Every 4th post on my feed is an irrelevant ad. Stop with all the ads. Don't become facebook

Zainun
from Marathi (Ghansoli), MH
How can someone access my account from a different location without me getting any notification.

Akshat Akash
from Marathi, MH
Respectfully i want to say that Instagram is too low in its guidelines. I want Instagram to please tell me that why they deleted my comment. And if you are saying that this disobey our guidelines than please tell me if a person can say that Indian army personnals are dog and still you didn't delete their account and a another person is also saying that Indians are bloody loosers and you didn't do any thing and yes they also belongs to the India but if i tell them that you kashmiris are bloody loosers than you deleted my comment.Ok clear me onething country is more important or stares are more important. Seriously same on you guys. Reality is this that you are real bloody loosers.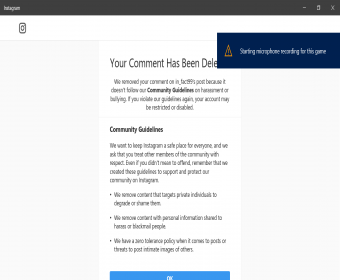 Jennifer Williams
from Los Angeles (Van Nuys), CA
I have just received notification that my instagram account, @stat_babydoll was disabled. This comes after yesterday, noticing a page @the_hoe_preacher tagging me in an abusive, bullying post shaming my body. I have lipedema so my thighs and butt have more fat distributed than others. This fat is unable to be lost without plastic surgery. I promote body positivity on my page so that other's can see its ok to be different. This guy posted things saying I should cut out my thighs, that I look like "bubble gum left over under a desk", totally making fun of me. I contacted him nicely and explained that ive lost over 100lbs in the last couple years and that's what happens, skin sags. Its natural. I asked him to remove my photos and he refused. I contacted Instagram to remove for property violation and DCMA takedown. Instead, my account was disabled for "violating terms". Instagram has a reputation lately of deleting plus size accounts and removing posts similar to what smaller fitness models post. But everything is over sexualized with plus sized women. Instagram needs to be consistent in its takedown process. I was disabled because someone bullied and shamed, harassed me. That isn't right. His page still exists and im still on it after several copyright reports, as well as harassment and bullying reports.
Have feedback for Instagram?
Thanks for your feedback!
Sorry. Please try again later!