Twitter
Contact Twitter Corporate
Toll free phone number: 415-222-9670
---
Twitter is a global social media company headquartered in San Francisco, California. With a presence in multiple countries, Twitter offers a microblogging platform that enables users to share and discover real-time information, news, and updates. Users can engage through short messages, known as tweets, and access features like Twitter Ads for advertising and Twitter API for developers to integrate Twitter content into their applications and services.

If you have a problem and need to contact Twitter complaints department, the best Twitter contact number to call would be toll free 1-415-222-9670 or contact Twitter support through email at support@twitter.com. The best hours to reach the Twitter customer service number with a live agent are between 12am-12 pm hours [7 days a week] (all times are in EST).

The Twitter corporate office is located at Market Square, 1355 Market St suite 900, San Francisco, CA 94103, United States with Twitter corporate number of 1-415-222-9670. Leaving your Twitter corporate office complaints below is a great way to have your voice heard.

The most common Twitter corporate complaints include concerns about the handling of misinformation and harmful content on the platform. Users express dissatisfaction with the effectiveness of content moderation and enforcement of community guidelines. Some also report issues with harassment, privacy, and the prevalence of fake accounts and spam. If you have a problem with service, a rude employee, or products please leave Twitter headquarters complaints we offer a convenient link to a complaint form here https://help.twitter.com/en/forms

Do you have a customer complaint for Twitter? Let us know by clicking here and leaving a review.
Twitter Contact Information
Report complaints to corporate and get satisfaction
Twitter headquarters address

795 Folsom Street
San Francisco
CA 94107
United States

Company website

1-800 phone number

415-222-9670

Support email address

support@twitter.com

Better Business Bureau rating

F

Customer service hours

12am-12 pm hours [7 days a week]
Browse reviews of other Social Media
Top Twitter Complaints
Browse more than 128 reviews submitted so far

Martín Campos
from Santiago, RM
My twitter account was suspended for supposedly violating twitter's rules, however after a VERY extensive search I have not found any evidence of that being the case, because my account has not spammed, used information or photos not of my own, etc. Moreover, when I tried to get in contact with the support team, which has been twice now, asking for specific information about exactly what rules have been broken, how to end such behavior on my part, and the length of time of the suspension, i've been given the same, word for word, automated response which tells me i have violated it's rules without actually answering ANY of my questions or offering any SUPPORT.
This kind of behavior by part of what is supposed to be the support team from one of the Internet's most prestigious and used sites shows that apparently they DO NOT care for their customers in any way, and won't even take the time to read their appeals it seems. I am very dissapointed right now.

Hello I am writing this to complain about twitters very poor security. My acount on twitter has been hacked and spammed 4 times and it is getting to the point that I'm just fed up with twitter. I would like use twitter normally but no matter how complicated my password is it still gets hacked. When I have tweets that I never posted I become scared that I'm going to end up getting screwed over and banned from twitter . The biggest problem is twitter has virtually no extra security options and their "Help Guide" provides no options besides changing your password which makes no difference either way. If this problem can be addressed I would be forever grateful but until then i am done putting up with twitters BS

Stacy Brown
from Chino, CA
I have been suspended from Twitter six times, I have not broken a rule or tos. All together I have lost about 1500 followers. I have tried everything, I tweet from a locked account, I only tweet people I'm friendly with, I don't tag anyone, I don't go on others timelines, I'm contestantly expecting to suspended any minute. Apparently I'm never allowed to use Twitter ever again and I have no idea why. When I ask for an explanation it says "multiple accounts" I have multiple accounts because they suspend me once a week. I believe it is an organized reporting effort by one person who may have access to a verified account. They are using the accounts verified status to force suspensions. This is bullying and harassment. Any help is appreciated, it would be nice if I could have ONE Twitter account.

chris owens
from Ocala, FL
I keep hearing and seeing people having their account suspended. I am new to Twitter service as i am trying to get away from mainstream media lies and ridiculously bad reporting. I thought the service provided free speech.
I am sure that is why you have grown as large as you have. We all have different view point and unless someone is promoting terrorism I don't think their account should be suspended. If Twitter continues to suspend accounts due to beliefs you do not agree with / or like where will it stop?
I believe most of the racism is on the liberal side and i believe they promote it. I have watched the president (without due process) get on television and pronounce white cops guilty. It would be better than the mainstream media, stop censoring american views and I am sure you will prosper and feel better at night.

Joe Campbell
from Londonderry, NIR
Hi I have a twitter account. But your app keeps setting my android security alarms off mainly because why do I have to allow yourselves access to my phones personal details SIM numbers, phone calls etc etc, allso I think I keep getting virus,s from your twitter apps aswell could you please tell me why if I want twitter do I have to allow such access to my information and my device . allso Joe do I stop these virus from pop.stop.com following within the applications thanks very much Joe.

I was suspended without knowing why. When I use the form to appeal I keep getting these responses. Thanks for reaching out. This helpdesk is for policy inquiries from developers building on the Twitter Platform. For all other requests, including those regarding account suspensions, harassment, and general support, please refile your via the appropriate form: https://support.twitter.com/forms. This ticket will now be closed. Regards, Twitter Platform Operations. System Reference: ref:_00DA0K0A8._500G0LXmqz:ref

My twitter account was suspended for no reason, can you tell my me why this has happened, I am disappointed.

Mark Bartlett
from Santa Rosa, CA
my acct has been suspended for 2 months. 2 weeks ago I tried to deactivate my account. Cant do that when suspended. I issued a support claim 2 weeks ago. Got a reply on first day saying they'd look into it. Not one response since. Dent several requests for update on case. Doesn't seem legal for them to not allow me.to cancel acct.

Patricia Harding
from Orland Park, IL
I would rate a zero. My account was suspended twice for no violations. The first time they wanted to verify my phone. The second they said I was a robot. I've confirmed I wasn't but for months and 20 plus appeals and emails twitter ignores me, attaches new claims to old claims and telling me my claims were closed. I feel harassed, targeted and selectively silenced.

Marica
from Briarcliff Manor, NY
I received a message with account locked. It states violated regulations but no details no tweet messages of mine are showing up so I can view the content. I tried to see what it's saying and no visible tweet for me to review. I believe I am being targeted attacking by someone because I have not done anything personal to attacking other.please inform why my account keeps getting targeted. I believe I have been attavked by bot. I wake up to 15 lost followers for months

robert wakely
from Minneapolis, MN
Twitter suspended my account for unspecified time for abuse/harassment
Will not show me alleged abusive tweets,this puts them in violation of their terms of service which state I will be notified of offenses

you have locked me out several times due to the fact I am a Republican and the ones that constantly putting our president down call him terrible trash f bombs and I make a comment and they continue on. I am locked out now for 12 hours? It's not right
It is not fair that I M suspended.

Shirley Frewin
from Littleton, CO
This is day 9 of what was supposed to be a 7 day suspension for telling the truth about illegals. Twitter is just another game for me to play and I left Twitter twice before because of their obvious bias and discrimination against conservatives. I do not need Twitter to feed my ego nor to give me a false sense of popularity like it is for so many lunatic liberals. Twitter can't survive if it continues practicing anti-American agendas.

Fuck off
from Chicago, IL
Your service supports anti American stances but you limit free speech fuck you and fuck your service I hope you all gag on a dick fuck you

I was reprimanded for one of my tweets and i have not heard from Twitter as to why.
The tweet i suspect was in no way in violation of the rules and i would like to know their justification.

María Guerrero
from Belize City, BZ
I would like to know why i was reprimanded. I was warned but not told why. However, i suspect of the "offended party" and do not consider my comment was in violation of any of your rules. I would like an explanation.
Thank you.

demi parker
from Birmingham, ENG
their customer service and appeals are a disgrace they don't respond and they don't help at all emails and emails and nothing to resolve the suspension and they keep saying its a open case no its a upated case its a closed case not make a new appeal and its the same all over gain I have had enough I want it resolved as I can not get on twitter and ask them on their

Andre Breitschwerdt
from Rastatt, BW
My Account has been suspended and I didnt no why? I hope that I can use my Account again.

Timothy Barron
from Atlanta, GA
Reinstate Apostate Prophet! Freedom of speech for all sides is the ground work for a functioning society, stop usurping this right!

There is a major double standard going on at Twitter. I have seen and reported racist tweets, offensive tweets about "retards", and some pretty downright nasty tweets by Trump supporters. But the moment a person who has NEVER BEEN PUT IN TIME OUT uses the phrase "blond bimbo" to Ann Coulter suddenly shes in time out. Ann used the word retard and nothing will happen to her. Trump tweets offensive things all the time but we cant put the president in time out can we? HELL NO! We cant put Ann or, Tomi, or Sean Hanity in time out either. They tweet offensive and racist things all the time. But the moment a resister tweets something even remotely offensive its straight to the slammer. Its a double standard and im tired of it! I have reported standard users who are part of the MAGA crowd for racist remarks. I have reported them for sexist remarks, i have reported them for hateful remarks, threatening remarks, bigoted remarks. Rarely are they ever punished. My wife has 11K followers and she has never been put in time out. One tweet today calling Ann a blonde bimbo after Ann used the the word Retard in an offensive way, (our daughter is severely developmentally disabled) and shes in time out! @wisewarrior69. Her account should be reinstated ASAP and she should get an apology from Twitter! ANN Coulter should be punished for a change as well!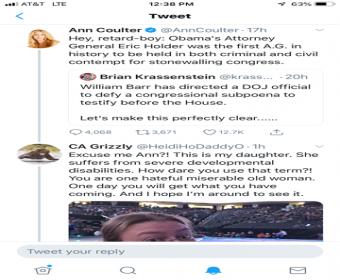 T Bernard
from Edmonton, AB
Twitter blocked me after i tweeted back at a very rude and hostile tweet. There are numerous racist tweets directed at indigenous profiles and twitter staff DO NOT BLOCK THEM but there are more racists then indigenous people and so the racists can do more reports against our tweets, en masse. Your company has too much power to decide when to shut an account down and determine information and ideas society gets to see. There needs to be oversight over your business. I want my account reactivated, i want a written report that outlines specifically why my account was deactivated. We need to start holding your company more accountable. Facebook thought they were above the law, and got hauled in for scrutiny. Same can and should happen to your company. Reinstate my account. Review it and tell me specifically why it was deactivated, then i want to tall to someone about this.

MS BNM@bnm_ms
from London, ENG
My tweets are still deleting from the graph since 28 Feb.
Changing password has no impact .
Account Home For the Month of March states I have not tweeted when on average I tweet 40 tweets day & impressions are rising every day.
Graph showing no tweets.
Tweet activity .
Tweet & reply has all the tweets listed but on Top tweet has no tweets added to the list since 28 Feb.
Pls check & resolve by repairing the link.
My likes & replies are far greater listed in tweet activity then I receive notification. Pls repair that too.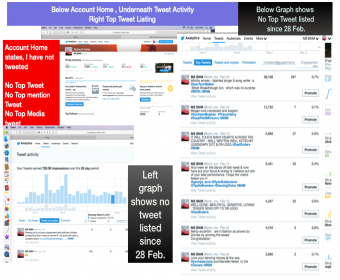 Peter Mcgarry
from Croydon, ENG
No evidence of any abuse by myself has been shown but my account has been suspended simply for supporting BDS, obviously Twitter is now the police of free speech Disgusting platform the disgust will spread until new platforms emerge.

Twitter is very biased, a Republican person gets banned but Democrat comments that are much worse get ignored. This is very disgusting to see a company descriminate like this. People like Kathy Griffith have threatened to kill the President and nothing happens, but I get banned for commenting to a Liberal making comments about the President and I get banned. You need to be equal and give the same freedom of speech to all.

Ive been suspended since jan 9th & have no opportunity to know why. Ive examined my tweets and do not see any that violate ur terms nor given any chanceto remove the tweet you believe violated your terms. I never swore or used profanities or threatened any person
Please reinstate the account

Dawn Hall
from Chicago, IL
I was on Twitter since 2009, had over 4K followers, I had NO problem with them until the last two years when I was put on timeout for 7 days for merely calling a celebrity a skank on her post where she was calling President Trump and his family HORRIBLE, NASTY things. She was NEVER censured for her grotesque Tweets, but I had to delete my Tweet and could not get back on for 7 days. That was last year. Now, 7 days ago, I posted a comment on one of Alyssa Milano's Tweets where she was bashing James Woods for his defense of the innocent Covington teens, saying everyone has the right to wear whatever they want. She lashed out at him and said the MAGA hat was the new hood of the KKK. All I posted was "radical leftist 'tards who are dumb as a box of rocks are the main ones causing racial discord." TWITTER SUSPENDED MY ACCOUNT FOREVER FOR SAYING THAT ONE THING! It was not nearly as hurtful as what Milano was saying to James Woods and all Trump supporters!! Jack Dorsey has admitted to being a leftist! He is discriminating against all Conservatives, Libertarians and Christians! I want to be part of any and all class action suits against that man and his leftist company! I sent Twitter four of five requests for help over the last 7 days, tonight they finally allowed me to download all my personal information from my Twitter account. I truly despise Twitter and Jack Dorsey. I hope they both disappear from the internet!

I simply responded to a tweet regarding some negative things Tomi Lahren posted about Kamala Harris. Next thing I know I receive an email that my account is on temp suspension for 7 days because I violated twitter rules. I did not harass, intimidate or threaten Tomi in any way shape or form. Twitter is the one who is violating me. I have attached their email with what I tweeted. It seems twitter does things without researching proper information first. My account was put on suspension within 5 min of me posting. They posted the twitter rules in their email and I did not violate any of those rules. They should be ashamed of themselves for allowing people like Lahren spew hate & disrespect on a daily basis.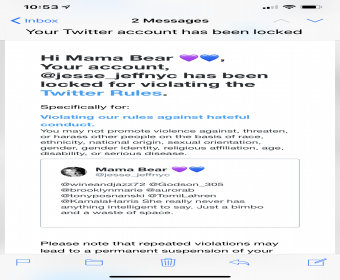 Sherry Baker
from Lexington, KY
Im very upset Im being accused falsly saying I threaten someone which I did not. and I do not curse nor do anything to break thier rules, It is not right that Im blocked I have sent many messages to get my account unsuspended and thinking of contacking news media to show bias as they did nothing to those threatening Covington kids with actual threats while I have done nothing and have built my account up to almost 10,000. Its not fair when you fight to get account back and are targeted and they will not restore it I need my account back up and restored and have told them the full story and twitter is making it seem like they only target conservatives to silence them when they do nothing

Alex Cardona
from Fort Lauderdale, FL
This person is trying to sell porn pictures using this account or creating adds to his/her private sex web.

marlene ormesher
from Livermore, CA
if you suspend someone do not limit their ability to delete all their info you are subjecting my info to be frozen and open to hacking. we should be allowed to protect ourselves from being hacked by deleting our info you have sent me messages before that my acct was hacked and I want to remove all my stuff and delete my account dont leave it frozen for anyone to get into and me to forget its there

D
from Burton-on-Trent, ENG
Twitter in general is a great source of information, reading and fun.
However, they appear to be hugely slanted towards protection of their verified accounts.
I say this from experience ( I am not a verified user) I have recently engaged a verified user regarding their tweets, where frankly the have
been nothing but abusive to many other twitter members, it isnt just abuse it's libellious comments that have targetted transgenders/dead people, other twitter uses, the abuse is ongoing, it's ever present and they tweet many times a day with the aforementioned tweets. Not only that, but they seem to use their verified status as a method of both attack and defence and quite openly state they'll used their verified status to take a knock at someone 'i'll have my tick status have your account suspended' usually when they've lost the argument they are currently in. This isn't limited to just one or two twitter uses but instead they seem to utter it to most of those they target and lo and behold those accounts are then subject to suspension.
At the same time as this, when they are reported for the same, or for making threats via direct messages (of which I have received many and not once have i responded to the dm's) they remain untouched and allowed do carry on.
In the latest incident I agreed with a tweet from a clearly annoyed member, quoting the tweet and agreeing, the original tweet stayed up/viewable and live and yet my own post agreeing with their comment is removed and I am suspended for 7 days....so why was the original tweet allowed to stay up?
Twitter appears to have one rule for verified users and all other members are open to having their accounts suspended when daring to speak out, this isn't the twitter I am used to or once enjoyed, there is no parity.
I hadn't the option to give no stars or i would have, so sadly it's 1 star out of 5.

John Hassey
from Hickory, NC
I find it ironic that you would ban me for telling the president off by stating its targeted harassment when trump does it on a daily basis. I have reported him umpteen times for harassment yet your platform continues to allow him to bully others. Your platform is NOT about free speech at all. But please continue to cater to a despotic, bigoted, bullying tyrant. You'll be left behind in the dust when the next big platform arises. Sad and horrible. Also you supposedly will allow me to view my profile but when I try I got blocked from doing so. Suck ass platform and horrendous customer service/results.
We have determined that you have violated the Twitter Rules, so we've temporarily limited some of your account features. While in this state, you can still browse Twitter, but you're limited to only sending Direct Messages to your followers — no Tweets, Retweets, or likes. Your account will be restored to full functionality in:

Marc Stevenson
from Schaarbeek, BRU
I am writing to you to protest against the suspension of the Titania McGrath Twitter account. This account was the most humorous one I know on Twitter. Individual tweets could indeed have been considered "offensive". But one would have to be wilfully obtuse to not understand that they were satirical.
What next? Will you cancel accounts promoting post-Copernican astronomy my because it offends flat-earthers?
So please restore Titania's account and while you are at it also restore Godfrey Elfwick's, thereby making the Internet a more varied, interesting, and funny place.
Regards,
Marc Stevenson

LTC Floyd
from Grasonville, MD
Twitter suspended my account for seven days because I comment that the German people should raise up against Merkles government and that they should stand against Muslim invasion of their country.
I've had one account permanently closed and this one suspended twice.
Twitter doesn't respect our first amendment rights and stands with globalist against conservative in
Our constitutional Republic.

Richard Blackmon
from North Tonawanda, NY
I am sick and tired of them censoring me for what I say! I thought this was a FREE SPEECH country! I see other bull shit on Twitter and they never get censored as far as I can tell! Every time I turn around they are limiting me to what I can say. I just call them as I see them & if they don't like it TOUGH SHIT! I have deactivated my account & will never go back on it again! They are a bunch of hypocrites when it comes to what you can say and I will not take it anymore. I am thinking of hiring a lawyer to see what my rights are in this matter. I am so sick of them that it makes me sick to my stomach. It's very frustrating when you are limited to what you can say when you feel you have a right to say what you want. I don't care what their rules are as I see them being ignored all the time with other tweets so why the hell are they censoring on me all the time! IT'S JUST PLAIN BULL SHIT!

Alloys Marsden
from Imperial Beach, CA
My account has been suspended and I believe it is because I filed complaints against the tweets of the President for being abusive and racist. I don't believe this is fair treatment. If I broke the rules of Twitter I am sorry but I do find the president to be offensive and abusive in his tweets.
I would like my Twitter account restored. I am seen behavior on Twitter is far more offensive than anything I have ever tweeted.
I am a college professor and an activist in the community where I live.
Thank you,
William Alloys Marsden

Anthony Delwey
from Bethpage, NY
My daughter has been trying to deactivate a twitter account when she was a minor. She is now trying to secure a teaching position on LOng Island and the Superintendent will not hire her until the account is deactivated. Unfortunately, she no long remembers that email address or password or phone number. She contacted twitter support and downloaded proper identity documentation. She has not heard back for a few days and the Principal is doing her best to be patient. It is extremely frustrating. Is there anything that can be done to expedite it? We have not heard a thing.

sick of having my accounts suspended for being critical of the left or from defending my potus just mins ago i was suspended for speaking my mind on a storyl critical of my potus towards robert mueller all i said was (i'm tired of funding a fake witch hunt and that robert mueller should be investigated) that was it no threats profanity nothing and was suspended . can not wait for the mass class action lawsuit that is coming towards these social platforms trying to silence conservatives..

Infamous Joker not
from Saginaw, MI
oversensitive twitterers when for one the twitter person I twittered with crybabied or a follower or your standards when the twitter is of same context u understand i want my twitters back and its a rumor a gal pal is jealous of intereact or a minor ora daddy child or whatvr of entertainers and or not over 18 content not holy moly we are at church talk yet church talk lady is badass til dorky underage bieber was on WHAT TWITTER i had no issues w things til the past 24 48hours w twitter and all I feel I got hacked atttacked by someone famous or maybe not famous it could b somethng else I want my twitter back on oversiensitve crybabies go to Pg 13 or whatever if u r conservative get out get off U r not getting my phone number I have a private its not posted my address not posted my face isnt posted IM private

heath bond
from Highland, CA
My account was locked even though I violated none of the rules that Twitter listed . My tweet was a reply to a famous actress in Hollywood who was blaming trump for something he had nothing to do with. So I don't know what kind of deal is set up to keep them happy. Twitter is trying to get me to delete tweets giving the reason that they are violating rules against hateful conduct, they said I was calling for acts of violence. when at no time and any place in the tweet does it advocate or call for the use of violence .It was about an Organization damaging property to do exactly what twitter is trying to do to me .the tweet pointed out that ANTIFA burned a Muslim immigrants limousine business and they took away the man`s livelihood It happened on the day trump took office, this was nothing new it was all over the news and on twitter where I first saw it. So if it violates their rules how is that possible?.Do to the fact I did not violate any of the rules sent by twitter this is just a violation of freedom of speech.

Connie Alvarez
from Chattanooga, TN
I have been locked out for 11 hours because I'm giving my opinion on the BS that the POTUS is spewing Why ? Doesn't freedom of speech apply ? Are you one of the POTUS puppets ?

Wendy monroe
from Cedar City, UT
Someone wanted to be my friend on twitter and the next thing I know I'm suspended for making a violent threat. To who? So now I'm suspended. I made no such threat. This is ridiculous, yes I'm pissed, that anyone can press a button and Report you, for NO REASON. AND IM STILL SUSPENDED.

George Fleet
from Harare, HA
Updated Twitter app and cannot get back on to Twitter on my Kindle no matter how many times I try.
Only My phone reconnected
Please sort this out
Thanks

Elaine Strachan
from Glasgow, SCT
I have an account blocked and them me. However, they still see my tweets and no matter how many times I report the account, nothing is EVER done. I would like this account investigated to find out why they can regularly accuse people of "kiddie fiddling", joke about someone committing suicide, laugh about autism and most recently, accuse ME of following a paedophile who enjoys beastiality (all not true). I have blocked as advised but if I go for a job interview, they can search google and my name will come up with that tweet beside it and how are they to know it's untrue? 1. I want the tweet removed (attached) and 2. I want to know why this account seems IMMUNE from being reported? If Twitter looked at the tweets on this account they would see just how many border on libellous.You cannot tell me that this is allowed to be there?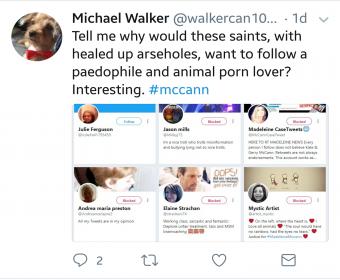 Cathy Dergy
from Ocoee, FL
Locked me out of my account without explanation. I do not cuss or exhibit abusive behavior. I believe they don't like what I say.

Kaye Thornton
from Springtown, TX
Why can't we share post to Facebook & why can copy photo information! Facebook much easier to use and I am 76 yrs old can read offensive information. Let

janet johnson
from Pinellas Park, FL
my complaint
my account was suspended 9-21-17
screen name @janetmarie119
I have reached out several times about reinstatement
the only replies I received were I broke harassment rules? when I inquired which rule specifically still have received no answer
when I inquired how long my account would be suspended I received a answer of standard time having NEVER been suspended before I have no idea how much time that is
and I have no supported phone number to get back into my account to I have emailed that information as well and received no response on alternate ways to reinstate my account
these seem like reasonable easy to answer questions

zafar mohammed
from Sugar Land, TX
If have four complaints about Twitter's product and leadership.
1. Twitter talks but does not listen
2. Q&A is incomplete in many instances. No room to ask more questions or clarify.
3. Tweetdeck help is poor. It looks like you are out of touch.
4. As if you stumbled on a good product but do not know how to Manage, develop or take advantage of this great venue.

Martin Housdem
from Hackney, ENG
I was mistaken for a machine and locked out of my account. I have no complaint about that since I was copying and pasting my own texts to different people. My complaint is about Twitter's slackness in dealing with the problem. I filled in a form to get a code to reactive my account. The code was not sent. I now done this on three occasions and I am still locked out of my account.

glenn Dupuis
from Lodge, SC
Twitter has locked my account out saying I must register a cell phone number so they can send a verification text.I told them I can't receive texts as I am on the cheapest package with my provider.They said they would get me an account and I would be charged for it.I can't even get on the terminate my Twitter account.I only have a cell phone for road services if necessary and do not use or even monitor it when at home.
Have feedback for Twitter?
Thanks for your feedback!
Sorry. Please try again later!