YouTube
Contact YouTube Corporate
Toll free phone number: 1-650-253-0001
---
YouTube, LLC is an internet and video hosting service. Since YouTube is owned by Google its employee profile is vague. In 2014 advertising revenues for YouTube were reported to be 1.1 billion, according to Variety Magazine. Their slogan "broadcast yourself" describes the vision of the founders.
If you need customer service the website is very user friendly. Although, the only number listed for contact is the fax number which is 1-650-253-0001. This is why people choose to file their YouTube complaints online. Three former PalPal employees, Steve Chen, Chad Hurley and Jawed Karim are the founders. The current CEO of YouTube is Susan Wojcicki.
You may mail a letter to them to register feedback at the corporate offices: YouTube, LLC, 901 Cherry Avenue, San Bruno, CA, 94066 USA. The customer service available through the youtube website is extensive with a Welcome, Help Center and, not surprisingly, based on a myriad of youtube videos. These videos are available in over 60 worldwide languages. Also included are customer helps about legal safety and copyright.
YouTube Contact Information
Report complaints to corporate and get satisfaction
YouTube headquarters address

901 Cherry Avenue
San Bruno
CA 94066

Company website

1-800 phone number

1-650-253-0001

Support email address

help@youtube.com

Better Business Bureau rating

A

Customer service hours

24 hours a day online
Browse reviews of other Social Media
Top YouTube Complaints
Browse more than 130 reviews submitted so far

Frank and Donna Wait
from Coos Bay, OR
These people falsely identified themselves to my husband.. saying they were interested in him being a former Navy Seal.. entered our home, with a camera, with they did not have a release for or permission from us. In the end they were ordered OUT OF OUR HOME.. Saying my husband was a "Fake Navy Seal" and posted a video of both of us. They think its a BIG JOKE.. I am a retired law enforcement officer... and I do NOT want a video of ,myself or my family members or our home posted on YouTube. My husband IS a former Navy Seal.. we have his Military Records which we did not show this man. He goes around the country trying to ruin the lives of our Vietnam Veterans.. He is a bully, and caters to "bottom feeders". I am not clear on your response that this does NOT violate our privacy, when you can clearly see us in this video.

Somebody is trying to sabotage our business by putting a video of one of our helicopters up on You Tube with the heading "Rotor work R44 Overloaded". Can you please get it removed and we would like to know who had put it on there please?

I would like a video to be removed from YouTube. The video name is "Wayne motley" uploaded by Waukegan citizen. The video mentions Rogelio Fajardo as a drug dealer and it is a false statement. It needs to be removed since the facts are not true.
How do I go about getting a video removed from YouTube for defamation, is there anything other than reporting the video as spam and then hoping that they listen to me and delete it. How can I speed up the process? Any help from Google or YouTube would be greatly appreciated by me.

I met a girl on Skype we were fond with each other. We undressed and did a little play. But the whole time she was recording it. Now she is demanding money from me else she says she post it up on YouTube and facebook. I need to know if she does do it can you block that video from being seen.

carlos aqui
from London, ENG
Dear YouTube I would like to complain about the video called Bitter Harvest, by journeyman Pictures, published 2008 in which this video made a lot of racial comments about my country in south america. They have written lies, racial put downs, racial lies, and are trying to start a race war in Guyana have never seen such hateful lies written about any country. These people have set out to cause trouble, so I would like YouTube to remove that film. It s good for freedom but when a film maker set out to cause division, and racial hatred, then you have to put your foot down.

I can't get back into my old YouTube channel which has my old videos of when I was young, I'm 14 now 15 in June but my friends have shared then on facebook and now my reputation has been ruined and people are making fun of me, please can you remove them as I cant.

Dino J Savoca
from Albany, NY
Dear YouTube Executives. I need to straighten your ill judgment and unfair treatment, including punishment of me and my postings of my real, my own, and my creations of my movies, and movie pictures. I do this now. First I can support all my claims below with facts not just empty words. I know your YouTube Company to have millions of copyright materials that you continue to allow to be viewed all over the world. I have been falsely accused and threatened with punishment by your company for what you indiscriminately claim is my music and some video and photo clips are not of my own…
You are wrong, very photo and video is of me, in my world, my lady friends, animal friends, and every persons, places and things are of my own and or free of copyright rules, I have 54.7 years of proof of these claims on my 500GB Christmas chip and my now 10, 543.3 page them book I've written since 6/13/61 to date. Now for the songs that may be heard in the background of my home-made movies. There is a place called Colonie Center Mall, in this mall is a store called FYE Inc. In this store they have mix and burn your own CD's music. I go there with the names of songs, I then search their copyright release to FYE Inc., then FYE "Sells" the burned CD's to me for money.
Now here is where you are "Wrong…" By my buying the songs, gives me the "Right" to play the music anywhere and time in any legal devise as I like, I know for I checked with a copyright lawyer, so long as I am not copying the music to other CD's and re-selling the pirated, music for money, I had, have and will never do this. When you here songs in my photo and video real, my home-made movies, it is playing in my own, again, boom box, car CD player or my other CD players, and at times the music in the background reflects the photos and video frames in the songs. This is NOT copyright infringement!
Therefore, please I respectfully to allow me to enjoy posting my creations on your YouTube free of your false allegations? Also, please stop blocking me from reposting my movies for it's done for good reasons, like my "Elect Bernie Sanders for President, " I created for the photos are not copyright protected, and the President Obama and Sander's drawings are of all my own charcoal and pencil drawing of their images, the words are of my own research of B. Sander's stands on America's issues, and I'm campaigning to have Bernie Sanders elected for our next President, that re-posting my "Elect B. Sanders" for President requires may duplicate publications on social media mostly your YouTube site! Again, the woman singing "God Bless America" is a song I 1 of my legally burned, FYE Inc., CD's and is playing in my boom box in my bedroom.
Now please let me post, re-post my creations and enjoy your social site as you allow many other. Remember if you choose to discriminate against just me and continue to punish me for my own creations, I have indisputable proof to the contrary and shall be happy to settle this matter in a court of law… I believe this complaint letter is sufficient…

Franklyn Adams
from London, ENG
I USED to be a user of Youtube on a regular basis. Now, I refuse to use Youtube at all.
Reason: Just about every movie I try to view on Youtube, I am redirected to an alternative site where (if i want to see the movie) I am requested to "sign up." This is bull ! Why on earth does Youtube think it is alright to sign up to hundreds of different sites to see different movies ?
Do you not realise that people sign up to one site to view different movies & not the other way around ? This putting of profits before the user may suit Youtube, but I'm afraid it will cost you the loss of more users. I now use Torrent Sites - I don't get the bull.

Patty Greer
from Denver, CO
Conflict May posts shows from Coast to Coast and other public broadcasts regularly to make money. There were intentional HATE COMMENTS with foul swearing on my show link from April 25, 2015. The show was a huge success for me and for C2C. This entity has many names and should be banned permanently from posting! I wrote to he/she/it and they deleted my show at 30,000 hits in one week. Luckily, I copied it and have posted it with integrity on my channel.
Conflict May, Conflict BAD, Conflict bad, Conflict Look for new, conflict Theory, Conflict June old, Conflict 2, conflict April, Conflict June, Conflict bad 2, Conflict HD Archive, and probably many more!

Gadget Guy
from Sutton, ENG
I'm making the same complaint I made before which are about the "adverts" at the beginning of the videos, I think we shouldn't have to be mandatory subjected to them but instead given a choice of whether we want to have them turned on or off. It is really frustrating having to view something that you are just not interested in, but even though you can skip some of them, others you can't, so you're forced to sit through it, I hope something is going to be done because I feel it's not right to have the advertising imposed on us when all we want to do is to watch videos.

I love Youtube. Except for the intrusive, loud, and nonsensical advertisements (sometimes multiple!) interspersed within some of your videos. These are so absolutely annoying and intrusive that I don't know where to begin this complaint. Why would Youtube engage in these infuriating intrusions and completely turn off your otherwise loyal viewers? Is it really worth it?
I can see an ad at the very beginning, but to ruin the flow of documentaries and informative films with high volume commercials that have nothing to do with the content of the film doesn't make any sense. If anything, what they accomplish is to ensure that your viewers stay as far away from the advertised product as possible simply as an innate reaction. Not good.

David Riley
from Conroe, TX
Based upon any rational, reasonable, and logical understanding of a click-button "switch" on a website, to turn something on/off should be just the simple click with one's mouse. No matter which browser and/or operating system one is using. Yet, I still cannot choose off for the Restricted Mode in YouTube. I've deleted both my Google and YouTube accounts, re-created them, gone back in, selected off for Restricted Mode, ...nothing! I've gone into my Windows (version 7) settings, completely removed Parental Controls, changed my Virus Software to have virtually no protections so I could manipulate YouTube's Restricted Mode.
I've re-booted my computer. I've re-loaded the YouTube screen in FireFox and Internet Explorer. What does it take to get Restricted Mode turned off? Please advise; and please advise so I can get this to be taken care of in a timely fashion. Within 24 hours should be more than enough time for a company the size of Google to manage a reply back to me. Not that it should be that hard to fix. I am an adult, and have registered as same (based upon age, etc.), so "child" and/or "online safety" issues should not be an issue.
I am not the only user to have this issue, there are many YouTube complaints about this, and it seems that Google/YouTube either doesn't know how to fix the issue (highly unlikely!), which makes them complicit and/or incompetent, or that they just don't care, which makes them evil.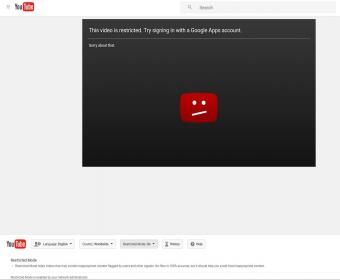 Kirito
from Murarrie, QLD
When I go onto youtube on my ipad. It says account offline, and down the bottom it says ' Not available while offline'. I checked if my wi-fi is not working but it is working perfectly fine, I am also signed in with my youtube/google account. I don't see the problem, if you do could you please help me with my problem.

Keshi Keerthiratne
from Colombo, 1
For two weeks or more now my youtube homepage has been covered in complete adult websites. I cant use youtube anymore. Even safety mode is turned on but there are videos that I cant even look at. This is a family pc and I have small sisters so can you please let me know what I can do about this.

barbara mercer
from Oxford, NC
The video named "The most shocking video ever" put up by Scientology to give false information about psychology is hate speech, copyright infringement, takes away partial information from research, portrays Neitszche and Pavlov as psychologist and the comments are hissing, hateful bullying, and misinforments for Scientology.

Jose Varghese
from Dubai, DU
I was chatting with a Filipino lady names Abygail and shows nude in skype and video chatting done yesturday. She recorded me and uploaded in you tube and threatening me for ransom money or otherwise she will publish among to my Facebook friends and family. What do I have to do?

Ryan Michael Rapoza
from Fall River, MA
I want to know why it is imperative that every video advertisement that comes across YouTube has to be LOUDER than the volume levels of the video I intended to watch. I cannot tell you how much damage YouTube has done to my speakers, yet alone my ears. I get it, the advertisements pay for the service to watch YouTube for free. However, the increased volumes load on your advertisements mean I have to turn the volume down every time one comes on to prevent blowing my speakers. In the event that I don't get up to mute or lower lower the levels before the advert plays, I get bombed with the nuisance of extremely loud advertisements which effect both the health of my ears and the my audio equipment. Enough complaints about this same issue should be dealt with considerately and professionally. I respectfully request and actually demand that YouTube confront this immediately. If it is not, I will do all in my power to assemble a body of individuals who feel the same way to badger YouTube's corporate offices until this stops.

It's about time these youtube fight videos were banned from youtube there in bad taste most of them are of young teens fighting until one is knocked out. Alot of them are of kids being bullied, punched in the face and most of the time cant defend them selfs shame on youtube for your sick sick minds. If you didnt show them these kids and adults wouldnt video them as much. Because they would have no were to post them most other sites would not allow it, disgusting.
Myself, husband an four kids have bn a user of youtube for many years for differant kinds of videos that are entertaning and fun but these need to be banned as i said there in bad taste. If something isnt done im going to take it further to the BBB or file a complaint with the FTC. I don't understand how a website like this would allow these teen fighting videos to show kids beating each other up. youtube should block these and discourage them at the very least.

I think that everyone who feels the same way about the shameful, in-human racist comments on YouTube and other sights that allow this type of stupidy, should join together and file a class-action law suit against these companies, since they don't want to do anything about this terrible display of Racism on their own. These people can control what goes on their sight. This is why things happen like someone harming themselves because of a comment someone made on their face book so something. These YouTube people are just mean, and maybe they think that it's okay; but, we all know that it is Not!!! And so do the people that allow it to happen on these sights.
We understand the "Freedom of Speech";but, this goes beyond that. This is to me a form of "Hate" Crime and something should be done about it. I don't care what you think the "Reason" is for the racism, maybe you have low self-esteem, maybe someone of another race hurt you, maybe they dumped you and this is how you feel. Or maybe this is just the way you are. It really does not matter. Just let it eat away at you if that is your choice. Maybe you should spend the time you take to post these negative YouTube comments to get help for yourself that you so desperately need. Don't use it to hurt others. Try to find out what's wrong with you!!!!!!

YouTube has a retarded copyright video policy. I understand the fact that artists want want to protect their songs and copy right is nothing bad to exist, but, if someone wants to download a song for free, there are tons of sources to do. You can't ban a video on YouTube of someone because he uses another song. When someone watches a walk through on YouTube, the last thing he is going to do, is download it to get the song. What is more, there are videos especially for listening to some songs, why don't they ban these YouTube vids? In addition to that, using a song at a vid, is free advertisement. Is there anyone out there that agrees with me?

Chand lal verma
from Chandigarh, CH
Sir kisi ladki ne mujy glt video call ke or ab wo mujy black mail kr rahi ke me aapki video you tube pr viral kr dugi aaj subh mujy Kisi Ka phon Aaya ke mere account me 3500 rs Dal do me ye video you tube se delet kr duga nahi to aapky upr case hoga

Bob Albano
from Hualien City, HUA
Hello! I have started a YouTube channel that specializes in old American movies that are in the public domain. On many of my videos a company called Beta Film GmbH is claiming that it holds the copyright on the films. Beta Film GmbH is a distributor of TV license rights with its headquarters in Munich, Germany. It does hold TV distribution and licensing rights in several countries in Europe. But it does not hold any rights in North America. And it certainly does not hold the copyright on classic American films. I challenged their copyright status, but the company persists in their claim of copyright. And YouTube's automated system blindly accepts their claim.
A secondary matter related to this one is that in trying to contact YouTube, I have been unable to contact anyone or submit any information directly on YouTube. YouTube "help" links just move me from one useless page to another. It's a run-around system that seems to be made to frustrate the user. I do not think YouTube's automated system actually allows users to contact any real people directly. Are there real live people working at YouTube, or is it wholly automated?

Jacob Ligus
from Rochester, NY
Youtube Why does my channel say I have 32 subscribers when I actually have 10 subscribers. Youtube why I do not know
When I went to delete my channel it said 'are you sure you want to delete a channel with 32 subscribers.

Elizabeth Moore
from Weston, WV
My complaint is that YouTube took the AUD Channel down. This AUD Channel was informative for Women. Alexyss Tylor is a positive role model for women. She promoted how to overcome difficulties in life that woman face everyday. She shared the difficulties of her childhood which happen to many young girls that are never discussed and how she dealt with that trauma and how she overcame to become the independent woman she is today. She also was informative when it came to women's health and wellbeing. She knows about skin products and hair products that can help reduce the signs of aging. She gave her audience a chance to laugh with her humor which we all need in today's hectic schedule. I don't understand how this channel can be terminated due to multiple or severe violations of YouTube's policy against spam, deceptive practices, and misleading content or other Terms of Service violations and I am placing this complain due to that termination.

elaine pruitt
from Piedmont, SC
Recently I have discovered YouTube will discriminate against the youth. I am a Grandparent of three young Grandsons' My 5k Grandson is an up and coming Artist. I am also an Artist. My Anime name is Black Curtain. I have taken my grandson under my wings. Some of the graphic Art sites that are KID FRIENDLY are under attack. Kids today rely on social media to help explore their futures. When Administrator's make critical decisions they should ask the age group they are "attacking", Why should we reconsider your age requirement. I am from an Era where we stood up for equality. I am standing up for "MY" grandson who can't stand up for himself "yet". He enjoys the artwork and stories that I read him from the Kid Friendly Anime Art Sites. He made a Play-Doh necklace giving instructions on how to make it. Do not take away from the YOUTH, always ADD to their lives. Here is the video where he makes a Play-Doh Necklace

DW Swain
from Wenonah, NJ
Since I have no other choice, I was trying to watch the Phillies/Dodgers game on YouTube this afternoon. Game comes on for about 30 seconds, then the screen freezes, on screen message says "loading," but never loads. Have rebooted channel numerous times. Same result. !@#$!
I was trying to watch YouTube on the Comcast Xfinity app on my tv. Called Comcast. Of course, said it is NOT their problem. Gave me YouTube phone number. Called YouTube. Recorded message "they're busy today." No surprise. Said wait time 15-20 minutes. I waited, and got DISCONNECTED after about 12 minutes. !@#$! No surprise!!!!
I pay Comcast so I can watch the games. Apparently, YouTube and MLB have cut a (financially beneficial) deal to broadcast the games, but it is obvious YouTube cant deliver. Too bad for the fans who have no other viewing choice for these games. Damned MLB. Damned YouTube. Damned Comcast. They win. Fans lose!!!!!!

Paulo Duarte
from Los Angeles, CA
Since when the subject of UFOs and extraterrestrials go against the interests of the community and users?
News about UFOs and extraterrestrials are all over the mainstream media, even the president was asked about it.
But what worries me and what I consider a blatant injustice is the partiality with which your Policy team judges what is against the interests of the community. I give two examples:
-The secureteam10 channel that shares the same content type that I was recently demonetized, because this channel has a huge amount of fans that submerged your emails and twitter with protests, your policy team, after a few days re-monetized the channel secureteam10
-Other channel is the thirdphaseofmoon, which was demonetized and in few days was again monetized.
These two channels are an example of the partiality with which your policy team judges who goes against the interests of the community and users.
My youtube channel is an entertainment channel that shares UFO, extraterrestrial, and related content.
Nothing on my channel goes against the interests of the community or users.
The channel was created in 2016, has +400k subscribers, 171, 826, 570 views and is for entertainment purposes only. Because It is very important for me to know if I should continue to invest my time in the channel, I would to know if it will be monetized again.
My channel link: https://www.youtube.com/c/UFOmaniaThetruthisoutthere
Looking forward to hearing from you soon
Best regards

There are videos showing abusive treatment to cats on the site AWESOME LIFE, where a person is covering the animal's ability to see, and then the animal falls or runs off of the edge of a high spot, such as a table....this is ABUSIVE treatment to the animal. Please shut the video down that is on AWESOME LIFE, and please do not allow others to show this type of video either.
Thank you.

There is a Video that Jub Jub Made on Face Book about Xhosa Nation Being Izifebe, How can youtube play such a Video, it's potraying hate and Tribalism in South Africa

You should not get to DECIDE what I watch. Ready to report to to the BBB, our local AG office FCC, & my representatives in Congress's. I SUBSCRIBE to SPECIFIC channels. I DO NOT subscribe to Fox News or OANN. You have changed your process & channels I SUBSCRIBE to are interrupted because you ARE BIASED. I want to watch EXACTLY WHAT I SUBSCRIBE TO. Just because YOU don't like WHAT I subscribe to should Allowyou the right to interrupts those channels & FORCE ME to watch a channel you have not BIASEDLY DEMONETIZED. If I wanted to watch something you r making tons of money on I would be subscribed to it. If you demonized the channels I do watcgh that is on YOU.
SHAME ON YOU 'KNOCK' IT OFF.
I will further report you for RUNNING ADS on the DEMONETIZED content I choose to subscribe to.
Respectfully
Brenda Snyder

bn newman
from El Paso, TX
i cannot get answers as to why my videos have suddenly gone silent that have been up and running with youtube for some months now.
i attempted to phone customer service for youtube and the recording said i would wait for 15 to 20 minutes. i waited longer than that with still no human response. can someone please speak with me?

James Zeller
from Minneapolis, MN
I just read that you are not taking down Steven Crowders site, despite the obvious hate speech contained. Hate speech is not debate, helpful or enlightening. To allow it as s much about YouTube, and it not very good. Please review this site in depth and get rid of another disgusting hate site. As consumers, we deserve better. Thanks

Russ Riggs
from San Bernardino, CA
Customer support gave bad information, telling me I needed 2 Google play cards to secure a double hacked account. (No card amounts specified.) Though in a wheel chair, I asked a friend to take me to Stater Bros. for $45 worth (3 @ $15). I was then told to call today for instructions, at which time he told me I needn't have bought them. He then told me to call my bank. They won't refund my money nor will the store because he told me to scratch off a number. When I asked if I should mail them to YouTube he disconnected me. When I called back I asked for his name, number, and to speak to his supervisor. He hung up. When I called back he said, "Stop calling me old man."

adam weeks
from Potsdam, NY
I am deeply saddened by the lack of respect and human interaction from you tube support .My channel was terminated for reasons that are false and injust it appears that people who produce content for the you tube community to watch are easily pushed to the side even though we as creators provide the content for people to watch on the platform, if not for creators this platform would not exist. I have reached out with several emails and tried to call but to no avail. I have several messages from my viewers stating that they don't understand why I was treated this way and I cannot give them answers because the you tube support staff cannot and will not reply to my emails all that being said I am sure this will fall on deff ears and the fact I wrote this is futile and a waste of time ..Thanks Adam weeks

I (2LTC) Matthew Cohen, have found an very badly unusual fast gaining YouTube Channel with "in fact" too many by-channels. I have watch the battle from T-Series and Pewdiepie, I have an suspicious eye on T-Series for 1 1/2 years of "Sub Botting" or Cheating/ buying subs and found out that T-Series has like 40 by-channels for no reason. I Would like all of T-Series by my military cadet rank terminated for not obeying the terms for Being a YouTube and Content Creator.

Cruz
from Jonesborough, TN
The very second you have competition, I'm gone! You're nothing but a bunch of biased liberal hypocrites.

Deanna Lloyd
from Lancaster, CA
Spent way too many hours trying to connect my bedroom TV to the Youtube app. Gave up. We have it on our big TV, but I guess getting it on our bedroom TV is beyond your ability to give it to us. I GIVE UP!

Monjurul Ahsan Bulbul
from Dhaka, C
I'm a senior Editor/Journalist from Bangladesh. If you type Monjurul Ahsan bulbul or Bulbul Ahsan you will find my journalistic activity, several interview I have taken for TV channels are included. But recently some vested corner upload some videos which tarnish my image. They spread some scandal in my name which not at all true. I earnestly request you to STOP it.

After five and a half years of being loyal to YouTube they just stabbed us in the back. Without any warning they removed all monetization on all seven thousand of our videos. They offered no reasonable explanation. They claim we are re-using content from other channels. This is a complete lie. All of our videos our own own original works. No appeals process, no managers to go to. No escalations allowed. We went round and round with one of their "support people" and got a constant run around from them. They pointed us to the policies that we had read 156 times already. As far as we can tell we are following their vague and highly subjective policies just fine. Asked what video(s) they were referenced. They refused to answer. Asked what percentage of content they claim is re-used. They refused to answer. Asked for an appeals process and they refused. Asked for a manager, and they refused. Asked to talk to someone who could fix this. They refused. All we were given was after 30 days we could re-apply for monetization. With no knowledge of how to fix this or stop it from happening again. YouTube is running a rigged scam game. They are treating us like slaves. They still run ads on our videos. Now they keep 100% of the ad revenue instead of 40%. They got wealthy off of the hard work of content creators and now decide we should not get paid for our hard. We should work for them for free. This is theft on their part. Plain and simple. We worked hard to get 77K in subscribers. YouTube is too corrupt. They need oversight. We also suspect religious persecution as well as political affiliation discrimination is coming from YouTube.

patrick walshe
from Perth, WA
signed up for a free trial off no ads .but still get them after signing in

John Wynn
from Durham, ENG
The Google Account nisei731syzygy@gmail.com is now disabled. It looks like it was being used in a way that violated Google's policies.
We'd like to inform you that due to repeated or severe violations of our Community Guidelines (https://www.youtube.com/t/community_guidelines), your YouTube account John Wynn has been suspended.
After review, we've determined that activity in your account violated our Community Guidelines, which state that hate speech is not acceptable on our site. "Hate speech" means content that promotes hatred or violence against members of a protected group (race or ethnic origin, religion, disability, gender, age, veteran status and sexual orientation/gender identity).
Please be aware that you are prohibited from accessing, possessing or creating any other YouTube accounts. For more information about account terminations and how our Community Guidelines are enforced, please visit our Help Centre.
If you would like to appeal the suspension, please submit this form.
at 01.15 hours on 22nd March 2019, I received a text message Google Account disabled (nisei731syzygy@gmail.com) Sign in to try to restore_ accounts.google.com I initially contacted Google I was given G-918492 is your Google verification code. nothing happened now I actually find that I cannot use youtube on a mobile phone a tablet or a desktop device at all my google account has been made null and void on all products I have a copy which was purchase of Alien Covenant which has been deleted alongside my google account I do not post videos on youtube so why have I been targeted is this a form of discrimination as I personally find this who what when and why has this been done when I do not incite violence in any shape or form I am not racist far right or extremists in any way shape or form I am neither a supporter condone any kind of extremism against humans animals including any form of pedophilia but I did share truthful news articles used by Judicial Watch Dan Bongino show Fox News & I'm a disabled veteran this is discrimination I'm lodging formal complaint youtube are nazis fascists liberal supremacists who clearly condone pedophilia animal abuse racism other sick twisted satanist stuff especially management CEO downwards level staff good day.

dofuses
from Greeneville, TN
never saves my account always forcing me to login

I have watched YouTube of and on sense it started. Missed a lot on deployment and later on assignment for work. I now find that I can't use YouTube because most of the videos are in Russian French Hindu Arabic or Chines, much less the others I can't Identify. Has something gone wrong or are you messing with me. theirs been a lot in the news about your online observers messing with folks on line. I hope this is not the case.

Leads industry in shadow banning of "wrong think" channels. Has recently started outright banning channels that do not toe the neo-liberal political group-think i.e., Buds131 just recently.

Susan kruger
from Harrismith, FS
Hi There, I see the free instant you tube downloader it was working just now and now there on your side is errors and we can't download your choice of music and all music was work before now we can not play or download not your choice we put in by the search. Why it going on for more than a year that then you can download any song you want then nothing and complain again then its right again and then a again nothing. Why it can not be right like for years, what it was in the past. please thanks

I have an issue with with your assault on our gun community channels. I think you're a bunch of biased idiots who easily gets their feelings hurt. I cannot wait for a competing media platform to be made that respects our first and second amendment rights. I'll be the first to switch. I'm looking forward to the day YouTube goes belly up due to your idiotic left wing veiws that are not the veiws of the majority.

Anita Williamson
from San Antonio, TX
Good Morning! I usually enjoy listening to and watching YouTube, but yesterday, Friday 24 January 2019, I was HIGHLY OFFENDED after listening to a message by Pastor Steven Furtick. When his message was complete, the NASTIEST, most OFFENSIVE rap song came on! I've Never had this happen before and I pray that it Never happens again! I'm NOT prudish but when the F-word, and girl's "P" word is being sung after the Word of God...THIS SHOULD NEVER HAPPEN. I hope that you will correct this unfortunate situation. I am usually listening with my young grandchildren. Imagine how embarrassed I would have been had they heard this HORRIBLE song. Thank for you expedient removal of this back-to-back error. If people choose to watch or listen to women being denigrated like that, it's their business. However, I CHOOSE not to, Have a joy-filled day!
Blessings!
Anita C. Williamson

Susan kruger
from Harrismith, FS
Hi there, its now for almost a year I complain about the free instant downloader for you tube it not working only when I complain and then it working for a week or so and then not working again it dont play the music I pick and dont download anything. Please is it possible that you can fix it permanent this time. thanks. in the past the free instant downloader for you tube work so so awsome. Why dont now again.

Hi There,the free instant downloader from you tube has been working absolute awsome for few years untill now few months ago. Every time I must complain its not working proberly before its working right again. And now again I want to download some music and nothing working its not even playing the music I have pick and logic its shall not download. Pretty please make it right. Thanks.
Have feedback for YouTube?
Thanks for your feedback!
Sorry. Please try again later!