Days Inn
Contact Days Inn Corporate
Toll free phone number: 973-753-6000
---
Days Inn is an economy hotel chain owned by Wyndham Hotels with over 1800 world wide locations including those in USA and United Kingdom.
To reach customer service, call 1-800-441-1618. You may also find additional phone numbers and contact information here. The President of Days Inn, Clyde Guinn may be reached at the Wyndham Hotels Corporate Office phone number 973-753-6000. Address your envelope with his name and the following: Wyndham Corporate address of: 22 Sylvan Way, Parsippany, NJ 07054.
Days Inn has the same quality and Wyndham Rewards Program. Their social media presence is connected to Wyndham Hotels chain Facebook, Twitter and Instagram.
Days Inn Contact Information
Report complaints to corporate and get satisfaction
Days Inn headquarters address

Wyndham Worldwide Corporation
Parsippany
NJ 07054

Company website

1-800 phone number

973-753-6000

Support email address

contact@daysinn.com

Better Business Bureau rating

A-

Customer service hours

8am-5pm, Monday to Friday EST
Browse reviews of other Hotels
Top Days Inn Complaints
Browse more than 85 reviews submitted so far

Larry Haberman
from Owatonna, MN
The people at the front desk were rude& unprofessional when I got there on 12/31/2020. Then at 5 am they call us to the front desk to tell us we have to leave or they are calling the cops. As we're packing, he knocks on the door and makes us leave the door open. Then as we are leaving he looks at me and says"get the fuck out". And continued to swear at me as I'm going down the hallway. 5 times yelling out calling me a fucking asshole. My wife paid for 2 nights and we were kicked out on the second night at 5 am, and they kept the $100 deposit she paid. Is that the kitchen and of people you employ at your hotels? I want my $100 refunded to me. And I will never stay at the days inn in mankato ever again and will tell everyone I know not to stay there. That is a very bad way to run a business running your customers.

Bonnie king
from White House, TN
This place is nasty!!!!! Trash was on the beds when I came in. cockroaches crawling all over. Health codes needs to be called. I want a refund!!!!!

JasmineJones
from Monroe, LA
I am a former housekeeper that use to work at Wingate Hotel located in west Monroe la and I was force to quit due to me hear my manager converse with her employees about my Confidential business and I do know that that is a law and so I remove myself away from the hotel so that I would not go to jail.

CAROLINA DE LEON
from Greenfield, CA
Place was dirty, had cockroaches, top security lock was broken. There were clothes left in the drawers. Wasnt sanitized , didnt look or smell clean. Wasnt smoke free room, it smell badly smoke. Manger wasnt considerate, it seemed like they heard it before, like front desk..

Kelli Leigh Dials
from Staffordsville, KY
Was charged twice on card!!! I am missing member points and the hair dryer doesn't work. The front desk is a joke

Monique Harris
from Portsmouth, VA
The lieutenant security officer was very rude in to me, in was racist.I never experience nothing like that at anything hotel room i went too. His name is Lieutenant Martinez she's at the Days Inn on Midlothian Richmond Virginia

Kimberly Johnson
from DeLand, FL
I have a lot to say an given a few words to do so is hard. But the important points are that we had to clean the room because we found roaches. I always get a downstairs room with two beds for our Grandbabies and because of my disability so having to clean a room after traveling didn't help my pain level. Now because I'm a rewards member and a AARP card holder I was quoted the price of $62,80 a night but we actually paid $85 per night an when we ask about it were told it's because the location of the Navel Base near by which in itself is sad that you would charge more to service members and their family's and my husband is a 20 yr. veteran of the Navy. Initially we were only going to stay from 7/17/20-7/20/2020 but we had car trouble and had to stay additional three nights. We expected the cost to be around $376.80 not including tax. But we paid over $530 without tax. Having to pay almost double what we expected was an added hardship on top of the car trouble that required us to have our car towed back to our home city. We were in Orange Park Fl to celebrate our oldest grandchild graduating high school and with the car issue and your price PRICE GOUGING turned a joyous occasion into a full on financial nightmare an sadly the memories of the first of many milestones to come, will always have this negative attached to it. I know this pandemic has cost all to suffer lost of some sort but to take advantage of people to sure up your bottom line is just wrong. So as vets we will do our duty an pass on our experience to the community that supports us and notify the BBB of the actions as well.

Carl Jensen
from Orlando, FL
All of there ice machines don't work when I ask when these machine will be fixed the answer is always " we are just waiting for someone to come an fix them " this has been for over 2 weeks now. And sense you all are to cheap to have in room mini fridge we need ice. I have been buying ice and as a customer here paying for a room there should be at lease one ice machine working sense it's summer and it's hot out

Joseph Wine
from Weston, WV
My daughter was denied access because of her service dog. She tried speaking with a supervisor who continued to discriminate. When she requested names, both the hostess and supervisor refused to give their names. She recorded part of the hostile, discriminatory episode. I called the hotel, hoping to get names, but the manager cussed at me, refused to give a name, and threatened violence. This is also recorded.
The manager should be fired immediately. Are managers not trained in customer service? This was the Mt. Hope, WV location on July 13, 2020.

Diane Williams
from Washington, DC
I stayed at Days Inn at 875 Riverview Road, Rock Hill, SC . Do people have any pride anymore in the services they provide? Is everything about collecting the money?? The room was run down and nasty. Cracked up old wood, worn out paint, spots on the towels, room had not been swept, the inside of the refrigerator was dirty, and the room smelled. They were stingy with the towels and soap. There was a dead bug inside the coffee maker. I could not believe that this is the way motels were. The only reason I didn't leave is because I had an important meeting the following day and I was so tired and I needed to get some rest. I will not be returning to any of your Days Inn motels.

Jacqueline Smith
from Nashville, TN
On Monday, June 1, 2020, we checked into the hotel and after dissatisfaction with the room, I went back to the desk to report unimaginable inhabitable conditions. The person working the desk did not want to come from the back. I knocked on the desk numerous times as well as the sound alert kept going off to alert them their was/were customers at the desk. I stood at the desk a total of 10-15 minutes, before the person cleaning the rooms came through a side door to let the person know to go to the counter.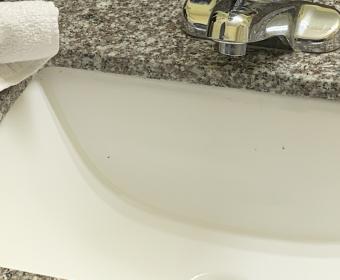 Wendy Jones
from Bartlett, TN
They charged my card with a shower curtain I had not damaged

Jennifer Morello
from Washington, DC
I used to work at day inn in san carlos park and there is a laundry lady is my supervisor and she very rude and disrespectful and they day inn need stop give her chance and fired because I got fired for ask her to walk away and she wont leave so I don't be rude and mean but she need to go I got tired of it for 2 year and I can do her job I been doing her for 2 year and I get sick of it I want my job back

Scott chamlee
from South Vinemont, AL
Myself and 3 other men did some remodeling at your Hotel in lavonia Ga and the lady that ownes it Kelly Patel wont pay us the money she that she agreed on..I went there n did what she wanted and she was happy with the work but only paid me less then half of what we agreed upon..I lost my home, my job to go there to do the work , and when she gave me a check that the banks wouldn't cash I had to sell all my tools just to get gas to make it back home..She really put me in a bind, all I ask of you are someone to make this rite, if not then we are gona hire a Attorney. I am living in a tent becouse i have lost everything I had becouse of this..Thank You

Jim and Vicki White
from Broken Arrow, OK
We stayed at Days Inn in Norman, Oklahoma on Saturday, Nov. 23 2019. Reservation R1753475618, Conf # R1753475618, Booking Reference # 83882EC035548. Date: Saturday, November 23rd, 2019
The room 144 was gross!
Why would Wyndam hotels or Days Inn put their name on this building? I've travelled a lot for business and have NEVER stayed in any hotel like this.
The blanket on the bed had stains on it. The walls were disgusting. The furniture was dirty and stained. The refrigerator had rust on it. The curtains we gross. The doors were dirty. (I wrote hi in water on the back of the bathroom door). The phone was dirty. We had no choice but to stay as all of the hotels were full.
The new blanket that the office gave us obviously had the edges cut off.
You attention to this matter is sincerely appreciated. Feel free to contact Jim or me via email or phone.
Please see the attached photos

julia kelley
from Astoria, OR
I reserved a handicap room at daysinn wyndham lacey washinton.i paid through expedia in advance i arrived at 10pm on the 11/27/19 with my 84 year old parent and 2 other people. The lady at front desk assured me that room 304 was a handicap room. Her walker could not go between the beds or into the bathroom. No safety rails in bathroom and a tub .not handicap accessible. At 430am while attempting to use the bathroom my mother fell severly bruising her hip and leg. I emailed front desk at 530 through expedia site . I am requesting my money back or to be compensated her injuries ruined our thanksgiving. We drove 135miles to spend thanksgiving and due to the lies told to us my mother was harmed .and our trip was ruined we had to return home immediatly as she was having trouble walking. Or sitting comfortably . Your system is not letting me upload images.

Debra Peterson
from West Concord, MA
I came to CA due to my son's death and I stayed at hotel on Tuesday November 6th 2019 at the one in 901 w Manchester blvd. Inglewood CA. I accidentally left my coach watch on bed and when I realized it I immediately call the hotel and the front desk told me they would send the head maid to check. Well the gentleman called me back and said it wasn't there. I know it was left there and I am very disappointed with the service. The trust is no longer there for me and I will never stay at another days inn hotel.

room had roaches ,flies on window seal. Darlene written on wall in bathroom food in chairs.dirt in all corners
very disappointed with the room we booked the room under Barbara Reed

First experience is post important at any hotel . It's Oct it's still hot, coming into a hot stuffy room is not what anyone should have to pay for. Air conditioning is turned off between bookings . Turned on the Air took about 20 min to cool off. Point is, it doesent matter if room could be cooled off in a minute , your guests should not have to put up with this . We're on the second floor, the hallway air was shut off also wasn't as bad as the room but it's still uncomfortable. I complained to the desk clerk his answer was it cost money is why he shuts them off .Didnt care to just give me my money back . We carried are luggage up the stairs were very tired . Getting our money back and booking another hotel in the evening would of been a huge hassle . Yes all the guests go through this coming to a hot room. I might be the only one that ever complained but it dosesnt make it right . if your policy is to shut off the air in rooms not in use, even when it hot outside to save money then there is nothing I can do about I just won't come back to hotel chain again . If it's your policy make it comfortable for guess when they enter room than its the desk clerks fault not doing job he is paid to do . I what my money back . just a bad experience that can be worked out if I get a refund .

On 01.10.2019 called into Days Inn Stevenage North looking for room. Were quoted over £100.00 for 2 people room.
Thought walk in price would be cheaper than this so declined. Got home and phoned one of many numbers given to find out why we were quoted this high price. Now phone bill has come and it appears this call was to USA and we have been charged £10.00 for this.
Rang a number for refunds but they are not taking calls! Another line I rang was answered by very American sounding person so put the phone down quickly.
How do I get my refund for this call???

Brock Casady
from Urbandale, IA
I was horrified by my experience the customer service was non existent I was lied to treated like I was the issue the toilet didnt work they tried to blame us for it although the entire floor was covered in water in all the rooms I was made sick immediately after drinking the water which tasted like chemicals I asked to speak with a manager the manager lied to me and said she wasn't the manager I finally managed to contact the owner who was equally rude and disrespectful the room was dirty and clearly unkempt I was harrassed and outright insulted by the manager who acted as though I was the reason all the problems were happening I asked for a refund because of my inability to use the facilities in which I paid for and was accosted and treated like a peasant I have no idea how this is going to get fixed but I need my refund because that was absolutely intolerable

W e came into town looking for a vacancy having driven from Sheridan,Wy. It was late July 15. We were grateful that they had a room with 2 beds as my companion had had knee surgery in February and is still recovering. The beds were average as we expected. The breakfast was mediocre as expected for the price. As grateful as we were for the room, our complaint is about the condition of the room. It reeked of an awful stench of mold and piss. It was so strong I went to the Casey's convenience store across the street and bought Fabrese to cover up the stench. Even that didn't work so I put some Aspercreme under my nose on my lip so I could fall asleep. Had we not been so tired we would have tried for another room but we were exhausted. When we left the next morning I asked for a copy of a receipt but was told they were out of ink so they wanted my Email and would Email it to me. I don't do that. I have COPD so a room without mold is important to me. I will think twice before staying at another DaysInn.
this is their Room 103. My experience rate is zero.

HELL STAY. Don't ever stay here. Dirty Towels, Bugs in the room, Dirt Blankets. Their Breakfast was Toast (that the worker came and put back in the bag after people have done touched all over and breathed on the bread), Cereal was in containers that you use at home. Apple Juice was already used and put back for others to use. It is sad that they are under Wyndham Hotels it gives this chain a bad reputation. We checked out on Saturday and asked to cancel the next night which was within 24 hours and they refused to honor it. NEVER NEVER NEVER STAY HERE. Also do not book through Hotel.com they are just as bad. This hotel is located at 169 S. Kentucky, Atlantic City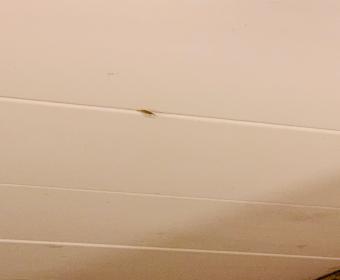 Linda Howard
from Fresno, CA
I was on vacation with my two grandkids and rented a room at Days inn by Wyndham 818 Real Road Bakersfield ca
This place is very dirty infested with cockroaches/ huge water bugs the pool is filthy I took my grandkids to the pool and their were people having sex in the pool yuck
Very load heavy traffic all night
As well I witnessed some older man pushing what looked like young prositutes on to the property yelling and screaming at them he put his hands on the back of the girls necks and said let's go to the car
prostitution/ crime and there is no house lights on the property
The front desk staff are friendly however they do not answer the phone no security
Dirty and scary place
My plan is to report to the police health department and mayor because this place is a absolute public nuisance and health risk maybe the authorities will locate missing girls being trafficked in this hotel
Days inn Wyndham motels site 818 Real road Bakersfield ca 93309
should be should be shut down and fined for this public health nuisance

Ruby Hass
from Carlisle, PA
My husband and I make reservations for the Days Inn in Luray, Va. Knowing it is a very nice tourist area, we expected something nice. We arrived on Sat the 22 June to check in behind others that had no rerservations, most of them were asked for lower or second floor.We were told by lady,"I guess you will have to take the second floor.When going to the stairwell , it was so dirty , then continued to the stairs also very dirty. Got to our room, big disappointment, so outdated. Big window so dirty could not see out of it, bathroom floors by tub n toilet dirt caked in cornors.When my husband went to plug in his cpap machine, surprise, no plug area. Just one way on the opposite side.
I am sure the corporate office does not know just how bad this place is. I hope there will be changes made there in the future. We have stayed at Days Inns before when we travel and this was the worst ever, especially being in the tourist are its in
Thank you and please see that the Days Inn Corporate see this
Ruby Hass

Ruby Hass
from Carlisle, PA
My husband and I made advance reservations for the Days Inn for June 22. Knowing it was in a tourist beautiful area, we thought it would be a great place. Upon arriving to check in we waited behind several younger couples who were all giving the first floor. When we got up to check in , the lady said, I guess you have will have to take the second floor, although we are seniors and the second floor was ok , it was just we were not even asked.
When going through the area to get to the stairs , all was very dirty, then the stairs very dirty, with cigerette butts all over. The room, well the window so dirty could not see out of it and all so outdated. Bed was ok . The bathroom floor in back and side of toilet very dirty.Again we really didnot expect this from the area we were in
I feel the corporate office in not aware of this hotel situation.We have stayed at other Days Inn while traveling and this was the worst. Maybe your office can now do something about this
Thank you for Listening
Ruby Hass

Christina Street
from Los Angeles, CA
I was lied to d during check-in I asked why is the pool green she said they just treated it will be able to swim tomorrow get to the room it was full of cockroaches they couldn't switches rooms got to wait till in the morning switch rooms still no Wi-fi still no cable pull still green I asked for a refund and they cannot give me a refund because the manager wasn't in I complaint already and now they want to give me three thousand points I don't want no point I want my money back the confirmation for my stay was 8300 8 e Co 51966

Thomas Tear
from Newark, DE
I wouldn't give this place one star. The room was filthy, The paper in the lobby was peeling, The light in the only elevator that told the floor was burned out. The floor in the room had not been vacuumed, the chrome in the shower was not cleaned, the nightstand was covered in a dirty sticky substance, The blankets were torn and had holes in them, There were no drinking glasses in the room. The nightstand light was so dirty I didn't want to touch it. In short it was the dirtiest, filthiest room I have ever seen and had I had another option I would have left and demanded my money back. Absolutely shameful.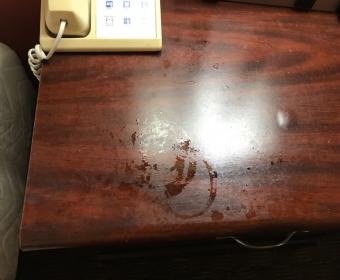 steve cowart
from Carpentersville, IL
1. very loud, rude people in the next room/s must of had a party went late into the night i complained multiple times to the front desk to no evail. finally around 3 am they offered to change my room ( which i wasnt going to do with my wife and 4 yr old kid at that hour.
2. the pool was closed however my wifed called a week before we arrived and we were told it was open

I had cleaning man peeking through my door twice my husband woke up and caught him with door open ran him off hotel already knew about there employee doing these things

I called Days Inn at Inner Harbor, Baltimore, MD to reserve a room for one of my drivers that was in the area. I first asked if there was parking for a 48 Ft Trailer which I was told there was, I was never told that there was a fee for parking. I then asked for the 3rd party credit card authorization form be sent to me via email since we were paying for the drivers' hotel accommodation. I was sent the form at 4:24pm, and I sent it back at 4:35pm. Once my driver arrived at the hotel, the manager Chanelle Coleman charged him for the room and told him that he would have to pay parking. I called in and spoke with her, which she spoke over me, told me that they weren't going to accept the 3rd party credit card authorization form since it was done directly through Days Inn and not through Expedia?? I tried to explain to her that I had to submit the form since our company was the one who was paying for his room. She then told me that parking would be $31.00 and then changed it to $51.00 due to an event that was in the area. I asked her why no one told me about the parking fee, and she stated that she didn't know. She stated that she did not receive the 3rd party credit card authorization form via email, I let her know that I sent it to reservations@innerharbor.com and she stated that there is no such email. I explained to her that this email sent me the CC Authorization form to me, she basically called me a liar and told my driver that she would have to speak with her manager in the morning to see if he can be reimbursed and that it would most likely take 3-5 business days. This is the worst customer service that we have received. I use Days Inn at least 6 times a month all over the US, and we have never had someone be so rude and talk over me and would not let me speak.

Jeff Hinton
from Hiawatha, KS
Sheets were not clean, many hairs found when bed was turned down.
Towel rack was broken.
Carpet used as a base board had come unglued and was just laying on the floor by the bed.
Few if any electrical outlets for device charging (it is 2019)
Shower head was faulty.
This was the case in room 208 in McPherson Kansas on the night of May 4, 2019. I also had room 210 that night with similar problems.
Not pleased with stay. Definitely not a $95 plus $25 fees ($120) room. Maybe $45 with no fees!!

ms. thomas
from Euclid, OH
I would of gave them 0 stars but it would not allow me to. The Days Inn in Richfield Brecksville Ohio has the most disrespectful staff. They will scream at you and hang up on you even after you have stated to them you are recording them and you have never raised your voice. This is the managers of the hotel. They do not even deserve one star. They have a form that states privacy but information was shared with a person they knew was not on the reservations as well as they cancelled a reservation without even talking to the person who the reservation was in. Beware of the DAYS INN RICHFIELD IN BRECKSVILLE.

During the Easter weekend we stayed at the Days Inn in Vernon Texas I have stayed there many times and it seems to being going downhill first the door card took several tries just to get in the room then the room had electricity plugs they were 10 feet from the bottom of the bed then if you get in bed the mini fridg would come on sounded like a car in the room with you then I got back to my room Saturday night one of the beds was not made and the bedspread was missing the room had a new heat and air unit took me 2 days to get it set where I would be comforbale I wont be staying with the Days Inn ever again.

Laura DeLuca
from Buffalo, MN
Days Inn, Decature, AL. Floor sticky, huge piece of ceiling fell on my head during my shower, someone came in our room even with DND sign on door. Turned out it was housekeeping and she didn't announce herself. Pool unusable. Breakfast was rotting fruit nothing else. Worse place ever.

Yvette McNally
from Chicago, IL
Non smoking room is extremely unclean . Cigarette Burns on the bedspread and blanket . On the carpeted floor cigarette butts, food ,trash old batteries etc.
U nder the sink in the bathroom is filthy ,top of the refrigerator is disgusting inside the microwave also disgusting. Called up reviews and complaints on this hotel .
.Days Inn in Ukiah California
there's way too many complaint bad reviews to count if I would have checked that first I would have never booked here. How and why is the manager of this facility not held accountable ?
Why would this company allow this hotel in Ukiah California Days Inn why would they allow their reputation to be tarnished in roomed with a manager that does not rectified or correct nor compensate any of the people that have not got what they paid for?

Vincent Hubbs
from Rock Hill, SC
I reserved a room on 3/30/2019 for the night of 4/2/2019. The reservation was made via Trivago, which took me to Booking.com, I reserved the room with my debit card - and the site stated explicitly that the card would not be charged - and upon my arrival I paid with a different card, a prepaid MasterCard that I load for such use. Upon arrival and check-in, I paid with the aforementioned prepaid Mastercard.
In looking at my bank statement upon my return home (Thu., 4/4/19), it showed that my debit card had a charge for $66.90 and it was in 'processing', I contacted customer service and was informed that the card wouldn't be charged and the fund were being "held" - I'm sorry, but the website stated there would be no charge made to the card - and that it would be reversed. On Friday morning, 4/5/19, I checked again and it showed the card had been charged.
I called customer service and they took my number and said they would have the manager (someone named Renee) in the next three hours as they were experiencing "system problems"...your computer system problems are not my concern, nor MY problem. When she did call, she informed me that only one charge was made, I had to explain the situation multiple times and she still wanted to argue about it, and asked if it still showed as "processing" which it did NOT. When she asked the last four of the card numbers, she realized that, yes the staff had indeed charged the preloaded card AND then run the transaction through on the debit card by "accident", and that she would reverse the charge on the debit card, but that it might not be seen until Monday at my bank. My bank is a nationwide establishment, and I've never had a charge reversal ever take that long.
This does not sound like an accident, what it does sound like, is in fact an attempt to charge me twice for the room, on two different cards, in order for someone to make some "extra money". As this is the situation, I will wait until Monday morning - if the charge has not been reversed on the debit card I WILL be filing a dispute with my bank. As this was a reservation made online, in the state of South Carolina, and your hotel is located in North Carolina, and as I'm getting the run-around with regards to something as simple as reversing a charge that shouldn't have been made in the first place, I will, after filing said dispute, then contact the US Postal Inspection Service and be filing a complaint for wire-fraud.
Vincent Hubbs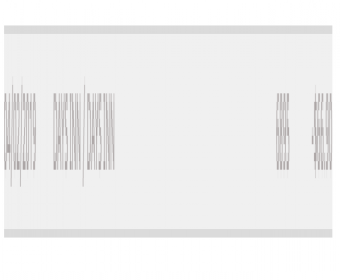 Recently stayed at the Holiday inn suites in Richfield, Ohio..when we first arrived it looked like it was going to be an amazing time..after my 3 year old daughter went swimming she went over to the slide but slid and hit her head because the slides were super wet from all the kids going swimming and then heading to the slides..one kid I seen hurt his ankle as well..Later that night I put my daughter to bed around 9 PM..I knew it was going to be loud still in the hallway because pool is open til 11 so i.knew kids would be running back and forth from their room to the pull..Now we were not by the pool we were on the other side of the hotel. around 1115 when the pool was closed there was a burning smell coming into my room and it the hallway with 10 kids yelling and screaming outside of there room as they burnt pizza in the microwave..let it be known that this has woken up my 3 year old..the kids are screaming and yelling in the hallway and the room is smoking and it's going into the hallway and other rooms..these kids also left the door latch open so as they are running in and out of the room the door is slamming every time they open the door and go in and out..after 2 calls down to front desk they finally come up and check out the situation..by this time it is 1145..10.mins later around 1155 the kids are in the hallway laughing and yelling again..my fiance goes into the hallway to ask them to please be quiet..5 mins later at 12:00 Midinght there is a pounding on our door ( waking my daughter up again) it is the kids mom saying why did. you tell my kid to shut up, we told the mother that we told the kid to please be quiet it was late and people were trying to sleep..we shut the door and that finally ended the evening..
First time here and we can not believe the terrible experience that we had..please email me back or give me a call at 216 394 4779..I hope you can make this right.
Thanks,
Presley Calogeras

I paid to have my car left in Days Inn parking lot in February and half of March. It snows in Vermont. My key was retained to be used when needed. My car was not moved when plowing was done, so a deep dam of ice and snow surrounded my car upon my return. The attendant the afternoon of March 14, 2019 actually yelled at me when I went to get my key and complained that I could not move the car because of the ice impacting it. I did ask for the manager, but she was not available. I had spoken with her when I stayed at the Inn in late January, and she was both pleasant and accommodating. Had it not been for the taxi driver who delivered me back from the airport, I might have been stranded. As an elderly woman, I have become accustomed to paying for good service and receiving it. Not a yelling disrespectful and unhelpful attendant. The car should have been moved in the process of clearing snow from the parking lot, not only "in case of emergency", whatever would constitute such.

Jason Roberts
from Los Angeles, CA
Been staying here for a week and a half. 1st night, bathroom flooded from upstairs bathroom leaking. Damaged brand new iPhone beyond repair. Front desk did nothing to compensate but move us to another room. Was told we would be moved to a room with a single bed because we are paying full price for a double. Still have not been moved. Internet does not connect. When it rarely does, it does not stay connected. So we have not been able to work from hotel room. We have to go across he street to a coffee shop and spend even more money to use the internet to work. No hot water for 3 days now, and we were told we would get a discount for next night because of this. Went in to pay for the room and the girl at the counter did not know how to apply discount. Paid anyway and tried to get discount the next night. Front desk refuses to apply discount because they insisted we got it the night before when we did not. Maids never come at the same time of day to clean. Some days they come at 7am even though we have a 'do not disturb' sign on the door, some days they don't come until 4pm. Some days they don't come at all. Staff and maintenance will knock on door unannounced, at any given time of day, even though there is a phone in the room to call us on. Still paying full price for a double after a week and a half.

Water leaking in bathroom .

I Made reservations for my son and granddaughter not knowing the area I ask for hotel near universal and with shuttles to universal the reservation desk assured me the hotel had what I wanted near everything . When they arrived they were near the airport not universal nothing near by and no shuttle to universal I spent a lot of money on hotel I even called the hotel to be switched to another hotel for them and they would not do anything for me we travel a lot and always need a hotel I guess days inn won't be on my list the worst part was I didn't even get a apology
My reservation #17026869319 march 10th 2019
CathyCoughlin

Jeanine Lee
from Tacoma, WA
I am writing to you regarding a reservation I made through booking.com in August of 2018. It was a late Saturday night (8/18/2018), I had booked it on my cell phone through booking.com. We arrived at The Days Inn Wyndham Yakima and realized our half way destination was still an hour away. It was approximately 6:00 at night. At that time, we called booking.com to cancel the reservation, they said it should not be a problem. They called and spoke with the front desk receptionist Sonya. We also went inside the Days Inn Wyndham Yakima and talked to the front desk employee, Sonya. We explained our predicament and she said it shouldn't be a problem also. Sonya said that the supervisor would have to do 'something' on sunday and that the supervisor will contact me. Well, we were on a mini weekend vacation, got back to work on Tuesday and I hadn't heard from the supervisor, so, quite frankly, thought it had been taken care of. When I looked up my credit card, I realized that I had been charged $115.42. I called the Days Inn Wyndham and spoke with Kylie, the front desk supervisor. I explained what had happened and she said that there is no way I will get a credit for that night. She told me I should have read through booking.com's cancellation policy. I let her know that we had cancelled it within 5 minutes, had spoke with Sonya and she gave us reassurance that we would not be charged for the evening since this had happened to other customers before too. She told me that Sonya never said that. Pretty much it was an absolute NO from Kylie. I have been in customer service for over 30 years, I'm still in shock about how rude Kylie was. I proceeded to dispute the charges through my credit card company. And, this is why I'm sending this letter to you all. Kylie flat out lied in her response to my Visa credit card company. She faxed them a copy of the reservation and it says 'no show'. Also, the e-mail she sent to my credit card company says 'Mrs. Gonzales" was a no show. My last name is Lee, not Gonzales. Based on this, the credit card could not credit me back the charges. I totally understand rules, but I also understand that people make mistakes. We showed up within 5 minutes of booking this room and I paid $115 for nothing. I have never had to sit down and write a letter like this. I guess I am still quite disappointed with the customer service that I received and would like to pass along my frustrations to the corporate office. A credit for the evening I did not stay there would be appreciated.
Thank you
Jeanine Lee
j9lee@yahoo.com
253-222-7457

Jill Avery
from Youngstown, OH
We booked a last minute vacation to Universal Studio's in Orlando Florida over Christmas. We had 7 guests that included my parents and my 3 children, so I needed to book two rooms. We chose Days inn because it is a National Chain and most everywhere else in the area was booked. While, I understood that this hotel did not provide the amenities my family is used to, I still expected it to be clean and safe! I cried myself to sleep each night of the stay, horrified and embarrassed that my children had to sleep in the room and that my parents had to sleep in the other room. The rooms were deplorable and unsafe. There was extensive water damage to the walls and ceiling. Light fixtures missing, the carpet was torn throughout the room, the plastic baseboards were pulled from the walls throughout the room, where large screws were exposed and crumbling plaster from the wall where there was apparent water damage. The furniture was so severely stained my mother had to cover the chair with towels to use. the chair in our room was splattered with what appeared to be blood or dark stain. The doors on the inside were absolutely filthy and had large gaps around the door that we had to shove towels in at night. I am demanding a refund for my stay. I will attach the photos to this complaint, and will turn these photos over to the Better Business Bureau if I do not receive a refund. Absolutely horrible. This hotel should be shut down and repaired before any other rooms are rented out. I am only able to post 5 photos, however I have many more than that!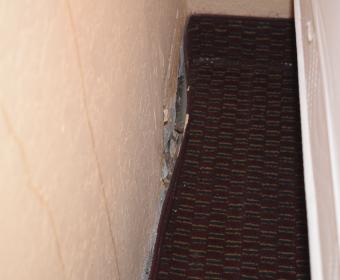 Carrie Solenberg
from Tahlequah, OK
I am staying in room 115 at the Days Inn in Tahlequah ok. And I first seen a roach in the bathroom floor . I took it to show front desk said she would note it and let someone know . The worst part of my night was waking up to a Roach craw across my mouth while sleeping . Talk about being freaking pissed and sick . I'm PISSED! VERY PISSED !! TURN ON THE BATHROOM LIGHT THEY RUN SCATTERING TO HIDE . Its one thing to see a bug but ROACHES to where they run when you flip the damn light on that's BULLSHIT !!

Front desk girl was terrible. Rude, arrogant, racist, unhelpful all describe Anna in Fresno.

Rubi Parris
from Plainville, KS
Okay here's the complaint. After driving all day we reach your hotel at 11 p.m. After checking into the hotel I see a dirty toilet the ceiling is falling in there's trash behind the toilets the floor looks like they have not been vacuumed.. there's hair in the bathroom yuck. There's food on the bed spreads. Double yuck... Plus there is something in the floor that looks like blood.. And what got me to stay here is Days Inn has always been an amazing Hotel chain corporate office needs to look at this one the sign out front says newly renovated. I talked to the gentleman in the office and he did ask me if I wanted to be moved guys come on I've drove all day unloaded my car and now you want me to be moved. Believe me if I could find another motel this late at night I would have. This place need to be closed down my the health department.

Nalina Hevingham
from Caerphilly, WLS
We stayed in the hotel last Saturday 3rf November for one night, the room was clean then around 10pm we heard banging from room above this went on till around 12 then we heard dogs they settled down but at 4am they started again pounding about and barking by this time we were wide awake and not in a good mood as we had a good drive to get home ,I went to reception at 7am but was locked up by 9 we had had enough so went back to reception and it was still locked the cleaner told us it didn't open till 3pm so we posted our key back and she gave us a number to call, that afternoon after a long drive home I rang and complained she told me she would refund half the money which I agreed to ,then today I went onto my bank and money had been taken out I phoned my bank and they told me days Inn had taken 38 out of my account instead of refunding it so now they owe me 76 I am very angry as I didn't give them permission to take money out of my account and now have to wait another 4-5days for the refund I rang hotel got no apology at all . This is the first time we have stayed in a days Inn and it was not a great experience at all .

Jerald and Marion Strauss
from Cedarburg, WI
Days Inn Mackinaw City, MI
Cancellation dated October 13, 2018 not accurate --- we did not cancel our reservation.
Confirmation Number 83066EC008514
We arrived at Days Inn on Saturday, Oct. 13th, at 3 p.m. and were assigned to rooms 174 and 175. We were traveling with 2 other people - Christine Walczak and Tony Wolosz. We were to stay one night checking out on Sunday, October 14th.
Upon arrival we were anxious to see the indoor pool. The pool room/area was very messy and the pool had some sort of scum or oil floating on the surface. We told the reception at 3:15 p.m. about the problem and then went to the city to enjoy the afternoon. Upon returning to Days Inn we inspected the pool and it was clear water. Our travel companion, Tony, inquired at the desk as to what chemicals were put into the pool to clear up the water. We were told that the water level was too low and that the skimmer was not working properly. Our travel companion asked for this statement to be put in writing just in case there were skin issues when we returned home. The Manager, Jodi, then arrived to the hotel lobby were I was with Christine and Tony. My husband, Jerald was watching t.v. in our room. Jodi stated that evidently we were not satisfied with the hotel accommodations and asked us to leave. She then called the Mackinaw City Police. You may want to ask the police for a copy of their report. They arrived around 7:30 p.m. on Saturday, October 13th. We were escorted out of our room and my husband was so distraught that we had no place to sleep so we cut our vacation short by 4 days and drove home (6 hrs)to Cedarburg, Wisconsin. We arrived home at 2 a.m. completely exhausted and horrified that we had been "kicked" out of Days Inn for filing a complaint. My husband is 80 yrs. old, I am 72 yrs old and Christine is 71 yrs old and Tony is 65 yrs. old. We still can not understand how our staying at Days Inn could cause harm to your hotel complex. The manager stated that she did not want us on the property for fear that we would cause damage. Really, four elderly people trying to enjoy our first visit to Michigan and Mackinaw Island are going to cause physical damage. It has taken me a week to recover from this outrageous encounter with your manager, Jodi and Days Inn. I believe your customer service department needs to also investigate and resolve your customer disservice. Thank you.
P.S. I hope this complaint is being read by Days Inn Customer Service Dept.
P.S.S. Over the past many years we have stayed at Days Inn across the country, but after this experience we will never stay at another Days Inn. This experience was way too intense .... both physically and mentally challenging to our health. Thank you.

Lynda Russell
from Toronto, ON
I came into the days in at 7280 Lundy Lane Niagara falls Ont. late one night
Was given a price for the room. When I got to the room there was a large fan going, heat was on full, carpet was wet and room smelt!
I called the office and was told someone would come, she came and said "fan too noisy" I said yes and floor was wet, office gave no excuse, room change, anything!
When we checked in there were 2 people at the desk, it took more than 15 minutes to check in!
When we left there was one person on desk, line up of more than 5 guest rooms.
Person in front of me was complaining about charges different than his on line booking, girl at desk asked him to step aside so she could deal with others, she just dismissed him!
My turn came and again I complained about the bill. (as well as the room, I was dismissed about both) I was charged for the room, HST and a DMF charge, also a Facility Fee with HST and DMF charge , and parking, with HST and DMF charges
The parking was bad, no lights at the back very unsafe to walk in dark and uneven pavement.
I am very surprised with the service and condition of this establishment. Very disapointed, will never stay there again.
Please respond
Have feedback for Days Inn?
Thanks for your feedback!
Sorry. Please try again later!