Snapchat
Contact Snapchat Corporate
Toll free phone number:
---
Snapchat is a social media application that has been around for several years and has grown in popularity very quickly. The company CEO is Evan Spiegel, who founded the company and still runs it today. While Snapchat has millions of users worlwide, their customer support has often been a frustrating experience for users. Common complaints include product updates, user account issues, and problems using filters. 
Snapchat does not provide an easy to use support hotline or customer service phone number. This is probably the main reason why so many users get upset and file complaints on our website each day. Still, the amount of poor feedback we read is nothing compared to the overwhelming majority who love the app and use it daily. If you are a Snapchat user who is having issues, we would love to hear about them. Please, leave your feedback below.
One of the downsides to using the app is that communication is often a challenge when you are having problems. For example, many users find themselves blocked from using Snapchat without any phone number to call or means of quick resolution. Or there are often problems with broken spapstreaks and version updates to the iPhone and Android apps. 
Snapchat Contact Information
Report complaints to corporate and get satisfaction
Snapchat headquarters address

Company website

1-800 phone number

Toll-free number pending.

Support email address

support@snapchat.com

Better Business Bureau rating

B-

Customer service hours

24/7
Browse reviews of other Social Media
Top Snapchat Complaints
Browse more than 169 reviews submitted so far
Aspen
from Crescent City, CA
Me and my friend have been talking for at least 65 days and last we talked was at 10:00 PM and right now it is 8:00PM and our streak is gone and we want it back. Can you please do something about it? We NEED it back we are half way depressed.
Alexandra
from Riverside, CA
I am a fellow user of snapchat. I love snapchat I use it everyday as you can tell from my score of 139,800 . Today I came across a horrible situation. My cousin and I have a streak of 234 . We both snap chatted each other this morning and now the streak is gone. There is a problem, I replied to him, and vise versa. The streak should of went up, but instead it went away. We spent such hard work to keep up a streak and it is such a tragic to let it go away. Is there any way to please put our streak back?
Andrew Bruno
from Cleveland, OH
My brother was mad at me for being late to pick him up at school because i had a class run over. He went into my phone, downloaded a stupid app and started using it, my account has been locked because of it and I had nothing to do with it. He knew if he installed this shit that it would lock me out and I would end up losing a 244 day streak I have with my girlfriend, I'm very upset about it, and would like this issue to be resolved quickly. I have tried using the support and the unlock on your website but it says that it could not process it.
He's a jerk for pulling this and I just don't want to lose the streak. I didn't download this dumb app and i'm going to be extremely upset if I'm punished for something my asshole little punk of a brother did. I would be so grateful to whoever fixed this and I would appreciate it immensely. I have tried resetting it online 30 times and i get the same cannot process message even though all 3rd party apps have been uninstalled. Snapchat customer support has no email, I had to create a twitter account and tweet them and direct message them, and they still have not replied now 8 hours later.
I need some one to resolve this issue, so I don't lose a streak because of something someone else did on my account.
Jeremy patricca
from Pittsburgh, PA
This has happened before, but my streak with my sister just disappeared after about two hours of not snapping. We had snapchatted about two hours prior, (both ways) but I checked it a while later and it was gone. We were at about 180 days. With my friend Ben, we lost our streak about two weeks ago even though we were having a two way conversation that afternoon, at about a 150 day snap streak. Why does snapchat advertise it as a 24 hour thing when the streaks disappear after about 3 hours of not using it?
Courtney
from Moncton, NB
So me and my friend were on a 190 day snap streak and when I went to send her a snap the streak went down to 189. The hourglass appeared and we've been snapping each other all day?
Annabelle
from Brisbane, QLD
Me and my friends had a snapchat streak and we were up to 176 days! And we were snap chatting eachother all day then today we lost our streak! It didn't have the timer next to it and we were snap chatting all day! Makes me mad.
Katie Beaumonte
from Tucson, AZ
I just wanted to say that this App has just turned into an Ad filled, Kardashian and adult taboo filled place, and it's just downright horrible. No one gives a rat's behind about Kim, Khloe, or any of the Kardashians, really. This App's main purpose was supposed to be to share your whereabouts with friends and to send them photos back and forth. Now, all this app is is a bunch of advertisements, Kardashian's rear-ends, and adult facts. If I wanted to know "the top 10 positions to reach orgasm", then I could google that myself.
I don't need Snapchat as a secondary source for my sexual concerns. This App should be for "18+" users. My sister is 14, and she has Snapchat of course. The fact that she has access to such indecorous information at such a young age is just ridiculous to me. I've had enough of the stories about Kardashians, DIY tutorials, and Buzzfeed's liberal bullshit. Feel free to get rid of all this nonsense, or at least get rid of all the taboo and make it age appropriate.
Alexis Boschee
from Aberdeen, SD
My name is Alexis and I am a big fan of Snapchat. It is a lot of fun and a wonderful way to communicate with friends. I love the face filters and updates, it's all great. I do have concerns about the "news" portions on snapchat, which includes writers Cosmopolitian, Buzzfeed, CNN, People, etc. Here's my concern, as I swipe through the stories and the headlines, I see stories with the titles: "Why it's great to masturbate,"10 ways a mans penis can break," What it's really like to get a happy ending massage,"What it's like to have a threesome," and so on and so forth.
I very strongly believe that if these are going to be headlining stories on your app that are accessed with just a simple swipe to the right, then there should be an age restriction to your app. Many parents allow their children to have this app and I'm sure they do not know that this is available to their eyes. Children as young as 7 years old (and probably younger) use snapchat. This is exactly how porn and sex addictions are started, leading to very unhealthy lifestyles as they grow older.
It is simply not fair to the children who love snapchat but have access to porn right under their tiny fingers. All I am trying to say is that this is not okay, Snapchat, and that you should reconsider what you put as headlining stories on your news page. Otherwise I strongly believe that an age restriction should be put into place. I have many other people I've spoken to about this that strongly agree with me. Other than that, a lot of your stories are great and empowering, and very informative.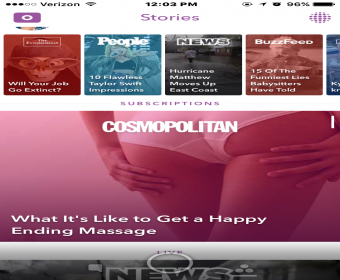 Snapchat used a new filter and it makes people look Asian. That is being racist towards people who are actually Asian. It is making us feel bad about ourselves. This filter is very racist and feels like you guys are making fun of us. Please delete it, it makes me feel self conscience of myself.
Harriot
from Torquay, ENG
My friend and I have lost our 98 day snapstreak, not only do we talk everyday we were talking last night on the red chat! If somebody could tell me immediately what has happened that would be great. I will also be leaving crappy reviews daily, for what has happened.
Niamh Twomey
from Dublin, L
Myself and my friend have very recently reached over 100 days on Snapchat for our streak, as I'm fully sure on the exact number of days I'm presuming it's around 120. We have snapped everyday however despite having snapped yesterday our streak was gone today. I am complaining on behalf of myself AND my friend as we have been waiting and trying quite a long time to reach 100 days and now it's taken away due to your faulty system. On the same day my friend lost a 259 day snapstreak with a friend of hers. This behaviour is not acceptable and I'm very upset and angered that our hard work and many days of snapping are going to waste like this! Snapchat, please sort yourself out as we are getting sick of this treatment.
Natalie
from Auckland, AUK
I changed my birthdate year and then got kicked out from the app (iPhone User). I have never used any 3rd party apps to date. I have now been locked out of my account after not being able to sign back in. Furthermore, it now says my account is permanently locked. In no way have i violated any of snapchats terms and conditions. I have not received a single email from them regarding being locked out of my account.
I have contacted snapchat support via twitter and got an immediate response earlier and followed the instructions given. It has now been 4 hours and I am still waiting for some sort of response. Now I think they are all computer generated responses and there is no other way to contact anyone about it.
I lost my streak when we texted in the 24 hours. So, I lost our 125 day snapchat streak yet we snapchatted many times today before we lost it.
Rosie
from Elmwood Park, IL
I used a third party app only two times and every time I got locked out of Snapchat. The second time wasn't intensional, and I've been waiting 3-4 days already for my account to be unlocked. I've done and tried everything. Snapchat is the only thing I use to reach friends. And I save a lot of messages that I need and a lot of pictures and videos that I no longer can reach. And I would like to be able to reach them.
It wouldn't be right if I lose all of my memories because of two pictures. It's not right at all. It's the only app I use so of course I have a lot of things on there and I would like to be able to reach them. I contacted snapchat and it said wait at least two days but it's been double that amount of time.
Sofia Stefano
from West Islip, NY
I have always loved using the Snapchat app but there is one thing that has bothered me from the start. I have had snapchat since it came out and have used it so much ever since. However, I feel that each user should be able to change their usernames. I made my username when I was young and I want to change it but the only way to do that is if I make a new account. Please take this into consideration.
Love Snapchat but the lips are never big enough. The lipstick in the filters covers half of my lips and it's pointless to use the filters if it doesn't fit you correctly. Then, I had a 174 day streak with one of my long friends who lives very far, we spoke everyday and somehow snapchat took the streak away! Can you please put it up for us again, we worked very hard on it. I'm not happy with this at all.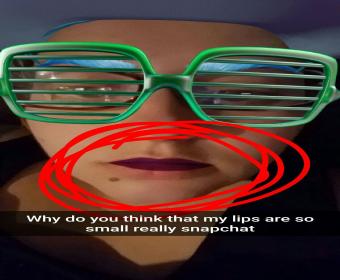 Danielle
from Hatfield, ENG
Me and my friend have been snapchatting eatch other non stop, we had a snap streak of 85 going on to 86 and randomly disappeared, I am very disappointed seen as though this was one of my best apps, please give it me back!
Zeina farhat
from Beirut, BA
I had a streak for 50 days with my friend and we snapped every day no change but our streak was deleted even though we didn't spend 24hours without snapping! Please can you give us back our streak?
Hello, my name is Sarah, and I'm addicted to Snapchat . Really, I love this app, but there's one thing that pisses me off ... Why my city still doesn't have its own filter? I live in Laval, a city (big enough for a filter) just near Montreal, Quebec, Canada. Montreal has several filters already and that's normal, it's the metropole. But now I just learned that another city near Montreal, as big as Laval or maybe less , just got their own filter! Where is the Laval filter? We are tired of waiting! A pissed Snapchat lover that want a filter for her city!
I use snapchat a lot until those stories started at the top, there appalling women and men constantly. Always about sex etc Young children also use the app it's a disgusting. To see society is all about models, being skinny, having a perfect body. It's making young children insecure and hate their bodies all for what? Even for myself I feel that way too I feel insecure looking at them because it's all fake, photoshopped, filters, fake. It's a disgrace what your doing last week a child hurt herself over feeling ugly not good enough etc. She used to always watch the stories and cry herself to sleep. Don't worry il be taking this so much further until the stories are deleted.
Magdalene
from Houston, TX
The filter for Eid al Fitr didn't last longer than 24 hours from when it started in the eastern hemisphere. I live in the usa and by the time we learned of the filter it was no longer open for contributions. Eid lasts almost a week for some of us, much like Holy Week for the Catholics. Please allow all muslims from around the world to contribute to the filter by keeping it open for submissions at least 72 hours.
Ashley anderson
from Livingston, SCT
I woke up and wanted to use the bunny snapchat filter and it was gone. I'm really not satisfied about this because that was my favorite one but there still manages to be these ugly filters that no body likes. So what I'm saying is change it before more users complain.
Sophie shore
from Blackburn, ENG
I had a snap streak with my pal, 61 days long we have snap chatted every day and it has randomly disappeared, if Snapchat customer service could please get back to me and resolve my dilemma that would be much appreciated.
Janet rippee
from Minneapolis, MN
I would like to know as of why it is that android users do not get the new update. If this isn't fixed I for one will no longer use snap chat for its seems wrong that not everyone gets the update. I also believe I will not be the only if this is not fixed there for you would be losing a lot of snap chaters.
My SnapChat never loads, if your on wifi or not it doesn't matter it doesn't even load on 4G! Please try and fix this. I love using SnapChat and am a loyal follower but this is getting to be too frustrating to handle. I can't wait any longer.
i always loved snapchat and had it for over 3 years but now snapchat as this locked account app, the thing is I can't screenshot my snaps I talk to a lot of family of my from different countries and I love to save their photos and videos and now snapchat as locked my account and blocked all this apps!! This is so pathetic and childish, it was like this a couple years back! Snapchat is making new version and now I can't talk to non of my members and when I try to contact them they will ignore my emails and my messages and never get back to me it's been months! And yet nothing! Poor customer services companies like this should be banned!!
I hate the new Snapchat because they removed all my custom names for people and my friends list. They also removed my contact list and it's the one that I have had now for almost two years. This update is really bothering me and it's confusing now. What is discover?
Lacie Baton
from Charlestown, RI
I just used the chat on Snapchat and wrote out something really long and really heart felt that I put a lot of time and thought into, and all of a sudden the app completely crashed and when I went to look on the chat, all of what I wrote was completely gone and it was back to the way it was before I even wrote anything. I am really frustrated because it took an hour and a half for me to write out all of what I wrote and now it is completely gone.
Snapchat led to the divorce of my marriage because there's no way of catching the users because the messages automatically erased unless one saves them I believe there should be a way to check the content of a persons message or our children for that matter
Jennifer Bonilla
from East Islip, NY
I cannot seem to reactivate my snap after deactivating it.
Hailey
from West Palm Beach, FL
send this to snapchat
WY DO THEY NEVER HAV IT ON WINDOWS PHONES
snapchat keeps crashing. Everytime i try to open the app it closes automatically. I am not impressed with what is happening and i would like it resolved as soon as possible.
I had a streak with kcperry 2003 and we lost it we sent a snap that day and don't know why we lost it and I would like it back
Tessa Rodriguez
from Amarillo, TX
Snapchat has been great until the recent update. I want them to restore it before snap was bad. Everyone is complaining about it and Snap needs to fix it.
chandni lohana
from Hyderabad, SD
actually i opened my account yesterday in samsung note 8 and i captured alot of pics and saved in memories but then i log out and opened mu account in another mobile i saw there was no pics why? i really want please . if not i will die. those pics were too much important for me please help me. i beg you.
Kloee
from Washington, PA
Snapchat hasnt been working for me and a lot of people,it wont let me send messges and anything someone sends to me i dont get it. I deleted it and reinstalled it and tried to log back in but it says could not connect try again later.But i have tried it multiple times at different hours and it still doesnt let me log back in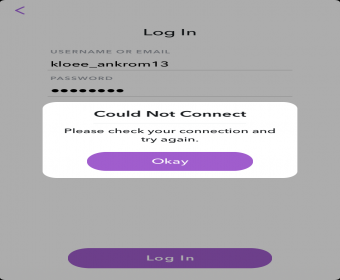 Laura
from Hampstead, ENG
The new update is so difficult to use and hard to view stories. There should be a separate page for stories. Please take this into consideration. Thank you.
Overall I like Snapchat, however I randomly lost my streak and have no idea why. I send out a streak snap twice a day, typically when I go to bed and when I wake up. I went to bed around 8 and sent my streaks and woke up at about 5 and sent them again, at this point I still had all of my streaks. Well a few hours later my friend sent me a few snaps as his daily streak to me, we still have it. And then I sent him random snaps all night only to notice around 6 AM that our streak was gone. IT WAS AROUND 270 DAYS LONG!!! I MEAN ARE YOU KIDDING ME??? And this type of thing has happened before to shorter streaks but the process of trying to get them back is completely useless, their customer service is trash, and it completely pisses me off. I'm sure if I try this time it'll be no different.
Slayqueen_tori
from Fishers, IN
I hate the new update out sucks and noons likes it.When I wanna read a msg from somebody I end up seeing there whole story.Noone likes it change it back
itzel diaz
from Duluth, GA
GET THE OLD VERSION BACK. you guys are loosing so many people
Alexis Mullis
from Casa Grande, AZ
As of 02/08/18 I had a snap streak of 35 days and me and the other friend sent pictures back and forth during the span of that date and yesterday but then my snap streak disappeared. I would like it back and would like to get a different response than I'm sorry but there is nothing we can do right now.
Jasmin Stephens
from Cambridge, MA
Please, can you return my snapchat service back to what it was before the most recent update. Thank you.
gb
from Peterborough, ENG
the new snapchat update is disgraceful and should have stayed how it was, there for I really feel to delete my account, the changes are terrible you have ruined snapchat!!!!!!!!!!
Old bastard
from Los Angeles, CA
Change it back to old version . This version is not easy to use can't even see the ppl who send personal pics or messages so change it back
I hate your new update. Everything is horrible.
Madie Morrow
from Carlisle, PA
THE NEW SNAPCHAT UPDATE SUCKS! YOU NEED TO GET RID OF IT AND MAKE IT THE WAY IT WAS BEFORE!
Elizabeth
from Glendale, AZ
This update is trash. If there was a way to go back to what it used to be I would. Re-do the update please. I hate it. I don't want to see stories where my conversations should be. I don't know where my subscriptions went for the "discover". Really the whole thing is terrible.
Tyra
from Manchester, ENG
I have lost so many streaks and I really need them back people are starting to fall out with me coz I lost them all last year and some this year so please can I have them back
The new snapchat update is horrible. I want my update gone, I didn't even update it, it auto updated. I won't use my snapchat as much now if it does not change.
Have feedback for Snapchat?
Thanks for your feedback!
Sorry. Please try again later!