Instagram
Contact Instagram Corporate
Toll free phone number: (650) 543-4800
---
Instagram is one of the world's largest social media apps for iPhone and Android. Common issues with Instagram include temporary blocked accounts, spam, registration problems, and follower complications. If you need to contact Instagram, the customer service phone number is 650-543-4800.
Now that Instagram is owned by Facebook, the best support comes through Facebook help pages for Instagram users. That is the best way to resolve any issues you may have. Some users report problems getting a response from Instagram, as most of the service is automated at this point. Unfortunately, this leads to accounts being restricted from one week up to a permanent ban.
Instagram corporate office is located at 1601 Willow Rd, Menlo Park, California 94025. The company shares headquarters with Facebook which is also located in Menlo Park.
Instagram Contact Information
Report complaints to corporate and get satisfaction
Instagram headquarters address

1601 Willow Rd, Menlo Park, California 94025
Menlo Park
CA

Company website

1-800 phone number

(650) 543-4800

Support email address

support@instagram.com

Better Business Bureau rating

A

Customer service hours

24 hours a day, 7 days a week
Browse reviews of other Social Media
Top Instagram Complaints
Browse more than 137 reviews submitted so far

I tried to log in my Instagram and it not letting me. I think someone hacked my account as it has been 1 month. I still can't log in and I forgot my email too I can't remember my name, as soon as possible please could you report that account so corporate fixes it.

sean anderson
from Prahran, VIC
I was liking someones photos then suddenly I was blocked. I liked 3 photos in a row and that was over 2 weeks ago. I still can't like any photos. Can we please get this fixed.

Amos
from Wollstonecraft, NSW
Very dissatisfied with being blocked on my business page when adding follower to our page. No support when you report the something isn't working feature. And as I pay to advertise on Instagram you would imagine they would sort out the issue or contact you quite quickly, but that is not the case. It's been well over 24 hours and my account is still temporarily blocked. Very displeased with the lack of support and service from this company.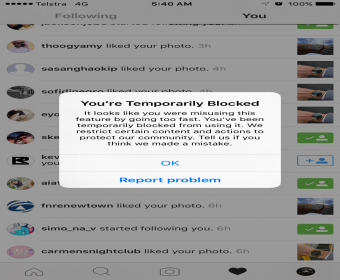 Georgia Macdonald
from Coquitlam, BC
I created a Instagram account for fitness uploads and my account was disabled after left than 5 hours of use. I apparently violated the terms of use however, I follow multiple accounts who upload picture very similar to mine. These photos were not taken in a provocative manor but simply fitness reasons and I would like my account back. I cannot find a way to contact the company or Facebook (parent company) over this complaint.

Jim
from Mountain View, CA
I would like to warn all other users of Instagram that they are selling your email to a third partie and giving it to scam spam businesses. Please do not join Instagram as you will be bomb barded with spam

mz_mesmer
from Long Beach, CA
I suspect my Instagram account has been hacked, since I cannot access it anymore. Not only that, but it appears the account has been deleted / suspended for some reason. I contacted the customer support. They responded after 2 days, gave me a number, asked me to provide a picture showing my face, my user name and the number in the e-mail. I sent the picture and got another answer stating that my account has been restored. Nada. No restoration whatsoever. I contacted the customer service again, showing them the entire chain of previous e-mails. Guess what? They asked me for my e-mail again, as in my very first exchange with them.
This whole exchange has been going on for about a week now, maybe a few days more. I am sincerely hoping they will not make me go through the whole process again. Also, they would not give me an answer as to what exactly happened to my account. I am not famous and I do not post what they deem to be "inappropriate" content either. I have no idea what is going on. This is very frustrating, as I put a bit of work in curating that account. Gah!

My account was hacked. Hackers changed the name and put ugly sexual description under it and using my photos followed 4,000 accounts from my account. I have reported the issue of a blocked account to Instagram Team. They send some steps to followed and I did. I have send them verification photo and so on. Instead of acting on it they disabled my account. Then they wrote to me that I was not following community guidance. Surprise, It was not me, but hackers from my account.
After providing all details when I created my account and how, Instagram Team apologized and unblocked my account. However, as they are really unprofessional, they forgot that account was hacked and returned the account to hackers. As email and password on it was changed by hackers. I cannot access it and it is still open with not my name, ugly sexual description and my photos. I have submitted several hacked account reports to them. No reaction! I have never see so bad customer service. What is worst it feels like you are talking to robots! I really do not know what to do and how else to make the issue know.


Austin
from Youngstown, OH
I have a very old account on Instagram. I don't know the password to it and the email is fake. I need the account to be deleted. I was young and dumb but I don't want it on anymore. I've already tried to delete it before with you guys and I couldn't. If you can't delete it atleast make it a private account please. Thanks for the time.

Amber Bean
from New Hope, PA
I was on Instagram, scrolling through feed and then it logged me out. It said I had to ensure my safety and put in my password. I put in my exact password and it didn't work. I then proceeded to try emailing the password to my email, but apparently I couldn't remember my email from the account. So I went through Facebook, knowing that it would have to work because I'd done it multiple times before. It basically told me it was not hooked up with my account when I knew it was. I can no longer get into my account. I've never told anyone any of my information on my account, either. And I'm very upset that they don't have a customer service number that works because This account is extremely vital to me. Now, I can no longer get onto it.

Hello my name is Shauna Cronin and I have made two accounts with instagram and both of then have been deactivated without warning and now I have lost all my followers and pictures and I would like to know why this happened I would like both my accounts back and I would like all my followers to be restored! I hope to here from you soon.

Joshua Dewet
from Cape Town, WC
Its a disgrace. Its worst than a porn site now with the types of images being shown.

Lisa Kau
from Limerick, M
I was on Instagram and then I had been signed out and told my account has been disabled! I received an email asking for a photo of me holding a piece of paper with my name, username and the code I was given, hand written. I really am at my wits end I'm crying all morning this is now my 3rd account I have had to make, could someone please tell me is there anything else can I do?

Hi it says on the Instagram content page about uploading nudity but there are still images showing full body nudity on instagram, but when i uploaded a image that did not show any male nudity at all my account was blocked. Could you explain the reason for this?

Gabriel Martinez
from Corona, CA
I'm getting kicked out of my Instagram account after a update. After receiving the latest update for Instagram, my iPhone 3G would kick me out of my account. it would show me a blank screen and it would kick me out. I demand that the latest update be taken back this is outrageous.

Richard
from Kaysville, UT
You guys just added a feature that shows pictures of post that people search or that are popular at the time on Instagram. The problem is most people in America just search for porn so that's what I get on my search page. A week ago everything was fine. I just find it annoying that you guys allow so much of this on Instagram.

Shilpa thapa
from Delhi, DL
My followers decrease everyday people are not un following me they are still showing on my followers list but followers are decreasing.... It's been more than 8 months im facing this problem. Because of this I've made new instagram account but still it's happening again n again. I reported the problem many times but you guys didn't bother to reply me or give me conclusion! Im really pissed of with this issue. Please try to help me.

Please I am begging you, there should be instagram direct message. Instagram is the exact same on computer as it is on mobile except for one thing -- DM. Please somehow make it possible to DM on a computer or laptop.

I am instagram commenting spamming other users without my knowledge it notifys me I'm commenting on unknown people's photos with put my consent please stop or let me know what I should do. I love using instagram but if this continues I will have no choice but to quit the service and uninstall the app. I'm tired of this. Where is the instagram help department or support group online? They have no number to call. I always check the following list and I always end up with more following people on my list than the day before, currently I follow 68 people but the next day I check and I am following 80 people, and these followings appear without my consent in my list, I think this needs to be fixed ASAP as I only really use this instrgram for keeping a up to day memories of my daughter, please could you sort this issue out as I don't want random people on my lists. I do not have an Instagram but someone posted a photo of my nephew and my son and I would like it removed. This photo was taken when my mother was at a bus stop and I was not present. The photo was brought to me attention by my mothers neighbor who lives in a different city. How do I request removal of an image on Instagram, if there is a form online I can complete please let me know so I can be aware and attempt to post on it please.

the location of my mobile if on but the location is not work in instagram in story and post also

Natasha
from Portland, OR
I am having issues with my account I keep getting temporarily blocked on Instagram I can't comment or tag my friends please fix this issue I'm not a spammer I just want my account to work.
Thankyou!

Dion Redding
from Miami, FL
My username is 305dion i did the appeal within the app for two months no reply

ETHAN
from Chesterfield, ENG
One of my instagram accounts has been hacked and I have tried recovering the password and I sent Instagram a email weeks ago and a couple of days ago they haven't done anything at all so I want to make a complaint.

Karim EMBAREK
from Cergy, IDF
Good morning,
my son age of 13 years old has been abused by a fake identity on instagram service.
the fake identity called ts_.ibratv made proposal for a gift asking my son to call an over-tax phone number.
my son aged 13 years old didn't identify the scam and called the over-tax number.
in addition, the scammer threat my son to pay fees as finally he discared the thread.
can you please inform whic information we may provide to make this scamer stopping its illegal activity.
thanks

Rinku pithadia
from Pasadena, CA
I have to login my instragram account but I dont remember my password. ..I tried alot to reset password but SMS option is not helping. ..email option is also not usefull because I dont use that email id now...and not linked with facebook as well...I need my accouny back....please help me out ...I am trying from last two days. ..please kindly do the needful.

Sally Brewin
from Mansfield, ENG
Ive reported everyday for over a week that someone had hacked my account changed the name and email on the account are using photos and videos on my CHILDREN!! On the account still ive heard NOTHING from instagram its disgusting and i will be taking this further if its not dealt with
Ive attached a pic off the acvount to this message please please help this account get removed or atleast the pics of my kids!!!!

Hi,,, please verify my instagram account... please...

Bethany Magee
from Whitmore Lake, MI
I love Instagram. I have almost 800 pictures on my account. 2 days ago I went to get on Instagram and my account was logged out. They sent me a confirmation code for security purposes and when I typed it in nothing would happen. My friend told me that my Instagram account is no longer on there. I'm really upset because I don't want to loose all of those pictures that held so many memory's. Please find a way to fix this problem. I'd appreciate it.

mary gordon
from St Andrews, SCT
I am aware of the topics and rules of children having a Instagram account under a certain age. But what is the criteria regarding the actual content? For instance giving demonstrations on make up use under the age of 11. This is really pushing the boat out and not very protective at all.

Colton Crum
from Santa Cruz, CA
I use Instagram an extreme amount. Having a larger following base for my business allows for me to stay busy, meet new clients, and network. Please remove the temporary ban as you are effecting my business. Nobody from support has written me back, even after reaching out several dozen times over the last month.

Armando Fuentes
from Houston, TX
I've been blocked for liking pictures too fast. And my question is how long does it take to unblock a account?

Ketan Malwa
from Delhi, DL
Instagram has disabled my account. I started selling makeup products on Instagram 2 months back. I never spam anyone and neither do I repeat my posts. I am ready to give you all my personal information and documents required but please activate my account. I worked so hard to get 600 followers. I do not abuse anyone. You can check all my chats with each and everyone. You can check all my posts but please return me my account!

Taylor Coble
from St Louis, MO
Hello fellow Instagram users. I am writing because I am baffled as to why I am "temporarily blocked" for "misusing this feature by going too fast." What does this even mean? I have been a a loyal, honest, responsible Instagram user for a while now, and my habits have not changed. I have never posted an indecent photograph, heckled, or stalked anyone. I am simply photograph who posts one photograph per day, and likes pictures from my own feed. So there's a penalty for scrolling my feed, or liking photographs too fast? Is this a new thing?
Anyway, I feel my blocking was done in error, and I welcome the any administrator from Instagram to please review my history, paper trail, and whatever else is deemed efficient to see I am a user that poses no threat to myself and anyone else. I would love to be able to use my account - I have a lot of flowers that enjoy my photographs, and a follow a lot of photographers that I would like to like and comment on. Thank you in advance for resolving this problem and helping me finally get in touch with someone at Facebook or Instagram who can solve my problem.

Mitchell Wood
from Mt. Dora, FL
I was following people and the terms of service say that the cap per day is 200 people correct but i followed around a 120 people and i have been blocked from following until Saturday the 30th. In my opinion this is ridiculous i understand that Instagram is trying to prevent bots on Instagram but at the same time there are actual people trying to grow their account. I'm just a normal user.

Maranda Payne
from Longmont, CO
I am blocked from unfollowing people who randomly end up on my follow feed. I don't follow these people they just add to my following list. Please fix this. I didn't do anything wrong and now I have 77 that I am following when it should only be 32. So, I don't know why but if you can help me contact Instagram so they can remove this block I can fix it.

Hugh
from Napier City, HKB
I use the social media sites Instagram and Facebook everyday and I have been blocked from following users on Instagram until next Sunday. I have over 6,000 followers and are following 3,000. I believe I may have been mistaken for a bot as to why I have been blocked for such a long period of time. I am requesting an unblock, please and thank you.

Jay Soble
from Tel Aviv, TA
I tried logging into my account but I could not remember my password. I tried resetting my password only to be told that I violated Instagram's TOS. I then tried to reload the app and log in via Facebook which told me that I was no longer a member. After clicking a link to notify Instagram of the issue, they requested that I provide a code (emailed to same email associated with the account) holding it with my face shown. I requested a different way to verify but they ignored my request. privacy aside, when i signed up, I never showed my face. This seems like a way to abuse my right to privacy with no clear indication of why it is necessary. I also never received any response to what the infraction was. This is by far the worst service that i have ever from any company in all my years of business.

Angela Bugler
from Bournemouth, ENG
Suddenly I was logged out of my Instagram account. I eventually managed to reset my password and log back in. But all my photos have gone. The page is empty. It also says I have no followers and am not following anyone which is totally wrong. I want my photos restored and my followers and the people I am following, at once. I shall take this further if it is not done within 3 hours. I have tried emailing Instagram but do not get a reply. I want everything back. I am presently consulting my solicitor re this and will take it further even to court if I need to. I want this matter resolved asap. My legal advisor has advised me that what Instagram have done with my account and photos is illegal
Please help me get it sorted within the next few hours or the case will go to court and the media.

Ife Amao
from Columbia, MD
Every time I go on instagram it stays on the posts screen showing the showing the sign that it's loading for three seconds then it seems me back to my home screen. It been doing that for a few days now and its very annoying because I don't want to have to get a new account,I also don't remember my password for this account I have currently. Also I deleted instagram once but my old account it's still there and I want it deleted. I can't load that account because I don't remember the password for that account. Please fix these problems.
Have feedback for Instagram?
Thanks for your feedback!
Sorry. Please try again later!