Best Buy
Contact Best Buy Corporate
Toll free phone number: 1-888-237-8289
---
Best Buy Company, Inc is an American multinational consumer electronics company. There are 1,050 Best Buy locations in the US and 125,000 employees. It is publicly traded on the NYSE:BBY. Revenues have dropped the last ten quarters and marketing will primarily lean towards digital advertising as opposed to paper.
If you have a problem with a Best Buy purchase you may call the customer service number at 1-888-237-8289.  You may also contact the CEO, Hubert Joly at the corporate office address, 7601 Penn Ave. S, Minneapolis, Minnesota 55423. Corporate office phone number is 877-415-3487. The customer forums are another place that Best Buy suggests you look for help.
Known for its 24/7 Geek Squad, Best Buy was founded by Richard M. Schulze in 1966 and originally called Sound of Music. You may find forums on Facebook, Twitter, Linkedin helpful as well.
Best Buy Contact Information
Report complaints to corporate and get satisfaction
Best Buy headquarters address

7601 Penn Ave
Richfield
MN 55423
United States

Company website

1-800 phone number

1-888-237-8289

Support email address

contact@bestbuy.com

Better Business Bureau rating

A+
Browse reviews of other Electronics Stores
Top Best Buy Complaints
Browse more than 252 reviews submitted so far

Clifton R Horn
from Natchitoches, LA
Just received my new laptop or I thought was new!! My computer guy was getting everything set up for me and called to inform me that a George Kapotsy had already signed in on my "new" computer with a e-mail address and all. So, my new laptop is not new after all......Can you please tell me what the H--- is going on, this laptop was not cheap!

My wife and I bought a 50 inch flat screen TV about three months ago and we are now having sound issues. I called Best Buy customer service and was told we only have a fifteen day warranty from Best Buy, that's a load of crap. When we spent a thousand dollars on TV and 3d player. When we purchased these items we were told we had a one year warranty, not after fifteen days we would have to send back to the manufacture. The employee I talked to was named Chris, He was very rude and unprofessional, I asked to talk to a manager, was told he was busy at the moment and would call me back with in ten minutes. Here we are an hour and a half later with no return call. If this is the way Best Buy works I will never shop there again. I am going to tell every one I know that Best Buy are a bunch of cheets and liars. I am also going to send a complaint to the BBB.

Carlos Gonzalez
from Miami, FL
I purchased a Surface Pro 4, item# 4523700 on Jan. 8, 2016. Purchased at store #552, 12495 SW 88th Street, Miami, FL 33186. Purchase price $1,299.99. I visited Best Buy online on Sunday Jan 17, 2016. Found the same item on sale for $300 less at $999.99. Contacted live chat support. They were not able to price match and asked that I visited the store. The store was closed and I needed to wait until Monday, Jan. 18th.
Visited the store Jan. 18th. Customer service said they could not help me because the price had gone back up to $1,299.99. They would not honor my online contact the day before when the item was on sale at $999.99. Not the first incident at this store. I had wireless earphones given to me as a gift for Christmas, purchased at Best Buy. They did not work. I went to the store for an exchange. I did not have the original receipt nor was a gift receipt provided to me. I did provide however, the complete package with merchandise to the customer service rep. She went somewhere to a back room to speak to a manager, manager did not make an appearance, and she stated there is nothing that could be done in my case.
I like the purchasing experience at Best Buy, but anything on the other end is not pleasant to deal with. On a go forward, I plan to take my business to a competitor, even if it results in paying higher prices.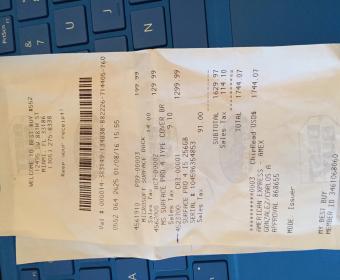 Tom Miedema
from Hudsonville, MI
I went to Best Buy to purchase a new phone. I wanted to upgrade to either a Samsung Galaxy S6 or a Samsung Galaxy S6 Edge as I already had the Samsung Galaxy S5 for quite some time.
After speaking with someone in the Samsung department, I was convinced the Samsung Galaxy S6 Edge would be my phone of choice if it held up to vigorous use. After speaking with someone in the mobile department, I decided to either rent or purchase the Samsung Galaxy S6 Edge as I was assured the phone was durable, had no issues and a full replacement warranty policy was available if I wanted to pay for it.
Since I have purchased several new phones from Best Buy and always done the same basic procedure to get one, I purchased the phone, a case, a screen protector and a replacement policy should anything happen to the phone. Although I was confused why I HAD to purchase the phone rather than take advantage of the lease/rental option, I made the purchase and had the mobile department set my phone up.
My current number was to be put on the new phone, but I was told I needed to go to a Sprint store to have them put my number on my new phone, so I left the store with a new unactivated phone with a screen saver installed by the Geek Squad and several accessory items.
I used the phone for two days and was disappointed to see the screen saver starting to peel. Since I was told I had a few days to have the screen saver reinstalled at no cost, I went to the store to have it replaced. As I got out of my vehicle, I accidently dropped the phone and when I picked it up, I noticed it was flashing an array of colors.
I noticed that although I had a screen saver on the screen and the phone protected in a flip case, the screen was destroyed on the upper tight hand corner. Further disappointment followed as I went into the store to show them what happened to my phone. I was told that if I wanted to make a claim, I would need to pay a $200 dollar deductible. I was then informed that although they had NO contract to show me where I agreed to pay $200 deductible, I had to pay it if I wanted a phone.
I had never experienced this before and I was taken back by shock! Does this mean that every time my phone is slightly dropped, it will crack and I will need to pay another $200 deductible?
Since I was told I had several days to return the phone if I didn't like it, I then decided to pay the $200 dollar deductible, replace the phone and replace it with a hopefully more durable standard Samsung Galaxy S6. I was then informed that although they had NO contract to show me because "it is all electronic" and no warranty stating "the return time frame was void if I had a replacement phone for the one that broke"
Later they stated that I was given a hard copy of the Geek Squad policy, but I had NOT been. I was then told I would be E-mailed a copy of the document I had signed and a copy of the warranty stating I cannot return an exact replacement item issued by Best Buy.
I am extremely disappointed with the attitude and service I have received and surprised Best Buy would do this since I spend thousands with them every year! I know the majority of the people by face and several by name now! Is this now the new normal for Best Buy??

James Nesmith
from Rancho Cucamonga, CA
Best Buy claims to match internet prices. I priced a Nikon D5500 at bandhphoto.com. The price is $796.95. I went to Best Buy today, went to the photo department and was assisted by a very courteous young man. I asked if his store would match the price of B and H Photo. I told him that their out-the-door price is $796.95. That includes tax and shipping. I told him to match that price he would have to reduce Best Buy's price to $736.22 so that when the sales tax of 8.25% were added, then they would have matched B and H Photo's price. He called his manager and the manager refused to do this. So much for matching internet prices. I won't be doing much business with best Buy.

Dear Best Buy, We are writing this letter to express our concern and dismay re: a purchase we made at Best Buy on 5/28/07. You sold us a 55 inch Sony T.V KDS-55A2020 manufacture date April 2007. We paid $2,700. We were told at the time by your staff that this was a reliable dependable T.V. They also recommended that we purchase a 4 year warranty because we were told that to replace the lamp on this would cost $250 a lamp and the lamps were to be replaced with Sony lamps.
We trusted your sales rep. so we did purchase the T V and the 4 year warranty at the total cost of $2700. In the past four years we have had the T V lamps replaced twice (the Geek squad replaced them with Philips lamps instead of Sony lamps as recommended by Sony.) Since the replacement of the last lamp our T V screen got increasingly more green. We went on line to see if we could find out some information re: this issue. It was only then that we found out that our T.V. was part of a recall and class action suit. There were major issues with the Optical block.
I have tried sevrial times to resolve this issue with sony on the phone but no luck. I have a sony KDS-50A200 TV with a bad optial block and just want tv fixed or replaced and all they offer is a replacement at a dicounted price. which is not dicounted much at all. So I'm just going to buy a different Brand and file a lawsuite against Sony. They had a recall and class act on theese tv but did not notify any owners who had one of the recall or class act. I can get no response or call back from sony on issue.So if Sony get this message who can I or my lawyer contact about a complaint or lawsuite since your website has no where to do this .
Our issue is that neither best buy or the Geek squad ever told us about the problem with the Optical Block. Your store sold us a defective T V and at no time, even when we had the geek squad here to fix the lamps did you inform us that there was a known issue with the T V. Now, we feel, because of your disrespect for the customer, we had to purchase their replacement T.V at $675. You failed to protect your consumers to gain profit…Shame on You.

My wife decided to buy me several things for my birthday and christmas combined, when she ordered everything was in stock and ready and available for shipping. A week passes by and we receive this email: "The items listed below are not yet available to be shipped. We expect to ship them within the next 1-2 weeks. We will ship the items sooner if they become available." A month passes by and I receive another email from Best Buy: "We're sorry, the backordered items below remains out of stock and your order has been canceled." I called to find out why it took a month to tell someone they will not be receiving a birthday or christmas present this year but to make it all better they offered me a $20 gift card.
I purchased a 40 inch Dynex TV,i also bought a contract for this item ,on 12/12/2011,it stopped working working, i called the best buy store where i bought it and was told to bring it to the store,after waiting 45 mins i was told they do not service TV,s over 37 inches at the store and that ishould bring it home and call a phone # that they gave me they said some-one would come and repair in my home .The person who came to my home could not repair it and removed it to his shop.It is now one month since this happened and i still do not have a TV.I am 72 years old and disabled and depressed after being alone in my apartment without my TV.
If you check my acct. with Best Buy you will see that i have purchased many item,s from you,including TV,s Computer,s and printers and camera,s,but will proberly not buy from you again.P.S. I hope some-one reads this and gets back to me !! Because $20 suppose to make up for a giftless christmas and birthday. One question they could not answer me was if Best Buy still deals with the company that makes the product, why is it that you can not get the item? Never will I do business with Best Buy ever again.

Van Harris
from Decatur, GA
Is it true that Best Buy does not offer discounts to veterans and senior citizens? I was informed that it's up to the store manager. I recently purchased a computer at store number 896 in Atlanta, Georgia. The manager stated that he has worked for the company for sixteen years and there were no such discounts to consumers. Thanks!

Kokou EFABO
from Silver Spring, MD
I bought a computer desktop Bluetooth speaker from Best buy, the speaker is not function very well I returned it yesterday with my receipt including the 2 years protection plan agreement that I have signed, after the casher processed everything she gave me a gift card as my money refund, I told her to put my money back on my debit card as I used the debit card to buy the item, she said no. Now I'm not buy nothing at best buy now I told her and she replied to me that the gift card doesn't expire, ok in case I lost it? But I need my money back on my debit card that is why I am contacting you for help to put the money back to my debit card for me because this is not really nice to do someone like that. You can give someone a gift card when the person agreed with it or refund the customer the way he or she pay for the item. If it is one year I have to buy something from Best buy then I will keep that gift card for one year it is not sound good. Thank you and I'm waiting your answer.

I've been a customer with Best Buy for many years now. My last purchase has been a total nightmare. I purchased a fridge, stove, and microwave. On the delivery day, I received a damaged fridge and also, the delivery company did not relocate the original fridge as was the deal when i did my purchase.
Not only that, I have been calling many times, complaining to all the customer services answering to my calls,about the fridge inside my daycare area. I was promised to get reimbursed 478.00 for the damage only, not for the inconvenience and service they said they would provide. They gave me an appointment for 09/13/2016 to deliver, install and relocate my fridge. I told them I have daycare and it is not safe for the kids to have a fridge in their way.
On 09/13/2016, the stove was not delivered or installed, and i have too pay an extra 255 dollars to do it. The water line for the fridge was not installed as promised two different times, and the fridge was not relocated as promised again. Both times delivery company came, no one took responsibility for the movement of fridge. I spoke to Best Buy customer support by phone for hours, the only compensation she wanted to give me is to reimburse me for my money which is $139 I payed to install the gas line.
I need this problem to be resolved a-soon as possible, and to be recompensed for the inconvenience, headache, and careless effort and responsibility on Best Buy's part.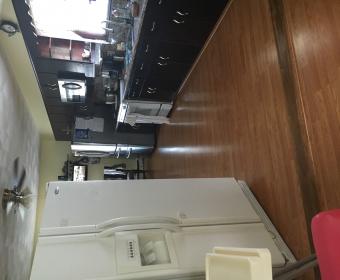 Ray Kuzminski
from Jackson, MI
After waiting for a Geek Service call, Best Buy called and said it would be another ten days before the replacement part comes in. I called the BB 800# and the CSR told me to return my flatscreen to the store. I did and was told at the store did not have any information and to take my TV and leave the building. I called back to the BB800# and at first they denied that the CSR told me to return the TV and then after pressuring them they fed up in saying that even though she did say it, it was not corporate policy to exchange my TV and would not honor her mistake. Still, waiting for a simple two dollar backordered part!

Kristina Orth
from Carlisle, PA
My daughter's ipod touch 5 would no longer turn on. We took it to best buy to replace back in Sept, because we purchased in Nov of 2014 That time they were willing to replace, then I asked them if they could transfer everything that was on the defective ipod to the new one. But the problem was my daughter couldn't remember her icloud password. So they told us to call Apple and made us give back the replacement. SO I call Apple but my daughter still could not remember her security question answers. SO I just decided to go back to Best buy(today Nov 8 2105) and replace the ipod and start fresh and make this one under my Apple id. They wouldn't do it. The jerk you have working as the Group Leader in the Customer Service Dept at the Hagerstown, MD store, wouldn't know customer service if it bit him in the ass.
He could have cared less about my situation and my frustration. He told me my warranty was almost up, but still wouldn't help. How can you tell a customer that your warranty is ALMOST up but not help. I worked in Customer Support. Warranty at for 9 yrs and if I ever told a customer that their warranty was ALMOST up but not help with something or all. I would have been looking for another job. Your company does not put the customer first. I even lost out on the money that I paid back in Sept for the difference of cost for the replacement one. All he was worried about was getting an a defective ipod back that your company wouldn't be able to refurbish because it would be locked. If my warranty was still in, I should still be entitled to a new ipod.
If you are not willing to make this right, then I will never spend a dime in another Best Buy I will also spread the word that Best buy can not be trusted and do not value their customers.

Maurine Hampton
from Springtown, TX
I wanted to buy a new phone and have everything from my old phone transfered over. ( I did this 4 or 5 month ago at the same Best Buy..different salesman). A lady waited on me and said that I would have to wait till another salesperson was through because he was the only one that could do the transfer. I waited till he was through, the customers were looking at a phone and other items much more $$$ that mine. He looked at the phone and told me he couldn't transfer it over to another phone and suggested I go to Walmart or somewhere else. I told his that one of the salesmen did it for me before. He jerked the monitor around and said that it can't be done. Then he got up and left. We just bought a 56in TV and several Christmas present from Best Buy this year and you can believe that we will be looking else where next year, maybe Walmart!

valerie collins
from Reseda, CA
I went to the store today 4/7/2015 to buy a fax machine and a printer. The associate Edgar #1058477 waited on me. He told me that there were no fax machines anymore that all that was available were the all in one with fax, printer and scan abilities. So I listened to him and took his advice I bought the HP Envy 7640 all in one printer series because he recommended it. He also stated that it was easy to install and I should have no problems making it work for me. After opening the package plugging everything in and looking at the instructions for the CD provided the instructions said that if I had internet it would be better than using the CD provided. So I went to the site and with some work I got the fax to work and the printer. The Scanner however is not working I have gone through every bit of the instructions again and there are no specific instructions to fix the scanner or make it work.
The Printer just says that there is no computer connected. So I called the store after approximately 5:30 I started the installation approximately 2:00. 3 1/2 hours seems like a very long time to do simple steps that I followed with an associate to a tee. The agent transferred me to the Geek Squad they wanted me to bring it back also they had no info to help me. I just paid 225.89 for something that no one can help me with over the phone. What a shame. So I have 15 days to bring it back I am going to try a few more times than I will bring it back get a refund and go else where maybe another company that sells these products will be able to help me.

I took my computer in to Bust Buy Geek Squad at 5th Ave and 44th Street in NYC in late July because the touch pad on my laptop stopped working. The counter worked told me that the problem was serious but fixable and I needed to leave it for a week and purchase plan. Reluctantly I did. A week later I picked up the computer and extended the contract to three years to save money. When I checked the computer the touch pad still didn't work. Another worker came over and tapped the invisible button on the touch pad to turn it on. I didn't know it was there. I told the first worker and he shrugged and walked away. I was told to call the manager the next day to complain. I called all day but the manager didn't come in so I called the main number to cancel the entire transaction.
I was told that there would be no problem because it had just happened and I would get a refund. I called 3 weeks later and they can't find the information and nothing has been done. I consider this transaction a fraud from the start and I want the entire thing cancelled and my money back. If they think I will forget it and go away they have another think coming. I contacted the Credit Card company and reported a fraud but they can't do anything for 30 days. My next move will be to contact the State Attorney Generals office. Now I am finding that some important files are missing and others are duplicated filling up my drives. I don't know what happened to Best Buy because they used to be good. I would never use them again. I give the 0.

after 6 trips to best buy in bastrop tx. at 60 miles one way. not only was i miss lead by the geek squad but after talkied into what i thought would be a good deal for two years contract to fix problems with computers & such, I tried going threw office to explain situation then 3 way conversation with manager at best buy in bastrop tx. and havee gotten nowhere. I took mu desktop comp in which they told me wasnt fixable, my lap top didnt work when i got it home, all my pictures were suppose to be downloaded from iphone to laptop & from miscommunication amoung workers all of my pictures got earased (some where of my mother that can never be replaced, shes not here anymore) before even starting this the geek squad assured me this would not happen. the also tried to talk me into leaving desk screen there for parts cause it was no good, which turned out to be a lie. i have gotten phone appoligies from nick at geek squad as he knows all that went on. at one point i had to stay there after the store hours were closed an employees waiting to go home cause i new geek employee was still working on it. i have never had service like this, im already in your computer trying to get results on this matter

On the day before all the black friday shopping was to take place I got on line and saw what I thought was a great deal on
BESTBUY.COM. They had advertised a 55 in samsung 1080 240hz led tv for 799.00. I thought great deal and purchased it. I was so happy that i didn't have to go stand in Fridays lines and try to get one somewhere else. I recvd an email the day of purchase 11/22/12 stating exactly what I had ordered and that It would be delivered 12/1/12. So 11/30/12 the day before delivery I recvd an email stating they had made a mistake and the tv I had purchased 8 days prior was not the one that was supposed to be on sale on their website. Wow really? Well I called customer service and was told by a floor supv " Im sorry but the tv you ordered will not be arriving at your house tommorrow, we made a mistake." I can't believe this. How is this legal? So what they did was get me to spend my black friday television money with them on what they made sound like a great deal, and then a week later once all the other black friday deals are all gone told me I was getting a regular tv that wasn't even priced at a great black friday price. What can I do? I already filed a complaint with the BBB and sent it to customer service, but feel really screwed over and need some help. Thanks for any info anyone can give me. AMY

I was in the Best Buy store in Tyson's Corner, Va.
I needed help in the car stereo section and no one was there. I waited a few mins for someone to show up but no one came.
I finally went to the computer section to see if someone could help me. The guy called someone and told me someone would be over, I waited 10 mins and still no one showed up so I just decided to leave

Hello,
I live in Central New Jersey and work in Menlo Park Mall. On my break around 2pm I stopped into one of Best Buy's Mobile stores that we have to check out the tablets. I am in the process of purchasing a tablet for my younger siblings as a Christmas gift and I wanted information on which tablet would be best for each individual. I'm forgetting the ladies name that helped me, or at least thought she was, but let me tell you something, I have worked in customer service for a long time now and I have NEVER been treated so poorly in my entire life. This lady was not only giving me an attitude about products but when another customer called on the phone she was being rude to them as well! Saying things like " I have a ton of customers in the store, I can't help you with any more questions! (yelling)" I was the only person in the store might I add and even told her, "it's no big deal, help them out first" while she was on the call. She gave me some information that I was looking for but when asked about service for the tablets as well she kept telling me that she "couldn't release certain information or that she would lose her job". I was trying to figure out with cellular carrier would fit me best and which one had better service for my needs. While all the the catawampus behavior was going on she was messing around with something on the computer. Best Buy; please get your representatives under control because I'll guarantee I wasn't the only person she was giving an attitude to.
Thank you

really in 20 mins i have been hung up on 10 times, and then when i finally got someone they disconnected my. just trying to see if my computer is ready to pu. SO FRUSTRATING!
Been on hold for another 10 mins to have my phone number that i gave them show me not being there. what the hell?!!!
never again

Donna Zapata
from Santa Rosa, CA
3 years ago I bought a Bosch washer and dryer. The delivery was not good then.
Earlier this year I bought a refrigerator all went well with the delivery.
I just purchased another washer and dryer...this time a Whirlpool. It was in fact delivered today on time. However, it was delivered with installation instructions and they removed my old washer and dryer. I am sitting here right now with my new washer and dryer that I cant use for at least another week until the hoses for the hookup are sent to me. On the order it also states deliver without hookup. When and why did that decision happen??? That is not what I requested.
I called the store manager twice today and never received a call back. I ended up calling the appliance department up directly and they state there is really nothing they can do since the parts are ordered and will be delivered on the 10th. Just delivered? I need it hooked up for my use!!
I am so very disappointed with this whole purchase transaction and how it was executed and it is mind boggling how this can happen fr the 2nd time.
Very unhappy with Best Buy!!!
Donna

Isiah Frazier
from Murrells Inlet, SC
Why is it that ever time I pickup a product that I bought online I run into horrible customer service. This is the second time within 3 months that I've been stopped by the greeter and questioned about why I don't have a receipt upon trying to leave the store. Maybe if the cashier would've given me a receipt we wouldn't be have this discussion. It's is embarrassing, rude, and completely the companys fault for failure to properly train its employees. This is why people shop online, and avoid your brick and mortar stores!

Theresa Dunn
from Olympia, WA
I spent over $3400. Cash buying 4 kitchen appliances. I was given delivery and installation date for 3 items on the 31st of July the 4th item on the 1st day of August. 1 item arrived on the 31st without the other 2. A phone call at the end of the delivery window described mechanical issues with the delivery truck. After several calls to scheduling and unkept promises to call back I was told it would be the next day . After waiting for hours I called again and was told no with no explanation that it was now scheduled for the 6th of August. This is only being compounded by the frequently issued response of I don't know or I can't get a hold of them. I am frustrated because of your company's total lack of professionalism and complete ignorance of customer service. You had no problem taking my money immediately though. I would continue but I feel this , like the multiple calls will be apologized for with nothing done to correct any part of it . I don't understand why all three items were not loaded on the same truck since they all were at the same warehouse, but I don't know covers it, right??

Jim Riggle
from Wilmington, OH
Best Buy 7/31/20
I just had my 5th appointment to install a dishwasher I purchased 7/3/2018… CANCELLED.
Three times Best Buy canceled and twice, the third-party company "Install" cancelled. I find it interesting that when I call Best Buy they blame the third party "Install" and when I speak to the third party Install, they blame Best Buy. And that leaves the customer, me, who pays for the product and services at the mercy of ineptitude and incompetence.
You would think a company grossing 40 billion plus a year would work day and night for customer satisfaction. If Best Buy is beginning a slow titanic sinking (6% closings since 2013) I would strongly recommend that you take seriously the little people who purchase products and services allowing corporate executives like president Mr. Joly and others to have yearly compensation packages reaching into the millions
My adjusted gross income for 2017 was $30 K. To purchase a dishwasher from Best Buy necessitated saving almost $800. That took some time to do so.
My business is customer based which requires me to travel. For a month, I've been unable to travel to customers on various days because I needed to be home to receive my dishwasher. Five times I have rearranged my schedule to accommodate Best Buy. Five time appointments have been cancelled. Five times I have told customers to wait…I'm coming.
You ask, why can't your wife receive them? She is unable due to having Stage 4 breast and liver cancer.
At this time, my 6th appointment has been set up for 8/6/2018. What are the odds that it will get installed…poor at best!!!
The Best Buy Compensation Team has determined that the installation fee of $135 should be refunded. At this point, I would ask you to keep your $135. I'm insulted.
At first, Best Buy Compensation Team wanted to send me a check for $75 for any inconvenience. That was an asinine gesture to keep the customer satisfied. I did then suggest that if Best Buy refunded me the installation fee of $135 plus the $15 haul away fee…I would be satisfied and continue to shop Best Buy. The manager said he would have to speak to the GM. Now get this…I was told that all they could do was refund the installation fee of $135 and NOT the $15 haul away fee. I asked why. I was told that the $135 installation fee AND the $15 haul away fee did not warrant the inconvenience or the purchase price. (There's another $40 fee for the installation kit in the cost but in wanting to be fair and not greedy, I just asked for just the $15 Haul away fee and not the kit.)
Way to go Best Buy…way to fight for your $15. You won $15 and lost a customer. (By the way, I just bought a home in Feb and I'm needing a new stove/washer and dryer. I wonder where I'm going to purchase them?). No wonder Best Buy stores are closing.
FAVOR: PLEASE DO NOT REFUND ME ANY MONEY.
By the way…Our little town of Wilmington Oh (12,000 population) has no Best Buy. We have a Lowes, but no Best Buy. I travelled 30 miles (Dayton) to purchase my dishwasher from Best Buy. To say the least, my experience has been a total train wreck with no empathy from management…only blame shifting and pocketing $15.
Well, that's my story. I'm disappointed to say the least. Best Buy has made my life even more difficult.
Be well,
Jim Riggle

Ruth
from Buffalo Grove, IL
your Schaumburg, Ill. store is a DISGRACE--- we have purchased thousands of dollars in past---latest is a $1,300.00 Microsoft Surface Laptop in Nov. '17---1st one malfunctioned in a week; replacement computer malfunctioned in 2 weeks and ongoing since---multiple documented visits to Best Buy since purchase . Yesterday when I came in with all the ongoing paperwork and asked them to review and replace computer after multiple ongoing problems and visits to Best Buy-(was told by Geek Squad they would replace if problems continued) --Microsoft Store and McAfee analyzed on 7/17/18 and said "it is defective hardware"--your Assistant Mgr. Nickalus Zielinski said BB had no responsibility and refused to give me name of store Mgr.; he then stalked me around the store threatening to "throw me out" --I am 78 y/o female and have a master's degree, 30 years selling medical equipment--have owned 6 previous laptops with minimal issues--I see online BB is getting exceptionally poor reviews from most----

patricia murphy
from Quincy, MA
Went to best buy in Braintree to return a product 7-16-2018
Walked in store went to customer service
a young lady ( your employee ) was leaning on wall
I said oh good morning didn't see u there
can I return this product she didn't even say hi or even look at me continued with my return still hasn't even said 1 word 2 me
finished my refund and handed me my copy..
I said have a great day still nothing that is horrible customer service maybe she needs new training

Robert White
from Glen Ellyn, IL
to whom it may concern my name Rev. Robert L White and my wife Sheila White we went into your 7/ 08/18 location at 1432 Butterfield rd Downers Grove il.we went into your store and paid for Ref.bottom mou GNE25JMKES $1399.99 and A Elec Range Con JB750EJES $649.99 we told the salesman that we were giving our stove and Refrigerator away. The Salesman said you had them in stock and that it would be delivered 7/12/18.On7/11/18 At 4:45PM Text That we were going to get our Delivery 7/12/18 7AM-TO 11AM So we when on gave our Stove and Refrigerator away. We got another Text that our Delivery Date was moved too 8/04/18 My wife And I went back to your store.7/12/18 new Salesman said that you had other Stove and Refrigerator in stock.And sense we gave our stove and Refrigerator away that they would get us a special Delivery for 7/14/18 But we got a text 7/15/18 That we will get our delivery 7/17/18 And what makes it so bad we got a statement from Chase.and we don't have a Refrigerator for 5 days and that's not a good filling Worst experience we have ever had its bad using ice coolers for your Refrigerator.Please just tell the truth #1118189487779

Ken And Mignonne Carmichael
from Bishop, GA
Samsung refrig is not cooling. 2 years old with a 5 year warranty. Geek squad contacted first thing Sat AM 7/15/18. Said they would assist and call back that day. No call back! Called Sunsay7/16. Told us to call back Monday!! Food in ice chests. Still no appointment scheduled. Poor service!!!

Elida Wyatt
from San Antonio, TX
I have been a loyal customer for years. I forgot to renew two plans within a month and they would not help me. I have been put on hold, hung up on and sent to website to website. I am on hold now. Mr. Humer as looking for a supervisor for the last 9 minutes. I also have been getting the run around with the 30 day sling tv.

Yolanda Arnold
from Southfield, MI
On June 21, 2018, I went to your Farmington Hills store to purchase a PIXMA922 printer. I attempted to use your Price Match Guarantee from an online store but was told it had to be a brick and mortar store. I went back the next day to price match with a local store, Micro Center in Mt. Clements and was told they couldn't offer the price match because it wasn't the same printer which was $40 less than your list price. I drove to Micro Center and bought the exact printer that was in your store. Model numbers were the same. Your store refused to offer the price match because of the price difference so if that's the case, don't advertise the PRICE MATCH GUARANTEE if you're not going to honor it. Shameful and misleading advertisement. By the way, this is my second attempt to submit this complaint with no feedback. The manager at the store was Shelly.

Troy E. Page
from Reynoldsburg, OH
Purchased Brother Ink 103xL $20 @ month ago. Upon installation 07/04/2018, printer found it to be defective (lacked sufficient ink). Best Buy sales associate Lyndsey refused to replace it because I didn't have receipt with me. Since I purchased many of these from BB I chanced presenting it for replacement without returning home to retrieve the receipt. I provided every form of ID requested without success or any effort to resolve my problem (e.g. seeking supervisory help. Having just purchased a $150 teleph set, I promptly returned it too for such shoddy, inconsiderate treatment. Your assoc traded a $150 purch for a $20 return. `This highlights why there is great customer increase in online vs. area Big Box-
Store purchses. I coul've purchased the $150 ph set online cheaper and more conveniently. But such customer service as herein exhibited is one important reason. I'm now required to travel 20 mi rd tp for my receipt to resolve this disputed $20 transaction, plus complete abandonment of any future business with Best Buy! Teleph RETURN/REFUND Receipt: Orig Tran.: 0292 008 1590 07/01/18: Panasonic Cordless Store 2782 Taylor Rd Reynoldsburg, OH ph 614-863-3442

daniel offan
from Plattsburgh, NY
today 06-2-2018 I went shopping to my local Best buy once I got to he cash register I tried to use my reward certificate # 3634778406
my MEMBER ID -5015994 I was told that my certificate has expired I felt like a children at that moment humiliated that reward any points reward shuldn.t have to have an expiration, this is just a game from best buy to keep the customer more often for nfo call me 518 420 4614 my email
boffan624@charter.net

Michael
from Brentwood, TN
I spent forty-five minutes on the phone trying to reach someone in the camera department . I was tossed around loke a frizby, disconnected three time, listening to phone ring for fifteen minutes and having the customer service department hang up on me.
This by far the worst service I have ever experienced after spending $3500.
Good bye Best Buy, I will never, never purchase anything from you again.

Max J. Smith
from Draper, UT
I purchase a Sony sound bar and sub woofer in July 2017. It recently quit working (9 months old) and I returned it to Best Buy for some assistance. All they could say was did you purchase the protection plan and we stated we did not. They said it would have to be returned to Sony. They acted like we shouldn't expect electronics to last, especially if we didn't buy their expensive protection plan. We went to Walmart and bought a new one for half the price and a $18.00, 3 year protection plan. I will NEVER purchase from Best Buy again.

mahmood azam
from Novato, CA
ho am I concern my name is mahmood azam I bought the freezer on 2/22/2015 and I purchase warranty thru best buy my sales item number is 3513032 they deliver on 2/25/2015 on april /28/2018 I had problem cooling my freezer it was not cooling I have to throw almost around 450 to 500 dollar food seens geek squad was busy they made scachual with third party company call bay appliance I had been rescachul four time no freezer have blind person leaving in home toady is 5/10/2018 they made onther appointment and calling everyone for help like geek squad don't want to take issu because they provide third party also when to store near my home san Rafael spoke with sales lead manager name is david o. he can do nothing don't because I don't have gunk number seen all this problem going thru ask for gunk number to geek squad they saying its repairable so they don't give gunk number I am realy not satiafaied with third party I belive they are not respect me for my problem I hope you and your team can do something to help my ohne number is 4152346179 thx

Eva Jackson Knight
from Salisbury, NC
I am going to send BestBuy a letter this week. I purchased a dell laptop on April 28, 2017 for 1069.99, but it never worked properly. it became slower and slower after the 15 day time frame that I could return it. I was told that I had to bring the laptop back to BestBuy three times before they would take it back. Even-though, it was not working. Now I a stuck with a store credit. I just want my money back. I am being forced to purchase items that I don't need and or want.

Mike Ddd
from Chalfont, PA
Piece of garbage Apple is the biggest LOSER company because apple stoled the name iphone and ios from cisco, ipad from LG. Two companies made things before apple. Apple doesn't make camera, processor, and batter, display. 3d touch wasn't apple, so apple stoled from immersion. Iphone design copy from sony, htc phone. Ipad pro copy from surface pro, keyboard, and features. Tim cock helped two terroists what to do inside the building in san berdino, CA and asshole(tim cock) hacked informations from two terrorists' iphone because he is biggest isis leader. Tim cook and susan bennett, Lisa P. Jackson and TBWA\Media Arts Lab sell marijuanas, opioids, weeds, pot, and cocaines, opium, and heroin to people. They kidnap underage girls to have a hot sex on the bed, they want to lick girls' PUSSY so they got hiv, std and he loves lick anus. He always says nigars or kkk to every black people and he says taco to mexicans. Apple are copying animoji trademark and features from Tokyo-based Emonster kk. This is 100000% true informations. Apple always LIE to u, so do not listen to apple workers, best buy, and target, and walmart, apple people in apple store. I have all apple products hacked and fire came out, exploded in my hand and face, so I lost everything and hack my info from russians. Cambridge Analytica are stealing ur personal email, facebook, and instagram, twitter, snapchat, myspace on all apple devices.THIS IS TOO SHAME TO APPLE AND TIM COCK. Bye bye apple. Rid of all apple products in every stores.

Annette Madrid
from Santa Fe, NM
I went to the Best Buy on Saturday (4/14/2018) in Santa Fe NM, I had a really, really bad experience with the sale person. I was going to buy a IPhone 8 plus when they were on sale. the sale ended on Sunday the 15th. I didn't get the name of the sale person it was in the evening around 8 o' clock. I had to ask for a supervisor, she didn't want to listen to my complaint. I walked out with no cell phone that was on sale. Every time I go to the store all you see is the employee's in a group talking and when you try to ask a question it seems like you're bothering them. that's what happen on Saturday. So frustrating!!!!!!
Sent on 4/17/18

Gerald Robinson
from Worcester, MA
Poor service when you call in you get someone , That dose not know how to fix anything
after you spend a long time with them to help you .. ,,An they delete your Info .An don't know how to fix it .
.
They sent to someone else an that took 45 minutes to et that help

Terry Humes
from Erie, PA
I purchase hundreds of dollars from best buy yearly, which you could see based on my email address, and my last purchase was a gas grill. the web site where I do all my shopping shows clearly the grill comes with no assembly so that is why I choose this item and it came unassembled. after over 45 minutes of my time and 6 transfers to people who had no answer except to transfer me over and over I still was not able to get someone to rectify my problem. I am very disappointed and will look elsewhere for future purchases Thank you Terry Humes

walter buechi
from Cicero, NY
Why is it that you have to wait an hour and a half to get an appointment to have your computer sent in for service? Especially when there are several people standing around with apparently nothing to do. This was my second trip to the Best Buy in Dewitt, NY. Yesterday I was there to have my lap top serviced, they were not able to find my purchase in the computer, I left, went home and called your toll free number, they were able to locate my information and nicely emailed me the information I needed. I am not sure why my local store was not able to do this, I returned today with the information in hand and was told I would have to wait an hour and a half for an appointment to do what they could not do yesterday, I am a small business owner and spent over $3.500,00 last August on just this one purchase. Should I assume my time and money would be better spent elsewhere?

Jeanne L. Griffin
from Marshfield, MA
I purchased and Best Buy installed an over the range microwave on Dec. 5, 2017. It stopped working in about a month. Ordered a return and new purchase. Order #1118012795239. First delivery and installation scheduled for 1/20/18 was not routed correctly. Next scheduled date was 1/29/18.
I was told the item was back ordered. Next scheduled date 2/3/18 product was delivered and left in the middle of my kitchen. I was told installers would be here between 12:00 p.m. and 4:p.m. They never showed up. On 2/4/2018 I was told on the phone I would be scheduled for 2/12/2018. I received a recorded call on 2/10/2018 that my installation was scheduled for 2/12/2018. Didn't happen. I was just told (2/13/2018) by the 2nd person I talked to today after being on the phone for about 45 minutes I was being transferred to online services and to tell them I needed 3rd party installation and then I was disconnected! I'm extremely exasperated with calling the same phone number and talking and mostly holding and waiting to countless people with no results.. It would be nice to have a case manager at this point. I'm very tired and fed up!

I bought a refrigerator from best buy in December 2017 and it already quit
barely past warranty
Now I am just trying to save food until tomorrow when a reputable appliance co will deliver a new one
I will not even buy a paper clip from best buy again

James Warfel
from Palm Harbor, FL
I purchased a Galaxy S3 tablet for my wife for Christmas. It was wonderful for two and a half days until it locked up. Rather than address the issue the store (Clearwater) exchanged the tablet. Tablet two did exactly the same thing after two days. Another exchange for a tablet that never came on convinced my wife to exchange it for an I Pad Pro. It came on but locked up also. The store recommended contacting Apple.
Apple set a contact date for two weeks later, 31 Jan, but fail to call or email the promised correction information. Due to our teaching and preaching duties it was 5 Feb. before she was able to get into the store again. Your store refused to accept return of exchange for the tablet and keyboard and set her to the Apple store in Tampa (10 Feb.). They felt no obligation to service a product sold by you. An agent from Apple called today and said he was unable to help and the stores should resolve the problem.
My wife refuses to return to your store after the rudeness of the female tech working there last Monday. Can you resolve our problem with a on-site.working tablet and useless keyboard?
J. R. Warfel

olga L Kennedy
from Jackson Heights, NY
February10/2018
order # 1117328405153
on 11/24/2017 I bought a refrigerator GTE model 16GSUSS and A dishwasher model #SHEM63W55N. They supposed to be delivery to my apartment on 12/27/2017. I was waiting all afternoon for the delivery , then two men that came to installed the items, said that the measurement were wrong, which I found later that was no true because I went back to the store, and every thing was okay. Then the store gave another appointment for the delivery 02/03/2018 from 12pm to 4pm. They called the day before to confirmed the appointment, later on they called again ,and said that they could not delivery the dishwasher, because they do not have in stock. I told them that I prefer that both of my items be delivery at the same time. we made another appointment for 12/10/2018. I received a message about the delivery. I called back to confirmed, then they told me the "same thing" that is was going to be delivery between 12pm and 4pm. later on I found a message that said, that they could not deliver the refrigerator, because they do not have in stock. I want to know was is going on with my purchase. I really need my appliances. I am having problemas with the refrigerator. It is freezing the food, also it is getting hot on the outside., I am concerned that something drastic could happen. I made the purchase in December and now It is February, and my appliances have not been deliver !! I want a solution to this matter.

Margaret Hallam
from Baltimore, OH
I purchased a Netgear 1900 Router in your Heath, Ohio store on January 18, 2018. After two + weeks of trying to get my internet to work properly, we came to the decision to change Internet Providers to Hues Net, who advised that the Netgear router was not compatible with their equipment and to take the Netgear router back to Best Buy.
On February 7, the router was returned to the Heath store and I was advised that I could not receive a refund or credit on my debit card as I had waited too long to return the merchandise. I was given a "store credit," instead.
While the young man who waited on me when I bought the router was very polite and helpful, eventually, I could not use the router and now I am out $166+. The only time I have shopped at Best Buy was to purchase the router and you can rest assured, I will NEVER shop there again due to your return policies. I will also be sure to let anyone I know who is considering purchasing anything from your store, that they will not get their money returned if for some reason, they wait more than 15 days!

David Shuman
from Des Moines, IA
I purchased a cellphone at Best buy online on 01/01/2018 (BBY01-805525044050) and paid for the item through PAYPal. The item was defective and returned and received by bestbuy on 01/18/2018. In subsequent phone calls to jBB customer service, I was told that the funds had been released that same day to paypal. However, Paypal claims they never received the funds and therefore, I have never been credited for the funds. The amount is dispute is $52.99.
Thank you for your courtesy,
David Shuman

Neeraj Kumar Roy
from Patna, BR
This is my tracking number:1874500857
Tracking website:www.fedexcour.com
But my product is not coming towards to india.it is still in Iceland from 2 February.
Please help me.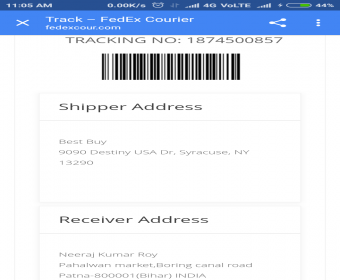 amanda jackson and kirk jamvold
from Saint Joseph, MO
on dec 6th 2017th my boyfriend and I wen tin the the st joseph mo best buy to add me to his phone line. we were helped by chris brown we were there for over an hour trying to get things figured out. we had chose the deal where if you bought the s8 plus you got the s8 for free. when we left that night we assumed everything was great. Until we get a bill from att with just the new line on it and a bill for $190 and hen a second bill with the existing line for over $300. So we call att and they said somehow the gentlemen created a whole new account in my boyfriends name instead of adding to the existing so we were being chared for fees for the phones with out promotion plus to plan fees and said we would have to go through best buy to fix it. so I called mind you its dec 23rd when we got bills I called and spoke to a gentlemen named tanner I tried to help but then explained that to honor the buy one get one promo that expired the 26th of December so informed me that I would have to come in to the store to try to fix it so we had to shuffle holiday plans because we do not live near the best buy we have to drive. so I went in on December 26th sat there for over an hour why tanner and a manager named chris sat there and called att to try to fix everything they got my phone switched over and got the existing bill knocked down and was supposed to get the bill for $190 altered to what we actually owe. on dec 26th the new account was canceled and they issued a collection notice for $190 dollars no we get told we owe 150 on top of that on the new account which should never have been created. when I call att to get the bill voided they told me unfortunately that best buy needs to fix it. so I call I get a gentlemen that is a new supervisor in mobile that says I need to speak to chris the manager he is the one that can help me but he wont be in for 2 days. so I wait I called back and got the run around and had to explain the situation multiple times to 3 different people . I am beyond frusterated and pissed. so I finally speak to chris and he is confused and don't know how to help me and tells me I need to come in so he can understand better. NO NO NO IM SORRY BUT I DONT LIVE IN ST JOE NOT ONCE HAVE I GOT A SINCERE APPOLOGY OR ANYTHING OFFERED TO GAS MONEY FROM DRIVING BACK IN ATT TOLD ME THAT ALL BEST BUY NEEDS TO DO IS CALL AND GET BILL VOIDED CAN SOMEONE PLEASE HELP ME GET THIS FIXED BECUASE ITS FEBUARY AND IF THIS HITS OUR CREDIT THEN IM REALLY NOT GOING TO BE HAPPY. THE ACCOUNT NUMBERS 27603068229 NEW ACCOUNT CRATED PASSSCODE 0312 EXISTING ACCOUNT 454426152 PASCODE 1942 MY BFS NAME KIRK JAMVOLD MINE AMANDA JACKSON MY PHONE NUMBER IS 816 390 4818
EMAIL IS JAMVOLD35@GMAIL.COM

Barbara A. Baxter
from Albany, NY
I tried to reach customer service at the Best Buy #428 1 Crossgate mail from 8:30Pm to 8:57pm with no luck. I call the # 518-452-6881 there was never any message where you could talk to customer service person same message kept repeating! Today I purchased Pinnacle Studio 21 Ultimate from the store I informed the cashier the account was mine not my granddaughter who's name appears. I purchased her a notebook a few years ago I need my name on this account not Kendra.
I will be returning the purchase as soon as the store opens tomorrow for them to get it right!!!
Have feedback for Best Buy?
Thanks for your feedback!
Sorry. Please try again later!