Best Buy
Best Buy Complaints Continued... (Page 3)
482+ reviews added so far. Upset? Call Best Buy corporate: 1-888-237-8289

Mitch Carroll
from New Orleans, LA
Purchased the wrong Turbo Tax 2018. Tried to return. Best Buy in Harahan, LA. would not refund me said I am past 15 day return period.
I purchased the correct version I needed on 4/10/2019. If I cannot get some one to talk to me about this. I will never purchase anything again from Best Buy and will pass this warning to everyone I know about not buying anything from Best Buy. I thought I was getting the version with the state return but picked up the wrong one and did not realize this until I started to work on my taxes. Any help on this will be greatly appreciated.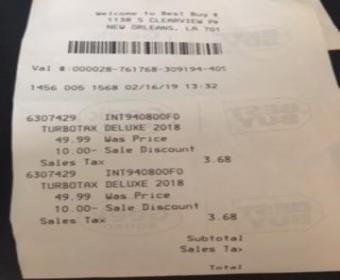 Visited the Grand Junction, Colorado store on 4.8.19 at 4:40 pm with the intention of purchasing a new desktop computer. My wife and I browsed the computer department for 20 minutes, and were never able to locate a clerk for assistance. We finally went to ask for help at the front door, and were told the only person who could assist in that department was with someone else, and "would be a while" We did not receive any offer for help at all. When we told the clerk we would probably need to go somewhere else, she just shrugged her shoulders and turned her back. Needless to say, Best Buy missed the sale. We will not be returning to this store.

George M. Pierovich
from Sparks, NV
Yea, I'm an extreme elderly, on a limited budget and electronically illiterate. I've relieved on the Geeks to overcome these shortcomings the past few years. Recently I purchased a TV and accessories at the Best Buy store in Sparks, Nevada for about 1,500 dollars.I insisted on the Geeks for the installment and was told that I would have to wait 10 days for the service. I was also told the Geeks would address all problem issues involved in this installation. I agreed to this service. Two days before the scheduled install I was contacted by a Geek personnel to confirm the appointment and told only install issues connect with the new purchase would be addressed. I was also informed the Geeks were 10 days behind schedule and would not spend more the 2 hours on my installment. Also,I was told only a verbal explanation would be provided for the new remote and TV. I listen in total amassment - I thought all customer needs were a priority with Best Buy. I immediately cancelled my order and will look elsewhere for a company that appreciates the elderly customer and is compassionate to our needs. Order #1119088532260 George Pierovich

mike weidner
from Sterling, VA
first appointment was ok but the dash in my g37s coupe was cracked and only the 2 amps were installed . so we made another appointment to finish and per Thomas he was going to put me alone for 6 hours so he could finish, well only 4 speakers out of 12 got put in and I brought a new sub amp with a 4 fared capacitor and he put the cap on the wrong amp also he took deck screws and drilled them through the adapter plates at all different angles instead of through the provided holes, ended up having lied to me about my car being the only one to be worked on he had 3 and only spent minuites on mine and threw everything in the front seats and in doing so he put an amp box on top of one of my 2oo dollar orion speakers and ruining it, days later my son and I went to use my car and he opened the passenger door and went to pick up one of the orion speakers that they put the sharp deck screws through and my son cut his arm requiring stitches,, both times I picked up my car I got home to find that the windows roll down when you shut off the car, brought car in again to check clearance issues on door speakers so we knew what adapters to get for april 9th final install ,, when Thomas took off my door panel I saw the 3.5 inch mid he installed moveing around so I took a closer look and wow no screws at all he just put a dab of silicone around the speaker to hold it in, UNACCEPTABLE, I am also having issues with the subs playing at different levels as you drive and hit bumps, loose wires, and the list is growing ..I am consulting with

Steve Mills
from Amelia, OH
Please look at the attached pictures. I purchased a washing machine and it was delivered today (4/4/2019). I was told that the new washer would be hooked up and the old one hauled away. I was also told that if I didn't use new hoses that the factory warranty would be voided, so I purchased the new hoses. Your deliveryman told my wife that there was too much lime buildup for him to uncouple the old lines and install the new ones, so he couldn't hook up the new washer or haul away the old one. If you look at the pictures you'll see some white coloring on the side of the valve and a geen color on the neck of the valve. The white is paint from where I painted the wall. The green is called patina. The valve is a brass valve. Brass is used in water applications because it doesn't corrode. It will however over time develop a patina from contact with moisture. The moisture in this case isn't caused by leaking through the stem packing, but from condensation through sweating. This is common, especially on the hot water valve. The point of all of this is that had the deliveryman made even a modest attempt to take the hose off, he would've encountered no problem. I know this because when I came home I disconnected the hoses with ease. The unthreaded completely by hand. If you look at the pictures you'll note that there is no evidence of lime buildup on the hose fittings. When there's a leak that causes a deposit of lime, the buildup will be on the hose fitting as well as the valve. If taking these hoses off represented an untenable challenge to the deliveryman, I would guess that he doesn't actually make many installations. A washing machine that's been in use for even a couple of years won't have fittings that look pristine and new. I pointed this out to one of your service reps, and he informed me that his doesn't look like mine because he sprays it with WD-40 once a month. Dilligent washing machine maintenance indeed. I told him that he must be in the 1% of washing machine owners that actually do that. I understand that there's concern for not causing any damage when removing a hose. But you represent to people that it is a service you provide. I feel that it's incumbent on the delivery person to a least give it a cursory attempt. If you man would've done that he would've found that the hoses came off easily. By the way, a woman I work with told me the same thing happened to her with Best Buy. But in her case the deliveryman unhooked the hoses from the washer and just used them on the new one. To wrap this up, I spoke with my "case worker", and told her that under the circumstances I felt I should receive a refund for the money that I paid for the hoses, as well as the $20.00 for hauling it away, She disagreed. I was also informed that the old washer can't be picked up until Monday, which doesn't work because we aren't able to be home during the available hours until Wednesday. I thought that given my anger perhaps she would try to squeeze us in on Friday or Saturday. No can do. I think she was mad at me. Just in the last 6-7 years, we have purchased from Best Buy a Frigidaire refrigerator, a 55" LG tv with an entertainment center with stand, a 32" Insignia tv for the basement, a 42" Insignia tv for the bedroom, and X-Box S1, a Lenova laptop, a Cuisinart coffee maker, a Hoover vacuum, a Dynex DVD player, a Toshiba vcr/dvd player, a Honeywell Quietset fan, an HP officejet wireless printer, a Chromebook, countless gift cards. I bought my first desktop computer from Best Buy back in 2001. The washing machine we're replacing is an LG front load that I bought from you back in 2006. I'm sure I've forgotten more than I can remember. So you keep your hose and haul away money. Guess how many things I'll buy from you in the future. I'm also going to check with Maytag to see if they would've voided my warranty if I hadn't used new hoses. If they say that isn't so you'll hear from me again.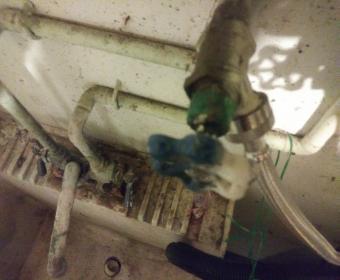 Ron Richardson
from Corning, NY
I called to make sure the payment was recieved on card 6030 and it says that my account is closed.
I was not notified of such actions and I have been making payments, what is going on?
Ron Richardson
(607) 542-5899

Irvin Clark
from Cypress, TX
I went into one of your stores (0359) and had a horrible experience. I went into the store to have my computer repaired/rebooted. Keep in mind that I am a 63 year old black man. There was one other man behind me in line who happen to be white. The young lady to worked in Geek Squad was also white, her name was Sarah. Without saying hello/good morning or any kind of greeting, she just asked if I had an appointment. When I said ,no. She asked the man in line behand me the same thing. He also said no. Then she to me to come forward; which I did. After explaining to my problem, she asked me about my warranty. I then gave her my warranty information and she verified it. Without physically examining my computer, she told me that my warranty didn't cover my problem and it would cost $250.00 to repair. Then she said the only other thing I could do is take it back home and try to reboot it myself. And if that don't work bring it back so they can repair it. To save time I asked her if I could just step over to one of the unused tables and quickly try to reboot my computer. But she said no because she would need to use all the tables. That's when I looked around and told her that there were no one waiting. I then aske to speak to a manager. Before I allowed me to do that she talked to him herself for several minutes. He then came out and agreed with her. So, without causing any trouble I took my computer to store (0876) who treated me with respect and help me right away; and informed me that my warranty did cover my problem . My treatment was totally unacceptable. by Sarah and her on duty manager. .And I can't allow it to happen to someone else without speaking up.

Jim Howard
from Cedar Rapids, IA
The four time I was in your store, you have not had anything that I was looking for, was told go online well I didn't want online I like brick and mortar.
I told the customer service that you might as well close the store, if you go online I have found There is a lot of other online stores cheaper. But what sent me off was I stopped at your Lacrosse store wanted A video card installed , they gave me the price I was ok with it told them I would call for an appointment, when I called they wanted add extra service plans which I didn't want, they wanted for you guys not me I found you guys are desperate just to sell well I went someplace else and got it put in and won't buy you guys again there are other places.
Jim

Patricia Dorman
from Lompoc, CA
Terrible service which is mostly non-service They had no customers in the store but me and a roll call of geek squad appointments on the wall people who were not there They push for appointments and that is probably why. I asked for a bag to place my returned and unfixed pc lape op in and was told that no sacks or bags were allowed in the stor A tall young man came and guided me to three things I wanted but ignored my request for a bag I went up front and asked the man sitting at the desk for a bag when I checked out and he said no the store didn't have any I said there is no way I am wahey might have some over there and over ther a man was just chitchatting with another guy but did help me and bag items on the way out I said tolking out of this store just holding electronics and I heard laughter and two women workers with laughing behind me And he grinned and pointed to the side and said on the way out the guy in the highchair a fat Hispanic would not aknowledge my saying have a good day until he finally grinned at me sicky Why do you have this store on 2326 s Bradley in santa maria CA 93455??? why???? you should send me a coupon or something and I think this store sucks

Cassie Motten
from Los Angeles, CA
The installers that installed 3 out of 4 appliances, said they installed the dishwasher and they did not install. Your trying to keep money that doesn't belong to you. The plumber that I hired hooked up both the sink and the dishwasher. How could you installers say they installed it, when it was still in the box. I have the receipt from the Plumber to prove he installed it, not your guys. Would like to get my money back. Please and Thank you.

Rick Sanders
from Troutville, VA
On March 29, 2019, I purchased a set of AirPods made by the Apple company at Best Buy Store located in Roanoke, Virginia. The salesperson/cashier was Alyssa. Anytime I need any electronics, Best Buy is my store to visit. However, with services being portrayed by Alyssa, left me feeling upset with how she conducted herself.
Here are some of the things I did not appreciate as a customer. When she removed the item (AirPod) from the enclosure, she would not allow me to view or to handle the item and insisted that she had to carry the item to the register because it is Best Buy store policy #434. So, a customer can only read what he or she is purchasing after the fact is what I am interpreting. Secondly, when Alyssa was tallying my order, there were several prompts I answered, and each time she pointed out what button I needed to press to proceed. There are several options to select from, therefore, as a customer, I have the right to review before selecting. In addition, she insisted that I had to provide an address to continue with the purchase after providing an email address. This I challenged and finally, she entered Best Buy at 4707 Valley View Blvd NW address. I thought my son phone number and email I provided was sufficient since he was going to be the owner of the music device.
Finally, after the purchase, I was told leave by Alyssa in a rude manner as if my financial support to Best Buy has no value. Subsequently, requested to speak with a manager, and was directed to Courtney Bernardo, who was the assistant on duty. The vibe I received from her did not favor my complaint and concerns about future visits. Of course, this does not indicate that the matter was not handled appropriately after my departure. What I do know, Alyssa demanded I leave after my purchase when I was being civil about her addressing me disdainfully is not the best practice for any business. I felt Alyssa attempted to get a negative reaction from me in which she almost did when she told me to leave instead of being silent or saying have a nice day (0434 044 0359 03/29/2019 17:49).

Rick Sanders
from Troutville, VA
On March 29, 2019, I purchased a set of AirPods made by the Apple company at Best Buy Store located in Roanoke, Virginia. The salesperson/cashier was Alyssa. Anytime I need any electronics, Best Buy is my store to visit. However, with services being portrayed by Alyssa, left me feeling upset with how she conducted herself.
Here are some of the things I did not appreciate as a customer. When she removed the item (AirPod) from the enclosure, she would not allow me to view or to handle the item and insisted that she had to carry the item to the register because it is Best Buy store policy #434. So, a customer can only read what he or she is purchasing after the fact is what I am interpreting. Secondly, when Alyssa was tallying my order, there were several prompts I answered, and each time she pointed out what button I needed to press to proceed. There are several options to select from, therefore, as a customer, I have the right to review before selecting. In addition, she insisted that I had to provide an address to continue with the purchase after providing an email address. This I challenged and finally, she entered Best Buy at 4707 Valley View Blvd NW address. I thought my son phone number and email I provided was sufficient since he was going to be the owner of the music device.
Finally, after the purchase, I was told leave by Alyssa in a rude manner as if my financial support to Best Buy has no value. Subsequently, requested to speak with a manager, and was directed to Courtney Bernardo, who was the assistant on duty. The vibe I received from her did not favor my complaint and concerns about future visits. Of course, this does not indicate that the matter was not handled appropriately after my departure. What I do know, Alyssa demanded I leave after my purchase when I was being civil about her addressing me disdainfully is not the best practice for any business. I felt Alyssa attempted to get a negative reaction from me in which she almost did when she told me to leave instead of being silent or saying have a nice day (0434 044 0359 03/29/2019 17:49).

sonja williams
from Calumet City, IL
I purchased a Brothers ink cartridge in 12/21/18 - it was not the right cartridge - I tried to return it in January - the clerk said anything brought around Christmas it had to be return in the beginning of January - I brought it back in the middle of January - I told him I did not buy it as a gift and I wanted to get the right cartridge and I wanted to purchased three more of the right cartridge. I am a good customer - I have purchased and paid for a refrigerator, dishwasher, washing machine and dryer, laptop within six years and I always go to Best Buy. I would like to return this cartridge. This is my third time trying to get this resolved.. I am sorry I didn't get back to your store sooner. I am hoping to return this purchased. My customer pin number is 1048 001 0999 122118.

Kenneth Kozar
from Christiansburg, VA
On 3-28-2019 at approximately 7:45 PM I went into the Best Buy store in Christiansburg, VA. I had a bad experience with a salesperson. I would like to have a regional or district manager to call me when they get a chance.
Thank you,
Kenneth Kozar
540-320-7761

Johnny Pettit
from Floyds Knobs, IN
I was looking for a security camera that did not require a monthly fee and the sales agent at Best Buy assured me that there was no monthly fee with the Ring Security cameras. He was very helpful, but misleading when he told us the cloud storage was free. Today I received a notice from Ring that my temporary subscription was over and that I needed to pay a monthly fee of $10 a month for continued cloud storage for my 2 cameras. I went to the Best Buy in Clarksville Indiana and was told by the sales person that there was nothing they could do because it was beyond two weeks since I bought them. I would like to return these cameras for a full refund because I was mislead by the original sales person. Thank you.

JOSEPH AMOROSO
from Winston-Salem, NC
I BROUGHT MY DESK COMPUTER THREE WEEKS AGO & THEY TOLD ME ONE TO TWO WEEKS A SHOULD GET IT BACK FROM DELL THEY HAD TO PUT A HARD DRIVE IN IT. WELL I CALLED YOUR GEEK SQUAD THREE TIMES & THEY NEVER CALLED ME BACK.YOUR SERVICE IS VERY BAD THEM ANSERING THE PHONE I WAITED FOREVER. YOUR SERVICE USE TO BE GOOD NOT NOW.

Harold Atkins
from City of Saint Peters, MO
I purchased a dryer Maytag MEDB835DW (order number 1119021855640) the order called for the dryer door to be reversed. The dryer arrived without that being done. I contacted the store and a team was sent out to correct the issue,but they were not able to do so. The response that I got was that I needed to contact Whirlpool, which I did and they advised that I needed to contact Best Buy. When I contacted the store(#32/Saint Peters,Mo) the department mgr had some one contact me. The young lady who called back stated that She would research the issue. The return call from the same lady told me that I had to contact Whirlpool(perhaps She was just reading the prior note and nothing else was done) My wife is very upset because She thinks that Best Buy reps don't care about Her complaint. I would like someone to get a resolution once and for all. (if for some reason the reversal can't be done please let me know) This should not need to be an executive escalation.

Best Buy's insurance claims company Sedgewick will not return any calls even though I have a claim filed with them for my house having flooded because the Geek Squad agent did not reconnect the drain hose. I can not get any kind of response from this company or from Best Buy corporate whom I also called. I may have to get a lawyer.

alfred howard
from Jonesboro, GA
i bought a lg 75uk6570 lcd 2160 smart 4k on March 18,2019 at best buy Mcdonough, Ga. i had a delivery date of march 22,2019. on 3/22/19 at 12:30p i called best buy regarding delivery. the answer i got was delivery was cancelled. i asked why my response after time was they didn't know and then computer glitch. i went back to best buy, Mcdonough on Friday 3\22\19 to get a real answer. the solution was to redo the transaction and get the merchandise delivered on Saturday 3\23\19 since it was the warehouse that made the mistake. i was promised a call on Saturday on 3/23/19. i called early Sat morning to which no one could fully answer my question. i was told that the delivery Date was 3\29\19. i explain my delivery should be priority since they messed up the delivery/transaction. i got the old i have a mgr or case mgr get back to me. again! I ordered a product on the 18th of March 2019 for a function planned on Friday the 22nd of march 2019. I lost my function plan and then on top of that got lousy customer service regarding the whole situation. Now I'm told my delivery is scheduled for 3/29/19 for a product i bought on 3/18/19. This is definitely not acceptable and i feel is absolutely a terrible way to treat a customer. the excuses are far fetched and horrible. I didn't get any communication from the beginning to even know the merchandise wasn't being delivered. I had to call to find out. Now i don't even get the courtesy of having my merchandise?delivery being a priority only that we got the money you'll get it when you get it attitude.
absolutely horrible and may never get my business or referral again.

I bought an Alien Ware computer form Best Buy Clackamas Oregon in November 2018 for around $1700. After 92 days it stopped turning on. I returned it and asked for a replacement. Return policy wouldn't all that but the shift manager told me if I had purchased the extended warranty then he would have exchanged the PC. It got sent off for repair, shortly after we were told it was fixed and on it's way back. Then we were told something happened and it needed major repair and then would be shipped back. So now I paid $1700 for a refurbished computer. I received no help from the shift manager during all this, as he was listening to me he kept one eye on his watch as it was the end of his shift. Best Buy needs to go out of business, I suggest Costco or Amazon for your electronic needs. I was a long time Best Buy customer. I'm going to spread the word about their lack of customer care. Worst treatment I have ever received from a company that I have done business with for years.

I ORDERED A WD-EASYSTORE 2TB EXTERNAL USB 3.0 PORTABLE HARD ON 3/17/2019 FOR $69.99 AND WITH SALES TAX $4.20 THE TOTAL CAME TO $74.19. THE EMAIL I GOT BACK FROM WWW.BESTBUY.COM/CHECKOUT/R/PAYMENT SHOWS MY NAME, ADDRESS,CREDIT CARD NUMBER AND EXPIRATION DATE. THIS EMAIL THAT I GOT BACK SAID "GET IT BY TUES 3/19/2019. I HAVE BEEN GOING OUT EVERY DAY WHEN THE MAILMAN COMES BUT NOTHING AS OF 3/23/3019. I DON'T HAVE AN ORDER NUMBER ON THE EMAIL I GOT BACK FROM WWW.BESTBUY.COM/CHECKOUT/R/PAYMENT. CAN ANYBODY HELP ME.
MICHAEL FORTUNATO
EKIMF@EMAIL.COM
TELE: 703-620-6432

Best Buy Sucks! Stacy purchased a ring doorbell pro model. Wanted to wait until the house was painted to install. When we called geek squad to come out and install, they opened the box, looked at our intercom system and said they could not install that model and we needed the battery powered one. We went to exchange it at the best buy store and was told because it was opened and over 15 days since we purchased it, they could not take it back, even as an exchange. Told us to call corporate. Spent two hours trying to talk to the right person. Overseas call center kept sending me to the wrong person(s) who continued to tell me I needed to take it back to the store.. Absolute runaround. So i get on their website and click on the customer service link only to get a new window that says the customer service link does not exist, I thought No Shit! Neither does their customer service. Here are the problems with all of this. CAVEAT EMPTOR FOLKS, DO NOT BUY A CHRISTMAS PRESENT AT BEST BUY MORE THAN 15 DAYS BEFORE CHRISTMAS BECAUSE YOU WILL NOT BE ABLE TO RETURN IT! NO WONDER THEIR STORES ARE CLOSING AT RECORD NUMBERS.. AMAZON OUT PERFORMS THEM AT EVERY LEVEL. WELL WE HAVE LEARNED OUR LESSON...BEST BUY - HOPE ALL YOUR DOORS CLOSE AND DO SO SOON. CAN'T WAIT FOR THE GEEK SQUAD TO CALL ME BACK.....

RICHARD PAULSON
from McGregor, TX
BOUGHT ALMOST $800 DOLLARS WORTH OF CAR AUDIO
5/1/2019 INSTALLED 5/13/2019
DID NOT RECIEVE ANY PAPERWORK OR WARRANTY PAPERWORK
THEY THREW THE BOXES AWAY SO NOT I CANT WARRANTY THE STUFF AND
DONT KNOW HOW TO OPERATE ALL FUNCTIONS DUE TO NO PAPERWORK
CONTACTED STORE AND I AM NOT HAPPY WITH NO PHONE CALL BACK
FROM INSTALLER THAT SAID HE WOULD CALL BACK THREE DAYS AGO
THEY WILL NOT MAIL ME OPERATION MANUAL
STATED I HAVE TO COME TO STORE TO PICK UP WCICH IS 82 MILES ROUND TRIP
I WILL NOT DO BUSINESS WITH YOUR COMPANY AND WILL NOT RECOMMEND YOUR COMPANY
TO ANY ONE IF THIS IS NOT FIXED RICHARD PAULSON

had a repairman come to my home
he was at my home previously and mentioned to my husband he needed a part to be ordered
when i asked about the part he denied that he said he had to order the part
words were exchanged and he walked out
i would like to speak to a supervisor about this
the repairman's name is Jeffery, and he covers the Middletown, NY area
Thank you,
Sandra Rubino

Jacqueline Childress
from San Leandro, CA
I purchased a Hamilton Beach-Artisan dough and bread maker as a gift about a week before Christmas ($87.79). The person I purchased it for was in the hospital and was only recently able to try it a few weeks ago. The machine is garbage. It doesn't mix very well and the bread just falls apart. I have a bread machine myself and I think the blade is just to small for this machine. I went to their website and started a return. I was directed to print a return form and label. It was not prepaid. I am disabled and gave it to my husband to take to UPS. He was under the assumption I was being reimbursed for the shipping cost to return it to them ($60.00). When he told me the price I called Best Buy and spoke to a very rude man who informed me that not only would I NOT be reimbursed for shipping but that they would be sending it back to me once they receive because it was past they'd 15 day return policy. I was not even offered a store credit. I had even given a review on the product on their website before I returned it. I filed a complaint with the BBB and is currently in process. A woman called me the following day after filing the complaint. When I returned her call I was not directed to her and someone else helped me. By the end of the conversation she told me I would be getting a full refund for the machine itself. I questioned about the shipping cost and was told she had to look into that further and would get back to me that day. She never did. Now yesterday I get a phone call from the original person who called me and was informed that I would not be getting that refund even though the other woman told me I would and it's still going to be returned to me. So now I will be stuck with a useless bread machine and out of $87.79. Plus out of the $60.00 to return it to them. Plus what it cost me to buy my friend another replacement gift. I will never purchase anything from this store again.

Best buy is false advertising with cell phones. Don't advertise a phone that you can't keep your promise with. My daughter got screwed from you guys on buy one get one free S10 phone. Telling her oh well the new white ones phones haven't came in yet. Called Saratoga Springs New York talked to Tyler on march 12th said she would receive an email on the phones between 13th and 15th never received it. I'm putting in a complaint to the better business bureau also and tell ATT&T about her experience as well.

RandyRandolph
from Las Vegas, NV
Went to the Best Buy this afternoon around 2:45 p.m. located at 6455 N. Decatur in North Las Vegas. made a purchase and when the Best Buy rep name Victor gave me back my change, some of it dropped out of my hand onto the counter. Not a major thing, but most customer service reps would have simply said, "I'm sorry, or My bad" and picked up the loose change again and put it in the customer hand. Victor just stood there and looked like "next person in line." There was a manager by the name of Jonathan standing right over him as he was there to approve my exchange. I told him he was a poor manager if he didn't speak to his worker about his attitude and how to "PROPERLY" deal with customers. Fortunately, Mike Isabelle, the head manager said he would address it and totally understood where I was coming from. It's small stuff like this that causes people do bad mouth an organization on social media and it's small things like this that can send a "unstable or a person already on edge over the cliff and cause a serious problem where every local news station will have to cover."

Hello and Good Day,
I purchased a camera for my son at Christmas time. We just opened the camera due to saving it for a vacation.
There seems to be issues with this camera. It keeps shutting off and the zoom lens gets stuck in the in position and at that time the camera keeps shutting on and off.
We went to the Customer Service Department at the Best Buy near our home , in which they said they could not do anything about the camera, that we needed to return the camera to Sony. The claimed it was not their policy to do an exchange on the camera. We never did ask for a refund. Unfortunately, we have discarded the receipt not even giving it a second thought that we would have theses issues with the camera.
Description of the Camera:
SONY - Cyber Shot
DCS-W800
SKU 4349004
MODEL DSCW800/8
20 Mega Pixels
26 mm Wide-Angle lens
HD Movie 720p
I paid a little bit over $100 for this camera and we are so disappointed Best Buy could not help us.
Please advise
Thank you
Sincerely,
Nancy Lee Straube

yes I did try to up date my service on my 3 year old hp computer before it was out of date they told me late to last day 1/19/2019 or day after that on phne calls sevice on line calls all I got was run around all time after 3 years servies on computer they can keep iti got rerd of best buy card and will not shop there any more all I ask for new price for computer services and just wait to long you wait I did what they said to and know this is how customers get help

michael patena
from Strongsville, OH
I purchase a Samsung 40" flat screen TV two years ago and added and paid for a 2 yr extended warranty. The TV failed a week ago and Out of Warranty by two months. The General Manager (Dan) indicated that they could do nothing, even the Geek Squad indicated they cant repair TV's. I contacted Samsung direct and they indicated that the extended warranty that Best Buy offers should start at the end of the 1 Yr Factory warranty. I believe this Best Buy product is a Bait and Switch. I indicated to Samsung my disappointment in their Reliability and their relationship with BEST BUY. Samsung did offer to cover the Parts but nothing else which would cost in excess of $200 which was over 50% of the cost of a new TV. I will be making a formal Complaint to the State of Ohio Atton. Generals office.

Pissed off customer
from Panama City, FL
more like "Worst Buy". You don't need my name, address, phone number, email or any other bit of personal information for me to make a purchase. This is how purchases work: I place an item on the counter, you tell me how much I owe you, I pay it, I take item and leave. PERIOD. You have zero need for my personal info and zero right to even ask for it to start with. I though the little bitch would get the hint after I said "Do you need my Social Security number and blood type too?" but no, the dumb little bitch just kept asking for info, so I just said "Can I just give you my money and leave?"

Scott Brammer
from Miamisburg, OH
If I could give my experience 0 stars I would. I set a pre-order with this location to come in at 10am this morning, 3-9-19 at the Dayton Ohio location (General Manager Ruben Ortiz) I received a confirmation phone call, an email, and 2 texts regarding my appointment! My order # is 3319062918178. This is for a blue Samsung Galaxy S10+. Sku # 6326993. I drive home from Indiana on the weekends. I work in the field and travel Monday-Friday. After these FOUR confirmations, and an appointment, I bring my son into this location. Providing my paperwork, I was then told my phone had not arrived. The general manager, Mr. Ortiz could only blame the 3rd party provider...in this case Verizon. If Best Buy has my information, which they DID, I should have received an email delaying my appointment with an apology. While Mr. Ortiz was not personally involved in this process, there MUST be some accountability for wasting my time and even more for upsetting my 11yr old son who really wanted to see a smart switch on my phone for the 1st time. How many other customers will this affect?? I am an Extremely Disappointed customer to this location. You set appointments, you better be darn sure there is follow-up communication and/or an action plan if something hinders this process! I expect a call ASAP to address this situation and receive contact information from a district or field manager!

I have been trying for weeks to purchase a TV and sound bar system. First I went into a store and was ignored very unprofessional. Then I called customer service and they said they could send someone out to my home to measure my wall for a TV. That was this past Saturday I stated to him a needed time to think about it. Now I've been reaching out to the person and haven't received a call back. Now the prices I was gone up much higher now. I am a loyal customer and I think I haven't been treated well at all. Something needs to be done about this. If not I will no longer be a customer of best buy Thank you Shaquita Boyd

debbie seibert
from Poway, CA
For the first time I had to use the geek squad repair, I have been a fan of best buy until now, I drive a school bus and the 4 hr window is not very customer friendly, My washing machine was having issues, and I tried to change my home number to my cell so I could maybe talk to the driver, not a robot, I am off from 10 to 1pm every day, kind of in the middle of the 2 repair sessions, I was unable to get off from work and had to ask my 86 yr old mother to drive over because Nathan never changed my home number to my cell, and I didnt want to miss my appt. People have jobs, why dont you have a late session, you claim 24/7 , I would have had to wait 2 wks for a Sat. I tried to talk to a manager, I called several times got disconected several times. I was finally able to talk to Nathan, to maybe get scheduled not the first appt. he said he changed the contact number which didnt happen when I got my robo call the night before on my home phone, Nathan was robotically apologetic, in fact everyone I talked to was nauseatingly robotically apologetic, to the point I no longer believed them. I was very pleased that Vincent was able to repair my machine in one visit, so I didnt have to wait any longer for doing laundry, but I will seriously have to consider buying the extended warrenty on my next purchase unless something changes.

Aaron Whitsell
from Owensboro, KY
I ordered a media storage unit from you guys online and received a box that clearly had been opened before. So in checking the contents of this box I found broken pieces , a opened nuts and bolts package with bolts that had spilled out into the box. Also there was little to no protective packing. Why we were sent an item that was clearly returned for broken pieces or what ever really makes me wonder about your quality control. Or lack of? I ordered another one and im having it shipped to my local store so I can check it there verses breaking my back lugging another bad one back. Very concerned being we are long time customers of Best Buy. But now im kind of reconsidering continuing to buy items from you in fear im getting broken returned or low quality. Im not expecting anything from this complaint but REALLY want to stress the fact that im disabled and having to load up the heavy box into my car and then unload it at the store was complete BS.

Velma Murphy
from Lynn Haven, FL
I purchased a computer in Panama City and was to pick it up in Tallahassee. Before I could pick it up, management gave it to someone who did not present ID or receipt as required by their policy. I have been threaten with ruining my credit if I do not pay for it, so I am now force to pay for an item that I did not get. I filed a complaint with the local police, went to the store and also talk to the store manager, alexis I will never purchase anything else from Best Buy. This item was purchased around 8/8 thru 8/10 and according to the store it was picked up 8/27. I never pick up the item.

On 2-19-19 I was told by Sharron if I combined my GEEK Squad protection I would get a $20.00 discount on WEBROOT. Today Ramses told me I could not get the discount. The notes are in my file. Why is the agreement not being applied. Been waiting 30 minutes to talk to the supervisor, Sophi. Phone is still ringing

I have filed an insurance claim for damages on the delivery and installation of a washing machine.
The Claim number is: 301917145570001
You/he has all the records on the issue. ie. Damage claim, Photo of the damage, repair bill, photo of repair.
I have sent many e-mails to your Armando Reyes (armando.Reyes@bestbuy.com)
I have yet to receive my money and follow up from you/him.

I bought an LG 65" TV on Dec. 22,2018. When I was checking out I was asked if I wanted to purchase the warranty for this product. I mistakenly thought that this would cover all damages like the WALMART SERVICE PLAN! I had a problem with the screen becoming cracked and spider webbed. When I tried to return the TV I was told that because of the Spider Web the service plan would not cover it. I asked where this information was at and after 20-25 minutes of looking (yes I timed it) the person at the service desk came up with the service contract online. I was then told I should have read it. Then I asked him to show me where it said it was not covered in the contract and after minutes of searching we found it on page 35. Let me ask a question here: Am I supposed to read a document of considerable length at least 50 pages of Legalese and I am sure most of your customers do not have a legal degree nor do I. I am now going to replace this TV with a new one. I plan on going to Walmart to make this purchase and also purchase the warranty. I have triple checked that it covers the cracked screen which it does and it was not on page 35! I would be ashamed offering such a pathetic form of insurance to your customers (the lifeblood of your company) and also the way it is handled by telling me I can check with LG and maybe they would fix it for free. I had this TV for a month when this happened. I used to shop at your store for many items in my household, you know little things like Washers and Dryers, IPADS, IPHONES, and computers. I cannot get myself to look again at TV's there when I go shopping this weekend but I can tell you I will be at Meijer's, Walmart and Sam's Club. I need to feel secure when I spend $800 that I am getting what I pay for. I would like for you to spend my money well as it is the last you will be getting from me.
Chris Inde
chris_inde@outlook.com
Cell (260) 341-1075
LG - 65" Class - LED - UK6090PUA Series - 2160p - Smart - 4K UHD TV with HDR
Purchased on December 22, 2018
You've seen all your devices!
LG - 65" Class - LED - UK6090PUA Series - 2160p - Smart - 4K UHD TV with…
________________________________________
Nickname: -
Purchased on: December 22, 2018
Model: 65UK6090PUA

I purchased 2. Door 2 units for my home on Tuesday or Wednesday of last week at your location in Hammond, Louisiana
I paid 269.99 for each.
I decided to bring one back and exchange it for a mounting door bell unit which at the time of purchase was $269.99. When I returned on Sunday, the price for the mounted door bell went up to $199.99. I was told that the sale ( of which I was unaware) was over and the price went back up in Sunday. If I had realized there was a sale of the unit, I would have returned before Sunday.
I was very disappointed that the unit will cost me an additional $30.
I love Best Buy and the Geek Squad.
This is the first time that I have been so disappointed with this company
Dan Keen
Kaykeen@att.net
985-597-0526

Vicku snider
from Birmingham, AL
I have been calling Hoover Al. Store since 3:00. Finally got a answer at 6:30!!!!. Spoke with salesman last night SAHAB OR SABR. ?? Needsd a sd card and he left my plug adapter out of bag. Told me i DIDN'T need internet in order for it to work. Which i told him i did not and would not have purchased the sd card. Called today he said no he did leave it out which obviously he did when i got home not with it. Rude. Transferred me only to hold again. RIDICULOUS HOLDING 3.5 HOURS FOR ANYBODY TO ANSWER AND WHEN SHE DID I TOLD HER AND SHE SAID SHE KNEW CALLS GO THRU ANOTHER PLACE?????? . RETURNING MY PURCHASE. IMMEDIATELY.

I have been a Best Costumer every since a store opened in the Mobile,AL area. The problem I had at the store today was horrible. The supervisor working the service desk could not have any people training at all. When I tried to explain my problem he assumed I was lying and had attitude with me from that point on. For official uses he was working the service desk between the hours of 1 and 2:00 pm central time I kept asking for a store manger he replied every time I am the manger when his name tag stated that he was just a supervisor as if I could not read. And finally after my time wasted.He called for the assitian manger her job skill was just as bad as the other employee and she has racial issue I will never shop at this store any more and maybe never at any best store or even online. The service I got today was not even 1 Star. This is just how i feel thank you Nathaniel Washington Mobile,Al

Refer to Insurance Claim Number: 301917145570001
I have constantly been getting the run-around/No response to my damage claim.
I request am immediate response as I must have have my claim money

I have purchased the Geek Squad program on several major appliances over the past two years. Every time I call when I need service it states over 30-45 minute wait. I have stayed on the phone several times for over 45 minutes and I never get to talk to anyone. If they are small appliances you can make an appointment online but not for large in home appliances. Its so not fair when you pay all that money and then can never even get a person to request the service call. Horrible customer service, Just horrible.

paul drew
from Quincy, MA
I bought a dell inspiron tower key board @mouse got home mouse is every hard to move took just mouse back a the manger said no return u have to bring back whole package I said no I have everything is downloaded to my computer well we can't help you I said are u kiddin it a mouse you can't exchange it he nothing I can't do I said that don't sound like good customer services weather I spend 10 dolloar or in my case 700+ do you want a good custumer happy or disappointed can't do even exchange for another one said no again so I spent another 29 dollar for a mouse that I already paid for this one crazy best buy westgate Brockton mass hopping to do more business with you we'll see no happy at all Paul.D

Greg Cerillo
from Levittown, NY
I entered in to your store on Sunrise Highway in Patchogue this past weekend, ready with my flyers and adds to get my best deal on an upgraded aftermarket radio for my Ford F150 Pickup.
Your sales folks were great an knowledgeable. I would up getting ready to purchase a radio far more expensive than my original plan because of the product description by the Sales Person. I was even going to add a back up license plate camera to my purchase because it was compatible with my upgraded purchase.
Here is where my experience went a bit wrong. The advertisement stated free installation on the radio purchase. However the license plate camera, truly an add on to the purchase, I was going to be charged something like 120-130 dollars to put on. Really? Seems silly that a radio can be installed for free, but a license plate camera would exceed the purchase of the camera itself (I believe around 79 dollars).
Is this right?
I canceled the entire sale because of it.
My cell number is 1-631-365-9285

John Dowd
from The Villages, FL
In December I purchased a MacBook Pro from your Plattsburgh, NY store. I paid over $2,500 for the computer and additional devices. I had to take the device in twice for issues I had with the computer. The Geek Squad in Plattsburgh were helpful but issues kept coming up that did not cure my problems. I was told that Best Buy cannot get into the computer due to some arrangement with Apple. I am in Florida for the winter and I am having more issues with the unit. I made arrangements to have the Best Buy store in Lady Lake, FL. look at the unit. This was a big mistake. I brought the unit to the store. The Geek Squad section of the store is obviously employed by several individuals that are not trained in how to handle customers and the individuals I spoke with did not know anything about Apple products. They wanted to take my unit and send it to an Apple store. I expended the $2,500 plus on a new Apple unit, I purchased the year repair agreement and now I have to take the unit to an Apple store. My mistake was not buying directly from Apple. I will not make this mistake again. In fact, I will not be purchasing any products through Best Buy. If your Geek Squad cannot repair or have knowledge about Apple devices, you should stop selling Apple. John Dowd

We purchased an entire kitchen from your company. On Friday 2\15\19 it was delivered. Our kitchen was left in the boxes in the flyer of our home. We called immediately Friday afternoon and were told someone would be out Saturday 2\16\19 to take appliances out of their boxes and would put on the handles and take empty boxes and Styrofoam(we have no where to put in our trash barrel). No one came Saturday. We called and were told there was nothing on our account about the Saturday appt but he booked an appt for Monday 2\18\19 and said we would get a call Sunday to confirm a window of time for Monday. Sunday we got no confirmation call so we called again, Dave said there was nothing on our account and then we spoke to Rachel who said the best she could do was Friday 2\22\19, and we should call Monday to discuss an earlier date for someone to come out and unwrap boxes and install handles. We called Monday 2\18\19 to be told by a miserable women in your delivery department that our appliances were label Drop Off only and quote "gotta pay extra for that cause that's installation, I asked to have them come back for the boxes and Styrofoam and she said she'll send someone out Wednesday 2\20\19 between 7am-1pm. I am not getting on it but we had to open boxes ourselves and put on the handles, now we have boxes and Styrofoam in the plastic from refridgerator. At no time did anyone tell us prior that it was extra to unwrap our appliances until that woman who made everything worse said it is your policy. I have never had such a bad experience like this,unfortunately I will never do business again with your company.
Regretfully.
Sharon R Blye

I ordered a Toshiba 55 inch television via the best buy website. I advised the best buy, that I was hearing Impaired and looking for a television, that I could attach my hearing impaired devices to, by taking them from the old set and attaching them to the new one. The hearing devices are 1. a mobile head seat and 2. a Samsung soundbar. buying a set without the attached devices would be idiotic for me to do, being I couldn't hear anything on it. I did advise the best buy of this and was provided limited product information. they were not able to provide me with any information in regards to attaching my hearing devices to the television I was purchasing. In fact, sales and service were not able to provide any information on television that this procedure could be done. purchasing this tv, I have already had issues, being the tv after being delivered and set up, without my headset has been found defective. I am now awaiting a replacement television, with still the unknown question, will my headset be attached to the television after installation.

I have spent several thousand dollars over the last 2 years at Best Buy. When I call for information on a product either before or after purchasing, I am on hold for 30 to 60 minutes with nonsense irritating "music". This is a serious customer relation problem that makes Best Buy less than concerned with the customer.
Either take care of your customers or shut the doors.
Have feedback for Best Buy?
Thanks for your feedback!
Sorry. Please try again later!