Pizza Hut
Pizza Hut Complaints Continued... (Page 16)
1106+ reviews added so far. Upset? Call Pizza Hut corporate: (972) 338-7700

Norman Adams
from Houston, TX
Ordered pizza online at 4pm 1-17-2018, order confirmed for pickup at 5pm. Arriver at 5pm, paid for my order. Manager told me he had a large order for 40 pizzas. Tv screen showed norman adams order Ready. Another customer came in to place order, he was told it would take 45min.. I asked him how long before I received my order, he said its only 5:06. I told him I could not wait 45 min. for my order, so I asked for refund. He became very angry and thew my debit card an receipt down on the floor. Then said he didn't want to wait on me. I think hes a manager named Danny. He was screaming that hes a man an nobodys gonna talk to him that way. I was very calm an just asked for refund. Two other employees tried to calm him down, when they asked him for my receipt an debit card he said now u need me. I hope u have cameras working in that store18539 kuykendahl Houston texas 77379, So u can see the person u have representing your store, by cursing customers. I would like to here back from someone on this event. If not I will no longer be a Pizza Hut customer.

Gina Foster
from New Orleans, LA
Good Morning Sir/Madam,
I Gina Foster purchased two medium pizzas on February 10, 2018 at 6:30 pm. I was told by pizza hut employee that it will take around 80 minutes. I stated "Okay". At 7:55pm I called back to where were my order? the same young lady(Ms. Marisa, Manager) answered the phone and stated "It's out the door". I stated 'Okay". At 8:39 I called back and inquired about my order. The same young lady stated 'My driver came and called but no one answered his call or came to the door; so I cancelled the order". All of which wasn't true. I'm a switchboard operator and our job is answer all incoming call in a timely manner and at our location a VA police is always on duty at the front doors, side doors, back doors and at the front desk. No one never call from the store(Pizza Hut on Carrollton Ave., NOLA) itself to ask or stated that one of their drivers were at or on the VA property. This was VERY UNPROFESSIONAL OF THESE EMPLOYEES. I inquired about compensated for my inconvenience and the employee stated I can't do anything about that and I did cancelled your order. Me and my staff shift is 3:00-1:30am. Because of this situation and do to the fact that some of my staff is a diabetic, which can cause a serious medical situation if not eaten at the proper time. I intern had to refer to our nutrition department , which was closed to make sure that my employee(s) will be taken of medically. THIS WAS VERY VERY POOR SERVICE AT THE LOCATION 301 N. CARROLTTON AVE, NOLA -504-482-6111.

Stephanie
from Clay Center, KS
They charged the person with 4 pizzas for our 1 pizza order. $20 for 4! Then asked us if we would pay $60 for 1 pizza because they messed up! We said no so they charged us for the next persons order that was $18. Now that $18 order will be charged $60! They handled that ALL WRONG!!!

Mrs. Sylvester
from Houston, TX
I purchase a pizza at pizza hut, only to discover they sold me a pizza with wrong crust. I call to make them aware of my complaint, and requested to speak with the manager. I was inform by worker he was unable to come to the phone because he was very busy. I understood he was busy. However, being that I was the customer I felt I should have been spoken too better then I was by worker. It was my understanding the manager told the worker he would credit me $3.00 [dollars] on the pizza I purchased. As manager he demonstrated poor professionalism in not assisting and reflecting good communication skills one, on one. For more information, please feel free to contact me at my email address
Respectively Yours
Mrs. W Sylvester

trent headley
from Orlando, FL
ordered from online a custom meat lover and it came late it was cold and it also had olives on it which im allergic too when i called it in i was hung up on which was very unprofessional tried to call in again and samething. i got in touch with the store the next morning and was told to call in the credit whenever i was ready to use it. i called in today and was told there was nothing there. every time i call in for this it always shows not there. i feel that pizza just doesnt care for customers of black color.

peggy s ward
from Newport News, VA
Confirmation Number3171216120406001183025315
Order DateSaturday, 12/16/2017, 1:09PM
Estimated Carryout TimeApproximately 15 - 25 minutes
Your Hut13659 WARWICK BLVD
NEWPORT NEWS, VA 23602
(757) 877-9000
This pizza hut is great staff t they do not have enough people. On this date I arrived 25 mins after placing the order to find out that my order has not even been started and so there would be no time to pick up, I ordered from papa John instead. A week prior to that I came for carry out only to be met with lock door, finally, delivery person opened the door and said the manager was not here and so they could not sell the pizza to me. the week prior to that we had to wait additional 30 mins after placing the order online so total wit was over 1 hour.. This store needs to get more help or close you are losing so many people. The manager is super nice and the delivery people are the best but once i ordered i went somewhere else to get my pizza...good people do not make up for any service

We order a speciality pizza with free bread sticks I paid 27$ for my pizza gave a 8 $ tip wrong pizza plus no free bread sticks this was in kewanee illinois I want this right plus they took the old pizza back I work in food since 1987 I am a chief by state law that is not right you never take food back.

roxanne hopp
from Raleigh, NC
We'll on November 30,2017 went to pizza hut at 6429 Glenwood ave. Raleigh, Nc 27612 at 12:50 pm, my mother my grandson and myself ordered personal pan pizzas, i asked for water and also asked if they had lemon to put in my water ,they didn't because they have no tea .The manager Shertonia said, ok so i went to fountain drink and splashed pink lemonade in my cup. The manager Shertonia came by our table snatched the cup without asking, very rude she said i didn't purchase a fountain drink and said i was stealing brought a empty plastic cup back and slammed on the table. In my life had i had such an bad experience and being a manager it was absolutely uncalled for, the service was horrible. As we left i called her to the side and said that was not necessary ,she argued was very loud yelling and continued to say i was stealing as we were walking out the door. It was belittling , embarrassing and i will never step foot in their again i believe she needs training to communicate with customers or to be fired why is this woman in this industry if she can't treat her customers with respect or relate to them. My grandson 3 years was very scared. app code:024955. II am not one to complain but it really bothered me n i would hate for someone to have this experience

Art Hayzlett
from Liberty, MO
I ordered a large thin crust, half with pepperoni and sauages and the other half with beef and bacon.. along with some cajun fries, for pickup, from the store at the corner of 291 and 152 in Liberty MO.
Imagine my surprise when they opened the box and there was a pan pizza with pineapple on it.. so they had me wait in the store while they made me another pizza for 40 minutes, the whole time I'm watching the fries stand there and get soggy and cold, and being ignored when I kept asking them to remake the fries as well. They all, each and every one of them, had a "I don't care" attitude.. even the so-called manager.
Sometime between the time they put the new pizza in and the time it was done the old fries went away... but were never remade.
So which is it ? Am I supposed to eat cold soggy fries or cold soggy pizza ? What's the point of ordering online if they just go ahead and make what-ever pizza they want to make ?
At this point I'm done with your company... I was REALLY in the mood for pizza hut pizza tonight, but the piss poor service, and the inability to even make the correct order has me pissed off more than I can say.

Linda Gray
from High Point, NC
I have order pizzas with yall for as long as you been in archdale I used too work for you when I was able my complaint is I called to place my order as have done almost weekly. They refuse to allow me to place my order and deliver it because I wanted the $7.99 med. pizza delivered, I also wanted the $20.00 dinner box. I had just ordered 4 medium pizzas the week before and had them delivered and got them. The store number is 2586 an order that should have been $27.99 plus tax they wanted $45.00 Thank you

Linda Olsen
from Puyallup, WA
I have been a customer of pizza hut for decades. I live a few blocks from one of your stores. My 81 year old mother lives with me and at least a couple of times per month we order 2 personal pan pizza's. It's just enough for both of us. I used to be able to reach the store and talk to someone there in person (54th/Pacific Ave Tacoma, WA) and our order was always delivered, even though it didn't always meet your minimum dollar amount. They did this because they recognized us as long time regular customers and wishes to provide excellent customer service. I tip well because of this. About a month ago I called and reached your call center. They refused to put my order in unless I ordered extra items to bring my dollar value up, so I asked to be connected to the store. I was on hold for 20 minutes. I hung up and called back and went through the same thing again. I explained my long standing customer status and that they have always delivered to my house and each person I spoke to said NO. They would not give me the direct number to the store, and after almost an hour I gave up and drove somewhere to pick up dinner.
Needless to say, I am very unhappy as is my disabled elderly mom. We have not attempted to order anything from Pizza Hut since this unpleasant incident and are not planning to ever again, unless I am able to reach the store and they will continue delivering our regular order. I am in the customer service field and did not appreciate the cavalier and dismissive attitude. You are about to lose a life long customer, but before I make that final decision, I thought I should let you know to see if you are willing to rectify the situation.
Thank you,
Linda Olsen

yolonda oakley
from Des Moines, IA
This is the third time, I have not got what I ordered. I ordered a med. thin crust meat lovers pizza and got a thick one. I ordered extra marinara sauce to go with my bread sticks, and did not get it. I live a couple of blocks down the street from the pizza hut store located at 1600 Euclid, in Des Moines, IA 50313. And I was told there was three delivery orders including mine the pizza was very late and cold. Ticket # 163 /I Register 1
Server:
Unit # 004320 11/24/2017 (515) 244-7700 23:20
Yolonda Oakley
916 Clinton Ave
Des Moines, IA 50313
NOT A VERY HAPPY CUSTOMER!!!!!!

Hi there I would just like to complain about pizza hut mount maunganui , bay of plenty new Zealand as me and my partner have ordered a lot of pizzas from them and they must have our phone numbers and address on file too as we always get deliary from them but on 2 times we havnt been able to get our pizza as 1 time we had to leave house in emergency and other time it was late and we had fell asleep . but now they won't severe us anymore and want us to pay for something we didn't eat . I understand that they are making the pizzas but when we had explained to them what happened they wouldn't let me speak . now we can not order pizza from any other pizza huts as they arent in our area . I'm am very dissapointed in there serves and dont like how they can treat customers .

Mary Howard
from Chicago, IL
I work for Minova USA in Georgetown, KY. The Plant Superintendent, Amy Hall placed an order for 10 pizzas on Friday, 11/17/17 to be delivered on Saturday, 11/18/17 at 11:15 am. The following is text copied from her order verification email:
Begin forwarded message:
From: Pizza Hut <no-reply@orders.pizzahut.com>
Date: November 17, 2017 at 3:41:53 PM EST
To: <AMY.HALL@MINOVAGLOBAL.COM>
Subject: Thank you for your Pizza Hut order
Reply-To: <no-reply-pizzahut@quikorder.com>
Thanks, Amy. Your order will be delivered on
NOVEMBER 18, 11:15 AM
DELIVERY TO
150 SUMMER CT
GEORGETOWN, KY 40324
(502) 542-5611 YOUR PIZZA HUT
102 N BRADFORD LN
GEORGETOWN, KY 40324
(502) 863-9595
YOUR ORDER - 3171117144144001182024581
Placed on November 17 at 3:41 PM
1 Large Pan Pizza
Specialty Pizza: Chicken Supreme
Whole Ingredients: Classic Marinara, Green Peppers, Chicken, Mushrooms, Red Onions
1 Large Pan Pizza
Specialty Pizza: Chicken Supreme
Whole Ingredients: Classic Marinara, Green Peppers, Chicken, Mushrooms, Red Onions
1 Large Pan Pizza
Specialty Pizza: Pepperoni Lovers
Whole Ingredients: Classic Marinara, Pepperoni
1 Large Pan Pizza
Specialty Pizza: Pepperoni Lovers
Whole Ingredients: Classic Marinara, Pepperoni
1 Large Pan Pizza
Whole Ingredients: Classic Marinara, Chicken, Mushrooms
1 Large Pan Pizza
Whole Ingredients: Classic Marinara, Pepperoni, Italian Sausage
1 Large Pan Pizza
Whole Ingredients: Classic Marinara, Green Peppers, Chicken
1 Large Pan Pizza
Whole Ingredients: Classic Marinara, Pepperoni, Italian Sausage
1 Large Pan Pizza
Whole Ingredients: Classic Marinara, Bacon, Diced Tomatoes
1 Large Pan Pizza
Specialty Pizza: Supreme Pizza
Whole Ingredients: Classic Marinara, Beef topping, Green Peppers, Mushrooms, Red Onions, Pepperoni, Pork topping
Special instructions: Call 502-542-5044
Order Total: $103.76
Payment Method: Credit Card
(REMEMBER: Your credit card transaction will be processed by your Pizza Hut location and you must present your credit card to the driver at the time Pizza Hut delivers your order for a credit card imprint and your signature.)
Pay by Card. Please have your credit card ready to show your delivery person so that we can complete your transaction and get your signature.
Please Note: The Estimated Time listed above is an automatically generated approximation of when your order may be ready. If you require a more exact estimate of when your order will be ready, we recommend that you call your Pizza Hut restaurant directly. The Pizza Hut name, logos and related marks are trademarks of Pizza Hut, LLC. Third party trademarks are owned by the respective parties.
©2017 Pizza Hut, LLC., 7100 Corporate Drive, Plano, TX, 75024, USA.
When the pizza hadn't arrived by 11:20, I called and pressed 3 to speak to someone about an order in process. The woman assured me the pizza had left the restaurant and would be there shortly. I inquired about a discount, and was told if it wasn't there shortly to call back. I did. This time I received the store manager who again, said the pizza had left the store. I asked her to check with the driver and I would wait. She put me on hold for 7 minutes (the time it takes to get here) and never returned. I called back. Another woman answered and told me she heard the manager yelling at someone and she would not come back to the phone. She also told me the pizza had not left the building - that she was LOOKING AT THE BOXES.
When the pizza finally arrived, I called the store again and got the manager. I asked her to give us the pizza free, as it was over 40 minutes late, we had been "misled" that the pizza had left twice before it actually did, and also because she had told me she had tried to call Amy Hall when she knew the pizza would be late. As you can see on the special instructions, the phone number was listed for her to call. She did not call that number and Amy Hall was not in Georgetown - that's why she left the number on the special instructions SO IT WOULD BE SEEN. Also, she only tried to call Amy at 11:06 - 9 MINUTES before we were expecting delivery.
Following is the transcript from her calls to Amy:
FROM: 502-863-9595 11/18/17 11:06 am
"Hi Amy this is manager over at Pizza Hut I'm just calling to let you know that we had some computer issues and we were unable to clock in so um we were unable to get started with your order um we got in in the oven now so have it to you as soon as possible OK I just wanted to let you know that it's going to be a bit OK if you need to call back number is 502-863-9595 thank you..."
FROM: 502-863-9595 11/18/17 11:32 am
"Hi Amy this is pizza again I just calling to let you know that I'm putting a credit on your account for order being late today um i also wanted to let you know that um if you can possibly give a phone number for somebody who's going to be on site to receive orders that way and if you happens in the future we can call and let them know um I just got a very mean phone call from whoever is there to receive the pizzas and I had no idea how to get in touch with anybody other than this phone number that's listed under customer information and i tried to explain that to her and she blamed for her the plant being shut..."
Again, the phone number was there under special instructions which they SHOULD HAVE READ when they were making the pizza. And, WHERE IS HER APOLOGY??? She took no accountability for this disaster whatsoever, she made no effort to apologize for the tardiness, she even lied about the pizza being on its way, and she called ME MEAN? I had to make 4 calls for this pizza while waiting - it had been ordered more than 20 hours in advance. Two of those calls were because I had been put on hold and once they laid the phone down and never came back. There is no excuse for her behavior. This company has ordered a LOT of pizza in the past from your company. The plant was shut down 25 minutes waiting on pizza that was promised first to be delivered by 11:15 and then twice more to be on it's way when in fact, it had never left the building. From my GPS, it is 7 minutes from your Georgetown store to our plant.
I have copies of all the phone calls and times to document this and would be happy to provide them to you if you send me an email for submission. I was pleased she discounted the pizza, but I feel we deserve more because of all the reasons stated above. We will not be using Pizza Hut for the employees again until a better resolution has been made.
Sincerely,
Mary Howard
Quality Coordinator
Minova, Georgetown KY
502.868.6249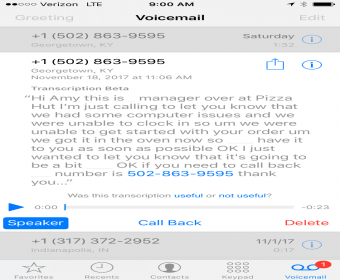 Rhona Smalley
from Pontotoc, MS
My family was asked to leave the 2134 store in Tupelo, MS on November 18, 2017 by general manager Elizabeth Althouse for inquiring as to why we had not received our order after 2 hours. The police were called by this manager and told that we had been in her store too long and needed to leave. She was very rude and disrespectful to our family and would not give me her name and refused to talk to us and asked us not to make a scene in her store. All we wanted was to wait and allow them to make our pizza so that we could feed our children who attended the birthday party. She should not be in a management position if she feels it is ok to treat customers this way. We were humiliated when we did nothing wrong. I am extremely upset and have since filed a complaint through the Better Business Bureau. I just want the company to know that we were treated unfairly and humiliated. All she should have done was to say "I apologize and will gladly remake your order" we would have been fine with that. We were unable to have our party and on top of that spent at least $150 on party supplies and had to leave them in the store because we were asked to leave. We need to be reimbursed for our supplies and would love some pizza so that we can maybe try again to make a special day for my nephew.

Richard Stutts
from Mooresville, NC
Ordered pizza to be delivered, 1hour and 15 min, Wanted Big Box with one Thin Crust and one Pan, I was told I couldn't get that. Got the Big Box and a side Salad and she said it was $34 and some change. That seems awful high, that's OK because next time I'll order somewhere else

corey bullock
from St Louis, MO
my pizza was cold and they was so rude never going back ever .

Joanne oconnell
from Pittsburgh, PA
Please call reconsidering claim #0101578501or03 waiting since 10-29-2017 Joanne cornell 412-7045790

Robbie L.B.G Davis
from Nashville, TN
As of NOVEMBER 9th, me & my brother had ordered 2 large Delivery- Pizza's from Pizza Hut location ;2700 Gallatin Pike ,Nashville ,TN.37216 ....when the delivery person arrived, he had 2 Med pizza's ... me and my brother told the delivery person that was NOT WHAT WE HAD ORDERED.....the delivery man called to the store and explained the order was NOT CORRECT..the Manager told the delivery man that's what we ordered,,,this went back & forth for OVER 25 MIN.!!!! finally the delivery man handed me his phone to speak to the Manager myself...I asked for his name ,it was Wisely Pruitt , I asked him to just make what we had ordered and why was he being difficult and ARGUING WITH A CUSTOMER ,instead of just saying NO PROBLEM we can make you your correct order ...but instead WISLEY PRUITT KELPT ARGUING basicly CALLING ME A ( LYE ) of what I had ordered!!!! I told him that I WAS APAYING CUSTOMER AND I WAS NOT GOING TO PAY FOR SOMETHING I DID ( NOT) ORDER !!!!! instesd of him RESPECTING ME AS A PAYING CUSTOMER,WISLEY PRUITT REFUSED to make me a SATISFIED CUSTOMER ,he had YELLED AT ME OVER THE PHONE WHILE REFUSING TO CORRECT THE SITUATION at hand.....I had asked him for a complaint no. he replied ,there's NOT ONE for me to call ,which I found that NOT to be TRUE !!! I have never had a place of business that REFUSE to correct and to SATISFY THE PAYING CUSTOMER ,instesd he wanted to keep ARGUING !!!!! I asked him OVER & and OVER ,AM I NOT THE PAYING CUSTOMER ....JUST PREPARE ME A CORRECT PIZZA , HE still ignored ME and my request ...WISELY PRUITT need a 101 in CUSTOMER SATISFACTION and go to a ARGUE MANAGMENT CLASS FOR A WHOLE YEAR !!!!! OR BE TERMINATED !!!! WISLEY PRUITT IS TO( GHETTO) and SALVAGE for me,I will make sure my MONEY GOES else where when it comes to a PIZZA , IT IS MANY OTHER COMPETITERS for me to CHOOSE FROM,with pleasure,after this GHETTO MANAGER EXPERIENCE ENCOUNTER !!!! I WILL NEVER RECOMMEND PIZZA HUT IN THE HOOD !!!!! JUST PITIFUL ON ALL LEVELS.

Stephanie Reese
from Salt Lake City, UT
Used to be one of my favorite pizza places, but starting to rethink...I Ordered online for the Payson UT restaurant and both times my pizza didn't have the flavored crust I wanted, and one of the times they didn't have one of the toppings I wanted and it still charged me for 2 toppings...I didn't bother to go in and have them remake it either time for the crust, they did give me a $10 off for not having a topping which was cool, but the fact that they have a website that can't even get orders right, and have a store number that doesn't even work for to do the survey when the receipt doesn't have an 11 digit number at the bottom makes me not want to order there anymore.

Shirley Lenz
from Greeley, CO
This complaint is in regards to the Pizza Hut in Wheatland Wyoming (#007554). I have never ever had such a horrible experience at a Pizza Hut. I am livid!!! Today, my co-workers and I went to have lunch....we were the first ones there....no one else in the whole place. We placed our order....which was boneless wings, garlic knots, pizza rolls and bread sticks. 45 minutes later the waitress/asst manager brought us cold wings and nothing else. She said it would still be a few minutes for the rest. At the end of 1 hour and 10 minutes......we still did not have the right order. No bread sticks....got charged for them though but got credit for garlic knots and we had to take it all to go because we were already late back from lunch. This is just ridiculous!!! Not only did we lose time at work....we had to work the rest of the day hungry. Please do something this. Thank you for your time. Shirley Lenz

mensha wood
from Cardiff, WLS
Good afternoon sir/madam, I ordered a pizza at 18 Cardiff road Newport Gwent last night and asked for two large pizza with no pork, only to discover that the two pizza was full of pork then I called pizza hut to explain, I was told that pork is not pepperoni and that they will not refund my money or change the pizza, I then called a taxi and whet to see the manager, he was very rude and arrogant and call me a black bastard,how can I get my money back and an apology, the managers name is Jamie.
yours faithfully
mensha wood

chris gobbi
from Oldham, ENG
having to my family to pizza hut for a celebration of a family birthday i.m not very happy with my visit and sevice with waiting for are orders having our main courses brought while we was eating our starters waiting for garlic bread when are main had been brought what they had forgot to bring and make and brought one piece what was very small the pizza toppings what was very little of them on the pizzas the restaurant was under staffed so i will not be visiting pizza hut again me or my family and friends

Jeff hernandez
from Houston, TX
My husband ordered pizza at 7:40 said it would be a 54 wait time which is fine bc it's Halloween. An hour and a half goes by he calls they said it's on it's way. Two hours and no pizza so he calls and the store tells him they don't have wings he needs to place another order. Husband requests refund and to cancel order. The guy states it's Pizza Hut policy to not refund any money that they will give him credit. He said no I'm not satisfied with this I do not want a credit. The party I had here was hungry they left and I don't want your services anymore. The guy continued to argue with him until he asked for manager. He told my husband the manager wasn't available. Continued to argue with my husband that they would not give him his money back. Said they are busy. Kept giving excuses. Then we heard a female in the background that said just hang up. It was the manager my husband was waiting for. She got on the line identified herself denied what she said and then hung up on my husband after he demanded his money back. It's now three hours and we do not have our pizza and Pizza Hut has now stolen our money without giving us the product nor our money back. At this time we will never order from Pizza Hut again and we want a full refund within the next 24 hours or we will pursue legal action for how we were treated and how the local store refused to give us our money back for a product we did not receive. The store was in victoria Texas 77901 phone number 361 5739137 the guys name was John that was extremely rude and not professional.

I want to make a HUGE complain about the order in subject and ask for the refund!!!
I've ordered pizza at 8pm, as you can see from the image attached, and around 9.10pm I was still waiting for my pizzas so I've called the restaurant asking information about my order. They told me that the delivery should have been here soon. So I said ok no problem and I thanked the person.
At 9,30 I rang again, as I haven't received my pizza yet, and the person at the phone told me that the delivery went back to the restaurant because he forgot the receipt with the address on it and that he should have been here soon. So I replied saying that if he would have been here in max 15 min I would have cancelled my order.
At 10pm I called for the third times MAKING THE SAME complain about the awaiting pizzas and asking for cancelling my order and having the refund. The person at the phone said that the driver was out to deliver the pizzas but I replied that I didn't want my pizzas anymore, after have waited 2 HOURS for 2 Margherita. UNBELIEVABLE!!! He told me to ring the restaurant tomorrow and speak with the manager and in the meanwhile send an email to the customer service making a complain and asking for refund to you.
I WOULD NEVER EVER ORDER PIZZA FROM PIZZA HUT ANYMORE!!! 2 HOURS FOR 2 PIZZAS!!!! AND THE RESTAURANT IS ONLY 10 MIN FROM WHERE I AM!!! I'M SHOCKED!!!! UNBELIEVABLE.
That said, I DEMAND MY MONEY BACK.
Look forward to hearing from you as soon as possible.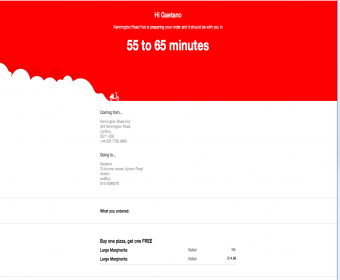 shani pettaway
from O'Fallon, MO
This was the worst pizza hut in America. The staff was horrid, nasty, mean and dishonest... it took over four hours for them to deliver my pizza after I was told that it would be a 1 and 1/2 hour wait. I tried to call to cancel my order and the staff lied several times and said my pizza is on the way. I was at work and had to wait until my shift was over to try to get my pizza or my money back. after 4 hours I when up to the store (15002 Ella blv Houston TX 77090) and spoke with someone who claimed to be a manager ( he gave me the name Charles but the receipt sais Iscc) and he said that not only can I not get my money back but he had no idea where my pizza were... There was a man there African American, tall very, heavy, mid length greed locks in hair, and with what looked like bad teeth who claimed to be the manager " Charles" is the name he gave me but the receipt he gave me said "Iscc" was so mean and dishonest. He first lied and said this was not the proper pizza hut, then that the call center did not place the order correctly, then then that they didn't take a payment then that I did get my pizza. If he is a manager he need more training... the made this one of the worst food service experience of my life. He scared me.
And I still have not received my money back on my card.
I have a video that I cant seen to up load but I do have it...

Mike baker
from Nashville, TN
10-3-17@ 600pm watress ask for drink order/ water went to salad bar mad a bowl & then to pizza bar- table no drink yet. Eat Salad &three slices of pizza. Had to get an attention of other water he come over and ask what I needed.@ and I said what do you see is missing here & he look dumb founding . Not to even to notic that there was no glass on the table - I said I order a glass of water.. & I said how a bout slapping the waitress & tell here to do here job . In an kidding mainer 10:min. Latter I finly got the water by this time it's 6/7 slices without any thing to drink. I was Ignore - no refills / plates - boles - paper & discard food -clears from table. went to pay bill was ask how was every thing I replied service sucked- and there were 6 to seven people standing at the reg and young person - Mail said that what I had said to water was offensive. And that t why I was Ingored . Do thes young kids today think life is an bed of roses & cant Handel a little sarcasm-kidding then they in for an rede awaking. What every happen to customers servi. Note to complaint Dept. I did apologize to young man and every one stand there even the young lady waitress. PS here are the pictures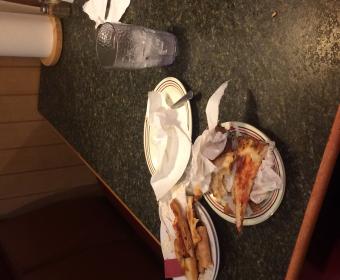 GLENN BRIGGS
from Coppell, TX
I AM BEYOND MAD.....U ASKED ME TO TAKE A SURVEY AND I WOULD GET $10.00 OFF MY NEXT ORDER. EVERY DAY I GET 25 TO 45 JUNK EMAILS SINCE I DID UR SURVEY. THIS IS BEYOND CRAZY AND I BLAME YOU. THIS HAS NEVER HAPPENED BEFORE SO I KNOW YOU ARE THE CAUSE. YOU NEED TO FIX THIS AND / OR MAKE THINGS RIGHT. I HAVE BEEN A LOYAL CUSTOMER FOR OVER 15 YRS AND YOU DID ME WRONG. THAT WILL CHANGE IF YOU DONT DO THE RIGHT THING. YOU SHOULD BE ASHEMED OF YOURSELVES.

Zuann Morris
from Teaberry, KY
I frequently order from Pizza Hut on North mayo trail. Pikeville ky. It's usually delivery. The last 4 times I ordered cheese sticks I received bread sticks. Cheese sticks are more expensive and I don't like bread sticks. I could overlook once but 4 times tells me they don't really care. Anyway to fill the order. Delivery person is always great and everything else is good. They just can't seem to be able to tell the difference in bread and cheese sticks.

toni Edwards
from Chicago, IL
Had 6.99 coupon for a large pizza with one topping. Ordered via phone large veggie pizza with pineapple topping. Upon arrival, to pick up the manager (he identified himself as Jose) said that the veggie pizza was a specialty pizza and I couldn't use the coupon. I questioned why they took my order (I might say the first person hung up after holding for a while). Called back placed an order and left to pick up. Jose said that I could only get it by paying the full price approx. 13.00. I felt he should have honored my order, but he refused. The best he did was give me a pepperoni pizza with pineapple for the 6.99 pizza. His explanation for the mixup was that his crew was new and didn't realize that what I wanted was a specialty item
The store I visited was at 4356 Leimert Blvd., LA, Ca . 323 291-4000 on 9/18.

Teresa Smith
from Concord, NC
the worst service ever, I placed my order online at 1100, call the store around 1230. THE manger told me that the order was brought back to the store. I asked why didn't the driver call me when they were in the lobby. Then the manger stated we can deliver it in 45 minutes, so I asked why 45 minutes if the driver just retuned it. So I assume the pizza was never made. As I am typing this message I still have not received my pizza. The day I provide lunch for my co-workers this happens.
Credit Card payment of $18.33will be charged
Total does not include tip. Please remember to show your appreciation to your driver. If paying with a credit card, you can add a tip to your total when signing your order receipt - cash is not necessary
Confirmation Number
3170921100305001184014523
Order Date
Thursday, 09/21/2017, 11:03AM
Scheduled Delivery Time
Thursday, 09/21/2017, 12:49PM
Delivery Address
3506 Tyvola Rd
Charlotte, NC 28210
as you can see the time for ordering and delivery It is now 1:53, our lunch time has passed no one has had lunch because the store still have not delivered the pizza. I called 3 times with a reply the pizza is on the way.
this is the worst service ever I will no longer use your company far any more of your services.

Angela alcorta
from Dallas, TX
I recieved coupons from you due to a complaint i filed about my order not ever getn delievered and now when i try and use these coupons they tell me that these coupons are not valid or can not accept them. I dont know what,the problem is now with this location but this seeiously does not make me want to return. The location is lamesa texas

When I placed my order at the store and I waited about 15 minutes. My pizza was ready but the cashier missed one of my order and I asked as where is my cheese sticks. She said she forgot to add that order. It was big disappointed as I like to eat my pizza very hot. She placed other order and made me pay for her mistake which is ok. I asked as how long will I have to wait for cheese sticks to be ready and she said it would take about 7 minutes. I sat and waited more than 15 minutes. When my cheese stick ready after 15 minutes and I checked the cheese sticks and it looked very OVERCOOKED as it was very dark brown and hard.. I was so angry!!! My dinner turned horrible.... no pleasure!!
P.S I tried to enclose a picture of cheese sticks but appear to me that your web site is not working correctly when I picked a picture to download but it came out as a different picture.

Wilbur Young
from Waycross, GA
Ordered hot wings and BBQ wingsgot only hot for both orders.

Regina Kinsey
from Cleveland, OH
An hour after my delivery was supposed to have come, I called to see why it was so late. Paul, who identified himself as the shift manager, gave me 3 different excuses as to why my food hadn't arrived and they were all MY fault. His disposition was rude, argumentative and defensive. No solution was offered until I asked if he planned to resolve my order not being delivered. At that time, he told me he could discount my order since 'That's what I was getting at anyway'. I told him no thank you. I typically order pizza or other menu items twice a week from this store. Never again!

Chris Fletcher
from Liberty, MO
I ordered the 10 dollar any way you want it pizza. Although I could get a Supreme I was not able to get a simple cheese pizza with extra cheese without an upmcharge. Your company originated in Kansas and I have taken great pride in that. I ordered your food even when quality became an issue. And it is an issue in a lot of your stores. Your company could not wven provide the most basic pizza order without reneging on your sales offer.
I will NEVER purchase anything from your company EVER again. I don't expect to hear back from you. It appears you care even less about your customers than you care about your product. I will also denigrate your product every time I have the chance. So sue me. Truth is a great defense to what you offer.

scott feder
from Woodland Hills, CA
1. 90+ minutes for my pizza and chicken
2. food cold
3. wrong chicken (wrong sauce)
4. 90 minutes to get replacement chicken
5. surly person on the phone
Complete failure of service, super disappointed. I want a full refund for my order (24.65) and I want coupons for future orders - absolutely ridiculous you charge delivery charge and give such pathetic 3rd world service.
Feel free to call me - 818 516 1200

Todd Shell
from Crestwood, KY
Hi, my wife called in an order as she left work. We do this at least once a week, sometimes twice. She picks it up and brings it home. Well....this time when she got it home, I hear her in the kitchen say "what the heck' ! I went in and the pizza was as thin as a piece of cardboard, the crust was hard, no sauce, very little cheese. It was almost a bread frisbee. I refused to eat it, my wife tried...she took one bite and said don't even try it.
So we took it back, and the manager Daniel, right off was a smartellic about everything. He said it's been put to long I can't give you you're money back. My wife said I come here all the time, and you always show it to me and this time you didn't, so you knew something was wrong with it. He immediately called my wife a liar. So I stepped in, and I was pretty upset at this point to have some little smartass teenager calling my wife a liar. I told him she just wanted her money back and we will go elsewhere from now on. He just laughed and said ....that's not gonna happen. I asked him what he could do...he said they could make another two for us. I said there's no way in hell you all are going to remake something for me to eat. And he said well then our business here is done. By this time I was steaming. I asked for the manager, he informed me that he was the manager and what he says goes. I lost it, I did say to him that he better f'n apologize to my wife. He said that wasn't going to happen and for using that language in his store he demands I leave. I said that's not happening. My wife stepped up again and put her hand on my chest, he took the pizzas to the back, and walked back up to the counter. My wife said you are willing to do nothing to make this right ? He said I told you we could remake them but that's it, they have been out to long for a refund. We live about 45 minutes away from this place.
So I asked for his boss's name and number and a number for corporate, he informed me that his boss was out of town and was unavailable to take calls....nice try though.
Yes he said that.
So I told him I want my pizzas back so I can show someone what we were expected to eat, and I wasn't leaving til I got a number for corporate. He said Oh....now you want your pizzas, I thought you didn't want them. I said I paid for them, I'm not getting a refund, they are my property. He went back and got them, tossed them on the counter, put a piece of paper on top of the box with the corporate number on it.
By this time a gentleman walked in with his lil girl, and I apologized to him for the inconvenience....the gentleman said no problem. I opened the box and showed him our pizza and told him to make sure and check his when he gets it. He told me that ours looked disgusting and he would double check his.
The manager, then told me again to leave his store. I informed him of all the negative feedback they would get from my stores. He said 'whatever....leave'. My wife had already walked out crying.
Once again I said you are going to do nothing ? He said I offered to make you another two, and I offered a credit. My wife was standing at the door and came back in. She said you never offered me a credit, and he said I sure did. Again, making it look like my wife is a liar.....he never offered a credit. So she handed him her debit card, and he smiled and said I don't need that....I'm not giving you a refund. She asked what a credit was then, he said he would give us credit towards our next order. I said ok, and we can go to a different Pizza Hut ? And he laughed and said 'nope', 'just this one'. I said nevermind we will never be back at this store. I informed him of my name and where my store is where I could be found. The other two employees that I saw there were one that was first at the counter, that ran to the back and never came back. And the one that was actually working in the back never said anything.
Anyway....I find this unbelievable that anyone would treat a customer this way. Especially a customer that has been buying from you for a few years every week. And his mouth is going to get him and this store in alot of trouble one day. I stayed as calm as I could because my wife was there, then there was a child there, if I was by myself this would have escalated into a whole different outcome. I'm glad that didn't happen, but just in disbelief that someone acting like this is not only working with the public....but a store manager as well.
If my stores treated people this way....I would be out of business.
I don't know what has changed in this store, we have never had a problem before.
On the ticket, this is store #014321
3610 Springhurst Blvd
Louisville, ky 40241
Ticket #56
His name is Daniel
And we will stay on this until there's some sort of satisfactory resolve. I personally would be happy for me to not be around him at all, but he should be made to at least apologize to my wife for talking to her the way he did, and for calling her a liar.

Visited Pizza Hut in Humacoa Puert Rico on 08/05/16 at about 5:30 pm. I went in the store and placed an order. The employee ask me if I had a coupon. I told her no. While she was placing the order I verified my purse and indeed found I had a book of coupons they had given me on a previous visit. The employee had already placed the order, but she said it was a ok she would cancel it and process a new order with the coupon. She called the store manager who came with and attitude and rudely ask her what she wanted.
The employee explained the situation. She looked a me with an attitude and told me I am going to do you the favor this time but next time you come in you better notified first that your going to use a coupon. I told her what are you talking about that your going to do me a favor I don't understand. She told me again that she was going to do me the favor. I told her once again I did not know what she was talking about. The store was full of customer and it was very embarrassing for me.
Seeing the attitude she had towards me and the employee I decided to leave the store. I am not used to use the so call coupons. She acted like if I was asking for free food. You should look into this and what kind of people you have employed. I had visited this Pizza Hut in the past and the employees have been very polite. I can't say the same for the manager that was that day in the location. Unfortunately I did not get her name, but I guess that with the time and date provided you will be able to contact her and tell her how to treat people with respect.
Pizza Hut located in Humacao Puerto Rico near Sam's Club.

Tiffany Brazil
from Crosby, TX
This store always forgets something from our order every single time it never fails we always get the meaty marinara sauce for 4 which comes with a set of breadsticks and we usually order an extra set, the cheese breadsticks, and they always forget one or the other either the regular breadsticks or the cheese ones. This happens even when I call the store after placing the order to remind the workers and ask not to forget. Never fail something is always missing and no I swear I'm not exaggerating something is always missing! Well this order I decided to not order the extra breadsticks and try the s'mores cookie thing I ordered the family pack for 4 pasta and the s'mores cookie and I added an order of marinara sauce which doesn't come with the package deal.
The driver shows up which was very polite and said the manager made sure the marinara sauce was in here and I look to 1 box with the pasta, the s'mores box and the marinara no breadsticks and I asked please don't tell me they forgot the breadsticks and she said I'm so sorry I don't know why they would have sent marinara with no breadsticks that seems kinda silly. And said that she would go get them and bring them back which she did. But the problem is this happens every time we order and it's so frustrating.
Once in a while I could understand but it's not its every time! And when I call it's always I will credit your account or send what was missing which the rest of the food it was meant to be eating with is cold by the time it gets there. Now I would just like someone to please tell these workers to pay more attention and if you was to look at our account you would probably see all the problems if they even put them on there.

Jessica Harris
from Henderson, NV
Purchased two pizza dipper pizzas ordered online well in advance on 8/1/16. Order was delivered on time but, when order was received I only received one. I called back and explained situation I was told when the driver return they will have missing pizza ready and the driver would bring it back. I wasn't told the actual wait time so as I wait i inspect the pizza that was delivered and the quality was horrible, it looked like it was thrown together.
Forty-five minutes pass still no return drive. I go to the location 715 Boulder Hwy, Henderson NV 89015. I take the delivered pizza and walk in and explained who i was and asked for manager and show them quality of pizza and the took it back and I am thinking they remade both. 20 mins go by and my order is ready. I was only shown 1 pizza. I get home and gave my children their specific pizza and I open the box for my husband and myself specific pizza.
It's the same poor quality cold pizza that i had to reheat in the oven. I was told I had a credit for the purchase amount. I really don't believe that. I felt taken advantage of and i paid my hard earned money for this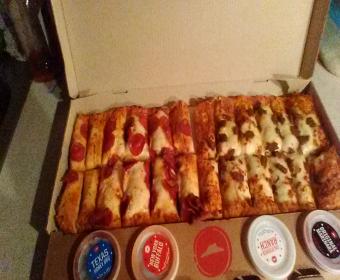 Kristy Webb
from Monroe, LA
I placed an order online for four medium pizzas. Three of the pizzas were hand tossed and one was thin crust. Once I arrived home, I was highly disappointed that all four pizzas were hand tossed. They never read the special requests such as pizza well done, extra sauce, light aauce, etc. Every time I visit the Pizza Hut in Minden, LA, my order is either incorrect or the quality of food is lacking.

Shawn sprague
from Pittsburgh, PA
I ordered a care your order online for your Niles store. 745 Youngstown road Niles Ohio. I had an online coupon I received for completing a survey. The coupon was for $10 off an order of $20 or more. I didn't put the code in for my online order. I didn't realize I needed to. I took the coupon to the store and they refused to honor it. I refused the food. I order pizza and other food from this location several times a month. I probably spend over $400 a year there. I won't be ordering anything from Pizza Hut anymore.

Beverly Cole
from Denver, CO
Every time I order from this location it's a problem. They don't get my order right , it takes too long for delivery like 2 hours. I ordered my pizza at 7:41 p.m. and it's now 9:38 p.m. and I still haven't received my pizza. Then when it gets here it's cold. Once I even had the driver to tell me he had to go back and get the rest of my order from the restaurant. I order extra cheese and I don't get it. I even stopped ordering from Pizza Hut and started using Papa John's, but I decided to use them again and I'm getting the same bad service. I need to be compensated for my getting such bad service when I was a regular customer. I am located in Meridian, MS. The store I'm referring to is on North Hills Street.

Terri Jo Frederick
from Florence, AL
I am highly upset with Pizza Hut. I had to cancel my order 3 hours after I ordered it due to the fact that I never received it. I talked to the 'Manger' of that night and she proceeded to give me a credit of $25. I greatly appreciated it and was accepting. Today I tried to use that credit which for the record, I have not ordered since July 2nd which was the day I received my credit. I was then told that I did not have a credit of any kind. This was a shock and I assumed it was some sort of a mistake.
Well, they told me that there were no records of me placing an order on July 2nd and there were no records of me ever receiving a credit. Well, I have phone records and an email both proving and I did in fact order on July 2nd. I asked if there was any way to get this cleared up and she told she could do nothing because her records said otherwise. More than likely, I and my family will never be ordering from Pizza Hut ever again because I find this to be absolutely ridiculous.

Marcia Rudolp
from Great Falls, MT
I ordered dinner from one of our Pizza Huts here in our town. The driver who delivered it to our door was covered in either cat or dog hair, his shirt looked like it was alive there was so much hair on it. The third bite of pasta my husband took he found a six inch hair in the food he was eating. It was from someones head. I will never order again from Pizza Hut. It was disgusting.

Nicole Mckinney
from Lafayette, LA
Well I put my order in at 7:32pm after 9:00pm I called the store tell them I haven't got my order yet the lady said they left with my order. Ok, she didn't say she was sorry are why they are running later she was just like ok they are on the way. Now I know Pizza Hut is busy and all and at the same time they are right down the road from me...now I just NOW got a phone call it 9:30pm asking if I still want my food (Well yes I paid for it) the she say he just got back he couldn't find the lot# if that is the case all they had to do is call my phone and ask.
I know my number is on the paper he is reading off of now this is the reason I don't eat out this is to much and I only order out because my kids wanted something different for now on if I have to fix pizza myself. I will this is bull then she talking to me like in the problem really all I wanted to do is eat pizza and have a movie night with my kids hell its time for bed. I have work in the morning it's 9:41 and my pizza just got here really what a hell of a night and my food is cold.
Have feedback for Pizza Hut?
Thanks for your feedback!
Sorry. Please try again later!