Pizza Hut
Pizza Hut Complaints Continued... (Page 11)
1096+ reviews added so far. Upset? Call Pizza Hut corporate: (972) 338-7700

Hello to whom it may concern: I would like to let you know that I will no longer be ordering from your company any longer (frequent customer). I ordered my pizza like always online and had my husband got pick up the order. Never had a problem before. It was my first time ordering from 1102 E Highland Ave San Bernardino, CA 92404 (store number #024867) . I have always given my husband my atm card to take to pay for our purchase and this time he went to pick up and they refused to give him the order or run my card. They said that I had to be there and with my id to even pay. So then my husband said deliever it because I was at home sick. They delievered it and then called to tell us they were there outside our apartment which in fact they were not.
Then he said I had to go to the apartment office to pick up my order. So then I had to drive over to the apartment office to pick up, he parked in the dark when there were plenty of spots open with lights on. Then he wouldnt even get out of his car, I did! Mind you that I had been sick all weekend with morning sickness and flu. He didnt even look at my id that I was told was needed by the rude manager on duty that night. Her name was Jessica, the manager.
He got upset that I didnt tip even though I just had to pay for delivery service that really wasnt delievered, I had to go pick up for $3.00. Then finally we got our pizza which was cold, soggie, and ( I thought all your sauces came remade same receipe) was over seasoned and discusting! Called manager Jessica again and she heared my voice and hung up on me. Wont be ordering from this company again, Sincerely pissed off customer, Amanda Meyer

Hello, I'm just writing because I think it's a shame how Pizza Hut has changed. I have not been in a Pizza Hut for many years but was passing by one in Centereach, N.Y and decided to eat there with my son. Although the employee was very nice and courteous, the place itself looked and felt unclean. When my son went to use the restroom, the door wouldn't lock, the urinal was covered and there was no soap. We had just placed a simple order of 2 personal pan pizzas. After 15 or 20 minutes the waitress brought back one pizza and we had to wait for the other because the order wasn't put in properly. I think Undercover boss should go there and just realize that the place needs some work and updating. It wasn't like this many years ago. I don't think I'll patronize another one.

Ive been a faithful customer of your establishment for years, but here over the past several months, my continous poor experiences at the syore located in nederland texas, ranging from employess hanging up in my face because they dont wanna make a delievery, to employees lying abput how long a delivery might take, i.e, two hours or more, only to recieve cold pizza. I understand these employees dont make millions of dollats, but i myself am a manager in the food industry, and how you treat the consumer ultimatly determine the future growth of ANY company. I am sad to say must take a break from your establishment until the conditions, the managment, or both improve, i also will be notifying all my employees, as well as any of my guest about the "unprofessional" atmosphere at your nederland texas location.
Sincerly, one disapointed guest.

I ordered a pizza from great barr pizza hut in birmingham west midlands. I ordered the pizza over the phone for delivery it was the first time i ordered pizza from this place and was very disappointed with the pizza. I ordered a chicken pizza wih onions peppers sweetcorn and pepperoni and ham. The pizza tasted horrible and bland there was too much cheese and less toppings, there was no taste to the pizza all you could taste was the cheese, the base from underneath was all wet and soggy. I did call the pizza hut in great barr and told the lady I have only tasted 1 bite of the slice it was horrible she said I would have to wait 45 mins for another pizza and would have to give this pizza back which was not a problem but I did not want to wait another 45 minutes for my pizza. The lady was very unhelpful she said the person who made the pizza had gone home but she would let them know that the pizza was not nice. She was not bothered at all. I wasted my money on a pizza that had to go in the bin as it was tasteless and horrible.

Never in my life have I seen a restraunt so dirty. Me and my family are from San Antonio, Tx. We decided to stop at Pizza Hut in Carlsbad, Nm. Which was the biggest mistake ever. As we walked in the restraunt I could already see what a mess this place was; and we noticed a lot of health hazards as we waited to be seated. By the way which took 10 minutes.
The restraunt wasn't full it was that all the tables were occupied with dirty dishes n about 3 tables were taken. Finally when the waitress came to seat us, after she was done talking on her cellphone.
Anywho, we were going to walk out but my daughter wanted pizza. So I ordered her a small pepperoni pizza. It took almost an hour in a half to receive one small personal pizza. I asked to speak to the manager and the waitress in a rude manner stated that if I wasn't happy for me not to return.
So I asked again to speak to the manager. She just ignored me and said some very harsh words. So I walked up to see if I can see a manager or anybody to complain to and nothing. So I go outside and go out to the back, and low and behold there was the manager smoking with our next to a gold car. I looked at them and smiled.
I went back inside to get my family and stormed out. That place has to be the worse in every category! I will be in contact with corporate as soon as possible! This issue has definitely been so bothersome for me and my family.

On Super Bowl Sunday I called Pizza Hut @ 5:36 pm to place an order of a large dinner box and 2 liter of Pepsi. After I was done the person taking my order advised me that delivery was 1 hr and 30 mins long. I had no problem with that. I called Pizza Hut at 7:05 pm to check my order and was told it was on the way and should arrive in 20 minutes. I called again at 7:30 pm because I didn't receive my order yet. The employee who answered said delivery was up to 2 hours long, I explain I called 25 minutes ago and was told it was on the way.
He ask for my phone number which I gave, after being placed on hold for 5 minutes he returned to tell me that my order wasn't made yet that is why I hadn't received it. I was very upset! I told the employee I should get my order free or discount, something. He then said "You will get this order you placed "FREE". I ask to speak to a Manager. Placed on hold again for 5 minutes. The manager answers my call and I explain everything to him, he said "We will give you the order "FREE", but couldn't promise what time I will receive it because of delivery. I told him I didn't want my order anymore because it's been 2 hours already, and explain how could they do this to customers. He didn't have much to say after that. I again told him to cancel my order and I would order from Toppers Pizza and would get my pizza in 30 minutes.
Around 8:05 pm a call came through my phone and it was the delivery person from Pizza Hut, I ask was the pizza "FREE" like I was told on the phone by the Manager and she said "No, it doesn't say that on here". I said "Return it, I don't want it". This Pizza Hut is very unorganized, disrespectful and rude. Place customers on hold for 20 minutes, sometimes they don't even answer their phones. The Pizza Hut Store I'm complaining about is in Milwaukee, Wisconsin 1515 West Burnham (414) 643-6200.

I will NEVER order from Pizza Hut again and heres why. My debit card was fraudulently used on 9/6/2012. There were 2 fraudulent charges.on my debit card from Pizza Hut on the same day. Apparently, my card was used to order pizza online. Pizza Hut is supposed to get a imprint of the debit card & view a picture id at delivery to make sure it matches the name on the card. Pizza Hut failed to do so. The reason I know they didnt do it is because my debit card was fraudulently used but it or my id never left my possession. I called the two different Pizza Huts where my card was used & even though I caught the charge within the first two days they were not willing to refund my money & both managers were very rude! I was told that I had to fight it through my bank. In my opinion Pizza Hut promotes fraud because had they followed their own procedures then this never would have happened!

I ordered my pizza for carryout. I go to Pizza Hut#024503 and stand at the counter for more than fifteen minutes,just to pickup? No one there to help.Employees walk by and no one greets me last least. Until I stop someone's that walks by and ask for the manager. Then they want to help me. So I still ask for the manager. And one young guy comes to me and said his the manager. No name batch? He said,ooh I forgot it?? Then he said his name was Dennis and that his the manager. I didnt believe that! He said I'm wearing a shirt and as tie. I told him what happen but he was careless. I will NEVER go back!

I place my order online and requested delivery. My order consisted of a dinner box and added 8 wings this was at 5:40 pm once order was approved my quoted wait time was 7:35 pm almost 2 hours later I assumed this was just to be on safe side. At 7:20 i still had yet to get order I placed a call just to see if at the very least it was on way the woman that answered was very rude put me on hold before i could even respond to the request to hold then when I explained reason for call she informed me that i have not waited 2 hours it was only 74 min (only longer then I have ever waited) and was very rude and snippy as she told me that I am next delivery out the door. I place my 2nd call 40 min later to asked what was going on ans asked to speak with a manger I was placed on hold for 12 min and 3 different times someone came to the phone and asked what I would like and I had to repeat 3 times I was holding for a manger whom never came to line I finally got my order 3 hours later. I think this kind of service is 100% inexcusable and I will never order from them again.

Me and my family attended Pizza Hut leamington spa Tuesday 7th may 2013 after waiting along time for our pizza to come out. When it finally came out the pizza was like water in middle which didn't look cooked properly they took pizza back to cook more by this time the kids were gettin restless and didn't want to wait any longer. The pizza finally came out and was cooked in middle and hard round edge. We use Pizza Hut a lot but am very disappointed and will find it hard to use Pizza Hut again.

I just purchased 3 pizzas at the helensvale store at 18;58 pm according to my invoice which I will be faxing to fair trading on monday. I was charged an additional 10% public holiday surcharge. I told the young lady it was not a public holiday and what they are doing is illegall. Anyway what a ripoff.

On February 20, 2013 at 6:45 i place a order with pizza hut (which i paid wit my cc) at the 7996 Miramar Pkwy
Miramar‎ Florida‎ 33023 after waiting 1 hour n half I decided to call Pizza Hut to inquire about my order which than i was told that the driver tried calling (which i have ordered from that located Multiple times) that he tried calling me n was Unsuccessful which i Received no call from the driver nor the Location informing me that these attempts were made after asking to speak to a Manager i was told that the wait was going to be a Addition 45 to hour wait wit no Sympathy or a knowledge of my bad Experience

I eat Pizza hut almost 3 times a week because they deliver to my job. this has been the worse experience that i have ever had the food was cold and wasnt fresh... the estimated wait time time was supposed to be 30 minutes and to arrive at 3:52 and the food arrived at 3:37 and i place the order at about 3:22 meaning the food was already done and they just decided to get it to me. I did not like that and i do not appreciate that at all

Today my 67 year old mom went to get our family dinner from Pizza Hut in Mauston, WI. Our first mistake!!! Like so many times before nothing but disappointment. She ordered wings, Alfredo, Stuffed crust pizza, and bread sticks to go. They said it would be ready in 25 min. My mother left and went to do some shopping. She came back in 20 min. and yes she waited and waited and waited. When they finally came over they said they forgot the wings. She said forget them and went to the car. When she got to the car she noticed no Alfredo.
So she went back in and they blamed her saying she didn't order it. So now she orders it and yes she waits and waits and waits. Now our pizza has grease forming on the top and the food is cold. She gets the food home and the Alfredo is is cold in the middle. I call the manager and he to blames it mostly on my mom and then tries to humor me with a free order of wings. What a disgrace, they disrespected my mother, and then my intelligence.
With the economy being this hard you would think they would work harder to keep customers not drive them away. I hope this manager gets taught what it takes to make a good manager and no its not to insult the customers...

To whom it may concern: On Friday Jan 18, 2013 we ordered 2 large pan pizzas and chicken wings online for delivery. Our order came to $33.24 and I entered my visa card number for payment. When the driver arrived, he said he had forgotten the credit card slip for me to sign and that I'd have to pay cash. So we paid cash. The next morning, Saturday Jan 19, 2013 I called my bank and found out my credit card was still charged $33.24. I called pizza hut and asked to speak to the manager. He didn't give his name, just said he was the manager. I explained what had happened and that he may want to see if this driver was pocketing the cash. He said, no the driver had told him about what happened.
He then went on to Tell me that I needed to bring in a bank statement showing I was indeed charged along with my I.D. and credit card. I work every day except Sunday and am unable to just run to the bank to get a statement. I can wait til I get a statement in the mail, but my question is this: why, if the manager knew what happened do I have to do all this running around? Shouldn't they be able to tell at closing when they do a deposit that they were over in their totals? The pizza hut we ordered from is on Sunny Lane in Del City, Oklahoma. We live on Askew Dr in Midwest City. I'd appreciate you looking into this and letting me know why I have to jump through hoops to get my money back.

Dear Pizza Hut. I'm writing you today because of the local Pizza Hut in my area. It seems like every time I call in an order they seem to make up excuses for delevery time so I won't try and place order but I do anyways they always tell me "it's gonna be like an hour or two before my order will leave. My pizza always end up wrong or when I order a lovers pizza there isn't anything lovers about "hardly any topping" and the dine inn service it bad cause no one ever wants to want on us Pizza Hut is my favorite pizza I don't wanna stop eating it just wish the service was better.

On March 22, 2013 my wife ordered a pizza from the Pizza Hut at 1965 Coliseum Blvd Montgomery Alabama at 6:30 p.m. The Pizza was a store credit because the week before the pizza we order and picked up was terrible, cold and was not able to eat it. When we arrived at the store I went inside and told the cashier why I was there. She said in a mean voice, " a store credit" I said " Yes " itwas becuase ya'll messed up our pizza so bad last week the manager gave us a store credit and my wife called ahead talked to the manager and he made sure all was ok. The cashier chose to be rude in front of customers that were in line and standing around so I didn't hesitate to tell her how sorry the servcie was and that she needed to check with her manager. She just walked off.
When she came back I told her the name and she looked around then started waiting on other customers. I asked her again about the order she replied it's coming! I stood inside for over an hour and others there to was there for a long time and I could hear them complaining so we all talked about the terrible way things were at the Piza Hut. One family of eight had waited hours at a table for their to be completed and finally went to the counter told them they were leaving and only paying for two drinks since no one was concerned about serving them.
After I was there over an hour or more I asked about my pizza the server kept saying three minutes, then about 25 min's later I asked again she said three min's. My wife said for us to just leave so I asked to see a manager. It took awhile for them to get one because all the cooks were in the back talking and laughing and not cooking. This type of service is uncalled for and we will not go back and I will report this to the local newspaper section that talks about local places to eat.

We called in our order for some boneless wings tonight and was told they would be ready in 20 minutes. I arrived at store 30 minutes later and still had to wait 40 minutes on my food. When I finally asked for my money back, the lady at the front laughed and told me that my food was ready. As cold as the wings were, I can only assume they had been sitting there for at least 20 minutes. The store was filthy and the staff was very unprofessional. Most of them were either standing around talking on their personsl cell phones or leaning up against the walls. (Guess this is why my food sat for so long). And while they were all doing nothing, the store phone was ringing off the hook. The floor looked like it had not been swept in months and the tables had not been wiped down. It was disgusting!! I will not be back.

My husband and I went to Pizza Hut in Chippewa, Pa. we noticed a long wait in the line for window service . But we were seated inside immediately. We placed and order for 2 personal size pizzas , 2 drinks and breadsticks. We recieved our drinks immediately . We noticed no one had any food infront of them. We waited and I finished my soda . About 40 minutes later, I noticed an older lady and man who came in after us left, the people outside were leaving the outside window without their order. Our waiter never came back to refill our sodas or to bring our breadsticks. Finally a waitress who was waiting on another table came and refilled our drinks. We waited another 15 minutes and finally our breadsticks came with no explantion, just I am so sorry. We ate our breadsticks and about 30 minutes later still no pizza, so we went up to the register and paid for our breadsticks and sodas, never an apology, or an explanation. The waiter said I can give your pizza for you to go, I said no thank you. I am sure they lost alot of business tonight. I think someone better see whats up there. My husband and I ended up at Wendys and the little girl apologized because I waited about 3 minutes for a burger and I said believe me this is nothing. I told her what happened and another server over heard me and said another women came in there and said she had a 2 hour wait !!! I love pizza hut , but I will never go in there again. I definetly know it is courteous for the manager to come out and go table to table to explain the wait or apologize, he never came out. I seen alot of very disappointed consumers there.

On Dec. 10, 2013 my stusents were on an outing. Pizza Hut was where we called earlier and placed the order for our students. When we got there I waited at least 10 minutes for service. Along came two of my students wanting to place an order for carry out. I told them to wait because ai had not given my order so tha I could eat from the salad bar. The supervisor proceeded to take their order. I told her that I had been waiting a while and that the students already had food at the table. She ignored me. Therefore I asked another employee to take my order. She told both employees not to because she was going to take it when she finished. I told her that because of her rudness, she could not wait on me.
She was adamant about not havcing anyone take my order. I am a diabetic. I left and went elsewhere to eat. I am asking that thhis supervisor be reprimanded and if possib le suspended for a few days. I also demand an apology from her. This incident took place around 12:40 p.m. at the pizza hut on the waterfront in ST. Thomas, USVI I am consulting an attorney.

I went to Pizza Hut located at 1420 NE Evangeline Thruway at about 2:30 PM on 12/15/12. My grandson ordered the meal which included a personal Pizza Hut pan pizza, 3 breadsticks and a drink. When his order came out, there were no breadsticks. He asked the server (a black male) when he would be bringing his breadsticks.
The server told him that meal did not come with breadsticks, so I asked to see a menu. Sure enough, breadsticks were part of the meal. Server had gone back behind counter to ring up an order, so I went to counter and pointed out order and that breadsticks were part of it.
A Pizza Hut co-worker of his (black female) asked him why he had warmed breadsticks. His reply: "I'm go'in tell ya'. He went to her, leaned in close, and told her something which I could not hear, but I can imagine. Anyway, we finished our meal and I went to the counter to get a to go box and to also collect the breadsticks which he had never brought.
After he gave me the to go box, I still had to ask for the breadsticks to be boxed also. We were the only customers, so it's not like it just "slipp-ed his mind". I found the food to be of poor quality and the staff to be rude.
Not a Pizza Hut location I will visit again. I will also recommend that friends avoid going there.

My wife ordered a pizza online at the Pizza Hut website for the 35th ave and thunderbird location. The order got messed up and they sent a pizza with onions instead of black olives. Not a big deal. We called the store and said we still have the whole pizza but we would like our correct pizza. He said a couple things that are really bad. One he said because the order was an online error that they are not responsible for that. It is pizza huts website. Yes it is your problem. Second we asked for the corporate number and he said that the location was franchised so he didn't have a number to the corporate office. Are you kidding me right now. Are you not one company. His name was Edward and was a supervisor there. Please do something about this or I will report this incident to the BBB. Also, the fact you are not one company is really embarrassing. It's sad that a 10 dollar pizza ruined my night. I hope to hear from you soon.

Recently, my cousin & I decided to go to Pizza Hutt for some yummy pizza for lunch. As soon as we sat down we were told REPEATEDLY that the buffet was closing in 8 min & to get what we wanted. We assumed the remaining food at the buffet would remain & no new pizzas would be cooked.
Like a countdown, we were told we only had 5 min to get our food or we wouldn't get any at all. I did not enjoy my lunch as I was rushed! I won't be eating there again. The pizza & Dr pepper were delicious were delicious but it was not a pleasant experience.

Me and my family and friends went to Pizza Hut in Tarboro, North Carolina. Once waitress finally took our orders she brought plates and they fell on table, water got on one of family members, the waitress never said she was sorry and just walked away. It took three workers to come to our table to ask what our orders were. They kept bringing the wrong orders and some of us never got our food while others did and finished eating. The waitress never came to table to refill our drinks. By the time we were leaving is when our food was ready but we asked to box it up. It was the worst experience in a restaurant we have ever experienced

Mercedes
from Jackson, MS
I had placed 2 orders for pick up I was told it would be a 45 min wait. I waited 45mins then I came in and paid for them and I was told my order was ready. I got 1 of my pizzas and they said it would be another 5mins for my other pizza. After 10mins they asked me again what I was waiting for. And they still could not find my other pizza. I waited almost another hour and by that time my other pizza was cold and the person up front just gave me a random pizza and gave me my money back.

Kelly herrington
from Atlanta, GA
I am never one to complain about an establishment. I honestly don't think I ever have filed a complaint. I am so upset though with the pizza we received at the Cochran, GA Pizza Hut. One half of the pizza didn't even have cheese on it! I took pictures. We live in a rural area, so when we noticed half way home, at 8:40 at night....it was a list cause. We tried to eat the other half, and it truly tasted like cardboard. Hard crust (we ordered pan tossed$, hardly any cheese at all. I hate that we paid $15.00 for a pizza we literally threw out. I also tried to order online because the website said a large for 7.99, online only. It kept kicking me back out. When I asked on the phone when I ordered it, if they would honor it, they said no. I have had issues in the past with this location but never did anything. Enough is enough.

juan padilla
from Houston, TX
Had a very bad experience last visit in houston tx zip code 77064 address is 17254 state hwy 249.manager TAMMY was extremely rude to me because the computers were down and I asked her if my online order was placed or if I had to redo it and also she was screaming at some employees while there was about 12 customers in this location. I came back today 2/12/14 to same location and was treated much better by an employee named jennifer . I hope to never have this experience again especially coming from a manager that should be highly trained. I love pizza hut but rather go to another location for future reference.

Navdeep
from Mississauga, ON
Pizza Hut at hwy 27 in Vaughan Ontario is very unorganized and rude. Made a pick up order at 7 00, they promised me pick will be ready at 7 30. I showed up at 8 pm my pick up was not ready they forgot. And did not apologize or made any efforts to reconcile. Bad bad experience never going back to Pizza Hut.

Jennifer Baker
from Elizabethtown, KY
I ordered two pizzas online tonight. One was completely wrong, I ordered three toppings and got three totally different toppings. Both pizzas were cold and the other one was half cheese and half pepperoni, it had no cheese on it and was thin crust. It was like a cold cracker!! This happens all the time at our local restaurant, never any cheese on a cheese pizza.

Charles Smarr
from Bethel Park, PA
Have a problem with a late delivery on order and ride manager when called to ask about it. I called twice to complain about my two hour wait on pizza hut pizza only to get a sarcastic manager named Tracy who would only tell me " we only have one driver and he's busy " the Pizza Hut that I'm referring to is on pike street in Parkersburg, WV.

Let me start by saying that I love pizza hut pizza but now they did it. I live in the middle of 3 pizza huts and not one of them will deliver too me. I'm 2 blocks from all there limits and none of them will deliver. If it doesn't change soon then I'm going to change my pizza place.

I came on Thursday and was lil bit upset but on Sunday it was already too much. Really way send people from Laredo to come and help if all they're going to do is sit around and watch football and don't care about customers that are trying to order. Its like I mentioned before Zapata is not his store so he just don't care about what was going on at that time of the game he was cheering and clapping all excited because his team was winning. Where are the supervisors when you need them just come to Zapata so we can talk I have some pictures to show you Maria or Martin thank concerned customer Tino H......

Barbara moss
from Gig Harbor, WA
A new Pizza Hut has recently opened in gig harbor wa. We decided to try their pizza...mistake. We ordered two large pizzas costing us $35.00. The crust was so overdone and dry my Labrador refused to eat it, if there was a tablespoon of cheese on the entire pizza I would be surprised.the sausage had little flavor, it was simply a very poor product. We have a Papa Johns, Dominos, Papa Murphy's take and bake all In the same area, and these chains provide an excellent product at a much more reasonable price. Shame on Pizza Hut for putting profit before quality.

monique wilkerson
from Drexel Hill, PA
I love pizza Hut Hot wings I won't order them anymore how you gonna sell hot wings and ranch don't come with them you really trying to safe money that much you got make your customers pay 60 cent for ranch I have never ate at restaurants and you order hot wing and ranch don't come with it I took the wing back and told the manager I don't want it and the manager refuse to give my money because I didn't want to give her my address she was rude and unprofessional I will never go to pizza Hut again... keep your damn wings

lessie Shiflet
from Columbus, OH
I made a sizable order online for the Columbus Ohio Parsons Ave location and only after I placed the order was I made aware that delivery would be 2 hours and 40 min and since this would be to late because my children would be in bed for school I called to cancel the order then was told it would be 3-5 days for my money to go back on my card so that left me with nothing left to maybe order from somewhere else is there a way to make the customer aware of the wait time BEFORE payment is made also is this delivery time usual for a Wednesday at 7:20 pm Also why the long wait to refund money if order was canceled and never made ? Do you take payment before customer receives products or its even prepared?

Gayle O'Rourke
from Chicago, IL
We recently ate at the Pizza Hut in Paxton, IL. We arrived at 12:30 p.m. and other than an elderly couple who were leaving as we arrived the restaurant was deserted. This should have been our first clue. There were 5 adults and 1 child in our group. We ordered 2 med. pizzas and order of bread sticks and an order of boneless wings and 3 of the adults got the salad bar. I will give credit to the staff, they were courteous and helpful ( but we were the only customers in there, so they weren't too busy) The pizza was okay, not overly warm, but okay. The boneless wings were frozen chicken breast nuggets that were covered in barbeque sauce. I have had the bone in wings at out local Pizza Hut ( Marshall, IL) and always thought they were very good.
I had never ordered the boneless wings before and maybe this is the way they are at every restaurant, but I will never take the chance or ordering them again to find out. The salad bar was awful. There was a big bowl of brown lettuce, a container with a few pieces of diced anemic tomatoes, a few sliced cucumbers and some grated cheese. There was also a container of three bean salad. I picked through the lettuce and finally found a few shreds that didn't look too bad and took advantage of the three bean salad. This restaurant needs some attention from your company before the Department of Public Health does an inspection. I have eaten in several Pizza Huts and know this is not the quality of food that your company normally puts out. Our bill was a little over $81.00 and this was probably the worst $81.00 I have ever spent.

Barbara Patton
from Lebanon, TN
I love Pizza Hut. BUT I was very upset last night when trying to order a pizza at your store on 817 S. Cumberland in Lebanon Tennessee. My called went to your call center in Memphis. I got a dummy on my phone named Jasmin. I had to repeat my name. She had troulble saying Patton. I had to spell Cumberland. then she told me there was no Pizza Hut at that location. I told her I go there all the time and I know it's there. I was so upset I hung up on her and my husband called from his home and the call went through to the Cumberland location. He placed my order and we did pick it up. Your call centers SUCK...just saying.

marilyn brown
from Montgomery, AL
My family and I have always went to Pizza Hut and loved the pizza. We have went up to twice a week. You had prices of $10.00 for any size pizza now all of a sudden you've jumped the price up $8.00 WOW! How surprised we were. We won't be going back until there is a deal out there you may run, that will be the only way we could go back. Were on a budget like most people. This is a very BIG jump in prices, compared to what we are use to. We have 2 girls that we take there. As you know kids LOVE PIZZA! Pretty bad with this kind of jump in price I think you will be loosing a lot of people who will not go to eat pizza here as much.

Paul Coleman
from Rock Springs, WY
This has happened several times during 11:00 a.m. and 12:00....trying to call an order in and both lines are busy for the whole time... Can't figure out why they won't answer the phone...would like to just place an order and it is just so frustrating. Makes me not want to order or go to pizza hut in Diamondville, WY anymore !!! I have complained before and nothing has changed. A lot of people I know are having the same problem!!! It seems to be ok with the manager because I have been there and she doesn't answer the phone or the employees or the phone is off the hook. So is there any thing that could change this so we could get an order to go....You complain in person, they will just spit in your food. So, what is a customer suppose to do????

These rude ass people at the Pizza Hut in Wytheville VA should not have jobs!!!! I could not understand the guy who answered the phone! Sounded like he was trying to play games then they had our delivery order as a carry out!!! When I tried to call back to change it they put me on hold longer then 10 mins!!! My mother finally had to beep in an tell them not to put her on hold bc they tried and she needed a manager! The manager Crystal did absolutely nothing but take 1.50 off when we had waited almost 2 hours for my kids food (on a school night, I might add!!!) ridiculous!!! Will never deal with them again!!! And I will be telling everyone about our very disrespectful and unpleasant experience!!! Oh and to make it worst I took pictures when I got there of how busy they were! Pathetic no one in the whole restaurant but one to go customer!!!! They should get new management or have someone there that will give u a number to call bc they refused and I asked them are you refusing to give me a number to call?!? Girl did not reply turned and walked away!!!! Worst experience ever Do not go there!!!!!

Valarie Beckett
from Jamaica, NY
I called Pizza Hut in queens village order a large pie for delivery they charged me 19.00 dollars , when I said I would pick it up they charged me 8.00. Dollars. The customer rep was nasty and rude when I question her. How do you charge three times more when you want delivered. This is crazy and then they want a tip. I will start a petion on all Pizza Hut .

Call my Pizza Hut
Had a credit from the last time I purchased pizza. Called in to redeem it and I got treated like I was trying to get a free pizza?
Last order I ordered 6 pizza I was never told that there was a special limit I got charged anyway for a full pizza that was not delivered called my Pizza Hut they said I would have a credit I was fine with that now that I was redeeming it the manager Sally told me she would take the hit after I got charged for it last week? During the time I was trying to explain it to her she rudely interrupted me and said ma'am let me finish talking I'm gonna give it to you??? After I already paid for it totally unexceptable to b treated like this would really like some feed back on this please

Sharon Hohenadel
from Memphis, TN
I went to the Pizza Hut in Brandon, Ms last evening, Jan. 14, 2015. (Store 316246 @ 4:46pm) I ordered16 bone-out Garlic Parm, 16 Traditional Honey BBQ, 8 bone-in Naked and 8 Traditional Sweet Chili; to go. They told be it could be a 15-20 wait, which was fine with me because I just dropped in and not called ahead. I waited and waited...ONE HOUR later I finally leave with my wings! Come on Guys...this is ridiculous. They were kind enough to offer me a cold drink and cheese bread sticks after a 1/2 hour...Is this the way most come-in people are treated? I usually call in, but it will be a long time b/4 I come in and make an order.

Ordered pizza from Pizza Hut in Livingston, LA which is A fairly new store. When order arrived everything looked great except the marinara cupped up that came with an order of breadsticks. It was obviously bad to the point that it had began to ferment in the cup. It was bubbling as if the fermentation had began already, and had an odor almost like wine. When I called the store to let them know, the lady I spoke too tried to explain the problem by saying it was caused by the sauce sitting in the hot bag which obviously just wasn't the case. The troubling thing is that I did not honestly feel that this was a priority to the store, almost as if they couldn't get off the phone quick enough. This is a serious issue and should be handled as one. This could kill someone who wouldn't know any better. Any way just wanted to go one step further than just telling the young girl who answered the phone. We will still visit Pizza Hut in the future. Just may try another location even if that means the delivery convenience is out of reach.
Thanks for letting me "vent"

Carl Wegmet
from Fort Wayne, IN
Hi Boo,
I am writing you again to ask you to please stop sending me emails. I do not want to support your company. A month ago you sent me an email that stated "Hi Boo, We Have Some Savings For You" in the subject line. I'm not your boo, I'm not your bae, and we are not friends. I don't know what kind of ghetto or trailer park slang boo is, but I don't appreciate being addressed like that. Who ever thought up that slogan should rethink their career and once again, I am requesting that you stop sending me emails. For every email I receive from you, I will send you 10 in return.
Thanks Boo,
Carl Wegmet.
****This is close to the email I will be sending to them every day until they stop sending me emails.

Lawrence Claycamp
from Seymour, IN
Our pizza was suppose to be ready at 7 : 15 P.M. We arrived on time and did not receive our order until 7 : 28 P.M. With no apology for it not being ready. The pizza was to have double pepperoni on it, but it barely had enough for one single pepperoni pizza. Also while waiting for pizza my husband noticed that the person removing pizza from the oven and cutting the pizza kept wiping her hands on her jeans. He said that alone made him not even want to eat the pizza. The cooking area was also very messy. We have ordered pizzas from this store several times and this was by far a very bad experience.

Christopher
from Corona, CA
When I called in my order 2 times I got a total of $53.28, but when the driver showed up it was $65.00. The girl on the phone gave me no prices of any of the items I ordered , I use to work for a pizza place and that was 25 years ago when we wanted to deliver pizza at a high standard, guess today, take your order, give you wrong total, and think oh they will pay it , of course had to feed my kids the cold ass pizza and undercooked hot wings , I have my receipt and need to know what is going to be done, PAPA JOHNS IS GETTING MY BUSINESS FROM NOW ON,

Christopher Nero
from Anaheim, CA
Our dinner food box was ridiculous, the worst meal ever from Pizza Hut !!, I pizza had very little sauce and cheese barely melted making it cool not hot, the other pizza cool not hot, the hot wings we got mild hot and they were sweet.. The only bright spot was dessert, the bread sticks could have been used as baseball bats!!!

On April 01, 2014, Pizza Hut on 4386 Chamblee Tucker Rd, Tucker Georgia, refused to honor their advertisement that said "any pizza any size, any toppings $10.00! I Julie, placed an order for a large half cheese and half pepperoni pizza, but to my dismay; I was charged $ 11.24 for the pizza. I brought this discrepancy to the attention of the manager and she said to me "sorry, but the price of pizza went up!" I therefore call upon you to make right my grievance and compel the company to honor their advertisement to the public. thank you!

I ordered a large supreme pan pizza by phone yesterday from store #002847 in Winston-Salem, NC, for carryout. I buy at least one of these a month, and the price (with a $10 special coupon) has always been $10.68 ($10 for the pizza and $0.68 tax). On this occasion I was charged $11.74, and was told "the system won't accept the coupon." The pizza provided was a "thin and crispy" instead of a "pan"…which was ok…thin and crispy is good, too. When I accepted the box, another set of coupons was stuck to it, including one for another $10 special large pizza. If Pizza Hut is going to arbitrarily raise the price of an item, why then continue to offer coupons that won't be accepted. I'll try Papa John's after this.

I ordered a pizza when it came it had wrong toppings, no big deal I called back and the kid I talked to who was very nice ask what was the problem I told him then I ask about the Hersheys dip they had and he told me about it I ask him how much he told me 5.00 and some odd change then he told me he would give me his 15% off and it would be 4 something I said ok he ask me to hold I was on that phone a total of 19 minutes not one manager talked to me then he was going to charge me 7.50 for I guess the dippers I just said forget it. I believe that at least a manager should have talked to me I wasn't even mad stuff happens people make mistakes but leaving me on the phone and lying to me not a good thing!

I was told my order would be $31.45, when I looked at my BANK account $61.45 was taken out, when do I get my refund. I was lied to and I will never order over the computer again, also looks like over the phone with a human. I ordered a superior super, 16wings, 1pepsi two liter—total $31.45, my checking account shows $61.45. Do I need to contact the store also please help.

Ordered pizza from the Duncanville, Tx Pizza Hut. Ordered at 8:30 and was told to expect the pizza before 9:26. At 9:30, we called the store to ask about the delivery (it had already hit the credit card). Amber (said she was a manager but I don't buy it due to her rude behavior and the constant flow of lies out of her mouth) told my husband ( on the phone) that the order was returned because we were not home when the driver knocked on our door and called his phone. Amber told me that one of 2 things happened, 1. Driver felt unsafe (we live in a suburban neighborhood with the front porch light on…and the door open). 2. We were not home. But she said that she could not guarantee that it was our order that this happened on.
Refused to give me a complaint number…laughed and said.."call corporate 1800 Pizza Hut ". I said, "no problem, you don't have to cooperate at all…I will go to the chamber of commerce". She said, "threaten me all you want". I told her that it was not a threat….
Amber is a rude lady with a huge chip on her uneducated shoulder. While telling my husband about what happened inside (we were standing in the parking lot) she came out and told us to leave HER property before she called the cops.
We did over 200$ a month with that store,…and they will not get one more dime. Mistakes happen, but take responsibility and apologize……don't get an attitude!

Dear Pizza Hut,
I came to one of your locations 3905 40th St Ne. Washington DC 20019. I made a request for two anyway pizza's. After 20-30 minutes of waiting my pizza's was already prepared they were in the waiting oven. No one asked me, my number, no one was at the counter. Someone came from the back and appeared to be on marijuana. There seemed to be know management person onsite. Someone needs to lookin on this store and when I got home my pizza looked horrible.

First I waited in lobby 5 minutes before I was even acknowledged. Ordered a pepperoni lovers normal amount of pepperoni, my cheese lovers didn't have a lot of cheese on it. When I received order didn't get my ranch for my wings, that they messed up and put sauce on naked wings. The lack of concern by the manager upset me, all this after your internet app sent my order to wrong store and I didn't find out until an hour and a half after original order. And my recept shows that my total was 22.00 but I was charged 34.00. My receipt shows he couponed off the wings, but that's not what I paid. Your manager must have pocketed the $12.00 he charged me. My ticket # is 00145 ok 3/29/14 at 7:46 p.m. I will hold on to my receipt if you want proof. I am highly upset with this and I will let people know this. The sad thing is I'm from toledo in town for weekend. Not a good way to make an impression on an out of Townes

Ordered. A large pizza pepperoni. And cheese told them. No onions on or around. Pizza ad I'm allergic they agreed although with attitude when pick ed up pizza other was covered in onions I called and they. Said that was three order and no refund or exchange. Could be made. They were ride and didn't care about my healtly or safety.

ordered pizza and wings was told that it was to be delivered @755 pm was not called at 806 was told that it was on the way ok they said they tried to call us but no answer bs did not receive any calls called the store again they said that it was in dispatch I said way when your man told me it was on its way @ 806pm I worked for pizza hut in pampa tx and if I did not have a apt # I would have called right then but I talk to breadon the mgr in charge told him the issues he told me what do you want me to do all I asked him was to make sure it was not cold he said he would check it well my pizza and wings were both cold called back he said want do you want want me to do again lol what a mgr he should be fired no people skills at all and lies if this is what you what in a mgr I feel sorry for you just a warm body well all I know is if I sent out a cold pizza after I talked to the mgr I would be fired take it for what it is worth bet you have more complaints then you know never calling again and wont recommend this place to no one in fact will put up signs telling of its bs

My husband and I came into the Pizza Hut on Hwy 2 North on Saturday March 22, 2014 at approximately 5:05 pm. We sat for 10 minutes with absolutely no service. No acknowledgement that we were there, no menus, nothing. The restaurant had two servers, one brunette and one blond. The restaurant was not busy. There were three other tables that all had been waited on and had their drinks. The two servers on duty were too busy flirting with two guys sitting in the first booth. After 10 minutes, we left. We have in the past eaten or carried out from your establishment at least once per week, but we will never come in at night again. This location does have good service in the daytime. There is a young man who can handle the entire dining room by himself even during the very busy lunch rush. This is the third time that I have received bad or no service at night. Please look into this as there are very limited choices in this small town for dining out and because of our employment schedules, my husband and I dine out at least 4 nights a week. If you have any questions, please feel free to call me at 918-429-4484.

We live less than 1.8 miles from Pizza Hut and we are repeatedly told they do not deliver. We live in a new development of Less than 2 years but most GPS systems have been updated. We have complained several times and was told your ordering systems are not updated. You are missing a whole development of potential customers. I will no longer go to your establishment until the problem is resolved.

We love your product! We order your pizza and pasta at least once each week. On numerous occasions, it has taken up to 3 times to get our simple order correct (i.e., you bring one pasta when we ordered the other one). On one occasion, it took well over 3 hours to finally get our order to us correctly. I have also had to have the driver take a cell phone picture of my oneline order (3/11/14) via my cell phone because your manager (location is 423 and Main Street in Frisco, TX) often does not believe me and argues with me.
As a partner in a professional services firm, I expect better service than this. Please let me know how you resolved this issue, and what my expectation can be for the future. I literally drove past one of my audit clients (PieFive) on the way home because my son wanted Pizza Hut. But, quite honestly, my loyalty is more than being tested.

i was at my sons house in washburn iowa and decided to get a pizza, my wife said not to get pizza hut, their pizza has really gone downhill. i always really loved pizza hut so we ordered it anyway……48 dollars later, we had 2 pizzas, cheese bread and wings. the wings were good, i wish i could say the same about the rest. the pizza was almost unedible, i couldnt believe how bad it was. i hate to say it but a tombstone would beat it everyday of the week. i wont be getting anything from pizza hut again

I am trying to apply for the job of "team member" in the Newton Falls, Ohio, Pizza Hut. I fill out my e-mail address and the computer page keeps coming up as invalid, and it won't let me move on to fill out the application on line. I have tried fillout out the application at least a dozen times now, and I am getting disgusted. Can't Pizza Hut just hand out a paper application? Obviously, the company doesn't take America on line accounts as e-mail addresses. I'm not great on the computer, so I can't figure out what I am doing wrong; if I'm doing anything wrong at all. Is it just a computer glinch? HELP!

I'm in the Navy stationed onboard Camp Pendelton, Ca I am wondering why I can buy a large pizza out side the gate for $10.00 but on base a large pizza the same one out in town cost me $13.00 dollars why is that and on base they do not honor specials as they do out in town. So why does the military pay a higher price than civilians??

Very upset with the whole deal..1st placed order online at 8:25 p.m. was told 2 pzone would not be ready until 9:30 ok however gave instructions for the driver to knock on side door mmmm he came to front door. 2nd the pzone was burnt on top not happy.. 3rd tryed to eat however there was nothing there but dough, no meat, no green peppers just onions and some cheese. I was very unhappy with the whole thing. Have had pzones in the past and never had anything like that at all. I guess as long as they got there money they don't care what there food looks like or taste like but that was the last they get from me.

Today is February 17,2013 and I placed an order over the phone at 6:30pm, the women on the line told me 20 minutes until pick up. I went in the location (store #316584) and was told my order was not ready yet. I waited 15 more minutes and asked for my order and the "manager" screams back and the cook says he doesn't have that order. I waited patiently another 15 minutes before I received my order. I also think you should know that a female employee in there told me to go to McDonald's for fast food if Iand another gentleman were in a hurry. I also witnessed a delivery driver swear at a manager twice. Awful service,attitudes and the food was today. I'm sure you will haveany other complaints because there four other people being treated rudely and witnessed the same things I have today. I think you should take care of this problem seeing as you most likely lost a few customers today.

I have tried a number of time to order pizza from you. I order the same pizza alot and i don't get what i order. I get a meat loves pizza and i double all the toppings. When i get it the the topping are not doubled on it. But if i tell them this they tell me that they doubled them. If you talk to people around here they say that this pizza hut does not put the toppings that the others do. I guess i'm done with pizza hut because the people that run your stores don't care about the people they serve. I think it's sad that i can get a better pizza from a gas station or a bar then from someone that specialize in pizza.

I order pizza via telephone @ 2:43 PM EST and was told my order will be ready for pickup @ 3:00 PM. When I arrived @ 3:02 PM to pick up my pizzas, I waited for appx 5-7 mins. I asked the cashier how long it would be before I receiver for my order & was told in another 6 mins; myy order was not ready until 3:30 PM.
I order 1 large Meatlover & 1 large half & half (Supreme & Veggie). I don't often eat pizza; however, 30 mins wait time after you was told your pick up time would be at a certain time is not good customer service. This was @ the Fort Valley branch.

Ordered take out pizza on January 12, 2013 from the Pizza Hut located in Walnut Ridge, AR 72476. Advised 20-25 minutes, arrived to pic up, was told they had to remake it because it wasn't right. I waited… Took home was enjoying it when I pulled a hair out, well the rest of the meal was over for my husband and myself with much disgust.
I called and reported to shift manager Anthony Hester. Site manager is Jessie Burch. Every person preparing food in a restuarant should be required by law, if not business itself to wear a hair net. I am still quiet upset over this. Shift manager said he was sorry, so.was

We ordered pizza from our local Pizza Hut in Forest, Ms tonight. We did this online and chose the delivery option. 20 minutes later, we received a phone call and were told they could not deliver the pizza because they did not have a driver. The person I spoke with was unprofessional and could not tell me my new total after deducting the delivery fee. I tried to call, only to be put on hold and then they hung up on me. This is not the first issue we have had with the local Pizza Hut but it will be the last.

I don't order from pizza hut often, because every time I do the pizzas look terrible. I ordered from the Brazil Indiana pizza hut, I got the 2 med 2 toppings for 5.99 each. One was a pepperoni, the other was a mushroom and pepperoni. Both pizzas had very little cheese. Our pepperoni medium had half the pizza with no cheese, just bits and pieces, and of course it was dry. I am so tired of getting pizzas from pizza hut that have little to no cheese and hardly any toppings. What I also don't get is you guys charge a dollar to get extra cheese on a pizza? So if I can get a 2 topping and I want pepperoni and extra cheese, that's TWO toppings! So stupid to charge extra. But I guess if you want them to give you regular cheese on your pizza you better order extra cheese, because that's the only time I get regular cheese, when I pay extra. Papa John's doesn't charge extra for extra cheese on a pizza, so why do you? I don't call back to complain because the last time I did, the person on the other end made me feel ignorant, like there's no way they would do that. It's ok , because I'm not ordering pizza hut anymore, especially the one in my town.

I ordered a pan pizza and a hand tossed pizza and got two pan pizzas! I ordered pepperoni lovers and received a pizza with hardly and pepperonis on it at all!!! I ordered cheese sticks which are cold and did not have marinara with them! Not a way to make me order again. I can gladly choose one of the three other pizza places in town! Would appreciate some compensation or something! I will be calling the store also as this is very upsetting!

I had not ordered from this establishment in some time, and was very disappointed when I did. The order was incorrect, pizza cool, no sauce to speak of on the pizza and not appealing to my taste buds. I will no order again. On a good note, the order did arrive in a reasonable time; I jus didn't taste that good when it did.

The pizza I picked up wasn't what I expected , this pizza was very bad, it couldn't get any drier, what made it even worse, I picked it up! So I called them back and explained my problem, they were very nice to me over the phone, I told them that this had to be the worse pizza I ever had being dry and it seemed over cooked well it was over cooked, befor I continue I want you to know I was kind to them about this situation. To make along story short, they agreed to bring me another pizza which I thought was cool! So here comes the second pizza, it was just as bad as the first! I've had this pizza befor just not a this location and it was just fine, now let me remind you not once did I get indigent with this employee as a matter of fact who would and there bringing me another pizza!

On December 28, 2012, my family which consisted of 4 of us ate at the Pizza Hut in Hobbs, NM on Turner street. As soon as I walked in, I was never greeted and was not seated by any of the waitresses which there were four at the time. They passed me and my family several times before I asked the cashier if we could sit down. She stated yes anywhere I wanted. We were then waited on by our waitress who was very good. There was hardly any pizza at the time and it was lunch hour 12:00 pm.
My boys went to the cashier and asked for quarters in order to play the two simple games you have at which time the cashier stated she did not have any change. I went up to the counter and asked for quarters and was given them at that time. My boys played one of the games and the game took their quarters and we could not be reimbursed. The whole store smelled like a sewer, I don't know if it was the bathrooms but the smell was horrible!! After I paid and got ready to leave my boys were walking behind me and almost ran into a waitress and she told my kids to be careful and say excuse me. I then turned around and told her not to tell my boys what to do. I don't appreciate the service and the treatment that I received today and I let the cashier know that I would not ever go back and eat there ever again. I'm telling you also that I will never ever eat there or order from there again.

I was recently in pizza hut located in trotwood Ohio phone number 937-854-3388 on December 26, 2012 around 6 p.m. I'm not sure of the manager's name but he was very rude and disrespectful to me as well as many other customers in the store. I asked if I could have my pizza cut up in squares and he snatched my pizzas back and was huffing and puffing as if he was angry. I left my order they and asked for my money back. My point is for him to be a so called manager he needs to work on his customer service skills or not work in the front dealing with others. He does not know how-to work under pressure or in busy situations without being rude and ignorant.

I am a recent graduate from Dayton job corps center and I am certified in Culinary Arts. I started applying for jobs and I filled out a application for pizza hut within 15-20 minutes of my application being processed and reveiwed I recived a call from a person who set me up with a interveiw the follwing Thursday. I was told by Marshall the hiring manager for pizza hut on Niles Rd to come back for a second interveiw and I was told to come in on Monday and I did so Marshall told me I had the job and he would call me Tuesday or Wedsday I waited and no call on either day so I called myself and he said that he would give me a call and let me know when I could start my training hours.
I have yet to recive any information or not a singal call for the hiring manager Marshall and it has been over 3 weeks now and I am getting very upset because I was told I have the job but still have (NOT) recvied any training hours. I am living with my fiances family and I have no current income and the house is very short on food all the time and I (WAS) very excited that I was told I had the job but now I have gave up on the idea of working for pizza hut and I am continuing my job search no thank to pizza hut and the poor hiring management who I think should have conceqences for the miss leading of the job I was told I had by Marshall the hiring manager for pizza hut on Niles Rd in Fairfield Ohio.

On 4/24/12 at about 8:08p.m I submitted an online order for 1lg 1toppong pizza. After an hour went by I still had not recieved my order. I called the store and was asked if I could hold. I said that I would prefer not to hold, that I had been waiting on a pizza for an hour. I was put on hold anyway. After 6 mins. no one had picked up the phone.
I called back and was immediately placed on hold without even the oppertunity to speak. Another 3 mins. went by and I hung up and called back. I was told that ther was a problem with my order. The lady told me first that it had been cancelled, then that it had not been paid for(I paid online with my c.card), then that there was only 1 driver and she ahd been making alot of mistakes and my order must have gotten lost. She did offer to make the pizza and refund my c.card, but I would have to wait at least 35 more mins.
It is ridiculous for it to take 2 hours to deliver a pizza that should only take 10 mins. to make. I worked for PIzza Hut for a long time, so I am well aware of how long it takes to make a pizza from start to finish. This particular store is notorious for being short handed and I feel that the corporate officials are doing nothing to rectify this ongoing issue. As a patron, it is very dissapointing. As a former employee and Manager, it is emberassing.

On sunday march 25 my family celebrated my twin grandsons first birthday. My daughter and son in law bought several pizzas and breadsticks for the occasion. As we were eating my daughter saw a hair sticking out of the side of a slice of pizza. It looked to be baked in. She called the store on north sycamore, in sioux falls, sd and reported it.
The guy working, his name is ryan, was very rude. I am wondering if this is the type of person you want representing your company? If so, shame on you. I have worked in retail and customer service all of my life and the people coming in your door are paying your employees and keeping your business open. Its to bad your employees are not more polite, mature and responsible as there are several other pizza stores to choose from.
Also how come this particular store does not offer taco pizza when the other stores do? You should maybe look into this also. Good customer service, satisfied customers and a good product are the very things that keep people coming back and keeping your business going. I really hope this complaint meets the eyes of someone who genuinely cares and will investigate this further. Otherwise my hard earned money will be spent elsewhere.

About 2 weeks ago, i submitted a complaint to pizza hut, about the food i was presented with and the service. I went to pizza hut online to order a pizza and i was on their for an hour, trying to order and it kept not working properley, i checked that it was not my computer, it was the site. Then i decided to call them up, and i was left on hold for over 5 mintues, and decided to hang up.
Then i drove down to the pizza hut, and went in to tell them what had happened, and they said that my order had gone through, many times, even though it said it hadent on the website. I payed for the pizza, and took it home. The food was cold, and soggy and i couldnt eat it as it made me feel sick, it also had a big amount of base sauce on the pizza, and did not taste good. I have been to this pizza hut a few times and every time i go their the pizza has to much sauce on it.
I wrote this complaint 2 weeks ago and have not even heard so much as a apologie, i am really not happy about it, and dont expect to hear nothing back from them. The store is pizza hut in middle camberwell.

The pizza was awful only 2slices had meat on it , the other 5 didn't have meat, green pepper, onions, olives on it only cheese. i called to complain since i had paid over $24 with tip, and it was plain after i had paid extra for more pepperon and sausage. when i went in to the store and brought the pizza back they were they were not interested in helping me reach a reasonable offer, they both the girl and man who came to the counter they made me wait at least 25 minutes while they said, they called the owner and they were laughing, the offered me back $8. I told them my husband was in the car and he is a disable vet, they could have cared less, that i need to get back to the car.
They informed me to take it or leave it. so i took it, but never again will i get a papajohn pizza.i thought papajohn took care of there customers i guess not. Upon ordering two pizzas and two stuffed cheese breads, my family and I were excited in anticipation. However, once we opened all of the boxes up, we were disappointed to notice there wasn't any garlic sauce, one of the stuffed cheese breads were wrong (we ordered the bacon and jalapeno, and got just cheese). After our first disappointment, we had little hope for the pizzas.. Which once we ate them, we definitely decided that next time, we would just order Papa Johns.
One of our pizzas had way too much garlic, and not much else in the area of flavor. The other pizza was even more of a disappointment: the sauce was meager, the mushrooms were overpowering, and the black olives and cheese were seen, not tasted.

So my girlfriend called to have pizza delivered for when I come home. When I get home they sent the wrong pizza. So my girlfriend called and try said they would throw in free stuff. She said no she wants the pizza. So almost 40 minutes later she calls back and they said a customer must have taken it. So he was like well I want a pizza an to be compensated for. 1 hour later I call and the guy who she has been dealing with the whole time answers and tells me he has the pizza but didnt send it because "you're girlfriend said she wanted her money back" I was sitti g right there.
He was like well I will send out this one I have. I said is it fresh and he said we made it for you and I said when 2 hours ago? He continued to say " fine I will make you a third one" I questioned him as to what he meant by third one considering I haven't gotten one right pizza yet. I'm sitting here still waiti f for that pizza. I can't believe I had a 2 hour long wait just to get a pizza delivered to my house, what is the world coming to my friend?

I went to pizza hut today with the family. The kids enjoyed their meal and we enjoyed the salad bar too but the bowls were dirty and you could feel food on them, The lady did exchange the bowl but that one also had food on it. Also the pizza that we had was very greasy and I did not feel that it needed that much oil. Also there were two lots of cutlery on our table that had not been cleaned properly and I could not eat from them. Failing all this, The children enjoyed themselves and enjoyed making their icecreams, I hope somebody looks into the cleanliness a little more. Thanks.

I have without a doubt experienced the worse service ever from Pizza Hut Delivery in the UK. I ordered a pizza online like I often do; the order was placed at 18.50 hours. At 19.35 hours I rang the Pizza Hut where my order was being made to enquire on my delivery and to also ensure they had the correct phone number to call me on. First of all my order could not be found, then I was told it was out with the driver for delivery, the man I spoke to took my home telephone number in case the driver called him to locate the address.
By 20.00 hours the pizza had still not arrived, that is 70 minutes after ordering. At 20.05, I had a phone call from the driver who was unable to locate my address on the road in question. Despite the amount of orders, I have placed since moving into this new build property 18 months ago this is still a problem dependent on which driver is delivering. I gave directions as clear as possible. Five minutes later the driver called he was lost and had ended up further up the road on another housing estate. I talked him through directions and eventually some minutes later he arrived into the car park of the flats I live in.
Imagine my annoyance when my delivery was missing two bottles of drink, Pepsi and Tango. He took my receipt and said he would go back and get the order, but it might not be him delivering – was I about to encounter the same problem with another driver! I called the Pizza Hut again and he said he would send the driver back with the drinks.
In the mean time, I proceeded to serve up the pizza to discover it was cold and not even warm, how long had it been in the box, and in the delivery car, I ask myself? Baring in mind it was 80 minutes from placing an order to finally getting it delivered. Not only the pizza arrived in that state but the Garlic Bread and Chicken were cold also. Eventually the delivery driver turn up with the two bottles of drink (the same driver) at 20.35, some 30 minutes after the pizza was delivered.
Tried in vain to save the pizza warming it up in the oven but it just dried out and ended up being put in the bin alongside the Garlic Bread and Chicken Strips!

I live in Richmond Ky, and tonight I took my Family to Piza Hut. It was the worst Night Out Ever. We Ordered 3 $5.00 1 topping Pizza's. The Pizza Hut Bread Sticks were hard and nasty. They never brung us any refills all the time we was there, the Pasta bowls ( Chicken Parm ) was Nasty. They all had a very bad atitude, and just threw the 2 pizza's we had them to box for us. They almost hit the floor, and they refused to do anything at all about this stuff. I think I should be able to get my money back because of all these things happening. And I will NEVER go there again to Pizza Hut with my family.

I just tried to order a pizza from my local Pizza Hut using the special advertisement. I wanted a stuffed crust pizza with pepperoni and extra cheese. The total came to 14.00 without tax. Come to find out the extra cheese and the stuffed crust were extra. I do think that your ad is false and untrue, The statement any style, crust and topping should mean just that! I love Pizza Hut pizza but the false ads are very disappointing. I did not get the pizza.

I am an instructor at Jubail Industrial College in Jubail Industrial City, Saudi Arabia. It is not uncommon for me to treat my entire class of 38~40 students to an evening of free pizza just for fun in the hope that they can practice and apply all their English knowledge in conversation. Not only do I really love the taste of Domino's, also the majority of my students prefer Domino's to Pizza Hut. Anyway, on today, Monday, April 18, 2011 (a special day in that you buy one pizza and get one free as per advert on TV as well as the printed menu) I went to order and pay in advance for pizzas for a new class.
I came into the store as usual with a detail list already prepared so that the store would know exactly how many pizzas, types, crust and other side items. When it came time for me to pay I was told that "Doublemelt" pizzas were not included in the offer. In the past 7yrs, I've ordered and paid for close to 500+ pizzas. During this time, I've never been surprised at any charge until now. Today, I was told that "each pizza" that had Doublemelt crust would be charged as a single pizza. Asking why and asking about the TV ad and the menu bought about no change. I showed the manager in their own menu that there is only a charge of 5 SAR for the crust.
He politely told me that they are required to charge 42 SAR for a Tex-Mex Feast with Doublemelt crust and that I would not receive the other one free. At no time could he provide proof of this nor could he explain "buy 1 and get 1 FREE" in light of this situation and our conversation. There is a major difference in 5 SAR extra and 42 SAR per pizza simply because it has "doublemelt crust".
I have read the entire menu in English and in Arabic and there is no mention of this extreme charge. The menu states "Super Savers Everyday" are valid for Classic and Italian crust. However "Buy 1 and get 1 free" is not a Super Saver Everyday. Buy 1 and get 1 free is ONLY ON MONDAY…not everyday.
From what was explained to me after everything was ordered, I could buy a medium Tex-Mex Feast and get 1 free for for 42 SAR. If I get Crunchy Thin crust, there is a 5 SAR additional charge. I agree, as it is clearly stated in the menu. Now, if I order a medium Tex-Mex Feast with "Doublemelt crust" I must pay 42 SAR and I do not get 1 free. That is not what is stated in the menu. Perhaps, someone higher up can look into this scam and explain it to me. I have no complaint with the manager. He was in fact very professional and polite which is welcomed and appreciated.
In closing, I have no plans to go to Pizza Hut because of this situation. As stated before, I actually do love the taste of Domino's much better, but I am very disturbed by everything I've already mentioned above. Perhaps, what I will do is simply stop buying your pizzas seeing that the advert of buy 1 and get 1 free is NOT what is actually happening. Please get back to me as soon as possible.

We went to our local Pizza Hut, Oberlin KS 67749. Ordered a personal pizza a head of time for our daughter so it would have time to cool. 10 minutes later my husband and I placed our order. The waitress did not take our menus. When we got our salads we waited for a while and had to get up and get our own silverware while I was doing that I took back our menus. My husbands order and our daughters order showed up at the same time. Pizza still too hot for a 3yr old. Then by the time they finished their food we heard the cook say he just put in the pizza rolls (my order)had to wait more 10min for mine to cook. Just got it to go by the time is was done. We did not receive a discount or even an apology. Looks like pizza hut won't be getting our business for a while.

Ordered a Spinach Alfredo thin crust pizza last night from pizza hut. This thing that showed up at my door 5o minutes later was absolutely the worst pizza I have ever gotten in my 44 years. First it was cold, so cold that not even the Microwave could save this thing. It tasted like cardboard, absolutely disgusting. I took a bite and ran the rest of the pizza out to the dumpster. I have ordered from pizza hut before and gotten a good pizza but after this I will never order pizza from them again.

I was online and noticed a free $50 gift card from pizza hut if you signed up and purchased a living christian CD and subsequent monthly membership. I purchased the cd and then never received the $50 FREE gift card from pizza hut. Naturally Pizza Hut denies there was such an offer online! So I returned the living christian cd and they want to now charge my account because they said I never returned the cd even though I have proof the cd was returned by the post office. I will fight this one for all of us who make mistakes buying stuff online! Pizza hut really screwed me on this one and I still can't believe this!

I went online to pizzahut.com and ordered my pizza at 6.30pm and to be delivered in 50 minutes. It's now 8.30pm still no pizza has arrived, I rang the pizza hut location in Brassall to be told that it has not left the store yet. I have a small child who wants his dinner,and should be in bed already…Please explain why I should ever order anything from Pizza Hut again, period. A company should be able to keep a website up and take track of orders being delivered, or they shouldn't have a website. I expected to be treated with better customer service, and expected something other than problems from Pizza Hut.

Ordered at 5:30 and didn't get the pizza till 7:30. The driver seemed like he didn't care. He gave me my food and I handed him $30; my order was $25. Instead of even pretending to get change while waiting, he said "There's your food." Normally I give the Pizza Hut drivers the change. But to expect a $5 tip is ridiculous. I get my food and realized he never gave me the 2 liter that was supposed to come with it. He was long gone and he never called or tried to rectify the situation. I finally get down to eating and the pizza is stone cold. I realize pizza is hard to keep warm in Alaska, but Pizza Hut could at least try to make an effort.
He had another 3 or 4 orders in the same bag and obviously had trouble organizing the orders. This is the third time I've ordered from that Pizza Hut location, and the second time they were extremely late and messed up my order. Needless to say, this is the last time I order from them.

I ordered a pizza from the pizza hut on 2222 in Austin tx, and they told me it would be 40min. I called them back after an hour and the guy says "I'm sorry sir we dont have you in the system" so I was talking to an operator when he told me I was on the way? Due to yalls lack of customer service I will never order from Pizza Hut again.

We went to pizza hut in abbotsford and ordered some pizza and when we got it it had almost no toppings. When we complained she waved her hand at us and said thats just the way kitchen makes it so your basically going to have to deal. I couldnt believe it. Then when you go make a complaint to head office they send the email to the store and of course no one responds.
Plus when you go in for their buffet you always end up standing around because when they run out of stuff they take forever replacing it.
Horrid place. Customer service just isnt what it used to be.

I paid for a pizza hut pizza over the phone from work because my child was hungry. I was never contacted about mistake it was until i went down there. The girl had a nasty attitude when i told her i was going to complaint with corp. She laughed and said whatever they was franchised! Tonight i ordered my pizza hut pizza @ 7:51 i got it at 9:20. Worst of all it was cold and burnt! The wings tasted kinda like rubber! I called to complaint and they never apologized or faked at least understanding the issue. I spent almost $40 and pizza hut was nasty!


We ordered a medium pizza hut pizza with three toppings witch where pepperoni ham and extra cheese. We then drove 11 miles to the nearest pizza hut to pick it up. When we arrived at home with the pizza we found it did not have extra cheese only three pieces of ham, and only three pepperoni. What a rip off and it cost us 11.66 plus the gas to pick it up!

I had guests at home. So we decided to order Pizza from Pizza Hut, our Guests were charged up. In spite of asking him repeatedly, if the quantity that I was ordering was sufficient, he said the non-veg pizza was good enough for 3 people. It was such an embarrassment when we took the pizza delivery, that we found the pizza was not sufficient for even 2 people forget 3 as suggested by Pizza Hut. He was in such a hurry of taking the order that he forgot giving suitable recommendations to the customer, that was definitely the worst delivery experience ever, thanks Pizza Hut Delivery!

Starr Mleziva
from Green Bay, WI
My husband and i have tried to order from the pizza hut web site and we are told that there is no pizza hut in our area and just not true there is a pizza hut right down the street from us on the corner of Henry st and University ave and our address is 2809 University ave its only about seven or eight blocks from us

Joe Falcone
from Chicago, IL
My wife and I were traveling with my sister and her husband and ate at your Pizza Hut in Collinsville, IL. This was the dirtiest Pizza Hut I have ever been in. It started out with us having to request them to clean our table. When I used the restroom the floor was slippery like it had a layer of grease on it and the toilet had feces stuck to the side of the bowl. When I returned to my table I spotted crumbs under the booths next to our table. When we received our food I removed the paper towel roll and there was a ring of grease around were the paper towels were. My wife went on their web pages and read their reviews. This does not seem to be a one time situations from the reviews that we read. Rather then make a scene we decided to just pay for our food and leave. We were out about $50.00 dollars and left us with a very negative impact on Pizza Hut. Please have someone visit this site so other Pizza Hut customers don't have to have this same experience.

conference jones
from New Orleans, LA
I placed my order on-line carryout ; also pre -paid with my credit card. I arrived at the restaurant for my order;which was showing ready on the order screen.I allowed ample time for preparing the order, so I expected to not have much wait time. There were only two customers waiting for their orders. I waited for someone to just acknowledge me standing at the register. Finally, a young man put my order on the counter and told me the manager had to cash it out before I could take it. She just took such a incredible amount of time to come do it. This is not the first time I have encountered this woman; that I believe is the manager. She has a terrible attitude towards customers. The pizza was not good at all ;it was very dry. I ordered 2 large pizza (special for $7.99 on -line only), a pan of pasta (lg.) that was supposed to come with bread sticks( i did not receive).
My experience was horrible, and really feel i should be given a refund ($28.40).
This was December 4,2018 @ 6:30 pm ticket#55
Pizza Hut ,1088 West bank expy., Westwego La. 70094
I hope that this is addressed. I do not know if they are shorthanded and overworked , but the service is extremely BAD!!

Erin Bynoe
from Queens, NY
Dear Pizza Hut,
I've been to your Pizza Hut on 63rd Drive Rego Park, New York and experienced bad customer service and food the past few times I went to this location. The first bad experience I encountered was when my pizza pie came back incorrect with missing toppings, barely no marinara sauce and very doughy crust. When I let the gentleman know about the poor job they did making my pizza, they told me that they are about to close and can't do anything about it. The second bad experience was also a mix of poorly made food and very disinterested, rude employees. The third bad experience took place recently and the woman who made my pizza very late even though I placed an online pick up order. I am a patient person, I didn't mind that-but I become frustrated when the cashier gave me attitude throughout our interaction. I asked her for napkins, and she was annoyed--then asked her for a little extra marinara sauce (because there was barely any on), she was annoyed--and lastly, I asked her for more Hut Favorite sauce (because there was barely any on) and says that she can't give me any because it's not a sauce, it's seasoning we sprinkle on top...I thought this statement was very odd considering that I have requested more of this in the past and was given it. I love your pizza, but overall the last few times have been extremely disappointing. Your pizza is pricey and it doesn't feel good to receive poor quality food on top of nasty workers who are preparing it and supposed to make the customer feel comfortable.
Thank you for taking the time to read this,
A Queens County Customer

My friend visited to porirua Pizza hutt yesterday to have his lunch and he ordered a hot and spicy veg pizza. But by mistake staff made an error and made a hot and spicy beef pizza. He is a pure vegetarian and never ever touched meat in his whole life. As soon as he realised that it's a wrong food that he's eating he gave a call to the store and staff apologies to him and offered him another pizza next time on his visit.
Now when he went to grab his pizza in the evening the manager (Tammy) told him to bring the old pizza back? Seriously?? This is your fault and u guys promised us that he will get a free Pizza next time.. no one told us to bring back the old pizza? And that was the same day of the complain and what is he goes there after 2-3 days? Do we still need to carry that wrong pizza with us?
Also wanted to add that Tammy's behaviour is really rude and arrogant. She is not suitable for that position because manager needs to be calm and should be able to resolve problems on the spot. It's just a value pizza and no one wants a free value pizza. He was asking for the pizza he has paid for. Tammy's behaviour clearly showed that she doesn't care about customers at all. I Just wanted to ask a question to you guys. Have you guys finished her management training ? I've heard that pizza hutt trains their manager before they start handling them shifts. Is that even true because after last nights incident it seems like she needs a lot of training starting from the beginning.
Like I said my friend is a pure vegetarian and never touched meat in his whole life, but you made him eat it. This is ridiculous. And all he was asking was an apology. Tammy denied that too and instead she simply told him that she doesn't believe him? Seriously ?
Get back to me otherwise I'll put this to Facebook community page. I am attaching the pic of that pizza and will keep it as a sample until you sort this out.
TRAIN YOUR MANAGERS BECAUSE YOUR BUSINESS DEPENDS ON THEM!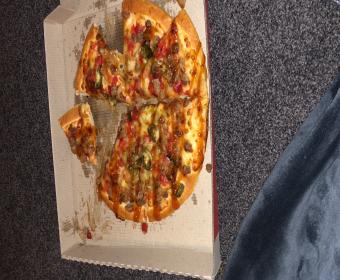 Jamie olesen
from Chicago, IL
the driver stated that she called many times there was no calls there was no text no nothing I waited two hours for the pizza to be delivered there was nothing delivered at all this is happening murres times and I am done

Chris Vandiver
from Huntsville, AL
Erica Smith at Florence Al Pizza Hut located on Coz Creek Parkway, tried resolving a mixup with the food and the quality of the food by sending a re-order at my address. We waited for 2 hours and after calling back she said they can't replace the order after she said she was sending the replacement because we did not have proof. After I asked for a refund she told me she doesn't have to do anything because they are a franchise and we couldn't do anything about it. After lying and not receiving my order, I'm continuing this complaint by sending to state representatives as well as the Mayor of Florence and the Governor of Alabama and to include the Alabama State Health Dept. I strongly urge everyone in the public NOT to engage in transactions with this company.

Patrick king
from New York, NY
Stopped at the Pizza Hut at Abercorn 204 in Savannah at about 4:30 pm Saturday evening. Walked in to order and a lot of people standing around to order and to pick up also. One female on the phone talking to a friend not a customer for about 10 minutes. The other female was just folding boxes ignoring everyone waiting. Finally another customer said is anyone going to wait on any of us. Well they both acted as if it was a bother for them. After finally getting to place my order after 15 minutes I had to wait another 15 minutes to get mine to go. And when I got home you could see they were very over cooked. I will never stop at the Pizza Hut again. Bad experience and rude ass employees.

Lisa Campbell
from Huntington Beach, CA
Pizza Hut in HB,CA on Beach Blvd and Slater Ave.. This Pizza Hut is the worst ever!!! I now remember why I stopped ordering and eating Pizza Hut over 3 years ago.. Tried calling store after I got my pizza delivered and one of the pizza's was wrong and had ordered 4 ranch that I pad for and never got even tho I asked the delivery guy for them at my door he pointed to the box's and said" they are in there" they weren't!! Called the 714 number to the store not knowing until the 6th customer service person I spoke to told me that number goes to a "customer service line not the actual store"6th person that tells me they will transfer me to the store manager then call goes to a busy tone for the 6th time and hangs up on me!!!! Horrible horrible customer service the reps need correct training in "customer service".. I will be contacting and sending corporate a letter and posting my horrible experience I have receive on social forums..I was trying to return the delivery but could not get a live person.. I want my money put back on my card and a full refund!! The worst service I've ever had in my life!!! I will warn other people and never use Pizza Hut again.. I'm surprised they are still in business and papa johns is no longer.. I've never received this bad of service in my life!!!! I want a full refund as I was trying to send everything back but got nowhere because no one ever answered for over 45 minutes of trying.

Melissa House
from Des Moines, IA
The manager jimmy refused to take our coupon, stated we had to put it in online. We have always turned it in at window since we started these couons off the survey! We have been doing this for months. He was rude. We eat at this Pizza Hut 1-2 times a week. I am guessing there are other eating establishments we will visit from now on! Ridiculous to be faithful customers and be treated this way.

Keresha Coleman
from Victoria, TX
Hi. So me and my bf use to eat at pizza hut but haven't eaten there since the last issue we have two kids so we usaully buy a good amount of food sodas, desert. Breadsticks, and two pizzas. But the last time we ate there was it for us. Our food was horrible the pizzas were soggy and no not from the oil.The desert was more so burnt and hary any toppings it was just a bad experience for us and we work hard for our money.. We usually love pizza hut and that's definitely a go too for lunch but we have to find somewhere else do to the last issue.

Violet Goben
from Marshfield, WI
Hillview Ky Pizza Hut
Went in to place an order, waited 10 minutes at register, Finally stuck my head in the back door and asked if anyone was working the register. A man came out and told me it would be at least 15 minutes before he could take my order. He said he was too busy at the moment to help me. I left and purchased my pizzas at another store. Pitiful!!!!!!!!!

Tisha Floyd
from Rock Hill, SC
Friday 11/30/2018 I place an order online for the five dollar pizza I ordered two pizzas and some mini cinnamons. Online I did not have the option under the $5 option to remove the sauce. I then called the store and was answered by someone in the call center. I advised her of the situation and that I am allergic to the sauce. She then placed me on hold and I was instantly put back in a cue about 15 more mins passed and another call center agen answered and advised me to hold. The line was answer by an African American with a kind of rough voice. I advised him of the situation. No apologies nothing to show compassion. What he did say was normally when it comes through the internet it becomes a customer issue but as courtesy I will resend the pizza. Very rude individual. He sent the second pizza outbit too had sauce on it. I called the store was on hold 21 mins and the line disconnected I was never able to speak with any individual. I was left with no dinner for the night or eat a pizza that I was allergic to the sauce. This is a major problem and could be a law suit if I get sick from eating the pizza unaware at first that there was sauce on it!!! In the picture below you can see both pictures have sauce around the edges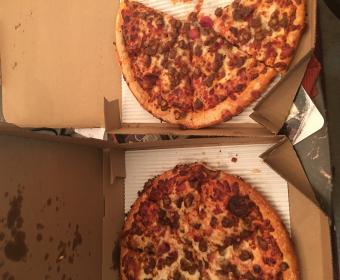 Anthony Hernandez
from Phoenix, AZ
I got off a 12 hour shift at work,I got home and decided to order pizza.I always place my order online for your store on (21 W. VanBuren St. Phoenix,AZ 85003).Well i waited an hour for delivery when the website stated 30-40 minutes delivery.After waiting so long i called the store and they said "The Driver forgot your order but we're sending out now.Well by that time my pizza would have been old and cold the manager did not offer to remake it,he did not apologize,did not offer a discount or anything.I am a long time customer and earn pizza hut rewards as well,i am completely unhappy with this service and would like it to be handled professionally to keep me as a customer until further notice i will not be ordering from Pizza Hut in the future.

scott mouzon
from Georgetown, SC
I ordered some pizzas for the family tonight it was 8:28pm when I placed my order the guy said it would be out in about 15 minutes 45 minutes went by I called they said he was on the way 2 hours went by still no pizza I called back and asked what was wrong the lady was so rude I just hung up the phone

Susan Cole
from Nicholasville, KY
I called to place a delivery order for pizza and dessert. I live 2.7 miles from the store However they said they could not find me in their system. How is that possible when I could find them. I had placed a order before and yet today they could not deliver. So I called papa Johns and they were farther away and yet they delivered to me. This is not how you keep customers.

Larondrial Hayes
from Brenham, TX
Pizza is cold ...and nasty...the wings are aweful..wasent any thing fresh ...and other was a hour late

Anjela Crosby
from Raymore, MO
I ordered 3 pizzas from Pizza Hut on 11/24. Yes, it was a cold blizzard day so I expected delays. This is one of the reasons I ordered early. The pizza was delivered 2 hours later and one of the pizza was wrong and the other two were dry and over cooked. Called Pizza Hut back and requested they send me a corrected pizza. I was told I would receive a $5.00 credit and a new pizza would be delivered. I didn't even complain about the dry pizza. I figured this is what $5.00 pizzas looked like now.Waited 2 hours called back and was told the store was closed. Asked the representative Laura (Senior Advisor) why I was not contacted and was told it was too many people for them to call all customers. Asked for a full refund and was told I can only get my $5.00. I asked Laura to speak with someone over her and was told she was the highest person to talk to. . Asked Laura for my credit and I would speak with someone else tomorrow. Called back on 11/25 because my credit was not on the account and was told by Chris (7702) that Laura had a note stating, I did not want my credit. Explained to Chris this was not true and why would I not want my credit for a pizza I never received. He stated many customers get mad and don't want their credit. I think this is totally absurd. Even if customers say they don't want a credit if Pizza Hut doesn't deliver a product shouldn't they just automatically give them their money back. If you keep money for a product not delivered that is STEALING. Anyway I asked Chris what type of repercussions will Laura face for lying on a note about a customer. Chris stated that he wasn't sure and maybe something would occur but they are so busy right now they didn't have time. Asked Chris, who would know and he transferred me to the Manager on Duty Delana. Delana never offered an apology for my inconvenience. However, she did defend her staff and said it was all a miscommunication and there was never a note that stated I didn't want the credit and that she could either give me a store credit or my $5.00 refund. I also asked Delana why would I want a store credit for merchandise I didn't receive. I tried to explain the store credit was for them sending me the wrong pizza and the $5.00 was because I never got the corrected pizza. Delana stated she would give me my money and no credit and it would appear on my bank statement in 3-5 days depending on my bank. The CSR's and managers may think it's okay to treat people like this over $5.00 but what they have really done is lost a customer who buys from them all the time. So thanks Pizza Hut, Laura, and Chris for caring about my children eating on a cold winter night you are appreciated!! There customer service SUCKS!!

I picked up my pizza family box the cheese bread was more burnt that cheesy. The wings I received all the bread off the wings were piled on top of the wings and the pizza I want wanted the pizza hut favorite crust flavor and received non. And the pizza just had all around poor quality and it's like this just bout everytime I order from pizza hut in shelby nc.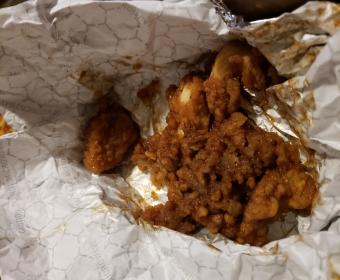 Brenda Schmucker
from Goshen, IN
I went to the store in Nappanee Indiana two weeks ago , I ate in it took almost an hour for my pizza then it was wrong I asked to talk to a manager the manager on duty was too busy so shift manager and waitress came out half hour later had my pizza in a box and told me they were sorry for the wait , i'm sorry and hour and a half for pizza was not acceptable to me they did not offer me anything but I sit there and ate my pizza and paid my bill once again I complain to the waitress and the manager , nothing was done . I called a gentleman named Tracy I got his phone number from another Pizza Hut so I called him complaining and he tells me he was going to send me a refund for my bill and then send me a gift card for the inconvenience that I had at the store well two weeks have gone by I have not heard anything or seen anything not that I'm out for anything but when somebody tells me they're going to do something I expect that instead of being lied to

ROBIN DURRANT
from Bromley, ENG
I ordered a pizza deal on 24th November, I was quoted 30 mins and the delivery took 1hr 20 mins this was after I called the restaurant to ask where it was at the hour mark. When the food arrived the driver had to return as he forgot to leave an item. In addition the food was cold. The final issue was when the food was checked it was wrong. This is not the service I'd expect from a restaurant of your calibre.

Asif Khawaja
from Jersey City, NJ
Hi; The Pizza Hut # 013125 at 701 State Route 440, Jersey City NJ 07305 & Ticket# 145.
Hope all is well. I would like to start with telling you that my family loves Pizza hut, and do not eat meats. So let me start with placing my order.
As you can see my phone log also, When I called for the order Mackel simply hang up on me because he could not understand English and failed to continue my order and hang up the line twice, which I ignored thinking it's OK. Then finally, a young girl took the call third time and took my simple order and was courteous. I had stressed enough to her about "No chicken" in Alfredo pasta which we always did and never was a problem. As I went to pick up my order, I asked for extra sauce when Mackel asked for 50 cents more, I paid and left.
After getting home, as I served pizza to my family I noticed the pasta had chicken in it. So I called the store and Mackel answered the phone. I explained to him that pasta had chicken in it, but he ignore the fact and I offered to send him the picture, but he insisted on "no no I checked it myself" and then he hang up on me. Then, what bothered me the most that when I called again few times and every time he kept on saying " Sorry this is McDonald's, and hang up on me. It was so agitating that was very upsetting. I spoke to Albert (Manager) Saturday morning and I told him the situation, he heard me but not sure if he will report that to corporate. I would like to request my whole order refunded, and please address the employee about hanging up the call and saying this is McDonald's. It's was very un-professional of him being a night supervisor of the store.
Thank you very much for taking the time to hear me.
Asif Khawaja
201-736-7243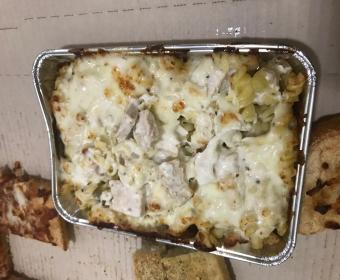 Asif Khawaja
from Jersey City, NJ
Hi;
Hope all is well. I would like to start with telling you that my family loves Pizza hut, and do not eat meats. So let me start with placing my order.
As you can see my phone log also, When I called for the order Mackel simply hang up on me because he could not understand English and failed to continue my order and hang up the line twice, which I ignored thinking it's OK. Then finally, a young girl took the call third time and took my simple order and was courteous. I had stressed enough to her about "No chicken" in Alfredo pasta which we always did and never was a problem. As I went to pick up my order, I asked for extra sauce when Mackel asked for 50 cents more, I paid and left.
After getting home, as I served pizza to my family I noticed the pasta had chicken in it. So I called the store and Mackel answered the phone. I explained to him that pasta had chicken in it, but he ignore the fact and I offered to send him the picture, but he insisted on "no no I checked it myself" and then he hang up on me. Then, what bothered me the most that when I called again few times and every time he kept on saying " Sorry this is McDonald's, and hang up on me. It was so agitating that was very upsetting. I spoke to Albert (Manager) Saturday morning and I told him the situation, he heard me but not sure if he will report that to corporate. I would like to request my whole order refunded, and please address the employee about hanging up the call and saying this is McDonald's. It's was very un-professional of him being a night supervisor of the store.
Thank you very much for taking the time to hear me.
Asif Khawaja
201-736-7243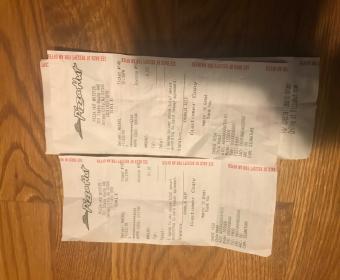 Lipsa Rout
from Lucknow, UP
This is the second time that money has been deducted from my account and yet the order hasn't been placed

Marc Daigle
from Arlington, VA
Hello,
My name is Marc and I am writing about a very bad experience with one of your restaurants. First I would like to say that it is very difficult to find someplace to do this. I tried the "tellpizzahut" survey listed on the receipt. I assumed it was going to be like the survey listed on other receipts I have had at other restaurants. I was wrong. It went to a survey about my buying and living habits even though the receipt says on it "we'd love to hear about your experience". The survey never asked me about my experience. This was almost as frustrating as the meal I had at the restaurant. Any way I found this email address on a blog and I hope that it is the right place.
My dining experience went like this. After church on Wed the 21st of Nov my wife and I went to pizza hut to eat. We arrived at around 15 minutes to 1 pm. When we walked in we found that the restaurant was not very busy. We saw only two tables with customers and only one customer paying at the counter. The employee taking his money said to us that we could sit anywhere. We walked down the row of booths and found that none were clean. All had crumbs and sauce and obviously had been left uncleaned after having been used. We chose the cleanest one and I took some paper towels and cleaned it myself. I should have taken this as a sign of things to come but I overlooked it. The employee that was at the counter walked over after a few minutes and asked about what we wanted to drink. After he walked away, we waited for those drinks. They were slow in coming but not slow enough to warrant a complaint on its own. It did appear that he was alone. My wife said to me that she wanted to be ready to order when he came back with the drinks because of the wait time. I agreed and when he brought the drinks we ordered. My wife asked for an order of cheese sticks as an appetizer and she ordered a medium thin crust cheese pizza for her lunch. I ordered the 8 bone less wings and fries for lunch. Then we waited and waited and waited. I asked the waiter a couple times for the appetizer and he kept saying that it was coming. Finally after what was more than enough time the pizza was brought to our table. The waiter put it down and gave my wife and I each a plate and said for us to enjoy our meal. We looked at each other in disbelief. As he started to walk away my wife stopped him and asked "what about my husband's meal?' He appeared perplexed but after a few seconds he composed himself and said "it will be out soon". I thought REALLY? He was not convincing. I don't think he even remembered that we ordered other food. I later noticed on the receipt that a woman named Catherine actually entered the ticket not the waiter. After he walked away we looked at the pizza and were very disappointed. The pizza appeared as if it had been too long in the oven and had been allowed to sit too long after it came out. By that description I mean the cheese was very dark and not at all melted. The crust was just as dark and was not crispy but was chewy. The pizza itself was not hot to touch but was warm instead. I told my wife I was sending it back. She said no she was too hungry and no longer wanted to wait. She ate a couple pieces of pizza and I waited for my lunch. When my wings finally arrived they were without the accompanying fries or ranch dressing. I asked the waiter about the fries and dressing and he said that he would get them. I assume he got busy because he did not come back. I went up to the counter and got the attention of the person cooking. I asked for the fries and dressing. This person made an attempt to walk around the kitchen area looking for them but never produced them. At this time I complained to the manager. After complaining I went and sat down. Soon after the waiter appeared with the ranch dressing but not the fries. I was really hungry by now so I started eating the wings. By now though the wait for the dressing had caused the wings to cool and the buffalo sauce had soaked in and the breading was no longer crispy and hot but was warm and mushy. I ate only 4 of the 8 wings. They were horrible. While eating the third or fourth wing the fries finally came out and soon after the appetizer appeared. Now the problem with the appetizer was twofold. First as we only eat pizza hut on occasion we made the mistake of assuming that "cheese sticks" meant sticks of cooked cheese sticks. I guess at this restaurant "cheese sticks" means a big huge piece of bread with cheese and garlic on it. That's my fault for assuming. It's also corporates fault for not putting descriptions on the menu. The second problem was IT IS AN APPETIZER it is supposed to come out first not last. The "cheese sticks and the fries were the only things that were delivered piping hot. The fries were crispy and the cheese was melty and hot. Meaning to me that these items had only been put in the cooking device after we complained. I explained to the waiter that we did not want the Bread we wanted cooked cheese sticks he said that these are cheese sticks. The manager appeared and said "Oh you meant mozzarella cheese sticks". At this time my wife and I started laughing. This meal had become like an episode of the three stooges or the Marx brothers. The manager left and within minutes the "cheese sticks" were taken away and replaced with "Mozzarella Cheese Sticks". I ate a couple of fries and we wrapped up the appetizer. My wife sipped at her diet coke (which had never been refilled) and we decided to leave. The manager wanted to cover the bill but I insisted on paying. I did not complain to get a free meal I complained to get the meal I was paying for in a timely and quality manner. The only good thing I can say is that the employees were pleasant.
The store was the pizza hut in Culpeper Virginia. I am looking at the receipt now but I do not see a store number like on other receipts. I do see a number on the date and time line but it is not labeled store number. That number is 023495. My ticket number is #0028.
Marc Daigle
19106 loggers rd Culpeper Va 22701
571 238 0196

Candice Hamm
from Stone Mountain, GA
I placed an order online at 7:29PM. I received my order at 8:20 PM and received my large pizza and chicken alfredo pasta which were both cold. I immediately advised the driver of the missing Pepsi, he saw the receipt and said he would bring it back. I checked my order and saw that the cheese sticks that were a part of the past was missing and immediately called the restaurant to advise. Around 9:20 the driver returned with a 20 oz Pepsi, I ordered a 2 liter, and no cheese sticks. He advised he would return with the correct items. I called the store at 10:20 and was told the delivery driver would call me when he got back to the store. It is 11:16 and the store is currently closed and I never received my items. I would like a full refund for the inconvenience. He can keep the tip I gave him in person.
Pizza Hut
4906 Covington Hwy, Decatur, GA 30035 ·
(404) 286-9222
Ticket # 0091
Entered By Internt2
026418
11/20/2018 07:29PM
CC $22.40

Steve aleman
from Lubbock, TX
Slaton, Texas Pizza Hut. We placed an order at the local Pizza Hut and had someone take me. Upon arrival I approached the young lady at cash register and asked for my order. She replied that it hadn't been paid for. My daughter was supposed to have paid. So I text and she replied dad I was put on hold for twenty minutes so I hung up the phone. I said they are waiting for your call. She did and the phone rang and rang to my surprise no one was answering. Note it that the employee was aware of the phone call. So I talked to the manager. He gave me a hard time talking about my daughter hasn't called. Well my brother called and was treated as though we was expecting free food and eventually hung up on. I finally get a hold of my daughter once again. She said that someone was indeed answering the phone and hanging up on her. I mentioned this to the manager and he put the blame on me and my daughter. Talking about we should have paid before arriving. I reminded him about his staff putting my daughter on hold. By this time 45 minutes have passed. The good news is that my daughter finally got through and paid. I waited an extra 30 minutes before I got my order. Once I got home I noticed that our food had to have been rushed. It wasn't made how we ordered it. Looked like some places were darker and it was soggy. Oh and the female employee was asking customers if they would like a drink for waiting. I was not offered anything.i am very upset.

Tracy Tripler
from Atlanta, GA
Pizza Hut on international drive in Orlando Florida. We had placed an online order and went for a walk on our return our car was towed. When we spoke to one manager he tried talking to the tow truck company. The other manager refused to come out and speak to us. When they saw the order on my phone they noticed it didn't go through. It cost us $144 for the tow truck company and $25 for the Uber. Needless to say I did not pick up my Pizza Hut order. They had a spottter out there and notified the tow truck company anytime someone walked away from their car. We saw several towed. We had all intentions on picking up pizza after our walk. We did not.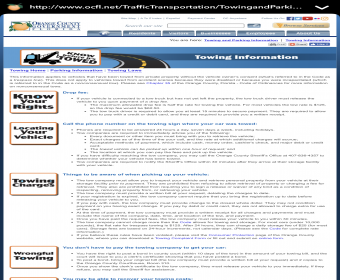 Robert Bishop
from Louisville, KY
I ordered two pizza's and a 2liter Diet Coke, online 11/17/18 at 7:20 pm when my wife got to drive threw to pick up her order she waited 30 minute in line. She came home and they forgot to give us out 2liter. So I called them and was on hold for 30 minutes so I decided to drive up there and get it. I was going to see if they could just give it to me the next time I ordered online. So I drive to the Jeffersonville Indiana store I ask the lady working drive threw to talk to a manager and I waited about 3-4 minutes then the manager came over and said may I help you I told her I was here to pick up my 2 liter I payed for and didn't get, I recorded everything from the time I pulled threw parking lot till cops showed. The lady said you can't record me and I said I'm only here for my 2 liter. No cussing or getting loud. She told drive threw lady to call police and wouldn't give my 2 litter. I'm a 55 yr old dad and eat there all the time. And I will post this video on social media, twitter, and any where I can. Because the Manager was rude and mean and the police said I'm baned from there forever so I guess it's papa johns or Dominos . Hope you watch the video I'm going to try and attach it. If not I can email it. While I was there other customers were complaining also there in video also. You keep letting this manager run this store and I promise your sales will go down. Robert Bishop 33 Forest dr Jeffersonville Indiana 47130 8124065398

Caleb Ledet
from New Orleans, LA
I ordered 2 pizza from store #034290 and my ticket number is #59 from November 18, 2018 at 5:51 P.M. When they delivered the 2 pizza it was the worst looking pizza's I have ever seen. Plus the middles were not cooked. Plus I ordered Stuff Crust which all of the so called cheese was not and the crust. And the cheese that was suppose to be in the crust was like a cream all over the pizza. It didn't taste like cheese. It tasted horrible. I will attach photos of what the pizza looked like before I threw them away. You couldn't force anyone to eat them. They looked bad and tasted bad. 1 pizza was a large cheese pizza and the other was a large supreme both stuff crust. Very disappointed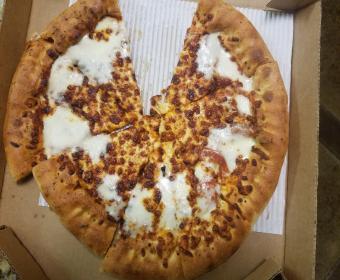 London Garrison Die
from Mobile, AL
The customer service at the call center the first time I called was appalling. According to her she has no superior. 438pm today.

Michael Skinner
from Birmingham, AL
I am very disappointed with your delivery service with many reason that I will state to you:
1) your service did not deliver my pizza in a timely fashion . Over a hour late.
2) from that 1st reason which result in a COLD pizza which you guys state in your advertisement that my pizza should arrive hot
3) as well since you guys took your time in making my pizza your establishment forgot to add my toppings that I specifically asked for and payed for when I placed my order.
This has happened plenty of times from when I order pizza from your business and it's a very poor run business. Please upgrade your service. I spend alot of money with pizza hut. Seems like you don't care about your customers.

michael skinner
from Birmingham, AL
I am very disappointed with your delivery service with many reason that I will state to you:
1) your service did not deliver my pizza in a timely fashion. Over a hour late.
2) from that 1st reason which result in a COLD pizza which you guys state in ur advertisement that my pizza should arrive hot
3) as well since you guys took your time in making my pizza ur establishment forgot to add my toppings that I specifically asked for. Plus I payed for them. When I placed my order
This has happened plenty of times from when I order pizza from your business and it's a very poor run business. Please upgrade your service. I spend alot of money with this company. I deserve better.

Monica Murrell
from Millington, TN
Ordered 2 lrg pizzas wings and 2 liter Pepsi. I got half my order. Just 2 large pizzas. Delivery driver said that's all they gave me, but I'm like look at receipt it clearly shows 2 items missing. My family ate without wings and drink. What we supposed to do wait an hour til we got the rest of the order. Either way poor service. I call and see what's taking so long and let the store know what happened and all I get is sorry, but he is on his way.
Ordered from Arlington branch 11_17/18 @ 5:14. CSC#75 Ticket: 101

Todd Cornwall
from Chicago, IL
I filled out a survey, and will copy/paste for you:
A huge miss on everything. I ordered double sauce, I got regular sauce. Everything was 10 minutes late and not even hot. It seems that some things were cooked and ready, but they sat on a shelf getting cold waiting for the other items. Chicken in the pasta was gross. That's the second time I get hard crunchy grissly fatty pieces of "premium" chicken. The pizzas were rushed. They didn't look at my order and get me the double sauce and some slices had NO pepperoni while others had 4 pieces.
Based on this last visit, I don't think that I'll return to that pizza hut until things get better. They were doing really well for a while, I was really impressed with the food. Last two times were absolute failures. It seems that when they get busier, they don't bother with quality. I get emails about "game day promotions" in order to get me to order from them on game day, yet, your so damn busy, the food quality is horrible. The chicken is getting specifically nasty. Fatty, crunchy grissle. It's the garbage you should be trimming off the chicken instead of feeding it to people. Slowly losing me as a customer again, and this time not sure I'd come bad since there are other options nearby.

Earl Hansen
from Killeen, TX
Yesterday, 11/15/18, my wife and I stopped at the Belton, TX Pizza Hut at the 6th ave., exit on I-35 for lunch and ordered wings and a medium meat lover's pizza. While waiting for the meal the friendly waitress brought our drinks and I noticed pizza goo caked around her thumb and finger nails. Shortly thereafter a cook brought out part of our order and the waitress then brought out the pizza. She then began mopping the floor, stopping shortly to give out an order to go at which time she opened each of four boxes to show the products inside. She then walked out with the customer and had a smoke while outside, returning in a couple minutes to continue mopping the floor and hallway to the bathrooms. She then checked on the inside customers stopping to pick-up trash off a table and the floor, after which she broke down the buffet stand and stored the food in the back. She returned carrying toilet paper and installed it in the bathroom, returning to the dining area to wait on customers. At no point did this waitress stop to wash her hands and we saw none of the employees, waitresses or cooks wearing any hand covers, including what appeared to be the owner that went back and forth between his car, cell phone and kitchen area. DISCUSTING and UNSANITARY - WE WILL NOT RETURN TO THIS ESTABLISHMENT and I would highly recommend the health department investigate and issue a few citations.

I ordered a simple cookie and some cinnamon sticks and it was $20 and i never got any of it and Pizza Hut never showed up. They robbed me of my money and never delivered my food.

Wood Shopp
from Sarasota, FL
Since PH moved stores I an 2 to 3 blocks out of range for delivery with 2 stores! I can't get delivery anymore!

Jamekia Caldwell
from Greenwood, SC
I ordered your 2 or more $5.00 deal tonight. The order was a hand tossed pepperoni pizza and a hand tossed beef pizza with no extra toppings , this order was placed online under the name JAM CAM at 10:15 pm. After I placed the order I called to see if they were still going to make the food because it was 45 minutes until closing time and I also called to see if I could add a garlic sauce on to my order but I nicely declined after the young lady said it would be $1.00 extra for such a small sauce, so my total was still $14.72. $10.00 for the 2 pizzas, $3.50 for delivery and $1.22 for tax as the receipt online explained. I work from 4 pm till 12 am so the pizza was supposed to be delivered to my job and I also gave instructions for them to call my number (864) 377 3714 when they were at the guard shack with the order. The young lady said it would be ready by 10:45 and I agreed. I waited outside in the freezing cold and rain for this food and no one showed so I called again as to where the young lady working had just told me that the man was "on the way now" with my food. This was at 10:52 pm. As I waited there was no car to pull up with the pizza hut logo on the hood nor did I receive a phone call, so by 11:14, 22 minutes later , I called again. The young lady said they were closed so I asked her ' At this point is my food going to be free? or atleast discounted? " she says, "Well he was supposed to be on his way , so let me just call him really quick" and she hung up. I called several times after we hung up to tell her to just cancel it but didn't receive an answer from her again. The driver called my phone at 11:18 and said he was at the gate. I flashed my lights on my car and told him I was sitting outside at the gate for atleast 20-30 minutes , and did the girl say anything to him about a deal for the strenuous wait? He said " No but I got your food, I'm the only delivery guy they have tonight and she hit me with like 5 of them back to back." I said well she said she would call you because you were supposed to have been here before now"...he said "Well aint no discount and it shouldn't be cause the food is still hot so just come and check your food and pay for it..when she called I told her I was on south main!" Even though I was inclined to still buy the food after he was being rude with that nasty attitude on the phone, when I walked up to the car he was still mumbling and talking trash, with what I would assume to be his girlfriend or something on the passenger side of the car. So I said no thank you , and he said, "fine fuck it" and sped off. I am so disgusted by the driver and the cashier for not finding a better solution, especially seeing that my job Carolina Pride, on 1 Packer Ave Greenwood SC 29646 is only 5 MINUTES away from 1506 Edgefield st, Greenwood SC 29646 which is Pizza Hut NEAREST THE JOB. Everything that I have stated is true please check your online system so that you can verify the addresses, the distance , and the times. THE DRIVER CALLED FROM THE NUMBER (864) 554 8622.No matter if he was having an awful day or not that attitude took my whole appetite away, and even if the young lady decided not to answer the phone for me anymore at least she was half-way courteous. This is bull crap and I will be calling corporate, and although I didn't lose anything because I didn't pay for anything I did wait an extra 15 minutes past my 30 minute lunch break. I feel cheated. Please resolve the issue.

Mamiedoylemd@gmail.com
from Alexandria, VA
I ordered pizza online for delivery from your store 703-781-8181 I spoke with the manger Ingrid who was very rude and had very poor customer service! When answering the phone I said hello how are you this evening she said what ?? I repeated my self and her response was ok !! I explain that I was not satisfied with my pizza that had no topping that I order she well ok we just put on there what corporate tells us then she said you. An send those back and I will put alittle more on before I could say anything else she hung up I called back no answer and I never got my pizza . I paid $ 4 dollars for dilvery and I gave a tip ! Very disappointed with the way she talked to me and how she treated the situation has if she gave me the pizza I paid for it and wanted what I paid for ! Unexceptionable service amd I will never order pizza from there again .

Laurie lyall
from Whiteland, IN
So we went to Pizza Hut this morning at lunch at their lunch buffet and when we got seating to sit down they had us it wasn't no Pizza Hut on the buffet and we had to wait 10 mins the first time to get any pizza there was apiece hair in my pizza. And we tried to go up to get more we had to wait 15 mins for pizza the was not one piece on the Buffet pizza hut was in new castle,Indiana

Terri / Lavar Johnson
from Cordova, TN
I wish I could give minus 5 stars!!! My husband called a store around 5:30pm on 11/13/18 to order a pizza. The store he called was Store Number 4137 at 1947 Exeter Rd. The representative had to put the address in incorrectly. We waited on the order until the driver called us back at 901.289.7779 to inform us that they don't deliver to our address. We verified the address with the driver and he stated they had the address in wrong so they cancelled the order. I called the call center and they replaced the order being ticket number 80.
We decided at this time to just go and pick it up. We get to the store and they tell us the order has been cancelled AGAIN. I called customer service again and they asked to speak to the manager on duty. The manager REFUSED to get on the phone. So the CSR (Felicia at 901.362.3333) called the store and the manager or assistant manager would NOT get on the phone to speak with her while we were on hold. The managers on duty at Store 4122 named Samantha Chastain and Alana Ware at 714 N. Germantown Parkway in Cordova, TN. are very RUDE, DISPECTFUL and need more training on customer service! For Customer Service to be on the phone trying to get our order correct and them to REFUSE to speak to them is unbeknownst to me. Then the so called supervisors are going back and forth arguing with a CUSTOMER. How professional is that? Should be a disgrace to Pizza Hut!

Merkis Pina
from Orlando, FL
My name is Merkis Pina, I made an online order at the Kissimmee Florida location on BVL. I waited an hour and 15 minutes for them to tell me the pizza was still in the oven and would take another 10 minutes atleast. It was only a large pizza and cinnamon rolls. We just went ahead and cancelled the order. I understand sometimes it's busy but i was the only person sitting in the waiting room for 30 minutes. And no manager came to speak to us and it was known we waited over an hour. I can send a online order if needed. We order at 7:33 online and then told at 8:40 it would still be another 10 minutes. We did check in multiple times from 8:00-8:40.

Tammycullison
from Arlington, TX
The general manager at your 407 location is very unprofessional and rude . He didn't want to give me the special that you all had online. He was saying it was one price and I was trying to show him the picture and the price on my phone but he didn't wanna to hereit he said he had never seen me before and I come in here all the time an order pizza. But this will be my last time..

Jenna Scheidegger
from Perry, FL
The restaurant stinks like mildew and there were worms all over the toilet paper in the mens bathroom.
We will never return.

Brenda Scruggs
from Overland Park, KS
YOUR ORDER - 3181112164107001181025553
Placed on November 12 at 4:41 PM
I am a long time Pizza Hut customer but the pizzas I received last night were not an experience I want to repeat. It was only the fact that I had very hungry children at my house - ages 5-3-2 that prevented me from calling and sending the pizza's back. The toppings were about 2 inches away from the edge of the crust -- which was overcooked and too tough to eat -- even for the kids who usually love the crust and eat it like bread sticks. The Canadian bacon was overcooked and I could only find one or two pieces of bacon, there were puddles of grease in parts of the pizza -- maybe the buttery garlic spread but I didn't bite into the grease to test that theory.
The cinnabons are wonderful -- usually -- but last night all the frosting was poured into the center leaving the outer edges dry. Of course we tried to redistribute the frosting but the outer rolls were noticeably drier than the center.
I wasn't even tempted to keep any of the left overs -- didn't look good, didn't taste good. Not sure I will use the local pizza hut any time soon.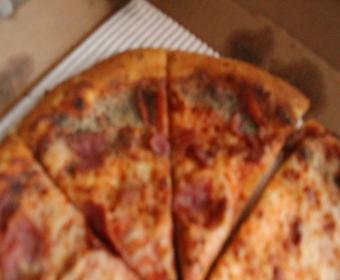 Mindy E Grider
from Charleston, IL
Dear Pizza Hut. Let me start out by saying I usually order pizza hut once a week. Well I did until a recently. I am not looking for anything in return no free food, no I'm sorry please come back. I just want you to be aware of the situation. I recently place a on-line order and while placing the online order I requested that a text be sent when my food was on its way. I received a message at 7:01 the order was out for delivery. 7:25 our food still had not arrived. I called the store and was told they where cooking new breadsticks then sending out our order. Which means it was not out for delivery. Our food was delivered about 10 minutes after my call was placed. So then our delivery driver arrives with our food. She then proceeds to say that our house is not lit up enough for her. That if she would have fell on our property she would have sued us. Our weekly orders/deliveries from pizza hut ended that day.
Have feedback for Pizza Hut?
Thanks for your feedback!
Sorry. Please try again later!