Pizza Hut
Pizza Hut Complaints Continued... (Page 6)
1150+ reviews added so far. Upset? Call Pizza Hut corporate: (972) 338-7700

Christina Evans
from Montego Bay, 08
I placed an order by phone and was told 20 minutes, I got to the pickup location (howard Cooke Blvd,
Montego bay Jamaica) I deliberately went an additional 10 minutes late, wen I got the I was told that the bread is not ready and the person has to bake it now. I was so upset as I placed this order went late on purpose to be told it's not ready, for the entire time the cashier had an attitude, her response was (miss what are you going to do as I need to cash other customers) this was as if I should not say anything and just wait. Fast forward I waited the additional 15 minutes for the bread, I said to the cashier "it's now 15 minutes can you check on the bread" her response was"when it's ready someone will take it out". So I asked her 3 times "are you telling me that you cannot check on this " she ignored my request. Shortly thereafter she took the pasta from the warmer, threw it on the counter and told her coworker to assist me. I took my food and before I could step out she made a rude comment so I went back and reported her to the supervisor. Now this is not the way to provide service to a customer, this rep needs to be educated on what service is before she is placed at the front to assist.

I ordered a pizza at 9:30 pm & I never received the pizza.

I can't beleive how bad our local Pizza Hut has gotten , from the stingy toppings, gross establishment, drug users as employees & rude service!! I'd wish you would send someone to clean up this place or it will not last , this is a small town & word travels fast ! Two of your employers ( maybe more ) are drug users , as I see them coming in & out of a well known drug house ! I will not spend my hard earned money or feed my children with food that gross people are putting their hands all over !! Wake up Pizza Hut , it's time to CLEAN HOUSE !!!!

Dante' Burress
from Mansfield, TX
Ordered close to $60 worth of pizza around 7:15. I called for delivery instead of carryout. Was told pizza will be here at 7:45pm. No call, no show. We called over 3 times, each time, the driver is on his way. Called at 9:15. Was told the driver couldn't find the house and as a result, he went back to the pizza station and left the pizzas on the counter with our personal information on it- per our neighbor.
The manager nor the driver tried to accommodate us in any way, therefore, I will not purchase from you all anymore.
Thank you,
Dante' Burress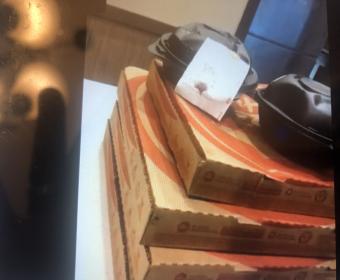 Patricia Thomas
from Marshfield, WI
We stood at the counter for a full 5 minutes while 3 employees quoted the Bible at the tables. I then went around the counter in the back and asked for assistance so we could place our order. We went to get our drinks and the floor was so sticky our shoes were sticking to the floor. There were no other customers in the store at 12:30. The health department should close this place down.

James Rogers
from Deltona, FL
I'm less than 3 miles away and I can't get a pizza delivered? I can't believe this!!!!

Pizza Hut in Perryton,Tx. Had lunch there today, had the buffet the thin pizza was all crust very little sauce very little cheese the toppings were crunchy and by the time it was out of the oven It was like eating a piece of leather. they have been advertising lunch buffet 5.99 which was not my case today, because they have NO one that goes in there. If they would make good pizza they would have people eating there. I for one will not be back. We live in a small town with not many places to eat and feel like we get taken advantage of because of that. Save a buck well to bad, I wont throw my money away again, I left 6 pieces on my plate hoping I would find one that was ediable.

Sat in the restaurant in Haytu MO for at least 15-20 minutes and the only thing we got were drinks and menus. Maybe three different families in the place and the waitress never came to us except walked by and said I'll get y'all in a minute .... terrible service. We got up and left and they still made us pay for the drinks that we barely drank!! I do not recommend that place to anyone!

The pizza in itself is great and all that, but the amount of packaging for the dips is absolutely horrendous. so much unneeded plastic and paper. With the state of our near future and present, this is absolutely disgusting behaviour.

Dawn Johnson
from Mitchell, SD
On 4/13/19 I ordered pizza at 7:15pm for Carry out at 8:15 PM. This occurred in Mitchell South Dakota. We entered the drive through for carryout at 8:13 PM at which time we were charged $59.07. We then sat in the drive-through for 10 minutes with no pizza. At 8:25 PM Pizza Hut called me to say they were out of the dough that we ordered- they hadn't even made the pizzas yet. Meanwhile in the carry out line we could see employees in the back eating pizza. This is been a very distasteful experience- we used to be very loyal Pizza Hut patrons. No longer. The manager reimbursed us however essentially admitted that they were eating our pizza.

Stop into the Pizza Hut located in Destin Florida and ordered from the big deal menu
Two large
3 topping pizzas
With bread sticks
The gentleman at the register stated I couldn't make it a thin crust because the computer would not allow.
Ask could you just tell the people in the back...
Just felt customer service was at the normal level of other Pizza Huts
The attached sign didn't say anything about type of crust or restrictions and have ordered this before at other Pizza Hut locations
Just felt kind of weird that this request was denied.
Any clarification on this matter would be greatly appreciated for this Pizza Hut customer.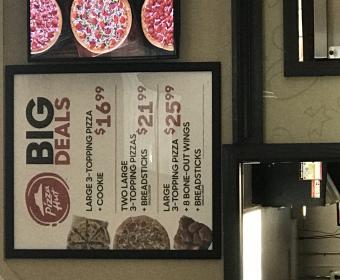 My husband ordered two pizzas on line to be picked up at 5:45pm in Lincoln, Ne. We arrived at 5:50 for pickup. We were told that Danny Shelley had already picked up the order. No! I am Danny Shelley. We called two family members to see if they had picked up the order. No, they had not! Pizza Hut offered to make us two more pizzas, but we were short on time to attend an event. We left. Very disappointed with Pizza Hut.

tina weibeseik
from Pittsburg, KS
Ordered a pizza on Friday April 5th,the gal that answered the phone was very rude,when the pizza arrived all the driver cared about is if I was going to tip him,which I did not,he never gave me my recipt,the pizza sauce for the bread sticks was so runny like it was watered down,never got any red pepper packeta or parmasane packets,Was very dissapointed. Will probably never ordwr there again.

Was charged twice for an order on my credit card. I called the store to ask for credit back on my credit card. The "manager" stated she cant credit my credit card back, but could give me cash. I was doing a lunch presentation for a dental office and live 2 hours away. Huh? Total incompetence. Waiting for the other manger to call me back so I can get a refund. Hopefully.

I placed an order online for 2 large pizzas for 5.99 each for pick up.total of order was 12.70. I went to pick up my order and the store on industrial blvd Cumberland md charged me more than my total I was provided. They charged me a total of 16.94. I called the store manager and told him what happened and he told me I did not place an online order . However I told him I have an email confirmation to prove I did . Therefore i am very disappointing and discouraged with the store and will not be ordering from there any longer .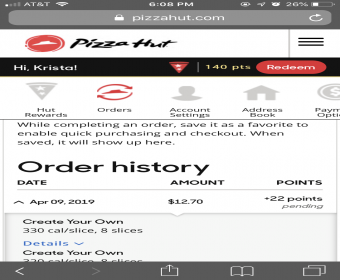 Michael
from Fairfield, CA
I've never had worse customer service in my life. I order 1 pizza and a soda for delivery to a house less that 5 minutes away, and it took over 2 hours to get it (11:50). I call to check on the order and I was promised a free pizza and a discount of 20% on the order. When the pizza arrives, i see the bill is worth more than the original price and also the pizza is undercooked. So I call 2 days later, expressing my concerns, and they met me with a attitude as if they wanted to just get me off of the phone with the expression "we have other customers and orders right now and don't have time for this" and I asked about the 2 hours I had to wait for my pizza the store manager hung up on me. They didn't want to honor the free pizza or address the fact that I was overcharged or the pizza wasn't cooked properly, just tried to close the deal with giving me store credit which was less than the original pizza I ordered. I feel like my concerns wasn't taken seriously, that my business wasn't appreciated, and that I was inconveniencing them for expressing the problems with my previous order. Will never deal with this location 598 Parker rd Fairfield Ca 94533 again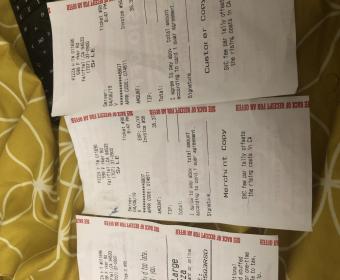 I walked in to pizza hut and ordered two pizzas the two topping pizzas and breadsticks the toppings were rtunning off ther pizza and the manager was rude when I told her about the pizzas al,so I had the breadsticks which was so hard I spent 35.00 on drinks and desert pastai I wasn't happy with the food and the manager

senthilkumar
from Singapore, 01
I recently ordered a pizza (in singapore, order reference: 18634), Pizza quality was very poor ,especially the Four cheese pizza was not consistently toasted , few sides burnt ,most importantly it was very spongy. Equally , chicken side was too oily &not fresh. I am completely disappointed with the pizza delivered. As regular customer to Pizza hut ,not only in Singapore , i used to prefer pizza hut in overseas as well. last month , i was in Glasgow (UK), Visited twice.

Pizza Hut pittsfield mass 01201. About 3:30 I went into pizza hut for the 5 dollar special when i ordered the wings the girl asked me would i like bleu cheese for fifty cents extra. Here is the rub,anyplace you go to order wings bleu cheese is usually served with the wings plus maybe carrots or ranch dressing. Really people,Surley my few dollars wil not make a difference, But I go by the location often it never seems as busy as in the past .the new menu has changed the foot traffic.I would be more of a frequent customer if things were different.

Carol Brock
from Garland, TX
Pizza Hut @ 3725 w. Walnut, Garland, TX. Placed my order online. Waited over 40 minutes. It never arrived so I called. They said they canceled my order because they could not confirm my phone number by calling me back. I checked my phone and I was never called to confirm my number. The employee I talked to didn't care. The manager Alex kept trying to stress it was policy to call and confirm number, which they NEVER did...that policy needs to be known to customers. But I was never called and order cancelled on there end!!! And they took the amount out of my bank that I had to get reversed. Alex never offered to redo the order, or? He could have cared less! When I asked how we could rectify this he just passed the phone to his employee, who cared even less. Poor, poor customer service, I ordered from Fratellis got what we wanted.

Tom G. Shelley
from York, PA
On Fri ,April. 5, 2019 we stopped at Pizza hut in Shrewsbury Pa. There were three other families when we got there. The place filled fast and the carry out was crazy. It took 1 1/2 hours to get our pizza. The young girl working told us ... New manager, Two workers did not show up, and because of the carry out call up it was packed .after awhile many patrons just left. The manager didn't stop over and explain, not offer o comp the people anything. He should have taken care of his inside customers first. But with that said the saving grace was the young girl who made sure we understood and comp us a snack. Pizza hut should give her a hardy well done and her parents should be very proud of her. She kept the rest of the staff on task . Yup

Michelle Elliott
from Clearwater, FL
As I was driving towards a pizza hut location off of the road that I take home I was trying to merge over into a lane and a Pizza Hut driver would not let me over and proceeded to speed up in order to not let me in the lane and have me crash into the plaza that the pizza hut was in (6383 manatee ave west Bradenton fl 34205.Fountain court shopping center) with my baby in the car. I called the store to notify them that the driver pulling into the store at that moment (small description of the car) of the incident and they were very immature, unprofessional and not helpful. They thought it was funny. I personally would be beyond upset having someone trying to hurt a mom and child by causing them to wreck while displaying my business logo on their vehicle. Please dont let this person get away with that. Eventually they will end up killing someone and its your business name all over social media.

Ericka Bearden
from Cleveland Heights, OH
I ordered 4 Pzones and a brownie. The order was an hour late, we didn't receive sauce for the Pzones, the brownie was burnt. I'm utterly disgusted and angry. I wasted $34.50 for a disappointment.

Mary Shipley
from Kansas City, MO
Regarding the Pizza Hut location at 7624 Wornall, Kansas City,Mo, 64114.
Went there today to obtain the power lunch special. Got there around 11:15 am. Doors locked. Drove around to the pickup window; set there awhile then I called the call center to see if they could tell me what time this location unlocked their doors, and as I was speaking with the call center after sitting there fifteen minutes; a employee noticed that I was there. Asked the female what time the door were unlocked. She replied some of the workers came late; so that is the reason the doors are still locked. I don't know but in my opinion that is not good customer service. Thank you.

Julie Wayland
from Aledo, TX
Ordered pizza at 8:09. Went to get it and was told it was given to another customer. I had 6 teens at home waiting to eat and at 8:56. I'm on the phone with the manager. her offer to me for their mistake was a 2 litter Dr Pepper. I asked her really that's the best you can do. I've waited over a hour. Her exact words to me were well I was gonna give you a discount before you started yelling at me. Problem with this is I NEVER yelled once. I simply told her that this was not acceptable. I was told I'll deal with your husband when he comes in. DEAL???? You gotta be kidding me No discount. And she glared at my husband when he picked it up. I've been a customer for 15 years. I think if your employees are this rude and unprofessional I'll go somewhere else.

yvonne currey
from Sydney, NSW
We watch Sky news .Pizza Hut recently cancelled its advertising with Sky because a handful of internet trolls complained about Sky .Our family eats your products /...Just as your company isn't forced to advertise on Sky ,this family can make a choice to purchase pizza elsewhere .Please reconsider your company decision and place advertising back on Sky News .After all who do you want to please, a few internet trolls or people who actually buy your pizza .Mr &Mrs A Currey.

Rumler E
from Memphis, TN

Dawn Fortune
from Bedminster, NJ
The customer service at my local store is horrible. The estimate for delivery times is always off by at least a half hour. If you try to call the store, they will pick up and hang up on you just to get you off the line. I will never order from the store again. If I could score them zero stars I would.

My name is Michael Williams. I live in Charlotte, North Carolina. Friday afternoon April 5, 2019,:I place a carry out order at the Pizza Hut located at 3215 Freedom Drive here in Charlotte. I ordered 1 Pepperoni Lovers Personal Pan Pizza and 3 Meat Lovers Personal Pan Pizza's. When iI got home and undressed, my wife and I looked at the pizza's and noticed that the Meat Lovers pizza's had very little meat on them. They each had one slice of pepperoni on them, but little to none of any other meats. I called the store and asked to speak to them manager. The young lady who answered went to get the manager, but came back to the phone to ask the purpose of my call. I was taken aback, because she was not the manager, and why the manager would send her to ask such a question. I related the problem and she went back to tell the manager. When the manager came to the phone, I explained the condition of the Meat Lovers pizzas. She said there was nothing she could do about, it was the way the toppings come out on each pizza. Then she questioned, as if I was lying, if I sure they didn't have meat on the slices. Again I told her there was a piece of pepperoni on each slice (centered in each slice) but little to no meat other than the pepperoni. She wanted me to bring the pizzas back so she could look at them before refunding or replacing. I had been out all day and had just got home and had changed my clothes. I explained that to her, but she again said that she could not do anything for me without looking at the pizzas. If the meats, as she says just are placed randomly on the pizzas, how could the pepperoni slices fall dead center on each slice. So instead of arguing with her, I told her I would file a complaint. Terrible way to do business. And to think this over a $4.50 Pizza!

william burnette
from King George, VA
I just used your online ordering to order several pizzas. Upon completing all the required information for my order to include payment, I received a message saying it was unable to complete my order. Pease help me understand why I was charged for pizza I will not receive? If the order could not be processed, why was my card charged? If the store I was referred to for delivery was offline, why was it an option online? I called the number listed for the store and it was answered by an employee from another store. He advised me that the store I ordered from was not open for business and the charges on my credit card would come back to my card in a few days. SOOOOOOOO! Now not only do I not have pizza, I also have to make another charge on my card for food elsewhere while I wait for a pending charge to come off. This is very poor customer service and I will not be supporting pizza hut with my business again. Thank you.

I order a pizza for my two year old at her daycare from store 03225. The delivery left the pizza out side the door. The daycare has a bell to ring. The driver couldve took the pizza back to the store. I think that this is nasty and unnecessary.m I am livid. I spoke to the manager about this it does not seem like he will do anything to help.

Dominque
from Cleveland, OH
Memphis, Tn Shelby Drive Location: Today 4/3/2019 I ordered a pizza online at approximately 7:45 pm and was told I would receive the pizza within 45-60 minutes, which was fine. So 8:30-8:45 passes still no pizza. I call to check on my order & they say it will be an extra 15-20 and the account would be credited $5.00. $5.00 off a pizza order that was at that time almost a hour & 15 minutes. Get the pizza and the order was cold. The wings where cold. Absolutely horrible service. I will no longer order from Pizza Hut again!!

my once a month buffet at my local Pizza Hut. Today there were a whole new staff. I liked the old staff better. They were kinder and really knew how to take care of there customers. This new staff, one, cant cut a pizza on the buffet, therefore the customers hands (including mine) was in the pizza's on the pizza bar. 2 didn't act like they wanted to help. My husband and I needed a refill on our drinks and no one came by to check on us so I went to them. The female took are glasses and dumped them in the trash and gave us new glasses. She didn't have to do that. She also had an attitude. Again, your old staff was great and we were disappointed about the whole lunch.
Diana Rogers
(804) 309- 5895

Jim Wynne
from St. Petersburg, FL
My complaint is specific to the Pizza Hut on 34 Street North in St. Petersburg FL. I attempted to dine in tonight and ordered a large pizza. The restaurant was completely empty at 6 PM. After ordering, I had to walk around to find a somewhat clean table. I found one that I had to wipe off further with a napkin. Next I went to the restroom which was filthy. There was paper on the floor and overall the bathroom was not clean. After washing my hands, I realized the paper towel dispenser did not work. This made me wonder if the employees really are washing their hands. I rejoined my wife at a table to wait for the pizza when she jumped from here seat at the sight of a COCKROACH on its back still kicking its legs. I told the cashier and with that we were out of there. Your brand dropped 100% in our mind tonight!

At approximately 12:10pm on 4/2/2019, myself and co-worker attempted to place a telephone order with the Pizza Hut located at 2763 West 5th Street in Lumberton, NC 28358 by calling 910-608-0057. A man answered the phone stating it would be an hour and a half for delivery the immediately put on hold. We were on hold for approximately 30 minutes before we just hung and no one ever came back to the phone. We attempted to place the order online but for some reason it wasn't working properly either. That means we were not able to get lunch today. It was a very cold and rainy day and we were just trying to get lunch delivered to keep from going out. We have placed orders with this locations many times before but always picked it up but I must say that this experience was horrible. Someone out of professional courtesy could've returned to the line to say "please give us a few minutes and we will be with you shortly" but they didn't. The guy who answered the phone initially didn't say he was putting us on hold; he just did it. I have never experienced such unprofessional service with Pizza Hut anywhere. Something needs to be done about this. Due to working in a business office; we now have to go the rest of the day hungry until after 5pm because of this experience. I would appreciate it if someone would respond to this complaint. Thank you in advance for your attention to this matter.

On Fri night, March 29 we placed an online order for 6 original Pan Pizzas from your store 1302 Monticello Ave., Norfolk, VA. 23510. The order was placed at 8:12pm and we did not receive our order until 11:10pm. We called several times to inquire. When we placed the order the time estimated for delivery was 30-40 mins (if we had thought it would be longer we would have ordered from somewhere else). At an hour, we called the store to find out an ETA. We were told it was out for delivery. We called again when it had not arrived after 1 1/2 hrs and once again we were told it was out for delivery. At 2 hours we called, were placed on hold for 10mins and had to call back, got hung up on, and twice they picked up the phone and hung it right back up. Finally, a nice gentleman answered and helped and tried to get the manager on the phone and was not successful. He relayed that they had delivered our order to Hancock St instead of our street Hanover St and they had to turn around and go back to remake our pizzas. There is no Hancock St in Norfolk. He stated the Manager offered to take $15 off and we requested a full refund. This has happened which is great. However, when we finally received our pizzas after a couple more calls to the store 3 hours after the order was placed, they were cold, hard, and had been sitting AND the order was incorrect and not what we had requested. This was for my sons 17th bday party and half of the kids had to leave without having dinner because they were so late. This ruined his party. We are fuming at the lack of professionalism and customer service represented at this store )with the exception of the one nice man that tried to help over the phone). We will NEVER order from Pizza Hut again (this is 2nd time we ordered from this store and received cold pizza). You should review the service at this store and send everyone back through training. A business should be better run than this. I believe the Manager's name is "Malany" but not sure of the spelling. Extremely disappointed. Telling you this so that you can re-evaluate how this store is being run - it is not representing the Pizza Hut brand in the best way.

Gina DeLaRosa
from Los Angeles, CA
I received a text message at 5:10 that my pizza was out for delivery. At 5:37 it still wasn't here so I called the store. He said it was out for delivery and would be here in 5 to 10. I only live a mile and a half from the store. This is the second time this has happened.

Over a two hour waiting called 3 times just to be on hold for more than 10 min and no answer called 4th time finally got through to the store just for them to tell me my order was cancelled 1 minute after I ordered, witch is bull shit. I have a order number and the tracking shows order was taken and being cooked. Also you charged my credit card twice, they better not go through. I will never order from you again.

Deborah Quackenbush
from Newark, OH
On Sunday, May 31, 2019 I ordered online the 3/ $5 special from Pizza Hut on West Main St., Newark, Ohio. I orderd a Medium Pepperoni Pizza, Breadsticks (double order for $5) and 4 sodas (1 rootbeer - 1 Orange crush - 2 diet pepsi's) The delivery was very timely, but when he handed me my order there was no pizza. I said do you have my pizza? and he said no maam, and pulled out my order slip. on the slip it said i ordered 2 double breadsticks (double order for $5) and 4 sodas (1 rootbeer - 1 Orange crush - 2 pepsi's) ... I said what? i was not rude to the driver, it wasn't his fault, thank him and told him i would call the store.
so... i called the store and they told me that i ordered what they delivered. i tried to explain that something must have happened, either with the online order or possibly i hit a wrong button and didn't know it, but that i really want to order a medium peperoni pizza for $5. The order i had placed with tax came to $18.81. then i added a tip on that. so, i had already spent over $20 and all i have is bread sticks and soda.
The store employee put me on hold, i talked to another employee who put me on hold and finally a man came on and told me my pizza would cost me $11.29. i tried to explain that i had just spent all this money with them, but that didn't matter.
As a person who runs an Association, i understand there are rules, but i also understand Customer Service. I informed the man that i would not be ordering from him ever again, which is sad, because they are right down the street.
I have been a Pizza Hut lover for years, I just wanted to let you know, that I am very disappointed in the service i received...
Never did have my pizza :)
Debbie
151 N Terrace Ave., Apt. 5
Newark, Ohio 43055
740-334-9093

Kwonesha Phillips
from Atlanta, GA
I Placed an order at 5:24Pm and have yet to receive it. It's now 6:47pm. I was told 25min to 30 min of arrival. When he bought the pizza it was cold and the drinks were warm. He gets out of the passenger side of the vehicle. Seems to me he was riding around with my pizza and his buddy I guess. I'm just upset and hungry. Poor customer service. 1809 S.Sherwood Forest Blvd is where they are located; they didn't even have the decency to call and let me know they will be running late. I called them and they just let the phone ring

Kwonesha Phillips
from Atlanta, GA
I Placed an order at 5:24Pm and have yet to receive it. It's now 6:47pm. I was told 25min to 30 min of arrival. When he bought the pizza it was cold and the drinks were warm. He gets out of the passenger side of the vehicle. Seems to me he was riding around with my pizza and his buddy I guess. I'm just upset and hungry. Poor customer service. 1809 S.Sherwood Forest Blvd is where they are located; they didn't even have the decency to call and let me know they will be running late. I called them and they just let the phone ring

I ordered 2 pazones from our pizza hut in fayetteville tn. I asked them to only put hamburger meat and cheese because we don't eat the other stuff they put in them. When we got them home they had put everything in both of them and we could not eat them. I called and spoke to the manager and she said they did not fix them the way I ordered and they only came 3 ways. I asked her if they fixed them there or were they frozen. She said they fixed them there, so I asked her why they could not fix them the way I ordered or why I wasn't told that at the time I ordered them? She said she didn't know. So we were very upset about our dinner that night and will not order anything else from them and will go to the new pizza place we have in our town. thank you june owen

Tina Ferguson
from Cleveland, OH
Right now I wouldn't rate you a 1 I would rate you a zero I called and I got a large veggie Lover's which was correct and I got it for my son well I also ordered a pan cheese pizza medium and I got a hand tossed Pizza I know the difference between hand tossed and pan dough if the dough is heavy or what I could go to the Stow store I guarantee I'll get a pan pizza vs hand-tossed I can't help it they make mistakes on my order quite often like the last time I ordered a thin crust veggie lovers like I always do and a cheese pizza like I always did and I got a pan veggie lovers but my pizza was right that we kept the order but I let them know and my son ate it I don't know what's going on with the store and Monroe Falls that something's got to be fixed I don't appreciate a driver coming to my door and asking for the pizza back and I tried to give him back to him I had one bite out of the pizza I don't care if I ordered it 2 hours ago 5 hours ago if I bit into my pizza and it was wrong then fix it it's not that I wanted hot pizza I don't always eat my pizza right when it gets here anyway but the driver and for me that he wanted to see the pizza I should have met had one bite out of it I was not satisfied it was not deep dish and he told me he was not replacing it he's been with this company for 8 years and he drove off I'm not very happy I will never ever order a pizza from Pizza Hut again I'll go to Domino's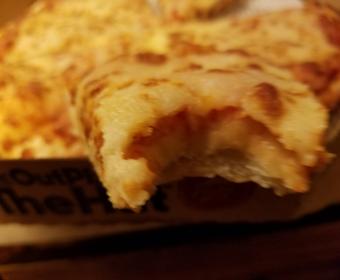 Kathryn
from St Louis, MO
upon checking out, Mariah I believe is her name refuse to check me out. She was assisting another customer, but I waited until she was finished, i stood there and she asking another employee to cash me out. Like what the hell - I thinking she was very unprofessional, rude and racist. I WILL NOT BE GOING BACK TO PIZZA HUT EAST 80 IN LONGVIEW TEXAS.

Tiffani Bell
from Davenport, FL
Hello, last I went to my online Pizza Hut account so I could order dinner for my family a little after 8p.m. to be delivered as soon as possible, only to find out after waiting an hour for my cash order to arrive that my local store only had one delivery driver they said was overwhelmed with last minute orders after looking up my address I was told my order was already out for delivery in the order they were processed and yet another hour and a half went by now we're approaching 11p.m. and still no delivery only to have a female worker tell me that all deliveries had been made and their was no record of my online cash order because I placed it at the wrong store and I was out of their delivery area very rudely then hung up on me. I know this was their mistake because I'd just had a delivery made to me here in Bartow, Florida from my local store like I always do with only difference being my payment method, but to be treated like I didn't know what I was doing as well as being lied too in such a rude manner by an employee makes me want to be a Pizza Hut customer anymore. Lastly, I've never been treated in such a manner like that before.
Sincerely:
Tiffani Bell

Ordered Italian sausage and mushroom pizza received a pepperoni and mushroom. We confirmed our order on phone and called Ashley store asst manager, she said there was nothing she could do because it was ordered online at pizza hut's website and they were not responsible for the order being incorrect. So when you order from your stores online they can send you whatever they want and not be responsible. I can not believe this is true. i have been a customer for years. Would you check this and let me know because I will never order from pizza hut again if it is . Thank you for your time. Jamie Teakell

Angela Draper
from San Angelo, TX
We order from Pizza Hut all the time . Over a month ago I had ordered pizza one night and the order was wrong and t never called that night and complained because we had a family emergency and I never got the chance to complain until several days later and when I did call . I wasn't asking for anything I was just letting them know what' was going on two different managers were very rude . Well we have ordered from there a few times because we love pizza huts food . Well last night I ordered the order was wrong and the food was cold well I called and talked to the manager they sent replacement pizzas out that was still wrong and they were very rude so I called again and a man manager was very hateful and they sent another pizza that was right . But the management there is very rude and disrespectful to there loyal customers . The Pizzahut was knickerbocker location San Angelo tx

Absolute worse service ever!!! Waited forever to get a personal pan pizza - at least 30 minutes!! Then the when the pizza came out,I had to wait for the soup that I had ordered for 10 minutes which at that time I was informed they were out of the soup I had ordered. The salad bar had items on it that were old and dry!! Totally an unsatisfactory experience and we don't plan to ever come back to this Pizza Hut or any other if this par for the course for your company!! We have a Mazio's that is very good, but we decided to eat at Pizza Hut tonight. When we first came in around 6PM, there was only three other customers and we still had such lousy service. So,Bad Decision all around on our part.
Have feedback for Pizza Hut?
Thanks for your feedback!
Sorry. Please try again later!