Pizza Hut
Pizza Hut Complaints Continued... (Page 6)
1090+ reviews added so far. Upset? Call Pizza Hut corporate: (972) 338-7700

Ben Navey
from Lincolnton, NC
We placed an online order at our pizza hut in Lincolnton NC just before 8pm Sunday night. The estimated delivery time was 35-45 minutes. After waiting more than an hour,my wife called to find out about the delay. The gentleman on the phone was very rude and hateful. He told her that he did care what the online delivery time said and that it would get here when they could get it here.

Rebecca england
from Miami, FL
I ordered on line. Once my pizza showed up I looked at them and seen that the 1 pizza that was supposed to have bacon on it had if I was luck a teaspoon full of back on the whole pizza so I called the store and spoke with a gentleman and he looked up my order and said they don't deliver where I live after 8pm that he would be more then willing to remake it at no cost if I was to come pick it up, I proceeded to tell him that I did not pay for delivery for me to have to go pick it up and he kept saying there was nothing he could do so I flat out told him either deliver my correct order or send your drive who is only a couple blocks away to bring me my money back and take the pizza and he hung up on me then bout 15-20 min later the driver showed up and gave me the amount for the pizza and walked away no apologies or nothing

Casey Lyon
from Falconer, NY
I don't typically like to complain, but I had a frustrating issue today with Pizza Hut in Jamestown, NY tonight. I called to order 2 pizzas and let the employee know I had coupons for 2 free pizzas I'd received from a charity fundraising event. After giving my order the employee told me they could not place my order because they didn't accept those coupons, and said I could come in the store to order. I drove to the store (about a 30 minute drive from my house) and placed my order and was told by employees that they didn't accept the coupons I had. After a lengthy explanation of how people forge coupons, the employee said that she would honor the coupon anyway. I ordered and then waited the 15 minutes for my food to be made. This was a bit irritating because I tried to order ahead to speed up the process of grabbing some dinner. I brought the food home to realize that one of my pizzas was made incorrectly. I had ordered ultimate cheese lovers and the pizza had marinara sauce on it instead of Alfredo sauce. I called the store and was given to a manager to speak with. I let the manager know that my food was made wrong and she said she could make it correctly and I could pick it up. I let her know that would not be possible today as I live 30 minutes away and had a commitment to be at and asked for a credit. The manager said she could give me a $10 credit. I questioned if I would be able to get the ultimate cheeselovers with the several toppings I'd ordered for only $10. She then said "oh you were the one with the coupons we don't take." I replied that yes I had 2 coupons for free pizzas anyway I'd like them. The employee did not apologize once for the mistake but said if I gave her my phone number she would put a credit in for me. I again clarified that it would be a large ultimate cheeselovers with as many toppings as I'd like, and she replied if I had an issue to ask for a manager and it would be resolved. I'm not too confident in that happening but hope it will. I was disappointed in the customer service I received at multiple occasions today. From when I called to order, then had to go in the restaurant to order, to when I called when my order was made incorrectly. What was supposed to be a quick dinner for my family before running out the door turned into a frustrating night where someone wasn't able to eat dinner due to an issue with tomatoes. I hope my issue will be resolved, but I also wanted to make Pizza Hut aware of the poor costumer service at this store. (I did not receive a receipt to attach). Thank you for your time.

Tom gough
from Ashburn, VA
Tried going to Petoskey Michigan's pizza hut at 4:30 PM Friday 3 /22/19 waited 15 minutes with another customer who said he was there 5 min before us. I left after the 15 minutes without seeing a single pizzahut employee ! There was 3 tables that had pizza and all had empty glasses . Really really disappointed

Today I tried to order a pizza with a voucher that I received it wouldn't go tru I tried a few times then the payment went tru not the voucher but I didn't mind as I was treating the kids to pizza I was waiting then I rang to inquire about the pizza but there was no order gone tru but my account had Been deducted the money after ringing customers service the first girl was was half asleep spoke quiet and just not interested at all then top it off she hung up the phone i asked to speak to someone more senior she. Said she was busy and will call me back before 10 pm this was at 4pm so I rang back the second person blamed my bank for the problem at 7 pm I received my phone call back from the manager she was very not interested the fact that I had too send my kids to bed with no pizza she seemed to find it amusing and I felt I was getting laughed at I could hear people in the back ground I found it very rude and unacceptable and the need to train there customers service team it ruined my Saturday evening and my kids too as I promised to a Pizza Hut night and out of pocket disgraceful the way customers service deals with these issues when clearly it was a issue problem on Pizza Hut.behalf I shall not be ordering from Pizza Hut again and I advise people to think twice as customer service seems to think that the problem was not there's

Angela Jenkins
from New Iberia, LA
Order a pizza online it say 15-25 minutes but had to wait an hour then the employees are so unprofessional and have nasty attitude.

Shane Nichols
from Portales, NM
how do you do a national campaign about the pzone and then local restaurants do"nt have any to sell i will not be a pizza HUT customer anymore tonight it is Dominoes instead what a waste of advertising sheesh

I ordered a pepperoni lovers pizza. The pizza was made wrong, it had bacon and pepperoni on it. I called the store about it. The guy told me that was a day manager and this manager had just came on. He stated he wanted to see the pizza when they replace it. I said no problem and had pizza waiting. They never showed up and he didn't seem too even care. We get a lot of pizza from this store and the past 3 orders we have not received a great order. At the same time as this order, I also placed another order for a supreme lovers large. They sent us a medium and no reason why. In the past 2 months 1 order was 2hrs late, I've cold and looked like they laid something on kid so cheese was stuck. We have received wrong stuff. I don't know if this store has new people or what but service has been going down hill.

Sheena Hamilton
from Bedminster, NJ
I was at drive thru and my food was not ready on time. My pizza was left out by the window to just sit for over 30 minutes. I was told it would be 10-15 minutes before I could get a refund. Employees were coming to the window complaining about their problems. I am about to stop completely supporting Pizza Hut.

I can not express the disappointment that I have felt with the Pizza hut in American Falls, Idaho. We loved the Sandwiches that they use to have on the menu and those were taken off the menu. Then we would go in and order a salad to go and that was removed from the premises. I also use to order a personal size thin crust pizza and they would make it without hesitation. Now they refuse. We live in the country so we do place orders to go frequently but most of the time we get the wrong order and after traveling 14 miles I do not have the energy to take it back. What is wrong? Why is the Pizza Hut having so many problems? It has no competition, We are a small town and should be given good service?

Doug Hughes
from Cheyenne, WY
I live 2 minutes away from YOUR restaurant on Western Way. Yet I'm unable to submit an order because I can't get my DAMN PASSWORD RESET. I called your Customer Service #, ONLY to be told I could sign in as guest. WRONG, there's NOTHING TO SIGN IN AS GUEST OFFERED.
PAPA MURPHY'S GOT OUR BUSINESS.
ONE MORE COMPLAINT
Your STUPID SYSTEM WON'T TAKE MY EMAIL ADDRESS
duggiedean@hotmail.com

Vishal Thadka
from Thane, MH
I have ordered a meal for 4 from Pizza Hut, Majhiwada, Thane(w). They have cancelled my order without my knowledge and delivery boy was late to 20min.I haven't receive any refund till now nor any solution.
This is how you treat the customers????
Very dissapointed by the Store manager behaviour and response.He was very rude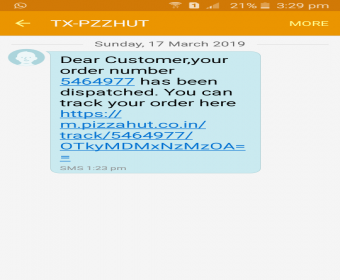 Rogelio Benavides
from Reedley, CA
3/16 2019 around 6;15PM pizza hut in Selma, California would not accept my 100 dollar bill (MONEY!)" DUE TO THE RULE THAT THEY DONT ACCEPT 100 DOLLAR BILLS". The manager at that time said it was due to all the fake 100 dollar bills lately, I said don't they give you a pen to check the bills or get training to identify a fake bill. She said you did not. Your rule for 100 dollar bills is complete garbage, not everyone uses a debit card or orders online. Seems to me that probably why you are a dying company, total lack of service to all people. Good riddance pizza hut I won't be coming back
Rogelio Benavides

Carnell Matthews
from Marrero, LA
I made an online order and waited for 45 mins and it never showed so I called the store and the young lady stated that she cancelled all deliveries. I asked why was the tracker indicating that it was being made. She had no reason to the fact. This was very disappointing my kids were upset for the sleep over. The store was located in Manhattan Blvd unit D Harvey La 70058

Kiranjeet kaur
from Thrissur, KL
I got my order cancel after paying for it through credit card then I didn't get my refunds back in my account and that was the worst experience of my life with pizza hut .

Derrick
from San Antonio, TX
I was given the wrong pizza. Both were made incorrectly and one was cold without the extra cheese I ordered.
My new email is cooksdd@outlook.com

Donald E. Voyles
from Calhoun, GA
I went to the Calhoun GA Pizza Hut, address 613 Hwy 53 East SE 30701. I went to this store ordered my pizza and waited. When it was ready the checker just looks at me and walks off, KNOWING my pizza was ready. She had just finished checking out several other customers and looked dead straight at me and left, went to back and was wandering around like she was lost. One of the other guys from the back and told me my pizza was ready, and had to call the girl back up to check me out. When she got back she had to get my pizza from the warmer, when she should had went ahead and checked me out in the first place . I mean it was just plain rude the way she did. If these people do not want to do their jobs and do them right maybe they should just stay home. Donald E. Voyles

Gloria Burk
from Overland Park, KS
I am offended by a new Pizza Hut TV ad where 2 young women swear (« Oh my god »). Isn't there enough words on our language without teaching our young people to take the name of God in such an inappropriate manner? Shame on you!!!

bill swearingen
from Elgin, IL
In your latest commercial with the two young ladies, the one girls says, "Betsy, oh my God look at that pizza !" unquote. While I realize that we live in uncaring world, I do not like people using GOD'S name so casually. Let's have some respect for the ALMIGHTY.

Victor Gonzalez
from Jacksonville, FL
Good evening,
It is Inconceivable that I did order on line to Pizza Hut and the drink on delivery was open.
This is a very delicated matter even the Health Authorities should be involved on this matter.
The branch is located at 25 High street, Witton, Middx, TW2 7LB, London, phone number 02088933003.
When I went out to check for the driver he was already gone.
There are millions of people out there ( millions of pounds ) expecting to change their preferences at any time and with this sort of incidents it is easy to do it.
Thanking you in advance for the attention to the above written,
Victor Gonzalez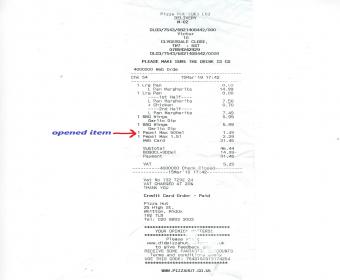 Cindy Maas
from Mankato, MN
Faribault, Mn 55021 Pizza Hut delivery we has was on 3/11/2019. Ordered at 7:36pm on line and it was delivered at 8:05pm which was fine delivery time but they forgot the wings on my daughter's Allison order. So I called them back at 8:06pm and let them know. They said that they would get them out right away. So at 8:45pm I called again to say they still were not here. Again I was told that they would check on the driver and if they had them and get them delivered. Amy told me that they were slammed with orders all at once and they would get them to me hopefully soon. So again at 9:19pm still not having the wings delivered, I called for the 3rd time. I told them that I also work in food service and when a mistake is made, the delivery mistake usually gets bumped up to the first delivered the next time the driver goes out. They finally had an adult female deliver the wings and a lame order of mini cinnamon rolls as an apology for being almost 2 hrs late with the remaining part of our order.
Now, I myself like Pizza Hut and this is the only time it was time bad other then the one time our order was late and I received a free coupon for it. Nothing was offered like that which struct me as not good customer service. I know how things are when you get slammed and I know your drivers my be on the younger side and may not full understand the goal of good customer service. I hope that Faribault can work on this with their workers and drivers. My family prefers I not long order from you anymore, especially my husband who was extremely upset with the service.
Thank you for your time.
Cindy Maas

RACHEL M BYERS
from Laplace, LA
I had order two boxes of pizza online and they both did not tease right and it had smell bad had to throw both boxes of pizza away did not want it to me the kid sick it had my stomach hurting

tim harmon
from Glendale, AZ
1300 S Watson Road
Suite A103
Buckeye, AZ 85326
The manager came out an ranted at my 62 year old wife. She was very upset by this. A worker at the store, parked right behind her, she back up and didn't see the car because it was hidden from her view. The manage ranted at her about her having a back up camera. So what there is no need for this behavior!

Sharon
from Bedminster, NJ
The driver was rude. When we asked for grated cheese and pepper and garlic butter he rudely said we should have ordered it.
The new store manager there said the drivers do not deliver inside the mall. What is he use of delivery drivers if they are not going to bring it to your door.
The manager and the driver were both rude

Jennifer Dyer
from Kansas City, KS
Good Evening,
I hope all is well. I am very disappointed with the Pizza Hut on page I'm St. Louis, Mo. I placed my order at 5:25pm and didn't receive my order till 6:45pm. Please note: When I ordered the delivery time stated, it may take up to 20 - 30 mins. I also received a text stating the time of delivery will be 6:05pm.
I'm sending this email because I didn't get a sorry from the delivery guy or the manager, when I called. The delivery guy stated, we have a new guy. I signed my receipt and he left. I wasn't given a copy of the receipt. When I called to speak to the manager and she asked, what wrong with the order. I said nothing( because I refuse to wait again for another order). I just told her, I was upset for waiting so long. She stated, oh yeah we're busy. Really?!? No apologies! She provided a discount and I ended the call.
I proceeded to eat my pizza and I realized the pizza was cold, I barely had sauce on the chicken and no garlic sauce on the pizza. So now I'm stuck eating a dry pizza and plain chicken. I ordered the big box. I have NEVER received such bad service from Pizza Hut. I'm so disappointed and I hope things change. I feel like I just wasted my money. Ugh!
Dissatisfied customer,
Jennifer Dyer

Cynthia Yosten
from Paris, TX
I quit going to our local Pizza Hut in Paris, Tx for a year because of poor service and never got pizzas right. I started back a couple months ago to try it again. Time before last I got a pizza and when I got home it was wrong. Called and manager said she would give me a 10.00 credit. Ordered a couple weeks later and it was 6.50 and the manager again talked to me and said I still had 3.50 credit. So I ordered tonight March 13th at 5:30 from a coupon you sent me on line. Got to Pizza Hut and Manager and I did not get along, never seen her before. Pulled up to window set there with no one in sight two cars came in behind me and a lady with a full mouth of food came to the window. I did not want to see that and she brought me my order and it was 6.50 and I told her I had a credit. First of all she new nothing about the online special and she was head manager. Secondly I told her I quit coming here because of service for about a year. She let me know I could quit again. She said if I had used part of credit I lost the rest. Even though other manager before told me how much credit I still had left. She went to back of store and I could hear her ranting while I was setting in my car. She told me if I wanted the special I had to order on line and I told her I did. She was completely clueless and did not want to listen to me cause she felt she was right. She told me I was being hateful cause I was trying to get across to her what I had been told before. If she doesn't know the special and cannot work with public any better than that she doesn't need to be there. Won't be back for another year or maybe never. There's so many pizza places here I don't have to put up with this. Don't understand why this Pizza Hut can't keep employees and have grown ups running the place.

i got my pizza the driver put the wings intop of my personal pizza when i got the personal pizza all the cheese was stuck to the top of the box told the lady about it she gave me a audited, soo i tried eating the pizza and it sucked so i went online and cancel the order, then the lady calls me 15 minutes after and tells me she is coming to pick up the food i told her i tried eating it so it will be mostly gone by now, then she starts to trash talk me on the phone then tells me she will call the police on me it was just a total shit show how do they have people like this as managers i cant believe it wont ever order from here again and i legit have thousands of point with u guys like i order every other week LOL crazy employees run background checks plz

I have deliveries to my home from Pizza Hut in Downey California. Someone is Chicago logged into my account? and used my credits, picked and ordered merchandise under my name and added a phone address to my Pizza Hut order page. I have deep concerns about your security and how they got into my account. The store was not helpful.
Pizza Hut - 5401 S Wentworth Some named KOBE. How do I know they did not get my credit card information and then I cannot reach anyone at Pizza Hut to discuss.

Kevin
from Vegreville, AB
I think that the toppings on your pizza has been getting less and less at the vegreville. Alberta. Canada location

MELONY GALLOWAY
from Neenah, WI
I have now ordered two times at the Pizza Hut on Oneida ST Appleton, WI. My first order came to me cold. I did not receive all I had ordered and paid for. The manager told me he would have a $20 credit for me to use with in a months time and to call to get credit. Pizza Hut 25.86
Hi, Melony! My Order
Delivery To : 431 E Eagle Flats Pkwy, APT 409 Appleton, WI 54915
(The price of your order has changed from $20.79 to $30.29.) I had a 35% off my order. My total order came to $20.79. With my credit, I should've had to pay .79cents. I have a copy of my order below. When I called and placed my order, first they said they couldn't find my credit then, the manager said he would give me my credit but, I didn't have enough ordered to have my order delivered. So I had to add chicken alfredo pasta with bread sticks. He said my order totaled $18.52. When I received my order, I was told I would have to pay the $18.52. I have always ordered Pizza Hut pizza but, this store makes and deliver nasty pizzas. I always get extra cheese and the pizza looks like there is hardly no cheese at all. I hate to go to another pizza store. Can you please help me. I feel I am owed $18.52.
Create Your Own Pizza Edit
Medium Thin 'N Crispy ®, No Sauce, Extra Cheese, Garlic Buttery Blend Crust Flavor, Pepperoni $13.38
Extra Sauce Order - 50 Garlic $0.60
Baked Cinnamon Sticks With Icing - Single Order $4.99
Icing Dip Edit $0.60
Stuffed Garlic Knots With Marinara Sauce $6.29
Subtotal $25.86
Delivery Fee $2.99
Tax $1.44
Total $30.29
The price of your order has changed from $20.79 to $30.29. My 35% off order disappeared.

JAMES WESLEY RAINEY
from Chesterfield, VA
I ORDERED A PIZZA FROM 6203 BELMONT RD ONLINE IT SAID PICKUP IN 10 TO 20 MINUTES IT TOOK WELL OVER 35 TOTAL ALSO SAW EMPLOYEES HANDLING FOOD WITH BARE HANDS ONE EVEN HANDLED MONEY THEN HANDLED FOOD NO GLOVES FLOOR WAS DIRTY WITH DROPPED PEPPERONI AND FIXINGS DONT THINK I WILL BE GOING BACK

Mark A. Canfield
from Hardin, KY
The ultimate cheezy crust commercial.
This is the worst PH commercial I have ever seen. How do you think two bug eye girls and one cross eyed and the hip sway and whip sound is funny NOT AT ALL. Totally stupid, tasteless. I cringe ever time that commercial comes on.
You can do a lot better. Go to You Tube and see all the negative comments on it.
Just my opinion
Mark A. Canfield

Miyoshi Barrett-Davis
from Hampton, VA
There was something in my food, they charged me for food I did not order and the driver gave herself a tip.

constanceberry27@yahoo.com
from Atlanta, GA
I really don't have a complaint But I would like to know if you guys could go back to he small pizza size or make the personal pan in thin Being a senior I cant eat a med. But a small will work. for me and my dad. or even the personal size in thin crust

Heidi Atkinson
from Stanford, CA
On February 16th I had a very negative experience with the Pizza Hut in Heber City, Utah.
We ordered 6 pizzas for delivery 4 hours prior to the delivery time. When we were first delivered the pizzas (they arrived late) and there was no large supreme pizza (instead a smaller one topping pizza we didn't order), my sister called Pizza Hut and asked them if they could bring the correct pizza. They said they couldn't get in touch with their dispatcher so our only options were to give us a $10 store credit (which isn't even as much as we paid for the pizza) or we could come in to pick up the pizza. So she said we would come in to pick up the pizza right away.
I drove the 10 minutes to pick up the pizza. When I got there the employee at the front asked for the name for the order to which I gave him the name and explained that I was there to pick up our pizza they made a mistake on. The employee looked up the name and then went to the back to ask about the order He was standing behind some metal shelves (which I could hear and see through) and told a lady back there that I was there to pick up my pizza to which she replied "We're too busy. We can't make it. Tell her we will just give her a $10 credit." He came back out and explained to me that they hadn't gotten to making it yet and that I would need to come back to get it later or they could give us a $10 credit on our account. I explained that I didn't want the credit, I wanted the pizza that I was told I could pick up right away. I said that since it was their mistake and I had come all the way in only to be told that I didn't have a pizza, I thought it was only fair that they make the pizza and have it delivered. The worker then went to the back to explain to the lady that I had asked that they deliver the pizza since they told me I could pick it up to which she said "I already told her we would give her the f*****g credit. WE aren't making her a f****** pizza!". It was at that moment that I spoke up and said to them in the back "Excuse me. I can hear everything you are saying. If you have a problem come out here and talk to me to my face but don't talk to me with that language." Immediately the front employee and another man came running out front and told me I needed to "bring it down" and "calm down". I got very frustrated and said "Do not tell me to calm down. Your employee is the one who is raising her voice and using very inappropriate language." He said "she's actually the manager here. We've been so busy that she hasn't slept for over 48 hours and that's why she said that." After much talk, the man agreed that they would make the pizza but they would not deliver it to me. Instead he said I could pick it up in 30 minutes (they made it clear that delivering it was not an option).
I went back 30 minutes later, was completely ignored by all the workers and after waiting 30 more minutes, went home without the pizza. When I arrived home without the pizza my sister called Pizza Hut again. They acted very apologetic and said that she would make the pizza herself and have it delivered right away. She double-checked the address and we waited for the pizza.
Two hours later, the pizza STILL had not come, so I called again. By that point, we had gotten other food so we no longer wanted the pizza, we just wanted a refund. I called and explained that we had still not gotten our pizza after four hours of trying very hard and doing everything they said in order to get it. He said they had the pizza right there, and I said that at this point we no longer wanted it, we just wanted a refund since it had been 4 hours. He said that the problem with doing that would be that he would have to refund our entire order. I suggested that he do that since they had put us through such a hassle for four hours trying to get our pizza. Upon suggesting that, he got extremely hostile and started yelling at me over the phone. I'm not exaggerating when I say yelling. He said that although they were "partially" to blame, they had been very swamped that night (as though that was my fault). He literally screamed the words "the customer is not always right!" (I promise if you have a recording of this call you will hear this). Upon being screamed at in this manner and generally treated so rudely, I told him to just go ahead and give me the store credit, but that $10 did not even cover the cost of the pizza, which was $17. In a very condescending manner, he said "fine, I'll make it $17. Is that good?"I said it probably been a little more with tax but that was fine. He responded in very snotty voice saying, "fine, I'll make it $18". I can't underscore how much his tone with me was rude, snotty, and down right hostile.
At the end of the day, what needs to be understood is that we ordered a pizza that was never delivered or made for us when we went to the extra trouble to pick it up. 4 hours later, the store still refused to give us a refund on the pizza we paid for. On top of this, we were treated incredibly rudely and unprofessionally through the entire experience, being blamed as if it were our fault that they were so busy. Although we were given store credit, it really doesn't help the fact that we didn't get our pizza. Our aunt paid for the pizza, and she lives on a small island in the pacific where they don't have pizza hut so she is never going to get her money back. And after an experience like this, who would ever want to return to Pizza Hut again?

Robin Thomas redrobinthomas@gmail.com

On March 6, 2019 at 6:02 P.M. order (order #319030618025800258001333034240) a pizza online, before the pizza was delivery I inform the manage by phone that I only had a $50 dollar bill. The pizza was deliver cold and the delivery driver didn't have change had to give the driver $3.00 over my bill. This service was sad.

I ordered two family tus chicken and they were the worst we ever had, The pasta was dry lacking and sauce a very little chicken. my ticket #27,invoice #16 for a total of $25.38. I would never reamend Pizza Hut to anyone from what food we received.store#010690

Averi
from Washington D.C., DC
I placed an online order at 8pm on 03/06/2019 with a time for delivery was 85-95 minutes. I called about the timeframe at 9:50 pm and was told by Alvin that the pizza was only 18 minutes late it should be on its way at 10:07 pm I called back and spoke with Alvin and the supervisor name Shelby on duty she advised me that the order would be cancelled. At 10:17 pm I received a phone call from the driver stating that my order was outside. I then advised the driver that the order was cancelled over ten minutes ago. I didn't get an apology or anything I have been in customer service for 15 years and that was beyond unprofessional. I ordered a pizza a week ago and received my order from the same location that looks like the pizza was dropped with a hole in the order and the cold wings. Every time I order from this location I have an issue or concern about my order. Customer Service at its worst.

Judy Waggoner
from Kernersville, NC
This Pizza Hut, located at 3460 Robinhood Road, Winston Salem, NC, was absolutely filthy on February 18, 2019. There was paper, food and chairs in total disarray when I walked in to order a pizza. The manager was the only waitress and she was also making pizzas. There were two drivers and only one filled any orders. No one answered the phone within less than 10 rings and no other customers at the counter or on the phone. There were two children, approximately ages 10 and 4. It appeared they were there waiting to be picked up and the youngest moving from table-to-table leaving it a mess and leaving with the manager. She may be the manager's grandchild, I'm not sure. There were several uncleared tables; approximately eight, but I was the only customer. There was a broom out as though someone had the intention of using it, but in the almost two hours I was there, the broom never moved from its position leaning against a table. The manager delivered my drink after 20 minutes, a second female employee came on their shift and she delivered my pizza and no one ever came to my table again. I had to flag one of the employees in the kitchen to get a box to take my leftovers home. It was the WORST experience I have ever had at a Pizza Hut! I have attached pictures for your review.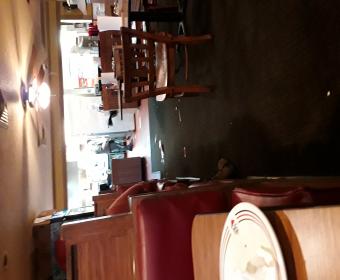 Judy Waggoner
from Kernersville, NC
This Pizza Hut, located at 3460 Robinhood Road, Winston Salem, NC, was absolutely filthy on February 18, 2019. There was paper, food and chairs in total disarray when I walked in to order a pizza. The manager was the only waitress and she was also making pizzas. There were two drivers and only one filled any orders. No one answered the phone within less than 10 rings and no other customers at the counter or on the phone. There were two children, approximately ages 10 and 4. It appeared they were there waiting to be picked up and the youngest moving from table-to-table leaving it a mess. There were several uncleared tables; approximately eight, but I was the only customer. There was a broom out as though someone had the intention of using it, but in the almost two hours I was there, the broom never moved from its position leaning against a table. The manager delivered my drink after 20 minutes, a second female employee came on their shift and she delivered my pizza and no one ever came to my table again. I had to flag one of the employees in the kitchen to get a box to take my leftovers home. It was the WORST experience I have ever had at a Pizza Hut! I have attached pictures for your review.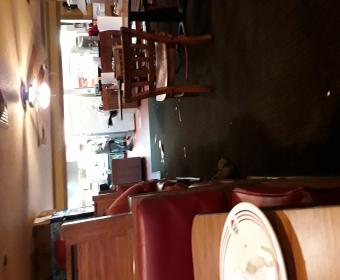 penny cramer
from Billings, MT
I order against my better judgement as ive had bad luck with this store in the past. I FINALLY got my pizza 25 minutes later than they said it would be. when I started to eat it it was dry and ice cold, so was the dipping sauce for the bread sticks. when I called to voice my concern the manager "John" said im sorry. didn't offer to replace it just so much off the next one. there wont be a next one ive given them their last chance!! this is piss poor service! I want my money back. the store was the Laurel montana one on bernhardt rd 406-628-6382. in my opinion John should be fired! I will spread the word. laurel is a small town. thank you Penny Cramer 1130 11th ave laurel mt 59044 406-628-7512

Ms Gregory
from West Valley City, UT
Just watching a commercial on Fox for Pizza Hut. Two female teeny boppers - one of them said, Oh my ???
Try to teach my children not to use the name of deity in vain. That was not cool - scrap that add.

Alan K. Hancock
from Blue Springs, MO
Pizza Hut; North 7 Hwy, Blue Springs, MO.
Called for a delivery pizza which was not delivered. Called one hour later and was told the order was for Carry-Out, which it was not, And was told as soon as they got a driver (no time just when they got a driver) it would be delivered after sitting there for a half-hour+. No offer to cook a new one just to deliver the one that had been sitting there. I have ordered pizza from this Pizza hut twice a month for twenty plus years (check your records). Something like $10,000+ in pizzas and you have lost me as a customer and I will happily tell everyone I know of how I was treated. On my way to Godfathers to pick up a pizza right now.
I will never eat another Pizza Hut pizza in my life because of the way your franchise treated me. Way to go. Amazing!

April Burnette
from Hixson, TN
Ok 2nd time having to do this on the soddy Daisy tn Pizza Hut. My delivery was 20 minutes late after getting confirmation that is was out to deliver. My food was cold I didn't get correct pizzas and I didn't get got wings instead they brought cinnamon rolls. It's aggravating because I like Pizza Hut and my kids to but this Pizza Hut is horrible. I called them and told them and they told me to file a complaint!!

if there was an option of -20 stars I would, on Friday 3/1/19 In new braunfels tx I ordered @5:40 pm for delivery then 7:20 come along and nothing called nd of course its answered from another pizza hut from another state which is just idiotic and transferred me o the local ne and said they lost my order so they were going get on it, here it is an our later and no delivery they finally called about 8:20 to see if we still wanted the pizza we said yes and here its already 8:45 still no delivery which pizza hut only 3 miles away, we called the local number back that the employee called s from but we only got a busy signal and here are Monday and still no delivery or an apology call.. I did post on my local social media and I guess this is normal
customer service.....how is this establishment still open is mind blowing!!!!!!!!!!!!!!!!!!!!!!!!!!!!!!!!!!!!!!!!!!!!!!!!!!!!!!!
thanks from a non return pissed of customer
Have feedback for Pizza Hut?
Thanks for your feedback!
Sorry. Please try again later!