Pizza Hut
Pizza Hut Complaints Continued... (Page 3)
1150+ reviews added so far. Upset? Call Pizza Hut corporate: (972) 338-7700

Steven Scheer
from Franklin, IN
On Sunday May 9 at 5:40 pm we called our local Franklin, Indiana pizza hut. We had to wait on the phone for 15 minutes for someone to even answer. When the girl did answer I asked if they still had the "Chicago" pizza, the girl argued with me for 5 minutes and wouldn't answer my question until i gave her my phone number. I told her if they didn't have the "Chicago" style pizza i wasn't ordering and she would not check without my phone number. I have no idea who i was talking to or where, but it will be a very long time till i call Pizza Hut to order a pizza again. Such poor service.
Steve Scheer

Rebecca
from New Orleans, LA
Order wrong, cold, long wait even with order placed online, and employees not wearing masks properly

David hill
from Montgomery, AL
Pizza was totally burnt! we ordered tonight may 1, 2021 would like a refund. Pizza hut on east south Blvd. Montgomery, al. 8:00pm was the time. Just terrible service there. Will not be going back there

Bruce Cowart
from Tampa, FL
Three weeks ago I ordered a pizza and bread sticks, the was raw and not even cut. Called store and was told to put it in the oven, asked for manager and was told he would call me, never has. Filed a complaint with Pizza Hut twice and was told that the store would get in contact with me within 3 days. They never have, I want to be reimbursed period what's the problem here??????

Vickie L Looney
from Carrollton, MO
Very poor service. Dirty table that never was cleaned before receiving food. Wanted to take our orders before offering a menu. Served food and walked away. We as customers had to get up from table and go to counter to ask for plates and silverware. Did not offer refills. We had to go to counter to ask for refills of drinks. We completely finished our meal and still hadn't cleaned table stickiness off. Then I had to ask for senior citizen discount without them even asking. Very poor customer service. The code on my receipt is: 83wk 01ha 0wd

Carol streeter
from Springfield, MO
Pizza arrived on time but as I was watching the guy deliver it he was swinging the pizza.after opening box pizza slices shifted on top of each other way too much sauce had a thin crust but couldn't eat crust too hard

Jessica green
from Manning, SC
Every time I order a pizza for delivery at Pizza Hut in manning the driver with the gray car always be late for our delivery it seen like everybody else always be on time and he the only one be hours late blasting Music and I order from here nearly everyday he need to do better or he need to be replaced

Todd Wyrembek
from Milwaukee, WI
Delivered a pizza with the wrong toppings. Took over 2hrs to get the replacement of what I had originally ordered. This location should just shut their doors as the employees that work there do not give a shit about what they put out. Pizza not completely cooked, missing soda,, wrong ingredients. Each time I have pry from this location there has been an error. Store# 035653. Ticket number 0015 on 3/28/21. I will not be ordering from Pizza Hut ever again.

Stacey Jordan
from Bellefontaine, OH
My order was dehydrated, they dropped my money , was very sarcastic when I told them to keep the change, and slammed the window.

Craig Ellis
from Gulfport, MS
I placed an order for delivery on 3/27/21 2:31 pm . I wanted for the order to arrive for over an hour, so I decided to contact the store which took my order. They informed me that that the driver was back at the store with my order because no one answered the door or phone call which was a lie. No one ever came to my door nor did I receive a phone call from the driver! Thanks for nothing Pizza Hut!!

John N Evans Jr
from Fort Wayne, IN
So I had a credit for a terribly messed up order and tried to redeem the credit. They said the credit expired and Brianna at pizza hut in New Haven, Indiana said she would give me a good deal and proceeded to mess my order up again. When I called back she hung up on me. I called back and they said I could call back the next day and talk to a different manager. Super pissed off. Never ordering pizza hut again. Very unprofessional.

Olivia Morales
from Waco, TX
Manager (he said his name was Garth) is very disrespectful and rude. He did not help me, my phone number was wrong and instead of helping me locate my order (which I had an email receipt/confirmation number) he told me he didn't have an order and I wasn't getting pizza. He told me that confirmation number didn't mean anything to him and I probably ordered from the wrong place. He told me he was with a real customer and proceeded to speak louder over me when I was explaining that I was a customer and my order was already paid for. He is very unprofessional and rude.

Elizabeth Dorsey
from Lafayette, LA
We ordered a stuffed crust pizza, white sauce, with mushroom, meatball and pepperoni, a separate container of buffalo sauce and and 20 oz. Pepsi. We got a cold, hard pizza, no Pepsi and barbecue sauce. When I called to see if they would make it right (Pizza Hut, Ambassador Caffery Pkwy., Lafayette, LA)., I told the girl who took the order and she put me on hold forever--left me on hold. I hung up and called back, and a guy answered. I nicely asked to speak to the manager. I was put on hold for over 20 minutes, (I finally hung up), and they stalled me again. I feel we are entitled to coupons for free pizza for having to wait on the phone so long for nothing and no help, bad pizza, and not getting our order right. This happened the afternoon of March 17. I look forward to hearing back from you.

Lo Hill
from Longview, WA
Man I really want to enjoy my stuff crust pizza but asked for jalapeño on half my pizza, and got it on the whole thing. Pizza was barely warm. And on top of that, they gave us two half cups of mozzarella sauce for 10 breadsticks. SMH, I spent $50 on a BS meal. I guess I'll have to stick with Dominos pizza from now on. Next time I'll listen to our kids.

James simpson
from Raymond, WA
So I ordered Pizza Hut in Aberdeen Washington and it wasn't cheap $71 to some bone in wings when I ordered boneless barbeque and a pepperoni pizza and peperonu and sasusage both pan style and my My Wings where not boneless and my pepperoni pizza has it barely any cheese on it so I called and complained and told the guy what was up and he said that I had to have my pizzas and my wings to get my order replaced so I set the pieces outside of my door because I have COVID and he are you with me about the food that I left outside my door but the dogs ate and he refused 2 leave the food that he replaced and brought to my door I had a sign on my door stating that I had covid-19 and he was so rude about it but he took my food back to the store so I did not did you need anything that night so I don't recommend eating up the Aberdeen Washington Pizza hut they are scumbags at the store they don't deserve people's business the way they act toward customers

Emily Manbevers
from Great Falls, MT
3rd time I've ordered in the last year and have gotten cold pizza. Your pizzas arent cheap, and when I spend $50, I expect hot pizza. Called to complain and got hung up on twice.

Barbara Harris
from Lufkin, TX
I stopped in and ordered a thin crust Classic Supreme pizza. The man, I assumed he is the manager, took my order and told me it would be ready in 15 minutes. I asked him if they will be bringing it out to my car and he said yes. I went back to my car and the temperature was 98 degrees and I had to run my car and turn it off trying not to get too hot for 30 minutes! I am elderly. I finally got out and went back in to see why they had not brought it out because with the virus, I couldn't sit in the waiting area and he said "Oh, it has been ready for a while!! I asked him why he didn't bring it out and he told I was supposed to come back in and get it. That is not what he told me when I ordered! I got home with the pizza and it is one of the sorriest ones we have ever tried to eat! It was dry and pretty cold which I know it wouldn't have stayed very warm until I got home but it was an awful pizza. I told him I would never ever go back again! You just don't treat elderly people like they don't matter! I was so aggravated all the way home and then get there and have a dry pizza!!!

Thomas Dempsey
from Bellevue, WA
I have lived in the same neighborhood for 30+ years and have gone to the Eastgate Pizza Hut many times. The service has always been acceptable. Not so much this evening. I decided I didn't want to cook this evening and ordered a pizza about 5:15pm. I was told it would be ready in 20 minutes which is pretty standard. I left my house soon after and made a stop at a local dry cleaner. I didn't look at the my watch at the time but assume it was around 5:45 at the latest. I went in and the lady at the counter couldn't find my order. She seemed to be having trouble with her computerized cash register. She said it wasn't ready yet so I said I would take a seat and wait. While I was sitting there it was obvious that she was either untrained or a new employee. She was having a really hard time getting orders correct and in using her cash register. About 6pm the apparent manager came out said he had noticed me sitting there for some time. During this time the kitchen seemed to be in complete confusion. I heard the staff stating that the register person was either untrained or needed more training. She was working the register, taking phone orders giving orders to the kitchen. Well at 6:35 I finally got my pizza ad was given a flyer for 30% off my next order and a box of mini rolls for the store taking so much time to fill my order. I thought they were some kind of mini pizzas. It wasn't until I got home that I noticed they were mini cinnamon rolls. I am a type two diabetic and I would have never ordered mini cinnamon tolls. They should have asked what I might desire instead of just picking something.

billy taunton
from Ardmore, TN
Yesterday, the 5th of June, my wife went to our local pizza hut here in Ardmore, Tennessee. That same day we were supposed to have a protest over the Floyd George incident. When she went through the drive through and mentioned about the possible protest, the guy at the window told her he wished they would burn Ardmore down. I found that very unprofessional coming from a franchise business such as Pizza Hut. If she had not already paid for her order, she would have just left. What if the first place they had went to was the Pizza Hut? Something to think about. I don't want my town destroyed and no one else should or should be saying that while working at an establishmnent, not the right place or time.

Sherry martinez
from San Antonio, TX
I made an order online Pizza Hut star onRittman Rd in San Antonio Texas I place the order online they said it would be about 25 minutes 720 minutes I drove up to the store I love them know I was there they says another 15 minutes so 18 minutes later I'm sitting there at the store and I called them and say what's going on they says oh it'll be another 15 to 30 minutes I don't know what they're doing but they're not doing their job when I placed the order it said 25 minutes it didn't say an hour and a half 45 minutes or two hours

Connie PADGETT
from Dallas, GA
The pizza hut on Dallas Highway at Crossroads . A lady Priscilla on 7/20/2019 took my order. She was there alone trying to answer phone and take order and make pizza's. She was working hard but she scratched her head and then wen in the back and made the pizza's with no gloves on. I took the pizza anyway and just could not bring my self to eat it. ticket number 031137 for $14.42. MY complaint is she needs to be retrained on why it is important to wear gloves and touching someone's food. We are located outside Dallas Georgia but I am thinking this might be an Acworth Georgia address.

Jason McFarland
from Rincon, GA
We live at the back of Shadowbrooke community in Springfield, Ga where new houses are being built. Called delivery and they said our address was undeliverable even though houses right around the corner from us can get delivered to, two blocks away. Update your system guys, our house has been here for months.

Katherine e steele
from Aurora, CO
ordered online, and havent recieved my order and tried to check but it says its closed???

Brian D Sonberg
from Virginia Beach, VA
I went too Pizza Hut to pickup an order I had entered online. When I arrived there and checked their board it indicated that I had a 20 minute wait for my pizza and hot wings. With time to spare I went next door to shop and kill some time. I arrived back at the hut with about 4 minutes to spare and stood along with others waiting for there orders as well. While waiting I noticed the order board clock, for my order, count down to zero and waited for the servicing employee to ask for the next order but just before she did the board entry for my order restarted with a new count from 20 minutes all over again. So I waited. When the board counted down again for my order, no pizza. So I waited again. Finally, when I had been there about 56 minutes my pizza and hot wings came out. Now when I brought the two items home, less than 5 minutes and tasted the pizza it was extremely dry and probably the worst pizza I had ever had from Pizza Hut, not up to their standards of pizza's I had had from them in the past.

Karetta
from Washington D.C., DC
My pizza had a bug I call told them I told them I was at work they told me I had to bring it back went the next day with the pizza they refuse to do anything

Jackie Dunne
from Janesville, WI
Earlier today we purchased 2 large 3 topping pizzas from the Fort Atkinson, Wisconsin Pizza Hut. When we got it back home and opened it, part of the pizza looked weird. Parts of it looked fresh with soft cheese and glistening pepperoni while the other parts of the same pizza where hard, firm and old looking. My friend and I had two slices each pizza and have been in and out of the bathroom since. Nauseated, diarrhea, headache and hot flashes. I will NEVER eat there again. I've read news articles about people working at Chuck E Cheese melding leftover pizza into new pizzas before, but I never thought this would happen to me nor at a Pizza Hut. They just lost a 9 year customer and a whole lot more once we spread the word out later this week.

I had to think about this before I did this but it was not looking good on Pizza Hut. My wife and I eat at Pizza Hut a lot during the week the place is excellent the service is great it can be packed they wait on you in less than 5 minutes always checking on you to see if you need anything the salad bar is always neat and filled on other words they stay on it no matter how busy they are.. July 5 th my wife and I decided to go in for Pizza it was on a Saturday may have date wrong but it was a Saturday it was a total mess wished we had not went. When we went in I guess he is manager on duty that day or something he finally looked at us after 5 minutes he said find a seat as you see we not busy and lol. We waited for someone to come take our order and bring our drinks finally after 15 minutes or more he came to the table said what do you all want we told him the place was empty one of the employee was playing a game on his cellphone the guy told him he had a order he said okay get it.We was the only ones in there we went to get our salad it was a mess dressing was everywhere the lettuce was dark and other things on the bar did not look good at all so we said we changed our minds. After another 25 minutes or more we asked where our pizza was we thought maybe they had call in ahead of us but nobody came or went my wife went up and ask where the pizza was the guy looked at us said it takes awhile we said well much longer we are leaving he said besure you pay. All together was there over 1 hr. 45 minutes the pizza was not good not hardly any sauce on it and very little meat. we told the guy he said well you was hurrying us. Would you have waited that long ?? During the week you are in and out of there less than 35 minutes those ladies work hard.We even had to go up and ask for refills this is not right.Some others came in they set and set finally the lady ask him for a menu they never did get it but got up and left a van came in with 7 or 8 people on it they were still waiting when we left the guy went up told them if they did not have their order in the next few ,minutes they were out of there he said okay. I do not know if they got it or not but I can tell yu this is the second time on a weekend I have been there seen this but not no more on weekend if we want a pizza we will go somewhere else.I am sorry I feel this way my wife has been a manager for other place she said this is not business and not good for Pizza Hut she said they didn't even care if they waited on you from now I will only eat at Pizza Hut when the ladies are there no other time.This does need to be taken care of or the business is going to be losing a lot.
Thank You
Lacy Beckner

Linda Williams
from Fayetteville, NC
Believe me this store does not rate any stars, on July 16, 2019 my husband and I went to the Pizza Hut at 2116 Cedar Creek Road in Fayetteville NC. It was a long time after we sat down before a waitress came by and said she would be back, so we sat for anytime good while, when she came back we order a water for me and a Dr Pepper for my husband, my husband said he wanted the buffet and I asked for the one trip salad bar. It was another 10 or 12 minutes before she brought my husband his drink and a bill, no water for me. My husband went to get food and he didn't see anything he wants so decided to wait to see if they would out bring out some more pizza. I went to make a salad but there was not any lettuce, I told someone that there wasn't any lettuce and very curtly I was told they would get to it when they could. So my husband and I sat there waiting and I began to watch a child circling the food bar with a dirty plate, one of the employees brought out a pan of baked pasta and the child started raking the cheese off the top of this dish and spooning the pasta off the bottom of the pan into this dirty plate. When she was finished she took her fingers and raked the food that was stuck to the serving spoon back into the pan and stuck the spoon back into the food in the pan!!! (Still no lettuce) I could not eat anything by this time so we left, When we got into the parking lot I heard someone yelling and I turned around it it was the waitress yelling at us about walking out I told her why we left and she is still yelling at us as we get in the car, as my husband and I both are in our late 70's this woman was quite intimidating, she did frightened me some as she seem to be so angry. This restaurant is really dirty and needs some major cleaning.

Kathy M. Boone
from Rock Hill, SC
After being out running errands on July 13 I stopped by the local Pizza Hut in York, SC on Liberty Street. When I went in no one was at the front counter. I waited for someone to come and wait on me. I had coughed, cleared my throat and hit my keys on the counter trying to get the lady making pizzas attention without any suggestions. Then a lady came up a side alley and asked had I been helped. I told her no and that I wanted to place an order for the $7.99 carry-out special. She immediately told me I had to order that from on-line. I told her I did not see that on the coupon. she took a coupon she had and went and asked someone and came back and said I had to order it from on-line. I am not very good with computer things and do not know if I could have ordered from my phone, but she did not even suggest that. I was going to purchase two pizzas. A pepperoni-mushroom and ham & pineapple as my husband and I like different things. I asked what other specials you had and she told me a large with boneless wings for $20. I thanked her and left.S he was very unfriendly and did not seem to want my business at all. Pizza Hut has always been my favorite pizza but this location is in a small parking lot that is hard to get in and out of. After this bad service i will think twice before I even consider going back there.
Kathy M. Boone

Did not bring sauce for my breadsticks I called they say I need to repay delivery fee to have some brought I think that is disgusting customer service the guy was rude and nasty and hung up on me south high street Pizza Hut Columbus Ohio 43207

Portia Uwumarogie
from Frankfort, IL
When ordering online, I find that the Matteson, I'll. Store doesn't usually correctly prepare the pizza. Then, I have to wait for a remade pizza which is usually rushed and not cooked well. The vegetables look raw, in most cases. The male manager never seems to care about my inconvenience and I 'm the one who checks the pizza. This has happened,at least, three times even when I mentioned the previous incident. Adding grilled chicken seems to cause the problem. They almost never remember to add it and i'm Left to discover the absence. The parking lot is full of potholes and the outside of the store looks abandoned. I'm very disappointed in this recurring problem and the nonchalance of the manager. I'm just assuming he is the manager because he's consistently present. He doesn't seem to be bothered and just comes across as indifferent. I enjoy Pizza Hut pizza when it is properly prepared but it seems less possible these days!

Marcia Mebane
from Washington D.C., DC
Delivery at 4949 Gus Eckert Rd was not delivered in San Antonio Tx . The supervisor was rude and the delivery driver
said she went to 4949 Eckert road that does not exist. Explained she tried to call my phone but my phone had died.
Tried using a co-worker phone x3 times no answer .Delivery driver called back at 8:15 the pizza was to be delivered
at 7:50. Said the address was wrong. The zip did not change if she had used the zip code it would have brought her
to the right address. Please correct the address .
I have used your service a lot had no problems. I cancelled the order because the supervisor was very rude to me.
I am not the only one that used your services at this address 4949 Gus Eckert Rd. Our patients use this address also.
Pizza Hut on Babcock/Huebner I rate you 0. Bad customer service.
I had asked the supervisor for a discount because they had to make the pizza over he was rude said it was my fault.
The internet gave false information is this the way to talk to a customer that is hungry and upset.NO!

Ordered the 3 ingredient pizza with ham, bell pepper and red onion. I did not that a Pizza Hut could make such a dry pizza but I believe this was the worst pizza I have ever eaten. There was not enough sauce or ham on it to even tell there was any, therefore there was no taste to the pizza. We order from there a lot and I have to give them a 0 rating, the pizza before this one the crust was so tough you couldn't eat it and then this one so dry and bland. Just wanted you to know that must be the reason for never anyone there when we go, pizzas not good at all.

carole mcneece
from Garner, NC
your site online says 2- 2 topping pizzas are 5.99 for phone orders I went to pick up my pizza are was charged 26.99 for the two I told the cashier about the ad and he informed me it is only for online orders and took the person behind me and blew me off Not a great way to do business

Tammy Atkinson
from Morton, MS
The building was very hot. Had to wait on our food for at least a hour, only one person waiting on tables. When we did finally got our order it was cooked to long and was to hard to eat. The employees in the back where having a disagreement in the back and customers could hear them . Not planning on going back. This was in Pizza Hut in Philadelphia, Ms 39350

the pizza was under cooked and veggies were very large I asked for extra not extra large toppings no sauce and that wasn't extra cheese either the pizza was taken back and another was delivered but it was the same if not worse I want my money back. store number R31135 order number 230

Waunakee, WI
Same Pizza
3 weeks ago $9.00
2 weeks ago $10.00
This week $16.00
Never again.

Sharon Young
from Shawnee, KS
Hello I placed an order for my coworkers and I today 7/12/2019 at about 2:00 PM for our lunch. I placed the order online by using the online portal and everything was fine. I waited for over an hour and of course our lunch break was over when the driver called my phone. I missed the call due to waiting for the delivery as it said on the app that is was being delivered- and called her back. She stated she was at the hospital and I told her my business was not the hospital. She tried to argue with me , and we gave her directions to my location. I said I would come downstairs and wait for her , which I did and she did not arrive. I called her back on the phone number with no answer at 3:15 PM and she finally called me back at 3:20 PM stating she went back to the pizza shop. I asked for a supervisor at this time and someone came to the phone- (not sure it was a supervisor) who said I quote- "do you want your pizza?" I replied well I want a refund now because its been over an hour for delivery and she has went back to the store, I do not have anything I paid for. She said hold on and transferred me to the queue for customer service, I looked up the number for the corporate office and gave them a call. They have fixed the issue, I want to report this driver called my phone 4 times additionally after not delivering my food and not accepting my calls. This is very unprofessional and not acceptable. I was embarrassed at my work place and you should be as well. the location for my order was 4534 Wornall Road Kansas City Mo 64111 we are a very reputable company and easy to find, The pizza hut was on Main ST located on the Plaza in Kansas City which is also very reputable area so I want to make sure you are aware that customers are not treated in this manner in this area. My contact number is 417.315.5028 and my name is Sharon Young Thank you and again I just want to make you aware of a very bad experience. I spoke to Haley who took care of my concerns but for the store in question Im sure she ate the pizza and wings! because as of the time I am writing this , still no pizza!

Marsha E. Bailey
from Weston, WV
We went to the Buckhannon, WV Pizza Hut about 6:00 Friday eve. 7/12/19. We ordered and the waitress Carlyle told us that we would have to wait on our drinks since the glasses need washed. OK we went ahead and got our salad and somewhat latter received our drinks. Well after waiting forever to get our pizza when all the other customers around us and that came in after us received their food. We decided to just pay for our drinks and salad and Leave. Miss Carlyle was very rude to us. This was the worse we have ever been treated in a restaurant and we wont be back. She told us that there was a new girl in the back and she had no control when the pizzas came out. She was very rude to my husband. Its really a shame that establishments cant get better people to work and that appreciates having a job. Maybe a manager needs to be there all the time or at least an assistant manager. That's it! Never again!!

Lois childers
from Valley Head, WV
I live in Clarksburg wv and I call the pizza hut 5different times and let the phone ring 100times and no one ever answered i went by the other day to make sure I was calling the right number and I was...I tried again tonight and no answer again so I called another pizza place and ordered is there a reason they don't answer... I like your pizza but they need to answer there phone...can you tell me how too order pizza with that place. And not on line

On 7/5/2019, I ate at your Greenville, Alabama, location. While eating with my daughter and grandson, I found hair cooked into the pizza I chose from the hot bar. I showed the hair to a server and requested to see the manager. After waiting about thirty minutes, the manager never came out of the cooking area to address me. The server took off from my bill the cost of the hot bar. I am very disappointed with my experience and the service. I do have pictures if needed on my android phone that I took of the pizza and the hair and the receipt if needed for proof. Again I'm very, very disappointed in the service and the managers attitude towards the whole issue I hope I didn't swallow any hair that was on the pizza by mistake that I didn't noticed.

Rachel mancini
from Hialeah, FL
Bought a pizza for my grand kids at Miami Gardens dr and 67th Miami ave it was nothing like tv cheese crust was dried
On each slide 2 pepperoni very dissatisfied will not visit store again

Jade Mullaney
from Pearl City, HI
I placed a phone order shortly before 10 am this morning. Hawaii time. I was asked what time I wanted it delivered or picked up. I said delivered at 10 Pat said would 10:30 be okay. I said that's fine. My problem, after taking my personal info and order followed by a verbal confirmation on the phone the pizza order was not delivered nor did I get a phone call. I called about 11:10 am to inquire, Pat says, "The driver is out making other deliveries." I asked how much longer till we get the delivery, another 15 mins. I told Pat we'd pick it up, verified the location and hung up. Called my nephew to pick it up. He gets to the location, 6 mins from where he's at, they tell my nephew they thought the order was for 10:30 PM! Really, you pay employees to lie and not be accountable for their irresponsible behavior.
My first instinct was to call Dominos, because I didn't have their number in my phone or access to wi if I called Pizza Hut. I have the number on my phone.
I'm disappointed in today's transaction. I had a team of volunteers waiting way longer than they should've. The employee at the place of pickup should be reprimanded at best for telling my nephew he thought the pick up was 10:30 at night. Why would I order before 10 am! To have it delivered as soon as possible. I still got charged for delivery too!
Disappointed customer.
Cc: Dominos. Attn: Ed

Went to pizza hut in ridge culver plaza in Irondequoit ny. Had a coupon for a $6.99 large 0ne topping pizza which expires on 7/13/19 which says at the top of the coupon now including Original Pan. Said the cost was 7.99. even though I had the coupon. Were very snarky. How's that for customer service?

Pizza hut's reward program does not include being able to get gluten free pizza. For those of us who need gluten free the reward program is useless. They claim it is because the rewards only give you a medium or large and gluten free pizzas come only in small size. Being punished for having a health problem seems to unfair. I have spoken to the management of the local pizza huts and they say there is nothing they can do. I have even participated in their program to improve their service and submitted this problem. Again, with no results. Happily their competition dominos has gluten free and will include gluten free in their deals.

michelle
from Pittsburgh, PA
I ordered therbon 6/28 at 945 pm an when it got delivered we noticed that we did not recieve all of our food . I tried calling multiple times an no answer. I got sent to the Philippines an some one answered at a call center. I called today 6/29 An spoke with a manager named Tom who was very rude and disrespectful I would like something to be done about my issue because it's not right that I paid for all this food An did not get it

Susan League
from The Villages, FL
The restaurant I went to is great. The problem I have is your "receive $10 off on your next online purchase of $20 or more" by doing a survey at www.tellpizzahut.com. I went and completed my information; a copy of the response is attached. I pressed the button to go on and as you can see by the attached file, the little wheel just kept spinning. I finally checked my watch and noted 4:04 p.m. It was spinning a while before that. I took a shower and now it is 5:02 p.m. and it's still spinning. I finally gave up. If your software cannot handle the number of calls or has bugs you should fix that situation. I wasted an hour of my time on this before I closed the window. Shame on your because I believe you probably already know this is a problem.
Susan League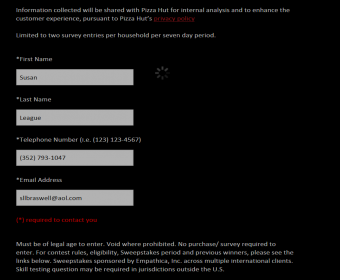 complaint against pizza hut in Buckhannon WV....Service was terrible,waitress was awful. Restaurant was dirty,tables not cleaned off. Waited 30 minutes for garlic knots, that we had to go and search out waitress and ask for.Wasnt given plates, until we asked. Then had to go get her to place our dinner order. Waited another 40 minutes for pizza and boneless wings.Again had to go find her, and wings were half warm..Pizza wasn't even ready after 40 minutes!!!! She never came back to the table for drink refills or anything!! My husband waited at the counter for 10 minutes while no one even acknowledged he was there, not even the manager!!! We are lifelong customers of pizza hut, and have been to this location many times in the past, but I can assure you we WILL NOT be going back there.. When we finally left, waitress was leaning against counter in kitchen, and all she said was "oh you don't want the pizza its about 1/2 done" no apologies, although I guess we should be "thankful" they didn't charge us for the garlic knots and watered down sodas!!!!!! Absolutely terrible food and experience!!! Highly disgusted and mad!!!!

On June 25 I ordered pizza from the Hwy 107 location in Sherwood AR. It started raining before I got there but when I drove up to window the clerk took my card and ran it and handed me the receipt to sign and said would be 6 minutes till ready and they were closing window since rain comes in when opened and I asked how do I get pizza then and she said you'll have to come in- I said no cancel the order and a guy walked up and grabbed the clipboard and wadded up the receipt and she gave my card back. I drove to parking lot and called the main number and was told refund in 3-5 days. I could not get out and go in due to medical problem. I did get email from someone that said that store would be contacting me- I am still waiting on my refund and they have NOT contacted me.
Have feedback for Pizza Hut?
Thanks for your feedback!
Sorry. Please try again later!