Pizza Hut
Pizza Hut Complaints Continued... (Page 2)
1150+ reviews added so far. Upset? Call Pizza Hut corporate: (972) 338-7700

Elizabeth Dorsey
from Lafayette, LA
We ordered a stuffed crust pizza, white sauce, with mushroom, meatball and pepperoni, a separate container of buffalo sauce and and 20 oz. Pepsi. We got a cold, hard pizza, no Pepsi and barbecue sauce. When I called to see if they would make it right (Pizza Hut, Ambassador Caffery Pkwy., Lafayette, LA)., I told the girl who took the order and she put me on hold forever--left me on hold. I hung up and called back, and a guy answered. I nicely asked to speak to the manager. I was put on hold for over 20 minutes, (I finally hung up), and they stalled me again. I feel we are entitled to coupons for free pizza for having to wait on the phone so long for nothing and no help, bad pizza, and not getting our order right. This happened the afternoon of March 17. I look forward to hearing back from you.

Lo Hill
from Longview, WA
Man I really want to enjoy my stuff crust pizza but asked for jalapeño on half my pizza, and got it on the whole thing. Pizza was barely warm. And on top of that, they gave us two half cups of mozzarella sauce for 10 breadsticks. SMH, I spent $50 on a BS meal. I guess I'll have to stick with Dominos pizza from now on. Next time I'll listen to our kids.

James simpson
from Raymond, WA
So I ordered Pizza Hut in Aberdeen Washington and it wasn't cheap $71 to some bone in wings when I ordered boneless barbeque and a pepperoni pizza and peperonu and sasusage both pan style and my My Wings where not boneless and my pepperoni pizza has it barely any cheese on it so I called and complained and told the guy what was up and he said that I had to have my pizzas and my wings to get my order replaced so I set the pieces outside of my door because I have COVID and he are you with me about the food that I left outside my door but the dogs ate and he refused 2 leave the food that he replaced and brought to my door I had a sign on my door stating that I had covid-19 and he was so rude about it but he took my food back to the store so I did not did you need anything that night so I don't recommend eating up the Aberdeen Washington Pizza hut they are scumbags at the store they don't deserve people's business the way they act toward customers

Emily Manbevers
from Great Falls, MT
3rd time I've ordered in the last year and have gotten cold pizza. Your pizzas arent cheap, and when I spend $50, I expect hot pizza. Called to complain and got hung up on twice.

Barbara Harris
from Lufkin, TX
I stopped in and ordered a thin crust Classic Supreme pizza. The man, I assumed he is the manager, took my order and told me it would be ready in 15 minutes. I asked him if they will be bringing it out to my car and he said yes. I went back to my car and the temperature was 98 degrees and I had to run my car and turn it off trying not to get too hot for 30 minutes! I am elderly. I finally got out and went back in to see why they had not brought it out because with the virus, I couldn't sit in the waiting area and he said "Oh, it has been ready for a while!! I asked him why he didn't bring it out and he told I was supposed to come back in and get it. That is not what he told me when I ordered! I got home with the pizza and it is one of the sorriest ones we have ever tried to eat! It was dry and pretty cold which I know it wouldn't have stayed very warm until I got home but it was an awful pizza. I told him I would never ever go back again! You just don't treat elderly people like they don't matter! I was so aggravated all the way home and then get there and have a dry pizza!!!

Thomas Dempsey
from Bellevue, WA
I have lived in the same neighborhood for 30+ years and have gone to the Eastgate Pizza Hut many times. The service has always been acceptable. Not so much this evening. I decided I didn't want to cook this evening and ordered a pizza about 5:15pm. I was told it would be ready in 20 minutes which is pretty standard. I left my house soon after and made a stop at a local dry cleaner. I didn't look at the my watch at the time but assume it was around 5:45 at the latest. I went in and the lady at the counter couldn't find my order. She seemed to be having trouble with her computerized cash register. She said it wasn't ready yet so I said I would take a seat and wait. While I was sitting there it was obvious that she was either untrained or a new employee. She was having a really hard time getting orders correct and in using her cash register. About 6pm the apparent manager came out said he had noticed me sitting there for some time. During this time the kitchen seemed to be in complete confusion. I heard the staff stating that the register person was either untrained or needed more training. She was working the register, taking phone orders giving orders to the kitchen. Well at 6:35 I finally got my pizza ad was given a flyer for 30% off my next order and a box of mini rolls for the store taking so much time to fill my order. I thought they were some kind of mini pizzas. It wasn't until I got home that I noticed they were mini cinnamon rolls. I am a type two diabetic and I would have never ordered mini cinnamon tolls. They should have asked what I might desire instead of just picking something.

billy taunton
from Ardmore, TN
Yesterday, the 5th of June, my wife went to our local pizza hut here in Ardmore, Tennessee. That same day we were supposed to have a protest over the Floyd George incident. When she went through the drive through and mentioned about the possible protest, the guy at the window told her he wished they would burn Ardmore down. I found that very unprofessional coming from a franchise business such as Pizza Hut. If she had not already paid for her order, she would have just left. What if the first place they had went to was the Pizza Hut? Something to think about. I don't want my town destroyed and no one else should or should be saying that while working at an establishmnent, not the right place or time.

Sherry martinez
from San Antonio, TX
I made an order online Pizza Hut star onRittman Rd in San Antonio Texas I place the order online they said it would be about 25 minutes 720 minutes I drove up to the store I love them know I was there they says another 15 minutes so 18 minutes later I'm sitting there at the store and I called them and say what's going on they says oh it'll be another 15 to 30 minutes I don't know what they're doing but they're not doing their job when I placed the order it said 25 minutes it didn't say an hour and a half 45 minutes or two hours

Connie PADGETT
from Dallas, GA
The pizza hut on Dallas Highway at Crossroads . A lady Priscilla on 7/20/2019 took my order. She was there alone trying to answer phone and take order and make pizza's. She was working hard but she scratched her head and then wen in the back and made the pizza's with no gloves on. I took the pizza anyway and just could not bring my self to eat it. ticket number 031137 for $14.42. MY complaint is she needs to be retrained on why it is important to wear gloves and touching someone's food. We are located outside Dallas Georgia but I am thinking this might be an Acworth Georgia address.

Jason McFarland
from Rincon, GA
We live at the back of Shadowbrooke community in Springfield, Ga where new houses are being built. Called delivery and they said our address was undeliverable even though houses right around the corner from us can get delivered to, two blocks away. Update your system guys, our house has been here for months.

Katherine e steele
from Aurora, CO
ordered online, and havent recieved my order and tried to check but it says its closed???

Brian D Sonberg
from Virginia Beach, VA
I went too Pizza Hut to pickup an order I had entered online. When I arrived there and checked their board it indicated that I had a 20 minute wait for my pizza and hot wings. With time to spare I went next door to shop and kill some time. I arrived back at the hut with about 4 minutes to spare and stood along with others waiting for there orders as well. While waiting I noticed the order board clock, for my order, count down to zero and waited for the servicing employee to ask for the next order but just before she did the board entry for my order restarted with a new count from 20 minutes all over again. So I waited. When the board counted down again for my order, no pizza. So I waited again. Finally, when I had been there about 56 minutes my pizza and hot wings came out. Now when I brought the two items home, less than 5 minutes and tasted the pizza it was extremely dry and probably the worst pizza I had ever had from Pizza Hut, not up to their standards of pizza's I had had from them in the past.

Karetta
from Washington D.C., DC
My pizza had a bug I call told them I told them I was at work they told me I had to bring it back went the next day with the pizza they refuse to do anything

Jackie Dunne
from Janesville, WI
Earlier today we purchased 2 large 3 topping pizzas from the Fort Atkinson, Wisconsin Pizza Hut. When we got it back home and opened it, part of the pizza looked weird. Parts of it looked fresh with soft cheese and glistening pepperoni while the other parts of the same pizza where hard, firm and old looking. My friend and I had two slices each pizza and have been in and out of the bathroom since. Nauseated, diarrhea, headache and hot flashes. I will NEVER eat there again. I've read news articles about people working at Chuck E Cheese melding leftover pizza into new pizzas before, but I never thought this would happen to me nor at a Pizza Hut. They just lost a 9 year customer and a whole lot more once we spread the word out later this week.

I had to think about this before I did this but it was not looking good on Pizza Hut. My wife and I eat at Pizza Hut a lot during the week the place is excellent the service is great it can be packed they wait on you in less than 5 minutes always checking on you to see if you need anything the salad bar is always neat and filled on other words they stay on it no matter how busy they are.. July 5 th my wife and I decided to go in for Pizza it was on a Saturday may have date wrong but it was a Saturday it was a total mess wished we had not went. When we went in I guess he is manager on duty that day or something he finally looked at us after 5 minutes he said find a seat as you see we not busy and lol. We waited for someone to come take our order and bring our drinks finally after 15 minutes or more he came to the table said what do you all want we told him the place was empty one of the employee was playing a game on his cellphone the guy told him he had a order he said okay get it.We was the only ones in there we went to get our salad it was a mess dressing was everywhere the lettuce was dark and other things on the bar did not look good at all so we said we changed our minds. After another 25 minutes or more we asked where our pizza was we thought maybe they had call in ahead of us but nobody came or went my wife went up and ask where the pizza was the guy looked at us said it takes awhile we said well much longer we are leaving he said besure you pay. All together was there over 1 hr. 45 minutes the pizza was not good not hardly any sauce on it and very little meat. we told the guy he said well you was hurrying us. Would you have waited that long ?? During the week you are in and out of there less than 35 minutes those ladies work hard.We even had to go up and ask for refills this is not right.Some others came in they set and set finally the lady ask him for a menu they never did get it but got up and left a van came in with 7 or 8 people on it they were still waiting when we left the guy went up told them if they did not have their order in the next few ,minutes they were out of there he said okay. I do not know if they got it or not but I can tell yu this is the second time on a weekend I have been there seen this but not no more on weekend if we want a pizza we will go somewhere else.I am sorry I feel this way my wife has been a manager for other place she said this is not business and not good for Pizza Hut she said they didn't even care if they waited on you from now I will only eat at Pizza Hut when the ladies are there no other time.This does need to be taken care of or the business is going to be losing a lot.
Thank You
Lacy Beckner

Linda Williams
from Fayetteville, NC
Believe me this store does not rate any stars, on July 16, 2019 my husband and I went to the Pizza Hut at 2116 Cedar Creek Road in Fayetteville NC. It was a long time after we sat down before a waitress came by and said she would be back, so we sat for anytime good while, when she came back we order a water for me and a Dr Pepper for my husband, my husband said he wanted the buffet and I asked for the one trip salad bar. It was another 10 or 12 minutes before she brought my husband his drink and a bill, no water for me. My husband went to get food and he didn't see anything he wants so decided to wait to see if they would out bring out some more pizza. I went to make a salad but there was not any lettuce, I told someone that there wasn't any lettuce and very curtly I was told they would get to it when they could. So my husband and I sat there waiting and I began to watch a child circling the food bar with a dirty plate, one of the employees brought out a pan of baked pasta and the child started raking the cheese off the top of this dish and spooning the pasta off the bottom of the pan into this dirty plate. When she was finished she took her fingers and raked the food that was stuck to the serving spoon back into the pan and stuck the spoon back into the food in the pan!!! (Still no lettuce) I could not eat anything by this time so we left, When we got into the parking lot I heard someone yelling and I turned around it it was the waitress yelling at us about walking out I told her why we left and she is still yelling at us as we get in the car, as my husband and I both are in our late 70's this woman was quite intimidating, she did frightened me some as she seem to be so angry. This restaurant is really dirty and needs some major cleaning.

Kathy M. Boone
from Rock Hill, SC
After being out running errands on July 13 I stopped by the local Pizza Hut in York, SC on Liberty Street. When I went in no one was at the front counter. I waited for someone to come and wait on me. I had coughed, cleared my throat and hit my keys on the counter trying to get the lady making pizzas attention without any suggestions. Then a lady came up a side alley and asked had I been helped. I told her no and that I wanted to place an order for the $7.99 carry-out special. She immediately told me I had to order that from on-line. I told her I did not see that on the coupon. she took a coupon she had and went and asked someone and came back and said I had to order it from on-line. I am not very good with computer things and do not know if I could have ordered from my phone, but she did not even suggest that. I was going to purchase two pizzas. A pepperoni-mushroom and ham & pineapple as my husband and I like different things. I asked what other specials you had and she told me a large with boneless wings for $20. I thanked her and left.S he was very unfriendly and did not seem to want my business at all. Pizza Hut has always been my favorite pizza but this location is in a small parking lot that is hard to get in and out of. After this bad service i will think twice before I even consider going back there.
Kathy M. Boone

Did not bring sauce for my breadsticks I called they say I need to repay delivery fee to have some brought I think that is disgusting customer service the guy was rude and nasty and hung up on me south high street Pizza Hut Columbus Ohio 43207

Portia Uwumarogie
from Frankfort, IL
When ordering online, I find that the Matteson, I'll. Store doesn't usually correctly prepare the pizza. Then, I have to wait for a remade pizza which is usually rushed and not cooked well. The vegetables look raw, in most cases. The male manager never seems to care about my inconvenience and I 'm the one who checks the pizza. This has happened,at least, three times even when I mentioned the previous incident. Adding grilled chicken seems to cause the problem. They almost never remember to add it and i'm Left to discover the absence. The parking lot is full of potholes and the outside of the store looks abandoned. I'm very disappointed in this recurring problem and the nonchalance of the manager. I'm just assuming he is the manager because he's consistently present. He doesn't seem to be bothered and just comes across as indifferent. I enjoy Pizza Hut pizza when it is properly prepared but it seems less possible these days!

Marcia Mebane
from Washington D.C., DC
Delivery at 4949 Gus Eckert Rd was not delivered in San Antonio Tx . The supervisor was rude and the delivery driver
said she went to 4949 Eckert road that does not exist. Explained she tried to call my phone but my phone had died.
Tried using a co-worker phone x3 times no answer .Delivery driver called back at 8:15 the pizza was to be delivered
at 7:50. Said the address was wrong. The zip did not change if she had used the zip code it would have brought her
to the right address. Please correct the address .
I have used your service a lot had no problems. I cancelled the order because the supervisor was very rude to me.
I am not the only one that used your services at this address 4949 Gus Eckert Rd. Our patients use this address also.
Pizza Hut on Babcock/Huebner I rate you 0. Bad customer service.
I had asked the supervisor for a discount because they had to make the pizza over he was rude said it was my fault.
The internet gave false information is this the way to talk to a customer that is hungry and upset.NO!

Ordered the 3 ingredient pizza with ham, bell pepper and red onion. I did not that a Pizza Hut could make such a dry pizza but I believe this was the worst pizza I have ever eaten. There was not enough sauce or ham on it to even tell there was any, therefore there was no taste to the pizza. We order from there a lot and I have to give them a 0 rating, the pizza before this one the crust was so tough you couldn't eat it and then this one so dry and bland. Just wanted you to know that must be the reason for never anyone there when we go, pizzas not good at all.

carole mcneece
from Garner, NC
your site online says 2- 2 topping pizzas are 5.99 for phone orders I went to pick up my pizza are was charged 26.99 for the two I told the cashier about the ad and he informed me it is only for online orders and took the person behind me and blew me off Not a great way to do business

Tammy Atkinson
from Morton, MS
The building was very hot. Had to wait on our food for at least a hour, only one person waiting on tables. When we did finally got our order it was cooked to long and was to hard to eat. The employees in the back where having a disagreement in the back and customers could hear them . Not planning on going back. This was in Pizza Hut in Philadelphia, Ms 39350

the pizza was under cooked and veggies were very large I asked for extra not extra large toppings no sauce and that wasn't extra cheese either the pizza was taken back and another was delivered but it was the same if not worse I want my money back. store number R31135 order number 230

Waunakee, WI
Same Pizza
3 weeks ago $9.00
2 weeks ago $10.00
This week $16.00
Never again.

Sharon Young
from Shawnee, KS
Hello I placed an order for my coworkers and I today 7/12/2019 at about 2:00 PM for our lunch. I placed the order online by using the online portal and everything was fine. I waited for over an hour and of course our lunch break was over when the driver called my phone. I missed the call due to waiting for the delivery as it said on the app that is was being delivered- and called her back. She stated she was at the hospital and I told her my business was not the hospital. She tried to argue with me , and we gave her directions to my location. I said I would come downstairs and wait for her , which I did and she did not arrive. I called her back on the phone number with no answer at 3:15 PM and she finally called me back at 3:20 PM stating she went back to the pizza shop. I asked for a supervisor at this time and someone came to the phone- (not sure it was a supervisor) who said I quote- "do you want your pizza?" I replied well I want a refund now because its been over an hour for delivery and she has went back to the store, I do not have anything I paid for. She said hold on and transferred me to the queue for customer service, I looked up the number for the corporate office and gave them a call. They have fixed the issue, I want to report this driver called my phone 4 times additionally after not delivering my food and not accepting my calls. This is very unprofessional and not acceptable. I was embarrassed at my work place and you should be as well. the location for my order was 4534 Wornall Road Kansas City Mo 64111 we are a very reputable company and easy to find, The pizza hut was on Main ST located on the Plaza in Kansas City which is also very reputable area so I want to make sure you are aware that customers are not treated in this manner in this area. My contact number is 417.315.5028 and my name is Sharon Young Thank you and again I just want to make you aware of a very bad experience. I spoke to Haley who took care of my concerns but for the store in question Im sure she ate the pizza and wings! because as of the time I am writing this , still no pizza!

Marsha E. Bailey
from Weston, WV
We went to the Buckhannon, WV Pizza Hut about 6:00 Friday eve. 7/12/19. We ordered and the waitress Carlyle told us that we would have to wait on our drinks since the glasses need washed. OK we went ahead and got our salad and somewhat latter received our drinks. Well after waiting forever to get our pizza when all the other customers around us and that came in after us received their food. We decided to just pay for our drinks and salad and Leave. Miss Carlyle was very rude to us. This was the worse we have ever been treated in a restaurant and we wont be back. She told us that there was a new girl in the back and she had no control when the pizzas came out. She was very rude to my husband. Its really a shame that establishments cant get better people to work and that appreciates having a job. Maybe a manager needs to be there all the time or at least an assistant manager. That's it! Never again!!

Lois childers
from Valley Head, WV
I live in Clarksburg wv and I call the pizza hut 5different times and let the phone ring 100times and no one ever answered i went by the other day to make sure I was calling the right number and I was...I tried again tonight and no answer again so I called another pizza place and ordered is there a reason they don't answer... I like your pizza but they need to answer there phone...can you tell me how too order pizza with that place. And not on line

On 7/5/2019, I ate at your Greenville, Alabama, location. While eating with my daughter and grandson, I found hair cooked into the pizza I chose from the hot bar. I showed the hair to a server and requested to see the manager. After waiting about thirty minutes, the manager never came out of the cooking area to address me. The server took off from my bill the cost of the hot bar. I am very disappointed with my experience and the service. I do have pictures if needed on my android phone that I took of the pizza and the hair and the receipt if needed for proof. Again I'm very, very disappointed in the service and the managers attitude towards the whole issue I hope I didn't swallow any hair that was on the pizza by mistake that I didn't noticed.

Rachel mancini
from Hialeah, FL
Bought a pizza for my grand kids at Miami Gardens dr and 67th Miami ave it was nothing like tv cheese crust was dried
On each slide 2 pepperoni very dissatisfied will not visit store again

Jade Mullaney
from Pearl City, HI
I placed a phone order shortly before 10 am this morning. Hawaii time. I was asked what time I wanted it delivered or picked up. I said delivered at 10 Pat said would 10:30 be okay. I said that's fine. My problem, after taking my personal info and order followed by a verbal confirmation on the phone the pizza order was not delivered nor did I get a phone call. I called about 11:10 am to inquire, Pat says, "The driver is out making other deliveries." I asked how much longer till we get the delivery, another 15 mins. I told Pat we'd pick it up, verified the location and hung up. Called my nephew to pick it up. He gets to the location, 6 mins from where he's at, they tell my nephew they thought the order was for 10:30 PM! Really, you pay employees to lie and not be accountable for their irresponsible behavior.
My first instinct was to call Dominos, because I didn't have their number in my phone or access to wi if I called Pizza Hut. I have the number on my phone.
I'm disappointed in today's transaction. I had a team of volunteers waiting way longer than they should've. The employee at the place of pickup should be reprimanded at best for telling my nephew he thought the pick up was 10:30 at night. Why would I order before 10 am! To have it delivered as soon as possible. I still got charged for delivery too!
Disappointed customer.
Cc: Dominos. Attn: Ed

Went to pizza hut in ridge culver plaza in Irondequoit ny. Had a coupon for a $6.99 large 0ne topping pizza which expires on 7/13/19 which says at the top of the coupon now including Original Pan. Said the cost was 7.99. even though I had the coupon. Were very snarky. How's that for customer service?

Pizza hut's reward program does not include being able to get gluten free pizza. For those of us who need gluten free the reward program is useless. They claim it is because the rewards only give you a medium or large and gluten free pizzas come only in small size. Being punished for having a health problem seems to unfair. I have spoken to the management of the local pizza huts and they say there is nothing they can do. I have even participated in their program to improve their service and submitted this problem. Again, with no results. Happily their competition dominos has gluten free and will include gluten free in their deals.

michelle
from Pittsburgh, PA
I ordered therbon 6/28 at 945 pm an when it got delivered we noticed that we did not recieve all of our food . I tried calling multiple times an no answer. I got sent to the Philippines an some one answered at a call center. I called today 6/29 An spoke with a manager named Tom who was very rude and disrespectful I would like something to be done about my issue because it's not right that I paid for all this food An did not get it

Susan League
from The Villages, FL
The restaurant I went to is great. The problem I have is your "receive $10 off on your next online purchase of $20 or more" by doing a survey at www.tellpizzahut.com. I went and completed my information; a copy of the response is attached. I pressed the button to go on and as you can see by the attached file, the little wheel just kept spinning. I finally checked my watch and noted 4:04 p.m. It was spinning a while before that. I took a shower and now it is 5:02 p.m. and it's still spinning. I finally gave up. If your software cannot handle the number of calls or has bugs you should fix that situation. I wasted an hour of my time on this before I closed the window. Shame on your because I believe you probably already know this is a problem.
Susan League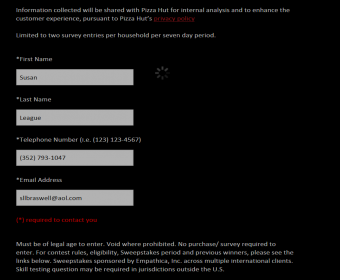 complaint against pizza hut in Buckhannon WV....Service was terrible,waitress was awful. Restaurant was dirty,tables not cleaned off. Waited 30 minutes for garlic knots, that we had to go and search out waitress and ask for.Wasnt given plates, until we asked. Then had to go get her to place our dinner order. Waited another 40 minutes for pizza and boneless wings.Again had to go find her, and wings were half warm..Pizza wasn't even ready after 40 minutes!!!! She never came back to the table for drink refills or anything!! My husband waited at the counter for 10 minutes while no one even acknowledged he was there, not even the manager!!! We are lifelong customers of pizza hut, and have been to this location many times in the past, but I can assure you we WILL NOT be going back there.. When we finally left, waitress was leaning against counter in kitchen, and all she said was "oh you don't want the pizza its about 1/2 done" no apologies, although I guess we should be "thankful" they didn't charge us for the garlic knots and watered down sodas!!!!!! Absolutely terrible food and experience!!! Highly disgusted and mad!!!!

On June 25 I ordered pizza from the Hwy 107 location in Sherwood AR. It started raining before I got there but when I drove up to window the clerk took my card and ran it and handed me the receipt to sign and said would be 6 minutes till ready and they were closing window since rain comes in when opened and I asked how do I get pizza then and she said you'll have to come in- I said no cancel the order and a guy walked up and grabbed the clipboard and wadded up the receipt and she gave my card back. I drove to parking lot and called the main number and was told refund in 3-5 days. I could not get out and go in due to medical problem. I did get email from someone that said that store would be contacting me- I am still waiting on my refund and they have NOT contacted me.

Debbie Elkins
from Durant, OK
was at Atoka pizza hut today 6-28-19 and was going to eat buffett and it was about 11:50 it was a nut house there one guy doing pizza nothing on the bar . one girl waiting on people I got our drinks and we sat down eat our salad and still not much on bar . so we waited about 20 minutes got up and left.other people were asking about pizza and they were walking out . never had such a horrible experience in my life. they need
help in management or something.it was like the ones that was there had not a clue what was going on. it would be a shammed to lose that pizza hut after they just lost a KFC. someone help them

I have been to St. Augustine Pizza hut several times on Ponce and there is a manager named Thomas, each time I'm there I hear this man cussing saying G D F this MF..I think this is very uncalled for and the poor server Susan all she can do is apologize for his behaviors..
This person seams to have anger problems that need to be taken care of..
Until he is gone my family will not come back.

Brett La Bine
from Appleton, WI
All the food I ordered was under cooked almost raw. the pizza was very dry. Ticket #0114 6/27/19 Appleton Wisconsin on northside. northland ave. Last time we ordered food it took 1 1/2 hours for delivery. We like pizza hut I have liked pizza hut back to the 70`s. I never complain but this is getting bad. One other thing the web site ordering should be easier the way it is you add item but some times it doesnt add item so you get your food but that item is not on your order when it arrives. Thank you, Brett La Bine

nancy rogers
from Los Angeles, CA
I ordered food a few days ago at 11:27 PM. They never brought the food but charged my debit card. I called the store at around 12:30ish and asked where was my food. The girl was very rude.To make a long story short I never got my food. So I complained about it and wanted my money refunded. The manager called me the next day and said she canceled the transaction and was giving me a 20 dollar credit. Sounds good right, nope.. I used my 20 dollar credit and the pizza they delivered was horrible, no sauce on it and it was bad tasting. My dogs wouldn't even eat it. That was day before yesterday. I guess my pizza was that way because I complained. Never again will I buy or eat any pizza hut food or deal with your rude employees. I showed several people the pizza who live in my apt complex and none of them were impressed with your pizza. Nevertheless the pizza went in the trash right where it belongs. You couldn't pay me to eat pizza hut food ever again. Oh and the order with the 20 dollars credit still cost me over 10 dollars. Yep that's the LAST money you will ever get from me, but what you will get is me voicing my opinion on pizza hut food and service. I'm a unhappy ex customer. I used to buy food from you 2 to 3 times a month, but not anymore. Don't even bother to try and "make it right". DONE WITH PIZZA HUT. NEVER AGAIN...don't want it even if it free. Thank you for reading my comments and complaints.

Harvetta PannellPate
from Memphis, TN
I went to your pizza hut store in Savannah Tennessee, and its on a Thursday 06/27/ 2019, it was no holiday weekend, no school function cause school is out for the summer, so can you tell me when I call and I tell the lady that I placed the order finally after I was hung up on twice and when she asked for me to wait the third time I said no cause you will hang up on me again so she finally took my order which was only pasta marinara; she told me it would be ready in an hour and twenty minutes!!!!!!; Your going have to talk to your franchisees or everybody is going to Little Ceasars that came to town !! Plus they are rude !!! Harvetta Pate 95 Abernathy Dr Adamsville TN 38310

Jared Koon
from Elmhurst, IL
I placed an order at your Commerce City CO location at 2pm for a office meeting and requested for it to be delivered at 5:30pm at 6pm I contacted the Manager asking what happened to my order. The manager said it was canceled but couldn't tell who canceled it. She then told me that she would get the order together and get it delivered. At 8:30pm we still had not received the order. I called again and spoke to the same female manager and asked what was going on she then proceeded to be very aggressive towards me on the phone when I asked for her name she told me that it was none of my business and hung up on me. I called back and she hung up again when I asked her for the customer service phone number. I called back a 3rd time and spoke to a gentleman who also said he was a manager I explained the situation to him and he proceeded to tell me there was nothing he could do after I paid for my 155$ order up front. He then transferred me to a customer service line in Kansas and no one has contacted me since. I will never recommend this location to anyone. I researched the reviews for that location and there was many complaints about them doing the same thing over and over to customers. I would like to be contacted by a representative regarding this. I was told that I would be contacted by the General Manager from the area and have heard nothing. I wish I could give that branch a zero rating for the way that they treat their customers !

Dale F. Smoot
from Bradenton, FL
I am a member of a car club in Manatee County, Florida. We, along with most of the other clubs in Manatee and Sarasota counties, attend local car shows. It is a form of socialization we all appreciate and enjoy. A man by the name of Lance does these cruises all over Manatee and Sarasota counties. Once a month he has one at Hooters in Bradenton on 14th Street. You have a Pizza Hut at 4802 14th Street, which shares the parking lot. There are signs which state that non Pizza Hut patrons will be towed. Lance's followers take up the Hooters parking lot and flow over to Pizza Hut spaces. This could have been handled several ways, but the manager chose to call the police and tow trucks to move the participants. Lance has made the decision to cancel all future shows at Hooters. We discussed this at our club meeting on Tuesday evening and it was unanimous that no one would ever go to that Pizza Hut again. There are a lot of pizza shops in both counties. I believe the other clubs will act in accord with our club. Lance is considered to be a beloved member of all of the clubs. I don't understand why your manager did not take advantage of someone bringing all of those cars to his location and did not take advantage of a great marketing situation. Had he handed out discount coupons to the attendees, his business would probably have benefitted. Some of our members actually have eaten there, but will no longer do so. It is too bad that a manager of one of your stores cares so little for the members of the community.

Susan VanDeMark
from Henderson, NV
Gave wrong email address earlier...
Worst experience i have every had with Pizza Hut. I will most likely never order again from you. I am a regular that orders almost every week. I have your app set up on my work computer so i can place order any pay with no worries. I track your the order from my phone. I have so many points to redeem due to i hardly ever use them. I always tip 25% to the drivers due to i know this is how they are paying their bills. Last night around 4:30pm i place a large order for 3 different large pizzas whihc is below. Under message i typed that we were all in the back yard and to come to the back. I live in a gated community. I called Danielle up at the gate and told her that Pizza Hut was coming and to make sure she reminded them that we were in back yard in pool and that it was ok to let driver in. I had my tracker on to my cell phone and i watch my cell phone for over 2 hours. When the pizza did not arrive i called the 702 # from my receipt below and got James. He told me that driver showed up and since i did not come to the door she left and order was brought back to store. He said he place another order and have it to me within 35 to 40 minutes but he would have to charge me again. I got upset and told him that i was tracking the order and my phone never showed order on its way. It shows that order was still being made in oven. He said that they had been have problems with the tracker app and there was nothing he could do. He said that he would take off 20 % off order. I explained that my order was over $60.00. That would put me at $100 for 3 pizzas. I had a group of people at my house with kids from Buffalo Wild Wings who were a witness to all this mess. Per this receipt is says i have to show card to driver and i did nto even see the driver since she did not follow instructions and come to back yard. How can he charge my card without her verifying it. I told him to place order and i would pay cash when new driver got here. Again i told him that i was in the back yard entertainment and to come to back. I called Danielle again at the gate and told her what had happened. She explained that when she allowed Pizza Hut in she told the lady that we were in the back yard and to go to back. I didn't want to take another chance with this so i stayed in the house waiting on Pizza Hut to show up. When driver got to my house last night he came to the door. I showed him the tracker app which still showed that they were making the first order from 4:30. I asked him to go back and explain this to James since he didn't seem to want to believe me last night. I wasn't goign to tip the driver but i did top him $7.00. It wasn't his fault. I wanted you to see all of this so i tarried to copy my emails and screen. I am still beside my self with this. I ordered pizza last week and sat by the pool with a friend, followed your tracking app and everythign was fine. This morning i went and pulled up my text message again and it still shows yesterday's 4:30 order in process being made. I have tried to send screen to email but can't seem to figure out how to do it. Also when driver left and we got our new 3 pizzas one of the pizzas was wrong . It was totally cheese and supposed to have Pepperoni and Ham only. I noticed below that i show two meat lovers. I did not even get correct order.
Thanks, Susan. Your order will be delivered on
June 25, 5:50 PM
Delivery to
67 PANGLOSS ST
HENDERSON, NV 89002
(702) 534-7932
Your Pizza Hut
642 E. Horizon Dr.
Henderson, NV 89015
(702) 558-9032
YOUR ORDER - 3190625183600001313026597
Placed on June 25 at 4:36 PM
1 Large Hand Tossed Pizza, Garlic Buttery Blend
Specialty Pizza: Meat Lover's®
Whole Ingredients: Classic Marinara Sauce, Beef, Ham, Bacon, Pepperoni, Italian Sausage, Pork
1 Large Hand Tossed Pizza, Garlic Buttery Blend
Whole Ingredients: Classic Marinara Sauce, Pepperoni
1 Large Cheesy Bites Pizza, Garlic Buttery Blend
Whole Ingredients: Classic Marinara Sauce, Ham, Pepperoni
Delivery Instructions: We are in back yard in pool
Order Total: $64.78
HUT REWARDS: You received 96 pts for this order.
Excludes promotional points (e.g. Limited time point offers). All points will be made available within 24-48 hours of purchase.
Payment Method: Credit Card
(REMEMBER: Your credit card transaction will be processed by your Pizza Hut location and you must present your credit card to the driver at the time Pizza Hut delivers your order for a

Susan VanDeMark
from Henderson, NV
Worst experience i have every had with Pizza Hut. I will most likely never order again from you. I am a regular that orders almost every week. I have your app set up on my work computer so i can place order any pay with no worries. I track your the order from my phone. I have so many points to redeem due to i hardly ever use them. I always tip 25% to the drivers due to i know this is how they are paying their bills. Last night around 4:30pm i place a large order for 3 different large pizzas whihc is below. Under message i typed that we were all in the back yard and to come to the back. I live in a gated community. I called Danielle up at the gate and told her that Pizza Hut was coming and to make sure she reminded them that we were in back yard in pool and that it was ok to let driver in. I had my tracker on to my cell phone and i watch my cell phone for over 2 hours. When the pizza did not arrive i called the 702 # from my receipt below and got James. he told me that driver showed up and since i did not come to the door she left and order was brought back to store. He said he place another order and have it to me within 35 to 40 minutes but he would have to charge me again. I got upset and told him that i was tracking the order and my phone never showed order on its way. It shows that order was still being made in oven. He said that they had been have problems with the tracker app and there was nothing he could do. He said that he would take off 20 % off order. I explained that my order was over $60.00. That would put me at $100 for 3 pizzas. I had a group of people at my house with kids from Buffalo Wild Wings who were a witness to all this mess. I told him to place order and i would pay cash when new driver got here. Again i told him that i was in the back yard entertainment and to come to back. I called Danielle again at the gate and told her what had happened. She explained that when she allowed Pizza Hut in she told the lady that we were in the back yard and to go to back. I didn't want to take another chance with this so i stayed in the house waiting on Pizza Hut to show up. When driver got to my house last night he came to the door. I showed him the tracker app which still showed that they were making the first order from 4:30. I asked him to go back and explain this to James since he didn't seem to want to believe me last night. I wasn't goign to tip the driver but i did top him $7.00. It wasn't his fault. I wanted you to see all of this so i tarried to copy my emails and screen. I am still beside my self with this. I ordered pizza last week and sat by the pool with a friend, followed your tracking app and everythign was fine. This morning i went and pulled up my text message again and it still shows yesterday's 4:30 order in process being made. I have tried to send screen to email but can't seem to figure out how to do it.
Thanks, Susan. Your order will be delivered on
June 25, 5:50 PM
Delivery to
67 PANGLOSS ST
HENDERSON, NV 89002
(702) 534-7932
Your Pizza Hut
642 E. Horizon Dr.
Henderson, NV 89015
(702) 558-9032
YOUR ORDER - 3190625183600001313026597
Placed on June 25 at 4:36 PM
1 Large Hand Tossed Pizza, Garlic Buttery Blend
Specialty Pizza: Meat Lover's®
Whole Ingredients: Classic Marinara Sauce, Beef, Ham, Bacon, Pepperoni, Italian Sausage, Pork
1 Large Hand Tossed Pizza, Garlic Buttery Blend
Whole Ingredients: Classic Marinara Sauce, Pepperoni
1 Large Cheesy Bites Pizza, Garlic Buttery Blend
Whole Ingredients: Classic Marinara Sauce, Ham, Pepperoni
Delivery Instructions: We are in back yard in pool
Order Total: $64.78
HUT REWARDS: You received 96 pts for this order.
Excludes promotional points (e.g. Limited time point offers). All points will be made available within 24-48 hours of purchase.
Payment Method: Credit Card
(REMEMBER: Your credit card transaction will be processed by your Pizza Hut location and you must present your credit card to the driver at the time Pizza Hut delivers your order for a

Gary combs
from Tempe, AZ
I HAVE ENJOYED YOUR PIZZA FOR YEARS BUT THIS IS THE THIRD TIME I HAVE HAD A PIZZA DELIVERD AND IT WAS RAW IN THE MIDDLE NOT SURE WHATS GOING ON DOWN HERE IN CASAGRANDE AZ NOW THEY DID SEND ME ANOTHER PIZZA 1HR LATER BUT BY THAT TIME MY GUEST HAD LEFT LOOKS LIKE I NEED TO CALL DOMINOS NEXT TIME THANK YOU FOR YOUR TIME GARY COMBS

Cindy Hoy
from Naples, FL
I called to place a delivery order. The young man on the phone was rude, couldn't speak English very well. He wanted the address, which I gave to him. He asked how to spell the address. I repeated the address again and he said. " I dont know how to spell no Tamiami Trail." I asked to speak to someone one else and he hung up on me. I called back and asked for the Manager, her name was Cassandra. I r plainer what happened, she never apologized about the incident, in fact all she said was do u want to pls e an order, so I gave her the order. When we were done I said thank you, she didn't respond she hung up. Very uneducated help and the manager was as unfriendly as the help.

Mike charlez
from Phoenix, AZ
I ordered 4 large pizzas, they were all suppose to be deep dish but they were thin crust, they were suppose to have extra cheese, instead they barely had cheese. They were all suppose to be pepperoni and extra cheese, simple I thought. They were for my 6 year olds birthday that we had at the park. They were disgusting. I would have took them back but everybody was already arriving at the party. I won't order from Pizza Hut again!

I ordered two large pizzas today to be delivered to my home. One was Super Supreme pan pizza. I can tell you right now, if that is the new pizza you are so proud of you won't have to worry about me ever ordering it again. What was that excuse for pizza sauce? It looked liked, had texture like tomato paste. Ugh! Was there any cheese on that pizza? I sure couldn't find it. There was some areas that had something that resembled cheese. But nothing like what I anticipated. A new baking pan that delivers a crispy crust? My granddaughter said it tasted like "Play dough." Can you imagine? The texture of the crust was really weird. Not like pizza crust at all. So good luck with your new product, it's certainly not a pizza. I don't know where I'll order my next pizza. But I certainly know where I won't order it.

At 2:28pm on 6/12/2019, my daughter ordered pizza for delivery. At 3:30, the pizza had still not arrived. When my daughter called to check on the delivery, she was told that it was on the way. Another hour passed and she called again, only to be told by the Manager that she had personally delivered the pizza. This was a lie as the pizza had not been delivered to the house. I called to the restaurant (In Griffin, GA) and asked about the order and why after 2 1/2 hours, the pizza had not been delivered (it was now 5:00); the cashier said she didn't know what happened and would put the order back in and have it delivered. Another hour passed and my pizza still had not arrived; I went to the restaurant to inquire about the order and she said that the delivery guy had been gone about a half an hour to deliver the pizza (I am approximately 5 miles or less from the restaurant). He finally delivered to my home about 30 minutes after I arrived at the restaurant. While I was waiting, the Manager who claimed she had personally delivered my pizza came in and claimed that she had delivered a pizza on my street but her receipt did not have my address on it. I paid for the pizza over the phone and with a debit card. While the manager was "kind enough to give me my order free" (because I had only waited 3 1/2 hours for the damn pizza), she could not explain what happened to my order or if anyone had signed the receipt that had my name and card information on it. While I was waiting, another customer had been waiting for 30 minutes only to be told, "I don't know what happened to your pizza but they are remaking it." BAD SERVICE! They are pushing to get closed like the one in Barnesville if they continue to disappoint the customers!!! The Manager and cashier seemed to think that it was okay that I had waited so long and should just be content with the free, Cold pizza that was finally delivered to my home.

Branda Gulley
from Little Rock, AR
I proceeded to place 2 orders with your company the1st order being # 3190612193400001414013436 and the 2nd # 3190612182936001412013436 on 06/12/2019. I received a call stating that they do not deliver in my area and I have had pizza delivered here more times than many. However the call center canceled my order, I called the number back and was transferred to a rude supervisor who then transferred me to the local store. Upon stating what I was calling for I was then told by the local store that they do deliver in my area and to replace the order online because order 1 was canceled. After replacing a second order I then received another call from the call center by a Deon Anderson ( Supervisor) stating that they do not deliver in my area after the store told me to replace the order. He then mention he called the store and spoke with the manager on duty and it was verified that they do not deliver in my area, but he failed to get the managers name that he claimed he spoke with. Which I don't believe he placed that call. I have never seen a call center with the most rudest customer service reps ever. I just place a order with pizza hut yesterday and spent over 50.00 and if this is how a customer is to be treated I will take my business else where. There are many pizza chains all around and no one should have to deal with this .

tanya simmons
from Severn, MD
I will not ever go back to your Rossville Pizza hut in Maryland. I was visiting with my family and the staff was cursing at each and acted like they was outside have a free for all. The waiteress Elise was very good but the managers on duty was cursing at each and then talking about where they was going to drink after work. I was so disappointed because we haven't ate in Pizza Hut in a long while. This is by far the worst the managers was yelling a gentlemen in the back I guess he was the dishwasher because he looked older then the rest of the employees. He was very quiet and didn't say anything. BUT FOR MANAGERS TO BE SO DISRESPECTFUL TO OTHER EMPLOYEES IS OUTRAGEOUS. There was I guess 3 managers on duty they all had the same shirts on. The blone headed girl at the register ringing people up was very rude. and the other fat girl cutting pizza was so nasty talking to the older gentleman about the dishes. There was a very heavy set Manager that didn't say a word and aloud this disrespect to go on. Its a shame that that store has went down hill because of all the teeneagers running the store. I wish they had some people over 30 running store like they used when the food and atmosphere was pleasant. I have small children and don't need my children listening to this kind of conversation in a resturant

Monica Johnson
from Atlanta, GA
On 6/10/19 I placed an online order for one 3 topping medium pizza and 8 garlic Parmesan wings. The confirmation email stated the order will be ready in 15 to 20 minutes. I waited 25 minutes to eave the house. when i arrived at Pizza Hut my pizza was ready but the wings were not ready. I asked the cashier Jasmine how long would it take for the wings to be ready? Jasmine instantly got a nasty attitude with me as though I had no right to question her. Jasmine did not even great me with a smile. Her demeanor was as she did not want to work that day. she told me it would take about six minutes for the wings to be ready. I waited about 10 minutes before I asked her again. She eventually brought the wings out. I asked her what was the number corporate and she stated she didn't know it. I asked her to have the manager come up front to give it to me. She went to get the manager. Jasmine immediately came back without the manager and stated the number is on the back of the receipt which is untrue. There is no number on the back of the receipt. I left the store after asking what the manager name was. her name is Christie. as I was sitting out front of the store a lady came from the back (christie) and talked with Jasmine and stared into my car as I was calling corporate. The service I received today was totally unacceptable. i would like to her from someone at corporate about this HORRIBLE service I received.

lisa king
from Noblesville, IN
This is in reference to your store located at 15587 Cumberland Rd, Noblesville IN 46060 and the manager on duty tonight 6/10/19, named Andrew. My husband had ordered 2 pizzas and was told that he could substitute a different sandwich and his coupon would still be good. When he went to pick it up, the charge was going to be over $27 when the coupon was for $6.99. The manager told him that the substitution could not be made and offered no other solution to the fact that the person taking the order had made an error. The manager told my husband if he didn't like it, he could call the number on the back of the receipt. There was no phone number on the paper he was given. The manager became irate when he had to go and obtain the phone number to your corporate office. My husband called the number in front of the manager just to make sure it was a working number. In the end, we had to drive across Noblesville to the other location in order to get our food. We have had repeated issues with this location over the past few months, including their website site not working properly and calling the store to order and being told it was our fault that the online ordering was not working and we would not be given the online discount price. The employees here are rude and could seem to care less whether the orders are correct and that customers are in the store. Obviously, management is extremely unprofessional. This will probably be the last time we eat at Pizza Hut all together. There are many new specialty pizza places opening around us. We have been life long customers of your restaurant, but with continued poor management and lack of food quality, we see no reason to continue to waste our money with your company.
Sincerely,
Very disappointed life long customers

Peta
from Thames Ditton, ENG
Every time I order from here, (walton on thames Pizza Hut) something is wrong with the order, this time The food took over an hour to arrive (I called up Pizza Hut) the guy said he was sorry and that the delivery driver had left a while ago and proceeded to offer me a free pizza next time I order.
However I shan't be ordering from here again as the last time the garlic bread was sent with cheese when I specifically asked for no cheese, as well as this the delivery driver forgot to give our drink and had to drive back to do so.
The previous time to this I was called up and informed that they did not have all of the ingredients to make my pizza (which I appreciated) but then the person on the phone proceeded to offer me a free ice cream (which never arrived with said order) again the food took over an hour to arrive.

Robert Arena
from Beaumont, TX
I went to pizza hut on college street in Beaumont texas. I was waited on by Laquisha. I ordered a medium pizza and the charge was approx. 13dollars . I mentioned that seem high for that order and what was the special. She seemed very agitated at me for even asking since I had already paid. I said she could have mentioned the special to me, she said she would have to cancel the prior order and she seemed like she did not want to do that at all. I said yes redo the order and I' like the special order. She walked to the back for some time and came back and reordered for me. I saw her huddled up some other workers in the back. I thought this is not gonna go well. Sure enough later on a male worker called my name and said my pizza was not right and they'd have to start over to which I said o.k. after everyone in the place received their orders there I was still waiting, so I went to the counter and Laquisha said with all the smugness she could muster that they FORGOT to put my pizza in. I asked her to cancel my order and she said no way. I called her a sorry worker and left. I have never received a cancellation on my card and I was charged twice for the order I NEVER received. I have been a loyal customer for decades and usually order from Dowlen@ calder locale but I was on the road. I have never been treated so bad in my life. I know she was pissed off for having to redo the order, and she and her minions made wait and wait and wait. So I've paid for 2 orders that I never received. The unit # is 0027018 if that helps. I will tell everyone about this as well as social media blitz if this not resolved asap.

Kenneth E Nicely
from Covington, VA
Wife placed a order at 6:15 pm. They told her it would be ready in 20 mins. We sat there til 7:26 pm before we got our pizza. They were telling people that came in it would be more than an 1 hr. and a half before they could place a order and there were not that many people in there. Customer service has went down the drain with Pizza hut any more.

Cody Stevenson
from Pleasant Grove, UT
In my Order there was supposed to be two, two liters of Diet Pepsi. And they only brought one. When I called and spoke to the store manger was supper rude about it and tried telling I didn't order and Pepsi. So the one I did get was free. And I was looking at my online recipes as we was speaking. The guy was just plan on rude and treated my like a dumb fuck. I am not happy at all

Yesterday was our second pizza that we ordered in two weeks and both pizzas had no cheese and very little sauce . It was terrible! We live in a small town with only one pizza restaurant. And we have always enjoyed Pizza Hut . Please help

Tiffany keyes
from Indianapolis, IN
The worse place ever! I go to pay for my order and this fat ass fool with a damn hoodie on who can not talk mumbles once she takes my 50.00 dollar "I can't take that...!" I'm like why.... a gentleman was sitting close asking her why she can't take it.... he asked if she had change.... she said yes but I'm not taking it! Who does that! It's fine to not take the money but why would u take my money and open the damn drawer and show that you already have 50.00 in your drawer!
Why do y'all hired ppl like that?
I spoke with the manager named precious who really did nothing but listen! So now it's my mission to shut that place down!
Get ready to have to get another job!

I was trying to order pizza by phone and she kept putting me on hold, I was on hold for over 10 mins and staff told me I would do better by ordering on line so I did by was she was already being rude stating she was the only one up front. When I arrived there my order wasn't ready for schedule time so I WAITED FOR FIRST ORDER I HAVE 5 ORDERS I BROUGHT THE 1ST ORDER BACK TO DESTINATION. RETURNED BACK NO ONE WAS ATTENDING TO FRONT DESK PEOPLE CALLING STAFF SHE IGNORED THEM.WHEN SHE DECIDED TO CHECK ON MY ORDER I ASKED HER WAS SHE GIVING ANY KIND OF DISCOUNT FOR THE OUR WAIT SHE GOT LOUD AND ASKED DID I ONE THEE ORDER OR NOT I TOLD HER SHE DIDN'T HAVE TO BE RUDE AND SHE NEED TO HAVE BETTER CUSTOMER SERVICES AND I WAS GONNA TO REPORT HER AND SHE SAID PLEASE DO SO AND HER NAME WAS LAURA AT STOE IN ROSENBERG TX AVE H AND MY FIRST ONLINE WAS AT11:37AM AND I LEFT WITH NOTHING ABOUT 1:10 AND HAD TO GO SOMEWHERE TO PURCHASE FOOD FOR LUNCH AND SHE SAID SHE WAS CO - MANGER AND IT WAS A LOT OF OTHER PEOPLE COMPLAINTING ALSO AND WITNESS HER BEHAVIOR. ORDER #3190605113734001313032268 AND IT GO ON WITH 4 M0RE ORDERS. MY PHONE# 832-477-1122

Carlotta Powell
from Texarkana, TX
The store in Atlanta TX has a manager that is very rude and unprofessional. She talks about whooping people's *** with customers in the store. She continues to try and start a fight with a past employee. It has done no good to report her to the store manager or the district manager because they are all friends and back each other. She has gotten everyone else that works there to harass my daughter that no longer works there. They are constantly sending her pictures and telling her that Ashley is waiting for her to show up so they she ( Ashley ) can whoop her a**.

Tamberly McIntire
from Bedminster, NJ
We get to the PH at 11:18. One pizza
on the Buffett. The manager tells me they had to throw everything away and start over because it was old!!!! Really? Buffett opens at 11! I come here at least 4 times a week! And not one time has it been a perfect experience. Seven dirty plates today. That's a record usually the average is 3 before I get to a clean one. And silverware is worse!

Peggy Iddings
from Culver, IN
A small group of ladies (five) meet for lunch once a month. This month we chose Pizza Hut in Lagrange, Indiana. We are working ladies and have one hour for lunch. We arrived at 11:30 and all had to be back at work at 12:30. We placed our order. I understand that they were short handed as the manager has been in the hospital. After half an hour 2 ladies received their lunch, one order was correct, the other order (mine) was not correct, but I chose to eat it. The other three ladies did not get their orders until 12:25. One order was salad, bread sticks and wings. The only thing she received were the wings and had to ask that they be boxed as she had to get back to work. The next order was soup, salad and bread sticks. She received her salad plate and ate her salad. Her soup and bread sticks came at 12:25 and again had to be boxed and taken back to work. The fifth and last order was a personal pan pizza and bread sticks. The pizza came and had to be boxed up and she had to ask about the bread sticks. This made all of us late getting back to work. When we went to pay, one of the ladies explained that it took so long to get our order and we were unable to eat. She was given her order free. The lady taking the money was very rude explaining that the manager had been in the hospital and they are short handed. I was the last to pay and she never said "thank you", "kiss my butt", "Sorry it took so long, but please come again.". She didn't even acknowledge me when she handed my change back. We were all five late getting back to work. It was not a good experience.
As a former Pizza Hut employee, I was taught to make eye contact and greet everyone that came thru the door. This is no longer taught in your training apparently. The waitress never came and explained why the food was taking so long, offer refills, no pre-busing, nothing. I was very disappointed in our service and treatment. It will be a long time before we choose to go to Pizza Hut for lunch again. I used to enjoy going to Pizza Hut. Thank you for your time, and addressing my complaint.

Pamela McCauley
from Richmond, VA
I called today to place a order to be delivered, I gave my order, while the employee was rude to begin with, I asked how did my order go from 19.99 to 30.00 dollars. She was even more rude as she explained it. I then asked her to add on the tip for the driver since I had to pay by my debt card, she got rude again and stated well you can just tell the dirver and add it when you sign the receipt very rudely! In all the years I have been ordering from Pizza Hut I have always had the tip added while I was placing my order! I told her I have always had it added when ordering, and she got rude with me again you can just sing the recipet and add it then. So I canceled my order!!!! I flat out refuse to give my debit number to someone who obviously needs an attitude adjustment! If my placing an order is such an inconvenience to her. then I guess she doesn't need my money to help pay her pay check every payday either!! I think Im just gonna be shopping at little cesars or papa johns from now on!!

Fariha Rizwan
from Lahore, PB
on 31-05-2019, at 4pm in the afternoon, I ordered a pizza via pizzahut telephone line at Total Petrol pump outlet on Airport Road, Lahore Cantt. I went there after 20 minutes or so, to pick up my pizza but it was not ready. So your staff took my order again. Despite the fact that I remained waiting outside your outlet, after giving my order, for almost an hour or so & despite my repeated requests & reminders, your staff at Total Petrol pump outlet on Airport Road, Lahore Cantt, did not show any concern to give me my order, which was highly unfair with me.
Therefore I hereby formally lodge my complaint against your staff at your aforesaid outlet.

Lynda Clayton
from Bedminster, NJ
Called in an order for pick up at the Roxboro N.C. Pizza Hut. Went to pick up order, got home 20 minutes later and realized no sauce for breadsticks. This is a simple issue but there's a lot larger problem. I called Pizza Hut and after being transferred to several different people, I heard on the phone an employee say "I'm not listening to this sh*t". I asked to speak to the Manager and a female finally picked up the phone. I began to tell her about the frustration of not getting what you order at this location (as it's steadily worse). Her reply to me is "you can kiss my a*s" and hangs up! What in the world kind of staff or better yet management do you have at this location? I followed up immediately by calling the customer complaint number and was told that someone would call or contact me via email within days. I've heard nothing from anyone! This leaves me to assume the problem is a lot larger than this one location. You may contact me at 336-504-9644.

Inda Mason
from Fayetteville, GA
I placed an order for 2 med. Perroni called in at 7:05 made sure i was 5 mins late as he told me 20 mins. I got there at 735 pizza not ready I finally got my order at 815 said it just came up not when he handed me the pizza the box was warm never again

Jeniffer
from Philadelphia, PA
I had order online and manager didn't want to give me the pizza because he was assuming it was already picked up. Witch it was never picked up even with the pizza being in the side with receipt. The other thing is that he was training other manager that seemed very lost and confused and even told me I am very sorry. This other manager human resource should speak to because he is really not in a manager roll and not cooperative what so ever. Assuming things without even verifying

I had a large pizza delivered payed 17.30 it was cold ang not enough sauage on it

Pizza Hut in Kyle Texas ordered 4 pizzas on Sunday afternoon, I love Pizza Hut but this was horrific I called and asked if Special was made less Quality...it very little meat and hardly any cheese..I was embarrassed to serve it..,I usually eat what's left in the morning
We had too throw it away it was very hard and dry..I called and Spoke to a lady Manager and she could care less....Be careful iza Hut t love it but there are many choices

amanda parks
from Demorest, GA
order a cheese pizza today 2nd time this has happen but this time was bad cheese was brown and overcooked my son who is 30 try to tell the manager and she talked him like a child and real hateful told him their was nothing wrong with the pizza gave no choice but to keep this pizza store was cornelia ga may 31 2019 I will not go back she made me feel uneasy never have I complained but this time it was bad

Donna McAllister
from Cicero, NY
A friend and I went to Pizza Hut in Cicero, NY.The sign said all you can eat. That started at 11.30. We got there about 10 to 15 minutes later. When we up to the buffet, all that was left of pizza were 2 pieces thin crust pizza. She took that and went back to our table. She said it was dry from sitting out.
I went to get something from the salad bar. I rested my arm on the side the table top was sticky. When I opened the napkin to get my utensils out, the fork looked like it still had food on it. I went up and asked the hostess if I could have another fork. She gave me another napkin. The same thing happened. My friend let me have her fork. When we finished, we asked to see the manager, she said he will be out in a few minutes. 15 minutes he came out. We told him our concerns. was told that the forks are just water marks, that there was plenty of pizza and that they had been busy. (we walked in 15 minutes after opening.) He just seemed like he didn't want to be bothered with anything we had to say. We will not be going back to Pizza Hut again. It is suppose to be customer oriented. I guess not.

Bobby B
from Bellevue, WA
Are your stores all corporate Owned or franchises also? I'm in one of your stores at River Bridge shopping center in West Palm Beach, Fl faces Jog Road # 6728. Time is 128 pm. Friday the 31st of May. I have pictures of the front service counter and cash register areas where we pay and are served our orders. THIS COUNTER HASNT BEEN WIPED CLEAN IN A WEEK OR MORE. Makes me wonder if what's in my immediate area is filthy then what's hiding in the back or beyond my vision? The warmers behind the counter with the glass doors have more hand prints then a finger print system the government has on everyone ever arrested. Same for the front door just a few less. The front door I can understand customers with kids pushing the glass but there's no excuse for the doors on that warmer behind the counter. Someone from corporate needs to sneak in this place ASAP. I really wanted to just leave and they can have my money but I got my food timely. For the sake of your good company name someone needs to look at this store from our side of the counter. Remind your staff it takes two minutes to spay glass cleaner and wipe the warmer doors and USE THE HANDLE TO OPEN AND CLOSE THEM ! Understaffed? Call me I live across the street I'd be happy to clean this mess once before opening for free. Every day ! 305/763/5471. Thank you. I have pictures if u really want them or need them but it be best to just walk a supervisor in unannounced. If u want ther 3 pictures feel free to contact me at the number above or my email.

Carlos Herrera
from Memphis, TN
I ordered 2 large pizzas and 6 lemon pepper chicken at 6:08pm for delivery. I called back 2 hours later to find out that my order was cancelled by the call center. I called the call center and they said the store did not have any large pizzas, so I said change the order and give me two medium pizza and the lemon pepper chicken. I called the store at 9:30pm to verify my order and the lady had an attitude when I asked about my order, she placed me on hold and never returned to the phone.Now it is 9:59 pm central time, I hung up my phone, I have not received any pizza, I'm hungry and very upset at PIZZA HUT. Now I have to get in my car and drive to the nearest fast food restaurant and get something to eat that I don't want to eat.
Sincerely Yours
SGT. Herrera, Carlos J. RET.

We ordered dinner at 7 om. The estimated delivery time was max 77 min. I recieved a text that order was on its way. 20 min later I called as it did not arrive. They said they were short drivers and he was delivering. 20 min later I called again. Spoke to the manager. It was still there in the hot box. 20 min later it arrived cold and short one pizza. Called manager again. I told him I want credit and the pizza. He said okay and that it would be 1 hour. 90 min later I called.
It was still there. Finally arrived again cold and the wrong toppings
Not happy at all
. We had dinner after 10 pm.

My family and I ate at Pizza Hut in Diamondville, WY on Sunday May 26th and we were so disappointed. The salad bar was the worst I have seen. It was so messy, unclean and the salad bar food was definitely not fresh !!!! The containers of food was almost all gone!! And the over all place was very messy with trash and food all over the floor !!! I have lived here for over 20 years and never seen pizza hut such a mess!!! I am so disappointed in that place and we use to love to eat there !!! It has been going down hill for awhile now !!! Was excited to know they were getting a new manager but it seems worse than before !! It breaks my heart to see this because so many people use to eat there and many people stop going because it is not clean and poor management !! I'm sorry to complain but really want to keep the pizza hut going because we don't have that many places to eat here!!! Please send better management or something !!! Please !!!!

We ordered two pizzas and a cookie from 9672 Sunset Drive in Miami, Florida 33173 at approximately 2:20 P.M. in the afternoon on May 27, 2019. At 3:30 P.M. I called the location and was advised the Pizza should be there soon. At 4:10 P.M. my pizza still had not arrived so I called to speak to a manager and was placed on a hold for 10 minutes. I called back several times and no one answered. We then used my wife's phone to place the call and someone answered. They finally allowed me to speak with the manager, I explained to the manager that the Pizza finally arrived at 4:17 P.M. and the pizza and the cookie were cold. The Manager stated that he would send out a new order. Needless to say I never received a new order and had to microwave my pizza. I believe it may be time for training the manager properly. I will no longer order from Pizza Hut. Horrible experience.

So disappointed. I have always used Pizza Hut over Dominos as you used more toppings and more flavour but I've just taken delivery of a large pizza with less toppings than and Dominos pizza with zero taste.
May as well set fire to a £10 note!

Darrell Meadows
from New Iberia, LA
I realize ANY restaurant can have a bad day, staffing issues or any number of other problems that might pop up.
Therefore, the first bad experience at any eating establishment doesn't cause me a great deal of distress- give them another chance .
HOWEVER, this is my THIRD visit to the Pizza Hut in Eureka Springs, AR and I can honestly say it will be my last.
Every time I've come into this restaurant, there is a problem, not enough staff, busier than we expected, or they are out of something. Today's problem?? I walked in to a restaurant with 4 occupied tables and at least 10 dirty tables. I was greeted at the door with " have a seat if you can find a clean table". REALLY?? That's how you greet customer?
Secondly, the young man who came to the table said "can I help you" When I began to order, he DARTED off and returned with menus and a pen and paper . "I'm sorry, we are so busy"
Third, when ordering, we were told they are out of beef for a meat lovers pizza .
If they are out of ingredients for a dine in customer, then drive through is suffering too, not to mention delivery, if they offer such.
Corporate needs to pull this franchise license and see if they can find ANYONE who knows how to operate a food service establishment.

Malinda Yeargain
from Anna, TX
They won't deliver to my housing addition but they will go 3 more miles down the road to deliver to a different housing addition. That's ridiculous!

I have complained about this before awhile ago but you still have not fix the problem. Ordering on line you can not put what sauce you want and how much you want. It's frustrating that you can't order on line.

Marita Fields
from Hartford City, IN
You sent me a coupon via e-mail on May 20 that says it expires on May 26. I tried to use it today (May 25) and you gave me a message the coupon had expired?
If that is accurate, why did you not put a different expiration date on it?
M. Fields
fisherman82083@aol.com

Pizza hut doesn't care customer satisfaction even loyal customers.
I'v been using pizzahut in sharjah university city.
I'v been ordering more than 20 times in less than 4 month.
it means I order more than one pizza almost every week.
Of course, I've ordered pizza a lot. and pizza hut made a lot of mistake because I tried their pizzas a lot. It's quite natural.
1. they made seafood pizza in a poor quality. that's why I never order seafood pizza.
when i ordered the seafood pizza, bad squid smelling was from pizza. also squid looked very dried and small becuase it is already dehydrated.
dehydrated squid means the storage of seafood is very poor and worng. especially squid is easy to be bad compared to shirimp.
2. poor customer service reaction.
Even though they delivered wrong pizza to their customer and their customer service staff told me that i can get the pizza which is supposed to be my place later whenever i want. and i can eat the pizza so i ate it then, what they say is because i ate the pizza, they will offer me the smaller size pizza later.
what the poor service mind is? ok then after 1 week i ordered the free medium pizza which is supposed to be here but they say totally differently.
they told me that I must order one pizza and then they offer me the free extra pizza.
I really don't understand their attitudes to loyal customers.
I now understand why their rate of score is less than 2 out of 5 on zomato application.
I don't want to use pizza hut anymore which doesn't have any morality and profressionalism.
they don't care people. they only care money. Actually making pizza is one of the profitable business
Because it's very easy to make it, and the source of ingredients such as mozarella cheese and dough and sauce are very cheap.
and they get the more than 60AEd for one large pizza.
such poor company is.
.

After waiting an hour and 15 minutes for a large stuffed crust pepperoni pizza I was told it would be six more minutes. While waiting inside I check 7 minutes later she said it is almost done. A gentlemen comes in and hears me and said Skidmore. Here is your order I got back to work and it isn't mine. No wonder papa John's is doing so well and Little Caesar's is coming.

On May 23, 2019, I ordered 2 large pizza's on line for a delivery at 11:45am.Store #032465. I received a call at 11:20 am telling me that had had some problems and if it would be ok if it was a little late? I asked how late and was told I would have it by 12:00pm. I told them it would be ok if they could have it to me at noon. At 12:30 I still had not seen it or heard from them. I called Pizza Hut here in Rolla, Mo, where it was coming from and they told me it was on its way. It is maybe 1.5 miles away from where they were delivering it. I met the delivery driver at the elevator at 12:50. There were 8 of my employees who did not get a lunch because of this. I would not recommend your store at all. When we did get the pizza, it was cold.
Becky Peterman
573-578-8359

Kevin Simpson
from Germantown, MD
Pizza Hut I. Broken Bow Oklahoma filthy,rude service out of everything no air conditioning flies everywhere. And it's like this all the time.It used to be a good place to eat but now I wouldn't let my dog eat there the health dept should close it down.

I dealt with the Sydenham Branch, Christchurch.
I ordered a thin and crispy, super supreme. I had to upgrade as it did not come in small size.
When I got home it was a pan, which was undercooked and very doughy.
I telephoned, at the time, to let them know so they could get their act together. I was informed they would write in a book my issue and give a refund.
I went in today to show my receipt and get a refund.
The counter staff, were very dismissive, and no apology, and no sorry for the inconvenience.
No customer service whatsoever, which after all the hassle I actually had was pretty poor.
I feel you need to do some retraining of staff to be more polite and expect better customer service from this outlet.
If this is how I am treated why would I bother to go back!
Y M McDonald
37 Acorn Close
Waltham
Christchurch 8023

Please monitor the Lewiston, Idaho pizza hut on Facebook at "LC Valley Reviews Closed group" every couple weeks there is yet another negative post about the local Pizza Hut restaurant. You Closed the Clarkston, WA one and it appears that just maybe you closed the wrong one.
Are you wanting to close the Lewiston location also? Your manager and crew there are ruining your business... and from the looks of the complaints on your website, it's apparently happening all over.
I went through GM training at Taco Bell in Bakersfield back in the Spring of 1995, and I know that what is going on at the Lewiston, Idaho Pizza Hut shouldn't be happening..
Sincerely,
Kerry Moser

Bryandria duff
from Cleveland, OH
Hello I am writing this letter with total anger with one of your locations 4300 macsway (eastland)Columbus Ohio 43232. I placed my at 3:44pm est delivery said 4:30 as I am typing this complaint my pizza just got to my door at 5:48 all the food was cold and not to mention I couldn't even try to cancel nor check the status of my order because they quit answering the phone and then I called the hotline and I spoke with 4 different people to transferred numerous of times and to tell me their is nothing they can do because the call center can't see online orders. To say the least I am furious with my service and the company totally angry. The service was so horrible my driver suggested I keep calling to get my order remade and to get a credit on my account because I was not the only customer complaining and sent their food back to have remade. I am asking someone please to contact me back in regards to this matter cause something needs to happen. My confirmation number was 3190520144420001331035525 and my telephone number is 6149722081

mya wilson
from Sugar Land, TX
I placed my order for delivery at approximately 7:15pm, & my credit card was debited for $37.00 dollars. I was told I would have my order within 30min. 1 hour later no delivery, I contacted pizza hut 3 times following up and they kept telling me my order would be arriving within minutes. Finally 2 hours later I called and waited 5 min on hold to finally hear that they could not deliver my order due to weather. what is this all about. I called dominos placed my order and had my delivery within 20 min. I am most certain pizza hut does not want to service there customer this way. Do you not think they could have at least apologize to me...they were so rude. I will be sending the corporate offices of pizza hut a service complaint letter with the details to my evening which was inclusive of 3 hours and 15 min of my time being spent in placing an order that my family and I never received. I am sorry for having to be so negative but, really this was a terrible evening for us and I just felt I need to spent my time in letting others know. God Bless. MMW

Claudia Marshall
from Jacksonville, FL
Ok I used the online ordering today. I thought I had ordered a Specialty pizza and a pepperoni pizza. I ordered this @ 12:35 p.m. the online app said that it would be there in 30 to 40 minutes. The place is 5 minutes from the middle school where I teach. So @
1:25 p.m. he arrived I had 3 minutes to wolf down a piece and found that not only did I not have a specialty pizza. I had two pepperoni pizzas. So I called back, to complain about the order. Unfortunately, we had a fire drill. I had to stay with my class so by the time I got back he was gone. I called the store this afternoon. The manager said or the assistant mgr said I could only get 10% off and they were writing off one pizza. But my price was 29.00 dollars! I just don't think they were understanding how messed up this was. I got mistakenly 2 pepperoni pizzas in the middle of the day and I had bought Cinnabon's also that should have been there on time. I can't return food easily that was my lunch now. I was treating some coworkers with this lunch also. I also got a complaint from the manager about how he only had one driver. So should I get the wrong order late because he can't get a driver? I already like Marcos better but I was using Pizza Hut cause I was gonna buy Pizzas for my students. I feel like you guys cheated me and didn't try to make a good faith effort. If you don't fix this better than you have. I will go to Little Caesar's. I will find every opportunity to complain. Can you make this right?

russell eppinger
from Austin, TX
I order pizza at 6:03pm on 5/6/19. Estimated delivery time: 36 - 46 minutes. called into pizza hut to get a update at 6:56pm and they said that my pizza is ready but it will be another 30 minutes and hung up the phone

Rev Joanne Lewis
from Phoenix, AZ
The bible class of our senior community ordered 8 pizzas from the store on 43rd ave here in Phoenix AZ for our annual pizza party.
The delivery was on time; the pizzas were great,,, but we discovered that we had been shorted three pizzas. ( we paid for 8 and only received 5) We thought the delivery person would notice the error and deliver the missing pizzas,,, he didn't. ( and we tipped him generously,,) guess its our bad for not checking before he left. we didnt notice the error until we ran out of pizza, and we should not have,,, we ordered enough for each person to have 2 slices.
really disappointed in Pizza hut cheating us

Bob and Pat Nesbitt
from Asheville, NC
Called to order dine-in pizza. Automated call picked up when local store did not answer. Local said we could not order ahead and dine in, but allowed us to. Got there at 9:10 pm. Closes at 10:00 pm. Salad bar ready to take down. No spoons or serving utensils. Had to ask for fork to eat with. Ate pizza out of box. Going down for some time, but this did it. Time to complain. Thank you. The only waiter said he had to leave in 20 min. Proceeded to take salad bar down.

Sue Latham
from Wentzville, MO
5/5/19
Good Morning... my name is Sue Latham. I am a senior citizen who just wanted to go sit down and have a pizza with my husband and our friend. We went to the Pizza Hut located in Troy, Missouri on Friday May 3, 2019 around 6:30 pm. We called our friend and ask him if he wanted to go get a pizza and he said yes and he would pick us up in 15 minutes! I grabbed my phone (which has my debit card in a slot on the case) and off we went. We went in and the waitress was just delightful. Could not have ask for a friendlier face to represent your company. The two guys (both over 50 years old) ask for an ice tea and I ask for a bud light. The waitress ask for my ID... of which I giggled since I am in fact over 60 and she said the manager had to see it. I didn't have my ID with me as I was not driving. So one of the guys ordered a beer. The manager came over and looked at my friends ID and then they served him a beer. Yes... I drank it.... It is good to drink with pizza and by the time the pizza came one of the guys ask for another beer. The manager (Craig... rude Craig) came over and said he knew I drank the beer and we could not have another. He said he had to see my ID. He said he could lose his liquor license for serving me. We thought he was kidding because again.... everyone at the table is OVER 50 and I am over 60. We giggled... He said he would have ask us to leave had he not known us. (I had never seen the guy in my life!) He was just rude.
The pizza came (overcooked would be an understatement) and we ate it and the guys walked outside and I went to the little window to pay. I ask for Craig and when he came to the window I told him... the law states you have to be over 21 to drink alcoholic beverages and it was clear I was and there was no chance of him losing his liquor license and the only thing he lost that evening was future business and a bad name for how he treated me as a customer, a senior citizen at that... and for me to notify the corporate office of how he treats his customers. I told him from the number of people in the restaurant it didn't appear he could afford that. I handed him my debit card to pay and he ask me to move over to the other machine. I was fine there and said I would wait there. He said the guy standing there was on his machine and to move over. I said I was fine there and he threw my card at me and ask me to leave. There was no one waiting in line to pay nor was there anyone there to pick up pizza thus not necessary for me to move. Yes I was angry by his rudeness at this point. Social Media is a big thing now and I have not posted anything yet, but I want you to know how disappointed I was in his behavior and service.
I feel bad for the little waitress as she did her job and she did not get a tip because I always add it with my debit card. Not only was Craig rude to me, he prevented one of his own employees from getting a tip she deserved. Again... what a shame.
Thank you in advance for addressing this matter with Craig. His rudeness was unacceptable. I will wait until I hear from you before I turn to social media.
Regards,
Sue Latham
218 Lincoln Lane
Winfield, Mo. 63389

Amy Chew
from Kuala Lumpur, 14
Today I called up call centre order pizza at 4.36 pm spoke to Mr Lim who informed that needed half n hour delivery . I agreed, after 5.28 pm I still did not receive my pizza, my children are very hungry n crying . I called up call centre again at 6 pm spoken to Cik Nak
She said the Bdr puturi branch Mgr will called me , after 10 minutes the branch Mgr Cik Fatimah called up and told me
That my address was not under their coverage , she asked me to Cancel the order! And she said she unable to contact me ! OMG ! Yesterday I
Did order Pizza Hut , Pndanfood able to called me why she unable to call me , I was extremely angry n unhappy on the Pizza Hut Mgr service , 6.15 pm I called up call centre again spoken to Mr Lim who I order Pizza from him at 4.36 pm . He just told me the Bdr Puteri Mgr will called me . OMG , I told me all the incidents happened, he just reply me the same! 6.35 pm Cik Fatimah called up with unfriendly sound n informed me that pizza will reach my hse after one hour! OMG ! What kind of service level! Pizza Hut is international brand which downgrade by certain staff '! Really spoiled my whole day mood ! Pls explain n investigate it n explain to me !
Unhappy Amy

April Guilford
from Lenoir City, TN
Yes, my son had ordered 50$ worth of food to be delivered today from the Sweetwater TN location. He called gave order over the phone, and gave his card info over the phone by someone apparently customer service line, talked to a man who had a accent. He told him pizza would be here in 20 min...he called at 9:40 pm. Nothing ever came! And you can't get ahold of anyone in restaurant line....I drove to restaurant around 10:45 pm due to no delivery, useless customer service agents and unable to reach store, to go before closing to see what's going on. Nobody was there and restaurant was closed with lights off etc. No cars there neither. So my son is worried someone stole his card information and we will be seeing the restaurant tomorrow and this needs cleared up, and especially if his card has been charged etc. We are extremely upset with this matter! I expect a phone call, email or something as soon as possible. Because we will be coming in that store to clear this up! And if his card info has been jeopardize in any way by whomever pretended to take his order or whomever it was, there will be charges charged legally. This is ridiculous! Tk you!

Nichole Thompson
from Denver, CO
When I went to the store, no one greeted me when entering or leaving. Wait for about 15 minutes before someone helped, no one apologizes for the inconvenience. Workers in the back talking and laughing.
This is not acceptable. I work in the customer service and the main goal is to be friendly.  I am not asking for a friendship but a simple hello would be appreciated. 

David L Allgood
from Muskogee, OK
On Feb 6, 2022 called in order for large pizza supreme light on sauce with extra cheese on top.
After picking up the pizza and getting it home we saw that it DID NOT have Extra Cheese on top, matter of fact it had very little cheese at all on the pizza. Plus when we picked up the pizza they said it was just coming out of the oven. However, 10 min. latter when we got it home it was cold. The ticket even said ex. cheese, so no one ever read the ticket.
It was by far the worst pizza we have ever had. a frozen pizza would have tasted better. We live in Miami OK. there are several other pizza places and we never expected that Pizza Hut would be the worst. This is not the first time we have had poor quality pizza from Pizza Hut. We are very disappointed in the quality of the pizza from from Pizza Hut. this was out last attempt to get a good pizza from Pizza Hut. We will be taking our pizza business elsewhere. If need be even to Walmart for a "frozen pizza' which would have been better than this one. Out of a scale of 1-10 with 10 the best, this pizza would have been a 1.
sorry for the slam but we expected more from Pizza Hut.
Dave Alllgood
Miami Oklahoma

Michael Isbell
from Jena, LA
I don't know the problem, but our local hut in Vidalia LA. Closed at 8 when their door clearly states they are open till 10 on Sunday nights. Don't know if it was a staffing issue, or what. There were 3 people there and it's a take out/ delivery only store. I had my mouth set on buffalo wings. Guess I'll be visiting Johnny's pizza from now on. I sure hope you all can get the problem fixed for others.
Thanks

Buster ember
from Louisville, KY
I ordered a pizza for delivery and wings the pizza was wrong toppings

Joel Woodrum
from Midland, GA
When you call it goes to an answering service. This is the 3rd time it was not sent to the store. The manger here took care of me which I'm thankful for. But the answering system is horrible.

Caitlyn Nicole Singh
from Henderson, KY
I ordered pizza during midday today and it never came for hours so then I woke up from a nap and it still hadn't been here in my five year old was wanting the pizza asking me for it so I yelled and ask my brother in the other room to order a pizza because clearly it didn't go through for some reason so then the pizza finally comes the second time we ordered but it was just a medium Pizza inside of a square box that was supposed to be a dinner box with cinnamon sticks breadsticks and a pizza even the pizza was supposed to be cheese and it came pepperoni I've never had experience like this out of Pizza Hut but this extremely has me upset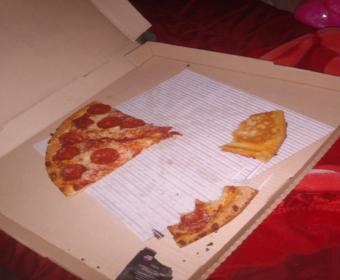 Lee odom
from Key Vista, FL
Waitress Amanda I believe was rude appearance was dirty she was doing drugs in your parking lot when we left order was wrong she has no right serving food or speaking to customers worst experience of my life I'll never go back

Yesenia Davila
from Fort Lauderdale, FL
The Manager Sonia without last name is the most inept manager that a store can have. She lie about my order, over and over again. The order supposed to arrive a 240 pm at 313pm I called to asked about it, and she said 3 min away. The pizza never arrived and when I called to asked again she just said the driver knock my door but no one answer (according with him) when my family was on the livingroom waiting. No one call me to let me know was going on. And like me there are many other neighbors with the same situation with the same rest. 314 E Dania Beach Blvd Dania FL 33004

Laquinta Hardison
from Hawthorne, CA
My complaint is with the Pizza Hut located at 11115 Crenshaw Boulevard. I ordered a pizza around 8 p.m. to be delivered to my home. Delivery never arrived never came. I called to see what happened and the phone was off. Then I decided to go up to the Pizza Hut to get my pizza and the door was locked but I saw people in there cleaning up and Counting the register. I begged the girl to please open the door but she just kept mouthing we are closed. I was charged $28.70. I decided to go to my car and wait on someone to come out so that I could talk to someone. When they came out I voiced my complaint respectfully and they all ignored me again and proceeded to get in their cars and leave I was not even given a chance to to be heard nor get a return from my money. There were two ladies and three men. 1 African American lady one Hispanic lady with blue or green hair three American men. I was disrespected and I felt very embarrassed after knocking and yelling from outside in the cold wondering what happened to buy food or to at least get a refund. This happened on December 24th around 9 30. I have never been treated by a staff in such a disrespectful way. I was treated as if I was a bomb begging for change or something. Mount my banking Institution will not reimburse me for the money they told me to take it up with corporate Perry Oh well I would love to see if those employees be reprimanded for the horrible disrespect that I experience and I definitely want my money returned.

Beatrice Bechard
from Lavaca, TX
I have been trying to call the Corp office and as of now I have been listening to it ring for 8 minutes is this how you handle business ? I had a very bad experience on Dec 14th and still can't reach a manager. I really feel the need to speak to SOMEONE ASAP.
Beatrice J Bechard

Jo Freeman
from Hendersonville, NC
I love Pizza Hut and order there frequently. I called the local Pizza Hut on Four Seasons Blvd in Hendersonville, NC for take out. The lady who answered struggled with English. I could not understand 1/2 of what she said. I wanted 3 personal pan pizzas. She kept misunderstanding what I said. Finally, I asked to speak to someone else. I was transferred to the local (I guess) Pizza Hut where I repeated my order. I was told they were out of personal pan (what?????), so I had to order medium. I don't understand this and asked the question---do they not make the crust? Never got a satisfactory answer. I was told I HAD to order medium if I wanted to order. I ended up paying 3X what my regular bill was when I order from you. Additionally, I asked if perhaps I could get some off, a coupon applied or something. I was told emphatically that I had to bring a coupon in to get anything off. I am a Customer Service Manager, and this was totally a bad experience from beginning to end. This was not my fault, but your employees refused to consider anything to even somewhat make up for the extra cost and frustration.

Kathryn De Val
from London, ON
My son ordered 2 pizzas for our family Grey Cup Dinner. One pizza was a thin crust pepperoni with fresh tomato. Upon picking up the pizzas and bringing them home I discovered I was given a thin crust bacon and green pepper! I checked my receipt and had the correct order. Someone messed up! I am allergic to bell peppers so couldn't eat the pizza I was given. I tried to phone the restaurant but was unable to get an answer. Definitely put a damper on my Grey Cup spirits. I had to find something else to eat.

William Marshall
from Portland, OR
The last three times when I ordered pizza the pizzas we not the way I ordered them the ingredients were ordered half on one side and half on the other but the ingredients were half way on the other side I ordered them that way because I don't like it items on the other side also there have been times when I didn't get one of the ingredients I ordered don't believe I will order anything anymore

Tricia Williams
from Austin, TX
Online order @ Heights Blvd Houston Texas 77008.
Ordered online meat lovers MEDIUM sz pizza applied coupon+ online special stated 10.00 w coupon. At delivery pd by debit receipt bill charge was 25.97 plus 5.00deliverycharge + tip. False advertising I despise. Called mngr to rebuke outrageous chrg for med pizza. Online stated 10.00. mngr yelled on phone to me saying I was wrong for price stated online. Told me never request service anymore from his establishment. I returned med. Pizza. My 28.97 dollars best be credited to my debit card by morning. I reported this foreigners to Corporate for being noncompliant to standard& extremely rude behavior to me.a customer that brings & to his Store he rents. Being a hateful owner that represents Pizza Hut is appalling. Let alone never offering a apology, nor correcting mistake on his part. He represents a a foreign male that does no wrong. My parents owneda restaurant for 30 yrs in Houston. I was disgusted at his manner at handling his patrons...such as this 65 yrold retired woman. Dispicable Owner/Franchisee renter. Has no business representing Corporate owners of Pizza Hut. Disgusting!!!

George Degon
from Phoenix, AZ
Ordered on app,, arrived 2 min early,,, they came out 10 min after app said done,,, man came out and said we need to wait on just one of you pizzas?,,, 30 min later I got my order curbside.. one pizza cold one pizza a mess …

Shelley Farquhar
from Sebring, FL
I have a question, is it policy of Pizza Hut that when making a pizza your employees are NOT required to wear gloves. Handled all dough and ingredients with bare hands. Is this smart given the environment in which we live. This occurred in Sebring Florida. They said they are not required to wear gloves.

Jeffrey nagy
from Buckeye, AZ
The pizza hut on Watson rd and Yuma rd in buckeye AZ is horrible. We ordered a free med 2 topping with Italian sausage and a large pan supreme. What we got handed to us instead was a ked 2 topping with Italian sausage hand tossed. And a hand tossed large supreme. Not what I ordered.. then when we went to pick it up they told us we didn't have an order places at that location but I k ew we did.. so went home called and they said yes its ready. We went back to the store and again told us we don't have an order for you. So I said I want a manager I said to him my name is Jeff nagy I ordered 2 pizzas and I was told they are ready for pick up I come to the store and am then told you don't have an order with that name.. he walks over to the pizza warmer case and pulls out my pizzas but the one was wrong. This place has no 9dea what customer service is. They don't pay attention to anything. And they don't take any responsibility to fix it..

Rebecca
from Wilmington, NC
Ordered pizza and took hour 10 minutes to deliver. Was lukewarm and limp when arrived. Inedible! Cost me $43. Will NOT be ordering again!!! Oleander Dr Wilmington NC

Mystery person
from Chicago, IL
The Attica store has a manager I believe her name is Brandy that is rude she says profanity about the customers and other workers and looks like she may be stealing from the register. She thinks she doesn't have to work she makes everyone wait on their orders for no reason she has been seen exchanging pills for money in the parking lot and just is plain bad news for the store and me and alot of others refuse to eat there.she really should be fired for her lack of respect for the store and customers

I order 3 pizzas from pizzas hut they delivered 2 pizza completely messed up my order when asking the manager to replace order she hung up and refused to fix my order. I called back and asked for then to take back incorrect order for a refund and was hung up on. I and so unhappy to told the will not do anything to fix my order. Managers name was Daylin.

Prakash
from Bengaluru, KA
Horrible Service from Uttarahalli Bangalore Store.
Pizza was ordered through mobile app. Text message received immediately after 15 mins as order dispatched. Order received after 1 hour. That too after calling the store twice. Delivery location was hardly 500 meters.
This is happening repeatedly in this store. Many a times store doesn't pick up and calls and I'd picks up don't get proper response.
Terribke Service by Pizza Hut Uttarahalli Bangalore 560061.

Perihan Anwar
from Cairo, C
Qrong order for the second time in 2 days

Stewart Chavis
from Lauderdale, MN
I ordered the pizza on the Pizza Hut app and then they did not show up so I called the Pizza Hut on Chiefs way in Pensacola Florida and they could not or they would not deliver it to me because they said they cannot find my address on Google maps but I pull it up and I find my address on Google maps so I think I should get a free pizza

Denise sparks
from Simpsonville, SC
I went in to order and no one would help me there were 4 or 5 employees which none acknowledged i was there. The manager walked past me like I wasn't there not saying anything as she past. I walked out. I have had several orders incorrect in the past also. Very poor employee skills

Nikki
from Sandalfoot Cove, FL
The location visited was unclean. I decided today I want to have pizza for dinner . And to think I choose pizza hut the location on davie and 411 was very unclean the utensils that was being used was never washed with residue from previous use of caked up spaghetti sauce. And when asked the manager why was the utensils used to make the pizza not clean . She had no feedback for me companies like yourself should inservice staff of proper food handling. That goes to show the manager there is nasty and all the covid stuff going on makes it even worse. I would never eat at this establishment again. And what's sad is the staff that don't own the company making the person who own pizza hut lose money because who they are trusting to watch over there buisness not knowing they are running customers AWAY PERIOD. THIS PLACE SHOULD BE ON DIRTY DINING AND CLOSED DOWN. I should have taken pics my mistake

Tashi M Hale
from Malden, MO
I purchased and paid for a $70 delivery order and both pizzas were mangled and scattered in the boxes, order of 24 bone out wings were cold and hard as bricks, and I am in process of moving, plus sick child with covid and I was rest assured that my $70 order was going to be good...but it wasn't. So I just called the store here and she said she would do $20 credit off next order...well I spent $70 and would just like my order re-done I would even pick it up. Even though I paid delivery fee..

Tried to call in order, was disconnected several times, then finally was answered, put in order, she had to transfer the order to my store, as she was answering call from out of province. I go in to pick up, girl doesn't acknowledge any of us there, she comes to counter, looks at monitor and then goes in the back....repeatedly. there were several customers waiting to be served. I stood there, with a severe knee injury, wanting my pizza. I finally left. If there is a score lower than zero, I would give it. I plan to add this statement to the local community web page, Facebook, and online rating. I come from a family of the food service business, customer service is everything.

Frances Brown-Willis
from Pittsburgh, PA
Husband placed order and went to get gas. Went back to pick order up. Did not check. His fault. He ordered 2 large meat lovers one thick one thin. Neither pizza was what he ordered. Called and manager told us to call back in a few hours because they were busy. Called back. Was told manager was too busy to look order up and too busy to talk to us. Said they were short handed and had a 2 hour delivery wait time. Left number for manager to call. He still hasent
We are loyal customers for decades

ANGELA M BADACZEWSKI
from Harrisburg, PA
I ordered 2 pizzas and several other slides today from the Pizza Hut on Front Street, Harrisburg PA. I ordered at 10:00 for a 1:30 delivery. The app said that the pizza went out for delivery at 1:10, I am 10 minutes from the store. At 1:50, I tried to call Pizza Hut, 4 times the call did not go through, it would ring and ring, once it sounded like someone answered but I was disconnected. Finally, I got in touch with Meghan, the manager. She was EXTREMELY rude. I understand that most places are understaffed. I understand that most people get annoyed when people call with complaints. However, when I asked for the manager she said she was the manager, I asked her name, she said Megan, then in another sentence I said "so your the manager?' She answered with a very short "That's what I said." She ended up refunding the money for the order which was fine. I can tell you that we won't be ordering from that Pizza Hut. Megan is certainly not manager material - she needs to find a different line of work where she doesn't have to talk to the public.

Mary Ann Lyons
from Baton Rouge, LA
Ordered a Detroit pizza w onith pepperoni, mushrooms and onions at the Ridgeland Ms store on Lake Harbor Dr.
Picked up the pizza and at home discovered that it had no pepperoni, and the dough was undercooked. We attempted to call the store and sought remedial action and was referred repeatedly to a line with no response.
The product and opportunity for correction were unacceptable. This took place on labor day 9/6/2021 at the Pizza Hut
772 Lake Harbor Dr. Ridgeland, Miss. We will give you an opportunity to correct this or you will lose as customers FOREVER.

Dalton Parrish
from Oklahoma City, OK
I waited outside the store after I called for 15 minutes. I called the store told them I was there. No one came out so I went inside, waited inside for 5 minutes and no one said anything. I finally got it and got home and the pizza wasn't cut and tasted old

Charlotte Hitt
from Bedford, TX
i ORDER FROM THE STORE IN HASLET TX. i ORDERED A SPECIAL DEAL WITH 3 TOPPINGS FOR $10.00 AND AN ORDER OF 7 BONELESS WINGS. YOUR DELIVERY FEE HAS INCREASED FROM $2.50 TO $4.50. QUITE A JUMP. EVEN DURING THE PANDEMIC IT WAS AROUND $3.00 NOW THE POOR DRIVERS PROBABLY DON'T GET A TIP BECAUSE OF THE OUTLANDISH DELIVERY FEE. NOT SURE WHY THERE IS A DELIVERY FEE THAT PIZZA HUT KEEPS FOR MAKING THE PIZZA. WE HAVE ALREADY PAID FOR THE PIZZA. I HAD PIZZA FROM DOMINIO'S DELIVERED TO MY GRANDDAUGHTE WITH NO DELIVERY FEE.

Michael Meiborg
from Omaha, NE
They forgot my wings and all they want to do is give me credit?!!

AOA! Sir,
I am pizza hut customer since 2006, I have already complained about delay delivered order & misbehaved, my complaint number is 77 dated 19/07/2021, but did not response me.
one day I received a call from Pizza Hut operation manager, namely Ahmer, who was also misbehaved me and our conversation (mobile call) tried to record illegally. All your staff deployed in Lahore is very abusive.
My lawyer has sent you a legal notice that you have 15 days time to respond to. In case of not responding, the case will be filed in court. The company will be responsible for all the expenses

Preston
from Beachwood, OH
My online pick up order was said to be ready at 5pm. Food was not handed to me until 5:20 and the pizza was not what I ordered. I ordered pepperoni, sausage and beef. The put every meat they had on the pizza including ham and I don't like ham. The meat literally just poured on top to the point it was comical

Ordered 2 pizzas at webbschapel in dallas. Done it many times. As always I call in and they say ready in about 15 minutes. We get there in 5 but wait 5 more before going in. My wife brings the pizza out and we go home. The pizza is cold an stale! It's been sitting for 30 to 45 minutes! I know pizza. I call and cant get anyone to understand. Not even the manager. We left dominoes for poor quality. Next time I'm just going to take the pizzas back and sling'em in the door. Damit I hate incompetence! Hate cold pizza too. Are you going downhill? You have incompetent employees. No reason for cold pizza! Straighten up!!!

Chauntel
from Los Angeles, CA
Made my order wrong but was to late to take back food was cokd

Delores Simpson
from Spring, TX
I ordered a medium supreme pizza with everything on it. Pizza had only pepperoni mushrooms and bell peppers. The pizza was very greasy and the dough appeared to be old.

John
from Myrtle Beach, SC
Tried to order pizza from you all they hung up phone 3 times on me 901 South kings highway myrtle beach so I walked down there and was posted on the door open till 11:00pm put had the door locked a person came and unlocked the door and said we're closed there was other customers wanting pizza too then when we walk beside the building a employee was smoking instead of working .

Tim Yohe
from Houston, TX
Local Seguin, TX. Rec. Number 0012, 7/5/21
12:48pm. All tables dirty, we cleaned our own. Employees drinking out of fountain machine and bottled water from drive through cooler! Employee smoking in Store and at back door, no Management, everyone there standing around while dining area is filthy! Pizza was nasty, to much sauce, did not even eat it, through it away.

Tatiana M Larson
from Coxsackie, NY
2 pizzas were dry and the 3 mushy, a yucky experience, never tasted like that before

vijay vir Singh
from Agra, UP
Dear sir,
It is to inform you that PIZZA deleivery boy Mr. Rohit(9650174827) came for deleivery. My daughter Aaradhya 8 year old was at home.
He took Rs 1000/- from her hand and runaway without giving invoice.
Pizza supplied was also not as per order and cold drink not deleivered.
It is the case of cheating with us. kindly lodge complaint against this person and refund our complete amount.
with regards
Vijay vir singh

Saquaya White
from Wichita, KS
delivery driver brought a dropped pizza I called the manager was extremely rude cussing me out. I asked for a new order and they brought I guess. because the driver told me hold on asked me dd i order a pepperoni pizza I said not he went to his car never came bacc so i called them again got cussed out phone hung up on me 10 times at this point I want my money bacc. had to argue n get cussed out to get a refund tht idk if I ever got back. we ddnt eat the pizza n will never order from tht location ever they also blocked me from sending messages to corporate 37th Woodlawn location Wichita ks

scott a mosher
from Huntsville, AL
Rob the assistant manager refused to answer the phone when I called to place a order

Matt Hollon
from Sidney, OH
The food was great (as usual) my only complaint, is that I ordered extra sauces (8 of them) and didn't get them. I know this isn't probably as big of a deal as you normally receive but, my only reason for saying anything is that I went to a Pizza Hut 40 min away and paid for something I didn't receive. I do take some responsibility for not checking my products before driving home, just thought this is something you could go over during training.

Pam Ashcraft
from Tahoka, TX
I ordered carry out at the Pizza Hut at 11814 Indians Ave in Lubbock Tx. I ordered on the app and my total was $18.40. My husband went to pick it up and was told the total was $18.40. When he got home his phone beeped and showed an adjustment was made to the Pizza Hut transaction. It changed from 18.40 to 22.08, 20% more. I assume the guy working the carry out window thought he deserved A tip and he might have, but not doing ppl like that. If he added 20% to every card he ran tonight, he had a good night in tips. It's not a lot of money and I wouldn't mind giving a tip but the deception part is what bothers me.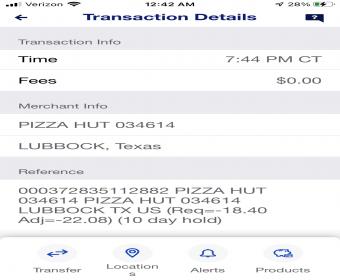 Scott Merry
from Dayton, OH
Placed an order and 2 1/2 hours later still hasn't shown up. Almost an hour since out for delivery yet live 15 minutes from the store and tracker said 24-34 minutes for delivery.
Have feedback for Pizza Hut?
Thanks for your feedback!
Sorry. Please try again later!