Pizza Hut
Pizza Hut Complaints Continued... (Page 12)
1096+ reviews added so far. Upset? Call Pizza Hut corporate: (972) 338-7700

Shakina Jackson
from Cordova, TN
I ordered a Medium Pepperoni Pizza on Nov.10,2018 .Originally I was told, the wait time will be 1 hour. Once my order was placed the rep stated it will be 1 hr 35 mins. I advised the rep to cancel my order. After we hung up, I checked my credit card. It had already been charged $16.46 . I called back to speak with a Manager who was not helpful at all. I advised to send the order out since my card was already charged. The manager advised he does not see my order in the system and I will have to wait 3 to 5 days to receive the credit back on my card. I insisted that I need my delivery. He stated he would have to charge my card again. This time $3.05 was charged to my card. He stated he can't send the order unless the full amount is charged. AGAIN, I advised the $16.46 had already been charged. I finally placed the order with another rep and used another card and paid $13 plus tax, only to be told the wait is now 2 hrs. 2 hours passed and my pizza didn't arrive until 3 hours. It is utterly ridiculous. I expect my $ 16.46 plus $3.05 (19.58 TOTAL) to be charged back to my card. I attached the screenshot below.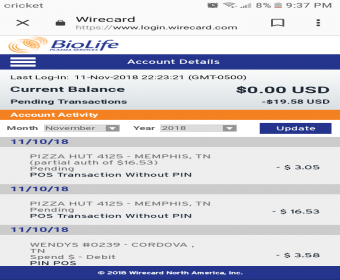 Glenda Foster
from Wichita, KS
I placed an order at the store at 1659 S Webb Rd, Wichita, KS at 1:30 pm and it did say it would be 60-70 minutes but 1 1/2 hr later I still didn't receive my order. I called the store and had to wait 15 mins before anybody came on the line and then was told they only have one driver. That is unacceptable! Whoever the manager is needs to maybe have more training on how to schedule enough people! I did cancel my order and whoever I talked to didn't seem to have a problem with me cancelling BUT if I were the manager I would have went ahead and sent the order for FREE. Pizza hut is my favorite pizza but I will now think twice about ordering especially from the above store! I am very upset about all of this and think the store has very poor customer service.

Denise M Thornton
from Savannah, GA
, last night we called to order pizza they said they didn't have that many drivers It'll take two hours for the delivery hold. I was told about the 5.99 medium pizza deal they have I ordered 4 of them. One with bacon and onions another with meatballs and ham , 3rd one with pepperoni and ham last one with ham and bacon. I also said the chocolate brownie that's on the 5.99 menu and the chocolate chip cookie. they told the price would be $44 and some change then pit me on hold got back on the phone and said $31 and some change I believe. I never received my cookies or brownies and have them 46.00 when they delivered the food. My pizza order was also messed up only 1 box was right.

DeborahBaker
from Jeffersonville, IN
I have been told 3 times in less than a month that you are out of personal pan pizzas at your Crawfordsville location in speedway area. How can that be??

Gayle Kimbal
from Humble, TX
We placed a web order at 5:44. We received a text saying 35-44, at 6:48, I called the store inquiring about our order. I was told that there was an error with our order and it had to be remade and they were fixing to walk out the door to deliver. I called again at 7:18 because we still have not received our order. I was told it was Friday and they were busy and it was on it's way. Our pizza arrived around 7:40. It was burnt and arrived cold.
I dont know what happened in the local store, but 2hours for burnt, cold pizza is unacceptable. After 2 hours, I was hoping for fresh pizza, it was just gross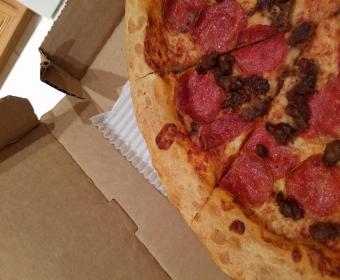 Bodie Selfridge
from Hays, KS
So I ordered pizza with wings and a book it coupon we never got the wings got the personal pizza right before we left and they were under staffed they were gonna give us a free order of breadsticks and never got those so that was a terrible visit I was at the location in Hosington Ks

Carlisa Williams
from Chicago, IL
I placed an order online with the pizzahut here in Chicago at the 6700 StonyIsland llocation October 20,2018... My order totaled 35.00 it was delivered.... My order was supposed to been at my home at 2:30... I order the 5 dollar deal which was 2 pizza's chicken as well as 2 order of the boneless wings both were to be honey barbeque.... I ended up calling as usual to try and find out where the driver was in which I got a young lady name teneshia who was very rude and she stated the driver was on his way.. The time was 3:05 then and I asked if my order was going to still be hot considering it's almost an hour late and she said yeas..... The driver didn't get to my home until 3:30 p.m. And when he did he discovered that they didn't give him my 2 orders of boneless wings and told me he had to go back and get them..... My pizza's were cold and I had to reheat them. And when he finally came back with my wings which took another 20 minutes they didn't give him the correct one I had one barbeque and one order of hot. In which they were to be both honey barbeque... I called back to speak with a manager and I was put on hold and then someone hung up on me... I didn't call back at all. I filled out the survery I always get about my order experience in which I wasn't happy...I had originally stopped ordering from this location because they always have an issue and not enough drivers and are rude.

Michael S
from Grand Rapids, MI
i ordered a salad from Pizza Hut on Wealthy st, in Grand Rapids, Michigan. The cashier then handled cash as someone paid for a pick-up pizza. she then went right to the back without washing her hands and started making my salad. I have video of her touching my salad without gloves on. At one point she is wearing one glove, then takes it off and continues adding to salad with bare hands. I talked with the manager and she said that she had been standing next to the girl that was making my salad the whole time and insisted she was indeed wearing gloves. So the manager completely lied too.

Sundee Guffey
from Mountain Home, AR
I have lived in Carthage, Tn for 30 years and having been eating at the Pizza Hut here for a loooooong time. And for as long as I can remember I get spaghetti with meat sauce and then ADD mushroom, onion and green pepper. I literally just ordered this a week ago FROM THIS PIZZA HUT! As I was stating my order, the server interrupted me and with a horrible attitude said "I can't do that". I tried to explain to her that I order it all the time, as I just did last week and before I could even finish talking she snapped at me "well it's not in the menu like that". Ummmm there are a lot of things not on the menu that people order, miss you gonna get smacked if you talk to me like that again! I then complained to the manager who had been hear forever and told her as long as I've been coming here I have never had a complaint but her server was just straight up rude and I was genuinely concerned she was going to spit in my food. She said she would ensure that didn't happen, but didn't seem to concerned with the attitude of her employee. After 30 years, I very likely won't return to this location.

Stephanie Fusner
from Chicago, IL
The last few times I have ordered from the Pizza Hut in Monee Illinois off Monee Manhattan road, the service has been beyond terrible my first experience I was picking up, the manager Stephanie was to busy washing her car outside in back when I could see right out the back door, waited ten min till she finally acknowledged me. The next issue was several online orders and wrong food or missing food and when I would call I would get attitude and laughed at and nothing could be done about the mishaps and money was wasted. The final straw was last week I ordered for delivery, the driver dropped my pizza in the driveway, then half my order was missing. ( I live 5 min from Pizza Hut) i called to let them know I was missing items and the driver had dropped my food, was laughed and and not even discounted or apologized to for the inconvenience. One of the orders was my sons dinner we waited 40 min for the food to return again not even cooked all the way and sloppy. Will most likely never order from this Pizza Hut again I understand accidents and mistakes but not repeatedly ever order.

Sonya Purba
from Pearl City, HI
Ordered pizza today 11/7/2018 at 740 PM. Delivery was made at 832 PM. The pizza arrived severely under done borderline mushy. I called pizza hut, store manager calls me back. I explain to him he tells me that he can send me a new one and he needs this one back. Intelligence him it's late already not waiting another hour. No apology nothing. The WORST service, and most unprofessional store manager.
Location
Hawaii kai, Oahu

Cidalia pinheiro
from Newark, NJ
Your customer service and delivery sucks this is the fourth time and I'm done I will never order from you guys again

patricia mcconkey
from Mackay, QLD
I ordered and paid for a super supreme with prawns and extra mushroom and I didn't receive either

Anne Wood
from Portland, ME
On Saturday November 6 I ordered a pizza online,after about an hour of waiting,I decided to call the store to check my delivery status. I got an answering service saying that they were closed for delivery,so I waited and never did receive my pizza. No phone call from anyone,they just didn't show up,they have been here before so they were familiar with the address. The following day I tried several times calling the store only to get a recorded message. I wrote a couple emails to customer service and never heard any response. This kind of customer service is unacceptable! Sincerely, Anne Wood

Julissa Rodriguez
from Atlanta, GA
So I ordered though online and I asked for delivery and then about 10 min later Pizza Hut called me saying there was no more delivery guys to delivery so she asked me if I wanted to pick it up or cancel I said pick it up and asked if it was ready they said yes, when I got to the store the woman tells me that they have canceled the order beacuse their was no delivery guy to take it but they had called me saying if I could pick it up and I said yes and had to go all the way there for nothing I fell asleep without eating anything because they had canceled my order.!!!!!!! :(

Keta
from Jacksonville, FL
I recently experienced horrible service with Pizza Hut in Jacksonville, FL. Pizza Hut is my favorite restaurant but after the type of service I received on October 31,2018 I don't think I will be giving them my service or money anymore. I have used Pizza Hut in several occasions hosting Pizza party's, work events, and recommendations on how great their pizza taste. I rather take my business and money some where else to spend. I contacted corporate twice in one day regarding the issue i had with one of their locations. I was told i would receive a call in 1-3 days from a regional manager, I didn't receive that or an email. Pizza Hut doesn't value the customers as to we are the reason Pizza Hut has stayed in business for so many years. If no one buys the pizza they wouldn't make any money.

RON
from Ciudad Acuña, COA
SHIFT MANAGERS FRIEND (MARIA) WALKS IN FROM STREET AND MAKES CHANGE FROM CASH REGISTER, DOES NOT WORK HERE. THEN WITH UNWASHED HANDS BEGINS TO MAKE PIZZAS. I HAVE SEVERAL PICTURES OF THIS HAPPENING. WHEN BROUGHT TO MANAGERS ATTENTION HE CUT MY HOURS THEN FIRED ME.

bobby oliver
from Mobile, AL
we order pizza 2 times a month everytime we pick it up their is not enough topings saterday i asked the cashier why she said when you buy a pizza for $7.99 you get less topings if that is so that is false advertisement we are going to take our business elsewhere,

Linda Sacca
from 'Ewa Beach, HI
I ordered 2 medium Pizzas,1Bottle Diet Pepsi and 6 Chicken Wings on Friday the 2nd of November.I didn't speak to anyone at the Pizza store in Ewa Beach,Hawaii. I spoke to someone at a different place.She was not someone I would have hired in my stores in New York.She was not personable and lacked the good manners one needs to be an asset in any business.I was still. talking to her when she abruptly hung up .I. Immediately called back and didn't she did not apologize at all .I said she was rude and asked her if the delivery person has change of $20.00. She. Said yes and hung up again.The delivery man was polite and I welcomed the change.
Upon opening my pizza ,I found it very thin and over cooked.The Chicken Wings we're soaking in a very oily sauce.I and my family have ordered many times from the same Pizza Hut store.but we always received a delicious meal. This was horrible and the girl on the phone needs to change her behavior.New York Pizza Huts are second to none.
Thank you for this opportunity to help your business improve communications with your Pizza Customers

Jaclyn Hudson
from Houston, TX
i had for extra sauce on pizza and didnt get any, the food was cold and the driver didnt come until 1 hour and 30 minutes later

A Dempsey
from Greenwood, SC
I wish I could give a Zero rating! Ordered delivery at 12:30 pm. Was told told delivery time was 85-90 minutes (which is already ridiculous) but ok we did it. At 2:20 our pizza was still not here so I called and asked to speak to a manager. Some young Guy that answered said he was the manager. I explained situation to him and he said they were at a 125 minute time for delivery. That is not what online app said. I asked had my pizza even been made yet and he said yes it was ready about 10-15 minutes ago. I then asked when we would actually get it? He said driver should be back in 10-15 minutes. Given that plus the 15 minute drive to my house that would mean our pizza would be over 2 1/2 hour wait plus 45 minute just sitting so would be cold at arrival. I questioned this and his response was "yes that pretty much right." Really? I told him that was wrong to do customers that way and could not believe that was all he had to say! Our pizza finally arrived at 2:50. Driver actually apologized and explained they have new district manager who cut hours and cut drivers. This guy was the only driver there today. On a Saturday! Absolutely ridiculous. Not fair to the drivers or the customers. Never again Pizza Hut!!!

Christopher Gray
from Winchester, KY
Online order at 4:16 for delivery at 7:30, it's now 8:00 and no pizza! Run around from PH and no answer from local store. This is ridiculous and completely unprofessional and unacceptable. Pizza Hut you have failed miserably...you had one job!

Since 5 months ago, I have noticed that Pizza Hut restaurants in China no longer have any vegetarian pizza options in their menu. Not even vegetarian pastas, nothing. In the world nowadays more and more people are becoming vegan or vegetarian. It would be nice to bring back your veggie pizza deals, so everyone can enjoy the delicious food of Pizza Hut.

I was trying ordering for deliver person on phone was very rude wait time for delivery is 90 mins thats just sad. I was trying to cancel my order had to call back 10 times before someone answered

Antawnett Smith
from Irving, TX
Well I Have Numerous Of Complaints For The Sycamore Store , From the time I walked in customer service was bad I seen a young lady sweep the floor the later on go prepare food after that I didn't seen no employees wash their hands before handling food I walked out sat in my car and waited until my order was ready !!!!! WELLL I WAITED I 15 Mins Plus TO RECEIVE COLD BREAD STICKS & Warm PIZZA THAT WAS FOREMOST THE WORST EXPERIENCE IVE EVER ENCOUNTERED SO WHEN I WALK THEN AND TALKED TO THE MANAGER SHE WAS NOT SO FRIENDLY AS WELL PIZZA HUT GET IT TOGETHER

Amanda Batten Pepevnik
from Gastonia, NC
I order from pizzahut quite often and usually my order's are correct ,but this past time I ordered a few day's ago ,it wasn't ! I ordered a brownie and the brought me a cookie and see my kid's we're hungry ,so I didn't want to have to call them and have to wait for them to bring me a brownie back,so we just went on ahead and ate ,but here I am ordering tonight and I noticed that the brownie costs more than the cookie the other night ,which it's not but a couple of dollar's more ,but still to a struggling family every dollar counts ,so I would just like to say that maybe they should have the delivery driver make sure everything's correct before they leave ,from now on ! Maybe that'll solve the issue ,you know ?

Randall Hankinson
from Las Vegas, NV
It is bad enough you stopped serving warm marinara sauce. You don't get nearly enough with one sauce for the breadsticks so I buy and additional one. Now I pay 49 cents plus tax for a sauce that is filled 1/3 full. (SEE ATTACHED PHOTO). The portion cup and lid cost more than what you filled it with. Bottom line is pizza hut just lost a customer because you are being cheap and skimping on your product.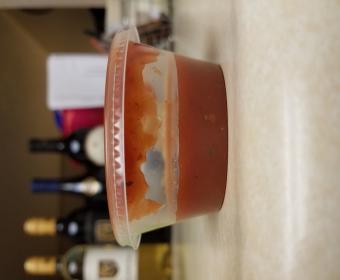 On 10-22-18, at your store in Canton NC, we had a bad experience. We arrived for the lunch buffet at 1143am. We were seated, and told that due to being understaffed, there would be a limited buffet. I asked if pizzas were still going to come out, and we were assured that they would be. There were parts of three pizzas at the buffet. In the next 50 minutes, two pizzas came out. One pepperoni home crust, and one thin crust pepperoni and banana pepper. The waitress never did come and refill our waters, and never apologized for the lack of variety or quantity of pizzas. This is the second time in 6 weeks that we have had issues with this store. My employees will be taking your store off of our lunch rotation because of this poor lack of management, quality, and quantity. The waitress' name was Chelsea. I still have my receipt. This is the second complaint I have filed, as I have not heard back from my complaint on the 22nd.

Lisa M Huntley
from Bettendorf, IA
The store is completely ridiculous! I ordered the pizza online, changed my address because sometimes I have it delivered to my work and Hayley calls me to say half the stuff I ordered can't be made because their fryer is down and when she called she was so rude I hung up on her! I called back to get a corporate phone number she put me on hold 8 min to tell me there is no phone number to call and the website she gave directs you too a website of survey are you shopping black Friday at Walmart. The delivery driver calls and says hes at Walmart.. I said I changed it on my app to my home address ok where do you live, I tell him and he says ok, 4 min later hayley calls again rude and making excuses of why her stuff doesn't work and she doesn't control the app and being very rude..I ask for her bosses information she takes another 4 min to come back and say she will send him an email..I do not trust her, I want my money back and her manager to call me!! I will never shop pizza hut again. The regional manager over this area just called and offered free pizza but based on customer service and now my kids will be late to bed and my day starts at 5 am I am completely pissed!

I ordered online a $10 dinner box when the delivery driver got to my residence I made sure to go outside and greet her so she'll know which apartment to bring the pizza to Incase she tried to call because my phone had been disconnected & she sees me and gets out & i waive to signal I'm the one who ordered the pizza but she gets back in the car and drives off and i try to flag her down but she keeps driving. I finally get a hold of a phone to call the store and they tell me it's my fault because she called but my phone was disconnected but she'll direct me to a manager & i hear the driver in the background say f*ck that I'm not coming back ,what she need to speak to a manager for ? They place me on hold and the call mysteriously drops. I call back and finally get the manager on the phone he tells me there's nothing he can really do because i paid with my card and he didn't want to void the order out to give me a discount for waiting so long for my order because it would "make him look bad in the system " so all he can do is give me a $10 gift card for my next order and I'll have to wait for the next shift driver to come in and deliver me my pizza. I ended up waiting over an hour and 20 mins for my pizza. When I finally got my pizza it looked like it had been messed with and it was cold .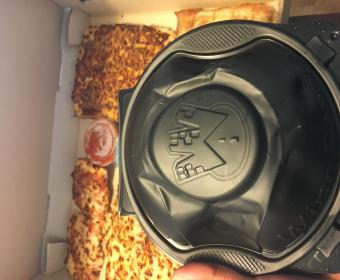 Jennifer
from Perrysburg, OH
I live in Perrysburg, Ohio. Our Pizza Hut has recently reopened. On our local Facebook group someone asked how the pizza and service is now that it is reopened. One lady stated a poor experience that she had. Attached is a response from I believe someone said a kitchen manager. I can't believe that this is how Pizza Hut employees treat customers who have had a poor experience. Then when another lady defended her for stating her experience, he then threatened to get that customer banned for life. I have zero desire to support a company who supports such disrespect from their employees.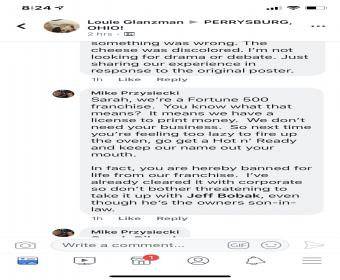 Lucinda Taylor
from Beachwood, OH

Jennifer S
from Chicago, IL
We just called to order a pizza for delivery. It is 6:13pm on Friday evening 10-19-18. We were told that delivery time would be 10pm!!!! I thought the guy was joking!!!! I've never in my life heard something so outrageous. Even on super bowl or New Year's Eve. This is some kid either TRYING to get fired or hates the owner. Pathetic.

Lisa McCaughey
from Dahlonega, GA
We just ate at the Dahlonega Georgia Pizza Hut. Took over 35 minutes to get our food. The soup had mold in it, the personal pizzas were not cooked all the way and the waitress was rude and not at all in touch with customers.

Elizabeth Irvin
from Amarillo, TX
I ordered a pizza to be delivered and after waiting 45 minutes I called and they said it never left the hopper. They brought the pizza and not only was it cold it was the wrong pizza. I called and they said they would refund my money. When I didn't see a credit I called back and they said It would take up to 5 hrs. I was never credited!!!!!!!!!!!!!

Kathy Lewis
from Troy, MO
we visited the pizza hut in houston, missouri on monday 10/15/18 for the lunch buffet. Purchased 2 buffets. The buffet had 3 or 4 pizzas over cooked, dark crust & what looked like dried up toppings on the pizzas themselves. We sat & waited for them to clean these pizzas off & put out fresh, new ones. All but 1 was left the entire time we were there trying to eat our lunch. Melinda our servor was very apologetic & had told the cook & the manager on duty. She also explained she could not remove them that the cook would have to. No one ever removed them, we paid the entire bill reluctantly & left. This is a location we have been to a number of times & was very surprised. Respectfully, Kathy Lewis

Thomas Toole
from Indianapolis, IN
I ordered 6 pizza online to be deliver at noon. I had a problem getting it thought because I pick the 12(noon) and had to go back to put in the "00" They did not show up until 12:33. it was Pharmacy technician appreciation day. I ordered it at 10:30. They all did their work to be free at noon for hot pizza. We do not have a lot of extra time and they had to get back to work. So they all got warm to cold pizza.
Thanks
I watched your tracker and they did not put the pizza in until after noon. They were made 317 917 8844 there was no address. The drive was nice. I can not order from you for event again. it has to be on time. maybe in the future you will not treat other large orders like this.

The online web made my order at location 30 minutes away, I still drove to pick up my order, it was wrong and the manager give me attitude, was VERY RUDE and ended up giving me cold pizza. This place is terrible, the customer service is terrible and (this is my opinion, but the pizza tasted like shit, which it probably was mixed with) NEVER ORDER FROM THIS ESTABLISHMENT.

Donna Rigaud
from Denham Springs, LA
Your advertisement stuff cheese knots ,did not have cheese in them ,if I wanted bread I would have ordered bread sticks ,waste of money ,pizza is awesome

Jeanette Jackson
from Akron, OH
I placed an order today at approximately 5:12 pm. I can see in the email I received that it was to be delivered approximately 25-35 mins later. I waited by the door for well over an hour but no delivery. I came back to my phone and saw a message was left indicating that the driver could not find my address. Well, I find that hard to believe because I have been a long standing customer for well over four years at this address. I raised three children who love Pizza Hut! I have been a loyal customer thru the years(40yrs). However, not only am I disappointed in this service failure but the manner in which your General Manager at the Copley store addressed my concern was appalling. He refused to give his name and when asked for the phone number for the Corporate Office he refused that as well. In my mind, a general manager is trained to solve customer concerns and problems regarding service. What makes a product great is not just the product itself but the outstanding customer service given that compliments the product offered to the public. Your Copley Pizza Hut General Manager(Mr X,) is in need of re-training and/or replacement of his service or lack thereof. This is the second time they have disappointed me. In the summer, my delivery was so oily I could not manage to finish it. After making the manager aware of this I let it go. But, this time I knew I needed to make someone aware of how your customers are being treated by the Copley Store and how the managers there lack sensitivity.

margarete lapointe
from King, NC
orderd a large pizza baccon and italian sausage went to pick it up they had 2 mediums pepperoni and the manager said and pork pizzas we said no thats not correct we still where going to buy the 2 wrong made pizza at the price of the one we where going to buy the manager said no and we had to waite 15 minutes he was and acted as if there was going to be no pleasing the costumer and was rude so we left and went to little italy and bought a pizza their he has no social skills

Kimberly Carroll
from Mooresville, IN
I ordered three pizzas on October 1st 2 large thin crust with double pepperoni and 1 large thin crust with bacon and sausage. All 3 were made wrong, I received 2 large thin crust with single pepperoni and 1 large crust with pepperoni and sausage I took them back in and requested they remake them correctly. The 2 double pepperonis were still made incorrectly after having to wait an hour for them to remake them. The manager said if we would except the incorrect pizzas they would comp us 2 free large pizzas with 2 toppings to my account. I called on October 12th to redeem my free pizzas and was told there was nothing on my account and when they refused to honor the two free pizzas I asked to speak to a manager and the gentleman said he was one of the managers and that he would not do anything to honor the free pizzas because they were not in the system. This same thing has happened more than once at the Camby, Indiana store and the staff gets rude when you asked them to remake it correctly and Itheyvalways drag it out over an hour when remaking and in this case they still got it wrong which has also happened in the past. I'm just tired of being promised one thing and they never deliver. Also they never read the comments section of the on line order (see attached)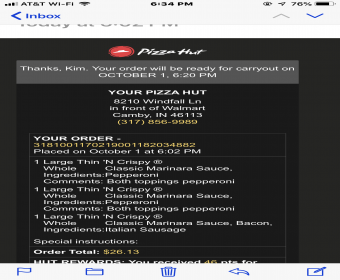 Jennifer K Walker
from San Antonio, TX
I received an email for my birthday, as a Hut Rewards member, for free Cinnamon Sticks, when ordering online. The top of the email shows that it's valid at my regular location on Walzem Road. But, when I tried to redeem it, the website stated "Not valid at this location." So, I called the store & was told they don't honor it! I placed my order online & when I picked it up, I spoke with the manager, Sandra, who said "we don't accept anything like that at this location." I showed her the email & pointed out where it states that it's valid at Walzem Road. She was very gruff throughout our conversation, and did say for me to call her the next day and she would ask her superior, I think she said the Regional Manager. So I called just before closing the next day & Sandra said "Oh, I forgot." I told her I'd call again. Two days later I called Sandra, and again, she was very gruff, and said "It's only valid online," which I reminded her that I'd done that, but got the message "not valid at the Walzem location." She then said "you'll have to use it at a different location." Now it's expired, but overall, this is utter crap! I'm very disappointed in Pizza Hut, & will be calling the corporate office. Thanks so much for not honoring my birthday gift! I'll be sharing this with everyone I know, and all over social media. Obviously, Pizza Hut DOES NOT VALUE IT'S CUSTOMERS, NOR IT'S "HUT REWARDS" MEMBERS! I doubt I'll ever return to Pizza Hut again as I don't spend my money at businesses that DO NOT VALUE ITS CUSTOMERS OR ITS OWN PROMOTIONS!

Yesterday night,i faced a very bad experience with Pizza hut.This was my wife birthday and i want to make a surprise to her.I had an order from Pizza hut and it came very late (one hour and half late ) and each time calling the call center,they advise that the delivery guy is on his way !!!!!!!!!!! noted that my home is 5 min. from Pizza hut walking!!!!!!!!!!
Then at last it came non fresh and cold .I called them to bring back it
IT IS A SHAME THAT BRAND NAME LIKE PIZZA HUT HAS SUCH SERVICE LIKE THAT

Michael Evans
from Youngstown, OH
Getting tired of your Steelers Commercials , 1 st the bratty girl shredding the box thing , got a mental problem there , second the newest one with the dancing jerks .Guess you've figured by now I,m not a steeler fan , along with the many millions across the country.So i'm going to the dominos , put some more steelers crapola on the tv.

Annette
from Grand Haven, MI
About a year ago we had fabulous pizza on Grand Haven Road in Muskegon. under a new manager. Beginning on mother's day, the food was disappointing. We spent 150.00 on pizza and the toppings were virtually non existent and there was no notable cheese on the breadsticks. When we brought this to their attention we were told that it had cheese and didn't offer to make anything right.
We have ordered out a couple of times since hoping to get the same service we had received a year ago. It keeps getting worse.
Another local Pizza Hut loads the topping generously so there is no reason to go to this location any longer. Tonight was the last straw: I had a house full of hungry people and everyone complained about the skimpy toppings. I decided to take a photo of my two slices. This is NOT a veggie lovers pizza.... and some slices were even skimpier.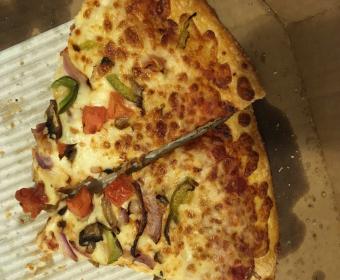 Beverly Smith
from St Louis, MO
The Pizza Huts in Columbia Mo desperately need upper level management assistance. They are horrible, especially the store on Worley. Never answer the phone to take orders, pizza comes burnt, etc. will no longer give my business to PH.

Greg Avent
from Franklin, VA
Called Franklin, Virginia PIzza Hut store at 6:47 pm. Was put on hold for 10 mins. Hung up and called back, told the employee that answered the phone that I had been waiting on hold for 10 minutes. They proceeded to talk to another employee while on the phone with me. I found this very rude and unprofessional.I hung up and called another Pizza place with my order and was treated with the utmost respect. These Franklin, Pizza Hut employees need a class on customer service. I am very disappointed and not sure if I even want to attempt to do business there again to be treated like this.

Patty Teague
from Little Rock, AR
Brady Texas Pizza Hut represents the poorest Brand representatives I have experienced anywhere! The management has the worst customer service skills in the food industry. We ordered by phone and were told it would be 1 1/2 hour wait if we picked it up and a 2 hour wait for delivery on a 10/04 Thursday night. I drove to the store and they had 1 table of customers and that was it. We were told they had too many deliveries and take outs to do it any faster. Unfortunately that is unacceptable for such a small town. With that kind of management here the Pizza Hut name won't last very long!! Maybe a Dominos would be more efficient for this small town possibly !!!
Have feedback for Pizza Hut?
Thanks for your feedback!
Sorry. Please try again later!