AT&T
AT&T Complaints Continued... (Page 13)
1202+ reviews added so far. Upset? Call AT&T corporate: 1 (800) 331-0500
Be aware of incompetent employees at cellular retail stores of ATT Wireless that are not well trained and/or have the appropriate information to provide consumers. As a 7 year customer, I recently signed up for 2 more years contract and got the new iphone 4G.  As previous customer I always paid for phone insurance $5 a month for old cell phone. As I got my new iphone and signed the 2 yr extension and paid $200, I was told by the incompetent store employee that these phones did not carry an insurance plan. Not sure if these are the new business practices used by ATT Wireless to take your money now.
Cingular Wireless has the absolute worst customer service ever. I keep getting dropped calls on my new iPhone4, but nobody seems to care over at good old AT&T! I call the customer service line, and somebody in India named "Joe" tries to ask some questions, what a joke! I go in to the AT&T Cingular store by my house and then I have to wait for an hour just to talk to a real person. Kind of begs the question if a company is so big that people can't use their service and get things fixed what the hect are people doing using them? But for now Cingular is the only one with the iPhone and I really wanted the iPhone4, so guess what I have to use them as a service!
Anthony p. hall
from Madison, VA
Very ,very poor repair service.Telephone is out an average of 2 times per month.Repair service tech. takes about 3 days to arrive. They work on it long enough to fix it,I dont know how, then on average it will work about 7 or 8 days, guess what? Out again. Worse service in the world to be such a large corporation.
My fax line quit working on Monday 10/30/2017
i was told by technical support the earliest they can come is Friday November/03
im a Pizza Delivery Store where i get an Average of 15 order on my fax
Fax LIne 615 846 1804
store number 615 231 1000
Johnnie Irving
from San Francisco, CA
My complaint is your customer service reps seems to have no clue as how to treat your customers. After my u-verse was increased in August I called to see if I could get it lowered and was advised that there was nothing more that could be done. So after going basic for a few weeks the lost of the channels still did not warrant the price I was being charged. I called in September, I believe it was the 6, spoke with a rep and set up a price of $119 for 24 months if I would switch my u-verse to direct tv. Now I am being told that I am not eligible for that rate before of me having phone service since 2013, that is not what I was told, so if you cannot honor your agreement I would like you to take me out of this one sided contract so that I can look for service with another company.
Doug Nelson
from Eugene, OR
Starting on Aug 23 we switched from a family plan that we had for many years to a unlimited plus plan along with switching to Direct tv so we could save money. our Bill should be 140 roughly every month but the last few months since switching over it has been almost 200 this is not what we have agreed to and i am extremely unhappy. Like i said i did this to save money not spend more. Every time I call in I get a different answer and they change the bill but every time it gets changed i then have a prorated bill and that yet still doesn't help me because my bill is more then it is supposed to be. I would like a answer and a solution to this or I will be taking my 20 plus years of business to a different company.
Christie wilkerson
from Montgomery, AL
Wayne Davis
from Colorado Springs, CO
I have had Service with ATT for 10 years I have a Cell Phone I call to have Unlimited service put on my cell phone that is Unlimited Data Plan the Girl of the phone told me because your a long time Customer we have a Gift for you it is a new Tablet and it is FREE I told her Nothing it free and she assured me there was only one charge for the Tablet that was $10.00 a month that's all I said ok I hope there is not a gimmick here just to sell me a Tablet she again assured no Gimmick well I got the tablet I put it on the charger and as it was charging up the Tablet started ringing I said what the heck is that well this tablet is a Phone I did not ask for a phone it has a dial and everything and I kept getting messages from Direct TV to set that up and they wanted a credit card Information for it to run it I did not ask for that and it had HBO and want me to set up an account I did not ask for that either the girl did not tell me anything about this stuff and she added up the billing and told me all this will cost me a month was $106.53 I told her that was fine but when I went on my billing on ATT it said they wanted $259.00 for the month of November this was not told to me I was being charged for the phone and a new phone number Direct TV and was going to be charged for HBO why do people lie to you on the phone I have trusted ATT for 10 years now and they do this to me, I don't no if the Girl gets a commission for selling Tablets or what but she socked it to me and this is not fear to me I wanted to keep the Tablet so Badly but I could not pay those High prices. I am a Disabled Vet and I am on SSI and I am having it hard enough but I keep the ATT account because they have been good to me for 10 years now I get this pulled on me and it is not right by ATT.
I took the Tablet back to the ATT store and I have 2 receipts for proof where I turned it in. Shame on ATT to do this.
Viola McEwan
from Eugene, OR
We had trouble with my DVD and called AT&T. They had me on the phone for 2HRS.and a half. Got nothing resolved. I an so tired of getting nothing resolved . Both me and my husband are in our late 70's and its hard to be on the phone that long.
Wesley Rees
from Gallatin, TN
Hello,
My name is Wesley Rees. I have been an AT+T customer since May 2016. At that time, I ordered internet service (U-verse) and had it installed at our new home. Within a few months, I saw the need for home phone service and added it.
Earlier this year, I began experiencing some issues with the internet service and called about having some service done. The reps checked remotely and said that they could reset some things from where they were. I continued to experience the issues until it started to affect our home phone service also.
I called in to have a tech come out and check things in and outside of our home. (The phone and internet service started to drop out for several hours during the daytime). The tech was supposed to come out one weekday afternoon. He called us an hour after his appointment was supposed to be over to let us know that he would be late. I told him not to come out, and that I was probably going to cancel the service with AT+T. Needless to say, I was not happy about this.
A few days later, I called in and requested a service call for a Saturday, when I would be at home from work. The same guy came out and did a few things- troubleshooting and feeling confident that he had solved the problem. Within an hour or two of him leaving, the issue occurred again and our service dropped out for about an hour or so. I called him from my Tracfone cell phone to let him know that the issue had not been resolved.
After a couple more weeks of this I saw that my AT+T bill was going up and was paying around $100 for internet and home phone service. Unhappy with the service, I attempted to call in to see what could be done to lower the bill. We do not use the amount of internet that we are given and I cancelled the international calling plan to help reduce the bill. An online chat rep, on August 20, stated that if we ordered wireless tablet service, that my overall AT+T bill would be reduced from around $100 to around $60. I questioned this, as it didn't seem right- that we could add a service and get our bill lowered. So I double-checked and was assured that this would be the case. ( I do not have a record of this chat now experience, and am kicking myself now, since I have been told that since I do not have a record, that I will now be charged an early termination fee).
A few days later, I was billed for the shipping of the tablet and received it. (I did not need a tablet, and only ordered service because I was told that it would lower my overall bill with AT+T). We continued to have service outage issues, and I was calling in after work to let them know how unhappy I was about the service. I wanted to cancel all service with AT+T, but you are the only providers in my area for internet, so I held off on cancelling. The outages continued and then, upon seeing that my bill did not decrease but instead went up(!!!) I called in to have the home phone and internet checked again. The same service tech came out and worked on the service at the house here, but by the time I got home from work, I was furious. Not happy that the online chat now rep was wrong in what she told me about the billing, and still experiencing the outage issues, I finally cancelled the home phone and wireless tablet service. I also told the chat now rep at this time that I only wanted to pay about $30 a month for internet and not the $50+ that I was currently paying. After being switched back and forth between departments, I was told that everything was taken care of. However, there was no indication of what I was supposed to do with the tablet in order to send it back. I had barely used the tablet and wanted to send it back because it was AT+T equipment and not mine. I had told the chat now reps that I wanted to send it back, but they did not inform me on what to do.
A few weeks later, while checking my account, it appeared that my billing was still messed up and was now being charged even more money for service that I was supposed to no longer have. Upon checking in with chat now reps, I was informed that I had not cancelled my wireless tablet service in time and was now going to pay for the early cancellation fee. I asked why this was the case, since I had been misinformed about the pricing. I was told then that since I did not have a record of the chat with the rep who ordered the service for me, that I would have to pay for all of the wireless tablet service and fees, including the cancellation fee. I told them that I should not have to pay the fees for services that I did not want. The rep said that I would have to pay them. I said that I would not pay for fees and services that were misrepresented to me.
And that is where we stand now. I have not paid for any of these services and fees and would like them removed from my bill. I have been told that this will not happen, and I stand by my statement that I will not pay for them.
So my question now is, How do I send back the AT+T tablet. I do not need it or want it and have cancelled the service. I have cancelled the home phone service, and would cancel the internet if I could find another provider in my area at a reasonable price. So the ball is in your court. I will await your response...
Respectfully and sincerely,
Wesley Rees
In May we called to get a land line hooked up to our house. The tech showed up and all he had to do was hook up the wires in the box outside of the house. The tech stated that he was told he was going to have to run new wire inside. I explained that I had already ran all of the wires inside the house so he would not need to do that. Tech checked the phones after he hooked them up and everything worked. The tech stated that he would note the file so we would not be charged as he did not have to do the extra work and would be approx $120 off . We received our bill with the charge on it for the Tech running the wire that he did not run. We were told that the file has been noted and sent for a Manger to approve and remove. We were told to only pay the difference and that AT&T would resolve the issue with the over charge. We have been going around since May It is now Oct. We have spoken with sever Managers and finally go the charges dropped. When the charges were dropped so was my long distance service. We have been calling for over 2 weeks trying to get our long distance service turned back on as my Wife and I work from home and this has caused a big issue. I would like to get this resolved as soon as possible I feel we have been way more than patient 6 months in the making now.
Nancy G. Riggins
from Fletcher, NC
I have been a customer of ATT since 2015 and prior to that my husband a former employee for 37 years. I am upset with the price increase of my bill since I went under contract. I went to Direct TV, then they were taken over by ATT and thus my prices continue to increase. I decided to go with another provider which gave me a price guaranteed for 2 years. I went back to ATT on Oct 5th to get a quote for my internet service. I was told it would be $47.00 monthly with a $15.00 credit giving me a price of $32.00 plus taxes. Today the 20th of Oct. when my contract with ATT would expire I cancelled my service with them and told the agent I wanted to continue my internet and gave her the price of $32.00 I was given. She came back and said my cost would be $54.00 a month with the $15.00 discount coming to $49.00 a month because of not having Direct TV. I am not the only one sick of ATT because of their price increases. I have no complaint with their services but only with their prices increases. Also the agent I spoke with today, tried to charge me with a cancellation fee until I assured her that was wrong, that my contract expired today. She then said she had pulled up the wrong account. I am sure she did, really? I would not recommend ATT to anyone. I am stuck with them for my internet for a year, but after that, I am through. I hope other customers will read these complaints before signing with ATT. Nancy Riggins Oct. 20, 2017.
Zulema Vazquez
from Miami, FL
Terrible customer services!!!!
I called AT & T yesterday because my larm is beeping despite all my efforts to fix it. The lady over there "scheduled an appointment for today from 8 to 12 but nobody showed or called me, so I called customer services at 12:30 and the c.s representative told me that my appointment was open and that they called the tech who never aswered the phone and for that reason a supervisor will call me to let me know what was going on with my appointment. By the 1:30 pm after several calls, a lady told me that I did have any appointment (I request a day off at work to make this appointment). Finally I spoke with a supervisor called Charles who was very rude and who informed that my original and only appointment was scheduled for 11/7....so,, 3 more weeks heraing a bepp ....This is SO unrespetful !!!! As soon I completed my contract I will running out from this incompetent company. I missed my work day and my patience with these peple who turned ny day in a nightmare !
Gerry Brown
from Monroe, LA
I was told my a representative before I joined AT&T on August 26 (cell phone) that my bill would be a certain amount but now that I have joined I am being told he misinformed me so now my bill is much higher. I do have a copy of our chat. I have called several times to correct this problem, I have spoken with a supervisor on tonight Oct. 15, 2017 only for him to get smart and very unprofessional.
Dorothy quick
from Hayward, CA
I have been trying to get internet at our place for 2 weeks now. I had a bundled plan with directv, I have my cable but still can't get a straight answer from anyone. I keep getting transferred to different departments, hung up on, and my credit ran every single time. I went from a 570 to a 419 in a matter of days because Everytime I call you run my credit! Why is that if I have an account already? Now my credit is too low to get service from anyone else. Was this the plan? So that I had no other option than to stay with you?
Syed ali
from Lawrenceville, GA
I have some grave concern inregard to my exp at att wireless retail store in lawrenceville ga 722 Collins hill . As a loyal Cust which I have been for ten yrs..
And same time it's a shame . That it's came down to loyal client have to file a complaint form. To get at & f to stop ruining a relationship of 10yrs. There is fraud that has occurred in during a visit at att wireless store for five minutes. To check out the new product .ans at same time was shopping a birthday gift did my wife's which was on 9-29. .so the fraud incident that occurred was on 9-27 as I mention I was in store . & it's a shams to mention that I went in with in mind to get new phone for wife but due to the unpleasant conversation with rep and type question I was being asked . I ran out of the store pretty much . I felt some ons trying to gather to much personal info so I stop from caring any further . I left shortly after I left I recieved voice mail from the SAMs rep wanting to know when I would come back and for me to call in regards to wanting some info . Which I did not same day my wife experienced some issue with her existing phone went black out not knowing what the seems the problem . We waste days from apple to AT&T to mall repair place but no one could tell what went wrong I wasted 2 days of my time going in circle.from pl to pl . My last option which was buying new one. But that also failed due to I being told that upgrade was already done & I was the new owner of i8 & cannot upgrade. & that if was dons at this particular store where I was on 27 sep well then this just beginning now wife with out phone with young kids not exceptable . So back to start again I was then told that fraud dept shut my wife's ph off ( this ph with no under contract or term) and with out warning or courtesy call . AT&T decide to kill my existing phone .after hours if waiting on hold I was told to go retail store and pick up new sim after that ph shokd be fine since tits reset by fraud dept .so we did and my wife went to same store that I did and. We where told we just purchased a new phone from them . And I couldn't even get new phone . Now we r still with out ph after store replacing SIM card phone still did turn back on . Now still I have been accused by rep on phone in person they all think I am thief & lier and request for arbitration dept to contact me ASAP but no response none I am requesting some one need to respond accordingly & investigate to the fact and answer to my concern my phone ruin due to fraud dept #2 paying for servics that is not active now I just received a bill with terms on new ph & ins as well for znd in amount $ 42 I have also filed a police report and I need att full investigate outcome report once it's completed. Obviously crime is being done by people who represent att and if this statement dosent alert att then they need to clean up the bad seed . Before it's too late thank you
Michael Schroeder
from New Orleans, LA
My AT&T account is 9852649108. My contact number is 985-264-9109.
This complaint is about Upper Level Customer Service personnel and NOT about the lower-level operators that answer the initial telephone calls. It is my opinion that the your 1st level operators are routinely given information by higher level managers that appease the customer when the upper lever manager has no intent of following through on the actions.
My experience involve and insurance claim that turned into a warranty claim and two and a half months of shear stupidity involving broken promises for resolution, callbacks, and credits. I cannot believe that it took AT&T from on/or about July 18, 2017 until on/or about October 11, 2017 to figure out that I had returned a telephone despite that fact that the information was publicly available via the newgistics.com website and that Customer Service Reps for AT&T and Asurion had acknowledged the return of the phone.
I easily have over four hours of phone time (conservative estimate) in trying to resolve this issue once AT&T decided that I had not returned a telephone. This does not include an initial answer as my calls have always been answered very quickly. This means that AT&t personnel also spent that much time on the phone.
I was promised a Credit for the missing phone was going to be applied at least three times. Starting with October 6, I was told three time I would be receiving a phone call from a supervisor. I never received a single phone call, message, or email from said persons. I was told three times that my problem had been escalated. So what. It did not product any results.
Why do I blame the upper-level supervisors? Because a good deal of my time was spent waiting for the agent to receive an answer or proposed action from their supervisor. This is why I don't blame the front end personnel.
Finally, I was given a number to call at Asurion where I was given a number for your Warranty Department. Problem was resolved in about two minutes. It turns out, the information had been available since July. It turns out that tracking information previously given to me by Asurion was correct and that I, as a consumer, was able to verify the device had been sent back. Why could no one tell me this before and why couldn't AT&T figure this out?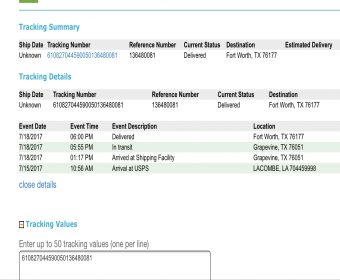 owedia sanders
from Arlington, TX
I've been with at&T since 2001. I recently changed my billing. I was offered unlimited data, unlimited text and free hbo for 60.00. I received a bill for 137.00 vs. 92.00. I called t mobile and can get a senior citizen discount for 70.00 which includes insurance protection. when I advised this to customer service they thought it best I change. I applied to unlock my phone which takes 24 hours but I wanted you to know a 17 year customer is leaving
Manuel del Puerto
from Opa-locka, FL
My name Rosario del Puerto my Phone 786 262 3490, my account # 152224776 under my husband name Manuel del Puerto. July 5, 2017 I talked with Mr. Sebastian I did a contract for one year for AT&T and DIRECT TV for 155.13 until April 2018. Now the bill is or 233.00. Before I wanted to cancel AT&T and Direct TV because I had very problems each month with the bill but AT&T told me that is going to give a credit for 80 dollars that why I didn't cancel it. After 3 months AT&T put me back the 80 dollars. Are you playing with me? Please try to find a solution and give a call back. Thank you Rosario/
Matthew Ory
from Houma, LA
My office has placed over 25 calls to have my number released to Charter when I moved office locations. I still do not have phone service that is potentially costing my business thousands of dollars. This has been an absolute joke. Legal action will be taken. AT&T has refused to release my phone number OF 985-446-3333 after several hours spent on the phone with you. This is disgusting customer service. I am cancelling any further affiliation with At&t.
I got a notification that my payment method failed. I realized it was the card that I had reported lost/stolen. I call and spoke to a rep becuase the system wasn't allowing me to just make the payment arrangement of ~$315.00. The rep stated that I could do it on line and then set up payment arrangements for the balance. I was able to make the $315.00 payment and was not able to set up the payment arrangement. The next rep I got named Debra was so unsympathetic and refused to listen to my explanation. She stated the entire amount was due. I informed her that I just made a $315.00 payment! She stated there was nothing she could do. I was naturally upset, because she seemed not to believe me when I told her that I made the payment and wanted to arrange for the balance. I have been a customer of AT & T since day one, having this account for over 20 years since the GTE Mobilnet days. She then stated it would be $5.00 for her to make a payment with her. I asked her to waive that fee as I really couldn't afford the $317 additional payment. She then changed her story and said she would need $100 to restore the account! I told her I get paid on Friday but she refused to assist. I got the distinct feeling that she was getting an incentive to get any kind of money, but once again I stated I just made a payment of $315.00. She had a mocking tone so I was getting upset over her attitude. She then stated that I would have a restoral fee of $35.00. I again asked her to waive that fee. Really? In all the time I have been a customer with a bill over $300.00 monthly she couldn't waive the fee? Once again I informed her it was not my fault my card was stolen ( and not to mention all the money in my wallet).
Please look into this matter and please listen to the first recording where I was misled. If reps are like that AT& T are bound to lose more customers.
Regards,
Diane Bettencourt
dsbettencourt@yahoo.com
(408) 931-4476
C Salcedo
from Ashburn, VA
AT&T Customer service department doesn't know what they are doing. I have been trying to get my mom's line block (she is 84 years old and doesn't know how to use the whatsup so she ended making long distance call) without success. Now after being promised that it will be done, I find out that it was not done and I am supposed to pay $600 in long distance calls.
I have a chat printout as a confirmation and for them it's not a valid proof. Are you serious?
Nancy Byrd 504 452 3805
from New Orleans, LA
I called about a replacement phone. salesperson offer buy one get on free with direct tv offer on phone for over an hour with both people
they both gave their good salesmen spill but when phones arrived I am being charged for 2 phones not one. was given miss info
called at&t customer service no help
Linda Russell
from Brooksville, FL
Was without service for 5 days due to hurricane. Been on the phone for over 1 hour, talked to 5 different persons. Got cut off, put on hole for 30 min. then cut off and told to call again. Reg. bill $91.03 being without service for 5 days was charged $93.00, what a company.
Wendy Griffin
from Birmingham, AL
When will my AT&T be back on - -I have no tv, no phone and no computer (using mine at work). How long will my service be out - I live in Birmingham, Alabama, zip code is 35224.
Have no complaints about U-verse...until now. There is no bad weather in the area or anything so....what happened?
Ruth Ann Hermann / Charles
from Festus, MO
Att agents need to be better informed. Was lied to about our internet plan we choose and amount we would to pay. Received first bill and it was for $85.41 not $30.00 . Called ATT and customer service agent did get bill down to $50.41 but still not correct amount. Was told < we would have to pay the $85.41 and I said "NO" because that was a incorrect amount. A few minutes after we came to a agreement, my internet was cancelled. I spent another hour on the phone trying to get my internet turned back on. Then was told I would need another modem because this one needed updated. So now I have to go thru with waiting for another modem ,setting it up and then reinstalling all my items back on a new modem. Every Att agent , except for the lady that reinstalled my internet, everybody else ,starting with the very first person we talked to about signing up for internet, has lied to us and told us misinformation. I don't know how Att has stayed in business so long, with such stupid prople working for them. I just heard a ad this morning on the radio, and ATT said, no activation fee or free modem and Wi-Fi. Apparently this message hasn't reached all the customer reps. Tired to telling Att reps how to do their job. I feel like I should be on the pay-roll. Can someone please get my bill straightened out.Thanks.
Pam Hinkle
from Morrisville, VT
Their cuatomer service is the pits! I wanted to add money to my prepaid account. The menu is not clear as to what button to push to add money to my account, so I pressed 0 to speak to a representative. I told the rep that I wanted to add money and told her the amount. She then rrpeated, "So you want to add money to your account? Everything I said, she repeated. She slso asked if it was from this phone number, and she was one digit off. Whatever happened to quick and efficient service?
The reason why I have been calling to add money this year is because I am dissatisfied with the way they have been handling the auto pay option, which I had for a few years with no problem - I had a certain amount taken out the 5th of the month and it was great! All of a sudden, they stopped withdrawing the money and after 2 months, I got a recorded message that my minutes were about to run out in 7 days. When I called to complain, I was on the phone with customer service for a half hour because she repeated everything I said. I then sent a letter to the President/CEO and I received a call from his assistant informing me that they don't withdraw the payment until two days before they expire. So for 5 days before, I would have to hear a recorded message before I make any call that my minutes are due to expire. MY REASON FOR WANTING TO HAVE A CERTAIN AMOUNT WITHDRAWN ON A CERTAIN DAY OF THE MONTH IS TO AVOID WAITING UNTIL THE LAST MINUTE!!! WHAT PART OF THIS DON'T YOU UNDERSTAND??? And who trains these customer service reps to repeat everything back to you with every sentence? What I want is to go back to have a certain amount taken out of my account on a certain day of EVERY MONTH, no matter how much I have in my account!!!
rita kappenstein
from Pottstown, PA
having trouble with iPhone 6 went to store two time said have to go to apple store drove 40 miles got my phone checke told me I had to go thru insurance I went last Tuesday had file for insurance still haven't got phone I really think people are not trained I am senior use my phone to keep in contact with grandkids really hard to believe I at my age get run around by people at store that don't know what there doimg
Gayle Day
from Decatur, GA
I have internet service for one year at $50.00 monthly. In August I received notice that my year would end in September and to contact AT&T prior to 09/15/2007. I contacted Terrell and asked if I could continue at $50 per month and explained my financial situation. He left a voicemail stating it would continue for 12 months at $50.00. I also received an order confirmation to that effect. However, the new confirmation was effective in August instead of September and contrary to what was promised, I received a bill for 60.00. If this could not be accomplished, Terrell should not have promised this. My concern is that AT&T failed to live up to the written and verbal confirmation. Then I was told if I cancelled, I would be liable for charges. Why? Since I was not given the arrangement that was agreed upon. Why should I be penalized for not receiving what I was promised. If necessary, i can send you the audio recording.
Lovell Ford
from Decatur, GA
I have contacted customer service approximately 4 times over the last week because my internet service is out. The automated system as well as the representatives there are saying that the outage is still existent. The rep I spoke to yesterday said services are normally restored in a 24 hours so I asked to speak with a supervisor. The supervisor I spoke to named Richard was chatting with me and did not give me a chance to type anything before disconnecting our chat session. I have not received any calls or notifications regarding an outage until I called only to have a supervisor be rude to me. This is some of the worst customer service I have experienced in a while and I am definitely shopping for a new carrier in my area!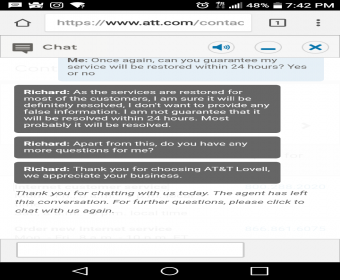 Rosa McDaniel
from San Diego, CA
To whom it may concern,
I am writing this letter to relay my great dissatisfaction with the services I received recently from AT&T. I am a disabled, elderly woman on a fixed income and appalled with the run around and poor customer service I was given as I attempted to retain services at my new residence. As a customer of AT&T of over 8 years, I had been pleased with the services provided, but this current ordeal has lasted over four months (from May 2017 to present), as I have been told incorrect information, stood up for appointments and promised things that have not come fruition. I would like to provide a brief overview of the egregious manner in which my case has been handled in hopes that something can be done.
In May of 2017, I moved to a new residence and requested that my cable services be instated at that location. Upon contacting AT&T customer service to begin the process, I was told that I had AT&T gear that I needed to return in order to clear the previous account. I told them that the items had been returned, but the system did not reflect that I had done so. Over a month and a half passed and numerous follow up calls later to verify if the account was cleared, I was continually told that the items were still shown on my account. This was a tremendous stressful situation for me, not to mention prolonged period of time that I did not have services in my new home. All the representatives I spoke to did not take the time to research the situation any further, which was perplexing to me to say the least.
I was finally able to speak to a manager and able to plead my situation for assistance. It was found that the account was cleared and I was promised a $200 gift card and a reduction in monthly services to $80 per month for phone, internet and cable for my inconvenience. The installation of services was ordered and scheduled at that time. The tech did not show up on the day and allotted, which was another added stress to an already absurd situation. When I called to advise AT&T that the tech did not come as scheduled, they researched and advised me that a $100 advance payment was needed, which I was not told about beforehand. If I had known this information during the initial call, I would have been prepared to pay it, but as I mentioned, I am on a fixed income and did not have the funds to retain the services at that time. More time passed and I saved the money to get the services, which I was then told that due to my credit, I had to pay a $449 non-refundable fee to obtain services, which I was not able to negotiate. An option for Direct TV was offered to me as the only option of services in my circumstance, which I had to check with my landlord to ensure that it was okay to have the equipment placed on the residence. The representative stated they would call me back, but never did so. Again, I had to call the AT&T customer service department back to say that I was interested in the Direct TV services. Hopeful at that point, I set up a new installation date. The tech arrived and again I was dismayed to find that he only bought hook ups for 2 rooms, which I had ordered 3. I called yet another time to verify the actual order and was able to get the situation rectified. At this point, as you can see after much time and stress, I finally received cable services after 4 months, but have yet to receive the internet and any of the guarantees I was promised from previous interactions with the company. I am hopeful that the company is interested in compensating me and my family for the blatant disregard for time and poor customer service it has displayed over the past 4 months, as it has definitely soured the perception of AT&T in my mind.
If there are any further questions or information needed pertaining to this situation, I can be reached at 619-715-0776 at your soonest. Minimally, I would like to receive some type of acknowledgement of this situation from the company to ensure that this is addressed in an appropriate manner because no one should have to enter such a stressful ordeal just to obtain internet, phone and cable services in their home. Thank you for your time and consideration in this matter.
Robin Bagster
from Boynton Beach, FL
On June 24, 2017 I switched my wireless service from TMobile to ATT. ATT promised to credit me up to $650.00 to pay for the phones I still owed to TMobile which was 2x$540.00. On June 24th, a trade in deduction was made for the phones of $376.00 and I was promised the balance in Visa cards to take care of the balance. I submitted my final TMobile bill TWICE because I was told I did not qualify for the credit the first time!! The second time they accepted it, however, 3 months later I finally received the Visas (9/16/17) for only $190.00 each because ATT decided to deduct an additional $150.00 for trade in from the approved amount of $340.00. First of all....why was the approved amount for $340 when the bill clearly stated I owed $540.00??? And secondly, deducting trade in twice totaling $676.00 on brand new LG V20 phones is outrageous!! How is this right??? ATT is making false claims that they will pay for your phones to switch over!!! I am pissed that I ever believed them.
Katherine
from Darien, IL
I ordered a new SIM card because the old one didn't work, but with one time visit at&t store, one time phone order, one time online chat order, and more than two week's waiting, I got no SIM card. When I talk to the online customer service, chatting with a person named Jennifer, the woman is even worse. I think I deserved a refund for so long a time not being served, but she didn't think so, and without asking if there is any question, she finished the chat!
We were promised 3 services for $68 dollars a month. Had them for 3 months and every month we are charged almost $100 more than that. End up spending 2 hours or more each month talking to numerous departments. They lower the bill, eventually, but the amount they take off is added to the next month's bill. They are unethical, I'm so fed up, I'm switching all my services to another company.
Maria Doody
from Houston, TX
My youngest son called a the week before to get service on Saturday, September 9th. Came to my house so that he could assist the AT&T service people with any questions. He spent a good part of the morning trying to find out where the service tech was. Speaking to someone in another country who knew nothing. I called later in the afternoon on Saturday to see why they still had not shown up to come check our equipment, since we believed that Hurricane Harvey had fried our receiver. This was a no show and a lot of static on the phone. Now I am being sent out new equipment that should arrived today (Tuesday, Sept 12) . What service, I am so tired of being jerked around with them. 281-484-4902
My oldest son had the same experience yesterday at his apartment NO SHOW, NO CALL- This service SUCKS!! 346-900-3989
So you know what AT&T Uverse needs to reimburse us for our time and does not deserve even one gold star.
Christine A. Lamachy
from Santa Clara, CA
Account: 116979669 [see attached image]
For TWENTY YEARS - - ALL my checks arrived on time and cleared my bank.
I got notification that a check (sent on Aug 12th) had not arrived by Aug 22nd (confirmed by bank. that it had not been posted to them)..
[Note: the USPS, apparently, has had some sort of deliver problem. because a first Comcast/xfinity check (mailed the same day that my first AT&T check was mailed) also never arrived, and i had to send a second check, too (on the same day as i sent my replacement check to AT&T]
I called the Philippians AT&T Support Center and spoke to "Lea" [ID no. 60197-5014].
She failed to document this: that i would be charged a late fee even if i sent a second check.
[Note: i could have walked 20 mins to a AT&T store at a mall to pay with cash or check or credit card if i knew i was going to owe an addition $10 that i can't afford]
MY UNDERSTAND WAS THAT I WOULD NOT (NOT) GET A LATE FEE CHARGE.
I understood from "Lea" that everything would be Okay, since i was sending a second check, SO LONG as it arrived before Sept 15th, WHICH IT DID (confirmed by my bank / posted Aug 28th).
I now have a new billing that includes a $9.00+ late charge with the bill totaling ten dollars more than normal.
[09-11-17]: Successive and Repeated phone calls to your incompetent Philippines' AT&T Support Center produced only people wanting to do power over me and not be supportive. [Hanna/ID= 4504 and Rachel/ID= ?] Repeatedly they refused to connect me with a supervisor who could remove the late fee which should not have been there in the first place. Then Hanna said she would call me back in 30mins. SHE DID NOT. || An hour later i called again (Rachel), and was finally to someone who was supposed to be a supervisor. I got to Bryan/ID= V3FP7Y6, who, supposedly, was a supervisor. His language was practically impossible to comprehend. His demeanor was the opposite of helpful. He kept trying to say i did not have the correct Account Passcode. I did. I always give it and it always is correct. Then he said he was in the cellphone department. It seemed to me he wanted to do-power over me and have control. The hostile attitude of Filipinos is generally combative, not polite and not accommodating. They demonstrated this toward me, an American [a 70 year old white lady in my case]. This is not good for your AT&T reputation and not good for your PR. || — IT WOULD BE SMART BUSINESS PRACTICE to honor the No Late Fee understanding i had and credit my next bill.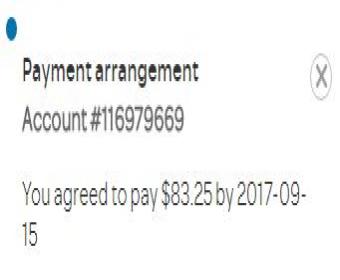 Yogita More
from Irving, TX
I was ATT Corporate store Employee. I was getting 50% discount. I lost job on 27th July 2017. I called same day to customer service to know up to which date I will get discount and they said up to that billing cycle. On 19th August I went to Beltline ,irving store and changed plan from post paid to prepaid and next month I got bill around 106 dollars. I did chat with customer service they adjusted amount and told me to pay $ 73.97, which I pad immediately. Still I was seeing 32.50 still needed to pay. I again called customer service and told them that I changed my plan the very first day and they said still I have to pay $32.50. As I was charged for whole month even though I have not used it. From her tone she was not ready to look in the matter or asking supervisor and was not ready to give me email added for making complaints. I am very upset with this. As an employee I was always feeling proud for working for my company and Team and I thought they will help me out as much as they can.My account no, is 177056942461. Please help me. Thanks.
X Alvarez
from Austin, TX
my bill is never the same every month and never in my favor.
when I call, get no help and when I asked to speak to supervisor they are not available and will call me within an hour RIGHT
no call back. I am very unsatisfied with their customer service ..
Cynthia Kalman
from Oak Creek, WI
Ive been a loyal customer of att for over 10 years. I bought my house and moved in 2 1/2 years ago. I transferred my u-verse to my house. I had noting but problems with it going in and out all the time. Countless phone calls and men coming to my home would never solve the problems. They convinced me that by installing direct tv, drilling into my brand new roof to install a dish would solveall these problems. I expressed concerns about my new roof having holes drilled into it. Att said it was the best option. Direct tv never worked properly. I had so many outages with internet and tv going down all the time. By all the time, I mean many times per week. I was charged 100 the day they came with the service man telling me I had to pay this fee or they would not install it. Then I find out I never should have been charged this because I was a current att customer. I never got reimbursed for this. Finally, after over a year of this, with service men coming out 5x in one week we decided to cancel due to att not providing the service in the contract they promised. The past 6 weeks, I have been on the phone with att to get the termination fees reversed as they told me they would do. The final bill is almost 321.00. I have been transferred 11 times in one almost 3 hour call, hung up on, the managers, customer care people and billing managers that promised this bill is being escalated and would be reversed in 24 hours, stated they would leave notes in my file, it is still not taken care of. Now my credit scare reflects late payment. I have a great credit scare and this does not sit lightly with me. The notes they state they cannot find. The agent id numbers I give them, they refuse to look up and ask them. I have asked for the ceo email or name to file a complaint, they refused to give me any name or email. They never reimbursed all the money I aid for services I could not use. ATT is quick to take all my payments, never late once in 10 years, but as soon as you cancel, they shun you. I'm to the point I am going to call my attorney and let him handle it. Why can't they reverse the charges and just do the RIGHT THING? Do NOT get att service. They do not take care of their customers before, during or after service.
Account# 103701486
Whitney DAiley
from Atmore, AL
They are selling Asurion Insurance for phones and not telling that they only cover liquid damages and physical damages for certain zipcodes and making you pay the same price for the insurance and will not find the address that does and mail the phn to be repaired and mail it back so everyone would ge treated equally. Why cant we get the same coverage for everyone if we all pay the same price for insurance but only have one option. you should tell customers this up front.
Cathy Pardee
from Carmel, IN
Hello,
I have tried to submit a complaint 4 times and get an error, talk again message only AFTER I finish filling out the form and submitting.
On Wednesday Sept. 6, 2017 between 5:00 and 5:30 p.m. EST my UVerse U200 cable went out briefly. When it reset and came back up local Indianapolis channel 13 WTHR had been taken off the lineup and was no longer available. I found that there is a contract dispute between ATT and WTHR.
To be clear I am not upset with WTHR, I am ANGRY with ATT. This type of contract dispute should NOT affect or involve customers!!
Customers pay a high cost for cable and if they want cable they have to pay it. This channel is not available since last night and still not available. I am still paying for cable! It may seen like a small thing since it is one channel BUT it is the principle that this type of thing is passed on to customers. If WTHR does not want to pay what ATT is asking, that should NOT AFFECT CUSTOMERS.
I am strongly considering leaving ATT. I will be following up and continue to voice my complaint through all resources.
Cathy Pardee
from Carmel, IN
Hello,
This is my third try to email a complaint. I could get all the way through and submit, then I would get a # (1504742100), an error message and it said to try again later.
On Wednesday September 6, 2017 between 5:00 and 5:30 p.m. EST my UVerse 200 cable went out. When it reset itself and came on, Indianapolis local channel 13 WTHR had a message that it had been taken off. I looked online and it has to do with a debate about money between ATT and WTHR
I am NOT angry with WTHR. I AM ANGRY with ATT. This type of thing should NOT affect paying customers!! Cable cost a lot and if you want cable you have to pay the price. If WTHR doesn't want to pay what ATT wants, that should NOT affect customers.
I will continue to voice my complaint and follow through.
Cathy Pardee
from Carmel, IN
Hello,
On Wednesday, September 6, 2017 between 5:00 and 5:30 p.m. EST, my UVerse U200 cable went off for a brief moment. When it reset itself and the cable came back on, local Indianapolis channel WTHR was not available. It seems there is some dispute between WTHR and AT&T re: money. So WTHR, cable channel 13, is unavailable to me, a paying customer.
Let me be clear-I am NOT upset with WTHR. I am ANGRY with AT&T. Contract and money disputes should not affect customers who pay quite a lot for cable. If WTHR does not justify paying what AT&T wants, it should NOT AFFECT CUSTOMERS!
I am strongly considering leaving AT&T. Cable charges are way too high and people have to pay it if they want cable. Now this.
I will be voicing my complaint to AT&T in any way I can and will continue to follow.
Thank you
Cathy Pardee
from Carmel, IN
Hello,
On Wednesday, September 6, 2017 between 5:00 and 5:30 p.m. my UVerse 200 cable service was interrupted for a brief couple of moments. When it reset itself, local Indianapolis channel WTHR (Cable channel 13) was not available. There was a message stating that this channel was removed "despite our efforts". I looked online and saw there is a contract dispute between AT&T and WTHR over money. I confirmed this by phone call with AT&T.
Let me be clear-I am NOT angry with WTHR. I AM ANGRY with AT&T. This contract dispute over money should not affect customers!!
I pay a good deal of money to have cable which is already too high. If I want cable I have to pay it. Customers already pay too much. I am strongly considering leaving AT&T. Whether WTHR is willing to pay what AT&T wants to keep in on cable SHOULD NOT BE TAKEN OUT ON CUSTOMERS.
I will be voicing this complaint in as many ways possible and will continue to follow up.
cheryl burke
from Augusta, GA
I have been having trouble with my land line phone for some time now . I called to have my lines worked on , the first guy that came out here said the problem was down town . and they would have to fix it down there . a while went by and i was still having trouble . so i called again . they said they would send some one out in 2 weeks . the next guy came out he said it was the underground wire out on peachorchard rd and he was not authorized to go under ground . so i waited longer for someone to fix it . when nothing was happening and i was still having trouble with the phone service i called again and asked if they were going to take some money off my bill because the phone service was not right still . he told me he would take 27.00 off .that was aug 8 to the 15 . it is now sept . l have tryed to get the phone fixed from before july . and still having trouble with the phone service . I think i should not be charged for service until it is fixed or turn off the phone until the company can fix this .the only other thing i can think of doing is to report it to the bbb. because im not getting nothing done like this . and to think when i call to report the problem they try to sell me more services . i dont think so if you cant get one service fixed.
my name is cheryl burke
address is 3515 old tobacco rd augusta ga 30906
phone number 706-796-9381
lamego_nelson@yahoo.com
from Detroit, MI
On Aug 28, 2017 ATT was supposed to install my internet service, so I had my daughter to take a day off from work and stay home between the hours of 8am-8:00pm. I called on Aug 27, 2017 that morning to see if they could narrow down a time I was told no but they would be more than happy to call me 30minute before arriving. I get an email on Aug 28, saying that I cancel my Appt. So when I call back they told me it was due a payment not going threw, I said if that's the cast when I called on Aug 27, they look up acct. information every was thing set to go Aug 28. When talk to att. customer service rep. she told me she apologize and she can set up Aug 30, I paid ATT $100.00 payment . On the 30th no one came out I was told between the hours of 8:00am -12:00noon no show no call. So called back they I was told I don't see appt. for you we have you down for Sept 5,2017 8AM-12:00 NOON I said could please see if I can be there first stop she said I will put in the notes. Sept 5 get here I get email 11:38AM saying they will not be able here by noon. So I explain to them this would be my 3rd install date and was lack communication on Att. How sad I had buddle packages with Direct TV SO I CANCEL MY SERVICES ITS POOR CUSTOMER ALL WAY AROUND.
ken reese
from Riverside, CA
on 9-1-2017 I called on 18008940374 for a down phone line in my yard got transferred to 18002882020,8773770016 got someone fro india two time gave a# to risk management 6268174294 got one more # one hour pass called again talked to jill she sent me to a line that I could speak the language called again was transferred to 611 talk to steve told me that some one will be out to fix it now to day is 9-5-2017 not done my dogs or kids was told to stay away I called the city utility serves got a number got it done 5 days later very pohave re serves that why I have cable and will never have att
Jerrold W. Schwarz
from Hilliard, OH
Charged twice to purchase Direct TV equipment .In Store i was told you never sell the equipment ! I have spoken to at least 10 customer service agents and no one can help me
Account No. 251237543
Case # 1-209873458253
Jerrold W. Schwarz
614-499-3474
Sandra Orlowski
from Skokie, IL
I spent over 20 minutes on the line holding to complain about exposed wires in my garden. I am a DirectTV customer but I did not have a service call but apparently my neighbors did. I spoke to 2 ATT techinicians that were on site.
I am on hold not for another 10 minutes and still waiting for resolution so submitting this as well.
The one told me that he wasn't the one to burry wires. It is unsafe and very unsightly for my yard to have exposed wires. I have landscapers coming this week to work in that area of my yard to clean it out.
This needs immediate attention.
thank you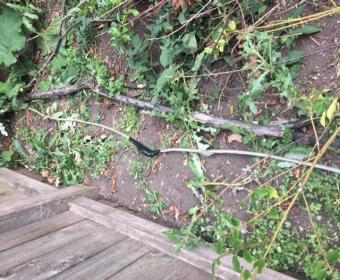 Richard Fiser
from West Plains, MO
I applied for the Directv / ATT Wireless special pricing in February of 2016. I was overcharged more tan $100 per month for 14 months and then they offered me $25.00 credit every month to add HBO if I had unlimited talk/text/data wireless plan. I agreed and have had to call in three times and still no $25.00 credit. They owe me over $1100 in overcharges for my Directv service and they stole over 13 hours of my time calling and fighting with them for 14 months. I truly wish each incompetent person at AT&T that has been involved in screwing up my account could feel and experience my frustration and disappointment.
Can anyone imagine 16 months of incorrect bills and calling into customer service one or two times a month for 16 months? AT&T so pathetic in their intercompartmentalizations, it results in complete stupification of every employee!
Victor
from Orland Park, IL
I signed up for new Internet and Direct TV services based on a advertisement sent to me home. the deal was for a 2 year contract I would recive Internet TV for $55 a month with a $20 discount on my mobile phone bill and a $100 Visa card
The day of insulation the rep told me Direct TV could not be used even thought I had this service before. The only option was universe and that would be an additional $25 per month but all of the services were the same. Today I called because I had no premium channels per the deal. I found out my monthly cost is $133 per month and after 2.5 hours with your customer service I'm told the only thing I can d is cancel service
I would never have switched had the prices be HONESTLY told to me at insulation.
After 1.4 hours on the phone a team manger named Vaughn was rude and condensing telling me I lied about the package bought. This experience has left me doubting that AT&T is a quality organization
I fully expect AT&T to honor the CONTRACT we agreed too
Maria Valencia
from Visalia, CA
I did an online AT&T purchase on June 21, 2017 at 6:24 PM for an Netgear 7550 Accessory for a total of $107.75. I received this online purchased on June 24, 2017. I was not happy with this purchased and on the their return policy for a refund, it said to return it to any AT&T store. No luck. Me and my son went to three different AT&T. First stop was at AT&T in Dinuba, Ca.they said we needed to take it to a bigger store. We went to AT&T in Visalia, Ca, they said they do not take item like that and we need to take it to the post office. We took it to the AT&T in Tulare, Ca. and they told us the same thing, take it to the post office. This is June 27, 2017 we send it back through the USPS. I called AT&T on August 4, 2017 I was on the phone for over 2 hrs, they kept transferring from U-Verse to Wireless back and forth.I spoke with Anika, Austin, Natanya, Richard, Samuel, he was able to find through tracking number and return label, that they received it! I was transferred again I spoke with Jennifer, Loren and Janet. Janet said it takes 90 days for refunds. She said the last of August I should get the refund.I thought it was too long. On 8/8/2017 I did an online chat with Sofiya G. Let her know the Online purchased of Netgear Model 7550 was returned back on 6/27/2017 and wanted to know when I would get my refund! She said she would have her Supervisor give me a call. At 11:13 a.m. James her supervisor called me and said he would fix everything , not to worry, I would get my refund back in my account in 48-72 hrs. That didn't happen. August 21, 2017 I called and spoke with Edward from Refund Costumer Dept. he tells me it will take 30 to 40 days more for the refund of $107.75. I have been waiting since June for a refund. AT&T has their product, I haven't received my refund. All they are doing to me is lying. Hope you can help me! Here I'm sending my order forms, Account Activity where &107.75 was taken out and my Return slip from Visalia Post Office. Thank you, Maria Valencia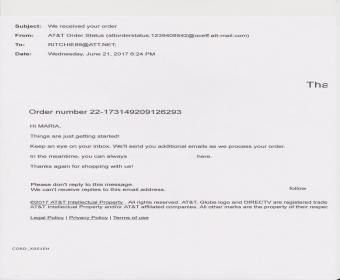 Thanks for your feedback!
Sorry. Please try again later!