1800flowers.com
Contact 1800flowers.com Corporate
Toll free phone number:
---
Welcome to the 1800flowers.com complaints department brought to you by HissingKitty. Experienced poor customer service? We make it easy to file a formal complaint against 1800flowers.com online. Simply use our free form and your feedback will be instantly forwarded for review. Need to contact the 1800flowers.com corporate office? We have the mailing address, phone number, and email address listed below.
1800flowers.com Contact Information
Report complaints to corporate and get satisfaction
1800flowers.com headquarters address

Company website

1-800 phone number

Toll-free number pending.

Better Business Bureau rating
Browse reviews of other Online Shopping
Top 1800flowers.com Complaints
Browse more than 95 reviews submitted so far

Aaron T Johnson
from Dennison, OH
I did the online order with them and wanted to change my order
I go to the online chat option and spent almost 2 hours trying to find out if I could update an order. I never got the answer. I told them I wanted to cancel my order then the replacement offered me 50% off my current order if I stayed
Then they're gone for a lengthy period of time. They come back and tell me that offer was not for me ot was for another customer. So the while time he was keeping me waiting he was also assisting another customer while giving me bad Information. I tried to get a discount on my next order due to the long wait time I spent in limbo waiting for a response and the incorrect I fo he gave me
The response was no there would be no discount of any kind even though I spent hour and half trying to get accurate information. All I wanted to do was update or add to an order that I made the same day. They are slow and live chat socks because they are not knowledgeable. I would not recommend them for any reason just go to your local florist probably get a better price and customer service.

Marcia McGrory
from Holly Ridge, NC
I placed an order 4.14.22 and still not delivered..for a funeral...i can not access customer service. When i tried required me to open an outlook account which i did but there is no email address to send complaint too...
W01005809881466
4.14.22

Paula Roberts
from Norristown, PA
Very disappointed with the floral arrangement sent to recipient for birthday. Arrangement was not what I ordered, much smaller with different flowers. To top it off, flowers arrived wilted and dying. Will never use 1-800-Flowers again.

D Pruente
from Frankfort, IN
I can not believe that the plant I ordered was being sent from Florida. No wonder the shipping fee was 25.98. Couldn't they find a florist that was closer then Florida. Order was placed in Chicago and delivery was in Chicago. I will never order from them again.

Mary Lou Henry
from Cincinnati, OH
I ordered a bouquet on 3/4 for delivery on 3/5. Shortly thereafter I was contacted that they couldn't deliver the arrangement I picked out so I picked another one with the rep on the phone. I called on 3/5 around 5:00 to see if the flowers had been delivered. I was told they had until 8:00 to do so. At 8:20 still no information that they had been delivered. I again spoke with a representative who indicated they would have to be delivered on Monday which after the fact. Guess what, Monday's delivery didn't make it either. There are several "orders" on my account indicating delivery on 3/12 which I did not order. Very disappointed

Karen McManus
from Haverhill, MA
I called the day I saw my passbook renewal. I was charged twice. They assured me the first was a soft charge and it would fall off. The second one is still deducted from my banking account . Here it is March 3 and it is still not resolved. I have spoken to many people at that company. Seems very scammed.

Susan Greenwell
from Indianapolis, IN
Will absolutely NEVER order from them again! Ordered flowers on the 26th for my girlfriend to give her dying mother to be delivered on the 28th by 8 pm. Due to Covid, she's not been allowed to visit so I thought it might make her feel better if a piece of her was there since she couldn't be. The flowers never showed up. Had a confirmation email, was able to track the order, and still showed up in the system but they cancelled the order due to "suspected fraudulent email". What is fraudulent email? And they never even contacted me to tell me that the order was cancelled. No call. No email. Nothing. They called in immediate family today to say their goodbyes. So she's there now and noticed the flowers never came. The first representative I spoke to offered to call her and let her know why the flower delivery was canceled. So his solution was to call someone who is sitting at the bedside of their dying mother to tell them that they canceled the flowers due to fraudulent email. He wanted to interrupt her time to explain this nonsense instead of just sending me an email so that I could screenshot it and send it to her about what happened. The second representative did a replacement order and took a whole $6 off my order. Six dollars. Now the delivery is supposed to be tomorrow sometime between 9:00 and 5:00. This woman is dying and the one thing I could offer my girlfriend to console her is these flowers. She could be dead tomorrow. So she's upset and I'm made to look like I canceled the order and just reordered last minute. My name and my word is at stake here. She's not even speaking to me now. So I asked the representative what happens if she's dead tomorrow when the flowers arrive and there's nowhere to deliver them to because she's in a morgue? This woman told me she's going to pray. She totally admitted fault on the company's behalf, but the price of my word and my name is $6. The one thing I could have done for my girlfriend in this time, and I let her down. The company won't get blamed for this, I will. So I'm telling everybody now, you take a gamble on if your flowers are going to be delivered and you won't even know anything about it if they cancel because they don't inform you. I will be reporting this to the Better Business Bureau and every website I can find. They will right this wrong. At this point I shouldn't have to pay anything. And whoever the person was who canceled my order without informing me should be terminated. I plan to take this as far as it'll go.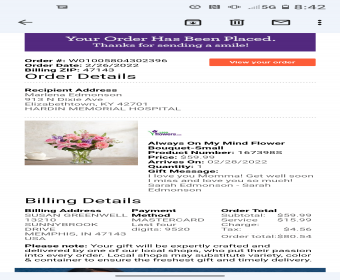 Anne Perton
from Ossining, NY
The worst company, do not use, they said they delivered it on my birthday yesterday at 10:30 which was a lie. Then when they got caught in a lie they said it would be delivered today by 12. Then when I called to confirm they said it would be delivered Monday because they don't deliver on the weekends. Do not use this company the worst customer service ever text

Ana Cabrera
from Clark, NJ
Good afternoon, To Whom It May concern,
My name is Ana Cabrera and I have been a very loyal customer of 1800 Flowers for many years. This month alone I have placed 15 orders and the reason why I'm writing this email. I have patience and understand with everything happing it's not easy but as a customer. I do not appreciate being lied to and it didn't even happen once it happen twice. I had placed an order for my husband on Valentine's Day it was order #5798304658. He was supposed to have received it on February 10 and nothing I reached out to the representative by chat and the person stated they will place a new order and have it shipped and give me 50% back and a 20 dollar passes for my trouble. I told the person thank you so much for your help and waited a whole week and nothing. I reach out to another representative by chat again and got disconnected 3 times had to tell 3 different people the same problem. Finally, when I reach out to someone they told me the same thing will send you a new item and the 50% money-back and $20 pass for my trouble waited another week, and still nothing no email or anything. I just can't believe this is happening to top it off I sent my husband another gift for his birthday since it's February 20 and I had a fruit bouquet order # 5798811456 sent to his job. The delivery was supposed to have happened on the 17th since I was like just in case the company has a problem delivering on the due date he could still get it on that Friday 18th. When I asked my husband did he get anything on Thursday or Friday he said no. I was so disappointed at 1800 flowers they didn't call him or anything. That was my last straw I love the company but this is now happening so often that I'm very upset and both times it was for my husband which is very unacceptable.
I hope the company gets their act together because this is very bad for business. I can't even chat with someone because I feel I will get the same answer but nothing will get done.

Ricky Lincoln
from Felipe Carrillo Puerto, ROO
I ordered flowers for my friend and on the website it said if you order within the next 1 hour and 34 minutes the order will arrive by 2pm. It did not arrive as promised, when I asked about it I was told by the virtual assistant that it would be delivered by 8pm. Then I was asked if I wanted a redelivery. I asked for a supervisor, finally after asking 4 times a guy comes on and says he's a supervisor and a real person. He was not. He said he apologized that the delivery did not deliver as promised but it's on the truck now and will deliver by 8pm. I asked for the name or number of the florist they used and the virtual assistant said no. Then the human supervisor started sending canned messages and it was obvious he too was a virtual assistant. This is the worst company if have ever used for flower delivery and customer service. They lie and now I'm not sure if the flowers will ever get delivered. TERRIBLE SERVICE, LIARS.

Jeffrey Poloncic
from New York, NY
Worst experience ever I ordered flowers they showed up half dead I called them they said they're gonna issue a new order and issue a refund ruin my wife on Valentine's Day I got off the phone with him just now and they haven't processed a replacement on my refund very angry

James Lassiter
from Sherman, TX
Every year its the same thing. Valentines day I get a debit on my back account for whatever 1800flowers.com that I did NOT order. I call, they say they are going to refund, send an email confirming such...then never get the refund.... Is there a State Attorney Generals office somewhere to look into this?

michael hodges
from New York, NY
Been trying last night to get the issue with my order resolved to no avail, i have to work so i dont have time to sit on the phone for 45 mins. Do i get on the website wait forever and finally get to chat with someone, just have them leave midcoonversation. Then I have to wait again, so i feel out the survey and ask someone to contact me.. Please fix the issie.

Megan Knotts
from Cleveland, OH
My flowers were never delivered to my recipient. I used a gift card for part of the order that I purchased through my daughters school program. I explained you can't refund back to that card because it does not exist. I used basically a promo code. They kept telling me that I would get the full amount back to my debit card and I didn't. I just got the amount used by the debit card. I was sent to 6 different people and I was either hung up on or sent to the main menu. No one will help me get my money back.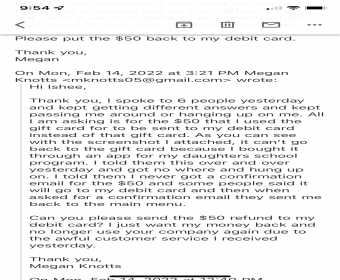 Donna Caprioni
from New Rochelle, NY
I received an email on the day the flowers were to be delivered at 4:30 telling me flowers had been delivered. They never were. When I called they said must have gone to wrong address, I asked for refund. After 2 weeks and four phone calls where each time I was disconnected I received notice that I received I refund of $53 however I was charged $85.
Worst customer service and I still can't get a refund for the amount I was charged.

Franklin Bailey
from Washington, DC
Ordered flowers on February 2 to be delivered on Valentine's Day. They weren't delivered. Customer service is horrible. You couldn't pay me to use these people again. They're rip-off. Don't buy from them.

Samina Holland
from Fallbrook, CA
I ordered a basket of flowers and balloons for a 85 year old friend. To have waited and checked status all day. It was her birthday. For it to have been "delivered "@7pm. Which of course family was looking for the items and no they were not delivered and I call in and I speak to someone who insist on telling me it's delivered when I know by family it was not I asked whomever local florist she used is obviously not doing their jobs as being contracted under your company but also I wanted a full refund defeats purpose of the arrangement for her birthday. Took her over thirty minutes and she wouldn't give me the refund and wouldn't let me speak to a supervisor as I was getting nowhere with her.
Honestly this being a big company - I NEVER would have expected this. I'm seriously angry and upset by all of this.! What's the point of an arrangement for an occasion and surprise- if it isn't received. Failure to deliver or give me a refund is unacceptable

I order 100 red roses for 55 birthday for my wife, pay online, with correct address. In the delivery day I don't receive any flowers but receive email- Flowers delivered!! So, I call costumer service, with is TERRIBLE, They say -we will be working on this problem and maybe flowers will be delivered tomorrow. Well if my flowers for 500$ not going to be delivered tomorrow I will complain again to much series organization.

Heather
from Surprise, AZ
DO NOT USE 1-800-Flowers UNLESS you want to have a horrible experience! All of the phone representatives do not speak very good English and they do not pay attention to details! I ordered a floral arrangement for an upcoming funeral this weekend. I spent 21 minutes on the phone placing my order and I had to phonetically spell out the entire recipients name, church and address of delivery… multiple times I had to repeat all of this information (literally 3-4 times). The call ends, and I later receive a voicemail stating they need me to contact them about my order. I call them back, and I had to pull up the email to provide my order# and realized the recipients name, church and delivery address all had multiple errors so there's no way this delivery would have been successful. The representative on the phone (my 2nd call) wanted to know the required delivery time (which I provided during my 1st phone call multiple times), but I provide the timeframe again and I explained the errors on my order. The representative assures me he will fix it right away and will send me a new email confirmation. I waited, but did not receive an email, so I decided to chat online because I can type out all the errors made and make sure this was corrected on their end. The chat representative had to make all of the corrections because the 2nd call representative never did what he assured me he would do. The chat representative now assures me everything matches now. Then I called to speak with a manager to provide feedback of my experience and he says he would call me back in 1 hour, but he never called me back. 5 hours later, I received a 2nd email order confirmation with all of the same errors that I had on my 1st email, so I logged into my order online and can see most of it was corrected, except the street name is still misspelled. So I call in again (3rd call) to get the street name corrected and I asked to speak with another manager because at this point I am beyond upset. I explained my entire situation and the street name was still incorrect, the manager was shocked that another manager said he would call me back and did not follow through with his commitment (to an upset customer) and agreed my experience was not good considering it was my first time using their company. This manager was very apologetic and made the correction to the street name and then sent me an email showing the correction made, and I also logged into my order online and confirmed it was also correct there. I'm thinking I am good to go now… BUT my husband noticed this morning we have 2 "pending" charges in our bank account for $160.71 each. So I called in again (4th call) and the girl tells me this is a pending charge to avoid fraud, it is not impacting my bank account and it will automatically be reversed within 3-5 business days. I can assure you this was impacting my bank because my balance in my account has been reduced TWICE (a total of $321.42)! I did another online chat and sure enough this was their explanation "After a careful review on your account, I only found one order for a total of $160.71. The other charge you see on your statement is only a pending authorization charge or a pre-authorization charge that will automatically be removed or fall off within 24 hours or within 3-5 business days depending how fast your bank processes the removal of the authorization. This is a security process to avoid fraudsters causing charge backs. As we have a lot of cases about frauds placing online using stolen credit cards, but we didn't take the actual charge, it's being held temporarily by your bank that will automatically fall off." The chat representative told me it will automatically fall off within 7 business days, then later says within 24 hours to 3-5 business days. Good thing I have enough money to cover these 2 "pending charges" even though I only authorized 1 charge to my account and no one told me or disclosed that there would be 2 "pending" charges either. If this is their process, they definitely need to tell customers about this process so they are aware! This is such a ridiculous experience and I would never recommend using 1-800-Flowers!!!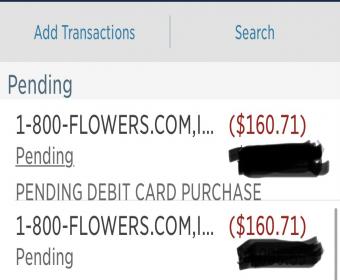 Katherine Suskie
from Lawton, OK
I ordered flowers that were to be delivered on 12-23, they never made it, then again was promised delivery on 26th, no delivery. Called again today and now the 28th. I never received a call or email from anyone. I have used this place for 8 yrs now, not sure I will every do business with 1 800 flowers again. Hope its delivered tomorrow. My aunt is 92 and looks forward to my flowers I send her. Tired of being on the phone for hours. Xmas is over now. Still trying.

Stephen E Thompson
from Moundsville, WV
The memorial lantern I ordered was beautiful. My complaint is that the recipient had no idea where it came from. The card with my message wasn't included with my order. If I had not called my family member today 12-24-21, they would never have known where it came from. Unhappy it wasn't included. I will in the future not ever deal with 1 800 flowers. I will also notify my family members in the future to use local florist and not go through your company.

Mark H SISKE
from Lincoln, NE
Ordered for Valentine's Day birthday in Narch and now Christmas not one of the deliveries arrived on time. Each time blamed on FedEx and never received any compensation. Beware if you have a deadline and go elsewhere

Melissa Jones
from Tampa, FL
I cancelled an order on 8/2/2021. I was told it could take 1-2 MONTHS for the credit to show. My bank credits immediately. Nearly 5 months later, there is still no credit and they refuse to do anything to make it right.

John Hernandez
from San Antonio, TX
I ordered days before our anniversary and I had everything planned so that my wife received a delivery at work and when she got home another delivery of flowers. They even charged me $5 for a specific time frame 3-6pm. Never received my order, this just hurt me because I was just waiting to give my wife those flowers. Never trust this business ever. I should have just gone local

Hubert Reece
from Cedar Hill, TX
If I could do less than 1 star I would. I attempted to order same day delivery flowers for my wife. They did not arrive at her job on same day. Disappointed but not angry since I did order early afternoon. The delivery location was her job, a school. My order was placed over the phone when there was an issue with the website and my PayPal site connection. I called customer service at about 7pm the same day to find out why my order was not delivered. No good answer given. Did realize the rep who took my order input my email address wrong. I was told my order would be delivered next day before 4pm. I called the next day at about 1:30 because it still had not arrived. I spoke with supervisor who "called" the florist and was told they were putting arrangement together again so that the flowers would be fresh. Would be delivered by 4pm. 4pm still no flowers. I called back and asked for manager and a refund. Was told by rep that "called" florist as well and was told that there were internet issues which prohibited them from getting my order. I then advised that previous supervisor spoke with someone who was putting arrangement together at 2pm. That is when I was told that my order had been bounced around to multiple florists. Horrible service. Still have not gotten an email with coupon that they promised. Do not use this service.

JoAnne Carpentieri
from Monroe, CT
The flowers filigreed did not represent the flowers ion the website and I have pictures to prove my point. I believe another gift free of charge should be delivered, this is not acceptable.
JoAnne Carpentieri

Michelle Cockrell
from Blackwood, NJ
I just received an edible arrangement from a company you hired called Fruit & Flower Creation, 639 W. Bridge Street, Phoenixville, PA 19460. I would NEVER tell my friend that their bouquet arrived in such a terrible condition. The fruit was old and wilted and the chocolate they dipped some of the fruit in was absolutely watered down and tasteless. I have never recieved a fruit arrangement in such terrible condition in all my life prompting me to notify you that you should sever ties with this company. They do not represent you well at all! Such a shame for my friend who no doubt paid good money fo this.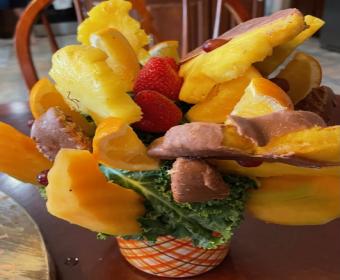 Amy Jackson
from Dayton, OH
To the legal department of 1-800-Flowers
My name is Amy Jackson I received a boutique of flowers from one of your establishments on October 25th, 2021 at my home location 4980 Woodman Park Apt13, Dayton OH 45432 the boutique of flowers was delivered in the name of Nicole Schute instead of Amy Jackson.
The person who purchased these flowers his name is Nathaniel Shingleton he has a civil protection/domestic violence protection order put against him by me he is suppose to have no contact with me the case#2021CR01357 is with the City of Dayton, OH. That is why he put the name as Nicole Schute rinstead of Amy Jackson and did not sign the card he is trying to hide his identity but this is how he does things in the past we have now reported it to the Dayton Police Department report# 123245678 as they as well will be contacting you to see if we can get a copy of the receipt or copy of who paid for the boutique of flowers.
Domestic Violence is real thing, I am afraid for my life with this man, you see something, say something this is why I asking you please provide me with a copy of the credit card statement/receipt of who purchase this flowers so I can forward it to the Dayton Police Department and the prosecuting attorney so Nathaniel Shingleton can stop harassing me. I am asking your company to step up with a moral obligation to prevent this man from continuing to harrass me or eventually killing me he is mentally unstable let your company stand up regarding domestic violence and help prevent him from continuing this harrasment. I can provide any court documentation that you need to prove what I am talking about.
Sincerely
Amy Jackson

Elvira M. Estevez
from Bayonne, NJ
I placed an order last week for a soup basket as a get well gift.
After placing the order, I saw it could not be delivered until 11/09 and I electronically cancelled it within 15 minutes.
When I got a text that the item shipped, I contacted 1800fliwers explaining I had cancelled the order and was told because it shipped it was too late
Order W01095779765676 was delivered today, but it was not the right item. I contacted customer service and was told they would send what I ordered. I was then told it wasn't in stock to send. When I asked for a refund I was told that would not be possible since an item was delivered.
I was offered partial credit, which I refused.
My items where not delivered on the date I requested and they were the wrong thing. If my order can't be replaced It should be refunded.
That said, I don't want 'a partial refund.'
I will no longer do business with a company that does not take responsibility for errors and penalizes me for their mistakes.

R. Bailey
from Upper Marlboro, MD
Was charged twice the same amount on my debit card for a direct purchase and told it was a pre-authorization hold. (5 day hold)

Sarah Lacy
from Charlotte, NC
I ordered the floral arrangement on the right. I recieved the one on the left. I am very displeased with this arrangement. I very much dislike bows. Why is there a big white bow on there. No fullness compared to the original on the rt. Much smaller vase. Very unhappy. Not the elegance I was hoping for.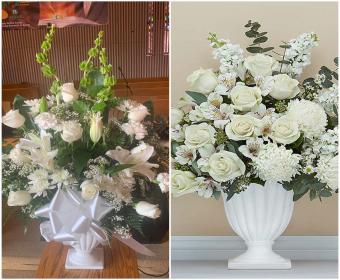 Daniel vargas
from Dallas, TX
I ordered some daisy's for my wife and when they arrived they were COVERED in spider mites! Never again!!!

Rosemary Johnson
from Bowie, MD
Upon confirmation receipt of order, there were typos and grammatical errors on card. This was humiliating and embarrassing during the sad occasion of the death of a dear friend's Father! I was assured the card would be corrected. I received email with corrected verbiage for card, yet the original card with typos and grammatical errors was sent to the bereaved! I called again and customer service rep offered me a 50% discount on another flower order as well as offered to personally call the bereaved and apologize. I said no, I would like to send another floral arrangement to the home of the deceased since the funeral was September 15th. Long story short, the same card with typos and grammatical errors was sent to the church where funeral was. It is as though there are sick people working at 1-800-FLOWERS that are so heartless that they think death and grieving is something to be toyed and played with.

Carmen Hudson
from Shelter Island, NY
I ordered flowers to be delivered today. They were not delivered even though I received a delivery confirmation. First representative Oliver told me (after waiting 25 minutes for a call back) sometimes those messages are sent before delivery and be patient and wait until 8 pm. He also said if it wasn't received to call a special number and I could speak to someone without waiting. I called at 8:10. Waited 30 minutes for a call back from Abigail. There was nothing she could do but redeliver tomorrow. This was supposed to be sent in sympathy and if I hadn't called I would not have known it wasn't delivered. I asked if that was my only choice and she promised to issue a refund. I asked if they knew if it was delivered to the wrong address and they had no idea what happened and all she did was issue a refund. I am so disappointed in this service.

Susan Adelson
from Ludlow, MA
I attempted to the cancel an order within one minute of placing it!
I chose an arrangement advertised for $39.99 +tax, with free delivery. The total I therefore expected was $42.49.
I chose PayPal as a payment method, and 1-800-FLOWERS directed me to PayPal to authorize charge. I signed into PayPal, and then PayPal returned me to 1-800-FLOWERS, but without shaving shown a total dollar amount.
It was when I'd been redirected to 1-800-FLOWERS that I saw that a $17.98 "service fee" had been tacked on.
This fee had not been disclosed prior to directing me to PayPal for payment authorization.
This was a deceptive move on the part of 1-800-FLOWERS.
As I wrote above, I immediately replied to the confirmation email with the word "CANCEL" in the subject line and "CANCEL CANCEL CANCEL" in the body of the email.
This was ignored, and when I tried to contact customer service to cancel, I did not reach a real person. I just received a message saying I could not cancel. I have sent multiple emails to 1-800-FLOWERS, but I receive in reply only unhelpful boilerplate responses. I called the hotline today but was on hold far too long and heard the automated voice say multiple times: "The information available online is the same information available to our specialists." In other words, I wasn't going to reach a helpful live person.
I request that 1-800-FLOWERS issues me a refund of $17.98, If this request isn't granted, I will file a complaint with the Better Business Bureau.
I would also like to mention that the basket of flowers was delivered containing flowers that had been crushed by cellophane. I am altogether unhappy.

Stacey Leflore
from Detroit, MI
Company was unable to fulfill my order for June 18,2021. As of today I have NOT received my $133 refund. Unacceptable. I'm never allowed to speak to a supervisor. Everytime I call it's a different excuse. Today is August 31,2021.

Melissa Rolon
from Jefferson, WI
I had ordered flowers to be delivered to a coworker last week- received an email that they were delivered- when I asked the coworker if she liked her flowers she let me know she didn't get anything- of course I wanted it to be a surprise- and figured since I got the email that said they were delivered I could ask about it- when I found out they never got delivered I was irate! I had to call and let them know what happened- they said to call back by 5 if they still didn't get there - called back at 5- they told me that my account was locked by someone and would need to call me back- no one called- I then had to reach out again the next day- I requested a redelivery but also asked for a refund due to the fact that they couldn't even call me back as told. This isn't the first time I have had this problem with this company- I never thought the same issue would happen twice! I will never use their services again! I am still going to try to obtain my refund- for all the bullshit that I had to go through just to get flowers delivered I could have just delivered them myself and paid half of what I did spend- I highly recommend not using this company due to the fact that they can't even get something delivered and don't trust the email that they were delivered as I found out they weren't.

James
from Sandalfoot Cove, FL
Poor customer service, I placed a order 8am to have edible arrangements delivered to my wife job before 5pm
And 4pm I receive a call that the driver can't make it. Can it be delivered to a home, after regretfully agreeing they still haven't made it at 5:45pm
I asked for a 100% refund for such waste of time.

Patricia Culbertson
from Beaumont, TX
I ordered flowers for my daughter's birthday on 7/31 to be delivered on 8/07 Saturday. When I checked the order status on Friday, 8/06 it indicated "no information was available"...I did put the order number in and the zip codes requested. My payment was made by a credit card and negotiated by your company on 7/31. I called your customer service department on Friday, after receiving the above message and the representative said the order had been sent out and was on its way to be delivered Friday, 8/06. I indicated this was not the correct date and he sent me a message which indicated the order was too late to stop and gave me a tracking number. I requested a refund and he said he would have a supervisor call me within the next 5 minutes. No one did call. I told him that instead of giving me a refund, then to go ahead and send another 2 dozen roses on the correct day requested..8/07. He verbally said this would happen. When I checked the order status of the wrong delivery date through FED EX your company had already managed to stop the delivery (I still have the copy of the FEDEX message which indicates delivery date of 8/06 as well as the copy of the FEDEX delivery which indicates 8/07). This time I am asking for a full refund of the 90 something dollars. I spent well over 4 hours talking to reps who did not know what they were doing as well as make promises that were not kept. If I do not receive a refund from you, I will simply file a complaint with the Better Business Bureau as well as dispute the charge on my Master Card account, as I have all of the paper documentation to back this up before your company so conveniently changed all of the paper work. I will NEVER use your flower service again, as you do not keep your agreements, the order was not processed correctly and you conveniently changed your paper work on line. Fortunately, I had paper copies and screen shots of the chat messages as well. Again, I am asking for a full refund to be made to my account which I used. Patricia Culbertson (person who placed the order)

Jessica A Walker
from Riverdale, GA
I've ordered flowers twice from them for a birthday (April and now July) and both deliveries never arrived as promised. My second delivery July 29, 2021) was for my mom's birthday and was extra special because we had just had two deaths in the family. One of the deaths was the lost of my mom's grandson, so the flowers were a little more special. I've been in the field of customer service/hospitality for more than 17 years and I know that they contract local florists to fulfill orders. They said that they tried to deliver to my home and that no one answered. The thing is, not only were there 5 people at my home, I have a working door bell and a camera that showed no one coming to my home. They never know what people are going through and to continually fail at a delivery behooves me. They should be ashamed of themselves for the false advertising for same day delivery!

Angel Mendez
from New York, NY
I am truly upset. I ordered flowers for my wife so she could receive them today and she never got them. Never. When I called I was told they tried at 12am. Which is wrong. They didn't try at 12 am or 12pm. I provided your company an alternate address and phone number to call if any issues and nothing No calls. No flowers. I called customer service and asked for a refund but I feel that's not enough considering it was my anniversary. I have always tried to be open about things but this is ridiculous. It's not like it's Mother's Day.

rosemary. Petrotta
from Los Angeles, CA
flowers were not received for sister's funeral.

Nancy Romero
from Albuquerque, NM
For my birthday in May 2021, I received a very small, pitiful bouquet of flowers which were completely wilted, lying down on the side of the vase. I was so disappointed and it made me very sad on my special day. I do not want to recommend 1-800-Flowers to any of my friends or family in the future.
Nancy Romero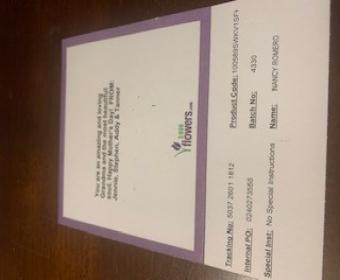 Alisa McKinney
from New York, NY
I originally placed my order for a bouquet of flowers to be sent to my mother's house the saturday before Father's Day. My father passed away in August of last year and I wanted to send some red white and blue flowers to sit next to his american flag urn. I placed the order on the 18th to be delivered on the 19th. Got a delivery confirmation email stating they had been delivered, they were not. Filed for a replacement to be sent on June 22nd, got a delivery confirmation email stating they had been delivered, they were not. Filed for a replacement to be sent on June 24th, got a delivery confirmation email stating they had been delivered, they were not. At this point I was just over it and wanted a refund, thank goodness for the Customer Service Rep Shenelle. She was so nice and understanding about my frustration of three failed attempts and authorized me a full refund and a $20 coupon. Was very dissatisfied with my ordering experience, but was very pleased with Customer Service.

Terry Hamblet
from Las Vegas, NV
Ordered flowers on June 19th to be delivered on June 20th for my daughters 21st birthday. $90. Never received them. Call their useless, foreign customer services representatives 11 times. They claim they called the local florist, whom they wouldn't disclose who they were, to re-deliver. It's 114 degrees in Las Vegas. Florist said they left them on the porch. That is completely false, my outdoor camera's didn't find anyone delivering anything on June 20th. I want my complete total spent reimbursed to my credit card within 24 hours. 1-800-Flowers are a grade F in customer service, pricing, delivery. I cannot believe that from 10 am to 5:47 pst, I didn't get the delivery that was assured would be on the 20th. Apparently, 1800flowers and the local florist are thieves that steal credit card information and steal ordered flowers. I am so angry for my daughters delivery not showing up on her 21st birthday. I will be consulting legal action against company and local florist if I do not have my credit card charges reversed in 24 hours.
I would rate both companies involved a 0, but the above lowest grade was a one.

Richard Palmer
from Yorktown Heights, NY
I ordered flowers on June 10th,2021 for my daughter's 30th Birthday. The customer service rep stated the flowers could not be delivered on Sunday June 13th my daughter's birthday date. But could be delivered on June 12th. We agreed and I paid with my credit card. I was told the flowers will arrive between 10am-8pm on June 12th: I had to call on June 12th at 8pm to another customer service rep who stated the flowers will not be delivered today, but guaranteed me it will be delivered tomorrow June 13th and recommended I call back another customer rep on June 13th to ensure they call a local florist for delivery. She said I will receive an email once they flowers were delivered. As of 7:30 pm on June 13th no flowers were delivered. Called another rep who stated no flowers will be delivered; the florist is closed. I asked to be transferred to a supervisor. The rep said she will transfer me and we were cut off. Called back and spoke to another rep who I asked to transfer me to a supervisor: I was on hold for 22 minutes before Helen the supervisor picked up. I explained the whole situation to her. She said she understood my frustration and would refund my credit card. She also offered a $20 dollar gift card to one of the other 12 companies affiliated with 1800 flowers. I declined her offer and told her I would never order anything from 1800 flowers or any company affiliated with them.
I am still waiting for my original receipt.
Your company should investigate this and the employees who guaranteed my daughter would receive her flowers need retraining.
I await your response.
Respectfully submitted,
Richard Palmer

Cheryl Rysula
from Kuala Lumpur, 14
If I could I would give zero star. I ordered your product 157630L order #W01005761298936 on May 19,2021. It arrived on June 4 and is NOTHING like the product advertised on your website. It is the biggest ripoff ever. The plant is and presentation are shameful.
I have emailed complaint and photo several times but get ignored.
I am going to file formal complaints against your company. Your international # does not work overseas either!
CherylRysula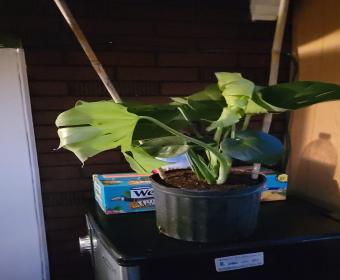 Tamara Devanya Carter
from Saginaw, MI
Hello
I ordered my sister the Sister Birthday Succulent Spa Gift box but for some reason you are sending her a plant. This is not what I ordered or paid for
I did call and I spine with someone and they stated this is what she would receive yet my email states a plant. I am very disappointed. I will not use your service again. Customers should get what they pay for or at least something similar.
Thank you
Tamara Carter
Have feedback for 1800flowers.com?
Thanks for your feedback!
Sorry. Please try again later!