1800flowers.com
Contact 1800flowers.com Corporate
Toll free phone number:
---
Welcome to the 1800flowers.com complaints department brought to you by HissingKitty. Experienced poor customer service? We make it easy to file a formal complaint against 1800flowers.com online. Simply use our free form and your feedback will be instantly forwarded for review. Need to contact the 1800flowers.com corporate office? We have the mailing address, phone number, and email address listed below.
1800flowers.com Contact Information
Report complaints to corporate and get satisfaction
1800flowers.com headquarters address

Company website

1-800 phone number

Toll-free number pending.

Better Business Bureau rating
Browse reviews of other Online Shopping
Top 1800flowers.com Complaints
Browse more than 197 reviews submitted so far

Sergine
from New York, NY
I recently ordered a bouquet of flowers for my mother on Mother's Day (2023), and I must express my deep disappointment with the company's service. The first picture I saw online, which I believed to be the arrangement I was ordering, looked absolutely beautiful. However, the reality of what was delivered to me one day before Mother's Day was a far cry from my expectations. The second picture attached shows the stark difference between what I thought I was getting and what actually arrived.
Understandably frustrated, I contacted customer service to express my dissatisfaction. They assured me that a replacement would be sent to match my mother's original delivery, but unfortunately, it would arrive a day after Mother's Day. Hoping for improvement, I eagerly anticipated the arrival of the replacement. However, as the third picture illustrates, the replacement was no better than the original delivery.
Needless to say, I am beyond dissatisfied with this company's products and services. Considering the price I paid and the quality of the actual product, I can confidently say that I will never use this company again for any occasion. It's disheartening to hear that even my own mother, while appreciative of the gesture, found the flowers from our local grocery store to be of superior quality.
I had hoped to rate this company with zero stars, but unfortunately, it seems I am unable to do so when posting a review. Nevertheless, I want to convey my utmost disappointment and frustration. I sincerely hope that the company takes customer feedback seriously and strives to improve its products and services.
Please be aware of my experience when considering this company for any future purchases.

Elaine Sepulvado
from Houston, TX
Would give zero stars if possible. Children ordered me flowers for Mother's Day. First order my son never got a confirmation email so he reordered the flowers. I never received them. Said "sorry" nothing they can do since the y showed to be delivered. I watched every notification from my front porch that day. They never arrived. It's our word against there's at this point. And to make it worse he was charged for both orders! Of which I didn't receive either! Never again will ding 1-800 flowers and will tell everyone I know not to use them either. Piss poor customer service.

Mary Lynn Beardsley
from Midlothian, TX
I spent $60 on rainbow roses for my daughter for Mother's Day, gave them to her, the exact same day that I received them from the courier and the petals fell off the roses. Very disappointed and I will never use again. I had also sent my Mother in law a daisy pot for Mother's Day, and they were all wilted when she got them.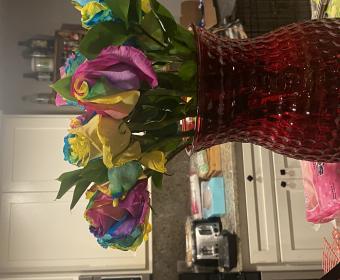 Sheila May Siaton
from Makati City, 00

Jacqueline
from Fairburn, GA
This company deserves ZERO stars! Not only did this company fail to deliver my order for my mother on Mother's day, their suggestions on how to make it better was a joke!!! May, the rep I spoke to sound like she was reading a script, she displayed no empathy whatsoever. After failing to get a proper resolution, I asked how I could lodge a formal complaint. I was then sent on a wild goose chase. I finally contacted their chat line which was a joke because after I explained I wanted instructions to file a formal complaint, I was asked 3 times how they could help me with my order. I explained at the top of chat that my order was being refunded! I train customer service for a fortune 100 company, so I can honestly state that this is the WORST customer service I have experienced with any company. Save your self the headache, please DON'T do busy with this company. I will be back if my refund doesn't go through smoothly!

Mike Harrison
from Merrillville, IN
I ordered flowers for a Person for Mother's day. Order # 5860728888. I ordered on May 5, 2023 early so there would be no delay in the order. The order was scheduled to be delivered Saturday May 13, 2023 the day before Mother's Day. I checked the tracking Friday May 12, 2023 and it stated my order was out for delivery. I checked the order again today (Saturday May 13, 2023) and it stated my order will be delivered Monday May 15, 2023. This is the day after Mother's Day. I called the Customer Service and there was nothing they could do. I am very dissatisfied and angry. This is not right. I ordered in advance well ahead. It is also not fair to the Person the flowers were for. I have ordered from your Company in the past. No Customer should have this happen to them.

Mariah A.
from Baytown, TX
I ordered flowers for my mother, for mother's day and she never received them! I called them and they said they will be delivered the next day and they were not! I called back again and they have told me they will refund me. I am waiting to see if I receive a refund.

Snow Serignea
from Denham Springs, LA
I called the toll free number to ask if they had a coupon code I code use for my order. I made it clear to the agent that I needed to save as much money as possible. The woman kept me on the phone for 40 minutes. I could hear screaming children in the background. She found a code and I thought I was getting an Extra large Product Number 191244L for $60 which I agreed to. After I gave her my credit info she mentioned the $16.99 service charge and almost $8 in tax. I feel angry that the order total was $84.45 and a large bouquet was sent instead of an Extra large. She asked me if I wanted to cancel the order after spending 40 minutes on the phone with her. I was exhausted from the experience. I feeel cheated. Please refund the 16.99 service fee and the extra tax and the difference between the large and extra large. She didn't indicate there would be a service fee before she had my card info. That was not fair.
Please respond. Thanks.
Order #W0061957846
Order Date 5/2/23

Maria Kines
from Dallas, TX
THEY GET NO STARS FROM ME! Placed order 4/10/23 paid $5.99 for same day delivery that never was! They suggested I do a reorder gave me a bouquet of $10 more than what I paid that still never arrived. Today 4/14/23 I'm getting my refund but they are keeping $15.65 of my money for a membership that was on sided!

P Miller
from Morehead City, NC
Placed order of Roses and Lavender in clear pretty vase for same day delivery with text notifications of out for delivery and delivery.
Order was not delivered. They agreed to refund the $21 extra fee for the delivery and to re-place the order.
Order arrived late the second day and was NOT what I ordered. They sent purple daisies and white carnations in one of the cheap ugly vases that sell 10 for a dollar at second-hand stores.
Never ever again will I use this service. Picture is what I ordered v what was sent.

Jennifer schwechler
from Collingswood, NJ
Order W01005856265998 I have spoke to three people in the past week and all have told me i would receive a refund due to not being delivered on my daughters birthday. No one knows what they are doing every one tells me the person before has not done it. Then i call and get a "christopher" who tells me the people lied. What kind of place is this? I want all my money returned and i will never use or recommend this company again the customer service is beyond horrific. This place is a scam and lie. Return all mt money and i will be contacting the better business as well.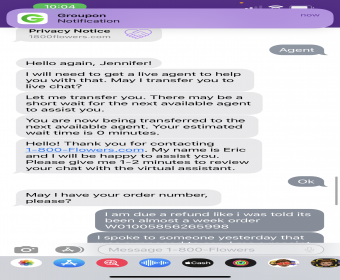 Brandon Ricci
from Spokane, WA
If I could give 0 stars I would. Twice now I have ordered same day delivery by the cutoff times. Then customer service calls to tell me that they won't deliver today as the driver left" I spent 100 each time especially for same day delivery for them to say too bad. Now they say it's a week out. This company is not well ran. Poor customer service and are quick to blame the customer instead of their website. I will no longer use 1800 flowers and anyone who needs recommendation for sure will not be giving your name. It is a waste of money

Sue Hunt
from Little Falls, NJ
We placed an order for delivery and you called at 2:10 on the day of delivery to say you couldn't fulfil the order and wanted to send it 1-2 days later. What the heck is that about!!! The order was being delivered in anniversary of the passing of a dear friends husband. If you could not fulfill the order you should not have taken it on to begin with. We could have contacted someone else who was more competent to get the order to the recipient. This is also not the first time this has happened which is really poor customer service on your part. We did chat virtually with Cristina, who was amazing, but not even she could fix the issue of your incompetence. BTW our order number was 5855531956 and the intial call we got the representative was not at all helpful and was rude. Unfortunately I did not get her name as it was difficult to understand her accent. Definitely not a fan of 1800 Flowers any more and will be letting everyone I know now about it!

Brenda Faron
from Lawrence, KS
Agent was rude took my order billed my credit card but when I called back no order appeared. He fleeced me out of 65.00

LaRissa Fowler
from Orlando, FL
I'd give this place a damn 0. WORST EXPERIENCE IVE EVER HAD!!!!!

Will never use again. Late and when they did get delivered they where dead and in no way what was ordered. It was sick and disturbing to see the dead roses and beat up teddy bear. (Which neither one was ordered). Save your money and go someplace else.

Mirjana Bundalo
from Deerfield, IL
I ordered flowers with balloons for my mother's birthday 3-3-23 to arrive at her workplace while visitors were there. These were supposed to be same-day delivery within a 2 to 3 timeframe. These flowers never made it. I made contact with an agent online. Who had offered me a $20 dollar coupon for my next order and to change the delivery to arrive at her house before 8 pm the same day. I accepted. Again no flowers and balloons were delivered. Same order now twice messed up. I contacted 800flowers once again on live chat. The same thing was offered. I had to explain the situation a number of times as well. Now what was offered was 50% off the order and the $20 dollar coupon and delivery date as soon as possible. The next available date I expected is tomorrow. Instead, March 6 is the earliest they would deliver. Days after my mother's birthday and already ruined my surprise for her. I was forced to accept the March 6 delivery date so I asked for a supervisor or anyone higher up the ladder explaining I understand the person on the other end isn't directly responsible but this was unacceptable. I asked if I can get an email to be told that that information isn't allowed to be given. I felt I had a valid reason to express my concern to higher management . Basically, the agent ended the chat only can say I am sorry. I have never had such a horrid experience ordering flowers before. I felt management would want to hear this.

Michael DeCarlo
from Alexandria, VA
I ordered a flowering plant for my wife for Valentine's day. The plant was delivered on time, however, it was in poor condition when it arrived. The roots were exposed and the potting soil was all over the place. It clearly had been thrown together in a "slap-dash" fashion. Before complaining I wanted to see how the plant faired the following weeks. The condition of the plant has steadily deteriorated even under my wife's tender care. Since I paid $49.80 for this small plant that was delivered in such poor condition and now is on the verge of dying, I would like to be refunded.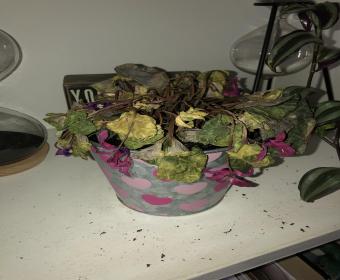 Loretta Wigfall
from New York, NY
My order # 5854042106
All day 3/2/23 order was processing. My coworker did not enjoy her flowers at her desk because they arrived after 4pm and we both leave a 4:00 pm.
I'm highly disappointed and being a valued customer because I often order from flowers.
I'm of going else where to a company that can deliver before the end of the day.

Loretta Wigfall
from New York, NY
I placed an arrangement for a coworker on 3/1/23 to be delivered today 3/2/23 our place of business. We leave work at 4:00 pm and all day this order has been processing.
The order number is 5854042106
I'm appalled and highly upset being a valued customer that placed several orders in the last several months. It would be ashamed to lose my account.
Please contact your flower shop and seek someone else
Loretta Wigfall

CDunlap
from Chevy Chase, MD
I ordered 9-10 white roses with an additional 2 types of purple flowers in a square vase, about 18" across, and cost about $125.
But what was delivered to my friend on her 75th birthday was a tall vase with 2 white roses, and white CARNATIONS and pink flowers???!!!!!!
NEVER AGAIN 1-800 will I trust you with my hard earned dollar!!!!!!!!!!!!!!!!!!!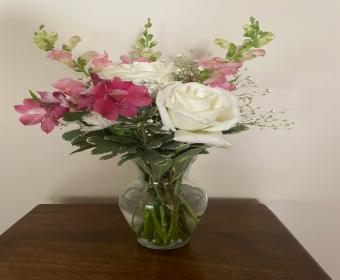 Elaine levine
from Memphis, TN
Flowers lasted only a few days. Almost half, wilted or died.

This is the worst place to order flowers,
I just received a dying flowers.
A gift from my daughter
I don't recommend this website to order flowers

Priscilla Gulley
from Chicago, IL
I placed a delivery order 2-13-23 received a call from representative about someone else order. I asked if she can check on mine due to the mix up and she disconnected my call. I called back to make sure my order was still good advised Yes! Checked online still not delivered. Called again advised the order wasn't going to be delivered and they'll issue a refund. No! I need a delivery to go for my niece that's in the Navy and this is the second time I had bad service. They found a dog flower basket delivery was horrible the flowers were brown not wrapped and didn't look like the picture. Called they made a second delivery same thing not wrapped flowers half dead and no bow on the dog. Just horrible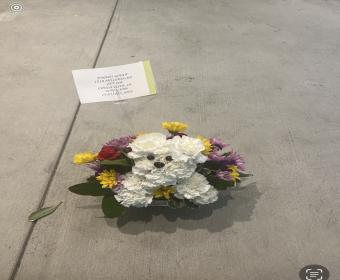 Tarance Lewis
from Atlanta, GA
I paid for a delivery for my wife on a special day and it was not delivered. No communication was give as to why it was not delivered and no notification was supplied. When contacting them by phone they were very unapologethic about it.

Kimberly hasson
from Chardon, OH
I received my dozen roses, but the problem is there's only 11 somebody actually cut off one of the roses. We paid $115 for a dozen roses and we didn't even get all of those. Plus they died within four days when I called to get a refund and order new roses, nobody could sign order when it clearly was on our bank statements as coming out, we will never order from them again beware

Tony Weaver
from Foley, AL
Initial order placed to be delivered on Monday February 13, 2023. Received confirmation order was delivered. We did not receive them. Went online to customer service chat. Agent said florist determines the delivery confirmation. Was told delivery would be following day. Florist arrived after dark on February 14. Flower blooms were falling off and bouquet looked terrible. Called customer service. Was told replacement order was made for next day. Received confirmation it was delivered the next day but never arrived. Called customer service a 3rd time. Agent was nice and said she would upgrade my order and have it shipped overnight via FedEx. We checked the next day and order showed pending. Called the 4th time and was told the warehouse run out of the arrangement I was to get so nothing shipped and no one contacted me. This agent assured me she would make sure I got a nice arrangement delivered overnight via FedEx. I asked to please make sure it was comparable to the 36 rose arrangement the last agent promised me. She said it would be. I just received a confirmation my order was being processed for shipping however it is 12 roses in a more expensive vase. I really didn't care about a vase just nice large bouquet which I paid 80 plus dollars for. Who knows if this 4th order will arrive but this entire ordeal has been a absolute disaster. I sure wished I could speak to a corporate associate about this but they never have time for a person like me. I really couldn't afford this to begin with but it was our 35 anniversary and I scrapped up enough money to suprise her. This really embarrassed me and feel this company let me down. They should be ashamed, not me.

elon blood
from Saint Paul, MN
I ordered the sunny garden basket ITEM #:148591L for my daughter I am so disappointed, while the 3 roses a couple of peruvian lillys and a mum were pretty, they were no where near the amount of flowers in the picture and certainly not worth 59.99 then there is no where to send a complaint but on someone elses website. This the 1st time I have ordered but may very well be the last, do the local florists you hire, not get an idea of what is represented?
Elon Blood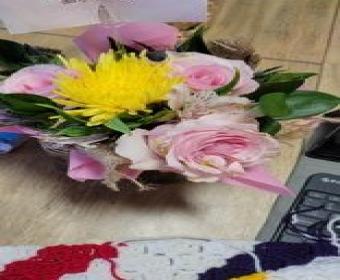 William K.
from Warner Robins, GA
1-800-Flowers sells/shares it's customer email info with multiple advertisers without the customer's consent. I placed an order from them and the very next day the inbox of the email address I used was loaded with unsolicited ads & offers.
I did NOT click on any permission box during the checkout process

Marguerite Thomspon
from Washington, DC
Received flowers from my husband for Valentines day. He spent a small fortune on them. Received them in good order, took them out of the casing, put in water with the enclosed solution and they all wilted. They did not last more than a few hours. The leaves were dry and/or brittle. The flowers them selves wilted in no time at all. James purchased a dozen and a half of them.
Very disappointed in the product.
Most Sincerely,
Marguerite Thompson (recipient)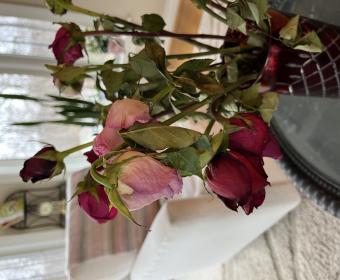 Patricia Berryhill
from Duncan, OK
Placed an order TWICE to be delivered before Christmas. It was never delivered. Reindeer strawberries. $66.22!!! Got nothing but the run around from customer service and now their loyalty team refuses to correspond with me. I have filed a complaint to the BBB. This all started mid December 2022. It's now February 2023. I was told over and over the refund was processed. Wait 10 days. Now they said 30-45 days. OMG..are they so desperate for my $66?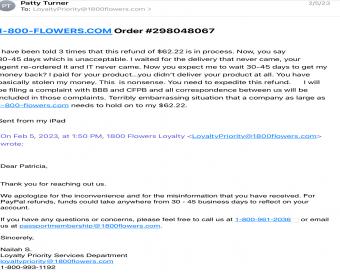 DJ Heinze
from South Amboy, NJ
I called with a watering question and it was very difficult speaking with your representative because she must have been located in another country. PLEASE HIRE AMERICANS THAT SPEAK WITHOUT A FOREIGN ACCENT.
I STILL DO NOT KNOW HOW TO WATER THE PLANT I RECEIVED BECAUSE IT CAME WITH NO INSTRUCTIONS.

Jack F. Weidner
from Kansas City, MO
Ordered flowers to be sent to my wife's work at the local hospital on 7 FEB for Valentine's day (14 FEB 2023) to be delivered. Paid extra because it was Valentine's day because wanted it to be on the 14th and not another day. Day came and nothing, contacted 1-800 flowers via chat that night and no answer after repeated attempts to contact them. The following day on 15 FEB 2023 I reached out to them again, and basically they told me to wait until after 8 pm to find out that status and I told the lady that it was well past 8 pm, it was the am on the following day. Then she told me the reason why my wife didn't get her flowers is because they didn't have that particular arrangement in stock (granted I did order them a week in advance so shouldn't have been a issue to make the arrangement). No phone call, no E-mail, nothing! So she kept wanting me to not cancel, but would give me 50% off plus $20 coupon for next time, and kept repeating that over and over... I was my wife is off the next two days so she wouldn't be at work to receive them and honestly the only reason I spent close to $100 was for Valentine's day, and that day has come and gone and my wife didn't get flowers. I had to tell her that I ordered her flowers and that they were not delivered. Now the waiting game to see if I will actually see the refund, it took 3 days to get the $20 coupon sent to me via E-mail, but nothing on my Pay Pay account from them as a refund yet.

Valerie Schmidt
from Hicksville, NY
I had ordered flowers for my mother on Valentine's Day. I know, the busiest day of the year for florists so I did take that into consideration. The real reason for sending them was bc my father was very ill in the hospital and he always gets her flowers so I figured it would be a nice surprise. I never order on this particular day otherwise! I did receive a confirmation that my order was delivered at 2PM. However, hours went by and I heard nothing from my mother. When I asked her she told me she had been home all day and nothing was delivered nor did anyone knock on the door. I called customer service and at this point the stores are closed. I explained the situation and they wanted to charge me$20 for a re-delivery (again, never received) so I told them to please cancel and refund my money. There is absolutely no point in trying to re-deliver them the next day., defeated the sentiment. I get a call from my mother at 9:30PM.... yes 9:30PM!!!! A knock on the door, 2 rude gentleman delivered the flowers and they weren't even remotely close to what I paid $90.00 for. AND, no refund. I still want my money back please. 9:30PM is a ridiculous time to receive this order and it was not what I purchased, more thrown together last minute. PLEASE REFUND MY MONEY. I will never order from here again.

Carol Pagela
from Las Vegas, NV
My son ordered flowers for myself and his fiancé for Valentines Day and had them delivered on 2-13-23.
The flower presentation was horrible it looked like I or another amateur person had hurriedly stuffed flowers into a glass container. They were very poorly arranged and had absolutely no adornment to show that care had been taken to present a well thought project.
There was no ribbon or anything to suggest that either arrangement was for Valentine's Day.
When I called 1-800 Flowers to complain they very conveniently couldn't find the order and were in no way courteous nor did they even utter an apology.
Will never do any business or recommend this company to anyone but I will tell everyone to stay away from ordering through them for any occasion

Paul Sloan McCutchan
from Columbia, SC
I placed two orders of berries from Shari's Berries for my two daughters to be delivered on 2/14 (Valentines Day). I placed the order over the phone and the person that I spoke with could barely speak English. I VERY carefully told the representative the addresses and the person repeated it back and STILL put one of them into the system incorrectly. The other one was correct. BUT, still, the correct address did not arrive until 2/15. The second order has yet to be delivered. Had to contact FEDEX three times correct the address. STILL waiting for delivery. It is 2/16 now as I write this. I believe that your company should reimburse me for the second nondelivered berries, if not both. I tired multiple times, calling multiple numbers to place a complaint and all that I got was someone that English was obviously not a primary language. They were of NO help. They could barely communicate with me. As it stands now, I don't expect a resolution from this company. I will say this with full confidence, "I WILL NEVER USE 1800FLOWERS or SHARI'S BERRIES AGAIN!!!" AND I will warn every other person that I know about the total absence of recourse and quality with these companies.

Jennifer Belus
from Pembroke Pines, FL
Hello, I have been ordering from 1800 flowers for many years. However this may be my last order from this company. I ordered a very special gift 3 weeks in advance for Valentine's day of 2023. It was an anniversary and Valentine's gift. The recipient never received it. I called multiple times to have it resent. Nothing. It is now 02/16/2023 . This service was such a disappointment. I have spoken with maybe 10 reps that has no training on what to do. 1 rep did apologize and said she will do a refund and also my order resent do to such inconvenience. That has not happened. My order# is 5848323678. I am a very very disappointing customer.

Vicki Allen
from Hoboken, NJ
Quality issue
I placed an order on 01/25/23 for my Mom-One-They were poor quality-two-They had bugs in them and have now just about killed off the roses. I will never order again
W01005847549650

Art Ramirez
from Sun City, CA
Order#W01005852793122, on 2/15/23.
I ordered flowers for my wife for a special occasion. I ordered at 8:30am pst, 6hrs before the same day delivery cutoff time. My flowers weren't delivered and I was told it was because of Valentine's Day. No excuse. You guys have one job and you ruined my day. Your customer service rep Jessica was unapologetic and her manager Eric finally apologized after 10 mins of talking. Then offered a $20 coupon.
THIS IS UNACCEPTABLE!! This is ridiculous. This was handled even more poorly. You guys' reputation was supposed to be A+, but it turned out to be an F !!!!
I'm so upset that you guys managed to ruin what was supposed to be a beautiful day.
Thanks for nothing.
Art Ramirez.

Sandra Toler
from Columbus, OH
Will never order again. Never received it and now I had to wait days for them to investigate. Just got the run around. Was to go to a business and they tried to deliver after 5:00 then gave resident address and was never sent there either.
All I get is please call back and we will investigate well this has went on for 3 days, I have ask for my money back and I have to keep waiting and keep calling. No way to run a place of business. Beware stay away from them. I will be reporting this to better Business bureau.

Michael Cassano
from Philadelphia, PA
The Fedex driver did not deliver my Valentines Day order to my apartment and did not notify me that he was leaving the flowers for my wife in an unmanned mail room, so I did not get my order until the following morning when I check my email with the tracking number. I received no indication that this order was delivered at all.

anne walsh
from West Greenwich, RI
Flowers delivered the day before Valentines Day.
Small purple lilies.....all dried out completely
Red carnations old and fading fast. ie not fresh
Roses were okay still closed
Greens okay but over stuffed
not up to your standards. ie old looking bouquet. no flower food packet included
numbered 330151110. ZONE : B-2 DD. I do not want another bouquet ! just letting you know. Grandmother was disappointed do not tell my son

Joe Russell
from Irvine, CA
I ordered roses on Fri the 3rd for my mom's birthday on the 5th. After I paid, it said they would be delivered on the 4th. Never arrived and was never notified. I called and you guys refunded the delivery fee and are sending a $20 coupon. Then the 5th cam and still nothing and no notification. Called today on the 6th and they(you guys) said they would refund half the price. Well, they finally arrived tonight, but they arrived messed up and falling apart. My mom is not happy and neither am I. This is the 2nd time you guys have said you'll have the flowers delivered on a certain day and they were late. Thanks to your delivery people, my mom didn't get anything on her birthday? I need to be refunded everything. 2 dozen red roses should not be falling apart if they were fresh and gandled properly during delivery. Buds and pedals were falling off the stems. Please contact me about this matter. Completely dissatisfied!! Joe

Mike
from Minneapolis, MN
The driver lied about same day delivery stated made attempt cameras on-site say NO also the text support kept dropping me and not resolved the issue my mother never got her flowers for the passing of her sister it's disheartening and sad that the lack of training and communication is horrible I will never use them again

Shane Armstrong
from Atlanta, GA
Where do I start? First of all your company calls me to say there is an issue with delivery, then someone who has such a thick foreign accent that I can barely understand asks me to verify my name, name and address of person delivery goes to all before looking up the problem…
If you called me, you know all that already.
Second, wherever your call center is, was having a party ! There was so much yelling and laughing and very loud Indian speaking that I could barely hear this lady that I was already having trouble understanding, it's was absolutely unprofessional! If she is going to be a call center tech at her house she needs to make sure it's not on a day someone is having a celebration.
I pay extra to be part of this 'passport' club and this service is awful, can't deliver on time, can't get someone I can understand , can't even get a quiet professional atmosphere to make calls.
The ease of using the app is the only thing you got going for you.

Shirley England
from Phoenix, AZ
I ordered flowers to be delivered on 1/10/23 They were not delivered until 1/12/23. It was very important that the recipient have them on the 10th. The excuse of not being able to find address is not acceptable. I provided phone numbers if anything was needed.
I would like a refund for this delivery. Very
Dissatisfied and your customer service was like a robot telling me nothing that resolved the late delivery .
Please respond promptly
Regards
Shirley England

Mary Burk
from Chagrin Falls, OH
I was sent flowers for my birthday from my out of town brother last Friday. My brother called my to ask if I received them. I check the front door and the side door, no flowers. The next day my brother checked and apparently FED EX left the flowers in FRONT of MY Garage, which was literally 6 feet from my side porch, over night in Freezing rain. Needless to say the flowers were ruined and this is not the first time I have received flowers from your company in poor condition. To further make matters worse my sister had flowers sent by FTD and they were hand delivered to me. They are still healthy. I know you won't do anything about this but I just wanted you to know that i for one will spread the word about how awful your service is. Mary Burk
Have feedback for 1800flowers.com?
Thanks for your feedback!
Sorry. Please try again later!