Samsung
Contact Samsung Corporate
Toll free phone number: 973-601-6000
---
Samsung is a South Korean multinational electronics corporation that is publicly traded on the South Korean stock exchange. They specialize in televisions, mobile phones, semiconductors among other ventures. Samsung employs over 326,000 and has been one of the top leading information technology companies by revenue since 2009. Sales on Samsung Linkedin were reported as US 196 billion.
If you have a problem with your Samsung device please visit the point of purchase or call 1-800-SAMSUNG (1-800-726-7864). You may also call 201-229-4000 six days a week. The CEO of Samsung is Yoon Boo-Keun. You may address international postal mail to 129 Samsung-ro, Suwon-Si, Gveonggi-D, 443-742, South Korea. You may also look at this contact page for further email report forms. Since Samsung and Best Buy have a longtime partnership you might utilize them for customer support.
Founded for telecommunications in 1969 Samsung replaced Apple as world's largest technology company in 2011. Apple and Samsung are "frenemies" since Samsung is a major supplier for parts. There has been ongoing litigation with employees due to the rising number of employees that are ill or dying. Social media presence in the Korean language may be found on Facebook, Twitter, English on Linkedin and especially Google+.
Samsung Contact Information
Report complaints to corporate and get satisfaction
Samsung headquarters address

105 Challenger Rd.
Ridgefield Park
NJ 07660

Company website

1-800 phone number

973-601-6000

Support email address

contact@samsung.com

Better Business Bureau rating

A-

Customer service hours

24 hours a day online
Browse reviews of other Electronics
Top Samsung Complaints
Browse more than 405 reviews submitted so far

Don Carrier
from Elizabethton, TN
My Samsung S4 from Sprint caught on fire while charging. Upon returning the phone to Sprint I was told all S4's the catch on fire have to be returned to Samsung. On Jan 12 2015 I returned the phone. It was returned to me 7 days later with all major components (including PCB) replaced. I tried to activate the phone with no luck. I took the phone to the local Sprint store and was told that Samsung had changed my IMEI and the new one was not on the Sprint network. The Sprint rep told me I would have to contact Samsung. As of today (2/23/2015) I have called Samsung 19 times with over 30 hours on the phone. The first obstacle is to get to the 'executive team'. This is the code name for the product liability group. The 1st level support team is trained very well not to let you reach the executive team, but this is the only path to reach that team. Of the times I have got through to them I have been told that the technician made a mistake and they would fix it, that is was a sprint problem, and finally that it was my problem. Another common response is that they will call me back. It is clear Samsung will never resolve this issue. Meantime I have bricked phone that I continue to pay for every month. On 2/7/2015 I filled an official complaint on Samsung's website. As of today (2/23/2015) I have received no response to this complaint.

Richard Logan
from Appleton, WI
The latest update to the S5 is horrible. My device runs very slow, unresponsive, times out. The graphic interface changes makes it more difficult to read. I have to enter my wifi password every time I go home. It takes several minutes to even get into the settings. Contacts keeps closing. It appears as if your programmers actually work for you competitors and are trying to drive your customers away. My daughter has the same problems with hers as I do mine. She called to your people for help, she might have as well as been talking to the 3rd grader across the street. Up until the update it was the best phone on the market, no longer, it is at the bottom. How about if you buy this rock back from me so I can buy anything from your competitors.

Samsung customer support is managed and operated by fucking morons. I have made ten fucking calls into there from level 1 to managers and none of them will fix any of the problems to a samsung mini4. the phillipino call center is stacked with support personnel that do not understand or can speak english let alone solve your problem. Samsung sucks i wish i never bought their phone. Samsung support is nonexistant and is staffed by morons and phillipinos that do not speak english.

I have purchased a 42" Samsung TV in 2008 and it was used very little. After two years the TV would not turn on, had a repair man come. He fixed the power compacitor, as it noted in all the defaults on this TV. After a few months, the power supply went out again, repair came back, fixed again. He said if it went out again it would be my responsibility to have it repaired and paid for.
It again is out, appears to be the same problem. No power. I have been without a TV for 8 mos. now. Please advise or prorate my usage and send refund so I can buy another TV that is realiable. I pd. $600 for this TV at Circuit City.
Please respond as to how this will be handled. This is my second request and am disappointed that I have never heard anything. At least be courteous enough to reply.--Linda

Christie Hawkins
from Seattle, WA
Almost impossible to get in contact with. Ha a phone conversation with promised follow-up. None. Purchased an appliance that is one 14 months old-and will cost as much to repair as buy a new one. Throwaway mentality? A company who does not stand behind its product? No customer service. Impossible to navigate Samsung customer service on web.

Angela Lytsioulis
from Newtown, NSW
My husband and I both have Galaxy S5 and we both have continuous problems with the phone turning off on their own and we are missing calls or can not answer them as we have a blank screen. We have to turn the phones off and then turn them back on. I am getting sick of this as we both rely on our phones for our businesses. We have already suffered financial losses due to missing calls and I have a family to feed. Please let me know what you can do about this otherwise I will be changing to an iPhone!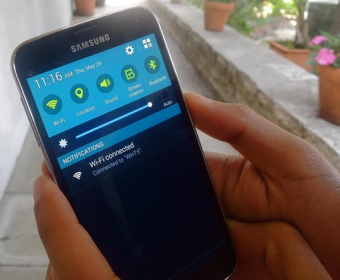 I recently bought a Samsun refrigerator and when my contractor installed it, he scratched it. No big deal. I thought I would just get some touch up paint from Samsung. Well, I called your 1-800-726-7864 number and your parts number and they were not able to help me with the color. I find this hard to believe. Is there someone who can help. The refrigerator I have is model number RF32FMQDBSR/AA. It has a stainless steel front with a dark gray side and it's the side that is scratched .

loraine beckett
from London, ENG
Ref 2117835788 spoke with C/S on 09.04.2015 at 10:14 My devise has been in for repair 3 times. Same fault. Last time customer care said if the fault came back they would replace it. Fault has come back. Spoke to James W in customer services he told me it would have to come back for repair a fourth time as all the three other repairs were the same just replacing the battery now after all that they would try something else. He said he would not guarantee that this would fix it. I asked for a replacement he said no. I asked to speak to his supervisor he said he didn't have one. I insisted on speaking to his supervisor he then admitted he did have one but he would not let me speak to them. He said I had to put my complaint in writing but that I probably would still not get a replacement. I again asked to speak to a supervisor. He said no and put the phone down on me. This is outrageous customer service. I did not shout or swear and if you play back the recording you will see that i just firmly asked to speak to his supervisor. I would not have him working for me. Please will you resolve this issue by replacing an obviously faulty devise with an alternative or refunding the cost of it.

Had a Samsung for only 5 months and have had nothing but problems. Bought it brand new. Customer care needs to get together and get on the same page you get different answers and suggestions from everyone you talked to. They have me running from store to store to fix my problem and when I get to the stores and tell them the problem and customer care told me to come the employees look at me and say customer care said that.!!!
Customer care sent you!!! So what customer care says and suggests the att@t stores are not on board with. So I have got nothing resolved. Just wasted gas running. I will never recommend att@t to anyone again and will rip all att@t products out of my home. The u verse my phone, and Internet. I am done!!! There is no point to this complaint I am sure probably wont hear from anyone!!

Lillie Guilfoyle
from Mountain View, CA
I purchased a Samsung washer/dryer in January 2014. In April the gear drive came apart causing terrible metal noise/vibration/extremely loud him. Samsung stated via email that our dryer was out of warranty! There is a 10 year warranty on that particular part! If not for help from Home Depot, and our extended warranty, we would have been stuck. Now, the new dryer drops water all over the floor, while drying clothes. Dangerously! Please take this seriously! I want a matching washer and dryer that works! The pause button on the control panel of the washer does not work either. Tried it for the first time a couple weeks ago. We thought Samsung was a better company, than what we have experienced. Please take care of this issue immediately.

I hereby write in respect to my Samsung galaxy s5 which is just five months old. This particular phone was given to me brand new and factory sealed as a gift from my wife last year October.
If you look at my address details, you will see that I have previously registered one s5 earlier prior to this one which I am reporting to you. My wife told me that she wants Samsung galaxy s5 which I bought for her brand new from shop and I registered it for her with your company on my name.
After a while, my wife wanted me to change as well to Samsung phone because I have been using every apple phone they have been producing. I received the phone from her and at that time, I was using the new iPhone 5s to give it a trial. I then handed my apple 5s to my son to use. Surprisingly, I fell in love with the phone especially some of the features in it like sharing photos etc. without any restrictions as in apple iPhone. I bought a leather flip case for my Samsung and don't even bother removing the white transparent film at the front and at the back of the phone to date.
A strange incident however occurs on Thursday 9th April, 2015 when I woke up to found my phone screen half side blank and the other side as normal. I was surprised because I still make use of my phone around 10:30pm before going to bed and immediately put in the charger to charge it overnight.
I was outmost surprised and called your company to complain of which I was advised to take to Surrey Quays Shopping Centre, one of your outlet repair Centre for examination. The guy there doesn't seems to know what he is saying to me cause he said that he can see a little pressure on the screen and I told him to show me but couldn't and advised me to call Samsung head office back.
This is not a good welcome to me at all because I was even thinking of buying the new s6 in June and I have already signify my interest in buying it because I normally received email product update from Samsung all the time. The more I charge the phone, the darker it becomes and nearly all the screen is now black and have to pack it up.

Hi, I am currently a samsung customer, i own a Samsung Galaxy Note 4, i purchased the phone about 3 months ago and the phone has given me problems since day 1. i went back to where i purchased the phone and i was told i had to take it to a samsung store to get it looked at. i then took it to samsung repair centre in Teddington, where i was told my phone would be there for 2 days maxiumum. Today is 3 weks since my phone has been there. i spoke to a manager (Glen) at Teddington today and he told me the parts for my phone has still not arrived in store.
I'm very dissapointed with the customer service i have recieved throughout this process, i feel like samsung has not done a good job in dealing with this matter. up to this day all im getting is apologies and this has not helped me in no way. my phone has been in repairs for 3 weeks and i haven't had the phone for 6 months. The Teddington repair centre told me they basically have to change all the parts on my phone which meansthe phone is no good. if that is the case why is samsung not issuing me a completely new phone, when after all this time i might get this old one back and it might just incure the same issue again as there is no guarntee that it will be completely fixed. Right now i am fuming at the situation and something needs to be done about this on my behalf.

I have a Samsung Galaxy s4 Phone for 1 year 10 days. I have been having issues with it starting and stopping on its own. Last night it got bad enough that I can not use it. I went to Verizon they said it needs replaced and want $500 + to replace it. This is a bunch of BULL. i have had cell phones since the 90s and never had to have 1 replaced. I am losing all my contact numbers and photos. I think Samsung should stand behing thier products. Please respond!!

PAUL RAIN
from Sunderland, ENG
Galaxy note 4 failed twice, in less than 2 months, it failed an RF test, meaning that it cold not make or receive calls. It spent 14 days away for repair during which it had a new main board fitted, and when returned lasted 3 days before the fault returned.
Now has to be returned to main department, which will take approx 28 days. 2 major faults in less than 2 months doesent warrant a new handset on a £600 phone. Other phone manafacturers would hand over a new handset for these faults, but Samsung don't.
The charger failed today also. Shoddy shoddy shoddy Samsung, I wont be getting another Samsung product when my contract runs out

I want to complain about my Samsung s5 phone. I've been experiencing black out each time I want to use the camera. I've went to Samsung service center here in Singapore for this issue twice. My phone is still under warranty. The first time I've went there they said that the motherboard got problems so they needed to change it. But after the next day I've been experiencing the same issue.
So I went back and told them about it. This time they said it's about the camera and replaced it with new one. I'm so upset because until now I've been experiencing it. Time is wasted in queuing and the trouble it gives me to keep on coming back. If you need more evidence about my phone I am willing to cooperate. I have taken the video of my phone if you need any proof. This is the first time I experienced this kind of service. I am very disappointed. I hope the Samsung Company must do some actions about it.

I have brought a samsung galaxy tab3. Since I have had it, I had to return it on numerous occasions as the tab goes off and does not come on then it stops working altogether. I have sent it in many times for a repair, and I have moved this complain to the head office as well. But as of yet, I have not received any details back as yet and that was 4/5 months ago. The tab has stopped working again and really upset with the awful customer service I have received.

Tajandia Rahman Anchal
from Dhaka, C
I bought samsung a7 from dhaka, bangladesh on 2nd april this year. The second day I started using apps in it and it hanged & restarted automatically. The shop I bought it from restored factory default but no improvement I noticed!! I am deeply tensed because it is the first phone my dad brought me and is expensive too. I dont know whether too trust in samsung anymore or not! or if its a duplicate hand set i request you too PLEASE help me and take any action against the duplicate set distributor as its also about the reputation of samsung.
the shop i bought the phone is from
SHIAM ELECTRONICS
BASHUNDHARA CITY,Panthapath
Dhaka, Bangladesh.

Jeff kent
from Farnborough, ENG
After waiting at least 20 minutes for Samsung technical support to answer my call and then go through another 20 minutes of useless testing and 1 reset to no avail I was informed that he had to answer other calls due to the fact that they had trouble with their servers. When I asked him how long it would take to get it fixed he said asap, maybe a day or two. My actual problem is that when using my Samsung smart hub TV ue40d7000 luxxu to connect to Netflix and bbc I player I get network problem. Please try later. Connection to the itv player and the web is ok. I Have no faith that Samsung will resolve the problem soon.

Hi there, I appreciate your response to this matter. I did trying doing a soft reset on this phone. After searching the internet, I have found that this is a known issue with this phone. I have went to several websites with user describing the same issue I am having with my Nexus. I have over 10 hours of troubleshooting invented in this phone with no help. Yesterday, I worked with a tech support person online from Samsung. I must say, I wish I did more research before buying this phone. I bought a new Samsung Note 2 for a Christmas gift and having serious doubts about keeping it. Lucky for me, Verizon was nice enough to set my activation date until 12/22. After all my time and the money invested, I'm extremely disappointed. Please see the links I provided below. As you will see, I am one of many people having this same issue. Unfortunately unsuspecting people have bought this devise without knowing there could be potential issues.

I purchased a samsung 60" 8 series tv and have had a smart feature app problems since day one. I have spoken to technical support a dozen times over two months. The problem couldn't be resolved over the phone service the first time. Which then I was told I have to wait 3 weeks to find out if they can fix it or not. My question is if they couldn't fix it why didn't they organise a tech to come to my house to try and fix it. I have been waiting over 2 months now I shouldn't have to keep waiting. I just want to go and replace it. This falls back on samsung so why should I be put at any more inconveniene then I already have.

We purchased a Samsung Microwave late Novemer 2012. Starting in December we have had nothing but problems. We call to get it fixed in January, and to this day we are still trying to get this problem resloved. When last I called your company they told me I now qualify for a replacement, with me paying for a new installation. ( yes I can get receive money back in 20 days), Really!!!! ) When I asked to speak to management, I was told it would take 2 days more, this was 3 days ago. Since then I have called back to get a new one.....again I have to wait 3 to 5 day for the store to call me back. It seems to me that since the micowave is not even 90 days old your company would be in the business to make me happy. Much less provide me with a new microwave. Have you tried cooking lately without a microwave for this long?

I have Samsung galaxy ace GT-S5830 one time i was on Facebook and it suddenly gave me a note saying that an error occurred the application stopped responding force close. then after that incident it started to occur all over my phone. each time i open something it gives me the same message.
Now if i need to open the menu it opens but i cant control anything because the screen freezes and when it does i get redirected to another application. now when i restarted my phone i cant open it anymore since it is repeating the wake up process. Samsung this is not acceptable. now all my personal information and my trust in you is lost. see what you need to do please

Eva Loth
from London, ENG
I would like to file a complaint against one of your employees working at the Samsung Support phone hotline . He only identified himself as Scef and refused to give his surname. The incident happened on Monday 2 February 2015 around 15.20. I inquired about a printer problem with a Samsung C140 that was delivered today. The issue is that the printer does not work although the installation was successful. More specifically it says that there was no paper while paper was inserted in the tray. Scef claimed that the problem lied with the paper. i reassured him on several occasions that it was standard paper used in my office although i was unable to give the exact make of the paper. he was unwilling to provide further assistance unless i was able to give exact details of the make and weight of the paper used.
I wasted a lot of time and the employee was clearly unhelpful and he offered no help in solving the problem. On top of that he also gave me a non-existing complaints email address - most likely in bad faith. In my opinion such a person is not suitable for a job at an online telephone support helpdesk.

Joe ricupero
from Melbourne, VIC
Purchased a 64 in Samsung in December 2015 lasted 3 months rang Samsung and tech came out and said will take two months to replace part and they will give me another tv wich took two months to get . Second tv lasted 4 months and they replaced 3 screens in two weeks .Teck said he will send his report for an exchange tv rang Samsung customer care and and keep on getting told it is getting reviewed and that's allready taken 4 weeks and we have got no tv to watch . Have taken six days of work waiting for Samsung tecks and they have not turned up on two of those days . Sent 8 emails to my case manager to respond or ring me back for answers keep on getting told he will contact you within 24 to 48 hours no response . Samsung are an absolute disgrace

Carleigh Cartmell
from Waterloo, ON
I wanted you to be made aware of my recent experience at the Samsung Experience Store in Eaton Centre, Toronto Canada. I went to take in my broken A5 (2017) phone that I bought in December (2017) and was having issues while I was on vacation.
The employees on the bottom of the store were friendly enough but it all went downhill after I went upstairs. There was one employee at the service desk, he was seeing another customer so I stood by the counter waiting. There was no greeting, no "I will see you in a minute." Fair enough. But those customers left and this service guy still deliberatly ignored me. He answered the phone and went to the back a few times.
After about the third time he came back from the back room after about 20 minutes he decides to help the guy who came way after me first. Saying it "will just be a minute". I am a very patient person and if it was just this that happened I wouldn't have bothered complaining.
So I drop off my phone for a repair after he finally decides to talk to me and treats me like I'm a waste of time and space. I mention that the touch screen stopped working when I was on vacation. Everything else about the phone was working perfectly even the lighted part of the screen. It could be because I got caught in a rainstorm but the phone screen didn't seem to stop working until a day later. It's only 6 months old and I hope it's a fixable issue. They say sure we'll have our techs take a look. They mentioned if there is water damage on the inside of the phone that is not covered under warranty. Hence the careful phrasing "water resistant" not water proof, but I have hope, because this is the first time it's gotten wet and surely one rainstorm won't damage the phone. And I started having the problem days after the incident. "Come back in about 3 hours." So I went away.
I must mention the employee who helped me when I got back, was very lovely and helpful. He goes back to talk to the tech and says sorry they found liquid damage on the inside of the phone, so I new screen will cost you approx. $260. I say "okay I'll think about it." And it takes them about another 20 minutes or so to give the phone back to me. This makes no sense due to what happens later in the store.
Fast forward to me driving back to my home in Waterloo. I decide to take it to a Samsung Authorized Repair shop. Little do I know they open my phone and find NO SIGN of liquid damage. Meaning the people at the Experience Store did not even bother to open my phone. They made an assumption, told me they were doing something and did not bother to do their jobs. Now I'm a poor student, so imagine my surprise when I find out that my phone could and should be fixed under Samsung warranty but they did not bother to check.
I am so disappointed in the Samsung brand and this store. I should also mention, this is the first time ever I have contact the company itself to complain and I have working in customer service so maybe the first guy was just having a bad day. But to me this whole situation is unacceptable.

Lindy Myburgh
from Sasolburg, FS
about my Samsung S7edge that was handed in at one of Samsungs repair centres to replace a screen. It was done in January. Now the repair centre closed down, I have no phone but still pay for my contact. Since feb I tried to resolve the problem and they are still busy with it. its 6 months now and still nothing. even the manager at the complains department said he don't know what to tell me anymore. This is really unacceptable and I need it to be resolved.

Ajay Das
from Siliguri, WB
Mare bill no.4263465687 service centre no. 0008350794 10 din se mare phone service centre ma para ha.sir 10000/- dam ka or ek mobile rakhna mare liye possible nahi ha so sir please help me.my mobile no is 8942983184

good day
I bought a Samsung z4 in January 2018 I am starting to learn the difference of it and android once but now I have been having an issue with the back button as I have to restart the phone for it to work almost every day not sure how many times a day. the issue of me taking it back to edgars for repair is I will have a stay for two weeks or more without a phone.

edward hubster
from San Antonio, TX
POOR PHONE SERVICE
TO WHO IT MAY CONCERN
As I have what I think is way too many problems. I would like my refund and an exception to policy and authorization to return the two phones that I have with no penalty. I am 77 years old and cannot afford to have my limited funds tied up my your company.
I am very unhappy with Samsung. For over a month now I have been trying to get my refund back. You can look at my account Edintex@satx.rr.com. Of one error Edintex@satx.r.com
I ordered two phones or at least that is what I thought But I received 4 Samsung 9 Cell phones.as charged on 5/19/2018 841.09, on 5/18/2018 841,09 on 5/18 2018 833.51 and again on I was charged 833.51 on 5/18/2018
On 5/19/2018 7,58 paid for return label returned one phone on that label
Another phone was returned as I did not sign for that phone
I currently have two Samsung 9 phones numbers 358212090002055 358212090006767 One was Violet and the other was Coral Blue
One order number was DJ03WO0SS I do nor have the other numbers. As my computer had a hard drive failure .
06/01/2018 DRI*SAMSUNG 10380 BREN RD W MINNETONKA MN USA Refund 833.51
05/19/2018 DRI*SAMSUNG 10380 BREN RD W MINNETONKA MN USA -7.58
05/19/2018 DRI*SAMSUNG 10380 BREN RD W MINNETONKA MN USA -841.09
05/18/2018 DRI*SAMSUNG 10380 BREN RD W MINNETONKA MN USA -841.09
05/18/2018 DRI*SAMSUNG 10380 BREN RD W MINNETONKA MN USA -833.51
05/18/2018 DRI*SAMSUNG 10380 BREN RD W MINNETONKA MN USA -833.5

Bailey harvey
from Carthage, TX
I bought a brand new Samsung note 8 in September 2017. Not long after, I dropped the phone 3ft on to CARPET and it caused a hairline crack. That's my first complaint. Second, this month, June 2018, the phone went dead and no charger would work. It wouldn't come back on. Nothing!! I contacted Samsung and was told it was a known issue and it was under warranty so it would be corrected. The tech guy I talked to asked if it was caused by physical or liquid damage. I said not to my knowledge but it does have a crack that happened right after I got it but it has worked for months up until now. He assists me in getting a shipping label to send my phone in to the repair center. Next thing I know, I got a bill for $658.19 to repair my phone because it was not under warranty. Come to find out, the small crack voided the warranty and NOTHING was said about that when I was talking to guy about the issue. They sent me my unworking/unrepaired phone back. I've got a $1000 Samsung paperweight now. Not to mention. I've got a baby on the way and that phone was my only way to get a hold of anyone Incase anything should happen. Im borrowing a phone now. I still owe Verizon $560 for that non working note 8. I'm stuck paying for a phone that doesn't work, and the reason it doesn't work was beyond my control.

Larry michalski
from Chicago, IL
I would not even rate it bought a washer and dryer 6 months ago and the dryer broke down. Service is a nightmare. Would not come and fix it.took for ever to get reimbursed. Thes__hit we had to go through to get it.im telling everyone I know and don't know about it I would rather wash my clothes in the creek then ever buy another Samsung product of yours again.larry

Larry michalski
from Chicago, IL
I would not even rate it bought a washer and dryer 6 months ago and the dryer broke down. Service is a nightmare. Would not come and fix it.took for ever to get reimbursed. Thes__hit we had to go through to get it.im telling everyone I know and don't know about it I would rather wash my clothes in the creek then ever buy another Samsung product of yours again.larry

kristen hodges
from Burleson, TX
My phone updated yesterday. All is good except I am having a problem keeping the badge numbers on my notifications after either just opening the app and not the actual message or one of the notifications or if I dismiss one of the notifications on the bar. It is important in a lot of instances to have it shown how many notifications there are within that app. Not sure why ya'll thought it was a good idea to dismiss the number of notifications before even opening the message. I've tried multiple things, read multiple threads to try and fix this problem but nothing is working and I see it is a part of the update. If ya'll could go back to showing the number of notifications until the user personally decides to do away with the badge numbers or actually going into that one thing to dismiss notifications separately.

Pinkal Soni
from Ahmedabad, GJ
Dear Team,
Service Request Reference No: 4259802563
My Samsung Refrigerator was purchased in April, 2012. Since last 3/4 months, our refrigerator has some ongoing issues of cooling. In March, the engineers came and solve gas leakage problem (that is what they identified and claimed to solve it), charged me heftily now again in one months time, it is not cooling.
Another technician came to our place yesterday investigated the machine and said since you are putting untensils with water to make it ice in freezer section, our fridge is not cooling. How rubbish ? When we tried countering his explanation, he started giving us lame execuses and compared old timer products Vs new products.
We did not want to argue with him so let him go and waited for another day without keeping anything in freezer section to see the effects.... The result was same no cooling effect and no ice cubes in ice tray.
I want to register a complaint against this technician - Alpesh Patel and Samsung for their poor service.
Regards,
Pinkal Soni | 9909000361 | pinkal@sevennhalf.com

Fernando Vallejos
from Markham, ON
I got two Galaxy S8 back at the end of Feb 2018. I started having problems with the chargers not even a month later. I requested warranty on the chargers and wires after it was diagnosed by their own technical support. I am still waiting for the charging wire. I have spent lots of hours of my time on Online Chat and phone calls with Samsung trying to figure out why it has taken over a month to solve my problem. I keep getting the run-around about how long it's going to take and why I wouldn't get it all at the same time. There call centers are all outside of Canada and the USA so the people have no idea whats going on. I have requested a manager numerous of time and I only get the on-duty supervisor who says there is nothing he/she can do. I am still waiting for them to resolve this, but I don't think I will be buying another Samsung phone any time soon.

Jerry Hartless
from Waynesboro, PA
Did a bios upgrade on my Samsung Televsion today which did not go well. I called tech support but no one that I spoke to their could help me either. Totally untrained with no resources and no way to even begin to help the customer. Eventually, I was able to resolve the problem myself. As a result of this I emailed all of the Samsung Senior Management in Japan about my terrible customer service experience. Twice in fact. Any company with this pathetic of customer support is on the way out. Drop the stock now if you own any. No doubt on Monday a lot of people in Japan are going to have a bad day! Hopefully, they will get fired because none of them are doing their jobs.

Bobby and Pat Flora
from Lawrenceburg, KY
I called your customer care on 4-2-18 and explained my mom and dad bought a Refrigerator in 2016 four months before it was installed in their new home which the refrigerator was installed in February 2017 by HH Greg which now it out of business. I explained there are numerous bulletins on this refrigerator and in February the ice maker when bad which you replaced under warranty. In April we noticed the freezer was not working in which we lost the entire freezer full of food. My daughter Cheryl Peach called into customer service explaining everything above and she offered to send a repair person or get the entire purchase price back for our inconveniences. I decided with the problems I had already experienced I would choose to Get a refund and purchase a new refrigerator and my daughter sent the receipt in and the lady from your customer service called my daughter with Refund Order Ticket # 4147177211 and with the amount of refund being $1,495.99 and that in one to two business days Samsung would call with how she would want refund either by direct deposit or Check. The email I sent receipt to was Snaecr_g45@sea.samsung .com and she said it was successfully received. She then called back a 2nd time to confirm address was still the same as receipt. Yesterday I sent email to confirm when they might receive the refund and customer service informed me it was denied for being out of Warranty? No one ever called to tell us such and knowing we were purchasing a new unit depending on repaying for a new product with the proceeds of this refund...... You have no one that services this area for Samsung and then your customer service is the pits.... If this is not immediately remedied I will be contacting an attorney or taking you to small claims as I still have the voice recording of the refund that was promised to my daughter. My daughter also asked if they would want the old refrigerator back and your customer service said no have Lowes dispose of it when they deliver the new one. As we still have the old one that is barely over a year old after installation. I will never purchase another samsung product as you CLEARLY don't stand behind your product for the price you pay.
Hopefully your will remedy if not I will be seeing you in court with my voicemail your customer service left as proof of refund.
Thanks
Pat and Bobby Flora

Kenneth L Glass
from Camdenton, MO
My Samsung Galaxy S8 died during a call. It would not start, charge, soft reboot or hard reboot. I was instructed from Samsung to send it overnight and they provided a UPS pickup ticket. I delivered it to s UPS store and they received it the next day. It sat for three days. I received an email stating they were repairing it and it would be 3-5 business days to return it to me. They then sent another email 2 days later saying they had my phone on hold waiting for back ordered parts. I then received an email stating they could not repair my warranted phone and were going to send a refund, after they contact me with in 24-48 business hours. That time frame was not followed and I have been on a constant phone loop with Samsung from 800-Samsung to an ECR and then to parts who immediately route the call back to 800-samsung. this continues until my patience fails and I hang up. All I am interested in a new S8 or refund of $672, which is the purchase price I paid for the phone.

Kim Rayburn
from Sterling Heights, MI
Do not like new update for note 8. You took away the option for text tones for contacts. I will be looking for a new phone because of this. I need this feature for work and this was the dumbest move ever. Hundreds of thousands of people are not happy about this. Needs fixed or lose customers

marianne meekhof
from Alto, MI
I bought a refrigerator from HOME DEPOT in july 2017. Less then 30 days later it stop staying cold tempt goes from 40 to 50 . I went to store and they did absolutely nothing. All they did was give me your customer service # I will never shop there again I have called your C.S.Aug Sept Oct Nov Dec 2017 JanFeb March 2018 .No one has every call or e.mail with any information You do not have the best C.S. department This whole situation has been unbelievable . No one has offered a repair person or just bring me a refrigerator that work This needs to be made right case # 4145812762 e.mail mariannemeek@hotmail.com P#6164604581 Marianne meekhof

Debbie Sinclair
from Irwin, PA
I bought a Samsung dryer in February of 2017; 2 weeks ago the belt broke and it cost me $180 to have it repaired...how disappointing.
The repair man told me never to buy Samsung appliances since he receives numerous issues for repairs for your products.
I did not register the (dryer) appliance as your unfriendly website would not accept the serial number...I tried shortly after the purchase and again recently.
No more Samsung appliances for me!

Natasha S
from New York, NY
I made the horrible mistake of buying a SAmsung dishwasher from Best Buy. It never really worked, we keep calling fr issues and they came out and keep replacing parts. Then, the last fail I called and it was just "a few days" outside warranty. We should have keep the unbrand 1960 dishwasher that was in the house before because at least at worked.
I will never buy another samsung appliance again!!!

Sharon Jansen
from Chicago, IL
I traded in 2 phones in December 2017 for 2 Samsung galaxy note 8.In February I was charged $200 because they can't find one of my trade ins.I have called almost daily for 3 months and have been transferred all over the place including overseas. I am always told the person before either didn't fill out the correct request or did not file it with the correct department. I have spoken with numerous people and supervisors. I am told to call back in 3 to 5 days. I call back and still no resolution.I have held off disputing the charges hoping to resolve this but have gotten no where.I am a loyal Samsung customer for years but I will be reconsidering this. I have gotten no where but the run around.

Robert Peterson
from Mount Vernon, WA
I bought a 65 inch 4K TV that was no longer able to power up after just over a year; therefore being out of warranty. However, I was given a one time accommodation to have it fixed. Every time I contacted a service center, in which I was told to arrange the repair, they informed me that they do not service my area. This went on for a few weeks; and several service centers. I kept trying (via telephone and chat) to rectify this situation with your support personnel, and EACH time I had to start all over again trying to explain the situation; just kept going in circles. Finally, due to pure frustration and anger I just gave up and decided to just discard the TV; which was just about 2 weeks or so past the warranty period. So I ended up buying an LG (which I should have done from the start as I have other LG products that have never caused me problems, but thought I'd take a chance on a Samsung TV.....BIG MISTAKE!!!) I also had a new Samsung BluRay player (that I bought at the same time that I purchased the Samsung TV) which was new and working. However, when I discarded my TV I was so frustrated with Samsung that I threw the DVD player away at the same time. just so I would not have ANY Samsung products in my home. And, I 'never' will purchase ANY Samsung products again!!
To have Service Centers that will not honor your products due to distance (do not want to send a technician as it is out of their range) is absurd. And one of the Service Centers that 'was' in my area (less than 10 miles away) said that they no longer provide service for Samsung products (perhaps due to the fact that their products require too much service). Anyway, as stated above I will never buy 'any' Samsung product again. Also, I have told many of my friends and relatives about my experience with Samsung, so it is likely that they too will not take a chance on any Samsung product either.
All of this took place a few months ago in January 2018. However, it has taken me this long to express my feelings regarding my experience so that I can let my anger and frustration abate. Not that you will, but you can review all of my correspondence with Samsung regarding this issue. I am now, and will always be from this point forward, a loyal LG customer. My experience with Samsung has been the most frustrating and annoying one that I have 'ever' had with a company in trying to get an issue resolved; to have one of your products fail in just a short time tells me a lot about the quality of your products.
Never Again!!
Mr. Peterson

Thomas L. Jones
from Casstown, OH
I dropped-off my Samsung Galaxy 8 phone to have the broken glass replaced and during the repairs, the UBREAKIFIX Samsung Authorized repair store technician deleted programs/aps on the phone that permits the phone to compete outbound calls and receive inbound calls. The phone was working properly prior to the Authorized Samsung UBREAKIFIX repair technician tried to repair my phone. Now, I have a Samsung Galaxy 8 phone that's unable to complete outbound calls and receive inbound calls. Of course, UBREAKIFIX technician and store manager claims, it was not their fault that the phone they fixed doesn't work. They replaced the glass as requested. This scenario is truly ridiculous. Please in the future, Hire Competent repair personnel that know how to repair devices without causing additional damage to a device and then they claim their repairs did not cause the device to operate properly.

David Warrick
from New York, NY
My washer is only four months old and quit working. Called their customer support and they were closed! Went online and talked to someone on their chat line. Had me jump through numerous hoops to self diagnose the problem. Gave me a number I could use if the problem persisted so I would supposedly not have to go through another 45 minute ordeal. The problem persisted so I called back and gave the number. Nope. Had to go through the same hoops and questions as before. Another 45 minutes later problem still not fixed and no appointment for anyone to come to the house to diagnose. Went through this AGAIN and this time, after another 45 minutes, was finally given a link to supposedly set up an appointment. Filled out all info on the link and waited............... I finally got a call two days later. No appointment though. Gave me more hoops to go through to troubleshoot and self diagnose. Did not work (of course). Had to call them back. Finally got a name and phone number of the company who does their warranty work.....they are in another state!!!! The soonest they said they could come and check it out is over a week away! This would be almost two weeks since the washer quit working. In the meantime I am stuck with a new washer that doesn't work and a pile of dirty clothes. I will never purchase a Samsung again.

Wong
from City of Victoria, HCW
First of all, I need to apologize to you! Because I don't know your display is unwelcome children to play it.
So my child (2years old), he was in your Hong Kong Kowloon Bay branch to play the VR joytick display on March 13. And without my knowledge your display is unwelcome children to play it. And then your staff is very serve faithfully to guard the VR display and immediately to stop my child and severe to scolding my child.
Actually you should very appreciate your staff to guard your open to everybody (ONLY UNWELCOME CHILDREN) to try it the display.
And I talk with your staff same day, he say my child to put and drag the VR joystick rope and put out the length will give rise to the burglar alarm to come up. But as per my handmaid inform my son only take out joystick within 5 second and put out the rope length is very short, but your staff already very severe to scolding my son.
In the meantime, I really want you to help and check with your HK - Kowloon Bay shop the CCTV. I want to know my son take the rope is how long and he play how long time, why your staff need to severe to scolding my son. Do you know because your company unwelcome my son to play your display (I don't understand why no to show do not welcome children to play your display the instruct) and severe to scolding with him. Therefor my son is very fear and cry every day.......... Don you know the serious.......... so we must to know & check your CCTV and then we really don't understand why your company unwelcome to you your display, this is child discrimination?
And I hv check with HK office is don't to check and just ask me to call back your Kowloon bay shop................. I really disappointed your HK CS the handle method.......

Dawn nugent
from Boca Raton, FL
Samsung. Wa456drhdsu. Washing machine vibrates when spinning very hard it's shut off this machine doing the same thing over and over Baugh from brands mart in wpb florida on 6/15/13 for $720,67
561 ,729,2794 or561,541,4669

Dawn nugent
from Boca Raton, FL
Samsung. Wa456drhdsu. Washing machine vibrates when spinning very hard it's shut off this machine doing the same thing over and over Baugh from brands mart in wpb florida on 6/15/13 for $720,67
561 ,729,2794 or561,541,4669
Have feedback for Samsung?
Thanks for your feedback!
Sorry. Please try again later!