Papa John's
Contact Papa John's Corporate
Toll free phone number: 1-877-547-7272
---
Papa Johns International is an American pizzeria that has over 4,000 franchises internationally, with over 3,200 in the United States. The UK, Cyprus, Portugal and Ireland have franchises. Papa John went public in 1993 and is listed on NASDQ:PZZA. In 2013 revenues were reported at US 1.4 billion and net income as US 69 million.
If you want to comment on the quality or service you've received at any Papa Johns call their customer service number 1-877-547-7272.  If you want to mail a letter directly to the CEO, John H. Schnatter you can address you communication to 2002 Papa John Blvd., Louisville, KY 40299. The corporate office line is 502-261-7272.  That same number is listed as the fax number.  An online customer feedback form is located here.
Papa Johns was founded in the back of a tavern belonging to founder John Schnatter's father. Two years later franchises were being sold and the company went public in 1993.  Papa Johns was the first to offer online ordering and their slogan is: Better ingredients. Better pizza. Social media presence might be helpful as a forum and also as a way to receive notification of coupons and specials. Check out these for Papa Johns on Twitter, Facebook, Instragram as well as a YouTube personal story from the founder.
Papa John's Contact Information
Report complaints to corporate and get satisfaction
Papa John's headquarters address

2002 Papa John Blvd.
Louisville
KY 40299

Company website

1-800 phone number

1-877-547-7272

Support email address

customers@papajohns.com

Better Business Bureau rating
Browse reviews of other Fast Food
Top Papa John's Complaints
Browse more than 147 reviews submitted so far

While working as a driver at store 1544 in OKC, I observed two managers smoking pot in their car in front of the store. I reported this to our district manager, Clinton allen and he told the two managers what I reported. the two managers are still using drugs at work. I feel that mr allen is condoning drug use at this store. I feel like this endangers employees there as well as our customers. Please take this info seriously as I no longer feel safe working there.

I've been ordering on my iPhone app once a wk well as of last wk my address could not be found on the app I contact customer service they send me a email on directions to my house without where I start ect.. I was nice and got a reply back a smart comment on directions I told them why don't they look up the 1000 pizzas I ordered before they seemed to find my house just fine . Idiots !

chris herbert
from East Rutherford, NJ
Long time customer of papa johns and just bought 250 dollars worth of gift cards last week. Went online and ordered a meal deal from east Rutherford nj store. I have spoken to the owner and driver many times and they are very nice. Store did not have the soda that went with my deal (has happened before and I was always reasonable and took a different soda). They did not have orange or pepsi or anything I liked. I said "please refund me the price of the soda and I will go next door and buy one." She gives me one dollar and ten cents. I said "I can buy a soda for a dollar seventy five next door but not a dollar ten". She said that is the pro rated price for the deal I bought.
I said "I have no way of knowing what I paid for each individual item in a deal but you are the ones who don't have the soda and I need to replace it so cant you give me a refund for whatever a soda costs from you?" at the time I did not realize a 20 oz soda from them was a dollar ninty nine and I was only asking for a dollar seventy five. So I said I will cancel my order and you will lose a long time customer over sixty five cents, you are the ones who don't have the soda. There is much more to this story and I don't want to make this a book but the bottom line is that if I paid one dollar and ten cents for just a soda then the same refund would make sense but if I purchased a deal and drove there only to find you're soda delivery did not come today and you had nothing I liked, I expect a refund for the going price of soda. Everything would have been fine if I could have just taken my food and then been refunded one dollar seventy five cents to get a soda next door.
Now for sixty five cents (the difference between her supposedly pro rated refund and what I wanted) papa johns has lost a customer that spent about 300 a month there.

My kids and I were sitting down in the kitchen and saw the Papa johns commercial. I made a bet that papa Johns was going to taste better than Dominos. We ordered the pepperoni bacon 12″ ( cost $20.10 ) we then order (1) from Dominoes ($14.69). Not only did Dominoes come within 30 min. But also looked and tasted great. Papa Johns came and looked/tasted like old food. Needless to say I lost my bet with my kids and had to pay for both pies. Can someone tell me why. Order#0403/0112

I ordered a pizza in the store. I waited 30 minutes while I listened and watched the staff tell jokes and horse around in the store. The manager as well as other staff. After 30 minutes, I bent down to look into the oven and no pizza was baking. I asked them if they were making my pizza. They said "Only his". They were referring to an employee. While I continued to wait, he made himself 3 large pizzas, boxed them. put his coat and left. I asked if they were for delivery. The manager said no, they were his as he was having a party. After another 20 minutes and no pizza, I left the store. The manager was as bad as the workers. They were laughing, high fiving, and generally not working. I waited a total of 50 minutes and they still were not making my pizza. On the way out of the store, I told a lady that she would have a long wait. She said this was the second time she had been there after ordering her pizzas over an 1 12 hour wait. She said every time she called, they said they were busy. I love Pappa Johns, but I will spread the word about your employees if you don't make complete improvements. There are plenty of people who need jobs.

Bear Vance
from Baltimore, MD
I ordered a pizza online from the store located at 3411 Clifton Avenue Baltimore, MD 21216 today at 7:25 pm and received my pizza at 8:45. The pizza was cold and unappetizing, which I didn't even have the desire to eat. Subsequently, I made several attempts to contact the store to make them aware of my dissatisfaction. I held the line 10 mins, 12, mins and finally stayed on hold 30 minutes, to no avail. By far this was the worst experience I have ever had. I cant even articulate my level of dissatisfaction, and disappointment with this experience. Being the second time patronizing Papa Johns ( the first time I ordered instore, in Montgomery County) I figured I'd give them a try. Seeing how business relies, lives and dies from the reputation it aspires to exceed expectations. I in good faith and conscience could and would not recommend this location, nor Papa Johns if this is the status quo.
As of this moment I have still been on hold for 30 mins. This level is completely unacceptable and I'm sure not the standard that Papa Johns promotes.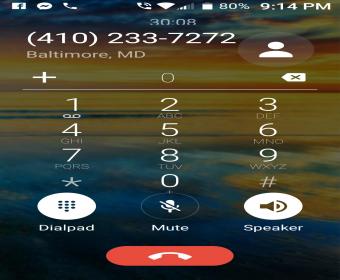 mary
from Myrtle Beach, SC
we are in myrtle beach we order a medium pizza on a Sat one week it is 13 Dollars in change tonight it was 17dollars in change why I asked the girl on the phone she said delivery charge pls tell these people what prize is a medium pepperoni mushroom and onion we are retired that extra oney is important also confusion to use why
love the Pizza

Donna white
from Flint, MI
I called to order a pizza at 10pm asked what time they stopped delivering she never gave me a answer and said they wait time is 3 hours and the store closes in 2 hours was very rude and was rushing to get off the phone and didnt want to answer any questions ive had several other problems with this place very unhappy at tge way they run there business we usually order about twice a week but with past experiences and then this incident we wont be back witg our business this is not how a company should run very unprofessional people at this location the location is hopkinsville ky on fort campbell blvd

Brian Murray
from Seattle, WA
I am filing a complaint with the Manager of the Papa Johns Location in Normandy Park, WA. Phone number is 206-248-3333. Address is 19893 1st Ave S. - 98148.
The franchise associated with this location is Rose City Pizza based out of Oregon.
Operations Director is Matt (I do not know his last name)
General Manager of this store is Doua Hang.
Neither were there at the time of the incident.
The manger I am filing a complaint about is Jude Cabrera.
Here is the situation: I am employed at this location. I am a delivery driver. I was out on a delivery. I come back from my delivery and my name is logged out as it should be - but I was on another delivery. He sent another driver logged under my name. But tried to tell me he was still going to give me the mileage for that delivery. This is completely wrong. The other driver was there and was more than capable of logging himself out under his own name for the delivery. This is why I see it as wrong - 1) It gives the customer the wrong info if there were a complaint - my name would used 2) It cheats the other driver out of the mileage 3) The tips reported on the credit card delivery gets sent to my taxes and cheats me out of paying for his taxes.
His explanation to me the whole time was this - "I'm a manager and I can do what I want."
The manager in Question is a liar, a thief and speaks to people very rudely. He takes sodas and poppers and wings on a daily basis with out purchasing the items. He talks about all management behind their backs in a bad way. He gives away product left and right - he let another driver leave when our GM was on vacation to go buy underage teenagers weed (this incident was 3/8/2019 at approx 11 am in the morning). And said nothing to them. One of the underage teenage girls was a former employee sitting in the back eating chicken poppers and wings with out paying for them. He does not care about the store - only the title.
Yes, I could have acted in another manner. But obviously I let my emotions get the best of me. As this has been building for some time now.
I can be contacted at 206-771-8483
or by email: moose0429@yahoo.com
My name is Brian Murray.
This needs to be rectified asap. This individual has no reason to be in management.

I ordered medium pepperoni pizza to be picked up. the guy repeated my order and gave me the price. My grandson and husband picked it up. when it was opened it was wrong. I called back and the guy insisted that it was ordered with cheese. Called back and the phone was not answered. My husband took the box and went back. In the meantime I did call back again, the same guy answered. When I explained to him who I was and that the label on the box read pepperoni. He hollered something about the issue and hung up on me. He told my husband that the pepperoni on the label did not mean that. After all that it was replaced. I have dealt with Papa John's for years, but this has ended. The guy that worked there was very rude and did not get the order right. I worked in retail in the past and I know that you do no act like this with customers. My company that was visiting also got a bad impression of Papa John's.
This incident happened Thursday evening, 3/7/2019 . I called around 6:20 for the order. This took quite a while until it was actually cleared up. I was going to mention to the guy that i would report this, but he hung up on me too soon.
Store # 1728 Laurel, MD 20723 (Savage Store)

Melinda wilson
from Plymouth, MN
My pizza was almost 2 hours late and when they got to the door the pizza was freezing cold and the pizza was all over the box , I called the store and spoke with Justin which said that he will send the driver back with a hot pizza and a refund , however when the driver got back to my door the pizza was a gain cold and there was no refund the person headed me a pepsi , when I called the store back I spoke with Cameron which was rude as well he then put just on the phone and stated he don't have time for this and and hungup .. I want my refund this is the second time I have went threw this with this from this store .. something really needs to be done and I wont stop until it is

I ordered a delivery at 5:11 pm for 6:30 pm delivery. it is now 7:20 pm. one hour late.
order #666312526
cust id 35495220.
This is not the first time for this to happen.
you need to make this right for me.

they sent us the wrong pizza don't get me wrong the pizza was still good but when we called the store they acted like they could care less

Have not used it a while due to poor service but decided to try again well guess what we are sitting here waiting again for the pizza that was supposed to be here 20 minutes ago. I live 10minutes from the store. I called and was told it was on she way I said how long and was told 10 minutes so I replied so you have not even left yet because I am only 10 minutes away and she replied well we are short on drivers. Wasted my Papa dough and discount.

Hello,
I ordered a pizza online 2/07/19 and was quoted a arrival time, I also received a email confirmation that it would be delivered in 27-37 minutes, after a hour I called to see what happened they told me the pizza was just coming out of the oven and they were sending it out. I again was waiting another hour for my pizza and didn't receive a phone call that they would be running late, as I was notified after I called again for the second time and told it was on the way.
I enjoy the convenience of ordering online as I have done so before. I enjoy Papa Johns and the quality of pizza is greatly appreciated . However I was disappointed with the customer service recently and was not offered a refund for terrible service.

Duane Parks
from Baltimore, MD
Ordered the lunch special 2/22/19 got there on time following the pizza tracker and my pizza was an old pizza that was already cut and I ask the square cut and got a lot of mini triangle cuts so it was a pizza that someone was already ordered that didn't get picked up and they reused it instead of making a fresh pizza!!!

I have filed a feedback form 2 times, and called and spoke with Rebecca over an incident last Saturday evening (2/16/19). I was informed that someone would notify me within 24-48 hours. As of today's date, 2/21/19, no one has responded or sent me an e-mail. Could you please look into this?

The Crystal Hill store in North Little Rock, AR SUCKS! The man that answered the phone barley spoke English & then you could not understand him.
The he put the manager on the phone, someone named Louie or something like that. He was just a rude.
I have ordered for years from Papa John's Pizza just a different store and never had any problems out the other store. This store was just plain dumb and stupid. I'm sorry to leave such a bad review but poor service is not was I expect from a well known Pizza establishment.
Thank you,
Alicia

Tim nasello
from Tampa, FL
I work for Seminole Electric in Tampa. WE frequently place orders from Papa Johns 14861 N Dale Mabry Hwy, Tampa. Today we called at 1000 am to place an order for 20 pizzas for delivery at 1145. They said they had too many orders and could not be there until 1215. That was too late for our corporate meeting, so we asked to pick them up at 1145, the person on the phone said I will ask my manager, but he is going to say no. So she asked the manager, and no courtesy to get on phone, he yelled no we cannot make them and we hung up. I do allot of business with PaPa Johns personally and professionally and find this Customer Service unacceptable. I am sure that this is not the service your corporation expects or accepts and hope this is corrected. We are now going to use another place to provide food for our meetings.
Very Respectfully
Tim Nasello
Director Supply, Seminole Electric

Our pizza tasted very bland. It was very dark and the crust was hard. Our bread sticks were very dark and bland as well and also cold. And the garlic was spilled all over the box and on our garlic and cheese cups. We would appreciate it if you could do something about this situation. Thank you.

Alexander Sulimenko Jr.
from Ashburn, VA
I work for a Amazon fulfillment center and we order often from papa johns all the time. I work over nights and we had a birthday party planned for a team member and I ordered two large pies on line. Usually the service is great but this time the order was delivered late and cold and the delivery driver was rude. He made the excuse that he had too many orders. He delivered the order late and we only have a half hour for lunch. I ordered it at 10:50pm on Wednesday the confirmation said it would be 30-40 minutes which is normal. Our lunch is at 11:30 and the driver didn't call me till 11:50pm, needless to say we didn't get to enjoy the pizza cause it was cold and late. We order all the time throughout the year for meetings and special occasions and I hate to order from somewhere else. I spent 43$ on pizza and pre tipped the driver. I hope I can get a full refund.. I would hate to have to dispute the payment on my credit card. I hope someone will contact me for resolution to this matter.

berta gittings
from Louisville, KY
i had a gift card for my pizza and the people there messed my order up and all my imfortation up plus took out the money on the gift card that i never got the pizza they ripped me off on my card and order plus they never show up with my order.the card was for 25.00 but i should either get my 25.00 back or a free pizza for 25.00 i will tell a lot of people how this place RIPS PEOPLE OFF. I AM VERY PISSED OFF ABOUT THIS I HOPE THIS GETS FIXED GITTINGS

chris herbert
from Rutherford, NJ
Long story short I had a problem with my local papa johns store three years ago and stopped going. I received a coupon in the mail that made me decide to give them another chance. I ordered online. When I got to the store, the store owner in east rutherford was nasty with me. I walked out without my order. The store owner called my wifes number from the online order and told her to never come back. I called the papa johns main number to complain. They were very nice but no one called me back. Two weeks later I called and they said the case was closed. I said "no one ever called me to tell me that" and they said the store decided they no longer want me there and as a franchise they have a right to do that. I said "alright but I would have liked a call telling me my case was closed. I had no idea papa johns worked this way. You just use the papa johns name and treat customers badly and papa johms washes its hands of it all?" The papa johns representative said that is the way it works and the franchised store has a right to do that.

Michael
from Portland, TX
Ordered 3 pizzas. (All super soggy) 1st: all cheese and sauce slid down, got 1 pizza with all toppings on 1 side. 2nd was ok. 3rd was cheese on 1 side. $45 for this. All pizzas were horrible, and I love PJ's. Never again in Portland tx. And I like PJ's.

Trent Hand
from Huntersville, NC
Ordered a pizza less than 5 minutes from my home. An hour later, the delivery driver called me to verify address, which she had the correct one. After telling me there was no such address, I called the store, cancelled the order, and no one seemed to care they lost business. Last time for this person!!

Wendy McDowell
from Port Orange, FL
On January 4th, 2019 I Ordered a pizza for delivery. I was told that it would arrive in 30 minutes. It took over an hour and when delivered it was cold. Called the store here (Port Orange, Florida) and asked to speak to the manager. I was placed on hold and after 10 minutes hung up. Then my husband called the store and demanded to speak with the manager. when the manager talked with my husband he said that they would bring us a new pizza at no charge and refund the cost of the first pizza that I considered a fair way to deal with the situation. However when the new pizza arrived, we found that it was not anything like we ordered. It was missing several ingredients and was really quite awful tasting. I didn't even consider calling the store yet again but I wanted you to know just how bad the service we received was. We have enjoyed your pizzas often but this experience has put an end to that. I really believe that some training is in order for this store. The manager would not even give me the name of the franchise owner, I'm sure because he knew what could possibly happen if I were able to speak to that owner.

Gregory D. West
from Atlanta, GA
I am not to impressed with Papa John's service at West Broadway. I call to order a party worth of pizza for address at 1814 Bolling Ave , 40210 and the servant said that there were no more delivery drivers and nobody to help you and I cancelled at about 8:33pm last night.

my pizza came to my house with cheese and toppings inside and on the sides of the box but none on crust.

E. Ware
from Danville, VA
Every time I try to order from the local Papa John's, they will not honor online specials or match competitor pricing (Domino's). I just tried again to no avail and even though the online specials specifically state $6 for 2 medium 1 topping pizzas, the manager told the person who answered my call that they would not honor the special. I asked if they match the Domino's EVERYDAY special of 2 medium 2 topping pizzas for $5.99 and they said "We are not Domino's". I asked to speak to the manager and they put me on hold never intending to answer me again...I waited for at least 15 minutes and finally hung up and ordered DOMINO'S. If you will not even honor your OWN SPECIALS, much less price match like many other places do, you should not leave this Piney Forest location in Danville, VA open any longer!!! This is the rudest and worst Papa Johns ever and I don't even live here any more - my parents are still in town which is the only reason we even try. They also never prepare the orders that we do place correctly as I HATE the pepperoni extra soggy UNDER the cheese. You should change the arrangement and ALWAYS place pepperoni on top to get crispy! Doesn't matter that I always order it this way, when I actually do order from you, because this Danville, VA location never tries to do it right anyway.

Kaleigh Pipho
from Oklahoma City, OK
I usually choose Papa John's when ordering pizza because they have always had a consistently excellent quality when it comes to the product they put out. However, I was extremely disappointed when I received this order (there were two medium two topping pizza's and they both had the same issue; only one is pictured) only to open both boxes and find that the majority of both pizza's didn't even have toppings or sauce on them. I expect much better quality control from Papa John's than this.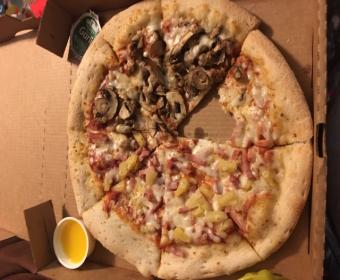 James A. Dennis, Jr.
from Missoula, MT
My wife ordered a 2 pizzas at our local papa johns here in Missoula Montana and not only were they late by an additional 45 minutes but made incorrectly. I was not home at the time they were delivered. I would have refused them outright and demanded a refund. Upon calling the manager she tried to say t wasn't their fault that they had only 2 drivers and couldn't get our order to us in the allotted time they stated. I asked to come back now and pick them up as they were not made correctly and she said they couldn't do that to which I replied how about I drop them off there and you make them correctly to which she started screaming and swearing and said fu*k this and hung up on me.
WOW great customer service experience !!!
Better ingredients, better pizza, incorrectly made, terrible customer service, late, PAPA JOHNS
I can be reached at the following 406*369*5100 if you would care to make amends to a loyal customer.
I remain,
James A Dennis

It clearly sates on the website I get 11 chicken poppers and tandoori poppers but instead I got less than 11

Dennis Nofsinger
from Augusta, GA
Asked cashier for the AARP discount she very rudely said she didn't know what that was and refused to try to get it. This to me means I will not visit this store again and that the employees are poorly trained. Store location on Zebulin Rd. Macon Ga.

Bonquiqui
from New Orleans, LA
Last couple of times I ordered pizzas there was not enough ingredients in the pizzas at all. It barely has 1 or 2 pieces of pepperoni in each slice.
The quality has dropped tremendously. I won't be buying from them. There are plenty enough pizza places willinf to ear my business.

Tim Forloine
from Baltimore, MD
On November 10th I called ahead and ordered two Pepperoni Pizza's from the Papa Johns on Woodbridge Way in Edgewood Md, 21040. Upon arriving there were several Police cars detaining a couple of people outside at the business next door and the PapaJohns was very busy and told me it would be a little longer but did take my credit card for payment ($34.34). Already late for a party about 10-15 minutes away I called to let friends know as I was bringing dinner! While doing this I was handed my pizza boxes and out the door I went. Upon arriving at the party the boxes were opened immediately and to everyone's shock the pizzas were covered in pickles and labeled "Cheeseburger". I called Papa Johns and was informed it was my fault for being on the phone and if I wanted the correct pizza's I needed to bring the wrong ones back I told them I was at a party and they needed to deliver the correct pizza's. I was informed that was not going to happen. I do have the email confirming my order and pictures of the tags on the boxes that are incorrect. I requested they NOT bill my credit card and again was told tuff luck but I had to pay for the bad pizzas even though the manager freely admitted he had made the mistake. YES My credit card was billed. I have used this Papa Johns since it opened and order online frequently. I want my money refunded and think an apology is in order. I look forward to hearing from you.
Hello Timothy Forloine,
Thank you for placing your Papa John's pizza order via our Online Ordering service. Please find below, details of your order:
Customer ID: 53549462
Online Order Number: 641823560
Order Type: Carryout
Method of Payment: CASH
Estimated Ready Time: [Approximately 15-25 minutes]
Order Detail:
1 Pan Pepperoni 15.60
Pepperoni
Pan Sauce
1 Large Thin Crust Cheese Pizza 16.80
Pepperoni
Total $32.40
Tax $1.94
Grand Total $34.34

Karen Hennington
from Albany, GA
Placed online order at 5:30 pm received the wrong pizza. Notified store, spoke with the manager who assured me of a timely re-delivery of the correct pizza. An hour later I called and was told that it will be an additional 15 minutes. When I asked to speak with the manager I was placed on hold and left to listen to a horrible sound. Called back and the phone was not answered I am very disappointed. The pizza was already paid for and as of 7:15 still have not received a pizza, an apology or anything satisfying. However, I was told that they will need the wrong pizza back. Very poor service

Trystan Roberts
from Marysville, WA
Today is 11/11/2018 and ordered 36.00$ pizza. i was excited to buy the featured cheeseburger pizza to receive a very disappointing pizza with so little hamburger that I couldn't believe that this was the prime ingredient virtually missing the mark. I could count the amount of burger crumbles on one hand. I contacted the store manager and took the pizza back to,prove the sparse non existent burger. He basically said that there was nothing he would do about it, stating that there was burger on it. I think it tasted like it should been called a pickle pizza. Really, this manager was a rude jerk. Until the management changes, I will not be going to this particular store again.

The general manager is a bitch,she decided because I'm a white male I couldn't use the 8.99 special and wanted to charge me 20 dollars for a two topping pizza and when I wouldn't pay that much for the pizza after ordering the special and being quoted otherwise over the phone she told me I was just a white supremacist piece of shit and should have to pay more so others could pay less, WTH is wrong with this person.do they represent the values of Papa John's in Maryland this is ridiculous

marie smith
from Powder Springs, GA
I have a coupon from McEachern High School that I have had for months now, I called to order a pizza but wanted to add topping and the young lady explained that I was unable to add any toping because it was just a free medium cheese pizza only. So then I wanted to order my pizza and pick up when ready, but then it wasn't possible to order the pizza for pick-up. I had to come in and order in person with the coupon, I thought this was ridiculous. So I drive over and wanted an explanation as to why, and asked what if I had just called and ordered the pizza and showed up with the free coupon what would have happen then? So this very rude manager tells me that then I would have been charged the regular price for the pizza and couldn't use the coupon as she's sliding across the floor in a chair, didn't even bother to stand up to tell me she didn't have to take my coupon or put up with me questioning her about her rules with the coupon. This is very upsetting to know just because I had a free pizza coupon, and not a cash paying customer that she refused take my coupon in return for a pizza and talked very nasty and rude. This type of behavior is unexcitable to say the lease that another racial instance where people of color are insulted and talked to rudely, I thought with all the trouble, feedback, and ridicule that Papa Johns have suffered this year that this certainly wouldn't have happened, a rude Caucasian manager treating a African American with such unfriendly customer service it's crazy. So I tell you what anyone of color shouldn't support this place and by all means don't bring a free pizza coupon in, hopefully by now everyone has used there fundraising coupon for the free medium cheese pizza that we did pay money for mind you, it really wasn't free.
Remove review

Richard Bohlman
from Brandon, MS
Papa John's
1490 W Government St.
Brandon, MS 39042
At appx 2:45 pm on 20 Oct 2018, I placed a cell phone call to the Papa John's Pizza store in Brandon, Mississippi.
I told them that I was making on order for pick up. They asked my name and phone number.
I told the person on the phone that I wanted to order the Extra Large two topping pizza for $10.00
as shown on TV. I was told to hold a minute and when the person came back on the phone he told me that they
were "all out of Extra Large pizzas".
He advise me that I order a $20+ pizza to which I said GOODBY and hung up the phone!
I purchased my pizza from another pizza store here in my area on my way home from work.
"ALL OUT OF EXTRA LARGE PIZZAS"! Very sad customer service! I want to talk to someone about this!
Richard Bohlman
201 Hickory Circle
Live Oaks Place
Pearl, Mississippi 39208-8081
(769) 226-398
richard.bohlman@att.net

Samuel Delgado
from Indianapolis, IN
I placed my order at 4:00pm for one pizza and received a notification that the pizza would take 35-45 minutes and the pizza tracker said that it was on its way for over 30min. At 5:15, 1 hour and 15 minutes after placing my order, I called the Papa Johns store to ask if they were having trouble finding my apartment. The worker on the phone rudely answered and hung up on me. I called again, and the same thing happened. I called a third time and spoke to the same individual who screamed at me over the phone that it was just now being boxed, 1 hour and 15 minutes after my order was placed. The behavior from the worker is unacceptable and it is also unacceptable that the pizza tracker stated that the order was on its way for over 30 minutes and when I called I was told that it was just being boxed - this is false advertising. If this is how your business treats paying customers, I will no longer be ordering from your establishment.

Maria Rodriguez-Farris
from Sugar Land, TX
I placed an order for one pizza today at 4:20pm at Store #1953 at 11850 Bissonnet, Houston, TX 77036. I specifically asked them if they delivered to a business. The employee said yes. I gave them all my contact information and my credit card number. They told me that pizza would arrive at business in 30-35 minutes. I called back at 5:20pm and they told me pizza on its way. Pizza never arrived. I called back at 6pm and the person that answered told me they went to business and called number. They had the wrong number for me. I told the employee that they wrote down wrong number. I asked that I receive pizza for free. She said they couldn't refund because of bad number. I told her it isn't my fault the employee wrote down the wrong number. The employee told me it will be another 30 minutes. I have yet to receive pizza and should have received pizza free. I regret calling this papa john should have gone with domino's.
Maria Farris
832-566-0797

Bob McFarland
from Derby, KS
On 9/21 at approximately 6:30pm I stopped at the Papa John's store (#1375) in Derby, KS to pick up a pizza that my wife had ordered about 15-20 minutes beforehand. I had driven from northeast Wichita to Papa John's to pick up the pizza on the way home. I have had prostate surgery (which did not go well and, often, when I drive any kind of distance, as soon as I get out of the truck, I have to use the restroom. (not eventually, but immediately) When I told the young girl at the counter my last name, she told me that the pizza was not ready so I asked if they had a restroom available. She said she was new (no problem there) and would ask. It went through 4 people before she came back and said 'no'. their restroom was not a public restroom but if I needed to use one, there was a Taco Bell down the street.
I left the store and walked about a half of a block to Taco Bell, used the restroom, and came back. When I came back, I asked why they did not post 'no public restroom' on their door and one of the pizza assembly personnel walked up and began to berate me about Kansas state law pertaining to no inside tables so not required to have open restrooms. While this may be true, the fact that his conversation was across the room and in front of 2 other customers was not appreciated. I suggested to him that rather than make an issue about it they should just post it and thus alleviate the entire situation. (I then apologized to the other 2 customers for what the situation had created) Truthfully, this was embarrassing and demeaning to me as a person. I did not want to create a disturbance. I just needed to use a restroom. I told the pizza guy that it was finished and I just wanted my pizza.
After I paid for the pizza and the pizza was still not ready, I asked to speak to the manager. When she came out, she took me outside and told me that I was out of line without asking anything about what had actually taken place. When the pizza was ready, 'she' brought it to me and told me that if I did not leave by the time she counted to 3, she would call the police (and then proceeded to start counting.) I asked her if this was for real and she started dialing her cell phone. I apologized to the new girl for causing such a problem on her first day and left. (The night manager did not give me her name as I had asked, just the store name and the corporate number.)
I am not asking for an apology or free coupons or anything else. That is not the purpose of this email. I owned a successful service business for 17 years and one of the things I learned was that businesses often lose accounts over irritations rather than huge problems and often the irritations are never reported, This incident was rude, demeaning and unnecessary. Please post your policy on restrooms. Most customers are not familiar with state law and don't need to be 'force feed' the particulars and no customer should be threatened on police intervention because they asked to use a restroom or speak to a manager.
My wife and I have ordered from Papa John's at least 1-3 times a month for the past 2-3 years because you are less than a mile away and our grandkids like pizza. That being said, I will never step into any of your stores again because of the way I was treated but I felt that it was only right that you should know. One customer will not break you. However, I'm sure that what happened to me is not unique, especially after I got home and looked up this store's customer rating.
Thank you for taking the time to read this and I hope it will encourage better training and better public communication since you are a public service business.
Regards,
Bob McFarland
316.210.9555

Thomas Wrightsman
from Carmel, IN
Hi... My wife and I had family in from out of town so after a long day of traveling and work my wife decided to order pizza... Big mistake... She ordered the "feed your home team" 2 pizza deal (1) large meat lovers with banana peppers (1) supreme onion on half. And a order of garlic parmesan bread sticks.
My total was 33.96. They said it would be 30 to 45mins. An 1hr.15 mins went by and still no delivery. My wife called and asked how much longer and was told it would be there in 10mins. Another 35mins went by for a total of almost 2 hrs and final our order arrived.. the pizzas were barely warm and tasted undercooked. The supreme with onion on half had onion on the whole thing and we received regular bread sticks instead of the parmesan ones. I should not have had an experience like this after spending almost $40. I would greatly appreciate it if customer service got back with me promptly to resolve this matter. pitbulllove0420@gmail.com

M.Shafiq Khalid
from Bethnal Green, ENG
I worked for one of your franchises on Stains Road, Feltham London. The employer was abusive and wasn't adhering to any rules. He paid everyone below minimum wage and would get agressive and verbally abusive every now and then. I left the job as his behavior with staff and customers go unbearable to me and he is now withholding my wages. I contacted the UK head office and made my complaint to someone named Sarah Bridges but they only contacted him once and it didn't result in my wages being paid. I worked very hard for the brand and I think I deserved a better treatment. Out of fruateration and desperation i have had no choice but to leave comment on the glassdoor and I have also emailed money-saving experts and other outlets to make my frustration heard. I hope I get my voice heard as soon as possible

Ric in San Diego
from Houston, TX
I ordered the attached pizza for my girlfriends kids.
It is a 14 inch
With Canadian bacon, Chicken , green peppers . onions and Black olives.
Look at the toppings that are on it.
You guys should be ashamed of yourselves.
Look there's like 2 olives on this pizza
No chicken
Barely any of the other toppings.
Seriously 25 bucks
You're franchisee should be ashamed
I would ike my money back as well as the 5 dollar tip I left.
I'm furious..
Hopefully you respond if not I'll just go to yelp.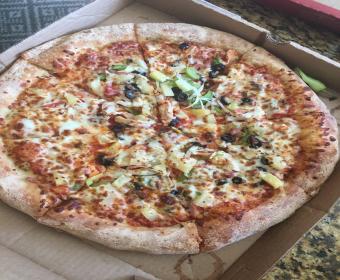 Patrick J. Ehle
from Thayer, MO
On Saturday July 28th I called your Raytown MO. Papa Johns to order a Spicy Italian pizza and brownie dessert for delivery. It was shortly after 8pm, so I was surprised to hear that it would be about a 2 hour wait. The young lady informed me that they would try to get it to me sooner, but couldn't guarantee it. I went ahead and placed my order, paid with my debit card and sat down to wait. Around 10 pm, I called back to check on my order, and was surprised once again. This time I was told my order had already been delivered. I believe it was the same young lady that took my order, but can't be sure. I explained that in no way had I received my order. She excused herself to talk to the driver, and upon returning stated that the driver couldn't find me and was unable to reach me by phone. As it turns out, my phone number had been entered incorrectly. After fixing this error, I asked that my order please be delivered as soon as possible. The young lady agreed, and said I should get it shortly. Mind you, it is now after 10pm. At 11pm I called back. A young man answered the phone, I explained I had ordered a pizza for delivery and was wondering when it would arrive. I was placed on hold. The manager came to the phone, informed me my order had been cancelled, my account credited, and that I was not getting my order as he didn't have any more delivery drivers. When questioned why I was not informed of this, or why I was not getting my order after waiting 3 hours, all he said was :I don't have any delivery drivers.". When I explained how I felt this wasn't right and that I would be contacting corporate, I was told "Go ahead". I just want to make it clear that I never raised my voice, never cursed, and never expected to be treated like this. And if this is any indication of how your stores treat its customers, then I will have to take my business elsewhere.
I do not want any coupons or anything like that....I just wanted my pizza.
Thank you
Patrick J. Ehle
Have feedback for Papa John's?
Thanks for your feedback!
Sorry. Please try again later!