Papa John's
Contact Papa John's Corporate
Toll free phone number: 1-877-547-7272
---
Papa Johns International is an American pizzeria that has over 4,000 franchises internationally, with over 3,200 in the United States. The UK, Cyprus, Portugal and Ireland have franchises. Papa John went public in 1993 and is listed on NASDQ:PZZA. In 2013 revenues were reported at US 1.4 billion and net income as US 69 million.
If you want to comment on the quality or service you've received at any Papa Johns call their customer service number 1-877-547-7272.  If you want to mail a letter directly to the CEO, John H. Schnatter you can address you communication to 2002 Papa John Blvd., Louisville, KY 40299. The corporate office line is 502-261-7272.  That same number is listed as the fax number.  An online customer feedback form is located here.
Papa Johns was founded in the back of a tavern belonging to founder John Schnatter's father. Two years later franchises were being sold and the company went public in 1993.  Papa Johns was the first to offer online ordering and their slogan is: Better ingredients. Better pizza. Social media presence might be helpful as a forum and also as a way to receive notification of coupons and specials. Check out these for Papa Johns on Twitter, Facebook, Instragram as well as a YouTube personal story from the founder.
Papa John's Contact Information
Report complaints to corporate and get satisfaction
Papa John's headquarters address

2002 Papa John Blvd.
Louisville
KY 40299

Company website

1-800 phone number

1-877-547-7272

Support email address

customers@papajohns.com

Better Business Bureau rating
Browse reviews of other Fast Food
Top Papa John's Complaints
Browse more than 120 reviews submitted so far

While working as a driver at store 1544 in OKC, I observed two managers smoking pot in their car in front of the store. I reported this to our district manager, Clinton allen and he told the two managers what I reported. the two managers are still using drugs at work. I feel that mr allen is condoning drug use at this store. I feel like this endangers employees there as well as our customers. Please take this info seriously as I no longer feel safe working there.

I've been ordering on my iPhone app once a wk well as of last wk my address could not be found on the app I contact customer service they send me a email on directions to my house without where I start ect.. I was nice and got a reply back a smart comment on directions I told them why don't they look up the 1000 pizzas I ordered before they seemed to find my house just fine . Idiots !

chris herbert
from East Rutherford, NJ
Long time customer of papa johns and just bought 250 dollars worth of gift cards last week. Went online and ordered a meal deal from east Rutherford nj store. I have spoken to the owner and driver many times and they are very nice. Store did not have the soda that went with my deal (has happened before and I was always reasonable and took a different soda). They did not have orange or pepsi or anything I liked. I said "please refund me the price of the soda and I will go next door and buy one." She gives me one dollar and ten cents. I said "I can buy a soda for a dollar seventy five next door but not a dollar ten". She said that is the pro rated price for the deal I bought.
I said "I have no way of knowing what I paid for each individual item in a deal but you are the ones who don't have the soda and I need to replace it so cant you give me a refund for whatever a soda costs from you?" at the time I did not realize a 20 oz soda from them was a dollar ninty nine and I was only asking for a dollar seventy five. So I said I will cancel my order and you will lose a long time customer over sixty five cents, you are the ones who don't have the soda. There is much more to this story and I don't want to make this a book but the bottom line is that if I paid one dollar and ten cents for just a soda then the same refund would make sense but if I purchased a deal and drove there only to find you're soda delivery did not come today and you had nothing I liked, I expect a refund for the going price of soda. Everything would have been fine if I could have just taken my food and then been refunded one dollar seventy five cents to get a soda next door.
Now for sixty five cents (the difference between her supposedly pro rated refund and what I wanted) papa johns has lost a customer that spent about 300 a month there.

My kids and I were sitting down in the kitchen and saw the Papa johns commercial. I made a bet that papa Johns was going to taste better than Dominos. We ordered the pepperoni bacon 12″ ( cost $20.10 ) we then order (1) from Dominoes ($14.69). Not only did Dominoes come within 30 min. But also looked and tasted great. Papa Johns came and looked/tasted like old food. Needless to say I lost my bet with my kids and had to pay for both pies. Can someone tell me why. Order#0403/0112

I ordered a pizza in the store. I waited 30 minutes while I listened and watched the staff tell jokes and horse around in the store. The manager as well as other staff. After 30 minutes, I bent down to look into the oven and no pizza was baking. I asked them if they were making my pizza. They said "Only his". They were referring to an employee. While I continued to wait, he made himself 3 large pizzas, boxed them. put his coat and left. I asked if they were for delivery. The manager said no, they were his as he was having a party. After another 20 minutes and no pizza, I left the store. The manager was as bad as the workers. They were laughing, high fiving, and generally not working. I waited a total of 50 minutes and they still were not making my pizza. On the way out of the store, I told a lady that she would have a long wait. She said this was the second time she had been there after ordering her pizzas over an 1 12 hour wait. She said every time she called, they said they were busy. I love Pappa Johns, but I will spread the word about your employees if you don't make complete improvements. There are plenty of people who need jobs.

Trent Hand
from Huntersville, NC
Ordered a pizza less than 5 minutes from my home. An hour later, the delivery driver called me to verify address, which she had the correct one. After telling me there was no such address, I called the store, cancelled the order, and no one seemed to care they lost business. Last time for this person!!

Wendy McDowell
from Port Orange, FL
On January 4th, 2019 I Ordered a pizza for delivery. I was told that it would arrive in 30 minutes. It took over an hour and when delivered it was cold. Called the store here (Port Orange, Florida) and asked to speak to the manager. I was placed on hold and after 10 minutes hung up. Then my husband called the store and demanded to speak with the manager. when the manager talked with my husband he said that they would bring us a new pizza at no charge and refund the cost of the first pizza that I considered a fair way to deal with the situation. However when the new pizza arrived, we found that it was not anything like we ordered. It was missing several ingredients and was really quite awful tasting. I didn't even consider calling the store yet again but I wanted you to know just how bad the service we received was. We have enjoyed your pizzas often but this experience has put an end to that. I really believe that some training is in order for this store. The manager would not even give me the name of the franchise owner, I'm sure because he knew what could possibly happen if I were able to speak to that owner.

Gregory D. West
from Atlanta, GA
I am not to impressed with Papa John's service at West Broadway. I call to order a party worth of pizza for address at 1814 Bolling Ave , 40210 and the servant said that there were no more delivery drivers and nobody to help you and I cancelled at about 8:33pm last night.

It clearly sates on the website I get 11 chicken poppers and tandoori poppers but instead I got less than 11

Dennis Nofsinger
from Augusta, GA
Asked cashier for the AARP discount she very rudely said she didn't know what that was and refused to try to get it. This to me means I will not visit this store again and that the employees are poorly trained. Store location on Zebulin Rd. Macon Ga.

Bonquiqui
from New Orleans, LA
Last couple of times I ordered pizzas there was not enough ingredients in the pizzas at all. It barely has 1 or 2 pieces of pepperoni in each slice.
The quality has dropped tremendously. I won't be buying from them. There are plenty enough pizza places willinf to ear my business.

The general manager is a bitch,she decided because I'm a white male I couldn't use the 8.99 special and wanted to charge me 20 dollars for a two topping pizza and when I wouldn't pay that much for the pizza after ordering the special and being quoted otherwise over the phone she told me I was just a white supremacist piece of shit and should have to pay more so others could pay less, WTH is wrong with this person.do they represent the values of Papa John's in Maryland this is ridiculous

marie smith
from Powder Springs, GA
I have a coupon from McEachern High School that I have had for months now, I called to order a pizza but wanted to add topping and the young lady explained that I was unable to add any toping because it was just a free medium cheese pizza only. So then I wanted to order my pizza and pick up when ready, but then it wasn't possible to order the pizza for pick-up. I had to come in and order in person with the coupon, I thought this was ridiculous. So I drive over and wanted an explanation as to why, and asked what if I had just called and ordered the pizza and showed up with the free coupon what would have happen then? So this very rude manager tells me that then I would have been charged the regular price for the pizza and couldn't use the coupon as she's sliding across the floor in a chair, didn't even bother to stand up to tell me she didn't have to take my coupon or put up with me questioning her about her rules with the coupon. This is very upsetting to know just because I had a free pizza coupon, and not a cash paying customer that she refused take my coupon in return for a pizza and talked very nasty and rude. This type of behavior is unexcitable to say the lease that another racial instance where people of color are insulted and talked to rudely, I thought with all the trouble, feedback, and ridicule that Papa Johns have suffered this year that this certainly wouldn't have happened, a rude Caucasian manager treating a African American with such unfriendly customer service it's crazy. So I tell you what anyone of color shouldn't support this place and by all means don't bring a free pizza coupon in, hopefully by now everyone has used there fundraising coupon for the free medium cheese pizza that we did pay money for mind you, it really wasn't free.
Remove review

Richard Bohlman
from Brandon, MS
Papa John's
1490 W Government St.
Brandon, MS 39042
At appx 2:45 pm on 20 Oct 2018, I placed a cell phone call to the Papa John's Pizza store in Brandon, Mississippi.
I told them that I was making on order for pick up. They asked my name and phone number.
I told the person on the phone that I wanted to order the Extra Large two topping pizza for $10.00
as shown on TV. I was told to hold a minute and when the person came back on the phone he told me that they
were "all out of Extra Large pizzas".
He advise me that I order a $20+ pizza to which I said GOODBY and hung up the phone!
I purchased my pizza from another pizza store here in my area on my way home from work.
"ALL OUT OF EXTRA LARGE PIZZAS"! Very sad customer service! I want to talk to someone about this!
Richard Bohlman
201 Hickory Circle
Live Oaks Place
Pearl, Mississippi 39208-8081
(769) 226-398
richard.bohlman@att.net

Samuel Delgado
from Indianapolis, IN
I placed my order at 4:00pm for one pizza and received a notification that the pizza would take 35-45 minutes and the pizza tracker said that it was on its way for over 30min. At 5:15, 1 hour and 15 minutes after placing my order, I called the Papa Johns store to ask if they were having trouble finding my apartment. The worker on the phone rudely answered and hung up on me. I called again, and the same thing happened. I called a third time and spoke to the same individual who screamed at me over the phone that it was just now being boxed, 1 hour and 15 minutes after my order was placed. The behavior from the worker is unacceptable and it is also unacceptable that the pizza tracker stated that the order was on its way for over 30 minutes and when I called I was told that it was just being boxed - this is false advertising. If this is how your business treats paying customers, I will no longer be ordering from your establishment.

Maria Rodriguez-Farris
from Sugar Land, TX
I placed an order for one pizza today at 4:20pm at Store #1953 at 11850 Bissonnet, Houston, TX 77036. I specifically asked them if they delivered to a business. The employee said yes. I gave them all my contact information and my credit card number. They told me that pizza would arrive at business in 30-35 minutes. I called back at 5:20pm and they told me pizza on its way. Pizza never arrived. I called back at 6pm and the person that answered told me they went to business and called number. They had the wrong number for me. I told the employee that they wrote down wrong number. I asked that I receive pizza for free. She said they couldn't refund because of bad number. I told her it isn't my fault the employee wrote down the wrong number. The employee told me it will be another 30 minutes. I have yet to receive pizza and should have received pizza free. I regret calling this papa john should have gone with domino's.
Maria Farris
832-566-0797

Bob McFarland
from Derby, KS
On 9/21 at approximately 6:30pm I stopped at the Papa John's store (#1375) in Derby, KS to pick up a pizza that my wife had ordered about 15-20 minutes beforehand. I had driven from northeast Wichita to Papa John's to pick up the pizza on the way home. I have had prostate surgery (which did not go well and, often, when I drive any kind of distance, as soon as I get out of the truck, I have to use the restroom. (not eventually, but immediately) When I told the young girl at the counter my last name, she told me that the pizza was not ready so I asked if they had a restroom available. She said she was new (no problem there) and would ask. It went through 4 people before she came back and said 'no'. their restroom was not a public restroom but if I needed to use one, there was a Taco Bell down the street.
I left the store and walked about a half of a block to Taco Bell, used the restroom, and came back. When I came back, I asked why they did not post 'no public restroom' on their door and one of the pizza assembly personnel walked up and began to berate me about Kansas state law pertaining to no inside tables so not required to have open restrooms. While this may be true, the fact that his conversation was across the room and in front of 2 other customers was not appreciated. I suggested to him that rather than make an issue about it they should just post it and thus alleviate the entire situation. (I then apologized to the other 2 customers for what the situation had created) Truthfully, this was embarrassing and demeaning to me as a person. I did not want to create a disturbance. I just needed to use a restroom. I told the pizza guy that it was finished and I just wanted my pizza.
After I paid for the pizza and the pizza was still not ready, I asked to speak to the manager. When she came out, she took me outside and told me that I was out of line without asking anything about what had actually taken place. When the pizza was ready, 'she' brought it to me and told me that if I did not leave by the time she counted to 3, she would call the police (and then proceeded to start counting.) I asked her if this was for real and she started dialing her cell phone. I apologized to the new girl for causing such a problem on her first day and left. (The night manager did not give me her name as I had asked, just the store name and the corporate number.)
I am not asking for an apology or free coupons or anything else. That is not the purpose of this email. I owned a successful service business for 17 years and one of the things I learned was that businesses often lose accounts over irritations rather than huge problems and often the irritations are never reported, This incident was rude, demeaning and unnecessary. Please post your policy on restrooms. Most customers are not familiar with state law and don't need to be 'force feed' the particulars and no customer should be threatened on police intervention because they asked to use a restroom or speak to a manager.
My wife and I have ordered from Papa John's at least 1-3 times a month for the past 2-3 years because you are less than a mile away and our grandkids like pizza. That being said, I will never step into any of your stores again because of the way I was treated but I felt that it was only right that you should know. One customer will not break you. However, I'm sure that what happened to me is not unique, especially after I got home and looked up this store's customer rating.
Thank you for taking the time to read this and I hope it will encourage better training and better public communication since you are a public service business.
Regards,
Bob McFarland
316.210.9555

Thomas Wrightsman
from Carmel, IN
Hi... My wife and I had family in from out of town so after a long day of traveling and work my wife decided to order pizza... Big mistake... She ordered the "feed your home team" 2 pizza deal (1) large meat lovers with banana peppers (1) supreme onion on half. And a order of garlic parmesan bread sticks.
My total was 33.96. They said it would be 30 to 45mins. An 1hr.15 mins went by and still no delivery. My wife called and asked how much longer and was told it would be there in 10mins. Another 35mins went by for a total of almost 2 hrs and final our order arrived.. the pizzas were barely warm and tasted undercooked. The supreme with onion on half had onion on the whole thing and we received regular bread sticks instead of the parmesan ones. I should not have had an experience like this after spending almost $40. I would greatly appreciate it if customer service got back with me promptly to resolve this matter. pitbulllove0420@gmail.com

M.Shafiq Khalid
from Bethnal Green, ENG
I worked for one of your franchises on Stains Road, Feltham London. The employer was abusive and wasn't adhering to any rules. He paid everyone below minimum wage and would get agressive and verbally abusive every now and then. I left the job as his behavior with staff and customers go unbearable to me and he is now withholding my wages. I contacted the UK head office and made my complaint to someone named Sarah Bridges but they only contacted him once and it didn't result in my wages being paid. I worked very hard for the brand and I think I deserved a better treatment. Out of fruateration and desperation i have had no choice but to leave comment on the glassdoor and I have also emailed money-saving experts and other outlets to make my frustration heard. I hope I get my voice heard as soon as possible

Ric in San Diego
from Houston, TX
I ordered the attached pizza for my girlfriends kids.
It is a 14 inch
With Canadian bacon, Chicken , green peppers . onions and Black olives.
Look at the toppings that are on it.
You guys should be ashamed of yourselves.
Look there's like 2 olives on this pizza
No chicken
Barely any of the other toppings.
Seriously 25 bucks
You're franchisee should be ashamed
I would ike my money back as well as the 5 dollar tip I left.
I'm furious..
Hopefully you respond if not I'll just go to yelp.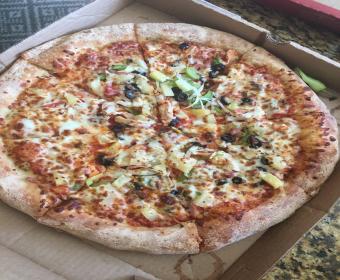 Patrick J. Ehle
from Thayer, MO
On Saturday July 28th I called your Raytown MO. Papa Johns to order a Spicy Italian pizza and brownie dessert for delivery. It was shortly after 8pm, so I was surprised to hear that it would be about a 2 hour wait. The young lady informed me that they would try to get it to me sooner, but couldn't guarantee it. I went ahead and placed my order, paid with my debit card and sat down to wait. Around 10 pm, I called back to check on my order, and was surprised once again. This time I was told my order had already been delivered. I believe it was the same young lady that took my order, but can't be sure. I explained that in no way had I received my order. She excused herself to talk to the driver, and upon returning stated that the driver couldn't find me and was unable to reach me by phone. As it turns out, my phone number had been entered incorrectly. After fixing this error, I asked that my order please be delivered as soon as possible. The young lady agreed, and said I should get it shortly. Mind you, it is now after 10pm. At 11pm I called back. A young man answered the phone, I explained I had ordered a pizza for delivery and was wondering when it would arrive. I was placed on hold. The manager came to the phone, informed me my order had been cancelled, my account credited, and that I was not getting my order as he didn't have any more delivery drivers. When questioned why I was not informed of this, or why I was not getting my order after waiting 3 hours, all he said was :I don't have any delivery drivers.". When I explained how I felt this wasn't right and that I would be contacting corporate, I was told "Go ahead". I just want to make it clear that I never raised my voice, never cursed, and never expected to be treated like this. And if this is any indication of how your stores treat its customers, then I will have to take my business elsewhere.
I do not want any coupons or anything like that....I just wanted my pizza.
Thank you
Patrick J. Ehle

George
from Cedar Park, TX
Some lil kid answers the phone at cedar park location start ed telling me to suck his fucking dick kevi n Sweeney because I asked for extra beef

David suiter
from Jeffersonville, IN
Clarksville Indiana store two pizzas ordered end of last month both pizzas were on edible contacted management said they would replace but never did and did not put in computer as promised this store is terrible and so is the food $50 wasted

Detric Sykes
from Atlanta, GA
I ordered food to be delivered 03/13 around 9pm. The time for delivery was 42-52 mins. The pizza did not arrive until almost 1130 which I was in bed, had to wake up and get the pizza because it was already paid for. The box was cold to the touch so was the pizza. This is unacceptable and a great inconvenience. Please advise how you as a company plan to compensate me

Deborah Kidd
from Chapmanville, WV
Papa John's in Jefferson City Tn,woman in charge always very rude, always snaps at you when you're are being nice,order pizza on line, payed with bank card, went to pickup claimed I didn't have a order,and she refused to let me show her,lost my money and left without my pizza, she wouldn't listen to me! I've been there before and she made me wait while she put stickers on the boxes with my pizza in front of me,and if I spoke up she would snap and say I said just a minute, I think you're going to lose a lot of customers!....Thank you

Tina Twine
from Portsmouth, VA
2/14/18 I called my local papa john's pizza 252-337-7272 to place a pick up order for the Valentine Special heart shaped pizza and the double brownie @6:24pm. A very young lady who was VERY rude answer the phone I told her I wanted the Valentine Special and she replied NO (just as mean and rude as can be NO). I then tried to get her to make me understand why did she tell me no and she replied that there store was NOT doing that Valentine Special. Thought that was really unusual for a franchise not to follow promotions. So I then ask could I get a pizza and a brownie, she being rude ask me to hold once again and return to tell me that they were OUT of brownies so no I could NOT order a pizza and a brownie. At that point I figured if I was to continue she was going to make sure she ruined my pizza so I then said thanks anyway I will take my business else where and she hung up. Hate to say that I had no clue PIZZA HUT was doing the same special at a bit higher cost but I felt safer getting my order from there but I was not going to let that rude disrespectful young lady ruin my Valentine. Hopefully this will be looked into because I do frequent the Papa John (who is my first choice for pizza) in hopes that I don't get her again. Thank you for your time TinaTwine
252-455-5161 I did make a complaint on your fb page

Alan Pernell
from Orlando, FL
tried to order from Margeret St in Jacksonville Fl. Phone operator so incompetent I became extremely frustrated and canceled order and ordered from pizza hut. If your employees can't even take an order why should I trust them to prepare food for me to eat?

Duane Krutz
from Colorado Springs, CO
We ordered a thin crust, Pepperoni, Bacon, Spicy Italian Sausage and Jalapenos (ordered by phone). The crust was way to hard to chew with very little bacon and it never had jalanenos. We always see on TV about the $10 special. Our Papa John's said they didn't honor it. Ended up paying $12 plus tax and we picked it up. Probably will not buy another.
Thank you for listening,
Duane Krutz

30 YEAR VET
from Newport News, VA
I have refused to support Papa John's and it's efforts over the past 4 years due to the inability of Papa Johns founder John Schnatter to separate his personal, political, and religious beliefs from business. My decision to support a company is based solely from the ability of it's products to align with my needs. His arrogance and divisiveness will always alienate me and my friends that I openly communicate with about Papa Johns (John Schnatter) and it's political/religious/personal stance. There are numerous competitors (California Pizza, Pizza Hut, Domino's and many others) that I frequent and that I will support before I will ever return to Papa Johns and I will surely utilize and encourage social media to voice the same. A good suggestion is to replace John Schnatter from his business model and during the next Financial Call you just might see a upswing in revenue growth?

hello dear
i work for papa john's pizza store at: papa john's pizza located at: Edmonton Alberta Canada
i had worked as a delivery drive since July 2017 and i was doing my work as a delivery driver in very professional manner i had no complain and most of the customer they were very happy with our delivery friendly fast professional service for the time period i had worked for this pizza store.
even the co-worker they had sawed my services i was doing just great.best i could.
the problem is that the owner of this pizza store was not really friendly he never appreciates our hard work service plus he all ways blame us.
finally, he had stopped me working for no any reason or any explanation. that i can see this is not professional or honest.i was working very hard with honest attitude providing the best i can.so at least if he could inform me that he had replaced me with a new stuff who does not have much experience on pizza delivery business and i don't see this a good professional way to manage a pizza business.
he had hired me without taking a copy of my driving license never sawed my auto insurance or registration and i don't think this is the professional. Anyway, it did happen so many problems with his stuff since he starts this business some stuff who worked for him most of them quite or he was abusing them & harassing them til they quite the job. i will say that the owner of this pizza at the north side of Edmonton he is not in title to manage a pizza place or stuff as he is not qualified to be a manager or owner of pizza place franchise he mess that he abusing stuff and keep changing worker and stuff everytime my question is way papa johns pizza head office is dealing or providing a business opportunity for people who are not professional and abusers who make the business upside down and with a terrible bad unprofessional services & abusing pizza stuff and drivers and so on... they give bad image of the papa johnes franshise.i had some of the co workers who use to work for this owner of this papa johnes store they had a lot of compalin about an unprofessinal dishonest unpropriet abusive pizza busines.owner who had no clue how to make a single pizza or how to manage stuff no clue at nor even haw to deal with a customer in some difficult situation and so on.
finally, there is other stuff who they use to work for this owner they had quite the job or had been fired for no reason they had to suffer from this bad unacceptable unfair appropriate intimidation so on...from this kind of the wrong person on the wrong place. or a the wrong owner on the wrong business.
if you need more information please feel free to contact me, am willing to provide you more information up to your request.
i look forward to your response.
jim d

Dan & Kim Wallace
from Newville, PA
Oct. 28, 2017 At 5:30 Pm my wife and I entered the Papa Johns in Chambersburg, Pa. to place an order. We ordered 2 Pan Pizza's and were told that we could only have the 12". The commercial that was running stated any pan pizza for $10.00, 5 toppings max. We were told that we could have the 12" for $11.00. Once we insisted the price was $10.00 he finally agreed to the $10.00 price but still only the 12".
We agreed to it since we came from Waynesboro to get Pizza from Papa Johns. Once the order was taken, Elijah the manager was doing all the talking. He told us the order would be ready in 10 minutes. My wife walked next door for about 15 minutes and returned. Ten minutes later the manager comes out and proceeded to inform us that one of our pizzas got lost in the process and it will be another 20 minutes or so before our complete order was done. When asked how one of our pizzas got lost he stated it went out with another persons order. Well that was unacceptable even though he offered a free desert or drinks. We asked for our money back and he quickly handed me cash back. As we reached our car, he ran over to us and stated "You have to give the cash back to me, you paid with a credit card and I'll have to put it back on the card." Back inside we go. Never will we step foot in a Papa Johns again! We were really looking forward to eating there since the one in Waynesboro left town. I guess we're only 2 customers….

heather
from Huntington, WV
Hi my name is heather i called and made a report i was told that they would give me a call back i haven't heard anything.Papa John's on 9th ave in Huntington WV it took them 20mins pick up then put me on hold for 5mins and staff was rude. My phone is 304 208-5386

ann seymour
from Saint John, NB
For the first time last week i went to your store in Saint John N.B. east side and ordered a donair . the so called donair did not have donair meat and no sauce and np pepp and and i ask for extra sauce i got garlic sauce i ! I was really disappointed beause i was told by my friends i heard such great things about you store . I couldnt eat the donair i still have my receipt . If you didnt make donairs they should of told me that was a wasted fourteen dollars

Jon Martin
from Cedar Park, TX
CALLED IN FOR DELIVERY ON A LARGE PIZZA. TOLD IT WOULD COST $12 . WHEN RECEIVED BY DRIVER MARIA SCHAFER , IT WAS $16.40 !
I ASKED WNY AND SHE SHOWED ME HOW YOU ALL CHARHE $3.15 FOR DELIVERY FEE . With my tip , I payed $20 for a pizza I was told would cost me $ 12 ! Never again and I will tell all my friends , your tricks. The piazza was horrible as well . Receipt also doesn't show locaton or date , hmm !

Henry Scherer
from Nazareth, PA
Your being a sponsor of the NFL .
They are a disgrace to our nation .
As a Viet Nam veteran I and the nation cannot stand by and say nothing .
I will no longer buy your product .

Demetria S. Brown
from Memphis, TN
I placed my order online at 5:12 p.m. & the email & screen stated that my order would be ready in 25- 30 minutes. When I arrived at Papa John's they told me that it would be 25-30 minutes even though I had placed my order online. There was a long line of people waiting for their online orders as well and every person that came in, was told the exact same thing. Several customers left that day. It was 6:19 before I received my order. There was no kind of compensation, coupon or anything offered for the inconvenience that was caused. An elderly couple said that was their first and last time ever ordering there. Sad that they do not care enough about their customers to at least offer something when there are all kinds of pizza places on every corner. Poor customer service.

Michael Alexander
from Hendersonville, TN
Poor Service!! 9/16/2017 @ approximately 2:30p.m., I ordered a pizza from the Hendersonville, Tn. location (615-824-1000 ), and was told the pizza would arrive in 35 minutes. I went about doing some housework, then outside to mow. I realized that the pizza was taking a long time to get here, and called to inquire. All I could get was, "It is on the way". Finally around 4p.m., and asked to speak to a manager ( 1 1/2 hrs. ). The manager stated that she HAD ordered and sent out a Fresh pizza, and would give me credit on my NEXT order. Next order? Excuse me. Finally, a little before 4:30 ( 2 hrs. ), I observed a young man driving up and down the street. I stopped him, and saw a Papa John's cap pushed high up on top of his head. I asked him if I could help him. He said he was looking for Lot "B". I asked him if he had noticed that all the lots were Numbers and not Letters. I asked to see the address on the box. On the box was clearly printed Lot# 8. The gentlemen apologized for the time...but then went on to say, "It was assigned to an older woman". I did not ask for that. Then I did not receive the 2ltr. Pepsi that was on the order. Wait - - the service got better!! I take the "Fresh" pizza in the house, without the ordered Pepsi - - the pizza was cool. I really wonder if that was the "Fresh" pizza. I called the store and spoke with the General Manager, named Carie. Update: It is now 5:18 p.m., and behold there is a knock on my door. It is a papa john's delivery guy with - - guess what - - a hot fresh pizza and bottle of Pepsi. Guess I was correct. The G.M had told me the first time I spoke with her around 4p.m. that she had ordered me a new fresh pizza. So I was eating a cold pizza at 4:30. By the way: When I called the G.M. asking for a contact number to file a complaint - - I never could get a number from her. She told me that the original order had been given to a elderly lady. I asked her not to be blaming older people, that her delivery guy had already tried that approach. The G.M. then said, "Well, she really is and she is hearing impaired." That is another red flag - - blame the hearing impaired!! I am a 65 year old ex-army tanker, with some hearing loss. You have a G.M. and delivery driver blaming screw ups on an elderly lady ( who is only 56 ), with a hearing problem. Now: I ate a cold pizza, after being told at 4p.m. that a fresh one had been sent out!! At 5:18, a fresh pizza was delivered. Let's blame the elderly lady with a hearing problem!! And oh . . . let's give the customer credit on his NEXT order!!! The G.M., after schooling me about managing people, told me to go online and file a complaint, and that it would be sent back to her. Back to her? Isn't that akin to allowing the robber to investigate his own case? Michael Alexander 615-265-8175

Donna Davis
from Saint Joseph, MI
Was not impressed by the fact that the place was not clean. Also one of the employees had her child behind the counter with her. The child did not have gloves on, and was handling everything from money to pizza dough. Will not be visiting this pizza place again any time soon,

Nathan Ocasio
from Dallas, TX
Just tried to order three pizzas at your Dallas location 3501 McKinney Avenue, Dallas, TX 75204. The crew was extremely rude, laughing and whooping in the background, acting like they were high and couldn't care less about my purchase. It was so bad I ended up hanging up on them. I had ordered three pizzas for delivery. Our organization generally does a lot of business with this location, but after today, no more.

Joyce Hawkins
from Los Angeles, CA
I visited the Papa John's on Rosecran Avenue and Bellflower Blvd. in Bellflower Ca Friday night November 4th. I place the order by phone for pick up. I order the 8 piece honey chipotle wings and the pizza special of 3 toppings. I request pineapple and canadian bacon on one side and pepperoni on the other half.
Upon arriving to my destination there was no pepperoni on the other half. I called and was not help. The young man told me they were close to closing time, and he could give me a credit on the next visit.
I explained to him earlier this year I had the experience at the Papa John's location at South Street and Bellflower Blvd. in Bellflower Ca after arriving home I had the wrong order which was of lesser value than what I ordered. Upon calling the manager said she would put my name in the system for a free pizza. Several months later my family was visiting from Houston and I thought I would use the deal that was offered to me.
I called and gave the manager's name, date and time, only to be told there was nothing in the system with my name or contact number for a free pizza. I was holding on the the receipt that list the 3 toppings, and unfortunately I may have left it at home today. I did take a picture of the pizza. I'm disappointed, because I'm not a lover of pizza so the few times a year I place an order I expect it to be accurate. I think this is my last visit with Papa John's. Picture enclosed.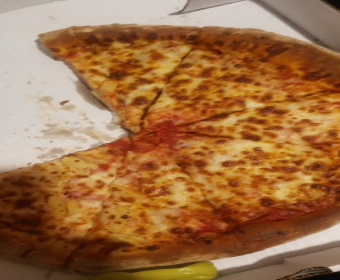 John
from Southampton, ENG
This is the third time pizza and garlic cheese sticks have been delivered to my house in as many weekends and why are they warm and over cooked. Absolutely ruined our Sunday again. Why can't you get it right. I used to love papa johns pizza.

Cameron Christian
from Waldorf, MD
My pizza wasn't cut into slices. What am I supposed to do with a circle pizza, tear it? Last time we order from Papa, next time will go with Pizza Hut or anyone else local. This is really not what I'd expect from a company that says "Better Ingredients, Better Pizza."
Should I suggest a refund from corporate or just forget about it? Curious what others have done here.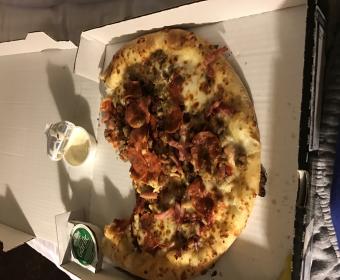 Elizabeth Baker
from Boca Raton, FL

Tina Mardis
from Greencastle, IN
My Husband & I purchased a Chicken Spinach Alfredo Pizza and we noticed there were barely any Chicken. We paid $16.00 for this Pizza and we were truly disappointed. We love Papa John's but, feel for what we paid just was not satisfactory we normally have never had any problem with our orders. We are regular customers. We are not trying to be unreasonable but feel this problem needs attention please. The American dollar is hard enough to come by so we as customers deserve the right to be happy with our purchase.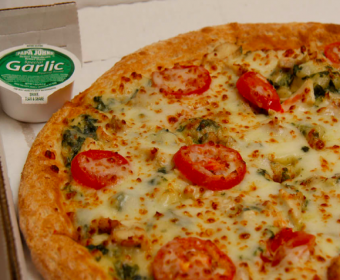 john watson
from Atlanta, GA
I wanted to report some employees that work at your sea island or St. Simon's location on the 4pm to 11:30 pm shirt. I know a ex-employee that use to work at this location. She told me something that are very bothersome and disturbing when she worked there. She told me after a couple weeks of working there. That one of the delivery drivers name Thomas Jacob's. Tried to pressure her into smoke weed with him but she wouldn't. That most of the employees that work there like the asst. Manager etc.
Would go out back and smoke it while they we're working. That the delivery driver Thomas would do it on his routes. Plus Thomas and one other guy she didn't tell me his name. Would try to get her to do sexual favors while on that job. Thomas even tried to black mail her to and she wouldn't do it. So he got the asst. Manager to fired her for some reason that didn't even make any sense to get fired for because she wouldn't. She finally told me that Thomas pressured her some much to smoke weed with him so he would leave her alone hopefully. That she got sick and throw up my cousin told me. I know she's telling Me the truth from the look on her face when she was telling me all this and some stuff she wouldn't tell me that happened but I believe her.
She made me promise and give my word that I wouldn't say anything to them or do anything about it to just leave it alone. Because she wasn't to forget it all happened and she scared they would harass get if she did or if I did. So I want to keep my name out of it and unknown. I done a lot of thinking and praying about what I should do. So I had to report it and thought y'all don't want employees working or running that location. That do this kind of things to new hires and all. Plus I know I wouldn't want this to happen to my daughter or sister. Or for y'all to get sued by a person on the island. From one of your delivery drivers being impaired and running it to someone or running someone over walking at night. I don't want to report it to the law or anything or push it any farther.
But if I ran that store. I would randomly drug test the employees there. By the general manager or distract manager. Because y'all shouldn't have employees that do them nasty kind of things to there new hired and do drugs on the job. Plus you'll no that my complaint isn't a lie etc. But please please keep my name unknown and say anything that will give them a clue of the person reported them about this. I made a promise and gave my word I wouldn't. Plus I don't want to drag her back into it she's been through enough with it and other things. But please do something about this. Because I don't want this to happen to anyone else etc. I hope I worded this good enough and where you can understand it lol.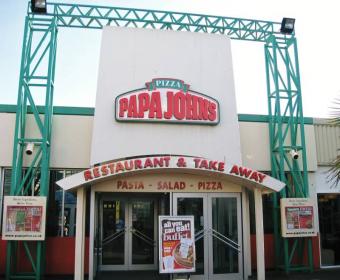 Have feedback for Papa John's?
Thanks for your feedback!
Sorry. Please try again later!