Wyndham Hotels
Wyndham Hotels Complaints Continued... (Page 6)
1018+ reviews added so far. Upset? Call Wyndham Hotels corporate: 1-800-466-1589

Re: Wingate by Wyndham in Little Rock AR. My wife and I spent one night 8/5/19. Your front desk staff and dining area staff were friendly and helpful. The food was adequate. We spent the previous 4 nights Holiday Inn Express, Fenton MO where the price = approximately the same but not our experience. The Wingate was outdated, dingy + in need of repairs. The toilet was difficult to flush and the seat wobbly. The AC would periodically get very loud throughout the night. The lighting in our room = dim. One lamp shade cracked. The toilet was not cleaned by housekeeping when our room was cleaned. Elevator signage affixed with packaging tape. None of exercise equipment worked, The lighting is outdated - no jacks for iPhone/computer/peripherals. We considered leaving but our driving home (Dallas TX) at 8:30PM but we are both in late 70's. and 4 hours driving in the dark was not wise. We expected more than this. It is difficult to believe all the good ratings posted on the web for this hotel. We have photos if you want them.

David W. Schoniger
from Chandler, AZ
Stayed at the Super 8 in Payson, AZ. on 7/26/19, checkout on 7/28/19.
Simple explanation: Made reservations a week+ prior to our stay. We were quoted $149.00 with AAA discount for the 1 night stay. We received our credit card bill and found we were charged $258.12. We thought there was a simple mistake. We called the hotel, polity explained the detailed and were told, "To Bad." You should have read the paperwork the person pushed in front of you before you signed it, because it said $225.00 + tax. The person on the phone "attempted to convince us $250.00 a night was standard charge and had been for a number of years. So, at the end the man said, I won't help you, you should have read the paperwork, "to Bad."
Is this Wyndham's new Customer Service policy? What would you call this type of dealings?
I would hope I would would hear from a honest corporate person in the near future.
Thank You

My family stayed at 2 separate Wydham hotels this summer. The first one was at the Days Inn in Alma, GA. The manager Harry Patel was extremely rude. They over charged my debit care over 500 dollars and it took 3 days before it was resolved in my bank account. That was money that my family needed. Mr. Patel refused to acknowledge that it was the hotels mistake and did not seem concerned in the least. My fiance and I are both rewards members and were hoping for a much better experience. Mr. Patel then called down to my hotel room at 1000 at night and screamed into the phone demanding that I take this matter up in the morning. I was very displeased with his treatment of myself and my family and will never again stay at his establishment. When we asked for some sort of compensation for the distress that the missing money caused on our stay we were very rudely informed that the compensation was the money being returned to my account.
The second stay was at a Super 8 in Douglas, GA. The staff was very accommodating, however the manager/owner was extremely rude. We once again were faced with an issue regarding pet deposits and were informed that "he hated animals". We use Wydham hotels primarily because we travel with our dogs. I do hope that these matters get resolved and that no-one else has to experience what we had to. Thank you for your time.
Sincerely,
Brandy Taylor

Stephanie Andrews
from Batavia, IL
On August 3,2019, I stayed one night at the Super 8, 3430 Milton Avenue, Janesville, WI. I exhibited in an art show that weekend, and needed to be cost conscious. I am a little new to the Wyndham chain, but have my hesitations about future stays.
I arrived early and let the front desk know I would be returning later afternoon, knowing my room wasn't ready yet. The front desk lady was very courteous and helpful. Upon returning about 6:00pm, there was a front desk gentleman who was busy, busy, and seemed a bit irritated. I heard him say to another guest, the hotel was full this evening. I also questioned him making a copy of my driver's license to which he replied, "sorry lady its policy and I don't want to get in trouble." I asked him would it be returned to me upon departure and he said, "no, we keep it on file". NEVER has this ever been done in any other hotel I have stayed in my travels, especially using a gold American Express card!
I was given a room down under in the basement level. Not only did the room smell disgusting upon opening the door (no a/c was on) but the air conditioner appeared very dirty and looked full of mildew. In addition, there was a window which could be opened at the ground level of the pavement outside! The room was filthy, we did check the beds to make sure they appeared clean, they did. We were very tired and decided we'd tough it out but I will never do so again.
No woman or women should be assigned a room with easy outside access through a window. I travel a lot and have never endured such a situation. Breakfast the next morning was nothing worth mentioning and again the night attendant seemed irritated with his duties.
That being said, I will not be looking at a Wyndham hotels as my first choice in my travels. Cost is always a consideration for anyone but the condition of this hotel should be reported to the health department.
Thank you for the opportunity to bring this to your attention.

Rachelle Sullivan
from Toronto, ON
6/27/19 room 104, Super 8 Ruther Glen, Va. Checked in late n tired, got handicap room which I did not request. Door difficult to open or close, had to key 3-4 times; trim under door gone letting hot air n light in; bath door hard to close; toilet loose at base; no hook for handheld shower head; fresh blood stain on sheet. No HOT bfast to speak of; no juice or yogurt, stale bagels. In Canada now but have 3 weeks of travel back to AZ. Not happy with Wyndam's. I did like the Days Inn in AR but may end up doing Best Western with my AAA card for next 3 weeks. Because I came in late, did not have time to check room which I usually do. Very disappointed.

We stayed at Days Inn in Pensacola,Florida on August 5.The room was registered under my name Mark Seppala.The room stunk of very strong Pine Sol so bad we had to keep the main door opened for hours to blow the smell out with my own personal fan.Both bed spreads were full of semen as were the bed skirts.Thats only what we could see!We were woken up at 9am by the housekeeper pounding on our door.I reminded her that we check out at 11am not 9.She then left her cleaning cart in front of our door and proceeded to be noisy by talking,bumping our door,hitting the walls with the vacuum cleaner in the rooms around us.When we finally started packing she opened our door!I had to tell at her to get out,that's ridiculous for an employee to enter a room without permission!Scary.I turned my key in before check out time and tried filing a complaint but the lady at the desk only said she wrote it down in a book.I showed her the pictures I took of the bed spreads but she still didnt offer any money back.I have pictures that I will put on the internet if this problem isn't resolved!We are traveling across country and plan on doing a study on the motels/hotels we stayed in.People should be warned about this place and it needs to either be run by someone else or torn down!We stayed in a Super 8 last night even though there is a Days Inn right by it.I am scared to ever stay at a Days Inn ever again,it was disguesting!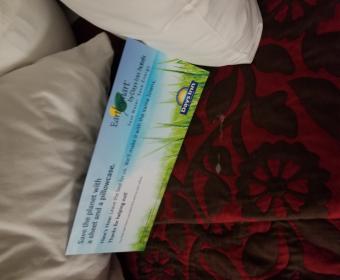 Trashan Vogel
from Taylor, MI
I stayed at the Wyndham Garden inn on 28th St in Grand Rapids and someone from corporate needs to go replace the manager. I believe her name is Emily or Emma, but she is rude to guest and staff! I saw illegal activities on the grounds while i was there and she didn't seem to care.

DALE HOOPER
from Sydney, NSW
Never again! I booked this hotel accom thru Qantas. Wyngate by Wyndham LA for the night of Tue 6 Aug 2019. Problem...While I was in US my bank had to de-activate my Visa Debit card as they picked up suspicious activity. This apparently stopped the Wyngate by Wyndham reception from letting me occupy the room which was paid for in full on 14 Jun 19. They wanted the card for security deposit. The reception were totally unhelpful. My fiance spoke to this gentleman on the phone, explained that she had my new replacement card in Australia & offered to quote the number over the phone. He said no! Not their policy. He had to physically see it. I offered to pay the security Deposit in Cash...Answer, No! Offered my Global Currency Card...No! I am now stranded in LA with no accommodation & it's after 10pm at night. I have a long 15hr flight back to Australia tomorrow night. I will never again book to stay at this hotel. I am at present trying to find a taxi to take me to somewhere where I can sleep. Staff didn't care....left me stranded with nowhere to stay late at night in a city I didn't know.

Annie Reapa day ago on Google
1/5
During our stay the air conditioning went out for two days.
I spoke to Ron and requested to speak with Tony. He screamed at me asking what this was regarding and then telling me that he can not take him out of the ……
During our stay the air conditioning went out for two days.
I spoke to Ron and requested to speak with Tony. He screamed at me asking what this was regarding and then telling me that he can not take him out of the meeting that he was currently in. I explained to him that I did not want him to take Tony out of the meeting he was in. I stated that I would just like to speak to him regarding the two days that the three suites were without any air conditioning.
He then said to me "You know we were here for the two days without the air conditioning too."
I felt he was extremely combative. He said that Tony should be out of the meeting within 15 minutes.
I came back in 15 minutes. Tony was still in his meeting. I came back an hour and a half later Tony was still in the meeting. I came back for a third time and Tony was again in a meeting. I gave my cell phone to Ron and requested for Tony to please give me a call when he was free. Tony has yet to call.
Our family stayed here for a week. It was a nightmare. The staff seemed extremely unhappy. We had three suites.
We are VP's at Wyndham which entails not having to pay the $35 extra in cleaning fees and you get more towels, shampoos ect.
We asked for towels to be replenished along with the soap ect. each day as our group would congregate in each others suites throughout the week. The gal Rachael seemed extremely upset in doing this. I requested it for each day. I had to continue to call each day and request that they please bring towels, toilet paper ect.
I asked if there was a late check out as checkout is 10 am. They said I would have to call back and ask the manager. I spoke to the manager he said the latest he could do was 11am. I asked if it could please just be 11:30am. Tony the manager said that would be fine. I asked that it be noted on each of the rooms we were staying in. My sister in law while packing for three small children got a call on our checkout date at 10am from the lady at the front desk screaming at her that she needed to leave the room now. My sister in law was so overwhelmed and caught off guard that she actually started crying.
First day we got there the main pool was closed.
You have to pay $35 dollars to reserve a beach chair. If you lose towels it's another $25.
The beach has an excessive amount of seaweed.
Needless to say we are canceling our timeshare with Wyndham.

Don Weingart
from Butte, MT
We have to nights at days in in Butte montana and the room is so hot and uncomfortable. I told i'm Only staying one night and them I gone. Grandkids are miserable. Thanks

Tarry Kohler
from Safety Harbor, FL
I had 2 rooms booked at the La Quinta South Burlington Vermont, 7/31/19-8/5/19. I was very dissatisfied for several reasons which I will list. I stayed there with my daughter and 2 grandchildren, ages 8 and 4. We had one room on the 3rd floor 308, and the second room on the second floor 214. When we checked in no one told us the elevator was not working and didn't work the entire stay. It was very inconvenient not to mention a hard ship on my knees to climb 3 floors several times a day to go to my room. I had asked to to moved to a lower floor and was denied. The telephone in my room 308 didn't work because there was no jack to plug it in. The phone in 214 was plugged in but didn't work either. Found the hotel manager a female to be extremely rude when we asked to change rooms or mentioned the phones and elevator not working. On 8/4/19 my daughter, 2 grandchildren and I were at the pool for a couple of hours. My daughter was sitting on the pool deck, I was standing on the pool deck and my 2 granddaughters where in the pool. I walked over to the table to see a man in the hotel window at ground level staring at my granddaughter with his hands down his pants wacking off. I called my daughter over to witness this horrifying situation. We got the girls out of the pool and immediately reported it to the hotel manager and request she call the police. She refused to call the police and said she would talk to them. I told her no I wanted the police called. We took the girls up to the room and I came back down and the manage was just coming out of his room. I asked if she was calling the police and she stated no she wasn't. I told her I was calling them myself, and I did. The police came and took statements from us and told your hotel manager she had no right to speak with him that she should of called them immediately. A police investigator came and a report was filed. We left the hotel for a couple of hours, on our way out the hotel manager was making fun of us and laughing at us. My granddaughters, and daughter was so upset by the embarrassment they had to encounter. When I returned back to the hotel I asked that she give me her managers name and number. She refused to give me her number only gave me her email. I asked her to call her and she said no she had already talked to her. The vacation that was suppose to be fun and enjoying was destroyed by your run down hotel and poor management. I would like to know how and what your going to do about this situation. I'm going to send the same email to the manager Debra Grzywna that I have send to you. I expect that because of poor leadership I will not hear back. I'm totally discussed by the way we were treated and humiliated and retaliated against in your place of business because we complained about the conditions of the hotel and calling the police I'm including my phone number in hopes you can come to some resolution of compensation for my stay. I also am including the police officers name and number to confirm all this activity. My name is Tarry Kohler 727-236-7771. Police department South Burlington Vermont, Officer Kelsey Monroe 802-846-4188. I look forward to hearing from you.

sharon harris
from El Coco, A
As an Wyndham Time share owner we were very disappointed with our stay at Days Inn San Antonio Lackland AFB. We wondered if Wyndham was actually buying or franchising hotels and not inspecting the properties. The rooms were in poor condition and toilet would not flush or was difficult to flush using the push button on top. The furniture was dated and in some places taped to repair the trim. The drapes were coming down and the carpets were dirty. Another problem was very worn wash clothes and towels which were stained, We were there to attend our granddaughters Air Force graduation and thought that the hotels in the area would accommodate military family members with rooms in good condition, The room was dirty and even the phone did not work.
We were at that property July 17 to July 21 and were very happy to leave and move to another hotel chain in another area,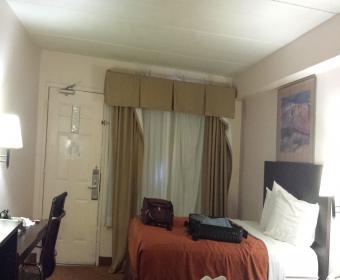 Tameika Bogan
from Richland, GA
Good Evening,
I'm writing concerning my visit at the Days Inn Knoxville East in Knoxville, Tennessee and would like to speak with a manager ASAP! We booked this hotel expecting a clean & livable facility (I will include pictures with this email). When we arrived we noted the air conditioner was not working they bought us a fan. There was a hole in the wall, the vent in the bathroom was filthy, sockets were not working, the toilet rocked when you sat down, the toilet seat had black stuff on it, we asked for 4 extra towels & was denied only given 2 we had to go buy our own, the curtains were visibly nasty, the phone was visibly nasty, when they came & cleaned our room while we were out they did not replace our towels or wash clothes & when we asked for them they stated we could not get any until after they washed, towels had visible markings, the ice maker machine had bugs & green stuff on it so ice out of the machine was not an option. Needless to say we had to purchase ice from the store. I know that you all take pride in servicing your customers & I will never stay at another days in by Wyndham due to this horrible experience. Not even to mention the slow check in, no receipt given I had to request one, & the surprised extra money asked for at check in and 10 pm curfew. I would appreciate if someone called me ASAP to discuss this issue at 706-577-1760/762-207-9104. I have several more pictures than the ones listed below and can send if needed.
Thanks,
Tameika Bogan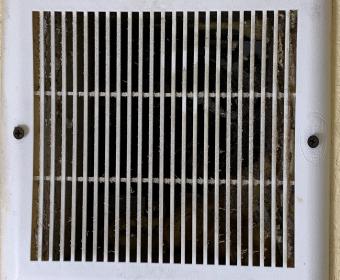 Carrie Brown
from Lyons, GA
My friend and I rented a room beach front the first day we got here there was no parking available we had to park at another hotel we got up in the morning to go down for breakfast there was no breakfast called down to see they said " the truck didn't make its delivery" also the first day we had to go down twice to get towels and wash clothes because they were " being washed" this has been by far my worst vacation at Virginia Beach ...

Anthony Brice
from Houston, TX
I stayed on the location in Dallas Suites park central. I was there for three days two days of disrupting noise of kids running around playing on the elevators running between floors and being loud for two days. It was not until my final night that it was quite, on the dates of 7/26 - 28 2019. Thank you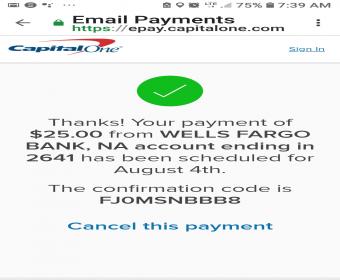 Candace L Strong
from Riverdale, GA
This letter is being written to address concerns and to file a formal complaint after my recent stay at the Wingate by Wyndham Savannah Airport on Saturday, July 13, 2019. My stay involved several major complaints which included the following (pictures attached)
• Spiders/spider webs were discovered in the corners and on the walls of my room;
• Makeup on one of the pillows and
• Condom wrapper on the floor between the nightstand/dresser and the wall
As soon as I discovered this issue, I immediately went downstairs and notified the staff person on duty and brought this to her attention. I asked if someone could come and clean my room, but was told that no one could come and clean it. When I expressed that I didn't feel comfortable sleeping in the room and that I would definitely not sleep in the bed, under the covers, I was not offered another room, and was told that the hotel was sold out. I asked to speak to the Manager, and was told that the Manager would be in on Sunday and was given a clean set of sheets from the housekeeping room. I returned to my room and reluctantly covered the top of the bed with the clean sheets and slept on the top of the sheets; as I did not want to sleep in the bed due to the unclean sheets. On Sunday morning, I went to the front desk, before checking out, and asked to speak to the Manager. The staff person on duty informed me that the manager does not work on the weekends. I was also informed that they (the Hotel) couldn't do anything because I booked through a 3rd party. Regardless as to whether I booked through a third party or not, I chose to book at this hotel because of the reputation and standards of the Wingate by Wyndham chain. Additionally, I was told by the staff that the hotel would not offer me any kind of refund/compensation for the price of my room due to the inconvenience I experienced.
As the rating of the Wingate by Wyndham is a three-star hotel, I never expected the room I rented to have these issues; and I was truly disappointed at the level of customer service in reference to this matter. As a resolution to this matter, I am requesting a reimbursement for the room that I was forced to sleep in that was not to clean, noting the complaints mentioned above .
NOTE: A letter is also being sent to Jennifer Ramirez, General Manager, of the hotel. The staff member gave me her business card.
Please contact me at your earliest convenience by phone at 470-419-9932 or by email at cstrong2011.cs@gmail.com.
Thank you very much for your time and consideration in this matter.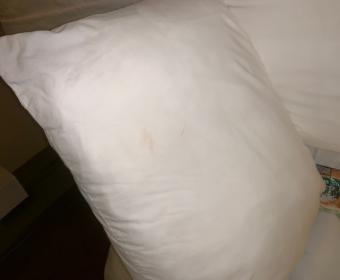 This past weekend (August 2-3) I spent 2 nights at the La Quinta at 105 Westchester Drive in Madison AL. After we settled in Friday night I noticed black mold on the bathroom ceiling. I told the person at the desk that the ceiling needed to be cleaned the next day with vinegar or Clorox, and he made a note. This never happened, so I spent two nights in room 209 with black mold on the bedroom ceiling. The windows also were covered with white mold or algae. I am a Wyndham gold member no. 161264993G and I've never had such a bad room at this kind of motel. I took a number of photos of the moldy ceiling and window, and here are a couple.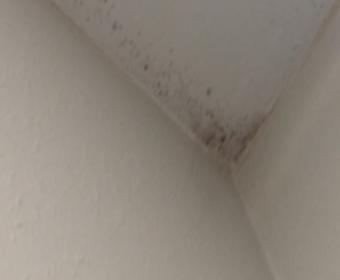 Johanna Viera
from Riverside, CA
August 4th, 2019
To whom it may concern:
Re: Viva Wyndham Tangerine in Cabarete, Dominican Republic:
Our family vacation began on 15 July 2019. We chose to stay at Viva Wyndham Tangerine because we had stayed at the resort more than ten years prior. We were at the resort for only a couple of days when we discovered that someone had stolen many of our belongings. The resort security came to the room to evaluate the reported situation. There was no sign of forced entry. He asked why we hadn't placed everything in the safe. The safe provided does not accommodate space for ALL of the items that were stolen. The security guard repeatedly questioned why we had or brought these items and if we were sure that we locked the doors. The repeated questioning made us feel like we were being interrogated. My laptop ($1600), 2 iPads ($350 each), Beats wireless headphones ($200), a bag full of M.A.C. cosmetics (estimated $900 worth or more), 2 pair of sandals that belong to my 8 year old daughter and a watch. You can only imagine how devastated my children were! We all felt so violated. The staff took note of all the missing items and reported that they would further investigate the crime.
During the next meeting with the guest services manager, Denali Pascual and the the Manager of security, Damian, no last name on badge, we were told that the cleaning person entered our room with her room key four times on Wednesday, July 17th, 2019. She had come in two times in the morning then again around two o'clock in the afternoon and again at four in the evening the same day. We were also told that this is a normal entry pattern. I don't feel that this is normal at all. They then proceeded to inform us that the cleaning staff clocks out at 3:00 p.m. The front office staff refused to give us the room entry report as it would have the staff member's name. Another employee accessed our room one time on Thursday morning, July 18th but reported that everything was already clean and did not return. During another meeting, with the manager and security, we were told that cleaning staff clock out at 5:00 p.m. Why is it that the manager doesn't seem to know what time the employees are supposed to clock in or out?
After a week of the supposed investigation, the manager of guest services and lead security said that they are still investigating. We informed them that we would be leaving soon and were requesting a resolution before that time. We contacted CESTUR, (police for tourists in Dominican Republic). We filed a report. Though the resort staff claim that this has never happened before, we were made aware that only 2 years prior they encountered theft, and during the time that we were staying there that there were a few other reported thefts.
This resort is refusing to take responsibility for the theft that occurred in our room with no signs of forced entry. Clearly this is a crime committed by the staff at the hotel. It is now August 4th and We still have not heard anything from the resort or from the police.
We paid thousands of dollars for two families to stay at this resort for two weeks only to be robbed and become gravely ill from the terrible food served at the buffet. All eight of us suffered from nausea, vomiting and diarrhea. One of my children were ill for more than three days. We checked out early from the hotel as our family members were still sick from the food and because we no longer felt safe. This vacation turned into a nightmare on day three of fourteen. By now, I should have received some kind of resolution. This is no way to treat your patrons. I expect a response and compensation for my stolen valuables.
Thank you in advance
Robert and Johanna Viera
Phone: 1-951-529-7975
Phone: 1-951-897-2925
E-mail: robviera@yahoo.com
E-mail: jivx2@yahoo.com

Joseph Blundetto
from Pocono Summit, PA
Stayed at Wyndham Virginia Beach oceanfront on July 12-19 very disappointed with the hallways & elevators not having any air conditioning. By the time you took a shower & made your way down the hallway & to the lobby felt like you needed another shower. Housekeeping was a hit or miss towels were not replenished or bed made & that was around 4pm. We also had a problem with the electronic lock to our room . We kept getting locked out cause the batteries inside the lock would die & would have to go down 16 floors to the lobby so they could get maintenance to fix it several times. The outdoor pool area was very poorly lit at nighttime .Windows in hallways were filthy . A positive was the location of the hotel. For the money we spent on the hotel for the week wasn't a great value . Hotel needs to be updated & better maintained.
Sincerely, Joseph Blundetto

Anthony Brice
from Houston, TX
I stayed on the location in Dallas Suites park central. I was there for three days two days of disrupting noise of kids running around playing on the elevators running between floors and being loud for two days. It was not until my final night that it was quite, on the dates of 7/26 - 28 2019. Thank you

I made my reservation Confirmation #3875993213 check in July 18 check out July 20, 2019. Days Inn in Camarillo California on Dailey Drive. At the time of Check in I was told there was an additional $100.00 deposit required at the time of check in for any damages. I agreed to that they said it takes about 7 - 10 days to get the deposit refund back on my card. I have waited 16 days so today I decided to call the hotel. Spoke with someone named Stephanie Serratof who said she was the manager. She stated that I did not receive my deposit because I had done damage to that room. I did NOT do any damage to that room. I actually gave it a bad rating on booking.com. complained about holes in the walls where they had ran cable and electrical wires, but never properly sealed up the holes. I complained about cracks in the sink. I left that room in the shape that it was in when I checked it. The pool was nice and well kept and the staff was friendly. I did not damage their property what so ever. I need my deposit back and they are unwilling. She told me to take it up with my bank. It is not my banks responsibility it is Days Inn Camarillo California to refund patrons their deposit. My name is Deborah Mckee PO box 12 Chester California 96020. If I didn't live 10 hours away I would take them to small claims court for this. If this happened to me a clean and caring person I wonder how other many innocent people they are defrauding. If this is not corrected I will file a complaint with the Better Business Bureau in Ventura County. They are stealing patrons money.

Stephanie
from Deltona, FL
Paid these people $299 to transfer an ownership and it's been 3 months and no one will help us. We're about to lose all our vacation time as well as points. I've asked to speak to a supervisor only to be told someone will call me back in 2 business days!!!!! We're about to just give our package back to Wyndham and be done with the stress. I'm on my to the BBB site file a complaint next.

We checked into this on 8/2/19 and checked out on 8/3/19.  We could never have been more disappointed with a Days Inn. We walked into this room an the smell of mold was so overwhelming, we asked for a different room and we were told that it was the last room(154). If we had not been so exhausted from driving for 12 hours we would of left immediately.   We left the door open for at least 30 minutes to air it out. My Husband sprayed some of his cologne to try and help with the odor.  We laid down in the bed and it felt damp. The thin blanket was damp, the bed was made with a damp blanket. We had to remove it an get the throw blankets out of the truck. I woke up with a horrible headache and congestion, had to take a allergy pill. We tried to get a showered, the water was either cold or so hot it could of caused burns. I do believe there is a law regarding water temperature. So a cold shower is what we rinsed off quickly.  We also wore our flip flops in the shower due to the mold that was seen in the shower. I was shocked and disgusted to look around and saw the other mold that was easily noticeable. We went to leave the room an went to open the door and the door handle fell off! I am glad there was not a fire. This room is a health hazard. I have attached pictures of the mold. I can't inmagine what would have happen if either of us had a breathing issue. 
    We travel frequently and stay at a lot of Wyndham Hotels, this room gives a horrible impression of the hotel chain. I would never recommend this hotel to anyone. It should be reported to the health department. 
Regretfully,
Tabitha Cook
Invoice #: 066-736411
Ps, I have more photos, it would not let me attach more.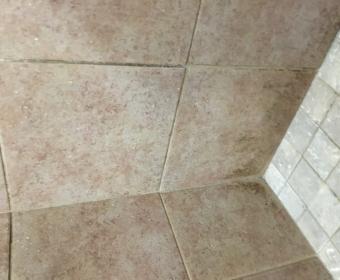 Chris Gittens
from Rex, GA
When we got to the room, we didn't have any towels and wash rags. 2nd the tv remote didn't work the tv, the next day I took it to the front desk found out it had to be programmed. 3rd the coffee maker didn't have any coffee, and it was missing some parts (pot, top). I refuse to stay here again and will tell anybody that is going to stay here I will tell them not too...

Gilbert Tyrone
from Boston, MA
I made reservations on Friday 08/02/2019 at the Microtel Inn on Lehigh road in Henrietta/Rochester, NY. When I arrived I was so disappointed with the Hotel and the room. I refused to stay there and asked them to cancel everything. My wife and I left that hotel and drove down the street to the Super 8 hotel and this place was even worse than the Microtel inn. I actually took pictures of the room. Total disgrace and unacceptable on so many levels. Reference #4284458 complaint for Microelectronics Inn. Reference#4284480 for Super 8. Turns out you guys own both of the hotels. WOW So sad and unprofessional and a total waste of my time.

Elaine Viecelli
from West Springfield, MA
Reservation dates, 8/1/19 thru 8/2/19. I requested a handicapped room and rooms next to each other and it was confirmed; upon arrival I discovered that I was put in a "hearing impaired" room. When I complained. I was told by manager, Bonnie Miller, that they would review phone message recording. Problem started upon arrival, though, as I had requested rooms together, long story. I was angry because my daughter's room was changed because her original room was dirty so they changed her room down the hall from my room. Couldn't change my room because it was a "handicapped room", which it wasn't. I am filing a complaint with the Better Business Bureau because you created a hazard due to my issues with neuropathy in my feet. I don't know what the recorded message says when I called (2 times), but I did state my health and disabilities to Ariel. My daughter reserved the rooms, but I called after that to confirm rooms next to each other and a handicapped room. You people should be ashamed of yourself for the lousy customer service and the hazard you created for me!!! I plan on telling everyone of this awful experience. You are lucky that I didn't fall and hurt myself!!!!

Stacey C Lee
from Cypress, TX
Our stay here was incredibly bad! I was staying here for business and I usually book Days Inn Hotels in the various cities that I'm in, so I'm well aware that this is not meant to be a luxury hotel, however there were so many things that were wrong with this hotel that I was furious by the time I left.
- Key cards reset themselves several times and even when they did work it took multiple tries to actually get the door to open with the card.
- Our room was not cleaned one day. When I went to discuss it with the front desk, they told me that because our room had two entryways, and one of them was locked, they wouldn't go around to enter through the outside entry to clean the room. This might have been understandable if there would have been a sign or some kind of indication that this was a rule.
- At the time that I discussed defect the room wasn't clean I asked the clerk to at least give us clean towels. He told me he wouldn't be able to because he didn't have any access to them. After my refusal to leave until I had towels, he finally scrounged up a couple of tiny pool towels and told me that was the best he do.
- On our first night there, we went to sit in the hot tub, which is one of the main reasons I booked at this particular Hotel, and it would not work. When we went to discuss this with the front desk, they told us that it was broken, had been broken for a while, and that there was no intention to fix it.
- There were several carpet tacks that were sticking up at the transition between the carpet and the tile floor of the bathroom.
‐ Our room had a coffee maker, but no coffee packs. When we went to the front desk to get some, the clerk told us that he only had two left and they wouldn't be getting any in for the rest of our stay.
- On one of the days we went in to get breakfast. It was about 8:15, and breakfast ended at 9. There was very little in the dishes and no one was really tending to you feeling any of it.
- the guest laundry room was broken during the entire duration of our stay.

I looked at the photos of the Howard Johnson on Sandy in Portland Oregon, the rooms looked nice and clean. The room they gave me was something out of a nightmare, it was disgusting! There was already trash in the trash can spiderwebs all over it smelled like pee and there was what looked like nasty boogers on the wall! I talked to the assistant manager and she told me that there was nothing she could do but maybe send someone when they get there, I almost cried, I was not staying in what felt like a crack house. I only stayed long enough to book another room elsewhere. Of course my money was not refunded although what showed on the website was deceptive and definitely not what I got.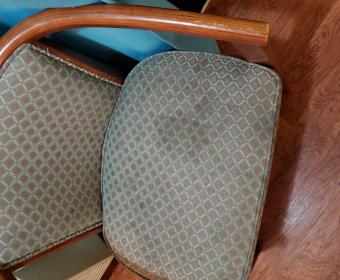 Christina Slater
from Milwaukee, WI
We stayed at Laquinta Inn on 5110 N Port Washington Rd, Glendale Wi. The staff will be friendly (smile and say hi) however when there is an issue they don't care and are not very helpful to get it resolved. An employee gave a key to our room to another family that was staying here, they did knock and used a key to try to enter the room if it wasn't for the latch on the door than they would of been able to enter the room. My son was the one who went down to the front desk to inquire and that is how we found out.that the key was given to another family. My son came back upstairs and neither of our keys would work on the door so he had to go back downstairs and get them reprogrammed. I tried to straighten it out yesterday and the person at the front desk said she was a manager but had to wait until the next day and talk to Mary who would be able do something for us. Wrong, I spoke to Mary and she said she has to speak to her GM tomorrow. Mary also told me it was an employee checking the room do to a system upgrade from 10:30 pm to 5 am and the system was showing our room as dirty and unoccupied. I also asked Mary why our keys were deprogrammed, she did not have an answer. She just kept saying she has to speak to the GM tomorrow. Why would you do a program that late at night, when people are sleeping? They also have not given us new towels, I had to ask for toilet paper, and they only took one small bag of trash out of the room when we were not in the room. I know my car is my responsibility however it is parked on your property so I think you should have some responsibility. I bring this up because my car was also broken into. I was told by Mary that there is a security guard on duty (probably stays inside due to the cars in the parking lot are not your responsibility). She also said police come by every 15 min. I did not get that from the police officer I spoke to when reported my car getting broken into. He said the added an extra police officers because of the breaki-ins that were happening. I wold like this resolved. I would like for one of our nights to be free and not for future use. We stayed from Aug 1st checkout Aug 5th.

Cindy L Parker
from Marshfield, WI
Not really sure how much control u have over this motel but its name was DAYS INN BY WINDHUM in Norcross GA. To begin with they would not let us check in til 300 PM and we had 3 small children with us and we arrived at 900am. Our door had a problem with the lock and we reported it but didbt get fixed....even told the cleaning lady and she did not close our door while we were gone so our room was left UNLOCKED for several hours. Another problem I have is that at check out we were charged a STAT TAX (I get that) we were also charged a GEORGIA tax..... now what is the difference? The hallway on the non smoking floor smelled horribly like smoke and the room a smelled even worse!!!!!!!! I have stayed at Wyndum hotels before but this one was aweful!!!!!! Just thought u would want to know since ur name was on it. Thank you

I made a on line reservation to Travel lodge by Wyndham on July 17th 2019 in fife/Tacoma wash. For the date of Aug. 3rd. That's because my friend and I had tickets to Nitty Gritty Dirt Band at the EQC. Aug 3rd. Something happened by someone because you made my reservation for the same day I reserved it July17-18. So after driving 21/2 hours all excited we get to get away from home for at least a night. All that came crashing down when today when we find out we have no reservation, no money to get another room, so we had to turn around and drive all the way back home and skip the concert because nether my friend or I can drive at night. You have no idea what we went through to even be able to afford i night out, instead I stood in the lobby frantically looking on my iPad for a confirmation number.. and then crying because we had no money to go anywhere else except back home. It was my friends Birthday gift. Happy Birthday.

brian knott
from Tampa, FL
Hotel, Hawthorn Suites by Wyndham Sacramento, at 321 Bercut Drive, Sacramento, CA, United States. I arrived at the location and their internet was down and waited 1 hour to be checked into my room. This is really exhausting after working all day. I couldn't believe it took this long! After I made it into the room I noticed the toilet wouldn't flush anything. I called the front desk and asked them to send maintenance. Instead of sending maintenance they sent a cleaning person that knocked on our door. Once she answered she gave the plunger and ran away. We called behind her asking her to wait and that we didn't need a plunger we actually just needed a maintenance man who had a snake to fix the toilet. I called the front desk several times asking for help, but they were busy and couldn't answer my phone call. Four hours later I was finally able to get in contact with them and they sent a maintenance man. He fixed the problem with a snake and left. He left a mess of toilet water all over the bathroom. I called and asked them to clean it up, but they never came. One day later I woke up to the sink overflowing on to the carpet at 5 am with the sewage water. I called the front desk and they said they don't have a maintenance person available and that there is nothing they will be able to do. Several hours later there was still not a maintenance man and we checked out of the hotel and did not book again because the room smelled terrible after the sewage ran over the carpet for hours.

Jim and Carrie Klempel
from Bismarck, ND
I made our reservation 4 months early. On the night we were to arrive, when we were 30 miles out of Sidney, MT at 10:05 pm Brad the General Manager called us to tell us they did not have a room for us because they overbooked the reservations. Long story short I asked why we were not called sooner and he basically said this was common practice and that Sidney was a growing town since the oil boom and he wanted us to just understand that this happened all the time. Now my husband was born and raised in Sidney, MT and we know this is not common practice and does not happen all the time! I am also disabled with a brain injury and Brad just talked in circles to me justifying why our room that we reserved 4 months earlier was given to someone else and just expected me to understand! This was garbage explanation!! He called us back 3 times and finally he called back and said we would get our original reservation of a king size room and he did give us 1 free night but that does not excuse how we and others at the hotel were treated. Once we got to the hotel. Our bathtub drain was plugged, we had only 1 bath towel and despite asking several times could not get another one. Our room was never serviced and we stayed 2 nights. We learned a swim team whose school reserved rooms for the team a year ago also had their rooms given away and told the same things as us. Another lady my husband spoke to went to her room only to find other people's belongings in her family's room. When we finally did get to check into our room, the poor girl at the front desk said the computer showed our room at 11:00 pm had not been cleaned yet. I suggested she check it before we went up and it was clean (tub was plugged though and hair on the floor)! It also came to our attention simply because my husband is from Sidney and we have family here, that Brad the General Manager has a reputation of treating employees poorly and doesn't like if they have 2 jobs even if it doesn't interfere with their job here. Apparently he ran a very good employee off. We have been down to the front desk and nobody there to service people. If you would like to speak with us we can be reached at
406-425-8119 I would Love for someone to call. Hotel wise this was very poor despite getting one free night for the reservation hassle! Our tub is still dirty from being plugged 7 hours later and we still only have 1 bath towel!. We will NEVER stay here again until management changes!!!
Carrie Klempel

Esther Scott
from Fairfax, SC
After my first night of a 3 night stay they arrived at 9am to do the housekeeping (I have a dog with me so they have to come everyday by their rules and my dog cannot be in the room), I was still asleep. I later spoke to the front desk to try to arrange a time frame in which they could come that would be convenient for both of us and they would not work with me AT ALL. Check out isn't untill 1100 and I'm staying 3 nights, so why am I being disturbed at 9am?

Daun Fornoff
from Bedminster, NJ
We are on a family vacation and booked 5 rooms at your Super 8 in Hays Kansas. We were late getting in after a long drive, front desk staff was very cranky. After checking in and getting to our room at around 11 PM, the guests in the room above us arrived and proceeded to party all night. After several calls to the front desk they were finally removed at 4 am. Needless to say we got no sleep. We fully expect our mo ry to be refunded for the lack of customer service and no sleep at your hotel.

I reserved a room from August 2-5 2019 at Hawthorne Suites in Wichita on 411 South Webb Rd. from booking.com. I checked in around 4:30pm on Aug 2. I smelled funny smell but left to run about the city. I returned and got settled to lay down around 9:30. I pulled sheets back and smelled a horrible urine smell. It was all over mattress and box spring like someone stood next to bed and urinated on it. The bed and box spring were dry so maintenance just put fresh sheets over the urine. I called front desk and they changed out mattress and box spring. I feel that I deserve a compensation as I drove 13hrs from Louisiana to visit here and made these reservations almost 2 months in advance. It is now 10:45pm on my first night. Front desk worker Hassan said Erika Villagomez is the manager who did not show up or talk to me about the issue.

James N. Larsen
from Lutsen, MN
Dear Sirs/Ms:
We rented a Dbl queen bed room at Americinn West in Appleton, WI on July 25 & 26 departing 7/27/19. We were assigned Rm # 300.
The room had been renovated w new carpet, paint, beds etc. However neither bed had a nightstand or a light to allow us to read.
The bathroom had a hook attachment on the door without a hook. The entry door had a broken security latch. The light blocking
opaque shade was out of its track and jammed at a cocked angle. There was no TV guide or local information guide. These deficiencies
might have been understandable if we paid for a low price hotel room. The reality was that we paid the room charge of
$488.98 + tax for a room that was sub-standard. The final discouragement was when we returned to our room after a long day
we found that our beds were not made. Even Motel 6 makes your bed. I informed the night manager of the room short-comings and she acted surprised but seemed unaware that this was not customer friendly and seemed unconcerned until I told her that she should write these things down for corrective action by maintenance. I grew up in the hospitality business and frankly expected a better experience by a Wyndham affiliate hotel. I did not write a negative online review but am requesting a credit for future use at one of your affiliated hotels. Thank you for your response
to this concern. The hotel I.D. is 53615.
James N. Larsen
P.O. Box 1500
Grand Marais, MN 55604

Rebecca Thorn
from Seattle, WA
Good afternoon,
On June 26, 2019, I had a reservation for your Baymont Inn and Suites in Yreka, Ca. I arrived into town at 2:50 pm and went to the hotel. I walked in and was not even greeted by the 2 women working the counter. No one else was at the counter. They finally looked up, no smile, and I told them I had a reservation for that night. They told me I woIuld need to COME BACK at 3 pm....in 10 minutes. Thats what I said, ...".in 10 minutes?" they said yes, there were no rooms ready.
Now, I know check in time was 3 pm and that is your policy. I can appreciate and understand that.However, I was astounded that they had not prepared for my arrival, I had a reservation. And in 10 minutes? Really? I was on a 14 day road trip, staying at 7 hotels, made reservations along the way, I NEVER once was even told to wait when I arrived early. Every single hotel accommodated me, hours earlier than the check in time.
I was expecting much better service from a Wyndham hotel .
I find it absolutely ridiculous they told me to come back in 10 minutes and that no room was ready. I am a disable person, I was tired and sore from 6 hours of driving. At that point , needed to lay down. I didn't even want to stay there from the sheer rudeness of the women , who made NO effort to be courteous or accommodating. Even if they had offered me coffee, sit down and relax while they got a room ready would have been nice.
I went across the street and stayed at another hotel who got me in right away and were VERY pleasant. I, unfortunately, was still charged the room at your hotel. I just thought I would let you know that the service there was unlike I have ever experienced at any hotel.
Sincerely, Rebecca Thorn (253) 820-3716 ( i am pasting a copy of my bank charge as I am having trouble attaching )
Transaction details
Post date
06/26/2019
Description
Baymont Inn And Suites Yreka Ca
Amount
$110.88 Charge
Transaction date
06/25/2019
Itinerary info
FOR 01 NIGHTS
FOLIO: 22872667
Reference number
24431069176036947345936

Karena Martinez
from Humble, TX
Very rude customer service when I called the customer service center with a young lady names Jenna. Also when I checked in the first night I was taking my toddler son a shower and the tub was clogged , not only was this disgusting the back up water had a huge hair ball floating, I had to take my son out with a bath towel and wait for my husband to fix the problem , the tub was clogged with a bunch of hairs that clogged the water from going down the drain. I Called the front desk to be told that they would let house keeping know and said that they were new to the team, unacceptable... Didnt bother to accommodate with a different room or send someone to come fix the problem my husband had to fix the issue with a pen and fish it out with toilet paper. I have attached pictures and would like to receive a call back asap. The restroom also had black mold around the tub like it wasn't being cleaned , u can see in the pictures also.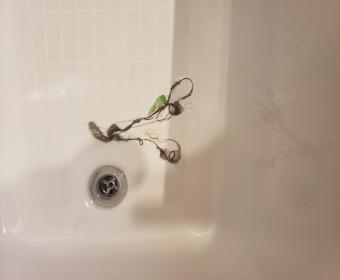 Cliff Lillywhite
from Herriman, UT
We checked in to the Wyndham Ramada in Cedar city Utah the evening of July 2. Attended a play and returned. Turn the bed down and it was horrible: black hair, something red on the sheet, black stir stick, another piece of black plastic. Someone intentionally covered this up. The room stunk because it had leftover food in the refrigerator. The door to the bathroom had a crude cut out so it could pass the toilet to open. The only towels were two bath towels, but no hand towels or washcloths. I've traveled for 35 years and this is by far the most disgusting I've seen. I left my phone number for the manager to call, but a week later he still has not called and I've heard nothing from them. It was very difficult to find another hotel room that late that night.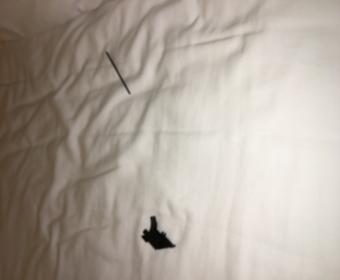 CAROL THOMAS
from Sandpoint, ID
in MARCH 2019 I MADE ARRANGEMENT WTH DAYS INN PONDERAY IDAHO, MANAGER SONIA, FOR A SPECIAL RATE FOR 20 ROOMS FOR A SANDPOINT BRIDGE SECTIONAL POSSIBLE 200 T0 300 HUNDRED PARTICIPANTS, SHE QUOTED ME $55.00 PER NIGHT PLUS TAX WITH BREAKFAST,NO DEADLINE WAS MENTIONED. NOW SHE WILL NOT HONOR HER COMMITMENT SAYING HER DEADLINE PAST. THE EVENT IS SEPT 12 THRU 15 2019 PEOPLE COME FROM CANADA, OREGON WASHINGTON MONTANA AND THE STATE OF IDAHO THE FLYER HAS BEEN SENT TO OVER 40 CLUBS WITH THE QUOTED PRICE OF $55. WITCH SHE REFUSES TO HONOR. THIS IS VERY POOR BUSINESS ON HER PART. THIS WILL NE A YEARLY EVENT AND DAYS INN WILL NOT BE RECOMMEND AGAIN, CARO THOMAS HOSPITALITY CHAIR FOR SANDPOINT BRIDGE SECTIONAL

Mrs. Rhoshina Webb-Broca
from Laurel, MD
Poor customers service and unnecessary room cancellation. Official Letter of Complaint sent to FDM S. Deen and Manager J. Macedo of the Newark, NJ TRYP. Because my letter has NOT been responded to nor can be up-loaded for your review and action, I have no alternative other than to send it to your Corporate Office CEO, Stephen P. Holmes at Wyndham Worldwide.
Thank you.

Judith Murray
from West Bloomfield, MI
I stayed @ Days Inn in Ashland Ky on Sunday 6/28/19. I now have BED BUG BITES! I AM FURIOUS!! I have never had bed bug bites before and never want it again!! It looks horrible and I am up all night itching! I am calling the Board of Health also!!

CAROL THOMAS
from Sandpoint, ID
MARCH 2019 MADE ARRANGEMENT WITH DAYS INN, PONDERAY, IDAHO FOR 20 ROOMS AT A REDUCED RATE OF $55 + TAX FOR AN EVENT IN SEPT, 12, THRU 15, 2019 FOR A BRIDGE SECTIONAL AT THE EVENT CENTER. SON THE MANAGER WILL NOT HONOR HER COMMITMENT. THERE WAS NO DEADLINE MADE BECAUSE THE PLAYERS WERE TO MAKE THEIR OWN RESERVATIONS , SHE ALSO DENIED A RESERVATION I MADE FOR THE DIRECTOR OF THE EVENT THIS EVENT BRINGS PLAYERS FOR OREGON, WA, MONTANA , CANADA AND ALL OF IDAHO, NOW WE HAVE TO AMEND THE FLYERS TO SAY DAYS INN WILL NOT HONOR THEIR PUBLISHED PRICE WHICH WAS SENT TO ABOUT 40 BRIDGE CLUBS. THIS IS NOT GOOD BUSINESS FOR YOUR HOTEL CHAIN CAROL THOMAS, CHAIRMAN HOSPITALITY, FOR THE SANDPOINT BRIDGE SECTIONAL

Booked 2room for 2 nights 1 year in advance for a family trip to the air show. On the night we showed up, they had given our room away to someone else EVEN THOUGH WE HAD A CONFIRMATION NUMBER! Booking agent called but they still wouldn't give us the confirmed rooms. Since we were stranded, and our vacation ruined, we drove back to Chicago in the middle of the night. Wyndham did nothing. They think returning my money was good enough. Stay at the Marriott or Hilton. Better customer service

Carol A. Walker
from Silver Spring, MD
I would like to report an employee at the Wyndham Resorts at the National Harbour in Oxon Hill Maryland. On Monday, July 29, 2019. I did a tour with this property, my sales person name was Justin (didn't get his last name). While going through all of the paperwork which took about 31/2 hours, partly because I was very undecided. After several hours I decided to purchase, but letting Justin know that I had an appointment at 4:30 that I could not miss, it was now around 3:45pm. Around 4:00pm I ask the lady at the front desk to get Justin for me because I needed to leave. At this time Justin was in the "main office" speaking with the Vice President (that's how he was introduced to me) and he had my personal credit card in his possession. Several times I asked Justin to please bring me my credit card, I needed to leave and would have to pick this up at a later time. Five minutes went by and Justin came out, still without my credit card, asking me if I could give him just 5 more minutes which I indicated I just did not have I needed to get the this appointment. He went back to the "main office" and came back with the Vice President, still without my credit card at which time the vice president began to ask me to give them a few more minutes which I again, stated I just didn't have, and I asked the VP also to please retrieve my credit card so I could leave to make my appointment at which time, he continued to ask me to give them just a few more minutes.
I became very angry, my voice got loud and I began to scream at the both of them still requesting my credit card, now its 4:15pm and I still do not have my card. I told the VP if he gave me my card I would be back the next day,he then asked Justin to go get my card and I then left. Which I barely made it to my appointment on time. Justin called me the next day to apologize, when I told him I decided not to continue with the purchase, and explained to him that my experience with the day before was just not professional, he then said to me "I wasted his time and no one dragged me in there to see the tour", I told him I would be contacting corporate "he told me do what have need to do!"
This was a very unprofessional experience and I would not recommend Wyndham at the National Harbour locate to anyone. This is very sad because Wyndham has beautiful resorts and I was recommended by a friend and I told her not to recommend anyone else to that location.

Lisa Jameson
from Cleveland, OH
I arrived on the 29th of July, 2019 to your property located in Oklahoma City NW 39th Expressway. We booked into room 532. The curtains was held by a black hair clip. The bathroom was dirty and the tub looked terrible. The bathtub looked like the paint was peeling off and dirty. I requested to be moved to another room. I was told I had to wait until the next day. I was moved to room 438. I have never in my life had to stay in a roach infested place
The room smells like mildew, the carpet is old. The bathroom was even worst. The shower curtain looked as if it has never been changed. No water pressure to flush toilet. The refrigerator was dirty and had roaches inside. There where no working lamps inside the hotel room. I went to the office and made a complaint and nothing was taken care of. I woke up in the middle of the night to find a roach in the bed with me. Roaches crawling on the ceiling, walls and the carpet. I left on the 31st to go take of some errands. I thought when I arrived back that this nasty room that the room would have been at least cleaned. I had no clean sheets or towels. The trash can was still full
I had to go to the office and get towels and trash bags to take care this issue. I have pictures and videos of have disgusting this hotel rooms are. I went and made a complaint about the roach problem and nothing was down. I made a complaint about my room not been cleaned and nothing was done. I am going to take this issue father if nothing else is going to be taken care of. Now I'm sick from staying in your infested hotel. I have many more pics...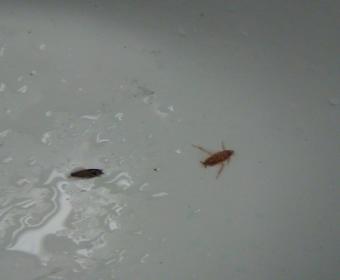 Steve Grebloskie
from Cherry Hill, NJ
My cousin and his bride to be have worked with the staff at the wyndham new oreleans French quarter the weekend of April 16-20. They were promised blocks of rooms for their guests and I cannot stress how ridiculous the process of booking rooms has been. The entire staff that answers the phone and handles bookings are an absolute embarrassment to your company. There is no coordination, zero confirmations being sent, and complete miss management of the bookings. You should seriously consider reviewing the staff you have on hand at this hotel. I could have 7-10 individuals respond to the same issues we are all facing. If u care you will look into this.
Have feedback for Wyndham Hotels?
Thanks for your feedback!
Sorry. Please try again later!