Wendy's
Wendy's Complaints Continued... (Page 19)
1668+ reviews added so far. Upset? Call Wendy's corporate: 614-764-3100

Bob Kirchner
from Marshfield, WI
Ordered a maple chicken sandwich for $4.39 and when I got home it was a cheeseburger. Definitely did not want a cheeseburger and not for $4.39. Nothing else to eat so I had to eat it. Not happy about the fact I'm trying to stay away from burgers. See attached. Sent a complaint yesterday but didn't get an answer. I would like to at least get a credit for the meal. Bob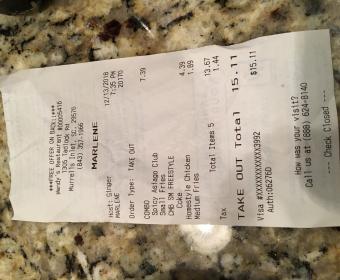 Carla Daniel
from Richmond (Near West End), VA
I went to the Wendy's that is closest to my home at 5620 Hopkins Rd, Richmond, VA 23234 last evening about 5:30 PM.
As usual the drive thru service was slow, but when I finally got to the window, the drink size was wrong and then I had to find
the additional money for the larger size, not a big deal. The young man that took my order asked me several times to repeat my
order, so I decided to check my burger before I drove away. the order was correct but not even warm. I was frustrated at this point and made the comment to the person at the window that I would have to reheat my burger when I got home and his answer was ok, thank you.
I only go to this particular Wendy's because it is closest to my home. I have never gotten good service here and it is always slow.
I think there is a man (maybe in his forty's that is the manager. I know this is not what Wendy's would consider good service. I just wanted you to know.

Tracy Parker
from Houston, TX
The restaurant in Seguin Tx has horrible managers!! There is one Manager named Jason that was talking crap when I wanted my food fresh. Then I overheard him making fun of a customer!!! I am a manager myself and would behave the way he did!! He also has no personal hygiene. He literally smelled!!
Is this what you want representing your store???
I have seen bad management but my god!!!
If nothing is done I am contacting the food administration..

ALBERT PAGE
from Apopka, FL
THE OUTSIDE MENUE LIGHT IS BLANK WHEN YOU MAKE YOUR ORDER WHERE YOU CANNOT SEE YOURORDER UNTIL YOU GET TO WINDOW TO PAY.IVE COMPLAINED TO THE BLACK MANAGER NUMEROUS TIMES,ONLY TO BE TOLD CORPORATE IS TAKING CARE OF IT.I BELIEVE THIS A SCAM TO CHEAT CUSTOMERS OUT OF MONEY PRICE WISE.ALL THE MONEY THIS STORE MAKES DAILEY YOU CANT SAY ITS NOT DONE PURPOSELY.THE MENUE LIGHT NEEDS TO BE ON AND LIT UP SO CUSTOMERS CAN SEE THE PRICE BEFORE GOING TO THE WINDOW .ILL TAKE THIS SCAM TO THE SOCIAL MEDIA IF NOT FIXED BY END OF NEXT WEEKEND.

Tim sharp
from Edgewood, KY
2 day old baked potatoes, nasty shriveled brown . Should be fresh every day. Nice when you get a fresh one.
Independence ,ky location.

Tim Howery
from Syracuse, NY
Today we visited the store on Wisner St Jackson, Michigan.
I have never seen any thing like it.
Employees yelling and arguing with each other, people with no direction or understanding, lines very long due to the employees not knowing what or how to do their duties. One did not know how to make coffee, another threatening to quit, and yet others yelling at others about their inefficiency. LOTS of yelling each other. NO management as they we also involved in the confusion. 15 -20 minutes wait and there was no one there. Total mis and no management as they were all yelling at each other and sharing the inefficiencies. I have NEVER seen anything like this anywhere. A district manager needs to stop in as a customer to see the utter ridiculous employee conduct. Never EVER seen anything like this. Never again at Wendy's.

Margaret Lewis
from Newark, NJ
I bought today at the Middletown, NJ location a number 7 Homestyle chicken sandwich. The chicken was all cartilage.

Paul
from Bedminster (Pluckemin), NJ
I found this and was able to complain it was 30 minutes in the drive through at this place
Wendy's
5422 Baum Blvd, Pittsburgh, PA 15232
(412) 687-3670
https://goo.gl/maps/fCWH5ioVsHm
It was only 3 cars in line!

David P. Markowski, Sr.
from Ashburn, VA
2 times within 3 days I went to Wendy's to order baked potatoes at 714 W. Nursery Rd., Linthicum, MD 21090 store. 1st time I was informed they would be ready in 30 minutes. 2nd time they didn't have any at the moment. What a terrible way to run a business. I won't be buying from Wendy's anymore and passing these incidents on to everyone I know. Wendy's needs to hire a better management crew to say the least.

Alice Gradney
from Newark, NJ
On November 26 2018 when I got a phone call from my phone. I told the other team members I needed someone to watch my spot. Cause I had to go get this phone call cause it was important. As I was going to the restroom I saw the general manager Kristy running to the restroom. So I ran to an when I got in the ladies restroom. I knew why she was running cause she was trying to hide someone. Which was one of the managers name jadlen. I saw him on the toilet seat trying to hide. But I had already seen him. So I just left the restroom an went back working thinking that she would of came behind me. But she didn't an yes that was a day that we had customers in the dining room. After I left they stay in the restroom for about 10 more minutes. So y'all tell me is this a place of business. Or a place for your personal affairs.

I went to the Wendy's on Park St in West Springfield at about 12:35 AM late night (technically Early Thursday morning.). The venue was supposed to be open until 1:00. I pulled up to the drive-up and waited for about 5 minutes until somebody came on the intercom. The male voice let me know that "they were closed early due to call outs and there were only two people on staff." I Left the restaurant and went to McDonalds.

Nicholas Simcix
from Piketon, OH
I have to say your store on east main in columbus Ohio Near Bexleyis by far worst. I work near so had to come. I wotk 3rd shift. I clearly tell them my order they purposly mess my food up and its not fresh ever. No receit.And when i called to complain. They act as if their all good. I will never be back you need to hire new managment who cares !! Seriously!!!

Marta ortiz
from Boston, MA
I went to Wendy's on Westfield Massachusetts on Saturday 12/8/18 about 6:30pm i ask for 4 for 4 they give me the sandwich all wrong i tell the girl in the window that my sandwich was wrong she tell the manager so the manager came to the window not to talk to me she came to talk me that she make my sandwich and they was all the way that i ask i tell her no they make wrong them she let me talking by myself left to the back and really tell someone !!that b.... got me mad ! That is so on professional and for no reason i ask the girl on the window what her name she said cayla i not the person that gives complaints about things but she cross the line

Doug legere
from Calgary (Southwest Calgary), AB
In Canada we have no penny so when paying cash we round up or down . When we pay with debit there is no need to round up or down but one of your stores is doing that. I have decided not to eat Wendy's any more because what they are going is wrong.

Connie Barnes
from Charlottesville, VA
The french fries served at restaurant 00001231 in Hopewell. VA are always cold. I have been to the Wendy's in Chester VA and they are not cold
I have spoken with people that go to the Hopewell restaurant and they also said their fries are always cold.

Yanna Bryant
from Washington D.C., DC
Location on Baxter Rd & princess Ann Rd is filthy and very slow service. My maple bacon chicken sandwich was supposed to be on a croissant but was on a hamburger bun.

Sandra McNeil
from Pompano Beach, FL
Today on Florida Turnpike at approximately 1 p.m. Okahumpka service plaza, I ordered a homestyle chicken sandwich and a medium size chocolate frosty. My husband and I, both in our 80's, were traveling from Atlanta, Georgia back to Deerfield Beach, Florida. We both took two bites of the sandwich and immediately felt burning because of the spicy sandwich. I brought it back and although they gave me what I ordered in the first place, the homestyle chicken sandwich, we both became sick on the long trip home. We both suffer from reflux and are on bland diets. The spicy parts stuck with us all the way home necessitating maalox and tums. I feel the servers should be more diligent when someone orders something and they give entirely a different order. Being in our 80's, we cannot ever eat anything spicy and this sandwich was beyond spicy. Thank you for listening. Sandra McNeil

Mike Pecoraro
from Canton (180), GA
I went through the Wendy's Drive-Thru on the evening of Dec. 9, 2018 to order the reintroduced Bacon Maple Chicken Sandwich. I actually ordered 2 different tastes of that sandwich to try them each out, 1 last night and 1 again for lunch today, after I was going to heat it up in the microwave for lunch today. I did take 2 small bites of the 1 I saved for today. Well, at lunchtime I heated the sandwich up for 40 seconds (way too many people are guilty for overheating food in the microwave, but that is a story for another day). Well, this was the sandwich that I took 2 small bites from last night. As I began to start to eat the sandwich, I noticed that there was this thin, white piece of paper in the entire sandwich. It looked like a food separator that was not removed by the cook or possibly the prep man. I probably ate a small piece of that paper last night and did not notice it, but today I did. Obviously, no one would be happy eating and seeing this. Thank-you, Mike Pecoraro. P.S. I have a picture of it in my cell phone but I need my assistant to upload the picture for me, so that has not yet been done.

Steve Veniard
from Jacksonville (Maxville), FL
My wife and I took our granddaughter to the Wendys in St. Augustine Beach for lunch on December 9. We should have been suspicious when no customers were eating inside at 12:30 pm. The manager and staff were rude to us while ordering and didn't seem to care. They told us the kids meal did not have strawberries and blueberries as a side even though it was listed on the menu. When I told the manager that they should remove it from the menu, he didn't answer me and gave me a disgusted look. We also asked for iced green tea, but again said that they didn't have any despite a sign that advertised it. My granddaughter's kids meal was horrible. The chicken nuggets and fries both tasted old and dried up. After that, my wife and granddaughter used the rest room, which they also said was dirty, smelly and disgusting. All of the tables and chairs inside the restaurant were very old and sparse. We were certainly happy to leave and will not return. It looked like they were on the verge of going out of business. I think they are in desperate need of a complete remodel and definitely new management, or maybe, better yet just close it down. Probably the worst Wendy's that I have eaten at !

Nancy Bates
from Dayton, OH
I visited your location on Broad Street in Fairborn, Ohio on December 9, 2018. I waited in the drive through line for 30 minutes, which is totally unacceptable. I watched several cars pull out of line from the long wait. The only reason I didn't leave is because I was ordering food for my whole family. I thought you would want to know about this, especially since business was lost.

Zandra Bustamante
from Siloam Springs, AR
I would NEVER go back to any Wendy's!!! Ordered a kids meal got it in my package with my other food. No toy then handed a toy and they forgot to give me my $2 key chain. Mind you that was drive thru and no receipt, walked in asked for a management asked for a full refund and she made me wait her name was Tia she sent someone else to ask me for my creditcard. Came back said it was done I asked for a receipt she said she needed to keep it. I told her I need a copy. She came back thru it on the counter and walked away!! Very Good service Wendy's!! Went to Taco Bell Awesome Service!!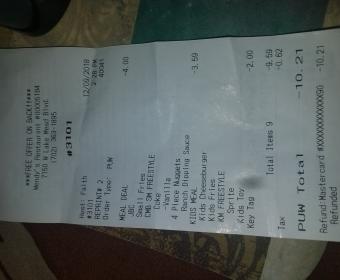 Charles Kaszycki
from San Mateo (Central San Mateo), CA
Love your chicken sandwiches but what is up with the French fries? They are always overcooked pieces of what looks like leftover cuttings & are usually inedible by the time I get to the end of the sandwich. I have eaten at your establishments for a long time & haven't had this problem in the past. Kinda wish you had a fish sandwich too. Thank You

Charissa treacy
from Orlando, FL
I was so looking forward to a frosty the other night and i had one dollar left and used it to get a chocolate frosty and it was horrible, it was foamy and not even cold.

Brent Cinnamon
from Louisville, KY
I took my family out to eat tonight at Wendy,s at 5101 Preston hwy.the date is 12/8/2018.the food was cold and nasty.i waited 20 before I got my food.my ticket number is 10065 and 10064.i was there at 6:24 pm.if any questions call 502 450 0876.

I went in and placed an order and when i was given my change the cashier handed my cash to me and just dropped my change so that i had to try and gather it up but when i counted it was short. Is this the way your company makes extra money,by ripping the customers off a few cents at a time or is it just a few certain customers that you conveniently steel from? This is not the first time this has happened to me, it has also happened to a few of my friends. I will tell everyone how you are.

Kimberley L. Penson
from Washington D.C., DC
Last night we visited store #18004736. The entire experience took approximately 45 minutes and each time we were given what we thought was what we ordered. After waiting some time, I requested to speak to a manager, but was told she left, after I seen her 5 minutes prior. Apparently, someone went to get her and she said everyone working was training and she apologized for the inconvenience. I don't chose fast food regularly, but I've always enjoyed Wendy's when I decide to eat it. Ordering and receiving what you've ordered, whether from inside to drive thru SHOULD NEVER TAKE 45 MINUTES TO EXECUTE! Thirty years ago, after graduating school in Miami, Wendy's was my first job. No matter where you work, you should take pride in the service you provide, thank God I'm only visiting Orlando and don't live here! Between the customer blowing their nose and spitting over the condiments table, to the horrible service-THIS EXPERIENCE WAS A NIGHTMARE!
Receipt # 10048

Para Bolton
from Winder, GA
I recently moved back to an area with two Wendy's close by. I like to have a frosty, sometimes more than one, almost every day. Sometimes my roommate picks them up for me.
Sometimes no one answers at drive thru...not at all...so I drive to the window where someone eventually shows up. My roommate said it takes forever if there is anyone in line ahead of him when he picks up for me.
Wendy's workers' service, behavior, responses, timliness, and clean procedures all leave me wondering when Wendy's fell apart and is Wendy's trying to go out of business???
I lived across the road from this Wendy's for 20 years before I moved away and returned. It is NOT THE SAME place. I remember when the workers were efficient, accurate with orders, and friendly.
According to reveiws it seems both Wendy's in my area are having problems.
I looked for the owner's name to report that their business is utterly falling apart. I could not find owner name.
Something is terribly amiss here. If you are not planning to shut down Wendy's I suggest you look into this situation.
From the outside it seems the employees are sabotaging Wendy's but warrants some investigation as this is the most off I have witnessed any restaurant in sixty years. OFF. Not operating as expected even to minimal standards.

Doug Strachan
from Indianapolis, IN
I was told a Regional Manager would contact me on a money issue. Never heard from. Paid $68.77 for a single meal. Gave more money by mistake. Never gave back. Manager at the restaurant couldn't speak English and had know idea what I was talking about. I have a least 30 friends and family who will never use Wendy's again. I will get more.

Sue McCarty
from King of Prussia (# 102), PA
I am a huge fan of Wendy's and stop at the Wendy's at 306 South Henderson Road in King of Prussia, PA, frequently as it's on my way to work. But as much of a fan that I am of the employees there and the great salads, the physical plant is just disgusting. I took at picture the other day (attached). I do not want to see this store plummet but honestly, I sincerely doubt it would pass any health inspections.
Hoping that this shop, and some of the others I've seen, gets cleaned up -- because I love a good Wendy's salad, burger, frosty!
Sincerely,
Sue McCarty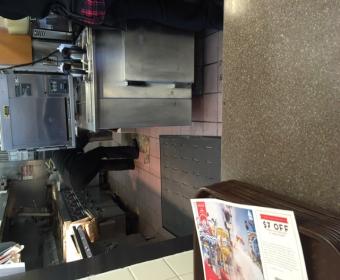 Ralph Nannola
from Raleigh, NC
The worst, and slowest service. I have been visiting the wendys on 40 in Raleigh since it been open, usually on Wednesday between 9:30-10:00pm.
The seem to care for one customers order at a time. The drive thru is the worst, it takes at least fifteen minutes to go through and receive the order., it takes at least ten minutes just to order. It seems to be getting worse, at times there is no fries. Someone needs to visit this store and fix the problem.

Went in Wendys n.Roosevelt KW. .Waited my turn to order , then while in process of doing so was interupted as the cashier began addressing a couple other cutomers who already received their purchases , but couldnt remember what they ordered . So I stepped back and refused to again attempt to order until I could be sure to do so uninterrupted as these other people were Still at the counter . I asked the cashier to get finished with them first . This whole episode seemed to Humor the entire staff , so I left without ever completing my puchase .

Waited in the drive thru for at least 5 min before the car in front of me moved through. Pulled up to order and sat there again for a few minutes before saying, "Hello", out loud. The girl came over the intercom and said she was processing an order. I waited a few more minutes and said this is ridiculous. She came back on and said, "Our system is down!". I said you need to come out and tell everyone and close your drive thru down! She said very nasty, "Someone already told you this!" I was never told this and never experienced such horrible service! What a waste of my time!!

Deb Gibbons
from Carlsbad, CA
Waited 14 minutes to order. 13 people in line inside & drive-thru wrapped around building. Employee was VERY rude! Told us they only had 3 people working! Condiments empty in lobby, again told they only had 3 people working. None of the 3 seemed to be in any rush at all!! I expect a call. (717) 521-7891 Visited Hanover, PA 17331 Eisenhower St. location.

fred kapigian
from Chicago, IL
went to Wendy's in Tulare, California tonight. very cold inside (we are seniors) asked the staff if they could increase the temperature. informed that it was corporate controlled. needless to say did not enjoy our meal because of frigid conditions. outside temperature 44 degrees. will not return.

There is no reason some one should be waiting in the drive through line for a half hour

Lorrie Huston
from Cedar Park, TX
This is the second time in 2 weeks I've ordered to go at 11:30pm drive thru. Only got 1/2 my order. I called asked for the manager. Told him I got half my order. He said sorry and hung up. I'm not happy with this response. He was very sweet unprofessional.
Thank you
Lorrie Huston

Katie Brill
from Atlanta, GA
On my lunch break today I went to Store #00003073 - 4525 State St. Saginaw, MI 48603.
I was very disappointed in the service, I went in to grab a quick bite to eat and to get a Mellow yellow ZERO. The line was long and moved extremely slow. There were about 7 people a head of me and it took me 20 minutes to get to the front to order. I understand that it was lunch time and will busier at peak hours, but waiting 20 minutes in line at a fast food restaurant is ridiculous. When I got my order I went to fill my pop with Mellow yellow ZERO and none of the diet worked on the machine. I was very disappointed. One of the main reasons I chose Wendy's is for the pop machine and it's variety.
I don't think I can trust Wendy's for a quick in and out lunch. Many people only have 1/2 hr lunch breaks and this waiting 20 minutes for your food will ruin it.

wendys 00004628 2801boyer st charolotte did not gige me fries told them next time their did not ofer to give me eny plus messed up order again did not give me honey mustard dip plus had to ask for my drink cup sent in info no replay called in said would get back to me no call back I guess thay just don't care guss what we all quit going their thay don't care

Julie Johson
from Killeen, TX
I am completely appalled by the srvc I received tonight. I sent my children to Wendy's to purchase us dinner and part of our order was completely wrong. My husband is allergic to onions and ended up in in the ER during one incident when onions were placed on his sandwich. I am pursuing a lawsuit against your establishment.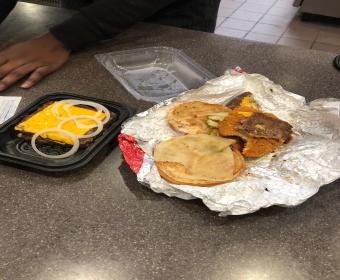 Wendy on highland rd and airline hwy in baton rouge, la is the worst, took 6 mins to take order at 8pm, the guy taking order seemed to have an attitude, and how can u be out of chicken nuggets. So I left and went to chick filet across the street. And I will post every where how this websites location is terrible.

Ronald
from Covington, GA
This was the only location I would come to, but now their food has tasted bad on my last three visits. My fries are tasting rubbery and getting cool too fast. My burger isn't staying warm either, plus my drink has been flat. The customer behind me wounded up with his food done before mine, and I didn't even order anything special. I think my food was done before his, but they left it sitting out too long for some reason. I could tell by the way it tasted. Perhaps they did it on purpose, after I complained about this location not having any rails or signs, allowing people to form a line. I felt like I may have accidentally butted in front of the line because of that, not knowing that person was in line.

Glenda Dent
from Newark, NJ
Wendy on Floyd Thompson should be shut down until they can get competent workers. The workers were so slow stating they were short staff but you could clearly see workers standing around in the back. This is the second complaint I have filed about the services. They need a whole new staff starting with the manger. She is extremely incompetent and is not a good leader for her staff. They see her being disrespectful and they follow her lead. I will never go there again.

Jerry west
from New Iberia, LA
It's great that you use gloves but went to the maumelle Arkansas location and manager had them on but messing with her hair really no need for gloves if you are going to do that

Susan Wright
from Richmond, VA
I really would give Wendys a Zero. Ate there today - 11/26/18 - My husband and myself. Stood in line for a good while - one person ringing up food.
No ice for drinks, plus after seating down the eating area was a mess, one lady almost fell with something slippery on the floor but lucky she caught herself, no forks out. Heard I customers saying remind me not to come here again. I told them the same thing. We ordered 2 Apple Pecans Salads with a drink, they use will give me 2 dressing, we got one. Not very happy at all - A waste of money.
Susan Wright

Courtney Turner
from Liverpool, NY
I ordered a crispy chicken from the value menu, and I literally got just a piece of chicken on a roll. No mayo, lettuce or anything. I also ordered baconator fries and they were undercooked and some were even completely white.

George Drobac
from Chicago, IL
I just went through the drive thru at the Wendy's located at 118Th and Avenue O. I ordered 2 large frosties. When I got to the window to pay the girl proceeded to hand me 1 frosty. I told her I had ordered 2 and asked could I get a holder. I told me I didn't have to ask like that and that I had cup holders in my car. I think this customer service is outrageous and action need to be taken. A rude employee should not be tolerated at all and she needs to be fired!!!!!

Bruce Koski
from Germantown, TN
Saturday 24 November 2018 Cordova TN 528pm store 00004891
customer # 1081
arrived at store- employee Nicholas was our problem--- very short curt poor customer service no greeting---asked for dbl c/burger combo and chili
NO CHILI I drove to Wendy's for this---oh well wife asked for 1/2 size harvest salad-- I don't think we have a half size---Go Look Returned ok one left paid14.84 waited for meals--- went for drinks---drink machine out of all selections I wanted---went to counter apprised Nicholas=== asked him if he was having a bad day as poor service YES I AM I then told him about drinks---I AM VERY BUSy HAVE NOT GOTTEN TO THE MACHINE filled my Dr Pepper at counter---- gave us our meals-- fries cold---Nicholas grabbed them and said I would have to wait ---I asked for Manager--short black man came to counter what is wrong explained the matter No response of sorry or anything else he said fries will be out in less than a minute== got our food and went to table wife found her salad with no walnuts--- and lettuce wilted... bit into burger my lettuce was wilted and soggy--yuck...come on wendy.s Freddy.s is next door maybe we should look past you next time--
POOR CUSTOMER SERVICE ALL AROUND---FROM NICHOLAS TO MANAGER ps MAYBE RETRAIN MANAGER
I have not even mentioned the cleanliness counter dirty-stained soda machine area filthy overall a 1 for being open zero for overall remaining categories
Thanks Bruce Koski 901-443-5734
Have feedback for Wendy's?
Thanks for your feedback!
Sorry. Please try again later!