Wendy's
Wendy's Complaints Continued... (Page 18)
1668+ reviews added so far. Upset? Call Wendy's corporate: 614-764-3100

Marge Kochevar
from Pueblo, CO
At approximately 5Pm on 1/4/2019 we went through the drive-thru at the Wendys on North Elizabeth in Pueblo, CO ordering a #1 and a #4. When we got home and I bit into the #1, the meat was RAW. I mean RAW, not pink. I needed to cook the meat before I could eat it. I really had a hard time then to even eat the sandwich. My husband's #4 was cold and had to be reheated.

Melinda Santana
from Staten Island, NY
Today at 9:12pm I went with my family to Wendy's on forest ave Staten Island ny
The first thing is the drive thru was empty I had a van full of my kids and there friends spent 40.37 on our dinner and everything was cold and burnt burgers I am a paying customer how in the world can I get cool French fries not hot. The drinks were flat coca colas I always visited this location I will never return again I wasted money and not satisfied.. on top of it the guy in the first window said no receipt paper..

Susan Murphy
from Estero, FL
On 12/30/2018 my husband and I went to Wendy's for a bite to eat. This Wendys is located at 8661 Commons Way, Estero, Florida...#00008565. This was the filthiest Wendys we've ever been in. Your feet literally stuck to the floor and we could not find ONE clean table in the place. We had to ask someone to clean off a table so we could sit down. And that's exactly what they did......cleaned off one table and went back to doing nothing behind the counter. Unbelievable. We will never again go inside or order at the drive through. I can only imagine how filthy the kitchen area must be. The board of health should be notified.....in fact I think I'll do that now.
Thank you.
Susan Murphy

Sharon Renee Smith
from Atlanta, GA
Very rule and I will not return the one in HOMEWOOD AND I WANT MY MONEY BACK

Nykki Dunson
from Columbus, OH
I want to complain about the WORST experience I have had at a Wendy's. I wish i could give a number of the restaurant and ticket number but I was not given a receipt or even asked if I wanted one. I was at the Lazelle Wendy's on High Street between 9- 9:30pm. I went to the drive thru and the young man talking to me at the speaker was rude. I was giving my order and he said, " Is that all" with attitude when I was waiting because the screen was wrong. Them when I repeated my order he said, "I know... is that all?" Very rude. As I pulled around to the drive thru the lady in front of me was trying to get their attention through the window and she had to flag them down to get her change and her food. When I pulled up there were 3 young guys laughing and goofing off. He barely told me my total and then took my card. The whole transaction was done with his back to me and then he shoved my food out the window and closed the window and turned around. He and the other employees were just laughing and goofing around. He didn't ask if I wanted or needed a receipt. If there was a manager in there then he should be ashamed of himself. It looked like a teenage party and they seemed annoyed that they had to stop talking and serve me. The food was ok. My baconater fries were a little greasy and messy and under salted but I was most upset with how they were acting. I have 2 teenagers myself and I don't mind some humor but this was just rude, ridiculous and whoever owns that Wendy's was wasting their money by paying those employees on this night. Very upset and not wanting to return to that Wendy's ever again.

Wayne Smith wbsmith@smithandcocpas.com
from Cleveland, OH
SLOW service. Total lack of customer service. Staff goofing around and laughing.
Visited Wendy's in Saginaw Township, MI at State and Hemmeter.
My last visit to a Wendy's.
1/3/19 at 6:30pm

Terry koenig
from North Versailles, PA
First of all let me say, that I do like Wendy's burgers and taco salads. I'm afraid I have a major complaint. I went to the North Versailles pa. Store and they were very busy. I waited in line at the drive thru for at least 20 minutes, got my order and started on my way. I go to the drive thru because I have multiple sclerosis and it's simetimes hard to walk in. I have issues with items not being in my order for quite sometime,so I decided to look in the bags. I did not receive the jr. bacon cheeseburger I ordered. I had to go into the store since the line was still so long. There was one gentleman in front of me,he placed his order and moved aside. I waited for the cashier to wait on me, she was bagging some orders and ignored me. Now the line in the store was 5 people deep. I get my sandwich and head on my way. I drove 5 mile to Wendy's , to find that when I get home the fries aren't there and the side salad I ordered looked like it was 4 days old. I threw it in the garbage. So, there was dinner. I have to tell you this is a recurring mistake at this Wendy's. I am less than 1 mile away from Burger King, but I I choose to go to Wendy's. I don't know if that's gonna happen anymore. I have gone back from them correct a problem at 5 times in the last 4 months. I'm ready to give up. I feel you should issue me a gift card for problems. I'm very frustrated and I hate wasting money and time. I honestly don't know what happened to that store, it used to be one that didn't make many mistakes. I don't know if you're management staff needs retrained or what. By the way, another lady was there with the same issue as myself,but she drove the whole way home and had to come back. This is not acceptable. There's just too many other restaurants that I could choose from.
Thank you for your time.

Wendy's openedva bew Oberlin Ohio location. I went on the first day, waited in line 30 minutes and expected. When I got home my order wasn't even half right. I was missing a large fry and a baconator. The chicken sandwich had no lettuce and the bun was hard.
I was not fighting that crowd over this.
The next day my son went on his lunch, he ordered bacon cheese fries, yet no bacon was on it. His large fry was a small fry. He waited in line about twenty minutes p, and completely expected.
Then two nights ago my husband and I went, I ordered four cheeseburgers, a large fry, spicy chicken and value chicken. The lines were much shorter after opening weekend. Not one burger had cheese. Yet I paid for cheeseburgers. My husband went inside and was informed they were out of cheese..yet took orders and charged for something they didn't even have. Not to mention when I paid, it was more like a high school party happening inside. My change included a roll of pennies for my change.
I decided to order a pop when I went to the window to pay, no large cups, understandable considering how busy they had been. Insaud medium was fine, I tried to pay the change with the rolled pennies but was looked st like I was the crazy one, yet that was my change at window one, the manager then yelled just give them the pop, give them the pop!
When we noticed the cheeseburgers had no cheese, my husband brought them in and the same manager was quite rude. I doe ting the sandwiches while knowing she had no cheese in the first place. I love Wendy's, but the experience we've had at your newest location has been awful.
I still can't get over selling and charging fir cheeseburgers when you know you are out of cheese and then inspect the burgers looking for cheese you never out on.
I am definitely a very unhappy customer and would like to speak to someone.
Thank you,
Vanessa
Sassyness819@yahoo.com

Ben Gibson
from Los Angeles, CA
I have always considered Wendy's a top 5 fast food choice but after what I received tonight that is now over with, I ordered a meal that included a med drink (Sprite) and when I took a drink I almost threw up! Which made me remember the last time I ordered from this location the same thing happened and I just forgot about it but this tells me that this Wendy's has a serious problem. The water they use in their soft drinks taste like stagnant filth and it's now obvious that this is the norm at this location! I could not drink it in fact I would not even give it away to even a dog! At first I was thinking maybe they just couldn't do anything about it but you know there 4 other fast food places surrounding this Wendy's and none have a problem anything close to this.You ever heard of the term "Bush League"? Its a term used for something that's supposed to be professional but is really not. Since this has happened to me both times I have ordered from there six months apart it has to be an accepted procedure at this Bush League Wendy's. I for one can not believe that Wendy's corporate would allow this even if franchised. I will go as far as to say I challenge any one of you to drink a soft drink from this restaurant and I doubt you could get the whole thing down. Bottom line is this: Both times I went there I was given a disgusting dirty tasting drink with my meal and this cannot be the first complaint about this but since the location in question is right before the fwy entrance most people probably just forget by time they get home but you know there are people that do live in Las Vegas and this is unacceptable and has cause me to go from thinking Wendy's is a top five fast food place to making sure I never again give this company any more of my hard earned money because If I have to earn my money then you have to earn your money from me and this Wendy's clearly is not interested in anything but delivering a cheap disgusting product that they know will only be noticed when the customer is on the freeway and its not worth it to turn back and complain. Do you guys even have a standard set for your restaurants? I know you probably don't care that you lost a loyal customer but I am sure this particular Wendy's has cost you more then just this one. Thank you for allowing me to complain about this
Ben Gibson

Kristie
from Chattanooga, TN
Went to Wendy's in Soddy Daisy tn. Paid for two doubles and 2 Chili's. Got a single and a double with the Chili's. Found it after getting home. Called back, spoke to manager Heather, who claims she cannot make up the double where single was received unless I come back now. The whole point if a drive thru is for convenience and it burns me up when you get all the way home and find they jacked it up..and their answer is drive back here and I will make it up!! Why go thru a drive thru if you have to drive back??? I did fell in the sacks for two burgers and two Chili's, but I didn't take it apart I. The drive thru to check it. What a crock!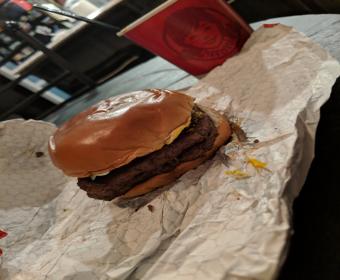 Steve Kady
from Highlands Ranch, CO
Would accept coupons .Manage said there was on the door. That's fine except I was in the drive through. Refused to take the electronic coupon and was extremely rude about it.
Went to another store on South Havana in Aurora and didnt even have to show the coupon. Extremely friendly person at the window
Every airport is greedy, and expensive. However, if you are not going to honor a company promotion you should post it where everyone can see it.
I disagree with the fact that they refuse to honor a promotion. You advertise it, I go because I saw it advertised and the get refused is an awfully good way to lose business. That store has lost my business.
I also know that nothing will happen to that rude manager nor will anything change. This is a case of false advertising which is against the law.
It is sad that your managers have such terrible customer relations.

natasha walker
from Lynchburg, OH
Went through the drive thru and it was super slow. Took about five minutes for someone to take my money. Then a girl that was working there had headphones in and kept messing with them and the volume while she had her gloves on handling the food. Not sanitary at all.

Don Brown
from Anaheim, CA
the rest room was so bad I'm never ever going back to Wendy's. It was discussing!

Inez James
from Bloomington, IN
Wendys on west 3rd street in bloomington Ind. The manager on dec 30th 2018 was very rude to the customers and her employees. I came to drive thru and had 5 coupons for free jr frostys for my kids. So I put in my order and she says you have to make a purchase. I said the tickets say no purchase necessary. The manager says "I dont know what kind of tickets you have but just pull to the window". So I did and when she opens the window an employee says I need help at the counter doing something and the manager looks at him and says "does it look like I can" wow then tells the guy at the window with her to hand me my frostys there free. I handed the guy my cards and the manager says tell her to keep them there free and walks off. I said heres my cards she doesnt have to be so rude. He demanded I take the cards so I did and told the guy to find another job where hes not being yelled out and left.


christopher lange
from Southgate, MI
store location #00002550 at 12:47am order #3318 on 12-30-2018 me and my wife went through the drive threw and placed an order for a Jr bacon cheese burger small fry and a baconator. I understand that it was 15 min before close but the sub-par service or the lack of service I guess you could say. the food was beyond cold and I don't mean it had a chill, I mean we had to go home and put it in the microwave just to melt the cheese. that was not all that was wrong my burger not only was cold but was missing the tomato, lettuce and onion. so if I had to guess they had everything put up cleaned up and put away and are food was put together with the leftover burger that was scheduled to be put in the chili today. this is not my style to complain and as a matter of fact this is the first complaint I have ever filed in my life lol but I got in some shit from my pregnant women who had me with my back to the wall for a good hr. over that I cant say that I got the lady's name at the window but the name on the receipt says host - Sandra
thank you for your time
Christopher Lange
contact info cell 1-734-341-1477 or respond to email if that is
better for you that is if I need to be contacted

Keith B Harper disabled veteran
from Dalton, GA
I'm disabled dessert Storm veteran last night Wendy's Rocky face exit Dalton GA around 12 am or after only Window was open no cars what so ever was in line because of my condition I don't drive I walked from motel and walked up to Window to order some food and was told could not serve me I didn't understand I felt discriminated against because have been served before on foot

Mark JamesLay
from Washington D.C., DC
I just visited your Edgewater ,MD location and it was very disappointing. T.ere were several employees behind the counter and what appeared to be a manager . The language alone coming from behind the counter was very offensive,The F word was flying constantly and could clearly be heard in the dining room. I ate my meal subjected to this vulgar language and was very disappointed with the manager for not take control of her employees.I have always thought Wendy's was a family oriented chain.I would not take my family to this particular store and subject my children to this inappropriate language. After I ate my meal I went back to the counter to order a frosty and there was no one working the register.The manager finally came to the front and was asking who was working the register and got no answer. This situation need to be rectified immediately.
very disappointed Customer
Mark Lay

EDWARD SMITH
from East Windsor, NJ
THE ONLY WENDYS THAT I THOUGHT WAS NOT THE CLEANEST WAS OFF OF RT 78 WEST EXIT BETHLEHEM PA I GO THERE A LOT YOUR FOOD IS GREAT THE 4 FOR 4 FANTASTIC ! I LOVE WENDY'S . ON OUR WAY TO NO CAROLINA THE WENDY'S IN ASHLAND VA GAVE SENIOR DISCOUNT FOR COFFEE FREE ! THANK YOU

Johnny McDaniel
from Walden, NY
Went to the wendys in Vails gate ny around 6:30 last night. I drove past the building the first time due to the fact their light/sign wasn't illuminated. Once I got into the drive thru the menu wasn't lite either. I ordered and pulled forward to the window, while waiting on my order I watched an employee refilling the cup top dispenser drop several lids on the ground and pick them up and stock them right into the dispenser. I told the employee at the window what I saw but she didn't address the problem. Once I checked my order I discovered I was missing one of my three items. I frequent wendys quite often but this store's approach to cleanliness is disconcerting, please fix them!

Rhonda Lowman
from Bedminster, NJ
I have attempted to visit the Wendy's location on Hwy 30 near Tanger mall 3 times in the past two weeks and every time I have visited they have been out of sweet tea. This is very disappointing. Today was a horrible experience. I was left holding at the speaker in the pouring rain with no cover for about 3 minutes before someone came to rake my order when they then informed me that they were out of seeet tea again. I canceled my order and went elsewhere. This location is horrible.

Matthew Dykie
from Ivyland, PA
I complained twice with no reply. I got a double with cheese at Pottstown Pa on high street drive thru. The burgers were burnt black and crunchy. I
would say worst burger ever. Wendy's was good when it first moved to this area. It has declined over the years. I'm probably done with wendy's

Misty vandenburgh
from Los Angeles, CA
Wendy's on N Pima Rd is by far one of the worst Wendy's I've ever been to. First we arrive and there are two employees standing by the front door smoking. As someone who's allergic this is an issue. Next we get to the front and the older Hispanic lady was rude couldn't even say hello. We ordered a jr cheeseburger deluxe and a Dave's double. The meat was cold, the cheese was cold, unmelted. The bread was stale. I couldn't even eat by burger it was so bad. By far the worst Wendy's I've been too. This store needs training on customer Service and quality control.

Daejah Vazquez
from Bedminster, NJ
Sat in the drive thru from 11:45 up till 12:56 and niena (store manager) with an attitude said we're closed told them we sat back at the speaker for 10 mins waiting to order so pulled up cause she was talking to another customer took her order and everything then we pull up to the window after this car pulls off she gives us a rude look and we State hey we sat back there in line since 15 till midnight and she said well we turned everything off my husband says we've been here since 15 till she says welp what you want to order then. You can only get burgers. As it's still mins before midnight. With a complete attitude, for no reason. We asked for her name and she even then gives us an attitude then shuts the door on us.

Renate Marcoux
from Burlington, VT
Had lunch today at the number # 8354 afore mentioned location, it was not busy, there were very few patrons in the restaurant . The young man who toke our order was very accommodating and polite .While my husband waited for the order, I was walking around endlessly from table to table searching for a clean table but there were none, with one exception with high chairs by the side of the drive up windows. I saw a woman approaching the building spitting and tossing her cigarette, stepping on it just before entering. the establishment. That just ruined my appetite. After we ate , I made use of the Ladies room, and to my disgust there was no toilet paper, fecal matter on the wall, dirt and dirty paper matter accumulated at the back of the toilet, and no soap or paper towels available. At this point I thought someone needs to be held responsible and know about such neglect and conditions..I conveyed my disgust to the young man behind the counter, when I realized and saw the same woman spitting and loitering , that she was an employee who could have been cleaning tables as it was not busy at all , instead she was texting and working her I phone. I think inspectors would equally be disgusted, even close the restaurant down until it meets higher sanitation standards. Management needs to step up and be held responsible, that the place is clean , acceptable and presentable. It will be a long time before I set foot in at this location..

Debbie Yates
from Bedminster (Pluckemin), NJ
I went through the drive thru and ordered a grilled asiago chicken sandwich and a medium fry, they had me pull forward, I waited and watched, there were others that ordered and told to pull forward, after 30 minutes and 2 of the others going inside to inquire about their order I moved my car and went inside and after another 15 minutes and still no food I asked for my money back and the manger told me that would be best I have never had such horrible service, I will NEVER return to Wendy's and the restaurant located on Nichol Ave in Anderson Indiana is the worst!

The general manager an the manager in ladies restroom together. An I did a complaint an they did nothing. It's the Wendy's by the mall in Alexandria. An the general manager name is Kristy she's white. An the manager name was jadlen he was a black young man. An I was the one who saw them. An we had people in the dining room. I think that this is unprofessional.

Gary Pickard
from Toledo (Southwyck), OH
Very Slow drive thru, took 20 minutes to get thru, got home and had the wrong order, called the manager and she was very rude and her excuse was they are busy. Slow service is a constant at this particular restaurant. I have left the line on many occasions in the past and have seen many other customers do the same. This happened at approximately 5:45, 12-22-18 and it was the Wendy's at 6525 Airport Highway, Holland, OH 43528. This Wendy's has been poorly managed for quit some time. Somebody should really take a serious look at this establishment.
Thank you
Gary Pickard
(419) 380-0089

Heather Bays
from Akron, OH
Mean rude people refused my reject because they charged me for a large on chili's and gave us a small. I call she said she put in bag. No I had to go back and she was the most rude mean thing ever I have NEVER felt descriminated in my life I was today!!! I will never ever go to that crappy location again. My child and husband walked in to get that receipt and they were mean!!!!! Threw the receipt in his hand. They hung up in my face 4 times.... I want this store reported!!!! Worse experience at a fast food restaurant and I am a bartender. 42 years old and I know customer care and that's NOt it!!!! There's way more!!! By the time we got our small chili's and my hard potatoes I told them plain burger with cheese for my kid but no they put crap on it and we have up bc they didn't care. We went to McDonald's. I swear something needs to be done I am furious!!!!!!

Elizabeth Kelly
from Conway, SC
My Husband stopped on our way home to night after my pressure to get salty fries. And he did not want to stop but under pressure from me he did.. When we got home we had a a bag with large fries with tones of salt and. Packets of salt inside.. And the next bag had fries with salt and they were ok. We live in a area that is growing fast and Big. I always stopped with my son after school to get food at Wendy's before tutoring. We fell in love with your salty fries !! What is going on ? I saved the bag my husband and my self received tonight I would love to show what we received I need your help. What are they thinking to server the people in this area or others this poor quality food. Please respond. As. Soon as possible . I don't want to put this on FB in my area I want you to have a chance to fix this problem . Thank you in advance for your help!

Summer Hoffpauir Prejean
from New Iberia, LA
The Wendy's in Crowley Louisiana is horrible! I knew that, but it has been a while since we been there. Tonight we decided to try it again and nope! The employees are still rude and the food is still old and nasty! My daughter just threw her food away. What a waste of money. Please address that store. I used to love Wendy's, but they have ruined that..yuck!

Matt Fisher
from Findlay, OH
We were in the drive thru in Findlay Ohio Trenton Ave Store and were not impressed how our order was processed and the food was absolutely disgusting. Our hamburgers were not warm, the french fries were not worthy of eating. The oil they were fried in tasted old. From the time we placed our order and till we left took 10 to 15 minutes. Our total we spent was $21 which included a chicken caesar salad. The chicken was not cut very well and the cherry tomatoes were not fresh.

Shari Stephens
from Bedminster, NJ
A crispy chicken BLT had shredded cheese instead of a sliced cheese

Galen Milam
from Akron, OH
12-19-18. 9:55 pm. Store location #3294. No one else in dining room to be served five people behind counter and I've now been waiting over 17 minutes on my food. Drive thru getting great service but I dont matter.
McDonald's from here on out.
Piss poor service

ROBERT ROVE
from Toledo (Southwyck), OH
Ordered a double and got a single
ordered 3 fries got 2
never got any dipping sauce with chicken nugget order

james floyd
from Everett, WA
Order from DoorDash and constantly the food is done wrong. Last 3 times it was right 2 times, so I know they see it. Again today, they made it wrong. I get number 2 or 3. Flat out ask.. plain, just meat and cheese. Side ketchup packets. Thank you
That is how it reads. So, if right before, it shows me they do it on purpose. This isn't the only time. I probably have had it done wrong 8 times. So, I stopped going to Wendy's. Been going to Wendy's for over 20 years. I decided to give another chance, and that was the last 3 orders. 2 times right, today NOPE. Called the restaurant was tired of this. Spoke to a female. Asked to talk to the owner, he was not in. Asked a number I can call. Said she won't give out personal number, asked for an email, she said she won't give out personal email. (any reason he doesn't have a business email??????????) Then asked her name and she hung up. I'm seeing why a lot of stores have a 2.5/5 rating. This store is no exception, see it on YELP.com now. I'm also going to put in my experience with a 1 out of 5, and giving 1 because I can't put zero. Others need to know your employees like to do what they want with no ramifications. I have allergies, some their allergies are so bad they can have anaphylactic shock. Since this store doesn't seem to care, I'll let you know from being in the medical profession. It's an allergy so bad it closes up your throat. Yes, it kills people and is a medical emergency. Something or someone needs to actually do something. If it was me, I'd close the restaurant until it got it's act together. I don't know why you would give a franchise to someone getting a 2.5 out of 5 review. That is your name on the building and most don't know about franchise ownership, the associate it with Wendy's corporate.

Samantha agner
from Clarksville, TN
I went into Wendy's restaurant #00005612 ,12/19/18 to order some food to go for me and my coworkers. I was the very first person there at 10 o'clock. I ordered my two sandwiches for the first order because, i had two separate ones. Me and my coworkers were under the impression that that store sold breakfast, so i had and orange juice i wanted to order , as well as breakfast potatoes om the next order. The cashier, her name was Marietta instead of telling me it wasn't a breakfast store at first , instead told me to go to Walmart to get my orange juice because they didn't have it. So i was appalled and continued onto my next order , another sandwich and my potatoes, where she then got an attitude because i didn't understand it wasn't a breakfast store and told me they don't serve breakfast.I continued to tell her well we looked online and had seen that they did so that's why we assumed, and her response was that maybe the store across town by the movie theater did. I understand stand its not a breakfast store now but the lady was very rude! I happen to work customer service and was very upset with how she treated me because not once have i acted the way she did with me to a customer.

jeff homfelt
from Winter Haven, FL
visited the local wendy's in winter haven florida on state road 17....was amazed when i tried the chile they served.....completely watered down with very little meat....was a tomato soup at best....if this is a reflection of cost cutting or "watering down" your recipe and indicative of all your outlets, your company is in big trouble, as the quality of that chili
is so completely and obviously been doctored i cant imagine any of your regular customers not noticing.
i am one voice....Im sure of many on this matter.
A well run company would handle this matter quickly!
jeff homfelt

Kenya Sims
from Atlanta, GA
Me and My daughter worked for Wendy's Paul Huff Cleveland Tn. While working there an emergency occurred where i had to go back to Ga. November 17, 2018 Manager Jay Jay said that she would mail our checks off the following Tuesday the 20th. We waited until the 28th nothing came in the mail. So I called Stephanie whom said that they were never mailed out. So she said she would mail them out that day. We checked the mail December the 16th still no checks in the mail. So I complained to corporate they told me the were going to check on it. I said it should not take a month and a half to receive checks something not right. When she checked she said it had not been cashed. My thing is why should a 16 year old or adult have to pay for something someone did on purpose. Something is not right . So really any Manager if they want can throw your checks in the river then make it where you purposely have to pay $45 to stop the check they purposely lost to get resent out.That does not make sense. Then we homeless on top of it. Oh a person can think they can do people any kind of way. The Heavens always watching. It will come back on the ones taking from children also people harming children also people. Sincerely Kenya Sims.

Nancy Nunnally
from Marshfield, WI
Ordered the baconator combos today and they were so bad we couldn't eat them. Same with the fries. They had to have been leftovers from lunch. Very disappointed. It was 5:00 and they were definitely not fresh. This was our newly reopened store in Monroe and we were looking forward to it but it's worse than ever!

Nicki Massingill
from Washington D.C., DC
Went to the place in carrboro nc. Bought a meal 6.76 gave the girl 10.01. Received back 3.48 in change. Handed back the change to the girl told her she needed to learn to count. She told me I didn't need to be rude. I would have stated that same comment to my daughters. I left as I hear her discussion with someone inside. I will not return.

Ralph Shumaker
from Mansfield, OH
We had two orders of French Fries ice cold did not eat then. Told then and we did not get anything done about it. The staff was only young kids that could care less and did nothing. Put then in the trash and walk out. Will not be going back any time soon. We now know why we were the only ones in there. Thank You Ralph Shumaker

Lucinda Giverdon
from Newark, NJ
Staff was not Professional was cussing swearing in front of the customers while children were in the restaurant and this was the Norwich Connecticut location

Benice hart
from Sanford, NC
Several times the sprite is pinkish.sodas taste foul. After 2nd try I just asked for a coke cola,,, maybe bacteria??? December 15, 2018 The fries were not fresh nor hot as advertised. The person on monitor talked about previous customer, we could hear that plainly. I will inform the health department about the soda problem. Fries went to birds. Fix the problems at the Sanford, Horner Blvd , NC establishmet.

jackie
from Ormond Beach, FL
Store location 2891 W. 120th Street Hawthorne,Ca. Date 12/15/2018 Time 12:40am I joined the drive thru line at this time. There was four or five cars in front of me, I waited patiently. I made it to the intercom waiting no one ever came on the intercom so I am thinking drive to the window so I can place my order the car in front of me is receiving their order. The Wendy's employee made eye contact with me and left the window. I drive forward waiting she just disappeared for about ten minutes. The she will not come to the window but uses hand gestures, taking her hand and moving it about her neck saying we are closed. This location closes at 1:00 am, So I wasted 30 minutes or longer for this treatment and I was in line way before closing time. Wendy's needs to come up with a better system for the drive thru to inform the public that they are closing. I know for sure I was in line way before closing.

Barry Durst
from Arbutus (Relay), MD
I I'm leaving the Cockeysville Wendy's in Maryland after a 25-minute wait in the Drive-Thru line and I am leaving with no food. There was a line of about 8 cars behind me, every one of them left before I did. The drive-thru "employee" , if you can even call her that, said she would be right back and never came back. When I drove around to the window she was standing at the window.
I have never written a complaint about any company, any service, or any product. Unfortunately this is the only Wendy's in my area and I can wholeheartedly say I will no longer be a customer there. What really bothers me is I was on my way home after a very long day. I pulled into the McDonald's parking lot and thought I am going to go to Wendy's instead. The Wendy's is 4 miles away in the opposite direction of my home. So that is 8 miles of driving early to be gifted with the worst experience in customer service I have ever had. I know it is fast food but no matter the establishment there is always a expected level of courteousness and code of conduct.
Every customer that left Wendy's is now in the McDonald's drive-thru line myself included. It looked like a caravan of traffic. You can thank your absolute pathetic excuse for an employee for probably $60 to $100 in Revenue loss and who knows how much more your company will lose tonight and in the future.
There are three employees at the moment so I know it's not a lack of staff being the issue.
We had a Wendy's in Hunt Valley that closed its doors a few years ago and I feel that if this Behavior continues that one will be gone as well. I have no idea how you might fix the problems there hopefully it will be addressed. Thank you for taking the time in reading I know it is never enjoyable to get bad news or horrendous complaints your matter the capacity of employment at Wendy's.

Jody Ellis
from Ashburn, VA
me and my girlfriend ate at Wendy's in Logan, WV on December 14, 2018 almost all the way done eating my burger I look and the bottom piece of meat was extremely undercooked. I do not eat undercooked meat, nor do I eat raw meat. This hamburger patty was almost if not raw. It made me sick just from looking at it and you all better hope it doesn't affect my health or they're will be a problem.

Theresa Oshaughnessy
from Woburn, MA
I am a regular customer of Wendy's. It is my only fast food go to. I go there at least 5 or 6 times a week, for myself and for lunch which I bring to a frinend in the nursing home. The past two times I went through the drive through the cookies I ordered for her were literally burnt! Today the cookies was hard as a rock and burnt on one side. The salad was old and not fresh. I go on Friday's early as I have to be at the nursing home by 11:30. I go to the Wendy's in West Springfield, I believe it is Park St. not Riverdale road. I believe the food I got was left over from yesterday and feel it is a real shame that they give drive through customers left overs. I guess my only recourse is to check my food before I drive away.....Thank you for your time.
Theresa O'Shaughnessy
Have feedback for Wendy's?
Thanks for your feedback!
Sorry. Please try again later!