Wendy's
Wendy's Complaints Continued... (Page 14)
1668+ reviews added so far. Upset? Call Wendy's corporate: 614-764-3100

CRYSTAL ESTERAS
from Star, ID
My food was so old that the meat in the chicken tenders was dried up! The FF we're cold but worse they were dark brown, from using old grease. I live to far away to be capable of returning them.
In addition, my salad was half iceberg lettuce. I would never have ordered it had I known that you did this. It appeared to be hidden in the center.
Never again will I spend my money at your establishment!
Wrong, it's wrong to do this to your customers!

This Wendy's at U.S. 278 has the most attitude towards the customers and employees...The general manager was going at with an employee in front of customers and employees...The employees are already rude but this store is very short staffed and they need to be retrained on service...

Howard Migneault
from Bedminster, NJ
Service is very bad when ordering employees are not friendly or polite.Normally I find Wendy's restaurants employees very outgoing and polite. This location in New Smyrna Beach Florida is not managed very well. I trust this will help you make the nesaserary changes that will bring this location up to the high standards that I find at other locations. Thank hope this of interest to you.

Today the average wait time for an order was 8 minutes--I timed it. Terrible service. Finally my wife & I walked out, along with 3 other couples of about 20 people waiting in line. We saw 2 of them later at McDonalds. The New Smyrna Beach store's service has always been slow but this was a new low!

Jackqulyn WHite
from Jacksonville, FL
ordered a baked potato with SHREDDED cheese and sour cream, I opened the bag I had liquid cheese, I asked the cashier to exchange it, she had an attitude and gave me the smallest potato ever, with shredded cheese and no napkin, butter salt or anything, its sad and I wish I would have checked the bag again, I would have just asked for my money back.

ANTHONY
from New York, NY
Dear Management,
On 3/31/19 around 3:00PM, I was at the Wendy's located at 2-30 Garfield Avenue, Jersey City, NJ (201) 433-3950 and I have to say that this is the worst managed facility that I have ever dined in. The place was literally a zoo. The tables and floors were dirty, there were no napkins in the dispensers, and there was only one kid working the register, and he was the worst that I have ever seen. The kid was rude and making mistakes on every order. He was also talking to his friends on the phone and flirting with the females in the store while taking orders, and all this was being done while the manager just looked on doing absolutely nothing. It took 15 minutes just to get our orders and when we received them they were the wrong items. Someone from Wendy's Corporation really needs to go to this facility undercover, then mandate training to ALL staff members, including management because this place is a disgrace to the franchise. There also needs to be diversity at this location because the only staff that I saw were African Americans. This is the same situation at the nearby post office, and the service there is also horrific. This is the reason why diversity is crucial at all companies or else staff gets complacent and the quality of service goes down.
Sincerely,
Anthony "Very Dissatisfied Customer"

I came to store #00007930 located at 1753 Macland Rd, Marietta, GA 30064, phone#678-290-5579. The person's name on the receipt if Arthur. First off, he was very rude and was rushing me, when there weren't anyone else inside the restaurant eating and no one was behind me in the drive thru. I think he wanted to get back outside, as everyone was standing outside the restaurant smoking when I pulled up. Once I finally got my order placed, he was rude at the counter when he took my money, then at drive thru window 2, the girl who handed me my phone was very rude, rushing, almost pushing the bags into my car. She didn't ask if I needed any napkins or sauce, as I assumed they would be in the bags, but when I got home, 5 minutes later, there wasn't any sauce for the nuggets, no spoons for the chili, no crackers or chili sauce, and all of the food was cold. I can understand if they were busy, but there wasn't anyone at the restaurant. also, the bags and the inside of the restaurant through the drive thru window smelled like cigarette smoke. I ordered 2 of the Bacon Double stack $5 biggie bags, large size, two large chilis and a fish sandwich. As I stated, all of the food was cold, the fish sandwich was cold and hard, and inedible. I have never had an experience like this at any wendys, and because of this I will not be back, and I will be sure to let my friends and family know as well.

Leslie Skaggs
from Little Rock, AR
I live in Las Cruces NM. Tonight I stopped in the Wendy's on Walton Dr. .
My wife and I are moving across town and wanted a quick meal.
She order a chicken sandwich combo and I ordered a ceasar salad and a large chili. When I noticed that she was charging me almost 5 dollars I asked her why. She told me they no longer serve the ceasar salad. I asked her why is it still on the menu... She looked confused. I said nevermind just give me the chili. After tasting the chili I realized it was only Luke warm at best. I took it back to the girl working the counter and explained my problem. Still looking confused she took it back. Waiting for about 5 minutes I returned to the counter and and asked about the chili. She poured me another cup witch was just as Luke warm as the first. I asked to speak to the manager. The girl came up and I explained my problem. By this time my wife was done eating and ready to go. The manager explained the chili was still warming up in the warmer. Being in the food service industry for 45 years I told her it she be at temp before it even goes in the warmer. She disagreed and told me that's the way they do it.
Needless to say I asked for my money back. And told her I don't think the health department would agree with her method of heating up food in the food warmer.... I won't be back for awhile

Erica Baker
from Akron, OH
Ordered 2 number 1s and ordered sweet tea, Diet Coke and no tomatoes.
Of course we get our food and we get unsweetened teas for both drinks, tomatoes on both sandwiches and a rude answer when we asked to correct it. I'm done with this Wendy's as it is always poor customer service. From a prior Wendy's employee, you can do better

Mr. Johnson
from Rockville Centre, NY
Terrible place here! (W. Hempstead NY.)
The WENDY'S franchise, in my opinion, for decades has always been one of the top notch fast food companies. However, it seems to be a lack of proper training and understanding, when it comes to customer service these days at some of their locations in New York.
The Wendys, West Hempstead NY location frequently keeps dirty tables and floors, at any hr of the evening when you want to dine in. Going through the drive thru, always takes 3xs as long then any other fast food drive thru, with a line of cars that stretches out to the roadway. Then when you finally receive your food, usually, grease, mayo or ketchup is all over the wrappings and the bag. This location has been sliding down hill for over 8yrs now. Some of the managers they have rotated through, like the one they have there at nights now, dont appear to have things well under control as if they are overwhelmed with the position, being inexperienced and/or under trained.
When a manager comes out of the back from doing whatever it is she was doing, yelling and talking recklessly to customers because they came inside to order their food, rather then to stay sitting on a long line and continue waiting, there is a serious problem with this person. After giving her a piece of my mind for acting like an azz, with lots of restraint, I was forced to spend my money down the road with one of Wendys competitors, where they know how to treat customers, even though the food isnt at the same level of quality.
I dont recommend anyone spending their hard earned cash at this location, its a huge disappointment, often. Not fit for family, or dating, and if you do go to the drive thru, be ready to burn, a good 25mins, along with a good bit of fuel hoping this time they get the order correct. Its just NOT worth the hassle, trust me!.

Ledarius C. Summers
from Jasper, TN
I was in the Wendys located on Third StreetChattanooga TN 37404 about 35 minutes ago , drive-thru was rapped around the building so after
waiting in line 12 minutes I decided to go in and from there I was greeted the young lady took my order in a timely manner and I got my food
II only live 5 minutes away from the business I got home and sorry to say but I wouldn't have given my food to the dog next door. I ordered a
number ten combo large with an additional 10 piece nugget. Neither the fries nor nuggets were fresh it is late now and I could't turn back around to take the food back and get fresh food. I am very disappointed. I hope in that in the future I could get fresh food they should give customers food that they would eat fresh !! not old food I would like to talk to the store manager to see if it is possible to get my order replaced with fresh food
please tell the manager to give me a call at 423 827-2535
thanks for liistening to my concern

e maset
from Mitchell, ON
the food was way below average very poor felt like I was cheated

erick j bautista
from Dallas, TX
i tried to order twice!!! the clerk was no where to be found so i waited ten minutes. i approached the register again after those ten minutes and yet no one tried to help me! michael i believe is to be the guy who was supposed to be helping me out turned out to be outside making "a deal" with someone in a car. this happened on the wendys at sring valley and north tollway!
will never be back here1 i work a few blocks away and will usually coomein here for a meal or tow a week! that is no more!!
store number is 5215

Leslie Davis
from Atlanta, GA
My son and I went to the Wendy's in Destin Florida, where we live. The drive thru line was full, but we had about 30 minutes before we had to be out of there. We were in line behind 4 cars. We sat, inching, for 20 minutes and there was still 1 car in front of us that hadn't even ordered yet. We couldn't take the chance so we had to leave. It was not unusually crowded, which is why we opted for the drive-thru. This seems to be a pattern for this store. We have a very heavy tourist season, but they are just as bad during the off season. I don't know if it's staff or management, or both, but we rarely go because of the service. We then went to the Wendy's in Niceville, Florida and sat in the drive-thru with 3 cars ahead of us. It was amazing, we only sat for about 5 minutes! This store is only 30 minutes away, and also deals with a heavy flow of tourists. Whatever the problem is, it desperately needs to be addressed.

I went in the wendys in Farmington Utah for lunch the boy behind the register walk away with his back to me ignoring me for 5 minutes so I walked out of wendys I have never seen customer service this bad I work for the city of farmington and would the like the convenience of getting a quick burger for lunch but after this experience I will not be going to this location again thanks

The cashier didn't even know what we ordered. The chili was cold. It took 7 minutes in the Sri e thru to get our food. You company is heading down hill. Your customer service at the restaurants sucks.

Hello, my name is Jason Cowsert and 2 nights ago I went through the drive thru at the Orlando Florida SeaWorld location, I believe store number 5219. When I got home we realized the burger in the combo we received was incorrect. So I called the number on the receipt, explained what happened, and was told to come back the next evening and I'd get 50% off my order. She only asked for my first name and never told me hers.
So last night I went back and was told to pull up to the window. I pulled up and the girl running the window was yelling and cussing at another employee with the window wide open, I explained what had happened and as I expected no one had any idea what I was talking about. A female employee called the manager at the time who looked like he was maybe 22 and I told him what happened, he then disappeared for roughly 10 minutes. As did everyone else. Finally when yet another employee came to the window I explained it again to her, she then turned around and started talking in Spanish to another girl and the manager. They then said there was nothing they could do. I then asked for the corporate office number and was told to look it up myself. I asked for the store number to which I was told they didn't have one. I asked for a receipt since all the information is on it to which I was told no. They once again had a three way conversation in Spanish so I couldn't understand them. I ended up at the window for over 20 minutes blocking the people behind me.
Absolutely nothing was done, the employees were extremely rude and dismissive, they didn't want to help me at all, and then tried pretending they had zero information on how I could contact anyone else. The wouldn't give me any reference names, I just know the manager was male Hispanic with a curly fo hawk styled haircut and gauges in his earlobes. The drive thru girl was a larger African American who just kept talking about her break. And two younger Hispanic girls one with reddish hair.
I love Wendy's but will definitely never go there again to that location. I'll also be informing all of my coworkers at Disney and Universal to avoid that location. They have a history of rudeness as well as unclean dining space. I'm not sure anyone will even read this, but I'll copy and paste until someone responds.
Thank you.

ekkatuth Gordon
from Marshfield, WI
I went to the Wendy's on 501 in Conway South Carolina all I had is $100 bill they asked me to go get changed and come back and place my order because they didn't have change all I was trying to do is feed my family and I'm quite upset and offended

Dolores M. Hrankaj
from Broken Arrow, OK
my daughter and I stopped at the Wendy's at 1905 E 21st,. st Tulsa OK 74114. it's by her house I have never gotten such a messed up order. EVER. I ordered a Crispy chicken, single Dave's with no pickles 2 small chocolate frostys and water.
the beverages were o k but I got a large fry (or some kind of fry) and a breaded chicken that was too spicy for me. talk about upset. my daughter wouldn't eat. I usually don't eat fries but I did this one and I had to chop off all the breading and it was still to hot.
I got the right ticket but not the right food. aren't your people trained to check it out? the car in front of me had a problem and got her money back because she refused the drink.
I should have taken the hint and che4cked mine but there were a bunch of cars in back of me.
another Wendy's had problems with their Frosty machine. why do you think people like Wendy's? THE FROSTIES.
please get your act together.

I stopped in to grab dinner to go. But when I got home, my order had been messed up. It wasn't convenient to drive all the way back, so I just ate what they gave me.
I ordered a double bacon s'awesome burger without a bun. However, somehow they forgot:
The s'awesome sauce, the pickle, the bacon, and the onion.
Essentially, I received a double cheeseburger. Not too happy to say the least.

Racheal albrigth
from Decatur, AL
Took for ever to get my food when i did it was cold and nasty. no one seem to know what was going on. the manager was drunk all you could smell was the alcohol her eyes was red . and she was moving slow the other co workers looked like they knew more then her. this place is a big joke please do not contact me back im going to call the news or something to see what i can do about this.

My family and I are regular customers at the Wendy's located in Rockingham, NC. For the last few months we have observed a continuous decline in the quality of service at this location particularly during the late afternoon or evening hours of operation. Within the last two weeks this location has been out of: large Chili Cups, ice for soft drinks, ingredients for various items on the menu, catsup, Frostys, soft drink cups, and napkins. The quality of service is poor. The manager on duty last evening allowed the service line to backup. The one server was tremendously slow taking orders. the ice machine was out of order and the Chocolate Frosty machine was down. Several customers left before being served and at least two customers cancelled their orders after learning that ice was unavailable. Many people visit this location after evening worship services on Sunday evening and find the store understaffed to handle the volume of business. It is obvious to me that the manager on duty is not up to the job. This would be a great location to send an undercover boss to personally observe the problems at this location.

Michele Harrison
from Ironton, OH
My family & I tryed to go out for dinner in your Ironton, Ohio Wendy's tonight. This place was so dirty and so nasty PLUS we witnessed a drug deal in the parking lot, plus they are letting young teenagers hang out there going in and out of the building and they are screaming & cussing each other inside the restaurant, throwing furniture around, going out the door throwing the door back far enough to brake standing around and hanging outside. My family & I will NEVER in a million years eat at this location ever again, I will drive a million miles away before eating there ever again. Thee only thing good about this place was the people who worked there. Something needs to be done about this place someone needs to take control of this place fast before it loses all of its customers! Does no one have family values anymore?

Virginia Murphy
from Pittsburgh, PA
2 days in a row we went through the same Wendy's and when we got home a small chili was not in our order. Sore # 8221 time 9:03 p.m. on 3/28/19 this store also as a problem with the ink for printing out their receipts I can't see all the information so the time off by a few min.

West 10th street Indianapolis Wednesday March 27 waited 3 to 4 minutes at the counter for an employee to inform me that the restaurant was unable to serve food account of computer had crashed. Previous time I visited this restaurant, early fall of 2018l, upon giving my order, was informed drink machine was broken. no one knew how to repair it. I do not anticipate another visit to this particular restaurant.

On Sunday, 3/24/19 I drove 700 miles from Cincinnati, OH to Brooklyn, NY to visit family, with three young children. My youngest child who is 3 years old will only eat chicken nuggets, so I decided to drive-thru Wendy's (505 Utica Ave.). I pulled up to the Drive-Thru at 7:45PM (there were 2 cars ahead of me). My order was placed at approximately 8:25PM. I pulled up to the cashier's window at approximately 8:30PM. At this time I paid over $24 for my order and they gave me all of my drinks and a salad. I was still waiting for nuggets and 3 other meals. At 9:05PM they handed me the remainder of my order and I asked what was going on with the long wait and the gentleman at the window said they were short-handed. The only reason I did not leave is because it was getting late and at this point I had 3 starving kids in the car and did not want to make a scene. This was supposed to be fast-food. This was the worst service I've experienced in my 49 years of life. It is unacceptable and the manager should be reprimanded for allowing customers to wait over one hour for "Fast-food". I will continue to reporting this incident via phone and writing other entities about how I was treated. The cashier did not apologize for the wait or offer to give my money back! I am shocked and appalled by the lack of empathy and customer service from Wendy's.


mary rush
from Rancho Cordova, CA
I ordered a meal with bacon (I think #4) with baked potato and iced tea. I received a regular hamburger, the iced tea had zero ice, and I did not get cutlery. I also did not receive the receipt so I don't know if I was charged for the more expensive #4 or not. I almost never go to Wendy's even though I really like the food. This is why. This meal was very disappointing.

Today, March 27, 2019, my husband and I stopped at Wendy's at 9401 Annapolis Road, Lanham, MD. The telephone number is 301-731-5681. Each time I tried to call, the line was busy. I have never tasted food from Wendy's this bad. All the food tastes like it was cooked in "old" oil that needs to be changed. I never want to visit this Wendy's again. We spent $8.48, which is not much, but I feel like I threw the money away. I will keep my receipt to remind me not to come back. I cannot say thank you for your service because I would be lying. There is a number, 20164 on the receipt. I do not know if that is the order number. Something needs to be done to address the way the food is cooked at this Wendys. We also did not dine in, but the receipt has "DINE IN" on it. I am very disappointed. E. Pratt

James Nelson
from North Tonawanda, NY
This was my worst experience yet with the Wendy's at 811 Youngs St. Tonawanda NY. I like Wendy's restaurants, but this one must have bad owners and bad managers. I say this because I have gone to this location for at least 30 years and 90% of the time something goes wrong. Not always crucial, but not accurate. This leads me to believe that this problem is bad owners that do not train the managers properly. This most recent experience I had was Saturday 3/23/2019 at 9:37pm(I have the receipt). I came inside to order because the drive thru does not work out for multiple orders as I had my family with me (two children under 6 years of age, Grandma, my wife and myself). I ordered to go, while the family waited in the van. While other people came in and ordered after me they all left before me (they were also very dissatisfied, checking there own orders because of multiple mistakes). We finally received our order around 10:15pm. After apologizing and assuring me the order was correct for the very long wait, it was not correct (missing sandwich food and cold sub par quality). We were already home at this time. This always seems to happen after 7pm and this has been going on for too many YEARS.

I was at the Franklin Mass Wendy's receiving a order and an employee throw a full cup of cherry coke on me through the service window and then procced to laugh in my face.

Went through the drive thru and when I got home order wasn't complete. Missing from my taco salad was the tortilla chips. Wendy's #8221
Date 3/27 time 1:00 p.m.

penny bowman
from Columbus, GA
all wendys have been good except the one on veterans dr in columbus, GA. They make wendy's look like a ghetto restaurent!!! you wait 10 minutes in the drive thru and they act like you've interrupted them, they walk around at p/u window with frowns, don't even say come back or good-by. one night after waiting at drive up i went inside just to be greeted by attitude, ordered a salad and after 10 min later she came back stating she had to make the salad when they are ordered, when i got home to eat it the chili was ice cold. if this was 1st wendy i went to, i would never go to any of them and tell friends not to either. however this is only bad one. you need to fire everyone at this one and get staff that cares

Keith Angel
from Akron, OH
I ordered dinner at one of your locations 623 E. Market Street Akron Ohio 44304 and in the middle of my chili I found what appears to be a yellow jellowy-like substance, photo attached. It made me vomit into my serving tray.
I went to the counter and asked for the Manager. He came over and I asked him what this in their chili?
He said that he did not know what this was, took it and threw it in the trash.
He did not offer to reimburse me or anything.
He just walked away. That is entirely unprofessional. There was a substance that no one knew its origin in a chili served to the public.
I have a receipt attached also for your review and confirmation that I purchased this at one of your locations.
I left the store, very upset. I have been going to Wendy's for over thirty years but I doubt if I ever go there again.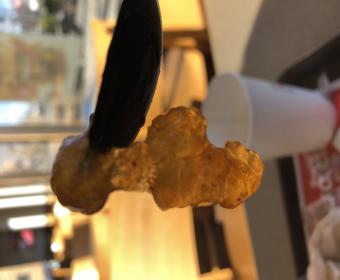 Kimberly Webster
from Cleveland, OH
Got disgusting old chicken sandwich, ordered bbq cheeseburger meal and got plain cheeseburger, paid for frosty and then got told it wasnt working

Lisa pentangelo
from New York, NY
I ordered a bacon stir from Wendy's on DoorDash without a bun it costs me 11 dollars to get and this is what a got. A dry burger with two small drops of mayo and a half piece of bacon. 11 dollars for this you should be ashamed of yourself. I will never eat Wendy's again in fact I'm posting this on all my social media.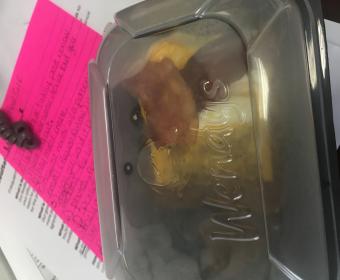 Donna Lee McTaggart
from Dayton, OH
We stopped at the Wendy's on 2948 Miamisburg Centerville Rd in Dayton Ohio a little before 4:00 pm on 3/24/19. There were several people in front of us and they eventually left the restaurant because they were not being waited on or their orders were wrong. Our order was rung up incorrectly after we waited at least 10 minutes to be waited on. It took us over 30 minutes to get our meal--and it still wasn't correct. The pop machine was not working, there were no straws or ketchup available, and the tables and the room were dirty and not picked up. When we left there were at least 10 cars at the drive-through. I will never stop at this location again. The help was rude and indifferent.

sondra pearson
from Montgomery, AL
we went to the store on zelda rd in montgomery,al on march 22,2019. we ordered our food from drive thru, the order was 2 singles with cheese and a 6pc chicken tender. once at the window we were told to pull up they had to cook our 6pc chicken tenders which took at least 20mins. when we made it home to eat we live about 5mins from wendy's, we sat down to eat the singles were cold the brread was thick crumbly and stale. beef tasted old, i feel like we wasted 8.00. can someone please refund my money or send some certificates or even coupons, please. thank you in advance for your help.

DEBRA Belles
from Philadelphia, PA
Really poor customer service. Co-workers talking loudly about other customers. Fooling around with each other while we were waiting for our food. Drive thru window was wide open for bugs, birds etc to come in( we were to proceed to the 2nd window to pay and get food. Salad was tasting rotten and when I asked for a receipt, was told it was broken..horrible experience

Joanne Heinsler
from Avon, NY
I have had a issue since back in December 2018 until now. I called and told the manager about it at that time and they said something would be sent out to me by mail. Then I thought about it again in March, because nothing had arrived so I called a manager again for them to tell me something will be sent in the mail. I still never got this issue resolved and I also sent a email like this once and got no feedback. What I had ordered at the time was the 4 dollar deal. 2 of those one for me and one for my daughter. I dont know if they were real busy that day seeing it was in December and the hustle/bustle of things. Just trying to see if things could be taken care of. My group had a get together there and that all went fine. We dined in. Just have seen no results for this situation.

Denise Witkowski
from Gonzales, LA
I love Wendy's food; my favorite "go to" for fast food. And, in general - Customer Service is better than most fast food restaurants in the area. Lent means the cod fish sandwich; which is the best of fast food fish sandwiches. Herein lies the problem, three (3) times in the past ten (10) days, at three (3) different locations; two (2) cities: New Orleans and Baton Rouge, I've placed an order for the fish sandwich and have requested and paid for cheese. Three (3) times - YES; ALL THREE (3) TIMES - there is no cheese on my sandwich!!!! If this is Wendy's cost saving tactic, it may work well in the short run, although it's a good way to lose customers for good.

Employee Ariyonna at Store #1001 refuses to wait on or serve law enforcement in uniform
Manager let employee of duty brush his hair at counter
Manager let Ariyonna yell at her talk back to her in front of us Manager would not acknowledge customers Terrible
I am at lunch trying to eat I couldn't even place order
We are Law Enforcement we have no sit down lunch we eat on the run
Another person had to take our order
She threw my food on the counter and gave me crappy French fries
She should not be in customer service
She needs to get past her bias attitude if she wants to work at Wendy's
I am sure Dave God Bless Him would never have tolerated this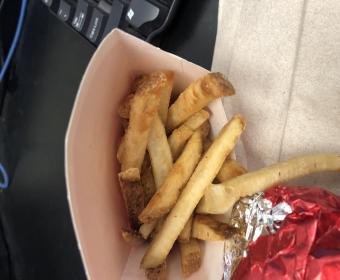 mike muraco
from Clovis, NM
Not so much a complaint as just observations.Nice try Wendy's. We went last night. First we order Give the young girl a 50 for a 17.28 meal ( overpriced if you ask me) she had to get a manager to open the cash drawer Red flag. I asked why she had to do that , she said anything over $40.00 she was required to. So She hands me my change I had it figured already. Sure enough she gave me $38.72. I walked back and gave her the extra dollar. Kinda long but funny. So we were told it would be 4.5 mins to cook (nice of them) to tell us. Ok no big deal. Our # was 2. next we find out the register dosen't automatically advance the #'s and there were 2 # 2's and or food was given opened and returned by the only other people in the place. Wait there's more: Ok no big deal but another 4.5 mins to cook. So the girl that can't subtract comes out with our food sure enough it's all wrong. I show her my ticket and she looks at me like I'm stupid. So another 4.5 mins to cook our food. Now the soda machine. Not only is it a touch screen that everyone has to touch to get there product even those that have just touched there junk and not washed their hands. But I go through all 4 screens several times to find out the 2 I want are not available at this time? Root bear and Power aid. All and all it was amusing. The food was good we got to visit for a while so hats off to you Wendy's, one other thing they just remodeled and the place looks good and clean. However they are going to need some kind of window coverings on the 10 foot tall windows this is Nm people, and the sun was already making it really uncomfortable and it's only March! Food was as expected people were nice. Clovis nm store 88101

Barbara
from Newport News, VA
The service was slow the food was cold the drank co was not properly regulated for the first time I was not a satisfied customer if you would like you can call me at7572749529
I have eaten at this location before and the food was great and so was the service

BONNIE SCHRAMM
from Alfred, ME
I don't have a complaint.
After buying 2 Frosties at the drive up in Biddeford Maine Wendy's, I moved ahead so as to not block the window, and wrestled my Frosties into a bag I'd asked for. It took about a minute, and then I secured the bag inside my carry-bag making sure they would't fall off my car seat. When I got done fooling around with all that, I looked up and was startled to see a slender little girl - an employee - standing patiently in the rain beside my car WITH MY CREDIT CARD AND RECEIPT, which I was about to drive away without. I don't know her name, but the transaction was done on 3/22/19 at 4:37 PM. The host, was Kimberly, and the cashier was Cassidy, but I don't know who the girl was who happens to be the hero of my day. I would so like to see her commended. Losing a credit card is a HUGE pain!
Why don't you have a place to feedback praise for over the top good work? Sincerely, Bonnie Schramm.

Miranda Leadbetter
from Lancaster, OH
We just ordered from there and everything was wrong. None of the sandwiches were the way we ordered. They didn't give us a kids toy and they didn't give me my baked potato. We waited for ever on the food. There was only one girl working the whole store while the manager was in the bathroom!?! I will never go back!

Stephanie
from Bedminster, NJ
I was in the drive through line for 20 minutes today at 2:00pm 3/22/2019. Nothing was offered for an explaination. When I asked the manager said the cars in front had large orders of chicken nuggets. I know you can cook more than one order at a time and they do not take longer than 5 minutes!! I asked why they did not park the cars a head if me manager said, they were there first we we're waiting in product. Worst service in the afternoon I have ever seen. This is NOT the Old Fashioned Hamburger joint I use to work at!!

Donald W Dompierre
from New Bedford, MA
The first time my wife and I had a cod fish sandwich we had them all through Kent and enjoyed them. That was your restaurant in Hyannis. We have seen a much small and heavily crusted cod fish sandwich. Why have you cheapen this product. Respectfully Submitted,Donald Dompierre
Have feedback for Wendy's?
Thanks for your feedback!
Sorry. Please try again later!