Wendy's
Wendy's Complaints Continued... (Page 17)
1668+ reviews added so far. Upset? Call Wendy's corporate: 614-764-3100

I came through the drive thru after I got off work, Saturday night to get me something after a long day of work, but wasn't greeted for four minutes, then all that was said was ha you, yes that is spelled the way it was said. Had to wait an additional 10 mins in line after ordering. When I got to the window to pay I was told they out "do I want something else it gotta cook". I said I would wait, but in all honesty, it could have already been done if they just put it down when I ordered it, I did set in line 10 minutes before I arrived at the window. I just thought this was every rude and unprofessional.

I was at wendys today 04/05/14 getting lunch for myself and co-workers and I experiencied the worst customer service ever. I was also in the drive thu forever as well. The associate waiting on me was rude, cut me off, and was very ghetto. I will never go to wendys ever again if this issue is not corrected, and I will let all my friends and associates know this as well.

Today, April fifth, at 1245, I entered the Windsor Locks CT Wendy's. There was several people in line as well as people coming back to the cashier to resolve a problem with an orders they placed. I waited several minutes before the server asked me to place my order. When I asked for an order of chili , I was advised that someone" forgot" to make chili and they were in process of making some chili.
Quite frankly, I was upset for only one reason. Employees should have posted something stating that there was no chili and not have people wait for something that wasn't there. I then left Wendy's and went to another fast food service

I went to your store #00001222 in Delaware on Friday night to purchase dinner for my family. When I walked into the store the first thing I noticed was the fact that all the employees, with the exception of the manager, were sitting out in the eating area just talking, laughing, and carrying on. One of them got up and went behind the counter to take my order. After placing my order she handed me a bag and 3 drinks and said I can't give you a carrier because we are out. We then discovered that I didn't have my whole order. She told another person to make my sandwiches, I am guessing that was the person in charge of that particular sandwich, but it was taking forever. I waited and waited and waited. The man who was behind me left the store because no one ever took his order. The girl that waited on me had clocked out and was leaving when the manager came out with a till in her hand and said not to leave because they had to count the till. Anyway, I was waiting and waiting and someone said, "they are making your order" and I waited and waited even longer. Finally the manager says to me, "I am making your sandwiches" and I told her that I understood that.
The point to this is that the employees were not where they were supposed to be, I had to wait an extremely long time for my food so that when I finally got my sandwiches the other stuff was cold. I didn't get a carrier so when I was carrying the stuff to my car my soda was all down the front of my shirt.
I work in customer service and this was truly the most unprofessional experience that I have had. We love Wendy's food and it is a shame that I will probably never go back. At least not to that one. That manager leaves alot to be desired. She maybe needs more training or something.
And because I work in Customer service, I feel as though I should be compensated in some way for this.
This was a terrible experience and I would hope that you will find a way to make it right.

I came in about 10:30pm and an older lady was helping serve some girl who almost left without her drink. I looked at three different ladies and they pretended not to see me. I stood right in front of the older lady who looked like she was going to take my order and then went and did something else. Instead of saying anything I just turned around and left. Why give business if they don't want it? No one stopped me, they didn't care to work. This location doesn't close till 1 so it wasn't as if I got there as they were closing.

This evening I, close to 10 p.m., I went through the drive thru at Wendys on Park St. in West Springfield, MA 01089. I ordered 2-4 piece nuggets, 1 double stack (due to allergy), a small fry with NO SALT, and 4 frostys. Besides having to wait over ten minutes for food, I expected it to be fresh. I was asked to pull up to wait for my food. The initial time I was brought the wrong order, the boy went inside, came back out and asked me again what I was waiting for, I insisted it was a burger with no onions, 2 nuggets and a fry with no salt. 5 more minutes after that another boy brought me my food.
When I went home to eat with my husband, I was given fries with no salt, but they were greasy and soggy, extremely soggy. The double stack beef patties were the color red to the naked eye, and it was loaded with onions. I tried to call this particular restaurant as I refuse to drive back after having wasted gas idling my car for 15 min. No one answered the phone and I am forced to use this as a resource to complain. If this is how the food is going to be every time I go, I will not eat there again. It shouldn't matter what time of day I go there, if you are open to 1 a.m., food at 10 p.m. should be fresh and cooked to it's proper temperature, and food made the way a customer asks, thank you for wasting my time, gas and money.

Wendy's on 58 highway Chattanooga Tennessee I went in to eat as soon I walked in the door to give my order 1St the bathroom door was opened with a disgusting smell. Of a bathroom where someone used the rest room The smellwas obvious of a stinch of a smell of a nasty rest room a man in front of me complained to the employee of Wendy' she smiled and just said sir may I take your order he addresssed the smell again he told her no thanks to Wendy's I was next in line I addressed your employeeof the terrible smell told her was ashame to come order for lunch I also told her where her manager was she said the manager was not in but to come back.. I will not return to this Wenfy's until they can do better cleaning or better yet have a new building A Secret Shopper would give this Wendy's a Failing score!

I wanted a side caesar salad with chicken. I understand that the chicken is $2.50 extra. Which would make a small Caesar salad around $7. Which is super expensive but I would be willing to pay for it. So why is it that I got it before but I can't get it now? He didn't even try to do it. Either offer a regular Caesar salad or just PUT THE CHICKEN ON! This was the Wendy's in San Jose off of aborn.

Young people loitering in front of the Order line. There was no line at all but for those people standing there making it uneasy for customers. These batch of friends had more friends come and go in and out of the service area coming from outside. No uniform changing, no hand washing, phone calls made in srevice and food prep area, unkempt people loitering.. They come and go as they please. It was disgusting I started filming it on my phone. They would go out into their cars and dig around into their dirty cars/vans and just come back in and go straight into the food prep/service area and just walk around touching surfaces.
I wanted to puke after noticing this as I have finished off food I bought. The building looked so dingy. No wonder it does not look like a success story, this particular store.

I would just like to inform you of an illness I had after eating at Wendy's at the Iowa 80 Truckstop on Friday March 21. I stopped and got a single combo hamburger and fries. I thought that the hamburger tasted stale-it was not hot and just tasted old. I also had fries with ketchup and a Diet Coke. Within two hours of eating, I had projectile vomiting and diarrhea, along with profuse sweating and chills. This persisted through the night. The next morning I felt dramatically better. I had felt completely fine before I ate. I just want to make you aware in case others were affected, or this store has had other complaints.

I was at Wendy's today, 3-20-14. I arrived at 12:04 pm. I went in side to order. There were 2 people in front of me that had not ordered and 3 that were waiting on their food. My ticket was time stamped at 12:17:21pm. I waited another 15 minutes for my food. This is entirely too long for anyone to have to wait for their lunch. There was only one person taking orders. There were several other employees there, but no one seemed to be in any hurry to serve food. I usually eat at this Wendy's once a week and they have always been slow, but it is getting worse. I'm surprised that this business has not lost customers because of this problem, as I will be taking my business else where, in order to be served in a timely manner. There is absolutely no excuse for this type of slow service in this restaurant or any other. Thank you for your time.

Well this manager at north attleboro Wendy's always has a bad attitude with customers everytime I'm there. Tonight was the night I've had it with her. The cashier didn't suggest a small chili so I asked him if I can get my free chili so he have me a coupon for the free small chili. I then asked if I could use it now and he said yes. He didn't know what to do so he asked the manager (that I hate and won't rest until she's fired) over for help. She then told me I couldn't use it unless I bought something with it. I didn't hear her the first time so I said, "what" and she then gave me attitude and said after, "do you get it now?!?" So I bought a small fry for $1.07 and I have her a $10 bill. Everything was fine until she have me 95 cents in nickels when I clearly saw quarters and dimes in the cash register. Please respond to this or I'm going public.

I ordered a cabada burger with fries and drink I made it loud and clear of what I wanted but when I got home I had a burger with purple lettuce on it swiss cheese and pickles that's not what I ordered I've been calling my local wendys where I got it from no one picks up the phone.
Disclaimer: This complaint was submitted by Bernice Jone on 03/19/2014 at IP address 172.56.11.19 using our wendys complaint form. This opinions contained in this wendys customer review titled, "wrong meal provided" do not reflect the opinions of this website.

I went to the wedys store #01100109. at 2133 e livingston ave columbus ohio 43209. at 12:03pm. I had 3 orders to go. I ordered 3 asian chicken salads and the girl rang me up as 1asian and 2 apple salads. So when I heard that they were wrong I asked that they correct my order.(Also they charged us for dine in when we were taking it to go. My co worker ordered a # 2 and his burger was raw.) Then I also asked if i could have the money back for the difference in the price.
The girl working the front asked the manager to help her. Then the manager said I dont know its only a few cents.(they also kept my recipets) If I gave people a nasty attiude like that I would not have my job for long. My office goes to that location every week. It was not my fault that it was rang in wrong and it was busy. I did not like the attiude that the manager was giving me. I told her to never mind and my Dr. would not get his money back. Then I left.

My family and I dined at the Wendy's on San Jose Blvd in Jacksonville, Florida on Sunday, March 16, 2014. I am not one to complain about anything, I usually just deal with it. But, this particular experience has made me not want to go back. We ordered two combo meals (double w/cheese and a spicy chicken) plus 2 chicken nugget kids meals. This cost 23.58. Now, for what I paid for, I would expect to get some decent service…but, no. We waited for nearly 20 minutes as they skipped over us continuously. When my husband went to ask someone about our food, they said they forgot because they threw away our ticket.
Upon receiving the food, my burger only had a piece of lettuce and some mayo..nothing else. It was supposed to come with lettuce, tomato, onion, pickle, mayo and ketchup. Then, we noticed the kids meals had no toys. Again, my husband asked if he could could get two toys and the employee told him they were out without even looking. The cashier went to the back to look and came back with a handful. I just think that Wendy's should know the type of service that customers are getting so that maybe they can fix the problem.

As i was getting my salt and pepper to put in my to go bag, i felt one of the managers staring at me. Then as we were leaving, she walk us to the door. I didn't think much of it but as we were outside getting in the car, she appeared to be taking picture with her phone of us getting into the car. Possibly my license plates. I really don't know why she was doing that. But that kinda made me curious. Kinda felt like when i was younger and was shopping in store and having someone follow me around, like i stole something.
Again there was no confrontation. I just felt very uncomfortable. I bought my food, i waited for it. I didn't complain about the time it took to get it. I was not upset. I was just out with my son to shop and get some food Before i came there i had just told him that Wendy's has the best burgers. There was something there that did not set me right and i don't know if i could go back there.

it seems that wendy's nation-wide has decided to screw ALL the customers by not providing any hot food outside of the lunch and dinner hours. they will go so far as to tell you their fryer has problems to insure no hot food will be served. apparently they do a real big dinner so they can save the extra cold burgers for the rest of the night. you won't be around very long with all the stories of rude management and workers in general EVERYWHERE! when nobody cares to make it right, you will all be looking for jobs, hopefully NOT in the restaurant industry. you have and will continue to lose the masses because of this. some things cannot be forgiven and wendy's practices of intentionally pissing off the customers is probably the biggest one you could have chosen. RIP wendy's. you no longer have the ability to get any more of my hard earned dough. it was only good while Dave was still alive. you really should dump whoever took over …and make it quick if it isn't already too late.

I am writing this letter to your corporation hoping that there will be some change in the wendy's located on ft.smallwood road in Pasadena, md 21122. My daughter whom is 17 years old started working at your restaurantabout a month ago. i must say that her experience at you company was herrific..
The manager by the name of MAY made her work there unberable. She tould my daughter she was stupied when she did things wrong and constant yelling instead of taking the time out to explain to her the procedures. My daughter would come home in tears. I am a manager at a retail business. I find this unexcetable..
I work with young teenagers and would never talk to them in this manner NEVER.We are having issues all over the world with bullying this to me is a bully. I want to address this to you so that you can take care of this manner. I don't want this to happen to another employee the end result may not come out so well. I will be sending this letter to the better business beaur

My husband and I went to Wendy's in Dearborn a couple of weeks ago to purchase fishe sandwiches. We saw the advertisments on television and in the magazine. The sandwiches in the advertisments looked good, however when we received our sandwiches from the restaurant they were flat, fish was small and flat. I will never order this sandwich again.

38 degrees outside this Jan. 19, 2013 around 8:30 pm in Dayton, Tennessee. Went into Wendy's and ordered and the inside temperature was colder than the outside temp at this location. We asked the girl (Katherine,or Katlynn not sure of her name) if she could turn some heat on and she told us that they have no control over the temperature in their store. I asked what happens when it gets even colder outside and how they turn up some heat. Her response was she didn't know and guessed that they would have to call someone in to change it.
It left us and other customers wondering how this could be possible. Does Wendy's have a central system somewhere that monitors the temps in individual stores and turns the heat on when it thinks it's cold enough in this store compared to another store in the general area of the State?? If so, what idiot came up with this "money saving" idea??
This is not the way to keep customers coming back!! I don't think this girl was the manager. Never seen the Manager to this store.

I went through wendy drive thru last night about 9 p.m about I am not very happy with what had happened. First of all I was in line for almost ten minutes before my order got taken and also when I got to window to recieve my order the lady at the window I did happen to see her name tag and her name was debra she had a different color shirt on than the other employees so Im thinking she might of been a manager.
She was very rude with me and got snobby with me when I asked for condiments with my order and to top it all of my food was cold and my fries were soggy like they had been sitting out for atleast 30 minutes. I really think something needs to be done about this this is crazy for paying customers to put up with this.

Earlier this I ordered 2 Wendy's burgers,fries and drink. It was about 8pm ,there was only one other couple there. I ordered 2 burgers,fries and drink. The bun was soggy as if not thawed completly and burger only warm ! And so I brought it to counter, told the Wendy's employee, he said it was because of the cold tomatoe? First time i EVER heard that one.
Before going up to Wendy's counter, I had checked the other burber, lo and behold it towas a soggy bun. My fries got cold waiting for the new burgers. Secound time aroung wasn't much better..Mind you, I usually eat there (1005 W. Trinty Mills) twice a week and it hasn't happen before. So sad.

hi went too wendys with my family the young girl was rude she ask me my order 4x then i pulled up and she rolling her eyes laughing rubbing her nose i ask her if sumthing was wrong and then she said very rudly im not talking too you so then i get my food fries and chicken was cold and the cheesebugers were unwrapped and in one of them there was a piece of black hair in it and too make worse i dident even get my 2 salads i ordered i dident even relise that till i got home buy then i was so upset too go all the way back there and get treated like that no ty

i recently went in the wendys in atwater ca and their was nobody in resturant . i went to place our order and the girl Ana actually rolled her eyes at us and I was totally livid.we have had bad service at this particular wendys before so this just fueled the fire more. so I started to order anyway because i was already their and she was just so rude .
I asked for potatoes she acted like she had to go outside to pick them ,I ordered # 3 hamburgers and she hissed at me so I told her she was rude and she said so sarcastily sorry bitch i was so mad I just left . i cant believe that you really want these kinds of people working for you( resaon for this compaint ) just thought you should ' know four lost customers

My son used to work at the Clayton, NC Wendy's until he started complaining about the chemicals used to clean dishes and the floors. He tells me that the customers are potentially harmful to the customer. It's potentially bad if the chemicals are not completely removed off of the cooking utensils. The labels on the bottles even say that the cleaning chemicals are bad for humans and animals. Is that a risk that a Wendy's restuarant is willing to take on their customer?

5 o'clock on December 26 second busiest shopping day of the year. I proceeded to pay for my meal with 100 dollar bill and the manager told me she had just changed all the drawers and was unable to change my 100 dollar bill. she looked at me with her eyes rolled saying don't you have a credit card or something else. Being a victim of identity theft I am on able to get a credit card so the answer is No and was no! so she told me she could not help me so. I gave her the food back and she gave me my money back. there was no apology or any type of trying to keep me as a customer. so I would appreciate to go across the street and eat at McDonalds. I find it inexcusable that a franchise like wendys did not have change at dinner time onsucj a busy night. They did not seem to care if I ever came back as a customer and I don't think they have to worry about it because I won't be back.

I am so disgusted with Wendys. They used to be good food at a decent price. Made hot and fresh just the way i want it. But now that Dave is dead all they care about is pushing you through the line as fast as possible like cattle. It does not matter if its inside or(god forbid) the drive thru! All the managers/owners care about is making their damn service times look good.
The sandwich makers have to make the sandwiches so fast that half the time they are just slopped together. And forget about getting any special requests right! And if you order inside at a busy lunch they take multiple orders then push you aside. So there you stand bunched with other people in front of the counter while the ONE poor sandwich maker on front line tries to keep up with the 5 orders at a time as fast as they can slap the crap together.
And god help all of you if the front coordinator gets messed up! then it really becomes a pooch screw! You know, as their prices continue to skyrocket and the quality of their products continue to tank it makes the real sit down restaurants much more appealing. Especially as i get tired of being treated like nothing more that a 55 year old cash cow.

I absolutely love Wendy's food,the quality of food however tonights problem at the drive through was unbelievable. 10 years ago I would have drug that employee through the window by her collar. After taking my order it was given to me totally wrong. In fact out of a chili fries burger and soda. All they got correct was the fries. The burger was a triple when I only wanted a single patty. I got her attention to fix this for me. She was very rude about it and I could see the frustration in her eyes.
At this point I could guess that her frustration was not exactly directed towards me but possibly a coworker for making it wrong. She never apologized for the misunderstanding. As I checked the rest of my order I realized my chili had onions on it. I clearly asked her for no onions at the drive up speaker and she read the order back to me just as I had ordered it to begin with. The lady abruptly took the chili back as if she almost dropped it outside the window cause she never really had a firm grasp on it but recovered it.
As she returned my chili,now made correctly she then handed my drink to me with the lid barely on. She was so upset I almost think it was on purpose. It exploded all over me an the upholstery of my car. She offered no assistance with napkins and no opology

On the weekend of March 4, 2012, We were returning from a memorial out of state and decided to stop at Wendy's in Goodland, Kansas, exit 17. Do NOT ever stop at this resturant. The staff was incredibly ignorant in every sense of the word. The girl who took our order was somber and depressive. Before saying "thank you" she quickly told me "you're welcome" and walked away.
The second girl, and I use that term loosely, was heading for a break in the dining area and was in a shouting conversation with an individual in the back. The topper was the young man, thinking it was the manager, who sat down in the dining area to express his extreme disgust with Wendy's as an employer, guess there is an issue with cashing his paycheck.
This rant was even more colorful with the multiple "F" bombs this kid laid down along with other "action verbs". There were other customers in the place. I personally fought the urge to explain the term "customer service" and ettiquette to him, but I knew the words alone would be a mystery. This individual should be fired immediately, along with the ghetto-pant-sagging-whining-screaming-morose staff employed there. So disappointed.

What ever happened to Wendy's founder Dave Thomas promise of fresh HOT food at wendy's. Wendy's corporate made a grave mistake by following Mcdonald's and Burger King in cooking their food inavanced and holding it in a food warmer, when wendy's cooked there burgers fresh they had the best burgers out of the three chains, customers wouldn't mind waiting a few extra minutes knowing they would get a HOT burger Dave Thomas promised it. i should not have to ask for hot food, burgers are cooked on the grill and fries in a frayalator it's supposed to be HOT your bugers don't even melt the cheese.
One shouldn't have to hope to get fresh HOT food one should expect it not just one time but every time Dave promised it, you don't hope i pay my total bill you expect it. So in the name of your founder and in the name of a good burger get back to what you used to do, because the next time i visit a wendy's location and i get a luke warm burger i will never give you my business again. "And i mean that".

I ordered an unsweetened tea from Wendy's charlestown road new albany indiana… Love their tea , always get it. I also order their delicious chili and baked potato. I always eat the food first then drink the tea when I'm done. So this is the process I went through. I added sweetenlow to the tea put the lid back on and shook the cup a few times , took the lid off and started drinking. Halfway through I thought I may need to stir the drink up since it didn't taste sweet enough, then decided to use the straw. Got to about 3/4 and swallowed a big chunk of something. Looked in the cup and there was something that looked like gum . I took a picture of it .
I'm never going to eat or DRINK at a wendy's again. I'm gonna throw up just thinking about it again. This just happened tonight.

I go to Wendy's because of their great food. Best fast food, worst service. Although most of them are set up for 2 cashiers, in our area they never use them both, even at rush hour. It takes 15 to 20 minutes during the rush periods, to get served. Last week I timed my wait in line. Their were 6 people ahead of me, so I figured about 10 minutes. One person was behind me. One person in front of my got disgusted with waiting so long and left. The person behind me did the same. Now, with 5 people in front of me, it took 15 minutes to get served. Everybody in line was rolling their eyes, but this is somewhat typical of Wendy's.

Hi i just wanted to tell you that i have been going to wendys for over 3 years twice a week in Cornwall Ontario canada. I was there Saturday November 19th at 5:15 pm. The hamburger was nothing but greese. I complained to the manager that was there and i was shock with her attitude that she did not give a shit. I told her were we not coming back after being there for 3 years and she did not even care at she lost a 3 year steady customer. This is deplorable attitude for a manager.
I have 27 years in public relations training and i would never let a 3 year old customer walk out of wendys with out even trying to resolve the issue. As far as i could tell this was a very lazy useless manager that did not even care about wendys customer. Personally i would never have a manger that does not care about our clienttel If this manager stays on as manager at this wendys location you might as well close it down because still is totally destroying wendys reputation as a family restaurant that cares about their customers.
This is wendys name that is at risk now if it was me i would getting rid of this manager or have her properly trained in public relations and how to deal with customers problems.
I have dealt with one manager there named Debbie Paquette and she was excellent and really truelly care about her customers. But this other manager was totally useless and not helping wendys name at all. Now you have lost a 3 year steady customer over a bad manager and greesey food.

Wendy's, 6:09 PM on 10/15/11, 2534 Bert Kouns Ind. Loop, Shreveport, LA. My husband and I are both Seniors and was out on errands and decided to swing by Wendy's and get a couple of sandwiches off the dollar menu and take them home, as our money was running short for this month. I ordered a crispy chicken sandwich with extra many (what I got was a chicken sandwich with no mayo and the chicken patty was hard); my husband got the junior cheeseburger and we said to cut the onions (what he actually got was a bun with cheese and a meat patty on it, no mayo, no lettuce, no tomatoe, no pickle, just the cheese and meat). I hope that others are not getting orders like this.
I know we only spent $2.00 but we will think twice before going to this Wendy's again for anything. Thanks for letting me vent our problem.

My husband and I are traveling thru Kansas, Missour, and decided to stop at a Wendy's. BIG MISTAKE! I gave my order for a bowl of chilli with onions and cheese. When I sit down to eat, the first bite of chilli was cold….the onions looked like a 2 year old chopped it up…..very unappealing. I don't usually complain but the chilli was cold. I took the cilli to the counter and the lady looked at me and I told her the chilli was cold. She looked at me like I was crazy. Then she said " we don't have a microwave to heat it up". She looked at another worker and asked him if the chilli was turned on……
then she said very loudy " lady I'm not arguing with you. Let me tell you, I was not there to argue with her. I just thought maybe she could return my money or fix my chilli. She in the meantime walks away from me. I tell the boy working behind the counter to forget it. About 5 minutes the boy comes to my table and tells me here is a hot bowl of chilli. There were no hamburger or beans or anything but thin liquid they brought out to me. I have to tell you, I was afraid to eat anything at Wendy's, took both chilli's and thru them in the trash.
You really need to check up on the workers at Wendy's or mayby you do not need customers. If you do, make sure you hire employees that would treat the customers like they would like to be treated.

In Johnson county ky. We went there an they handed our milkshakes all they did was talk about there personal life's an then they handed us our milkshake an one had a hole in it then took it back in an the manager tryed just handing me the cup back with another cup over that cup an went to drink the another one it had a big piece of plastic in it an the other one was supost to be vanilla an It did NOT taste nothing like vanilla it was NASTY ..an we bought four of them and none of them were mixed very well I would very much like sum thing done about this. I will never like to go to another Wendy's again because of this !!!

The wendy's in york, nebraska is ok, but every time i go there, just because I use 2 work there, the crew and managers treated me worster than they treated their customers. I don't know why they treated me that way, but I gave the wendy's in york, nebraska every oportuning to treat me better but they don't. Now i never file a complaint before, but i decided to because, the wendy's in york, nebraska need 2 stop treated me this way, because i'm getting really tired of it. I went there a comples of days ago, to get some food for my friends and me, the sandwhich fell into the trash can.
They just put it back in the bag and didn't even tried 2 make it again, and the crew leader say i push the bag even though i didn't. simlar situation has happen everytime i go to wendy's in york,nebraska. I'm not happy at all with wendy's in york, nebraska. so something needs 2 be done about the wendy's in york, nebraska.

My husband and I went to the Wendy's restaurant on Telegraph at 12 mile rd. in Southfield, Mi. and it was awful. First off, we had to wait 10-15 minutes for our food- we ordered 5 double stack burgers (which are normally very good at our usual Wendy's at 12 mile and Greenfield), a chicken nugget, and an order of fries. When we got back to our hotel, we discovered that the burgers were burnt and hard and just nasty. Also they omitted the nuggets and the fries were only half full! They didn't give us a receipt (of course) and when we tried to call them they never answered the phone.
My mother-in-law was visiting from Phoenix and I felt horrible about getting her this crap. Of course I used my last $15 on it as well.

Being that I'm young and living in a very very tight budgeted household, money is something my family and I don't like to toss around. I saw the ads for Wendy's new wild berry parfait and shakes and thought that would be something definitely worth trying. I saw their posters for the shakes and parfaits and had seen the actual size of the shake. The posters displayed the two deserts as being equally sized. I had finally earned the money for the parfait and when the actual parfait was given to me I was so mad. It was like a 5 oz. cup and 1/3rd the size of the shake and it was only $1.00 less than the shake.
Wow, way to falsely advertise and take advantage of a kid. I'll keep that in mind next time I have some cash in my wallet and a sweet tooth.

went threw drive threw and order two double baconactor and two cokes well its 1.30am I get and start eating while driving i relize it wasnt right gease was eevery where and I figer i deal with the grease IM hungry and hadn;t eating since morning so i took a very big bite it didnt taste right so i turn on my dome light it was almost raw threw it out my car window . got to pond where my husband was fishing his was as greasy and it was raw . so I spent 13.86 for food that went to trash ; and I am sick now

Wendy's issued coupons in the programs for our local baseball team to get a free 12 oz. frosty with any purchase. The acting Mgr. Tim at the Wendy's at 1401 Manheim Pike, Lancaster,Pa said their policy has changed and the 12 oz. is now a medium and they have added a 10 oz. now as small.There is no expiration date on coupon so I feel they should honor the coupon as printed. After I said I was going to inform Wendy's how I felt they offered me a larger one, which I didn't accept. Wendy's coupons is deceptive advertising.

I purchase my lunch at Wendy's almost daily; it's close to my work and the food is satisfactory, until today. I usually get the salads (mostly the cob chicken salad); the ones I have gotten in the past have been ok, except of a couple episodes of the person not remembering the dressing, or the crotons, etc. Today I ordered a spicy chicken salad (my first try at this salad) that cost almost $7 bucks; to my disappointment, this salad was comprised of a ton of lettuce and half was wilted, on top was a clump of un-identified cheese sliced thin and melted together, the chicken was cubed and tasty. This is supposed to be a SALAD, not a lettuce with clumped cheese and grilled chicken thrown on top folks.
I do not think I will purchase this said again for lack of extras beside the three mentioned above. As I said Wendy's is close to work, however, there are so many other food chains/restaurants in that area I can probably get more bang for my bucks. I was thorouly disappointed.

I went to the Wendy's in Plattsburgh new York at night. When I came through the drive thru I asked why it took so long and one of the girls said everybody was in the back with there boss Jackie watching a video on the laptop in the back. I decided to just leave because when I spoke to Jackie and asked her who her boss was she said Joe was the boss then Eric was the co manager. I asked her when they were in next and she said it didn't matter because they allowed her to do what she wanted. I will never go to Wendy's again as long as this stuff is allowed.

Five of us were picking up food at the Fairhaven, Massachusetts 02719 Wendy's drive-up during our lunch break from work. Two of us had a coupon for the Very Berry Salad, full size. We ordered 3 full-size Very Berry salads, 2 Chicken Asiago sandwiches and a Value meal crispy chicken sandwich. One friend and I each had a coupon printed off of each of our computers in our separate homes from emails received from Wendy's. The NEW manager only allowed us to use 1 coupon. Before this visit, we had been able to each use our own coupons. This was disappointing enough so as to turn us off going to Wendy's again.

I tend to eat breakfast on my way to work and am limited to McDonalds because I start work at 6 am. Local Wendy's don't open until 6 so that eliminated them and not a burger king in the area also eliminated them. Well anyway I keep hearing the Wendy's commercial about their fresh buttermilk bisquits made fresh all morning long. Well on my break at 9 am I decided I would go out of my way to get one of these fresh bisquits. I go to the drive through window order 2 bisquit and am told that they are out of biscuits. The Wendy's commercial got me their its a shame the store couldn't handle it cause now I won't be going there at any time regardless of how tempting the commercial sounds.

I am a fan of wendy's and I think that the 99 cent chicken sandwich is the best deal in town. Except at 308 west brandon blvd brandon Florida. There chicken sanwich is like no other wendy's in the tampa bay area. not even the same chicken ! you can squeeze the grease out of it looks like a fish sandwich from mcdonalds. It was square and greasy, better yet it tasted really nasty. I tell everyone about how great there 99 cent menu is and what a deal the crispy chicken is, and i will be sure to let them know about the brandon wendys as well.
the wendys i work for in atlanta, ga is a very successful wendys however, the workers are treated very poorly. the manager called us "clowns" and talks to us like were children. she wants everything to be perfect AT ANY COST. for me personally, she doesnt even say hi or bye. i use to come to work with a positive attitude, but recently got tired of it. the only time she says something to me, is if its negative…im always doing something wrong. i am not the only employee that feels this way. the manager puts on a front to the district manager like she treats us like a family, but in reality she treats us worse then the customers. i want to transfer, but she is the general manager and i dont think she will even accept the transfer. i dont know what to do.

her name is camille. and she works at the wendys on long hollow pk in goodlettsville tn 37072 and she is so rude and not friendly at all, the last time i was in there i kinda looked over it thinking she may just be having a bad day. and today a old man ask about that new salad you selling and he told her that the price should be lower since it was a new item and she just got smart. and she just stood there and acting like she was impatient while i was deciding what to order. i asked her how a ceasear roll up thing tasted and she said she didnt know she hasnt ever tried it, just another one of her unpleasant answers.

I went to Wendy's in Nitro, WV on 5/14/2011 at about 9PM and was amazed at the arrogant attitude of the manager that was on duty. She not only talks down to the employees, but when I ask to speak to her she totally ignored me. I was waiting for my order to be completed and the register clerk was standing there waiting also, the manager looked at the girl and said, "Can you find something to do besides stand there and stare at me.", the employee said "Oh, I'm sorry" and walked over to restock napkins and straws. Now, my sandwich is ready and the manager lays it where normally, the girl that she ran away, would give it to me and there was no one there.
When I said to her "Since you rudely sent the other girl away, can you hand me my sandwich?" I was ignored. I raised my voice and said "Hey" and i was ignored again. Another boy came around the corner and I told him that i wanted to speak to her, he said something to her, which i could not hear, but she wouldn't look up. He finally handed me my sandwich.

1845 Wendy's in capitol and aborn.the manager are really irresponsible.they dont treat good with the customers.the manager dollores she all the time talking with the employees even there is a customer she not talk to the customer properly.and she all the time eating fries and nuggets when she goes to the back freezer she pick up 1 nugget and eating overthere.and make the frosty and eating in the back .some time she charge for 1 sandwich with his family memeber and she gave to them a lot of food free.she eating a lot of food in working time.sometime she didnt enter the item on the computer and that dollars she put in own pocket.i dont know why u guys make like that people manager or superviser. im surprised

While eating in Wendy's the music being played had foul words in it. It kept repeating play that f–king song. I went to the manager and she stated there was nothing she could do that it came from Corporate. As my husband and I left, the manager and staff was looking at us and laughing. This occurred at Wendy's on Broad Avenue, Rockingham, NC 28379. We do not use foul language and we will not be back. There were children in the dining room at that time also.

On 5-13-2011, I ordered food through the drive thru of 3801 West Broward Boulevard 33312. I placed my order of four (5) piece and three value fries. I make the payment to the 1st window and was told to proceed to the second window. I pulled up to second window where the lady passed by order in less than 2 minutes. However, I checked the bag to make sure the order was correct and I notice there was only three nuggets dipping sauce(3 bbq's). I simply ask the lady at the window if I can have a honey mustard sauce. She looked at me as though I'd said something strange.
I repeated the request to ensure she heard me. She replied in a horrible attitude "You already got yo number of sauce you need". I replied, maam I donot and all I am asking for is a honey mustard". As she was walking away from the window she said "my ass need to pay for that sauce she asking for". I was shocked and speechless. In the meantime, the line is backing up. She returned to the window asking me how can she help me as though nothing took place seconds prior.
I repeated the request again, she then went back and forth with me about having 1 sauce per nuggests and I pulled all the food out the bag to show her there was only 3 sauce to begin with but I ask for the honey mustard and she refused to give me the honey mustard. I could not believe this was happening! I just got off work and at wendys going through this…unacceptable!!!!

Wendy's manager's should be able to handle various situations I understand that its not the easiest job in the world, being a manager myself at a mcdonalds I have been trained to handle all types of situations good or bad. Yes I understand every big restaurant has a general manager but not all general managers are the greatest some can also take advantage of employees and be disrespectful in many ways. The general manager at my job I can say is one of the greatest people there's out there regardless of the hard work needed to be in such a stressing position she know how to deal with her employees in a very professional way.
Anyways the reason I'm posting this up today is because my girlfriend has currently started working on a wendy's restaurant by the way she tells me things they need some anger management classes before they get hired the management there is horrible the general manager would send her home without a break when she worked over 6 hours I guess that wendy's need to be shown a law book because its the law u have to give Someone a break if they worked more then 5 hours also there's a lot of racism the store manager is also disrespectful to his employees.
Its ridiculous how he doesn't like to gie them hour statements and gets mad when employeess ask for them some of the employees there when demanding their hour statements noticed they weren't getting paid the correct amount instead there hours where being stolen. The wendy's store manager curses a lot to his employees.

I just purchased a Wendy's burger combo, and this is the first time that I feel the hamburger was bland, the fries have to be on the bottom of the list for taste of the french fries (plus they were cold) and the pop cup was more than 3/4 full of ice, very little pop, not enough to finish your meal. I go there quite frequently and now unless the food taste improves I will not be buying Wendy's, not when they are charging that much. Maybe Wendy's should compare their fries to McDonalds, not even close

Went to Wendy's and placed my order through the drivethru. They told me to pull forward and waiut for the order. I waited 20 minutes. Finally went in to Wendy's and asked… they said it was coming. Went back to my car fuming. They brought my order out and said they were sorry but they had to make the sandwiches plus cook the bacon. Still made, I drove off. placed my hand in the bag and the fries were cold! Went back to the window and complained. They said it would take another 3 or 4 minutes to cook a new batch. I said no, and I wanted my money back for the fries. The manager came to the register and asked for the bag, then handed back a full refund.
Not a sorry in the mix… I went on line and complained to the Wendy's website. They said they would get back with me in one to two days. Have not heard from them at all, and it has been 4 weeks. This Wendy's is in Florida/1792, Longwood. I will not visit a Wendy's ever again.

On saturday 4/23/11 I went in to Wendy's restaurant to order a spicy chicken sandwich. When i got it, i noticed that it was raw. I also ordered a coke and it had no ice, and it took forever to order my food. The manager was fighting and yelling at the employes and she did not wear gloves when grabing the chicken. The manager in charge was Kat and she was very rude to customers. I will never return to wendys ever again and please next time pick better managers to be in charge or even work there. The resturant looked very dirty and it felt disgusting eating my food there.
I took my sixteen year old, 200 pound grandson to Wendys yesterday and he ordered what looked like a huge new bacon burger and it turned out to be not much bigger than the value menu burger. Not much for a sixteen year old appetite. And not much for almost five dollars. He could hold it in the palm of his hand and ate it in three bites. Too much money for too little product. Wendys is our favorite fast food, but even McD's and BK beats you on this product. Please do something about this soon.

I pulled in the drive in window at Wendy's, and paid for an order that $3.78. I handed tje woman a $10.00 bill.The woman handed me back $1.22. I took my change and proceeded to drive off , wihen I realized that my change was not correct. I immedialty stopped my car and walked back to the Wendy's window. I said to the girl you did not give me the correct change, I said I gave you a $10.00 bill. She said no you did not,you gave me a five. I said you needto check again,because I know what I gave you. Then I heard her manager in the backround say " he better watch his tone"!
I repaeated myself saying I gave you 10.00. Anyway , to make a long story short, I was told by the Wendy's manager that I would have to wait in the lobby iuntil they counted down the regester. So I stood in the lobby for over twenty min,while I waited for my change. Eventually another manager came and handed me $5.00. I asked him for the corprate phone number, to complain he told me that was not needed,just to notify the general manager. Well that is not what I asked him.
I would like to let the people in Wendy's Corprate know the attitude in which its workers display on a day to day basis. The Wendy's store in question is located on hwy 27 in leesburg ,florida, and the manager"s mame is Deongelo, who was so very rude. I still would like to find the number to the coprate offices to lodge my complaint, verbally.

I arrived at this restaurant about 9:30pm on April 17, 2011. I ordered my food when I went to seat down I was yelled out by the Manager that the section I was fixing to seat in was closed(there was several tables with chairs not on top of the tables, but, EVERY table was dirty, I look at him and did the same thing he did to me I said from across the restaurant "I'm not seating at a dirty table" so I continued with my seating. Then I seat down to eat and I had ordered a single less onion. I opened my hamburger to see onions on it and also rat leaving on my lettuce.

Sunday AM I stopped for breakfast at Wendys, 9808 Lake Worth Road, Lake Worth, Fl 33467 reg. 3 – I ordered a buriot ad a cup of coffee. I was the only customer – I went through the drive-thru. No other cars – the restaurant was empty. Because I was driving I asked the girl if she could please put the cream and sugar in my coffee so I wouldn't spill it. Her reply was "No, I am timed, and I cannot put the sugar and cream in your coffee." That would be plausible if she was busy, however I was the only patron there. I asked her if she minded if I asked her supervisor if that service was allowable. I parked my car and went into the Wendy's restaurant.
Her supervisor was a young man named Shadday – he gave me a blank stare as though I expected him to do something. So, I asked him if the next time I came in is that simple service allowed. He looked at me and said – oh, yeah, sure. As I was walking out, he made a comment to the employees "Well, that is weird" Maybe so, but I can guarantee McDonalds does that service for me everytime. Further – because I live around the corner, I frequented Wendy's several times a week for myself and children – needless to say – I will go to Burger King across the street, or McDonalds. I don't need to be abused – I should be valued as a customer.

Why did Wendy's replace the Mandarin Chicken Salad with that Apple Pecan Chick Flick??? In my opinion it is not as good as the mandrian chicken!!! Please bring it back Please Wendy's. Also, the crackers that are served with the chili are disgusting I do not know the brand name of the cracker served, but I ate a cracker by Zesta the other day and it was the same terrible flavor as the Wendy's cracker. Even if you dip the cracker in the chili it still can not mask the horrible taste of that flat doughy tasting cracker. Thank you for your time and I hope that you listen and bring back the mandarin chicken salads!

My husband and I are in Coco Beach Florida for a wedding. We decided to take our vacation there also. We stopped to eat at Wendys as they were not busy. When we went in and waited and waited and waited, there were two elderly women in front of us,the girl behind register was very rude to them, she also took for ever to get there food, and slammed it on the counter. Oh boy it was our turn, she finally took our order, she got our french fries first, then by the time our sandwiches was ready the fries were cold. My husband ordered no tomatoes and guess what? there were tomatoes on his. Where we live Wendys is very busy, you can barely get in there to eat. That is a sign of good food and service. I hope not all Coco Beach Wendys are so bad.

I went to your Wendy's store that is located on Sherwood Forest Blvd. I went through the drive through and ordered a Pecan Chicken Salad along with 2 Frosty's and a Jr Bacon Cheeseburger. The Salad had mostly wilted lettuce, brown apples no and cranberries. Everything else was fine. Normally the salad is fresh looking.On the few occasions this has happened I call and go back with my receipt. Today I did not get one. On Tuesday I again went through the Wendy's drive and order the fries was so salty they were not edible. I like your food and I eat there regularly and normally the service is good. Just not this week, so come on guys get it together Wendy's

i really dont like how the store manager at wendys boni, handle her staff… she shout her staff … she never care about the condition of her people, she was very unprofessional manager!! when i eat there i heared some noise, she was shouting one of her staff in front of her guest it was very an respectful for her staff… one time i ask one of the crew in wendys boni i ask how their store manager handle them i was surprise when they told me about her she was very horrible!!!! they work more than 8hrs without rest day…. she get mad when they ask for a rest day, she suspend lots of her staff i think thats not reason for her to give suspension for her staff!
hope you can find time to check how she handle a wendys store mostly in her employees.. i just care about them coz i been an employee also thats why i know how to feel tired and stressed working more than 8hrs without rest day! thank you.

I received this rotten/smelly tomato on my breakfast Panini at Wendy's. The funny thing is that I asked for no tomatoes. I snapped a picture of it and posted it on their Wendy's Facebook page. At that point I was merely trying to show them what they were serving. I got a notification that someone 'liked' my comment, I click on it and I get a page is not available. Further investigation found that Wendy's deleted my comment and banned me from posting on their site. Wendy's had no reason to ban me except to HIDE from the truth that they are serving substandard products. They have turned an easily manageable customer service issue and turned it into a nightmare.
I was not angry at Wendy's, I just wanted to show them what they are serving. Now by treating me this way they have made me so angry that I am going to post this picture everywhere and make sure as many people as possible see this rotten food at Wendy's. You can't hide from poor customer service, and you can't run from online complaints. I will post this here and as many other complaints sites as I can find, because they did this to me. I have tried calling and contacting them, but keep getting ignored. I have heard since that many people get their facebook posts deleted rather than addressed.

I order from Wendy's more often than not. I am sick and tired of ordering fries with my order. Every time I get fries from the drive-thru they are either stone cold or inedible like tonight. Half the "batch" was so black it made me want to heave. The rest were so soggy my fingers are still leaving streaks on my iPhone keyboard. It's ridiculous how terrible the french fries at Wendy's have become. I'm not paying for sub par food anymore. Have some standards Wendy's! That is all…

Here is my Wendy's complaint. I ordered a bacon deluxe 1|4 piece of lettuce, no exaggeration, no tomato, no condiments. I took a couple of bites, but good thing I had my dog in the back, she gladly ate it. This Wendy's is at Barbur blvd and capitol in Portland, OR. I go to Wendy's just about exclusively when wanting a hamburger, and I know what to usually expect from your burgers. This was not a good experience at all. Wendy's complaints department can contact me at my email at Toni.young@comcast.net.

Recently my husband and I were in Langley, BC for several days and stayed at Canada's Best Value Inn on Fraser Highway. Right behind the motel was a Wendy's. The service was so bad that one time I was there by myself I actually left because two of the customers had waited so long for service that they were about to get into a fight! The first time we were there I ordered a pecan apple salad and got no pecans. My husband's fries were actually cold. The second time was when the fight almost happened. At that time another customer had been waiting a very long time because the staff had given him the wrong meal. I have no idea when or if he ever got the correct one.
The third time I ordered another pecan chicken salad and again there were no pecans. All three times I went in there was no staff at the register. Instead you could hear them talking in the back in whatever language it was that they spoke. I can assure you that it will be a very long time – if ever – before I go back to a Wendy's. I'm sure that this is not what Dave Thomas had in mind for his restaurant. It has gone downhill faster than Lindsey Vaughn!

On my way home from work (hospital evening shift) I was hungry and stopped at the local Wendy's in Port Orange, Florida. Ordered fries (ad said 'Natural' whatever that means) chicken nuggets and a small frostee. The nuggets were cold and had a BAAAD taste. The fries were worse..limp cold. I wanted to write to the corporate offices as this has happened before. I will NEVER go to this Wendy's store again.

My Mother In Law received several $20 bills in change from this Wendy's ALLLL of which were counterfeit. When she called the store to complain, they told her to just bring the money back in and they would exchange them. She took the money back the next day and they simply gave her more money no questions asked!!! Weird huh, I mean who just takes someone's word that they received counterfeit money from their store and you replace it with NO QUESTION ASKED and NO INVESTIGATION!!! Needless to say if you go to this Wendy's I would suggest you NOT use cash!!! I will NEVER go back to Wendy's AGAIN as when I filed a complaint with Wendy's no one even bothered to call me back!!! So much for Customer Service or Satisfaction!!!

Yesterday around 5:30pm I pulled into the Wendy's on Bay Road. There was a rather long line of cars (perhaps 5-6) ahead of me. After waiting 5 minutes and the line not having moved at all, one car pulled out and left, and soon a second car pulled out and left. The car ahead of me then finished it's order and i got up to the ordering station and ordered a Dave's Triple. I noticed that the price on the outside ordering menu was $6.69 for the sandwich, but the cashier rang it up for $6.89. When I brought it to her attention, she said, "I'll have to see about that." That was the last I heard from her. Incredibly, she didn't even apologize for the ridiculous delay. In any case the line moved up again and there was only one car ahead of me. After waiting yet another 3 minutes, I pulled out of line, left and headed to a nearby KFC to get dinner. There is no justification for such poor service and incivility.

Alamosa Wendys has a manager named Loren.she is very rude get her out.she treats fellow employees very bad

Randal martimez
from Alamosa, CO
There are two managers at alamosa Wendys.that are very rude to employees.Loren and audra.I feel you guys need these two gone asap.maybe a full investigation with employees involved.handle this or ill have to go visit my friend vice president of your store.ode like to see these managers gone

David Fauteux
from Glastonbury, CT
I ordered 2 double burgers and they had a fishy smell and taste. It was not very pleasant at all.

Marcia brack
from Bedminster, NJ
Liberal Kansas Wendy's has loud, & annoying hip hop music playing. Food is not palatable.

patricia Desh
from Bethlehem, PA
The food was fine and the service good.My complaint is about one of the workers.We must have been there at 4 for a change of shift.We saw a older female standing outside smoking when we got there.While we were in line this women came into the restaurant went behind the counter and started changing her clothes.She took her coat off and a shirt she had on ,under that she had a tank top on.She put on her Wendy's shirt all this while her clothes she just took off laid on the back counter where the food was being made.She took out hand cream and other stuff out of her purse and laid it on the same counter'Then she flipped up her hair and put it up still while standing where the food was .No one said a word to her as she started to work and never washed her hands..This totally grossed us out but since we all ready ordered and paid we were stuck eating there.I worked in the food industry for 25 years and if the board of health was there Im sure you would ofhave been cited.This was at the restaurant on South 4th Street in Allentown pa.

My complaint rate was a one meaning this being the worst it could be. Today is January 25, 2019 around 1:15 PM I stopped at the drive through to grab a sandwich and coke for lunch. I ordered a Baconator and a small Coke. After I got on the highway about 15 min down the road I started to eat my sandwich, when I unwrapped my sandwich I could not see any bacon so I removed the top of the bun and I then found the bacon any other time I get this sandwich there 3 to 4 slices of bacon sticking out both sides of the bun, well this time there was only a half a strip of bacon in the center of the sandwich. I was a far enough down the highway that I was not going back. I would give you my order number and store number but I didn't even get a receipt. Not very happy.

Eric Johnson
from Broomfield, CO
Again we went to one of your Restaurants for lunch at 10:30 ( they open at 10:00} in Westminster, Colorado #00008808 when we ordered
I asked if they had baked potatoes I was told they would be available at 11:00 am. This is not the first time we were told the baked potatoes
were not ready. I would think since the restaurant would have the baked potatoes ready when they open. Eric Johnson

jennie norred
from Germantown, MD
To whom this may concern my daughter was employed in your store on highway 142 in Covington ga. During her time of
employment she has went in 15 to 30 min before her scheduled time and staying anywhere 15 min to and hour after her shift ended waiting on someone to cover her. She has never taken off except for medical reasons that involved myself or her children. The other reason for this complaint is I have seen employees buying food and not paying for it . I have seen managers buying for certain employess and cashing it out without holding the employee resposisible. There is one instance where I know an employee was accused of stealing from a cutomer and to our knowedge nothing has been done to her and she is a manager. My daughter went from 30 plus hours down to 21 and when she questioned why she was told it was because she took off time to be with her daughter and did not come in the store to work it out but I would like you to know she did contact a manager ,but because she talked to night manager and the night manager did not relay message to day shift my daughter was written up for no call no show which I believe it totally wrong. She has been yelled at by other employees as well as the managent I fell is totally wrong. The employees and management staff I personally think need to be looked into imedately. She has also been told by the scheduling manager it is easier for her to keep her of the schedule than it is to work her in which I do not believe is right. If someone could contact me through email I would greatly appericate it thanks again a dissatisfied customer jennienorred@ymail.com

Yvonne Prince
from Ft. Pierce, FL
On my way from work about 11:30 pm stop by Wendys orders chicken nuggets 6 piece combo ate about 2 fries on my way home dump the fries out the bag into a paper plate notice something dark in my fries and it was roach nasty disgusting never seen nothing like that nuggets was fresh fries wrinkled warm not fresh at all who does that I spent my money thinking lm going to njoy my food and a roach in my food.Call the store spoke to the manager about situation she says I come more fries her name Veronica I said are you kidding me l jus hung up bad business

Jean Clark
from Salt Lake City, UT
Ordered 4 items and got 3. No chicken nuggets no receipt. Took long time to get order and still wrong. Seemed very disorganized. Lots of 2 stars. Don't think even corporate cares about service, Store was Murray UT 5600s 900E, Tried calling them 2 times but wouldn't answer.

The Paoli, Pa Wendy's is a disgrace. There were bags of garbage out back while cars were in line. they ran out of restaurant picking them up and running to dump to our right. This was not and has not been a pretty site. I suggest you look into who is running this. It seems like just a place to bring in few bucks. Wendy's has always had quality food. I literally left the line after witnessing the workers coming out running bags to dumpster and back in to work with food -

George Wagner
from Willow Springs, NC
This complaint is for the Wendy's in Clayton rt 42 beside I40. I have had many issues over the years with the speed and service of the place. Many times over the years I have also arrived home to find that there were missing items in the order (Almost always drivethru). I like your chili and have had many issues there too. I have MANY times arrived home to find small portions in the large chili. I got into the habit of telling the order taker to properly fill the chili. That has worked hit or miss and today I have had enough. I ordered 4 large and asked them to be properly filled. Well all four were well low. If I have had this many issues over the last handful of years I can't imagine what the numbers are of others having issues. Anyhow I included a pic of the first one I opened and they were are the same.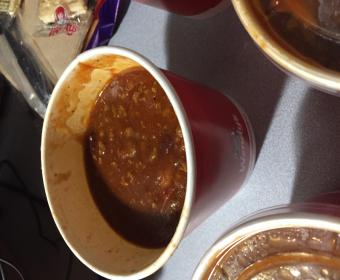 Candice Ray
from Indian Trail, NC
I purchased your Wendy's chili, in fact two large containers.. I took home and on a cold day today, January 21st, I warmed up a bowl of the chili . As I proceeded to enjoy it ended with the first spoonful in my mouth. Something was touching my lips and as I began to chew I notice again something feeling like a string and thought, Oh!!! my God!!!! it's a hair in my mouth. I began to take my hand and go towards my lips searching and feeling around my lips and as I found and pulled .. kept as this wentvon for 2 minutes are more.. I'm slowly pulling ...out came a long enough string or blonde hair.. This was so grotesque that I ran to my bathroom and throw up.. I have never , ever had such and experience.. I have the hair strand or some kind of thread caught in my mouth in my throat trying not to swallow.... so upset, angry and disgusted that I felt like turning it into the health department. In fact it appeared to long too miss.. I must have cleaned it up pulling it out of my mouth.. I rapped in kleenx and placed on my kitchen counter and used a sticky note back ground to see for myself what it was... I have a witness to my findings, it scared my family... I have not eaten Wendy's in 20 years.. There was a decline in cleanliness which was and issue in many locations I observed.. years ago... I happen to be teaching on a College Campus (UNCC) in Charlotte NC .. a few weeks ago and the student union had a fresh batch of Wendys chili and I was encouraged by management to try, it was amazing. A week later, I thought I'd try your Wendy's chili' in my community were this incident occurred, I would be remembered and known on this past Friday after a 9:00 movie , because I requested at the window more beef . I returned this time due to a visit with a girlfriend weekend outing on January 12th...revisiting this location on January 2Ist I proceeded with caution ... this store needed a face lift, the placed appeared clean and I trusted you again.. I was given nothing but beans on the 12th with friends and not enough beef in the chili.. so, on the 21st I teased the workers at the Wendy's windows drive through about the chili having nothing but beans previously.... as my personality is light hearted with young people... they were not pleasant, not happy to be there, or didn't appreciate my concern or request.. as and educator retired, I noticed behaviors that they were not happy about my asking for more beef . Being the customer , I felt maybe I must have been getting them in trouble , hoping not to offend I thought it was okay to ask for more.. .. I even ask for the manage with a pleasant smile.. I was ignored, so after getting two containers I was grateful and over and over I thanked them all.. I tried to make peace...PLEASE, DON'T attempt to give me passes or free meals.. This place needs a sanitation clean up.. as I reflect after this issue.. I wouldn't trust going back there again.. after this experience. I'm not blonde or had eaten any of the soup until today..January 21st.. around 7:30....This was just unexceptional...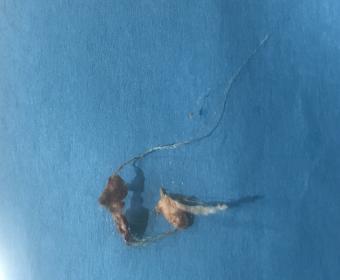 Daniel smith
from Alamosa, CO
A manager by the name of leoran.is very unprofessional.she puts down her fellow employees.instead of teaching them proper.she yells and belittles them.she needs to be gone asap.if this complaint doesn't get her fired.I'm going to a higher person.

WENDY'S ,Amherst NS.The Manager is very immature,his name is ADAM WEATHERBEE,he does not greet visable minorities with respect,he walks away from them when one arrives at this location and has an Employee wait on the visable minority,also other Management have hired employees and ended up living common-law,which could cause a conflict if the relationship did not work out,one manager,Shelby Crowe,had an affair with a Employee and left her husband for this Employee and now live common-law.This ESTABLISHMENT HAS A BAD NAME ,THEY HAVE NO code of ethics,IF A cUSTOMER HAD A cOMPLAINT,THE COMPLAINT WILL NOT BE ADDRESSED BNECAUSE OF THE common-law RELATIONSHIP.adam wEATHERBEE IS AWARE OF THESE RELATIONSHIPS,BUT FAILS TO ADDRESS THEM.i FEEL THAT IF mANAGEMENT ARE GOING TO DATE/LIVE COMMON-LAW WITH AN eMPLOYEE THAT ONE SHOULD BE LET GO OF THEIR DUTIES.tHIS IS A SMALL tOWN,AND CUSTOMERS WILL STOP PURCHASING DUE TO WHAT HAS BEEN GOING ON,also I WOULD LIKE TO ADDRESS AN INCIDENT THAT TOOK PLACE WITH OUR mla,elisabeth -smith mcrossin,.Amherst N.S. she was verbally attacked and threats made towards her and another female customer,ADAM WEATHERBEE failed to address this issue also.THE AMHERST TOWN POLICE attended by one Management,Shelby Crowe was scheduled Manager that day and failed to call for help,it was a disturbing incident and not a safe envirionment for othere.I feel that this man should be removed from his duties,and if other Management are dating/common-law,they should be removed for the safety of the company and customers,it looks like a pick up joint in AMHERST NS.ALSO one Manager DONALD MIllie fails to do his duties also.I have no intentions of returning to this ESTIBLISHMENT whatsoever,due to the fact of it not being Managed in a Professional manner,and ALL people should be treated equally by The District Manager,and someone should have contacted our MLA about her experience.Thank you for taking the time to read my complaint.I trust this will be addressed and this relationship thing be resolved,it just doesn't look good whatsoever.There must be a CODE OF ETHICS in the workplace with your Company.There is only one Manager who does her work,and does not date Employees and her first name is BERNICE.She helped MLA,MCROSSIN the day of the violent episode at Wendy's,she should be given a thank you for her compassion towards our MLA.I do not wish to be contacted,because I will never go back,nor take my children there for safety reasons and the discrimination your D.A. shows towards Africian Canadians.

There are two managers at the alamosa Wendys that are cousins.plus they work same shifts.is this not a violation of policy

Thomas Nelson
from Columbus, OH
This is my third outreach to Wendy's demanding to know why I was refused service at the Tuttle Crossing Blvd Wendy's. I gave up on waiting at the speaker, pulled around to the window, attempted to give my order and the lady stated I could not bypass the two cars who were behind me. I explained I had waited at the speaker with no acknowledgment and finally pulled around to place my order in person supporting my right laid out by the ADA. I was told to go back through the drive through if I wanted service. I refused. The cashier stated there was only 3 employee working at the time. Unacceptable. Unacceptable that I have not been contacted concerning this issue.

Vera Shaver
from Schenectady, NY
I had dinner at your Wendy's tonight on Erie Blvd Schenectady NY it was the worest experince I have ever had at Wendy's they gave me the wrong sandwich three times not just once and my french fries were very cold I'm very upset and unhappy with the service I got tonight.

Annette Souare
from Akron, OH
The service was horrible. My order was incorrect. The food was cold. It shouldn't take 25 minutes to get food from a fast food restaurant.

Josh whipple
from Enfield, CT
I went in to the East Windsor, Connecticut, Wendy's, and I Oder 4, 6 pc nuggets and I only get one dam 4 pc nugget. And this lady sue is so dam slow and I just walked out. This is bull shit and I don't think I'll ever go back that slow ass place that can't take my dam Oder right. And she is swearing behind the counter with kids in front of them vary Unprofessional. You mit want to do something about this. Ppl I k have the same problem. I'm not happy.

April Gearhart
from Redford, MI
Hello I went to the Wendy's on South Wayne Rd in Westland they completely messed up my order ,and were just very rude when I went back to have my order fixed. Every other time I go there they are just not friendly. I spend a lot of money here and don't need this kind of treatment.

Cindy Villani
from Mobile, AL
I work close to a Wendy's and have frequented this particular location over the years. I went there yesterday 1/15/19 for lunch and was highly disappointed. The quality and service has gone down hill over the years. Not sure if it is a management change but I was not satisfied. I just want to share my experience from yesterday. I went through the drive thru about 1:30 it was very busy, cars were backed up on to the street. There were also people going inside to order and dine in. I waited patiently and placed my order. When I got to the window the man that was working the window didn't offer the customer service I am used to. First he wasn't mean but he wasn't pleasant either. When he handed me the bag it was very greasy at the top, wrinkled up and had a whole in the bottom of the bag. I questioned myself it looked like it had already been used. He gave me the wrong sauce for my nuggets which I didn't realize until I was driving away. When I returned to my office and sat down at my desk to eat the quality of the food wasn't what I expected. The fries were over cooked and the burger wasn't cooked all the way there was pink inside. It was very messy. The nuggets were the exception they were decent. I am hoping by sharing my experience it will somehow improve this location to step up their game and make it a better experience for future customers.

JewlzBidondo@gmail.com
from Dallas, TX
I just went through Wendy's on Main street in Kansas city. Bought a Harvest Salad. Got back to my job to eat and pulled my salad out of the bag.
Opened it and there was nothing but lettuce 2 small pieces of a red apple a small piece of bacon and half a piece of chicken on top. In the bag
with it was a bag of croutons and Pomegranate dressing??????? WTH did I pay 7.00 for? this was not the Harvest salad. My Harvest salad comes with lettuce, red and green apples, candied walnuts, Feta cheese, cranberries, cut up chicken and Apple cider vinegar dressing!!!!Damn!!!! I threw it away cause it was not good.I will never go there again for this!!! Not sure I would go back for anything. But I would like my money back or something cause that was a 7.00 salad??I love this salad just not at this store....

Sharhonda Thomas
from Atlanta, GA
The worse drive thru ever sat In the line for 15min second car to the speaker that's bad business

CCL in PA
from Huntingdon Valley, PA
This company is by far the most racist evil company ever. I was told because I am not the right color and older I could not be hired at Wendys in Horsham, PA the Dist manager spoke of hating veterans and said Vets and USA is worthless. The Corp office agreed with her We need to stand together against Wendy's. Also to make it worse when our order was messed up the Horsham, PA Wendys dropped food on the floor and re used it.

l. richards
from McDonough, GA
WENDY'S 57 KEYSFERRY ST. MCDONOUGH GA 30253. THE FROSTY MACHINE IS NEVER WORKING. BEEN TRYING TO GET A FROSTY FOR A WEEK AND ASKED THE EMPLOYYEE WHEN WILL IT BE REPAIRED/WORKING AND THEY HUNG UP THE PHONE ON ME.

Christine Hackimer
from Dublin, OH
I went to the eendys on cottman and bustleton and got 10 burgers i got home my husband took a bite of his and there was a piece of plastic in it and i called that location and the manager said to what is he is supposed to do ugh im done with that location

Eric Johnson
from Broomfield, CO
We ate at a wendys restaurant today ( not the first time) The restaurant had been open for an hour I ordered a combo I wanted to get a bake potato
instead of the French fries. On several occasions we have been told that the Bake Potato were not ready so I Took the fries.
The fries were not very hot. What I don't understand the restaurant opens at 10: 00 am we usually have lunch at 11:00am I would think they would have baked potatoes ready. Like I said this is not the time this happen. Eric Johnson

Rhonda Becker
from Freeport, IL
A friend and I visited the Wendy's Restaurant #00005303 at 6390 E. State Street in Rockford, IL. We took the survey which registered our complaints and received validation codes. We both live in Freeport, IL so returning to the Wendy's in Rockford within 14 days is not convenient. And why would we want to return after receiving poor service? The staff was unfriendly, she got our orders incorrect initially, the wait time was too long, and our food was cold.
A few minutes ago I tried to "live chat" and the screen stopped working. Then I tried to call customer service which was a joke!

Jon bainbridge
from Lorain, OH
I'm 80 yrs old and have been going to wendy's every since they opened. I went to the new Wendy's that is in Oberlin Ohio. I waited in line for 10- minutes because the people ahead of me had trouble ordering with the automatic order system. When it was my turn I told the cashier that I didn't want to use that system. She told me I could not order the old fashion way. I left Wendy's and went up the road to Pizza Hut. They were glad for my business. I'm going to miss going to Wendy's after all of these years.

Arlene Stevens
from Richmond Hill, ON
On January 5, 2019 I took my grand children and daughter and son in law to wendys for lunch. We ordered a wrap ×2 bacon maple home style deal Jbc sm. Fries and frosty plus 2 single cheese burgers combo. And chillie plus drinks. As we sat to enjoy our meal I became very concerned and frustrated with what I saw in my burger the meat was not cook it was red raw. Looking at my daughter not to alarm her she checked her 7 yr. Old son and found the same her husbands again was the same 3 burgers not cooked raw meat. Taking them to return for replacement cooked burger. After she returned opening up the burges finding that two were cook and the 3rd was not again returning it. The burger came back finally cooked, my daughter felt that they blamed her with the looks and not one person said sorry or apologize. This was not my idea of a fun experience at wendys. I have a copy of my receipt if needed spending in total funds of $46.07 I was thankful that my grand son only had one small bite off the raw burger and didn't become seriously ill, as for me I sufeared 2 day of sick filling uneasy stomach problems my son in law was fine but this situation could of been a hole lot worse if we hadn't noticed that the meat was raw. Please respond to my concern. And what will to prevent this from happening to other people, who may not be as observant as we were
Arlene Steven's luckie@rogers.com

Rosemary Harris
from Pittsburgh, PA
I wish I could give this Wendy's 0 stars! This is by far the worst Wendy's in the city of Pittsburgh. I went there last night 1-6-2018 around 7pm. I placed my order army the drive thru. I order two JBC meals, small chili, child baked potato, and Asiago Chicken sandwich. The guy at the first window was sitting down on a stool with another guy standing there talking to him, no greetings, at the second window the boy looked like he did not want to be there. He gave me my bags I asked for chili sauce he handed it to me. I pulled off something told me to park and check my bags yup they messed up my order no chili and no Asiago Chickdn sandwich. I go inside with my receipt. There was about 5 kids sitting in the dining area with no food chatting it up with one of the employees, two was sitting on the table lough talking and laughing. I get to the counter tell what happened the boy just took my receipt without saying anything the other guy standing there says "I'll take care of you and asked who made my order at drive thru"...I wait about 10 minutes to get my order while waiting the one guy was giving a friend free food burgers, fries, nuggets and cookies right in front of me without hiding it. The manager she's staying right there it's hard to believe she did not see what was going on. The workers was back there throwing stuff at each other, laughing, joking around like there wasn't a line wrapped almost around the building. I'm done with this Wendy's. The new Ralky's will be getting my business once they open in the spring/summer. Oh yeah that JBC no tomato's and one piece of bacon they split into two pieces and food was lukewarm probably since I had to wait for my food they forgot to give me.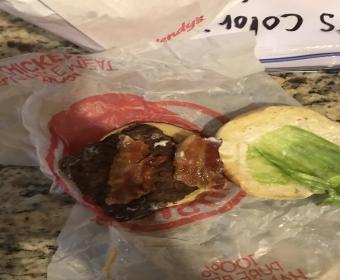 I love Wendy's, but why are the burgers so excessively greasy? The store in question is in Sparks, NV. 2889 Northtowne Lane. This is not a joke. Wendys is my favorite burger joint. Please fix it.

Rhonda Weigandt
from Germantown, MD
I went through a drive thru that I have been through many times and Have been a customer of this Wendy's many years myself and my family they have a policy that they will not interchange any items on their 4 for 4 dollar menu all I wanted was a small fry instead of chicken nuggets exchanged and a big deal was made about it and I was told I could not do that.I called the Wendy's customer service number and was told the same thing so I asked why not aren't the fries cheaper than the chicken nuggets and the Woman I was speaking to actually looked it up and said the small fries are $1.69 and the 6 piece chicken nuggets are 99 cents.I asked her for the company she said yes well that's the customers price not the companies.Please Wendy's do what You say and treat Your customers right the lady I spoke with said she would still file a complaint What good will tha do when even she was just out to try and prove Me wrong.I and My whole family will go somewhere else besides Wendy's now .
Thank You
Rhonda M. Weigandt

Rhonda Weigandt
from Germantown, MD
Wendys corporate was of no use to complain to the Woman I spoke to was nice but one sided about her views and out to prove I the customer for many years was wrong.I ordered a kids meal and a four for four meal simply wanted to interchange the chicken nuggets for a small fry and was told that I couldny do that at the Wendy's restaurant and by the lady I spoke to from corporate.I asked her about the cost if the fries were more expensive than the chicken nuggets for the company she actually looked it up and said the small fries are $1.69 and the chicken nuggets were 99 cents now that is for the customer not the company really Me and my family are done with Wendy's she said she would still file a complaint what good would that do Wendy's.
A very unhappy long time customer
Rhonda M. Weigandt

Diana Brown 4630 W. new market road Hillsboro ohio 45133
from Hillsboro, OH
at your Hillsboro Ohio store, Sat. night I went thru the drive- thru about 6:30 pm and got the worst meal ever. I ordered a double - large fry and a large Ice tea. The hamburgers were burned beyond burned (crispy edges) and the fries also had been left under the lamp way too long, I could not eat any of it. The tea was fine. I wasted $10.29. I have always enjoyed Wendy's food before this. Your crew needs to be told DON"T serve food a dog won't eat!!! You could look at the hamburger and fries and see both were not good to serve to anyone. I was totally disappointed and left your store hungry and then mad.

Sharese Newson
from Atlanta, GA
On 01/05/2019 I went through the drive-in and ordered a large chillie then proceeded back home to where I had ate the bowl of chillie then fell quietly asleep. Upon waking up my lips were numb and I immediately looked into the mirror only to notice that my lips had swollen to an alarming rate this allergic reaction forced me to spend almost $ 100.00 on products such as antihistamines and other herbal products wich helped aid as antyinflamitory on01/06/2019 at exactly 1:48PM I returned to 5115 W Colonial Dr and spoke with the manager whom was very unpleasant and didn't care in speaking with me about my situation.The only substance in which I am allergic to is pork and I've noticed that there had been chillie red beans as well as pork and beans mixture inside your bean packages. I'll have you know that I am highly allergic to pork products and this incident could've taken my life.I can be reached at (321)430-9450

William Lundquist
from Minneapolis, MN
I had occasion to answer your TV ad and went to your restaurant at 9628 Lyndale Avenue South Bloomington, MN to place my order for your 2 meat stacked hamburger, soda pop, French fries and chicken chips on January 6th .
This was one of the worst meals I have ever purchased anywhere. It was Sunday evening about 5:00PM and the place was empty of customers. I ordered the above meal and took it home. On the way home I began snacking on the French fries. They were warmed up, limp and not pleasant to east as well. When I got home I found the chicken chips to be partly warm and likely reheated also. They tasted lousy! I threw the fries and chicken chips into the garbage and began to eat the hamburger. That was another experience that you need to know about. The meat was firm, over cooked and dried out as if it had been kept in some warming oven and simply put on the bun, warm and firm…it was tasteless. I did eat the burger but it was a terrible experience and very unpleasant to eat.
I tell you this not to get any apology or free food coupons but to let you know of this inferior food service to the customer. You can expect sales at this store to drop off significantly. If I was a store manager and experienced this food served to a paying customer I would be forced to fire anyone that had any part in serving this garbage.

Kathy Brammer
from Bristol, CT
I received a gift card for Wendy's for Christmas. I live in Marietta Ohio and the last two times I have gone thru the drive thru, I have not been satisfied at all. I work midnights at a hospital and I went thru the drive thru around 10pm and asked for a Spicy Chicken Caeser Salad with an extra dressing. At 1:45am when I took my break I went to eat my salad and they gave me two crouton packs and NO dressing. I went online to register a complaint and I needed a restaurant number and that didn't work because I never get a receipt. I even asked for a receipt because of my gift card so I would know how much is left and she just told me, didn't give me a receipt. At this point I don't think I would recommend this Wendy's to anyone.
Sorry, I thought I was done having to check my bag everytime, but I guess I'll have to start.
So I would have to rate this a 2.

Henry Barsky
from North Stonington, CT
Here is my complaint as written on a review submitted to GOOGLE maps.
https://goo.gl/maps/tzCouR8ASTF2
If this does not open I can resend via email. Please advise.

Ron G. Anselm
from Leeds, AL
Went to the Wendy's restaurant in Gardendale, Alabama drive through and ordered two regular hamburgers. The girl working the drive through window said the order would cost $8.00 and some change. I was stumped for a minute with the cost for just two regular hamburgers and repeated myself and said, "No,I am ordering just two regular hamburgers." thinking she misunderstood me. There was no response from her once I repeated my order again and I finally said - "Forget that order just give me a number one". She sounded a little upset I changed the order but took it. I thought for a second to myself and didn't feel comfortable using my personal credit card and decided to leave the drive through line.
Either that restraunt needs a lot more training or there may be the possibility of some shady stuff going on there. Either way, I don't plan on going back to that restaurant again after my experience. Does Wendy's really charge over $8.00 for two regular hamburgers?

Lissa Kontes
from Parma, ID
We went to the Wendy's on 10th street in Caldwell, Idaho today for lunch. They were busy with a long line waiting to order. I told my BF, " there is
a line, going to be a while." There was one person taking orders, he would take 2 or 3 orders then stop and work on getting food put on the trays for people to pickup their orders. So the line was not moving at all. We stood in line for 20 minutes before being able to order. In the meantime, more people were coming in making the line even longer.
The soda machine was practically empty, only had a few choices because no one had bothered to refill the canisters of the drinks. There were no napkins, had to get them from the counter person. There were fries all over the floor that no one bothered to clean up, tables were dirty, no one
had wiped anything down. It was just dirty in there. If it would have been my choice, I would have left after walking in and saw the line, but it wasn't so we stayed.
We had the same problem there a few months ago, but BF wanted chili so we went there. We will not go back ever again. Even BF agrees with me this time. The help was terrible, the store was dirty, the restroom (women's) was dirty. I used to like Wendy's, not anymore. The food has gone down in quality, the service is not good, and the place is filthy dirty. The help is a joke, talk about incompetent people. Young kids that don't give
a crap if things are right or not. It amazes me that people still go there to eat. YUCK!

ron
from Merrickville, ON
Yesterday, I drove the one hour to the closest Wendy's from our house for my favourite burger combo. To my great disappointment, the restaurant was closed with blinds covering the windows. To my knowledge, their was no public warning of the closure. There was a note on the door of Wendy's saying to "watch for our new location on the internet." No date was suggested for when this new location would be opened. The owner of that location should be ordered to post a sign indicating where the new building was located and when it was supposed to open. Myself and other customers have no idea where it will be or when it will reopen. I'm sure the late Dave Thomas, would not be pleased, if he found one of his resaurants left abandoned and kept his customers in the dark as to its new location and target date for opening.

Lucy Galli
from New Kensington, PA
I stopped at Wendy's in New Kensington/Lower Burrell PA 15068 at midnight on 1/5/19. I ordered chicken tenders. I realize that it was late at night but nonetheless your product should be edible whenever your restaurant is open for business. The choice of sauces were not offered to me-I had to ask what my choices were. Then the food was cold and hard. And guess what?? NO SAUCE! I am expected to do my job up until the end of my day. Your restaurant should do the same. Just awful food and a waste of almost 10.00.

Jim Gobler
from Eau Claire, WI
Your Eau Claire, Wisconsin store should be closed. YUCK!!! Not deserving of a star.
You can contact me if you want to talk about it.
I'm done with it and I'm never going back.
Jim 715 214 3855

Wendy L powers
from Detroit, MI
Bought a choc frosty today they actually gave me a vanilla one only half full. Service was very poor, drive thrust girl rude. Very displeased will not go back 4086 fort St linkin. Park mi.

Adriana Santana
from Miami, FL
First it took forever in line, they didn't have a full portion of the apple pecan chicken salad so I opted for a small and a small southwestern chicken. When I got home there was no chicken in either salad. It was late and I just didn't have the time to go back. Service was terrible. Wendy's in Miami on Flagler and 97th.

Tracy Murpht
from Kansas City, KS
Last night, I went through the drive thru to get a burger and a small diet soda. I pulled up the window and was handed a bag with a sandwich and fries no drink. I told the young lady that it was the wrong order. She gave me a look like I was an idiot. I then got the right sandwich and my soda. The cup was filled pretty much to the top with ice. Definitely did not get my money's worth on that trip. I will not be heading back to a Wendy's anytime in the near future.
Have feedback for Wendy's?
Thanks for your feedback!
Sorry. Please try again later!