Popeyes
Contact Popeyes Corporate
Toll free phone number: 1-877-767-3937
---
Popeye's Louisiana Kitchen is a fast food restaurant company founded in Louisiana. There were over 2,000 locations reported in 2011 in 25 countries. Revenues in 2013 were reported as 206 million USD with over 20,000 employees.
To reach Customer Service, call 1-877-767-3937. You will find Contact Us information here. If you would like to send CEO, Cheryl Bachelder a letter, address your envelop with Popeye's Louisiana Kitchen Corporate Headquarters, 400 Perimeter Center Terraces, Suite 1000, Atlanta GA 30346, USA. Corporate office phone number is 404-459-4450.
Fast food made slow describes Popeye's mission in making Spicy Fried Chicken, Boneless Wing Bash, "$5 Box" Red Velvet Cake, Cajun battered food, biscuits and sides. Social presence is found on Facebook, Twitter, Instagram and YouTube.
Popeyes Contact Information
Report complaints to corporate and get satisfaction
Popeyes headquarters address

400 Perimeter Center Terraces, Suite 1000, Atlanta GA 30346

Company website

1-800 phone number

1-877-767-3937

Support email address

feedback@popeyes.com

Better Business Bureau rating

A+

Customer service hours

7am-6pm EST, Monday-Friday
Browse reviews of other Fast Food
Top Popeyes Complaints
Browse more than 366 reviews submitted so far

Mark Scott
from Baldwin Park, CA
I ordered 2 $10 bigger boxes I ordered coleslaw and mac and cheese for both boxes only received 1 coleslaw & 1 mac and cheese, and to top it off I should have received 4 apple pies did not get any, also 4 biscuits were not in the box either This was the first time I have eaten at Popeyes, and probably the last . $26 was expensive for 8 pieces of chicken and 2 sides . It was at your new location in Azusa CA, This is the 1st time I have ever complained to any restaurant it made me mad. Any questions call 626 327-9213
Mark Scott...............

I ordered a 14 peace of spicy chicken and I always order it fresh so I waited for about an half an hour to 45 min because they forgot that I was waiting in the lobby so when I got home and bit into the chicken it was raw that you can actually see the pink or red in the chicken. so I wasted 24 dollars on chicken that my family only ate 6 pieaces because it was to raw. I don't want to even bother to go back and complain because I waited that long to get my food. And everytime that I go to this same popeyes it gets worse and worse. This popeyes is at the corner of orange blossom trail and Washington st in Orlando FL.

I got a flyer in the mail with some specials for a chicken tender box, and I love Popeyes chicken so I was looking forward to trying the tenders. I purchased a five tender two sides and two biscuits box through the drive-through, and when I got home it had one actual complete tender and about nine or ten thin pieces of what looked like trimmings of what you would remove from a chicken (all batter). My wife told me to take a picture and send it in but I did not feel that was necessary. I am from New Orleans and was happy when Popeyes built in Foley Al. This was absolutely the worst meal I have ever bought. It's 6:35 PM on a Friday night (7/19/190) and I bought this about an hour ago. I have never written to complain about anything, I certainly hope that lets you know how awful this meal was.

Well Friday July 19th 2019 I decided to go to the Popeyes Chicken on 4232 W. Central to have lunch. When I arrived there the store was busy with customers and I can understand that part. When I finally got to the counter I ordered two 3 piece tenders with red beans and rice, paid with my credit card. I waited almost fifteen minutes after my order and no strips. I went back to the counter after sitting down and asked have they lost my order and was told that they needed to fry more strips so I said ok. Another ten minutes went by and I returned to the counter when my name was call, got my strips and sat down to enjoy my strips because I had only an hour for lunch. When I started to eat the strips they were cold so I went back to the counter and told them about the strips and was told that they needed to cook more strips and it would take 3 minutes so I returned to my seat. Another 10 minutes went by and I returned to the counter again and asked someone about my strips and I was ignored, so I finally got someone's attention and I heard someone yelled back to the fry cook about the strips being in the fryer too long and they could burn the cook put them in the warming tray and finished my order. When I finally got the fresh strips I sat back down and started to eat them and The meat was like shoe leather because they were overcooked. So I returned to the counter and told them about the strips and ask to speak to a manager. Finally she came over and I explained what had happened. Instead of her taking care of the problem by personally frying me some fresh properly cook strips she offered me some chicken instead so she gave me a wing, leg, and a thigh. I threw the chicken in the trash and headed back to work late and had to explain to my supervisor why I was late back from lunch. This was the worst service I ever got from Popeye Chicken since you open. I work as a Senior Sales Specialist with a major car dealership and was planning on having Popeyes cater food to our dealership every Saturday for lunch, but because of the poor service I've received from that store I don't know about giving you my business. Dean


Wayland alexander
from Lebanon, PA
Ok the other day about 5 days ago me and my family ordered a food through drive through get to window employee turns with window still open grabs a napkin blows his nose doesn't was his hands then handles our food . Today get our order get home missing our coleslaw go back lady hands us the coleslaw while eating a price of chicken not good this location in Lebanon pa 17042?is a mess.

So Im visting Atlanta for a few days and my family and i went to go grab some dinner for the kids and let me not get you wrong but the chicken was good and all and i love your chicken and everything but this certain day or so my nieces, my brother in law and I are expressing lots of discomfort with the chicken and we have been feeling sick all morning .
if you have any questions plz feel free to contact me @harmony201621@gmail.com
have a blessed day

Debbie Kelley
from New York, NY
Went to buy 2 big box dinners, they were out of food is literally what management told us, no coke slaw, no green beans, and no pies, not much to choose from so in place of 4 pies and no selection she was offering 2 free small drinks or 1 available side which did not want in the first place nor did it make up for food that still being paid for, then she continue to roll her eyes and tell me I will cancel your order then, they are waiting for the truck, places run out of food, it happens, asked to speak to a manager, she said both of them were managers, the other one did not even come to counter. I have been to this facility many it is in my Neighborhood. It is clean, and food normally good. Was pretty disappointed this time. The restaurant was empty, only one other customer there. This place is normally busy, sounds like poor management of food ordering and preparation. Not happy with attitude of managers either. The chicken tenders were so dry and cold also. Thank you.

Drive thru failed to give us our drinks, had to remind them. Didn't check my order before driving off, realized when I get home that they forgot BOTH orders of Red Beans and rice. It wasn't even busy at 8:30 at night. Do better or I'll go get "Jesus Chicken" just down the street.

David Nelson
from Charlotte, NC
So excited that Popeyes was opening on Sardis Road in Charotte. Prefer Popeyes since first eating there in Jacksonville Fla.. over twenty years ago. About a little over a month ago, Popeyes took over an old Burger King and opened on Sardis Rd. In Charlotte. I understand the challenges of getting your team trained to your standards. To date I've eaten there 5 times. Out of 5 going thru the drive thru, they've got the order correct once. The last time was 2 days ago when I ordered the $10.00 meal deal. Fouts time I have driven home (about 6 miles) to find that they had given me a leg and thigh and one side instead od 4 pieces and two sides. Drove back again.... brought the now cold chicken to the counter. The young manager open my box, throws a wing and a leg in the box, hands it back to me and does not say one word. Forget the missed side. Passed by the trash can and dumped it. After all the money you guys have spent on advertising to get me in ( l already was a patron)... you need to pay close attention to how you take care of the guest once they're in. Basically 24 miles driven to pay 10-11 dollars for no dinner. Really?

Thanks for not answering back to a complaint I sent over a week ago..
We ordered a 14 piece spicy tenders family dinner with two large sides.. I got home and it ended up NOT being what I ordered.. we got 14 pieces of chicken.. I tried calling the store.. but could not connect. Popeyes on South Freeway fort worth. I sent an email complaint with pic of reciept.. would like this matter resolved soon

I On 6/23/19, I went to Popeyes on 333 Salt Lick Road, St. Petets, MO 63376. Store #12762
Stood in line with a few customers ahead of me. There was an employee who seem to be new because he was asking manager questions. The manager, was very rude to the trainee in front of customers. The young man was not sure what buttons to press and the manager acted like it was problem that he was asking. Once the manager took the time to help him, the young man was correct and truly didn't know what to do. Poor kid.
Then, a lady in front of me had order her chicken drove a distance to pick up, got home and wrong pieces. She was unhappy and tried to explain what she order. The lady who took the call for the order told her that's not what she asked and the lady said that is not true.....but come to find out the customer was correct and the order was corrected. Not one person said, I'm so sorry, for your inconvenience let us give you this.....the manager along with the worker had absolutely no respect or good customer service.
Well, it was my turn. Placed my order to go. Good thing I checked my bag because I had to come back into store and ask for both "honey and cocktail sauce ".i stood at counter and waited.....the manager just looked at me, he did not say " may I help you? Do you need anything..... Nothing..... So I had to tell him what I needed. He grabbed the items handed them to me and said nothing else.
I will not return to this location. The customer service is horrible. The attitudes and demeanor is unacceptable. The service was the worst I've ever seen. The management needs to be replaced before that location becomes a failure.

Diane young
from Washington, DC
This is the second time I placed an order with door dash and didn't get what I ordered. I wS very disappointed again. I ordered shrimp and fish and got a box of fries, 6 shrimp and some mashed potatoes that wasn't even part of my order.

Victoria Lynn DeMarr
from New Albany, IN
On July 3 I went the popeyes in Franklin at 930 PM. No would answer the speaker or the window and I was not the only customer trying to get food. Then on July 15 I went to the same popeyes and asked for 2, eleven piece mild chicken. Was told I would have to wait 15 minutes. No problem. I get my food and go home. I have 22 pieces of breasts. We really only like dark meat. I am very disappointed. I live over a hour away and love popeyes.

George Sabin
from Lemont, IL
I placed an order at 11;07am with a girl with tattoos on her arm, for a spicy chicken sandwich, was told it will be ready in 7 min. Didn't receive it until 11:31. No napkins, or receipt. The service has a lot to be desired. The only thing positive about my experience is that the sandwich was Excellent. I'm a retired business man my self, you have to be doing better then the next guy to be successful at it. Regards George Sabin

Tara L Rivera
from Atlanta, GA
Popeyes on 192 and poinciana Blvd, my family and I love this place, there has been several occasions we go and they are not up to par, I went to this location last night around 5:00 p.m I order the 5$ box, the guy said we are out of the ranch parmesan dipping sauce,I asked him why is it every time I come here your always out of stuff , he said it's just the way it is, not a very professional answer in my book. .time before last we order the 10$ box, they had no fries and no apple pies, I sat in drive thru for 30 damn minutes, they gave me wrong food , cold food, the manager was a dark skin woman ,didn't even apologize to me .this is not ok. I am in the industry.ispend lots of money in this place, and to get such shitty service and food. Is not ok.i need something done about this matter asap, this location has to be the worse one I have ever been to. This staff does not know what they are doing also gave me Burt French fries that tasted two days old ...very dissatisfied and disappointed.

R. Johnson
from Branson, MO
The store in Collins, MS is terrible. Never get the order right, never has spicy (last three visits), tell you a 13 minute wait and then at the end of 13 minutes "well, we forgot to put it on". Three times they left the cold slaw out of the order. The manager told me it was privately owned but it still smack as a bad reference for Popeyes.

Rich connolly
from Schaumburg, IL
One store tells me they have no chicken made me eat burger king. Stop at another store had 17 in my group i am the first to order wait half an hour while the rest are eating went and ask manager for refund he gave money back no question of why went to steak and shake

KATHY A SCHMIDT
from Newark, NJ
2 weeks ago we drove 25 miles from our home to go to the hazelton Popeyes and they had no fries...we just drove 25miles again and still no fries we are very loyal customers for being so far away and I dont understand how they can not have fries

Rick Morgenthaler
from Harrisburg, PA
This is the 4th time I go to the store #5448 (Harrisburg) and they are out of the specials/promos. Why offer something they don't carry. Very poor costumer service.

James Holt
from Atlanta, GA
Me and my wife went to Popeyes in Evans Ga off of Belair Rd at I-20 and the people that worked there acted very racist, we didn't feel comfortable in the restaurant, but they were treating all of the opposite color very well

This Popeyes customer service is horrible! My husband and I stopped on yesterday and placed our order and also asked for Extra crispy fries with our meal ( normally an extra 3-4 minute wait ). However , Martin came to the window and told us "he's good at what he does and he can't make them crispy but he could burn them". We asked for the store Manager as I just noticed I was over charged for something we didn't order as well. The manager "Yolanda then came to the window she was rude. I asked for the area manager's contact info and she told me to look it up on the website and through the receipt ! I then took my phone out to record and she told me she was going to call the police! This is disgusting and totally unacceptable!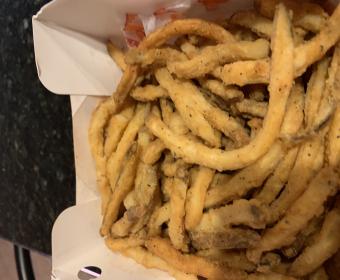 David and Rhonda Deshotel
from Little Rock, AR
My husband purchased food from 1430 Washington Blvd. Beaumont, Texas 77705 on Sunday July 15, 2019. There is no complaints about the service, the employee even gave him an extra box of biscuits free of charge but the box had biscuits in it that had greenish coloring on the bottom on it and the children ate most of them before I noticed mines. I don't know if it is mold or what but I feel it was given to him intentionally. I don't want any money back but someone needs to go and inspect what they are giving there customers. If anyone of us gets sick I will be contacting you again.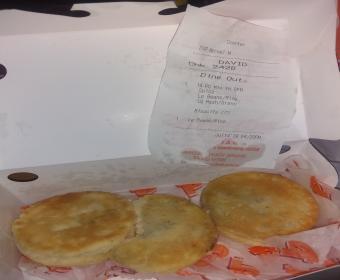 I went to the Popeyes in Chicago on 35th and Giles and 47th and cottage. The employees are rude. The lines all always long. On 2 occasions I think waited 30 minutes for my order. Unacceptable something needs to be done..

William Hatfield
from Canton, GA
1. Floor in both Restrooms had standing water in them.
Ref: Order 74:
2. Menu Item#12, Butteryfly Shrimp. 8 Medium Shrimp not Butterfly'd, no cocktail sauce on Tray. Medium Shrimp should say "Medium Shrimp". Menu very misleading.
3. Bottom of Tray was greasy, had not been cleaned.
4. Dab of Red Beans put into Drink container and then Dab of Rice put on top. Not very appealing.
5. Chicken overcooked.

Beverly Roth
from Akron, OH
Suanne Baldwin is doing cocaine and the last time was given heads up on when drug testing was going to take place so she could get clean. She treats her coworkers like carp and pushes off responsibilities to them instead of doing her job herself.

Delores Davis
from Chicago, IL
I Delores brought popeye chicken five piece spicy with fries and corn on Cobb July 13 2019. wen I got home too eat it was cold and had blood coming from it. I call the popeye back and told them what had happened with my order but they just hang up on me just going too take my money from me. Can I Please have my money or my right order or I'm going too report you all (312)607-0490 bye for now.

Katrice C
from Bensalem, PA
I pulled up to the nearby Popeyes restaurant drive thru in Morrisville PA. As I was looking over the menu to determine what I wanted to ordered, I was greeted extremely nasty by the manager Sam. He stated he is on a timer and doesn't have time to wait for me to decide what I wanted to order. Extremely shocked I pulled into a parking spot and walked inside to express my concerns and was greeted by Sam in person only for him to tell if I'm not satisfied I don't have to patronize the store. I in turn expressed how I felt about him and his customer service skills and still am in disbelief that a manager would ever turn business away from a customer. I have lived in the area for 8 yrs and never encountered such disrespect from an establishment. Popeyes in Morrisville PA has lost a customer and I will encourage my family and friends not to patronize as well. Thanks for your hospitality Popeyes.

Bradley Smith
from Tucson, AZ
First I would like to say my family loves Popeyes chicken and eat there very often. Now, the complaint; they hardly never get the order correct. Sometimes, it's not including sauce or the wrong sauce. Sometimes, meals are missing chicken strips or biscuits or wrong drink orders. We live pretty far out of Tucson and we often pick it up on our way home. By the time we realize that things are wrong we are too far away to fix the issue. I do not think we should have to search through our order to insure that everything is correct. The reason we are picking up food is because we wanted something easy after a long day.

timothy miller
from Chicago, IL
how you walk into a chicken restaurant and there be no chicken???? This at Howard and Dame in Chicago and not the first time this is happened. Serviced is awful at best and customer service is worse.

Employee extremely rude
I ordered 1 gal. Sweet tea that's it had to wait to place order kept being told wait a minute after placing order the order I waited through 2 or 3 chicken orders being prepared when a manager came out and told him to get my order of Sweet Tea so I could be on my way. Got my tea got home and its unsweetened tea not Sweet Tea like I ordered Drove back to Popeye's 2+ miles and was given attitude by the same idiot that probably intentionally gave me the wrong tea
Because they had the nerve to mumble several things under there breath including that I don't need sweet tea anyway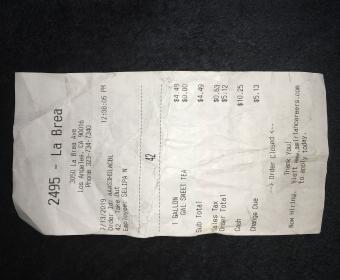 keith bussell
from Howell Township, NJ
i cant even begin to express my disappointment with the service, staff and overall experience at your location in Howell NJ at store # 12186. I have been to your franchise before and never had an experience like this. I was sitting at home with my wife and in-laws and saw a commercial for the new parmesan ranch double dippers pop up and decided that tonight we were getting Popeyes. we drove to the closest restaurant. we walk in and didn't notice anything out of the ordinary. We ordered 2 of those new specials and one 5 piece tenders. while we are getting our drinks we notice that the first 4-5 soda choices we pick in the machine are not working. This happens. I totally understand. So we went with the basic coke. Over the next few minutes we see the manager come out to change what looks like some cartridges on the machine so we assume it was just out of some liquids. Our order number is called and we go up to get it. It is in a to go bag ( when we said eat in and even the receipt says eat in) but we look past that and go unpack it at our table. we open the food and notice every box is some assortment of chicken tenders. this seems odd but ok maybe it was just a mix-up. we go up to the counter to ask what happened and we didn't even get the double dipper sauce which is why we came here in the first place. the girl behind the register says "we are out of that sauce" my mind is blown as to how something so new can be out of stock at 5pm but she looks and finds 1 small container and hands it to us. I tried to stop her and say yeah that's all good and well but we didn't get the right food... she walks away and I walk back to my table dumbfounded. we decide to eat and not be those annoying bitch customers. while starting our meal my wife looks past my shoulder and says. oh my god... of course I whip around and say "what". she says look at that window. its disgusting... we need to get out of here. I turn around and see a window that honestly looks like it has not been cleaned in a month. I then gaze around to other windows and some seem worse then others. The dirt and what looks like nothing less then I can describe as spit is caked on these windows like nothing ive ever seen at a professional food establishment. I convince her to just stay and eat and lets be done. halfway through our meal I notice a manager come back out toward the soda machine. I grab him and ask him why he would have his employees taking an order for this new product and instead of just telling the customer that they are out of it, they just give us something we didn't order and pretend that's ok. he looks at me baffled and says.. what do you mean? of course we have that. I show him the receipt and tell him what happened. he apologizes and says he will have a batch made up for us right away. at this point my wife and mother in law don't even want to eat anything else but I figure even if we take it home it would be a good time to try the new product an if we like it we know we can come back and get it again. we sit and wait almost 10 minutes and the same girl who told us they were out of the sauce brings us a bag of the chicken. I open the bag, it has 1 small box in it. no sauce, no anything else. again. I am totally baffled. You already have an angry customer , whos upset with how the service has been and you as the manager don't even bring it out and then its still incomplete. as the girl is walking away I call for her attention and ask her. what happened to the sauce its suppose to come with and we ordered 2 of them. her response shocks me. She says and I quote " I have no idea how to make that double dip thing and I'm not about to go back there and make a mess" and walks away. I am so irate at this moment but my wife tells me to stop, don't go make a scene... so I calm down and start to walk toward the door. as I'm about to walk out that same manager comes out. I signal for his attention and he reaches out to shake my hand, I guess he assumed I was going to say thank you.. instead I tell him.. I don't understand.. we got 3 pieces of chicken from what was suppose to be a 6 piece meal, no sauce and is cold as ice. he says. what do you mean no sauce. I said yeah. the girl said she doesn't know how to make it. he says. I'm so sorry and runs in the back... I stand there for about 3-4 minutes and he comes out with a bag that has 1 sauce mixture in it. at this point its clear I am not going to get proper service or proper product.. so we leave.... on the ride home we are talking about how bad this place was. and its a shame because in all my past experiences the food is generally pretty good. I am attaching 2 pictures of the windows that I took. all of them were this bad or worse but I didn't want it to seem too obvious that I was walking around taking pictures. I have no idea what kind of staff you have at this place. but someone with some integrity and work ethic needs to get in this place and whip these people into shape. because I can tell you, my wife and mother in law wouldn't step foot back in this place even if it was free to eat.... I cant tell you how disappointed we were.
Thanks for your time
Keith Bussell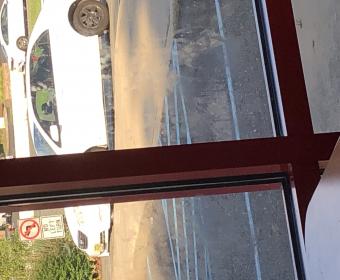 Bruce W Johnson
from Huntsville, AL
The manager at the store on hwy 72 in Huntsville Alabama cut me off and nearly crashed into my car. she failed to yield the right of way. I followed her into the Popeye's parking lot and got in front of her red sedan and yelled at her about cutting me off. She then threatened me saying that i did not know what she had in her car, implying she had a gun and would use it. As a Vietnam veteran I am not immune to facing down guns.

I went through the drive thru and ordered the $10 meal deal I got the food home and opened the box to four of the oldest pieces of chicken I have ever seen. I got one breast and four legs the breast looked like it came from a baby chick and I didn't even know you could have dried up and greasy chicken until tonight. This is my husband's favorite place to eat and he was so upset he couldn't eat the chicken.

The associates were very rude. Got my meal to go snd had no spork went back in and rude again. Got back to my car and. On rd just ti turn around bc no gravy on my potatoes. Went in rude again said we aint got none. Next. Like really unprofessional

Jennifer
from Seffner, FL
Went to your new popeyes @ MLK SEFFNER FL. Today 7.11. 19. Went drive thru. Staff was unprofessional, immature and inept. After 3 times trying to communicate my order, it was ridiculousness. I exited the drive / order area and will never GO BACK !!!

Jacquetta Williams
from Camden, NJ
I was told that manager Josaphat would get back to me after I was not ok with the decision he made about me getting the wrong order and wrong receipt. I was told by one of the workers that I had 24 hours to bring this to there attention that things was wrong. I called within a hour of knowing that I was giving the wrong order as well as the wrong receipt. I called the store which I got no answer and you could not leave a message. I also emailed a complaint as I am doing now and I called the number to complain. I paid for a 16 piece with 8 biscuits as well as three large sized. I was given a 8 piece of not all the way cooked chicken and a large over cooked mac and cheese and a small mashed potatoes and gravy. I paid 40.51 for my order but the receipt that was given to me was for 31.10. Josaphat wanted to offer me 4 biscuits and a large mac and cheese because that's what the receipt said. It is not my fault that the young lady give me the wrong receipt or the wrong order after she repeated my whole order back to me at the window before she gave it to me. I will take the lost on the not cooked and over cooked for plus the items that I was not given all I am asking for is my 9.41 since I did not get 40.51 in food but I also did not get 31.10 in food either. This all took place on June 30, 2019 and there is no reason that it should be dragging out this long. You can not get threw to them on the phone or the answer the phone and don't say anything then when you call back the phone is busy. I would like for this to be resolved by someone. My contact info is mooka0676@gmail.com or 856-498-6662 . Thank you

Gerri Boyer
from Gonzales, LA
That the chicken I got was so hard and old we had throw it away. But not before finding a hair cooked into one of then. I had to even pull up and wait for this old hard cold meal. Complete with hair. This not the first time but it is our last.

Bobby Harris
from Dallas, TX
Went to your Popeyes Chicken on 360 ordered a three-piece White fries were cold chicken was old could not understand the person that the one that was taking my order and gave me the wrong order in the person that the one that was very rudeplease look into this and correct the problems so next time I have a better experience with going to your Popeye's Chicken please thank you and have a great day

Judy Bryant
from Philadelphia, PA
Store # 11031 Shift Manager Mariah Perez 3:45 pm. I enter the store with a survey coupon and I was told my the shift manager that she would take the coupon this time and stated it was another store. I said I didn't know that. I said oh Wendy's n Mcdonalds take them at any location and she said with a smart remark do we look like Mcdonalds. I then ask for my coupon back n the manager she said I am the manager and if you call you will get me. I than asked for the corporate number she said look it up. And my last day is tomorrow any way and tell them I have customer complaint. With people like her I can see why the store only had one customer. I won't come here again. Thank you Judy Bryant.

Mike Lanius
from Smyrna, TN
Store in Smyrna,TN opens @ 10:30 on Sunday & full menu is not available. Why open @ 10:30 when I can not get what I want until after 11:00
I could not get regular chicken tenders,mash potatoes or red beans & rice until after 11:00.
This is the 2nd time I went after church & had to go somewhere else.
I also see other people leave too.

Camilla Hall
from Atlanta, GA
It was horrible service 6/29/2019 we waited in line over 1 hour only to order and get to the drive thru window to be told that it would be another 15 minute wait for mild chicken. When asked why it took so long the girl at the window said because they only had one cook.

David Oskins
from Houston, TX
Biscuits were hard and tasted like they were a day old. Gravy was like water. Chicken PCs were the smallest we've ever experienced. If I would have known all the above before I got home I'd would have returned and asked for my money back. After many years of supporting Popeyes I'm now done.

Adriana Benavidez
from San Antonio, TX

On duty manager Ed is Very rude and unprofessional....very snotty and short when talking to me....i wont be back

Christina M
from Bedminster, NJ
Every time I go to your restaurant on Durand in Racine...the staff are incredibly rude...they won't even answer questions about your menu without getting audibly rude and can't answer simple questions like what goes on (x) menu item.
Second thing is SLOW SERVICE....I usually avoid your restaurants bc I can go to a sit down for the same price and time ( about 30-45) ... I think better about how to spend my money after like 15 min and leave, I did it today! ..why call a drive thru if you can't do it?
That being said ur food is great, but i can't justify the time and your jerk employees! The whole point is Hot, good FAST food... I hope you get better bc I wanna try again eventually....but not while MC Donald's, Wendys and Taco Bell is around....

Jose Ruiz
from Long Island City, NY
I'm writing a complaint for the location at 601 W 172nd Street, New York, NY 10032. This is the nearest location to where I live and I'm a big fan of Popeyes but every single time I go to this location the experience to get Popeyes food is tarnish by the excessive waiting time and super slow service. Tonight it was too much and that's why I decided to write this complaint... only two cashiers, one only doing door dash orders and the other very slow and suddenly she went to the back even tho there were 5 people waiting to put an order including myself. This is a fast food restaurant and it took half hour for me to get my order... they need to get an extra cashier and be more fast... they very slow and with the door dash it's actually just one cashier ... every time I go here is a long line and crazy waiting times... please do something. Thank you.

I pulled up to the drive-through window asking for SPICY chicken tenders. As I've learned that a lot of these fast-food employees are not too swift in the brain dept, I checked my chicken before I drove away. And IT WAS WRONG! It was NOT spicy, and the person at the window tried to tell me that it was. I've been getting the spicy fried chicken and tenders there for years, and I know the difference between regular and spicy. The spicy has a red powder dusting (prob. cayenne pepper) between the chicken and the skin, and there was none, So the girl call someone else over, and they told me it was spicy too. They even showed me the drawer that it came out of (like that was supposed to mean something). The cashier then asked me to move out of line because I was holding up other customers. Sorry, but I didn't - maybe those other customers would like to know that they can count on THEIR orders to be right too! When the manager came over, I was somewhat pleased; until I realized he's just as daft as the rest of his staff. He tried to tell me as well that what I got was spicy, and I told him "THIS IS NOT SPICY; you should be able to see the red spice under the skin!" Then he copped out and said, "That is what they send us!" Really? REALLY?????????!!!!!!!!!!!!!

I'm writing a complaint for the location at 601 W 172nd Street, New York, NY 10032. This is the nearest location to where I live and I'm a big fan of Popeyes but every single time I go to this location the experience to get Popeyes food is tarnish by the excessive waiting time and super slow service. Tonight it was too much and that's why I decided to write this complaint... only two cashiers, one only doing door dash orders and the other very slow and suddenly she went to the back even tho there were 5 people waiting to put an order including myself. This is a fast food restaurant and it took half hour for me to get my order... they need to get an extra cashier and be more fast... they very slow and with the door dash it's actually just one cashier ... every time I go here is a long line and crazy waiting times... please do something. Thank you.
Have feedback for Popeyes?
Thanks for your feedback!
Sorry. Please try again later!