Papa John's
Contact Papa John's Corporate
Toll free phone number: 1-877-547-7272
---
Papa Johns International is an American pizzeria that has over 4,000 franchises internationally, with over 3,200 in the United States. The UK, Cyprus, Portugal and Ireland have franchises. Papa John went public in 1993 and is listed on NASDQ:PZZA. In 2013 revenues were reported at US 1.4 billion and net income as US 69 million.
If you want to comment on the quality or service you've received at any Papa Johns call their customer service number 1-877-547-7272.  If you want to mail a letter directly to the CEO, John H. Schnatter you can address you communication to 2002 Papa John Blvd., Louisville, KY 40299. The corporate office line is 502-261-7272.  That same number is listed as the fax number.  An online customer feedback form is located here.
Papa Johns was founded in the back of a tavern belonging to founder John Schnatter's father. Two years later franchises were being sold and the company went public in 1993.  Papa Johns was the first to offer online ordering and their slogan is: Better ingredients. Better pizza. Social media presence might be helpful as a forum and also as a way to receive notification of coupons and specials. Check out these for Papa Johns on Twitter, Facebook, Instragram as well as a YouTube personal story from the founder.
Papa John's Contact Information
Report complaints to corporate and get satisfaction
Papa John's headquarters address

2002 Papa John Blvd.
Louisville
KY 40299

Company website

1-800 phone number

1-877-547-7272

Support email address

customers@papajohns.com

Better Business Bureau rating
Browse reviews of other Fast Food
Top Papa John's Complaints
Browse more than 181 reviews submitted so far

While working as a driver at store 1544 in OKC, I observed two managers smoking pot in their car in front of the store. I reported this to our district manager, Clinton allen and he told the two managers what I reported. the two managers are still using drugs at work. I feel that mr allen is condoning drug use at this store. I feel like this endangers employees there as well as our customers. Please take this info seriously as I no longer feel safe working there.

I've been ordering on my iPhone app once a wk well as of last wk my address could not be found on the app I contact customer service they send me a email on directions to my house without where I start ect.. I was nice and got a reply back a smart comment on directions I told them why don't they look up the 1000 pizzas I ordered before they seemed to find my house just fine . Idiots !

chris herbert
from East Rutherford, NJ
Long time customer of papa johns and just bought 250 dollars worth of gift cards last week. Went online and ordered a meal deal from east Rutherford nj store. I have spoken to the owner and driver many times and they are very nice. Store did not have the soda that went with my deal (has happened before and I was always reasonable and took a different soda). They did not have orange or pepsi or anything I liked. I said "please refund me the price of the soda and I will go next door and buy one." She gives me one dollar and ten cents. I said "I can buy a soda for a dollar seventy five next door but not a dollar ten". She said that is the pro rated price for the deal I bought.
I said "I have no way of knowing what I paid for each individual item in a deal but you are the ones who don't have the soda and I need to replace it so cant you give me a refund for whatever a soda costs from you?" at the time I did not realize a 20 oz soda from them was a dollar ninty nine and I was only asking for a dollar seventy five. So I said I will cancel my order and you will lose a long time customer over sixty five cents, you are the ones who don't have the soda. There is much more to this story and I don't want to make this a book but the bottom line is that if I paid one dollar and ten cents for just a soda then the same refund would make sense but if I purchased a deal and drove there only to find you're soda delivery did not come today and you had nothing I liked, I expect a refund for the going price of soda. Everything would have been fine if I could have just taken my food and then been refunded one dollar seventy five cents to get a soda next door.
Now for sixty five cents (the difference between her supposedly pro rated refund and what I wanted) papa johns has lost a customer that spent about 300 a month there.

My kids and I were sitting down in the kitchen and saw the Papa johns commercial. I made a bet that papa Johns was going to taste better than Dominos. We ordered the pepperoni bacon 12″ ( cost $20.10 ) we then order (1) from Dominoes ($14.69). Not only did Dominoes come within 30 min. But also looked and tasted great. Papa Johns came and looked/tasted like old food. Needless to say I lost my bet with my kids and had to pay for both pies. Can someone tell me why. Order#0403/0112

I ordered a pizza in the store. I waited 30 minutes while I listened and watched the staff tell jokes and horse around in the store. The manager as well as other staff. After 30 minutes, I bent down to look into the oven and no pizza was baking. I asked them if they were making my pizza. They said "Only his". They were referring to an employee. While I continued to wait, he made himself 3 large pizzas, boxed them. put his coat and left. I asked if they were for delivery. The manager said no, they were his as he was having a party. After another 20 minutes and no pizza, I left the store. The manager was as bad as the workers. They were laughing, high fiving, and generally not working. I waited a total of 50 minutes and they still were not making my pizza. On the way out of the store, I told a lady that she would have a long wait. She said this was the second time she had been there after ordering her pizzas over an 1 12 hour wait. She said every time she called, they said they were busy. I love Pappa Johns, but I will spread the word about your employees if you don't make complete improvements. There are plenty of people who need jobs.

Larry E. Brooks
from Henderson, KY
I ordered a pizza said be an hour I waited hour 10 min went to get parked behind a lady in line waited and waited finally I could see the lady was angry and she drove off without a pizza and when I pulled to window the lady was laughing at what had just happened and I gave her my name she said another 45 min to an hour wait...I am done with you pizza joint in Henderson ky ..bad service and rude employees ..You need better management and when its supposed to be ready and they tell you another hour when you get there.no way theres better pizza places in Henderson who are managed a lot better and pizzas are good...Mr. Brooks

Stephen Lobrano
from Jacksonville, FL
Store 1776 Margaret St, Jacksonville, FL, scheduled a DoorDash with me. When I arrived at the store Kyler, MOD, told me that he had one of the staff delivery drivers deliver the order. DoorDash chat wasn't available due to the massive orders. So I had to cancel the order which significantly affects my DoorDash ratings. I received no pay from DoorDash and had driven to the store. Kyler should have cancelled the order or allow me to complete it. Kyler was absolutely insensitive to having send the order to me and then giving it to a driver. He didn't care about wasting my time. Kyler does not reflect well on Papa Johns. I will no longer accept DoorDash orders for this store and many DoorDashers are also not accepting Dashes from this location.

My son order for me pizza and I have one be for that one was good I ask my son to order for me same :one but today was cold not hot and the bread not like one ber that one today thank you I was not happy from it I eat from it my son he's name Anthony Maidahe order it

Troy Tate
from Bedminster, NJ
Jacksonville, AR.....
7-19-19, 9:00 pm, walk in, " Wanna place an order" .... Err... It will be 10-15 MINUTES BEFORE WE CAN TAKE THE ORDER..... Jesus h. Christ on roller skates..... you people are crazier than a shit-house rat.... and have a nice day.

Elaine Howell
from Amelia Court House, VA
Worst pizza I have experience thus far. Ordered XL with 3 toppings more bread than anything can't taste any ingredients. I will not reorder again there. Started to go to Pizza Hut or Doninos wish I had and could have been half of the price and would have enjoyed. Had to throw away... waste of money, never again.

Justin Lewis
from Houston, TX
Placed order on 06/29/2019 for a x-large and lg two topper. The driver called me and informed me that the reason he was late was due to the train and he would be her in 20 more minutes. (ok! no problem) I received that call at 2:53pm. Next I called the store ph @ 713.747.7272 @ 3:37 pm only to be placed on hold for over 5 minutes. Still no pizza man at my door! So now... I'm still on hold and it had been 9 minutes. The time is now 3:46 pm. Omg it has now been 11 min and I am still on hold! I'm just gonna hang up and call back! I will screen shot the time of the phone call length! 12 min is on the phone waiting time for me being on hold.

Food was delivered 30 minutes late our lunch was over, tried to call the store in Laurinburg North Carolina to get info in our order they never picked up the phone. Delivery driver was the person I ordered the food with and she knew what the issue was about time here at our company. Very disappointed with the service.

I've complained almost a month ago.they delivered
Wrong and the worst pizza and didn't bring any sauce and i couldnt give it back because no transportation, and they didn't even make good eith it

Tina Niblett
from Chatham, ENG
Saturday night we decides to have a papa johns so was inputting the app which then gave us £15 off our order over £30 so we ordered £35 worth of food and expected this to be taken off the final receipt when the order went through it hadn't I phoned the number advise to be told not her problem as its to do with the internet and she can not do anything? the young lady I spoke to advised that she was management and still nothing can be done I did advise her not good enough and that I will be complaining she advise to cancel order and then I would have to wait 5 days for the funds to return to my account. As you can imagine I am not happy with the service and the attitude that nothing can be done.
Attached is the confirmation I have complained twice with no-one contacting me on my mobile 07852735795 so I would appreciate a response.
my order number 32038965 from Lewes road Brighton
Thank you for your order - 32038965.
You have successfully placed your order with Papa John's Brighton - Lewes Road. You'll find a reminder of what you've purchased below

Shanta Robinson
from Conyers, GA
months ago I learned Papa John's launched a plan to revamp their reputation, so I decided to come back...Papa John's location @ 1409 Sigma Rd NE Conyers, GA 30012 that manager(white male) "Ben Garman"(if given the right name) is piece of work! his actions, nasty attitude, very unprofessional, not courteous at all, RUDE, and doesn't make any attempt to resolve a customers issue. not a good look for a franchise attempting to change the minds of how folks see it. because my experience last night on 6/7/2019 makes me question the change or if there has been any REAL changes made. just hire staff crew and defiantly Management that don't have a problem or issue servicing your customers no matter the color of their skin. for me 100% is guaranteed quality pizza, and customers satisfaction.
Thank You

Stephanie Burr
from Oldsmar, FL
Good afternoon,
I have tried speaking with the restaurant as well as completed a survey with no response. On 5/31 I ordered a large 2 topping pizza with garlic knots and bread sticks. I called the store 3 times regarding my order that when placed said at least 60 minutes. At an hour and 15 minutes I called to check on the order and was told it would be just a few more minutes he was leaving to deliver, 20 minutes after that I called again and was told that the driver was out for delivery. About 15 minutes later I called again and they advised that it should be there any minutes. About 10 minutes later the pizza arrived. Being a bit upset the driver advised he had just been called in as they were short staffed and we should call to complain. I called the store back and expressed my dissatisfaction and was told that they were sorry and that is it. When my pizza arrived almost 2 hours later it was cold, pizza, knots and bread stick cold as if sitting for some time. I was not even offered a replacement
VERY UNHAPPY

I was a first time customer and I ordered online philly steak pizza, the meat pizza and two sides of wings. When I received the pizza the philly steak only had meat on two of the slices. I called to report it and the staff was very rude. He told me to hold on and the next thing I knew the phone had a dial tone and they never called back. I paid 44.48 for papa johns and wasn't happy. The staff was very rude and that's not acceptable. If it's possible I will like a refund or gift card or etc. This was my first time ordering from Papa Johns and I shouldn't have to experience anything like this.

Julia A Burgess
from Bedminster, NJ
I called into the Carrollton Papa John's to cancel an online order that i messed up. I called immediately after i pushed checkout. The "manager" was very hateful!!! She told me that she already made my pizzas and they were already thru the oven, that she couldn't fix it. I literally mean all this happened in a matter of 2 minutes. I never raised my voice or anything. She told me that she has black listed me. This is NOT the 1st time the manager has been hateful to me.. Horrible customer service!!!

Tina richards
from Lexington, NC
Complaint against papa john at 25 Talbert Blvd, Lexington NC - telephone for plAce is 336-236-7272. At 8:00 pm on May 24, husband called in order for 2 pizzas to be delivered to Smith Avenue. At 9:00 he attempted to call to check on delivery - he and I separately were put on hold 6 times and hung up on. Husband eventually got through and told them he was checking in order for delivery that was called in at 8:09; he gave the address again and waited — it is now 11:00 -we never received order —we will never order from pap John's again - don't want Pizza - someone just needed to know the kind of business that company is doing - never called - never showed up - awful and I will be telling others about my experience -and I think someone from corporate needed to know - good evening

i order online. there is no problem with the pizza or service. my daughter always wants extra garlic sauce. i cant seem to order it online. i said something to the manager and he said you could always choose online. not so, he said " nobody else seems to have a problem with it". i have mentioned this several times before with the same response. why cant someone help me with this? i keep paying at the counter for the sauce. please help me figure out what i am doing wrong. i am sure this email will do nothing as i have tried before and did nothing. can someone help me?

I ordered a pizza they said it would be delivered between at a window and when I called they changed the window online I called and said it was on the way and I called a half hour later and was told it just left I said you told me this a half hour ago this is these people don't get jobs. as I'm typing this there is still no pizza

I give a neg. -1 because I have called corporate and submitted a verbal complaint and was told that the district manager would give me a call in 48 hrs. Well its been a week and no call. I ordered a pizza for $15.62 and was charged another $4.28 and for what know one will tell me. The rude manage at the store said the online system made the extra charge. The manager give the phone number to call for help on the on line orders. They are the ones who said that the district manager would inquire and give me a call in 48hr and they said that they did not charge the extra money an that it was don't at the store. So I still don't know what I have paid for or if maybe someone at the store just decided they too wanted something and though I wouldn't notice. Being that I cant get a straight answer or good help on this does make me wonder if someone is using people like this form time to time. But don't worry I wont ever order another anything from any Papa Johns ever.

i order a pizza for delivery and they got that had for pick up then had to charge my card 2 time it was about 1 hr and 30 min late and it was cold thank u

Today, I decided I wanted pizza and around 4:30 I got online to order pizza; however, I had a message on 5/16/19 that I had a $10.00 reward. I called the store and they gave me another number to call to get this problem of "no activity for too long" so I would be able to use the $10.00 credit.
Instead, I finally gave up after an hour and I called an order in for a large pepperoni pizza to be picked up. I have ordered pizza from Papa John's for many years and I really enjoy the pizzas. When I got home, the pepperoni was not round and it did not taste like pepperoni should have tasted. It looked as if they chopped it up and spread it over the pizza. At 77 I am getting particular with my pepperoni, I don't like that at all. So the experience was tedious to begin with, and it got worse after I ordered and picked up the pizza. i still can't get this $10.00 receipt even though I have a receipt for this purchase. When I looked earlier you had to put in a previous order number, now I don't know what it wants and since I picked it up it has nothing on it but my misspelled name, order date, order no. 0026, makeline print time: 05:23 pm, order ready time: 05:38 pm, order taker : 606831, amount of tender 14:06, order total, 12.99, tax, 1.07, cash 14.06. I don't eat pizza as often because I have to eat it for a week. I am a widow, so every once i awhile, I want excellent pizza, which you use to have, with no problems.

Katicha Mitchell
from Lady Lake, FL
I have been a customer of papa johns for several years. I ordered a MEAT LOVERS LARGE pizza from papa johns and they delivered my pizza 2 hours later and cold.. I called the store here in Belleview FL. 352-302-3222 AND the manager was unprofessional TOLD ME HE STATED TO MY SON THAT THE PIZZA WAS GOING TO BE COLD BECAUSE THE DRIVER IS REALLY BUSY & hung the phone up in my face. I need to speak to someone from the cooperate office as soon as possible. My name is KATICHA MITCHELL HOME# 352-292-4001 CELL#352-537-1119

I ordered the 2 for $22.00 large pizza after they used my debt card and said the total was charge 37.60 I said I thought it was 2 for $22.00 he said don't worry I did not enter your card, when I looked at my Chase app they charged me $37.60, I called he said he would credit me in 15 min, its been about 2 hours. I called again the store and ask about my refund they said not sure about it, I asked why did they charge a larger amount, the response was it takes time to get a refund and do not order here again. I feel that this was improper to say. I will be telling my friends of how you cheat people. this was Pappa Johns on 701 East Market street Akron, Ohio 44305
Chris Wheeler
275 Park Street
Wadsworth, Ohio 44281
330-590-0703

a few weeks ago i ordered a pizza from the JFK location in North Little Rock Arkansas. I order from here frequently as papa johns is my choice of pizza. However, this is my second complaint on behalf of this location. I will provide a picture of the pizza. When I opened the box it looked as if the pizza had been turned upside down or maybe even the delivery driver dropped it and threw it back in the box. I still managed to consume my pizza because it had been a long day at work and I was hungry and didnt have the time to call and complain about the order at the time as it was getting late as it was and of course afraid they may do something intentionally to my food because of the complaint and because of prior issues. Also i have already submitted a complaint about this and have not heard anything.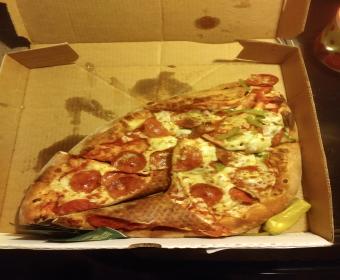 On april 24th i placed a order at the w conial store in orlando fl the order was canceled withoyt them callu g me to let me know and at 10 oclok pm the money was put back on my card thats ehat the manager told me i have called twice and two tickets have been sbmitted but my money have not beem refunded back to me on my card

ERNEST E JONES
from Fort Worth, TX
I visited one of Papa Johns restaurants in Fort Worth, Tx on April 25, 2019 , 12:19pm. Restaurant #1785. When I entered the restaurant the manager was on the phone taking an order, after finishing with that order he proceeded to take my order. After touching the computer to take the phone in order and taking cash and handing back the change, the manager proceeded directly to the pre-prepared pizza dough on the pan and started handling it with out washing his hands or putting gloves on. He put his hands on the topping also. He did not try and conceal the fact that he did not wash his hands. This is completely unsanitary and unacceptable. I went ahead and purchase the pizza and through it away. I have ordered from that Papa Johns many times and was very disappointed and disturb over the carelessness I witness. Please contact me 817 715 6624.
Thank you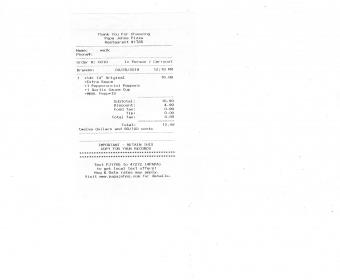 Very, very disappointing customer service from:
Papa John's Store #4805
91-5431 KAPOLEI PARKWAY
KAPOLEI,HI 96707
(808)670-2560
We waited patiently for 85 minutes. My children and guests monitored its pending delivery online. While we waited outside in front of our home, we received an update that the pizza had been delivered. How was that possible if they never showed up? The driver did not bother to call or come to our home. I called and the lack of professionalism was very, very disappointing. I will inform my command and recommend that my personnel not provide business to this establishment. I felt that this type of customer service was due to me not being of Asian descent, I truly feel discriminated. As a disabled veteran, I do not feel I received the customer service that I deserved, I will inform my other organizations about this.
Feel free to contact me.

fred slotsky
from Dallas, TX
Call Papa John's to order a pizza for pick-up, was put on hold for 10 minutes and 25 seconds, ordered a mushroom and onion pan pizza. I was told to pick up in 15 to 20 minutes, got there in 25 minutes and my pizza was still not ready, waited another 5 minutes my pizza came out. I checked it and it was pepperoni. They told me that's what I order. I walked out and you'll never see me again

Paulette Shorter
from Grand Rapids, MI
I have ordered from the Wealthy Street location (Papa John's Store #1820 1551 WEALTHY ST SE GRAND RAPIDS,MI 49506 (616) 456-7008) for years. Today I received a phone call stating that my order was cancelled because of where I live, I was told that your company can not deliver in my area after 8pm. I have been a very loyal custom I always order online and pay with a credit card and that has never been a problem. So I don't understand why my order would be refused. Loyalty should go beyond your address. I believe that I live is a very respectable community my neighbors and I have lived here for many years.

William porter
from Danville, IL
I call at 11 pm tonight and started to order a large pizza and with topping on one half he told me it will be 1 hour 1/2 for delivery
And he could not promises it will be hot.I will not order cold pizza in hoping you can help me because I like your pizza hot. What should I do????Help

Sheri-Lyn Slansky
from San Francisco, CA
Had people over for the final four basketball game and could not order pizza! Your site was down during the semi final college BBall game! You can imagine how mad 15 roudy MSU fans that had to eat hot pockets and Cheetos for our watch party! All of have decided to not order from you again.

Thomas
from Cincinnati, OH
I ordered honey chipotle chicken wings with a lg pepperoni pizza. I had order 20, not knowing they didnt come in 10s, this was not clarified by the manager that took my order. I was then sent my pizza and chicken poppers not wings. I called to tell them my order was wrong and said manager on duty of 4/7/19 at 3:25p.m. said that that is what I ordered. I corrected him and explained I've never known about their chicken poppers and wouldn't have ordered them based on that alone. He said I could have my wings but then would have to pay for those too after paying for food we didnt want. Not only was customer service garbage their "poppers" were no better than microwaved chicken bites with a light drizzle of the honey chipotle sauce. The ranch dressing was in the box with the poppers and hot. Ranch dressing is fowl hot and could possibly get my children sick. We as a family will no longer patronize this store in 45212 area again due to their lack of customer service and professional accountability.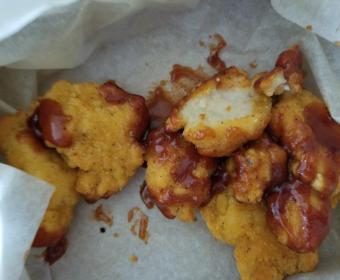 Rex Henderson
from Mansfield, TX

Eddie prater
from Atlanta, GA
We placxed an order an when it came time to pick it up the car wouldnt start. So we call an asked if the would deliver it the said yes an so we waited we then called bac 3 more times withem saying once they were waiting on a driver an then they lied an said the told me they told is we canceled our order which we didnt an then perceived to make ride comets an get loud over the phone when we ask to talk to the manager they hung up on us. The could have told is ours ago so my lids could gotten somthing different instead of eat a cold dinner after waiting for hours on somthing that we were told that was comin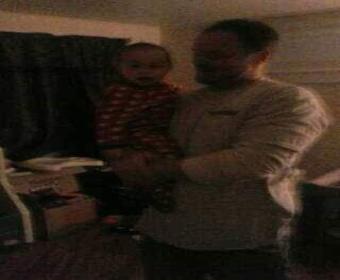 Steffen Lang
from Mobile, AL
My first bad experience with our local PJ was when last year we called for a delivery and when the person arrived i tried to pay with a check and the delivery person not only did not know what a check was but had to call her manager who told us they did not accept checks.
So we have not ordered a Pizza from your establishment for over a year, until recently when i figured i would give you another chance. Well we called for a delivery for the second weekend in a row and they tried to call my wife who missed the two calls in a four minuet time and when we returned inside we returned their call and they would not answer. So i called the location and spoke to the Manager on duty to inquire about the pizza and he said they had tried to call us six times which was a lie so i told them to cancel my order. I am not looking for anything free from your business i am deleting you out of my comp and i do not want to here from your sorry ass business again and i will spread the word how terrible you people are.

Bear Vance
from Baltimore, MD
I ordered a pizza online from the store located at 3411 Clifton Avenue Baltimore, MD 21216 today at 7:25 pm and received my pizza at 8:45. The pizza was cold and unappetizing, which I didn't even have the desire to eat. Subsequently, I made several attempts to contact the store to make them aware of my dissatisfaction. I held the line 10 mins, 12, mins and finally stayed on hold 30 minutes, to no avail. By far this was the worst experience I have ever had. I cant even articulate my level of dissatisfaction, and disappointment with this experience. Being the second time patronizing Papa Johns ( the first time I ordered instore, in Montgomery County) I figured I'd give them a try. Seeing how business relies, lives and dies from the reputation it aspires to exceed expectations. I in good faith and conscience could and would not recommend this location, nor Papa Johns if this is the status quo.
As of this moment I have still been on hold for 30 mins. This level is completely unacceptable and I'm sure not the standard that Papa Johns promotes.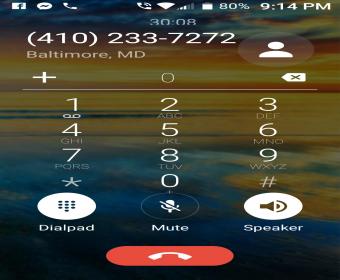 mary
from Myrtle Beach, SC
we are in myrtle beach we order a medium pizza on a Sat one week it is 13 Dollars in change tonight it was 17dollars in change why I asked the girl on the phone she said delivery charge pls tell these people what prize is a medium pepperoni mushroom and onion we are retired that extra oney is important also confusion to use why
love the Pizza

Donna white
from Flint, MI
I called to order a pizza at 10pm asked what time they stopped delivering she never gave me a answer and said they wait time is 3 hours and the store closes in 2 hours was very rude and was rushing to get off the phone and didnt want to answer any questions ive had several other problems with this place very unhappy at tge way they run there business we usually order about twice a week but with past experiences and then this incident we wont be back witg our business this is not how a company should run very unprofessional people at this location the location is hopkinsville ky on fort campbell blvd

Brian Murray
from Seattle, WA
I am filing a complaint with the Manager of the Papa Johns Location in Normandy Park, WA. Phone number is 206-248-3333. Address is 19893 1st Ave S. - 98148.
The franchise associated with this location is Rose City Pizza based out of Oregon.
Operations Director is Matt (I do not know his last name)
General Manager of this store is Doua Hang.
Neither were there at the time of the incident.
The manger I am filing a complaint about is Jude Cabrera.
Here is the situation: I am employed at this location. I am a delivery driver. I was out on a delivery. I come back from my delivery and my name is logged out as it should be - but I was on another delivery. He sent another driver logged under my name. But tried to tell me he was still going to give me the mileage for that delivery. This is completely wrong. The other driver was there and was more than capable of logging himself out under his own name for the delivery. This is why I see it as wrong - 1) It gives the customer the wrong info if there were a complaint - my name would used 2) It cheats the other driver out of the mileage 3) The tips reported on the credit card delivery gets sent to my taxes and cheats me out of paying for his taxes.
His explanation to me the whole time was this - "I'm a manager and I can do what I want."
The manager in Question is a liar, a thief and speaks to people very rudely. He takes sodas and poppers and wings on a daily basis with out purchasing the items. He talks about all management behind their backs in a bad way. He gives away product left and right - he let another driver leave when our GM was on vacation to go buy underage teenagers weed (this incident was 3/8/2019 at approx 11 am in the morning). And said nothing to them. One of the underage teenage girls was a former employee sitting in the back eating chicken poppers and wings with out paying for them. He does not care about the store - only the title.
Yes, I could have acted in another manner. But obviously I let my emotions get the best of me. As this has been building for some time now.
I can be contacted at 206-771-8483
or by email: moose0429@yahoo.com
My name is Brian Murray.
This needs to be rectified asap. This individual has no reason to be in management.

I ordered medium pepperoni pizza to be picked up. the guy repeated my order and gave me the price. My grandson and husband picked it up. when it was opened it was wrong. I called back and the guy insisted that it was ordered with cheese. Called back and the phone was not answered. My husband took the box and went back. In the meantime I did call back again, the same guy answered. When I explained to him who I was and that the label on the box read pepperoni. He hollered something about the issue and hung up on me. He told my husband that the pepperoni on the label did not mean that. After all that it was replaced. I have dealt with Papa John's for years, but this has ended. The guy that worked there was very rude and did not get the order right. I worked in retail in the past and I know that you do no act like this with customers. My company that was visiting also got a bad impression of Papa John's.
This incident happened Thursday evening, 3/7/2019 . I called around 6:20 for the order. This took quite a while until it was actually cleared up. I was going to mention to the guy that i would report this, but he hung up on me too soon.
Store # 1728 Laurel, MD 20723 (Savage Store)

Melinda wilson
from Plymouth, MN
My pizza was almost 2 hours late and when they got to the door the pizza was freezing cold and the pizza was all over the box , I called the store and spoke with Justin which said that he will send the driver back with a hot pizza and a refund , however when the driver got back to my door the pizza was a gain cold and there was no refund the person headed me a pepsi , when I called the store back I spoke with Cameron which was rude as well he then put just on the phone and stated he don't have time for this and and hungup .. I want my refund this is the second time I have went threw this with this from this store .. something really needs to be done and I wont stop until it is

I ordered a delivery at 5:11 pm for 6:30 pm delivery. it is now 7:20 pm. one hour late.
order #666312526
cust id 35495220.
This is not the first time for this to happen.
you need to make this right for me.

they sent us the wrong pizza don't get me wrong the pizza was still good but when we called the store they acted like they could care less

Have not used it a while due to poor service but decided to try again well guess what we are sitting here waiting again for the pizza that was supposed to be here 20 minutes ago. I live 10minutes from the store. I called and was told it was on she way I said how long and was told 10 minutes so I replied so you have not even left yet because I am only 10 minutes away and she replied well we are short on drivers. Wasted my Papa dough and discount.

Hello,
I ordered a pizza online 2/07/19 and was quoted a arrival time, I also received a email confirmation that it would be delivered in 27-37 minutes, after a hour I called to see what happened they told me the pizza was just coming out of the oven and they were sending it out. I again was waiting another hour for my pizza and didn't receive a phone call that they would be running late, as I was notified after I called again for the second time and told it was on the way.
I enjoy the convenience of ordering online as I have done so before. I enjoy Papa Johns and the quality of pizza is greatly appreciated . However I was disappointed with the customer service recently and was not offered a refund for terrible service.
Have feedback for Papa John's?
Thanks for your feedback!
Sorry. Please try again later!