Papa John's
Papa John's Complaints Continued... (Page 2)
181+ reviews added so far. Upset? Call Papa John's corporate: 1-877-547-7272

John
from Southampton, ENG
This is the third time pizza and garlic cheese sticks have been delivered to my house in as many weekends and why are they warm and over cooked. Absolutely ruined our Sunday again. Why can't you get it right. I used to love papa johns pizza.

Cameron Christian
from Waldorf, MD
My pizza wasn't cut into slices. What am I supposed to do with a circle pizza, tear it? Last time we order from Papa, next time will go with Pizza Hut or anyone else local. This is really not what I'd expect from a company that says "Better Ingredients, Better Pizza."
Should I suggest a refund from corporate or just forget about it? Curious what others have done here.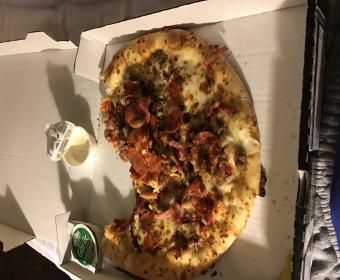 Elizabeth Baker
from Boca Raton, FL

Tina Mardis
from Greencastle, IN
My Husband & I purchased a Chicken Spinach Alfredo Pizza and we noticed there were barely any Chicken. We paid $16.00 for this Pizza and we were truly disappointed. We love Papa John's but, feel for what we paid just was not satisfactory we normally have never had any problem with our orders. We are regular customers. We are not trying to be unreasonable but feel this problem needs attention please. The American dollar is hard enough to come by so we as customers deserve the right to be happy with our purchase.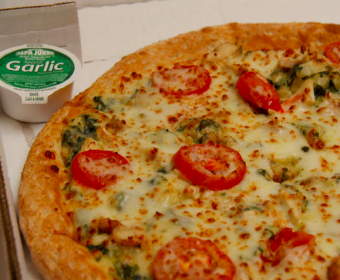 john watson
from Atlanta, GA
I wanted to report some employees that work at your sea island or St. Simon's location on the 4pm to 11:30 pm shirt. I know a ex-employee that use to work at this location. She told me something that are very bothersome and disturbing when she worked there. She told me after a couple weeks of working there. That one of the delivery drivers name Thomas Jacob's. Tried to pressure her into smoke weed with him but she wouldn't. That most of the employees that work there like the asst. Manager etc.
Would go out back and smoke it while they we're working. That the delivery driver Thomas would do it on his routes. Plus Thomas and one other guy she didn't tell me his name. Would try to get her to do sexual favors while on that job. Thomas even tried to black mail her to and she wouldn't do it. So he got the asst. Manager to fired her for some reason that didn't even make any sense to get fired for because she wouldn't. She finally told me that Thomas pressured her some much to smoke weed with him so he would leave her alone hopefully. That she got sick and throw up my cousin told me. I know she's telling Me the truth from the look on her face when she was telling me all this and some stuff she wouldn't tell me that happened but I believe her.
She made me promise and give my word that I wouldn't say anything to them or do anything about it to just leave it alone. Because she wasn't to forget it all happened and she scared they would harass get if she did or if I did. So I want to keep my name out of it and unknown. I done a lot of thinking and praying about what I should do. So I had to report it and thought y'all don't want employees working or running that location. That do this kind of things to new hires and all. Plus I know I wouldn't want this to happen to my daughter or sister. Or for y'all to get sued by a person on the island. From one of your delivery drivers being impaired and running it to someone or running someone over walking at night. I don't want to report it to the law or anything or push it any farther.
But if I ran that store. I would randomly drug test the employees there. By the general manager or distract manager. Because y'all shouldn't have employees that do them nasty kind of things to there new hired and do drugs on the job. Plus you'll no that my complaint isn't a lie etc. But please please keep my name unknown and say anything that will give them a clue of the person reported them about this. I made a promise and gave my word I wouldn't. Plus I don't want to drag her back into it she's been through enough with it and other things. But please do something about this. Because I don't want this to happen to anyone else etc. I hope I worded this good enough and where you can understand it lol.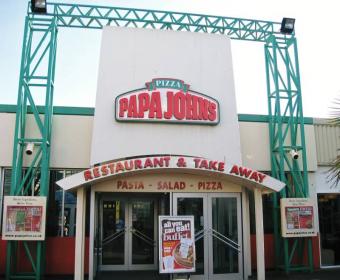 While working as a driver at store 1544 in OKC, I observed two managers smoking pot in their car in front of the store. I reported this to our district manager, Clinton allen and he told the two managers what I reported. the two managers are still using drugs at work. I feel that mr allen is condoning drug use at this store. I feel like this endangers employees there as well as our customers. Please take this info seriously as I no longer feel safe working there.

Zack
from Collingwood, ON
I've contacted customer service each and every time I ordered from them. Every single time Papa Johns sends me the same copy and paste email telling me the complaint has been forwarded to the manager and that I should here from him soon. Every single complain I never hear anything back from the manager and I am positive I am just being ignored and I assume anyone else that complains is being ignored too.
It is clear to me that Papa Johns simply doesn't care about customer service and are completely willing to simply ignore any complaint that they receive. I've even tried emailing the CEO multiple times and been ignored on that level too. I'd suggest never ordering from this Papa Johns or any Papa Johns at all.

Latifa Abdulla
from Manama, 13
Yesterday's evening at 8:39 p.m I placed an order for one large Margarita pizza at The Center Papa Johns brunch and the receptionist said the order will take an hour and I replied by nodding that it's okay and left. At 9:30 p.m I came back to collect my order and I asked the receptionist whither order no. 55 is ready and she said that she will check and went inside the kitchen then after couple of minutes came out without giving me feedback regarding the condition of my order, however I waited till 9:50 p.m (more an hour)and while the receptionist was heading to the order stand I said excuse me twice and no one else was calling her at that time but me but she ignored my attempt to draw her attention in order to ask her again about the status of my order.
So, I head to the order stand and waited for the customer to finish his order and said excuse me four times till she decided to look at me to hear my question .. i told her that I've paid to excuse me six times now, however I made my order at 8:39 p.m and you said it will take an hour and now it's 9:50 p.m and the order is only one pizza so can you please check my order .. she took my receipt and went back to the kitchen and then came out again without giving me an answer.
At 10:05 p.m I went to the kitchen myself to ask about my order since the receptionist failed twice to do so and tried hard to find someone to ask then i asked another lady who was working there with a man .. and again no answer just silence then I started complaining about the delay and the courtesy of the receptionist and how she keeps not answering my questions .. then the lady in the kitchen asked where is the receipt I told her she took my receipt and my order is large Margarita .. the simplest pizza in the world!
FINALLY at 10:15 p.m I received my order (one hour 36 minutes) .. in addition to the bad attitude of the receptionist. I understand the "too much order situation" but what I don't accept is the Ill manners of the receptionist when ignoring customers calling and not answering their questions regardless to the dull face expression! .. what happened to the "smiling welcoming face" of customer service representatives? What happened for "apologizing for delays"? What happened for "answering customer questions promptly"? "Better ingredients better pizza", should not be ruined by bad customer service! .. the % 50 off the price offer was made as an appreciation and reward for the trust and loyalty of the Papa Johns customers .. and the situation mentioned above does not add to this mission positively.
Please assure to your franchisee staff the importance of good customer service and train them in performing effectively under pressure .. and please ask them to study the reasons of "the further delays" in accomplishing orders in the "% 50 off offer" because there were a lot of dissatisfied customers, in order to overcome this problem in future similar offerings.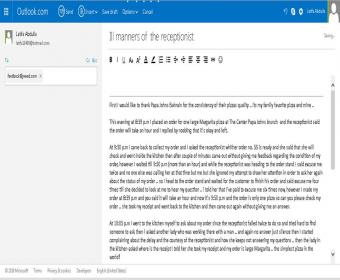 Richard Murphy
from Bradenton, FL
The pie was terrible. This was the first and last time I order from Papa Johns. I ordered a meat lover pie. What a joke. All dough, the meats included were small and could not taste them. The sauce was barley on the pie. I will just go back to my local pizza, I tried it because then restaurant is new and we never had the food. Terrible is the highest I can give it. I would not even request a refund. Its my learning curve. I just don't want anything to do with the restaurant.

Vincetti Daniel
from Rome, GA
On 4/3/16 approximately 9:30pm, The manager(Bryan) was the brother of the rude employee(Anthony). After asking about the daily specials &Upon trying to decide what my family wanted to order Anthony became very irate and stated usually people knew what they wanted to order when they called and did I want to call back! Went to the store to report this behavior to the manager/brother who ordered Anthony to shut up at that time Anthony became insubordinate and told Bryan to write him up! My family and I chose Domino's ofcourse but i surest heck don't like how i was treated at a place that i patronize on a very regular basis!

Bill Bevans
from Muncie, IN
Called in order never game time to pick up. Her name was nicole at Madison street, Indiana. called back 3 times was disconnected. Ask for manager to let me know what problem was. He put me on hold & assistant manager picked up. Said she would talk to her about it. I ask for 1800 Papa John's customer service number to talk to some one was rude said to look it up on line. That's not right. I have got my pizzas from there for at least 15 years. What has changed?

Carol Guajardo
from Fayetteville, NC
I order two large pizzas on February 27th one with sausage and pineapple, the other one was a pepperoni, the sausage was so small if you didn't see them you wouldn't have known you had them the only thing you were able to taste was the pineapples, both pizza was greasy. My son have the pepperoni which was so greasy it made him sick he took quite a bit of Pepto Bismol and went to bed. You have definite lost a customer this was one of the worst pizzas my family have had.

Nancy
from Reynoldsburg, OH
I ordered 2 pizzas for the special 9.99 for up to 5 toppings on large pizza. One was Pep/Sausage/onion/thick crust. 2nd one pepp/onion/tomato/mushrooms/double cheese thick crust. We got Pep only on one thin crust. 2nd one Pep/Sausage/Onion only. Way off the mark. I ordered online not even over the phone. I called when we went to eat them and found the problems. The guy on phone said it'll take at least 1 1/2 hrs to replace them. I'm a diabetic and had already taken my insulin so couldn't wait another 1 1/2 hrs to eat. The guy ok sorry and hung up. We've ordered from Papa Johns for years. Won't be now.

Russell Coyle
from Blountville, TN
2nd time with problem with Gray TN store. Have only used them 4 or 5 times. Staff is friendly but 1 st time order with credit card by phone. Male who answered was having problems with my card. Think he was new. After several attempts he finally said "ok, it went thru". When driver arrived at my house they had no record of me paying by phone. Driver refused delivery and when I called manager he told me that I didn't pay! Unbelievable! I ended up ordering from another pizza store.
Tonight I decided to order online since your store seems unable to complete order. So I went online, entered my promo code "ck171n" then hit the green button. Had to add ingredients and pick side item. Went to checkout. Entered promo code again. Supposed to charge me $17 but charged me $22.50 plus tax, delivery fee and a $4 tip. Total $30. I called store to tell them of problem but they said they would have to cancel and reorder. Since they were very busy I decided to email my complaint rather than cost them valuable time over $5.25.

Thomas
from Indianapolis, IN
Was a employee at store #1033 in Indianapolis, IN Rockville and Country Club store, got fired for calling in for a co-worker who was busy cleaning out her apartment of which she was being evicted from, so she was too busy to call. So I called to let them know we couldn't make it cause a) she had lost her uniform b) the dm the day before got in my face, and my co-worker I mentioned and was being completely unprofessional. Not only did she single out this co-worker for saucing steadily but slowly when we weren't busy, but when I approached she told me to go somewhere, when I was simply gonna make sure she isn't trying to stretch the truth, which is what she did later that day.
Treating employees like their the lowest of the low, when they're working their damnedest to help. Is unprofessional, and not humane at all. If other Papa John's places are ran like this one ( where the staff is only 2-3 permanent managers 1-2 of which will be from another store, 2-3 drivers permanent, and like 1 instore permanently) the staff is constantly changing cause they belittle people, and they don't know how to manage a store, they push off any problems onto a employee lower than them rather than step up and take responsibility for mistakes.
I signed up for a part time job, and was working full time for a month before they decided to fired me for one time I call, and say I can't make it cause I didn't sign up for those kind of hours that much. Maybe 2 weeks at full time but I am not great so I don't want to be in there ruining stuff, I'd rather be part time and work to full. But they don't care, and their staff reflects it. I don't know how many times I heard the DM yelling on her phone to other stores in her district while being less than 20 feet away from the front entrance.
All this and they fired my co-worker, and I for one call. Knowing she was being evicted that same day, now she can't even receive her W-2 (Tax Return) cause they deleted us from the store's database. HR isn't taking it as a time sensitive issue as well. This is unprofessional, and you have lost a lot of customers because I won't support a place that makes unhappy people toss out pizzas so a DM with no human decency can get bonuses for treating people like dirt.

Christian Baker
from Decatur, AL
We went in to the Athens AL franchise for chicken wings. We ordered 16 hot and was charged 16.17 and told 15 minutes. We paid and went to a nearby store. Came back, got order and left. When I looked at the receipt on the box it reflected an overcharge of exactly 2.00. We went back and she gave us the 2.00. Fine, could have been honest mistake or could be the classic overcharge everyone a dollar or two and call it their bonus. And the wing court was off by 3. And they were the smallest, most meatless chicken bones I have ever seen. I feel as if I was ripped off of not only the money, but the meal. Please see photos!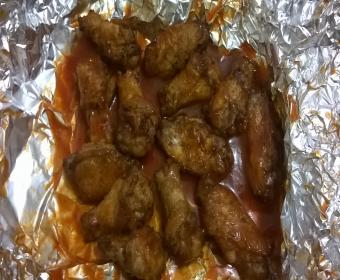 Terri Compton
from Ashburn, VA
Last night, I ordered a large pizza and an order of the tie knots. When I got home, bit into one of the tie know. It was absolutely disgusting. It was still raw inside. I called up at Papa Johns, explaining about the tie knots, they said they would give me a fresh order. Do you think I would get an apology, no.
I went back up there and took the old raw ones and gave it to them. They gave a fresh new batch. I got home, took a bite, and it was the exact same problem. This time, I did not call, I just went up there. Spoke to the manager, Kayla. I asked for my money back. She offered another order, I said no. I want my refund. She gave me the refund, with a smart apology. I was not impressed with Papa Johns at all, it was the worst experience ever, with bad customer service.
Whatever happened to service with a smile, I sure did not get it at store 4261, time 6:32, 12-7-15.

Nechirwan
from Toronto, ON
I placed an online order at around 11:30 pm, and once the clock hit 1am I began to realize that they weren't coming. I called the store and no answer, I called customer service and they told me that they canceled the order and gave no reason as to why. I never received a cancel order confirmation email either. I just want my pizza, what's so difficult about delivering a pizza, especially when the location is a 5 minute drive.

Vickie Winters
from Carrollton, GA
Today is Saturday, November 21st. Two weeks ago my husband ordered 2 pizzas from the restaurant here in Villa Rica GA. Pretty much the same order every time we order. It was 2 two toppings, pepperoni & ground beef. Both pizza delivered were single ground beef toppings. When we called the store they offered a choice of replacing the pizza immediately or store credit for 2 pizzas for the next order for free. We elected the latter option. We just ordered our pizzas and they taste horrible. The thin crust pizza did include pepperoni this time but instead of beef topping I have Italian sausage. The deep dish also has Italian sausage instead of beef. Some pepperoni enough to say some is on it. Barely has sauce. We feel like we're being punished for calling in a order that they filled wrong. We've ordered from this location for years and years. Maybe new management.. not sure but extremely unprofessional and childish if this is retaliation. It's what we're being made to feel. Certainty it'll be a long long time before we order again.

Lael Byrd
from Charleston, SC
Ordered on-line at approximately 1:30 p.m. and asked to have 2 pizzas to be delivered at 5:15 p.m. Got a confirmation back at 1:46 pm saying estimated ready time approximately 115-125 minutes. Pizza was delivered at 2:07!!!!! By the time I got home, it was COLD. Called local store #128, spoke to the manager, understood my complaint, said nothing showed up on his end as it being as delayed order, so there was nothing he could do about it. He gave me the on-line technical support phone number, although I asked to have the owner of the store's number. They basically said they'd tell their IT department, so sorry, and hope I would have a great day. Consequently my company who came at 5:30 had to eat cold pizza.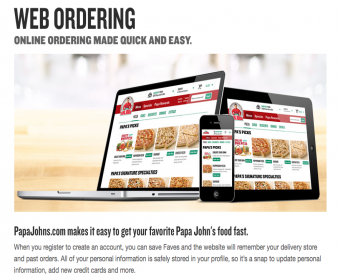 kellie tate
from Washington, DC
Called for delivery order poor service rude stating we dont deliver in your area I dont know who does oh what is the phone number, which happened to be wrong number. Im very irritated by this especially being loyal customer for 15 years! This young man is lazy and not very good at customer service. My husband and I will not be back. Lost a 15 year loyal customer to pizza hut and real Italian pizza.

Shirley Manning
from San Marcos, TX
I recently place an order with papa johns on Wed. Nov 4th 2015. Around 10 pm. My Order was place online which I have always done. Well... The delivery driver name Davis said he tried to call me because they were out of Pepsi soda. When The Del Driver arrived & knocked on my door. I open it said hi! Which he said nothing. Except I tried to call you... But, In a very nasty tone. Which I didn't hear the phone ring. He than said I call because we were out of Pepsi soda. I said very nicely... Oh! that's fine. He said nothing, The ugly look he had on his face, Said it all. There was no reason for that what so ever. Trust me there's enough Of that In the world today as it is. Than he proceed to take each of my item out of the Papa John Bag And, hand them to me. But, He shove them to me in my hand hard. I'm standing there looking at him like really?
Not acceptable at all. I still keep my composure and said '' Thank You! " He didn't say nothing just ran back down the stairs. I never had this kind of nasty treatment before all the drivers At Papa John's are really very nice & polite. Until Now... But, not this guy nasty to the core. The only thing I was doing was ordering my mother some food. She's fell on her job backwards on a slippery floor which now she in a wheel chair and is now unable to walk plus I also found out that she has cancer. It's really sad that such rudeness with this driver at Papa John's Is allowed. Special when I have spend so much money there & Have given tips as well. So... With that being said. He's rudeness didn't ruin my day I continue to treat people with kindness & respect God Bless Him.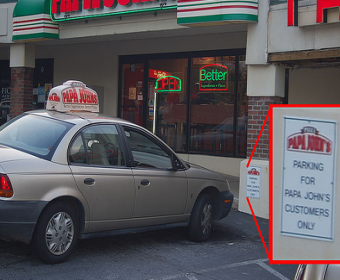 Edward Hussey
from Long Branch, NJ
On the evening of 10/10 i ordered a pizza from Papa John's on Highway 34 in Matawan, NJ. The pizza arrived crushed because the delivery boy threw a 2L of soda on it. I called the shop to complain and said I wasn't paying for the pizza. The manager said "yes yes, I'm sending it now." I again confirmed that I wouldn't have to pay for the pizza and was told "yes" again. Once the pizza arrived I tipped the delivery boy and closed the door. The manager then called my home screaming that I didn't pay for the pizza.
I told her that she had agreed that the pie would be free because of their delivery boy. This argument went back and forth for minutes until I finally went to give the partially eaten pie to the delivery boy who at that point had driven away. I then called back to say that the delivery boy had left when a new girl answered the phone. I asked to speak with the manager and was asked by the girl what happened. When I said how horrible the experience was and that I was never ordering from that location again I was told by the new girl "screw you" and hung up on.
Moments later the initial manager called me again asking what had happened. I demanded her supervisor's contact information which she refused to give to me, so I ended the call. About an hour later, the police came to my door with the delivery boy and the "owner" of the shop saying that I had stolen the pizza. I have left multiple messages at Papa John's corporate office and have not so much as gotten an e-mail back. I want as many eyes and ear's as possible to know about this story so the owner and managers of that location can be shamed for their actions.

Sandra Morrsion
from Jefferson City, MO
I called Papa John's. The person who took my order gave me a price of 25.00 and said my food will be delivered in 30 -40 min. I called back an hour later only to be told the order didn't go through. What kind of people do you have taking orders?

Eduarda Sousa
from Upper Darby, PA
As a long time customer with Papa Johns, customer service has never been a issue. Always polite responsive and professional. But when I see how some of their employees are treated I'm rather saddened. As I waited for my order I observed two female members of management treat a single employee so unfairly. They were picking on him on certain things that others were also doing. Ex.. Not tucking in shirt. Seemed like a very nice boy. One woman was def more disrespectful than the other, I believe her name was Sara. I see the workers bust their butts every time I enter and should be treated with more respect.

Mary Domigan
from Chapin, SC
We called the Papa John's in Hilton Head Island. The phone number is (843) 341-3400. The manager on duty's name was Kristie. I'm not sure if that is how her name is spelled, but that was the name given. She took my order, which was a Medium 12" half-cheese half-pepperoni pizza. When the pizza arrived, we gave the driver a $5 tip and then opened up the pizza box. It was the correct toppings, but it was a small pizza (10 inch) in a medium sized box. There was a good 2" open to where it was obvious they made a small pizza and just put it in a medium box. We paid for a medium pizza, not a small pizza.
Anyways, my husband called back to the store and asked to speak to the manager. She said that there was no way because she made the pizza herself. So pretty much she was calling a liar and that was the customer was wrong, not her. That was what she implied. She said she knew it was not wrong. The phone was on speaker, so that was the conversation. She also not only refused to remedy the situation, but she just argued and argued and argued. It was in a very unprofessional manner.
Then I called back a second time to get her name and whoever answered the phone hung up on me. Then I called a third time and asked to speak to the manager. It was her. I asked her to act more professional and why she would call my husband my liar. I was more than willing, if she wanted the pizza back and could bring me another one that was correct the chance to do that. But she never offered that. She got very defensive. And that was the end of the conversation. I told her at the end of that conversation that I was reporting her to corporate.
I paid for a medium pizza, received a small, then called to try to get what I paid for and got cussed out by your manager. I am not sure if I will ever order from Papa John's ever again. She said at the end of the conversation to never call her store ever again. I am on vacation. I do not permanently reside in South Carolina. Regardless, if this is how manager's at various Papa John's locations conduct their business, I do not feel that many would ever be recurring customers if that is how they are treated.

Theresa Austin
from Augusta, GA
Ordered an extra large pizza half pepperoni, half sausage. I was told that it would be 35 minutes, so ok. Well one hours and twenty minutes later i get a cold pizza half sausage, half mushroom. Call info manager of problem and was told correct pizza will be delivered 45 minutes later, ok. Well one hour later i call the store to track my pizza and was told it will get there whenever the driver delivers it and this came from the manager. Another half hour pass by, after complaining, no pizza. So not cool, have to rethink about your product/services. This is sad, never had a problem before, but going on three hours for one pizza. Your company needs to look into its services and staff. Papa John's store in Augusta GA on Walton way is the store i am complaining about.

Tommy McDonald
from Wichita Falls, TX
I received a coupon with my last order for a family special for $20.99. Large specialty & A Large Cheese Pizza. I called in this order for pickup and told the order taker that I had such a coupon. She told me they would verify my coupon when I picked up my pizza. At the store I was told that my coupon was for on line only and they would not honor it. No where on the coupon does it say online only it only says for additional specials check on-line. The store I trade at is @ 2922 kemp Blvd in Wichita Falls TX. I told the cashier to keep their pizza and promptly ordered hamburgers from a local vendor. I have been a customer for as many years as there has been a Papa Johns in our town but I refuse to play this type of game anymore.

gary and faye buckner
from Louisville, KY
I called the west broadway, Louisville, KY store on Sat. May 16 approx. 9:45 p.m. Ordered a works pizza for delivery. I was informed they could take the order but could not give a time range for delivery - due to fact there was some police blockade near the store at that time and customers could not come in store for pick up or what time it would be delivered. I understand that is out of their control.
When delivery was made at approx. 11p - the driver had 2 pizzas (we ordered 1 large works)-thin crust) - she said she had picked the wrong one out of her car - and unfortunately we did not check before paying for it. There were hardly any of the toppings - lots and lots of cheese and a little (very little) pepperoni and nothing else. We order frequently and have always enjoyed Papa John's, however the last two deliveries - have been incorrect. We were disappointed

Kimber Scott
from Atlanta, GA
I called and placed an order for a large 5 topping pizza. I called at 6 pm and stated that I would pick up at 6'30. When I went to pick up the pizza they could not find the order. I had to place the order again and wait for them to cook the pizza. Needless to say, I was very frustrated.
When I finally got home to feed my family, we began to eat the pizza and the pizza dough was still raw in the center...the edges were well done. I threw the pizza away....I was also frustrated because you had two young men standing in the drive through putting together boxes and one of them continued to use the F word while talking to co worker,

Corinia Engle
from Leesburg, VA
On May 8th, 2015 I made an order online so my husband could stop by and pick it up on his way home (about 20 miles away). I ordered the works minus mushrooms added banana peppers and bacon and also a chocolate cookie. That IS NOT what my husband brought home.
He didn't know what I ordered, he was picking up an order for me. The order was paid for so all he had to do was go in grab the order and go. He brought 2 pizzas home, 1 pepperoni, 1 sausage, an order of breadsticks and wings. We didn't take it back because I didn't want to spend an hour of my time driving back and forth to take care of the matter.
I am sure this was a mistake but we didn't get what we wanted/ordered for dinner and the dinner we received was not at all good (not our type of pizza). I am asking for a full refund and/or a store credit for future purchases.

michael steurer
from Taylors, SC
initially, I voiced a concern due to what I felt was misleading advertising regarding the Philly cheese steak pizza that was a promotion or sorts, I suppose. The pizza was a complete fail as far as I was concerned, and being a loyal customer I felt I should let corporate know that the reason they were losing a customer was because that was the second time in two orders that I had been very disappointed in a pizza.
So I hear from someone at the department of dealing with unhappy customers, and I accepted the explanation offered and said ok.. I'll give you another chance, at which point the person says.. we will comp a pizza for you, as a way of dealing with the issue.. gee thank I said.. A while later, I order my "free" pizza.. and am told, you don't have a free pizza, and you don't get a free pizza..so I bought the pizza..and left the store, not asking for any special consideration as I understand the young person on the register has no authority to just hand out pizza.
No this embarrassing situation is at the feet of the company.. so now.. you know why you can delete my account. Not only was I on the losing end of two pizzas...I was also made to look like some kind of mooch, which to a veteran and a man who pays his own way and asks no one for anything was made to look foolish.

Gerri Testerman
from Bristol, TN
I ordered an Hawaiian Pizza and they left off the Canadian Bacon, The order before that they left out one of the drinks. They consistently mess up the orders and deny any responsibility for their errors. I have even had pizza delivered that is uncooked in the middle. All the Bristol Tennessee store cares about is catering to the Nascar fans 2 times a year, forget the residents who live here year round. My advice: boycott the Volunteer Parkway store.

Treated rudely EVERYTIME we order from 4th st ne renton wa location! Furious You send out coupons for online promos that DONT WORK!! Tried to order online with promo code didn't work so called got told to call 800 number hung up. Didn't work called back got told he was confused and couldn't help!

Mika
from Springfield Township, NJ
RE: Papa Johns Store #3105 Kenilworth NJ - It's 807 now and I ordered a pizza for two hungry kids two hours ago. Apparently the driver came and said he was here for 25 minutes...Guess what...if he was here the two kids would run to the door like hungry kids do and get the pizza. He was never here...wherever he was it was not here. So....called the store directly and the manager pretty much said she didn't believe what we were saying - "two different stories" was exactly what she was saying. She didn't get the fact that if he were here I wouldn't be calling her...no comp...in fact she offered to send out the same order again...really? What kind of service and managerial training is that? Had to call back and ask for whoever was above her to even get an offer of another order made fresh and delivered...that was the best she could do because he was out there for 25 minutes....
Not my fault he went to the wrong door. I gave you the right address. I said for all you know he was at YOUR house knocking on the door because he wasn't here. He wasn't at #37...she insists he was. She heard him knock and so everyone should know that hearing something is now the same as seeing it - her being able to hear him knock means he was knocking on my door.... So I called Corporate...they were no better. Said the official complaint would go to the owner - yes, the owner that is never there per the non-manager. And that he would handle it internally....ridiculous and lousy customer service all the way around. Apples don't fall far from the trees goes for businesses too....Papa's obviously doesn't value there customers enough to recognize that one with two hungry kids wouldn't call to find out where there food was if the driver had made a real attempt to knock on the door at the right address.... and that makes it their fault we didn't get the pizza - not ours.

My pizza was awful. Bad tasting skimpy toppings. Only 1 pepper. Never will I order again. Waste of $15 plus tip. It was to be large everything. No way maybe three toppings on it and no cheese. It stunk. I am contacting better business bureau. Marvin fry. Illinois.

Martyn Maskell
from Hitchin, ENG
On 14th February I ordered a pizza to be delivered for my kids, so that they could have a fun meal and then go to bed before my wife and I enjoyed a Valentine's evening. We ordered the food at 6.55pm. At 8.15pm we called the store. They claimed that they had dropped our food off at the wrong house and that a new order would be leaving the store in 5 minutes. We call again at 9.10pm and were told that our food still hadn't been cooked. Our food finally arrived just after 9.30pm. Our kids were tired, up past their bedtime and hungry. The food that was delivered was nasty - luke warm and of a very poor standard with minimal toppings.
15 days later, my complaint to Papa John's head office has been ignored. I complained on their Twitter and Facebook pages and, rather than the company addressing my problem, they simply chose to block me. This company has delivered an atrocious service, an atrocious product and has dismissed any attempt to deliver a service to their customer. I have never encountered a service as poor as the service that I have encountered from Papa John's on this occasion - I have certainly never encountered a service so poor and a lack of intent on atoning for the error that I have felt compelled to take to social media or online company review sites as I have on this occasion. But still Papa John's continue to ignore my complaint.

We received several Papa Johns promotional coupons in the mail. We received them on March o5,2012. We put the coupons on the desk for our guests to use. Next day we had a meeting in the meeting room and a guest had picked up one of the coupons. They tried to use it for lunch for their meeting ( buy one large pizza and get one large pizza free with the Papa Johns coupon) you had to order it on line. They couldn't get the coupon to work with the promotion code that was on the coupon.
I tried it for the guest and it wouldn't work for me either. I called the Dunn, NC manager and she said it happens all the time. I asked her if she could help me, she said no, you have to call the 800 number. Quote" they have this problem all the time." So, i called the Papa Johns 800 number and told him my problem with he promotional code not working. He tried it and it didn't work. He asked me what the experation date was on the coupon . I told him 3/24/12. He kept trying and said he couldn't get it to work . I asked him if he could put the order thru for me, he said no.. He told me to call corporate and gave me the number. I called corporate and got a recording that said, quote " if you have a complaint call your local manager or go on line and file a complaint.
We bought our guest two lg.pizzas for Dominos..... We are a national hotel chain. We will be taking PaPa John's name off our guest resturant list. If they bring anymore coupons in our hotel and leave them or receive the in the mail , they will going in the trash. The tagline for Papa's Johns is "Better ingredients, Better Pizza" It should be "Better ingredients, Better Pizza, Better Service." I am sure PaPa John's spent alot of money on the advertising in actuality it being useless. How could such a big chain have such a " I don't care attitude.

Last night around 8:30 pm we ordered a pizza over the phone for delivery in the 92507 zip code, Riverside CA. Our order was a pepperoni, Canadian bacon and olive. The entire pizza had 3 pieces of pepperoni very few olives and microscopic pieces of what I assumed to be the Canadian Bacon? To top that off it just did not taste right and needless to say I became Ill shortly after.You really should check whomever was cooking August 31/2013 at that time for Quality control. Worst pizza ever...I'm done with Papa Johns was a regular customer.

I called to purchase the latest Papa Johns pizza hut deal that was emailed to me. A person on his first day of work was left to work the phones in the store alone. He couldn't get the deal on his computer and kept getting confused about the order but was nice enough to take the order and said he would work out the details.
2 hours later I am still waiting for my Papa Johns order and I have called the local store over 10 times but it goes right to the main ordering line - which is terrible. They can never figure out which store I order from. The last time they sent my order to a store an hour away and when they called to inquire about my address we found out it was the wrong store and I had to start the whole order over again.
This is the worst ordering system and staffing ever!! You have a good product and terrible representation in the Papa Johns store! I order from Papa Johns and have it in 30 minutes and it is correct. On top of that there is never any compensation offered when orders are wrong are late. You need to reexamine your sales skills. It is sad to see that someone with a good product does not care about the customer.

I placed an online order for pick up. I called 1 minute later and changed that order to delivery. 1 hour later the pizza had not arrived. I called and was told the pizza never left. The person I spoke with said he would remake the pizzas and send them out right away. The 3 specialty pizzas arrived and looked like garbage. They had obviously been reheated and were not fresh. With tip I spent 49 dollars. Needless to say nobody was pleased. My brother in law had just flew in from the U.K. and he always likes to have Papa Johns for dinner after his long flight. What a disapointment. Sincerely, a previously loyal customer

My grandson worked for Papa Johns franchise in Salina, Ks. Every week there is something wrong that he doesn't get his full pay -- it's a computer glitch or they pay for road pay from one account and store hours from another, etc. We feel the local franchise owner is guilty of unfair practices and plan to file with the Wage An Hour board in Topeka, Ks. We believe this franchise should be investigated by an impartial outside source!

I called at approx 10:30am on Jan23,2013 ordering a large pizza with 2 toppings , and I asked for any special for today ? a guy said $10.- for 2 toppings were special for large pizza and I said I would like to pick up after 10 mins. He said it took 20 mins. I said ok. After few seconds I found my wallet had a coupon, I called again because the coupon was $8.99 for a large pizza with 3 toppings, so I requested to add 1 more topping. He said the pizza was well done. I insisted to put one more on the top of the pizza. After 5 mins, I arrived the store and presented the coupon and money at counter.
I asked the person who talked to me on the phone was Julian . I said why you told me to pick up at 20 mins and I asked for additional topping, I could come to pick up within 15 mins including the time arrived there. He was so upset to tell me all written on the menu board, he was so rude and said how can I explain too many things to the customers, I was so busy I had to make the pizza, receiving phone order and a lot of things without stopping saying at least 5 mins. I said stop talking that,but he still saying, gave me a lesson so I picked up my money and left the door.
At that moment I forgot to pick up my coupon so and I returned to get it, he tore out the coupon. I said you had to give it back to me. He said I will call the police, and I said who is the manager, he said he was general manager. The location of that store is in Lakeridge Miniville Road. VA 22192 Although I am a pizza lover, I will never ever go to this monster Papa Johns store.

Hi my name is alex cragg ive been at papa johns on culver and main in rochester ny for almost a year i use to make good money until we got are new GMand i know she has it out to make my life hell i pay $105 a week for child support so i get 47 dollars a week in my check i use to close but now im workin 4 hrs a day makin 12 dollars a night how do u people expect me to wanna work for ur shitty company i keep motovated rotate chese and sause constantlet preping and filling stuff in the make line always making sure everything if filled and ready to go now thanks to elizabeth steinzs i get to work for free eather u guys give me a rais or do something about this or one of ur franchises is going to loose a valuble hard working employee to salvitors i hope someone inportant in a high rank gets this and dose something about thismess thank you and good day

my daughter called papa johns 88 st and biscayne blvd-miami fla 33138and ordered pizza for pickup at 4.31 pm sunday eve-when i the father arrived to pick up order couldnot be confirmed because order taker logged in my daughter as Candice-not patience-her actual name-i called pizza parlor and call taker tried to cover their tracks by saying they had no record of initial order.
of course they asked my daughters name and it wasnt on order log-they ran off a bunch of names including candice-none of which i recognised-this was a total disaster as i got up from sick bed-severe flu-to pick up order-my daughteers name is a bit odd- Patience-order taker should have verified spellinf of name initially

I ordered a pizza at papa johns at hwy 138 in newton co and wanted to pay with a $100 bill. They said they could not accept my money because it was company policy not to accept that high denomination. I told them that I only had a 20 and a hundred dollar bill and my order was $25. They said to either get change or use a credit card. I didn't have a credit card nor should I be inconvenience to pay for my order. The mgr said they drop their money in a safe to avoid robberies. My argument was they would rather lose a customer than make the sale?
What about if a bunch of orders were paid with fake 10 and 20 dollar bills would they not lose business and money? What about if they needed change after running out, do they now go running to other establishments looking for change? And how much money have you lost making orders that are left in the store because of your company policies? I was a frequent customer there but now I'll give my business to your competitor and tell my friends and family papa johns is just another corporate robot only looking out for their best interest and not for the people who made them who they are today.

chris herbert
from East Rutherford, NJ
Long time customer of papa johns and just bought 250 dollars worth of gift cards last week. Went online and ordered a meal deal from east Rutherford nj store. I have spoken to the owner and driver many times and they are very nice. Store did not have the soda that went with my deal (has happened before and I was always reasonable and took a different soda). They did not have orange or pepsi or anything I liked. I said "please refund me the price of the soda and I will go next door and buy one." She gives me one dollar and ten cents. I said "I can buy a soda for a dollar seventy five next door but not a dollar ten". She said that is the pro rated price for the deal I bought.
I said "I have no way of knowing what I paid for each individual item in a deal but you are the ones who don't have the soda and I need to replace it so cant you give me a refund for whatever a soda costs from you?" at the time I did not realize a 20 oz soda from them was a dollar ninty nine and I was only asking for a dollar seventy five. So I said I will cancel my order and you will lose a long time customer over sixty five cents, you are the ones who don't have the soda. There is much more to this story and I don't want to make this a book but the bottom line is that if I paid one dollar and ten cents for just a soda then the same refund would make sense but if I purchased a deal and drove there only to find you're soda delivery did not come today and you had nothing I liked, I expect a refund for the going price of soda. Everything would have been fine if I could have just taken my food and then been refunded one dollar seventy five cents to get a soda next door.
Now for sixty five cents (the difference between her supposedly pro rated refund and what I wanted) papa johns has lost a customer that spent about 300 a month there.

Carolyn Jones
from North Miami Beach, FL
We ordered pizza on 02/02/2015 from Papa John' and we are not satisfied with the pizza. It was delivered approx 5:06pm and it was cold,and terrible. Because my kids were hungry they just heated it up and ate some of it. We have ordered pizza from your company many times and has never been so unsatisfied like this. I don't think that this is the way Papa John wants to represented especially with all the commercials that makes you feel like they care about their customers. I will NOT be ordering from Papa John's again. Very unsatisfied customer.

cynthia barrier
from Lenoir, NC
This should be sent to the Papa John's complaints email address customer_services@papajohnsonline.com. Yesterday was a friend of mine birthday and we all decided we were going to order her pizza for lunch, so I went to your website to place an order online so it could possibly be here by 11.30 am.
The order would not go through, so I called your store here in Lenoir, and was told by a young man that I could not place an order on line until they opened at 10.30, so I thought that was strange and he was somewhat rude, but I waited until 10.30 and tried to send the order again, it would not go through, so I called the store one more time, and was told by a different man, that they could not accept online orders over the phone, and I would have to call the main office to get any help, because they didn't honor online specials that would be called in, well by then it was a quarter till 11, and they told me that it would be 12.00 or later before they could get a pizza here anyway, so apparently they didn't want me as a customer.
They sure wasn't willing to help me and they were a little on the smart aleck side, so needless to say, customer lost here at this company and dominos came through and got our money.

I've been ordering on my iPhone app once a wk well as of last wk my address could not be found on the app I contact customer service they send me a email on directions to my house without where I start ect.. I was nice and got a reply back a smart comment on directions I told them why don't they look up the 1000 pizzas I ordered before they seemed to find my house just fine . Idiots !

I called this restaurant to place a order at first and the employee answer the phone with no idea what I was talking about when I asked bout the bacon pepperoni pizza, so he put on hold. The employee came back to the phone and hung the phone up. So I just ordered online to avoid calling the store back. I ordered my pizza and it was late. I called the store to check on my ordered and the same guy hung up the phone when I asked him about the delivery order. I finally called back on the third time and a nice lady asked phone and said that my order was on the way after 45 minutes being late. I would like for you to ask your employee to answer the phone in a nice manner and please know your menu and specials. I order from this restaurant time to time because I love your pizza. Thank you.

My kids and I were sitting down in the kitchen and saw the Papa johns commercial. I made a bet that papa Johns was going to taste better than Dominos. We ordered the pepperoni bacon 12″ ( cost $20.10 ) we then order (1) from Dominoes ($14.69). Not only did Dominoes come within 30 min. But also looked and tasted great. Papa Johns came and looked/tasted like old food. Needless to say I lost my bet with my kids and had to pay for both pies. Can someone tell me why. Order#0403/0112

They delivered the wrong pizza to me as I had waiteda half hour I ate a slicewhen they redelivered the right pizza they said I had to trade a complete pizza so because I ate a piece I couldn't trade it had to be whole. Well of course my friends ate thier whole pizza and me and my fiance had to watch. So as of this reason ill never order papa john pizza again and ill tell everyone what type of service you have.

I ordered online so I can get a good deal, since its SPURS game. I always buy PAPA JOHNS PIZZA and I always get enough cheese and red pepper. When I asked yhe girl she said that they are supposed to give me only twq little packages. I went to the car and got a quarter then went back inside and asked for the manager and I opened the red peppered on the counter. I said to him looked at how little red peppered there is. And immidiately everyone working there go to the front counter one girl with acne face start yelling we ewill get in trouble if we give you more.
It got me upset and said so wha is Papa john going to go broke for giving me extra cheese and peppers? so the manager gives me 2 peppers and one cheese I put the quarter on the counter and said this should be enough to cover it. What made me upset is that everyone got inxolved in this matter. The girls were all yelling at me the acne face girl yelled to the colored man you can call the cops she kept yelling call the cops, call the cops, call the cops. The manager should say to them when a customer is talking to me give us privacy and the customer is always right.
Make the customer number one actually they are your paycheck!!!! Good thing there were no customers. the manager did say you should not put the pepper on the counter I said this is not enough pepper and cheese for an xl pizza for men . Now if I order I know they will do something bad to my pizza!

I live near Lexington Tennessee and I ordered a Large pizza supreme with extra cheese for the cost of a little over $17.00. I have only eaten papa john pizza twice in my life and both times were within a two month period. The first time I ordered Papa Johns pizza, it tasted good, but last night I ordered your pizza for my fiancée and I for supper, and we both were very disappointed and let down. The reason was because the taste was not consistent with my first experience, and there were hardly any toppings on the pizza. That pretty much was our disappointment and our complaint. I seriously doubt either of us will order a Papa Johns Pizza again. I hoe you will contact the Papa Johns in Lexington, Tennessee or better yet, pay them a surprise visit to personally inspect the pizza. In our opinion, Papa Johns seriously needs to put on a lot more toppings on their pizza. Good luck with your business, and continued success with Papa Johns.

Employees are always outside smoking, making out rather than making the pizzas , they are taking food home with them and not paying for it. they are doing drugs at work. Orders are very slow and pizza is cold by the time you receive it. Terrible store never go there again.

I ordered a pizza in the store. I waited 30 minutes while I listened and watched the staff tell jokes and horse around in the store. The manager as well as other staff. After 30 minutes, I bent down to look into the oven and no pizza was baking. I asked them if they were making my pizza. They said "Only his". They were referring to an employee. While I continued to wait, he made himself 3 large pizzas, boxed them. put his coat and left. I asked if they were for delivery. The manager said no, they were his as he was having a party. After another 20 minutes and no pizza, I left the store. The manager was as bad as the workers. They were laughing, high fiving, and generally not working. I waited a total of 50 minutes and they still were not making my pizza. On the way out of the store, I told a lady that she would have a long wait. She said this was the second time she had been there after ordering her pizzas over an 1 12 hour wait. She said every time she called, they said they were busy. I love Pappa Johns, but I will spread the word about your employees if you don't make complete improvements. There are plenty of people who need jobs.

I called for a pizza tonight for the first time in quite a while. I was appalled to find out there was a $2.50 delivery charge for my pizza. I live 2 blocks from the store. So I am supposed to pay $2.50 to the store and then another $2-$3 dollars as a tip for the delivery. You have got to be kidding! I am looking forward to getting my pizza tonight, but I am picking it up instead of having it delivered, which is an inconvenience for me tonight. Also, I want you to know that I will not be ordering from Papa Johns again. There are too many other pizza places that do not charge a delivery fee for me to order from you again. If this policy changes, I will be happy to go back to ordering from Papa Johns.

Tonight our pizza was late, cold and was not the quality we have learned to love and expect from your franchise. Our delivery person was not even allowed to pull in our driveway to deliver it which delays the delivery as well. We were informed by our driver this is company policy they are not to pull in the driveway. They are driving their personal vehicles when delivering and parking on the street placing him or her in danger. This is not good practice. We allow them in our driveway. The driver did not even deliver our pizza in a container keeping it hot.

I ordered my order online at 1:00pm because my wife takes her 30 min lunch break at 1:30. i get a confirmation email at 1:02 pm saying that the pizza should be here in 30-40 mins making it no later than 1:40pm. At 1:50pm still no sight of the pizza and wings I ordered i call the store I placed the order at for them to tell me "oh its on the way I'll call the driver." Ten mins later STILL NO PIZZA! At this time it is exactly an hour after i placed my order making the pizza 20 mins later than the time the store told me it would be at my house.
By the time my order got to my house my wife had already had to leave to go back to work without eating lunch. when i opened the bow it was the ugliest pizza I have ever seen. It looked like they had played frisbee with it before it got here. I can honestley say that this is the first time i have had a bad experince with papa johns. This store is usually really good and i never have any problems with the staff. Just think i should bring it up so it doesnt happen to anybody else. Thank you for your time.

Received an email that Papa Johns was going to give away a free pizza and 2liter of Pepsi Max if the coin flip was heads. Well it was heads and the local store acted like they had no idea what that's about and I tried calling online customer service and they have turned off their phones. That's horrible customer service, if you say something then you had better be able to back it up! If this problem doesn't get addressed then you will loose a customer and I will continue to slander the name.
Knowing that its Super Bowl sunday I ordered from this establishment.I called at 7:50pm on the dot, at 9:50 i called back because i was told it should arrive in 45min,i was than told the driver should be on his way my order was out. At 10:35 i called back and was told my order did not leave n it was SBsunday orders could take 2 hours.I than asked to speak to a manager and was placed on hold for 15min. 

I have worked at papa johns for awhile now and i will tell you that the del charge you pay does not go to the driver! and not only that we use to get two dollars for any order over 50 and four dollars for any order over 100! now the owner thinks cause his pockets are not filled enough it was a good idea to stop this! now the cutomer was not charged for this it was a company thing! but again the little man is screwed! papa johns does not care for its employees or there customers! it is a shame that the owner of the papa johns in paducah ky can vacation all over the world then return and screw the employees over to pay for it!
So I called Papa John's recently, and they said I was out of their coverage zone. The weird thing is, I have been to their store, and it took me 10 minutes to get there in high traffic (rush hour). I talked to a manager, and he said because they closed a store in my closer proximity, they (this particular store which is open) could not deliver to my address. They are 6 miles away on a highway.
Rejected: So I order pappa johns a lot. i use a lot of garlic sauce, but it so happens the rest of my family does too. we always fight over the sauce. so i called in one day and talked to an assitant manager who said they could sell me a case at $15. then they said they would call me back. week goes by. i order pappa johns again tell the delivery driver to tell his manager christine and gm jeff to call me back as they had "promised". 2 weeks later. i go into pappa johns and talk to the am christine again. then she calls the gm and they said they cannot sell it to me. after all this time of making me wait then they turn me down.
So I write to pappa johns who forwards it to the store and he is very uncooperative and aloof. Just says sorry we can't sell it to customer. 

I called the mt. zion store on 10/11/11 an ordered a pizza with two toppings it was within the special hour $7.00 for the large pizza and $2.00 extra for the two toppings. After arriving at the store your manager Stacey said that the special did not apply and tried charging my daughter $13.97 for the pizza,which we should have been charged $9.00 for the pizza. I called the store back and ask why my daughter did not get the special discount was told that she did not ask for the special and therefore was not given the special.I was the one that ordered the pizza and should have been given the discount. I am thoroughly upset with Papa John's for this reason and it makes me not want to order again.
In the future if you have specials on pizza you should honor your customers order.

Its been awhile since I've ordered from Papa Johns in Longmont, CO. I placed a delivery order online. After an hour I called around 7:10pm to check on how much longer it would be. I was told the driver had left the store at 6:30 and had one stop before me. At 7:25 I called again since they said he'd be there any minute last time. Supposedly the driver got lost and called to get directions. The driver mustve been driving around for a long time lost before he bothered to call. Never has anyone ever had a hard time finding my house. I mentioned that my pizza would have been in his car for an hour.
The store clerk told me if it was cold to call back and they'd send more out. By the time it got there almost 1 1/2 hours after I ordered I was starving and just headed it up in the microwave. I was shocked it wasn't offered to be free since it was outrageously late. Then the deliver driver didn't have a pen for me to sign and made me go look for one in my house. The pizza I'm sure was much better fresh. But I must say I won't be returning my business. If they would've stopped making excuses and given me my money back I probably would go back and get take out. There lack of customer service skills and caring about there product was sad.

i placed a delivery order on october 7th at 11:54 pm..my pizza never showed up, i called the resterant..and the manager said they "were closed" i asked him about my pizza and then he said "they lost my order"..the manager then said it was free and to wait another 40 minutes..it is now 2am..and no pizza, and noone is answering the phone at the plymouth, indiana papa johns..i have "loyally" been a customer at that paticular papa johns for 6 years, but not anymore..i distinctly remember about 3 years ago something like this happening to me once before, with the manager then calling me a "liar"..im done! I honestly hope papa johns goes otta buisness because nobody (in my opinion) should do buisness with someone who treats their customers like shit! Thanks for nothing..

I just tried to order a pizza from the Salem, Ohio store on E.State street at approximatley 8:30 P.M. on Monday June 20, 2011. First of all I was put on hold and I finally hung up and called back to be put on hold again! The lady finally answered the phone and she knew nothing about the specials I asked her about…The 1st. special I asked her about was the 3 topping large pizza for $7.99 she said that they only had a 1 topping Medium pizza for $5.99. While on hold they advertise any large pizza for $11.99. She said it would be $15.99.
Maybe she should listen to the commerical when you are put on hold!! I finally ordered my pizza and the whole time the lady was RUDE. She answered me with WHAT? Is that all? The last thing she said was it would be a hour for pick up. I told her I was not going to wait a hour and she hung up on me! She couldn't apolize for the long wait? I then called back and asked to speak to the store manager, she got her manager but never said hold on a second she just put me on hold! Janice the store manager wasnt much better w/her phone skills.
All she did was said she would talk to her and thats it. I questioned her about the hour wait on a Monday night and Janice said "Yes we are that busy" Well excuse me! I told them to forget it…They must hire ALL RUDE employees at that store!!!

First of all, my family loves papa johns pizza. They were running a special either a sausage sensation or a tuscan six cheese for $11, but I have just myself and one child at my house so I ask the girl for a 1/2 sausage sensation and a 1/2 tuscan cheese because I love sausage and my kid loves the cheese. Now mind you the pizzas are made from scratch and 1/2 and 1/2 indgredients doesn't seem like a big deal to me but I was told, "yes sir we can do that but we can't discount the pizza it will be $16.95. I was insulted, to the point I vowed to never buy another Papa Johns pizza again and thats about 100 a year total.
Two pizzas or more every weekend for the longest.In the times where customer service is key, can we not teach our managers that being flexible, especially when it comes to pizza is the name of the game? And i won't stop there, I will tell every friend and every neighbor of the crappy service I got just to make a few more dollars.To me it was rediculous, I bet theyu don't get 5 request like that a month and all they did was loose a good and loyal customer. signed tj woods and my papa johns is at stage rd, bartlett tennessee.

A few weeks ago I complained about the services in the Bakersfield California Papa John's store. Today I got a response from an ex-manager that received the complaint, and he left the company in 2006. Wow you guys are really up to date on your managers. I will post his response: Thank you for taking the time to email Papa John's Pizza store #3027. I understand completely how you feel. I have long since left the company and I got your complaint emailed to me. The New management is the owners son who has run the business into the ground.
I have a number of Papa John's complaints in my box and I will be letting them know, again, that I'm no longer with the company. I left in 2006. Sorry again for your bad pizza. Is this how you do business. Please do not send this letter to some local yahoo manager, I would like this to go to the Papa John's Francise Company owner. Maybe the guys that comes on TV . unless he is to busy buy back some old cars.

I ordered two cheese Papa John's pizzas for my family including grandchildren, waited over an hour for delivery and received one with (yuck) anchovies, which made everyone want to vomit. I called and was told it was going to be a "very long time" before I could get another one delivered (it was already 9:30pm), but I said yes, the grandkids are hungry! I asked for the Papa John's manager and was told he would not come to the phone, and the person that I talked to couldn't hardly be heard, mumbled and slurred his words, I'm hoping they know how to wash their hands when handling food.
And, I am getting the replacement pizza for free, whoopee! Did they think I was going to pay for a replacement? I won't ever order from them again, they have permanently lost my business, and I will make sure to let everyone I know about the lousy service we received at Papa John's. No thanks, Little Caesar's is cheaper and tastier, so I'll keep the savings and say "up yours" to Papa Lousy Service!

I called on 5-27-2011 and spoke to young lady working at Papa John's. I asked her if I could use a coupon that I printed from off line. She said no if I printed it from off line I would have to order off line. I explained to her that this was very inconvient for me not to mention that I am 6 months pregnant and really did not feel like going online to place a order. She again replied no. I asked her if I could speak to a Manager. Scott Needling who stated that he was a GM then told me no that he was not going to do that. I told him that I know it could be done b/c I have had a Mgr do it before.
Not only that but I never thought that I would have to go through so much with using a coupon as much money as my husband and I spend at Papa John's. He wasn't Customer oriented he continued to stress to me that he was nto going to do it and that he was a GM and if I called Corporate he will respond and tell them he told me that he could have free styled it but he wasn't it was for his online Customers only. Now I do not know after this if I would continue to do as much business with Papa John's b/c this is no way to treat your Customers.
I am really concern with him being a GM and offers that type of service to his Customers what his associates are like and now see why the young lady said no. We are really considering giving all of our business to Pizza Hut now.

The Papa Johns in defiance ohio treat anyone who isn't family like they do not matter at all. They don't hirie women verey often an when they do the boyfriend of the manger trys to get them in bed. an if ur a girlfriend of a man that works there he trys to get you in bed. an they will show up at ur house if u don't answer the phone to get u to come in but they never want to cxover for u if ur sick. an when ur not family they make u come in no matter what is wrong with u. They have no respect for anyone and they don't let u use the ac when it is working.
I used to work there an I would see the women sleeps while her boyfriend works for her he has also singed in under her name when she is home so that she can have the hours with out doing the work her self. They told me how to clean and handle things then when corp came in an told her that it's not done that way that it was done a differnt way she told them that she showed us the right way so they would not get her for it so I got yelled at they plaim none famiy members for stelling money drinks and food.

On may 2nd 2011 my family ordered 2 pizza's from the Papa John's store in Independence. We get the pizza home and i had to spit it out it was so bad. I called the store and the manager on duty could barely speak to were I could understand him, I told him the cheese pizza was terrible and he said come back ill make you a new one. I then explained to him my wife had already went to Little Caesar's and got different pizza. The manager kept insisting on me coming back to get another pizza i denied that action asking for a refund not wanting to drive 20 minutes across town to get another pizza when we had already crossed over for it the first time.
He then refused to give me his supervisors number and only credited me for 1/2 the pizza.

I placed an order from Papa John's totaling $26.80. I typed in the "Instructions to Driver" box "Please have change for $50 bill." The driver arrived and said he did not have change because he was not allowed to carry more than $20.00. I had planned to give him a tip of $3.20, making my change an even $20.00. He said he carried $20.00…where was it? He wanted to give me nickles and dimes. I told him to take the pizzas back! On another occasion, the driver told me he carries NO change at all! Fortunately, I had close to the correct change, but still ended up tipping $1.00 more than I should have.
I will NEVER order or eat another Papa John's pizza again. By the way, why should I have to tip when I'm already paying $1.99 delivery fee? What is that slimy Papa crook doing with all the money he is stealing from people?

I ordered a $12.00 pizza and ended up paying $17.64. I expected to pay the tax on $12.00 but they also added a $2.75 delivery charge and they also charged me sales tax on the delivery charge. THEY NEVER ADVISED ME OF A DELIVERY CHARGE! I tip the driver two dollars and find out I have already been charged $ 2.75 for my delivery. When looking closer, I noticed that the receipt has a statement of: Any delivery fee charged is not a tip to the driver. Please reward your driver with a tip for outstanding service. Why is Papa Johns charging me a delivery fee if they are not giving it to the driver.
Papa John's is saying tip the delivery guy giving "outstanding service"??? Just how can a delivery guy give "outstanding service?? Why, cause he found my house. I have been ordering from this Papa Johns for years. But will never again. I guess I just became a Dominos customer. !!!
Patricia Bender

I had to go to Papa Johns on a very rainy night looking for pizza. First, I called an order in and the girl who answered the phone talked so fast, I couldn't understand what she said. When I asked who I was calling, she said, "Hello, Papa Johns" then started laughing. When I arrived, no other customers were there. The Papa Johns employees looked like maybe they were family, and didn't want to stop what they were doing to get my pizza. What ever happened to respect? The older woman and a young girl started talking in a foreign language and both looked at me, like I was a joke or something. People like that should not be running such an establishment if they don't know how to treat customers. I will NEVER order from Papa John's again, period.

I called in an order for Papa Johns on Feb. 6th, 2011 around 5 pm and they said it would be ready around 6 pm. That was fine but when I got to the store it was at least 50 people waiting in line. I waited over an hour. I know this was the day of the Super Bowl but they should have accommodated for this. There were people who had e-mailed their orders in at 1 pm that day and were still waiting when I left. The store I am referring to is Papa Johns on Timberlake Road in Lynchburg VA. My first thought was to go to Pizza Hut but then I thought I would try Papa Johns. This made me not want to order from your store anymore.

Yes I understand it's a freakin' blizzard outside and all over most of the country right now. Most of us are trapped inside and need to eat! I called papa john's because they delivered a coupon for pizza in the mail. Ok so the mail gets to my house but they can't deliver a pizza? Thanks papa johns! I called the nearest location and the girl asked where I lived (which it's like 5 minutes away), and she said they weren't "going there". Ok so if you won't bring me pizza cool but when I call you better tell me as soon as you answer that you aren't open for business. Quit wasting my time, they got all my info, my order, my credit card number, just so papa could turn me down.

I phoned in a Papa Johns order for an XL, 2 topping Pizza. I didn't have time for pick up at the papa johns location near me, so I asked for delivery so there wouldn't be any problems. I gave my son more than enough to cover the cost in case I was on a business call and said several times to get at least $10 dollars back for the change. I knew the total and had added in a few bucks for the tip, but only had 20's to cover the cost. After 2-3 calls for directions, the papa johns pizza was delivered and the driver took all the money from my son and said "thanks". He then left when I asked for the change my son said he took all the money and left.

Duane Parks
from Baltimore, MD
Ordered the lunch special 2/22/19 got there on time following the pizza tracker and my pizza was an old pizza that was already cut and I ask the square cut and got a lot of mini triangle cuts so it was a pizza that someone was already ordered that didn't get picked up and they reused it instead of making a fresh pizza!!!

I have filed a feedback form 2 times, and called and spoke with Rebecca over an incident last Saturday evening (2/16/19). I was informed that someone would notify me within 24-48 hours. As of today's date, 2/21/19, no one has responded or sent me an e-mail. Could you please look into this?

The Crystal Hill store in North Little Rock, AR SUCKS! The man that answered the phone barley spoke English & then you could not understand him.
The he put the manager on the phone, someone named Louie or something like that. He was just a rude.
I have ordered for years from Papa John's Pizza just a different store and never had any problems out the other store. This store was just plain dumb and stupid. I'm sorry to leave such a bad review but poor service is not was I expect from a well known Pizza establishment.
Thank you,
Alicia

Tim nasello
from Tampa, FL
I work for Seminole Electric in Tampa. WE frequently place orders from Papa Johns 14861 N Dale Mabry Hwy, Tampa. Today we called at 1000 am to place an order for 20 pizzas for delivery at 1145. They said they had too many orders and could not be there until 1215. That was too late for our corporate meeting, so we asked to pick them up at 1145, the person on the phone said I will ask my manager, but he is going to say no. So she asked the manager, and no courtesy to get on phone, he yelled no we cannot make them and we hung up. I do allot of business with PaPa Johns personally and professionally and find this Customer Service unacceptable. I am sure that this is not the service your corporation expects or accepts and hope this is corrected. We are now going to use another place to provide food for our meetings.
Very Respectfully
Tim Nasello
Director Supply, Seminole Electric

Our pizza tasted very bland. It was very dark and the crust was hard. Our bread sticks were very dark and bland as well and also cold. And the garlic was spilled all over the box and on our garlic and cheese cups. We would appreciate it if you could do something about this situation. Thank you.

Alexander Sulimenko Jr.
from Ashburn, VA
I work for a Amazon fulfillment center and we order often from papa johns all the time. I work over nights and we had a birthday party planned for a team member and I ordered two large pies on line. Usually the service is great but this time the order was delivered late and cold and the delivery driver was rude. He made the excuse that he had too many orders. He delivered the order late and we only have a half hour for lunch. I ordered it at 10:50pm on Wednesday the confirmation said it would be 30-40 minutes which is normal. Our lunch is at 11:30 and the driver didn't call me till 11:50pm, needless to say we didn't get to enjoy the pizza cause it was cold and late. We order all the time throughout the year for meetings and special occasions and I hate to order from somewhere else. I spent 43$ on pizza and pre tipped the driver. I hope I can get a full refund.. I would hate to have to dispute the payment on my credit card. I hope someone will contact me for resolution to this matter.

berta gittings
from Louisville, KY
i had a gift card for my pizza and the people there messed my order up and all my imfortation up plus took out the money on the gift card that i never got the pizza they ripped me off on my card and order plus they never show up with my order.the card was for 25.00 but i should either get my 25.00 back or a free pizza for 25.00 i will tell a lot of people how this place RIPS PEOPLE OFF. I AM VERY PISSED OFF ABOUT THIS I HOPE THIS GETS FIXED GITTINGS

chris herbert
from Rutherford, NJ
Long story short I had a problem with my local papa johns store three years ago and stopped going. I received a coupon in the mail that made me decide to give them another chance. I ordered online. When I got to the store, the store owner in east rutherford was nasty with me. I walked out without my order. The store owner called my wifes number from the online order and told her to never come back. I called the papa johns main number to complain. They were very nice but no one called me back. Two weeks later I called and they said the case was closed. I said "no one ever called me to tell me that" and they said the store decided they no longer want me there and as a franchise they have a right to do that. I said "alright but I would have liked a call telling me my case was closed. I had no idea papa johns worked this way. You just use the papa johns name and treat customers badly and papa johms washes its hands of it all?" The papa johns representative said that is the way it works and the franchised store has a right to do that.

Michael
from Portland, TX
Ordered 3 pizzas. (All super soggy) 1st: all cheese and sauce slid down, got 1 pizza with all toppings on 1 side. 2nd was ok. 3rd was cheese on 1 side. $45 for this. All pizzas were horrible, and I love PJ's. Never again in Portland tx. And I like PJ's.

Trent Hand
from Huntersville, NC
Ordered a pizza less than 5 minutes from my home. An hour later, the delivery driver called me to verify address, which she had the correct one. After telling me there was no such address, I called the store, cancelled the order, and no one seemed to care they lost business. Last time for this person!!

Wendy McDowell
from Port Orange, FL
On January 4th, 2019 I Ordered a pizza for delivery. I was told that it would arrive in 30 minutes. It took over an hour and when delivered it was cold. Called the store here (Port Orange, Florida) and asked to speak to the manager. I was placed on hold and after 10 minutes hung up. Then my husband called the store and demanded to speak with the manager. when the manager talked with my husband he said that they would bring us a new pizza at no charge and refund the cost of the first pizza that I considered a fair way to deal with the situation. However when the new pizza arrived, we found that it was not anything like we ordered. It was missing several ingredients and was really quite awful tasting. I didn't even consider calling the store yet again but I wanted you to know just how bad the service we received was. We have enjoyed your pizzas often but this experience has put an end to that. I really believe that some training is in order for this store. The manager would not even give me the name of the franchise owner, I'm sure because he knew what could possibly happen if I were able to speak to that owner.

Gregory D. West
from Atlanta, GA
I am not to impressed with Papa John's service at West Broadway. I call to order a party worth of pizza for address at 1814 Bolling Ave , 40210 and the servant said that there were no more delivery drivers and nobody to help you and I cancelled at about 8:33pm last night.

my pizza came to my house with cheese and toppings inside and on the sides of the box but none on crust.

E. Ware
from Danville, VA
Every time I try to order from the local Papa John's, they will not honor online specials or match competitor pricing (Domino's). I just tried again to no avail and even though the online specials specifically state $6 for 2 medium 1 topping pizzas, the manager told the person who answered my call that they would not honor the special. I asked if they match the Domino's EVERYDAY special of 2 medium 2 topping pizzas for $5.99 and they said "We are not Domino's". I asked to speak to the manager and they put me on hold never intending to answer me again...I waited for at least 15 minutes and finally hung up and ordered DOMINO'S. If you will not even honor your OWN SPECIALS, much less price match like many other places do, you should not leave this Piney Forest location in Danville, VA open any longer!!! This is the rudest and worst Papa Johns ever and I don't even live here any more - my parents are still in town which is the only reason we even try. They also never prepare the orders that we do place correctly as I HATE the pepperoni extra soggy UNDER the cheese. You should change the arrangement and ALWAYS place pepperoni on top to get crispy! Doesn't matter that I always order it this way, when I actually do order from you, because this Danville, VA location never tries to do it right anyway.

Kaleigh Pipho
from Oklahoma City, OK
I usually choose Papa John's when ordering pizza because they have always had a consistently excellent quality when it comes to the product they put out. However, I was extremely disappointed when I received this order (there were two medium two topping pizza's and they both had the same issue; only one is pictured) only to open both boxes and find that the majority of both pizza's didn't even have toppings or sauce on them. I expect much better quality control from Papa John's than this.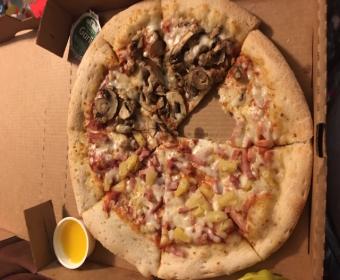 James A. Dennis, Jr.
from Missoula, MT
My wife ordered a 2 pizzas at our local papa johns here in Missoula Montana and not only were they late by an additional 45 minutes but made incorrectly. I was not home at the time they were delivered. I would have refused them outright and demanded a refund. Upon calling the manager she tried to say t wasn't their fault that they had only 2 drivers and couldn't get our order to us in the allotted time they stated. I asked to come back now and pick them up as they were not made correctly and she said they couldn't do that to which I replied how about I drop them off there and you make them correctly to which she started screaming and swearing and said fu*k this and hung up on me.
WOW great customer service experience !!!
Better ingredients, better pizza, incorrectly made, terrible customer service, late, PAPA JOHNS
I can be reached at the following 406*369*5100 if you would care to make amends to a loyal customer.
I remain,
James A Dennis

It clearly sates on the website I get 11 chicken poppers and tandoori poppers but instead I got less than 11

Dennis Nofsinger
from Augusta, GA
Asked cashier for the AARP discount she very rudely said she didn't know what that was and refused to try to get it. This to me means I will not visit this store again and that the employees are poorly trained. Store location on Zebulin Rd. Macon Ga.

Bonquiqui
from New Orleans, LA
Last couple of times I ordered pizzas there was not enough ingredients in the pizzas at all. It barely has 1 or 2 pieces of pepperoni in each slice.
The quality has dropped tremendously. I won't be buying from them. There are plenty enough pizza places willinf to ear my business.

Tim Forloine
from Baltimore, MD
On November 10th I called ahead and ordered two Pepperoni Pizza's from the Papa Johns on Woodbridge Way in Edgewood Md, 21040. Upon arriving there were several Police cars detaining a couple of people outside at the business next door and the PapaJohns was very busy and told me it would be a little longer but did take my credit card for payment ($34.34). Already late for a party about 10-15 minutes away I called to let friends know as I was bringing dinner! While doing this I was handed my pizza boxes and out the door I went. Upon arriving at the party the boxes were opened immediately and to everyone's shock the pizzas were covered in pickles and labeled "Cheeseburger". I called Papa Johns and was informed it was my fault for being on the phone and if I wanted the correct pizza's I needed to bring the wrong ones back I told them I was at a party and they needed to deliver the correct pizza's. I was informed that was not going to happen. I do have the email confirming my order and pictures of the tags on the boxes that are incorrect. I requested they NOT bill my credit card and again was told tuff luck but I had to pay for the bad pizzas even though the manager freely admitted he had made the mistake. YES My credit card was billed. I have used this Papa Johns since it opened and order online frequently. I want my money refunded and think an apology is in order. I look forward to hearing from you.
Hello Timothy Forloine,
Thank you for placing your Papa John's pizza order via our Online Ordering service. Please find below, details of your order:
Customer ID: 53549462
Online Order Number: 641823560
Order Type: Carryout
Method of Payment: CASH
Estimated Ready Time: [Approximately 15-25 minutes]
Order Detail:
1 Pan Pepperoni 15.60
Pepperoni
Pan Sauce
1 Large Thin Crust Cheese Pizza 16.80
Pepperoni
Total $32.40
Tax $1.94
Grand Total $34.34

Karen Hennington
from Albany, GA
Placed online order at 5:30 pm received the wrong pizza. Notified store, spoke with the manager who assured me of a timely re-delivery of the correct pizza. An hour later I called and was told that it will be an additional 15 minutes. When I asked to speak with the manager I was placed on hold and left to listen to a horrible sound. Called back and the phone was not answered I am very disappointed. The pizza was already paid for and as of 7:15 still have not received a pizza, an apology or anything satisfying. However, I was told that they will need the wrong pizza back. Very poor service

Trystan Roberts
from Marysville, WA
Today is 11/11/2018 and ordered 36.00$ pizza. i was excited to buy the featured cheeseburger pizza to receive a very disappointing pizza with so little hamburger that I couldn't believe that this was the prime ingredient virtually missing the mark. I could count the amount of burger crumbles on one hand. I contacted the store manager and took the pizza back to,prove the sparse non existent burger. He basically said that there was nothing he would do about it, stating that there was burger on it. I think it tasted like it should been called a pickle pizza. Really, this manager was a rude jerk. Until the management changes, I will not be going to this particular store again.

The general manager is a bitch,she decided because I'm a white male I couldn't use the 8.99 special and wanted to charge me 20 dollars for a two topping pizza and when I wouldn't pay that much for the pizza after ordering the special and being quoted otherwise over the phone she told me I was just a white supremacist piece of shit and should have to pay more so others could pay less, WTH is wrong with this person.do they represent the values of Papa John's in Maryland this is ridiculous

marie smith
from Powder Springs, GA
I have a coupon from McEachern High School that I have had for months now, I called to order a pizza but wanted to add topping and the young lady explained that I was unable to add any toping because it was just a free medium cheese pizza only. So then I wanted to order my pizza and pick up when ready, but then it wasn't possible to order the pizza for pick-up. I had to come in and order in person with the coupon, I thought this was ridiculous. So I drive over and wanted an explanation as to why, and asked what if I had just called and ordered the pizza and showed up with the free coupon what would have happen then? So this very rude manager tells me that then I would have been charged the regular price for the pizza and couldn't use the coupon as she's sliding across the floor in a chair, didn't even bother to stand up to tell me she didn't have to take my coupon or put up with me questioning her about her rules with the coupon. This is very upsetting to know just because I had a free pizza coupon, and not a cash paying customer that she refused take my coupon in return for a pizza and talked very nasty and rude. This type of behavior is unexcitable to say the lease that another racial instance where people of color are insulted and talked to rudely, I thought with all the trouble, feedback, and ridicule that Papa Johns have suffered this year that this certainly wouldn't have happened, a rude Caucasian manager treating a African American with such unfriendly customer service it's crazy. So I tell you what anyone of color shouldn't support this place and by all means don't bring a free pizza coupon in, hopefully by now everyone has used there fundraising coupon for the free medium cheese pizza that we did pay money for mind you, it really wasn't free.
Remove review

Richard Bohlman
from Brandon, MS
Papa John's
1490 W Government St.
Brandon, MS 39042
At appx 2:45 pm on 20 Oct 2018, I placed a cell phone call to the Papa John's Pizza store in Brandon, Mississippi.
I told them that I was making on order for pick up. They asked my name and phone number.
I told the person on the phone that I wanted to order the Extra Large two topping pizza for $10.00
as shown on TV. I was told to hold a minute and when the person came back on the phone he told me that they
were "all out of Extra Large pizzas".
He advise me that I order a $20+ pizza to which I said GOODBY and hung up the phone!
I purchased my pizza from another pizza store here in my area on my way home from work.
"ALL OUT OF EXTRA LARGE PIZZAS"! Very sad customer service! I want to talk to someone about this!
Richard Bohlman
201 Hickory Circle
Live Oaks Place
Pearl, Mississippi 39208-8081
(769) 226-398
richard.bohlman@att.net

Samuel Delgado
from Indianapolis, IN
I placed my order at 4:00pm for one pizza and received a notification that the pizza would take 35-45 minutes and the pizza tracker said that it was on its way for over 30min. At 5:15, 1 hour and 15 minutes after placing my order, I called the Papa Johns store to ask if they were having trouble finding my apartment. The worker on the phone rudely answered and hung up on me. I called again, and the same thing happened. I called a third time and spoke to the same individual who screamed at me over the phone that it was just now being boxed, 1 hour and 15 minutes after my order was placed. The behavior from the worker is unacceptable and it is also unacceptable that the pizza tracker stated that the order was on its way for over 30 minutes and when I called I was told that it was just being boxed - this is false advertising. If this is how your business treats paying customers, I will no longer be ordering from your establishment.

Maria Rodriguez-Farris
from Sugar Land, TX
I placed an order for one pizza today at 4:20pm at Store #1953 at 11850 Bissonnet, Houston, TX 77036. I specifically asked them if they delivered to a business. The employee said yes. I gave them all my contact information and my credit card number. They told me that pizza would arrive at business in 30-35 minutes. I called back at 5:20pm and they told me pizza on its way. Pizza never arrived. I called back at 6pm and the person that answered told me they went to business and called number. They had the wrong number for me. I told the employee that they wrote down wrong number. I asked that I receive pizza for free. She said they couldn't refund because of bad number. I told her it isn't my fault the employee wrote down the wrong number. The employee told me it will be another 30 minutes. I have yet to receive pizza and should have received pizza free. I regret calling this papa john should have gone with domino's.
Maria Farris
832-566-0797

Bob McFarland
from Derby, KS
On 9/21 at approximately 6:30pm I stopped at the Papa John's store (#1375) in Derby, KS to pick up a pizza that my wife had ordered about 15-20 minutes beforehand. I had driven from northeast Wichita to Papa John's to pick up the pizza on the way home. I have had prostate surgery (which did not go well and, often, when I drive any kind of distance, as soon as I get out of the truck, I have to use the restroom. (not eventually, but immediately) When I told the young girl at the counter my last name, she told me that the pizza was not ready so I asked if they had a restroom available. She said she was new (no problem there) and would ask. It went through 4 people before she came back and said 'no'. their restroom was not a public restroom but if I needed to use one, there was a Taco Bell down the street.
I left the store and walked about a half of a block to Taco Bell, used the restroom, and came back. When I came back, I asked why they did not post 'no public restroom' on their door and one of the pizza assembly personnel walked up and began to berate me about Kansas state law pertaining to no inside tables so not required to have open restrooms. While this may be true, the fact that his conversation was across the room and in front of 2 other customers was not appreciated. I suggested to him that rather than make an issue about it they should just post it and thus alleviate the entire situation. (I then apologized to the other 2 customers for what the situation had created) Truthfully, this was embarrassing and demeaning to me as a person. I did not want to create a disturbance. I just needed to use a restroom. I told the pizza guy that it was finished and I just wanted my pizza.
After I paid for the pizza and the pizza was still not ready, I asked to speak to the manager. When she came out, she took me outside and told me that I was out of line without asking anything about what had actually taken place. When the pizza was ready, 'she' brought it to me and told me that if I did not leave by the time she counted to 3, she would call the police (and then proceeded to start counting.) I asked her if this was for real and she started dialing her cell phone. I apologized to the new girl for causing such a problem on her first day and left. (The night manager did not give me her name as I had asked, just the store name and the corporate number.)
I am not asking for an apology or free coupons or anything else. That is not the purpose of this email. I owned a successful service business for 17 years and one of the things I learned was that businesses often lose accounts over irritations rather than huge problems and often the irritations are never reported, This incident was rude, demeaning and unnecessary. Please post your policy on restrooms. Most customers are not familiar with state law and don't need to be 'force feed' the particulars and no customer should be threatened on police intervention because they asked to use a restroom or speak to a manager.
My wife and I have ordered from Papa John's at least 1-3 times a month for the past 2-3 years because you are less than a mile away and our grandkids like pizza. That being said, I will never step into any of your stores again because of the way I was treated but I felt that it was only right that you should know. One customer will not break you. However, I'm sure that what happened to me is not unique, especially after I got home and looked up this store's customer rating.
Thank you for taking the time to read this and I hope it will encourage better training and better public communication since you are a public service business.
Regards,
Bob McFarland
316.210.9555

Thomas Wrightsman
from Carmel, IN
Hi... My wife and I had family in from out of town so after a long day of traveling and work my wife decided to order pizza... Big mistake... She ordered the "feed your home team" 2 pizza deal (1) large meat lovers with banana peppers (1) supreme onion on half. And a order of garlic parmesan bread sticks.
My total was 33.96. They said it would be 30 to 45mins. An 1hr.15 mins went by and still no delivery. My wife called and asked how much longer and was told it would be there in 10mins. Another 35mins went by for a total of almost 2 hrs and final our order arrived.. the pizzas were barely warm and tasted undercooked. The supreme with onion on half had onion on the whole thing and we received regular bread sticks instead of the parmesan ones. I should not have had an experience like this after spending almost $40. I would greatly appreciate it if customer service got back with me promptly to resolve this matter. pitbulllove0420@gmail.com

M.Shafiq Khalid
from Bethnal Green, ENG
I worked for one of your franchises on Stains Road, Feltham London. The employer was abusive and wasn't adhering to any rules. He paid everyone below minimum wage and would get agressive and verbally abusive every now and then. I left the job as his behavior with staff and customers go unbearable to me and he is now withholding my wages. I contacted the UK head office and made my complaint to someone named Sarah Bridges but they only contacted him once and it didn't result in my wages being paid. I worked very hard for the brand and I think I deserved a better treatment. Out of fruateration and desperation i have had no choice but to leave comment on the glassdoor and I have also emailed money-saving experts and other outlets to make my frustration heard. I hope I get my voice heard as soon as possible

Ric in San Diego
from Houston, TX
I ordered the attached pizza for my girlfriends kids.
It is a 14 inch
With Canadian bacon, Chicken , green peppers . onions and Black olives.
Look at the toppings that are on it.
You guys should be ashamed of yourselves.
Look there's like 2 olives on this pizza
No chicken
Barely any of the other toppings.
Seriously 25 bucks
You're franchisee should be ashamed
I would ike my money back as well as the 5 dollar tip I left.
I'm furious..
Hopefully you respond if not I'll just go to yelp.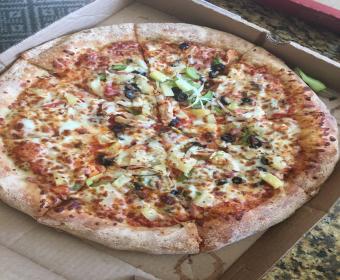 Patrick J. Ehle
from Thayer, MO
On Saturday July 28th I called your Raytown MO. Papa Johns to order a Spicy Italian pizza and brownie dessert for delivery. It was shortly after 8pm, so I was surprised to hear that it would be about a 2 hour wait. The young lady informed me that they would try to get it to me sooner, but couldn't guarantee it. I went ahead and placed my order, paid with my debit card and sat down to wait. Around 10 pm, I called back to check on my order, and was surprised once again. This time I was told my order had already been delivered. I believe it was the same young lady that took my order, but can't be sure. I explained that in no way had I received my order. She excused herself to talk to the driver, and upon returning stated that the driver couldn't find me and was unable to reach me by phone. As it turns out, my phone number had been entered incorrectly. After fixing this error, I asked that my order please be delivered as soon as possible. The young lady agreed, and said I should get it shortly. Mind you, it is now after 10pm. At 11pm I called back. A young man answered the phone, I explained I had ordered a pizza for delivery and was wondering when it would arrive. I was placed on hold. The manager came to the phone, informed me my order had been cancelled, my account credited, and that I was not getting my order as he didn't have any more delivery drivers. When questioned why I was not informed of this, or why I was not getting my order after waiting 3 hours, all he said was :I don't have any delivery drivers.". When I explained how I felt this wasn't right and that I would be contacting corporate, I was told "Go ahead". I just want to make it clear that I never raised my voice, never cursed, and never expected to be treated like this. And if this is any indication of how your stores treat its customers, then I will have to take my business elsewhere.
I do not want any coupons or anything like that....I just wanted my pizza.
Thank you
Patrick J. Ehle

George
from Cedar Park, TX
Some lil kid answers the phone at cedar park location start ed telling me to suck his fucking dick kevi n Sweeney because I asked for extra beef

David suiter
from Jeffersonville, IN
Clarksville Indiana store two pizzas ordered end of last month both pizzas were on edible contacted management said they would replace but never did and did not put in computer as promised this store is terrible and so is the food $50 wasted

Detric Sykes
from Atlanta, GA
I ordered food to be delivered 03/13 around 9pm. The time for delivery was 42-52 mins. The pizza did not arrive until almost 1130 which I was in bed, had to wake up and get the pizza because it was already paid for. The box was cold to the touch so was the pizza. This is unacceptable and a great inconvenience. Please advise how you as a company plan to compensate me

Deborah Kidd
from Chapmanville, WV
Papa John's in Jefferson City Tn,woman in charge always very rude, always snaps at you when you're are being nice,order pizza on line, payed with bank card, went to pickup claimed I didn't have a order,and she refused to let me show her,lost my money and left without my pizza, she wouldn't listen to me! I've been there before and she made me wait while she put stickers on the boxes with my pizza in front of me,and if I spoke up she would snap and say I said just a minute, I think you're going to lose a lot of customers!....Thank you

Tina Twine
from Portsmouth, VA
2/14/18 I called my local papa john's pizza 252-337-7272 to place a pick up order for the Valentine Special heart shaped pizza and the double brownie @6:24pm. A very young lady who was VERY rude answer the phone I told her I wanted the Valentine Special and she replied NO (just as mean and rude as can be NO). I then tried to get her to make me understand why did she tell me no and she replied that there store was NOT doing that Valentine Special. Thought that was really unusual for a franchise not to follow promotions. So I then ask could I get a pizza and a brownie, she being rude ask me to hold once again and return to tell me that they were OUT of brownies so no I could NOT order a pizza and a brownie. At that point I figured if I was to continue she was going to make sure she ruined my pizza so I then said thanks anyway I will take my business else where and she hung up. Hate to say that I had no clue PIZZA HUT was doing the same special at a bit higher cost but I felt safer getting my order from there but I was not going to let that rude disrespectful young lady ruin my Valentine. Hopefully this will be looked into because I do frequent the Papa John (who is my first choice for pizza) in hopes that I don't get her again. Thank you for your time TinaTwine
252-455-5161 I did make a complaint on your fb page

Alan Pernell
from Orlando, FL
tried to order from Margeret St in Jacksonville Fl. Phone operator so incompetent I became extremely frustrated and canceled order and ordered from pizza hut. If your employees can't even take an order why should I trust them to prepare food for me to eat?

Duane Krutz
from Colorado Springs, CO
We ordered a thin crust, Pepperoni, Bacon, Spicy Italian Sausage and Jalapenos (ordered by phone). The crust was way to hard to chew with very little bacon and it never had jalanenos. We always see on TV about the $10 special. Our Papa John's said they didn't honor it. Ended up paying $12 plus tax and we picked it up. Probably will not buy another.
Thank you for listening,
Duane Krutz

30 YEAR VET
from Newport News, VA
I have refused to support Papa John's and it's efforts over the past 4 years due to the inability of Papa Johns founder John Schnatter to separate his personal, political, and religious beliefs from business. My decision to support a company is based solely from the ability of it's products to align with my needs. His arrogance and divisiveness will always alienate me and my friends that I openly communicate with about Papa Johns (John Schnatter) and it's political/religious/personal stance. There are numerous competitors (California Pizza, Pizza Hut, Domino's and many others) that I frequent and that I will support before I will ever return to Papa Johns and I will surely utilize and encourage social media to voice the same. A good suggestion is to replace John Schnatter from his business model and during the next Financial Call you just might see a upswing in revenue growth?

hello dear
i work for papa john's pizza store at: papa john's pizza located at: Edmonton Alberta Canada
i had worked as a delivery drive since July 2017 and i was doing my work as a delivery driver in very professional manner i had no complain and most of the customer they were very happy with our delivery friendly fast professional service for the time period i had worked for this pizza store.
even the co-worker they had sawed my services i was doing just great.best i could.
the problem is that the owner of this pizza store was not really friendly he never appreciates our hard work service plus he all ways blame us.
finally, he had stopped me working for no any reason or any explanation. that i can see this is not professional or honest.i was working very hard with honest attitude providing the best i can.so at least if he could inform me that he had replaced me with a new stuff who does not have much experience on pizza delivery business and i don't see this a good professional way to manage a pizza business.
he had hired me without taking a copy of my driving license never sawed my auto insurance or registration and i don't think this is the professional. Anyway, it did happen so many problems with his stuff since he starts this business some stuff who worked for him most of them quite or he was abusing them & harassing them til they quite the job. i will say that the owner of this pizza at the north side of Edmonton he is not in title to manage a pizza place or stuff as he is not qualified to be a manager or owner of pizza place franchise he mess that he abusing stuff and keep changing worker and stuff everytime my question is way papa johns pizza head office is dealing or providing a business opportunity for people who are not professional and abusers who make the business upside down and with a terrible bad unprofessional services & abusing pizza stuff and drivers and so on... they give bad image of the papa johnes franshise.i had some of the co workers who use to work for this owner of this papa johnes store they had a lot of compalin about an unprofessinal dishonest unpropriet abusive pizza busines.owner who had no clue how to make a single pizza or how to manage stuff no clue at nor even haw to deal with a customer in some difficult situation and so on.
finally, there is other stuff who they use to work for this owner they had quite the job or had been fired for no reason they had to suffer from this bad unacceptable unfair appropriate intimidation so on...from this kind of the wrong person on the wrong place. or a the wrong owner on the wrong business.
if you need more information please feel free to contact me, am willing to provide you more information up to your request.
i look forward to your response.
jim d

Dan & Kim Wallace
from Newville, PA
Oct. 28, 2017 At 5:30 Pm my wife and I entered the Papa Johns in Chambersburg, Pa. to place an order. We ordered 2 Pan Pizza's and were told that we could only have the 12". The commercial that was running stated any pan pizza for $10.00, 5 toppings max. We were told that we could have the 12" for $11.00. Once we insisted the price was $10.00 he finally agreed to the $10.00 price but still only the 12".
We agreed to it since we came from Waynesboro to get Pizza from Papa Johns. Once the order was taken, Elijah the manager was doing all the talking. He told us the order would be ready in 10 minutes. My wife walked next door for about 15 minutes and returned. Ten minutes later the manager comes out and proceeded to inform us that one of our pizzas got lost in the process and it will be another 20 minutes or so before our complete order was done. When asked how one of our pizzas got lost he stated it went out with another persons order. Well that was unacceptable even though he offered a free desert or drinks. We asked for our money back and he quickly handed me cash back. As we reached our car, he ran over to us and stated "You have to give the cash back to me, you paid with a credit card and I'll have to put it back on the card." Back inside we go. Never will we step foot in a Papa Johns again! We were really looking forward to eating there since the one in Waynesboro left town. I guess we're only 2 customers….

heather
from Huntington, WV
Hi my name is heather i called and made a report i was told that they would give me a call back i haven't heard anything.Papa John's on 9th ave in Huntington WV it took them 20mins pick up then put me on hold for 5mins and staff was rude. My phone is 304 208-5386

ann seymour
from Saint John, NB
For the first time last week i went to your store in Saint John N.B. east side and ordered a donair . the so called donair did not have donair meat and no sauce and np pepp and and i ask for extra sauce i got garlic sauce i ! I was really disappointed beause i was told by my friends i heard such great things about you store . I couldnt eat the donair i still have my receipt . If you didnt make donairs they should of told me that was a wasted fourteen dollars

Jon Martin
from Cedar Park, TX
CALLED IN FOR DELIVERY ON A LARGE PIZZA. TOLD IT WOULD COST $12 . WHEN RECEIVED BY DRIVER MARIA SCHAFER , IT WAS $16.40 !
I ASKED WNY AND SHE SHOWED ME HOW YOU ALL CHARHE $3.15 FOR DELIVERY FEE . With my tip , I payed $20 for a pizza I was told would cost me $ 12 ! Never again and I will tell all my friends , your tricks. The piazza was horrible as well . Receipt also doesn't show locaton or date , hmm !

Henry Scherer
from Nazareth, PA
Your being a sponsor of the NFL .
They are a disgrace to our nation .
As a Viet Nam veteran I and the nation cannot stand by and say nothing .
I will no longer buy your product .
Have feedback for Papa John's?
Thanks for your feedback!
Sorry. Please try again later!