McDonalds
McDonalds Complaints Continued... (Page 7)
1085+ reviews added so far. Upset? Call McDonalds corporate: 800-244-6227

Andy Vu
from Huntington Beach, CA
Dear Mikey Ds,
I have been a great and very loyal customer and once an employee of McDonald. I have tossed the crates of buns and meat patties into the storage room while changing shift and closing up at night. I tossed those meat patties into the grills and made many burgers each day with great taste. I have fried the french fries better than the French themselves. I have cleaned my hand before I served. I was subjected to food serving qualification prior to the hiring. At young age, I was able to ate all those hamburgers and BigMac for free until it became 50% off for employees. I have never thought that this restaurant have become less original and quality in it's sanitation. I purchased a McChicken and Bacon McDouble yesterday at the Hunting Beach 16866 Beach Blvd, number 857. I came home about 30 minutes later with an explosive diarrhea.
The services that I have watched over the years, going back around 5 years. Something went wrong or something spook the workers. It wasn't the way that it used to be. I have done my shared, but the services nowadays needed much more improvement. I hope you will take this as an improvement feedback instead of a complaints. Yeah, it went all out of my gut in less than five seconds.

Troy True
from Yankton, SD
Wrong breakfast order, very long wait 10 minutes, short on breakfast sausage biscuit, had to substitute McMuffininitially lost my Visa Debit Card, then forgot my 6 fruited yogurt parfaits, called local store, many excuses, asked 3 times for refund or coupons, asked to speak to franchise owner/manager Bridget, was told they have large inspection coming up Tuesday, so she won't have time to talk to me. Been McDonalds customer over 37 years. This was in the Yankton, South Dakota McDonalds 2/11/18 at 6:13 a.m. Just want order corrected, an apology and friendly service.

Ava Dekker
from Red Bank, NJ
Hello,
I proceeded to McDonald's at around 8:00 p.m. on February 10th, 2018. As any other event, I enjoined a six piece chicken mcnugget and a medium fry. I then came home and opened my bag to eat my supper. I opened my chicken mcnugget box, which essentially was made for a 6 piece, and perceived the fact I was only presented with 5 chicken mcnuggets. I personally do not understand how one can miscount a six piece mcnugget order, but I am completely flabbergasted with the inexplicable absurdity I have witnessed tonight. I personally appreciate the consideration you take in my complaint.
Thank you,
Ava Dekker

I bought a Filet-O Fish 2.8.2018 it was all dried out like it was made hours before was not good did not know until I got home

Joshua Monte
from Duncan, SC
My experience here is always terrible. I am a local business owner In Greer, South Carolina and this McDonalds never ceases to negatively amaze me. I went through this morning at 6:51 am and proceeded to order a bacon egg and cheese meal w/Dr. Pepper. Upon arriving at the office I quickly realized that my order was completely wrong, but it doesn't stop there. They gave me a sausage egg and cheese and the sausage was UNCOOKED. I didn't want to complain so I tried to eat it before noticing the uncooked sausage (even though I hate sausage) and after one bite I spat out my food and almost threw up. I called the McDonalds I had placed the order at, 308 W. Wade Hampton Blvd. and I was told they would issue me a refund once I was available to come back, I came back at 4:05 pm and asked for the refund (politely), I was rejected and cursed at relentlessly. The manager Bree repeatedly cursed at me and said "sir you need to leave before I call the cops... Byeeeee bye now". I was jotting down notes throughout verbal onslaught, I have significant proof of this entire occurrence and I am absolutely astonished at this establishment, This is not the first time I have dealt with this mistreatment from this location and I am sure many more people deal with it. This franchise is tarnishing this McDonald's brand and stomping all over the core values, I had to leave the building while being yelled at by "Bree" (amongst other customers) and I did not receive a refund. Receipt number and transaction are illegible due to low ink, but I still have the receipt. I spoke with a complaint rep named "Jennifer". My Cell 864-546-0330 is what I called from. Thanks.

sharon maloy
from Bristol, PA
I paid for my order in the drive thru at 6:15pm and they pulled me to the curb to wait on chicken tenders. I sat there and watched 2 different cars come and go, they too were pulled over. We were told 2 minutes from the girl in the drive thru. After 10 minutes an employee brought a bag of food out to the car next to us - but not our food. I had to enter the store and approach the manager on duty to get a refund at 6:34. Takeout food is a luxury to my family and I don't always have extra money to spend on it. This was a real treat for us, we all got full meals Receipt # 10918-13930-20218-18153-00205-3 ours was order # 93 and I know this particular McDonalds is closing but the people and the service were finally enough to push me over the edge. No more of my hard earned money will ever be spent on McDonalds again. I really liked your food but I like being treated well more than I like your food. This experience really deserves a negative stars on the scale because you have management that doesn't care and doesn't know what she was doing. to make matters worse, you have workers who were yelling at me and one was fighting with me from behind the counter. They wasted/took 20 minutes of my time, insulted me and a worker berated me at the counter in front of a store full of people. ENOUGH!!! I will be sure to tell everyone about my experience. you think because you are a big corporation that I don't matter. I'm just one person. BURGER KING GIVES US COUPONS AND GOOD SERVICE WITH A SMILE!!!

Veronica Mora
from Ensenada, BCN
Hi. I am a regula customer to the McDonald at your location 727 E San Ysidro Blvd, San Diego, CA 92173. Today when I came in I made an order of 6 items order #150. The cashier was very nice. Then when it came to picking up my order there was a Waite of 15 minutes and there were at least 15 customers. As I was waiting I noticed that the man named Bryan figaro was handing them out with no problem no question, but when it came toy order I new right away I had the biggest order. He put ketchup with put asking if the customer wanted then proceeded to call the order number. When I got close to the cashier he then looked at me and said in a ruded tone " is this your order" and gave me a dirty look. I the said yes 150 with my recipe in hand he then rudely held on to the bag and demanded that I gave him my recipe because he did not believe it was my order. I showed him my recipe and when I asked for a specific quantity of ketchup he ignored me. I then asked to speak to manager and asked her for ketchup he rudely interupted and replied you already have ketchup. As I was explaining the issue he was laughing. I don't understand how some one with such rude additued could take my order. I've came many times and had no problem till today. If this can please be taken care of. I will no longer be coming to this McDonalds. Thank you

Mary Stephens
from Gainesville, GA
Me and my family had lunch/dinner at the McDonald's in Oakwood, Ga on 1/31/2018 around 4:30pm. We ate in our car in the parking lot and we went in the restaurant to refill our drinks when the manager (a black lady, not sure of her name), came up behind us and very loudly said "Ladies, that is gonna cost you $1.07 each". I polieyly told the rude lady that we had already ordered and ate. She informed us (very loud) since we didn't eat inside that we were not intitled to refills. I was so embarrassed and so was my 15 year old daughter!! We eat in that restaurant and many others at least 3-4 times a week, but I don't think we will ever step foot near any of the restaurants ever again! There's a way to handle each situation and way to say everything. She needs some training or maybe just to be fired! That's how upset we are! Maybe someone needs to specify when or where your aloud to get refills!!

I stopped at McDonald's this morning for breakfast and received bad service. In my order was a large sweet tea with light ice. When I ordered in the drive thru, I did mention light ice. When I pulled up to the window I was handed my drink and mentioned to the lady I ordered light ice where my drink was full with ice. The lady took my cup dumped the tea out and tossed the cup in the trash, with attitude, then turned and spoke to the other associate, who may be a manager now as she has been there for over 5 years, and then proceeded to replace my drink. When handed the drink, the lady handed me a cup and said "here's your ice" and then gave me another cup with tea. Over a span of 17 years I have been to this McDonald's and have not had the service that I had this morning. I did not get my receipt, so I don't have the the store number or exact time I was there, but it was between 7:29 AM and 7:40 AM on 01/31/2018, and this is the location, 12135 N I 35, Oklahoma City, OK 73131.

Teofila Matar
from Kerman, CA
I ordered food from your establishment at the Kerman Ca 93630 store on whitesbridge through my Mobil app.I then proceeded to give all my information on the last step which completed my order I then went to pick up my order and was told they didn't have anything for me they claimed that the system was down and even though I had proof that my order had been submitted and I was charged for the food they went on to say that there was nothing they could do to fix the problem I showed them that I was actually charged twice on my card they still were very uncooperative stating that I would have to take it up with corporate and I was not getting any food from them unless I paid again there.When I checked my account I was charged twice for the order thus putting my account in an overdrawn state. I will not accept that I should be responsible for the extra overdraft fee that my bank is now charging me or for the food (which I didn't receive)or the additional $6.99 I was charged for Lord knows what. it is not my responsibility to pay this I was only suppose to pay $8.83 and when I looked at my account I was also charged an additional $6.99 which was the reason for My bank to charge me with an overdraft fee, we called the McDonalds when we got home and they stated that the system had been down all day and even said that there was no way that we could have placed the order. Which seemed funny to be because I have the code and I screen shot the page in which it told me to pick up my order.so the manager in charge who's name is Brad said that the general manager who's name is Elizabeth Ortiz was told that the system was down and she did nothing to fix it or report it all day today. This to me is unacceptable with all the technology we have at our finger tips today. I stated to the young man that for him to not honoring our food order was very unprofessional and extreme bad customer service being that we had clearly paid for it.he stated again "well there's nothing I could or will do about it" he also stated that the system is new and they are still learning how to work it.I am 52 years old and have learned so much of todays technology and it is a shame that such a huge corporation as McDonalds does not have proper training for its employees. I am pretty sure its not from lack of funds. Just my Family of 5 alone spends at least $50 a week there. I will wait for someone to clear this matter up and return my funds to my account and my over draft fees since we didn't receive any food from your restaurant. I'm hoping I get a response to these issues.
My name Is Teofila Anna Matar and my phone number is 559-644-6594

SONIA BEARD
from Milwaukee, WI
Hello, My son Kourtney Beard works at one of your stores in WI, N56W15475 Silver Spring Dr. in Menomonee Falls WI. 53051, 1-262-252-4609, my son has been there for a few months working weekends only we; he is 17 years old first job, I spoke to the manager to have him to work weekends only because I would be the one taking and picking him up, the days that we decided were every Friday, Saturday from 5 pm.- 11p.m. and every Sunday from 3p.m. – 9 p.m. So these are the days and times my son were coming in each time he would come in he either was not on the schedule at all or he was only on one day I talked to the scheduling manager over and over but nothing is seem to be done about this, I need your help to resolve this manner.
Thank you
Mrs. Beard
414702-5427

LorrieAnn
from Quesnel, BC
My 81 year old Dad goes to McDonald's every day except Tuesdays (he has a Mcdonalds meal on this day) for your coffee and muffin deal.
Often, there are no muffins. His favorite is blueberry. Often, there is no blueberry. Today we went and there were no muffins of any flavor. Yet, the advertising for this deal is splashed all over the restaurant, the menu, and T.V. He is always so disappointed. Sometimes the staff member working the till will go into the back and get him a muffin. Today they refused to even look. Just wanted to let you know.

Patricia Lehmann
from Lakeland, FL
Store manger Justin, you will need to watch film back to believe this, he embarrassed me and humiliated in my whole life, I left McDonalds in tears in my heart beating out of my chest, need to speak in person, it happen through drive thru, the cashier called the manger because the McDonald app, would not work and it was because we had to make a shake a med., I said ok, got to the window they gave me another frap. I did not order and they did not take off for the app, they called Justin back over and that is when he got rude saying I don't know how to use the app, I told him that I never had trouble before with the other mangers and he said that is because the other mangers and I don't know how to read it correct, I told him you don't have to be rude to me and I had my grandchildren in the car listen to him talk to me that way, I told him, I don't need free drink just give me my food, he would not I ask him again, he just stood there with line of cars behind me wanting argue about the app. after taking my phone from my hand, then I said just give me my money back by then I was very upset, he told me that I was going to park and he would give me my money back after he was done with all the other customers, then I said I was here and I want my money now and I would not come back and I told him he should not treat customers that way the only thing I did was yell at him to give my card back and he would not, he went out side letting me sit at window he kept me there for total of 40 minutes. after he came back inside made Jokes to the employees she can wait, and they started laughing and he proceeded to tell the customers also, he I was crying by then I am 57 and never been talk to that way, I sign the receipt and gave it back to him, he ask me if I was recording him, I told him I was calling customer service to report him, I never told him I was recording him, I ask him to give my card back that I was back customers up but he did not care, I pulled around front he came out front said he was going to show me he called the law I said good you send to me at my house I was taking my kids home he would not give me my bank card, he waved it at me so grabbed it but the film will show I did not touch him, he was yelling at me say you touched me, I told him he should be ashamed, what happened to treating someone kind, I gave him several chances to give me food being kind or give me my money, he was the nasty one but yes I did get very upset after I seen everyone laughing what kind of leader is he? I can't get over this, my sons and Daughter all of us and my church is going take this further no one should every be treaded like this.
863-701-6503 Patricia Lehmann

Ms. Goines
from Montclair, NJ
I have made a complaint about a week ago and I still did not get any email concerning this matter. The complaint was about this McDonald's
783 Springfield Ave, The date January 22, 2018, I was at a teacher's work shop, we decided to go to this MC.D, and the lady manger there was very rude, this is no way to treat customers. If we work in a community we should treat the people in that community with respect, if not go and find a job in a community that you can and will show respect.
Irvington, NJ 07111

Ms. H. Goines
from Short Hills, NJ
On 1/20/2018 there was a work shop for Irvington's teachers. Some of us decided to go to McDonalds at 783 Springfield Ave. Irvington NJ. There was a woman manager worker there around 12:15 PM. She was very unethical to me when I was trying to get her attention, because my order was coming next, and I wanted to change it, before they made it. I said Ms. Ms. Ms. she walked away, then came back and took the woman behind me, which was her ethnic background. This cause the woman and myself to exchange words, because I ask the manger was it a problem, why are you taking this woman when I'm next. She was very unprofessional, not people friendly at all. If we work in a community, we must treat the people in that community with respect. Thank You

McDonalds at Quivira &135th in Overland Park, KS. Very poor & rude service by DORA. Ordered 6 pc tenders & fries., Ordered 6 tenders only received 5. The fries were soggy. I went back through the drive to tell them. Dora gave me a chicken nugget instead of the tender and she acted like is my fault. Dora is always rude. I won't be back ever! Initially, I thought she was having a bad day but this has happened her rudeness many times. There are so many other places to go and have someone be friendly. Not going back, very rude. Dora shouldn't be dealing with the public. Typically, I don't open the box to count and did just as I was leaving. Terrible service and mean.

Rose Oehling
from Bethel Park, PA
I stopped by my local McDonalds this morning, 5261 Library Road, Bethel Park, PA 15102. McDonald's employee stated to me in a huff "you are going to have to wait, I'm here by myself and I have to take care of the drive thru that's been waiting longer than you". I said I can't wait, I'll be late for work. Employee said can't help you out. I left and went to Burger King who greeted me with a smile on their face and took my order immediately. That's what I call customer service. I have visited this same McDonald location many times and service is definitely not what I had experience in the past years with McDonald's. I want to give my business to the company that want's my business. I thought McDonald's promoted fast food. I would appreciate hearing from you. Thank you! Rose

Irvin Turner
from Lutcher, LA
I waited in line for 15 min. to get a cup of coffee, which I have no compliant about. I asked for 12 sugars and 2 cream to be put in the manager said that is to much and handed me sugar and cream in a bag. This is the only store I have that problem.(store #26657). I have asked to speak to the manager he would not come to the window. I have called the store and they would not pick up the phone.

Haven't been to a McDonalds for 6 months. Excited about your new prices and menus I ordered the 2for5 Special for $5.00 at the store located in Payson,Utah.
I had the filet of fish as one option along with the Big Mac.
I remember the filet of fish sandwich served on a WHITE soft bread bun that fit the sandwich great. Instead I received a round almost WHEAT like bun and of all things it was toasted?
I normally do not complain but the sandwich was HORRIBLE! It actually made me mad that I had to throw it away and cost me $2.50 for the worst piece of crap I ever tasted.
I will not be patronizing McDonalds again soon if this is what the Filet has come to!

lucille scott
from Gainesville, FL
i didn't want to rate at all, it is 1/10/18 my visit was within the 9pm to 10pm hour block. went to McDonald order 10 nugget meal with sweet tea, and hamburger small fries. usually the tea is not sweet to me so I asked for 4 pumps of liquid sugar. the guy , rolled his eyes and said to another crew member, "these customers be trippin" so since I heard it. I asked to speak to a manager, because what is 4 pumps of sugar. she came to the window with a attitude, I told her what he said. she rolled her eyes and said "oh I'll take care of that with the girl and guy standing there. the guy at the window must of said he wasn't gonna give me my food, so your so called manager gave me the food with an attitude! I thanked her and asked for her name she said "KIM" I said thanks ms, kim and came home and typed this out without eating my food. kim should have been taught how to calm a situation down not make it ten times worse. she was rolling her eyes, giving attitude!! I know who run that McDonald's, the crew workers. I worked in many fast food places and I firmly believe the customer is not always right, but there is always a right way to handle them. and by the way the tea was sweet!! this mc'donalds is in Gainesville, Florida Williston road.

Karla Scarborough
from Louisville, KY
On 12/1/17 at about 7:00 pm thru the drive-thru, I ordered a #4 large, no onion and a #9 large. I was told the #9 was no longer available despite the fact it was still listed on the menu. I then opted for the #7 large with Ranch and 2 more additional Ranch on the side. Got home and discovered I had NO Ranch at all, the fries were old and cold and the #4 had excess amounts of onion as opposed to the NO onion I had requested. The #7 also had only 9 chicken nuggets instead of the 10 the meal was supposed to have.
I initially made this complaint on 12/1/17 and I heard back from no one despite the fact I requested a followup.
The store in is located at 2500 Dixie Highway, Louisville, KY 40216.
I am not happy with the lousy customer service I received and the lack of concern for this poor customer service this particular store has shown. It also is really sad that a customer has to literally request fresh food when this should be the standard.
I expect someone to follow up with me in a TIMELY manner.

Karla Scarborough
from Louisville, KY
On 12/1/17 at about 7:00 pm thru the drive-thru, I ordered a #4 large, no onion and a #9 large. I was told the #9 was no longer available despite the fact it was still listed on the menu. I then opted for the #7 large with Ranch and 2 more additional Ranch on the side. Got home and discovered I had NO Ranch at all, the fries were old and cold and the #4 had excess amounts of onion as opposed to the NO onion I had requested. The #7 also had only 9 chicken nuggets instead of the 10 the meal was supposed to have.
I initially made this complaint on 12/1/17 and I heard back from no one despite the fact I requested a followup.
The store in is located at 2500 Dixie Highway, Louisville, KY 40216.
I am not happy with the lousy customer service I received and the lack of concern for this poor customer service this particular store has shown. It also is really sad that a customer has to literally request fresh food when this should be the standard.
I expect someone to follow up with me in a TIMELY manner.

P. Henderson
from Brevard, NC
We visited the drive thru at mcdonalds located on radio hill in canton nc 28716. We spent $12.55 on 4 double cheese burgers 1 bacon egg and cheese and 2 drinks. We took our food straight from the bag and began to eat it. My husband is a fast eater. He usually finishes before the rest of us are half way. Half way through his double cheese burger he found a hair. A long hair and his hair is visibly short. In turn it stopped the rest of us from eating. Therefore the $12 meal was thrown away. I would like to be reimbursed for the $12.55. I believe that is the least they could do. If someone wants to contact me through my email. I will be glad to return my name and address. Thank you for your time.
Ms Henderson

MARILYNN HEARNE
from Brooklyn, NY
I just came from your Mc Donald's in Levittown, N.Y. 11756--first off the drive thru line was so slow--we spent over 10 minutes --it was both at the money collection end and the people who gave the food. When I got to the last window the girl made a comment that the orders she had on her counter were way ahead of the people who were at the window--meaning me--so I said well we have been waiting for over 10 minutes--she totally ignored me and said have a good night---then to top that off-I ordered a Filet of Fish--and when I got home it had no tartar sauce on it and it was completely dry. I threw it in the garbage--this is not the first time I have had problems with this restaurant--but I assure you it is the last--I, nor 17 members of my family, will be using Burger King from now on and I will let everyone know, thru the internet, how poorly your company operates.

Betty Garrett
from Shinnston, WV
Once again the MCDonalds in Mannington poor service is disappointing ,,,Tisme foe new Manager cannot get hash browns with breakg=fast agin ...if they don.t want to make something they saym they are out of it and why put gravy over biscuit on carryout..soggy Gee please check on your store in Mannington WV 26582

PISSED OFF
from Wickliffe, OH
THE MCDONALDS IN WILLOUGHBY OFF EUCLID AVE - BY LOWES - WHAT A JOKE - REALLY? DEC - 14 -17 5PM - 600PM LOOK AT VIDEO - TEENAGERS GROUPED TOGETHER VERY LOUD - LANGUAGE WAS BAD EMPLOYEES WERE JOINING THEM AT BREAK YELLIND ALONG WITH THEM - PLACE IS VERY DURTY - SMALL BUGS FLYING AROUND GARBAGE AND FOOD - PEOPLE WERE LEAVING - VERY BAD ATMOSPHERE ! BAD! LOOK AT VIDEO YOU'LL SEE - PLACE SHOULD BE CLOSED -- BAD FOR PEOPLE WITH KIDS OR JUST WANT TO EAT IN A GOOD ENVIORMENT -- NOT THERE THEY LEFT......... YOU HAVE A BIG ISSUE LOOK AT VIDEO

Dakoda Redden
from San Antonio, TX
Dear McDonalds corporate;
I regret to inform you that I am under harassment by your workers at your 71241 location.
I am unaware of their names Sir/Ma'am.
They have been SLANDERING my name, DEFORMING my character and making my experience at your food chain EXTREAMLY unprofessional/upsetting.
It has been CONTINUOUS and if they wish to CONTINUE SLANDERING my name, DEFORMING my character I WILL seek SETTLEMENT through your corporation.
Thank you Sir/Ma'am for your time/consideration on the subject.
Sincerely yours, -Dakoda Redden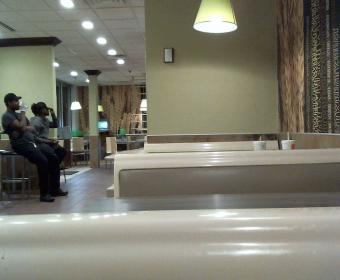 Joanne Masciopinto
from Centereach, NY
I went to McDonald's at 9:15pm this evening and ordered my food when I went to sit in the dining area the girl said the dining area is closed but they are open til 10pm. Soo I had to stand with my family and eat our food. Another woman and her 2 yr old daughter came in and a stool could have fallen on her because they were staked. And it almost did. Soo the woman asked to speak to the manager which didn't even come to the counter right away. When they weren't even busy to speak to the customer. No saying sorry basically telling that's what they are told to do and that is it. Extremely poor people skills not to mention the girl in the dining room having a hissy fit because the woman and I said something than she proceeds to say we can sit in the dining area but drenched the Seats with spray. Now I worked in this industry and never saw such unprofessional behavior by a manager and worker. It's baffling to see a person mopping the floor around a c customers feet while he sat and ate! That is a liability if he fell than what. This was a horrible experience I hope these workers are retrained because really seeing the girl in the dining room saying I'm just doing my job stomping her feet basically was pathetic. She watched us eat standing up and didn't feel bad or even care! I hope this issue gets corrected. Thank you for your time! This incident took place inside Wal-Mart McDonald's Setauket By

Sosene Seupule
from Leichhardt, NSW
I brough 2small sundays&2large sundae both large sundae wer same as the small sundae i was unhappy how totaly poor the service was in anycustomers eyes this is wrong&needs tobe corrected i stand up on what i belive in paying for something thats is not right canleyvale maccas has a totaly poorservice thats need tobe corrected this is so poorservice i will never buy from any maccas again!!!

Mike Bommarito
from Brighton, MI
I went through the drive-thru or two orders of hotcakes and a sweet tea they didn't give me no syrup no silverware and when I call them to try to get new meals they said they would not reimburse me they give me one not both I've called multiple times the owners called me 3 times and he will not do anything to fix the problem I'm going start picketing until they resolve this problem

john nichol
from South Shields, ENG
I took my daughter to McDonalds drive through opposite the marriot hotel at the metro centre tyne and wear at 9 30 am this morning there was about five cars in front of me we did not leave until 10 am nobody was moving when I inquired what the problem was I was told they just didn't have the staff the last thing I wanted to do on a sat morning was wait half an hour for a McDonalds breakfast a disgruntled customer !

cold burgers no ketchup on burger cold French fries poor service

Absolutely no french fries throughout the day, I went without and that was part of my order. French Fries are a main entry on the menu there should have been no problem.

Michael O'brien
from Hollywood, FL
I had a very terrible experience when i visited this Mcdonald's restaurant located in Florida. This Mcdonald's address is 1400 South US Hwy 1 Delray Beach, Florida 33483. The managers there are very rude and unprofessional. On Wednesday 22, 2017, at 8:05 a.m., I went there to eat breakfast. I ordered a cup of coffee with a sandwich then payed with my bank debit card. A young black lady, ( and I believe she is Haitian by national) served me a cup of coffee which was not warm but cold. I told her that my coffee was not warm but cold she raised her voice in high pitch and said something to me in Creole which I did not fully understand but I knew that the language was Creole because the Haitian community here in South Florida is vast. So I knew it was Creole that she had spoken to me because I am familiar with little Creole words here and there. Anyway, she said what said and I did not understand it but I knew it was rude and unpleasant. Then she. The her hand up in the air with her eyes wife open as she kept on talking. As she was talking, I looked over and saw another woman who was making my sandwich, spit in the sandwich. This woman did not see me due to distance parameter. When they presented me the sandwich, I refused to take it. I called the managers who were a man and a woman both of them, I believe still are Haitians by national, these two managers told me, " if you don't like it, leave it!" Then they started to laugh. I continued to express my discontent about what I saw and what just happening, the black Haitian man came over around the counter and stood right before me in a threaten manner and with his fist tighten and told, " get the fuck out of here, we run this here!" By this statement, I take it this Mcdonald's restaurant they are working in has become franchise, maybe that is why they are behaving this way. This is still unprofessional and not good for business. Please remedy this poor action by a removal process of these two managers.

Dave Hood
from Holland, OH
On 11/16/17 I was in your Mc donald's in Fostoria, Ohio and had to wait over 20 minutes for 2 cups of coffee and a hamburger,and
with that being said there were only 4 other people in there I thought this in being very very poor services and uncallrd for.
I went in there again tonight 11/21/17 ordered a Large cup of coffee and paid for it and after 10 minutes of waiting I walked out
they are not only getting slower and slower it is very disappointing to me as my wife and I use to go there on a regular basis
but due to poor services we will no longer be going there and I will be sure to let everyone I know not to go there as the services is very poor.
I would hope someone would do something to correct this problem.
Dave Hood a very upset customer that will not return to this store.

Anthony Brown
from Honolulu, HI
At this location is where I had trouble one of my friend I buy coffee for said she couldn't get a refill of coffee I even gave her the receipt so she wouldn't have any trouble cause she didn't buy it but I buy it for her. I was told from a employer that she would not give her a refill cause I buy it for her the employer said I have to get the refill for her why is that, it happen when I wasn't with my friend but today I got her a refill of coffee as of 11/21/2017 this morning. I even told that is my friend that I buy coffee for and y'all refused a refill of coffee to her when I buy it for her wow. Also one of the employer was very rude to me.

Ruth Ann Fitzgerald
from Florissant, MO
I went to the 1090 Shackelford & Mullanphy , Florissant, MO. 63031..@ 2:01 p.m. 11-16-2017 Store was NOT BUSY, 3 or 4 workers were in the cooking area No one was behind the counter or anywhere to be seen. Then a couple of workers walked behind the counter never asked if they could help us. One was throwing a rolled up paper ball up in the air. catching it. Fed Ex. finally hollered to a guy walking around & asked if we could get waited on. he said I'll see and went thru a door. No one was by the drive up window. Finally after about another 3 minutes a girl came over that was walking around & waited on the Fed Ex guy, cause I knew he had to get to work. Then a young girl comes in to the counter and the girl behind the counter started to wait onher. I am 83, I said, " I have been here for awhile". She gave me a look that could kill & looked at the young girl & said I have to wait on her. The store is dirty. Every other McDonalds --as soon as you walk in they greet you and Say Good morning or afternoon. can we help you!! This is not the FIRST TIME --SERVICE IN THIS STORE IS TERRIBLE.
This one has been noted for the bad service. I called the # 1-618-676 3289 THREE TIMES Left my name & number . No one ever calledI called three separate days

Richard Sp[ika
from Lombard, IL
On Nov 17th, 2017 I had a problem at MacDonald in Lombard at, rt38 and Stewart. The manager did a very nice job in rectifying the problem. She gave me two "Be Our Guest Free 4pc Buttermilk tenders, extra value meal" coupons which expires on 12/31/2017. Today on Nov 21st 2017 I go to the same MacDonald and try to use the two coupons, they advise me they are out and I would have to go to another location. I asked if your out than how can you fill the orders list on the menu in the driveup. Could not give me an answer.
I next stop at the MacDonald at Rt64 and Bloomingdale Rd and order two from the above noted coupons. They also advise not only that they are out but will no longer have. I questioned this as you can still get the four pcs chicken tender. They than said the promo was over, I advised them the coupons is good till 12/31/2017, something is wrong here. i told them I would be contacting corporate as they were unwilling to fix this. They had the 4 pc tender meal, all they had to do was make it a large fry and drink, DONE, They refused again to do even that, Rather than argue further, I am writing to you (Corporate). Several attitudes at this location were not very friendly, Will most likely not go back to this location! If this promo is truly over than why give coupons that expires 12/31/17.

Nelda Ervin
from Portsmouth, VA
My son works for London Blvd Location in Portsmouth Va 23704. The managers and team leaders there are HORRIBLE. My son been working for this company for almost 9 months now he only missed 1 day due to sickness. He had a really bad headache and cold. He was scheduled to work on 11/20/2017 from 3-8pm. He get right off of school and head to work. He was sent home because he was told to not leave the drive thru However he seen a new team member struggling he help her for a split second and returned back to his destination. The manager then sent him home. That is not a reason to send some one home especially when they already need all the help they can get. He was very respectful. A lot of the team members feel used and abused. The managers Monique and Vivian are very disrespectful and rude. Monique had a customer who made a mistake and drop something on the floor pick it up herself. Poor customer service. Most of them don't speak don't say thank you come again or nothing just hand you the bag and move to next customer. Mrs. Vivian is extremely rude she yells and screams at the team members. Please help and investigate. Some of the employees stand outside smoking weed.

Pat Wilson
from Charlotte, NC
The breakfast burrito is the most disgusting thing possible. It looks like baby poop. Runny, yellow with little pieces (very few) of i think sausage, hard to tell. The taste is as bad. If it is supposed to be egg, cheese and sausage it is NOT. I will never try those again. I love Burger Kings and thought it would be similar but not good at all.

PISS POOR SERVICE SLOW ORDERED A CHOCOLATE SHAKE WAS GIVEN A VANILA TOLD IT I WANTED A CHOCOLATE SHAKE LOOKED AT ME AND SAID THAT IS CHOCOLATE. I TOLD HER IM NOT GOING TO ARGUE WITH YOUR DUMB ASS I WILL FILE A COMPLAINT.
HERE IT IS .

linda wade
from Birmingham, AL
I went thru the drive thru approximately 30 min ago. I ordered a large sweet tea and a large hot chocolate.
I was told to drive to window 2 for my total.
I was very surprised at $4.72 for two drinks but paid. I was not given a receipt nor any change. Granted $.28 is not
much but it was the attitude of the guy playing with the other clerk as they handed my drink back and forth and ignored
the fact that I am watching them play. Apparently there is no management at night at the Tarrant location.
Not only did they play for several minutes before finally giving me my drink (which I ordered hot chocolate and it
was not even lukewarm. Appeared they used warm tap water to mix)
I dp not mind paying for what I order however, this is always the case. They NEVER charge me correctly for tea
at nite and apparently now you cant get ANYTHING there. No hot chocolate no change no receipt but the guy and
the girl can flirt and play and ignore the cutomer.
This is NOT ACCEPTABLE BEHAVIOUR in most business but apparently no one cares at the Tarrant location.

Ruth Steigerwald
from Littleton, CO
I was visiting a McDonald's on Monday at lunch time. I had my 2 year old granddaughter with me. I had seen a lighted sign that said "buy a happy meal, get one free" I made sure that deal was still good by checking with cashier Before I ordered. I ordered 2 happy meals and was charged $3.77. She gave me a numbered sign to put on my table, so food would be brought to me. I then went in the play place and let my granddaughter play. I was waiting for quite a while, which seemed like forever. Finally the lady brings me my food, no eye contact, and left to speak to 2 other people at another table. I then opened my burger and found that it was stone cold, and the fries were stone cold. And to top things off, I only got ONE meal. Not asked if I wanted apples or gogurt. I assumed she would come back and bring the other meal. But no. Problem was I had a very temperamental child, who would have pitched a fit if I had taken her away from her play. So I decided to take it up when we decide to leave. But by then, it had many customers coming in for lunchtime. It was 10:51 when we arrived. So there was no way I was gonna stand there forever while trying to hold my granddaughter. I also have a very bad back. I usually don't complain cause I don't like confrontation.. I let a lot go. But NOT this time. I was very angry. Another point, if I had to wait so long to get my food, you would think it would be hot. But it wasn't even warm. I threw it away, I would like to get this resolved.
Thankyou for your attention to this matter
Ruth Steigerwald

Ruthie Steigerwald
from Littleton, CO
I was visiting a McDonald's on Monday at lunch time. I had my 2 year old granddaughter with me. I had seen a lighted sign that said "buy a happy meal, get one free" I made sure that deal was still good by checking with cashier Before I ordered. I ordered 2 happy meals and was charged $3.77. She gave me a numbered sign to put on my table, so food would be brought to me. I then went in the play place and let my granddaughter play. I was waiting for quite a while, which seemed like forever. Finally the lady brings me my food, no eye contact, and left to speak to 2 other people at another table. I then opened my burger and found that it was stone cold, and the fries were stone cold. And to top things off, I only got ONE meal. Not asked if I wanted apples or gogurt. I assumed she would come back and bring the other meal. But no. Problem was I had a very temperamental child, who would have pitched a fit if I had taken her away from her play. So I decided to take it up when we decide to leave. But by then, it had many customers coming in for lunchtime. It was 10:51 when we arrived. So there was no way I was gonna stand there forever while trying to hold my granddaughter. I also have a very bad back. I usually don't complain cause I don't like confrontation.. I let a lot go. But NOT this time. I was very angry. Another point, if I had to wait so long to get my food, you would think it would be hot. But it wasn't even warm. I threw it away, I would like to get this resolved.
Thankyou for your attention to this matter
Ruth Steigerwald

Ruth Steigerwald
from Littleton, CO
I was visiting a McDonald's on Monday at lunch time. I had my 2 year old granddaughter with me. I had seen a lighted sign that said "buy a happy meal, get one free" I made sure that deal was still good by checking with cashier Before I ordered. I ordered 2 happy meals and was charged $3.77. She gave me a numbered sign to put on my table, so food would be brought to me. I then went in the play place and let my granddaughter play. I was waiting for quite a while, which seemed like forever. Finally the lady brings me my food, no eye contact, and left to speak to 2 other people at another table. I then opened my burger and found that it was stone cold, and the fries were stone cold. And to top things off, I only got ONE meal. Not asked if I wanted apples or gogurt. I assumed she would come back and bring the other meal. But no. Problem was I had a very temperamental child, who would have pitched a fit if I had taken her away from her play. So I decided to take it up when we decide to leave. But by then, it had many customers coming in for lunchtime. It was 10:51 when we arrived. So there was no way I was gonna stand there forever while trying to hold my granddaughter. I also have a very bad back. I usually don't complain cause I don't like confrontation.. I let a lot go. But NOT this time. I was very angry. Another point, if I had to wait so long to get my food, you would think it would be hot. But it wasn't even warm. I threw it away, I would like to get this resolved.
Thankyou for your attention to this matter
Ruth Steigerwald

Ruth Steigerwald
from Littleton, CO
I was visiting a McDonald's on Monday at lunch time. I had my 2 year old granddaughter with me. I had seen a lighted sign that said "buy a happy meal, get one free" I made sure that deal was still good by checking with cashier Before I ordered. I ordered 2 happy meals and was charged $3.77. She gave me a numbered sign to put on my table, so food would be brought to me. I then went in the play place and let my granddaughter play. I was waiting for quite a while, which seemed like forever. Finally the lady brings me my food, no eye contact, and left to speak to 2 other people at another table. I then opened my burger and found that it was stone cold, and the fries were stone cold. And to top things off, I only got ONE meal. Not asked if I wanted apples or gogurt. I assumed she would come back and bring the other meal. But no. Problem was I had a very temperamental child, who would have pitched a fit if I had taken her away from her play. So I decided to take it up when we decide to leave. But by then, it had many customers coming in for lunchtime. It was 10:51 when we arrived. So there was no way I was gonna stand there forever while trying to hold my granddaughter. I also have a very bad back. I usually don't complain cause I don't like confrontation.. I let a lot go. But NOT this time. I was very angry. Another point, if I had to wait so long to get my food, you would think it would be hot. But it wasn't even warm. I threw it away, I would like to get this resolved.
Thankyou for your attention to this matter
Ruth Steigerwald

Bonita Cumberworth
from Denver, CO
Drove there on my lunch break, awaited in the long drive thru lane. Made my order known, pulled to the pay window and could not find my debit card, so I paid with a 100.00 dollar bill and was told they do not accept 100.00 dollar bills. I had to go to sonic where they did accept it, but couldn't finish my lunch because I was late getting back from lunch. Totally uncalled for, scince when can't a busy resteraunt take a 100.00 dollar bill

Ms. Jayne Jefferson
from Ashburn, VA
Dear McDonalds, I have been a patron of your restaurant since its 'inception. 2 days ago I went to your restaurant @ 2091 Stewart Ave. which is now named Metropolitan Pkwy. The store hours are posted to open @ 6:am, however the store did not open until 7am. When the man who cleans up in there opened the door he left the keys in the door! I walked in to place my order after telling Ms. Julia what I wanted only to be asked out along with the customer behind me. I was refused service. Why? Ms. Julia said she did not have a cashier! You lost 5 customers that morning. This is the 2nd time she has refused to serve me, stating she did not have a cashier although there were 3 other people standing around doing nothing. Your people are very rude and don't seem to care. On another day the air condition man came off the roof, walked behind the counter, got a soda cup, filled it up with soda and went to the back. On another day the manager came in in Bermuda shorts and a hat on(street clothes) and began to bag up has browns because the help was moving tooooo slow, I was livid and called your office to complain. Taday you lost 15 customers because the line was tooo long and people refused to wait. we all went to wendys, also it is tooo cold inside the restaurant but we were told , we cannot regulate the temp. Sorry I'm done, not coming back!!!

charity mcgee
from Fort Worth, TX
The night crew that works at the McDonalds on 80 in Marshall TX is rude and doesn't know how costumer service should be id be checking into their crew really

Dan
from Lake Elsinore, CA
A waste of time to complain when no one will read this. At least it makes me feel a little better to say Mac Donald's got their last dime from me tonight. I am sure this is really going to hurt their bottom line considering the 6 billion other costumers that are not so sensitive to rude employees..

ERNESTINE MULLINS
from Villa Rica, GA
after school my great grandaught wants to get nugget happy meal. she always looks for the toy. last couple times we get a little book, all Spanish, no English. this not only upsets her but me. we are total American, speak or read on Spanish. I took one back and threw the others away. when going yesterday I ask the girl what the toy was, when I told her we didn't want the book, she answered well you should teach your child Spanish. H--- no I live in America. she informed me the toy was a pink mask. My grand daughter was ok with that., get home and no toy at all. I guess we will be going to wendys. I know one order don't amt. to anything with a big corp. but I still need to say this. I am 72 years old have been taking kids to mcdonalds for so many years and never been this mad until the girl gave us that ans.

Christine pommerening
from Greenslopes, QLD
Good morning
For the last year and a half I have been going to MacDonalds Wakerly for my coffeee which is a large cap 2 sugars and caramel the young man that has been serving me for I don't know how long and the young lady before him never once did they ask for 70 cents on my free coffee if you add up Monday to Friday every morning for a year and a half that's a good customer I found this young man yesterday 1.11.17 and today 2.11.17 very rude which resulted in me never returning to MacDonalds
Have a great day
Christine

I went to the drive through and ordered a small pumpkin spice latta the teller said the order right but when I got to the window to pick up my order it was a small iced pumpkin spice I told him i ordered a hot one and he said he was sorry and he would make me another one he also gave me the cold one which I thought was nice and I had never tried one then he came back and said I am sorry about that I said that was ok and I left with my hot cup right it was not! When I got down the road I went to take a drink and it was in a small coffee cup but was COLD like the other one . I was in a hurry and did not check it before I left . He was a nice guy but I don't know how that happen I was also nice to him. I know in the mornings they have a lot of people that come in. We come to this McDonald's every Saturday morning and Sunday morning for coffee and some times to eat breakfast. Because of the price and I think your better than Starbucks ! But that pumpkin spice latta made me mad being in a coffee cup and being cold! I know thing happen. Just thought you should know. Hatch road and michell road in Ceres ca

Daniel Gilbert
from Danbury, CT
For years I've been stopping at the McDonalds @ 3435 West 16th Street (46222-2659) on my way to work M-F. The service has always been bad and the food quality have gotten worse. I continue to stop because I like their coffee. Well this morning I had enough. I get to work only to find that my egg mcmuffin was very noticeable burnt. Who would serve that to anyone. I'm DONE! See photo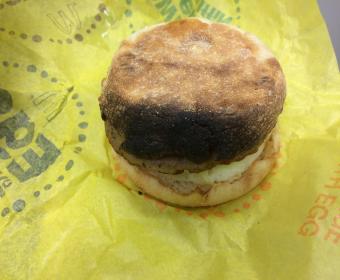 Fran Bryant
from Waycross, GA
Was served an egg white delight and egg white was in puddle around muffin. It was not even cooked enough to stay together on muffin. I showed it to my waitress and she said or did nothing like it was no big deal. I do not eat raw egg white. I have eaten at this location since it opened many years ago and this is the worst service ever.

edwin peters
from Brooklyn, NY
I will not purchase any of your products as long as you continue to advertise on the NFL and so will all of my friends and business associates
Both my son are active duty ARMY and most of my family have served

Daisy
from Brownsville, TX
It's the second time that I order the Orangeade Minute Maid. The first time was at the location inside Walmart in Brownsville, TX. I had it remade because it had chocolate chips in it. Today, I ordered it from the location on International in Brownsville, TX to go. I'm seating in my office drinking an orangeade that tastes like coffee. The first time I was told that they use the same blender for coffee and slushies and that's why they come out that way. THAT IS VERY WRONG!! And I'm pretty sure there's a poor food safety problem there. We order slushies not slushies that taste like coffee. McDonald's should provide their locations with 2 blenders one for coffee and one for slushies so these type of things don't happen. And the staff has got to CLEANED THEM!!! It is gross and disgusting what they do!!

Bob Boyd
from Little Rock, AR
On several occasions I have waited in the drive through line for some time before being asked for my order. Tonight there was no one else in either of the 2 drive through lines and only 2 or 3 cars on the parking lot, and yet I had to finally ask someone to take my order. Tonight about 8:20 there were 2 other drive-through customers sitting waiting in the 2 reserved spots for their orders and I had to pull up next to the door rail and wait for mine. Recently my wife went inside to place an order and waited much too long for her order. She said one other customer, a man, got fed up waiting and walked out.
The location where we have had this problem several times, is at Rodney Parham and Breckenridge Drive in Little Rock, Arkansas, the location nearest our home. I asked the girl who finally brought my order out (the other 2 cars were still parked and waiting) if they were short-handed and she said yes. I don't know who owns this Little Rock franchise but I may check records to see. They need to know what's going on. It is a frequent occurrence here. We also occasionally go to the Cantrell Road location and the West Markham location and have not had these exasperating delays there.
We usually go to McDonald's on the average of once a week. I know that is not meeting your standards. I might suggest you have an inspection team go around and check all your franchises and make a written report to the home office. I think it would be money well spent. Your company is held in high regard in comparison with your competition, but incidents like these can cost you your high rankiing if they are endemic.

store29039 was there staff is most of the time very rude nothing working ice-cream machine most of the time the way they serve food and the was they packed the food its really horrible they serve most of the time cold food and when asked the guy who was working in the kitchen slam the food on the tray this location is horrible but we work there so some time no choice we go there but its really horrible there with service. today they serve me cold 10 pieces of chicken nuggets when asked to replace the guy who was working in the kitchen slam the nuggets on the try and walk away have to wait 5 min and come up with cold chicken nuggets again we spend money there don't deserve this kind of treatments and they are making your name looks BAD DO SOMETHING

Earl alspach
from Birmingham, AL
Went to McDonalds for breakfast this morning, Saturday, October 21, 2017, at the store in Meridianville, Alabama, and my wife placed an order for an egg, bacon, and cheese biscuit. Upon receipt, the bacon was cold and there was no cheese. When queried the manager delivered an new egg, cheese and bacon biscuit. Again, the cheese was cold, as well as the bacon. We left the place, and told our car club about the experience. Our club was meeting there for a day long drive out.
The manager did nothing to remedy the situation. Again, I have told many people of our experience and will not patroniz your place again.
You may reach me at 2566035772, address: Mr Alspach, 224 Woodland Lake Dr, Laceys Spring, Alabama, 35754.

Jane Okelley
from Spring Hill, FL
Yesterday I stopped at Mcdonald's in Spring Hill, I ordered 10 chicken tenders with buffalo sauce, when I got home I had 10 chicken nuggets I paid $10.32 for. I call the store spoke to Manager Marsha, very professional and concerned, I explained I live off 50 and I didn't want to drive back to there, she understood and asked if I would go to the one on 50 she would call the manager and I could go through the drive thru. I thanked her and I went to the one on 50 took the nuggets and my receipt with me, explained to the person in the drive thru she got the manager he asked if I had my receipt yes I do, he came to the window took the nuggets and receipt told me to pull up to the second window, the girl there said for me to pull into one of the parking places, well, 20 minutes and several employee's asked if I was waiting on various orders that were not mine, finally after 5 more an employee brings me my tenders , no sauce, I just left I was over it.
Not a very good experience.

On October 19 went to drive thru, girl couldn't hear me well told me to come to the pay window. At the window I gave her my order which was a boys Happy meal 4 pc nuggets with the yogurt honey mustard and barbecue sauce and chocolate milk. and my grandson also asked for a hamburger with extra pickle, onion and ketchup, ,2 #3 value meals medium sized,' diet coke and regular coke ..I gave her my credit card, told me to drive up to pick up window.. A person comes to the window, said they charged me someone else bill which was 7 dollars and change and she credited me back. My bill was 13.01. Now she credited my card back. That was first wrong thing. NOW she hands me the happy meal, I handed it to my grandson, then she gives me the chocolate milk. Now hands me the bag which was suppose to be 2 quarter cheese, 2 french fries and the hamburger. My daughter passed to my grandson his burger, he opened it and there was nothing on it but the meat., Handed it back to the girl, which in turn they gave another burger, he opened it up, only one pickle was there, no onion and a drop of ketchup. My grandson refused to eat it being it wasn't what he asked for., now she hands me a diet coke and the yogurt. I said, the order is missing my value meal which was the #3 with regular coke. she said its not on the receipt, I said suppose to be I told the girl 2 # 3 an one diet and one regular. They don't know what they are doing in there, whole order was wrong and held up the line 10 minutes. They need training and put on their listening ears. The girl who took the order didn't understand english spoke broken language. The store I went to was 150 Route 17 S. Mahwah, NJ 07430 Had to ask again for the sauces, cause they weren't in the bag, restaurant 12002. If survey helps you who this was the survey number is12002-13221-01917-13385-00130-1

Darlene Hernandez
from Baldwin Park, CA
Went to McDonald's, store #19375 Baldwin' Park, California..ordered 2 double cheeseburgers..the meat was do burnt it was black. I as a a frequent customer d McDonald's. Do expect better food service this particular McDonald's i go to because of its convenience close to my home. I've taken coffee back cuz of being cold old..services windowsthrugh drive up dirty which i brought that to the manager. Stood in line 15 minutes or k.her bcuz of customer Did Not get those order right which made the customer be then start to argue. I do believe someone from.your corporate need a to get down to that store and check.it out. I am.a frequent customer of McDonald's for years. But I will no longer patronage at this McDonald's any longer. From a very unsatisfied Customer. Look on Yelp..youll see their ratings

Dawn Shively
from Austin, TX
I stopped at McDonalds at Slaughter Lane and Manchaca in Austin Texas at approx. 6PM today, October 20th.
I entered the store and waited more than 10 minutes for someone to take my order. I finally asked a McDonald's employee if someone could take my and other customer's orders. With no apology for making us all wait, your employee stated that they were too busy filling orders for the drive-up window and we would just have to wait and she did not say how long that wait might be. Taken aback by the insensitive remark, I left your McDonalds store and it will be an extremely long time before I visit any McDonalds store.
Something needs to be done about the poor customer service.

Sherri Delay
from Spokane, WA
First trip to new McDonald's and my order was messed up but I said nothing. Next time it took forever to get through the drive thru line. I make my order but when I get to window my order is all messed up. Next window my order is still messed up! I asked for three burgers but only got one. A very rude person came up, never apologized but said I need to pay more money if I want the burgers. I told them to hell with it, take my food and start to drive away. While I'm moving these idiots start laughing at me! So rude I can't believe it! I call the manager and she's nice and offers me coupons which I'm not sure I want but figure since I work in a grade school I can give them to s student. Well, I'm still waiting after 2 weeks. So now I've been lied to. I've made sure and let everyone in the school know about it plus everyone in the school district. Lots of people! Bad sevice, extremely rude people and liars! Plus slower than slow! I'd be embarrassed.......

Mrs. Willie Mary Nash
from Milwaukee, WI
Purchased your new item, Chicken Tenders, Saturday 10/14/17. What a soggy, wet mess I received. Chicken Tenders were awful, I have had some bad experiences with some items from your menu, but this was way below your standards. I did not receive a receipt for my purchase. The McDonald's is located at 6409 W. Bluemound Rd.

Dennis
from Parramatta, NSW
Shop Manuka MacDonald .. aprox 19 minute waite time through drive through i asked to speak to the manager i asked his name very reluctant in giving it and presented aggressive displayed grandiose behaviour " like he has a substance abuse problem " when I complained re excessive waite time . He made no apology refusded to aknowledge me as a customer refused to take payment for my order because i was complaining or indeed give me my order .. I have never ever experienced this level of rudeness or disrespect from anyone in the service industry let alone from a big Corp brand like MacDonald s .. he is a disgusting human being and a 19 minute waite time in drive through with no empathy or appology " just rage " and rudeness explains his performance levels . Date 15th October 2017 time .. of incident approx 8.45 pm .. . How dare he treat MacDonald customers with such rudeness and disrespect !! I look forward to your response.. yours kindly Dennis Labathas

Rubye Miller
from Prattville, AL
My granddaughter and I went to the McDonald's on Fairview Avenue in Montgomery, Alabama at approximately 8:00 p.m. We had gone through the Drive through and I ordered the buttermilk crispy chicken for the two of us and two slushes. After paying for my order we receive the two slushes, but we had to wait for the chicken. So we were waiting and I drank out of my granddaughter 's drink by mistake. She of course got upset, so she went in to see if they would give her another one. The manager told her she had to bring in the other one, but I had already poured the rest into my cup. So I went in to see if I could get another one and ask since we had been waiting for at least 30 minutes, if I could get a complimentary slushy for her. The manager then began to say no,we don't give out free drinks, and if you want one, you will have to pay. So I began to give her the money and she pointed to the line and said you get in the line like everybody else.Then she began talking about me to her friends like I wasn't even there. So I said excuse me, and she came to the register to ring up my order. Now a young lady was already there but, she wanted to show her control over, so continued to talk to me in a belittling way. So I asked for a small slushee, and she said we don't sell small, all in a nasty voice. I then told her that I didn't want it. She then told me to get out , get out of her store right now. I didn't move so she had the security to put me out and the security was a big woman who literally push me towards the door until I told her not to push me again, but she did it three times. I am 61 years old, and about to be 62 next month, and I never been treated this way in my life. I am a regular customer of all the McDonalds all around Montgomery, Prattville, and surrounding towns. I am just glad my granddaughter was in the car because we would probably both have been locked up tonight over some foolishness. The young lady is named Eleanor Givner, and she is very rude and inconsiderate. She yelled at me in that store and other people were in there and they were just looking surprised. Other workers were scared, they wouldn't even give me a number to make a complaint. I had to come home shaking and find another manager to get the district manager and call in a complaint.She litterallly has the workers scared and she is very unprofessional. I hope you can get someone else to do that job, because she is bad for your business.

Beryl Voss
from Perth, WA
We took our granddaughters to your Yanchep store for a treat, what a joke. The tables, chairs and floors were dirty, the rubbish bin was so full you couldn't put anything in it.
The staff were to busy playing ball games.
I spoke to some young man who said he was the manager and told him how disgusted we were with the condition on the shop, he said he would get someone to clean, it was still dirty when we left.
Also it is the only McDonalds store that doesn't give seniors discount unless you buy a happy meal.
Our first and last visit to that store.

Thabang
from Johannesburg, GT
I went to mcdonald westdene, Bloemfontein with my family, the order was mixed up, chicken big Mac is beef, I bought happy meal for kids n there was no juice. Cream soda tastes like water even the water that I paid for I didn't get. Staff members were fighting at a window. I wasted my money and my time.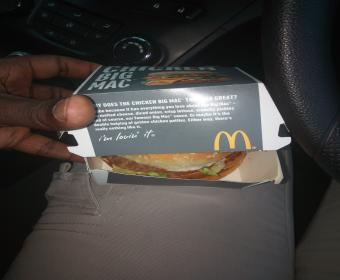 Teresa Stahl
from Continental, OH
Went through drive through and placed my order
4 plain CB
2 reg CB
20 pc Chicken nuggets
10 Butter Milk Chicken Strips
2 McChickens add cheese No Mayo
3 Large Fries
1 Large Diet coke
1 Med reg coke
1 med sprite no ice
the order total on one price than it was cheeper . i know that they combined and make meals to help with pricing. Paid and pulled to next window. they asked me to pull ahead was a wait on the Butter Milk Chicken. so i did . I waited for 10 min. the person came with my items and I stated that the order did not look to be enough. so i checked the order. they forgot the 3 large fires. so she ask for my reciept i gave it to her . she stated that the fires was not on there. so she said she could go and find out how much it would coast . I gave her a 10.00 bill and told her to just pay and bring them out. I made statement that the time i had to wait they should be free. and also stated the kid that took order must have deleted the order instead of putting it into meals. so she went in and 2 or 3 min went by . she came out with my money and said no charge but there was a 37 sec. wait on fires. my point is i already waited 10 min for order to begin with. than messed it up and was paying for french fries and yet instead of just waiting on the fries and bringing them and my money same times would have saved time for me. i took my 10.00 back and as she walked away she was walking so slow looking around i just left. this is not the first time that i have waited and have found order messed up and than have to wait again i do not know what is wrong with the McDonald in Paudling Ohio but it is the most aggravating McDonald i have been too. poor service , too slow and always messing up orders.
Thank you Teresa Stahl

I went to McDonalds in Farrarmere. How disgusted am I after I left there. I bought a CHOCLATE OREO MCFlurry and obviously expect everything to be in order. When I got my mcflurry there was no sauce on top and when I asked for sauce they only gave me a splash. Could have leave it instead. I am as a usual mcdonalds customer highly disappointed after the service of today.

Rudy Jeffers
from New York, NY
I am very unimpressed with the attitude of this manager this morning on 10/13/2017, l often visit this location and witness the manager announcing after a several minutes of waiting on one single lines, that there is always two lines at all times, two cash register is always open. Well this morning I entered there were two customers on one being rung up by the manager on another line so I waited on that line, she then called someone else from the other line ignoring me, she helped that customer and was calling another one so I stated politely that I am standing here, she then rudely stated there's only one line and I am pulling from that line another customer who walked in after behind me said to her she was here let her go before me, I then said to her you stated before that there are always two lines, I reminded her of that and then I walked out before she could further embarrassed me. I find her attitude to be very aggressive and I will advise my friends who often eat there to be aware and to pass the word along to their friends. This location's manager needs to receive some customer service training, I walked away because I would rather file a complaint than to agree with her. I spent my money elsewhere and received great customer service.

Barbara murphy
from Greenville, SC
This is the 2nd time I've had a problem with this Mc Donald's. I went through the drive through on 10/10 and my bill was only $4.32 but today I checked bank statement, I was charged 2times for same amount. Location is across from memorial Hospital/Greenville S.C.

Regina Detwiler
from Dunbar, PA
Just wanted to let you know, there is nothing about "FAST FOOD" that applies to the Mcdonald's in Connellsville, PA (Memorial Blvd). Average wait time in the drive thru (during evening hours - after 4) is 15 minutes. Actually, tonight's wait was 17 minutes at 8:30. I believe the problem is, not moving people forward to one of the two spots reserved for people waiting on drive thru orders. They will seriously keep customers sitting in line at the window (waiting on orders) before moving them forward, so the drive thru line can flow. And I think this is ridiculous. Word around town is "Connellsville's Mcdonalds is the worst!" and I have to agree.

Richard Santilli
from Peyton, CO
McDonalds in Peyton Co. the buns have been stale. the meat is always cold, fish is old . its like they don't care..HOPE something happens ....

Kenneth Schmitz
from Sioux City, IA
The McDonalds in North Sioux City South Dakota has everyone complaining. Wait tieme for food is 30 minutes.
The person taking orders can't understand English. When you receive your food isn't right. I ordered medium fries twice on two separate visits and both time the carton was half full at best. I made a special trip to see the manager and was told they called in sick. Corporate better do something quick about this location

Adan Rodriguez
from Salt Lake City, UT
I was at the McDonalds on Sandy restaurant #36055 and order my 2 for $5 2 filet o fish and 2 for $5 big mac drove up to window paid but never got a receipt when I go to 2nd window and I looked in the bag I was missing a big mac I asked the lady at the window who later I found out her name was Laura she asked me for my receipt and I told her I did not get one , she said that they don't mess up orders I just did not order right, I said that was not true but since I was in my lunch time I said ok can I pay the difference and get my 2nd big mac she was very rude and said no now if you want it you must paid full price which I though was not right since my order was messed up inside, she then said to move forward because I was holding the line but I was waiting for my turn my self and now just wanted to take my food and leave but still trying to stay calm I moved to spot #2 she did not come out to help me I them walked inside and asked to be helped ill pay the dIfference and ill take my 2nd big mac and leave she said now I need to pay full price and she cant help me from all the years I been going to this McDonalds I have never had a problem with my orders or been mistreated by any of its employees for sure this changes and will not be going to this McDonalds again.AGAIN THIS WAS AT THE SANDY LOCATION STORE #36055

Dom Fiore
from Boston, MA
McDonald Restaurant #19456
NY 32/ NY 23
Cairo, NY 12413
Tel# 518-622-8720
At 10:15 E.S.T. the Assistant Manager was belligerent and would not honor a Survey for a buy a sandwich, get one free. I also spoke to the Manager and Franchise Owner Manager and received lip service. Very poor way to serve a McDonald guest.
Yo can contact me at 518-653-3638

There is a lady that works at the McDonalds on Staples Mill Road in Henrico,VA. She is an African-American lady who has a few tattoos, some piercings and has a skinny build. I want y'all to know she is the sweetest, nicest lady. She's always polite and attentive to the customer. She had mentioned to me one day going through the drive-thru she had a son and that he played football. Maybe a program or something to help her pay for the cost of her son playing sports would be pretty cool. As well as help other employees like her. I am so proud of her for getting a job with y'all so she can support her family. She honestly deserves a raise and a promotion.

This morning 21st of sept about 830am in new town Wellington Mac Donalds drive through, I had a incident with one of the staff members there. As I pulled up in the drive through I had wined my window down as I attempt to turn my music down the team member over the speaker said turn your music down and don't be so rude, before I could turn it down.due to volume button faulty. eventually had turned my music down then told me he wasn't going to serve me and to leave the drive through I thought that was abit rude and asked for his name he refused to give me his name and left fuming because I was late to work getting my sons breakfast down at the basin reserve Mac Donalds then back to day care in newtown. That was bad customer service and I am a regular customer to that Mac Donalds because I am local BuT having that experience this morning wasn't a good start to my day if this could be actioned and dealt with that will be much appreciated.

JODY RICHARDS
from Bedford, TX
I went through the drive through the drive thru at that location on 183 and Central . I ordered 2 cheeseburgers large French fry and large chocolate shake .
When I go to the window for my food - She attempted to hand me the shake, I told her I asked for a Large Chocolate Shake.. She told me that it was a chocolate shake, I told her is was not. She again insisted that it was, The shake may have had some chocolate syrup in the top part but the bottom of the shake was white. I do not like vanilla ice cream and asked her if they could put chocolate in it and mix it up .. (Hence the request for chocolate shake) . Someone came and got the shake and the girl asked me to pull up to waiting spot 2. I told her ok , as I started to pull off she told me to hold on, so I waited, she hands me the shake and it looks like they might have attempted to mix what little bit of chocolate they had on top but didn't even mix it . I didn't realize it was so difficult to make a chocolate shake, but it appears that you are overloading the location with so many types of coffees, drinks, slushy drinks they don't know how to make them. I took the shake from her hand and told her I was not happy with the shake but apparently they didn't understand the request . As I am leaving to pull out of the parking lot to head back to work with my food- I reached in the bag to get a French fry- (which was really why I went to McDonalds) and the fries were cold . ARE YOU KIDDING ME . Trying to rush me out of the drive through line , cant take the time to mix a shake properly and then give me cold fries. Not life threating issues of course but very disappointing. I won't be visiting that location again but I thought you should know how horrible the service was . And it was 11:40 am. I don't have a problem waiting a few minutes for my food to be done right . I do however have an issue with poor service and cold food.

Bonnie Reeves
from Spring, TX
I ordered breakfast on September 18. Two gift cards were swiped and they both said: transaction not approved. I was not given a response as to why two cards were not going through, such as: maybe the system was down. Is there a way that workers can check to see if systems are down? Just imagine the embarrassment of having 2 cards rejected! Fortunately I had my American Express card with me, so I was able to have breakfast this morning! I called the McDonalds 1-800 number to check my balance and there was money on both of my cards. This happened at the McDonald's at Louetta Spring Crossing, Spring, Texas.

Charissa Ragsdale
from Tulsa, OK
After going to McDonalds on Southwest Boulevard in Tulsa, OK for over 4 years every other morning during the work week, I had a terrible experience with this McDonalds and will never, ever go back. I saw the add Sunday night for either a sausage muffin or sausage biscuit with a hash brown for $1.50. We went there this morning and requested the muffin and hash brown and they told us that they did not have it. We got to the window and asked why they did not honor their TV add since they do have muffins and hash brown, seems simple to me to honor the add and not hold up the line and argue with us and make a regular customer mad, but they chose to do this anyway and were hateful - I will NEVER go to McDonalds from now on - Carl's Jr. here I come!!!!!!

Good morning
In Cape Town there is a taxi strike this morning. This morning, as I do every morning after I drop my child at school, I stop at the Plattekloof McDonalds for a cup of coffee since I only have to be at work at half past eight. The time 7h42.
Upon getting there, I tried to open the front door, but was shown, via a hand sign by the person behind the counter, to " go around", which I interpreted to be the door around the corner. Get there, but that door is also locked. Back to the front door and knocked, only to be shouted at by the person behind the counter that " their is a staff shortage, go around to the drive through".
I cannot begin to describe how outraged I was by this behaviour. A list of questions come to mind:
1. - you don't shout at the customer from behind a closed door.
2. - are the staff trained on how to deal with events such as these
3 - why is there not yet a sign on the door
4 - where is the night staff manager ( or was this member the manager?)
5 - oh!, and the best of all, there were customers inside the restaurant already. How did they get there?
The training of this branch's personnel has been a concern since I started going there about a year ago, and there are some other points to be addressed as well:
1. As I mentioned, I am a regular customer who orders coffee every morning. Every morning I have to ask to be given a tray, not offered.
2. No eye contact is made when I place an order. I have to fight with the conversation going on in the background ( between the personnel) to be heard. Not a "good morning, please may I take your order".
3. Trying to have a telephone conversation on your cell phone or the person sitting across from you, is out of the question, since the conversation between the personnel is too loud.
This is not the way I am used to or expect to be treated as a customer. The personnel is not at all client orientated, and carry on as if they are in their own kitchens at home. NO, absolute NO professionalism whatsoever. NO pride in their work. The customer are treated as an inconvenience which have to be gotten rid of as soon as possible, so they can continue their private conversations.
Please address this matter urgently, since this branch of McDonalds are not living up to expectations whatsoever.
Regards
Dee

Kvpintagro
from Jamestown, NY
On Saturday sound 7 pm I entered the Foote Ave location and placed an orderived for 3 adults and 4 children. I waited over 20 min for my food, patently bc I myself worked in McDonald and know dinner time is high volume. When my friend received his promotion sandwich the chicken gauqamoly, the chicken was dry to the point we couldn't even bend it to brake. When my friend asked politely for his chicken to be replaced he was told it was with in shelf life, and if he wasn't happy with that chicken he wouldn't be happy with any chicken. And there was NOTHING HE COULD DO. I then approached the counter and asked if he really just told him there was nothing he could do. I myself was a manager and know it's nothing to just replace the chicken on a $32 order. So I then took out my phone to take a picture of the sandwich and get his information to report to corporate. At that point my husband then began to record. The Manger tells us we need to stop talking pictures and videos now he will have us arrested. At this point he go's back to the office, I had recieved the information I needed and went back to the play area to join my kids. About a 30/45 min later an officer came to excoriat myself and my children off the property. I then upset and in disbelief posted a picture of the food I received and explained the situation. At witch point Deny Coca, his friends, and a few fellow employees begin to comment there opinions. Comments such as "we should have spit on it if it was to dry" to "his manager said he was in the right" . I myself have worked for the company and know that this is not corporates hospitality standards for management. I do not reflect one person actions on the company. I do expect the issue to be addressed.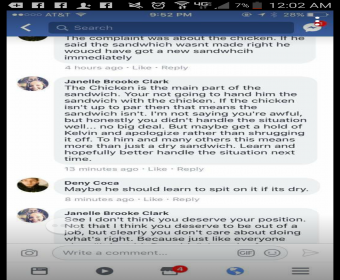 Manager refused to let an African American United States Air Force Veteran into his store in Castle rock Colorado at 1100pm. His reason was that he had no employees.Meanwhile an elderly Caucasian man was standing in the store waiting for someone to take his order. This was the exit 194 McDonalds.

Jeff Kosloske
from Des Moines, IA
I usually never have a issue with McDonalds, But the one tonight we went to pick up food at was terrible. I love Big Mac's and the fries are the best anyplace but when we got to work with our dinner it looked like our dinner went thru WW3. We are in Des Moines and went to the McDonalds on University Ave by Mercy Hospital. My god the fries were cold and burgers were all tossed in the box, Literally had to re-make them before we ate them. Its what Grandpa wanted for dinner in the hospital. It was very sad and the worst experience I ever had. Like I said I never complain but never ate at this one also. I always go to Urbandale where I live. I was so disappointed cause it might be Grandpa's last Big Mac and it was horrible. I will not ever use this one again and start going back to Burger King by work. Sorry even though your fries are the best around.

Denese Allen
from Charleston, WV
I went there yesterday sept 9,2017 my big Mac was cold and very nasty the fries same way the box the big Mac came in was all greasy looking on top I think they need to hire better help very rude employees

Alan Bazzini
from Grass Valley, CA
The Cameron Park McDonald's is by far the worst McDonalds ever.They run out of certain items. They do not have specials as advertised on t.v. and the help is poor to say the least.I end up going to Taco Bell a couple of doors away and everything is run like a fine tuned machine.Sorry for the lost business but someone needs a good quality check on this location.

Edith M Bergh #157 13401 Rancho Vistoso Oro Valley AZ 85755
from Tucson, AZ
I love my Mc Cafe drinks. But when I try to buy 5 and get one free it fails to give me my logo. It has happened at least 3 times now and I am tired of it.
What can I do.? I am a retired lady and I want my coffee. By the way I love those drinks. Please help me. I have at least 3 logos coming.
Thanks
Edith Bergh

From what I can affirm from. Mcdonalds does not like children. They fired my fiancé in Delphi, Indiana nearly 2 years ago for missing work for a miscarriage. I am now putting a youtube video together explain why mcdonalds is against children. I noticed as well that when the Delphi killer was around all the camera crews went to mcdonalds. OK so when mcdonalds fires a woman illegally for miscarrying a twin when the other lived in a risky pregnancy its OK, but when 2 kids get murdered its not. Mcdonalds is going down. I have everything in record with medical records for my fiancé. How much is a discrimination against a medical illness and pregnancy settlement for? couple hundred thousand,? maybe even a couple million? especially when she HAD doctors notes and written from her actual manager that it was ok to take time off for the doctors appointments but then turned around and fired her when she missed a day for miscarrying.!!! FUCKING BASTARDS YOU WILL PAY!!! I will make sure I destroy your food chain reputation in Delphi... I will be testing your managers legally as a customer and recording it on a hidden camera!!! btw I have heard the new one say spick, nigger and faggot quite a few times behind the line.... Fuck you mcdonalds Your Delphi Indiana food chain reputation will be ruined. :)

Gloria Sala
from Hollywood, FL
Came through Mcdonalds at 18250 NW 27th Ave at approximately 6:30 this morning which was September 1, 2017. The lady that took my order was very polite and energetic, her name was Mrs Janet, she's very professional. I'm garunteed to get awesome customer service when she's in the drive-thru. I haven't seen anyone else demonstrrate this type of service. I paid with my credit card, she informed me that the credit card machine was slow. It took 7 minutes for my payment to go through. Mrs Janet was very attentive to me as I waited, she apologized at least 3 times. Mcdonalds needs to do something about this.

Hope Lumpkin
from Baltimore, MD
WENT TO THE MCDONALDS ON PAXTON STREET IN HARRISBURG PENNSYLVANIA AND THE NIGHT MANGER WAS RUDE..ON 8/29/ AT AROUND 1239 AM EST MY SPOUSE PULLED UP TO THE ORDER BOX AND NO ONE WAS THERE..MY SPOUSE LATER BLEW THE HORN..THE MANAGER QUICKLY TOLD MY SPOUSE HOW HE BLEW HER EAR DRUMS OUT..WHICH BECAME A DEBATE FOR HER..BUT MY SPOUSE APOLOGIZED..AND SHOULD NOT OF HAD TO BECAUSE NO ONE WAS AT THEIR STATIONS AT THIS HOUR...THE MANAGER GOT RUDE AND LIPPY WHICH CAUSED AN EMPLOYEE TO DEFEND THE MANAGER AT THIS POINT STATED AHE HAD HEARD MY HUSBAND BLOW THE HORN WHICH HE STATED HE DID BECAUSE NO ONE CAME TO THE WINDOW...THIS LOCATION HAS POOR SERVICE, MANAGERS ARE RUDE AND THE EMPLOYEES ARE ARGUMENTATIVE
I WE LOOK FOR GOOD FOOD, BECAUSE WE PAY OUR HARD EARNED MONEY.....I CAN NOT STRESS ENOUGH
THIS LOCATION NEEDS TO BE CLOSED OR REHIRE NEW PEOPLE....SOMEONE NEEDS TO CONTACT ME

Dan Cortez
from Riverside, CA
Went to Mc Donald drive through on Spruce and Iowa in Riverside,CA I ordered a number 4 double quarter pounder meal. Just one meal. paid went to the window received my soda and was told to go to window two. Well nobody was at window two. After watching seven or eight cars behind me roll up get their food and leave at window one. I was frustrated it was 108 degrees outside and I'm stuck waiting. after ten minutes I left. Tried to call but the phone just said voicemail hadn't been set up. I got that message for half an hour. I don't know what their excuse is quite frankly I don't care. What I would like to know is Does McDonalds simply not want me at their establishment? It's an honest question.

Rafael Vicente
from Hollywood, FL
On today's date, 08/28/2017, I went to the Mcdonalds located at 17850 NW 57 ave miami, Fl. 33055. At the time of the visit, I went through the drive through and ordered a double cheeseburger which according to the sign was $1.69. When I got to the window to pay I spoke with a rude manager named Yaleny (would not give last name or id #). Yaleny stated that the price was $2.19. I told her several times that the price they have advertised is $1.69, she said no. I said every Mcdonalds I go to it's $1.69 she said so. She proceeds to tell me that she is pregnant and doesn't care. She was laughing and being unprofessional. There was also a worker behind her being unprofessional making comments about it not being a big deal. I know Mcdonalds does not care about any one customer but at the very least your workers should be polite and be able to explain any differences in price. All I wanted was for the price advertised to be honored. I left this Mcdonalds and went to one at 16701 NW 67 Ave and the price was $1.69. I believe Yaleny doe snot know what she is talking about, I know her English is not the best so I spoke to her in Spanish but she still did not understand about there being an error in the price advertised and the one that is being charged.

Robert Pena
from Phoenix, AZ
Your person at the register on Socorro N.M., very rude. I was paying with my card and swiped it then he said Chip, Chip, needs customer service training, then was in the process of handing my ice cream cone to the person behind me. I have never experienced this before at any of your other restaurants. Just a heads up from a frequent cistomer. at some of your other Mc Donalds

I feel that the McDonald's corporate office should be a little more concerned about how their employees are treated by the management personnel you have as managers. I wanted to contact McDonald's directly but instead they put me on hold waiting on the phone for 32 minutes! My experience at the Robertsdale location was very disturbed. I have never been to a fast food restaurant and have heard or seen a manager speak about customers in such a way that it wanted me to get up and leave the store. I also didn't appreciate the way she talked to her co-workers. Corporate should also be doing random drug test on employees.
The conversations among your staff is also not appropriate. I over heard employees talking about the young female manager being a drug user. That would explain her outburst behaviors. I have worked jobs where customer service is very important. My complaint is about Sharon. I can honestly say if I had a friend or family member working at this location I would be ashamed. In all honesty I probably will not be returning to this location. This would be the reason why McDonald's is always needing help. Customer service and team work is greatly appreciated no matter where you work.

Thomas Hunkin
from San Marcos, TX
Went inside and placed a to go order. Got home and started eating the fries when I noticed the fries were not only stale but had ketchup on a few of them. I had not even unwrapped the burger so I know it did not come from that. I dumped the fries on the table and found more with ketchup. Everything went into the trash. I live too far away to deal with poor service. This was at the Mcdonald's in San Marcos, TX, IH35 and Center Point Rd.

i ordered a mushroom melt and they gave me a chicken mushroom melt instead and it was very greasy that it upset my stomach.

I visit the McDonald's store on 315 Meadow Dr., N Tonawanda at least 3/4 times a month. I have 3 grandchildren and we always go through the drive thru. This location is the closest to my home. If there was another store nearby, I would not be visiting this store any longer. My last 5 visits have been very disappointing. After speaking with manager, I advised her I would be emailing corporate. She was very nice, but I feel that the lack of detail to getting orders right is horrible. After the last 5 visits, I get home and something is missing, wrong order etc. I even check my receipt before pulling up to get my food and that is usually right. For example, I got home one evening and 3 meal order did not have the French fries! During that visit I also ordered 2 chicken nugget happy meals and 1 cheeseburger happy meal. I got 3 chicken nugget meals. My last visit, I checked my receipt which was correct, got my order and then pulled over to make sure I got everything. As usual, I did not get my 2 buffalo hot sauces which I specifically asked if they were in the bag before leaving. This is when I parked and went in to get them. I did speak to the manager. She did offer me something for my inconvenience, but I said I have kids in the car and my food is getting cold. She did say she would speak to everyone. I think something needs to come from you as well. When I got home with order after having to go in and get the sauces, my grandson had ordered a sausage egg mcmuffin. When he opened it, it was a ham mcmuffin. How do you get that wrong. Sorry so lengthy, but I am so frustrated with the service at this location. Thank you.

Hi, I had purchased a large mocha ice coffee and let me tell you 3/4 of it was ice. Nothing really to drink. I had paid $3.91 for it.
It was a location on Staten Island

Warren coker
from LaFayette, GA
I stopped at McDonald's in Lafayette ,Georgia last week, I ordered 2 filet of fish? Was not fit to eat !! Over cooked , Cheese half way on the buns, I will NOT be back at the Lafayette McDonald's ,

James Henley
from Columbus, GA
I have been a costumer for two years. I have had a costumer at the Bradley Park, Columbus, Ga. yell st me 2 months ago when she could not process my order correctly. Today as I do twice a week, I ordered a large French Latte Coffee. Twenty minutes later the Coffee was brought to me. But two minutes later the employee came out with a small latte coffee and told me it was regular coffee she brought me. I told her I ordered a large. They brought me out a large latte coffee ten minutes later. After drinking the coffee I got a mouthful of grounds, so much I had to spit it out as I could not swallow. I got it all over my clothes. The people in the booth sitting in front of me overheard me and said the same thing happened to them. I mentioned this to the manager at the restaurant. I will not eat at this restaurant any more. The manager at this restaurant is not capable of operating a restaurant. You need to find a better manager who can supervise his employees better.

dennis w beard
from Colorado Springs, CO
i have been one of your customers from 1965 - 03/15/2019 i was at this restaurant # 5767 at 01:33 27680 hwy 50 la junta co. i saw my order walk out customer brought it back in then they gave it to us smashed up sake your service is the worst your over priced hope you go under

Service was terrible,25 minute wait just to get to the pay window,I was the second car,lost my order,gave me the wrong order,had to give my receipt just so they could figure out my order and then the young lady that screwed everything was the most rude inconsiderate person I've ever encountered,she should be fired and I overheard her say to another employee to get me my food and some one else give it to me,I had both my grandkids with me and they shouldn't be around such ignorant person with a vulgar language and nasty attitude,This bar none has to be the worst McDonald's in the state of Missouri,believe me I will tell everyone I know about this McDonald's and will call on television channels in the area aware of the terrible employees and service you receive.I for a fact will not be spending another dime at any McDonald's and I also feel calling the store at 7241 Gravois Avenue at 314-351-6307 is a complete waste of time because they all play together and it never goes anywhere or hear anything from them management,personally I'm done with McDonald's,McDonald's is a disgrace to fast food service

Dawn Waggoner
from Chicago, IL
My husband and I were traveling through Colorado recently and on March 7, 2019 at 11:25 a.m., we stopped at McDonald's in Bennett, Colorado for lunch. We both ordered the Quarter Pound Cheese meal, which my husband paid for and we then found a table and sat down to wait for our order number to be called. The store was not overly busy but there were several other customers so we knew there was a possibility of a few minutes wait time. We waited for twenty minutes for our order. My husband went to the counter and picked up our food and we began eating. After taking a bite of my Quarter Pounder with Cheese, I noticed that a red greasy liquid was dripping from my sandwich. I lifted up the top bun to see what was causing the mess and it was easy to identify that the meat was uncooked; It had been on the grill but only the outside of the meat was browned-the inside was almost raw. I told my husband that I couldn't eat it because the meat was dripping blood and I was worried that I could get e-coli or food poisoning from eating it. He looked at his burger and found that it was also uncooked. He took them both back up to the counter and told the server/waitress that the meat was under-cooked. She looked at it and said "Did you want it cooked?" He told her that we would prefer that our hamburgers be cooked to a temperature somewhere in the range of 140 degrees and that they should not have any blood dripping or be red in the center of the meat. She said it would be a few minutes. My husband came back to our table and we continued eating our cold French fries for another ten minutes. He then retrieved our replacement burgers which we opened and inspected for any signs of blood. There was not any blood but after taking a bite, I was feeling a little nauseous and didn't finish eating it.
We have eaten at various McDonald's for many years and I don't believe either of us has had an experience quite like the one we had at the Bennett, Colorado McDonald's. The store itself was fairly clean but the people working there seemed to have little or no interaction with the customers. We were not greeted by any employee, and our server didn't ask or make suggestions regarding our order; she simply stood there and looked at us until my husband told her what he wanted. After waiting for twenty minutes for an under-cooked burger, I felt like maybe we should have been more specific when ordering. If there was a manager or someone in charge on the premises, they were not working with the employees as a team-leader; the employees appeared indifferent to the customers, to their jobs and there were no smiling faces to be seen - anywhere.

Stopped for a coffee this morning 3/12 no lids for the coffee cups. Last week no sugar.Very poor mgt.

I had a doctors appointment in Smithtown, NY this morning. On my way to work I went through the drive-thru in the Saint James, NY location (8:29 a.m.). I purchased the new donut sticks. After I drove away, I open the package and found the sticks to be overcooked, hard and if they ever had cinnamon/sugar on them, it was gone. I could not turn back because I was on my way to work. I thereafter stopped at your Manorville, NY (9:10 a.m.) location because it was on my way to work. I explained to them what had happened and they told me I had to drive 45 minutes back to Smithtown, NY or call them because there was nothing the Manorville, NY location could do for me. I was only looking for them to exchange the product with had a total of $2.05 with tax. I told them just to throw them away. I realize that each location is independently owned, but as a corporation I feel they could have exchanged the defective/overcooked product. I know one customer does not mean anything to you, but I will no longer purchase from any McDonalds location.

David Lane
from Stayton, OR
Today 3/9/19 at11:04 am the wife and I puchased two saugage breakfast meals and ordered them eith white cheese and egg whites. when we recieved the orders they did have white cheese but they both had whole eggs on them.this took place at store no.13829. that being said we also ordere two cups of coffee and when we were finally able to drink said coffee it turned out that one cup was a fourth of the way full of coffee grounds. No wonder ittasted bitter. The manager did apollogize for the egg fiasco and was probably unaware of the coffee issue for we did not discover the grounds untill after leaving the store. Why is it that we were not informed of the no egg white policy untill after recieving our meals and why did some body dump coffee grounds in our cups? I feel this is very digracefull and some one needs talked about these issues. Thank You. David Lane

Angie Sieger
from Princeton, IL
I understand that you are trying to serve better food by making fresh food as it's ordered, but in doing that the workers are not making sure they are giving the best quality of food. Today not only did I have to wait in line for a while in drive thru, but when I got back with my lunch I bite into my burger to find that at best it was only half cooked. I think there has to be a happy medium of getting fast food fast and hot, but also making sure it's cooked properly.
You ask why I didn't take it back....because my lunch break wasn't long enough to wait for another burger to be prepared by them.
I can't express how disappointing it is when they tell you that you can't have orange juice in the morning because the machine is down or the ice cream machine is down in the afternoon.
Thank you for allowing me to vent my complaint with you.

Themba Skomolo
from Johannesburg, GT
good day
please note that I was not happy with the service from Olifansfontein Mcdonald in Tembisa I waited almost an hour to receive my order.
I reaceved my order and went home when I open I was wasn't happy with the food its like they gave me for free please see the below attached file for more details you can contact me on 063 508 1329 and the cashier name is Moroane C order number:1950.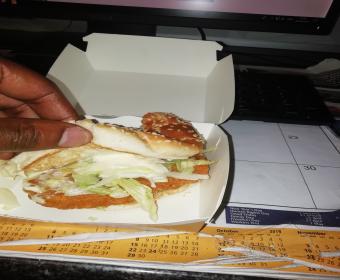 The Hash Browns are always awefull , Taste like Fish(like never change the Grease) , ugly. Just very Rare to get a fresh Hashbrown(Mcdonalds Montgomery Village MD) at any time, maybe it is just me, bad luck???..?? Unless you wait for them to cook fresh. 10 more Minn. wait. Just wish there was another option for the Breakfast meals. I have Boycott m'c D's since i got sick on only 1- 1/2 hashbrowns . Also, $5 for a breakfast sandwitch(which i really like) is just to Much, the Meal is about .60 more. So i am out!

james wentzel
from Philadelphia, PA
in the last 2 weeks i have stop at mcdonalds#3320 and 3 out of the 4 times i ordered meals with large coffee and told them specifically NO SUGAR and they have put sugar in my coffee and the 4 th time i asked whether there was sugar in it and she said yes and then replaced it . I am diabetic ...NOW either it gets rectified quickly or i find Burger King as a good alternative. When you say NO SUGAR is that too hard to understand ? i tried to call them personally but their phone number is not recognized ..Probably i am not the only person with a problem. It can happen once in a while but when you say NO SUGAR and you get to work and take asip and it issweet as hell ...NOT ACCEPTABLE

Roberto Escobar
from Altus, OK
Today March 6, 2019 my wife and I went to your restaurant in Altus ok. We ordered two mushroom swiss burgers. Every place I've gone to for mushroom swiss burger the burgers have mushroom and swiss cheese. The ones that were given to us had old mushroom onion fries and bacon. The name on the menu is deceiving. A mushroom swiss burger is just that not that other ingredients. I was extremely disappointed.

I will start by saying that I would like to have given 0 stars but there is no option!
I and my family passed some street kids on our way to 7 Seas shopping mall in Vadodara, India, and as we entered the mall we stopped at the McDonalds ice cream kiosk just inside the entry to buy an ice cream ice for those poor street kids on what was an incredibly hot day. The kids themselves were not anywhere near McDonalds or the building, as after the pavement there are a large number of steps into the shopping mall, security etc.
My husband had a quick errand to run so he gave me Rs 500 to buy the ice creams but when we approached McDonalds ice cream kiosk the member of staff there actively prevented us from buying the ice creams for the street kids. She said she didn't have any change so couldn't serve us. I thought that was really strange as Rs 500 is a small amount and this is McDonalds in a shopping mall, how could she possibly not have change of such a small amount! I was very dubious about her story and as we stood waiting for my husband we noticed lots of shoppers going over to McDonalds to buy themselves ice creams and the member of staff was handing all of them change with no difficulty. Her story simply didn't make sense.
My husband soon returned and asked if we had finished giving out the ice creams. We told him that we hadn't even started as we had been told by McDonalds staff that they didn't have any change. My husband looked incredulous, he said there is no way that is possible and we walked over to the McDonalds ice cream kiosk where my husband challenged the staff member about her story. She said that McDonalds do not like shoppers buying ice cream for street kids because they will get used to having McDonalds ice cream and will be present on the pavement outside of the shopping mall and the staff didn't like them being there as they and shoppers will have to look at them! Apart from us being utterly shocked and outraged, this confirmed my belief that she had been lying about having no change. I am absolutely disgusted at McDonalds, who seem to have a fear of children getting used to ice cream! These poor street kids have nothing, is it too much to allow foreigners to show them a bit of kindness and buy them an ice cream? What has the world come to and especially in India, I thought India was a caring society, McDonalds itself is an American chain but their staff in India are Indian, brought up in what is supposed to be a caring society yet they seem to begrudge a child an ice cream.
I have complained to McDonalds India about this issue and have received nothing but silence from them, my emails being completely ignored. I therefore contacted McDonalds in the US, both their customer services and their CEO Steve Easterbrook, again absolutely no response from either. It seems that McDonalds now thinks it is not answerable to anyone for any situation. It is my experience of them that if there is a problem, they will just ignore it, they seem to think their size and might gives them the right to trample on anybody and their rights and get away with it and that includes poor street kids!. Shame on you McDonalds.
I would like for McDonalds to stop this discrimination. I do not however have any faith in them doing so as after this incident I researched on the internet if there had been any similar situations and I found some from a few years back in which McDonalds apologised (maybe only because it caused a media storm of protest at the time) and said it would now welcome street kids and serve them like anyone else. Well things have not improved one bit, so it looks like that statement was just lip service and in fact things have got worse because now it is not only the issue of the street kids being harassed by McDonalds but now even foreigners are being prevented from buying them anything from McDonalds. If McDonalds don't want customers, then just let the world know and we will all happily buy our fast food from elsewhere! I and my family and friends have all boycotted McDonalds until this appalling incident is rectified to our full satisfaction in the name of these street kids.

Marie Swann
from Bridgeton, NJ
McDonald's at 56 East Broad street it's getting so ridiculous. They are not open 24 hours, they close differently each day and night, prices for items are different each time, also double taxing. I have charges that I have no idea for what when asked they give different answers each time depending who's working, and other family and friends say the same thing. Some workers are very rude and disrespectful. They always say the milkshake machine is down. I rarely ever complain but this has repeatedly been going on for sometime now. Orders aren't correct and when we ask for them to fix it, workers get an attitude, so we don't even asks anymore. It's a shame because we absolutely LOVE McDonald's! When we order dinner it's always 30 or more. It's sad that we are slowly declining to get our beloved fast food that I, myself have been eating since I was little, my second word(s) were French fry when I seen that big yellow M sitting in my car seat that my mother and grandmother remind me of all the time because I would always yell French fries while kicking the back of their seat. I'm sorry for this letter but I'm just so upset about how this McDonald's is being allowed to be like tbis.

Gary
from Wisconsin Rapids, WI
I went to mcdonalds in adams wi to order 2 cheeseburgers off the dollar menu. the bill came to 2.53. I ask if the cheese burgers were still a dollar and she said no they went up. Then I ask about the dollar menu sign that said they were a dollar and the manager said to give me a discount. What about the others that ordered a cheeseburger off the dollar menu. A lot of people are poor in the adams friendship wi area. Get it right mcdonalds

D Miltenbergerfamily@geusnet.com
from New Iberia, LA
Stopped sat Greenville Texas McDonalds for donut sticks and coffee
About 2:30 p m . Waited about five minutes people dressed in white shirts black pants were caring for drive thru
Kept looking at line forming and made no effort to say someonevwill be there shortly they kept looking then we ordered and were told sticks were only served at breakfast.
About three months abgovwe ate enjoyable breakfast food, then it went to terrible food and now this
Use to brAg scout Greenville Texas McDonald's but not anymore

Kendall S. Carter
from Rochester, NY
Saturday- 3/02/19 I went to drive through at 820 Culver Road Rochester, N.Y. 14609 ordered hash brown and steak/egg cheese bagel breakfast sandwich. I paid and left arrived at work looked at breakfast sandwich and saw a had a "huge" bite out of it and realized it was not what I had ordered (bacon, lettuce and eggs)? When I returned to location. I went in furious and asked why would they have sold a sandwich with a bite taken out of it? The person who spoke to me as she continued to take orders stated I was yelling and acting as though she took bite out of the sandwich. Writer asked her was she a manager? She said, "No, the supervisor". Writer stated as far as I was concerned it was the same thing. She did not apologize or act with any sense of urgency about the situation and made me feel as though I was the one at fault. This person stated she did not apologize because writer was yelling. I continued to yell informed the cashier to place my funds back on my card and continued yelling as I walked out of store. I will take responsibility for yelling. I was furious with the lack of concern or regard for the situation. The individual in charge appeared not o know anything about customer service or defusing a "irate" customer. I did not take a picture of the sandwich-but I'm sure there is footage of event at the store.

I used to love McDonalds when I was younger. As an adult, a quick stop for a burger occasionally works from time to time. Lately, or should I say for the past 10 or so years, the service has gotten horrible. Customers have made McDonalds as well as a number of other fast food chains very successful, so I believe it is imperative that your organization give back to the customer, not the community, the customer.
It makes no sense to erect Ray Crock centers for the underprivileged, because it doesn't get our food cooked any faster. When I walk into a McDonalds, I expect to be waited on quickly, and then handed my order seconds later, not minutes.
You should have a full crew at every location all the hours you are open. Not moseying in at 7AM when some people have to be at work at 7AM. The food should be cooked and ready. It can sit under a heat lamp for up to 10 minutes before discarding. Believe me, you will be doing a lot of discarding at first, but if people can count on being able to get their food quickly, you will get to a point where there will be minimal discarding-if none at all.
If you think a Crock center is more important, give these underprivileged a job. If they think they are too good to work there, shut down the centers, or shut down the stores. Don't act like you need both. In other words, put the profits back into the stores, and not building new ones. Allow for money to be wasted in order to continue making a profit.
I was waited on first and served my food last. There is no excuse for that nonsense. People that work there are not even hustling; they are moving slow. Tell corporate to kick their teenage kids upside the head if they do not want to work there.
I cannot even rate you with even one star. My order was even cold when I received it.
One more thing. Stop trying to sell healthy food. People that want to eat healthy are idiots for stopping at McDonalds, or any fast food franchise.

Lakesha Baggett
from Chicago, IL
The McDonald's on Milwaukee and Sawyer the manager Gabriella is verrrrrrrry unprofessional she asked me for my phone number I am a married women I do uber eats she gave me a hard time I asked for her name she wouldn't give it to me that's not right I asked for corporate phone number she said no I asked a worker that works there Gabriella told him not to talk to me Gabriella made me feel very uncomfortable Gabriella called uber eats on me now this happened after i made my delivery i came back to get corporate number and she refuses to give me the number no and refused to give her name and she kept giving me thumbs down on the uber app for what and i had stop making deliveries so she didn't suppose to go back on the app all bcuz im n[t a lesbian i really need for Gabriella to apologize she told the worker dont talk to me u dont do that and you working with the public now remember i wasn't there picking up food I was there for corporate number and her name Gabriella needs to be disciplined for these actions I work with public dunkin donuts and when a customer asks for corporate or your name you supposed to tell them and also management do not suppose to tell there crew don't talk to the customer my boss would fire me i been there 12 years can someone call me 6307490384

ED HARGETT
from Arlington, TX
waited at counter for 8min for someone to take order [personel laughing and joking in prep area] finally had to ask if anyone working counter, at the same time the drive thru was backing up all the way round the bldg. had ordered 2 apple pies with order waited 15 min for order then was told the had only one apple pie. was offered cherry pie instead [do not like them they are terrible] was not offered refund, this happens often at this store as no one seems to be in charge of restocking the pies. the problem with the counter happened to at least 3 other customers while I waited. I know that these are not horrible complaints but happens to often at this store, store #17227 order 87 at 6:16PM 3/3/19 Thank you

The complaint I have is French fries. We go to McDonald's in Paris Ill.....the fries are never full.....we even tried ordering large size....and it did not matter. Anytime we get fries...they do not even come up to edge of the curve in box....so doesn't matter the size never full and the price is high for what you get!!
Please be in contact and have them take care of this...we have even got to point of not going back anymore. We spend a good amount there...with having three teenagers in the house

Kathryn A. Badgeley
from Cleveland, OH
If there was something lower than a 1 that's what your score would be. Went to the McDonald's at John Glenn Airport on 3/2/19 at 9:45om. They were suppose to be open until 10pm. All the employees were sitting in the dining area on their phones. When I pointed to my watch and told them the sign says you are open until 10pm they all started laughing. Great impression. Now I understand why your company only scored a 1 1/2 out of 5.

THE MCDONALDS AT 1551 ANN BRADEN BLVD. NEEDS A LOT OF HELP IN THE P/R DEPARTMENT , THE CREW/ LEADER OR MANAGER ON DUTY AT 1600/1700 CST 3/01/2019 NEEDS A LOT OF TRAINING OR SHE NEEDS TO BE REPLACED , THIS IS THE SECOND TIME I HAVE HAD A RUN IN WITH HER , 1ST TIME I WENT IN TO GET A BREAKFAST SANDWICH WITH YOUR APPT. THAT SAID $1.00 OFF ON A BREAKFAST SANDWICH I WAS ORDERING A SAUSAGE MUFFIN WITH EGG , SHE WOULD NOT EXCEPT THE APPT. IT HAD NOT EXPIRED NOR HAD I USED IT BEFORE. SHE JUST SAID I NEEDED TO ORDER SOMETHING I WANTED THE BREAKFAST SANDWICH , THIS WAS IN FEBRUARY LAST WEEK , THEN TODAY 3/01 I WEN IN TO GET A FLAPPEE, MEDIUM FOR A 1.00 OFF AS YOUR APPT. STATES AGAIN SHE WOULD NOT EXCEPT IT , SHE WOULDNT EVEN HONOR THE APPT. HER MACHINE WOULD SCAN IT. I KNOW THAT I AM ONE CUSTOMER " BUT I AM A CUSTOMER " SHE NEEDS TO A LOT OF TRAINING SHE WILL NOT GIVE HER NAME , THE MAINTANCE PERSON TREATS PEOPLE BETTER THAN HER.
I WOULS LIKE A RESPONCE OR SOMETHING.
THANK YOU
CURTIS HEDRICK
CURTISH4301@GMAIL.COM

The store in Lebanon, IN. For the last two years won't stock enough products to sell. That have added extra refrigeration and still won't keep stocked. I have to go to the McD in zionsville, IN to get chicken tenders

Lynn Fry
from Harrisburg, PA
I saw mcdonalds was advertising the Shamrock Shakes. Went to a mcdonalds rrstaurant, waited in line, ordered 2 shamrock shakes and was told their machine was down/not working. Being that we were already out, we went to another mcdonalds restaurant and ordered 2 shamrock shakes and AGAIN was told the shake machine was down/not working. hmmmm it seems to me mcdonalds did not have the shamrock shakes and were telling people the shake machine was not working. Maybe you shouldn't advertise something before you actually have the product. Anyway I know its no big deal but on the way home we stopped at Arbys and got our shakes.

I went through the drive-thru today for a Mocha Frappe and the Frappe was nothing but a cup of flavored ice. I couldn't even drink it through the straw. I did not go back because I had to get back to work.

location 35242 Grand River Ave,. Farmington Hills, MI 48335
THIS PLACE IS TOTALLY UNDERSTAFFED, AND WHO IS WORKING THERE FEELS THIS PRESSURE AND OFFERS POOR SERVICE.
IT WAS A NORMAL PLACE UNTIL 3 MONTHS AGO, NOW IT IS REALLY BAD AND NOT GOOD AT ALL FOR MC DONALD'S IMAGE.I SUGGEST YOU RETRAIN THOSE EMPLOYEES AND HELP THEM ADDING A FEW MORE PEOPLE ESPECIALLY IN THE MORNING.

Montgomery Village, MD : The Hashbrowns are awful , sometimes taste like dead fish, obviously never change the Greese pit. Actually got sick as a dog from eating 2 hash-browns on an empty stomach( NO Hangover). They need another Option with a Breakfast meal order, getting real old and disgusting.

Eldon Dodge
from Stoughton, WI
We were traveling back home from Siesta Key, Florida today (2-23-19) at 4:30 a.m. and needed to get breakfast on the way to the Punta Gorda airport. We saw the lights on at the Clark Road McDonalds in Sarasota and it said open 24 hours. When we pulled in - there were two people inside just standing around and talking. There were two cars ahead of us one for coffee and the other for tea. We pulled up and ordered 4 Egg White Delight sandwiches and a coffee - we were told the total amount and pulled forward. Once we were there the lady told us the total and then someone inside told her there was no food - egg sandwiches. We asked if there was anything made. She was told to close the window and then you could hear someone - the manager??? yelling at her about the order. She had closed the window and we tried to holler at her about what was going on. When we received no response we left and were very disappointed as we needed to make our flight time. This is a very bad representation of 24 hour service!! Eldon and Laurie Dodge

My track team went to the McDonald's at 4711 14th st Bradenton Fl. It took 1 hour and 6 minutes for 12 people to get their basic orders. I have never been to a poorer run fast food establishment than this. The other customers were furious as well. I could have sit down at a steak house and ordered and eaten faster! This establishments owners need to know this. I would have fired the manager and a few employees.

Its impossible to get a happy meal with no meat my grandkids are vegan and would like a happy meal but everytime i ask for a happy meal with no burger or nuggets they ack like im asking the impossible. So please come up with a vegan happy meal . Thank you Dena Walker !!!

My teenager daughter Teresa Denton is her name she's 17 she has a disability bit of autistic she started working at McDonald's in June we are very proud of her she switched to the morning shift one of the managers asked her is she had autistic in her she's going to college I guess she's working there to pay for her college when trees are said yes she started picking on tresa more than usual we moved Teresa to the night shift to see if we can get rid of her trees didn't say anything to me she keeps things inside the lady still was picking on Theresa the way she mopped and just kept hammering on her according to Theresa she doesn't do that to anyone but her and another upsetting thing is one of the employees manager offered her some booze to help calm her down I could have been wine yeah my daughter has a disability she's on pills and I'm proud of Theresa she told her no and she quit the job that's on sessional what I want done is the place checked fire them I don't care you don't offer a minor anything to drink to calm her down Teresa quick but you need to go to this McDonald's and check it out I know Teresa is imperfect she's a little bit you know but still that was wrong I'm reporting this because I don't want nobody else to go through this or you need to train your employees management Teresa was doing fine when she first started she was so proud of her and I was proud of her I want something done some kind of punishment whatever you can do this is not right her mother Laura Denton

First of all service is always excellent: friendly, cheer full and courteous !!!!
I visit My McDonalds at least 3 times a week and always get the McGriddle and a lg black coffee.
Today I decided to try the doughnut sticks, very disappointing!!
they were all miss shaped and not one grain of cinnamon sugar and they were doughy on the inside.
The young lady who took my money asked if I order with NO cheese, I told her WITH cheese please
it came with NO cheese ( I did eat it anyway and it was good but not as good as it would have been had I had my cheese).
when I got to my destination and realized my order was askew I was a little pissy at first, but then I drank my coffee and thought to myself "get over it" so venting does help!!
best regards
Mimi

I ordered a Fruit & Yogurt Parfait and received a cup of fruit with a spoon full of yogurt. I called the store to ask why there isn't any yogurt at the bottom she stated that how they make it now. I thought it was odd that they put it in a bag this is why people sit at the window and check their food. I can't even eat this smh!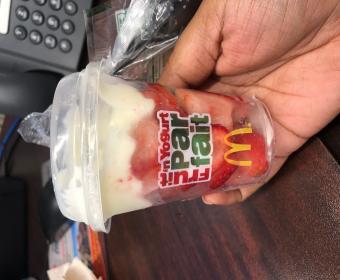 I called to see if I could use my app for $4.99 nuggets twice. The man who answered said yes he'd have to run it on two separate orders then it would be fine. I even verified it was on my iPhone app. So I went right up and did as he said on two orders and they told me they couldn't do it. I had just talked to him before getting four kids in the car to go there. I talked with Elaina Galloway as I was told she was manager and she said nothing she could do. I could have gone to Burger King for nuggets way cheaper. I called the complaint dept at corporate thinking you'd help me. I am so angry. I haven't been called back and nothing has been done to solve my complaint. What the heck? This is SO wrong. Can anyone make this right? I should have gotten what I was told less than an hour before at the same location on Howe ave #11090. PLEASE HELP ME SETTLE THIS. I've called twice. I will continue until this is settled somehow. My phone number is 330-923-3504. I have both receipts.

carmen velez
from Middletown, PA
I went today to macdonald at the harrisburg pike Middletown to buy asome cheeseburger, a quarter pound burger and let me
tell you, the burgers wee greasy, burn, the burgers look like they were old, taste like carton and look so discusting, that we have to throw it
out. This is the 3rd time this happens again. I stop buying from your restaurant but I guess I would have to leave theis place and go somewhre
else.
c armen

This is the 3rd time in 2 weeks that I have a complaint.
I go to the McDonalds at Whitaker Avenue & Hunting Park Avenue in Philadelphia, PA, at least 4 times /week, it's across from my work.
I was just in there today 2/16/2019 and I walk in, it's approx. 10 people behind the counter but no one at the cash register. I wait, the employees are looking at me but no one says, I will be with you shortly, hello, welcome, nothing. I stood there for 5 minutes until someone finally takes my order.
This McDonalds is the worst that I have been to in Philadelphia. It's always like this, even if I go in the morning before work.
There is no customer service in this store. You need to send someone in there to act like a customer so they can see how this store is run.
Order #102
4163 Whitaker Ave.
2/16/19 @12:06pm

LINDA MIDDLETON
from Cape Town, WC
Yesterday 14/02 our electricity was of from 18h00 to 20h30. we bought 4 meals at Mcdonalds - Paarl Jan van Riebeeck RD.( KFC next door was closed bcz of the load shedding). the chips of 2 meals were UNDONE, HARD, RAW, and FATTY. NOT CRISPY. We couldn't turn back as we were on the way to Cape Town.
And its the first time that I ever experience those chips.....

Husband picked food up from McDonald's on 25th in Gulfport, Ms. I stuck my hand in to get fries pulled up a NASTY smashed roach stucked to fries. Immediately, threw food everything away. Gagged , throw up a good while. Trying to wash mouth out. Talk about nasty, filthy gross! Of course, it was thrown out! We only spent $4.35 on whole order! Not trying to get something to eat in it's place. But, to be told by one manager that it probably wasn't a BUG, was quite rude, belittling as well as really saying that I was LYING! I understand your policy. I respect your Policy!! That WAS a NASTY filthy downright most horrible, horrific experience! Please reinforce the policy for them to wash hands. Cover hair and CHECK FOOD FOR BUGS! Store # 3191

Jordane avon
from Toronto, ON
I go to the same McDonalds everyday on my break for my coffee! All the employees are so nice and put a smile on my face other than this one manager at the downtown Peterborough Ontario location! Her name is Susan and to top it off she is a manager.... and the she says today as I am thinking to myself; "why are you sighing?" I respond just in thought....? she replies "Agh people like you should just not come here" As I asked her "pardon me" she basically through my coffee at me and proceeded to yell at me as I walked away about how she was going to come watch me do my job and sigh while she did? Worst and most embarrassing display of poor customer service... She should not work there let alone be a manager... All she is doing is giving them a bad name and she should be ashamed... Keep your issues at home and definitely don't take them out on random customers, specially ones you see returning day to day. Timmies here I come, maybe they will know how to pick respectful managers.

There is no changing table at the McDonald's at 2646Jamacha Blvd., El cajon, CA.
I went to change my 2 1/2 year old granddaughter. I had to balance her between the newly remodeled sinks. After a struggle I got the job done. However there was no trash can there to put it in. I told the person there that I was complaining about that and she said, we used to have one.
This place has a play structure for kids, why not put in a changing table. That is wrong. By the way, I threw the diaper inside the restaurant. I was frustrated and very upset. I could not change her on the floor, because at 73 I wouldn't be able to get up!

i had a terrible experience with one of the suspervisors named Natali at McDonalds located at 4553 HWY 7, Woodbridge, ON.
her beviour is very rude, ignorant and not professional, for the way she treated us as a regular customers, she gave a bad reputation.
i blame the company for hiring this uneducated person to deal with customoers, i am so upset and disappointed.

lina mando
from Maple, ON
I am a resident of Woodbridge, ON. my 2 daughters love to go eat in McDonald almost every week or unless every 2 weeks, well, today 02/10/19,we went to MacDonald to eat at 4535 Hwy 7,Woodbridge,ON, Store #7565, we have the worst experience ever , "the supervisor named Donna ", was very rude , and ignorant, what happened is that she came to our table said that it's not allowed to have drink in the water cup, then she took the cups while we are eating in ignorant way and left, I got so upset of her behaviour, so I went after her to tell her that this is not the good way to behave, she can explain to us in a good way to not do it again and we will accept that. But instead she yelled and screamed at me in the presence of all the customer and employers, I sked her why you yell and scream but she continues screaming and yell at me, she accused me that (I teach my kids to steal the drink). Then she said with (laughing) (goodbye), she embraced me in front all without respect, everyone was looking at me and surprised for what she is acting toward me. I got upset more, I am the constant client of this store suppose to have a great time and treat with my daughters, but I was wrong, I didn't feel safe there anymore that we ended leaving right a way without finish our food, because of her weird and unacceptable attitude. I ask one of employers to speak with the manager, she came to me again and said I am the manager, everyone was laughing supporting her. I believe if this supervisor stay at her position, your company will lose a lot customers in the future for the way she treat costumers. I blame the company for hiring this uneducated, ignorant and not qualified person for this sensitive position.
the company has to do something against her, unless I drag her and the company to court to give her a lesson of behaving and respecting others, and the company learn how and who to choose their professional employers who are willing to improve the service of the company and therefore receive more good feedbacks.

Luke Wilcox
from Defiance, OH
I went to the eastside McDonalds in Defiance ,Ohio and ordered the 2 for $4 breakfast sandwich special. I paid at the first window and went to the pickup window and was asked to pull up wait in the designated area. The previous 2 cars in front of me had also been asked to do the same. As I was waiting the next 2 cars were also asked to pull up and wait . so, a total of 5 people were waiting for their orders. After about 10 minutes none had received their order. Finally after another 5 minutes the manager came out with 2 orders for the last 2 cars that were waiting . Finally another 5 minutes and she brought the rest of the orders and I asked if the receipt was in the bag and it was not , so I asked her for my receipt and she said she would have load some paper to print it out . after another 7 minutes I had had my order with the receipt. She apologized but I do not see why it took a total of 27 minutes to get my order for an advertised special.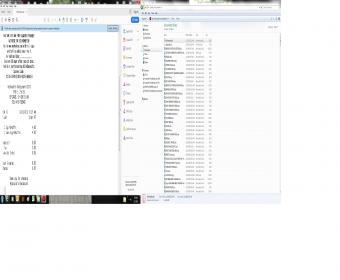 lina mando
from Maple, ON
Date: February10,2019
McDonalds
4535 HWY 7, L4L 1S6
Woodbridge, ON
RE: Complaint Against Supervisor (Donna)
To Whom It May Concern
I am writing this letter to inform you of the behavior of one of the supervisors in this company named (Donna), I am referring to the constant discrediting, use of abusive language and insulting. I have been experiencing from especially on February10,2019, at 4.05pm.
I am a resident of Woodbridge, ON. my 2 daughters love to go eat in McDonald almost every week or unless every 2 weeks, well, today 02/10/19,we went to MacDonald to eat at 4535 Hwy 7,Woodbridge,ON, Store #7565, we have the worst experience ever , "the supervisor ", was very rude , and ignorant, what happened is that she came to our table said that it's not allowed to have drink in the water cup, then she took the cups while we are eating in ignorant way and left, I got so upset of her behaviour, so I went after her to tell her that this is not the good way to behave, she can explain to us in a good way to not do it again and we will accept that. But instead she yelled and screamed at me in the presence of all the customer and employers, I sked her why you yell and scream but she continues screaming and yell at me, she accused me that (I teach my kids to steal the drink). Then she said with (laughing) (goodbye), she embraced me in front all without respect, everyone was looking at me and surprised for what she is acting toward me. I got upset more, I am the constant client of this store suppose to have a great time and treat with my daughters, but I was wrong, I didn't feel safe there anymore that we ended leaving right a way without finish our food, because of her weird and unacceptable attitude. I ask one of employers to speak with the manager, she came to me again and said I am the manager, everyone was laughing supporting her. I believe if this supervisor stay at her position, your company will lose a lot customers in the future for the way she treat costumers.
I have tried to bring this issue to your attention to no avail. It is, therefore, my wish that you try to find out what the problem is and act on it in the best way possible. I love working here, and I know that this is a company that holds true to employee wellbeing. As such, I trust that you will handle this matter amicably.
I am looking forward to a positive response.
Sincerely,
Have feedback for McDonalds?
Thanks for your feedback!
Sorry. Please try again later!