McDonalds
McDonalds Complaints Continued... (Page 5)
1085+ reviews added so far. Upset? Call McDonalds corporate: 800-244-6227

Jacky
from Charles Town, WV
I have a complaint about one of the manger of the mcdonalds in moorefield wv the manger named Sam she said the f word like 15 Times in front of children in the store she very rude and needs to be fired I asked her if she could not talk like that in the store she told me it was her store and could do what she wanted talked to the big manger and nothin was done and she yells at her employees all day long

Mr S.W. Ainsworth
from Johannesburg, GT
On Friday 23/10/2018 we went to you Lambton branch Germiston. First complaint Mc Donalds motor bikes parked in the disabled park, making it very difficult for me to park in a normal parking and to get my wheelchair out the car. The my partner and I go to the toilets, only to find there are no locks on the toilet doors. As these are public toilets, I find this totally unacceptable. When confronting the manger about the two problems, he just acted as though he new nothing about the motor bikes and the lock situation in the toilets. Surely if you are the manager you must know what is happening around you business.
My experience a Mc Donald's has left me with the feeling that this is a business that just wants to take your money and has no interest in the customers.
Regards

susie Winningham
from Raleigh, NC
Nearly every McDonalds downtown Raleigh N.C. the homeless are sleeping under the tables or in the booths with all they own. They hang around outside and try to start to talk to you wanting money or food. If this is what you want to support I can not understand this. Last night was my last time at McDonalds. My children love going there.

Christopher E Cubbage
from Sherwood, OR
I have had enough negative experiences with McDonalds of late that I felt the need to reach out. The simple challenge for me is that the easiest way for me to express my dissatisfaction is to quit frequenting your restaurants much like people did years ago when McDonalds experienced a signifiant decline in business. I also recognize the futility in reaching out to a large organization that is likely tone deaf to its customers. Nonetheless here goes... I drove up to a drive through this evening to get warm fries and a frosty coke. I love your fries and your coca cola has a secret that makes it better! Suffice to say a cold soggy fry did not light my fire. When I went into the restaurant to complain the manager essentially made it my fault for complaining yet admitted to serving an inferior product intentionally! Thus the slipper slope of just getting away with inferior service an delivery. Also I don not like the kiosk ordering system. Is this a people business or just a assembly line for hamburgers. You guys decide but nobody has to get a hamburger at McDonalds. You might want to remember this is just a hamburger. I can get cold fries and a stale coke anywhere. I doubt you guys care about losing a single customer.. Assuming you do what are you going to do to win back a customer?
Chris

Michael Yeager
from O'Fallon, IL
The McDonalds on 906 Carlyle Ave. in Belleville, IL 62221 has been progressively getting worse in service cleanliness, and drive through times. The management at this location is severely lacking. People are just plain out lazy. For one exception, "Scotty" , is probably one reason why people come back in the morning times. I do avoid going to this location because of the complaints listed above. Hope things change,
Michael Yeager.

Wendy Lobley
from Ashfield, NSW
Mc Donald's Arndell park.
On Friday 16/11/2018 I went through the drive thru to order to children happy meals. I was asked what I wanted I said 2 happy meals. Please note I had two children with me they both wanted McDonalds. I got to the pay counter and I said to the girl can I get a medium coke as well, she said sure I tapped my card never noting the cost never having the order confirmed. I drove to pick it up at the next window maybe 15 m away. I got to the window and was given one happy meal. I said I ordered two. The young girl turn to a young "in charge person" who said they will have to back through the drive thru we don't take cash here...............................
Here my complaint.
1. I ordered two
2. they never read my order back
3. The cash register is 15m away or may be 5 m away in the store.
I drove back thru the drive thru as I had two children who need food. As I cam back throu the said in charge woman was laughing. I did yell a bit of abuse at her but....
3. Clearly they did not hear my order
4. Its not funny to make someone drive around the block
5. I am the customer what horrible service
6. the cash register was never more then 5 m away
its not the first time I have had trouble at this Mc Donalds but this was just ridiculous.
My mistake on the nigh was I should have asked for a refund as the order offered was not what I wanted. Question would I have had to drive around to get a refund.
SERIOUSLY BAD SERVICE> I would like too know what you think of such bad service.. Or is that acceptable
I was so angry, at the stupidlity of driving around and furious at the fact the staff thought it was funny. Arndell Park mc Donald is laughing matter I am there at the sporting club regularly and all the families laugh at it but interestingly not to the face of the staff....
I am sure my complaint will just become electronic fodder but I will keep telling my story as I sit right near the shop.5 m is to far for you not service focused staff to walk what a joke worst service I have ever received.

Andy Luong Vu
from Santa Ana, CA
Dear Ronald McDonald,
I grew up with Miki Dsss in my blood and I also served the restaurant during my several first employment. I am one of your most loyal customer in the world; however, when it comes to services, I was always the extra miles kind of worker. Messing with customers is one of the most disobedience action taken while on your clock committed by some of the services. Today, I got my first classic Big Mac meal. I specifically said I didn't want Ketchup, but I got a lot of ketchup to toss away as waste to your money. I said that I wanted a medium Coke, they gave me a large Pepsi. Another service misunderstanding into the trash can of waste. In addition, the fries were soft and bitter? Why? What happened to MIKI DSSSSSS.
Validation code: 00616-12871-11818-15145-00064-6, McDonald's #616, Westminster at 0314PM

David Hill
from Yellow Springs, OH
I was at the store 11277 north main st dayton ohio and I stood at the counter. A girl at the register stood there looking out the window finally she asked me what I wanted. I can't give you her name because she had no name tag. frizzy hair black hoodie with white lettering saying pink. I asked for 2 cheese burgers small fry and mocha frappe. still looking out the window she asked what I wanted again. I had to tell her 3 times. I waited 15 minutes for my order to which they finally told me the machine was broke. They asked me if I would like something else in it's place. I said no that, that was the real reason I stopped in. and said I wanted just to be refunded for the drink. They yelled for someone named Dianne . Dianne never came they yelled for 2 more time and still she didn't come. I stood there for 25 minutes and still nobody refunded me the money. I assume that this store needs to be retrained for lack of customer service. I wouldn't have complained but this wasn't the first time of bad service at this store. I will no longer patron this store. even though I have to drive farther. I love your food and it's value but not willing to pay this stores wages and not get the product. I eat everyday at McDonalds. ks#2 side 1 order 10 date and time 11 18 2018 12:34 pm

Jerri Greene
from Lake Worth, FL
My family and many of my friends have stopped going to McDonalds for the following reasons:
The Filet of Fish sandwiches - They used to be so good and now they are horrible. There is only 1/2 slice of cheese on each one. They are lukewarm and hard when served (the last 4 times I visited), and there is only 1/2 tsp of sauce on them that covers only the center of the sandwich.
The French fries are lukewarm and are tough in texture.
The chicken nuggets are lukewarm to cold and are tough after sitting for long periods.

Diana lee
from Carson, CA
Food was done incorrectly. I called to explain and the .manager was rude and acted like I was lying. People who prepare the food should pay attention to the screens and order tiers should write down everything you say. Even if you show proof your order is messed up,theirs always one uncompassionate manager their. I request a refund for my entire order please

julie welladsen
from Kellyville, NSW
on 17/11/2018 at 1659hrs I attended the McDonalds store at Wollongong #0369 - the best part about my visit to that particular store was my purchase of my McHappy socks - I stood at the McCafe counter for approx. 2-3 minutes whilst the girl made coffees - she eventually looked up and said "my register isn't working - order at the other counter" - no apology - to which i replied "well maybe some sort of signage would be beneficial" - I then moved to the main counter where there was 3 registers and no person serving and 5 people waiting - eventually one of the staff who were cleaning tables was called to serve customers - I ordered my coffee and coconut pineapple bread to "eat in" which was read back to me "eat in" I confirmed "yes" - after waiting 18 minutes I received my coffee in a takeaway cup - I queried it to which i was told "well thats what they put it through as" - I wasnt going to wait another 18 minutes so I accepted it in a takeaway cup and then waited another 5 minutes for my coconut pineapple bread - a total of 23 minutes - the lack of staff the slow service - the way the staff spoke to paying customers was and is disgraceful

cindy brutcher
from West Monroe, NY
hello I weitnt to mcdonalds in a very bad snow storm to get myself and grandchildren dinner at restaurant nimber1515. it was a wait of 7 minutes in line until I ordered that was fine. after paying at the drivethru window I got to next window . they told me to pull up. ok no problem. after 15 minutes and the cars behind me were driving by me I waited another 3 minutes. I didn't want to go in because my grandson had no jacket for it was taking at an event we were at by someone. but I had to go in the line was long again, so we went in. I asked for manager and the man said I am one of the managers. I explained whats was going on. he spoke to another man and brought me my bags of food. I told him it was now over 20 minutes old and wanted fresh he asured me it was not cold , so I took food out before I left and it was very cold!!!!. I was upset . I said I would like some kind of reembustment he told me only thing he could do was refund me my money. I said im not asking for you to give me my whole meal but one free fry or coffee would be nice . again he told me all I can do is refund u your money. well I was hungery and my gran children were was a long nite at hockey practice.i man 62 and have never been trated like this in my whole life from a mcdonalds. id like something done. like maybe this manager needs to be trained on how to take care of customers when something goes wrong and not be treated like this trying to give me cold food. glad I checked it I should not of had to though. he should of known my food be cold after sitting this long

Mariel C. Pajes
from Makati City, 00
I ordered around 8:30 am (Order #dtcp6z). almost 9:36am still no food arrive. I call up your customer service and he told me that my order is for verification. I repeatedly told him that I didn't received any call from you! but instead of apologizing for the delay, your customer representative still insist that my order is for verification. I want a nice answer and just an apology instead. but I only received a "MAARTE" speaking words from your call center representative.
Almost every week I ordered and always suggesting to order from you because of your fast delivery service.
Until now, while doing this complaint, my order still not arrive!!

Kevin Boswell
from Alton, IL
4 out of 5 orders is usually missing something..
They are rude when I call to complain they will mail me a coupon
It never happens
Store at homer Adams park way
Alton Illinois
62002

RICHARD GALLAGHER
from Arlington, VA
I have complained about this site previously. They do not properly maintain (clean) the iced tea dispenser. Sometimes, their iced tea has a distinctly sour, spoiled smell and taste. I live on iced tea at home and know from experience that tea will "turn" after two days at room temp. I had followed up with this site's supervisor previously, who let me know their procedures & checklists specified daily cleaning. She also told me that on the days in question, their night shift had NOT cleaned the units. This morning's visit was at 0530 this morning just as they opened. I went thru the drive-thru. The tea was distinctly sour, spoiled! Clearly, the units had NOT been cleaned the entire Veteran's Day weekend! Otherwise, how could the iced tea have been so disgusting just at this morning opening? The local food service inspectors should audit their shift records and cite this McDonalds with a fine appropriate for the risk they have subjected their customers. An appropriate inspection placard should be posted.

Sandra Purcell
from Havertown, PA
My daughter had ordered food from the menu and had paid for it at the first window. When we got up to the next window to pick up the food, I decided I wanted a Diet Coke. The gal told me it would be $1.07, I handed her $1.10 (one dollar bill and two nickels). She dropped the change outside the window and told me she dropped it I kept my mouth shut and gave her and additional quarter. When she handed me the drink, it was not full (about two inches from the top. When I asked her to fill it up, she told me she couldn't that it was done automatically. Really, she couldn't top it off.
I am 67 years old and have never made a complaint before,but this whole experience is uncalled for (not a good customer service experence at all.

hope deleon
from Azusa, CA
i went to get something to eat ordereds a 10 piece chicken nugget meal. got to my house and sat down to eat picked up a chicken nugget and bit into it and realized that i was biting downon a chicken bone. its not so much a big deal but i have a 6 year old who was sharing with me snd she would have ate it and choked on it and something where to happen.

Angela Shepherd
from Charlotte, NC
On 11/7/18 about 9pm I went to the McDonald's and ordered a McRib combo and this is what I got after setting at the first window for a while before pulling up to the second window to pay. Then they had an attitude because I pulled up. They folded the meat in half and placed in on a regular hamburger bun that was mashed and then half wrapped it.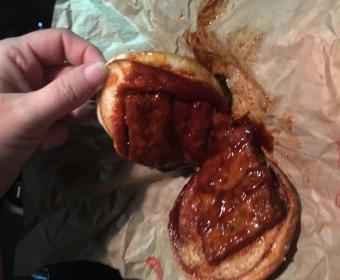 I would like to make a complaint about one of your franchises that is located in Izmir/Turkey. It is the Ege Park shopping mall franchise, where i always order my Mcdonalds via an app called "yemek sepeti" . Today i ordered my double cheese, coke and fries are king size. The app gives 70 mins for delivery. So they did deliver my menu in 70 mins; however, it was really cold and the coke was the smallest size and halfway poured. I only live ten minutes walking distance away from this franchise. I wonder how it took to bring it 70 mins. Even though it did, it was such a shame for i did not get what i wanted. I believe that this franchise is a shame to Mcdonalds image. If you check the comments in the app, you can see everybody complains about their late delivery and reckless preparation. If any responsible reads this complaint, please audit this franchise. I did not appreciate getting wrong products while paying the king size cost.

bob
from Newport News, VA
I went to Mcdonalds 11.07 on and ordered 2ea egg mc muffin meals and the the receipt indicated a mcgridlel and a large sweet tea. I ordered 2 large unsweet teas.and they subs bacon egg & cheese biscuit. THEY ARE VERY UNATTINTIVE AND DONT LISTEN . THERE ORDER ACCURACY IS USALLy 99.9% incorrect THE STORE NUMBER IS 1750. THE ORDER NUMBER IS1389

timmie Cantwell
from Carlisle, PA
Friendly complaint, Your coffee cups, the lids do not seal on the cup tight enough today 11/7/18. I stop to get a cup of coffee while taking a drink the lid popped off. This allowed the coffee to spill down my chest resulting in a very hot moment. I think your organization could design a better cup and lid, so this does not happen to any other of the McDonald's costumers.
v/r
Tim cantwell
Loyal concerned customer
4222 Carlisle road
Gardners Pa.
tcantwell1 2@gmail.com

Cindy Christen
from Canton, OH
I experienced for the first time at a McDonalds, the worst customer service and disrespectful young man, who proclaimed he is a manager, in my entire life. I have patronized the McDonalds on the corner of E Lincoln Highway and Trump Ave in Canton, Ohio ever since it opened. I stop for a sausage egg mcmuffin 5 days a week on my way to work. It is local in my neighborhood and I was glad to do business there. The ladies that typically wait on me are awesome and the nicest people you would like to meet. Right now the restaurant is under construction and only the drive thru is open. As of this morning 11/06/18, they have taken out the normal order stand. I pulled in between 7:45-8:00, after I voted, to get my breakfast sandwich. All I saw were more white barrier horses and a pile of dirt where the speaker was, so I pulled around thinking they were taking orders at the window. There happen to be a lady in front of me who wasn't paying attention to the cars front of, her more interested in her phone, so she delayed orders for about 6-7 minutes. I pulled up and the young man, black hair, black plastic framed glasses, black facial hair, tan sweater, white shirt under it, I wish I would have gotten his name. I went to give him my order...he said he couldn't take it and I would have to pull around and order at the speaker....I told him I did not see a speaker... he said it's out there go give my order there...I asked why he could take my order...he said he wasn't allowed and he was taking other orders...I told him to stop for a minute and take my order for an egg sausage mcmuffin...he told me no and to move, I told told him I was not going to pull back into a long line of cars he created by not simply taking my order....he said "not happening" I told him I came everyday and all the other ladies were so nice, why did he have such an attitude?.... he said "so other people come too" "no problem you can sit there, I have all day, I get off at 1:00" I asked to speak to the manager...he told me he was a manager and he was all I would get...I told him for a manger he does not know how to provide customer service and I wanted to speak to the older lady who manages most of the time during the morning....He said she wasn't there...I told him young man then we will have a stand off...after what seem like a couple more minutes...he finally said "what do you want" I told him, gave him my $3.00 cash, he wouldn't give me a receipt....I pulled up to the pick up window and told the regular girl who was there how he spoke to me and refused to take my order, she called the manager over, she was a younger girl, very sweet, she said she was a general manager, she apologized, told me breakfast was on her tomorrow, because she knew I come there every workday and she would speak to him...I was in tears by the time I explained to them what had transpired...I was weepy, on my 40 minute drive to work and didn't even eat it I was too upset, it really made a good morning into a not so pleasant one....I didn't expect a free breakfast, even though it was a kind gesture and I won't get it tomorrow either... I can tell you this, I will never return to that McDonalds, I will go out of my way to a competitor now and there are two more McDonalds on my way to work on the same roads...even though I like the girls who normally wait on me there...I have gotten wrong orders before or they have forgotten a part of my order, I never complained because mistakes do happen, but the people are nice and service is good, they always chat a few seconds while I wait for the line to move or my food to be ready...Somebody has missed the mark with that disrespectful young man, trying to make him a manager, he is better off working as maintenance where he does not have to interact with the people who keep your restaurant open.
So you know I pass this McDonalds on my way back home and looked for the speaker I missed that started this young man's ill behavior... I saw it sitting between the two barriers, same height as the barriers with a dirt pile behind it and hanging flat with the barriers was a piece of board with order here painted in orange on it, hanging perpendicular with the barrier...you have to swing out away from it as you approach and swing back in to get to the window...the way you come around the building if that sign isn't angled towards the front of the building you are not going to see it...I suspect I probably was not the only one who missed it....I know $15.00 a week is not much money to a corporate company, but it's a lot to me and if your ill-suited manager can't appreciate loyal business I will take it elsewhere.
Sincerely,
Cindy Christen

randy brown
from Elizabethtown, KY
my kids wanted French fries last night at about 830pm. I took them to the mcdonalds near the intersection of the joe prather and 31w in Radcliff ,ky.My daughter had won a free medium French fry from a visit on saterday morning. I tried the drive through and after waiting 5 min and not moving at all I pulled out of the drive through and went in. there was a small 3-4 line of folks ahead of me. I did my order on the computer in the lobby but still had to pay at the counter because of the free fry coupon from my daughter. the customers in front of me were mad their orders were taking so long. quite a few were complaining to the manager. I don't think she was taking the criticism very well. she in turn lashed out at the girl who was running the cash register. I could clearly hear the manager cuss the cashier . the cashier did cuss back after the manager inisiated the exchange. manager continued to berate the cashier , cashier said she had kids and needed her job . I also clearly heard the manager say I don't give a damn about your kids. I watched the manager who was trying to fill the gaps in her team to fill the orders. I watched the cashier take a few orders, handle complaints from folks walking up to the counter, take walk in complaints from un happy drive in customers with wrong orders. those two were working but not together. there were two other employees who might as well have been glued to one spot. didn't help anyone do anything. I think I saw the cashier quit and walk out. I was the last customer in the store and finally the manager asked me if I had been helped. I told her I was still waiting on my order. took her 30 seconds to get me two French fries. I entered the store at 830. I got my order at 857. normally I would have left too but this was like watching a slow train wreck. I kept the reicpt and have all the info from it. please review any security footage from that evening too.
order number 171
survey code
27659-01711-10518-20304-00020-0
mcdonalds restaurant #27659
3120s dixie blvd
radcliff, ky 40160
11/05/2018 830pm
order 71
looking forward to your reply

Shirley shubert
from West Palm Beach, FL
My husband and I recently moved to Florida and located a wonderful McDonalds on Lake Worth Fl. We have never any issues until today. There were separate table with about 20 teens. Not only were there disgusting tables but yelling and screaming. One teen even placed his food on our table and walked away. I politely asked him to remove it. Not one person or manager said a word or cleaned up any mess. I was appalled. The store # was 34868. Please help.
7578 Tahiti ln
103
Lake worth Fl 33467

Janet Brower
from Myrtle Beach, SC
Window employee not helful.when asked for condiments no ketchup.she said they had none.i said the whole restaurant' had none.no just her window.so do without.asked for unsweetened tea,got sweet. Fries cold.im extremely un happy

David M. McGrain
from Levittown, PA
To whom it may concern,
This morning I went to McDonalds to get breakfast for my family. I was greeted nicely from the person at the drive thru and where I paid for my food. After I paid for my food I moved up to the next window to receive my food which was taking a long time to get. When the girl finally came to the window and gave me my bags with the food I asked her for another hash brown and tried to hand her money for it. She shouted to someone there real loud " HE WANTS A HASH BROWN ". She then tells me that I will have to come in and get it or go back in the long line of the drive thru and get it. I couldn't go in the store to get one because I had twisted my ankle yesterday and it hurt a lot and when I had explained it to her she said " I don't know what to tell you " and then closed the window and walked away. I did not go back in the drive thru because the line was real long and the road to go back in is dangerous. Is this how McDonalds train their employees to treat customers? I never ever had a problem with that store but today I felt that it was real rude for that person to treat me like that and that the person in charge that she was talking to should of let me buy another hash brown. Burger King is closer to my house. Thank you , David McGrain

Gary Shipman
from Marquez, TX
Went in recently to the McDonalds at Madisonville Tx to eat breakfast. Ordered and tried to sit down and enjoy my food. The music was so loud and very inappropriate I had to leave. Said something to person behind the counter, she just gave me a "who cares" look and turned around and walked off. There were children present. This music should not have been heard by them.

Shondon Renee LeBlanc
from Charlotte, NC
Used mobile order. Paid for 2 extra chicken nuggets in Happy Meal for my autistic son and did not get them. The 4 I got were way overcooked as were his fries which were cold and chewy.

Rick Fischer
from Loudon, TN
I stopped to buy dinner takeout at your Loudon, TN, location two days ago. The takeout line was full of cars and pickups, stretching around the back of the building, so I went inside to the counter. I found several people waiting for their order. There was a crew of two boys and three girls. None of them was doing anything of note. Hardly any activity was noticeable behind the counter.
I placed my order and waited. The fry cook had a single patty on the grill, which he passed to the girl assembling two sandwiches. These and two fries were bagged and given to a customer with "sorry for the long wait". I saw nothing to justify any wait at all.
For the full time I was there, not a single patty was fried. It became immediately obvious that the bun toaster was controlling the output of product, and the buns were dropping very slowly. When one dropped, another was put in. The sandwich girl mostly stood around waiting for a bun to drop, then assembled another sandwich, and resumed waiting. The fry boy did nothing while I was there, not one thing to speed up product. He once walked over to drop a bun into the toaster, but not one thing else.
That toaster should have been dropping buns at a fast rate, given the number of customers waiting.
The boy who took my order wandered over the the french fry station, stirred them up a bit, then stood there absently scrapping the side of the warming bin for a minute, then wandered back. He did make two cones for a couple, but other than that, he did nothing to move product out the door.
The window girl had nothing to pass through the window. She make a coffee or two for the counter, but other than that, stood there waiting.
The fifth girl had the job of waiting with an open paper sack for sandwiches to arrive, which while I was there, perhaps eight or ten minutes, only happened twice. She then passed the bag to the window girl who put fries in, and passed the bag out the window. They processed two cars all the while I was there.
They all then resumed waiting for another bun to drop. And all us customers waited.
It was absolutely clear that this crew had no idea how to speed up production, no idea how to step in and help out.
But this is what was most upsetting. The bag girl was constantly regaling the crew with funny stories, which had herself in tears of laughter and was clearly distracting the other crew. She had her back to the counter the whole time, oblivious to us customers waiting there.
I finally had enough, and said loudly for the whole crew to hear that this was without doubt the most incompetent McDonald's crew I had ever seen. No one was doing anything productive. They had customers waiting at the counter and the whole takeout line was full, and they clearly did not give a tinker's damn. They had no idea how to work together to get product out the door.
Then the bag girl had the nerve to tell me that I had not been waiting long for my "one sandwich and fries", so I shouldn't complain. I responded that the manager should be made aware of this situation, upon which she declared "I am the manager", as if that was something of pride.
I told her that if she was the manager, she was to blame for the terrible example she was setting for her crew, for their lack of training and their inability to move customers quickly.
Lest you think I caught them at an inopportune moment, the lady behind me thanked me for speaking up. She said, quote, "I eat here most days, and they are always like this". Unquote.
You people might as well hang up a sign "If you have been waiting a long time, We. Don't. Care."

Dennis H Monnin
from Buffalo, NY
The food and service is great. But how do I enter my Trick Treat codes?

LISA MAY
from Madison Heights, MI
facebook video of store on john r road between 11 and 12 mile road in Madison height, shows completely filthy conditions of the store and there is a person walking around with a puppy, quit going to this store years ago and I live down the road...it's always dirty, they always get my order wrong and the management is rude and the caldeans that work there don't understand or speak very good english

Christi Shelton
from Germantown, TN
Your store at the corner of Millbranch Rd and Winchester Rd in Memphis, TN is not being managed well. It used to be my favorite store. Now the service is slow, the orders are inaccurate and there are two bullet holes in the drive-through order kiosk. The kiosk looks scary and is a real turnoff. The service has changed in the last 6 months. The staff is completely different and they are doing a horrible job. Your prior staff worked well together, but none of those people are there now. Please check on your manager there. It is very disappointing how this store is representing McDonald's so poorly.

Joseph O'Brien
from Bainbridge Island, WA
I and a friend went to McDonalds to eat. My frient wanted breakfast and I wanted a hamburger. I also had the latest coupon book from McDonalds
cbook-1007 WWOA V206 which showed a Free Big Mac next to a free biscuit breakfast sandwich. Problem solved, he would get his breakfast meal and I would get the Big Mac. When I ordered I was informed that hamburgers were not served until 10:30 which it almost was. I then had to order a breakfast item which I really didn't want to do. When The items were being served I ask the sales people why is the Big Mac being advertised on the The most important deal of the day page when it can't be served until 10:30? Very irritating!

Jeffrey Oliver
from Danville, VA
On 10/21 at 2:53 pm I ordered 3 filet o fish w/ tomatoes and extra tartar and 1 leg fries. I clearly asked the manager of store 1255 to drop my fish fresh which she acknowledged and placed on receipt cook to order. The fish was obviously recooked, very hard and bitter. This cost 16.50 and was terrible. I don't normally write complaints but this was a I don't care attitude toward me and my request. This needs to be addressed ASAP.

Joe a Vandenheuvel
from Walker, MN
I ate at a McDonalds south of Missula, Mt., Ended up with food poisoning. I have been sicker than a dog for two days, just getting better, and don't dare go very far from a bathroom. I wish there was a way to get compisated for last time and sickness, but I suppose I'll get a free bi mac or something. I called the so called coporate office and got to explane what happened to a phone answering service. No more big macs for me.

Steven Urquiza
from Huntingtown, MD
Visiting McDonald's in Dunkirk, Maryland on Oct. 17th I ordered two hot apple pies to go. After I got home one of the pies was Pumpkin and I hate
Pumpkin. Well I thought a small glitch in the system. Today on the way to work I ordered two apple pies again, well the same thing, one of the pies was pumpkin. The two boxes containing the pies were both marked APPLE. Someone boxing the pies is not paying attention,
Steve

Lester Cline
from Vinton, VA
I personally won't wait on my self we have a store in Harrisonburg VA I have asked for someone to take my order they point at the self order congratulations you are now in the Walmart category I won't go there a whopper is almost as good and they can still pay cashiers it's a shame you think all you need is management

When ever I go to city center mall Doha McDonald's the 24 hours restaurant I Just leave very mad due to the bad attitude from the staff, last time I memorized the name of Bett she is veryyyyy impolite, they also used to serve me not fresh meal, and when I just request to check my food she just through it in the garbage front of me and I just used to leave the order and go. That's really very bad for the name of McDonald's as an international and known brand. I'm so mad because of that as it was not the first time. Please a gentle request to the management team to double check with their instructions

judy freiermuth
from Buffalo, NY
We were planning on having breakfast at McDonald's. We walked in at 10:08 am We waited in line for fifteen minutes. Only one cashier/order taker. We finally place our order, well we tried. My husband said he wanted the Big Breakfast. The manager said, "we are serving lunch now". The ads on television and the sign in the restaurant says BREAKFAST SERVED ALL DAY. People were waiting for coffee refills, they took care of them first.
So what am I missing here? We left . Extremely unhappy. We had breakfast at Tim Horton's.
No problem at all. Very disappointed at your place .Customers behind us, walked out with us!! Not very good, no wonder businesses are closing.

Thomas Kratofil
from Murrysville, PA
On Oct 14,2018 My wife and I went to McDonald on Rt.22 in Delmont after Church that we been doing for years, both of us are in the high 70ths. When we got their the place was locked and they had a sign on the door saying (Due to lack of employees we cannot let you in) and that you have to go through the drive through. If you had to use the Rest Room you were out of luck. Cars were lined up off of Rt. 22 coming in to McDonald and they did not know what was going on. Either shut the place down or get a Owner that knows how to run a restaurant. My wife was Head Manager at Kings Family Restaurant for 29 years and she said this is BULL.. There is a McDonald down in Murrysville but that is like 20 miles round trip from were I live. If you have one thing like this happen and the word will get out and make McDonald look bad. I would appreciate it if you would look into this matter and the owner. They would have been better off if they would have shut down the entire store till they got enough employees to run it. There been employees of this McDonald store that should never have been employ their. I live off of Rt.66 and my name is Thomas Kratofil I live at 303 Evergreen Ct. Export Pa. Phone Number 724-468-3744. Thank you for your time.

Samuel Williams Jr
from Fayetteville, NC
I ordered two number 3 combo meals double quarter pounders. My burgers was half cooked I happen to be eating the burger in the dark watching tv and noticed the color coat of the burger as well as the upset feeling I was getting on my stomach. I have pics of the burger and called back for a refund. My question is how are y'all going to accommodate me for my upset stomach and throwing up after consuming this burger. If I have to I will seek legal action with my paralegal.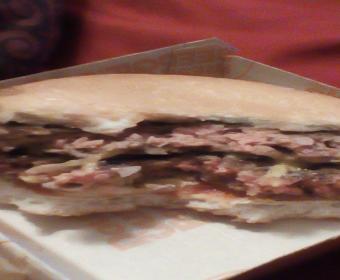 Dr dave
from New Hudson, MI
I was at your strore in warren Michigan 14 mile an Ryan service sucks no Americans working it took over 10 minutes to get my food manger must be 15 yrs. old would not help she maid use your rich screen I'm color blind so a customer help me I'm looking into a lawyer!!!!!!!!!!!!!!

Linda McCartney
from Dallas, TX
We are encouraged to tell about our visit (by wwwmcdvoice.com).. I do it after each visit and always use the validation code to receive free items. It takes my time, but I always use the coupons before they are declared invalid. The last three visits I have turned in the receipts with the validation code on them, still within the acceptable time frame. They did not honor them. Two of them were for BOGO egg mcmuffins and one was for coffee. What do you do for your customers, when they are lot treated fairly?

Went to McDonalds on 10/09/18 with my family. Ordered myself a double cheese burger and fries and coke. When I got my burger the cheese was not even melted and the meet looked dry. You could tell that the burger was cold. I talked to the manager (Monica) and told them if they can make me a new burger and all they did was heated up and gave it back to me with the cheese almost being liquefied. I return their burger back and told them to keep it and walked out. This happened at the McDonalds in El Paso, TX Store # 5581.
Don't know why they hire young kids that don't know how to provide customer service.
Thank you,

Jazzmine
from Bakersfield, CA
To whom it may concern I was at the McDonalds on 8400 Rosedale highway enjoying my favorites the chicken burger and the chicken mcnuggets and I saw a group of five vegetarians eating your food so I thought it would be a good idea to put real meat in your food if you agree please contact me back thank you

Diane Herrle
from Kailua-Kona, HI
I ordered a spam and scrambled egg breakfast. It comes with rice! I asked them to keep the rice . I also ordered a large coffee and a yogurt parfait. I paid and they gave me the food. When I got home I noticed that they gave me egg and rice but no spam. I was so hungry I ate the egg then I took it back. I told them they had messed up my breakfast. They took the rice back but would only give me the spam they had not given to me. I asked them why they did not give me the egg cause they were the ones that messed up the order! I talked to the manager but she would only give me the two pieces of spam! I like eating the egg and spam together! The manager did not understand the concept that they messed up my order and should give me my whole breakfast back!! I didn't accept the two pieces of spam cause I don't like eating it without the egg!! So it was a huge time waster and I went away feeling cheated by the management! When t went back to the order taker admitted her finger slipped and that is why my order is messed up!!

Phil Clark
from Mt. Pleasant, SC
I am unhappy about and plan to boycott McDonald's for trying to push out Customer staff relating to me at the front counter. The installation of and pushing kiosk order stations is not the personal character I expect and have come to enjoy in the past when I walk into any McDonald's nationwide.
I believe that this is an attempt to take more people out of the work force as well as it depersonalizes the ordering and eating experience in your local stores. I appreciate talking with an employee and I believe that there need to be fewer machines doing things people are capable of doing. I like the food McDonald's however, I will not continue to go to McDonald's if there cannot be personal employee service at the front counter.
One other comment; the hand cooked Quarter Pound Hamburger that was offered for a short time I really loved! I hope it might be offered on a regular basis or permanent basis. It really brings out the flavor so much more and is worth the money you charged for that service and fine food.
Thanks for listening.

julia Flagg
from Plymouth, MI
September 17th, Store #12012 Northville Township
The store was nearly vacant at 4:49 in the afternoon, it should have been busy. The only two guests present complained that they had been there waiting for their orders for over 30 minutes. They said the service has declined steadily after the remodel. I ordered an ice cream sundae, which after 4 or 5 minutes I was handed the sundae, no peanuts, so I asked again for the peanut topping. The employee then went around the corner and then returned with the bag of chopped peanuts. This did not appear to be very efficient for the workers. Upon leaving the building, I realized the employee overfilled the container, not securing the lid, and ice cream and chocolate was oozing all down my hand and arm. I stood in the parking lot and ate what I could with it all over my hands and the parking lot. With no trash containers in view, I walked back into the store to throw the mess away and used the restrooms to wash my hands. Clearly something is wrong with this store!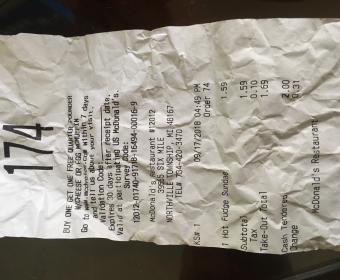 Went through the drive through about 5.30pm 22/9/18, one car in front of me. Ordered cheese burger and a large cappuccino from Holden Hill SA. Received burger but told to wait in waiting bay for coffee but couldn't say how long the wait would be but told it would be wait. Waited for a while and gave up Paid for product didn't receive.

Kathy Brabender
from Madison, WI
I love the SW salads, but his time the chicken seemed half the normal size and very dry.
There was so much lettuce and spinach it was like I was eating a plan lettuce salad.
It was horrible.
Resturant #13480 - 9/19/2018 - 5:30pm

Scott Kremers
from Charlotte, NC
The incompetence of your employees at the Arboretum shopping center store in Charlotte N.C. is staggering.Twice I've left the store because of (1)unreasonable delay when attempting to order and (2) an incredibly long wait ,along with 12 other cars in the drive through lane after placing an order.With no movement of the cars ahead of me I parked my vehicle and entered the store, Customers were waiting to be acknowledged,but were being ignored. There was one employee serving the drive thru,too busy to take orders from the customers inside the store. The only other employee present appeared to be the cook.A women and her daughter had waited so long that she requested that a fresh batch of french fries be prepared,not wanting to eat the fries that had been sitting for God knows how long. I received a surly response from the employee,telling me to get back in the drive thru and wait my turn. At this point I canceled my order. I will never frequent that establishment again. In fact I doubt I will ever eat at a McDonalds again . I rate my experience a negative 5 stars

Kate Evans
from Manhattan, KS
It isn't worth the time nor the food to tolerate the rude dismissive service my party had to put with at Westloop McDonald's in Manhattan Kansas. The mornings you are treated with respect. But the incompetent staff of the evening made several people wait too long for their food, while those coming after them were given their food quickly. My guest was finally given 2 undone quarter pounders and the fudge sundae was melted as they left it on the warm counter too long while the rest of the order was being under cooked. (that is how stupid the staff is) I watched this and is when I went up to the clueless manager & told her 3 people were served & given their food AFTER my guest and another poor patient customer had ordered and had to wait and wait. I refused my cone, told her I wanted my money back and I was turning them in for their socializing with people instead of paying attention to their customers. Why in the world would we have to wait nearly 30 minutes for 2 hamburgers, a melted sundae so that the staff of McDonalds can socialize with the few people who came in they recognize? No respect for their customers, taking advantage of the politeness of paying customers. I will never recommend McDonalds to anyone who wants to come in for lunch or dinner. They gave other people their cones quickly after ordering, WE & another person were ignored and with the given the ice cream has melted? We paid for this garbage!???

jack Grodner
from Dayton, OH
Sat. Sept 8th I went to the McDonalds on rt 48 south in Centerville Ohio about 6:30 pm I ordered a hamburger, small fry, a cheeseburger, a quarter pounder with cheese and a large fry. Due to the long line behind me I did not check my order which I believe a customer should not have to due, and my order was not complete. They forgot to include the hamburger. I am not looking for a reimbursement, but I feel it is imperative that your employees check every order for accuracy before it is handed to the customer. Thank You

Brendon Louth
from Toronto, ON
While pacing an order of a Mac and two large fries,I had to repeat myself 4 times Because your server SHERIFF Did not know WHAT A MAC IS The man was just rude, he informed me that he speaks 4 different languages but did not seem to know what a MAC to me as a customer this is unexeptable.this happed AT Queen and Javis Toronto. I will put the word out to all NOT TO EAT ORDER ANYTHING FROM THIS LOCATION UNTIL THIS MATTER IS CORRECTED. YOURS BRENDON LOUTH.

Jason McKinney
from Chicago, IL
Went to the McDonalds in Southfield, Mi on Northwestern highway by 12 Mile and ordered a Bacon Smokehouse combo in the drive-thru. The attendant asked me if that was what I ordered and then still gave me the wrong sandwich. Got a plain chicken sandwich.

john estabrook
from Greenwell Springs, LA
I called the store in central on hopper rd within 30 minutes and they said they had the new chx tenders. went down and they were out. for this store it's not the first time they just wanted you in and didn't have the product. mickki ds in central sucks.

Jerry W McCoy
from Monroe, NC
I'm probably wasting my time. But, here goes. Customer # 253, time : 11:39am 9-6-18 ,Store # 2601, Monroe, NC 28110. I told the manager (Taych) the diet coke was out. I stood there for a response. So I said sir, what about the diet coke, he turned around and said with a very smart attitude, did you not hear what I said. I said you have not responded to me and let me know anything after standing here for 5 minutes or more. He turned around with an attitude and ignored me. People like that has no place in public work.
I expect a response in a timely manner, if not, I will put this whole experience on Face Book, and Twitter in capital letters McDonalds experience in Monroe, NC , Store #2601.

ziggy
from Independence, MO
went into mc donalds in pleasant hill mo 64080 on 7 hi way
and order the two for five this was at 9:20 pm i was very hungry
hadent had anything to eat all day they take my order and while
i am waiteing for my food i nappened to look back were the food was
being made and notice that the person makeing my burger had one glove off
handleing my bugers with a bear hand he did us the the thongs to get the burger out of the hot tray but put them on the buns with his bear hand
so i ask for my money back and they gave it back but the guy kept comeing up until i left giveing me dirty looks
thatwas totally un called it not my fault he had a glove off doing his job and why would he have one on and one off
i told the front counter that i wanted my money and the reason and she told him to put on his glove and he did
but befor that he had served about four or five orders with no glove on bottom line i will never eat there again thats just to nasty for me
and as far as a rateing that place gets a big - 1000

Caro McCutcheon
from Collins, MS
I have been a Golden Arches fan since 1950. No more. My friend and I went in for iced coffee lattes. We did not want to use the kiosk so we went to the counter. After an extended wait, the manager finally noticed us and asked if we had been served. No. He instructed the male mopping the floor to take our order. He attempted to do so after he wiped his hands on his apron...hardly sanitary!! He was unable to place the order..after many questions..and called the manager over. After an argument and with much difficulty, the manager FINALLY succeeded. As we stepped away from the counter,the man behind us was also obviously irritated that he had a repeat his order for a hot fudge sundae twice. Since then, I have spoken to several other people who have had unpleasant experiences since then renovations and will take their business to Wendy's rather then to return there.
As for the new renovations, all the chrome, low counters, emptiness, kiosks, etc would be appealing...IF you were an ice cold robot. It is hardly warm, friendly, family oriented atmosphere that was the original appeal. I suppose the next move will be to redesign the McDonald clown as a robot

Jo Ann Maples
from Seguin, TX
McDonalds, Seguin, Texas.
First the young girl that took my order had the attitude she could care less about my order. Second even with the cashier she could not count my change back. Third after waiting 20 minutes for my order and not receiving it I decided to ask for my refund. Which I received. The Seguin McDonalds needs a better manager!

Ronald Wells
from East Orange, NJ
Hello to all I hope this complaints reaches you of right mind body and soul. However I experienced an encounter in one of your locations in Elizabeth by Division and Trumble Street that disturbed me. The manager during the graveyard shift refused to give me his name for this complaint after I complained about his credit card machine being down repeatedly during these hours forcing people to use cash from atm inside. In addition, it was reported that this store refused to grant a receipt for purchases made in cash. This led me to believe theft of money is going on during these hours. The Police were called but took some time to respond so I was forced to leave and go to work. The manager even refused to give me my order of Sausage mcgriddle, after mistakingly giving me the bacon mcgriddle. As a result, he refunded my money and refused to serve me my correct order. Another employee got involved by calling names as I video taped his actions.

ronnie terrell
from Louisville, KY
I went to mcdonalds at 330 today and ordered chicken tenders he told me they were out of them and would not have any till tomorrow how can a multi million dollar business be out of a product at 330 in the afternoon we have some bad management or something I don't understand please explain. the location is at us 42 prospect at timber ridge dr 40059 there is no excuse I was really pissed

Sabrina Burnett
from Minneapolis, MN
I went through the drive-thru yesterday and ordered 2 other breakfast items and an egg McMuffin with no meat. I looked in the bag when I received my food, saw 3 items, and saw that one had the white sticker on the wrapper, so I drove away, believing my special order was correctly handled. When I got home and unwrapped it, however, my egg McMuffin (correctly) did not have meat, but also DID NOT HAVE ANY EGG. It was an English muffin with a slice of cheese. That's all. The sticker on it said no sausage. It did not say to hold the egg. This menu item I order ALL THE TIME at that restaurant (and receive correctly most of the time) because it is my favorite item, went out missing the key ingredient: The egg. The other menu items were correct.
This was the restaurant at 5400 West Broadway in Crystal MN. The receipt is almost useless because there was hardly any ink in the register, so I can't be sure, but it looks like it might be store number 581, or perhaps 531. I couldn't make out the phone number because the receipt was so light, so I had to google the phone number. I called the restaurant twice and it just rang and rang; I never got to speak to anyone so it was never resolved. This was not during lunch or dinner rush, this was 2:30 in the afternoon. It was a very frustrating experience.

Terry Lovato
from Montrose, CO
McDonalds here is getting worst as time goes by. First I was buying quarter-pounders then they are now letting not cook all the way. I call them had to take it back to them and was told they are suppose to leave then a little bloody the Corp told them they stated. Now tonight I went and bought fries and guess what they are pinching the cup to give us a lot less but for the same money. First time I was told to bring back the quarter pounder and which I did and they give me another one just as bloody as the first. I had to drive all the way back there just to get a bloody burger again when I call they said they could not return my money but could exchange it for another. I waste to much gas running back and forth just to get a bloody burger again. I believe the next step will be to report it to a higher office.

tara brown
from Dallas, TX
I am a very upset customer with McDonalds (2) locations i visited last
Night was very unprofessional and I will never visit those locations
Again the McDonalds on Illinois let us sit in the drive thru for 20 minutes
Only to tell us they ran out of hamburger they only had chicken, now that
Is all well and good it happens but no one came out side to announce it
They just let the lines pile up we ended up leaving and once we left we seen
Two employees coming from behind the bushes smoking weed, we then left and
went to the McDonalds on 35 and Keist it was worst all of the employees were sitting
Around talking from what we could see inside and the lines were piled up and once we finally
Got to the intercom we were then told they were out of one item we wanted so we
proceeds to order the remaining food and we stayed in line 15 min one person order a big order
So instead of them telling him to go park we had to wait and once i
Got to finally get my order the fries were threw in the bag and cold they were not in the
Holder they were just in the bottom of the bag and cold i got a soda that i did not order
And the clerk asked me several time my order saying very rudely i just got here. I am here to say I will never go to either one of those location again.

Victoria Farley
from Macon, GA
Today 8/18/2018, I came today to speak with the General Manager Mrs. Sonja of Day Shift, my daughter works there and they always having words, so I took her to talk to the General Manager, since she the only one my daughter having problem with, I asked her to come outside to have a conversion, after we talked, she didn't know that I had came in the Store behind her, everything we talked about outside she came in and was telling the other staff, that my daughter is a grown woman but she got her mother to come up her questioning me, and was repeating everything to them.
There have been many time she had words with other employee, she unprofessional, messy, and very childish, and very petty, how can you manage a store if your employees have to fuss and curse you out, then she will take the person off schedule for two week because they voice their opinion of how she do things there.
Signe is a very hard worker and she always come to work when they call her to come, but this Sonja is the only one she have problem with, today the night manager even call Signe to come back to work, after Sonja sent her home around lunch time, just because she questioning her.

Ronald Kendrick
from Gastonia, NC
I witness a shift leader berating an employee in front of customers of and her co-workers for no apparent reason. His name is Antwain Cunningham at the Mcdonalds on West Franklin Blvd Gastonia, NC. This is the second time in this Mcdonalds I have witnessed his behavior. If he is in management and behaving that way I will stop bringing my family and tell my friends not to bring their families either. He was out of control cursing, swearing. In my opinion, I think he is power happy and should not be employed until his attitude is adjusted. The management team there
must really be desperate if they allow him to continue to work. I was so intrigued I asked other employees about him and they said he has curse them and their parents. Mcdonalds surely you can do better. I own a small business and if I were to talk to my workers in front of my customers that way I'm sure my business would suffer.

kevin delong
from Fort Wayne, IN
When the alleged give away of the Big Mac coins was announced I went to 4 McDonalds in my area starting at 11 Am. I was told by all 4 stores that they were sold out. Very strange all 4 sold out 1/2 hour after the minimum start of being able to buy them at 10:30 as before that only breakfast was sold.. Found out by employees that assistant Managers and store managers were not issuing coins and holding them back to sell on ebay or trade for cash under the table. Found on ebay over 1,100 listings for MC Donalds coins. What the employees told me was absolutely true

McDonalds Complaint, 17 Aug 18
On 17 Aug 18, I walked into the McDonalds's N. 15635 on John Young Blvd in Orlando FL to order a meal. I ask the attendant if they offered military discounts and she did not know so she asked the manager (Shawanda?) and she offered a 10% discount. I asked for my free Friday med fry and she did not know how to do that and asked the manager. She ended up canceling my order and reentering it. She said to place my on phone bar code into the reader. I tried to bring it up and it would not allow me to bring up the free fry code. It kept telling me to relog in. I did about five times and then tried to reset my pass word. The app asked if I wanted to reset my password to log in. I tapped on it and it dropped me into a loop and would not allow me to log in. I asked the manager what I should do to get my free fries and she said to enter in the barcode for the scanner. I explained the app would not allow me to do that and asked her what to do. After her telling me and me reexplaining it several times, she out of frustration provided the free medium fries. When she printed off the receipt, I noticed I did not get the discount anymore and pointed it out. She said I did not get the 10% discount anymore because she gave me the free medium fries. She then provided my hot fudge Sunday and I had to ask for a spoon and nuts.
When I went up to ask for the spoon and nuts there were two others having the same problems and received the same response (it is the customers problem and/or corporate).
I was not impressed with her problem solving skills and lack of knowledge of customer relations.
I provide this to correct a number of issues identified so other customers do not have the same negative experience.
Thank you.
Curt Read
4630 S. Kirkman Road, #416
Orlando, FL 32811
253-227-6995
curtread@hotmail.com

Ray Ford
from Broadbeach, QLD
This morning I ordered a sausage n egg a bacon n egg muffin with a hot chocolate from the drive thru I was about 1 minute up the road when I started eating the bacon n egg which wasn't very hot to start with but still continued to eat it anyway when half way through it I felt a crunch of a piece of egg shell and immediately with discuss spat it out the window and then proceeded to turn around and go back to complain about my finding and when speaking to the manager that was there about it he asked if I had brought it back with me I said no I hadn't as I instantly spat it out the window where he explained back to me that without proof he cant do anything about it so I queried him about that if I did bring it back that he was actually going to physically sift through some chewed up food that I had already crushed in between my teeth as proof I think not and as I looked to me he was in a bit of a hurry to go home and in my view was very rude about the whole situation so before I lost my temper with this manager I left disgusted with the whole experience hence why I am now putting this complaint in which has put a real shitter on the start of my day other than that the service from the girls was always a pleasant experience as I frequent that store regularly , thank you R Ford

Isis Billings
from Miami, FL
I applied for employment on August 10, 2018, I understand for reasons unknown to me that I was not hired, The problem is that I called to find out if a decision had been made since I went to an interview, Lilibeth the Manager said that I was not hired because I was a felon! I said what! I just graduated high school and I'm going to college and to be told I was a felon, over the phone really distrubed me, I was shocked, and hurt! Did she say this because I am a young Black American, was it because the way I look, I just don't understand why! I can't understand why she would say that to me over the phone. I have NEVER been arrested or in any trouble, because of this I will NEVER eat at or go to the McDonalds located at 6150 South Dixie Highway store number 792, I would like for someone to contact me about your policy and why the Manager would treat me like this, I can be contacted at 7863469714 and email Tilisab35@yahoo.com

Jacqueline Pearce
from Garner, NC
I went into the McDonald's in holly springs and couldn't believe what I witness. I don't know what the circumstances were, but a manager called an employee the devil... Not in jest, but to be mean... The employer!looked like she wanted to cry it hurt her feelings... And it was bullying... I left... I hate that I left before getting names... I was just so angry

Rosalie Wilson
from Evansville, IN
I have the worst experience at Mcdonalds on Broadway Drive; in Hattiesburg MS every time I visit that location! There is a manager ; young African American female, that is so rude and disrespectful! I ordered and was asked to go to a space labeled #2; after sitting for 15 minutes; she comes out and ask for my receipt; and then begins to tell me that my order was given to another vehicle; I just told her to refund me. After following her into the establishment ; she proceeds to get loud; and be very unprofessional; and gives me an amount not equal to the amount tendered. I paid $20.11 and she attempted to give me a little over $18 back which was the amount before taxes were added! This location is HORRIBLE! There are too many "kids" working there that clearly knows nothing about customer service! It is so sad when people have to drive 20 mins out of their way to get McDs; because that location sucks

susan medrano
from Gainesville, FL
i asked if i could have my big mac off the grill and the manger was rude and told me why did i say anything and told me i was not getting hot fries i got my money back

Fred Beyers
from Southfield, MI
While I understand that the majority of the business at your outlets is through your drive-throughs, as long as you have inside dining it seems that as long as you continue inside service, it should actually be SERVICE.
I also realize that the training of two trainees contributed to this morning's lack of service. When I entered your establishment, there was one customer ahead of me who had apparently had difficulty getting her order read from her phone, the kiosk, or something--anyway there were three people attempting to straighten her order out to no avail. The shift manager then came to help and after a while got it kind of straightened out?? and then proceeded to take the orders of two employees at the second register while the trainee took my order at the original register and gave me a ticket. Meanwhile I believe two, if not three individuals were involved trying to get the order ahead of me done not sure what the problem as it wasn't a huge order--a little over $6 I believe--mass confusion--finally after a total of about seventeen minutes I simply asked for a refund and left--the manager was very apologetic but I felt that I had been more than adequately patient.
Perhaps you should simply discontinue inside service.

John dimatteo
from Pittsburg, KS
I made a complaint to Corperate already. I ate at the McDonalds in southpoint ohio at the Wal-Mart and I got sick the next day I thought at first I had the flu so I stayed in bed for two weeks then I started showing signs of hep a so I went to the hospital and they told me I did so I reported it to McDonalds Corperate I was there with my girlfriend it was on the 15 of July she returned her food cause she took a bite of her burger and it was still bleeding I had already ate mine and I don't eat out a lot so I know it came from there the store is dirty.. Your insurance company called me took all my info which is American family insurance the claim number is 00225242737. I have a lawyer looking into it... The lady I talked to is trying to close the case cause she says that I wouldn't have had hep a symptoms the next day she don't understand cause I got sick from the food the hep a symptoms showed up two weeks later when my pee turned reddish and my poo looked like clay so I am right and if this is how McDonalds and their Insurance agents treat people that's messed up I know where I got it and I'm not going to drop it this shit could mess up my liver for life and who knows when or if it will leave my system I read up on it and everyone is different..and I will drag McDonalds threw the mud if you all disregard my case I will YouTube it ill stand in front of any of your stores with a sign I really don't care I just know this is messed up and if this is the way McDonalds treats there costumers that meased up and the world will know I will make it my life goal you can bank on that no threats I promise..... 304-962-0518

Mary M Friedline
from New Port Richey, FL
Went to the Mc Donald's (#21597- 8937 Rancho Del Reno 34655 hard to read receipt could use ink in machine) and ordered 4 bacon egg n cheese biscuits. And then proceed to go home , which is about 4 minuets from there. When I got home and took the sandwich's out of the bag and unwrapped them, the biscuits were hard . Not just slightly hard, I mean HARD. I have gotten breakfast sandwiches numerous times before and never had a problem. I was just wondering if any biscuits left over at the end of the day was used the followering day. Thank you for taking the time to read my complaint.
Thank

Pamela Greer
from Mission, TX
waited in line for almost 8 mins after ordering. Was there a total of 14 mins drive thru. Ordered what I order every other day... Large coke light ice and sausage and cheese mcmuffin.... no egg as I have reactions with egg. I didn't even pay attention to receipt, as I deal with same lady in morning and was just chatty... plus in a time crunch to get to work on time. got to work, was in my morning meeting came out to eat- egg on sandwich... check my bank account almost $5 taken out... my total is always 2.37 so I know I was charged for a sandwich I always so no egg on. Not happy. Now I cant eat till dinner tonight.

Refilwe
from Johannesburg, GT
Carlton center- The service is poor ,orders take long and they don't provide straws ,serviettes and ketchup for take away orders. And don't know how to handle pick hours and towards months end.

mae fallowfield
from Sun Valley, NV
the mcdonalds in sun valley Nevada sucks and the workers don't listen to what the customers want every time I go through drive thru I tell them ice tea with lots of ice and I get the tea and no ice get workers in there that don't have their heads up their asses are you may lose a lot of customers I rate you at no stars

Gregg Carter
from Seaside, CA
Piss poor service. I went to mcdonalds in sand city California and waited more than 40 minutes for my order. One staff member kept calling for order #268. He kept calling it so I went to the counter and asked if the order was mine and was told by the shift manager Lana that "it was still in the oven and it will be a few minutes for your order. Lana said the customer for order 268 must be in the rest room. I went and looked and I was still the only customer in the building. I was called to the counter for a bag of apple pies. I asked where is my order and they said that it was the order #268 that they kept calling. I am furious beyond imagination at the total ineptness of the people that are representing your brand/store. Sum total of my time spent was more than an hour. I asked for a refund and left the cold food with them. There was more ineptness because she did not give me the 2.99 for the apple pies that I left there. I am not going to end this until these two people are reprimanded. The names are Mgr? Lana, and the person Harold who took my order and did not even check to see whether it was my order, when asked about the order he shrugged and that was it!!!!!!!!!!!!!
I will pursue this until my satisfaction is met. I am now on my way to Jack in the box to buy there. This episode is absolutely untenable and inexcusable.
At my consultant fee of $102.00 an hour I will have by the time I go to Jack in the box and back will have been 240.00 dollars. I would if possible like to speak to headquarters concerning this horrendous service.
Gregg Carter (831-747-1664)
p.s. while I was waiting for my order she had the gall to be at the counter eating a hamburger instead of attending to her customers orders.

michael vialpando
from Phoenix, AZ
I ordered a cheese burer with no catchup and still got burgers with catchup

Constance Mitchell
from Brooklyn, NY
I placed an order on mobile app. When I reached the McDonald's at 875 Garrison Ave, Bronx, NY 10474. I informed the cashier that I was there to pick up my order. She stated you have to check in. I showed her the app stating that they see me at the location. She said you have to check in. When I tried to check in the app showed that there was no internet connection. I explained that to her. She said, "oh well you have to purchase the order again." I said, why when the money was already deducted from my checking account. She proceeded to take orders from other people like I was not standing there. Eventually, she said to cancel the other order. I explained that I do not know how to do this can you guide me. She stated, "I don't know how to do it." I ask to speak to the manager. She said, "I am the manager." I ask for the number to corporate office. She said, "look on your phone." At that point, I was very disappointed with the services I received from someone that has the title of manager. I went outside and contacted a mobile team representative. The representative told me to re-install the app to my phone and the order should erase. I went back inside and waited to be serviced and the manager that was taking the orders had disappeared. There was no one standing there to take orders. I said to the worker that was handling the food, is anyone coming to take my order. She stopped what she was doing and came to help me. I feel that I paid double for my breakfast. I feel that I wasted time when I was due at work. I am very unhappy with this location. Every time there is always an issue. I had two previous events where I used my card to purchase food and someone obtained my information and spend $49.00 in food and then proceeded to make other purchases at order merchants. Also, I used my credit card there and was told it decline. I went back to the job to get my other credit card and to obtain cash, just in case. My card was declined again. The same manager decided to say, "oh the credit card machine does not work." This is my fault for going back and patronizing this establishment because the service there is horrible and the employees lack proper training in customer service. I do not have money to give away!!!!!

DIANE BERRY
from Shelbyville, TX
I ordered food at the drive thru window . when I went to the window to get my order the young lady started handing me the wrong drinks. I told her I didn't order the items given. she had to ask for my receipt. after looking at my order. I was told she gave my order to the car in front of me. told me to pull ahead and wait while they had to make my whole order. this took at least 20 minutes. I was not given a sorry or anything such, not even an offer for a free drink or sandwhich.
very disappointed , my family uses Mcdonald's several times a week. never had any complaints. an apology could have at least been given.
thank you

Jennifer Daniel
from Shelby, NC
The McDonald's I went to tonight I had ordered a buttermilk sandwich and when I got home to eat it, it tasted like it was not cooked fully and had to end up throwing the whole sandwich away. I refuse to return to that McDonald's location since this is not the first incident like this and I'm tired of wasting my money on something that I have to throw away and the company will not compensate without having to waste gas to return to the same location.
Restaurant #11438
Order #86

Frank Guzzo
from Prairie du Sac, WI
The service is GREAT ..The burger was raw in the middle and I did not see it untill I had eaten half. brought it back to the. counter. The manager in charge,looked at the meat and agreed. She replaced it. Second one was raw in the middle. She informed me the kind of the meat has been changed recently and when heated up to temperature, it kills all bacteria in the meat. Needless to say, I had an upset stomach all evening. I won't be ordering hamburgers again, and passing the word onto my family.

Charlotte Jadicus
from Ipswich, ENG
Just been to MacDonalds in Colchester Stanway . Was told that i cant go though drive on my mobility scooter as i cant get into store with scooter. The lady was laughing at me .
This is not the way to treat customers and will be getting some legal advice about this . Macdonalds are discriminate against people with disability's

Keyisha
from La Grange, GA
Went to macdonalds on commerce ave in Lagrange Ga I advised the woman over the drive threw speaker that the dinner side was not lit up just the breakfast side and she said theres nothing I can do about that so I took my business else where....

Tim Walker
from Johnson City, TN
McDonald's advertises free fry Friday with the app then when I visit the store here in elizabethton, Tennessee today at 4:30 pm I order 4 cheeseburger 2 large fries and the Friday free fry... I pull up to the window and the girl taking money informs me she has no idea what the free Friday is... so..... I just buy the 2 lg fries and 4 Cb.. pick up my food at the next window and drive 3minutes to my house from McDonald's we get home sit down to eat and the burger is as old as I am, the fries are cold... I'm not happy at all..

i recive the worst service my oder was wrong and i wanted them to fix and they said they dont have to very rude

wendell murray
from Lexington, KY
tried to go into the store and the front door is locked (7:46am)but they are taking orders in the drive thru.i went to the window and told the manager and she just looked at me like I was crazy and left the window...

daisy aldridge
from Springfield, OH
I have been to this mcdonalds a lot and always so slow as needing help I assume. tonight long time to wait on in drive thru and then got cold fries again as I knew that upon leaving but the line too long to go back. . had enough of this mcdonalds. one car pulle d out from waiting. . went ahead and ate now stomach upset. #34778 .1480 hillcrest ave. springfield, oh 45503 7/26/18 1007 pm. order 63.

Darleen Dankert
from Madison, WI
Was in drive through line, cars all over the place no one was taking people's order some left I went inside to order a hot fudge sundae and after waiting 10 minutes was told no hot fudge. Finally got my money back.
Help all over the place but not paying attention to their job.
THIS WAS ON NORTHPORT DRIVE MADISON WI?
That place should be shut down or a manager who knows how to manage go in there and clean up staff and place. No one is in uniform and they saunter in and out as they please. Will never go back.
Should be a 0 on your rating scale.

Connie Phillips
from Hixson, TN
I am very upset that the last three big mac I have ordered were very dried why have you cut back on sauce that what makes the Big MAC so good please if you have to cut back on something don't put so much lettuce big macers love the sauce now all you have is a plain burger thank you Connie

hasmukhlal gandhi
from Monroeville, AL
on 24th july 2018 around 12.30 pm central time i went to mcdonald on exit 11 on I 85. north of montgomery..AL. four stupid cashier were talking and enjoying gossip and myself going from one cash register to another..they dont care about f. customer.i waited for few min. watching this idiot talking loudly on business premises busy with one customer. WHY THEY care for customer..After close to five min. one cashier came and took my order.
Then my wife gave order and the cashier charge close to four dollar. No meat in sandwitch only bread , one cheese and tomato ..Vow four dollar u bastard are f. Worst than beggers..?????? Shame on the whole F. MCDONALD CHAIN.?????
HER order came without f. cheese.,.Lucky she open in front of cashier and the lady cashier told cook to prepared again. NEVER EVER ENTER IN F. MCDONALD in LIFE.. what a f.. MCDONALD IS ??????. FIRE ALL STUPID BLACK IDIOT ASS doing nothing and taking paycheck. Go and see the video....

Juan Failach
from Jensen Beach, FL
I was accused of "racial slur" and trespassed from McDonald's. I'm an old Hispanic male with Indian Indigenous blood. I have never ever been a racist. A week before the trespass notice. The African American lady named " Diedre Edwards" was going to give me a contaminated Chicken Sandwich. I physically saw her use a dirty glove to make my sandwich and I asked for my money back. I also filed a complaint with McDonald's. On 7/23/2018, I was notified by Ms. Edwards that she was calling police and that I can no longer come to this McDonald's and she said all of this with anger and furry. I was humiliated and now have a record for what? being a racist? I have never in my life have been or will be a racist. I don't care if Ms. Edwards is African American or blue or yellow I could care less. I care that that her hygiene and dirty nasty manners. She tried to kill me with a contaminated Chicken sandwich. This McDonald's is located at 3199 SW Port Saint Lucie Blvd, Port Saint Lucie FL, 34953.

Diana Dalman
from Berne, IN
Called Customer service line 1-800-244-6227 was on hold over 10 mins hung up. The Only McDonalds in my town,m store #6306 is getting unbearable. I eat every morning sometimes 2 times, but after today can't take it. For three days the sausage mcmuffin was so dry a child got choked on it. I realized that the muffin was out of package not toasted with semi cold sausage and given to us. I finally spoke to manager Jane, said her GM Manager Angel, told them to serve them that way cause the TOASTER was broke oh my goodness that is too much to even imagiine. I waited in drive up line for 20 mins and there was only 4 cars. Hashbrowns was cold. This is the worst service and food ever. Was told by a former employee and not out of spite, that the health dept would close them down how nasty the kitchen is. WHAT IS GOING ON????

Wanda Roman
from Jamaica, NY
Don't like the new mcnuggets. They are tasteless. Don't even taste like chicken. Please bring the old ones back.

Jessica stevenson
from New York, NY
I was trying to go im the lobby on Friday 7/05/2019 at 12:22 am when the red head heavy set manager yelled from her car and told me the lobby was closed thats when i smelled marijuana coming from her car. So i processed to go to the drive thru and thats when the girl working drive thru told me that they were having technical difficulties with the computers. So i left. I am reporting this now because this isnt the first time that this has happened to me on this managers shift. She is rude and so is the girl that works drive thru.

Shelia Papke
from Taylor, MI
I don't expect a whole lot from fast food but this I think is a little much. My last three trips to the McDonalds on telegraph rd in Flat Rock,Michigan went like this. First I get two cokes, 1 should be diet so I ask because a button isn't pressed in, which one is diet, say thanks and move on. I'm diabetic and you can believe me it was not diet. It didn't taste like diet but I thought it was just me. But knew later when my blood glucose went up over 500 it wasn't. My next trip I order a slushie, get the wrong flavor, Ok so have it changed, My third trip was the the deciding factor for me to contact you. I ordered a#1 and a #2. Both should have been medium so I understand why the cokes weren't marked again for which was diet because they gave me a medium and a large so I asked, thanks and go on my way. I get home and guess what, I just ate my first Big Mac with only one beef patty. Unreal! Thank you for your time

pamela ensminger 503 east perkins hartford city indiana 47348
from Portland, IN
i went thur the drive thur today and ordered 20 chicken mcnuggets a mcdouble with medium fries and a large coke and a large water the mcnuggets were cold and i only got 8 in one box and the other there was 7 nuggets i also wanted some honey mustard for dipping and did not receive any and no napkins and the coke that i ordered tasted weird and then they charged me 75 cents for a water i am so upset about this i dont know if i will ever go back also i was going to say the fries was not a full box but only half

Barb Kalina
from Grafton, WI
My husband and our kids went to Macdonalds on July 7th. We were shocked at the cost. Over $35.00. We always considered Macdonalds affordable. We will no longer be going to Macdonzlds they are definitely not family friendly

Lisa McKnight
from Bedminster, NJ
I was at the McDonalds drive through in Sioux Falls sd in West 41st st and ordered a large coke and a medium caramel iced coffee. I paid for my order which was $3.21 and I never got my receipt. I was in line for over 20 minutes I am still in line waiting for the manager to find my receipt to give me to cal this in for a complaint. The manager never came with my recipes so I had to leave. Very poor service

Austin morine
from Townsend, GA
The guy at the register is taking money

stephen
from Worcester, MA
friday 6/28 I ate at the clinton, ma. mcdonalds. it was 11:30am ordered a dbl. quarter pounder, large fries, and large soda. the burger was dripping in grease, now its before the lunch rush so how come the burger was so greasy. also the fries were old cold, dry, uneatable. the manager was outside in the parking lot at her car, maybe on break, who knows. it was the worst meal I've ever had at my local McDonalds. I wont go back there any time soon they dont seem to care about quality. I'm older, on a tight budget, and cant waste my money on uneatable food. someone should check into this situation. I will let the senior center in town know about situation, also the AARP so others know how poorly run it is.

Steven Wheeler
from Galivants Ferry, SC
I was working late and returning home and went through the drive thru at store #3464 in Conway SC...I got inline at 1130 pm and finally at 1155 pm my order was taken...I had to wait another 10 minutes until I actually received the order to which the order was incorrect...The frappe that I ordered was melted and warm from sitting and the fries that I had ordered were limp and cold and to my opinion non edible...The chicken sandwiches I ordered were both cold and I ended up just discarding the entire order...Since it was drive thru only there was no one available to help me with this issue and I got so angry I just went up the street to Burger King where I actually got some service and warm food...I spent 10.90 for a bag of cold food and a melted frappe...I will never stop at this facility again...I would hope that management might actually keep enough staff on to handle a Friday night business and take enough pride in things to improve...I wasted $10.90...My ticket number says order 67 sequence 066415...This is totally unacceptable and I will tell anyone that may ask me a place to eat in Conway SC to avoid the McDonalds...I realize my not using your facility ever again will do nothing to your profit margin but that is my problem...Don't spend the $10.90 all in one place like I did...Steve Wheeler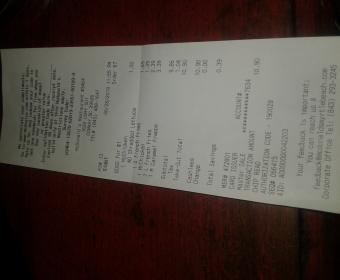 yesterday food and service was terrible. asst mgr replaced the breakfast sandwiches with another batch of the same and it again taisted poorly. I went in to visit and the mgr Linda at the Hollidaysburg, PA store was texting and sitting in a chair at the register failing to serve me as she should have. I was upset at the whole dang situation and expect so much more from this company.. POOR SERVICE AND FOOD !!

Thomas Anderson
from Tacoma, WA
The worst a $10 meal I would feed to my dog.and as I figured no response from you end .no napkins no ketchup.lettuce was unbeatable it was from the rind fries were hard and cold .should I go on.

Jean Vest
from Sumter, SC
Every day this week, Not receiving UNSWEET tea when that is what I request. I do NOT drink sweet tea, cannot stand the taste of it. I always order UNSWEET tea, but this week Lafayette Dr. in Sumter, SC seems to be out of it or just doesn't have it. Tell them at teh drive thru, ok, tell the first window and even tho she changes it and they "accept" it, I STILL get served Sweet tea. Once or twice I can understand but no this has been EVERY DAY THIS WEEK. And since I am going to work, I cannot come back and have it changed and furthermore I should not have to come back to have it changed. I won't be leaving the line anymore before I have tasted what they have given me. DOn't care how long it holds up the line, I won't be moving to the front to wait either. I will wait at teh window until I get my dang tea the way I ordered it. It really isn't hard....
PS: This location has been doing really great lately, until this week. I don't know if it's the person taking the order or the one's who give it to you at the pick up window, but SOMEONE needs to get it together. This afternoon at lunch, I told the order taker UNSWEET tea, she put on the screen Sweet tea, told her to change it, she said to tell the first window, I told teh first window, she told the pick up window. Got to the pick up window, she handed me a tea, I asked if it was UNSWEET, she says"Oh yes Maam! THIS is Definetely unsweet. Nope! Got back to work took a sip and SWEET tea. Wouldn't order it if I didn't want it.

Lucinda Paicely
from Noblesville, IN
This is small compared to BIG complaints but it's BIG to me. I never, and I do mean NEVER, receive good service at McDonald's anymore. Most of your employee's are rude and nasty(My experience). I don't know what has happen through the years. I called and put in this complaint. I was sent a free meal (or) doz. cookies for the offense. I didn't want anything free. There was a pack of Apple's that come in a Happy Meal thrown at me in front of my 8yr. old grandson because I asked that it not be put in the box with the hot food. This I swear on my dead mother! Location, #15571, June 13th, 7:44pm. The person's name is, Raquel. I was told someone would call but they did not. It felt like I was some kind of animal. My grandson will miss Happy Meals. I appreciate you listening if this reaches someone's ears.

Haley
from Spartanburg, SC
I went by this morning on my way to work for an iced coffee. I sat in line waiting for quite a while when there were only 2-3 cars in front of me. When I was the next in line to pay I saw the cashier at the window you pay at snatch money out of the customers hand and yell at him, and then turn and yell into the store. She stood there talking with him for 2-3 minutes before he drove off. Once I got to the window, she was short with me, on her phone, and didn't even give me a receipt.

Vanessa Mackey
from Pontiac, MI
Today at the 6876 Michigan Avenue location, I waited my entire lunch period for fries. The staff was rude and unprofessional. However, my main complaint was when I received my food by a worker with dirty hands. As she handed me my food, I noticed green phylum on her hands. I am not sure if she just got done blowing her nose or couching in her hands. I called the manager and she was abrupt and unprofessional. I am a teacher and my lunch period is scared and I wasted it patronizing at this establishment. Not only do I have nothing to eat, I was left with no time to go any place else.

harold washburn
from Waukesha, WI
I went to McDonalds to get a big breakfast i get home and i have a coffee that should be black instead i have a coffee with milk in it . then comes the breakfast, i have eggs that are over cooked because they have brown stuff in them and to top the hole thing off i couldn't eat the biscuit because the person making the food did not ware food handling gloves and handled my food with his hands so i ended up tossing the hole thing out you owe me 5.99 i do not want anything for free meals either i am done with McDonalds. you need to hire people that care about what they are serving to the public. The person that took my order look like she didn't want to be there or care about her job. I think you can do a better job at who you are hiring and screen these people better.

Jackie Sternod
from Seattle, WA
Went to the mcdonalds #7691 6:17 a.m. and I had the worst service there it took me 45 minutes to get sausage mcmuffin and a orange juice ,that is ridiculous I started out in the drive thru but that was not moving so I backed out along with several other cars I went inside and what a rude awaking there was one person waiting on the drive thru and the counter also and there were several customers in there also and that person was very slow one speed not a bit concerned about customers waiting.
This isn't the first time I have bad service at this mcdonalds the worst one I have ever been to, need to work on getting a manager that can get this place in shape other wise close this store.
Thank You
jsternod@hotmail.com

Kathy Baker
from Wilson, NC
In 6/3/2019 I went to store number 4138 which is about 4 miles from my home. This day I ordered breakfast for the entire family which was biscuits and mcmuffins and 3 big breakfasts with extra sausage. Couldn't get a receipt because the paper roll was out at register and they were so short staffed they didn't take time to replace it. When I got home there was no cheese on any mcmuffins and no extra sausage that I paid for and one big breakfast didn't even have pancakes. Needless to say it took 20 minutes to get my food that was cold and not the way I ordered. I went back to address this without printed receipt mind u took food back and because I called with the issue the had it waiting on me and it was somewhat hot. This place needs a surprise inspection. Most of them stay on the cellphone and texting or cutting up with each other. I've seen them forget people they ask to park and wait for food and the customer have to come in and get their order.
So on 6/4/19 TKT#282 I made sure I got a tkt this time. Before I placed this order the lady at the register was running her mouth at a customer because he expressed his desire no to wait on his food and wanted a refund and she told him that he needed to understand they where busy and he wasn't the only person working so I knew I was going to have a nice experience as well. My kids mcnuggets where hard and the milk warm because she sat that out first before they started on my food order, large order of fries where a old batch and I ask for a fresh dropped basket. Ive been told the last 4 times Ive been they don't have the sweet chilli sauce for the steak house burger. I could go on and on but I wont. Ive seen them sell me breakfast after telling a family of Mexican decent breakfast was order and they where trying to order the same as me.
Im bringing this to your attention because Im a business owner as well and I couldn't keep my customers treating them like this. I see the one star rating and I know why its only one star. Its in a great location but someone need to crack the whip on these workers. They think its a party in there and we are there to watch them dance or be on the phone. I do have a copy of my last receipt but I haven't been back. I enjoy your food but this place needs a wake up call.

Herb Sanabria
from McDonough, GA
The beef on all my 4 burgers was rare did not realized until arrive home.
Store: #37996. It happen to a customer while I was waiting. Thought it was an aberration. But no.

Howard Johnson
from Ashburn, VA
Monday June 3,2019 - McDonald's at Joppa Road and Old Hartford Road - 11:15pm; store advertises as to the lobby being open 24 hours but when I get there the doors are locked. The manager, who was extremely rude and unprofessional, screams through the drive thru window that she is not opening the lobby and tells me to use the drive thru. First, the lobby is supposed to be open 24 hours and that is according to store hours printed on the door. Next, I'm tired of using McDonald's drive thru because here lately I always have to pull up and wait for what is supposed to be "fast food". Lastly, the manager inconvenienced me because of her staffing issues. I understand safety but they could have posted a temporary sign stating that the lobby was going to be closed for the evening. That manager was extremely rude to the point where my family and I will no longer visit that McDonalds.

Terry Spain
from Seattle, WA
I though McDonalds had senior discount as I used to get at this store, 8201 Steilacoom BLVD WA. 98498-6156, the lady manager who has been here a sort time said McDonald's never offered a discount for seniors of Military discount...she's wrong...their ph number is 253-582-3540, store number 10678
Appreciate your looking into matter...have lived close by here for 16 years, had a discount before...now nothing??
Regards
Terry Spain

i keep going to this Mcdonalds because it is by my work and they are always out of stuff-today was no dipping sauces and no tea and some other drinks. Finally left. this is a very busy site and is kept nasty Looking and always have to pull up and park for your meal. Needs major improvements

I have attached an image of what my complaint is. I order the quarter lb. deluxe, very specific no onions. I was going from meeting to meeting had not eaten all day and now just something quick on the go. I was asked to wait since it was a special order, which I get so I drove to parking #1 and waited. When it came out and I got to my destination to quickly eat before running into another meeting I find a cold quarter lb. deluxe with onion piled on it. With the onion allergy I have it was useless to me. To stop somewhere else and pick something up was not in my time schedule.
So so upset. Wasted $5.77 and still no food until after my meeting which will be around 3:00.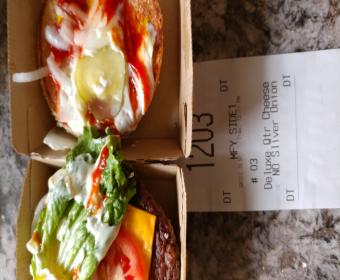 buyisiwe
from Johannesburg, GT
yesterday I bought mcfeast in mcdonalds pritchards for 70rnd medium meal,it ddidnt have those juicy source I called them & spoke with Tryfina she said I must come the following day around past 1 I went to the store waited for so long was not assisted at all I went there for nothing my problem was why tryfina couldn't assist me as per phone conversation I felt so stupid & asked if they will assist me or not they wer busy saying it looks like this coz I took a pic on my phone this lady called another person who works there to come tell me this looks fine anyway jeppe mcdonlds is the best in our store we always buy there me & my staff from sportscene weve never had a problem,i wanted to get something to eat but I thought to my self im not buying there ever 0638936545

I visited this McDonalds at this location, 615 N Federal HWY, Ft Pierce Fl 34950. I was treated very badly at this location. By a cashier name Sam on 5/29/2019 at 3:30 pm KS#2 . The manager show no interest in the problem. The cashier refused to take my order after I informed her. what she did was very disrespectful. After the cashier asked me for my order. I started given her my order, in the middle of my order. She turned away from me and started joking with a co-worker. I informed her I didn't appreciate her turning away from me in the middle of my order like that. Her response was. I know how to multitask. That's good to multitask, joking with another co-worker isn't in the middle of taking an order from a customers is not multitasking. Then the cashier refused to take my order. The cashier turned to the manager. The manager is Rosa. Rosa turned around and started taking my order. The manager was not concern about the problem. After I received my order of cold fries. I asked the manager for the cashier name and her name as well. At that point the manager wanted too know what's the problem. Due to the fact the manager (Rosa) showed no interest in the problem until i asked for her name. I chose not to tell her in front of the other customers.
I live about two miles from this location. I visit this location often. I will not return to this location until get feedback from this complaint. My name and location: General S. Platt, 1901 Barcelona Ave, Ft Pierce, Fl 34946, Phone 772-323-5538.

Lester Gideon
from Straszyn, PM
Decided to go to Mac for a good hamburger set up, they are usually just
good as in America.
But, you will not believe this one. We ordered our usual super big
hamburger, and was told it was in Pork, not beef. Did I hear right? A
hamburger from Mac made with pork? The guy said that they did not have
any beef and substituted pork for all their hamburgers. I figured that
in America, no beef meant no opening of the restaurant for that time.
We said no way, and went across the street to a new place called "Max."
They did have beef so we ordered one. Just as good as Mac's of the same
size, but will not go there again, and will return to Mac, as long as
Burger King is out of the way.

hI, I went to the Sunnyfield Morecambe outlet ordered 1 frozen strawberry lemonade, 1 small coke .1 small oasis 1 happy meal wrap 1 happy meal nuggets
cost £7.55
When I got the frozen strawberry lemonade, I noticed that it was not frozen, so handed it back, after a minute a girl said "yes, that is frozen " and handed it to the lad serving to give back to me, I still was not happy but because I had my children in the back of the car I took the drink back, as soon as I took the drink the red colour went down to the bottom of the plastic cup and mixed with the yellow lemonade, at this point it was too late to go back as we had moved car and a big queue was behind us,
When we got home the Happy meal wrap was spicy which no one said spicy and so that could not be eaten and who wants an unfrozen drink?
I feel as I already complained, while there, the staff should have looked closer and taken my word for it instead of shoving me out as for spicy wrap what kid wants that, just one last thing that I'm sure you are aware off and that's soggy straws (no nice)
Regards Stephanie Bham Date went to outlet 26/05/19 time 19.40.21 number on top of reciept 2060 12 digit code MMX-4FD9-3G6L Store 0665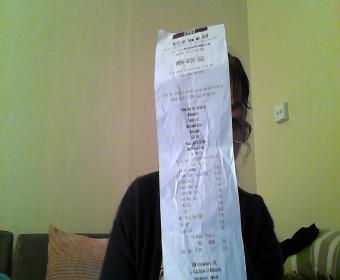 1Wny is it that your food in Parker AZ doesn't have to taste like your food everywhere else?

Terrible, unprofessional! Never will go back again!

Deann staples
from Niagara Falls, NY
I'm 5/25/19 at 730 a.m. I went through drive thru at 18th pine in Niagara falls ny. I ordered two steak bagel meals which is almost 16.00$ and to me that's expensive for three items but it's my favorite sandwich on the menu . Both the bagels were burnt to a crisp. So hard it almost broke my tooth . It felt like It was gonna. I could've played hockey with these bagels. I am disabled and had a ride I don't drive so I couldn't go back and exchange it today or even tomorrow . So please a refund would be nice . I worked at McD's on nfalls Blvd for yrs and no way would I ever let a sandwich that hard to leave my kitchen when I ran the line. Should be ashamed of themselves in pine. The bagels were black that's how burnt they were . Needless to say I threw my sandwich out . Please contact at my email or phone ty

why is McDonalds 10506 follansbee wv start charging .50 for small cup of ice or water to put in coffee to cool down have been getting ice for coffee for very long time no other fast food charges for small ice or water

I purchased Hot Cakes and Sausage, and one hash brown this am from the Mcdonalds in Colchester VT. I bit down on something while driving and eating the hash brown, and it appears to be a piece of black plastic that came out, and there was another black plastic piece in the hash brown, this was cooked right into the hash brown, as if it was mixed in during production, not from your location.
Thanks-Jennifer

Bob
from Philadelphia, PA
Last night at approx. 8pm at 9970 Bustleton Ave McDonald's Philadelphia PA I experienced the worst meal I can ever remember at Mcds. it started at the register where I asked about salads 3 times and couldn't understand the cashiers response even after asking for the 3rd time I finally just ordered a cheeseburger fries and a drink and a chicken sandwich for another guest..I tried to make the best of the situation as i was already aggravated but there was so much noise being made by the workers especially the man taking the trash out and putting in fresh bags in the cans I could barely talk to my guest . he made a n awful racket in each of the 5 receptacles. needless to say I couldn't wait to wolf down my meal and get out of there. I thought about filling out a complaint form but it wouldn't allow me to send form without my location information which I won't give for fear of retaliation so this was my best option........

People at drive thru do not know there menu
They take orders. Without knowledge of what McDonald's has to offer
Order a special
Confronted person taking money
She told me I am getting what I ordered
Asked for coffee light
Got black
Unfortunately I realized she didn't speak English well
Shouid not be taking orders

The service at the McDonald's on 933 in south bend is so bad my orders are consistently wrong have gone through the drive-thru and seen people go in and get out quicker than I'm doing going through the drive-thru being the only person in line at the drive-thru I am done going to your restaurants I'm sure there are places that would appreciate my business

Trying to get a new gift card since March to replace one that was frozen. Nobody knows why. Case No.16154686. Card # 6154 8671 8826 4716.Call many times and spoke to supervisors, cannot tell me the card was mail out. Please help, this is almost $50.00. Claudette May, 860-742-6824. Next step is the Better Business Bureau. Hope someone cares enough to look into my case. Many Thanks.

I went to store #32842 @ 6670 Tara Blvd, Jonesboro, Ga 30236, on my lunch break @ 12:55 in the afternoon, and I was there until 1:22pm. I ordered 2 of your 2 for $5 meals, 2 10 piece nuggets, a filet of fish and a quarter pounder) they were out of ice, they were out of all drinks except for diet peach sprite, the young man who makes the quarter pound patties quit in the middle of making them and so we had to wait, (plus listen to the manager and him argue) then they left the rest of my order on the counter and my food just got colder and colder. There were people waiting longer than me for their food. I had gone there earlier that morning around 6:15 for my breakfast and wanted to go in and I was told they could not open because her crew was not there and she was working (her words) damn near alone. I love McDonalds and this one is closest to my job but I am VERY upset and am going to eat elsewhere for a while, and wanted to make sure someone knew.

OMG. Not again. The last 4-5 times I have gone to this location drive thru for take out breakfast it was again wrong. I went into the store in person this time to place my order. REALLY!! wrong again and no hash brown. I requested no ice in my OJ and got a cup full of ice. I'm paying 2.79 for a cup of ice? I requested the Mgr. She actually said "we have to put ice". I said NO you don't. She insisted, was actually not backing off? REALLY. I requested the 2 for sausage egg/cheese and 1 hash brown. I got 1 sandwich correct the other w/o cheese on a biscuit? I asked her why. she said mistake. I happened to check my receipt. They actually charged me for 1 meal and a separate charge for the wrong sandwich.? I understand there is a language barrier. But I'm sorry, do not take orders at the window or reg unless you understand what the customer is saying. So in the end she actually argued with me with a raised voice in front of other customers. I ended up walking out with out my correct order and a cup full of ice that cost over 2 . I never write complaints. But this time I had enough. The folks behind me told her she was wrong. I want my money back. I'm P'd off.

I was in the 8th Street McDonalds this evening and purchased one small sundae, a small ice cream cone, and a second cone but didn't want the cone so asked to have it put in a dish. Once I paid for the order, I noticed that I was charged for two sundaes and one cone. I should have been charged for one sundae and two cones. I told the cashier but she was not able to do a refund. I am not happy that she did not do a refund.
Thank you.

Dear Mcdonalds Am writing to you, regarding a member of staff that works as a manager at rooley lane bradford. The person in question is called..Marham.... I find her very rude I went in to pick order for my customer.As I work for uber. As I approach the counter.Maraham.started questioning me saying I wasn't the person on the phone to pick customers order .As your not aware that uber has given me permission to work on behalf of my brother or any body else as long it's ok with them. When I question Maraham.I asked her do you have a problem.? First she said no. But when getting my order. She told the staff to take there time in making the order. That is not professional as she suppose to be a manger. Am very annoyed how your staff can question me about my job. please can you make sure.that any of your staff do not question me, as I work for uber and not McDonald.Regards keza

Kevin Jones
from St Louis, MO
The decision of Mcdonald's to go to double drive thru lanes and automated ordering without enough staff is absolutely ridiculous! It's no longer fast food. Twenty to thirty minutes in the drive thru is unacceptable!

STORE LOCATION: 375 CENTRAL AVE, EAST ORANGE, NJ 07018 (DRIVE-THRU CUSTOMER)
TIME AND DATE: 10:00PM ON 5/5/2018
1. THE LARGE FRIES AT $3.59- I ORDERED WERE NOT FRESH. IT ONLY TAKES 3 MINS FOR A FRESH BATCH SO, EMPLOYEE ASKED ME TO WAIT IN THE RESERVE PARKING.
2. THE NEW FRIES I RECEIVED, THE CONTAINER WAS HALF FULL & VERY BROWN (BURNT LOOKING), SO I WENT INSIDE THE STORE TO ASK FOR A NEW SET OF FRIES
3. THE EMPLOYEE JUST TOOK MY BAG FROM ME AND ADDED TO THE FRIES I GAVE HER BACK...
4. HER COMMET TO THE OTHER EMPLOYEES WERE " AM I BEING PUNKED? WE'LL JUST GIVE HERE THE SAME FRIES SHE COME IN HERE WITH TO GET HER OUT OF HER.
5. THE MANAGER ON THE SHIFT SHOULD HAVE HANDLED THE SITUATION DIRECTLY SINCE IS SPEND ABOUT $17 TOTAL...

chris koberna
from Clearwater, FL
I have been disappointed too many times at my local mcdonalds. I have finally called it quits. The drive through service is just unbelievably too slow. I went for my last try on 5-5-19 at 8:45. I placed my order and then sat for 10 minutes before I decided to leave empty handed. I guess I will stick with Chick-fil-A. They have customer service down to a consistent science and have not let me down. I am disappointed for this to have happened because I have enjoyed mcdonalds.

Elizabeth Boyd
from North Little Rock, AR
On 5-3-19 I went through the drive through and placed my order I was the only car. When I went to the pick up window they had me drive
around to the door. I set their 10 minutes waiting on my order. Mean while two cars went through the drive through. This is the second time
this has happen to me. I will not be going back. Their service is bad when 4 or 6 people are working and they can't get the food out.
this was McDonalds # 37156on 5506 McAurthor in north little rock My order was; one fish sandwich meal, one big mac, one four piece chicken tenders. $16.60

Edward Cahill
from Charlotte, NC
9725 Callabridge Ct, Charlotte mC dONALDS
05/03/2019 3:40 am CALLED THE RESTAURANT AND ASKED TO GO AHEAD AND COOK 10 APPLE PIES FOR ME, ARRIVED TO THE RESTAURANT 3:52am, ORDERED FOOD AND DID NOT EVEN MAKE IT TO THE PAY WINDOW IN 32 MIN !!!!
A FEW CUSTOMERS PULLED AWAY WITHOUT GETTING THEIR BREAKFAST. I PULLED AWAY AS WELL, WAS LATE TO WORK.
STOPED BY THE RESTAURANT ABT 10 AM AND INFORMED THE GENERAL MGR OF POOR SERVICE, SHE APOLOGISED AND DID NOT HONOR THE FOOD I INITIALY WANTED TO ORDER.
ALSO @ 3:52 AM THIS RESTAURANT DOES NOT SERVE LUNCH, JUST BREAKFAST. I WAS NOT HONORED BURGERS AT THAT TIME.
IT SEAMED ONCE CUSTOMER PAID AT DRIVE THRU, THEN MEAL WAS GETTING COOKED. NEXT IN LINE PAYS FOR FOOD AND THEN THE ORDER MAKING IS INITIATED.
ABSOLUTE DISASTER!

McDonalds' STORE 14497 5480 FOREST DRIVE COLUMBIA, SC TEL: 802-790-2645
ORDER TIME: 05/01/2019 – 1:32 PM ORDER 96 – FINALLY GOT FOOD AT 2:08 PM
ORDERED:
1 SAUSAGE EGG McMUFFIN 1 SAUSAGE McMUFFIN 2 SMALL FRENCH FRIES 1 LG PEACH SLUSHIE 1 LARGE FRUIT PUNCH SLUSHIE
I have had so many problems with this store that I have their number on speed dial on my phone. Today was nothing new, just much worse than usual.
Starting at the order window – I had to repeat the order 3 times, then had to change the fries to small from medium. This they do every time for some reason.
Paid and went to the pickup window. Waited for a few minutes and was asked if I ordered slushies? I said was and was told to go to reserve parking 1 and wait. In a few minutes a manager came out and handed me the slushies. I asked him where my food was. He looked at the receipt and said "they did not give you food?" I said no. He took my receipt and went back inside. I sat there for at least 15 minutes and called the store 3 times. Phone rang 10 times each time before I hung up. I never got an answer.
Finally drove back to where you order and asked to speak to a manager. They sent me to first window, where I was sent to the pickup window again. Finally at 2:08 I was handed food.
I have said all that to say that I have been going to McDonalds since they first opened. Today is the last time I will shop there. Guess Burger King going to pick up the money I usually spent at your store.

Your employees are thieves, I am only sending this as a courtesy but will also be reporting to the BBB and seeking an attorney, I was I do admit intoxicated in the drive thru at one of the locations, the employee took my order I dozed off while waiting for my food. My car was in park your employee including the manager took my money after they had called the police. They knew I would not be getting my food yet still took my money including keeping the change I would have gotten back. They gave the police a receipt the manager had signed to come back for my refund ( according to the office). When I went back the manager told me she was not refunding my money I should have not been drunk. Me being drunk or not does not give your employee's the right to keep my money. So if someone passes out on the curb at mc Donalds and your manager calls the police (which they should) that means they have the right to take his money before the police gets there. No it does not!

richard morrison sr
from Perry, GA
one of your employees from the fitzgerald georgia store made a threat against my son while working and has also posted pics of mcdonalds on her own personell website but she made a threat againt my son while working and manager did nothing and then days later she seen my son walking and she beet the hell out of my son and my son terminally and autistic and severely mentally handicapped an if you do nothing i will take above your head and on the streets she goes by the name ANGEL and my son has not been able to walk since the incident thank you and god bless you all!!!!!!!!!!!!!!!!!!!!!!!!!!!!!!

sandra dent
from Austin, TX
On 4/18/2019, I went to McDonald's Restaurant #25429. 7409 FM 620 North, Austin, Tx. 78726.
I was told by a lady that brought my food to the table that if I go to the website on my receipt and take a survey, that I could come back and get a sandwich for free.
I took the survey and went back to the restaurant today, 4/29/2019. A lady with an accent(appeared to be of African descent), did not identify herself as the manager, but she cancelled the order and said that it was buy one get one free. I told her okay, but I was told by another employee that after the survey, I was suppose to get a free sandwich.
I am submitting this complaint because the woman with the accent (black) was rude and did not apologize. She could have stated what the problem was, but instead she chose to cancel the order and approach me with a rude tone. She is not customer service oriented.

Ed Pisano
from Reston, VA
I went to the McDonalds on Elden Street in Herndon, VA at approx 2:30 on 4/28/19. I ordered a BigMac Meal, and when I bit into the sandwich it was cold and the bun was stale!!! I took it back to the counter and told them I did not want it, and I asked to see a manager. The young man spoke to a woman but she ignored me as I stood there. After waiting several minutes I again demanded to see the manager. The same woman to whom the boy spoke and who had ignored me came over and said, "I'll give you another one." I told her I did not want another sandwich and had lost my appetite. At that point I gathered my uneaten fries and untouched coke and went to throw them away.
The bins were overflowing and I had trouble stuffing in the fries (which I did not eat) and coke. Based on the lack of cleanliness, I'm surprised no one has gotten ill, or reported it to the Health Department.
It was a totally disgusting experience, and I honesty think it will be my last visit to a McDonalds.
I have also calledl the 800 number and spoke to a representative.
Have feedback for McDonalds?
Thanks for your feedback!
Sorry. Please try again later!