McDonalds
McDonalds Complaints Continued... (Page 4)
1233+ reviews added so far. Upset? Call McDonalds corporate: 800-244-6227

Deborah Wolf
from Pewaukee, WI
On Friday, June 19, 2020 at approximately 1:45 pm, I went through the drive thru on Ryan St in Pewaukee, Wi.
I ordered a cheeseburger, small fry and a large Diet Coke...I generally don't finish the beverage and save some for later. This morning, I went to discard the remainder of the beverage from my refrigerator. Upon emptying the cup, a napkin or piece of paper towel or something unrecognizable came out with the remaining soda. This is disgusting and totally unacceptable. How could this have possibly happen? It seems it was intentional. In this climate of COVID-19, I am deeply concerned as a 65 plus year old individual. I have been taking great caution during this pandemic for myself as well as being the overseer for my 88 and 89 year old parents.
So what is my next step? Doctor? COVID testing? And who is going to cover the Medicare bills?
I expect a full investigation and explanation ASAP...
Deborah Wolf

Yvette Lykes
from Westminster, CA
I am a regular drive-thru customer at the above McDonald's Restaurant location. I have lived in Westminster, California for over 15 years, and the workers at this location frequently acknowledge me. I am an elderly African-American woman. During the Corona Virus, the workers, staff, and managers at this location repeatedly decided to make a mockery of me: No matter the time of day I drive thru, upon notice of me, I am always told to pull over and park my car to receive my order later even without the worker knowing if it is actually ready or not, as I would ask. And when it is ready, my order is not handed thru the drive thru window, I am told to drive up and get it from a worker standing outside of the store ready to hand it off to me there - the bag that my food was put in was a previously dirty, greasy, and a used McDonald's bag. When all of this was repeatedly brought to the attention of the managers, they allowed their worker to yell at me and talk over me while I was speaking through the drive-thru window, refused to listen to me, ignored my complaint and walked away. If this complaint could be viewed as happening to your mother, grandmother, aunt, and/or sister, then it should not go without being addressed. But, in actuality, this complaint should be addressed because this blatant discrimination should not be excused, because I am a human being, and like anyone else, deserves to be respected, especially when respect is given. This is the truth. I hope you will not ignore this complaint.

Kathy tomasetti
from Lemoore, CA
Ordered breakfast for my family through doordash this morning and everything was fine except the bacon egg and cheese sandwich had paper inside the egg. Not sure if it was a peice of napkin or straw but it was not pleasant to find in my food. This was the McDonald's in Lemoore California 93245. Thank you. I live at 356 e spring Lane in lemoore

Michelle Gibson
from Fayetteville, NC
The rudest cashier I have ever experienced. My mother is 83 years old, she was in front of my daughter and I fixing to order her food. She asked the cashier if they were still selling the chicken wraps, and the cashier said no with an attitude. My mom didn't hear her cause they are both wearing a mask and said what and the cashier said I told you we don't sale them anymore and rolled her eyes. They were not busy at the time. So my mother continues with her order and the cashier didn't hear her when she told her she wanted a sweet tea and the cashier asked her again with an attitude what do you want to drink, rolling her eyes. My mother gives her the money and was trying to count out the exact change she had and the girl just stood there rolling her eyes. My mother didn't say anything to her about being rude but I was trying to find out her name but did not get it. So I am writing you because of this.

J todd
from Bexleyheath, ENG
Yesterday at 17.52.04 went through drive through orders Big Mac meal box was closed but top of bun and first burger was just thrown into the bag at the bottom, ordered quarter pounder cheese burger burgers we like leather cold and no taste at all. Chocolate milkshake was just vanilla ice cream no chocolate was informed chocolate was at bottom no chocolate at all do not like young people lying. Fries were freezing cold all in all our meal was absolutely tasteless freezing cold burgers like rubber and stale bread buns. No burger sauce at all we have never tasted anything so disgusting in all our 65 years . My husband as been on vulnerable list for the last 5 month and as is career was is first time out. With us vulnerability we went through drive through as for safety. We live 5 minutes away so our meal should of been as said above. We waited 25 minuets in line for meal which we don't mind as long as we get a lovely warm meal that tastes Nice we are not happy at all and hope something can be done about our experience with our meal.

Sharon Brobst
from Auburn, CA
At approximately 4:30-pm after taking our daughter to work my husband stopped at the above McDonalds to pick up food for us at home. It was p-laced in our refrigerator as I usually do until mealtime. I heated the spicy chicken and the hamburger inn the microwave and then heated then buns. Then I assenbled them and brought them to the table. My husbands Hamburger---which was supposed to be a double cheeseburger was quite overdone and looked like it had been sitting around for a while and should have been written off. My Spicy chicken was hard as a rock and was almost unchewable.. The buns were over toasted and dry. This store should be embarrassed. These items should have bee written off and new items cooked. If your sales are down ---I can tell you WHY!! We have ordered food at various McDonalds during the years and have no complaints. But this not what I accept as being good service. My parents used to have a restaurant and we would never serve stuff like that. You are about to lose a customer and I may report the situation to our local health department. I might also add that my sister used to work for one of the McDonalds in Rapid City and they did not serve that kind of garbage.

Navneet singh Jonty
from Houston, TX
I was at mcdonalds bought bigmac meal wasn't cooked properly at all i ben throwing up since i had that worst experience of my life if i got sick i had to do something.i m uploading the pic

David W Ingerson
from Mountain Home, AR
The last two times I 'been there the order was wrong when I got home. No concern from the people working there, so I called the district office and just got lip service.
I do not like to complain, but enough is enough, there are plenty of places to get a burger and fries but I like yours.
I have to quit wasting my money.

Don Wheeler
from Concord, NH
McDonalds 111 Fisherville Rd Penacook, NH 03303,
I went to this store today 6/28/20 and was humiliated by manager Jake, again! I went to get a Mocha Frappee the other day, and when they went to scan my app it didn't scan so Jake tried to talk me into HIS fact that Mocha Frappees are not considered a McCafe drink? He was quite adamant so I couldn't use my app towards a free Mocha Frappee?
Yesterday I placed an order at drive through for a 6 pc chicken McNugget and 3 hamburgers I watched the bag checker check the bag! When I got home I had only 2 hamburgers and 6 pc McNugget I was very upset as the only burger I didnt get wasn't mine! I WAS a regular customer! Jake the manager then asked if I called and I told him no and he used a condescending tone to tell me since I didn't call there's nothing he can do? A HAMBURGER? At that point I said WORD FOR WORD TO MANAGER JAKE "NO I DID NOT CALL BECAUSE I WAS PISSED AND I DIDN'T WANT TO RIP SOMEONES HEAD OFF, I FIGURED AS A LONGTIME CUSTOMER I COULD GET THE PROBLEM TAKEN CARE OF AT THE STORE"? AGAIN I SAID " I DID NOT CALL BECAUSE I HAD NOTHING NICE TO SAY AND I WAS PISSED" I DID NOT SAY ANYTHING ABOUT DOING ANYTHING TO ANYONE THERE ONLY WHY I DID NOT CALL AND IF HE STATES OTHERWISE HE IS NOT TELLING THE TRUTH! He then refused me total service and banned me from the premises? Over a hamburger I was charged for and NEVER got? I believe that's a crime? Not the first time missing items! Not impressed with Jake the manager, over a HAMBURGER?
Don Wheeler
1 Flamingo Dr Concord, NH 03303
whlrdj@yahoo.com

Tammi Boudin
from Ringgold, GA
went to your Mcdonald's at 3898 cleveland highway dalton georgia on june 17th 2002 walked in the store because there was a lot of cars in drive thru stood there for quite some time waiting to order not one person even acknowleged i was even standing there out of 5 people in the front working on getting drive thru their orders i even asked who is running the cash register and still got no response the was 1 other man in the entire place waiting on his food. Not one sole would wait on me . I even said if no one is going to wait on me then i will go some where else and still got no response so i left and went some where else and ordered food and spent my money else where.

Nichole Taylor
from Oklahoma City, OK
Every time I go to the McDonald's by my house I'm greeted with a shitty service if anybody even answers the drive-through but tonight was even worse because I got to the drive-through and after sitting for 20 minutes finally got up to the speaker and was told hold on rudely by the Employee that somebody was stupid enough to put on the drive-through. Then I sat for another 20 minutes with her not taking any orders they had no cars that they were still getting food out to you there was no one ahead of me and I said this is the worst service that I've ever gotten any McDonald's and it's consistent here and the same employee Said then leave. First of all if she's too stupid and or lazy to run the drive-thru she shouldn't be working there at all, let alone on the drive thru. Second of all, why is this the only McDonalds that consistently suck around me? I once went through the drive thru and wasn't helped because the employees were physically fighting inside and another employee opened the window one of the ones that had been fighting said fuck you to me....are you freaking kidding me?

Kema Hughes
from Lancaster, TX
I had 3 order of fries
My fried where fried very very hard & extra crispy u could literally break them in half they were crunchy
Then they forget to give me my large sweet iced tea with my order
The burgers were cold
They quality of food was horrible

judy giacoia
from Hempstead, NY
I live in east meadow new York for 60 years. I went to the east meadow store yesterday and they charged me $20.80 for a Big Mac and a Quarter pounder with cheese meal. Are you people price gauging because of the coronavirus???

kenny strojny
from Allegan, MI
I would like to know if this food chain excepts discrimination at any restaurants. I had that experience in Kalamazoo, Michigan. Mcdonalds #4323
5530 gull road. I drove up in the fare end lane to place my order and the person told me to wait, that was fine it was on the busy side. I noticed that a car pulling up to the inside lane to order and when I was hearing her ordering I was like why was I not to matter and I had to wait and I was in my lane first. I let the guy know I was not happy how he made me wait to take my order. Was it because she was black like him and I was white.
Do they use cameras in the drive thru so they have their color picks on who gets to order. Make things even plane to see about race when I drove down the road while eating my fries I started eating my cheese burger, I took two bites and to find no hamburger on my cheese burger. I asked my wife to look at the other one and it was the same NO HAMBERGUR on my cheese burgers. They did this on purpose. I want action done on the management and the person who took the order, Did he tell the person who made the burgers not to put any hamburger on the order just to be smart a??. All this took place on April 25,2020 at 117 PM. I am sure that this has happen to other people and its about time someone gives him the pink slip or this location is going to have a lawsuit on their hands.

I have been going to the McDs on Sprague in Spokane Valley ( U - City) for years and have had good service and good food. But lately the new manager not sure his name but he is very rude to his employees and customers. As I was waiting for my food he cursed at one employee named Justine for no reason at all and she was so embarrassed. The French Fries the last 4 times I have been in taste like dirty grease. The Quarter ponders and cheese burgers are just thrown together because the manager is yelling at them to hurry up. I normally don't complain but I think the management at that store needs to be serious looked into.

REBECCA L KOPP
from Beaver, PA
Hi!
I'm sorry I truly try not to complain too much, since things happen, but the McDonalds store number 24939 in Pittsburgh Pa has more often than not messed up my order.
Today was the last straw though. I ran through the drive through and got the extreme bacon meal and a salad and a parfait. I had to wait for my sandwich to be mad which was fine. The trouble began when I opened the box to eat, the burger looked like it had just been slapped together and thrown in the box. Cheese was more than halfway out on the one side of the bun, but the meat felt like it was on the other side of the bun. Whatever though as long as it tastes good i was ok with the looks. Took a bite and half of the meat and a lot of the sauce (bun was sloppy with sauce) came sliding right out of the bun and down my shirt. It seems like the part had been cut in half, probably when they were checking to make sure it was cooked. Now my shirt is ruined with grease/oil marks and to be quite honest not much taste in the burger.
Again I don't like complaining, I've gotten salads without the chicken or wrong dressing, wrong salad sometimes things I've paid for I don't get etc...
I have called the store manager once or twice to let them know what has happened, but this time with my shirt now being ruined...I've got to say something.
Maybe if you could mention to the managers/assistant managers to be just a little bit more careful sending food out that would be great and appreciated.
Thank you for your time and have a Blessed Day.
Rebecca L Kopp

Thomas M. Davis
from Eastman, GA
On 14 July 2019 while traveling on the NY State Thruway, Ontario travel plaza, on I90 Westbound, I and my wife stopped to use your facilities and purchase a large Diet Coke for herself and a medium coffee for myself. After purchasing said items I reached for the coffee and picked up my coffee cup in the middle of the cup. As I picked up the coffee cup the lid came off the top of the cup and the hot coffee spilled all over my right hand. I immediately pulled back my hand and uttered a mild expletive (GD it). I did not use excessive force or was negligent in picking up the cup. It was then that it was obvious the server had not properly secured the lid to the cup.
The server, an obvious teen whose name I do not recall, just stood there and looked at me. She said nothing and did nothing. I asked her for some napkins so I could clean up the spilled coffee. I wiped the counter clean and as I did that my wife asked the server for a cup of ice. The ice was to cool off my hand. It was then that the server asked if we wanted a lid for the cup of ice. She offered neither an apology, to clean the spill nor refill the coffee that spilled. She never asked us if I was okay. The server's inaction is incomprehensible. She had no clue what to do or say. Sad and bizarre. Perhaps she is a candidate for McDonald's Kindergarten and not the University.
I only send this complaint to make you aware of one of your servers. I have always maintained that McDonald's coffee is the best on the planet and will continue to purchase and consume it. I obviously will be more careful in picking up the coffee cup and I now know not to trust your servers. I prefer to drink the coffee and not wear it. Thanx.

D Smith
from Loveland, OH
Just saw a manager threaten an employee for not thing the trash up right. He jumped all over the man for not doing it the way he wanted it done. And he did it In front of customers. This happened on Fields Ertel Rd in Mason Ohio on July 18, 2019 at 6:40 am.

Gerda de Wet
from Johannesburg, GT
I ordered a 2 Big Mac burgers and when I got home there was 1 Big Mac burger and 1 Spicy Cajun Chicken burger. I had to eat the burger because it was to far to go back, I live in Pretoria Gardens and got the food in Pretoria Town. I mean that is bad service.

jim simmons
from Dearborn Heights, MI
Dearborn Heights Mi. Telegraph Road July 15, 2019 around 12:00 noon in store - ordered hot cakes and one senior coffee received hot cakes waited and waited for someone to pour coffee the manager or the employee that took the money wanted to help I waited 14 minutes two employees said someone else will get it finally the same person that said she is busy taking orders did pour the coffee while the hot cakes were cold when I sat down it was so obvious because I was white older man they were all black. THIS PLACE HAS A RACE PROBLEM THAT NEEDS TO BE FIXED.

ccummingsjax@yahoo.com
from Jacksonville, FL
McDonalds on Old St. Augustine Rd. Jacksonville, Florida 32258 (14151 Old St. Augustine Rd. Jacksonville, Fl. 32258)
This McDonald's has to be the worst ever. I work at the hospital, Night Shift (Baptist South) and have sent several people to this McDonalds
who are looking for some where to eat during the late night hours. EVERY TIME they come back upset, they would say "NO ONE would come to the take out window". Now its my understanding this McDonalds is a 24 hour place of business, and should have employee's working there.
There was NO signs on the doors or windows stating that the place was closed and there were employee's spotted inside the business.
This seems to be an on going problem, hopefully you can address this issue.

ryan mcken
from London, ENG
the downpatrick store us staff still wank in the sauce

MAURO IZQUIERDO
from Miami, FL
i bought some breakfast at 11:30 pm at store 11810 when it my turn to wait for my food i was told to wait in the mobile app pick up.I did not order with mobile app i paid cash.Wainted 10 min and 10 others where serverd there food WHY?? Why should i have to wait and let others behand me be servered there food and this is not the 1st time This one of the reasons i don eat McDonalds

dale Bearey
from Ormond Beach, FL
I live in Miami and the McDonald's on University Drive and 199th Street in Miami constantly says that their ice cream machine doesn't work. Well their ice cream machine hasn't worked for over a year. They just don't want to make ice cream products for their customers because it takes too much time. Not very happy

Wanda Roman
from Jamaica, NY
Don't like the new mcnuggets. They are tasteless. Don't even taste like chicken. Please bring the old ones back.

Jessica stevenson
from New York, NY
I was trying to go im the lobby on Friday 7/05/2019 at 12:22 am when the red head heavy set manager yelled from her car and told me the lobby was closed thats when i smelled marijuana coming from her car. So i processed to go to the drive thru and thats when the girl working drive thru told me that they were having technical difficulties with the computers. So i left. I am reporting this now because this isnt the first time that this has happened to me on this managers shift. She is rude and so is the girl that works drive thru.

Shelia Papke
from Taylor, MI
I don't expect a whole lot from fast food but this I think is a little much. My last three trips to the McDonalds on telegraph rd in Flat Rock,Michigan went like this. First I get two cokes, 1 should be diet so I ask because a button isn't pressed in, which one is diet, say thanks and move on. I'm diabetic and you can believe me it was not diet. It didn't taste like diet but I thought it was just me. But knew later when my blood glucose went up over 500 it wasn't. My next trip I order a slushie, get the wrong flavor, Ok so have it changed, My third trip was the the deciding factor for me to contact you. I ordered a#1 and a #2. Both should have been medium so I understand why the cokes weren't marked again for which was diet because they gave me a medium and a large so I asked, thanks and go on my way. I get home and guess what, I just ate my first Big Mac with only one beef patty. Unreal! Thank you for your time

pamela ensminger 503 east perkins hartford city indiana 47348
from Portland, IN
i went thur the drive thur today and ordered 20 chicken mcnuggets a mcdouble with medium fries and a large coke and a large water the mcnuggets were cold and i only got 8 in one box and the other there was 7 nuggets i also wanted some honey mustard for dipping and did not receive any and no napkins and the coke that i ordered tasted weird and then they charged me 75 cents for a water i am so upset about this i dont know if i will ever go back also i was going to say the fries was not a full box but only half

Barb Kalina
from Grafton, WI
My husband and our kids went to Macdonalds on July 7th. We were shocked at the cost. Over $35.00. We always considered Macdonalds affordable. We will no longer be going to Macdonzlds they are definitely not family friendly

Lisa McKnight
from Bedminster, NJ
I was at the McDonalds drive through in Sioux Falls sd in West 41st st and ordered a large coke and a medium caramel iced coffee. I paid for my order which was $3.21 and I never got my receipt. I was in line for over 20 minutes I am still in line waiting for the manager to find my receipt to give me to cal this in for a complaint. The manager never came with my recipes so I had to leave. Very poor service

Austin morine
from Townsend, GA
The guy at the register is taking money

stephen
from Worcester, MA
friday 6/28 I ate at the clinton, ma. mcdonalds. it was 11:30am ordered a dbl. quarter pounder, large fries, and large soda. the burger was dripping in grease, now its before the lunch rush so how come the burger was so greasy. also the fries were old cold, dry, uneatable. the manager was outside in the parking lot at her car, maybe on break, who knows. it was the worst meal I've ever had at my local McDonalds. I wont go back there any time soon they dont seem to care about quality. I'm older, on a tight budget, and cant waste my money on uneatable food. someone should check into this situation. I will let the senior center in town know about situation, also the AARP so others know how poorly run it is.

Steven Wheeler
from Galivants Ferry, SC
I was working late and returning home and went through the drive thru at store #3464 in Conway SC...I got inline at 1130 pm and finally at 1155 pm my order was taken...I had to wait another 10 minutes until I actually received the order to which the order was incorrect...The frappe that I ordered was melted and warm from sitting and the fries that I had ordered were limp and cold and to my opinion non edible...The chicken sandwiches I ordered were both cold and I ended up just discarding the entire order...Since it was drive thru only there was no one available to help me with this issue and I got so angry I just went up the street to Burger King where I actually got some service and warm food...I spent 10.90 for a bag of cold food and a melted frappe...I will never stop at this facility again...I would hope that management might actually keep enough staff on to handle a Friday night business and take enough pride in things to improve...I wasted $10.90...My ticket number says order 67 sequence 066415...This is totally unacceptable and I will tell anyone that may ask me a place to eat in Conway SC to avoid the McDonalds...I realize my not using your facility ever again will do nothing to your profit margin but that is my problem...Don't spend the $10.90 all in one place like I did...Steve Wheeler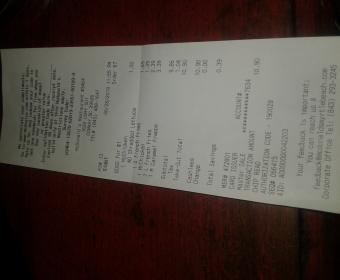 yesterday food and service was terrible. asst mgr replaced the breakfast sandwiches with another batch of the same and it again taisted poorly. I went in to visit and the mgr Linda at the Hollidaysburg, PA store was texting and sitting in a chair at the register failing to serve me as she should have. I was upset at the whole dang situation and expect so much more from this company.. POOR SERVICE AND FOOD !!

Thomas Anderson
from Tacoma, WA
The worst a $10 meal I would feed to my dog.and as I figured no response from you end .no napkins no ketchup.lettuce was unbeatable it was from the rind fries were hard and cold .should I go on.

Jean Vest
from Sumter, SC
Every day this week, Not receiving UNSWEET tea when that is what I request. I do NOT drink sweet tea, cannot stand the taste of it. I always order UNSWEET tea, but this week Lafayette Dr. in Sumter, SC seems to be out of it or just doesn't have it. Tell them at teh drive thru, ok, tell the first window and even tho she changes it and they "accept" it, I STILL get served Sweet tea. Once or twice I can understand but no this has been EVERY DAY THIS WEEK. And since I am going to work, I cannot come back and have it changed and furthermore I should not have to come back to have it changed. I won't be leaving the line anymore before I have tasted what they have given me. DOn't care how long it holds up the line, I won't be moving to the front to wait either. I will wait at teh window until I get my dang tea the way I ordered it. It really isn't hard....
PS: This location has been doing really great lately, until this week. I don't know if it's the person taking the order or the one's who give it to you at the pick up window, but SOMEONE needs to get it together. This afternoon at lunch, I told the order taker UNSWEET tea, she put on the screen Sweet tea, told her to change it, she said to tell the first window, I told teh first window, she told the pick up window. Got to the pick up window, she handed me a tea, I asked if it was UNSWEET, she says"Oh yes Maam! THIS is Definetely unsweet. Nope! Got back to work took a sip and SWEET tea. Wouldn't order it if I didn't want it.

Lucinda Paicely
from Noblesville, IN
This is small compared to BIG complaints but it's BIG to me. I never, and I do mean NEVER, receive good service at McDonald's anymore. Most of your employee's are rude and nasty(My experience). I don't know what has happen through the years. I called and put in this complaint. I was sent a free meal (or) doz. cookies for the offense. I didn't want anything free. There was a pack of Apple's that come in a Happy Meal thrown at me in front of my 8yr. old grandson because I asked that it not be put in the box with the hot food. This I swear on my dead mother! Location, #15571, June 13th, 7:44pm. The person's name is, Raquel. I was told someone would call but they did not. It felt like I was some kind of animal. My grandson will miss Happy Meals. I appreciate you listening if this reaches someone's ears.

Haley
from Spartanburg, SC
I went by this morning on my way to work for an iced coffee. I sat in line waiting for quite a while when there were only 2-3 cars in front of me. When I was the next in line to pay I saw the cashier at the window you pay at snatch money out of the customers hand and yell at him, and then turn and yell into the store. She stood there talking with him for 2-3 minutes before he drove off. Once I got to the window, she was short with me, on her phone, and didn't even give me a receipt.

Vanessa Mackey
from Pontiac, MI
Today at the 6876 Michigan Avenue location, I waited my entire lunch period for fries. The staff was rude and unprofessional. However, my main complaint was when I received my food by a worker with dirty hands. As she handed me my food, I noticed green phylum on her hands. I am not sure if she just got done blowing her nose or couching in her hands. I called the manager and she was abrupt and unprofessional. I am a teacher and my lunch period is scared and I wasted it patronizing at this establishment. Not only do I have nothing to eat, I was left with no time to go any place else.

harold washburn
from Waukesha, WI
I went to McDonalds to get a big breakfast i get home and i have a coffee that should be black instead i have a coffee with milk in it . then comes the breakfast, i have eggs that are over cooked because they have brown stuff in them and to top the hole thing off i couldn't eat the biscuit because the person making the food did not ware food handling gloves and handled my food with his hands so i ended up tossing the hole thing out you owe me 5.99 i do not want anything for free meals either i am done with McDonalds. you need to hire people that care about what they are serving to the public. The person that took my order look like she didn't want to be there or care about her job. I think you can do a better job at who you are hiring and screen these people better.

Jackie Sternod
from Seattle, WA
Went to the mcdonalds #7691 6:17 a.m. and I had the worst service there it took me 45 minutes to get sausage mcmuffin and a orange juice ,that is ridiculous I started out in the drive thru but that was not moving so I backed out along with several other cars I went inside and what a rude awaking there was one person waiting on the drive thru and the counter also and there were several customers in there also and that person was very slow one speed not a bit concerned about customers waiting.
This isn't the first time I have bad service at this mcdonalds the worst one I have ever been to, need to work on getting a manager that can get this place in shape other wise close this store.
Thank You
jsternod@hotmail.com

Kathy Baker
from Wilson, NC
In 6/3/2019 I went to store number 4138 which is about 4 miles from my home. This day I ordered breakfast for the entire family which was biscuits and mcmuffins and 3 big breakfasts with extra sausage. Couldn't get a receipt because the paper roll was out at register and they were so short staffed they didn't take time to replace it. When I got home there was no cheese on any mcmuffins and no extra sausage that I paid for and one big breakfast didn't even have pancakes. Needless to say it took 20 minutes to get my food that was cold and not the way I ordered. I went back to address this without printed receipt mind u took food back and because I called with the issue the had it waiting on me and it was somewhat hot. This place needs a surprise inspection. Most of them stay on the cellphone and texting or cutting up with each other. I've seen them forget people they ask to park and wait for food and the customer have to come in and get their order.
So on 6/4/19 TKT#282 I made sure I got a tkt this time. Before I placed this order the lady at the register was running her mouth at a customer because he expressed his desire no to wait on his food and wanted a refund and she told him that he needed to understand they where busy and he wasn't the only person working so I knew I was going to have a nice experience as well. My kids mcnuggets where hard and the milk warm because she sat that out first before they started on my food order, large order of fries where a old batch and I ask for a fresh dropped basket. Ive been told the last 4 times Ive been they don't have the sweet chilli sauce for the steak house burger. I could go on and on but I wont. Ive seen them sell me breakfast after telling a family of Mexican decent breakfast was order and they where trying to order the same as me.
Im bringing this to your attention because Im a business owner as well and I couldn't keep my customers treating them like this. I see the one star rating and I know why its only one star. Its in a great location but someone need to crack the whip on these workers. They think its a party in there and we are there to watch them dance or be on the phone. I do have a copy of my last receipt but I haven't been back. I enjoy your food but this place needs a wake up call.

Herb Sanabria
from McDonough, GA
The beef on all my 4 burgers was rare did not realized until arrive home.
Store: #37996. It happen to a customer while I was waiting. Thought it was an aberration. But no.

Howard Johnson
from Ashburn, VA
Monday June 3,2019 - McDonald's at Joppa Road and Old Hartford Road - 11:15pm; store advertises as to the lobby being open 24 hours but when I get there the doors are locked. The manager, who was extremely rude and unprofessional, screams through the drive thru window that she is not opening the lobby and tells me to use the drive thru. First, the lobby is supposed to be open 24 hours and that is according to store hours printed on the door. Next, I'm tired of using McDonald's drive thru because here lately I always have to pull up and wait for what is supposed to be "fast food". Lastly, the manager inconvenienced me because of her staffing issues. I understand safety but they could have posted a temporary sign stating that the lobby was going to be closed for the evening. That manager was extremely rude to the point where my family and I will no longer visit that McDonalds.

Terry Spain
from Seattle, WA
I though McDonalds had senior discount as I used to get at this store, 8201 Steilacoom BLVD WA. 98498-6156, the lady manager who has been here a sort time said McDonald's never offered a discount for seniors of Military discount...she's wrong...their ph number is 253-582-3540, store number 10678
Appreciate your looking into matter...have lived close by here for 16 years, had a discount before...now nothing??
Regards
Terry Spain

i keep going to this Mcdonalds because it is by my work and they are always out of stuff-today was no dipping sauces and no tea and some other drinks. Finally left. this is a very busy site and is kept nasty Looking and always have to pull up and park for your meal. Needs major improvements

I have attached an image of what my complaint is. I order the quarter lb. deluxe, very specific no onions. I was going from meeting to meeting had not eaten all day and now just something quick on the go. I was asked to wait since it was a special order, which I get so I drove to parking #1 and waited. When it came out and I got to my destination to quickly eat before running into another meeting I find a cold quarter lb. deluxe with onion piled on it. With the onion allergy I have it was useless to me. To stop somewhere else and pick something up was not in my time schedule.
So so upset. Wasted $5.77 and still no food until after my meeting which will be around 3:00.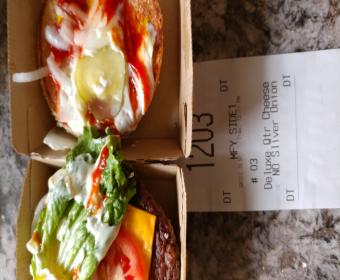 buyisiwe
from Johannesburg, GT
yesterday I bought mcfeast in mcdonalds pritchards for 70rnd medium meal,it ddidnt have those juicy source I called them & spoke with Tryfina she said I must come the following day around past 1 I went to the store waited for so long was not assisted at all I went there for nothing my problem was why tryfina couldn't assist me as per phone conversation I felt so stupid & asked if they will assist me or not they wer busy saying it looks like this coz I took a pic on my phone this lady called another person who works there to come tell me this looks fine anyway jeppe mcdonlds is the best in our store we always buy there me & my staff from sportscene weve never had a problem,i wanted to get something to eat but I thought to my self im not buying there ever 0638936545

I visited this McDonalds at this location, 615 N Federal HWY, Ft Pierce Fl 34950. I was treated very badly at this location. By a cashier name Sam on 5/29/2019 at 3:30 pm KS#2 . The manager show no interest in the problem. The cashier refused to take my order after I informed her. what she did was very disrespectful. After the cashier asked me for my order. I started given her my order, in the middle of my order. She turned away from me and started joking with a co-worker. I informed her I didn't appreciate her turning away from me in the middle of my order like that. Her response was. I know how to multitask. That's good to multitask, joking with another co-worker isn't in the middle of taking an order from a customers is not multitasking. Then the cashier refused to take my order. The cashier turned to the manager. The manager is Rosa. Rosa turned around and started taking my order. The manager was not concern about the problem. After I received my order of cold fries. I asked the manager for the cashier name and her name as well. At that point the manager wanted too know what's the problem. Due to the fact the manager (Rosa) showed no interest in the problem until i asked for her name. I chose not to tell her in front of the other customers.
I live about two miles from this location. I visit this location often. I will not return to this location until get feedback from this complaint. My name and location: General S. Platt, 1901 Barcelona Ave, Ft Pierce, Fl 34946, Phone 772-323-5538.

Lester Gideon
from Straszyn, PM
Decided to go to Mac for a good hamburger set up, they are usually just
good as in America.
But, you will not believe this one. We ordered our usual super big
hamburger, and was told it was in Pork, not beef. Did I hear right? A
hamburger from Mac made with pork? The guy said that they did not have
any beef and substituted pork for all their hamburgers. I figured that
in America, no beef meant no opening of the restaurant for that time.
We said no way, and went across the street to a new place called "Max."
They did have beef so we ordered one. Just as good as Mac's of the same
size, but will not go there again, and will return to Mac, as long as
Burger King is out of the way.

hI, I went to the Sunnyfield Morecambe outlet ordered 1 frozen strawberry lemonade, 1 small coke .1 small oasis 1 happy meal wrap 1 happy meal nuggets
cost £7.55
When I got the frozen strawberry lemonade, I noticed that it was not frozen, so handed it back, after a minute a girl said "yes, that is frozen " and handed it to the lad serving to give back to me, I still was not happy but because I had my children in the back of the car I took the drink back, as soon as I took the drink the red colour went down to the bottom of the plastic cup and mixed with the yellow lemonade, at this point it was too late to go back as we had moved car and a big queue was behind us,
When we got home the Happy meal wrap was spicy which no one said spicy and so that could not be eaten and who wants an unfrozen drink?
I feel as I already complained, while there, the staff should have looked closer and taken my word for it instead of shoving me out as for spicy wrap what kid wants that, just one last thing that I'm sure you are aware off and that's soggy straws (no nice)
Regards Stephanie Bham Date went to outlet 26/05/19 time 19.40.21 number on top of reciept 2060 12 digit code MMX-4FD9-3G6L Store 0665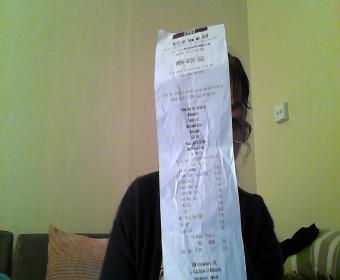 1Wny is it that your food in Parker AZ doesn't have to taste like your food everywhere else?

Terrible, unprofessional! Never will go back again!

Deann staples
from Niagara Falls, NY
I'm 5/25/19 at 730 a.m. I went through drive thru at 18th pine in Niagara falls ny. I ordered two steak bagel meals which is almost 16.00$ and to me that's expensive for three items but it's my favorite sandwich on the menu . Both the bagels were burnt to a crisp. So hard it almost broke my tooth . It felt like It was gonna. I could've played hockey with these bagels. I am disabled and had a ride I don't drive so I couldn't go back and exchange it today or even tomorrow . So please a refund would be nice . I worked at McD's on nfalls Blvd for yrs and no way would I ever let a sandwich that hard to leave my kitchen when I ran the line. Should be ashamed of themselves in pine. The bagels were black that's how burnt they were . Needless to say I threw my sandwich out . Please contact at my email or phone ty

why is McDonalds 10506 follansbee wv start charging .50 for small cup of ice or water to put in coffee to cool down have been getting ice for coffee for very long time no other fast food charges for small ice or water

I purchased Hot Cakes and Sausage, and one hash brown this am from the Mcdonalds in Colchester VT. I bit down on something while driving and eating the hash brown, and it appears to be a piece of black plastic that came out, and there was another black plastic piece in the hash brown, this was cooked right into the hash brown, as if it was mixed in during production, not from your location.
Thanks-Jennifer

Bob
from Philadelphia, PA
Last night at approx. 8pm at 9970 Bustleton Ave McDonald's Philadelphia PA I experienced the worst meal I can ever remember at Mcds. it started at the register where I asked about salads 3 times and couldn't understand the cashiers response even after asking for the 3rd time I finally just ordered a cheeseburger fries and a drink and a chicken sandwich for another guest..I tried to make the best of the situation as i was already aggravated but there was so much noise being made by the workers especially the man taking the trash out and putting in fresh bags in the cans I could barely talk to my guest . he made a n awful racket in each of the 5 receptacles. needless to say I couldn't wait to wolf down my meal and get out of there. I thought about filling out a complaint form but it wouldn't allow me to send form without my location information which I won't give for fear of retaliation so this was my best option........

People at drive thru do not know there menu
They take orders. Without knowledge of what McDonald's has to offer
Order a special
Confronted person taking money
She told me I am getting what I ordered
Asked for coffee light
Got black
Unfortunately I realized she didn't speak English well
Shouid not be taking orders

The service at the McDonald's on 933 in south bend is so bad my orders are consistently wrong have gone through the drive-thru and seen people go in and get out quicker than I'm doing going through the drive-thru being the only person in line at the drive-thru I am done going to your restaurants I'm sure there are places that would appreciate my business

Trying to get a new gift card since March to replace one that was frozen. Nobody knows why. Case No.16154686. Card # 6154 8671 8826 4716.Call many times and spoke to supervisors, cannot tell me the card was mail out. Please help, this is almost $50.00. Claudette May, 860-742-6824. Next step is the Better Business Bureau. Hope someone cares enough to look into my case. Many Thanks.

I went to store #32842 @ 6670 Tara Blvd, Jonesboro, Ga 30236, on my lunch break @ 12:55 in the afternoon, and I was there until 1:22pm. I ordered 2 of your 2 for $5 meals, 2 10 piece nuggets, a filet of fish and a quarter pounder) they were out of ice, they were out of all drinks except for diet peach sprite, the young man who makes the quarter pound patties quit in the middle of making them and so we had to wait, (plus listen to the manager and him argue) then they left the rest of my order on the counter and my food just got colder and colder. There were people waiting longer than me for their food. I had gone there earlier that morning around 6:15 for my breakfast and wanted to go in and I was told they could not open because her crew was not there and she was working (her words) damn near alone. I love McDonalds and this one is closest to my job but I am VERY upset and am going to eat elsewhere for a while, and wanted to make sure someone knew.

OMG. Not again. The last 4-5 times I have gone to this location drive thru for take out breakfast it was again wrong. I went into the store in person this time to place my order. REALLY!! wrong again and no hash brown. I requested no ice in my OJ and got a cup full of ice. I'm paying 2.79 for a cup of ice? I requested the Mgr. She actually said "we have to put ice". I said NO you don't. She insisted, was actually not backing off? REALLY. I requested the 2 for sausage egg/cheese and 1 hash brown. I got 1 sandwich correct the other w/o cheese on a biscuit? I asked her why. she said mistake. I happened to check my receipt. They actually charged me for 1 meal and a separate charge for the wrong sandwich.? I understand there is a language barrier. But I'm sorry, do not take orders at the window or reg unless you understand what the customer is saying. So in the end she actually argued with me with a raised voice in front of other customers. I ended up walking out with out my correct order and a cup full of ice that cost over 2 . I never write complaints. But this time I had enough. The folks behind me told her she was wrong. I want my money back. I'm P'd off.

I was in the 8th Street McDonalds this evening and purchased one small sundae, a small ice cream cone, and a second cone but didn't want the cone so asked to have it put in a dish. Once I paid for the order, I noticed that I was charged for two sundaes and one cone. I should have been charged for one sundae and two cones. I told the cashier but she was not able to do a refund. I am not happy that she did not do a refund.
Thank you.

Dear Mcdonalds Am writing to you, regarding a member of staff that works as a manager at rooley lane bradford. The person in question is called..Marham.... I find her very rude I went in to pick order for my customer.As I work for uber. As I approach the counter.Maraham.started questioning me saying I wasn't the person on the phone to pick customers order .As your not aware that uber has given me permission to work on behalf of my brother or any body else as long it's ok with them. When I question Maraham.I asked her do you have a problem.? First she said no. But when getting my order. She told the staff to take there time in making the order. That is not professional as she suppose to be a manger. Am very annoyed how your staff can question me about my job. please can you make sure.that any of your staff do not question me, as I work for uber and not McDonald.Regards keza

Kevin Jones
from St Louis, MO
The decision of Mcdonald's to go to double drive thru lanes and automated ordering without enough staff is absolutely ridiculous! It's no longer fast food. Twenty to thirty minutes in the drive thru is unacceptable!

STORE LOCATION: 375 CENTRAL AVE, EAST ORANGE, NJ 07018 (DRIVE-THRU CUSTOMER)
TIME AND DATE: 10:00PM ON 5/5/2018
1. THE LARGE FRIES AT $3.59- I ORDERED WERE NOT FRESH. IT ONLY TAKES 3 MINS FOR A FRESH BATCH SO, EMPLOYEE ASKED ME TO WAIT IN THE RESERVE PARKING.
2. THE NEW FRIES I RECEIVED, THE CONTAINER WAS HALF FULL & VERY BROWN (BURNT LOOKING), SO I WENT INSIDE THE STORE TO ASK FOR A NEW SET OF FRIES
3. THE EMPLOYEE JUST TOOK MY BAG FROM ME AND ADDED TO THE FRIES I GAVE HER BACK...
4. HER COMMET TO THE OTHER EMPLOYEES WERE " AM I BEING PUNKED? WE'LL JUST GIVE HERE THE SAME FRIES SHE COME IN HERE WITH TO GET HER OUT OF HER.
5. THE MANAGER ON THE SHIFT SHOULD HAVE HANDLED THE SITUATION DIRECTLY SINCE IS SPEND ABOUT $17 TOTAL...

chris koberna
from Clearwater, FL
I have been disappointed too many times at my local mcdonalds. I have finally called it quits. The drive through service is just unbelievably too slow. I went for my last try on 5-5-19 at 8:45. I placed my order and then sat for 10 minutes before I decided to leave empty handed. I guess I will stick with Chick-fil-A. They have customer service down to a consistent science and have not let me down. I am disappointed for this to have happened because I have enjoyed mcdonalds.

Elizabeth Boyd
from North Little Rock, AR
On 5-3-19 I went through the drive through and placed my order I was the only car. When I went to the pick up window they had me drive
around to the door. I set their 10 minutes waiting on my order. Mean while two cars went through the drive through. This is the second time
this has happen to me. I will not be going back. Their service is bad when 4 or 6 people are working and they can't get the food out.
this was McDonalds # 37156on 5506 McAurthor in north little rock My order was; one fish sandwich meal, one big mac, one four piece chicken tenders. $16.60

Edward Cahill
from Charlotte, NC
9725 Callabridge Ct, Charlotte mC dONALDS
05/03/2019 3:40 am CALLED THE RESTAURANT AND ASKED TO GO AHEAD AND COOK 10 APPLE PIES FOR ME, ARRIVED TO THE RESTAURANT 3:52am, ORDERED FOOD AND DID NOT EVEN MAKE IT TO THE PAY WINDOW IN 32 MIN !!!!
A FEW CUSTOMERS PULLED AWAY WITHOUT GETTING THEIR BREAKFAST. I PULLED AWAY AS WELL, WAS LATE TO WORK.
STOPED BY THE RESTAURANT ABT 10 AM AND INFORMED THE GENERAL MGR OF POOR SERVICE, SHE APOLOGISED AND DID NOT HONOR THE FOOD I INITIALY WANTED TO ORDER.
ALSO @ 3:52 AM THIS RESTAURANT DOES NOT SERVE LUNCH, JUST BREAKFAST. I WAS NOT HONORED BURGERS AT THAT TIME.
IT SEAMED ONCE CUSTOMER PAID AT DRIVE THRU, THEN MEAL WAS GETTING COOKED. NEXT IN LINE PAYS FOR FOOD AND THEN THE ORDER MAKING IS INITIATED.
ABSOLUTE DISASTER!

McDonalds' STORE 14497 5480 FOREST DRIVE COLUMBIA, SC TEL: 802-790-2645
ORDER TIME: 05/01/2019 – 1:32 PM ORDER 96 – FINALLY GOT FOOD AT 2:08 PM
ORDERED:
1 SAUSAGE EGG McMUFFIN 1 SAUSAGE McMUFFIN 2 SMALL FRENCH FRIES 1 LG PEACH SLUSHIE 1 LARGE FRUIT PUNCH SLUSHIE
I have had so many problems with this store that I have their number on speed dial on my phone. Today was nothing new, just much worse than usual.
Starting at the order window – I had to repeat the order 3 times, then had to change the fries to small from medium. This they do every time for some reason.
Paid and went to the pickup window. Waited for a few minutes and was asked if I ordered slushies? I said was and was told to go to reserve parking 1 and wait. In a few minutes a manager came out and handed me the slushies. I asked him where my food was. He looked at the receipt and said "they did not give you food?" I said no. He took my receipt and went back inside. I sat there for at least 15 minutes and called the store 3 times. Phone rang 10 times each time before I hung up. I never got an answer.
Finally drove back to where you order and asked to speak to a manager. They sent me to first window, where I was sent to the pickup window again. Finally at 2:08 I was handed food.
I have said all that to say that I have been going to McDonalds since they first opened. Today is the last time I will shop there. Guess Burger King going to pick up the money I usually spent at your store.

Your employees are thieves, I am only sending this as a courtesy but will also be reporting to the BBB and seeking an attorney, I was I do admit intoxicated in the drive thru at one of the locations, the employee took my order I dozed off while waiting for my food. My car was in park your employee including the manager took my money after they had called the police. They knew I would not be getting my food yet still took my money including keeping the change I would have gotten back. They gave the police a receipt the manager had signed to come back for my refund ( according to the office). When I went back the manager told me she was not refunding my money I should have not been drunk. Me being drunk or not does not give your employee's the right to keep my money. So if someone passes out on the curb at mc Donalds and your manager calls the police (which they should) that means they have the right to take his money before the police gets there. No it does not!

richard morrison sr
from Perry, GA
one of your employees from the fitzgerald georgia store made a threat against my son while working and has also posted pics of mcdonalds on her own personell website but she made a threat againt my son while working and manager did nothing and then days later she seen my son walking and she beet the hell out of my son and my son terminally and autistic and severely mentally handicapped an if you do nothing i will take above your head and on the streets she goes by the name ANGEL and my son has not been able to walk since the incident thank you and god bless you all!!!!!!!!!!!!!!!!!!!!!!!!!!!!!!

sandra dent
from Austin, TX
On 4/18/2019, I went to McDonald's Restaurant #25429. 7409 FM 620 North, Austin, Tx. 78726.
I was told by a lady that brought my food to the table that if I go to the website on my receipt and take a survey, that I could come back and get a sandwich for free.
I took the survey and went back to the restaurant today, 4/29/2019. A lady with an accent(appeared to be of African descent), did not identify herself as the manager, but she cancelled the order and said that it was buy one get one free. I told her okay, but I was told by another employee that after the survey, I was suppose to get a free sandwich.
I am submitting this complaint because the woman with the accent (black) was rude and did not apologize. She could have stated what the problem was, but instead she chose to cancel the order and approach me with a rude tone. She is not customer service oriented.

Ed Pisano
from Reston, VA
I went to the McDonalds on Elden Street in Herndon, VA at approx 2:30 on 4/28/19. I ordered a BigMac Meal, and when I bit into the sandwich it was cold and the bun was stale!!! I took it back to the counter and told them I did not want it, and I asked to see a manager. The young man spoke to a woman but she ignored me as I stood there. After waiting several minutes I again demanded to see the manager. The same woman to whom the boy spoke and who had ignored me came over and said, "I'll give you another one." I told her I did not want another sandwich and had lost my appetite. At that point I gathered my uneaten fries and untouched coke and went to throw them away.
The bins were overflowing and I had trouble stuffing in the fries (which I did not eat) and coke. Based on the lack of cleanliness, I'm surprised no one has gotten ill, or reported it to the Health Department.
It was a totally disgusting experience, and I honesty think it will be my last visit to a McDonalds.
I have also calledl the 800 number and spoke to a representative.

Tonight, a Sunday evening at 730pm I stopped by a McDonalds for a quick dinner. I ordered a Southwest salad with grilled chicken. After a 20 minute wait in the drive through lane, I handed over $20.31 for a 4.31 salad. When the guy returned my change I was surprised to see a handful of coins and 3 fives. I questioned him and explained that I gave him the exact coinage and should received a flat $16 back. He began to argue that I had given him some odd amount of change (2 pennies, a nickel and a dime I believe). That made no sense and I told him so but he continued to argue with me so I gave up and left with my salad. Upon arriving home I found the salad had no chicken at all. I am too tired after a long day to drive back again. This is not a isolated incident. It has happened before. I guess from now on I will need to hold up the line and check my food before I leave.
Incidentally, the last time I was inside this McDonalds, there was no one working the register but 5, count'em 5 workers clustered together looking at a schedule by the drive through window. After calling to them and making eye contact they still ignored me so I put my money on the counter and grabbed myself a cup for my drink. THIS IS A VERY POORLY RUN STORE!

hello I am writing to you this today because I have been a fan and a great customer for at least all of my life.... its been about 2 months ago that I have been having such a problem to get my breakfast at one of your Mcdonals frandicises. well its located in Athens Ga 30601 on Barnett shoals/ or some say Lexington rd. today I passed by the store was close at 3:25 am!!!!!! like WHAT??? I drove and said was the issue today because it seems theres a issue everyday.. a young man came out and say im so sorry im not able to get your coffee maam w/10 creams and 10 sugars we just had the manager say she quit and we only have 2 people staff!!!! I say WHAT???? this don't make no sense at all... as he say nobody wants to come in and work here because the manager have a don't care attitude and is always on there cell phones … please I want the problem fix!!!! I love mickey ds coffee and burgers !!! please fix this issue .im begging you I would upload the receits for the pass 3 months but would be to much... I honestly sit there and wait a good 15 minutes everymorning . I go in at 4 at walamrt that's about 5 minutes from your mcdonalds so everyday im eather rushing or have to wake up at 3:00 am to be able to get to my job on time … please fix the issue

george alvey tweedia
from Bacoor, 40
ON NUMERIOUS OCCASSIONS I HAVE COMPLAINED TO YOUR MANAGEMENT AT MACDONALDS IN REGARDS TO THERE AIR CONDITIONERS NOT WORKING AT THE AYALA MALL (DISTRICT) AT DASMARINAS BUT ALL WE GET IS THERE IS A PROBLEM,,NOW THAT
WAS OVER A MONTH AGO,THEY ARE STILL OUT OF 12 A/C ONLY 2 WORK,MY WIFE AND I WERE AT MACDONALDS TODAY SUNDAY THE
28/4/2019 AND NOW THERE IS ONLY (1) WORKING,WHICH IS A TOTAL DISGRACE IN THIS VERY HOT WEATHER PEOPLE ARE SITTING
WITH CHILDREN PERSPIRING HAVING TO USE HAND FANS AND HANKYS TO WIPE THE SWET,,I APPROACHED THE MANAGEMENT ABOUT THE ISSUE ALL I GOT WAS WOULD YOU LIKE TO CHANGE YOUR SEAT BESIDE THE ONE THATS WORKING,,,,,,I CAN Assure you thats the last time i will venture with my family to your establishment UNTIL YOU HAVE THE A/C FIXED WE WILL SPEND OUR MONEY ELSE WHERE,,,,,,,,YOURS GEORGE TWEEDIE.......

Hi,
On 4-18 I got a grilled chicken sandwich and the tomatoes were spoiled and the lettuce was black. I bit into it and gagged. I went back after my appointment and showed the manager. She did give me a credit but, the fact that they were using spoiled produce is beyond me. It had to have been sitting out for days. I do have pictures. It was store 1307 here in Tucson. I'm sure other customers received the spoiled product.
Thanks, Renee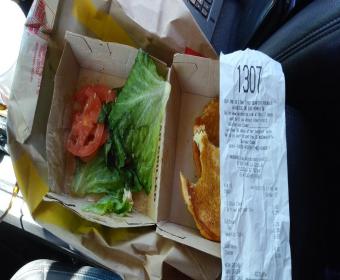 I just left store # 23827 and will not return. One of the employees was very snippy to another. The music was sooo loud you had to yell your order and ALL of the soft drinks in the machine were flat, even behind the counter. A customer brought it to the attention to one of the girls and she told him to drink tea. What kind of customer service is that. really disappointing.

no receipt unless you ask for it....the McDonald's in Madison Florida is holding my debit receipt for ransom...when I place an order and hand my debit card for payment I have not been receiving a receipt at the order window and unless you ask for it at the second window (the food window) you don't get one....I need this for general purpose. HELP!

two Months ago I filed a complaint against establishment at 18 East 42nd st NY NY in regards to the long lines and lack of agressivenss from the workers as far as taking orders between 6:30 and 7:00am. Im also not suppose to drink regular coffee but only decaf and they wouldn't make the decaf coffee so I had to default to coffee. I recieved a resposnse from the survey I conducted and an apology. So I went there today 4/25 and ran into the same situation no Decaf and the cashier was talking more to a customer as opposed to taking my order. Her name was Rosa.
This is the survey code from the receipt 25696-01810 42519 06570 00076-0. That crew is disgusting to say the least . Sorry but im venting my frustrations .
Erosado@vnsny.org
646-532-8457

Every time I come to the McDonald's restaurant # 6928 address is 7181 w Cermak rd Berwyn il 60402 Im always being harassed by the lady that cleans the lobby! I come here to enjoy my meal and i fell that I'm being rushed and being harassed. I have complained so many time and nothing has been done!! I'm getting really irritated with all this!! I will be looking for a lawyer and will go through legal proceedings by harassment!

Honestly! Do you ever wonder why your reviews are so low?? I just went thru the drive thru at the local McD's. I ordered the chicken tenders and saw that you could get a side salad instead of FF. Great idea, I thought! Well, it might have been a good thought if you would have had more than , literally 3 bites of salad in the bowl! I am attaching a picture because it is truly ridiculous! There were more tough stems than anything in it. Just don't know what else to say except how disappointing it is to go someplace that used to be proud of their product.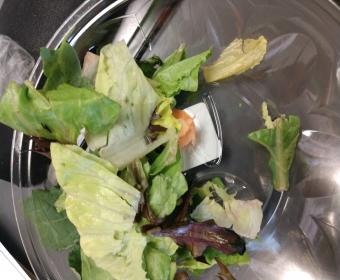 We visited McDonald's Caldermeade on Good Friday> We were there at 9.45am. I requested to have the fish fillet, but was told that it was not available until 10.30am. Most other items are available 24 hours. Good Friday happens one day a year, surely you could allow the fish burger to be available 24 hours like other products.

Wanted to buy a coffee at Falconridge location, after being ignored by an employee walking around was told by the manager they were busy and behind and I would have to just wait.

To start off I don`t know what store number it is. Its in Victorville Ca. in the Crossroads shopping center on the corner of Palmdale & Hwy 395.in Victorville. I don`t usually makes complaints, but this store needs to be looked at by corporate. I have been there a total of 10 times give or take and ever time I go there,morning to evening shit and every time something is missing or the food is nasty and its not the food being terrible it the one who is putting the orders together. Today 4/20/2019 @11am I ordered 2 Signature Crafted Buttermilk Chicken sandwiches 1 meal and 1 just the sandwich no meal, when I got my order I checked to see if everything was there and to my surprise everything was there first I ate the first one it was great but the second was horrible no dressing no lettuce or anything over cooked also. Please look in to this business something there is lacking, Shift management or just over all not caring about the company standards. Thank You Charles Mcdonald

William Ritchie
from Salisbury, NC
You need to look at the price of your French fries compare to Hardees and burger King. $2.70 for a medium fry is too high. If you charge that for a fry you should give a Hamburger with the fry FREE. Your Hamburgers are high as it is.

Drive through, ordered two lots pancakes with maple syrup, four hash brown and one sausage and egg no cheese muffin
Received first order, only one box of pancakes and no maple syrup.
Walked in third time asked for complete order to be made as I had wasted a lot of time back and forth from home.
Female manager took care of everything very fast.
No body checks orders.
No one opens their mouth to talk and confirm orders when they come to the waiting bay even after I repeated the order to them.
Not happy.
This was Coffs harbour next to the plaza.

Suzanne Kihl
from Delray Beach, FL
Having a medical; condition which prevents me from eating regular food I consume liquid foods, including smoothies & your soft serve ice cream, which I purchase 2 cones daily and have been doing so for the last 8 months (my dogs get the cones) going through the drive through as I am partially disabled. I have asked that they make the cones a little larger & expressed that I do not mind paying a bit extra. This specifically is at the restaurant located about 1/4 mile from my home on Military Trail in Delray Beach, Florida. A few of the employees have done so, but a few have told me they have gotten unto trouble with the managers for doing so.
There are 2 managers that are extremely rude and have become verbally abusive to me at the drive thru and I have no intentions of taking such abuse. I have been told, this is how it is and if you don't like the size, go elsewhere. We are not here to give our food away. Besides the ice cream I usually buy drinks & food as well for my granddaughter who lives with me, so as a daily customer I do not expect to be treated in such a manner.
When I first started purchasing the ice cream the cost of a cone was $1.09 which is now way beyond that and still the size is relatively small, which I understand , but even after explaining why I purchase 2 I am met with nasty remarks by the managers.
I will now go to another restaurant which is several miles from my home and has never denied giving me a little extra as they know it is my daily food, besides soup and other liquids. Individuals in the car with me cannot believe that a manager would speak to a customer in such a manner and have refused to purchase anything from this facility, and have promised to spread the word about the 2 specific managers, one a blond lady, the other a man color who speaks WITH AN ACCENT & TOLD ME TO GO ELSEWHERE, WHICH I WILL BE DOING. There are other places that do sell se=oft serve ice cream that I shall try where I do not have to tell them to please give me a little extra as the portions are larger to begin with and I do nit have to be insulted.

Juan Birriel
from Hartford, CT
I went to the McDonald's on prospect ave,hartford. I ordered an ice coffee and a large breakfast with hot cakes. I got taken, when I got home there was. No pancakes and no hash browns in the bag. I would like a full refund please.

Willie Dennis
from West Mifflin, PA
I went to your Mcdonalds in Uniontown. I got a Big Mack . I went to eat it and the burger was like looking in a mirror that's how thin they are. I will never come to Mcdonalds again . They used to be good . That's all I got to say.

Good afternoon,
I am a concerned customer who is writing to you today in regards to your plastic bags. Throughout the years, I continue to see more and more of Mcdonald's grocery bags and straws on the streets of Miami. I am tired of seeing these plastic bags and straws ending up on our streets, in our oceans and in the stomachs of many animals. This is a huge problem that should be solved immediately. There are so many alternatives that can be cheaper in the long run, you just have to put the efforts to change. If you don't make a change soon, expect to see your numbers of satisfied customer go down as well as your sales.
Very concerned,
Lucy Rosario

Today's date 4-15-19 I specifically waited to get underway on a full day's work and stopping at Ashland's McDonald's was my only reasonable choice: great coffee, quick food, donut fingers. Over winter I'd been the first customer dozens of times. I'd learn to appreciate a quick @2.00 burger there while getting a variety of things done while I went from job to job as a customer services consultant in northern Wisconsin. This morning, I arrived at 5:00 am, waited 10 minutes for the door to be unlocked, waited at the counter over 15' while a food assembly person said she wished she could run the cash register. I told her I'd come back in about 20' after making some purchases at Walmart. I returned at 5:25. The door had been locked again, I could see three employees, along with Lisa the crew leader, either on the phone or texting. They could see me and made no efforts to acknowledge they were going to open the door. I'd made a round trip of slightly over 50 miles to eat here dozens of times. Drive thru asked me to wait. I left disappointed and convinced the oil was hot enough for donut sticks, biscuits, coffee were all ready to go. I've run my service business 34 years and this was a first ever where employees were evidently absorbed in something other than simple, fast service. McDonald's isn't going to fail anytime soon owning some of the most valuable real estate in the world. And Ashland's McDonal's won't either. But I will get better coffee and service elsewhere without wondering whats up or how I'm going to be treated this time at this place.
Thanks for the opportunity. I am not a competitor, I'm in my 70's and love my service consulting service. But I'm going to use this as an example of customer neglect. These were mature [20+] employees, two whom I'd known to be managers.

Daniel Farnsworth
from Sanford, NC
I have never seen a manager talk to a employee so bad and hateful in front of customers I was embarrassed for her the manager is Jamie on Horner bulavard in Sanford nc

Wendy BarnettHenderson
from New York, NY
Worst experience I've ever had,the sundae was unpleasant looking,and the employee was talking to the other employees and laughing, taking turns talking with each other and laughing at me,as I waited for the rest of my order, when I asked for my money back, I waited for at least 5 minutes, I went in to ask for refund, I was still receiving laughing and asked for a receipt when I never received stating she couldn't give me a refund without a receipt,then the manager came from the back area stating he had to get it himself and as I turned to walk away,the manager actually said that I needed to just chill

Cindy Davis
from Hudson, OH
The Mcdonalds in West Milton Ohio, (not for sure if it is company owned or not) was so slow on Sunday, April 7 that I watched 4 people walk out.
My Mother and I arrived at 11:45 and got our food at 12:15. I felt so bad for the workers as they were getting slammed and yelled at, they need more help. Just wanted to let someone know that business is going downhill fast.
Thank you

Your McDonald's in Boutte, La is horrible. Went thru drive up on 4-6-2019. No one in line paid for food, drive up to window and asked to pull up. Food brought to our car twice both times order was wrong. We waited several minutes until my husband got out and went inside. They were still waiting on one of our TWO sandwiches. One lady was returning her cheese burger because there was NO MEAT! Ridiculous and I will never go back. Horrible lazy workers!

julie mcdoanld
from Ashburn, GA
it was Wednesday april 3rd we live in ashburn, ga 31714 went to mcdonalds in town at 9:30 set in drive through for 5 min car in front of us drove off there was 4 cars already in line to get their orders when I pulled up tp the menu to order and the told us they were closed due to being short staffed my 4 year old was very upset he wanted a happy meal. I could not belive what I heard I have worked in the business befor you do not close a business down due to being short staffed. I was very angry and still am. you lost a lot of customers that evening.

Julian
from Rossville, GA
this is the 3rd time ordering a quarter pounder with cheese they gave the dollar cheese burger patty ,, never have the apple pies unless your willing to wait 12 to 15 minutes,,

I came through McDonald's drive thru in Candler,NC at approximately 1155 am. I ordered two kids meals with chocolate milk. When I got to the pick up window the employee at window was talking to another employee while holding both chocolate milks. She placed both milks to her nose then hands them to me. I ask her why she put the chocolate milks to her nose? I told her that was nasty. She was being sarcastic saying I'm sorry you feel that way. I ask her if she would like to eat food I put to my nose. To which she responded would you like for me to give you another one sarcasm at best. This all took place while the shift manager stood there just gazing never addressed the problem. Due to all illnesses going around this is not professional way to handle food and drinks . At best she could've acted more concerned and out why she felt the need to put anything to her nose. Please teach your employees this is not acceptable to serve to you customers.

Melanie Smith
from New York, NY
Gave me wrong order tried to call and there company company phone busy
Wanted to go have them fix my order but it was 11:38 when I got home with this order that has. 3 baskets of French fries 1 chicken sandwich 0ne regular cheese burger and one medium late drink all that's open is the drive threw and I'm a walking customer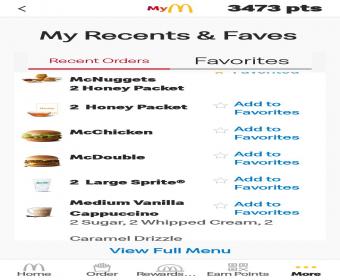 John E Dain
from Akron, OH
Went to McDonalds on a Sunday night at 11pm after work and wanted to place a take out order through the drive through and was told they were doing only Uber and mobile orders only. When was this policy initiated and why?

Camelia Rencher
from Mount Holly, NJ
After a long day my mother and I pulled up to a drive thru and got excellent service, but upon leaving we needed a trash can to dispose of our remains, we didn't see any, so I folded the trash and put it in a large ash tray, a bald Hispanic manager yelled at me saying that is not a trash can! He went on and on and got louder and louder, he scolded me as if I were an employee and not a guest, I even thanked him for removing my trash and showing me where the trash cans were located, he was very rude to me and did this right in front of other customers eating in their cars! I was afraid and everyone put their heads down in shame, because the the way he spoke to me! Mount Holly store, rt 541 & woodland road. Get him out of there because he created a hostile environment, I didn't feel welcome.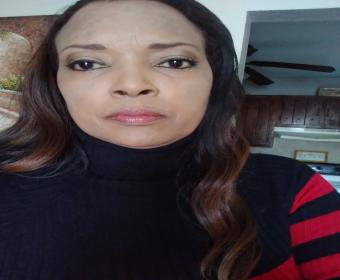 Would not honor deal that was advertised on TV that morning.
Extremely rude manager trying to explain they are a 'franchise',
So any national TV advertised deals do not apply to them.
Rosamond, Andrea Giorosito.

colleen garcia
from Salt Lake City, UT
I went to McDonald's on 11th Street in Tracy when I got back to my job we discovered that one happy meal and one double cheese burger were missing my job is about 20 mins away but the happy meal was for my bosses son so I said I would go back the manager at that store was so rude acted like I was lying she said do you know how many hungry and homeless people come in here and try to get food she said I will give you nothing I explained to her I drove 40 mins total just for a Happy meal she told me they wasn't her problem.I have never seen anyone so disrespectful work at McDonald's before especially a manager who should be an example so I told her I had the reciept at my job she said well I don't have it so I purchased another happy meal and double cheese burger with my money she took the order I payed and it took her 15 mins to fill my order she did it purposely the man behind me said she was very disrespectful and he said I hope it don't take that long for my order after work I went back to the McDonald's took the reciept gave to the manager and told him to tell her I wasn't hungry or homeless and gave him the reciept.I never thought a McDonald's employee would treat me so bad and disrespectful

Lucy Slater
from Saint Andrews, SC
I ordered a half lemonade and mixed with sweet tea. They didn't tell me they couldn't do it. And said it was a corporate decision. I would not have gotten a sandwich if I couldn't have had the drink I wanted. They have lemonade and sweet tea. I just don't understand what is so hard to mix these two drinks together. This was McDonalds in Huntsville, AL on Whitesburg Dr

Refused to give me my order after charging me, employee called me liar to her manager (Anna) after I told them my card was charged and my mobile receipt reflected that same charge, did not disclose her name after asking several times. All of that made my experience awful. They clearly have no customer service skills. I could go on about how this location has consistently been awful to me but I tried to give them a chance to many times. I'll attach a photo of a portion of my Mobile receipt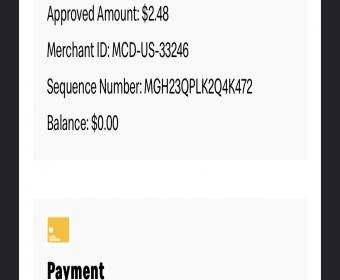 Most of my order this morning was incorrect at 10365 Bennett Rd, Fredonia NY 14063

Angel Banks
from Seattle, WA
So I've been waiting 15 minuts for my order and the girl in the back cooking burgers has very very long dark hair extensions in and she is in a hoodie with her hair out and I watched her hair drag over the burgers while she was pulling them out to cook

carissa williams
from Baker, LA
The restaurant on 200 main st. Baker, La 70714 is horrific they can't take orders attitude's is horrible and refused to give what was ordered but charged my card on Jan. 18,2023 approximately at 8:30 pm!! Another incident was with the drive thru girl her name is Rattanisha Day she has horrible customer service and she laughs in customer faces and cause altercations at the business constantly!!

Patrick Snow
from Providence, RI
Jan. 18,2023 which was last night at 8:10pm I pulled up to drive threw and waited 5minutes and no one came on the speaker so figuring maybe that speaker had an issue I go around to the second drive threw speaker to order and there's a sign that says sorry we are closed at 8pm for maintenance and tomm will be back to normal. Ok fair enough I will come back tomm. My children were disappointed and I assured them that we would come back tomm and that the dign says they will be back to normal. So tonight, January 19, 2023 I take my children back to McDonalds which is a 17 minute drive from home and again do to my job I cannot get there earlier we arrive at 815pm and there's a sign at the speaker saying closed for maintenance!!!! So I asked is anyone here and a lady comes on and says we are closed! I said last night the sign said tonight will be back to normal and now I wasted and disappointed my children again! I ask well when are you going to be back to normal hours because last night the sign said tonight would be back to normal and she laughs and said tomm we will be back to normal hours. Kids upset and I am also!! That's gas and time 2 days in a row to be laughed at and told tomm!!!! People's time and money to go buy food at your business and having signs that are not accurate and then being laughed at and a car for f children very upset at s bull!!! Stop wasting people's time and money!!! Don't put up signs to have people come back because it says u will be open when your not!!!!

Jessica roman
from Austin, TX
My name is Jessica I when to the McDonald's in Austin Texas on airport and you have some rude employees those are girl there that I don't think she work there because she wasn't in uniform and was rude to me thank her name was Jasmine because I overheard the managers tell her something I think the manager was her mom because she was rude to me to this happen to me last night on January 17 round 7pm report business bureau never again I would go there no more and telling friends and family not to go there to

Russell Quinton Buring
from Chicago, IL
They use to give refills on Coffee, I was just informed by a worker,you no longer do I asked her for her Name she refused to inform me. She is a young black lady at the One at Western Ave next door to jj fish and Chips.

Charlie Seibert
from Vineland, MN
I ordered a quarter pounder with cheese at the drive through in Aitkin Mn. There was a long hair in my sandwich. I called and asked for the manager. I told him about the the hair and he took my information. I asked if he was curious about the the time and date. He was not interested.
I haven't received a reply let alone an apology. I know this isn't status quo. I hope I receive a reply from your office.
I hope you find this information useful.
Thank you Charlie Seibert

C, Hawkes
from Brighton, ENG
I have just returned from visiting my sick brother in Kent with my 95year old mother.
On the way home we stopped at Clacket Lane Motorway services on the M25.
I purchased 2x Cheeseburger and fries and a Coffee which I took to my car to eat as my mother has limited mobility.
The food was not up to standard. The fries were cold as was the coffee. We ate the burgers but threw the rest in the rubbish bin.
I will not be using McDonalds again. You are a fast food chain who should be able to serve hot food but apparently can't.

Alan Van Weerthuizen
from Webster, NY
over last 2 weeks this has happened 3 times. First time i ordered a large coke and 2 mcgriddle. I recieved 1 mcgriddle and 1 large coke. Upon going back the next day to the drive thru the manager was rude and said just give me a buck and did give me 2 new mcgriddles and a large coke. While this was resolved it certainly wasnt resolved profesionally without attitude and i really feel she should have just comp me the full meal replacement but whatever on that. Next time i got the correct amount of mcgriddles but i got 4 of them wrapped in one and my large coke while technically this was correct and okay only because this was for just me. Yesterday repeat of the 1st one where i ordered and recieved 1 mcgriddle and 1 large coke but paid for 2 and a large coke. Today i was charged for 1 and a large coke replacing the one from yesterday and at the window where i get my order from i recieved 1 mcgriddle and 1 large coke. This was to correct mcdonalds charge but not recieved and if i had not opened bag i would have only recieved 1 and not the repalcement 1. I did get 2 after the girls say it only says 1 but on menu board it did clearly say 2 and a large coke.
i Feel that the proper way to handle this isnt to just replace missing food item but to compensate for the whole meal as i suffer hunger due to this mistake. Its not the money its the fact that the customer had to do without what was paid for and when u complain the attitude is like okay here is the replacement but zero regards to fact the day before the customer had to go hungry while mcdonalds held the customers money on something customer didnt recieve. Its as if this part of the customer issue isnt relevant to them as if they really dont care or understand that we cant just go back thru drive thru after at work as there is no time and thus customer goes hungry on something that they paid for and they just dont seem to understand nor care. The manager is almost as if who cares here u go now leave atttitude. Im just writing this to u so that hopefully u can correct the behavior ran at ur store in wilsonville Or.
Thanks
Alan

Tina Metz
from Washington, DC
I'm going to make this very clear I'm so feed up with this one McDonald.. I go to McDonald's mostly everyday.. this one manger in the morning at 7415 Richie Hwy Glen Burnie MD 21060 she has a total attitude problem. This morning I did a curbside order I usually get park anyway when she bought the food to the car she had a total attitude with heading the food I said have a nice day she mumbled under her breath and walk away with a attitude I'm getting so feed up with her attitude I have a speech impediment I always order by the McDonald's app because of this. I don't need to be treated liked this with a dam attitude problem this is the first complaint I put in because I had enough something has to be done about this she is liked this to mostly everyone… I know your company won't do anything anyway so this is probably a waste of time. I don't complain about things but I'm done dealing with her attitude all the dam time. Have a nice day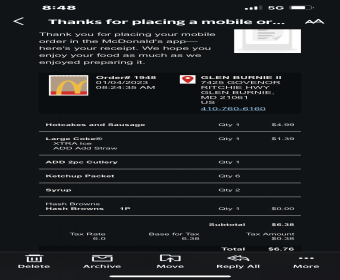 Randy Chappell
from Leo-Cedarville, IN
I was very disappointed that the guy up front helping take orders forgot what he was doing. After five cars went thru the other lane, I yelled. He told me he forgot he was taking orders, while laughing. I said something at the window. They pulled me ahead, and the manager ( who I've had trouble with before ) told me I could not come back. Im a twenty thousand a year customer. ( They will have no problem verifying this. I wrote you yesterday. I thought I'd atleast get a response ?

Luis morelos
from Dickinson, TX
Am making a formal complaint every time I go to MCDONALD'S I order something to eat to go they always give me the wrong order I hope you follow up with this complaint this is the location of the Macdonalds restaurant 4505 n hwy 146 bacliff texas 77518

Sarah Sizemore
from Chicago, IL
On December 26th I had gone to the Oak Lawn Illinois location off of 105th and Cicero Avenue. It took a while for them to take my order while they had taken five other orders from the other lane. Once they took my order she told me to hold on, then I waited when she got back to me I told her I had already placed my order then she rudely had told me then why didn't I pull up? So I proceeded to pull up and of course they did not have my order. I then again place my order again which was one sandwich and two fries not complicated. I paid for it left the change with them when I got to the second window they still did not know what my order was and asked me to pull to the third window no problem. The so-called manager of the location came to the window to hand me my order while she was on the phone and asked me what my problem was while on the phone. I asked her if she could please put the phone down and she said no she was on the phone with her child. I asked her if her child was in the hospital or dying since I was raised that customer service you need to address the issues with the customer and give them all your attention. She had a massive massive attitude with me but told me the reason why she was giving me an attitude was because I gave her an attitude first. The only reason I was talking to her is because I asked wanted the manager's name for that location and she told me it was Tyra Banks, I was like oh the Victoria's Secret's model? She said yes I said always is that you and she said yes. So now we have all the staff behind her watching how she interacts with customers and they're now thinking it's okay to treat people like that. After our interaction and me telling her about the issues I was having I didn't even get to finish my story and she slammed the window in my face and walked away. This is completely and utterly inappropriate as I am an FBI agent in the Chicago area and this is not the respect that should be given to any customer let alone somebody of the agency. The rude and disrespectfulness that this location has shown is beyond sickening. Not to mention once I did get home they had poured so much salt on the fries that I had to throw them out and the hamburger was cold as it was not cooked and I could not eat that either. This was actually a meal I bought for my mother-in-law so she was not able to have dinner that night. If this is the way your locations treat customers it's going to be all over the Internet pretty fast as a lot of the people I interact with are going to hear about this story and from there it's just going to explode this woman needs to understand what she did was wrong and needs to apologize to me for what she had done. The problem with people this age nowadays think it's okay to be on the phone all the time and it's not. Slamming windows and doors and people's faces is completely disrespectful. I look forward to a response as soon as possible to clear this matter up in a timely manner. Best regard, agent Sizemore

I ordered a plain wrap with chicken and cucumber in and no sauce beacause I'm allergic and it came with sauce not happy

Emma smith
from Nottingham, ENG
Very disappointed with our mcdonalds receipt number is 1789we had 2 happy meals 1 was missing fries the other had no drink, both cold. My husband had a double 1/4 pounder meal but we both had medium size again both cold, we were charged 19. 46

Phumeza
from Cape Town, WC
I was in Canal walk today and I bought 2 mcfeast large meal and fold over meal large when I get my order my son first noticed that the drink was watery and I told the lady and she gave us another drinks it was a take out when I got home I noticed that the fold over is not here I'm so disappointed they supposed to check the order before they gave it to a customer I'm very very hurt and angry at the same time my money go with water just like that.

Benjamin
from Orlando, FL
Good morning, my name is Benjamin and I am a Dasher with DoorDash. In the past I have filed complaints about a specific member of your team, and I noticed that she is back at this McDonald's unfortunately. The team member in question is a large woman with a neck tattoo, who is rude and very unprofessional on a regular basis. I do not know her name but I think she might be a manager. This morning I arrived at McDonald's to pick up an order for a customer, she rolled her eyes at me when I entered the building, and proceeded to drink her coffee and gossip with her coworker instead of asking for the order number. I tried multiple times to get her attention so I can pick up the customers order, I repeated the last four digits of the order number Three times and still she ignored me. When it was convenient for her, she handed me the bag that had been sitting on the counter for five minutes and did not know the order number or the order that was in the bag. I had to confirm everything for myself that this was the customers correct order . Her behavior is very unprofessional and not very secure for both McDonald's and the customer placing the order. I do not mind pick it up from this location, but her attitude makes it very unpleasant to work with you guys. The McDonald's in question is located in Ocala Florida on the corner of Easy Street and SW. 27th Ave. (2827 SW 27th Ave). Please feel free to reach out to me if you have any further questions. Regarding my complaint. Thank you for your time and understanding. Happy holidays!

Gina Hart
from New York, NY
Very very upset that the peppermint flavoring is not in all McDonald's restaurants this year for the iced coffee in Etc that was a bad move that is something I look forward to all year

Nisha
from Kuala Lumpur, 14
Hi good evening, The toilet wasn't clean and very bad smell looking so ugly, the table was not clean, make sure you should take more responsibility tq .

I was just at Macdonald's Settlement City, Port Macquarie. I ordered an sundae as advertised on thier drive through screen. I was the informed that they had run out of icecream. What type of Macdonalds runs out of its supplies by 2:30 pm? This not the first time.

Michelle
from Adelaide, SA
On upon ordering food from mcdonalds freville from uber .they had a set time but then the time got longer and longer I messaged the uber person said why such a wait ? He responded the same thing and asked me to ring them why as he couldn't get answers .so I tried ringing, no answe at all. Food arrived much later and chips were cold and the burgers looked as just slapped happy put together . The uber guy apologised and didn't know what was going on .I said to my partner it's suppose to be a fast food outlet I could have cooked a 4 course meal . And the adds are so deceiving looks great big burgers ect and when you get them so small. I can't remember when the last time I had a triple cheeseburger I nearly fell over backwards at rhe size of them today.. disgusting and pay for that ridiculous prices .

Hey they don't clean and also they have been trying to get people in trouble and set them up and Steven never do his part of this store and I mean he let all these manager eat and make burgers anytime and let them do what they want and sometime they don't use gloves and I order a burger and it was so bloody it have made me loose my Appetite of my meal and also they make people feel soo uncomfortable in drive through and service and even there employees I heard a lot of people say it really dirty and also nasty and the manager for night shift Vanessa has an attitude to the employees and customers and people complain to this place and I have multiple weakness and I'm also a very honest person and I'm very religious and I didn't have the time to get it on camera.

Janine Smith
from Phoenix, AZ
McDonalds at Shea Blvd and Scottsdale Rd, Scottsdale AZ - in line for drive thru for thirty minutes. No person at window 1. Ridiculous. Never returning to this location.

Miss Carr
from Parksville, BC
I was in Macdonald's for lunch in Parksville BC with a family member when there was a homeless person sleeping at table that didn't bother me but the staff did. I had ask the staff to just call the police to have the person removed but instead some staff was screaming clapping their hands and one staff member was really very angry bagging things around screaming at me cause I ask them to call the police instead of making a scene. I felt scared the way they were handling this situation cause some people can become violent which could put customers at risk. The one saff member stared being very agresisve with me and my family member we were just watching on how they were handling the situation. He was cleaning banging things around screaming at us sitting their. This was very upsetting the homeless person was ok but the one staff member wasn't and I was scared. I felt he was going to hurt us so we finished our food and left. T

Dana massey
from Denver, CO
We went to diner at the mcdonalds in castle rock colorado onpsrk street on 11/29/2022. My 6yr old daughter wanted 2 cheese burgers her normal. We go there alot as a family. We came home and ate. My daughter had one 30 min later she said she had a stomach ach ,so we went to bed. At around 1030 pm she woke up and went to the bathroom had dihreah she then threw up. She went back to bed for the night she woke up in am on 11/30/2022 and ate all her breakfast. Mt guess is she ended up with food poisioning. We will prob not go back to this resturant location and tell people not to eat there.I was also going to call health department. There were a couple of other things that was bad at this location. Everyyime we have eatin inside there were alot if flys.

Karen Nowell
from Red Oak, NC
We ordered a 6 piece chicken nuggets with hot mustard and received no sauce, we were also not asked if we wanted apples or extra fries. Apples was on the the receipt and we were given extra fries. We also ordered a quarter pounder with cheese and no onions and it was covered with onions. Very poor service.

Russell williams
from Winter Park, FL
Drive threw not open 11.04am.went to only window open mgr tells have to go back around to order.fire mgr for rude sttitude.ruinex my dY.she horrjble.

Tianna Kelly
from Redding, CA
After dealing with the rudest drive through person that couldn't take a proper order we received did so inedible we had to toss out. Hamburger undercooked fries so over cooked could have been used as nails. Only edible food was nuggets. No sauce, order not prepared as asked. This has been an ongoing issue with this site and we keeping saying understand covid, but we will not return. This is simply not the first time for bad food and service at this location.

Harriet Wezena
from LaSalle, QC
On Saturday November 19, i went to Mc Donald's located 430 28e Av., Lachine, QC H8S 3Z4 and purchased 2 breakfast trios with a coffee and apple juice and requested 2 creams and 2 sugars on the side.
I was served and when I got back to my car the cream and sugar was missing. I went back and asked for the cream and sugar and the employee asked me for my receipt. I told her i was just here a few minutes ago and my daughter is waiting in the car with the order and my purse with the receipt and why would I be here asking for the items if didn't already pay for them.
The employee that gave me my order came over and confirmed she gave me my order and I reiterated my order is missing cream and sugar.
They both insisted they couldn't give me the cream and sugar until I produced my receipt.
I left the restaurant amidst several waiting customers, went to my car and brought my receipt before I was given the cream and sugar.
I have never felt so humiliated in my life until this day. I wonder if I were a white female instead of black I would have been asked to produce a receipt before being given "2 CREAMS & 2 SUGARS". I'm beyond livid! Suffice it to say, I have lost my appetite for Mc Donald's.

Sterling
from Charlotte, NC
Sit in the r drive through for 15 minutes waiting for someone to take my order I had to call into the store then someone took my order

Overnight/Evening shift management needs to be retrained on why one should not harass people for being autistic and disabled. It is not "funny" or "entertaining" to deliberately cause issues so you can laugh at the person with autism flounder around for a suitable response. Retrain management BEFORE it becomes an public incident... your management are cruel and heartless and Evil. Who makes fun of people less advantageous than themselves for entertainment and amusement? You should be ashamed of yourselfs!!!

Mad Rivas
from Silver Spring, MD
43345 Junction Plz Ashburn Virginia,
So dissatisfied on this McDonalds! I have complained before about their bathrooms and now they keep the lunch room so cold no one likes to eat in!
We are bus driver for the schools and this location is convenient for us to eat breakfast! But now we just decided to go to the other location in Ashburn! The staff at this store I seen how they ask customers for their phones so that they could do the review and then they give them a coupon to the Mcdonalds! I seen one of the manager do that! The service poor! They don't want to take order at the register anymore! We all have complained to them letting them know how cold it is in the lunch room! But they don't do nothing about it! This Mcdonalds location gets worst and worst! It seems they don't like to work in favor of the customers!

Ivelisse Garcia
from Newark, NJ
I just ordered food from the Saddle Brook nj McDonald's I came home and my food was all wrong the burger was disgusting I asked for a Big Mac extra cheese no pickles I got a freaking Big Mac no cheese no sauce and full of pickles like totally opposite and then Frozen cold fries and a water down drink McDonald's is going down the drain with these damn workers that they don't even speak English plus they didnt give me a receipt that i ask for they said there was an issue with the register unacceptable

Dusty Hupfer
from Saint Marys, PA
I just drove all about 5 miles at 955 to b told i couldnt get 4 mcflurrys and 4 soft serve cones. They are always tearing down the ice-cream machines bfor 10 when they don't close till 11. They r sending customers away and loosing business because they are too lazy to take 10 minutes after close to clean the ice ream machines. Ive heard from friends all they do is soak the parts and the morning shift puts it back together so y are they tearing down over n hour early. I could understand if it was 1045 but not 945 or 1015 this is the 20th time we were turned away eventho the online app lets it go. Its the only place in town toget it besides burgerking that closes at 10. Dairy queen is only open in summer months. Do you like your employees turning away business and your customers wasting gas for nothing. The place was dead too how hard is it to put it back together quick? The south stmarys street McDonald's in stmarys pa 15857

Rosanne Hamilton
from Spring Hill, FL
I placed and order and when i got the order there was something wrong with every item in the bag. The fries were old and over cooked. The mc rib was horrible. The iced tea was nothing but a large sugar water. I could not even taste the tea because there was so much sugar in it. They are serving food thats been sitting around and old.

Rich Rohe
from Chicago, IL
I wish I could leave a 0 out of 5. Apparently 24 hour drive thru at the downers Grove McDonald's at 63rd and I 355 actually means close before 11pm. Don't claim to be 24 hours and leave lights on if you close before 11pm like Google says

The wakanda commercials are extremely offensive!

Shana
from Manchester, ENG
I spent 20 on 2 meals payed £3 delivery fee for him to be over 20 minutes with my food. The food was cold and tough I couldn't even eat my mckrispy I nearly snapped my tooth trying to bite into it. I had no sauces with my nuggets even when I selected them on the order. The nuggets and chips were freezing I had to warm up myself and it still didn't fix them. I will never be ordering from McDonald's again and I would like a full refund of my order. Thanku
Have feedback for McDonalds?
Thanks for your feedback!
Sorry. Please try again later!