McDonalds
McDonalds Complaints Continued... (Page 4)
1089+ reviews added so far. Upset? Call McDonalds corporate: 800-244-6227

Kathryn A. Badgeley
from Cleveland, OH
If there was something lower than a 1 that's what your score would be. Went to the McDonald's at John Glenn Airport on 3/2/19 at 9:45om. They were suppose to be open until 10pm. All the employees were sitting in the dining area on their phones. When I pointed to my watch and told them the sign says you are open until 10pm they all started laughing. Great impression. Now I understand why your company only scored a 1 1/2 out of 5.

THE MCDONALDS AT 1551 ANN BRADEN BLVD. NEEDS A LOT OF HELP IN THE P/R DEPARTMENT , THE CREW/ LEADER OR MANAGER ON DUTY AT 1600/1700 CST 3/01/2019 NEEDS A LOT OF TRAINING OR SHE NEEDS TO BE REPLACED , THIS IS THE SECOND TIME I HAVE HAD A RUN IN WITH HER , 1ST TIME I WENT IN TO GET A BREAKFAST SANDWICH WITH YOUR APPT. THAT SAID $1.00 OFF ON A BREAKFAST SANDWICH I WAS ORDERING A SAUSAGE MUFFIN WITH EGG , SHE WOULD NOT EXCEPT THE APPT. IT HAD NOT EXPIRED NOR HAD I USED IT BEFORE. SHE JUST SAID I NEEDED TO ORDER SOMETHING I WANTED THE BREAKFAST SANDWICH , THIS WAS IN FEBRUARY LAST WEEK , THEN TODAY 3/01 I WEN IN TO GET A FLAPPEE, MEDIUM FOR A 1.00 OFF AS YOUR APPT. STATES AGAIN SHE WOULD NOT EXCEPT IT , SHE WOULDNT EVEN HONOR THE APPT. HER MACHINE WOULD SCAN IT. I KNOW THAT I AM ONE CUSTOMER " BUT I AM A CUSTOMER " SHE NEEDS TO A LOT OF TRAINING SHE WILL NOT GIVE HER NAME , THE MAINTANCE PERSON TREATS PEOPLE BETTER THAN HER.
I WOULS LIKE A RESPONCE OR SOMETHING.
THANK YOU
CURTIS HEDRICK
CURTISH4301@GMAIL.COM

The store in Lebanon, IN. For the last two years won't stock enough products to sell. That have added extra refrigeration and still won't keep stocked. I have to go to the McD in zionsville, IN to get chicken tenders

Lynn Fry
from Harrisburg, PA
I saw mcdonalds was advertising the Shamrock Shakes. Went to a mcdonalds rrstaurant, waited in line, ordered 2 shamrock shakes and was told their machine was down/not working. Being that we were already out, we went to another mcdonalds restaurant and ordered 2 shamrock shakes and AGAIN was told the shake machine was down/not working. hmmmm it seems to me mcdonalds did not have the shamrock shakes and were telling people the shake machine was not working. Maybe you shouldn't advertise something before you actually have the product. Anyway I know its no big deal but on the way home we stopped at Arbys and got our shakes.

I went through the drive-thru today for a Mocha Frappe and the Frappe was nothing but a cup of flavored ice. I couldn't even drink it through the straw. I did not go back because I had to get back to work.

location 35242 Grand River Ave,. Farmington Hills, MI 48335
THIS PLACE IS TOTALLY UNDERSTAFFED, AND WHO IS WORKING THERE FEELS THIS PRESSURE AND OFFERS POOR SERVICE.
IT WAS A NORMAL PLACE UNTIL 3 MONTHS AGO, NOW IT IS REALLY BAD AND NOT GOOD AT ALL FOR MC DONALD'S IMAGE.I SUGGEST YOU RETRAIN THOSE EMPLOYEES AND HELP THEM ADDING A FEW MORE PEOPLE ESPECIALLY IN THE MORNING.

Montgomery Village, MD : The Hashbrowns are awful , sometimes taste like dead fish, obviously never change the Greese pit. Actually got sick as a dog from eating 2 hash-browns on an empty stomach( NO Hangover). They need another Option with a Breakfast meal order, getting real old and disgusting.

Eldon Dodge
from Stoughton, WI
We were traveling back home from Siesta Key, Florida today (2-23-19) at 4:30 a.m. and needed to get breakfast on the way to the Punta Gorda airport. We saw the lights on at the Clark Road McDonalds in Sarasota and it said open 24 hours. When we pulled in - there were two people inside just standing around and talking. There were two cars ahead of us one for coffee and the other for tea. We pulled up and ordered 4 Egg White Delight sandwiches and a coffee - we were told the total amount and pulled forward. Once we were there the lady told us the total and then someone inside told her there was no food - egg sandwiches. We asked if there was anything made. She was told to close the window and then you could hear someone - the manager??? yelling at her about the order. She had closed the window and we tried to holler at her about what was going on. When we received no response we left and were very disappointed as we needed to make our flight time. This is a very bad representation of 24 hour service!! Eldon and Laurie Dodge

My track team went to the McDonald's at 4711 14th st Bradenton Fl. It took 1 hour and 6 minutes for 12 people to get their basic orders. I have never been to a poorer run fast food establishment than this. The other customers were furious as well. I could have sit down at a steak house and ordered and eaten faster! This establishments owners need to know this. I would have fired the manager and a few employees.

Its impossible to get a happy meal with no meat my grandkids are vegan and would like a happy meal but everytime i ask for a happy meal with no burger or nuggets they ack like im asking the impossible. So please come up with a vegan happy meal . Thank you Dena Walker !!!

My teenager daughter Teresa Denton is her name she's 17 she has a disability bit of autistic she started working at McDonald's in June we are very proud of her she switched to the morning shift one of the managers asked her is she had autistic in her she's going to college I guess she's working there to pay for her college when trees are said yes she started picking on tresa more than usual we moved Teresa to the night shift to see if we can get rid of her trees didn't say anything to me she keeps things inside the lady still was picking on Theresa the way she mopped and just kept hammering on her according to Theresa she doesn't do that to anyone but her and another upsetting thing is one of the employees manager offered her some booze to help calm her down I could have been wine yeah my daughter has a disability she's on pills and I'm proud of Theresa she told her no and she quit the job that's on sessional what I want done is the place checked fire them I don't care you don't offer a minor anything to drink to calm her down Teresa quick but you need to go to this McDonald's and check it out I know Teresa is imperfect she's a little bit you know but still that was wrong I'm reporting this because I don't want nobody else to go through this or you need to train your employees management Teresa was doing fine when she first started she was so proud of her and I was proud of her I want something done some kind of punishment whatever you can do this is not right her mother Laura Denton

First of all service is always excellent: friendly, cheer full and courteous !!!!
I visit My McDonalds at least 3 times a week and always get the McGriddle and a lg black coffee.
Today I decided to try the doughnut sticks, very disappointing!!
they were all miss shaped and not one grain of cinnamon sugar and they were doughy on the inside.
The young lady who took my money asked if I order with NO cheese, I told her WITH cheese please
it came with NO cheese ( I did eat it anyway and it was good but not as good as it would have been had I had my cheese).
when I got to my destination and realized my order was askew I was a little pissy at first, but then I drank my coffee and thought to myself "get over it" so venting does help!!
best regards
Mimi

I ordered a Fruit & Yogurt Parfait and received a cup of fruit with a spoon full of yogurt. I called the store to ask why there isn't any yogurt at the bottom she stated that how they make it now. I thought it was odd that they put it in a bag this is why people sit at the window and check their food. I can't even eat this smh!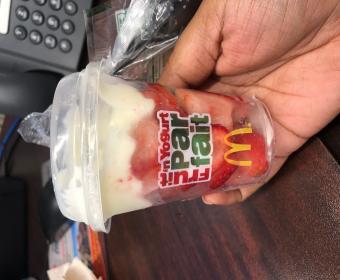 I called to see if I could use my app for $4.99 nuggets twice. The man who answered said yes he'd have to run it on two separate orders then it would be fine. I even verified it was on my iPhone app. So I went right up and did as he said on two orders and they told me they couldn't do it. I had just talked to him before getting four kids in the car to go there. I talked with Elaina Galloway as I was told she was manager and she said nothing she could do. I could have gone to Burger King for nuggets way cheaper. I called the complaint dept at corporate thinking you'd help me. I am so angry. I haven't been called back and nothing has been done to solve my complaint. What the heck? This is SO wrong. Can anyone make this right? I should have gotten what I was told less than an hour before at the same location on Howe ave #11090. PLEASE HELP ME SETTLE THIS. I've called twice. I will continue until this is settled somehow. My phone number is 330-923-3504. I have both receipts.

carmen velez
from Middletown, PA
I went today to macdonald at the harrisburg pike Middletown to buy asome cheeseburger, a quarter pound burger and let me
tell you, the burgers wee greasy, burn, the burgers look like they were old, taste like carton and look so discusting, that we have to throw it
out. This is the 3rd time this happens again. I stop buying from your restaurant but I guess I would have to leave theis place and go somewhre
else.
c armen

This is the 3rd time in 2 weeks that I have a complaint.
I go to the McDonalds at Whitaker Avenue & Hunting Park Avenue in Philadelphia, PA, at least 4 times /week, it's across from my work.
I was just in there today 2/16/2019 and I walk in, it's approx. 10 people behind the counter but no one at the cash register. I wait, the employees are looking at me but no one says, I will be with you shortly, hello, welcome, nothing. I stood there for 5 minutes until someone finally takes my order.
This McDonalds is the worst that I have been to in Philadelphia. It's always like this, even if I go in the morning before work.
There is no customer service in this store. You need to send someone in there to act like a customer so they can see how this store is run.
Order #102
4163 Whitaker Ave.
2/16/19 @12:06pm

LINDA MIDDLETON
from Cape Town, WC
Yesterday 14/02 our electricity was of from 18h00 to 20h30. we bought 4 meals at Mcdonalds - Paarl Jan van Riebeeck RD.( KFC next door was closed bcz of the load shedding). the chips of 2 meals were UNDONE, HARD, RAW, and FATTY. NOT CRISPY. We couldn't turn back as we were on the way to Cape Town.
And its the first time that I ever experience those chips.....

Husband picked food up from McDonald's on 25th in Gulfport, Ms. I stuck my hand in to get fries pulled up a NASTY smashed roach stucked to fries. Immediately, threw food everything away. Gagged , throw up a good while. Trying to wash mouth out. Talk about nasty, filthy gross! Of course, it was thrown out! We only spent $4.35 on whole order! Not trying to get something to eat in it's place. But, to be told by one manager that it probably wasn't a BUG, was quite rude, belittling as well as really saying that I was LYING! I understand your policy. I respect your Policy!! That WAS a NASTY filthy downright most horrible, horrific experience! Please reinforce the policy for them to wash hands. Cover hair and CHECK FOOD FOR BUGS! Store # 3191

Jordane avon
from Toronto, ON
I go to the same McDonalds everyday on my break for my coffee! All the employees are so nice and put a smile on my face other than this one manager at the downtown Peterborough Ontario location! Her name is Susan and to top it off she is a manager.... and the she says today as I am thinking to myself; "why are you sighing?" I respond just in thought....? she replies "Agh people like you should just not come here" As I asked her "pardon me" she basically through my coffee at me and proceeded to yell at me as I walked away about how she was going to come watch me do my job and sigh while she did? Worst and most embarrassing display of poor customer service... She should not work there let alone be a manager... All she is doing is giving them a bad name and she should be ashamed... Keep your issues at home and definitely don't take them out on random customers, specially ones you see returning day to day. Timmies here I come, maybe they will know how to pick respectful managers.

There is no changing table at the McDonald's at 2646Jamacha Blvd., El cajon, CA.
I went to change my 2 1/2 year old granddaughter. I had to balance her between the newly remodeled sinks. After a struggle I got the job done. However there was no trash can there to put it in. I told the person there that I was complaining about that and she said, we used to have one.
This place has a play structure for kids, why not put in a changing table. That is wrong. By the way, I threw the diaper inside the restaurant. I was frustrated and very upset. I could not change her on the floor, because at 73 I wouldn't be able to get up!

i had a terrible experience with one of the suspervisors named Natali at McDonalds located at 4553 HWY 7, Woodbridge, ON.
her beviour is very rude, ignorant and not professional, for the way she treated us as a regular customers, she gave a bad reputation.
i blame the company for hiring this uneducated person to deal with customoers, i am so upset and disappointed.

lina mando
from Maple, ON
I am a resident of Woodbridge, ON. my 2 daughters love to go eat in McDonald almost every week or unless every 2 weeks, well, today 02/10/19,we went to MacDonald to eat at 4535 Hwy 7,Woodbridge,ON, Store #7565, we have the worst experience ever , "the supervisor named Donna ", was very rude , and ignorant, what happened is that she came to our table said that it's not allowed to have drink in the water cup, then she took the cups while we are eating in ignorant way and left, I got so upset of her behaviour, so I went after her to tell her that this is not the good way to behave, she can explain to us in a good way to not do it again and we will accept that. But instead she yelled and screamed at me in the presence of all the customer and employers, I sked her why you yell and scream but she continues screaming and yell at me, she accused me that (I teach my kids to steal the drink). Then she said with (laughing) (goodbye), she embraced me in front all without respect, everyone was looking at me and surprised for what she is acting toward me. I got upset more, I am the constant client of this store suppose to have a great time and treat with my daughters, but I was wrong, I didn't feel safe there anymore that we ended leaving right a way without finish our food, because of her weird and unacceptable attitude. I ask one of employers to speak with the manager, she came to me again and said I am the manager, everyone was laughing supporting her. I believe if this supervisor stay at her position, your company will lose a lot customers in the future for the way she treat costumers. I blame the company for hiring this uneducated, ignorant and not qualified person for this sensitive position.
the company has to do something against her, unless I drag her and the company to court to give her a lesson of behaving and respecting others, and the company learn how and who to choose their professional employers who are willing to improve the service of the company and therefore receive more good feedbacks.

Luke Wilcox
from Defiance, OH
I went to the eastside McDonalds in Defiance ,Ohio and ordered the 2 for $4 breakfast sandwich special. I paid at the first window and went to the pickup window and was asked to pull up wait in the designated area. The previous 2 cars in front of me had also been asked to do the same. As I was waiting the next 2 cars were also asked to pull up and wait . so, a total of 5 people were waiting for their orders. After about 10 minutes none had received their order. Finally after another 5 minutes the manager came out with 2 orders for the last 2 cars that were waiting . Finally another 5 minutes and she brought the rest of the orders and I asked if the receipt was in the bag and it was not , so I asked her for my receipt and she said she would have load some paper to print it out . after another 7 minutes I had had my order with the receipt. She apologized but I do not see why it took a total of 27 minutes to get my order for an advertised special.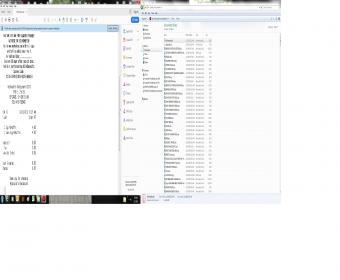 lina mando
from Maple, ON
Date: February10,2019
McDonalds
4535 HWY 7, L4L 1S6
Woodbridge, ON
RE: Complaint Against Supervisor (Donna)
To Whom It May Concern
I am writing this letter to inform you of the behavior of one of the supervisors in this company named (Donna), I am referring to the constant discrediting, use of abusive language and insulting. I have been experiencing from especially on February10,2019, at 4.05pm.
I am a resident of Woodbridge, ON. my 2 daughters love to go eat in McDonald almost every week or unless every 2 weeks, well, today 02/10/19,we went to MacDonald to eat at 4535 Hwy 7,Woodbridge,ON, Store #7565, we have the worst experience ever , "the supervisor ", was very rude , and ignorant, what happened is that she came to our table said that it's not allowed to have drink in the water cup, then she took the cups while we are eating in ignorant way and left, I got so upset of her behaviour, so I went after her to tell her that this is not the good way to behave, she can explain to us in a good way to not do it again and we will accept that. But instead she yelled and screamed at me in the presence of all the customer and employers, I sked her why you yell and scream but she continues screaming and yell at me, she accused me that (I teach my kids to steal the drink). Then she said with (laughing) (goodbye), she embraced me in front all without respect, everyone was looking at me and surprised for what she is acting toward me. I got upset more, I am the constant client of this store suppose to have a great time and treat with my daughters, but I was wrong, I didn't feel safe there anymore that we ended leaving right a way without finish our food, because of her weird and unacceptable attitude. I ask one of employers to speak with the manager, she came to me again and said I am the manager, everyone was laughing supporting her. I believe if this supervisor stay at her position, your company will lose a lot customers in the future for the way she treat costumers.
I have tried to bring this issue to your attention to no avail. It is, therefore, my wish that you try to find out what the problem is and act on it in the best way possible. I love working here, and I know that this is a company that holds true to employee wellbeing. As such, I trust that you will handle this matter amicably.
I am looking forward to a positive response.
Sincerely,

lina mando
from Maple, ON
Hi,
Today February 10,2019, on Sunday, at 4.05pm, we came me and my kids to have dinner at McDonalds store located at 4535 HWY 7,Woodbridge, ON.
after we got our order and while we are eating one of your supervisor came to me and told me that it is not allowed to have drink in the water cup, then she took the drink while we are eating in a very bad and rud behaviour. knowing that I did know that fact about the drink.
so i got upset for her behaviour, i went to speak with her for her bad attidude, insdead she yall and scream at me in front all the costumers and acused me that i teach my kids to steal and she kick me out the store and laugh and staff also, you can check the surveillance camera for what she said. how come i teach my kids to steal and i am a regular customer at this location for long time. Her bhaviour wasnt professional, she does not deserve this position as supervisor, i am so upset about your staff and the way they treat customer, will not come to this location ever, and will not recommend anyone to go there.
i hope you take incident at your highly consideration
thank your
Lina Mando

Mr Anderson
from Richmond, VA
at restaurant store #1576.... 2011 Chamberlayne ave in Richmond Va i got poor services disrespectful and profanity

che L Hoskins
from Walnut Creek, CA
On February 10th at 12:30 am I was attempting to get food at your restaurant located at 220 Bailey Rd in Bay Point ca. The young Caucasian male between the age of 18 - 22 was working the drive thru window and left me sitting at the intercom for over 5 mins making no contact nor acknowledging my presence that he was aware I was waiting. At this time I blew the horn to get their attention and the Caucasian male working the drive thru communicated to me via speaker "that is not how you get my attention so you can go get your food somewhere else." I attempted to speak with manager on duty who was a Filipino male that walked towards me holding his cell phone showing me the screen reflecting he's calling 911 and refused to hear my complaint. While the manager was standing there the Caucasian male referred to me as a nigger and he don't have to serve me. The level is customer service is unexceptionable, unprofessional and has cast this organization in negative light. If this matter is not addressed I will take further legal action to ensure patrons of the community is not subjected to that type behavior and racism, discrimination in a community that they are a guest in.

patricia gruetter
from Carmichael, CA
numerous times i have gone to mcdonalds and ordered large mango pineapple smoothies. numerous times i am being cheated on the amounts. mcdonalds restaurants are under the impression to fill to the ice line only which is about 1- 1 1/2 inch below the top. im stating that this is false advertising. i have filed many complaints and gotten no where. it is definitely false advertising. if you look at the menu the picture ashow full to the top not to the ice line. its a 4.00 item. you are already making your money why scam the customer of the full product. i demand my smoothies filled to the top so i get my acutal moneys worth. i do not like to be cheated. which is what mcdonalds is doing.
https://www.mcdonalds.com/us/en-us/product/mango-pineapple-smoothie-smal...
i purchase smoothies sometimes 3-4 times per week. i am upset that i have to continually argue. this last time. the restaurant refused. so i demanded my money back. no apology no manners by the staff. because i was not satisfied with the cheating of the customer. i realize they are told to do this but it is false advertising. i would love to know how you are going to solve this issue for me so i can get my moneys worth without having to argue. whatever happened to the customer always being right. you stick by your rules and i have proven that you are therefore cheating all the customers. my phone number 209-915-3831 i expect some answers. i am quite upset. that my previous complaints were not handled any better regarding the same issue....

Maryann L Beaulieu
from Minneapolis, MN
They forgot an item "10 piece nugget". This is not the 1st, 2nd, or 3rd time, but this is the first time I am complaining. I am unable to get a ride back to the location to pick up the item, and I have to go to work so no time neither. I am so upset!

Poor service
I Waited in line for one person working. They took my order knowing what I wanted. I than paid for it and worker came back and said they did t have that type of muffin and the apple turnovers will take 6 minutes. I got piss off when this should of been told to me before my order was complete and paid for. I then said never mind and walked out.
Location Spruce Grove Ab.

I only ordered a hot tea waited between 3-5 mins and then was asked to pull aside and wait for a hot cup of tea really I drove off with nothing

john johnson
from Frankfort, IN
I have witness drug transactions after the owner left to go home,the night mangers steal from registers and keep quarrel between employees for recreational use.Camera do not work in break room the owner is rude and mean to all the people in that place they fire and rehire a employee five times to walk out again.The owner name is Ted Williams (Fort Wayne, Indiana) South Anthony location he has been busted before for selling narcotics at his previous store here in Fort Wayne,Indiana.I would like somebody to look into this

Christina S.
from Chicago, IL
Had a very bad experience at the McDonalds Drive through which consisted of a young lady with a ponytail and a NorthFace Jacket in Drive through. When she opened the window to confirm my window I could not quite understand her and only heard a Diet Coke which I did order. When she opened the window again, I indicated that I want to make sure that it was a Southwest Salad and a Diet Coke, she then proceeded to tell me "Oh my God, I just asked you and you said a Double Cheesburger and Diet". I said, I am sorry, I could not understand you - She then closed the window and got the manager. The manager then opened the window and asked what I asked with the young lady standing in the background. The manager then closed the window again and I could hear the young lady again, make the comment why did she agree to the Double Cheeseburger. I then made eye contact with the young lady and said I could not hear and apologized. She then said you did not say that - I then indicated I am a Call Center Manager for a Call Center and you do not talk to your customers in that manner. The Manager then did not say anything else and just said we apologize. - Very upset with the lack of professionalism

Harry Beckwith
from Bedminster, NJ
I am on a road trip and stopped in at a McDonald's in Arkadelphia Arkansas and I ordered a artisan chicken sandwich meal wich they didn't have the buns for it which was fine so I said just put it on a different bun but waited 20 min for and by that time the number 3 meaI I ordered was cold. This is about the 3rd time in 3 week that I had a messed up order. Please start hiring more quilified people

This email was sent to the owner:
deanrestaurantsMcD@gmail.com on 1/25/19 and have not got a reply
Good afternoon,
I am writing you about the quality of your Double Quarter pounder with Cheese and your French fry's. Yester afternoon, I visit your location at the Loves Truck Stop. McDonald's Restaurant #35785.
I ordered the #3 Double Quarter Pounder with Cheese meal. The meat tasted like it was made around 3 hours earlier, and the fry's were cold.
I did not realize this, until I got back into my truck to get on the road. I am a truck driver, and this was my meal for the day. Needles to say, I did not eat that, it was discussing and gross. So I went with out anything to eat for the rest of the day. Because we are only allotted a 30 min break on our driving time being on E-Logs.
I suggest with you being the owner, or manager of this restaurant, that your quality control be a little better monitored.
Sincerely,
Todd Kirkpatrick

Yenkanna Sami
from Wollongong, NSW
I bought a burger from Mt Druitt Macdonald which doesn't have the whole burger the bottom part of the burger was missing. I have attached find image of the burger below.
Generally the service at Mt Druitt Macdonald is pathetic and the behavior of the staffs are unprofessional and too many teenagers working and they lack customer service experience.
I hope my compliant will be taken seriously.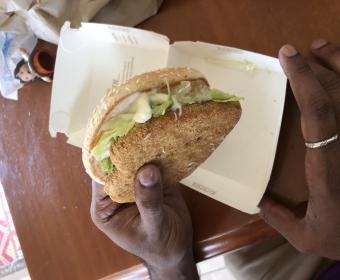 SH Madison
from Bedminster, NJ
We eat at Mc Donald's quite a bit on the road. We like to drink tea. Lately though the tea is either empty , sweet in unsweetened or old tasting. Tea is not being monitored like it should be. Don't have this problem at Chic fil a

Ricardo Marttini
from Guelph, ON
Kitchener ON , McDonalds at Ottawa St. and Alpine Rd..…..
I'm surprise how the employees handle the food with out gloves, the manager mentioned that every body wash there hands. Use of gloves should be mandatory ….I notes a guy maybe having cold wiping his nose with his back hand.....Definitely its not right and unhygienic...

Dan Cranmer
from La Veta, CO
Used your curbside app at McDonalds in Pueblo West. Co. We Ordered and waited before we knew it we had waited 45 minutes. So I went inside and told someone about the issue. Was told they would get or order ready right now. I said no we are not waiting and I wanted a refund. He said my card would not be charged because the order was not complete. So I look on my account and sure enough I was charged for the order.
Mobile Order Receipt
Dear Dan,
Thank you for using McDonald's Mobile Ordering app. Here is your detailed receipt.
Order Date: 2019-01-26T12:07:15
Order Number: 1959
Restaurant Name: PUEBLO, CO-PUEBLO WEST
Address: 1012 N MARKET PLZ
City: PUEBLO WEST
State: CO
ZIP: 81007
Country: US
Phone: 719 547 9458
Qty
Item Detail
Item Cost
2
Hash Brown
$3.38
1
Large Coffee
$1.00
2 Cream
2 Splenda
2 SME for $4.00
2 Sausage McMuffin with Egg
$4.00
Discount:
$2.00
Sub-Total:
$8.38
Tax:
$0.33
Total:
$8.71
Total Savings:
$2.00
Payment Details
Card Issuer
Visa
Authorization:
01152D - 1/26/2019 12:07:05 PM
Account/Card number:
************2024
Approved Amount:
$8.71
Merchant ID:
MO08502936002
Sequence Number:
440813
Balance:
$0.00
We hope you enjoyed your experience, and look forward to serving you again, soon!
Regards,
McDonald's

b. johnson
from Birmingham, AL
i went in today to get a gift card for my granddaughter, They did not have any?????

Judith Drew
from Docklands, VIC
Hi there,I ordered 2 double Big Macs & received the normal Big Mac & missing the nuggets,drove back to work only to find what I ordered was wrong,I drove back & got what I ordered..it's not the first time with missing something..I will not be go to Frankstom macdonalds again... So un professional ..cheers

camisha charlton
from Lynchburg, VA
I got poor service had to wait in drive thru for more than 30 min ridiculous. When I got my food it was cold, cold fries big mac had the middle section missing, it looked like it was slopped together. I'm paying for good service and quality. I received neither I will never go back money wasted. 434-665-4325

Jim McVicker 634 E. Ash Pl. Griffith, In. 46319 E mail jimsr634@sbcglobal.net
from Highland, IN
I visited my local McDonald this morning and placed my order at the drive thru. The restaurant number is 32848 on Ridge Road in Highland, In. I ordered 2 Sausage & egg Mcmuffins. I paid and advanced to the pick up window where I waited a few minutes for my order. I was driving home to the next town and took out one of my sandwiches. It was a sausage only sandwich. I pulled over to check the other sandwich and the receipt and the other sandwich was the same. my receipt showed 2 Sausage & egg Mcmuffins. I drove back and went in to the restaurant and asked to talk to the manager. I showed him my receipt and gave him the bag with the sandwices They cooked up some new ones and handed me the bag. Never apologized for the mistake or my inconvience. I asked for my receipt back since it was not in the new bag and he went back to get one. My new receipt has duplicate written on it. He was not a friendly or hospitable manager. I would think that he should have offered me a free something or other for my time, gas and inconvience. This was at 11:25 am, today 1/22/19. I am a retired senior. Thank You. Jim McVicker

Hamza Hammdani
from Dubai, DU
Just i have by some food from the( Dubai ferstival city) there is one philpine girl she have very very miss behaive she is really very bad girl i am regular cstmr of ur but i dont want to come again really i am very cry

william Ramsdell
from Machias, ME
the machias maine is serving their burgers cold.everyone is biching about ,i got a big mac sunday and it was cold again,no special sauce on it.i had to throw it away again,the next time i get it cold i wont come back,i luv mcdonalds food if its hot but not COLD!pleas get this corrected so i can continue to do business in machias maine 04654

Shirley
from Albuquerque, NM
I live in Silver City ,NM the Mcdonalds here is really getting bad. I caught one of your managers Max on 1/19/19 and a co worker (I couldn't read the name tag) doing drugs in the men"s restroom. I:m not talking smoking marijuana either. This manager was yelling at the other young ladies that were working there. He was telling them that if they didn't like the way he was doing things for them to get the hell out> Excuse me but with customers in the area that language is so unacceptable. It is not acceptable in my world for any manager, shift lead or whatever he is to talk to anyone in that way, Besides the Service itself is getting bad, no one can get an order right and then when you say anything the employees get yelled at by whomever is in charge but the manager never comes out to say anything.
I don't think the owners are even trying to correct things or even want to acknowledge what is going on in this store. My family and I used to go in every sunday for breakfast, and I would stop on my lunch break because it was quick and good. Now we go somewhere else and for me going to get lunch somewhere else is faster. Just thought you would like to know what is going on in that store when no manager is present. Or even when a manager is present. A concerned customer.

Lesley Fagan
from Liverpool, ENG
On Saturday 19th January I went to your Upton branch on the Wirral on 2 occasions first was between 6-7 pm ,I spent over £19 paid cash ,,I bought 4happhy meals 1 6 chicken nugget meal and a cheese burger meal ,I waited and was told to park up as it wasn't ready ,I waited for about 10mins then they brought the meals out ,I received the meals then left only to relize I would have to go back for the drinks k did so and received them ,then I went back with my other grandchildren at 9ish again through the drive through and was left at least 5 mins waiting to place my order while the other order point had 3 cars through,when I mentioned this to the assistant she said they had a mobile order,I use your Upton branch quite often as I have 9 grandchildren,but I was very disappointed with the service I received today,.

William D. Hand
from Colorado Springs, CO
I have traveled the world and frequented your restaurants everywhere. I would estimate the number of restaurants that I have visited to be around 400, maybe more. I do not feel any other fast food chain can compare to the product you provide to your customers. However, there have been a few that have disappointed me throughout the years.
There is one restaurant in your chain that I recommend you send someone to evaluate. That MacDonald's restaurant is the one located in Falcon, El Paso County, Colorado. I moved my family to this vicinity 2 1/2 years ago. We often stop at the restaurant when we travel to visit our daughter in Elbert, Colorado. The restaurant is about half way from where we reside to her house. I feel comfortable in saying we have frequented the restaurant at least 25 times since we moved to our home in Colorado Springs. Once in awhile the service is spot on. Most of the time not very good and more often than not, we never get the correct food order. Today was the WORST DAY EVER, any I would never recommend anyone to eat at this facility. I went through the drive through and sat in line for over forty-five minutes. My order was incorrect and the french fries were cold to the touch, They appeared to have been placed in the frier for maybe one minute because there was absolutely zero heat to them. I am confident that there was little, if any, supervision at the store because a manager would never allow such food to be served and definitely never allow anyone to wait in line for such a long time. I again emphasize someone needs to go to the Falcon MacDonald's Restsursnt to evaluate the operation of the store. The bad service I have constantly received there certainly must effect other patrons and I am sure they would share my opinion. By the way, I would say that my family and I have spent many thousands of dollars at your MacDonald's stores, so I am pretty sure I know what I am talking about. I think this is the last time I will stop at Falcon, they have disappointed me too many times and that is sad for me to say.

Bonnie Heming
from Batavia, OH
The McDonald's store in Harrison, Ohio . Has the worst ice tea I have ever had . It tastes like it has. been setting for ever never tastes fresh.
I quite going to this McDonald's. Thank you
Bonnie Heming

reva brontiu
from Elmvale, ON
I would like to know why in Elmvale Ontario the food and coffee are way more pricey than other McDonald's? a med coffee here is 2.02 vs other McDonald's at 1.75 there meals are also priced at 1.00 to 2.00 more per meal. when asking them why such a difference you get familiar answerers as this is not part of the McDonald's franchise??? how's is that!!!!! you are a McDonald's and you sell McDonald's food?? stupid answer. it is greedy managers as far as I am concerned.

George Egler
from Bedminster, NJ
My wife and I stopped by McDonalds restaurant #29955 in Fort Myers Florida to get some lunch. We got in line at the register around 1:30 in the afternoon today (1/5/19) behind another couple. We waited for well over 10 minutes with no one coming to take our order. Finally someone we presumed to be a manager yelled across the floor from behind the counter saying we had to use the KIOSK if we wanted food and then turned away. An employee standing near her echoed her comment and also turned away. The restaurant was not crowded and neither the manager or employee were doing anything and could well have taken our order.
This was nothing less than a display of ignorance and arrogance on their parts. We left and went to Burger King where they still are customer service oriented. We are not going to use a KIOSK and we sure aren't going to be bullied into using one by arrogant employees. I honestly don't believe the McDonald's corporation wants customers to be treated in this manner. I also believe that the McDonald's Corporation would want to know if people like the ones we encountered today are in their employ. Their attitude was pathetic and about as unprofessional as it could be..
Our phone number is 302-399-1625 if you would care to speak with us.

Audrey Gates
from Birmingham, AL
Good Morning,
To whom this may concern. 1st I would like to say I moved to the neighborhood 2 years ago with my now teenage son. We moved so he would be able to attend a better school and have a better success in life. Last night we went to McDonalds at 1907 CenterPoint Parkway Birmingham, AL (205)854-4362 for dinner. I purchased a Big Mac Meal, the 2 Cheeseburger Meal and a Fish Filet Meal for myself. We had another child with us. When we got home and I open my fish filet the bread was hard as a brick you could not bite through it. Now I am not a complainer I like things to run smooth. But this was the second time this has happened to me on the fish sandwich the bread was hard. So I decided to call not to get anything back in return just to let them know that what ever you are doing to the bread on the fish sandwich was not good because this was my second time and the bread was very hard. I asked for the manager when I call. I was very polite as I explained to her that this was the second time this has happened to me.She told me she was sorry in a very ugly voice and told me to bring it back. I told her that I live to far to bring it back. She rudely said what do you want me to do about it. I told her it would cost me more money in gas to come back. She hung the phone up in my face. I Called back no one answered, I called back again someone picked up the phone and then hung it up again. I called back again the phone rang for a long time someone finally answered I asked for the managers name she said Ashley and she will be here in the morning. I am sure that was not the correct name. I am not asking for a refund nor am I asking for anything free. I hope this email does not fall on deaf ears. I am just letting someone no what is going on at the McDonald's in CenterPoint. I will not go back. Who ever the manager was at 7:00pm January 4th at this location should not be in management. She handled this very poorly.
Thank you,
Audrey Gates

Barb Germain
from Sioux Falls, SD
I have been a customer of Mcdonalds for years. In Aberdeen SD they said the hazelnut iced coffee was no longer available The manager said that some flavors were discontinued. Hazelnut flavor is a very popular request by many people. I do not understand why they would make a good seller like hazelnut become not available to the customer.
Barb Germain home phone 605-225-9881

Donald coykendall
from San Jose, CA
Breckenridge tx everytime fillet o fish are on sale 2 for 5 dollars there fish fryer is broke went to eastland they sell them ok this is second or third time that this has happened this is my favorite sandwich that is sold at mcdonalds sure would be nice to get them at sale price in my own town

steve lawson
from Kingsport, TN
your store in Rogersville tn. has the laziest emplyees they are always out of salads because they are to lazy to fix them just went again to night to order a bacon ranch salad and again we are out of salads twice in one week so I ask if salads was discontinued she said no but when I drove to second window to pick up sundae it had more caramel on out side of cup than it did inside I got it all over my hands and car but I really like Mcdonalds but Im done with the one in rogersville

albert lock
from Bromley, ENG
when to one of your drive though at Downham at 5 45 on the 02 01 2019 it took 20 min to get to were you collect your order still not ready ask to wait in car park very angry

sandra newsom
from Jonesboro, AR
my husband and I went inside to get something to eat and drink and the music was so loud we couldn't hear each other talk so we walked out and went to the window

carl raska
from Kennewick, WA
Its really frustrating when I order a fish sandwich plain they always put cheese on it even when I say no cheese it don't take a rocket scientist to see when it says plain that means nothing on it I live a few miles out of town so you don't just go back to the store to fix it I have complained to the manager before usually when I stop there I'm in a hurry so I grab and go finding the screw up after I'm home I have family and friends that have told me they stopped going to mcdonalds because of the crapy service I should have taken their advise sooner I learned my lesson and will not be going back

Linda Jones
from New Iberia, LA
I went through Mcdonald on today and when I arrived at my house my food wasn't right and tried to call back they didn't answer..that's the second time I tried to them and no answer..I went back they was rude...They didn't address it at all...they did give me my food...I didn't understand my food was paid for was left out of my order...LJ

Theresa Pams
from Charlotte, NC
The restaurant was very unclean. There was trash all over the floors and counters. A broom and dustpan was lying out . One of the workers came to work and asked if a tornado had come through! The workers were using profanity and very unprofessional. An eating establishment should never look like this. I ordered my food but decided to get a refund after the workers began arguing about how understaffed and busy they had been all day. Please correct this situation immediately.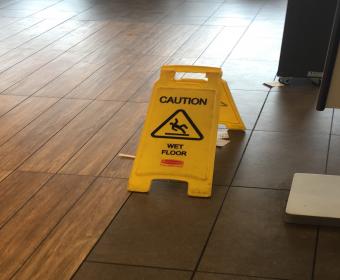 i went to mcdonalds at 5am today ordered 1-burrito meal 1-mcgriddle meal 1- big breakfast 1 extra hash brown and 2 extra burritos When i got home they was only one burrito in the bag. I not didn't get the 2 extra burritos but i never even got a full meal. and i never received my receipt for it. This is not the first time something like this has happened to me.
Thanks for listening.

Robert Silva
from San Antonio, TX
Every time I stop at this McDonalds there is a African American worker is working he is very rude and today when I go I ask for oatmeal and he gives it to me without water. I call and talk to mgr and he is also very rude.

amanda Driesen
from Washington D.C., DC
The wenatchee McDonalds is slow there dude and I've gotten food so old the nuggets crunched when you bit into them tonight took over half hour to get thur drive thur and made me late to work and I didn't have time to eat after that the people are rude there they dont do anything to make right there wrongs there .

20 min. from lot to pay. Window 2 says "no eggs", wait at Window 3. I waited at Window 3 for 12 more min. then informed window 2 I entered lot 35 min prior, still waiting. 3 min later I was given a sack. The person showed zero gratitude, zero apology, zero concern. Asked if she thought an apology might be warranted, she didn't understand English well. Zero concern. Begrudgingly wished her well and left. My order was 1337. They gave me order 1228 (how long ago was that?). I got the wrong order, AGAIN. Called Phelan Mgmt for survey. Recording says leave feedback at beep - there was never a beep, only repetitive loop. EVERY menu option led to false statements -not one chance to leave message or speak to person, no chance to enter survey code, during normal biz hours. Next called store and they refused to answer phone - it hangs up. Called for Phelan Mgmt again 12/27, phone menu had changed but yet again, the menus lie. No tones sound enabling messages. NO opportunity to speak to a person. Unable to provide feedback to Phelan. Are they sincere or going thru motions to satisfy corporate? Documented, w/ evidence 8 negative aspects in single visit. Asian Phelan's playing games w CUSTOMERS

Teresa Dodds
from Lafayette, TN
Went to McDonald's in Portland, Tn.last week and found hair in my hamburger. Today being Christmas, not a lot of choices. Went to McDonald's in Gallatin, Tn.. My bill was 5.56, I gave him a hundred dollar bill and 56 cents.He had to ask for help with the register and still shorted me 10.00. The man behind me also getting his order paid for, this boy could not count and as I sat there, he had to have help with every single order, and my two cheese
burgers were cold. I understand decent help us hard to come by, but at least train what you
have.

Anne Stroker
from Irving (Las Colinas), TX
I visited McDonalds in Hasselt, Belgium. It was a nightmare.
We had to wait 45min before receiving our meal.
The kitchen was covered with food rests, empty frie boxes, etc...
The whole restaurant floor was dirty and shining from grease.
As a result, not only was our food cold, but due to this soiled floor, I slipped, fell on my leftside on the floor and hit my head very badly against a doorframe. Many people witnessed this and helped me getting up. The McDonalds personnel did not even bother.
At that moment I did not experience and discomfort, apart from a big bump on my head. However, yesterday and today 2 days later, I'm in more and more pain. Especially my head; neck; shoulder; left arm and hip. I'm filing this complaint, but will also contact HQ in Chicago and Belgium, as well as the food inspection.
I've never experienced this before with McDonalds. This restaurant is not worth to remain open. It's the Christmas holidays, when unfortunately no doctor can be consulted here and as such I will have to wait till at least December 26th before getting treatment and in the meantime suffer from pain.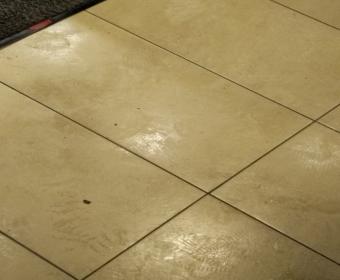 Justin Thornhill
from Fort Worth, TX
If I could give the McDonald's in Sherman Texas a no star review I would because this place is trash and the people that work there overnight are useless and need to find a job that they want to be at because the last 3 times I have been there I've got some bs excuse on why I couldn't get anything to eat because they are too lazy to do their job and cook the food. I've been told they can't take a card, and even though I have been there plenty of times and got food they have told me twice that they only have breakfast even though I've been there and got cheeseburger and fries after they told me that and then I just got told that again I will never go back to this place ever again and I encourage other people to stay away also if I had the time on my lunch break to go to the next town I would

cheryl pinckney
from Buffalo, NY
I went to McDonalds on 1630 Jamaica Avenue on 12/22/18. I ordered one $2.00 sausage McGriddle and a small coffee I put my credit card in the slot before realizing the amount was $4.36. When I questioned why it was so much, I was told you ordered the special and because you ordered one sandwich the coffee was $2.00. I told her I ordered the $2.00 McGriddle which is clearly on the $1,$2,$3 menu and the small coffee (which is $1.39 I go to McDonadls often) I told her again I ordered the $2.00 McGriddle, and a small coffee why was I being charged $2.00 for a small coffee. Another cashier told me they had no control on the way it rang up, that -that is the way the system works pointing to the cash register WHAT!!!!! I told him that made no sense, he told me they had no control of how things are rung up and I can always go to Dunkin Donuts and get their coffee WHAT!!!!. I asked to speak to the manager and explained to him what happened, he looked at my receipt said I ordered the egg cheese and bacon McGriddle, and because I ordered one sandwich I was charged $2.00 for the coffee. I told him I did not order that sandwich I ordered the $2.00 McGriddle again which is clearly on the menu, and a small coffee. He refunded me, but for the wrong amount $5.76 ( which I still do not see on in my bank account) and charged me for a small coffee??????Really your staff made a big mistake, made me feel like I did not know what I was ordering, took three of you all to figure out what was going on and still charged me for the coffee, but did not order me another sausage McGriddle. I told him that was very bad customer service and obviously the cashiers did not know what they were doing. I was so annoyed I took my coffee and left. I went back to the same McDonalds on 12/23/18,(different cashiers and manager) ordered the same thing I ordered yesterday and the total was $3.27 at least someone knows what they are doing. I may have let this slide but when the cashier told me I can always go to Dunkin Donuts and get their coffee, and had they been a little bit apologetic, I would have let it go.

Mary Biddle
from Washington D.C., DC
On Monday December17, 2018 and Tuesday December 18, 2018 we saw Mcdonalds commercials on tv that stated If you purchase a big mac you could purchase the second big mac for a penny on Wednesday December 19th only. The same commercial stated that if you purchased a 10 piece Mcnuggets you could also get a second 10 piece Mcnugget for a penny. On Wednesday December 19, 2018 after shopping we went to our local McDonalds in Arcadia, Florida. We ordered the big mac and the 10 piece nugget. My husband wanted the second big mac but we had to pay full price. We left with two big macs $7.58 and only one 10 piece nugget. I still have my receipt. When we arrived home and while we was eating our food we saw the exact same commercial offer with the big mac and the 10 piece nugget. Very frustrating and aggravating. Seriously!!!
Mary Biddle

kim veale
from Roanoke, VA
Visited the McDonalds on Airline Blvd in Portsmouth VA today for lunch and was not satisfied with services. First, staff(young) were all playing around and goofing off, laughing, talking about personal relationships and stuff in front of customers. Observed some team members looking at their phones and not interacting with customers. Secondly, I chose to dine in, however all the tables were dirty and no one came to the dining area to clean tables or sweep floors. This location is poorly managed, I have been there several times for lunch. A mature staff and manager needs to be present instead of children. The cleanliness is horrific.
Sincerely,
Unhappy customer

Sarah hughes
from London, ENG
Ok me and my family have been to the tonypandy branch twice this month for a ice cream.the first time we quid for ten mins in the drive thru only to be told when we got to the window there was no ice cream...today we went back for a malteesers ice cream for the four of us only to be told there wasn't any...I'm disgusted and will be telling friends about this.

vanisha chetty
from Randburg, GT
I visited McDonald's Old Fort Road, Durban, South Africa on 16 December 2018. Till Slip 4309. We used the drive through. We were told to park our vehicle in the parking lot and someone will bring the order to us. We drove to the parking lot and had to park in the disabled parking as there was no other parking.. We waited 15 minutes before our meal was brought to us. At that stage the milkshake was melted and the cool drink was warm. Note that I enjoy having my French fries with my milkshake. I informed the lady that brought the order to the car. She did not say anything. I am a regular Customer at McDonald's. I would like a reimbursement of my meals. Thank you.

Gerry Hambrick
from Jackson, MS
We stoped at McDonalds in Winchester Tn. on Sat 12-15-2018. My wife's bis egg and bacon was so hard that she could not eat it at all. My McMuffin was also very hard. I was able to eat it, but it was not the best. We were going on a trip and could not turn back. We love McDonalds and will continue to eat their, just thought you should know. Order number 59 at 07:12 AM

Gregory Suzanne sr.
from Saranac Lake, NY
Hello, I talked to you're CEO this summer early. the manager Mike served my wife again after all the former problems she had with him asking for KETCHUP. she just went through drive thru for a salad. the girl gave my wife her change and threw it all over the ground. she was served her salad by manager Mike at window. the SALAD was tipped all over the bag!!! this is NOT professional to McDonalds standards. I believe this manager is going to give McDonalds a bad reputation. I believe a harsh reprimand is in order sir. regards Greg Suzanne Sr. 5186376552 oh, I would of attached a photo of served salad if she wasn't so upset!

Rhonda Shaffer
from Naperville, IL
the new ordering system at ur Ann Arbor rd Jackson , mi Location is the biggest pain at lunch time its busy enough without having to try and order and then it takes 20 mins out of the 30 min lunch !!!!!!!!!!!!!! I can tell u first hand my co-workers and myself will no longer be eating at McDonald's for lunch Wendy's is a block away and u get REAL service not some stupid ass computer to order our food ..whom ever came up with this idea is a complete moron have a good day

T. Henry
from Baton Rouge, LA
I went to the McDonalds on the corner of Perkins & Bluebonnet in Baton Rouge, La. for lunch today around 11:30. I don't have the store# because I accidently threw my receipt away. Though my customer service experience was good and my food was fresh, when I went to sit down in the dining area, I hear the Manager on shift loudly fussing at an employee about being 10 minutes late from his break. Then, she proceeds to yell out loudly to the entire staff about taking orders correctly. This was very unprofessional to talk to the staff like that in front of customers. It got so bad, she and one of the employees got into an altercation (fuss match) about how she was talking to them. The Manager proceeded to say things like 'you are below me', 'I make twice what you make', 'go home and clock out or I can call the police'. The employee she was yelling at, I could barely hear what she was saying but I'm reporting this because every time I go to this particular restaurant - it's always something. I had stopped going to this one and starting going to the one on Siegen Lane. I think the Manager needs some managerial behavior classes. No one wants to be talked to like that and I'm sure she doesn't either and her professionalism was awful and did not show very good leadership skills to the other staff. Someone needs to handle that because I know I don't want to hear hollering and fussing while I am eating my lunch. Thank you.

vicky harvey
from Jackson, MS
I when too mcdonalds after I got off work it was 2.30 in the morning I am a food server anyway I when by there too get a sauge biscuit anyway I had when by there 2 nite ago but for 2 days they said they were closed it suppose too be open 24 hours anyway I sit there for 15 minutes waiting for my biscuit finally when I got it I was asking the girl that was working why it took so long she slam the window in my face I am 64 years old I dont need some young treating me that way the place is located in Gulfport on coward road an I-10 these people need too wear name tags well that done it with me I will do without before I ever go back there again this happen on dec.12 at 3.00 in the morning these young kids need too be train better

Christine Kelly
from Garfield Heights, OH
Let me start by saying I love your products! The coffee is especially great, and this is the ONLY reason I go to the awful store here in Garfield Hts, OH. I have been going to this store since 2009 and at least 3X per week. I spend $5.79 every time I come and if my addition is correct, I have paid this store about $10,000 over the course of the last 9 years. The store in which I am referring and filing this complaint has been sub par for the past 5 years. It has changed ownership and was doing a little bit better for about a month, then the owners turned it over to the managers. The service is Slow at best. I have made comments to the manager about staff working like they strolling through the park on a Sunday to no satisfactory change. The customer base at this store is lower- middle wage working class and 9 of 10 times, we are just trying to get our coffee before going in to work. Over the course of the years of coming here, I have realized that if there are more than 2 cars in the drive through, I can expect to be in line for at least 20 minutes. When there are more than two cars, I used to just go inside because it seemed to be quicker. Until, they hired this woman who is easliy confused, never makes my coffee correctly, and mumbles under her breath that she will "pray for me" when I correct her on what I want in my coffee. Today was the final straw when I ordered a blueberry muffin as I always do (they are GREAT) and this woman attempted to put it a cookie bag as I watched through the drive through window. When I tried to ask her to put it in a small sandwich bag as to not smash it, she again mumbled something and when I asked what she said, she denied saying anything. The MOD just watches everything that happens there and I have never seen her try to train or correct any staff member even when a customer has complained. It is obvious that Im not much of a complainer as evidenced by this being my first time comtacting corporate, but I am seriously thinking of switching breakfast food restaurants in the search for better and faster service. I hear Taco Bell has a pretty good breakfast with cinnamon delights.
Thank You,
Christine Kelly
Intake Coordinator
Charak Center for Health and Wellness
216-587-6727 ext 3403

Patricia garcia
from San Jose, CA
I came into McDanolds today it was 49 degrees outside. Inside it was cold. I ask the personal if they could put the heater because it was cold. They said, they didn't Know how to move the control. There were three counting the supervisor at night. They laughed and shrugged there shoulders. The supervisor told us I don't know. No one turned it on for us. We are clients of McDonald's every Saturday we are here along with 8 more people. I can't believe the supervisor is not trained on all the lights and controls and the other Co workers. That is a shame being we are locals. Please have more training on your employees. I feel at night it's more like a game for them instead of caring for customers.

Cheryl Perry 0408 675 424
from Alexandria, NSW
EVERY morning since McDonalds have opened up in Gordonvale I have bought a large lactose free coffee..This Monday morning 10.12.2018 waiting in line in drive through I was told NO lactose free milk...Had to wait till all other cars have there order before I could go..was not happy. Not all people can have full cream milk. Today I go back again to give them one more chance and NO Lactose free milk again! You are in a service station get the milk from them! No we cant do that.. I feel this is terrible customer service for anyone who can't tolerate full cream milk! I will be going to Zarrafas froM noW on where I know I get what I order.. A few months ago we were abused by one of your managers in the drive through and I put in a complainT and received a phone call the next day with an apology and was advised you will receive a voucher so you can buy your coffee each morning,,Guess what?? No voucher was ever received ... I don't think McDonalds take any complaints seriously and I will not be going back there again and will be voicing my opinion on social media as this is not good enough. I feel like I have been discriminated against due to being lactose intolerant.

Raymond Moore
from Albemarle, NC
Our McDonalds on Hwy 52 in Albemarle N.C. has the worst service of all the McDonalds I have ever been in. I went there for breakfast on my way to church, Dec 2nd 2018. They were six people standing in line waiting to be served. After about 4 or 5 minutes of being ignored, a man called for the manager. The lady working behind the counter identified her self as the manager. He ask her if we were going to be waited on and she said they had to wait on the drive up first. She announced loudly, she did not make the rules she just worked there. Almost all the people walked out. This is a very unfriendly staff. No one likes the kiosh ordering, but looks like it is being forced on us. This staff needs additional training.

Sabrina Ranking
from Atlanta, GA
For start this McDonald's is absolutely beautiful from the outside, so I decided to go inside and order. I noticed one of the employees had on a bonnet. Not any type of bonnet, but the one that you sleep in, and then when I received my cup I went to the Coke machine and there was garbage everywhere. Just nasty. Honestly I got very little ice and coke. My food was hot when I received it, but upon eating it I realized that my fries had been reheated. I was literally sick. I will NEVER go back to that McDonald's again. I love your food, but this experience has been the worst ever. If I could I would give this store 0 stars.
Restaurant # 38758
4640 S. Orange Blossom Tr
, Orlando FL 32839
, n407-839-3840

Ray Collins
from Amsterdam, NH
I live in the Philippines and probably order at least five times a week. Several times made online orders for delivery...I have three branches within a mile or less from my house and several times I'm told the branch doesn't not want to cater my order or that they can't find a branch to accept my order. Tonight I was told they no longer take 24 hour orders and then when I found out by going to the branch I was told that the branch stopped accepting orders after 1130pm cause they had to many orders. I explained that they should not cancel the order but call me and state they are behind and my order would take x-amount longer to be delivered and let me decide if that is acceptable. But, they refused and said that branch won't accept the order and the other two branches said they wouldn't cause it wasn't their responsibility to handle a branch that can't keep up with orders. That isn't acceptable! Why keep letting franchises be franchised if no matter how many you put around me they wan't catter my orders. My primary branch is at RMR square Tandang Sora Ave Philippines. They are also indangering their customers cause there is only one entrance and exit to the branch...they chain locked their second floor doors and their two other exits are always locked. I have told the security and management this is a fire concern but they just scrug their shoulders and do nothing.

Suzanne Stewart
from Elmira, NY
I had ordered two egg sausage cheese mcgriddles and got home and had two mcmuffins called the restaraunt about this and was told i would recieve coupons for my sandwitchs and recieved nothing after a month called back was told the same two more months go by nothing i guess my service means nothing and my voice is un heard not happy being lied to.

Betty Garrett
from Henderson, NC
I went to McDonald's on dabne y dr. in Henderson nc. on December 4th 2018 with 11.00 am. It the cashier 4 minutes to come to the cash register to take my order . Then it took 20 minutes to get my food. It was 7 cooks in the back cooking. The cooks in the kitchen were laughing and talking to each other. I hollered back them and asked them where was my big Mac then it took them 5 minutes. to fix it then. The McDonald on dabne y dr. In Henderson nc. Is always real slow. You need to make it the turtle restaurant please please do something about it.

Pamela Jones
from Bedminster, NJ
I cant ever get this app to work. It works perfect everywhere else (other restauurants) but not mcdonalds. Since i go there about everyday i have missed out on a lot of food and free frappas. When you buy 5 the 6th is supposed to be free. This is very disappointing. I asked the employees about it and they said other people are saying the same thing so its not just me. I am beginning to go other places more where i can get rewards. Please fix this issue. Thaznk you.

Sandra Crow
from Raleigh, NC
In the past 4 visits, I've received an egg mcmuffin that only included the muffin no egg, cheese or ham. 1 of the other visits (today) I ordered the classic meal and there were no french fries. The other 2 times the food was cold. They were busy on their cell phones and laughing and talking about what they're doing over the weekend. It's becoming where I have a hard time understanding the employees also.

Joe Condino
from Saint Clair Shores, MI
I went to the McDonalds in St. Clair Shores Mi on 9 Mile RD. between Jefferson and 9/Mack Dr. I ordered a double fish sandwich a double mushroom\swiss burger and a large fry . I paid then when I pulled up to the food window the girl ask me what I ordered I told her then she wanted to see my receipt so I gave it to her. Then she told me to pull up they had to make the burger . I pulled up and waited there for about 10-15 minutes . I ended up going in to see what was going on . When I went in and ask what's going on the kid that was at the counter said what wrong in a rude tone. This McDonalds has gone downhill within about the last year with my orders being wrong !
Looks like I'll just go to a McDonalds further away or just stop going to McDonalds all together !!!!!!!!!!!!!!!!!

Jim thorson
from Bedminster, NJ
McDonalds at the pilot truckstop in Whitefield Indiana. Server at counter never once made eye contact. The condiment counter was out of catch up in both containers, and also out of large list, as well as being disgustingly dirty. I waited eight minutes for my food, and when it still was not ready, I asked for and received my money back and left. I've never posted a complaint, and sadly this was not my worst experience at a McDonald's store, but it may be my last.

doyle wilson
from London, KY
where do they find so sorry workers. they cant get your right you make an order get home they left something out. at least seven times I have order things got home at least 5miles from their store look inside package what doyou know they left something out again.makes me very mad I don't want to drive back to store to change so I let it go things I paid for but didn't get if they cant your order right and package it right fire them hire some who can makes me very upset when I go to mcdonals pay them for my order to find out something was left out when I get home thing about going to hardes from now on.

Jeffrey
from Siloam Springs, AR
I have been to mcdonalds twice n 2weeks i go wrong food cold food additude and they sent me coupons and today i use 1 and they did the same thing somebody needs to contact me now!! Manager snatched my reciept away and i dnt have a copy

myrtle armstrong
from Washington D.C., DC
I stopped at your McDonalds at 2485 Blanding Blvd in Middleburg Fl I placed an order for 3 hamburgers and 2 large sweet teas that was at 1244 am and was not served my items until 1am. This was at the drive through with me being the only car in line. The 3 hamburgers were cold and there was grease dripping from the wrappers. I went back through the drive through and spoke to the manager about the problem. Her response to me was that they had a new trainee. And she would have the burgers remade. Now you expect me to wait another 15 or so minutes? This not exceptible for service or food. I find it hard to believe that a manager would blame an employee for her not doing her job of training. How many people have to become sick or stop going to you stores before problems like these are corrected?

Carolyn Starr
from Lexington, KY
I was at your store at 2483 Nicholasville Rd, Lexington, KY 40503 , a lady came in bought food sat down said a prayer and proceeded to eat the food she bought there , when your fatass employees started harrassing her for no reason , told her she had 30 minutes from the time she walked in to finished her food and get out or they were going to call the police on her !! I will never eat at any Mcdicks ever again !!! this was so uncalled for, it is cold here in Ky . she is probably homeless and justed wanted to eat and get warm .. Your staff is the most heartless bunch of maggots I have ever seen !!!!

Upon receiving our order I double checked the food in the bag and we were missing 2 items. I waited almost 10 minutes and no one opened the window to see if we needed anything. I watched as the staff carried on conversations and ignored us. I pulled back around not to hold up the customer behind me. I arrived at the window again to be looked at and ignored by the manager. she also carried on a personal phone call while on shift behind the counter. I had to knock on the window to get the attention of the staff so I could get the remainder of my food. I clearly stated that some items were missing and I have the receipt. the response I got from the manager was " I don't remember that order, did I serve you?, no I don't think so" in condescending tone. Also when she served us the remainder of the food she just threw it in the bag and thrusted the bag out to me and didn't say anything and stormed off with a bad attitude. This manager displayed a horrible attitude the entire time I was talking to her. this occurred 28 November 2018 1035 PM at 440 Mary Esther Blvd, Mary Esther FL 32569. The name of the manager was either Alisha or Felicia. she did not show proper managerial skills nor customer service skills. I believed she should be removed from management or fired from the restaurant. if I could give lower than 1 star rating I would because that is not how you should be serving the public.

Jean Goerss
from Tacoma, WA
First they told me they could not serve me a burger and fries when it was 3 minutes to 11 am when they could. All they had to do was wait a couple minutes. Obviously there was food available since I went through again 3 minutes later and they immediately gave me the food. This is poor customer service. They did not care to take the time to try to get me what I wanted.
Then- I tried to complain on their website and could not because required entries bumped me off the site!
I never eat McDonald's except the fries and now I won't darken your drive thru unless my roommate begs me.
Jean

Tarek MGHIRBI
from Doha, DA
I've ordered my breakfast, for eat-in service. I've paid it in cash 55 QR.
After 30 minutes, I didn't receive my order. I go to the desk, no body is interested to me.
I waited for more 5 minutes. I leave the restaurant. I'am very angry because your very insolent and incompetent workers.
You must know that it's not the first time that your workers in your branch in Rawnaq, Doha Qatar have such a stupid behaviour.
I wont go to your restaurants once again...neither in Qatar where I'am working or in any other country....
I'll do my best to avoid that mac Donald open a branche in my country in Tunisia...and I'll be happy to go to eat in KFC next time. I'am happy to say to you that KFC has also a branche in Sousse Tunisia, near my home.

Kenneth Jenkins
from Springfield, PA
I ordered specific items and your McDonald's worker got the order wrong. The sweet tea looked like dirty water with lemon and they forgot to give me two apple pies. I am very upset about this.

ray anthony lanfear
from Las Vegas, NV
Visited a Mc Donald's in Vegas today. Employee that waited on us had a Black Lives Matter cap on.
I personally find that offensive. No one wants any politics when they are purchasing from a restaurant.
Totally inappropriate. When I asked for the manager, he felt nothing was wrong in wearing the cap.
You need a new manager for sure.

Joyce williams
from Detroit, MI
The Mc Donald #4496 need some help today 10/19/2021 The kitchen had troubles I was given the wrong breakfast sandwich, the line was long but after 20 mins i came to #2 window and was handed my Orange Juice..The worker who took the order put on my receipt the right sandwich...Corp needs to check out the Mc Donalds in all States..Workers want more money in Michigan and not getting it...

John Vecchione
from Beverly, MA
I stopped at the McDonalds store Endicott St Danvers take out ordered a 10 piece Mcnugget meal fries and a drink plus too cheeseburger also asked for sauce. I was heading to a doctor's appt waited til I got there all they gave me was a bag with fries in it. Very disappointed I am a senior citizen on a fixed income. They got my money up front. They didn't even give me a receipt at the window. Please respond if you can.
John Vecchione

Y'all are the worst! I did a mobile order. Parked to get my food was told to get in line due to complications! Got in line 20 minutes to be told I have to reorder and nothing is showing in the screen! So now not only is my time used up but people won't eat today because this is the only time they can! Y'all are the worst and never get my order right anyways! To too it off the lady was yelling through the speaker not to me but at me! Sooo collectively you are a horrible running corporation! North 18 Monroe Louisiana store sucks and are not professional!

linda renfro
from Carthage, IL
burlington iowa highway 34
around 1pm
place not busy
FRIES WERE HORRIBLE - DRY AND OVERCOOKED AND COLD
I always come to this McD because the fries have been great - what happened I don't know

Robert Ellis
from Chicago, IL
We went to McDonald's in e.peoria I'll on spinder drive on oct 10 at 745 pm taken have hr get our food girl.in drive thru was play with her hair while give drinks out this is 3 sun night in row poor service fries are cold start going back to one north pekin service is better

Robert Ellis
from Chicago, IL
We went to McDonald's in e.peoria I'll on spinder drive on oct 10 at 745 pm taken have hr get our food girl.in drive thru was play with her hair while give drinks out this is 3 sun night in row poor service fries are cold start going back to one north pekin service is better

James Brent Carlton
from Atlanta, GA
The employees @ store # 11404 are very rude . I'm a senior citizen
They don't have a clue how to respect their customers . the girl is always rude to me & my family . please contact the management . This occurred on October 9th.

Nigel kerslake
from Camberley, ENG
Visited camberley London road
And as usual no mcflurry or milkshakes
This happens regularly at this branch
Have been told by employee that they turn of ice cream so they don't have to clean in evening
I visited at 20.00

Rinku Kumar
from Delhi, DL
Not maintain leaves balance.

Cody Knable
from Redmond, WA
Hello i seen your messages about complaints coming to here but i dont see any other choice. THE Mcdonalds on electric Avenue in Lewistown Pennsylvania always messes orders up every time i go there and overcharges once in a while and when i go back to talk to management about it they do nothing and tell me to leave i tryed contacting managers at other Mcdonalds and so on but they all just say thats not there restaurant. And they cant do anything about it. Ps there food is always cold and taste like its been sitting out a while i think it may need a inspection from higher ups in corporate. Im saying this in best regards bc i love the burgers at mcdonalds but i just think the ones in Lewistown especially the electric Avenue one needs a through inspection. Perfurrably without notice so you can see how it is.

Rita Brady
from Miami, FL
Iced coffee cup filled to top w ice
When asked for another I was told there was no iced coffee left
Manager not apologetic or friendly

JoyCe
from 100 Mile House, BC
Lady that serve me or didn't serve me this morning was completely rude and ignorant to me. There was nobody in line up and nobody on the tales she came up to the till and I was standing there waiting and she started punching in things on the register without even looking at me I started telling her my order because I thought that's why she was there she rudely told me to just wait ! I said okay sorry I thought you were trying to serve me. I stood there waiting for approximately two minutes while she was clicking buttons on the register the whole time standing there as I stood there right in front of her waiting patiently. When she was finally done and ready to serve me she looked up and saw that I had my t-shirt over my face for my mask because I forgot it she then proceeded to tell me that next time I have to have a proper mask and I said okay even though my face is covered that's not good enough and she said no it's not I'm not going to serve you next time so I said okay I'm sorry I'll bring it next time properly while might the whole time my face was covered fully covered. I did apologize and say that I didn't know that it wasn't acceptable because I've done it before cuz I'm forgetful so I cover my face with my t-shirt and my hand over my t-shirt covering my face just as well if not better than any mask. So after telling me to wait so rudely and then telling me next time I won't be served if I don't have a proper mask, she then rudely says right to my face but I'm not going to be served and that I was supposed to leave.! I was already standing there at this point for approximately five to seven minutes after her telling me to wait , her telling me next time that I won't be served if I don't have a proper mask and I was standing in front of her the whole entire time talking back and forth and her making me feel horrible but she was so rudely talking to me and she didn't even care! There was no need for her rudeness and treatment of me and then she told me to get out I asked her why she told me to wait I asked her why she let me stand there the whole time and I asked her why she said next time I won't be served now she's telling me to leave and that she's not going to serve me at all she rudely said because I told you to! Needless to say I felt horrible and I was embarrassed and as I was walking out I see people sitting all over the place with no masks on comfortable as ever and as I was walking out the door I said to myself wait a minute I walked back to the counter and I said if I'm not allowed to stand here and order food with my face covered fully my hand over my covering and order a drink and these people are allowed to sit in the lobby with no masks on multiple people and you're telling me to get out when my face is covered that makes absolutely no sense and unacceptable behaviour from you.! I didn't deserve that and that's not how a customer should be treated well being supposedly served any McDonald's restaurant! I hope you deal with this lady and I hope she's not as rude to anybody else that she was to me and I will never go back to that restaurant again for fear of being treated that way again!!

Joel dwyer
from Kitchener, ON
They messed up my order two weeks in a row for my kids and I had to throw it out!!!!!! They gave no receipt

Kyle harner
from Douglas, GA
Hwy 96 Bonaire ga McDonald's is very unsanitary. Seen customers wearing the same gloves and you never see them wash their hands. Handles cookies with bare hands. I've even had someone put slushy mix in my shake. Fries are never fresh and the managers always smell like a bag of weed even the parking lot even seen a couple of employees getting high on the job then they wonder why they are handing out food wrong. Don't believe it to be sanitary when your blowing vape juice or thc juice all over my food or even around food period. That place needs to be investigated.

Helen Maddocks
from Halstead, ENG
APP failure frustrating wait, no food came parking bay. Received fine for failure of APP in the waiting time to get order that said had been ordered.
Disgusting Head Office washed hands of issue car park nothing to do with them!
Yet issue of extended waiting due to APP failure

Winford Nettles
from Jacksonville, FL
Food was not edible and overpriced. I won't be back as a customer at ANY MCDONALD'S RESTAURANT again. This is the last time I ever get crappy, overpriced, unedible food from your chain. You've permanently lost a customer.

Michele kaye
from Hammonton, NJ
We go to the store on deksea drive in glassboro nj 656 delsea drive we go at night my husband and I doordash at night after about 9pm on thru the night the drive thru is horrendous you literally wait there for over 0 to 30 minutes the line does not move got food tye other night for us personally it was horrible gold soggy fries the chicken nuggets were rubbery and cold we didn't realize did we left and went to eat the food were there all the time we were in there a week ago at night I side the employees are goofing off with one another there were like 6 people standing there again for like 30 minutes waiting for food some were doordashers I overhear the Mexican girl which I think is a manager tell the cook don't bother with doirdash do the dtive thru as were standing there waiting for the food to be honest whether it's inside or waiting in the drive thru there taking so long to wait on people our orders are late for our customers for doordash which affects our rating with them being on time its every night you pull up to the window the girl whose waiting on you I've seen she's usually filling up the supplies now they have her at the window not moving fast and looks lost doesn't really know what she's doing I don't understand it then hands us our food last night 6/26/2021 thru the drive thru says I guess this is your food I had to double check it its never ending not only slow service but then get food for us after doordasjibg and get it for us personally and it's cold soggy and rubbery very very dissatisfied with the store thank you

Derek Hart
from Dearborn, MI
I would give them a zero if possible!!! Terrible service rude incompetence filled individuals with disrespectful attitudes. Pathetic service they should be ashamed of themselves for treating PAYING CUSTOMERS that way.. O yea and they didn't even give us napkins! Richland Ave In Athens, Ohio 6-20-21 4:30pm

Lucy Lou
from Atlanta, GA
The drive thru order girl was really rude n spoke way to low answered the intercom then once we said what we wanted she didn't respond bk we had to pull up to window n she had a bad attitude n we had to order at window.. including rolling her eyes at me n she wasn't wearing a name tag.

SHELIA MILES
from Frankfort, KY
IMY FAMILY AND I WENT TO MC DONALDS AT 114 NEW CIRCLE RD IN LEX KY ON TWO OCCASSIONS WE WERE TREATED RUDELY AND OUR ORDER WAS NOT WHAT WE ORDERED.WE WERE TOLD THAT WE COULD ONLY PLACE ONE ORDER I HAD ONE ORDER. I WAS ORDERING FOR MY FAMILY THE ORDER TAKER WAS YELLING QUESTIONS AT US AN BROKE OUR ORDER INTO TWO TICKETS THEN GOT SMART AT THE WINDOW DIDNT GET WHAT I PAID FOR AND WHAT I GOT WAS COLD AN D INCORRECT THURS.5/27/2021 2ND TIME 5/29/2021 SAME GIRL YELLING RUDELY NO RESPECT ORDER WRONG AGAIN WE ASKED FOR A MANAGER BUT WAS TOLD BY THE GIRL SHE WAS BUSY SO WE JUST LEFT THE SECOND TIME. WE DIDNT DESERVE TO BE TREATED THAT WAY AND DID NOT SAY ANYTHING TO HER AT ALL. SHE SHOULD NOT BE DEALING FIRST HAND WITH YOUR CUSTOMERS IF YOU WANT TO KEEP THEM MY CHURCH EATS THERE AS A TREAT TO OUR KIDS BUT NOT IF WE WILL BE TREATED POORLY. I JUST THOUGHT ANYONE CAN HAVE A BAD DAY SO WE WENT BACK AGAIN WHILE VISITING . AND IT WAS WORSE SO I FELT I HAD TO SAY SOMETHING THIS TIME

Robyn Turner
from Summerfield, IL
Order was delivered but most of the order was missing
Drinks were delivered but burgers were not
Called manager and they blamed DoorDash for not taking the items
I am certain the person was not the manager as I was treated rudely

John Billis
from Lake Zurich, IL
Store 22878 at 8:30 am went to order at drive thru. first speaker said for me to pull up to next speaker No one answered on 2nd speaker after saying Hello sever times I then said I was pulling up. Person taking money yelled at me for not waiting . I said I thought speaker was broke. . I really do not need someone yelling at me in the morning especially when they are not handling there job properly. Told pick up window woman about experience.

Cierra Hill
from Nellysford, VA
Hello,
I didn't get the correct refund amount. I gave the lady a $20 bill and they rung in $10 bill and didn't give me my correct amount back. I ordered 2 ice cream cones, had a $20 bill in hand and gave them the money to pay; I only received $7 back. Not happy and when I explained the situation to the McDonald's manager, she was very nasty and rude to myself and my grandmother who ordered it. Not happy at all and want this taken care of!

Luis Fonseca
from Ormond Beach, FL
I was that your drive through McDonald's store 3000 US Highway 27 S. Sebring Florida and I had a coupon buy one big Mac get one free also bought some large fries and chicken nuggets by time I got home there was only one Mc big Mac in the bag I called back they said come down and get your other big Mac I went down by then my fries were cold they did not offer to replace the fries they did not say they were sorry it was bad service all around this happened to me last week with four piece chicken McNuggets and I made a complaint and it went nowhere last week I also drove all the way down there and by the time I got home no chicken McNuggets bad people running that McDonald's in Sebring Florida Bad management

Jen Miller
from San Diego, CA
Terrible service from Danielle on the 27th. She was rude and would not give me cream & sugar. She felt unrestrained and kept turning her back not getting me the tea I'd paid for. I hope you'll consider rehiring at this location in Sherman oaks California.

Deborah Wolf
from Pewaukee, WI
On Friday, June 19, 2020 at approximately 1:45 pm, I went through the drive thru on Ryan St in Pewaukee, Wi.
I ordered a cheeseburger, small fry and a large Diet Coke...I generally don't finish the beverage and save some for later. This morning, I went to discard the remainder of the beverage from my refrigerator. Upon emptying the cup, a napkin or piece of paper towel or something unrecognizable came out with the remaining soda. This is disgusting and totally unacceptable. How could this have possibly happen? It seems it was intentional. In this climate of COVID-19, I am deeply concerned as a 65 plus year old individual. I have been taking great caution during this pandemic for myself as well as being the overseer for my 88 and 89 year old parents.
So what is my next step? Doctor? COVID testing? And who is going to cover the Medicare bills?
I expect a full investigation and explanation ASAP...
Deborah Wolf

Yvette Lykes
from Westminster, CA
I am a regular drive-thru customer at the above McDonald's Restaurant location. I have lived in Westminster, California for over 15 years, and the workers at this location frequently acknowledge me. I am an elderly African-American woman. During the Corona Virus, the workers, staff, and managers at this location repeatedly decided to make a mockery of me: No matter the time of day I drive thru, upon notice of me, I am always told to pull over and park my car to receive my order later even without the worker knowing if it is actually ready or not, as I would ask. And when it is ready, my order is not handed thru the drive thru window, I am told to drive up and get it from a worker standing outside of the store ready to hand it off to me there - the bag that my food was put in was a previously dirty, greasy, and a used McDonald's bag. When all of this was repeatedly brought to the attention of the managers, they allowed their worker to yell at me and talk over me while I was speaking through the drive-thru window, refused to listen to me, ignored my complaint and walked away. If this complaint could be viewed as happening to your mother, grandmother, aunt, and/or sister, then it should not go without being addressed. But, in actuality, this complaint should be addressed because this blatant discrimination should not be excused, because I am a human being, and like anyone else, deserves to be respected, especially when respect is given. This is the truth. I hope you will not ignore this complaint.

Kathy tomasetti
from Lemoore, CA
Ordered breakfast for my family through doordash this morning and everything was fine except the bacon egg and cheese sandwich had paper inside the egg. Not sure if it was a peice of napkin or straw but it was not pleasant to find in my food. This was the McDonald's in Lemoore California 93245. Thank you. I live at 356 e spring Lane in lemoore

Michelle Gibson
from Fayetteville, NC
The rudest cashier I have ever experienced. My mother is 83 years old, she was in front of my daughter and I fixing to order her food. She asked the cashier if they were still selling the chicken wraps, and the cashier said no with an attitude. My mom didn't hear her cause they are both wearing a mask and said what and the cashier said I told you we don't sale them anymore and rolled her eyes. They were not busy at the time. So my mother continues with her order and the cashier didn't hear her when she told her she wanted a sweet tea and the cashier asked her again with an attitude what do you want to drink, rolling her eyes. My mother gives her the money and was trying to count out the exact change she had and the girl just stood there rolling her eyes. My mother didn't say anything to her about being rude but I was trying to find out her name but did not get it. So I am writing you because of this.

J todd
from Bexleyheath, ENG
Yesterday at 17.52.04 went through drive through orders Big Mac meal box was closed but top of bun and first burger was just thrown into the bag at the bottom, ordered quarter pounder cheese burger burgers we like leather cold and no taste at all. Chocolate milkshake was just vanilla ice cream no chocolate was informed chocolate was at bottom no chocolate at all do not like young people lying. Fries were freezing cold all in all our meal was absolutely tasteless freezing cold burgers like rubber and stale bread buns. No burger sauce at all we have never tasted anything so disgusting in all our 65 years . My husband as been on vulnerable list for the last 5 month and as is career was is first time out. With us vulnerability we went through drive through as for safety. We live 5 minutes away so our meal should of been as said above. We waited 25 minuets in line for meal which we don't mind as long as we get a lovely warm meal that tastes Nice we are not happy at all and hope something can be done about our experience with our meal.

Sharon Brobst
from Auburn, CA
At approximately 4:30-pm after taking our daughter to work my husband stopped at the above McDonalds to pick up food for us at home. It was p-laced in our refrigerator as I usually do until mealtime. I heated the spicy chicken and the hamburger inn the microwave and then heated then buns. Then I assenbled them and brought them to the table. My husbands Hamburger---which was supposed to be a double cheeseburger was quite overdone and looked like it had been sitting around for a while and should have been written off. My Spicy chicken was hard as a rock and was almost unchewable.. The buns were over toasted and dry. This store should be embarrassed. These items should have bee written off and new items cooked. If your sales are down ---I can tell you WHY!! We have ordered food at various McDonalds during the years and have no complaints. But this not what I accept as being good service. My parents used to have a restaurant and we would never serve stuff like that. You are about to lose a customer and I may report the situation to our local health department. I might also add that my sister used to work for one of the McDonalds in Rapid City and they did not serve that kind of garbage.

Navneet singh Jonty
from Houston, TX
I was at mcdonalds bought bigmac meal wasn't cooked properly at all i ben throwing up since i had that worst experience of my life if i got sick i had to do something.i m uploading the pic

David W Ingerson
from Mountain Home, AR
The last two times I 'been there the order was wrong when I got home. No concern from the people working there, so I called the district office and just got lip service.
I do not like to complain, but enough is enough, there are plenty of places to get a burger and fries but I like yours.
I have to quit wasting my money.

Don Wheeler
from Concord, NH
McDonalds 111 Fisherville Rd Penacook, NH 03303,
I went to this store today 6/28/20 and was humiliated by manager Jake, again! I went to get a Mocha Frappee the other day, and when they went to scan my app it didn't scan so Jake tried to talk me into HIS fact that Mocha Frappees are not considered a McCafe drink? He was quite adamant so I couldn't use my app towards a free Mocha Frappee?
Yesterday I placed an order at drive through for a 6 pc chicken McNugget and 3 hamburgers I watched the bag checker check the bag! When I got home I had only 2 hamburgers and 6 pc McNugget I was very upset as the only burger I didnt get wasn't mine! I WAS a regular customer! Jake the manager then asked if I called and I told him no and he used a condescending tone to tell me since I didn't call there's nothing he can do? A HAMBURGER? At that point I said WORD FOR WORD TO MANAGER JAKE "NO I DID NOT CALL BECAUSE I WAS PISSED AND I DIDN'T WANT TO RIP SOMEONES HEAD OFF, I FIGURED AS A LONGTIME CUSTOMER I COULD GET THE PROBLEM TAKEN CARE OF AT THE STORE"? AGAIN I SAID " I DID NOT CALL BECAUSE I HAD NOTHING NICE TO SAY AND I WAS PISSED" I DID NOT SAY ANYTHING ABOUT DOING ANYTHING TO ANYONE THERE ONLY WHY I DID NOT CALL AND IF HE STATES OTHERWISE HE IS NOT TELLING THE TRUTH! He then refused me total service and banned me from the premises? Over a hamburger I was charged for and NEVER got? I believe that's a crime? Not the first time missing items! Not impressed with Jake the manager, over a HAMBURGER?
Don Wheeler
1 Flamingo Dr Concord, NH 03303
whlrdj@yahoo.com

Tammi Boudin
from Ringgold, GA
went to your Mcdonald's at 3898 cleveland highway dalton georgia on june 17th 2002 walked in the store because there was a lot of cars in drive thru stood there for quite some time waiting to order not one person even acknowleged i was even standing there out of 5 people in the front working on getting drive thru their orders i even asked who is running the cash register and still got no response the was 1 other man in the entire place waiting on his food. Not one sole would wait on me . I even said if no one is going to wait on me then i will go some where else and still got no response so i left and went some where else and ordered food and spent my money else where.

Nichole Taylor
from Oklahoma City, OK
Every time I go to the McDonald's by my house I'm greeted with a shitty service if anybody even answers the drive-through but tonight was even worse because I got to the drive-through and after sitting for 20 minutes finally got up to the speaker and was told hold on rudely by the Employee that somebody was stupid enough to put on the drive-through. Then I sat for another 20 minutes with her not taking any orders they had no cars that they were still getting food out to you there was no one ahead of me and I said this is the worst service that I've ever gotten any McDonald's and it's consistent here and the same employee Said then leave. First of all if she's too stupid and or lazy to run the drive-thru she shouldn't be working there at all, let alone on the drive thru. Second of all, why is this the only McDonalds that consistently suck around me? I once went through the drive thru and wasn't helped because the employees were physically fighting inside and another employee opened the window one of the ones that had been fighting said fuck you to me....are you freaking kidding me?

Kema Hughes
from Lancaster, TX
I had 3 order of fries
My fried where fried very very hard & extra crispy u could literally break them in half they were crunchy
Then they forget to give me my large sweet iced tea with my order
The burgers were cold
They quality of food was horrible

judy giacoia
from Hempstead, NY
I live in east meadow new York for 60 years. I went to the east meadow store yesterday and they charged me $20.80 for a Big Mac and a Quarter pounder with cheese meal. Are you people price gauging because of the coronavirus???

kenny strojny
from Allegan, MI
I would like to know if this food chain excepts discrimination at any restaurants. I had that experience in Kalamazoo, Michigan. Mcdonalds #4323
5530 gull road. I drove up in the fare end lane to place my order and the person told me to wait, that was fine it was on the busy side. I noticed that a car pulling up to the inside lane to order and when I was hearing her ordering I was like why was I not to matter and I had to wait and I was in my lane first. I let the guy know I was not happy how he made me wait to take my order. Was it because she was black like him and I was white.
Do they use cameras in the drive thru so they have their color picks on who gets to order. Make things even plane to see about race when I drove down the road while eating my fries I started eating my cheese burger, I took two bites and to find no hamburger on my cheese burger. I asked my wife to look at the other one and it was the same NO HAMBERGUR on my cheese burgers. They did this on purpose. I want action done on the management and the person who took the order, Did he tell the person who made the burgers not to put any hamburger on the order just to be smart a??. All this took place on April 25,2020 at 117 PM. I am sure that this has happen to other people and its about time someone gives him the pink slip or this location is going to have a lawsuit on their hands.

I have been going to the McDs on Sprague in Spokane Valley ( U - City) for years and have had good service and good food. But lately the new manager not sure his name but he is very rude to his employees and customers. As I was waiting for my food he cursed at one employee named Justine for no reason at all and she was so embarrassed. The French Fries the last 4 times I have been in taste like dirty grease. The Quarter ponders and cheese burgers are just thrown together because the manager is yelling at them to hurry up. I normally don't complain but I think the management at that store needs to be serious looked into.

REBECCA L KOPP
from Beaver, PA
Hi!
I'm sorry I truly try not to complain too much, since things happen, but the McDonalds store number 24939 in Pittsburgh Pa has more often than not messed up my order.
Today was the last straw though. I ran through the drive through and got the extreme bacon meal and a salad and a parfait. I had to wait for my sandwich to be mad which was fine. The trouble began when I opened the box to eat, the burger looked like it had just been slapped together and thrown in the box. Cheese was more than halfway out on the one side of the bun, but the meat felt like it was on the other side of the bun. Whatever though as long as it tastes good i was ok with the looks. Took a bite and half of the meat and a lot of the sauce (bun was sloppy with sauce) came sliding right out of the bun and down my shirt. It seems like the part had been cut in half, probably when they were checking to make sure it was cooked. Now my shirt is ruined with grease/oil marks and to be quite honest not much taste in the burger.
Again I don't like complaining, I've gotten salads without the chicken or wrong dressing, wrong salad sometimes things I've paid for I don't get etc...
I have called the store manager once or twice to let them know what has happened, but this time with my shirt now being ruined...I've got to say something.
Maybe if you could mention to the managers/assistant managers to be just a little bit more careful sending food out that would be great and appreciated.
Thank you for your time and have a Blessed Day.
Rebecca L Kopp

Thomas M. Davis
from Eastman, GA
On 14 July 2019 while traveling on the NY State Thruway, Ontario travel plaza, on I90 Westbound, I and my wife stopped to use your facilities and purchase a large Diet Coke for herself and a medium coffee for myself. After purchasing said items I reached for the coffee and picked up my coffee cup in the middle of the cup. As I picked up the coffee cup the lid came off the top of the cup and the hot coffee spilled all over my right hand. I immediately pulled back my hand and uttered a mild expletive (GD it). I did not use excessive force or was negligent in picking up the cup. It was then that it was obvious the server had not properly secured the lid to the cup.
The server, an obvious teen whose name I do not recall, just stood there and looked at me. She said nothing and did nothing. I asked her for some napkins so I could clean up the spilled coffee. I wiped the counter clean and as I did that my wife asked the server for a cup of ice. The ice was to cool off my hand. It was then that the server asked if we wanted a lid for the cup of ice. She offered neither an apology, to clean the spill nor refill the coffee that spilled. She never asked us if I was okay. The server's inaction is incomprehensible. She had no clue what to do or say. Sad and bizarre. Perhaps she is a candidate for McDonald's Kindergarten and not the University.
I only send this complaint to make you aware of one of your servers. I have always maintained that McDonald's coffee is the best on the planet and will continue to purchase and consume it. I obviously will be more careful in picking up the coffee cup and I now know not to trust your servers. I prefer to drink the coffee and not wear it. Thanx.

D Smith
from Loveland, OH
Just saw a manager threaten an employee for not thing the trash up right. He jumped all over the man for not doing it the way he wanted it done. And he did it In front of customers. This happened on Fields Ertel Rd in Mason Ohio on July 18, 2019 at 6:40 am.

Gerda de Wet
from Johannesburg, GT
I ordered a 2 Big Mac burgers and when I got home there was 1 Big Mac burger and 1 Spicy Cajun Chicken burger. I had to eat the burger because it was to far to go back, I live in Pretoria Gardens and got the food in Pretoria Town. I mean that is bad service.

jim simmons
from Dearborn Heights, MI
Dearborn Heights Mi. Telegraph Road July 15, 2019 around 12:00 noon in store - ordered hot cakes and one senior coffee received hot cakes waited and waited for someone to pour coffee the manager or the employee that took the money wanted to help I waited 14 minutes two employees said someone else will get it finally the same person that said she is busy taking orders did pour the coffee while the hot cakes were cold when I sat down it was so obvious because I was white older man they were all black. THIS PLACE HAS A RACE PROBLEM THAT NEEDS TO BE FIXED.
Have feedback for McDonalds?
Thanks for your feedback!
Sorry. Please try again later!