McDonalds
McDonalds Complaints Continued... (Page 2)
1296+ reviews added so far. Upset? Call McDonalds corporate: 800-244-6227

Thomas Davis
from Dyer, TN
I stopped at a macdonalds in Jackson Tennessee located north of Jackson just off of hwy 45. I ordered 1 large and 1 medium mocha frappe at approximately 1:30 pm. When I got to the window the person working at the window first only handed me 1 med frappe. I told him that I also ordered a large 1. He then grabbed another medium frappe and tried to pass it off as a large. When I reminded him that I ordered a large he told me to drive around front and they would bring it to me. After waiting about 5 minutes I felt like something was wrong so I went inside to see. It took several minutes for anyone to notice me. When the person working the window saw me he said out loud that he forgot about me. I heard him and told him that he needed to hurry up because I was getting pissed. He came over and challenged me and told me I should go back outside and wait on my order. He also said that I had no right to talk to him and called me bro. I am not his bro. I am a customer.
No one ever apologized for either of the 3 mistakes they made. It was over 20 minutes waiting to get a drink that I would not have gotten if I hadn't gone inside after it.
I expect a written apology from Macdonald's and both the manager and the person working the window should be reprimanded because it appears that neither the person or the manager have been properly trained or they are ignoring what they should have learned. I will not visit another Macdonald's restaurant until I am satisfied that this won't happen again.

Brandon D DuSavage
from Chicago, IL
Customer Service is pretty much non existent most of the time your lucky if you get greeted at all and when you pull up to the pick up window they hand your food to you and don't say a word no thank you,have a nice day nothing and lucky if they even look at you while doing so.Ive worked in fast food so I know how it is and I always tell the people at drive thru thank you and even then they don't respond it's very rude.Today I got a sweet tea and tasted it I held it out to give back to person in drive thru and she just looked at me in disgust and put her hand on her hip I said this doesn't taste right and explained the last 4 times I was there the sweet tasted like they didn't put sugar and asked for a Coke instead she said nothing just grabbed it got me a Coke no oh I'm sorry about that or ill let someone know nothing. They have absolutely no people skills this is at Store 2648 but in general most are like this now

Nancy Bradshaw
from Greensboro, NC
Today I purchased 10 piece chicken McNuggets, small French fries and medium chocolate shaken I ordered using the McDonald's app. Voice code BV28. I picked up my order at approximately 4:1pm at 706 College Rd. Greensboro, NC location.
Got up to the microphone to say, I was picking up an online order. The voice on the other side, a female asked me for my order. She did not say welcome to McDonald's or thank you or anything I got up to the window, waited a couple of minutes for her to gather my order. When she open the window to hand me my order I asked her if the order was fresh remade and she said it was. I got home in about 15 minutes later I discovered that the chicken McNuggets were old. They must've been sitting under heat lamps for several hours. this has happened several times. I pay good money for this order, and I expect the food to be fresh. In addition, I expect the person that is handing me my food to show some courtesy. She never looked at me never said, thank you never said come back again never said anything, just handed me my food and walked away. This is why I choose to go to Chick-fil-A whenever they are open. I can see why McDonald's is losing favor with the public in general because your service lacks in courtesy professionalism and freshness of quality. My total order came to $11. 92. I would like to have a refund or credit , please feel free to contact me to discuss further.

Trina Bradley
from Denver, CO
I ordered breakfast on FATHERS DAY from the online app! Order TX84 - then I called spoke to a girl told her my husband is picking up order to PLEASE make sure ALL ITEMS are in the bag! So my husband gets home from picking it up and MISSING HIS MEAL of all things! Tried calling store spoke with same girl I asked are you the one I asked to make sure everything was in the bag? She set the phone down did not reply and it rang busy I called 12 times! She did it on purpose for sure!!!!! I added a copy of the receipt and my outgoing calls! This store always is missing items constantly that's why I called! Store #5562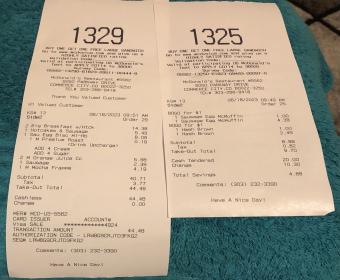 The McDonald's in Anna TX has a lot of young kids and all but some are even adults. The evening people that work watch tik tok . I am a door dash driver and the people even managers see's me there waiting and they don't even ask if I am waiting on something. There has to be better customer service. As a door dasher we are trying to make our customers happy as you are and it start by giving them order as promptly as we can. I know for a fact last night there were some kids doing nothing and the line outside was wrapped around the building another gentleman that was also a dasher left angry cause no one bothered to look over to ask him anything. I'd rather get orders from Melissa TX instead. I hope this changes soon and managers need to put a stop to all these people just standing around doing nothing while a line gets longer

SHARON PENDERGRASS
from Byron, IL
We stop and order Iced Mochas 3 or 4 times a week. Usually have no problem but two days in a row ordered was messed up. First day they gave us a medium when we ordered a large and I told employee and she said that is a large, But the large has L on cup not an M. Then went back next day and ordered iced mocha thy definitely did not make it right. More like a vanilla iced coffee no whip or chocolate. This is Oregon Illinois McDonald's my receipt says #12850

McD's Valparaiso IN on Rt 30. Terrible service to walk in orders. Restaurant dirty snd not stocked for eat in customers very disappointed in the priority put in mobile orders.

Joseph Hartle Jr
from Franklin, PA
Franklin PA Mc Donalds ....... worst service ever ! Slowwww is a understatement !

James Johnson
from Homestead, FL
The McDonald's on the 3000 block of US 1 in Homestead Florida they're understaffed they never opened the door and when they do they say they don't have enough people to wait outside another 10 minutes

Patti
from Plymouth Meeting, PA
I can only place my order by kiosk. I am a grandmother taking my young children. I wanted to place my order with a person and I couldn't - kiosk only. I left with two young children crying. Will never go back. Keep things simple for the older generation.

Barbara Heard
from Reno, NV
We went to McDonalds in Selma Ca last night and our burgers weren't even hardly cooked at all.It looked like they put them on the grill and turned them over once on each side and took them off.Not only that they park almost all there customers and we sat there for 30 minutes.McDonalds is getting very bad and disgusting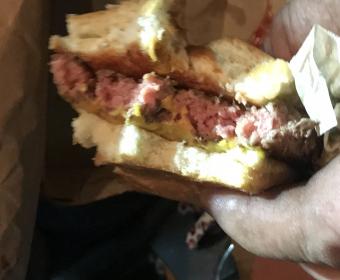 Mark coulter
from Garden City, GA
At 10am they tried to not take 1 100 dollar bill because they'd have to ask their manager to change it out and literally told.me they didn't wanna mess with it. Low and behold that's all I had and the lady at the 1st window in tompkinsville ky then jerked it out of my hand and made me wait a solid 20 minutes before she even hollered at her manager.

Chris deuel
from Sanford, FL
112 french ave sanford Florida store at about 1 am....There was 2 girls at the window a older white lady and a younger black lady when I got to the drive thru speaker they would not answer then I drove up to the window the ask me why I didn't stop at the window and I told them because no one would answer me then they where just plain rude for no reason and would not let me order anything I even drove back around to the speaker again and they told me they where closed so just left I will never come back to that store again

Susan Thurmond
from Orlando, FL
This McDonald's is the worst McDonald's in the history of McDonald's!! 70/33rd Ave Bradenton Fl. It's like they have one person working. Terrible

Mario mendonca
from New Lenox, IL
Ordered nd payed 2$ I never got service still they just ignore me

betty hagerman
from Bridgeville, PA
Ellenboro wv mc .it is so official the worst mc I have been to the food is cold .I asked 4 no salt on fris I get salt I n thay wher cold asked for hamburger what do I get McNutt. The other time I went there no mack sauce at all so no big mack . N thay r so slow I was with n saw a friend he left because wating to long

Sue Dionne
from Boston, MA
I ordered a crispy chicken sandwich It took more than. 15 min and I then when I got my sandwich it was cold and the roll was hard. If my sandwich was hot and fresh I probably wouldn't be complaining.
The mc Donald's was in Londonderry NH

Tom franks
from Indianapolis, IN
So many of the McDonald's screw up your order so easily I am a regular customer I order two egg biscuits subbed on well done English muffins what the round egg and I tell them at the window please make sure the muffins are well done and they don't put cheese on it so I get to pick up window I know the muffins were not done then I send it back second time it comes back after a half hour they have cheese on them did I order an egg McMuffin no I did not this comes from just about every McDonald's they don't care I even told the manager after me waiting a half hour you know I deserve my meal free well we can only give you your money back they do not care when they have to start giving me your money back then and only then we'll then make sure the orders are done right it's not them who's late for an appointment it is you McDonald's has really gone

Mackenzie Mason
from Abilene, TX
I ordered 2 spicy Mc chickens a delux spicy mc crispy 10 pc nugget a Dr Pepper and a large fry. When I got home to eat my dinner I was missing my 2 spicy Mc chickens and my sticky Mc crispy was not a spicy Mc crispy. The window worker was flirty and was slowly running her hand down my boy friends arm, made us feel uncomfortable as well as mad that she forgot our food , no receipt was handed to us, they weren't using the system cause it was down. We were there around 2:20-2:35 in the morning

Wallywiedig
from Seattle, WA
Live in tacoma washington 818 97st e tacoma wash 98445
I'm a 3year customer 3 times a week and the night crew is awful
10 people passed me up when owas there first and theone manager cussed at me do something I'm not comming back tell you get it worked out

Victorino Muro
from Temecula, CA
This restaurant had me waiting for over 5 minutes before someone helped or noticed me.
After several minutes a female comes and states are you ready to order!!! Takes the order charges and walks away to food bin. There she gets on here phone and starts talking to someone in Spanish. Obviously not for business ! Where is the customer service! I.e good morning, welcome to McDonald's! Can I take your order!! The store was empty inside and you can hear a conversation going on in the back. Another customer enters and he is waiting for someone to help him. I live close to this store and is convenient but service is terrible. Normally the lobby dirty trash on table and people waiting for service. This why I am launching this complaint.

Tisha Champion
from Maryville, TN
I had a couple code for the buy 1 get 1 large sandwich. I went to the mcds on 1716 Rutherford Blvd in Murfreesboro TN to use the code I was given after the survey an was told they DO NOT participate in this promotion. I have used multiple codes before with no issues. They worker was extremely rude an asked if I would like to speak to the manager. I told her I had never had this issue before an said I would not like to speak to the manager. I am aware that all mcds do take the surgery code. I would like to know why this one would not take the code.

Karin Anders
from Miami, FL
I find it very offensive that McDonalds is running Spanish language commercials on English speaking channels in Miami/Dade country, Florida. There are many Spanish language TV channels in the area for McDonalds to choose. from.

Kristen Givens
from Rossville, GA
The McDonald's at 1179 battlefield parkway fort Oglethorpe Georgia I was in there around 11:20 on May 16th there were three employees two females one male the two female employees were very rude to the lady in front of me made very mean comments after she left and then was rude to me because I decided to leave even after I was apologizing telling her I didn't have time she continued to be rude to me as I was going out the door I think one of them was a store manager but I'm not sure and when I called to find out who the district manager is she giggled said the name Crystal and said that was all she knew it should be on camera at 11:22 everything should be called on there the one with the long ponytail and the hat on after the lady in front of me left turn around and made a remark that today was not the day I have worked fast food I've actually worked at that McDonald's I know how hard it is but there is no reason to be that rude to people I have never been treated so poorly in a fast food restaurant in my life I don't know their names I didn't hang around long enough to get it but like I said it is on camera thank you

c gilfillan
from Irwin, PA
The Mcdonalds in Hempfield pa has poor customer service..The manager was ok,but the workers in the kitchen were rude.They didnt listen to the manager first off.Then they didnt smile,had angry look on their faces,cause they had customers to wait on..

Brenikia Coole
from Tallahassee, FL
I work for a McDonald's and my manager is to comfortable CALLING ME A BITCH

Ilka I Colon Morales
from Mountville, PA
McDonald's on Columbia Ave in Lancaster pa has been giving McDonald's a bad name ..
I understand that maybe the restaurant is understaffed but that is no reason to turn out nasty and disgusting food and not done to the full potential I am a regular or was a regular customer here not only in person but also had them deliver and my food is either a messy messy not done to my likings or the deliveries are incomplete and missing food and then you get the smart attitude well if you don't like it make it yourself .. and some of the managers are not even better than they are because you get hung up if you call the restaurant this McDonald's should be looked at or should get new management better manager employees should be retrained they keep working at this capacity it's going to be shut down

Mary miles
from Houston, TX
I'm at McDonald's location on El Paso Tx at piedras street McDonald's. Your staff has a big attitude and bad service my mother came to get a coffee and biscuit and they mess her or and her coffee she came to complain and they gave her and attitude. They gave her the wrong coffee and she asked for the one she wanted and they still wanted to give her the one they wanted. Your staff is rude and inconsiderate specifically towards seniors. My mother is not alone and she has someone to speak out for her. Please train your staff to be more considerate towards there costumers.

Deagenlo willets
from New Orleans, LA
Every time I get an order either I'm missing something or I'm wrong and overthinking. This is truly unacceptable the one in Grand Bay right by the interstate. Employees need more training on customer service

We went to the drive threw last night and we had to wait a hour for our food and they didn't fill the fries up and smashed down and the sandwiches were cold the food was the worst food ever

Gayathri
from Toronto, ON
None of the staff who make the meals not wearing gloves while preparing food or serving the customers. Not feeling safe to eat the food

joAnn Beall
from Lanham, MD
I do not love the fish fillet sandwich anymore you bite into it and the filet is like where's the fish it's not solid fish it looks like pieces stuck together it's just not good... Is as though the breading is just holding the fish like substance together when you bite into it you see not a good flaky thick yummy fish Patty but instead pieces that are like falling apart that you really don't want to eat because it doesn't look appetizing. I love the steamed bun and tartar sauce is excellent but you need to improve your fish patties. Or reduce the price cuz it's surely not worth $4. Smh

Leon Carroll
from Porterville, CA
I went through the drive thru.
Placed order. The order on the board wascorrect. Paid and they reverifed the order. Got home. 10 miles away.
The order was totally wrong. Called the restaurant and spoke with the manager. Very rude and uncaring. Was told that I accepted the order and they would not do anything about it. I'll be talking my business elsewhere. There are plenty of restaurants who want my business and will take care of my friends and family.

Marvin Duncan
from Granbury, TX
went to the McDonalds in Granbury , Tx on Hwy 377......wanted to order an ice cream cone......stood in at the counter for about 10 minutes while all the employees stood around talking, and taking orders to the drive through, and cleaning up random french fries. By the time someone finally acknowledge me at the counter, there was 8 more people behind me. This one guy hollers across the kitchen at me and says it will be a while before they can take my order, but if i wanted to use the kiosk or call in an order it would be faster service.....I told him that i will just go somewhere else because the customer service , and he said whatever......
I will not be going back to that McDonalds store. It has very poor customer service and very rude people.

Virginia Gomez
from Houston, TX
You just took my points without giving me my order. I wanted a McChicken with my points and then changed my mind.you took my points and I couldn't get my McChicken. This is a sorry app cuz I was counting on eating something.

Elizabeth Davis
from Dallas, TX
I WENT TO THE MCDONALD'S LOCATED AT N. SAGINAW BLVD. IN SAGINAW, TX 76179 ON MY RECEIPT PART OF THE ADDRESS IS MISSING BUT THE PHONE NUMBER IS 817-306-0660. I PURCHASED TWO TWENTY PIECE NUGGETS AND TWO MEDIUM SPRITS ONE OF THE SPRITS HAD A STRAIN OF BLACK HAIR INSIDE THE CUP. THE SPRITE WITH THE HAIR IN IT HAD ONLY A LITTLE ICE IN IT. IT LOOK LIKE IT HAD SAT UP A WHILE AND THEY WERE WAITING FOR SOMEONE TO COME BY TO GIVE IT TO RATHER THAN THROW IT AWAY. PLEASE CALL ME . ELIZABETH DAVIS MAY 6, 2023. THANK YOU!!!!!!!!!

Jane Freed
from Murrells Inlet, SC
Went to McDonalds on Route 707 in Murrells Inlet,SC 2957. It has been remodeled. Had to use kiosk to order which worked great. The food came out almost right away. It was cold. We asked how we get a soda refill. Was told to just come up & could get it. After standing in the group of people in line for 10 minutes was told they don't give refills any more. Won't be back Arby's give refills & food service & employees are nicer.

Jeanette Cusatis
from Philadelphia, PA
I waited in line 20 minutes and I ordered just a cheeseburger and a medium french fry and a small coke. Waiting that long in line. First of all is too long. Also, the french fries were cold and when I took them out of the bag the box of fries were short. I thought maybe some of the fries fell out into the bag and when I checked no there is no fries in the bottom of the bag. Very dissatisfied.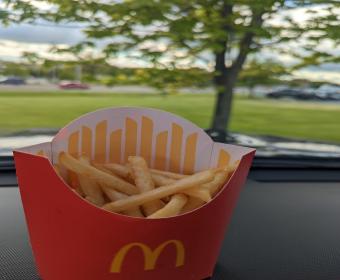 Nicolette Skinner
from Charlotte, NC
rudeness when bmobile order was incorrect

Everytime I go to McDonald's on greenmount Avenue in Baltimore city they are very slow and the machines are always down. The other one on north Avenue never have frappes the machines is always down

G. Foster
from New York, NY
If I could rate below a zero I definitely would. No cars ahead or behind me and I waited at the drive thru for 4 mins before someone asked for my order. All I heard in the background was employees laughing and when I got to the window there were 3 employees at the window...2 just looking out the drive thru window and 1 was trying to explain why I paid for 4 pies and only got 1. No ma'am. I want what I paid for or give me my money. I agreed to circle back in 10 mins to pick up the other 3. So, 15 mins later I pull thru and they take 5 mins to finally tell me it takes 12 mins and they'd have to make some. Still, no cars ahead or behind. We made the agreement and they had no intentions. I decided to take a refund. 4 employees working and only 1 working and that employee was obviously Maintenance. McDonald's deserves better employees. Please do a sweep and start over hiring people that actually work to earn. These employees are going to ruin this McDonald's. This happened around 2am on 05/04/2023

Wondel Smith
from Eufaula, AL
At the McDonald's here in eufaula, Alabama . You tell them your order and you get something else ! I will never eat at McDonald's again !

I ain't telling that
from Lanham, MD
Paid 20 dollars got wrong food they did not give me the receipt so i could not get what i ordered because i did not order 2 quarter pounders, i still want my mc flurry and 20 dollars.

Charlotte k Holmes
from Dallas, TX
4/17/23, at 1:36pm at store 35679. Went thru drive thru ordered 4 double cheeseburgers and frie and they gave me 2 burgers and chicken nuggets. When I got hm I saw the mistake and didn't want to go back. The employees was laughing talking to each other and not paying to order's. Please response cause I called same day at spoke to lady and haven't got a call.or email.
Thank you

Beverly Hendon
from Broken Arrow, OK
My husband and I went to the Tecumseh Okla store Saturday night. We ordered 2 Quarter Pounder meals with drinks. The burgers were so heavily peppered we couldn't eat them. The fries were so heavily salted they made us gag. When we went in to complain to the person at the register, she said, "they are always made like that" Well, guess what? No, they aren't. We have eaten at other McDonalds and NONE of them were like that. We will never go to that McDonalds again. I really don't want to ever go to any McDonalds ever again. That was the worse tasting burger I have ever

Sheila york
from Richmond, VA
Same McDonald's at carytown Richmond Va refuses to give receipt every time Says they ran out of paper
Also gave me a old black chicken sandwich

Karen Abbott
from Windham, NH
Placed an order on app. When I arrived at store I was told to pull up to the window. I waited about 5 minutes and then was handed 3 beverages. A few more minutes went by and I was then asked to park in a waiting parking spot, which I did.
25 minutes later still waiting I went inside the store to find out where my food order was. No apologies or anything questions other than what was your order. They start filling my order. Hand me my order and that's it. 40 minutes later, after I had arrived I have my food. I should have just ordered at the window like the dozen or more customers had while I waited.

Ebony Edwards
from Raleigh, NC
I gave drive thru code for my free item. She still charged me. I asked for manager and she didn't speak English. I was not refunded. Fries were extremely cold and had salt, I asked for no salt. I want my money back.

Cindy Williams
from Covington, GA
Use McDonald's app for points did not receive points for order.
The Manager was ask to speak to me , she sent Employee back to say there's nothing she could do about it.
Employees are very unprofessional and rude.

To whom it may concern
from Porterville, CA
I want to put a zero.. 1 star is not deserved ..
The mcdonalds in Porterville both of them suck are dirty the mangers are ignorant and lazy with noooo professionalism what so ever .. one lady on henderson yelllls are the entire store with orders every where she is soo lost it's unbelievable she is a store manger the mangers at the olive locations stand there and talk about there nights out what to do next you got mangers laughing and giggling and completely ignoring me and other customers.. it is unreal mcdonalds is paying what they pay for this and i hear it getting raised that's unbelievable.. for these prices and this service with shittty professionalism obviously not!!!!!! trained what a waste of money .. jack and the box and burger king have been so good to us every trip we make through good ol porterville im so glad we found better fast food service cheaper too..
MCDONALDS CORPORATION NEEDS TO GET IT TOGETHER AND PAYLESS TO THE WORKERS IF ALL WERE GOING TO GET IS SLOOPY FAST FOOD AND SLOPPY AWEFUL SERVICE AND COME EAT AT THEIR OWN STORES AND SEEE IF THEY HAVE SOMETHING DIFFERENT TO STAY ABOUT THEIR OWN SERVICE THAT THEY PAY FOR DONT GO LETTING THEM
KNOW YOUR GOING GO UNDERCOVER AND SEEE THE REAL SHITYNESS GOING ON IN THEIR STORES ITS DISGUSTING !!!! DIRTY LOBBIES BATHROOM NASTY . SO Sad sooo sadd

Nate LeViner
from Portland, OR
You've downsized your McChickens while raising the price. No thanks. Never going to a McDonalds again. Greedy greedy greedy

Destiny's creegan
from Washington, DC
a man called me baby as I was ordering and I feel that is unprofessional

Becky Farber
from Reston, VA
There are three McDonald's in Altoona, Pa. I purchase from two of them just because of their location. I choose to round up my order of one egg McMuffin every time I order for the Ronald McDonald house. I usually stop about three times a week. I am disappointed that
1. I get a tiny bit of frustration from the cashier because they have already punched the button ready to take the money (which I understand inorder to keep the customers moving) but it disappoints me because of the cause.
2. I'm suspecting that this practice of rounding up isn't trained properly because they truely do not know how to complete the transaction when I let them know I want to round up. This cashier has been on this window a time or two before and still struggles.
Please do not send me anything free that's not my purpose. If that was something you were going to do please honestly donate that amount to the Ronald McDonald foundation.
I have a family member and friends that have been helped from the houses and I am grateful there is help out there.
I am a general manager at a well known pizza business across the states so understand the importance of customer service.
Thank you
Becky Farber

Mellissa Baines
from Atlanta, GA
At approximately 907 3/27/23 order 15 we order food which required us to ask for ranch dressing as we had chicken nuggets ... once we checked the bag we had no ranch and ask window server for ranch. She stated it's in the bag we checked but it wasn't any in the bag ... we gave the bag back to the server who checked and it wasn't none. The manager who was fixing the orders was hollering I put it in the bag but it was clearly none. It was embarrassing we had to pass our bag in and
still be hollered at by management whom was mad that he did put it there. Then the manager made us pay for ranch dressing when we should have gotten it anyways. It's sad you have to argue with the managent about food you have paid for and condiments that should have been included. Why would the manager get mad for a mistake he made and make a scene in front of everyone . I even taped the commotion he cause on voice recorder

Christy roscoe
from Pocatello, ID
order was wrong, and the lady Immediately argued with me, repeatedly told me I was wrong with what I ordered, and insisted she knows what she is doing. very very rude. raised her voice and laughed at me while inside the play area with kids present.

John Wolfe
from Meadville, PA
I recently visited your location in Edinboro, PA. Upon pulling into the lot I noticed the drive thru lanes backed up, so I decided to park and go inside. I went to the first available to kiosk to place my order. I was unable to complete my order because it would not process credit card for final payment and had to take receipt to the register. The wait at the front register was over 10 minutes due to other customers in line and inexperienced up front employees. Management had to called numerous times to address register issues and to process my order. Once my order was processed, I waited another 15 minutes until I finally decided to ask for a refund. My order was a simple 6 piece McNugget and a large Coke. Once again the Manager had to called to process my refund. He did offer a half hearted apology, but could have at least allowed me to get a free drink. I was informed by a customer there that the location priortizes drive thru before inside customer service. This incident happened on Sunday afternoon at around 3:30 on March 25.

Donna Drauss
from Ashford, CT
Went thru the drive thru. Order big mac and small fry. It was disgusting. The big mac bread was so soggy that it completely fell apart the fries were so dang hard it was totally disgusting. Totally unacceptable that you can serve food like that. Total waste of 8.57

Tracy Zuccaro
from Forked River, NJ
I left Mc Donalds and brought my food home. I ordered chicken nuggets meal for my son and a cheeseburger deluxe meal for me. I said no onions and it was full of onions. He tasted old and the next day me and my son had the runs. I will never return.

Rogerine Hemphill
from Sun Valley, CA
Thank you for visiting McDonald's website. Below is your email which has been submitted to McDonald's Customer Response Center. We are reviewing your email and will be replying to your comment or question. Replies to this e-mail cannot be received. Should you need to contact us again, please feel free to contact us through mcdonalds.com.
Thank you.
First Name: Rogerine
Last Name: Hemphill
Mailing Address: 14551 1/2 Calvert Street
City: Van Nuys
State: CA
Zip: 91411
Your E-mail Address: ashja1026@gmail.com
DayPhone: (818) 210-2713
Date: 10/03/2022 12:44 PM
Visit Type: DRIVE-THRU
Place Order Type: DRIVE-THRU
Delivery Vendor:
Restaurant Address: 14850 Victory Blvd
Restaurant City: Van Nuys
Restaurant State: CA
Comment: I gave my order at the drive-thru kiosk, the lady said 6 dollars plus, I get to the pickup window the gentleman told me she made a mistake she doesn't understand the price this year it'll be 14 I said can I speak with your manager he said pull to the next window please. The manager repeated what the young man at the previous window said. I asked her for her card because I wanted to report this to the corporate office she asked me if I wanted to purchase anything I said fries she said she wouldn't sell me anything and that I was being rude again asked for the corporate card she told me to leave because I was being rude. I'm at the drive-thru window this incident must be on video, and should speak for itself. Purely racist!
Please provide follow up on this incident. Now we're in the month of March and I've still heard nothing from you people at all. I was treated with the utmost disrespect by your manager I have not gone to McDonald's since. I will however now that I've heard nothing back from McDonald's, I'll turn to social media and let that speak for itself. Maybe that's the only way to get your attention, how sad.
Regard's
Rogerine Hemphill

Louis D. Glasgow
from St Louis, MO
Order a apple pie and paid for it but never got it showed my receipt to but was yelled at.

Marcelia F
from Hallandale, FL
I was attended by a girl in the drive thru rude and ignorant. it felt like she was doing me a favor by serving me. worst Mac donalds store ever! 300 W Hillsboro Blvd, Deerfield Beach! Fl .
I will never , ever return to this store again.!
Very sad, I left with out order!

Samantha Grindle
from Arab, AL
I asked for a number one large with a large Mocha Frappe and they gave me a large Dr pepper I told them my order was wrong and they came back with a large Carmel frappe. The woman in the window at Arab McDonald's was rude as hell when I was explaining that my order was wrong. Arab McDonald's is literally the worst place to order food the customer service is absolutely terrible and the older employees are rude as hell

Paul James Campbell
from Derby, ENG
I have just experienced the most coldest restaurant ever. This was your restraint on the Wyvern estate near Pride Park, Derby. It was that cold it was hard to distinguish between indoors and outdoors. The were only 5 people in at around 5.30pm today 14th March.
The 3 of us varying ages, 50, 64, and 79 was that cold that we ordered, waited, ate and cleared within 18 mins. The food was excellent as usual by the way.
I'm all for saving energy and so on, but there is limit....

Leslie a Haehn
from Waterford, MI
On 3-13-2023 at approximately 1:30pm, I was in the drive thru and ordered a senior coffee with 2 cream on the side. I was rudely informed , "we don't have Senior coffee". I then ordered a small coffee with 2 creams on the side. The employee took my order said it was $1.69, then informed me "we don't have any coffee". I told her there were approximately 8 cars ahead of me and would she please start a pot of coffee. She then informed me "No, we aren't going to make any coffee". I asked why, and she said "we don't sell coffee during the day". That is the most ludicrous statement I have ever heard at any of your stores and I stop almost every day for a coffee in the afternoon as I am a traveling nurse and am always tired. I love McDonald's coffee, but I have never in my life been so rudely treated. I won't ever go back to that store and if any other of your stores are operating in this manner, you will lose a lot of business.
Sincerely
Leslie Haehn

Marlene Bonds
from Chicago, IL
I dine in and ask for my food to be hot and it wasn't hot and the cashier had an attitude so Itold her that it wasn't hot and she was rude to me.

Jennifer Glover
from Byesville, OH
Went through the drive-thru at McDonald's in Cambridge Ohio on State route 40 East Wheeling avenue we ordered two breakfast burritos and hash brown a caramel iced coffee and asked it to be extra sweet it when it's an extra suite we went back through the drive-thru got another one and it was the same it was very disgusting when we called because we didn't have time to go back through they had forgot our hash brown and he argued about the coffee the guy that answered was a manager and he also served as he was very rude and argumentative I have been going through that restaurant everyday for almost a year and I've had several different problems with them one time they forgot my food when I went to try to go get it after I got off work they said they didn't have any record of it when I spoke to the manager Doug about it one time I went through they burnt my sausage McMuffin so bad it was hard to the point it was done edible spoke to the manager Doug about it went through and told Doug told me I could get a free value mail when I went through they said they had no record of it that McDonald's is very uncoordinated the people there are very rude and it's very unclean I will not return to that McDonald's again there is no sense of being that rude and argumentative when you're trying to tell them you know that the coffee isn't right you're the one drinking the coffee and he argued and was very rude very unprofessional

Aaron William Holden
from Auckland, AUK
Was cold and discussing as had workers sick so was. 30min wait as well

Lee myers
from Memphis, TN
We have went to McDonald's all my life MY MOM AND MY WIFE WORKED THEIR FOR years . I made a mobile order online to the McDonald's on hwy 80 in Jackson ms. The food was terrible I don't any money back I just want McDonald's to stand behind their policy and make it right 3/7/23 8:44 pm

Larry. White
from Hendersonville, NC
Your store in Brevard nc I have visited 2 times my order was messed up call the manager would not fix order also fry's were cold no fresh did not fix sandwiches as I had ordered I will not visit the store again manager was rude when I spoke to him

Oksana
from Stuttgart, AR
I went to this one McDonald's in Denton, TX restaurant #18781 on 2930 W University, this is second time that I went there with my kids and we had food with hair in there, and when I came back they had an attitude about it. Didn't even refund me the full amount. I worked on McDonald's before and policy was to wear hairnets when working especially in the kitchen. There are women with their hair down working in the kitchen. Please do something, because that's nasty, those sandwiches were for my kids. Thank you

Gabriele Raffaut
from Brisbane, QLD
I often get 6 nuggets and always ask for sweet and sour sauce which 9 times out of 10 is not included. This happened again today at the macdonalds at Marsden. Because I generally go through the drive through do t realise it's missing until I get home.

Ethan Lynn
from Pittsburgh, PA
I ordered 2 cheeseburgers and marry messed it up 3 times marry at the first window was really rude and I was really upset about it

Tracy Barbalinardo
from Suwanee, GA
Every time I go to the McDonald's on old Atlanta Rd in Suwanee Ga is horrible. The fries are old and never filled the big Mac is not fresh, This is everytime I go through the drive thru for years and as the time goes on it gets worse. I stopped going for a while and forget my last experience and go again. This last time I call and complained I was offered to replace the meals the next time. I went a few nights later to get my meals and I asked if the fries were fresh they told me yes. They were not fresh the mixed the old ones with the new ones amd they were gross. This is the reason I stopped going to McDonald's in the first place. I guess I am back to going to Zaxby's or chic fil a.
Thank you,
Tracy Barbalinardo

Kathleen Murphy
from Alsip, IL
I do not remember the last time I went to the McDonald's drive thru on 127th st in Palos Heights IL where I received a correct order. Whether it's not getting all of my order or if I check the bag before driving away I later find incorrect orders. Like all of the burgers ordered for my family tonight were given to us plain even though we did not ask for anything plain. Even the fries were unsalted. This was the last straw. I feel the management at this location needs to be updated. The employees don't care to give correct orders or even finish making the food before giving it to customers.

ashley page
from San Jose, CA
Mobil app not working and causing problems at drive thru then steal coupons and tells you to wait.

Theresa West
from Charleston, WV
My order was wrong again! Ordered 20 chicken nuggets, got 18. Order 2 double cheeseburgers, got 2 regular cheeseburgers instead. Got two bags both had a basket of fries on top so the order could not be checked in the car. McDonalds has become the restaurant you can never trust. We don't eat out much do to the higher prices. When we do go 90% of the time there is something missing. Ripping off your customers is not cool. I uploaded the receipt so you could see which McDonalds, good luck reading it. This is the only time I have ever reported something like this, just fed up.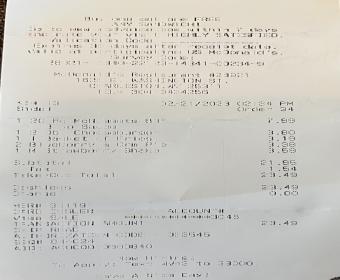 C j Hartman
from Indianapolis, IN
Stood in the Nicholasville Ky store on my lunch for 10 minutes before the manager Rudely tell me it's kiosk only when she just got done taking the person order in front of me . We get 30 more n for lunch That's what's wrong with this world. Everybody expect the machine to do their job it happened and I wanted something that I could not figure out how to make the kiosk due and they would not even give me any help to the point that I just walked out I will never visit another McDonald's, do you guys need to focus on customer service now I see why you have a 1.3 and a five star rating

Richard Shaw
from Thirsk, ENG
EVERY ORDER I DO FROM YOUR KEW BRANCH IN SOUTHPORT GET IT WRONG, OR MISSING ITEMS OR BOTH. THIS HAPPENS DOESN'T MATTER HOW ITS ORDERED, IN STORE, DRIVE THRU OR DELIVERY. EVERY TIME
LATEST ORDER BEING TODAY AT 3.00PM.
THIS IS NOT ACCEPTABLE.

Tina Thomas
from Rockwall, TX
They called my granddaughter in for an interview and once she got there she was told the interview manage wasn't there to come back the next day. So I drove her there the next day and only to told that she was training too many kids and she don't need anymore. She needs someone who can work mornings Wow. The manager should have known by her brith year she was a young school 16 year old who is trying to get her first job like all of us once did. But Royse City Mcdonald still have now hiring sign up for a new location and that is why we thought she was being called in for an interview not to be told I'm training so many kids now I don't want to train anymore.

Robert grace
from Brighton, MA
Worsted service ever skipped by 5 people due to being left there then then never got food it's a mess every morning already and the manager doesn't care cusses at us and then talks down about my company due to them providing poor service and wrong food uncooked food .return cold fries to then get cold fries and they just make more and more excuses brother got sick from food yesterday and again today I'm harassed because I'm upset it took 18 min to order and get no food they forgot .sorry they have construction going on. This place should be shit down I'm calling state dept on it quality of food and service and I will make sure everyone I know stays away from it after experiencing all of this. We keep returning with high hopes and it's just worse ams worse. It's clearly the management that is the issue. ND SEEMS NOBODY CARES. JASMINE SHE SAID HER NAME WAS HAS TO GO OR BE TRAINED PROPERLY WITH CUSTOMER SERVICE AMD FOOD QUALITY

Marni Kailing
from Monroeville, PA
I am absolutely so upset I go to the Northern Pike location in monroeville Pennsylvania frequently. I just had my order replaced because my first one was messed up. And to make matters even worse the second one was crap and this was for my children! Id appreciate it very much if someone would reach out to me I'm a very very upset customer. I'm to my point now where I just don't ever want to go to McDonald's again. I takes alot to upset me!!!! Now my children are involved so what can we do about this situation the pictures below are double cheeseburgers that look absolutely disgusting!!!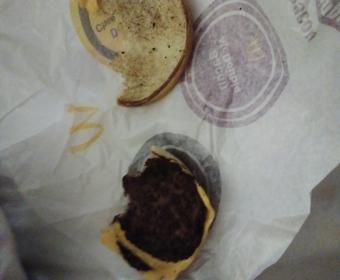 Dakota
from Cambridge, MA
Latrobe pa along rt 30…. Fast food is an understatement… I could of went to a steak house and had my meal ordered and finished before I got through the drive through at this location.. never coming back to this store

Daniel Sweetman
from Newark, DE
Store #4735. 815 South College Ave. Newark, Delaware 19713... Worst store ever!!! I have been stopping here almost daily for a year. Have tried to be patient. EVERY DAY, I am asked to wait in parking spot to get my food. THE FOOD IS NEVER READY!! I use other stores and am never asked to wait. This store has nothing prepared. To make matters worse, today I was again asked to wait. I waited 25 minutes to get my food.. 6 other cars came in after I did and received their food before I got mine. BAD BUSINESS!!! NONE OF YOUR OTHER STORES HAVE THIS PROBLEM ...IT IS CONSISTANTLY BAD. I WILL NOT USE THIS STORE AGAIN. There are too many of your competitors close by that actually want my business!!! It's called FAST FOOD for a reason. 25+ minutes is not acceptable!!! Bad, bad business. Just because you think you are number one, I am sure nothing will change. The prices you now charge do not justify lousey service!!!. .Do not blame COVID! All of your competition has made changes to keep their customers happy, but not NUMBER ONE!!! You have lost another customer!!!!!!

I came through McDonald's drive thru in Candler,NC at approximately 1155 am. I ordered two kids meals with chocolate milk. When I got to the pick up window the employee at window was talking to another employee while holding both chocolate milks. She placed both milks to her nose then hands them to me. I ask her why she put the chocolate milks to her nose? I told her that was nasty. She was being sarcastic saying I'm sorry you feel that way. I ask her if she would like to eat food I put to my nose. To which she responded would you like for me to give you another one sarcasm at best. This all took place while the shift manager stood there just gazing never addressed the problem. Due to all illnesses going around this is not professional way to handle food and drinks . At best she could've acted more concerned and out why she felt the need to put anything to her nose. Please teach your employees this is not acceptable to serve to you customers.

Melanie Smith
from New York, NY
Gave me wrong order tried to call and there company company phone busy
Wanted to go have them fix my order but it was 11:38 when I got home with this order that has. 3 baskets of French fries 1 chicken sandwich 0ne regular cheese burger and one medium late drink all that's open is the drive threw and I'm a walking customer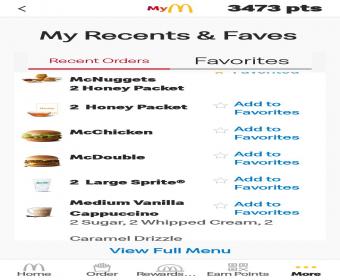 John E Dain
from Akron, OH
Went to McDonalds on a Sunday night at 11pm after work and wanted to place a take out order through the drive through and was told they were doing only Uber and mobile orders only. When was this policy initiated and why?

Camelia Rencher
from Mount Holly, NJ
After a long day my mother and I pulled up to a drive thru and got excellent service, but upon leaving we needed a trash can to dispose of our remains, we didn't see any, so I folded the trash and put it in a large ash tray, a bald Hispanic manager yelled at me saying that is not a trash can! He went on and on and got louder and louder, he scolded me as if I were an employee and not a guest, I even thanked him for removing my trash and showing me where the trash cans were located, he was very rude to me and did this right in front of other customers eating in their cars! I was afraid and everyone put their heads down in shame, because the the way he spoke to me! Mount Holly store, rt 541 & woodland road. Get him out of there because he created a hostile environment, I didn't feel welcome.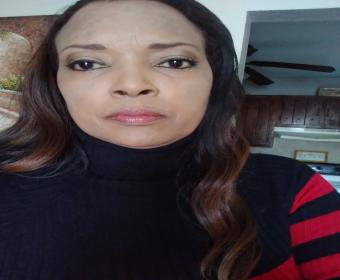 Would not honor deal that was advertised on TV that morning.
Extremely rude manager trying to explain they are a 'franchise',
So any national TV advertised deals do not apply to them.
Rosamond, Andrea Giorosito.

colleen garcia
from Salt Lake City, UT
I went to McDonald's on 11th Street in Tracy when I got back to my job we discovered that one happy meal and one double cheese burger were missing my job is about 20 mins away but the happy meal was for my bosses son so I said I would go back the manager at that store was so rude acted like I was lying she said do you know how many hungry and homeless people come in here and try to get food she said I will give you nothing I explained to her I drove 40 mins total just for a Happy meal she told me they wasn't her problem.I have never seen anyone so disrespectful work at McDonald's before especially a manager who should be an example so I told her I had the reciept at my job she said well I don't have it so I purchased another happy meal and double cheese burger with my money she took the order I payed and it took her 15 mins to fill my order she did it purposely the man behind me said she was very disrespectful and he said I hope it don't take that long for my order after work I went back to the McDonald's took the reciept gave to the manager and told him to tell her I wasn't hungry or homeless and gave him the reciept.I never thought a McDonald's employee would treat me so bad and disrespectful

Lucy Slater
from Saint Andrews, SC
I ordered a half lemonade and mixed with sweet tea. They didn't tell me they couldn't do it. And said it was a corporate decision. I would not have gotten a sandwich if I couldn't have had the drink I wanted. They have lemonade and sweet tea. I just don't understand what is so hard to mix these two drinks together. This was McDonalds in Huntsville, AL on Whitesburg Dr

Refused to give me my order after charging me, employee called me liar to her manager (Anna) after I told them my card was charged and my mobile receipt reflected that same charge, did not disclose her name after asking several times. All of that made my experience awful. They clearly have no customer service skills. I could go on about how this location has consistently been awful to me but I tried to give them a chance to many times. I'll attach a photo of a portion of my Mobile receipt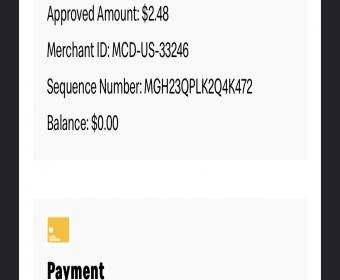 Most of my order this morning was incorrect at 10365 Bennett Rd, Fredonia NY 14063

Angel Banks
from Seattle, WA
So I've been waiting 15 minuts for my order and the girl in the back cooking burgers has very very long dark hair extensions in and she is in a hoodie with her hair out and I watched her hair drag over the burgers while she was pulling them out to cook

carissa williams
from Baker, LA
The restaurant on 200 main st. Baker, La 70714 is horrific they can't take orders attitude's is horrible and refused to give what was ordered but charged my card on Jan. 18,2023 approximately at 8:30 pm!! Another incident was with the drive thru girl her name is Rattanisha Day she has horrible customer service and she laughs in customer faces and cause altercations at the business constantly!!

Patrick Snow
from Providence, RI
Jan. 18,2023 which was last night at 8:10pm I pulled up to drive threw and waited 5minutes and no one came on the speaker so figuring maybe that speaker had an issue I go around to the second drive threw speaker to order and there's a sign that says sorry we are closed at 8pm for maintenance and tomm will be back to normal. Ok fair enough I will come back tomm. My children were disappointed and I assured them that we would come back tomm and that the dign says they will be back to normal. So tonight, January 19, 2023 I take my children back to McDonalds which is a 17 minute drive from home and again do to my job I cannot get there earlier we arrive at 815pm and there's a sign at the speaker saying closed for maintenance!!!! So I asked is anyone here and a lady comes on and says we are closed! I said last night the sign said tonight will be back to normal and now I wasted and disappointed my children again! I ask well when are you going to be back to normal hours because last night the sign said tonight would be back to normal and she laughs and said tomm we will be back to normal hours. Kids upset and I am also!! That's gas and time 2 days in a row to be laughed at and told tomm!!!! People's time and money to go buy food at your business and having signs that are not accurate and then being laughed at and a car for f children very upset at s bull!!! Stop wasting people's time and money!!! Don't put up signs to have people come back because it says u will be open when your not!!!!

Jessica roman
from Austin, TX
My name is Jessica I when to the McDonald's in Austin Texas on airport and you have some rude employees those are girl there that I don't think she work there because she wasn't in uniform and was rude to me thank her name was Jasmine because I overheard the managers tell her something I think the manager was her mom because she was rude to me to this happen to me last night on January 17 round 7pm report business bureau never again I would go there no more and telling friends and family not to go there to

Russell Quinton Buring
from Chicago, IL
They use to give refills on Coffee, I was just informed by a worker,you no longer do I asked her for her Name she refused to inform me. She is a young black lady at the One at Western Ave next door to jj fish and Chips.

Charlie Seibert
from Vineland, MN
I ordered a quarter pounder with cheese at the drive through in Aitkin Mn. There was a long hair in my sandwich. I called and asked for the manager. I told him about the the hair and he took my information. I asked if he was curious about the the time and date. He was not interested.
I haven't received a reply let alone an apology. I know this isn't status quo. I hope I receive a reply from your office.
I hope you find this information useful.
Thank you Charlie Seibert

C, Hawkes
from Brighton, ENG
I have just returned from visiting my sick brother in Kent with my 95year old mother.
On the way home we stopped at Clacket Lane Motorway services on the M25.
I purchased 2x Cheeseburger and fries and a Coffee which I took to my car to eat as my mother has limited mobility.
The food was not up to standard. The fries were cold as was the coffee. We ate the burgers but threw the rest in the rubbish bin.
I will not be using McDonalds again. You are a fast food chain who should be able to serve hot food but apparently can't.

Albert Smith
from Bloomfield, CT
On November 10 I attempted to purchase a medium cup of coffee using my McDonald's app at the Bloomfield CT restaurant on Cottage Grove. I received a code a told the clerk on the speaker. She told me to proceed to window 1. When I got there the clerk told me that my payment did not go through and they could not explain why. I was referred to a supervisor who told me I had to pay because the payment did not go through and she didn't know why. I asked if I would be billed twice if I paid again. I was assured that I would not be billed twice. I used one card for my mcDonalds app, and paid with another card. Both are American Express. To day I see that I was charged twice for the same cup of coffee and at different prices. I need a refund of the higher amount. What do I need to do?

Terrie Gill
from Tavares, FL
I went to apopka Florida McDonalds off 441 I ordered 4 McDoubles 2 with ketchup and cheese only 2 without pickle. My son is allergic to onions and we waited one hour in line the customer service was horrible and the burgers came back with onions on them we went back through the line as their doors were locked and still got the order wrong on top of that there was so much grease the bread was soggy and gross. We waited 2 hours total no exaggeration for food that still came back gross and wrong if my son was to have eaten those burgers he could have gotten very sick. The manager stated I only have 3 people back here working. If your under staff she should fix that but make sure no one can get sick from eating your food. Needless to say, I will never stop at that McDonald's ever again!

Michael Tillett
from Cleveland, OH
And every time I go to this location at 6332 Broadway Avenue Cleveland Ohio 44105 my chicken and chicken nuggets is always way undercooked to where it's slimy and mushy and this time there was actually a chicken nugget that had a human bite taken out of it it was places on the bottom of the pile I'm sick about this and I keep trying to upload a picture but it won't let it

Durward Jordan
from Riverdale, GA
I'd like to file a complaint about a employee that was working the window at the McDonald's on Riverdale Rd and Forrest Parkway she was outside throwing trash in the dumpster she went back in and didn't wash her hands she stated I almost hit her and she was not going to serve me there are cameras so you can look at the tape 11/9/23 the problem is she called me a racial slur which I think is very in professional please contact me so we can solve this problem I'm very upset and I want something done about this raciest employee my name is Durward Jordan and I'll look forward to hearing from you

Holly Welch
from Knoxville, TN
I went to the drive-thru for breakfast and ordered a sausage egg and cheese biscuit and I had a coupon with a code number for a free hash brown I asked them to make the hash brown cooked to order so it was fresh when I received my order the hash brown was cold and the sausage egg and cheese was just a bacon egg biscuit the switch through the drive-thru

Tim
from Salt Lake City, UT
Sick of the fries being cold!! And the ice cream machines not working. This was the Reedley, Ca location

Roy Mast
from El Paso, TX
Bought a burger and a drink. No straw or napkins given, and half of the burger condiments was on the paper and not on the bun. Store number 37494 in El paso , tx.

Maria Lafreniere
from Springfield, MA
I've been to McDonalds many times and I appreciate the affordable fast foods. However, today I tried a new product at my McDonalds in MA.
A poster displayed a delicious picture of a wrap with chunks of chicken & roasted pepper. I love wraps & ordered the "new" chicken with roasted pepper wrap. However, I was extremely disappointed because it was nothing like the photo. It was a chicken salad (like tuna salad) with no roasted anything. How can you call it chicken wrap with neither ingredients in. Come on McDonalds. You can do better than this. I hope you will improve it so you get what you see. Thanks for letting me vent. What you see is Not what you get.
Thanks again.
A loyal customer.
Maria

John Jackson
from San Antonio, TX
My family and I visited the McDonald's on IH 35 North interstate and and the experience was Horrible for one thing the Manager had and attitude problem. Another thing was the was a young lady inside screaming and yelling at everyone and no one told her anything and them my kids we were playing in the play area minding their own business and she just start yelling at them for no reason. We spent like 45 dollars just to have such an terrible time if it was up to me I say we would never return to that location again. Someone should had asked her to leave because she was disturbing everyone in the place.Really bad for business.Thank you for your time. Sincerely John Jackson.

My fiance and I were staying at a hotel during a visit to our hometown and it was near a McDonald's so after room service was closed we decided to get a mobile order and walk to pick it up. I ordered her a vanilla cone and me a shake. Now i paid by debit card via the app and walked.03 miles to pick up our order only to be told the ice cream machine was down so I asked for my refund and he said he couldn't do it but go back through the app. So I walked back and started the process only to be told I had to go through the restaurant. Well for the next month this is what i have done back and forth n back again. So i just sent my last email begging this billion dollar company to please help me they act like I am nobody and not important at all. However that $5 means everything to us right now. Shame on you McDonald's because we are truly going through it and either the food or the money would be great

Allison Sexton
from Bogotá, DC
I ordered a quarter pounder with cheese and fries. The staff never served me, and I was the only customer there. Another customer later came in and ordered three burgers and three fries. They served him. He helped me by translating in Spanish. My Spanish is ok, but I can't speak very fast. The staff laughed at me, I asked for a refund. They gave me cash. I asked for the manager and they all pointed at each other laughing calling each other the manager. The boss (I think) ended up grabbing fries, eating them, and then laughing at me. I am a teacher and have siblings that work at McDonalds and was appalled by this behavior.

Anna
from Tillsonburg, ON
My food was really cold and they refused to give me new stuff! And I saw one of the managers (I think) touch my food after handling garbage! This was I think in the tillsonburg area... I don't know I'm not from there

Katelynn Imlay
from Kingsport, TN
I'm a manger at store number 1739 McDonald's located in Kingsport Tennessee. It's literally getting so hard on not only myself but also my relationship with my partner and my children. We are literally so short staffed and they won't hire anyone.

Andrew Mcbeath
from Nipomo, CA
I have been going to the Nipomo California McDonald's for 12 years. I have never had any problems with him. I've always behaved in a great manner in the other day a woman mentioned to me that she wanted to go to a certain movie. I said well if you'd like to go as friends, we can go to a movie if you'd like to go strictly as friends, she took my phone number down four days later a manager banned me from the restaurant for that, I was so offended. I am going to take legal action they discriminated against me based on age, race, and physical disability the trifecta it is against the law in the state of California to discriminate based on any of those issues

Hlengiwe
from Pretoria, GP
Makhube londiwe gave stinking attitude after I complained to for serving three cars that arrived after me at the drive thru,even when she was giving me the speed point she didn't show her face just the hand. For the first time I received this horrible service

Ms lily
from Petaling Jaya, 10
Hi... I was made order in advance time on 21:00 pm... But until now didn't receive my order..very disappointed no one staff from McDonald's inform why my order late deliver!! It was almost 1 hour to wait my order! Why famous fast food restaurant got this bad service? I paid expensive delivery fee for this order but this what I get! See the email time that I received from McDonald's!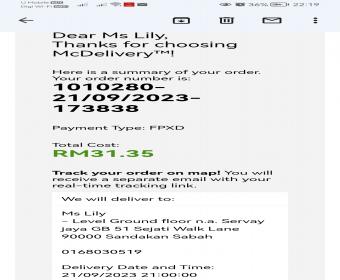 Angela G Felts
from Atlanta, GA
This the 2nd time I've came to this location in 3 days and I was ignored I'm still waiting for someone to take my order and it's been 17 min that I been standing here the one lady that I asked had a very disrespectful mouth and attitude. There are 5-6ppl here and there not that busy the man behind ordered his food in the store on that screen now their telling me that I have to do my own order on the kiosk so I've waited 20 min for them to tell me that and now I'm getting my food I been in the store 29 min for 2 sandwichd

Brenna Colley
from Rochester, NY
I'm disappointed with McDonald's 1450 Lyell Ave Rochester, NY 14606 service was awful 9/18/2023. First of all, I entered MsDonalds and got on line. I waited waited about 20 minutes. Second, finally, I ordered 20 chicken nuggets, small chocolate shake and onion rings. The employee handed small chocolate fast. I waited for food about 30 minutes. Another employee I paid for meal didn't hand me order number with receipt. I asked how soon food ready? I don't have receipt with order number. The employee gave me dirty look and sour attitude said I DON'T KNOW! He walked away. Someone was on line with me pointed the bag. I took a look only chicken nuggets no ONION RINGS and shake straw! I looked for straw and it was empty box. Someone gave me straw. I got so angry and left. I paid $11.38 meal. RIP off!

Tina Watkins
from Miami, FL
I was just at the McDonald's on Santa Barbara boulevard in Cape Coral Florida I have been going to that restaurant for over 20 years and it has done nothing but gone downhill.I waited in line for the drive-thru for 20 minutes to get my order in I landed up backing up my car going in standing there in front of the register for another 20 minutes before I ask if someone was taking orders. There was a bunch of teenage boys in there from the school next door which is Cape high cussing and screaming. There was water all over the place and not one person came out from the back to clean it up or put a sign out. It was very dirty. I asked a worker where was the manager and he stated that the manager will not do anything about it which blew my mind to know that I could not even speak to the manager I will not go back to that restaurant they really need to have someone come in and clean up the crew the manager won't do nothing about those teenagers and my food is always coming out cold. Until something is done about it I will not go back.

Michael colon
from Brooklyn, NY
There suppose to be open at six o'clock.
Sometimes there not open. Or they open and not ready to serve. We shouldn't have to want you

Mary E Keyser
from New London, NH
Ordered 2 Happy Meals and tha ice cream sundae. The guy gave me the sundae first and ask me to pull to the end of the building to wait for the food. So I did. Five or Six vehicles who came behind me pulled up but all got their food and we just sat there. About 20 minutes, I finally ask one of the people who brought food out to another vehicle if we were ever going to get our food and showed him the receipt. He finally went in and got our meals. Of course the ice cream was melted by now. Sorry way to treat customers.

This McDonalds has machines that take your order in the store. The machine was having issues with the order and would not complete the credit card payment. So I had to wait and talk to a person behind the counter. She did not smile, was rude - not happy to see me as a customer, and she got the order wrong. This is the 3rd time my order has been wrong, the other two times I was in the drive-thru and got home to find my order was filled incorrectly. McDonalds is becoming too costly because they are not filling the orders correctly and people are having to go back if they want want they ordered and paid for.
This time, I checked my sandwich before leaving and it was wrong, so I had to wait again to get the right sandwich. Another woman standing next to me was also a little upset because of the same non-customer service given. I see this McDonalds is trying to go out of business, otherwise they would take customer service seriously. I mentioned to the lady that maybe if she smiled while serving, it may be nicer? She was not interested.
So if you have had a similar experience at this McDonalds, say something. You cannot effect change if you do nothing. We should not have to pay for poor customer service and for something less than what you paid for.

Charles Swisher Jr.
from Chicago, IL
Order hot cakes ask them for 4 straps of bacon total. The order was filled full of bacon. I counted over 20 straps of bacon. This is bull shit and it keeps happening to me. This is the worst store I've ever seen. The manager need to be fired along with a largenumber or the personal. Big waste! Iam pissed!

judith m bloom
from LaFayette, NY
you really need to improve your chocolate milkshakes, there is NO repeat NO chocolate in them what so ever you advertise them as chocolate, but this is wrong lets see what you can do about it, disappointed customer again

Sumner R Thompson
from New York, NY
Asked for fresh food. Worker got an attitude. Food ended up being cold. Waited 10 mins for hot fries

Connie Williams
from Chicago, IL
I went to the dive thru at McDonald's in Broadview on Cermak, and 17th Ave and I ordered a daily double and when I looked at the burger, they had rotten tomatoes on my burger that's not professional is not the way I want my food I go to this McDonald's on a regular basis, and I am very upset

Deidre Spence
from Birmingham, AL
My fiance has a disability called autistic and he is on social security and they told him that he had no choice but to work their hours even though he don't have a guarantee like transportation all the time due to a death in the family and they told me cuz I miss fiance that he's getting automatic wrote up because he don't have a way back I'm sorry but I'm speaking my mind on how I feel about McDonald's employees and how they don't even care about their workers and their disability problem and I will be the first one to you know say that's not right just because somebody is not normal and they have a disability doesn't mean they have to be treated like a working dog I promise you this that is wrong because that is taking your personal American rights away and that is why they get a one star so I think you honestly need to care more about your employees knowing that they have a disability instead of caring about the ones that are normal and can have a transportation and everything that is why you got a bad interview and I will make sure that the world knows about it too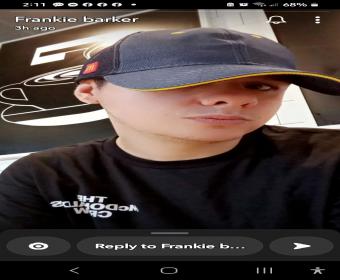 Dianne Saunders
from New Bern, NC
Just left without anyone coming to register to take my order. 2nd day in a row at 3 :30.

I go every Friday. Same order, cheeseburger w/extra pickles. Yesterday I went at 10 pm..LITERALLY 13 PICKLES on a cold burger..fries were cold. Store/Manager that I commented to hung up on me twice, then either stopped answering or blocked my calls. Not the first of 3/4 BAD service at this McDonald's. Only go there because it's close..NOT ANYMORE

John Donaghy
from Barnsley, ENG
Ordered my food in a very hot day my order therefore had ice creams and drinks
Although the McDonalds in Fenton stoke on Trent was very quiet
We was made to wait in the bay
After 10 minutes the food arrived in the bag I said thank you and drove off
The bag Was open as we were home
And it was found that no drinks or ice cream in the bags given
I telephone to be greeted by a person who says she was the manager I asked for a refund to my card or a delivery
The manager said I can not give you a code for next Thursday me I explained there won't be a next time and I don't want a code .
This is very poor customer service

Florence Gorsky
from Yonkers, NY
I went with a very good friend to the MacDonalds in Suffern N.Y. And we both had a terrible experience. All the employees spoke Spanish and broken English except for the young man washing the floor. The time was about 1:00 PM EST. The young man was told repeatedly to stop cleaning the floor but kept right on. My friend and I are both seniors and walk with canes. We gave our order to the young lady and told her no salt on the French fries. I ordered a small chicken sandwich that was very spicy and was never told it was spicy. I can't eat spicy food. My friend ordered a fish sandwich and French fries but never got her French fries and I was told to pay additional $5.00.When the French fries finally came they were both very salty. Why were there only Spanish speaking employees in the store? By the way I was on my way to my cardiologist a short distance, away from this store. Hoping to hear from you soon with regard to the above complaint.

David Schedin
from Salem, OR
I asked for a quarter pounder without mustard. It came with mustard. It also came without any napkins, and the fries were almost cold, cold.

McDonalds Corporate:
I was a customer on September 4, 2023 at the following location.
9475 SW Beaverton Hillsdale Hwy,
Beaverton, Oregon 97005.
I had gone through the drive thru in late afternoon. Suddenly, I had gotten an emergency phone call and pulled to side in parking lot. (photo of space attached.) I had my receipt. My car windows were up. I wasn't bothering anyone. Suddenly an employee (says his name was Chris claiming to be the manager) came to knock on my window. I was already on the phone with the hospital and was motioning to the employee just one moment. He walks away which seemed to be screaming at me. Then he proceeds to come back to my drivers side window. I immediately rolled my window down and asked what the problem was. He tells me that I need to F-ing leave! I was so incredibly shocked / appalled that anyone would speak to someone like that. Let alone a customer. This is when I asked for his name. There were no signs that read NO PARKING. I was not bothering anyone. I was not there long. I even pointed out that others were eating in their car close by. Why does McDonald's condone treating paying customers this way? Might I add that there are homeless vagrants that camp out in the parking lot and nobody says anything. I want to add that I called the store from my car to ask who was in charge and it turned out it was a "Misty" as she answered the phone. She said SHE was the manager. I tried explaining my issue but she didn't seem to care too much. This employee Chris had anger managment problems. Who does this? Just terrible.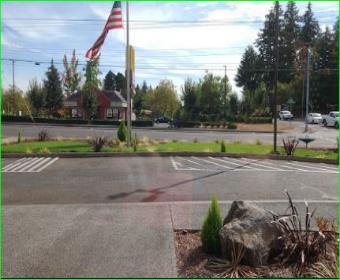 Michael J Artis
from Minneapolis, MN
It was Friday evening at your McDonald's in Brooklyn Park Minnesota on the 700 Broadway I came in to make a purchase cuz I'm a disabled vet in my 60s a black gentleman in the front was rude very very much so rude for no apparent reason and every time I try to make an order he cuss me off without even trying to acknowledge all what I wanted to get for my two little boys and when I told him that I have over 2 million followers on Google I'm going to let corporate know and I'm going to let my viewers know and hurried up and gave me my food I don't know if my kids burgers was warm I know the fries was cold I am so disappointed why should people be mistreated because a manager or employee had a hard day they signed up for the job they have to have patience to deal with the public and it's not fair I am going to post this I am very discouraged at McDonald's

Morgan Bishop
from Houston, TX
The McDonald's employees claim to not serve anyone who isn't door dash when they are 24/7 An this has happened once before they say they will only serve u only if ur door dash

When I was ordering at the drive through employee of yours started to take my order then just stopped with my order went over to the next lane took theirs.Told her when she. Was taking my order then just stopped taking it.Did not get apologize or even say sorry.Got up to pay got the rudest look and not a thank you just gave me receipt and shut the window.This is very rude! Please address this to your employee!!!!was at the Cushing McDonald's #6677 mer#344928

Matthew DeRosa
from Springfield, VA
My experience is at an all time low of minus 000.
The mMcDonalds on Rolling Rd Springfield Va 22153 just delivered the worst service. The order was far from satisfactory and the service was deplorable% she short me my change and when I contorted her of the shortage she gave me attitude and said I have to I'm.n the back to.o get change%. If I didn't have enough money for my order, she wouldn't have given it to me. I had to substitute my drink for something else because what I wanted wasn't available and what I got was some nasty drinks. How do you run a business without milk shakes. I noticed how nice she was to a Spanish speaking customer but she was very rude to me. Would u mind explaining this treatment to me. I look forward to a return call at your earliest convenience to discuss this horrible experience . I'm sure you would like to remedy this situation as soon as possible.
Matt DeRosa

Marie Bombardiere
from Spring, TX
Order number 80 from 9/2/2023. Food was awful, undercooked fries, melted ice in drinks was disgusting. Chicken sandwiches had no mayo and the mcdouble had no onions or ketchup. When Anna the store manager was presented with the receipt and the issue with the food and drink quality. She yelled at my son telling him to forget about it, she wasn't going to refund or redo the order. Worst customer service of any McDonald's I have ever been to, horrible food quality and customer service. Worst management I have ever seen of a store. This McDonald's is a quarter of a mile from my house and we would like to eat at it more often but the food quality and service is terrible every time we visit. Anna has been an issue for the last two visits of acting this way and refusing to make an order, right after they made the order incorrectly, or the food quality was so poor that it was not edible.

James White
from Chicago, IL
We just ordered a cheeseburger and noticed the bun was different. We saw that you changed to different buns online…. it was rubbery and just aweful!!
It changed the whole cheeseburger!!
For over 40 years McDonald's cheeseburger was our favorite and now we are so sad that this is no longer true. Please go back to the original cheeseburger, or at least give the option.
Please!! We are so sad. Sincerely, Jim

Martha Lassiter
from Opelika, AL
Went inside an ordered. When Got the ordered person was rude threw the drink cups at daughter which landed on the floor. Ask for new cup was very rude. They were out of sprite, worker was rude and said they didn't have time to fix it. Then was out of milk and water so we ask for a bottle water andI would pay for it they said no. It was horrible and will not go back to the McDonald's in Opelika.

Robert Jasman
from Brighton, MI
Ordered a steak, egg, and cheese bagel and when I got to work it had a thin piece of sausage instead of steak. I also believe it usually has onion which also it did not. Since I was already at work and hadn't eaten I consumed it however when you pay 6 dollars for a sandwich that's what one should receive. Also it wasn't busy so I'm kinda confused about such a mistake since it took a couple minutes of sitting there to get my order which is usually the case when I order the steak sandwich. I've always had stellar service here but was a little disappointed with this order.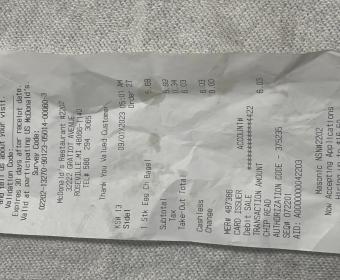 Hugo S Lopez
from Miami, FL
I want to file a complaint in the way I was treated by a certain manager by the name of Katerine at the McDonald located at the Calle ocho in little Havana Miami, FL. I needed to use the restroom urgently as a frequent customer I also agreed to buy something after I used the restroom but the manager kept insisting that I buy something of the menu first in order to let me in the restroom so she denied me access to the restroom after I agreed to buy something after using the toilet. I feel I was treated unfairly and discriminately since I live in the neighborhood and am a frequent visitor.

Debra
from Little Rock, AR
I do not understand why you have such a rude manager inside your establishment. Her first name is Lisa she works at the McDonald's inside Walmart in Poplar Bluff, Mo 63953. She is not only rude, unfriendly, unprofessional, and down right mean, she should not be a manager she has no people skills. I have witnessed first hand her being rude and mean to us customers but to her co workers as well. She lies and I will not be back as long as she works there. She has made me repay for drinks because she says I had stepped over some line. My food has been wrong on many of occasions when she is on duty. I have complained and she always blames it on her workers. She has offered to replace my order and she claims she will write my name down but when I come back to have it replaced I'm always told my name is not in a book and they have talked to Lisa and she says she has never heard anyone by my name. She never smiles. She has no compassion she should not be working with people.

Mary Lanser
from Los Angeles, CA
I ordered a cheeseburger for lunch today and it was disgusting! Only our drive thru is open currently so I could not go in to complain. It was awful, I had to toss it out. The cost has gone from $1.49 to $3.59 which to me is extreme. But at $3.59 it should be VERY GOOD in my opinion! It was not even edible.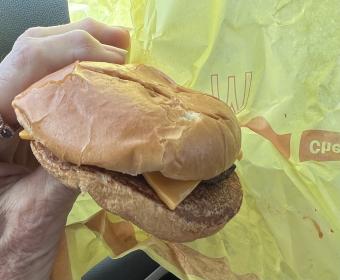 Andrew Coster
from Southampton, ENG
Having driven with my family from Gatwick Airport to our home we decided to go to Hedge End for breakfast.
We arrived at 6-50 am expecting opening at 7 am
After waiting until 7-15am a member of staff came out I asked her if they were opening at which she replied NO. In asked if she would be open soon she completely ignored me. After waiting another 15 minutes we decided to leave and proceeded to travel back to Fareham. Can I ask you to train your staff with some sort of manners as let us not forget we the paying public keep your business going and keep your staff in employment.

Jean Hansen
from North Richland Hills, TX
The hamburger was terrible and salty and my friends quarter pounder had nothing on it and a small flat meat. She took it back and they said that's how they are. It's on starnes and Davis in North Richland hills Texas
We'll never go back to McDonald's if that's how they all are. The checkers were very rude.

Just left the McDonalds in Madison, GA (2010 Eatonton Rd) and just WOW. Never had an experience this bad at McDonalds. Bathrooms dirty, out of paper towels, roll on counter, trash spilled out all over the floor. They were out of ICE and tea. We asked if we could get an icee in the large cups we'd received. She told us she couldn't, and gave us a smaller cup with icee (we appreciated the cold drink as it is 100 degrees) by the way this McDonalds is located walking distance from gas stations with ice machines.. We sat down, had to first clean our booth, noticing trash, napkins and food on the floor. A ROACH crawled down the wall inches from my husband and his food. We saw a second small bug scurrying across the floor nearby. The food was actually good, so no complaints there.

Katherine statham
from Wichita, KS
My partner and I ordered food for dinner from McDonald's the big meal and sharing size and none of our food was correct and was cold and we were already almost home and didn't have time to go back and no one would answer the phone all we want is our food back the right way

I am a courier and only person standing at mobile pickup,no acknowledgement for 15 min. I had to speak up for what I was there for then I was ignored for another 10 min. I hate going to this mcdonalds in the afternoons, do not get out of the store for at least 20 min. Crew just walk all around and say nothing.

John Milazzo
from Orlando, FL
We waited over 20 minutes for our order finally got it and fries were even cooked and when I asked 5he manager at the Homosassa fl store for one's that were cooked she snached it out of my hands with a Big Attitude what is wrong with people every one there that day had an issue we were in a rush this place is horrible
Have feedback for McDonalds?
Thanks for your feedback!
Sorry. Please try again later!