McDonalds
McDonalds Complaints Continued... (Page 8)
962+ reviews added so far. Upset? Call McDonalds corporate: 800-244-6227

patronized the Coopersville, mc donalds and ordered a big breakfast. proceeded to work and to eat my breakfast. only to find that I didn't receive any syrup for my hotcakes. called the store and complained, and was sent a coupon for another breakfast. I redeemed it last week for another breakfast same as before, proceeded to work as before only to find that I was shorted butter for my pancakes. I immediately called mc donalds in Coopersville and asked for the manager. talked with her explaining my problem, she said she had checkeed the order herself and was confident everything was there. it seemed as though all she wanted to do was argue and tell me I was mistaken. believe me I have a lot more to do than spend my time on the phone reporting a problem. I did not dream up the shortage, why would I. last but not least, I do not lie and certainly felt the attitude was totally unprofessional.

Niecy Burkett
from Delray Beach, FL
This is not exactly a complaint but the closed thing I could find to tell you my suggestion. Have you ever thought of serving wheat buns as a choice instead of white buns? So many times I want to get something from McDonald's but prefer wheat buns , so much healthier than the white buns you serve. So I go some place else.

Chris weiland
from Rialto, CA
I go to McD all the time on Baseline and Riverside ave. In Rialto ca....My son can't have Cheese and I always order him a Mcdouble ..No cheese with ketchup only...I go almost every day....they never get it right.....well 10% of the time they do ...sometimes I'm 5 miles away when I figure it out...they never do anything to compensate me for the countless times they do this to me.....Very Frustrated......how hard can that be....McDonald's do something for me.........Please......or hire smarter people...

Holly Spille
from Cincinnati, OH
My husband and I went into the McDonalds at 5020 Delhi Pike Cinti, Ohio on Sat. 3/28 at 18:18. We went there as I had been sent a complimentary value meal from a previous complaint for being in the drive thru for 23 minutes. First we ordered and went and made our drinks, sat in the lobby for approx. 10 minutes, no food. We watched the employees behind the counter fake boxing, talking on cell phones (later we discovered I think that was the person in charge), eating and drinking and having a great time. We finally went up to the counter and ask about our food. They said well what did you order. Then the food was prepared. As we were sitting in the restaurant eating there were teenage kids laying in the booths and the place had garbage all over inside on the floor, ketsup was dripping from the stools where you can sit at a counter and eat. The next thing about 10 kids came in the door and finally a girl came from behind the counter and made them leave.
The kids working behind the counter had the own personal drinks sitting on the trays that are used for patrons and had to move them when someone was dining in. Another employee had a sweatshirt on of a college team and the hood up as he waited on customers. It was a mess. I worked in this particular McDONALDS when I was in high school myself and I have to say that it has drastically went downhill. The Board of Health would not be to happy that the tray my food was served on had the employees drinks sitting on them behind the counter and moved them to put my food on. I think someone needs to get a handle on this place. I know there were three other couples our age (mid 50"s) that will find another place to stop when we are looking for something fast as this place on Saturday was disgusting and management should not be management. Oh but one thing I did forget due to the fact that we were one of three patrons in the place when we came in and they forgot our food they did offer us a free apple pie. It still does not make up for the fact the place is not a place that you would want to frequent again. Thanks for your time.

Emily Del Rosario
from Grants Pass, OR
Grants Pass Oregon: Walt-Mart at 135 NE Terry Lane has a MC Donald's restaurant inside the store.I am an animal lover,but other than real service dogs,I don't think MC Donald should allow long haired Chihuahua or any mute where they prepare food.I complained too the person behind the counter and he said they can allow service dogs in.That dog was not a service animal.

Keisha Worthington
from Seattle, WA
Got to the McDonald's on mission and Hamilton in Spokane wa. On March 29 2015 at 1:15 pm ordered 2 mc chickens a cheeseburger sprite with light ice coke with light ice and a sweet tea light I lie and lemon. Everything good so far and then got to the pick up window and I'm in a truck by myself asked for a drink carrier and the girl became rude. This happens a lot at his establishment they are always rude when asked to do something extra. Told her she didn't need to be rude and she got even worse. As long as I have been alive 41 yrs I been taught always treat the customer good not at this McDonald's and I will not be going back there. Usually go 2 or 3 times a day. Thanks a used to be valued customer.

Chris
from Birkirkara, 04
Hi I go to McDonald's 3 days in a weak and most of the days I go I find something wrong. I order a big tasty no sauce and ice tea many times I found the burger with sauce, or the drink water only without any taste. Today I went to airport and, the burger was OK but the ice tea was water and the chips without salt, now I'm watching for another place to go for thanks!

Richard Armstrong
from Burnham, PA
every time, and I mean everytime I go to the store in Lewistown pa or electic avenue pa,something is wrong, these stores are going down hill and fast. my food is always cold, and I mean very cold, this morning my egg mcmuffin went right out the window!!!! of my car. either its cold, wrong order, no napkins or straw, or u ask for drink no ice, and you get ice!! always mest up, sick of waisting my money on these dives!!

Warren Brown
from Glendale, AZ
Could you please explain this to me. I am extremely offended and I did not like viewing the flag hanging upside down. You have lost a faithful customer Boycott McDonalds PHOENIX (KSAZ) - It is a story that has been trending on social media. A flag flying upside down at a Glendale McDonalds restaurant. Was it disrespectful, or a simple mistake? A Marine reservist saw it, and took matters into his own hands. FOX 10 spoke with the reservist and the restaurant's franchise owner who is a former Marine. He explains how the flag ended up being flown upside down. "I actually thought it was plain disrespect that someone would raise our own nations flag upside down," said Elias Marzeleno. Marzeleno, who serves in the military as a reservist in Arizona, said he did a u-turn when his girlfriend pointed out the flag flying upside down outside of a McDonalds near 67th Avenue and Camelback this past Saturday.
"I looked around to see if anything was out of the ordinary," said Marzeleno. Flying the flag upside down is recognized as a symbol of distress. Marzeleno said once he determined there was no problem, he took matters into his own hands. "I actually went to try to lower the flag, but it was knotted in such a way you couldn't lower it, so I went to the car, I got my knife, and I cut the rope," he said. "Being a Marine myself, and going through the Vietnam War era, we're gung-ho but we need to curtail our feelings sometimes and take more logical steps than overreact to it," said Steve Lanini, the franchise owner. Franchise owner Steve Lanini said it was an unintentional mistake that could have easily been resolved had Marzeleno talked with a manager first.
"If you're familiar with how you fold a flag, sometimes if you get the hooks on wrong, you pull the wrong way and it goes upside down, it's happened I'm sure over the years and this one wasn't caught," he said. Regardless of how it happened, both reservists say the flag should never have flown upside down. They say whoever raised the flag should have looked up. "No, I'm not disciplining any body as a matter of fact, to this day I don't know who did it," said Lanini. The restaurant now has a sign on the door notifying customers apologizing for the incident. Lanini says they bought a new rope and will be raising the flag again soon, the correct way. "Believe me, it was a mistake, we don't do that," he said. "All I want people to know is to have basic protocol to raise our flag, and give our own flag respect," said Marzeleno.

I have gone to McDonalds in Moberly Mo. quite often with my children. I have seen numerous times of a manager being hateful to her employees. I couldn't believe things I have heard from a manager. Last time I looked at her name tag so I could contact you. Her name is Renee, taller, dark hair, skinny women. Pretty girl really. The first time I saw her a girl had messed up on the cash register and Renee had to help her. The teenage girl told her she was sorry and Renee said "good you should be" and walked away from this girl. This little girl was surprised and hurt at the comment. I told her not to worry about it, she must be having a bad day. The second time I was there a guy messed up on a sandwich and she yelled to the back "how long have you been working her God!"
The third and last time a girl was asking her a question and Renee rolled her eyes and walked away and the girl was left no knowing what she was supposed to be doing. I understand people have bad days. I work with customers all day long. If something bad happens you can't take it out on the next person. As a manager she needs to learn how to manage. You don't yell at these kids and make them feel like crap. You encourage them. Help them become better. If you encourage and help someone, the better a worker will become. If you discourage them they will be timid and not be as good for you. If she doesn't like her job, she should not work there.
I just think she needs more people skills and management skills. These poor kids are trying and are learning. For most, this is their first or second job. Shooting them down does nothing for her or them. The first time I passed it off as a bad day. The second time I was just feeling WOW. The third I couldn't help but let someone know. Thank you. Hopefully making our managers better to make a team better. Thanks again.

At the havenwood McDonald's Baltimore MD drive through....again my order was not completed properly. I paid for an item never received. This happens often to me so I imagine it happens often to others. This time I was feeding 3 young girls who were extremely disappointed. This is not an acceptable business practice.

Doreen Wagatha
from Charter Township of Clinton, MI
Went through the drive-through ordered a cheeseburger a large HighC orange and the fries with no salt. I waited approximately five minutes before the girl came out with my order and tells me there's no salt. I went inside the building and there's all kinds of salt by the pop. I talk to Joel of the manager who was not very polite and asked why I was told there was no salt. He told me he doesn't know what's out there he just know there's no salt in the back. I cannot believe a big place like McDonald's does not have any packets salt in their inventory.

Cynthia Edwards
from Sanford, FL
I went through the drive thru on Friday evening March 20 2015 at around 7:15 and ordered three kid meals. I drove to the window to pay and the girl Marilyn told me $12 and some change (I think $12.22) and I handed her my debit card. She gave me my card and receipt and I put them in my purse. i drove to the second window where a young man was very confused and could not figure out my order and that is when Champagne also appeared at the window and after a few minutes Champagne informed me my order would be $12.22 and I told them I paid at the first window that I was not paying again. Champagne then firmly said I did not, to produce my receipt. I could not find it and then they informed me Marilyn had charged me the wrong order and I said no I didn't that Marilyn had said $12.22 before I handed her my card at this time the three children i had with me were getting frightened and cars were lined up behind me so they asked me to pull over and find my receipt so I did and indeed she had charged me the wrong order.
I then gave my daughter my credit card and told her to go in and pay the difference even though they were the ones who made the mistake not me. When my pregnant daughter went in to pay the difference she had said she did not see why we were responsible because of their mistake and Champagne became very rude and threw the receipts at my daughter and she pushed them back at her and i saw what I thought was a man in my daughters face yelling at her so i got out of the car and went inside and by this time there was a third person named Karen who said she was the manager who had came forward because Champagne was yelling "you will only get whats on the receipt you produced" and said my daughter assaulted her and we were absolutely horrified and then Champagne launched at us and Karen had to push her back, actually push her over two times. I could not believe what I was seeing. We were embarrassed, angry and so confused that this was all happening with my grandson and his friends watching, the customers in the store all over three kids meals.
I sent my daughter in to pay the remainder owed and Champagne turned it into a brawl. The manager Karen said Champagne told her my pregnant daughter assaulted her and I said no she did not and that I wanted the security video of this event and she said she could not do that. We were assaulted by your manager in training Champagne and I am seriously considering legal measures. The man I thought was yelling at my daughter was Champagne, which is a girl with an attitude. I did everything right and did not deserve to be treated like that. We have been going to this McDonalds for over 25 years and we go at least twice a week after my grandsons baseball games.

Sara Bissinger
from Lancaster, PA
I went to the Mcdonalds on columbia Ave about 7:30pm last night. I waited about 5 minutes. They were not busy at the time. they may have had one or two cars in the drive thru. they also had 2 other customers inside that were waiting to get their food. I was not even acknowledge that I was even there. No one said Hi or we will be right with you. After 5 minutes I left. This is not the first time I have been in this Mcdonalds. They seem to cater to drive thru than inside. I know they are busy at times but when they are busy inside and the drive it seems drive thru gets there food first. No one gets theiir food in the inside of the store. every one seems to be helping people in the drive thru lane. I have waited for food a lot of times. It seems lately its getting worse. I can go to other locations and get faster service and the other employees seem to be more attentive and happier. Everyone at this McDonalds seems to not be happy and dont care about anyone. I have gone to this McDonals before and wait a long time jhust to order food and then wait even longer just to get the food even when they are not busy. I will not go this McDonalds for a long time. This McDonalds needs to work on customer service and lesrn to get the food out quicker than they are now. Sometimes they food is also cold when I got it. If they cant do there jobs right maybe they should not be in business there or get other people that can do the job the right way.

Mittie Ballard
from Madison, MS
I went to the drive thru and order 2 big breakfast and 3 large sweet teas and a sausage biscut and the total was $12.25 and when I went to the window to get my order they handed me 1 tea I told the associate I had order 3 and she said well she didn't charge u but far ! so she came to the window and told me it would be $2.76 far the other 2 teas so I handed her a 5 and she never gave me my change she just gave me my tea and said have a great day I know it's just $2.24 change but every time I go there and the associate is at the window she seem to be having a bad day are either she don't like her job cause she has a real mean look on her face and this isn't good for this company cause I far one don't like it.
The shift leader has a bad adatuide also she was behind the associate saying something about me cause she and I have had words before about a over charge I'm trying to let you all know how this store is being run by some very rude people and you need to come here and check on this store this whole store needs new managers and associates. I hope you come and check it out because I'm not going back there and I eat there 4 or 5 times a week but seems to be going on when the store manager isn't there cause he's very nice and he always try to make your rite if he's there they don't say a word back to you if it's not right they just fix it for you so that's why I think it's the shift leaders there and this one associate. Thanks Mittie Ballard

I called on the phone and someone pick up and awnser and said hello how are you and said ok OK and hung up right when. I was asking about employment.

judy davis
from Wichita, KS
we went through long john silvers about 8 last night. we used to eat there all the time but not any more. we asked for fresh food. the fries was hard and cold and all the food was not fresh and tasted like it just came out of the refrigerator. my husband ordered 3 chidken and 2 fish platter and got 1 chicken 2 fish and 3 shrimp. we did not order that and everything tasted terrible.

Ordered a Big Mac and a cup of coffee at the McDonald's in terminal A at ICH. Saw them pour the last drop of the pot into my cup and thought well this sucks but...... Got my sandwich, found a table and took a bite. Bread partially frozen, sandwich fixings all (including the meat) ice cold. No line no waiting no excuses. Took the sandwich back to the counter and told them "it was not fit to eat". The 3 people working the store just looked at me like I had 3 heads. I walked away and dumped my coffee. Didn't even want to taste it. Not interested in getting my money back as that would imply that all is forgiven. It's not. McDonald's at this location sucks. Don't eat here!!!

Lori Powlen
from South Bend, IN
Went to McDonalds on Bremen Highway in Mishawaka. 2 weeks ago I went Saturday morning 8:00 am on my way to work and ordered egg white delight and md mocha. I was asked what I ordered and they gave me my sandwich and told to pull forward for Mocha. I did and waited and waited. I counted 15 cars that went thru behind me and saw some of the cups handed out the window were also the McCafe drinks. After 15 minutes I was getting ready to get out of my car to go in when the girl finally came to window and gave me my drink. She said sorry and said she made me a large for waiting. I told her 15 minutes was ridiculous and now I was late for work and to let her manager know that I would be calling later that day. I did not call because my kids told me if I did they would remember me and do something the next time I ordered.
I didn't believe something like that would happen but it did anyway. I went this past Saturday, again at 8:00 am on my way to work and again was told to pull forward. I told the guy working that the last time I had to wait 15 minutes and please don't forget me. I got my Mocha in about 3 minutes and he smiled and said have a nice day. I thanked him and told him to have a nice day also. As I was driving to work and took a drink it dribbled on me every time. When I got to work I took the lid off and found a cut out in cup where you take a drink. I was lucky I had coat zipped up and it didn't burn my skin or cause an accident. I feel this was intentional and will never return to that McDonald's and will let everyone know what happened to me. This has never happened at any of the other McDonald's in the area. I feel there needs to be more training at the Mishawaka store or a change in employees. They may think it is funny, but this could cause a serious accident.

Solomon Grant
from Brooklyn, NY
I live in Crown Heights Brooklyn and the McDonald's on Utica and Eastern Parkway is disgusting. This McDonald's has homeless people come and hang out in the restaurant for hours. Some even sit on the floor by the door! The tables are sticky and filthy and cleaned so sporadically that they smell awful. I have never seen so much garbage on a floor in a McDonald's in my life. It overflowed from the garbage bin and nobody bothered to pick it up. This is literally the most disgusting place that served food that I have ever walked into in my life. I'm very surprised the Department of Health hasn't shut it down. I was so hungry that I ordered my food anyway and left as quickly as possible. Than on the way home I threw the food in the trash. Just looking at it made me sick and I couldn't bring myself to eat it. Shame on McDonald's for allowing such a disgusting place to stay open. Shame on you McDonald's!

Sheldon Lemco
from Orlando, FL
I just called the complaint department for McDonalds and a Cristina answered so was so un professional that I had to repeat myself several time for questions I all ready answered. She was not paying attention or understanding anything until I repeated myself. The fact is that when I told her that I waited on line she have told her that I was inside the store. She then asks if I was inside or in the drive through. I had this happen all through my conversation with Christina. This fact tells me that McDonalds does not care about complaints or their lack of Professional service. I feel that the New CEO should be made aware of the lack of Professional service that McDonalds has now. I have been a Customer of McDonalds for 49 years however if things do not improve soon, I will turn my Business over to Wendys since Burger King also has bad service.

christy hurst
from Chanute, KS
Yes, when I went by my local McDonald's this morning, was hoping to grab something real quick and head home this morning. Having things to do I was hoping to grab and be done. I proceeded to ask for 2 breakfast burrito's. However, when I quickly pulled up ans asked the girl at the window, did you put sauce in the bag, she very quickly say's yes. Guess what, I got to my destination, hoping to quickly eat and get things done this morning, when I dump things from my bag and NO sauce. I did call the store, a joke !!!

Richard Beyer
from Ypsilanti, MI
Ordered a meal but did not the the fries ask the cashier they said they did not charge me for fries i said okay then i will buy went to hand my credit card now cash only after they took my card 3 min before to pay for the meal this Is BS they told me can't do anything sorry sir how can a company mess up an order then not make it right even when i said i would pay. Very Bad Business.

nathan hopgood
from Coburg, VIC
At 735am 8\3\15 I was ordering 2 frozen cokes and 2 sour mellon frozen drinks in the drive thru and the actual manager of the store Jake was abusive I drove up to the window and he said don't use that language ???? I didn't know what he was on about i have a speech impedament i treed to speak and place the rest of my order but he rudely slammed the window closed i really found that offensive and abusive coming from a senior member of there team really bad for a family restaurant.

My daughter who started work for mcdonalds leckwith road Cardiff UK, she was nearly 17 she started her training she worked 4 hrs first day and she enjoyed it she was so exited to go back the next day,on the next day she went in where she met with a manager,who was covering for holidays, she was told,not to smile at customers, and just to take there orders, she took the order from a customer when the manager wiped the order from the till told her to give his change from her head my daughter was very nervous she gave him 10 pence to much,he them told her not to serve any more customers bearing in mind he was training her,he told her he would show her how there floors were mopped,after mopping he called all the other staff,laughed and said l had to train her on how to mop a floor,then said to her that she fancied him,also made her search through all the wasted food in the rubbish, so she would know what customers threw out,she was belittled all day In front off staff by this manager,l could go on, she was only 16 she lasted a few more days,then had the cheek to say,she was not good enough to work for them,is this how they train young people,she was made to look feel stupid,and degraded, lm going to flood facebook and Twitter then see how mcdonalds react

Diane silva
from Livingston, CA
went thru drive thru window ordered fresh chicken nuggets and tenders were not fresh not even hot. I ask them three times if fresh they said yes lie I ordered iced tea asked for just a little sweet im diabetic, got home tea was sweet had to throw it out. I don't like wasting my money. will go elsewhere.

Linda miller
from Pittsburgh, PA
Took my grandson his order was all wrong but the bad part was my Big Mac was ice cold and hair was in my French fries.

Joe Rippe
from Clover, SC
See the email response below from McDonald's customer care department. Well, I have serious doubts that you really care about your customers, us early morning ones anyhow. I visited your Lake Wylie location again this morning, interested to see if anything improved. This time it was 5:10 AM. Door was locked. There were two women inside talking but you were not open. Do you just not care? In this day and age when so much interest is placed in customer satisfaction I am amazed that this keeps happening. Well, carry on, do as you please, it won't affect me anymore, I give up.
Sent from my iPad
On Nov 22, 2014, at 5:01 AM, <McDonalds.CustomerCare@us.mcd.com> wrote:
Hello Joe:
I want to thank you for taking the time to share your recent experience at the McDonald's in Lake Wylie, SC with me. Your feedback is very important to us as it allows us to better understand how we can improve our service to you.
I am sorry that the restaurant was not open during its normal business hours. Please be assured that we want to provide you with an exceptional experience every time you visit us. From your email, it is clear we did not meet your expectations. Again, I am truly sorry we disappointed you.
I want you to know that I have already taken action on your feedback. After reading your email, I immediately shared the information you brought to our attention with the local franchise owner of the restaurant you visited. Additionally, customer feedback is reviewed with our regional McDonald's consultants as part of our ongoing commitment to improving our restaurants' operations.
Again, Joe, thank you for sharing your feedback. We appreciate your business and we hope to have the pleasure of serving you soon.
Ashley
McDonald's Customer Response Center
ref#:11543317
--------------------------------------------------------------------------------------------------------------
Please do not "reply" to this email response. No "replies" can be received through this mailbox. If you wish to contact McDonald's Customer Response Center again, please visit our website at www.mcdonalds.com
--------------------------------------------------------------------------------------------------------------
Our food. Your questions. Get more answers to your food questions by tweeting @McDonalds or asking us on Facebook. Visit our FAQs to learn more.
You wrote:
Your door states that you open at 5 AM. The last three times I have stopped, slightly after 5AM the door was locked, closed. If you aren't opening until say 5:30 or 6:00 please say so. This is the only fast food place on my way to work so if you are not opening as advertised I need to make alternate plans.

jason chedester
from Elyria, OH
I order some food we only got half and they gave us a crack foam cup of ice tea and I got it home the cup break tea every where all over my carpet that store is every bad. It is the McDonald's in Elyria, Ohio.

Rebecca chafin
from Edgewater, FL
I worked for Mcdonalds in New Smyrna Beach Florida from 11/12-02/15 and was treated horrible. I was sexually harassed from the day I started till Feb, 2013 by a manager. I told a different manager but nothing got done until 4 months later. They allowed him to quit instead of firing him so he could get a job at a different restaurant. I was so uncomfortable working because they allowed him to come in and he would always stare at me. That is just not right!! Then I worked with a bf/gf and they would always fight. I would find the gf on the floor in the office crying cause they would be fighting all night.
Again nothing was done to separate the 2. I was never late for work in the nearly 3 years that I was there, would come in when asked, stay late when asked and when my Granddaughter was born took 10 days off but they called me in 3 times and I went. My GM Cody tatro told me I coudn't be employee of the month and never was. then last week I was sexually harassed again by another crew person and when I went to work three days later there was the same man who had done that to me. i walked out on my job and the owner blames me.

Bruce Michael Perry
from Reno, NV
On 23 Feb.'15,i went to the McDonalds off of Oddie Blvd./Silverada ,Spark's,Nv. The Crew Was Friendly,courious as usual,However,i brought my Lap Top,and got onto McDonalds Free WI-FI,because of that,alone,I gotten Malware,onto my Lap Top,then when I brought it back home,i couldn't use my password to login,I had lost all of my personal information,my writing projects/comic book conception artwork,I couldn't even download it onto my flash drive,now I cant even upgrade my dell d610 latitude,Now,im looking at loss of future royalties off of all 13 book's on Wicca,I was intending on publishing,I,will be expecting compensation for loss of intellectual property,and all that time and effort into typing it all on my Laptop,Now,i just found out that,im losing my place to live,pending ssi,disabled and in a wheelchair.I will be expecting compensation,of a newer upgraded Laptop,please have McDonalds contact.

This is the Absolute Worst I have Ever seen Any Mcdonaldd restaurant! They are Not busy and this store is Absolutely Disgusting! Trash overflowing out of can, all over floor throughout restaurant. Not 1 clean table at all even the "party area" that is closed is Absolutely Disgusting! Employees walked through lobby numerous times and just ignored the mess.

I went inside the McDonald's restaurant on Route 41 (Piney Forest) in Danville Virginia on Sunday 9/1/13 at 5:00 PM. When I arrived, there was only 1 person in line who had already been waited on. It took a few minutes for me to be acknowledged by a staff member. Once my order was placed, I proceeded to step back and wait. It took approximately 15 minutes to receieve my order. This was absolutely ridiculous as I only ordered a Big Mac combo, 2 Mc Doubles and 1 apple pie. The staff were moving about as if there was no customer waiting, very unconcerned and inattentive. While I was waiting for my food, the female employee stated to her male co-worker, "She's watching you make that so don't so anything nasty." The male employee simply grinned. This comment was extremely inappropriate, rude, uncalled for and unprofessional.
This raises the question of what things are done to the food items during cooking and/or prior to serving to the patient. It's whatg we can't see that concerns me. The other concern I have is that the cashier handling money then handles food items without washing their hands or applying gloves. This poses a major health concern! I feel that this particular location needs to receive a visit from corporate and be educated on cleanliness as well as customer service.

My daughter was told she was going to be terminated because she got a tattoo. While I'm not a fan of her getting the tattoo, she had turned 18 and got an extremely small cross on the inside of her wrist in memory of a close friend whom passed away. She covered it while at work and it got back to her manager that she had gotten a tattoo. I'm a nurse myself and work with professionals who have tattoos that cover them. I feel that is discrimination and even though she has moved on and got a better job now, it still bothers me because I feel her rights as well as others that I've heard of at the Tompkinsville, Ky McDonalds has been violated. I don't see how they can legally fire you because you got a tattoo. I realize that some states are "at will" states and can terminate you over anything. But I would really like to make a difference if at all possible with this.

Hello my name is luis and I live in greeley colorado. I have visited mcdonalds on 8th ave plenty of times and 8 out of 10 times the people in charge of making the sandwiches are doing it with their bare hands! It really grosses me out.

for the second or third time this week we have had to wait a long period of time at the drive thru once there wasn't anyone in line and only 3 cars in the parking lot and we still had to wait twice this week we didn't get all of our order so I think it is about time someone lets the company know what's going on there are numerous people with the same complaint but nobody wants to blow the whistle well somebody better be lighting the fire under somebody's ass or they are going to be out of business because people are getting tired of it we waited a long time to get McDonald's here it would be a shame to loose it over something so stupid

I recently visited McDonalds in barnsley old mill lane on the 21st march this year. I went through the drive through with my mum. I ordered a quarter pounder plain cheeseburger meal large, and a plain cheese burger and small chips. We had to wait in a parking bay whilst our food was cooking as we only have cheese on our burgers. We waited around 10 mins until we received our meals. Wen we got them I checked the receipt just to make sure it said only cheese, which it did. We drove home and opened the bag to find we had no small chips and. We didn't mind as this can be forgotten by an accident so I shared mine with my mum. I bit into the burger and couldn't believe it wasn't plain, there was no cheese on the burger but a stack of onions,gherkins and relish on my burger. The only reason I am writing this in a complaint is that I am allergic to onions and gherkins this is why I am upset, as this is very dangerous to me as my mouth and glands swell up, if I had eaten more of the burger I could have ended up in a & e. I don't think I will be able to eat at McDonalds again.

i am a night hgv driver, and in barton, near leicester.. i had drove from exeter in devon to there to deliver goods. i had off loaded and had just left for the return trip, i saw this small macdonalds and thought i feel a little tired... grab a coffee. being 0130 in the morning the doors were locked so i went to the side window. i asked for a latte and the young girl there said "i'm sorry i can't serve you as u haven't driven through the drive through" i said i can't as my lorry is far to big... she said " i'm sorry sir i can't serve you, company policy" can i speak to the manger please..
a woman in her late 20's came to the window and said with out using the drive through i could not be served, i said, but i can't go through the drive through, she said well i can get the sack if i serve u... i said ok, forget it, but if i fall asleep and kill people and myself on the m42, i think it could be down to you both, just a coffee' not much to ask!!!!

When to macdonalds drive through and ordered 2 big Mac meals when git home there was no burger in the bag so was no happy at all to find it missing! Also the sticker on the chips box was blank when it clearly states a winner every time on monopoly but sticker was completely blank! This was at macdonalds Bedford aspects leisure center. Hope to hear from you soon.

I went to the McDonalds in Chester and bought a large Big Mac meal and a large quarter pounder meal, the drinks were only half full and one of the drinks had a large chunk of about 7-8 ice cubes stuck together in it..don't see why I paid for a large meals and practically didn't have any drinks with them!! Would either like a refund or taken further.

Me and my 5 children visited mcdonalds on queen city drive in cumberland maryland on 04-28-13 and 05-02-13 both times our food was wrong I myself wanted 2 cheeseburger meal with absolutly no onion I get home open it to eat and there was a stack of chopped unions all threw them , I had to throw them away because I cant eat onions and I didnt have time to go back nor should I have had to just to have what I clearly ordered , 5-2, my daughter always gets a plain cheeseburger happymeal and this time we get home no cheese on it , a month ago they put ketchup and onions on it and forgot to give me a small vanilla shake. This stuff happens to much ,yes human error does happen to anyone but for it to happen the last hands full of times and more im not to thrilled about wanting to eat from there. Not to mention I was stopping 5 days a week for a large mocha frappe and stood in line for 32 minute, 26 minutes, 20 minutes, way to long for fast food , the management pretends like they dont see anything and the poor cashiers take the heat from the customers. Each time I walk in I hear atleast 3 to 4 people complaining while standing in line waiting so long. I work in customer service 8 years in management and I never would let a customer stand in line that long nor let the cashiers just deal with pist off customers.

Iv'e been in the food business myself for quite a while, whats exiting is when i see people eating my food enjoying and being fully satisfied. I ordered a CBO meal at store number 10798 in west Rotterdam, not only did i wait to long for my meal, but i felt disccriminated against because others where served before me. When i brought the meal back to work to eat it there i noticed you can count the onions that where put in the sandwhich. According to the advertisement you can actually see the the sandwhich draped in onions which is what makes the sandwhich. My french fries where cold as well and my job is only ten minutes away. I took a picture of the sandwhich and i will post it so that everyone can see how cheap mcdonalds has become.

Me and my husband went to McDonald capricorn muizenberg on 5jan2013 and bought four meals,three with shakes and one with a diet coke. On returning home my husband sipped on his drink but the liquid didn't want to come through,so he open the lid and to his surprise found a McDonald plastic bag in his cup.
We went back to the store to complain but the staff as well as the manager looked at us as if to say we put the plastic bag in the cup. Its not like we have McDonald plastic bags at home. All the manager did was to refund the cool drinks money not even a apology. This will be the last time ill go to that McDonald,clearly the staff don't take note of what the doing.

I was at McDonald's on 3/31/2013 in Rural Retreat order two biscuits ( sausage & egg) it took five mins. to get it ordered then it was ten more mins before I got my order because your shift leader was so worried about someone that clocked in or out I don't know all I know she was yelling at a employee on the floor and people was walking out I'm sure you lost a lot money.
I don't know but I think this could have been taken care of after the shift some where off the floor. I don't think I will go back this is uncalled for and service is the worst I've every seen and its not the first time that I've been there and the service sucked.
I think someone needs to go in there on Saturday or Sunday Morning an just watch what happens there was no straws for drinks on the floor it was just very, very bad something needs to be done soon.

Dear McDonalds, I have just been to your Lytham St Anne's Restaurant near Blackpool. I ordered a Quarter Ponder Deluxe meal, with a coffee. The manager said she would bring it over when it was ready. I waited for 25 minutes. Went back up to see where my meal was, waited another 15 minutes. By this time I couldn't waste anymore time as I was on my lunch break. I asked for a refund and was told I was not allowed. So I have basically been robbed of £5.98. I would appreciate some one to get back to me as soon as possible as this is boarder line theft.

I am writing regarding my son and his employment at the location at 505 N Main St Belmont NC which ended today 12-07-2012 due to your management. My 16yr. son Robert Setzer began working there a month ago and at one time worked 10hours in a day and received only a 30 min break, also after this each day he worked about 8hrs each day and still only gets a 30min break only.
He tried to call one Sunday to get his schedule and they told him that he HAD to come down there to get it, the problem with that is we live in Lincolnton and not in Belmont by the grace of GOD we do go to church in Belmont. He was put on the grill at the start of his employment and got burned real bad and was told to keep working that he would be alright.
When he was put on the front he was told that he was $13 dollars short and I know that my son is not a thief and he said that there was another woman that fussed at him cause she said that was her drawer and that it made her look bad but yet my son was told by this location that he would have to pay this back and they cashed his check right there in the store to get that money back.
Today before his little break he was told that he was $5 dollars short and needed to pay that and that is when I told my son no more and I am coming to pick you up. I will not have my son's name slandered like this and when is it legal to have more than one hand in a teal? Also when is it legal to have to pay back money that someone did not take?
I know that the store has cameras and can watch for dishonest workers. I have a friend in the labor board and I am contacting my personal lawyer to ask some more questions about actions that are taking place at this establishment. I have always taken my youth group of 75 to this location to enjoy the food and etc. but I can promise that we will not be coming back and I will make sure to notify all the other youth leaders in the churches surrounding me.
This is not how you treat employees and this is not how you keep employees either. No wonder there is such a turn over in your employees and this really bothers me. I hope that you will look into what is going on in this store and the management that is running it cause some other employees besides my son have said some bad remarks against things that take place there. 

I'm not the type to ever complain, but this restaurant I felt treated me horribly. I hadn't eaten in over 24 hrs and I was craving a Southern Style Chicken and I always add extras on there such as lettuce, mayo, onions, tomato. I place the meal order and the manager(I'm assuming) overhears, she comes over and tells me "You just want to get a #8, its the same thing and cheaper?" and I say "no thanks, I would just like the southern style " and she tells the cashier "just do it as a # 8 so you don't have to go through all the adds on my original order." And when I get my order, there is no onions, lettuce, or pickles on it. Is it a Mcdonalds policy to recommend what their customers should order and not oblige to the original request ?? If someone would be kind enough to reply and explain to me, I would really appreciate it. Thanks

Good Afternoon,
I would like to put a complaint in agaisnt the Woodstock NB store, I took my 8 year old niece there for lunch on Sat and the place was absolutely disgusting, you couldn't sit at the tables, you couldn't get a pop because of the spillage all over the counter, I didn't even want to put my tray of garbage near the garbage bin it was so disgusting. The floors didn't look like they had been swept or mopped in some time, I asked for the girl behind the cash for a cloth she advised she would come clean the table with the rolling of her eyes at me, my mom had already taken out an acholic wrap and cleaned the table so we advised that the table next to us needed whipped off as well, she rolled her eyes and walked away, we have a brand new inside and you can't sit at any of the tables, you don't dare get a drink. Before entering the restaurant my niece said to us "you don't want to go in here it is nasty" she is 8 years old and what 8 year old does not want to go to McDonald's, as well she would not sit in a chair and eat either, she stood as she ate. I am normally very tolerant because I know it can be busy but the restaurant was not busy the supervisor was to busy eating herself, there was 5 or 6 girls behind the counter and none of them were doing anything, my first thought was if the front of the store looks this bad what does the kitchen look like? I would have left but we had already ordered our food and we were not getting any assistance in getting a table cleaned I knew we would not get a good outcome of returning our food. I have called 3 times to talk to the manager and he is never there and I keep getting I'm not sure where he is or when he will be in. I feel there needs to be a spot check done on this store and something needs to be done about the employees.

My complaint is that i got a job there and they dont like to train you.I been working there only for about a week and i learned how to use the grill becouse there is one person there he tought me to use it but he is a employee.The other day the manager told me to use the frier and to wrap sandwiches but i never did it and she yelled at me and said i was to slow.
They dont evevn have uniforms i cant buy my cloths to work there or my shoes.I think everyone should treated the same but the mangers think that there better then everyone else.I call the store the other day becouse my aunt was sick and i had to call out that day from work and that one maneger that i have such a problem with started yelling at me and i told her at least i called and let them know.I like to work and i am a fast learner if i am shown how to do things and i like to be treated like a person not a animal.
I have some disabiliteys so i am not that fast but i do my job well and i am always on time.Someone needs to go to that store where i work and be undercover so they can see for them self how those managers treat the people.There are about 2 managers that are nice but they dont train either.The employees dont help out with the new people either i guess thats why no one stays in that store.Its hard to find a job.There are alot of good employees outthere but if they have the same experance like i do at mcdonalds no one will stay at that store.
I live in port saint lucie fla and the store where i work is on saint lucie west right by I95.I hope i dont lose my job becouse of this letter becouse right know i need the money i am looking for another job and to bad for mcdonalds becouse i am a good worker. I really hope someone finally does something about the store manerger shes the main one i got a problem with.The other manager i got problems too.
I also was dissrimanted on becouse i have a tattoo on my hand that says RIP and has a cross i think thats unfair becouse all other jobs dont say nothing about my tattoos i worked in a country club for rich people i was a prep cook and they dident care what i looked like or what tattoos i had becouse they knew i am a hard woker.I still would be there but everyone got laid off there.well thanks for your time...

I'm not sure who keeps an eye on the McDonald's staff but this has been going on for years at the Fremont,Ohio Rt. 53 McDonald's. The management there has been getting its employees from mainly family members making it impossible for more qualified people to get a job and it makes my blood boil. Its a long time coming but I feel if the higher ups at McDonald's checked their management they would find out what is going on there. One of the managers cousins also attacked a customer outside the McDonald's because he was allowed to do what he wanted.
In my opinion also that McDonald's is one of the dirtiest I have ever seen. Also in my opinion allowing more than just family to work there would open up jobs for other families who need them. Maybe someone should look into this past employees and present to see just how this McDonald's is being used for personal needs. To let this go is wrong and to allow this manager to continue to work for McDonald's is just wrong. We'll be checking to see just how McDonald's really cares about the quality of their customer service.

I ordered breakfast this morning, and it was awful. yes, i receive my order on time, but the drink was wrongly delivered. Later on when we were checking our order, we realized that most of the food was wrongly delivered. We order hotcake with sausage and yet they send us just the hotcake. And so, we called to complain about this, and they told us that they will do the delivery again.
And to my disappointment, it was screwed up again. My order was right now, but the condiment was not. How can i have my hotcake without syrup? How to eat when there's no fork and knife? How to drink when there's no straw? I hope Macdonald will be more careful and alert while packing the food.

I'm sitting here, after just finishing my lunch, doing paperwork. I'm sitting right next to the counter and can see everything that is going on behind there. I noticed that there was one employee that was mopping that went right from doing that to helping take and serve meals. Then the same person helped stock the bins behind the counter. As she was doing so she dropped one item on the floor and proceeded to just pick it up and put it in the container with the others. She then stood up and adjusted her pants by pulling them out of her crack with both hands. I glanced over and she was filling the sugar dispenser with sugar and when she got sugar dumped on her fingers she wiped them on her pant leg. There wasn't one time during the entire observation did she EVER wash her hands. I'm not sure of the employees name because she wasn't wearing a McD uniform or name tag. In fact nothing that she was wearing had a company logo or even the same colors as the rest of the people working there. Grose.

I went to to your Plainville Ct. McDonalds like i usually do for lunch. I ordered the angus meal because that is the best berger meal , of all fast food stores!!!! however, this day i was very disapointed. the roll was stale and burned , the soda was flat, the fries were cold, and the meat was way past well done. I went back the next day to complain to the manager ,and she just looked at me as if to say SO! She did not offer any appoligy or any thing!!!
This is why i am contacting you . please don't loose me as a costomer , i love Mc donalds!!! Thanks for your time. Ted Guerrette

Hi my name is Irene Rosenthal and I have been dealing with your company for 7 weeks now and have been treated like I am garbage. My story is I feel in your Albany store which I located in a Walmart where I work at. I was in your store and there was a young lad mopping the floor in a busy rush the floor was so wet when I turned I fell and was hurt. At the time of the accident no one from your staff in the store came to my aid no manger and no cashier no one the customers came and looked after me. When I fell all I could feel was my back popping and could not move. I went to the doctors got check and was put on meds . The impact was so hard that is also affected my balance and server ringing in my ears and feeling dizzy. I handed everything all doctors notes and everything else that was needed. I am just asking for my expenses to be covered and a little bit more so I can get any future treatment worked on if needed.. I have agreed to hand in proof of treatments but not at the amount you have been offering. I have not been asking for millions and millions of dollars like some people would all I am asking for is 6000.00 and I feel that is fair. I am still fighting with my ears I can not afford to get them fixed with out help. I feel I have been treated totaly unfair and treated and talked to like I am some one just looking for a hand out. This was not my fault that I fell . I was told your claims department has the tape to show it was not anything on my part. Please read this and hope to hear from someone soon that is more understanding.

I went thru the drive thru asked if I could have a second to look at the menu the guy said uhmm sure in a rude way. I pulled forward and sat at the window to pay for a few minutes. I then pulled to the next window and they gavw me my drinks but the wrong order. I went inside stood there for five minutes with no help. I asked to speak to a manger"brenda" she said hold on. There was other customer's standing there with the wrong order. When received our order and it was cold with lose fries in the bag.We DID NOT have fries! So many hands were on our food. The place is digusting! A employee was texting on her phone while taking orders!! I am beyond pissed. Brenda themanager did not say sorry or anything! !

In gila bends mcdonalds I ordered a double cheeseburger, no mustard n pickles, xtra onoins. Then a cook yells my order out n the 2 guys back with the cook bust out in a roar of laughing. I said to the cashier, do u think he will b able to make it. The manager tells the kid I was upset and calm down. I made 1comment, went to the bathroom, comeback and this kid is upset with me and almost out of control. For what happened, I think this store would be better suited with a better manager

On Monday, 8 April 2013, at 5:30 a.m. I went to the drive through at McDonald's and told the cashier that I wanted two sausage mcmuffin sandwiches, but only with egg and cheese. I told her that it was the one listed on the dollar menu for 2 for $3.79. I am a Seventh Day Adventist and I do not eat pork. So I order these sandwiches without the meat. When I got to the pickup window I asked the manager that was giving me my food if the order was just with egg and cheese, she left and another person came and gave me my sandwiches, but at the same time the cashier also came and told me that what I had ordered was from the dollar menu and that she only charged me $2.00, I told her that I was willing to pay for the balance, but she chastised me in front of other workers that I should have been more precise in what I was ordering. I don't know why the manager did not come back and take care of this instead she sent the cashier. I don't have to put up with this chastisement from anyone. I know what I ordered and did not have to be told that I was wrong when I was not. Your cashiers have no business tell the customers that they were wrong and that I didn't have to take the sandwiches. In other words I had to take this from a worker. I just told that fine and left. I need this problem taken care of and your manager should not have let this happen.

The new Texan Angus burger is still being advertised on the radio and a co-worker recommended it... I went - there's a picture on the menu board of the burger with pricing... but I was told it was discontinued a few days ago. The cashier said she's complained to the manager about taking down the advertising but nothing has happened yet. If I wasn't so hungry I would have left and gone somewhere else, but instead ordered a different burger... maybe that's their plan!

After visting your stroud McDonalds (1291) drive-thru on the 18.12.12 at 4:30pm I was disappointed to find the following wrong with my order:
My fries were cold with both my med quarter pounder meals, my med wrap meal fries were cold and my fries on my happy meal were cold. Also I ordered two of your garlic and herb snack wraps without lettuce and received both with lettuce even though the labels on them stated otherwise, my cheese dippers were cold. I ordered a orange and chocolate pie and was disgusted to find that it smelt and tasted like fish.
I do not think that even though the drive-thru is supposed to be the quickest way to receive your meals, that the standards of the food should slip or the accuracy of certain food orders should not be met.

on the 26th feb 2013 at 17-30 went into mcdonalds mount pleasant shop where was greated by a rude male (name unknown) gave order paid ant started to put the wrong things on tray when asked him about this he said it was what i ordered me said no heres what i ordered and shown him my recipt with that he snatched tray back and started curseing under his breath asked to speak to boss and he was not much better 18 mins later left with a bad taste and it wasnt the food
kind regards mr jason harding

i am writing this complaint in a frustrated and angry upset mood, i have been a long term customer at your ebbw vale shop in gwent for a number of years, with staffgetting worst as time goes on. first it was the odd forgetting a burger while in the drive trough etc...., lately it as got that bad that i totally refuse to go there and will stop friends etc... it is a very bad reputation lately when, firstly i been buying mc flurrys from them for years and they never stir the choclate, example, dairy milk, smarties in, they just stick it on the top and there is dissapointment in my children as this is the only mcdonalds ive experienced this from. recently i been buying the cajun chicken wraps that are lovely, but they are serving them up at ebbw vale with no sauce or cheese, it comes to something when you go through a drive through, then have to park up to check. the staff are very nasty if you complain, and laugh with other staff if you say something is missing. recently i saw a member of staff taking a cigarette break outside then walks in, carrys on serving without washing there hands and starts playing around with her hair. i am disguisted in this and am at my wits end , ignoring but enough is enough of chasing around after going through drive through and having to check my order with loads missing. i feel i am giving up on mcdonalds as this service is disguisting, please can you chase this up or im going to enviromental health.regards, louise.

The new Swiss onion burger looks great. I made a special trip and looked at pop and ordered 3. When I took my first bite I didn't get any onions. The second and third was dry as well, so I threw #1 away then opened up #2,3 only to see onions on each the size of a quarter. I then discarded only to leave with the mouthwatering picture.
If you want repeat business then you Must Deliver what you promise. There is a credibility gap here. I spent 36 years with McDonald's and as a previous owner, I knew I must Deliver at the counter. Walk the Talk.
I know it's. difficult but Can be done if you work at it. I have been retired from this wonderful business and Fred and Ray would be sad.

I want to share a little story with you. First of all I am 65, I was forced into retirement due to an illness. Last Friday Jan. 18th my wife and I picked up our two grandchildren ages 4 and 2. We wanted to take out to lunch. We went to the MCDONALD's that is located in Raymond New Hampshire. This was a big mistake, first off we had ordered two happy meals. We only got one at first, I paid the bill which was $21.33.
Then I was told that I had to pay for the second happy meal, that was another $2.57. When we got to our table there was a hamburger that was paid for but was not on the tray. All in all what was to be a nice meal with the grandkids turned out to be an unpleasant event.
In case you were wondering the store number is 4956. If asked I will share what happened at that location. I thank you for taking the time to read this note.

I went through the Drive-Thru at your Mission Grove #12146 store in Riverside, CA last Sunday evening around 6:15 pm. I ordered a Cheese Quarter Pounder with fries. I did not start to eat the meal until I got on the road. The cheeseburger was cold with little taste and fries were cold and unsalted. When I did get home I called the store and they said to come back in and they would give me another meal. I explained that I am very rarely in that area and would most likely not be there again for some time. Their manager was not there and I left my number but never got a return call.

Store # 11964 is a store that should be avoided. my $14.42 order was wrong and when I asked manager on duty to help, all he did was give me a smirk. At KS# 3, I placed my order at 13:00 pm and did not receive order until 13:14. It was a very simple order, I Mcdouble, 2 cheeseburgers, 3 medium fries, 3 large shakes and 1 apple juice. After waiting what seemed like forever and listening to other complaints about poor service, I was served my order. I mentioned to the manager (So much for fast food) and he gave me a dirty look. My Mcdouble had no cheese and the remainder of the food was cold and not any good. McDonalds has become so big, that they no longer care about customer service. That's fine, I have a Burger King and White Castle alot closer than this restaurant. I would give you the manager's name, but he would noy give it to me. My receipt has no info related to my time there. MFY SIDE 1 and KVS Order 94 are the only info I can give. Done with McDonalds forever...Wendell Boardman Davis, 944 Shenandoah Way, Greenwood In. 46143.

on 11-15-12 I went thru the drive-thru for fruit and maple oatmeal. When i got to my office I found there was no fruit or maple in it, therefore I had to throw it away. Last week I went thru another drive-thru for 2 orders or oatmeal. I was asked to go to the specialty parking spot and they would bring it out. I waited for 15 minutes in the car, then had to get out to get my oatmeal. More times than I can count I've ordered food from McDonalds only to get home and find that items I had paid for are no where to be found in my bag. I have given McDonalds a great amount of money and haven't received 1/2 the items I've paid for.

I walked into McDonalds and I wanted to order a smoothie and the manager randomly told me to clean up a mess which wasn't mine, I explained to her and she clearly knew it wasn't mine because I had just walked in , but instead of apologizing for what she had done she swore at me and said very offensive laungage and would not let me order my smoothie, I then told my friend to order for me and I looked at her make it without her knowing , and she spit in my smoothie , she then would not admit it even though I saw it with my own two eyes ,she swore at me again and I left , I am very angry with this service I will not go to McDonalds every again and I will put up signs and ads notifying other people, this all happened at the McDonalds in London, Ontario 1074 wellington road, the name of the manager that did this to me is Aida , I strongly suggest you get her fired, and reported as she did other offensive things to other people on the job

Store #14276 cashier KS# 3 order #321 Something has happened with the drink machine here within the last month or so. The machine is set to shut off early and a lot of the servers behind the counter are not filling up the drinks properly and the drinks being served are really short on soda. Today was the second time, this server, a manager did this to me. He was watching me from the counter and he saw me put my receipt in my pocket and when I looked at the counter, he was looking at me two times.
He approached me as I was leaving and asked about my meal and I discussed with him that this was the second time that he waited on me and I asked to have my drink filled before I left the counter and it happened with other servers too and that if he wasn't doing the job right, he would be unable to comment on other employees doing the same thing. I told him that he was the manager and that he should be doing his job 100% and also that I had worked at McDonalds in about 1966 in my high school year.
He commented on bubbles in the drink and I had watched carefully when he did my drink both times and when he had filled it almost up and put it on my tray, it was dripping of spilled soda. I rethought about doing this, because there are other McDonalds around where I can fill my own drink up, but I don't think he is going to stop what he is doing or correct the matter. He commented about the refill policy, but that doesn't stop him from not filling up out going drinks too where people have to drink what they have from home.

my name is tajuonna hayden and i was working at mcdonalds at 6950 woodridge houston texas when i was fired yesterday bevause the nugget scooper scooped a few extra nuggets as in three i kept in my box not really thinking nothing of it a crew worker hispanic says i intentionally tried to steal nuggets and told a mnanger who told me i cant fix my own luch and ive workred there for 6 months and no one has ever fixed my food but me now its a problem to once i spoke to the gm jose alfaro who couldnt clearly read tried his besty to read me policy rights told me im bein term9inated because of policty rights that clearly non of the managers or crew trainers seem to be displaying to new trainees r doing . i felt as if he picks a chooses b/c when customers come in the always have cameras out recording the managers and mexicans in a huttle chit chattin but the gm does hear about that b/c im sure the hispanic managers dont tell on themselves and who there standing around talking to . i thought i was suppose to get a verbal warning then a written then temination please help me i need my job

i ordered a quaater pounder meal. the lady dressed the burger lettuce pickles & cheese with her bare hand not tongs, the burger was cold. The fries must have been there too long they were cold and flat tasting. also there we no monopoly stikers on my drink or fries. This order was a take out order on friday night Oct 5 at a walmart in bracebridge my order # on the reciept is 35142 . I went back on sat oct 6 to let a supervisor know she said they must have run out of cups with game peices so she did give me two empty sml fry bags with the stickes on them for that. But she didn't seem concered that the employee handled the food with her hands, and that i know it was probably getting close to closing but the fries were not good, and the McDonald fries are always good. I am a big suporter of mc happy day it's unusual to have a problem with Mc Donalds it was disapoiting to have a cold quater pounder meal.
thank you, scott

Long lines even at nite both inside the store and the drive up window. No one taking orders, 6-10 people milling about in the kitchen. The order line is one person at a time...one person takes an order then goes about filling that order while all other customers stand around waiting. People stepping over each other in service area. Go through the drive thru and ordered Lg. Vanilla ice coffee....sit in the line 15 minutes to be told oh we don't have that or to be offered a medium coffee because they have no large cups, then when I say I want my money back they find a cup or coffee but the drink is not made correctly. This is occurring in numerous stores in New Orleans, if this a new way of providing service I have to tell you it is a big mistake and quite frankly it sucks. I will take my business to Starbucks costs more but the service is polite and efficient. This problem occurs at the MacDonalds on Read Road and Bullard Rd in New Orleans, at the store on Elmwood parkway and Canal St. It is a systemic problem

17th January 2013. My three friends an I went to the Mc Donalds in Thane, Maharashtra, India. I ordered a McChicken meal, and was given a very uninterested look by the person taking my order. As I dug into my burger something felt wrong. Turns out the Chicken patty was undercooked in the middle. It was still slightly squishy and still pink in the centre. I went to the manager in charge and showed it to her. She gave me a frustrated look as if it was my fault the chicken was undercooked ans said she would bring me another one to my table. I waited. 15-20 minutes went by and it still hadn't come. I asked the waiter to let the kitchen know. He went and told the manager and she had the audacity to ask him who wanted another burger. She came upto me pretending she had no clue what I was talking about and then fumbled around trying to cover up by saying, "Oh, it's not here yet?". Her lack of manners and crude arrogant behaviour was quite shocking and completely unnecessary. They did not even think of giving a coke or something as a peace offering. But no, problems did not end there. My friend also ordered a McChicken and even though she had paid for it they gave her a McVeggie. Such carelessness is not something I expected to seeing at such a renowned place. The fries that I got were overcooked and had a stale oil smell to them. But the undercooked burger had gotten me too irritated to go and fight again. The ketchup in the ketchup holder also had an unusual taste to it and not only my friends and I, but nearby customers also noticed it. This experience puts me off McDonalds completely and with a KFC nearby I don't think I'll be eating at McDonalds anytime in the near future. They can keep their crass behaviour and cheap tricks to themselves.

I visited the M Donalds on Geyer Springs yesterday and they got my order wrong i asked to speak with the manager and a lady came to the front counter stating she was the manager what could she do for me. she had a nasty attitude when she asked and i explained my sandwhich was made wrong and asked if i could get it remade. she took it back to remake it but i heard a smart comment so i asked for a refund. she got strated to do a refund but was being sarcastic i asked to speak to someone over her she explained she was the assistant manager and her boss was gone any problem or con ern i had ould be taken up with her. i did not like her attitude n most definately did not enjoy the service. that manager need to be fired or demoted or that McDonald's will lose a lot of business

Due to the line of work I am in, I have to work several Saturday's as well as public holidays. Mc Donalds on the P91 road in Kempton Park, is en route to my place of work. Because they are 24 hrs, I usually buy breakfast items at this Mc Donalds. I really enjoy the Chicken fold over wrap and prefer this item to any other on their menue. The Chicken fold over contains lots of lettuce and two tomato slices amongst other contents.
My complaint is that the lettuce leaves are not fresh. You can smell that the product you are about to eat contains some spoilt food. The tomato slices are also not fresh, they smell sour. One bite of the Chicken fold over is enough to make you not to want to support Mc Donalds. This morning I thought, ok, I know that the fold over is not as fresh as it should be, so I opted for the MC Chicken burger and I also selected the Sausage MC Muffen.
The service was really fast (under 30 seconds), while I was paying for my order, the parcel was already dangling at the collection booth. When I took it, I could smell the lettuce leaves.... Upon taking the first bite, I could taste the spoiled leaves, when I opened it, I found wilted yellow to brown lettuce leaves mixed with fresher green pieces umongst the thick mayo layer.
Aargh.......... Luckily I still had the Sausage McMuffen to eat. The bottom line is, don't eat anything with lettuce or tomatoes on it from Mc Donalds P91! Eat what you don't like much seems to be their motto, at least, this is the message I got.
Can someone please investigate this complaint, I have experienced this problem multiple of times and if Mc Donnalds P91 can resolve this issue, I know that they will retain and gain more loyal customers.

I have gone to this McDonald's quite often and on two occasions they have messed up my order. About a month ago I got a salad and there was hair in it. It really looked like pubic hair to me. This time I asked for a double quarter pounder and they gave me a quarter pounder. Along with stale bread and not much condiments. This store never uses hair nets. Their lobby is always dirty. It's disgusting.

I took my daughter, and 2 yr old grandson for lunch at Walmart(McDonalds) in Vernon, B.C. Oct 10/2012. Within 1 hr, we all had food poisoning. I am an R.N. so am quite aware of the symptoms, as well we called the Poison control centre. My daughter has just finished cancer treatment, became quite ill and dehydrated, so there are records thru the hospital. I called Walmart, 3 times. The first time I was disconnected, the second time I was forwarded to a "manager" but no one answered, and the third time the lady at Customer Service took my number and advised me a manager would call me that day. Here it is the next day, and nothing. Initially, my intent was to alert them to this so they could rectify the situation so no one else got sick, but now I am just angry and frustrated. They don't care enough to return important calls! Now, I am upset, and will follow thru with a lawsuit if necessary...all because they are too lazy and inconsiderate to return a phone call!

Igot a coupon in the mail for a quarter pounder with cheese . Buy one get one free. When they told me it was four dollars I could hardly believe it. But I thought well it is alarge burger. It was like a very small cheeseburger. I wish I had gone to the dollar menu. This Macdonalds was in Lincolnpark by southfield and dix road. Anyway I felt I really got a bad deal. Maybe someone can make it right. My name is Bob Prickett . Address is 2009 Gregory Lincoln Park Mich. 48146. Phone is 313 3865322. thankyou.

i visited your store on 12/24/12 around 1 o'clock pm after shopping all to sit down and have some lunch and this big black lady all she was doing the whole time i there was cussing everyone out loudly and i notice she was doing the same thing the last time i was there. She had no respect. I was very surprise to find out she was the store manager what can of place are you running there. If i work for here i would take her to court if she did that to me. you need to send somewhere to get some people skill she has none.

I drove through McDonalds at Malden MO and bought two ice cream cones and a caramel apple sundae with my daughter and my 3 yr old son. The amount was 2.66 I paid with 2 dollar bills a quarter 4 dimes and 1 penny she didn't give me a receipt. I pulled to the other window and was questioned by three people about paying, then the manager questioned me and by that time I was aggravated and I repeated that I did pay and she called me rude. They finally told me to go I guess they must have looked at camera or counted the door.
I was never apologized to. I stop there every morning on my way to work, I had my sons birthday party there in february and bought him a happy meal earlier. I never complain about anything but this was embarrassing and they were hateful. I just thought you should know.

MCDONALDS HEAD OFFICE: It was a fine day when my girlfriend and I decided to have breakfast in a nearest McDonald's Branch. We ordered the usual breakfast meal and eat while having conversation. It was my first time to eat in that particular McDonald's branch. After having meal there was some hint taste of coffee in my mouth and got thirsty to ask for water in a cup over the counter. McDonald's provides a clear cup of water with ice and for being thirsty, water was quickly drunk. The water tasted and felt different as anyone would swallow, as substance pass through the throat, it felt hot with a strong scent of chlorine followed with an awful bitter taste.
Most customers reacted on how the water tasted and quoted similar detailed words, also, unhappy on how the situation was handled from McDonald's point of view. It was the first and would be my last to eat at McDonald's who serves water with sanitizer and change my impression and experience as a customer.
I was traumatized for what had happened. I would do whatever it takes to encourage my relatives and friends not to try McDonalds that serves toxic chlorinated water. Hence, the owner wanted to pacify the situation by meeting in a mall restaurant, owner was not sincere in being apologetic. Instead, he was rude and displayed words of alligations in a raising voice.
We kept coordinating and assured us movement on the case. Year is already 2012, untill now we had never recieve any update as promised, and have decided to elevate my complain by escalating the matter to mcdonalds international.
Mcdonald's had always been my most favorite fast food since I was young. It saddens me personally to know that Mcdonalds a renowned reputation, are being wreck by a mere branch in the Philippines, because of the substandard service and sanitation control. We hope to resolve this issue and have proper closure between two parties as coordinated to McDonalds head office to handling the situation accordingly.

My family went inside and dined in a Chattanooga McDonald's located on dayton blvd, on Saturday January 5th 2013 around 7:20 pm. My child ordered a 6 piece nugget kids meal. After we had sat down and began eating he brought to my attention a small black looking insect that he removed from the outside of his nugget, which was still in the box. Looking closer at the object I noticed that it had tiny legs and was moving. I immediately took what appeared to look like a tiny worm of some sort to the manager.
The lady immediately agreed that it was moving. She told me that they were going to have to turn this in. My family and I were so disgusted by this. I was a little shocked and bothered that they were asking me what they could do to make this right. My child at this point wanted nothing else to eat nor did we finish our food at this point. They did give him a mcflurry. I left there sick to my stomach not to mention irate. We will not be frequenting that McDonalds or any other for that matter.

We found hair in 2 out of the 4 big macs that we ordered. When I returned the first one to the staff she was apologetic and quickly ordered another one. When I brought back the second one the staff laughed and found melted cheese mixed with hair to be hysterical! I asked if the kitchen staff wore hair nets and they said they didnt know....umm...okkkk. Totally grossed out, the kids didnt want to finish eating so we left. Glad staff laughs at their issues instead of doing something about it, like ensuring food handles are properly uniformed at ALL times!! Grosse, never going there again and warning everyone I know about it!

My name is Jacquline Balderas. I turnt in a job application at McDonald's in Wasco,Ca on November 23 2012. Today, november 25, 2012 , I get an anonymous call saying they had all my information because McDonald's handed out my application I filled Out. I called and made a complaint and they had me ask the anonymous caller for my application to avoid Harrassment. I went in to the McDonald's to discuss this and all they could say was there sorry. Luckily, the anonymous caller was a good friend of mine, but say it was a bad Person who steals identity, then what??

I go to mc Donald's in Maldon every Sunday to get breakfast and every Sunday they get the order wrong. I always order a bagel with no egg and my boyfriend can't eat the egg and every Sunday they get it wrong! I'm gettin so dick of coming there a recieving that treatment! Even the boy who was serving me said the kitchen staff obviously can't read! What does that tell you about your buisness. If the problem isnt resolved I will be forced to take my custom elsewhere!

I went to the drive thru of Mcdonald's in Dettro drive in Mattoon IL. 61938 ( parking lot is under construction)at 7:59 p.m. April 13,2013 . I ordered Bigmac w/ cheese, double cheeseburger,and premium chicken and bacon wrap with a coupon and i specific said to her that transaction is done and the person next to me wanna order the premium chicken and bacon wrap with a coupon. The lady in the microphone said to me sorry Ma am we can only used one coupon . I said I understand that that's why we order two transaction and she insist that is your policy to used one coupon per customer per visit.
I decided we go inside and ordered the same thing , we both fall in line and ordered using our coupon with no problem. I asked the lady who gave my food if she was the one who got my ordered at the drive thru because her voice sounds familiar, she said yes her name tag said ALEX , so i explain to her what i was trying to do and she said Oh I didn't understand you. No sorry from her. I understand she might be tired but I'm caregiver and worked two jobs , work 8 to 14 hours a day most of the week . Thank god i still managed to smile and apologized if i make a mistake and let them know that I will try to remember to LISTEN and not to make the same mistake again. If Mcdonalds don't want people to use the coupon in the drive thru you have to say that in your ad.
Lorelei Sheff

there are several men aged 50 to 70 years of age that are ganging up against my cousin because one of the customers doesn't like her. He has bad mouthed her to every one she makes friends with at McDonalds. He has threatened to complaiin about her service dog that she brings into teh restaurant. Every one knows about him, and he has caused a hostile enviornment against her and this is not right.
She has reported it to teh managers and they said they will take care of it. Right now we are just making you aware of this so if any thing comes up ... you will be aware of it.
Thank You!!
A Concerned Cousin

I recently visited a McDonald's and right when I started my order I got a horribly rude attitude from one of your employees. She was totally ignoring what I was saying and cutting me off. I got over it but than once I got my food it was all wrong, wrong hamburger, a water instead of soda wrong ice cream. She was rude and inattentive. I'm not sure why your establishment would hire someone like that. I was extremely frustrated after that experience

I was at the McDonald's in south normanton on the 17/03/13. It was 1am Monday morning and I always finish off at McDonald's after work. I ordered my usual meal that I have and payed for it. When it came out the fries were cold, the hot chocolate was watery and the burger was missing the bottom off the bun, and seemed to have been cooked with no pride at all. I complained and the staff just giggled and joked with the chef. This is not on I'm disgusted in the service I received and the action taken.

I wish to complain about the way your job application process is conducted. My son got to the second stage of the job application and was invited to an interview at MacDonalds. When he arrived there he was told to fill out a form which he duly completed then he was told to go home where they would contact him by the end of the week if he was through to the next stage of the interview. By the time he had got home he had already received an email saying he was unsuccessful in his application, how could this be when he didnt even have an interview? they know nothing about my son and his capabilities, obviously if he had got through the first stage he was of the right calibre to do the job. Did the Manager therefore judge him on his appearance, that of a teenage boy? what a waste of time for him to make the effort of coming into the shop to produce documents to prove who he is. I was appalled that he did not have a verbal interview with the manager so he could find out what sort of a person my son is, obviously his face did not fit to be turned down before he had even reached home. It is sad that your company has such a high profile that you should treat individuals wishing to better themselves this way. It would be nice to get an explanation as to why this happened, but as with everything else in life I suppose this will just be put in the delete bin.

After waiting in the drive through line for ten or so minutes we got the wrong order the cashier took the order back through the window and we hear the managers arguing very loudly in front of all the employees and costumer so we finally get our order back and get home to find our order still wasn t right. After spending over twenty dollars and my time waiting I am not happy. Hickory store number 13823 hwy 321! Please contact me about this matter at 828 781-1020.

I am an asian and use to love eating macdonalds,had a fillet o fish meal everyday. Last week i went to macdonalds i was refused to be served as the staff in macdonalds are claiming that the the fillet o fish meal is not suitable for vegeterians as the staff are not doing thier job properly, because at the end of the day when they filter the oil out to clean it they are not keeping the fillet oil separate and are filtering it with the rest of the other food which means contamination. I am very disappointing to the fact that up until now i have been eating something which is not halal for me, and the fact that the staff in there are not doing their jobs properly.

I, apparently, am not a typical customer. I expect butter and syrup when I order hotcakes. When I specify no cheese, because I am lactose intolerant, I expect no cheese. A spoon and fork works for also. I can't seem to receive these "special" items when I visit your restaurant. I AM PISSED!!! In the past I sympathized with foreigners coming to this country to make a better life, and hiring the young to begin the process of developing work ethics. It's a good thing. But I am finding that my quality of life is being compromised as a result. For the last year or so, I changed my breakfast stop to McDonalds. But often I have to throw my carryout meal away because I got no syrup for my hotcakes, cheese on my sandwiches, no salt or pepper and once, no spoon or fork. You added cheese to all your sandwiches, and now I have to pay you extra to screw up my sandwich. Get this; Americans thrive on quality and price. But offering price alone is unacceptable because you don't get what you really want to enjoy; the experience. This is the first time I took the sandwich back. I complained and refused the free sandwich offered. You want customers? Get it right!! Train them to get it right. Have you ever heard of Poka-Yoke?

Hi, I'm a crew worker at Mcdonalds Restaurant located at 5666 N Blackstone ave in Fresno. Today 4/13/2013, we are busy and when taking orders from customer and after cashing it out, the customer come back and say they don't want their food and want to exchange or refunds for their food. I was being blame at that its my fault but before I'm going to cash it out I repeat the order and the customer say its correct then when cash out they come back and say its not correct and want to exchange them. I'm really disappoint and mad that I'm being blame at while its not my fault to be blame or yell at. I have decided that its not worth blaming on me that its not my fault while I did repeat the order back to the customer before I cash them out. I'm not happy because its not my fault its the customer fault because they don't know what they are ordering and then when come back to correct the order I help correct the order and still being blame at. I feel that being a part of McDonald's is a good place to be but its doesn't seem like it anymore.

We order 6 filet-o-fish meal and than we asked for extra tarter sauce and she gave few. we asked her for 1 more and she said we had to pay for it. Many time we go to burger king and we asked for extra sauce and they always give us without saying anything. So im surprised on mc donalds behavior. They also using half slice of cheese. It should be 1 full slice not half. If this is not solved im never going back to mc donalds.

I am beyond pissed off with the 9638 160th St in Surrey, BC location. Online it says that they are open until 3am, I have walked into other McDonalds after 2am and been served. Yesterday(Saturday April 13th) I went to McDonalds at 11:30pm only to find all the doors locked. I knocked on the door but was ignored. I decided to walk through the drive thru so that maybe I could ask why the lobby was closed. A woman working opend the window and said "Sorry, we don't serve customers on foot." I asked to speak to the manager, she replied with "have a nice day" and closed the window in my face and locked it! I want to know why I was denied service and the right to speak to a manager during hours of operation, the sign says 24 hours and does not state lobby hours. The woman was rude and the manager was right behind her when she closed the window in my face. I have never had such a horrible experience in all of my life! I will NEVER be going back to this location ever again!

It seems like the past 3 or 4 months, McDonalds cannot get my order correct thru the drive-thru. To give credit where credit due.1 out of 6 orders are correct , and the employees are nice most of the time. When we order food for example fries, hashbrowns, McDoubles and apple pies, sauage and biscuit when I ordered gravy biscuit. I always go thru the drive thru because my grandchildren are with me. I drive away from the window that gives you the food, park and check my order. When it is wrong, I have to go back thru the drive-thru. This does not include cold fries. This gets OLD VERY FAST!!!! All we have in this town is Sonic, KFC, and McDonalds. Alot of people. including me and my family, WISH we had a Wendys or Burger King instead of McDonalds.

Extremely mad at willmar mn McDonald's! They won't give out cups of water.. Even for paying customers in fear that the customer will turn around and walk inside to steal pop?! Ridiculous!! Never has any other McDonald's (or any other fast food restaurant) done this to me! What a joke! Would not recommend this McDonald's to anyone!
How can you visit a fast food restaurant like McD's and not get water to drink with your meal, is this what the world is coming to! I don't mind paying for water if it's of higher quality, but they want give me this is amazing to me. They are basically calling McDonald's customers a thief, like we won't complain about this.

On 9/2/13 we visited McDonald's at22333 east 9mile rd ads,no store # 6927 around 12ish...we watched five members walk by us and never once offer assistance to take our order...the manager walked by..still no welcome..No acknowledgement of our presence.When I asked for help after 20minutes the rude staff got the order wrong#398 and then proceeded to state in my presence what I did or did not offer. I live close by and will not return to this store,the customer service us poor,store is often not clean and staff were very unprofessional.



Disclaimer: This complaint was submitted by Tammi on 09/02/2013 at IP address 64.134.160.182 using our mcdonalds complaint form. This opinions contained in this mcdonalds customer review titled, "lack of customer service,rude team memvers" do not reflect the opinions of this website.

About a week ago i went to McDonalds at Thinford in county Durham. Food and service was great at the time and we never have any issues with regards to food. When being served , we went to pay with a card, entered card as normal then, the card machine said remove card. We removed the card and entered it again, the same happened. We then had to sign for the transaction and thought nothing else of it(no receipts given)When we checked the same transaction went through twice, exactly same amount at the same time. We phoned up and the lady who served us said she had never known this before, so gave us a number to ring in which we tried but could not actually get through to talk to an actual person! I went through to the McDonalds the next day to see if some kind of management was in store just to see if i could get a refund but the store was busy and i just got directed to the same number i was given the day before. The order was only for £8 but it's got to the point where i am just complaining on principle of the bad way i have been treat in solving a simple problem.

I want to make the corporation aware of an inexcusable managerial employee who is breaking numerous labor laws. This employee's name is Ilene Komiko and she is currently at the American Fork, Utah store on State Street. Supposedly, she is sent in to clean up troubled stores, but let me tell you what has been happening.
My husband was hired as a manager trainee in May. He was supposed to be on a 90 day trial period while he was being trained. He still hasn't been certified, even though they have been telling him for two months that Daniel will be meeting with him to discuss his salary and get him certified.
14 managers have quit since May. Most of them have quit since Ilene came to the store due to her abusive nature. There have been too many hourly employees to count that have quit and most new hires last about three days.
Ilene yells at the employees and every sentence starts with one of these threats: You will do this or you will be written up or terminated. Due to losing so many employees, they are unable to fully staff their shifts, so most employees are doing the work of 2 people. No one is getting breaks and they are working 8 to 14 hours. Then she makes the managers stay until the store is cleaned but she makes them work off the clock, stating that they have to do whatever they didn't do on their scheduled shift. My husband was the only one in the kitchen and he was cooking AND putting the food together, so when was he supposed to clean the floors? There wasn't a dish washer, so he had to do that, too. This has happened on numerous occasions. She put a new hire who wasn't hired to cook in the kitchen and yelled at her all night to work faster. she didn't even know how to make the food!
Ilene has gone in and altered time cards so she doesn't have to pay overtime. She requires the managers (even the ones who are training so they are hourly) to come in for meetings and then she refuses to pay them. She made them come in for a meeting on Sunday that was supposed to start at 3 but she didn't show up until 5. Then she brought Little Ceasar's pizza and they ate it in the sitting area with customers! Then she made them come back in at 10:30 pm until 1:30 am to train them how to clean and she refused to pay them for that, too.
I don't know if you have a way to check the hiring and release dates of those employees, but I think you would be shocked if you saw how she has decimated that store. My husband almost walked out tonight because of her rudeness, but he really wants to be a part of your organization. She has been very rude to customers and employees alike. I think you ought to send in an undercover person to see what is happening first hand. She has been with the corporation for 20 years but I can't believe you would condone her actions. It doesn't jive with my idea of a happy place to be for families when it is actually painful to work there.
Another problem is that there are managers who have been there over 5 years with no raise and no benefits. When they do ask, they are told their paper work has been lost, so they are only making $8/hr.
I choose to believe that this store is an anomaly because I have been a patron of yours since you opened! I was excited for my husband to be start working for you because I believed that it would be a positive environment that would appreciate his many years of customer service and people skills. I know you want to see employees that are smiling because they love their jobs. Please do something to fix this situation. The customers are unhappy because they have to wait a long time for their food. The shake machine is broken 80% of the time and needs to be replaced. They desperately need more employees. A manager named Andrew is supposed to take over soon. I would suggest that happen sooner than later because he is a nice, level-headed man who might actually save the store. Please get Ilene out of there before everybody leaves!

Jazzmine
from Bakersfield, CA
To whom it may concern I was at the McDonalds on 8400 Rosedale highway enjoying my favorites the chicken burger and the chicken mcnuggets and I saw a group of five vegetarians eating your food so I thought it would be a good idea to put real meat in your food if you agree please contact me back thank you

Diane Herrle
from Kailua-Kona, HI
I ordered a spam and scrambled egg breakfast. It comes with rice! I asked them to keep the rice . I also ordered a large coffee and a yogurt parfait. I paid and they gave me the food. When I got home I noticed that they gave me egg and rice but no spam. I was so hungry I ate the egg then I took it back. I told them they had messed up my breakfast. They took the rice back but would only give me the spam they had not given to me. I asked them why they did not give me the egg cause they were the ones that messed up the order! I talked to the manager but she would only give me the two pieces of spam! I like eating the egg and spam together! The manager did not understand the concept that they messed up my order and should give me my whole breakfast back!! I didn't accept the two pieces of spam cause I don't like eating it without the egg!! So it was a huge time waster and I went away feeling cheated by the management! When t went back to the order taker admitted her finger slipped and that is why my order is messed up!!

Phil Clark
from Mt. Pleasant, SC
I am unhappy about and plan to boycott McDonald's for trying to push out Customer staff relating to me at the front counter. The installation of and pushing kiosk order stations is not the personal character I expect and have come to enjoy in the past when I walk into any McDonald's nationwide.
I believe that this is an attempt to take more people out of the work force as well as it depersonalizes the ordering and eating experience in your local stores. I appreciate talking with an employee and I believe that there need to be fewer machines doing things people are capable of doing. I like the food McDonald's however, I will not continue to go to McDonald's if there cannot be personal employee service at the front counter.
One other comment; the hand cooked Quarter Pound Hamburger that was offered for a short time I really loved! I hope it might be offered on a regular basis or permanent basis. It really brings out the flavor so much more and is worth the money you charged for that service and fine food.
Thanks for listening.

julia Flagg
from Plymouth, MI
September 17th, Store #12012 Northville Township
The store was nearly vacant at 4:49 in the afternoon, it should have been busy. The only two guests present complained that they had been there waiting for their orders for over 30 minutes. They said the service has declined steadily after the remodel. I ordered an ice cream sundae, which after 4 or 5 minutes I was handed the sundae, no peanuts, so I asked again for the peanut topping. The employee then went around the corner and then returned with the bag of chopped peanuts. This did not appear to be very efficient for the workers. Upon leaving the building, I realized the employee overfilled the container, not securing the lid, and ice cream and chocolate was oozing all down my hand and arm. I stood in the parking lot and ate what I could with it all over my hands and the parking lot. With no trash containers in view, I walked back into the store to throw the mess away and used the restrooms to wash my hands. Clearly something is wrong with this store!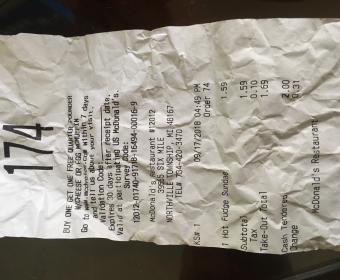 Went through the drive through about 5.30pm 22/9/18, one car in front of me. Ordered cheese burger and a large cappuccino from Holden Hill SA. Received burger but told to wait in waiting bay for coffee but couldn't say how long the wait would be but told it would be wait. Waited for a while and gave up Paid for product didn't receive.

Kathy Brabender
from Madison, WI
I love the SW salads, but his time the chicken seemed half the normal size and very dry.
There was so much lettuce and spinach it was like I was eating a plan lettuce salad.
It was horrible.
Resturant #13480 - 9/19/2018 - 5:30pm

Scott Kremers
from Charlotte, NC
The incompetence of your employees at the Arboretum shopping center store in Charlotte N.C. is staggering.Twice I've left the store because of (1)unreasonable delay when attempting to order and (2) an incredibly long wait ,along with 12 other cars in the drive through lane after placing an order.With no movement of the cars ahead of me I parked my vehicle and entered the store, Customers were waiting to be acknowledged,but were being ignored. There was one employee serving the drive thru,too busy to take orders from the customers inside the store. The only other employee present appeared to be the cook.A women and her daughter had waited so long that she requested that a fresh batch of french fries be prepared,not wanting to eat the fries that had been sitting for God knows how long. I received a surly response from the employee,telling me to get back in the drive thru and wait my turn. At this point I canceled my order. I will never frequent that establishment again. In fact I doubt I will ever eat at a McDonalds again . I rate my experience a negative 5 stars

Kate Evans
from Manhattan, KS
It isn't worth the time nor the food to tolerate the rude dismissive service my party had to put with at Westloop McDonald's in Manhattan Kansas. The mornings you are treated with respect. But the incompetent staff of the evening made several people wait too long for their food, while those coming after them were given their food quickly. My guest was finally given 2 undone quarter pounders and the fudge sundae was melted as they left it on the warm counter too long while the rest of the order was being under cooked. (that is how stupid the staff is) I watched this and is when I went up to the clueless manager & told her 3 people were served & given their food AFTER my guest and another poor patient customer had ordered and had to wait and wait. I refused my cone, told her I wanted my money back and I was turning them in for their socializing with people instead of paying attention to their customers. Why in the world would we have to wait nearly 30 minutes for 2 hamburgers, a melted sundae so that the staff of McDonalds can socialize with the few people who came in they recognize? No respect for their customers, taking advantage of the politeness of paying customers. I will never recommend McDonalds to anyone who wants to come in for lunch or dinner. They gave other people their cones quickly after ordering, WE & another person were ignored and with the given the ice cream has melted? We paid for this garbage!???

jack Grodner
from Dayton, OH
Sat. Sept 8th I went to the McDonalds on rt 48 south in Centerville Ohio about 6:30 pm I ordered a hamburger, small fry, a cheeseburger, a quarter pounder with cheese and a large fry. Due to the long line behind me I did not check my order which I believe a customer should not have to due, and my order was not complete. They forgot to include the hamburger. I am not looking for a reimbursement, but I feel it is imperative that your employees check every order for accuracy before it is handed to the customer. Thank You

Brendon Louth
from Toronto, ON
While pacing an order of a Mac and two large fries,I had to repeat myself 4 times Because your server SHERIFF Did not know WHAT A MAC IS The man was just rude, he informed me that he speaks 4 different languages but did not seem to know what a MAC to me as a customer this is unexeptable.this happed AT Queen and Javis Toronto. I will put the word out to all NOT TO EAT ORDER ANYTHING FROM THIS LOCATION UNTIL THIS MATTER IS CORRECTED. YOURS BRENDON LOUTH.

Jason McKinney
from Chicago, IL
Went to the McDonalds in Southfield, Mi on Northwestern highway by 12 Mile and ordered a Bacon Smokehouse combo in the drive-thru. The attendant asked me if that was what I ordered and then still gave me the wrong sandwich. Got a plain chicken sandwich.

john estabrook
from Greenwell Springs, LA
I called the store in central on hopper rd within 30 minutes and they said they had the new chx tenders. went down and they were out. for this store it's not the first time they just wanted you in and didn't have the product. mickki ds in central sucks.

Jerry W McCoy
from Monroe, NC
I'm probably wasting my time. But, here goes. Customer # 253, time : 11:39am 9-6-18 ,Store # 2601, Monroe, NC 28110. I told the manager (Taych) the diet coke was out. I stood there for a response. So I said sir, what about the diet coke, he turned around and said with a very smart attitude, did you not hear what I said. I said you have not responded to me and let me know anything after standing here for 5 minutes or more. He turned around with an attitude and ignored me. People like that has no place in public work.
I expect a response in a timely manner, if not, I will put this whole experience on Face Book, and Twitter in capital letters McDonalds experience in Monroe, NC , Store #2601.

ziggy
from Independence, MO
went into mc donalds in pleasant hill mo 64080 on 7 hi way
and order the two for five this was at 9:20 pm i was very hungry
hadent had anything to eat all day they take my order and while
i am waiteing for my food i nappened to look back were the food was
being made and notice that the person makeing my burger had one glove off
handleing my bugers with a bear hand he did us the the thongs to get the burger out of the hot tray but put them on the buns with his bear hand
so i ask for my money back and they gave it back but the guy kept comeing up until i left giveing me dirty looks
thatwas totally un called it not my fault he had a glove off doing his job and why would he have one on and one off
i told the front counter that i wanted my money and the reason and she told him to put on his glove and he did
but befor that he had served about four or five orders with no glove on bottom line i will never eat there again thats just to nasty for me
and as far as a rateing that place gets a big - 1000

Caro McCutcheon
from Collins, MS
I have been a Golden Arches fan since 1950. No more. My friend and I went in for iced coffee lattes. We did not want to use the kiosk so we went to the counter. After an extended wait, the manager finally noticed us and asked if we had been served. No. He instructed the male mopping the floor to take our order. He attempted to do so after he wiped his hands on his apron...hardly sanitary!! He was unable to place the order..after many questions..and called the manager over. After an argument and with much difficulty, the manager FINALLY succeeded. As we stepped away from the counter,the man behind us was also obviously irritated that he had a repeat his order for a hot fudge sundae twice. Since then, I have spoken to several other people who have had unpleasant experiences since then renovations and will take their business to Wendy's rather then to return there.
As for the new renovations, all the chrome, low counters, emptiness, kiosks, etc would be appealing...IF you were an ice cold robot. It is hardly warm, friendly, family oriented atmosphere that was the original appeal. I suppose the next move will be to redesign the McDonald clown as a robot

Jo Ann Maples
from Seguin, TX
McDonalds, Seguin, Texas.
First the young girl that took my order had the attitude she could care less about my order. Second even with the cashier she could not count my change back. Third after waiting 20 minutes for my order and not receiving it I decided to ask for my refund. Which I received. The Seguin McDonalds needs a better manager!

Ronald Wells
from East Orange, NJ
Hello to all I hope this complaints reaches you of right mind body and soul. However I experienced an encounter in one of your locations in Elizabeth by Division and Trumble Street that disturbed me. The manager during the graveyard shift refused to give me his name for this complaint after I complained about his credit card machine being down repeatedly during these hours forcing people to use cash from atm inside. In addition, it was reported that this store refused to grant a receipt for purchases made in cash. This led me to believe theft of money is going on during these hours. The Police were called but took some time to respond so I was forced to leave and go to work. The manager even refused to give me my order of Sausage mcgriddle, after mistakingly giving me the bacon mcgriddle. As a result, he refunded my money and refused to serve me my correct order. Another employee got involved by calling names as I video taped his actions.

ronnie terrell
from Louisville, KY
I went to mcdonalds at 330 today and ordered chicken tenders he told me they were out of them and would not have any till tomorrow how can a multi million dollar business be out of a product at 330 in the afternoon we have some bad management or something I don't understand please explain. the location is at us 42 prospect at timber ridge dr 40059 there is no excuse I was really pissed

Sabrina Burnett
from Minneapolis, MN
I went through the drive-thru yesterday and ordered 2 other breakfast items and an egg McMuffin with no meat. I looked in the bag when I received my food, saw 3 items, and saw that one had the white sticker on the wrapper, so I drove away, believing my special order was correctly handled. When I got home and unwrapped it, however, my egg McMuffin (correctly) did not have meat, but also DID NOT HAVE ANY EGG. It was an English muffin with a slice of cheese. That's all. The sticker on it said no sausage. It did not say to hold the egg. This menu item I order ALL THE TIME at that restaurant (and receive correctly most of the time) because it is my favorite item, went out missing the key ingredient: The egg. The other menu items were correct.
This was the restaurant at 5400 West Broadway in Crystal MN. The receipt is almost useless because there was hardly any ink in the register, so I can't be sure, but it looks like it might be store number 581, or perhaps 531. I couldn't make out the phone number because the receipt was so light, so I had to google the phone number. I called the restaurant twice and it just rang and rang; I never got to speak to anyone so it was never resolved. This was not during lunch or dinner rush, this was 2:30 in the afternoon. It was a very frustrating experience.

Terry Lovato
from Montrose, CO
McDonalds here is getting worst as time goes by. First I was buying quarter-pounders then they are now letting not cook all the way. I call them had to take it back to them and was told they are suppose to leave then a little bloody the Corp told them they stated. Now tonight I went and bought fries and guess what they are pinching the cup to give us a lot less but for the same money. First time I was told to bring back the quarter pounder and which I did and they give me another one just as bloody as the first. I had to drive all the way back there just to get a bloody burger again when I call they said they could not return my money but could exchange it for another. I waste to much gas running back and forth just to get a bloody burger again. I believe the next step will be to report it to a higher office.

tara brown
from Dallas, TX
I am a very upset customer with McDonalds (2) locations i visited last
Night was very unprofessional and I will never visit those locations
Again the McDonalds on Illinois let us sit in the drive thru for 20 minutes
Only to tell us they ran out of hamburger they only had chicken, now that
Is all well and good it happens but no one came out side to announce it
They just let the lines pile up we ended up leaving and once we left we seen
Two employees coming from behind the bushes smoking weed, we then left and
went to the McDonalds on 35 and Keist it was worst all of the employees were sitting
Around talking from what we could see inside and the lines were piled up and once we finally
Got to the intercom we were then told they were out of one item we wanted so we
proceeds to order the remaining food and we stayed in line 15 min one person order a big order
So instead of them telling him to go park we had to wait and once i
Got to finally get my order the fries were threw in the bag and cold they were not in the
Holder they were just in the bottom of the bag and cold i got a soda that i did not order
And the clerk asked me several time my order saying very rudely i just got here. I am here to say I will never go to either one of those location again.

Victoria Farley
from Macon, GA
Today 8/18/2018, I came today to speak with the General Manager Mrs. Sonja of Day Shift, my daughter works there and they always having words, so I took her to talk to the General Manager, since she the only one my daughter having problem with, I asked her to come outside to have a conversion, after we talked, she didn't know that I had came in the Store behind her, everything we talked about outside she came in and was telling the other staff, that my daughter is a grown woman but she got her mother to come up her questioning me, and was repeating everything to them.
There have been many time she had words with other employee, she unprofessional, messy, and very childish, and very petty, how can you manage a store if your employees have to fuss and curse you out, then she will take the person off schedule for two week because they voice their opinion of how she do things there.
Signe is a very hard worker and she always come to work when they call her to come, but this Sonja is the only one she have problem with, today the night manager even call Signe to come back to work, after Sonja sent her home around lunch time, just because she questioning her.

Ronald Kendrick
from Gastonia, NC
I witness a shift leader berating an employee in front of customers of and her co-workers for no apparent reason. His name is Antwain Cunningham at the Mcdonalds on West Franklin Blvd Gastonia, NC. This is the second time in this Mcdonalds I have witnessed his behavior. If he is in management and behaving that way I will stop bringing my family and tell my friends not to bring their families either. He was out of control cursing, swearing. In my opinion, I think he is power happy and should not be employed until his attitude is adjusted. The management team there
must really be desperate if they allow him to continue to work. I was so intrigued I asked other employees about him and they said he has curse them and their parents. Mcdonalds surely you can do better. I own a small business and if I were to talk to my workers in front of my customers that way I'm sure my business would suffer.

kevin delong
from Fort Wayne, IN
When the alleged give away of the Big Mac coins was announced I went to 4 McDonalds in my area starting at 11 Am. I was told by all 4 stores that they were sold out. Very strange all 4 sold out 1/2 hour after the minimum start of being able to buy them at 10:30 as before that only breakfast was sold.. Found out by employees that assistant Managers and store managers were not issuing coins and holding them back to sell on ebay or trade for cash under the table. Found on ebay over 1,100 listings for MC Donalds coins. What the employees told me was absolutely true

McDonalds Complaint, 17 Aug 18
On 17 Aug 18, I walked into the McDonalds's N. 15635 on John Young Blvd in Orlando FL to order a meal. I ask the attendant if they offered military discounts and she did not know so she asked the manager (Shawanda?) and she offered a 10% discount. I asked for my free Friday med fry and she did not know how to do that and asked the manager. She ended up canceling my order and reentering it. She said to place my on phone bar code into the reader. I tried to bring it up and it would not allow me to bring up the free fry code. It kept telling me to relog in. I did about five times and then tried to reset my pass word. The app asked if I wanted to reset my password to log in. I tapped on it and it dropped me into a loop and would not allow me to log in. I asked the manager what I should do to get my free fries and she said to enter in the barcode for the scanner. I explained the app would not allow me to do that and asked her what to do. After her telling me and me reexplaining it several times, she out of frustration provided the free medium fries. When she printed off the receipt, I noticed I did not get the discount anymore and pointed it out. She said I did not get the 10% discount anymore because she gave me the free medium fries. She then provided my hot fudge Sunday and I had to ask for a spoon and nuts.
When I went up to ask for the spoon and nuts there were two others having the same problems and received the same response (it is the customers problem and/or corporate).
I was not impressed with her problem solving skills and lack of knowledge of customer relations.
I provide this to correct a number of issues identified so other customers do not have the same negative experience.
Thank you.
Curt Read
4630 S. Kirkman Road, #416
Orlando, FL 32811
253-227-6995
curtread@hotmail.com

Ray Ford
from Broadbeach, QLD
This morning I ordered a sausage n egg a bacon n egg muffin with a hot chocolate from the drive thru I was about 1 minute up the road when I started eating the bacon n egg which wasn't very hot to start with but still continued to eat it anyway when half way through it I felt a crunch of a piece of egg shell and immediately with discuss spat it out the window and then proceeded to turn around and go back to complain about my finding and when speaking to the manager that was there about it he asked if I had brought it back with me I said no I hadn't as I instantly spat it out the window where he explained back to me that without proof he cant do anything about it so I queried him about that if I did bring it back that he was actually going to physically sift through some chewed up food that I had already crushed in between my teeth as proof I think not and as I looked to me he was in a bit of a hurry to go home and in my view was very rude about the whole situation so before I lost my temper with this manager I left disgusted with the whole experience hence why I am now putting this complaint in which has put a real shitter on the start of my day other than that the service from the girls was always a pleasant experience as I frequent that store regularly , thank you R Ford

Isis Billings
from Miami, FL
I applied for employment on August 10, 2018, I understand for reasons unknown to me that I was not hired, The problem is that I called to find out if a decision had been made since I went to an interview, Lilibeth the Manager said that I was not hired because I was a felon! I said what! I just graduated high school and I'm going to college and to be told I was a felon, over the phone really distrubed me, I was shocked, and hurt! Did she say this because I am a young Black American, was it because the way I look, I just don't understand why! I can't understand why she would say that to me over the phone. I have NEVER been arrested or in any trouble, because of this I will NEVER eat at or go to the McDonalds located at 6150 South Dixie Highway store number 792, I would like for someone to contact me about your policy and why the Manager would treat me like this, I can be contacted at 7863469714 and email Tilisab35@yahoo.com

Jacqueline Pearce
from Garner, NC
I went into the McDonald's in holly springs and couldn't believe what I witness. I don't know what the circumstances were, but a manager called an employee the devil... Not in jest, but to be mean... The employer!looked like she wanted to cry it hurt her feelings... And it was bullying... I left... I hate that I left before getting names... I was just so angry

Rosalie Wilson
from Evansville, IN
I have the worst experience at Mcdonalds on Broadway Drive; in Hattiesburg MS every time I visit that location! There is a manager ; young African American female, that is so rude and disrespectful! I ordered and was asked to go to a space labeled #2; after sitting for 15 minutes; she comes out and ask for my receipt; and then begins to tell me that my order was given to another vehicle; I just told her to refund me. After following her into the establishment ; she proceeds to get loud; and be very unprofessional; and gives me an amount not equal to the amount tendered. I paid $20.11 and she attempted to give me a little over $18 back which was the amount before taxes were added! This location is HORRIBLE! There are too many "kids" working there that clearly knows nothing about customer service! It is so sad when people have to drive 20 mins out of their way to get McDs; because that location sucks

susan medrano
from Gainesville, FL
i asked if i could have my big mac off the grill and the manger was rude and told me why did i say anything and told me i was not getting hot fries i got my money back

Fred Beyers
from Southfield, MI
While I understand that the majority of the business at your outlets is through your drive-throughs, as long as you have inside dining it seems that as long as you continue inside service, it should actually be SERVICE.
I also realize that the training of two trainees contributed to this morning's lack of service. When I entered your establishment, there was one customer ahead of me who had apparently had difficulty getting her order read from her phone, the kiosk, or something--anyway there were three people attempting to straighten her order out to no avail. The shift manager then came to help and after a while got it kind of straightened out?? and then proceeded to take the orders of two employees at the second register while the trainee took my order at the original register and gave me a ticket. Meanwhile I believe two, if not three individuals were involved trying to get the order ahead of me done not sure what the problem as it wasn't a huge order--a little over $6 I believe--mass confusion--finally after a total of about seventeen minutes I simply asked for a refund and left--the manager was very apologetic but I felt that I had been more than adequately patient.
Perhaps you should simply discontinue inside service.

John dimatteo
from Pittsburg, KS
I made a complaint to Corperate already. I ate at the McDonalds in southpoint ohio at the Wal-Mart and I got sick the next day I thought at first I had the flu so I stayed in bed for two weeks then I started showing signs of hep a so I went to the hospital and they told me I did so I reported it to McDonalds Corperate I was there with my girlfriend it was on the 15 of July she returned her food cause she took a bite of her burger and it was still bleeding I had already ate mine and I don't eat out a lot so I know it came from there the store is dirty.. Your insurance company called me took all my info which is American family insurance the claim number is 00225242737. I have a lawyer looking into it... The lady I talked to is trying to close the case cause she says that I wouldn't have had hep a symptoms the next day she don't understand cause I got sick from the food the hep a symptoms showed up two weeks later when my pee turned reddish and my poo looked like clay so I am right and if this is how McDonalds and their Insurance agents treat people that's messed up I know where I got it and I'm not going to drop it this shit could mess up my liver for life and who knows when or if it will leave my system I read up on it and everyone is different..and I will drag McDonalds threw the mud if you all disregard my case I will YouTube it ill stand in front of any of your stores with a sign I really don't care I just know this is messed up and if this is the way McDonalds treats there costumers that meased up and the world will know I will make it my life goal you can bank on that no threats I promise..... 304-962-0518

Mary M Friedline
from New Port Richey, FL
Went to the Mc Donald's (#21597- 8937 Rancho Del Reno 34655 hard to read receipt could use ink in machine) and ordered 4 bacon egg n cheese biscuits. And then proceed to go home , which is about 4 minuets from there. When I got home and took the sandwich's out of the bag and unwrapped them, the biscuits were hard . Not just slightly hard, I mean HARD. I have gotten breakfast sandwiches numerous times before and never had a problem. I was just wondering if any biscuits left over at the end of the day was used the followering day. Thank you for taking the time to read my complaint.
Thank

Pamela Greer
from Mission, TX
waited in line for almost 8 mins after ordering. Was there a total of 14 mins drive thru. Ordered what I order every other day... Large coke light ice and sausage and cheese mcmuffin.... no egg as I have reactions with egg. I didn't even pay attention to receipt, as I deal with same lady in morning and was just chatty... plus in a time crunch to get to work on time. got to work, was in my morning meeting came out to eat- egg on sandwich... check my bank account almost $5 taken out... my total is always 2.37 so I know I was charged for a sandwich I always so no egg on. Not happy. Now I cant eat till dinner tonight.

Refilwe
from Johannesburg, GT
Carlton center- The service is poor ,orders take long and they don't provide straws ,serviettes and ketchup for take away orders. And don't know how to handle pick hours and towards months end.

mae fallowfield
from Sun Valley, NV
the mcdonalds in sun valley Nevada sucks and the workers don't listen to what the customers want every time I go through drive thru I tell them ice tea with lots of ice and I get the tea and no ice get workers in there that don't have their heads up their asses are you may lose a lot of customers I rate you at no stars

Gregg Carter
from Seaside, CA
Piss poor service. I went to mcdonalds in sand city California and waited more than 40 minutes for my order. One staff member kept calling for order #268. He kept calling it so I went to the counter and asked if the order was mine and was told by the shift manager Lana that "it was still in the oven and it will be a few minutes for your order. Lana said the customer for order 268 must be in the rest room. I went and looked and I was still the only customer in the building. I was called to the counter for a bag of apple pies. I asked where is my order and they said that it was the order #268 that they kept calling. I am furious beyond imagination at the total ineptness of the people that are representing your brand/store. Sum total of my time spent was more than an hour. I asked for a refund and left the cold food with them. There was more ineptness because she did not give me the 2.99 for the apple pies that I left there. I am not going to end this until these two people are reprimanded. The names are Mgr? Lana, and the person Harold who took my order and did not even check to see whether it was my order, when asked about the order he shrugged and that was it!!!!!!!!!!!!!
I will pursue this until my satisfaction is met. I am now on my way to Jack in the box to buy there. This episode is absolutely untenable and inexcusable.
At my consultant fee of $102.00 an hour I will have by the time I go to Jack in the box and back will have been 240.00 dollars. I would if possible like to speak to headquarters concerning this horrendous service.
Gregg Carter (831-747-1664)
p.s. while I was waiting for my order she had the gall to be at the counter eating a hamburger instead of attending to her customers orders.

michael vialpando
from Phoenix, AZ
I ordered a cheese burer with no catchup and still got burgers with catchup

Constance Mitchell
from Brooklyn, NY
I placed an order on mobile app. When I reached the McDonald's at 875 Garrison Ave, Bronx, NY 10474. I informed the cashier that I was there to pick up my order. She stated you have to check in. I showed her the app stating that they see me at the location. She said you have to check in. When I tried to check in the app showed that there was no internet connection. I explained that to her. She said, "oh well you have to purchase the order again." I said, why when the money was already deducted from my checking account. She proceeded to take orders from other people like I was not standing there. Eventually, she said to cancel the other order. I explained that I do not know how to do this can you guide me. She stated, "I don't know how to do it." I ask to speak to the manager. She said, "I am the manager." I ask for the number to corporate office. She said, "look on your phone." At that point, I was very disappointed with the services I received from someone that has the title of manager. I went outside and contacted a mobile team representative. The representative told me to re-install the app to my phone and the order should erase. I went back inside and waited to be serviced and the manager that was taking the orders had disappeared. There was no one standing there to take orders. I said to the worker that was handling the food, is anyone coming to take my order. She stopped what she was doing and came to help me. I feel that I paid double for my breakfast. I feel that I wasted time when I was due at work. I am very unhappy with this location. Every time there is always an issue. I had two previous events where I used my card to purchase food and someone obtained my information and spend $49.00 in food and then proceeded to make other purchases at order merchants. Also, I used my credit card there and was told it decline. I went back to the job to get my other credit card and to obtain cash, just in case. My card was declined again. The same manager decided to say, "oh the credit card machine does not work." This is my fault for going back and patronizing this establishment because the service there is horrible and the employees lack proper training in customer service. I do not have money to give away!!!!!

DIANE BERRY
from Shelbyville, TX
I ordered food at the drive thru window . when I went to the window to get my order the young lady started handing me the wrong drinks. I told her I didn't order the items given. she had to ask for my receipt. after looking at my order. I was told she gave my order to the car in front of me. told me to pull ahead and wait while they had to make my whole order. this took at least 20 minutes. I was not given a sorry or anything such, not even an offer for a free drink or sandwhich.
very disappointed , my family uses Mcdonald's several times a week. never had any complaints. an apology could have at least been given.
thank you

Jennifer Daniel
from Shelby, NC
The McDonald's I went to tonight I had ordered a buttermilk sandwich and when I got home to eat it, it tasted like it was not cooked fully and had to end up throwing the whole sandwich away. I refuse to return to that McDonald's location since this is not the first incident like this and I'm tired of wasting my money on something that I have to throw away and the company will not compensate without having to waste gas to return to the same location.
Restaurant #11438
Order #86

Frank Guzzo
from Prairie du Sac, WI
The service is GREAT ..The burger was raw in the middle and I did not see it untill I had eaten half. brought it back to the. counter. The manager in charge,looked at the meat and agreed. She replaced it. Second one was raw in the middle. She informed me the kind of the meat has been changed recently and when heated up to temperature, it kills all bacteria in the meat. Needless to say, I had an upset stomach all evening. I won't be ordering hamburgers again, and passing the word onto my family.

Charlotte Jadicus
from Ipswich, ENG
Just been to MacDonalds in Colchester Stanway . Was told that i cant go though drive on my mobility scooter as i cant get into store with scooter. The lady was laughing at me .
This is not the way to treat customers and will be getting some legal advice about this . Macdonalds are discriminate against people with disability's

Keyisha
from La Grange, GA
Went to macdonalds on commerce ave in Lagrange Ga I advised the woman over the drive threw speaker that the dinner side was not lit up just the breakfast side and she said theres nothing I can do about that so I took my business else where....

Tim Walker
from Johnson City, TN
McDonald's advertises free fry Friday with the app then when I visit the store here in elizabethton, Tennessee today at 4:30 pm I order 4 cheeseburger 2 large fries and the Friday free fry... I pull up to the window and the girl taking money informs me she has no idea what the free Friday is... so..... I just buy the 2 lg fries and 4 Cb.. pick up my food at the next window and drive 3minutes to my house from McDonald's we get home sit down to eat and the burger is as old as I am, the fries are cold... I'm not happy at all..

i recive the worst service my oder was wrong and i wanted them to fix and they said they dont have to very rude

wendell murray
from Lexington, KY
tried to go into the store and the front door is locked (7:46am)but they are taking orders in the drive thru.i went to the window and told the manager and she just looked at me like I was crazy and left the window...

daisy aldridge
from Springfield, OH
I have been to this mcdonalds a lot and always so slow as needing help I assume. tonight long time to wait on in drive thru and then got cold fries again as I knew that upon leaving but the line too long to go back. . had enough of this mcdonalds. one car pulle d out from waiting. . went ahead and ate now stomach upset. #34778 .1480 hillcrest ave. springfield, oh 45503 7/26/18 1007 pm. order 63.
Have feedback for McDonalds?
Thanks for your feedback!
Sorry. Please try again later!