McDonalds
McDonalds Complaints Continued... (Page 11)
1026+ reviews added so far. Upset? Call McDonalds corporate: 800-244-6227

In the last 3 months I haven't seen any of the McDonald's staff members wearing name badges AT ALL which in the industry is ridiculous. I have never been soooo disappointed in service. I wont be going back any time soon. In the last 3 month there has been problem after problem after problem. Month end weekend in February they had no chips. The week after that they had no milkshake mix.  Two weeks after that they had no buns for burgers. Every time I go to McDonald's Benoni staff have no name badges. I requested a rude ladies name and she didn't want to give it to me at all. I requested the head office number and she didn't want to give it to me at all.
When I got upset they spoke in a different language which is terribly rude to say the least. If that's not bad enough the security guard in the parking lot gets involved and waving his finger in your face and telling you he isn't scared of you will definitely convince you of bad service like never before and NEVER AGAIN!

This Past Friday my husband, daughter, two grandchildren and myself, stopped at the McDonald's Store in Many, Louisiana, I have never seen such a dirty place where you have to sit down and eat. The tables were greasy with flies every where looked like they had not been cleaned in a very long time. We had a 8 month old with us and the high chairs were so corroded with filth we could not let her sit in one. The ladies restroom was smelly and very dirty. I really think someone from head quarters should stop in unannounced to this McDonald's location and check it out for themselves. I am sure that they wouldn't like what they found in this restaurant.

I have noticed over the past several weeks that the sausage patty now being served at McDonalds has a different flavor than it had previously. The current one is not very good, this moring I stopped at the local store and asked, they confirmed that the recipe has been changed and that it is not as good. I also want to complain about the french fries, 40 years ago McDonalds had the best french fries anywhere, period. This it when they were being cooked in beef lard and tasted more like meat than the burgers did. Then the "health" craze took over and the "vegetarins" and it has been downhill ever since. I hope that McDonalds can change back to the ways of old, and bring some loyal customers back.

I've been in Kingsville TX for a year now. I hit McDonalds about every weekend in the morning (don't know why I keep going). It's come to the point where I'm ACTUALLY on a complaint forum the service is so bad at this place. They literally get less than 50% of my orders right. I get everything from the wrong sandwich to jelly packets w/ my breakfast burritos it's pathetic. There are 2 McDonalds locations in this town. One has only hot picante and the other has only mild… it's been like this for a YEAR. You think the McDonalds managers could get together and swap some out. Obviously they don't care about their customers or their business.

McDonalds sucks and here is my complaint about McDonalds. Their large thick shake is now a medium and watery, I couldn't believe it when I took off the lid and looked inside. Also very disappointing that the new McDonalds Mcdoubles have different cheese, are dried up, and only have a spec of onions on the hamburger. I was ripped off and won't ever go back to this place again. I'm freezing this so-called large thick shake and showing it to everyone to make sure they don't go back ever again. Instead of responding and making quality they get the lowest cheapest crap out their and hope that nobody will notice, not cool. PS McDonalds sucks!

I just wanted to find out why is it every time I head do McDonalds at Night before work (I work 3rd shift) I would feel like having a Hot Mocha and they would say that their machine is down. I start work at 22:00 cst so it would be around 21:15 when I would come around to get one and can never get a hot mocha, it's really frustrating as McDonalds customer. You guys advertised it so much on how good it is but won't keep the machine's up until at least midnight before shutting it down. I'm getting pretty tired of having to go through this every time I want one, why not give me one? Can you please get this fixed for all the people that works third shift would like to maybe have one before work. It would increase profits and sell more hot mocha's!

Had recently filed a customer complaint to Mr. Paul Samuelson, a McDonalds customer service Representative about the wi-fi problems I was having. Dear Mr. Samuelson, received your mail about my complaint to you from 5875 -20th st vero beach about the wi-fi situation. I want to thank for listening to my wi-fi problem at that McDonalds location. And taking an interest to my complaint that was to me a disgusting scene there, causing me not to be able to use my wi-fi on location. Now i hope i can go back and enjoy that delicious chicken sandwich that we all love to eat, (in peace and quiet) at your location. Thanks Again Sincerely Jerry Epstein.

I ordered a filet-o-fish today @ McDonald's in Green Bay, WI. This was the 91st McDonald's built in the US and has the ORIGINAL Golden Arches dating back to 1958. I began to eat the fish sandwich, & realized there was no slice of cheese. I went back to the counter and asked why there was no cheese. I was told by the [not-so-customer-friendly] manager, Jamie, that 1/2 slice of cheese comes on the sandwich,and has been for a long time. But there wasn't even "1/2 SLICE" to be seen. I lifted the top of the bun,…only TONS of tarter sauce. I lifted the bottom of the bun only to find a "1.5" by 1.5″ melted circle of cheese".
I couldn't tell if it has been a slice or a squirt of cheese. I requested a sandwich that was as pictured on the menu, and was told by Manager Jamie, "Well, you can't go according to the pictures." I think that McDonalds needs to be HONEST about what is and what isn't on a sandwich. If a slice of cheese, or even half is pictured, that is what I would hope to find on my sandwich….NOT a 1.5 by 1.5 inch circle of melted cheese located UNDER the fish filet. HOW long have you been doing this? Is this an attempt to hide the scant amount of cheese? SHAME ON McDonald's!!!!!!

I visited a McDonalds restaurant today for lunch. I love the $dollar$ menu. I ordered a cheeseburger with mayo and onion only. I'm thinking the total would be $1.10-$1.15. I literally had $1.25 in change. The cashier says $1.39! I know it is not a lot, but to someone who is counting change, every penny counts! I had $1.25. I asked why it rang up to that and she claimed because I asked for mayo and mayonnaise is not the condiment that comes on the sandwich. I thought maybe she heard me say EXTRA mayo, but no, that would be another $0.30. I ended up having to get a plain McDonald's cheeseburger because I was $0.14 short.
I would think it would be a more rational choice to just give me the burger, rather than throw it away and give me a "plain" McDonald's cheeseburger. My idea is to not charge anything for condiments. Maybe if someone requests extra, but not otherwise. Thank you and this is my only problem with McDonald's restaurant. Your coffee is the BEST.

I went the Irving Blvd, Mcdonalds and received sorry service. The Spanish people got good service, from what i observed over the course of 6 months. The redone Mcdonalds in Irving TX. And same thing at another one on Irving Tx, off Story Rd. Same thing at a Mcdonalds off 183 and Esters Rd in Irving Tx. Then i moved and went to the Mcdonalds in Stephenville Tx three times, same treatment from Spanish employees at Mcdonalds. They hardly speak any English language. Now i do not like Mcdonalds. I did want a job there, at a few of them i mentioned, but now i'll wait till they complain of their work a lot, then move in to them Spanish workers, what good customer service is, no matter what culture you are from…disgusted!!!!!

Spanish staff at McDonalds, Manhattan, NY, Penn Station, Madison Square Garden, discriminates against non-Spanish with the 30 min rule (eat and leave w/n 30 min). They told me it was a 20 min rule. Only non-Spanish persons was asked to leave. I spent $8 at McDonald's, I paid w/ Credit card but McDonalds machine was out of paper so I didn't get a receipt to prove to the police that my 20 or 30 min time limit was not expired. A floor sweeper/mopper (60 yr old male Spanish) told me "you must go now". I guess I was in the way, and this is the only way a frustrated staff can vent his anger about his "go nowhere because I can't speak proper English lowly" job.
Unprofessional, not courteous. I went to the manager, Spanish woman, no help whatsoever. Is this how you treat your paying customers? It is 2:45am at Penn Station. There is free WiFi at McDonald's, I had my computer. Later, 6 MTA Police are at McDonald's, some hands on their guns, saying I must go. Intimidation. Clearly, they wanted a confrontation. I asked the sole black staff to give me my other order of apple pies and I left. What was I supposed to do? The Spanish staff stereotype all blacks. Police do the same. The Spanish are taking over!!! They work hard, they may deserve it.

Here is a good scam going at McDonald's, I went to pay for the meal at the drive thru window and the lady accidentally dropped my change on the ground. I can't open the door to give her change from the ground, so I just said don't worry about it. I just happened to look on the ground and noticed there was lots and lots of change on the ground. It was a scam, she would collect the change when the cars slowed down in the drive thru. I found out later in the week and that person doesn't work at that McDonald's anymore so beware of the accidental drop of your change at McDonald's!

In a week's period, either me or a family member have had wrong orders given to us at McDonalds in Ogdensburg. I went inside, placed an order, got home to find out I was missing a filet of fish, and paid for it. My brother, the same day, was shorted a filet of fish. He was going through the drive through as I was ordering inside. Also, my niece was shorted 2 filet of fish at McDonalds within the same week. Luckily, her father told her what had happened to both me and our other brother, and she checked the bag at the drive through to realize she was given a quarter pounder in place of of the 2 filet. McDonalds workers need to pay more attention to orders and fulfilling them accurately. It's very frustrating to get home and realize that you are shorted food for someone that is waiting to eat!!
Burger King, here I come, which is located right across the street. Starving in Ogdensburg…

I know you might hear this a lot but i have had it. I needed to vent about the drive thru service in Rockford or Loves Park IL….every McDonalds you go to the service sucks…people make a joke that you have to do the job of the workers so you get your complete order. Today i ordered two happy meals in the McDonalds drive thru and they asked me if girl or boy toys i stated girl…well i got home WITHOUT checking my bags…thinking to myself omg i know better not to check and sure enough…NO FRIES…AND THE TOYS WERE BOY TOYS. Ok I can see messing up the toys but COME ON two easy meals and the same and NO FRIES. The last time i went to McDonalds they gave the car in front of me MY ORDER.
What do they hire for staff…And people REALLY NEED to take PRIDE IN THE WORK THEY DO…i dont care if you are washing toliets…TAKE SOME PRIDE…stop worring about boyfriends or if your hair is ok…SHOW some respect for your employment…. i am ticked off at McDonalds…

In store McDonalds #1807 order # 257 [3-09-11] my order was taken incorrectly and I didn't get my fish sandwich. I got chicken which the ticket read but did not check until I got home. In the last month I have been shorted chicken McNuggets twice which my wife and mother in law love. This time I checked the bag to see I had 2 boxes of chicken nuggets and a sandwich which I did so I was surprised when on arriving home I found no fish sandwich. If it wasn't for the terrific fries, apple pies and coffee I would go down the street to Burger King. Somebody needs to get these people at McDonalds to pay attention, they are not the only fast food restaurant in town.

I had to wait in line inside for thirty minutes at mcdonalds to place my order on march 5 2011. they had one new lady on the register who had very little experience. six times it took to get the order placed and i only had 1 happy meal, 1 #10 meal, and 1 mcchicken, 1 value fry, and 1 tea. this happened at store #12161 in port st. lucie, Florida . please if mcdonalds cannot do better than this as much business they have they need to close up and go home.

My husband and I stopped in at the Vincennes Indiana Mcdonalds on thursday morning and my english muffin was burnt and the edges of my egg was burnt. The hash rounds tasted like they was soaked in oil and had the oil taste. I told the manager on duty and she said don't know its not my store just filling in here. Will not eat breakfast there again. It was horrible.

My daughter got some coupons for McDonald's for valentines day. When I took her there to eat then use the coupon we were denied to use it. My daughter was crushed as she has several of the coupons from class mates. I talked to a Manager and his response was to find out where the coupons where purchased and used them there!!! I'm sorry, but how in the world would I do that and how humiliating to ask a parent where you bought your coupons!! There is NO where on these coupons where it say valid at the McDonald's where you got them from!!! I'm very disappointed and I may NEVER eat at McDonald's again! What has this world come to?

Had to do the the Heimlich maneuver to my friend who choked on a piece of plastic found in a double quarter pounder from McDonald's. This happened in Oromocto NB Canada on Friday 25th, February 2011 at 1130 pm. I am looking for compensation from McDonald's for this incident and don't know where to go from here. Contact me at, fabianhenry79@hotmail.com, Thank you.

I have a complaint about the mcdonalds on 1642 pitkin ave, brooklyn NY. the worst service ever, from mgmt down, no control, everyone has a poor attitude and the food sucks big time. I'm done with mcdonalds, first time shame on you second time shame on me!

My friends and I went to Mcdonalds to get some food from the drive through and we placed some specific orders. Then after arriving home we saw that the staff only gave us half of the order. We then had to get in the car and drive all the way back. We then queried the McDonalds staff, and they were totally clueless about what happened. We supplied them with the receipt, and only then did they find the rest of our order. By that time the food were already cold, and we also realized that they did not remove the onions from 2 of the meals as we asked for. This was not the standard we are accustomed to from Mcdonalds.

I went to all 3 McDonalds in my city. They each have a huge advertisement of the Monopoly game they have going. The first sentence is that no purchase is required to play. So I asked for a free Monopoly piece. They said you need to by a meal. I showed them their advertisement right in front of the counter. Their reply was always you buy and meal and the Monopoly piece comes free. I said you sign says no purchase required. Your telling me it is required. This is definitely false advertising. I tried to find a way to complain to the McDonalds headquarters, but there web site does not give you anyway to complain, only how do get a franchise or job or coupons, etc.

2/2/2011, purchased 2 breakfast sandwiches and coffee at McDonalds. employee wore no gloves putting the sandwiches together. witnessed McDonalds employee placing egg, meat and cheese using no plastic gloves for any customer. I ordered two sausage biscuits, one hashbrown, and a small orange juice at 1610 sycamore view 38134 memphis,tn. The sausage biscuits were both burnt. I'm an african american woman and my sausage biscuits were the same color of my skin. The hashbrown was cold and taste old as if it had been sitting out for years. A
And the small cup of orange juice was $2.99 and it was a very small cup that shouldn't have been worth $2.99. I couldn't take it back because I had no receipt and plus class for college had just begun, so I had no choice but to throw it away or eat it and die

I currently work at mcdonalds and I can either be the nicest worker there or the worst. Next time you complain, you might need to consider this before you do. When ordering through the drive thru at mcdonalds, be sure to look at the 12 inch screen displayed in front of you to ensure that your order is accurate. Don't say the mcdonalds big mac meal is yours when you clearly ordered a large coke and that's it. When we park you, we do it not in spite of you, it's because your food is obviously not ready. So don't come in all pissed voicing your observation! The reason nothing is stocked is because fat people like YOU GUYS keep coming in  to mcdonalds and ordering a ton of food!

I wanted a smoothie from McDonalds, so I pulled up to the drive thru window to order. The lady starts screaming something crazy through the mike and so I politely ask her to slow down and that I can't understand her, maybe it was her accent I dunno. Finally I got tired of this, drove up to the window, but she never came. I guess if you can't hear the crazy foreign immigrant on the microphone, McDonalds doesn't deem you a worthy customer! I get that America is diverse blah blah but seriously most people speak English McDonalds, can you not hire people who speak it as well! Da da da I'm hatin' it!

Jesus… I understand if i see an overweight person eating at subway , but mcdonalds? GUYS, CUT DOWN THE FAT OR YOU'LL DIE .

peggy booth
from Sevierville, TN
McDonalds Rest. 1977 Cumberland Falls Hwy., Corbin KY.........................
My husband and I stopped in Friday July 6th around 1:00 AM right after midnight on Thursday. Ordered four cheeseburgers and a large order of french fries. Paid young unkempt man at window.
Drove to next window and noticed more young unkempt people behind counter. Didn't notice any McDonald uniforms on these people. A young female had a sleeveless dress with criss crossed wide straps in the back exposing her bra. We commented to each other about the young people and the unprofessionalism. We recieved our food and left.
Luckily, I decided to get my burger out and eat it in the car. I opend it to remove the pickel and found there was NO MEAT. . My husband told me to check the rest of the burgers. Unbelievably there was NO MEAT on the others and the fries were barely warm. Needless to say, we drove back. Explained to the young woman that there was no meat on all four burgers. Her comment to us was that the cook was very stupid and that he was the dumbest cook she had ever known. (not making this up people) We let her know the fries were barely warm. She said they were going to get right on it and get us taken care of. She asked us to drive forward and wait. We waited and waited until my husband became impatient. He backed the car up to the window and asked the young man what was the hold up on our order. He said it was coming up in a minute.
We waited and waited again while looking at the young people behind the counter talking and standing around.
Finally the order came. We checked and found hot fries and meat on the burgers but no napkins or the extra ketsup my husband had previously ordered.
This is by far the worst McDonald's we have ever visited. Can't imagine what the restaurant looked like inside. The owner needs to know this and the manager should have approached us with an apology. Whew!

Oscar Albarez
from Van Nuys, CA
Mc Donalds located in California city ca on 9628 California city blvd. Have been using $1 dollar Sandwich. Coupon located in Mc Donalds app, and have been purchasing a Quarter pound with cheese that is supposed to be 100% real beef but actuall have been using leftover beef to serve the $1 dollar sandwich for the quarter pound with cheese.

MICHELLE SUTTON
from Cleveland, OH
Please advise the best time of day to visit this restaurant for good food or good customer service? I haven't found any time of the day that the restaurant personnel are courteous or helpful! I went through the drive thru at 9:00 PM tonight (07-06-18) and could not see their menu board due to NO LIGHTS on any of the menu boards. I asked that the lights be turned on and they could not do that! The lights may be on a timer but they should be on by 9pm and if not, the timer needs changed.
I wasn't sure what " type" of shake item I wanted. Order taker said SHAKE MACHINE WAS DOWN!! This is the third time I have gone in at different evening times and the shake machine has been down. The shake machine could be put on wash during the times of 3:00 am or 5:00 am and it would not create a problem. I told the order taker well I can't see the menu board and you don't have any type of milkshakes so GOODBYE! Ridiculous!! This would be a "good place to start a restaurant!" I speak from plenty of restaurant management experience as I was the manager of several restaurants and have 10 years management experience. I was paid well, respected my customers and my restaurants made money. Thanks for listening, Michelle Sutton mybadcat@yahoo.com

Joe Woodle
from Mullins, SC
I visited the McDonalds at 2014 Irby St. Florence, SC today and the service was pathetic. On top of getting my order wrong, it took at least 10 to 15 minutes to get my order, there was only one other person waiting inside the store. It was hard to understand why it was taking so long because there were at least 10 associates standing behind the counter (not including the cooks and sandwich artists in the back). The manager and assistant manager were among the 10 associates. If this store makes any profit it is a wonder. The owner of this franchise would well served to take a good hard look the operations at this store.

Thomad Anderson
from Tacoma, WA
I've been going to the same restaurant in tacoma wash.980404 on 72nd pacific ave.I order sausage egg mc muffins 2 for about year and a half my complaint is more then not most visits the muffins are so hard you cannot bite into them I've brought this to the attention of so many different mangers .some replace the food some say bring in the receipt I'm always in a hurry not looking for free food I just can not understand how a muffin could get that hard it's been a constant problem I've worked in many restaurants it's pretty hard to over cook a English muffin unless it's burned and I've received both burnt and stale hard as a rock wouldn't give it to the homeless person.that should say a lot you have a problem I will visit one more time and if I waste almost $7.00 on 2 more inedible mc muffins I'm done with your business sincerely Tom at pensharpen@hotmail.com

James hilliard
from Wheeling, IL
The bacon mc double are ok but the bacon is like eating rubber most of it is fat. On your app there are No prices for any of the Coffees and doesn't McDonald's care at all how each and every store are being Operated !!!!!!!!. Plus the McDonald's that I go into there is little or no real management.

Oscar Alvarez
from Pacoima, CA
Received a phone call at approximately 10:49am from a person named Ashley concerning some feedback I provided to the customer service number at 18002446227, ashley said to mention the name Ashley in mc donalds when ordering and also mention that Ashley said an ice latte would be on the house. So i did today on 6/30/18 in the morning and received a plastic cup with uknown substance Inside not a latte at all. Appreciate the gesture but it was an uknown substance and that I do not appreciate.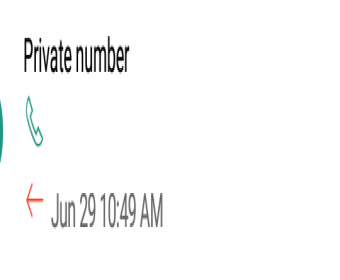 Bonny
from Johannesburg, GT
I was in the shop to buy food for my family and i have received a very poor service. I have asked for manager and they Refused to call him or her for me. We were left unattended without any notice for more than 5 minutes. I have sent The lady called Goitse, Mpho and to call manager the just ignored me. I am so disappointed really about the poor service. On top of that o have waited for my order for 45 minutes no communication. I have also spoken to the guy called Ditiro and he told me that Manager said he or she is busy. Is this how you handle your customers. A guy called Eliot attend me only after i have sent my complaint. I will never go and buy there and i will not recommended anyone to buy there. Disappointed with poor poor poor service. If you think i am not telling the truth sent unknown person there and this is not for the first time.
Regards
Bonny Molale
076 861 5162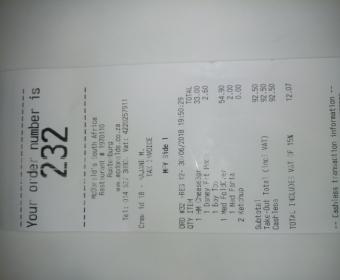 linda garrett
from Cleveland, OH
food all over the place, floors greasy and slippery, fry girl told the order taker to stop taking orders. out of 8 beverages all were water except for three NEED I GO ON? I WILL NEVER GO BACK THERE ONLY IN THE WHITE NEIBORHOOD DO YOU GUYS CARE ABOUT BECAUSE I HAVE CALL ABOUT THIS BEFORE SO GOODBYE TO MCDONALDS

Bobby Adkins
from Marietta, GA
worst svc. ever = I had to wait over 15 minutes to receive my order + a 5 minute wait just to place the order
all in all = it took over 20 minutes to receive my simple order of 2 mcmuffins = all of the workers are evil obama clinton
deep state democrat racist scalawags who hate white americans = like myself = I will HATE mcdonalds for all eternity
you evil basdtards are ALL evil "obama-clinton" democrta communist nigger nazi thieves = damn you bastards to hell!

Louise Healy
from Tucson, AZ
Yesterday I went to the Mcdonalds at Park Place Mall in Tucson, Arizona; there were about 4 people ahead of me; while I was waiting I saw that one of the customers before me had 9 individual orders; each with its own money; the line was getting longer and the gentleman working the counter did not get more help to move this line along. After standing there for 20 minutes; I gave up and left even though I really wanted a Mcdonald's Fish Sandwich. When I looked around a little while later; the person with the 9 orders was waiting for the orders and the line has not gone down. In my opinion this was not what I would call fast food. if you have to stand and wait to order for a long time; that is bad. I will probably not ever go to that
Mcdonalds again and that's a shame because I happen to like their food. Could someone please contact me reference this matter; it was very disappointing and I don't know if I would recommend that place to anyone.
Thank You
Louise

Mary Pandey
from Elyria, OH
North Ridgeville, Ohio Lorain road location. Double Quarter Pounder was RAW... Took it back in and did not get a new one. Left disappointed.

Carol Spencer
from Jerseyville, IL
I am a regular at McDonald's. Coffee at least 3 times daily. I take my grandkids there and often grab a sandwich for lunch. Jerseyville, IL McDonald's has to be one of the worst..Often times, no complaints. However, the last month service has gone very poor.. I always get cream in my coffee.. Many times, 3 to be exact, no cream when I get my coffee to work. My granddaughters happy meals are not complete.. No fries, wrong items, etc. The turnover of employees seems to be very high... Today, I experienced the same thing. One poor girl working who appears to be training two new employees at one of the busies times for drive through.. I no longer see any familiar managers.. I think I need to look somewhere else for my coffee fixes...

boo bob
from Fort Collins, CO
Specifically referring the the south college mcdonalds in fort Collins, Colorado. they are going through yet another remodel and choose to stay open even though it horribly inconvenient and a disservice to their customers. the customers get nothing from this remodel, could care less what the building looks like. on top of this they have raised their prices again. they are thieves who think they can charge whatever and treat the customers poorly. I will go elsewhere, the food is very low quality, hamburgers so thin you can see through them and grainy. awful

Nancy moreira
from South Weymouth, MA
I purchased just a lg. hot coffee at rest.#2599 at 10;08 am.When I got back to the car and went to put the cup in the car cup holder,it popped open and sprayed hot coffee all over my car seat and my hand.I doused it with bottled water I had.it turns out that the paper cup was damaged on the lip and that is why the lid didn't fit correctly.My hand was painful and red the whole morning at work.

Barbie
from Milwaukee, WI
I just had a new quarter pounder and it was the worst thing I have ever had. The burger was dripping in grease and I had to use napkin just to eat it and catch all the grease. Could not even eat it. It was dripping grease all over me and my car. If you used quality beef there should have been that much grease. Come on this is not healthy. Never will have one again. Thanks for listening!

Roger and Pam Dalrymple
from Chantilly, VA
I would have given store 3663 in Westminster Md. 0 stars if that was possible -- the poor service, long wait, and poor quality of the food when we finally received it on 12 June was brought to the attention of the store manager, with many promises by him to make good by sending us a McDonalds gift card, to be used in any store -- to date, nothing has arrived -- the last message we received said the card(s) had been mailed on the 20th, nothing has arrived as of the 27th, and most of our inquiries go unanswered. Clearly not high on his priority list. We are asking for the name and contact info for the district manager, and/or of the owner, and are asking for any simple resolution to our request -- it's time for McDonalds to fix this. Thank you.

sherry
from Pleasanton, CA
Out here in Rwanda CA. Wanna the manager won't serve the home less for the past for years this is been going on so much tussle there's a bout a forget of us or more where going to the medeia

Milton Wilcox
from Foster, RI
I asked the weight of a mcdouble hamburger patty and it was a problem telling me. It was a simple question

C. Barth
from Chicago, IL
McDonalds Restaurant #12157
Mequon, WI on 6/22/2018 @ 9:55am
Upon entry the crew demeanor was horrible! No one smiled, no one seemed in a hurry to place my order. There was one person waiting for their food already. One female worker with an attitude , who I am assuming was trying to go on break, was standing about 4 foot from the cash register we asked if she was waiting she told us to go ahead. We stepped to the register to place order and a guy (who I assume was still training) had the register open attempting to break a coin sleeve he closed the register and very softly spoke while still holding the half opened coin sleeve. I told him I could not hear him so a tad louder he said "go ahead".I told him I wanted 2 sausage egg muffin meals with breakfast sauce and one with a coffee and the other with an orange juice. He looked at me very confused and said "two sausage muffin meals?" I said yes he said "oh I put in 3." At this point a few other customers walked in and the lady that was trying to go on break walked back around the counter, with an even worse attitude, to assist the guy with putting my order in. I had to repeat my order another 3 times and just to be told they didn't have orange juice. Meanwhile, a few other people walked in to order and one lady asked if they could open another register and the female worker just looked at her with an attitude and shook her head. I said oh ok then a milk. She told me my total and then walked off. I used my debit card to pay and then the guy handed me my the receipt and said have a nice day. At this point I was waiting for my food to come ready. Two different people from the drive though came in to get their order corrected. Another worker walked in to start her shift who also had an attitude, started to ring people up. Not once did she say hello to anyone or smile. Several people told them they were out of ice and lids. Not one worker said sorry or went to stock the empty stuff they just took a lid out of a sleeve from under the counter and handed it to the customer. Now, there are about 8 people waiting for their orders. Three people received their order before me due to the drive through girl clearing my order before I received it. The worker that was trying to go break ordered her food and went and sat down. The worker who had just clocked in a few minutes ago kept playing with her phone and even had her phone sitting on the counter next to her register. When she wasn't playing with her phone she either had her arms folded with a horrible look on her face or was too busy with her hands down the back of her pants trying to pull them up or whatever it was she was doing. Either way, that is absolutely unacceptable!!!! I do not want you handling my food or drinks or touching anything after you just had BOTH of your hands down your pants!!! It took 18 minutes for me to receive my food and then I still hadn't been given my milk or coffee. The front end manager handed me the drinks and I had to ask to get creamer. She had 3 very long fake nails and the others were missing making me wonder if they had fallen off in someone's order! Out of all the customers, I was the only one who was apologized to for the wait. As a former McDonalds employee, I know the standers that are expected of the employees. NONE of which were met at this location. Not one employee seemed to want to be there nor do their job. I know times can get busy and hectic but that still do not excuse the lack of worker ability nor customer service. The only crew member that was attempting to hustle was the back of house manager making the sandwiches. The women's bathroom had urine on the floor and needed some serious attention. The food and coffee was barely warm. As many of McDonalds I have visited in my life, this location is BY FAR the worse!!!!! This entire crew, minus the trainee, needs a serious attitude adjustment and need to be re-education on what customer service means and the expectations of the job they were hired for!!!!

Paula Smith
from Florence, KY
Your McDonald's store on dream street in Florence kentucky is the worst. I went there on June 15, 2018 at 9:30 pm . I was in the drive through for 30 minutes and when I did order the manager said there was only one other person working there besides her. She told me that she was going to close. That store lost so much money that night. The drive through was all the out to the street and a lot of them were leaving because of it. Someone needs new management. Sad very sad....

Anthony Arnold
from Fort Wayne, IN
I have lost all confident in the two McDonalds that we have close to us as they just don't care about the customers and the stores are ALWAYS dirty and can never find a seat and that they only care about drive thru. Its too bad you don't have someone who can impersonate a customer and see it thru their eyes as this will tell the whole story.
I have work in food service most of my life, and it's an embarrassment to see how these stores operate, and if there were competition in the area they would not be in business, as people deserve to be treated as guest not just another number on the screen.
One of the other stores that we visit we waited 30 min just for a plain chicken sandwich while fifteen other tables had been taken care of, when I talked to the manager on duty I was informed that they were short staffed and that they apologized but if I had any time to eat somewhere else I would have but instead my 30-min lunch break was over and had to eat on the run and ended up buying a Snickers bar just because I would not have time.
I hope this response and survey doesn't land on deaf ears as I feel it might, because the bigger a business becomes the less important a customer will become and more important is sales.
Please PROVE ME WRONG!!!!!!!!!!!!!!!!!!!!!!!!!!!!!!!!!!!!!
I submitted this complaint to McDonalds and they NEVER Followed up on this as I guess they would. God I hate being right.

Gerald Robinett
from Auburn, WA
I went thru the drive thru ordered a double quarter pounder meal with a coke went fine got my food pulled over in the Walmart parking lot to starting eating my meal Now I eat all my food before drinking anything so when I got to my coke and took a big drink and wow to my surprise my was not only coke but it had whiskey or rum in it and strong too at first I thought I was crazy so I took it home to have my wife taste it and she was surprised as I was it definately had alcohol in it I called the Spanaway MC and reported it to a manager she told me she was going to tell the other manager and would review the camera footage she took my name and number but I have yet to hear anything from them I have the coke in my fridge I'm not sure my next step is going to be this is a really serious thing and should find out how who and why someone put alcohol in my coke just lucky this time it was not a child who received this coke

Lori Petlock
from Hollidaysburg, PA
The person who took my order at the drive through window at station mall, Altoona, pa 16602 on 06/12/18 was very rude by making me feel rushed to order, extremely poor hygiene, and handed me my change and turned and walked away without saying thank you or have a good night. She seemed so disgusted that I was there to order food. I will never return to that location ever again.

Ray Tutor
from Glen Allen, VA
Waited in the drive thru of so minutes place order still waiting to pay get to window to pay waited some more get to next window to get food gave me my drink ask me to pull up they would bring food out. Waited 12 minutes they bring me my food. The food was cold not warm why did I have to wait 12minutes to get cold food . Extremely dissatisfied very poor service.I
Restaurant #17539
893 Garrisonville Rd
Stafford Va. 22554
Ray Tutor

greta bircheat
from Bowman, SC
2 drive through windows creates confusion for your staff in keeping orders straight, 4 out of 10 orders are not correct;correct (sounds like a small % ); however. when you live 12 miles away, it becomes a wrinkle in your day. My 9 year old grandson, a pain when his food is not right, likes plain burgers with cheese ( never eats bread) frequently has to have his fast food washed off and re-fixed at home. I have learned to pull over and check each burger before I leave. June 9th his burgers were wrong again so I drove around again, The order girl asked if I was the burgers and mocha, I said no 2 plain double cheeseburger; she said drive to the next window, At the 2nd window I was asked if I was the burger and mocha-repeated my order-she asked if I had my paper - she closed the window then returned with a bag, When she handed me the bag, I was trying to return the other food, she closed the window and walked away. I pulled down and checked my order and found 2 plain burgers in the bag instead of 2 plain double cheeseburgers. At his point I was to mad to go back and talk. Your staff at the windows should practice customer service and learn to smile and greet customers..People should feel they are welcome at McDonald's even if orders have to corrected.My grandson thinks we should eat more chicken and tacos until they learn how to get the orders right

FRANCIS J NICOLO
from Rural Valley, PA
I'M A US NAVY VET AND ON MY WAY HOME STOPPED AT MCDONALDS IN ST MARYS ON JUNE 8TH FRIDAY AND PLACED A ORDER
BETWEEN 1:30 AND 2PM, I WAITED 40 MIN. FOR A FISH SANDWICH AND FINALLY WENT IN TO COMPLAIN AND THEY PROMPLY
GAVE ME MY FISH SANDWICH AFTER I COMPLAINED, NO EXCUSE FOR THAT, POOR MANAGEMENT I WOULD SAY, SURE PEOPLE MAKE MISTAKES, BUT UNACCEPTABLE IN THAT PLACE OF BUSINESS, I BELIEVE THEY FORGOT AND I WILL NEVER GO IN THERE AGAIN, I'M SORRY BUT THATS THE WAY IT IS, BEST WISHES, FRANK.

Theresa Ann Burkholder
from Lancaster, PA
I was at the north reading rd Ephrata Pa McDonlds this morning and I sat in the drive thru line for all but 20 min. They only had 1 person working both windows and when I got my order (after I had driven away) I noticed my order was even wrong! This is ridiculous that they only have 1 person working at 7:30 in the morning!!!! I will probably not go back there!!
Theresa Burkholder

Michelle McKinnie
from Crete, IL
Good Evening, I am writing this letter to file a recent compliant. I went to the McDonald's in my neighborhood today 6/2/2018. Unfortunately, my experience in the drive thru was horrible. I sat in the line from 5:44pm to 5:54 pm just for a Southwest Salad. I am not certain what is going on with this McDonald's, however this is not expectable for a Fast Food restaurant. Possibly this site needs additional help? I know this is not how McDonald's wants to be recognized. However, this has happened on numerous occasion1s.
Richton Park-McDonald's ILLINOIS 60471

Brenda Batey
from Anniston, AL
I contacted the store directly and the manager had a awful attitude after 3 attempts to get what we wanted I called to discuss the issue an the manager who stated her name was Susan was sarcastic and very rude and would not resolve our issues nor did she want even talk about it she rather argue than try to explain to me that they were wrong so we paid for three items that we did not want nor do we order and she did not even attempt to fix it, sad that a manager is so childish an would rather talk over an I've worked in the restaurant industry for 25 years an never have I experience a manager that was an awful as she was,so we spent money on 3 items we didn't want nor ask for because we did not know the proper name of the coffee the drink that we ordered she refused to even look and she kept saying we don't have frozen coffee instead of explaining to me that their coffee was called certain things she wanted to argue about it, pathetic service when management can't control themselves 1 even 2 mistakes but 3 an to then have her conduct in a manner to which she did ,maybe McDonald's has just taken anyone who doesn't remember there job title and how to act,I've dealt with employees who had more common knowledge than her,I've been a customer for a long time an I'm ashamed of McDonald's an who they allow to resolve issues,very dissatisfied an shocked at this type of behavior she might not care but I work hard for my money an this is has a feeling of takin my hard money from me an didn't care shame on u

tonya trail
from Oxford, MS
They blocked off all the doors and said the lobby is closed and it dont close till 5am here. Then after they said they was closed they let people in but not me i feel like they was being racist toward me me cause im half white. And they told another lady they was closed too. A black couple they let in. There something needs to be done bout this. This is at your marion sc 29571 location.

Shaun
from Johannesburg, GT
Every time we come to Mc donalds by the entrance by carnival mall, which we visit twice a week they tell us that we need to go and park something doesnt work, but everything outside work and the card machine, is this purr laziness or what??? Also what happen is that u can place an order by the drive thru and pay then they will tell u to pay and go park when there is no one infront to wait for an order!!! We are a family of 5 and spend alot of money there and like i said twice a week, but this is getting out of hand and if this wount change we will rather drive to another mc donalds.
From a very very unhappy customer!!!!

Carol Phillips
from Portsmouth, OH
quarter pounder with cheese was not cooked completely. This has happened twice--yesterday, May 8, 2018 was the second time.
as expensive as these are, I do not appreciate having to throw 1/2 of it away.
this happened both times at the Mc Donalds in Thurman, Ohio.

Joyce Sankus
from Linville, VA
I placed and order when I got to the window to pickup I was told that the French fries were cooking would I move up. More than happy to wait for fresh cooked hot fries. To my surprise when I was given the bag the fries were not fresh cooked infact they were cold, (very cold) This is the second time I have not been happy with this McDonalds.

merle Overton
from Greenville, NC
this is the second time this has happen at the Mcdonalds on Greenville Blvd, Greenville, NC. Service was very slow and employees not friendly at all.
I ordered a large Moca Fappe, it was in al large cup but only about half full and whip was then added to make it look like it was full and the whip was not even at the top of the large cup. When I questioned if that was large I was told very rudely that it was. this is the second time I have gotten less than a full cup. thought maybe the first time was by accident so I did not say anything. I did not say anything then since it was packed with customers. I eat at Mcdonalds several times a week and was very sadden by the service at this location.

Don Myers
from Phoenix, AZ
I ordered the Big Box, extra plain burger and large f2f at 5:30 p.m. after approx. 20 minutes I went to manager asked if my order would be ready soon. He said "I thought that one had been served". I said "no I`m still waiting". Finally got my order at 5:53 p.m. From the temp. of the food as well as taste I believe they found my order sitting waiting to be served and they gave me my order that had been sitting for at least 20 minutes. There was no apology to go with my cold soggy ff and burgers no "sorry for the wait to go with my hard stale hamburger bun.
It was Restaurant #4518.
Don Myers
reggired69@cox.net

Atif malik
from Islamabad, IS
dear mcdonald my name is Atif malik Deputy captain of the army from askri 14 rawalpindi 03415772011 Today I went to your branch at jinnah park rawalpindi I am going there for eight years But today, for the first time I feel so bad there There was one of your female employee Naila This name was written on their shirt i was so hurt today by listening to such a dirty language With McDonald's Staff That my heart is broken today after going there That's why I can not go there with my family So please keep your quality as the first Otherwise we have some other options.

Stephanie hanway
from South Sioux City, NE
You gave us coupons so we could try McDonald's in Sidney me again no grilled chicken again this time machine broke what is wrong with this place

Ernest Anthony
from Franklin, NC
Bad meal didn't eat it about $8.50 want my money back April 14 at about 12 sylva NC 28713
today I ate at other place not a MCD
Ernest

patricia price
from Cincinnati, OH
it mcdonald on 5341 glenway cincinnati ohio i go to mcdonald a t least for 3-4 time a week because it right down street from me i have lot restaurants around me burger king/rally/subway /firsch/plus more i choose mcdonald lately i have not been complaint but this time your third shift is very bad about 5:00 in morning on saturday morning i alway stop at mcdonald before 5:15 in morning because i know it take at least 15 minute for order i was there on 4/21/ at 5:19 am no one didn't answer for a least 5 minute so i waited a couple x minutes no answer so i drove around to place order inside the door are lock and said on your door that they open at 5:00 am so knock on door they walking around like zombie didn't response so i call no answers call again at 6:45 no answer this time really disappointed at customer service i work at hotel front desk so this business is 24 hour so can imagine i not at front desk for 5 minute when a guest come up to checkout or not answer phone i in business of make sure guest is taken care of i have so very bad time to but i smile and deal with it that business you in with customer service

dora steele
from Jackson, MI
i went to drive thru at 1130 on 4/19. my order was wrong The fries were old and the nuggets were hard. I tried to call that night but didnt get an answer. So i called the next day and talked to the night manager and he said he would replace my meal. I went up there showed my receipt and first the lady manager acted like I was lying and she was very rude. The night manager finally figured out who I was. I waited for an hour to get my replacement meal and then they gave me the wrong size fries. I asked for a cup and she said I only replace food not drink. The lady manager that was there at 8 pm was very rude.

Pat
from Hendersonville, NC
I just watched an appalling incident on FB that someone took with their cell phone. A good Samaritan took a homeless man into a McDonald's to buy him a meal & the establishment called the police to have him removed. The meal was paid for & the good Samaritan & the homeless man were made to leave by police. The establishment would not give him his $$$ back. McDonald's is a public place & anyone should be able to go in & buy food & eat it w/o any discrimination. That is not what happened here. What's this country coming to? Please view this link to see what happened. I believe you also will be appalled. Hopefully some restitution can be made here & the mngr called on the carpet for treating a customer like this. https://www.facebook.com/ViralAudience/videos/166686257315103/UzpfSTE1MD...
Thank you for checking this out.

Terry K Ward
from Sebring, FL
I almost died today from choking on a Egg McMuffin today because it had Egg Shell in it! The egg shell cut my gums and the rest went down my throat, I only realized it had cut my gums after I had almost choked too death; now I know how people feel that has almost choked too death, it's a CHILLING FEELING!
P.S. I guess there is no Quality Assurance at McDonald's, people be sure you check everything that you eat from McDonalds first; because all the shortcuts they have been taking the last decade or so must be catching up too them!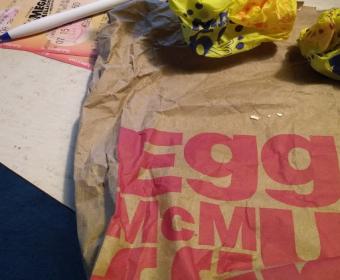 Doyle Yates
from Barstow, CA
My wife and I were at this location on 04/18/2018 @ 02:30 PM. ticket #351 order # 51. They took our order and I paid cash and was given my drink cups. When I got to the drink machine the whole area was dirty and drink spilled all over the place there was drink spilled on the floor in front of the machine and down the isle way for several feet. I let someone at the counter know. They had someone come out to clean it up. He did not do a very good job. Then we went to get a booth or table to eat our meal and we had to go to 3-4 tables and booths because the were so very unclean with food and drink on them and around the area. Then when we got our food it was not very good either the sandwich had old dark leaves on them. My wife and I at this point decided to leave. I did not talk to management about this because I did not want to cause any trouble. We will not be going to this location again.

Beverley Walls
from Mississauga, ON
I would like to start this off by saying that I was under the impression that the drive through was for convenience ! I have experienced nothing but slow incompetent service each time being served by Nadia !!! This morning as usual I went through the drive through , slow taking order, but we have come to understand that multi tasking is not her thing , however we ordered 2 medium blueberry smoothies, 1 large coffee and a medium hot chocolate. When we got to the window we paid the amount due only to have Nadia at that time inform us that the smoothie machine needed to be filled !!!!! Are you kidding me, we have jobs to get too, and her incompetence just put us back 20 minutes ! she told us to pull aside and wait for the attendant to bring out our order, which we did . I finally had to go in and see what the hold up was, no smoothies were made, I asked for a refund and told Nadia that this is not an isolated incident, that she's incompetent on the window and every morning we dread her being our server. Had she of told us that the smoothies were not available at that time , we would have just taken the rest of the order, the fact that we paid to sit and wait on her convenience is beyond disturbing !!!!!! This location does have extremely friendly staff, however Nadia is not one of them. Using the Creditview & Eglington location is an everyday stop for myself along with the many staff I work with . Nadia is not the girl to have on the window when people generally like to start their day in a refreshing mood too take through the day !!!
Thank you
Beverley Walls

john madey
from Berea, OH
I went to restaurant 3710 in Berea Ohio and placed an order at 10:17 pm today 4-17. This location closes at 11 pm.I ordered a hot apple pie and was told that "they were out." I asked the drive thru attendent why they did not have pies and was told they stopped making them at 10 pm because the manager tells them to to avoid waste.This has hapend before at this location to me and I complained as I am doing now.You're corporate office responded the location manager called me and I was assured it wouldn't happen again.so with enough time passing they again do what they want.I feel if you have a menus item it hold be available.

Tod M
from Walla Walla, WA
I seen the Mertle Beach incident where a man brought a homeless man in to buy him a meal. Management called the police to remove the homeless man just because he is homeless~!~ Then they made the good Samaritan man leave also. I WILL NEVER STEP FOOT IN A MCDONALDS AGAIN~!~ I personally know many people with whom we share experiences in life, and you can bet they will know about this~!~

Samuel
from Rhinelander, WI
The McDonald's in myrtle beach Florida is full of bitches! Kicking out a homeless man how horrible
Have feedback for McDonalds?
Thanks for your feedback!
Sorry. Please try again later!