McDonalds
McDonalds Complaints Continued... (Page 13)
976+ reviews added so far. Upset? Call McDonalds corporate: 800-244-6227

This morning 21st of sept about 830am in new town Wellington Mac Donalds drive through, I had a incident with one of the staff members there. As I pulled up in the drive through I had wined my window down as I attempt to turn my music down the team member over the speaker said turn your music down and don't be so rude, before I could turn it down.due to volume button faulty. eventually had turned my music down then told me he wasn't going to serve me and to leave the drive through I thought that was abit rude and asked for his name he refused to give me his name and left fuming because I was late to work getting my sons breakfast down at the basin reserve Mac Donalds then back to day care in newtown. That was bad customer service and I am a regular customer to that Mac Donalds because I am local BuT having that experience this morning wasn't a good start to my day if this could be actioned and dealt with that will be much appreciated.

JODY RICHARDS
from Bedford, TX
I went through the drive through the drive thru at that location on 183 and Central . I ordered 2 cheeseburgers large French fry and large chocolate shake .
When I go to the window for my food - She attempted to hand me the shake, I told her I asked for a Large Chocolate Shake.. She told me that it was a chocolate shake, I told her is was not. She again insisted that it was, The shake may have had some chocolate syrup in the top part but the bottom of the shake was white. I do not like vanilla ice cream and asked her if they could put chocolate in it and mix it up .. (Hence the request for chocolate shake) . Someone came and got the shake and the girl asked me to pull up to waiting spot 2. I told her ok , as I started to pull off she told me to hold on, so I waited, she hands me the shake and it looks like they might have attempted to mix what little bit of chocolate they had on top but didn't even mix it . I didn't realize it was so difficult to make a chocolate shake, but it appears that you are overloading the location with so many types of coffees, drinks, slushy drinks they don't know how to make them. I took the shake from her hand and told her I was not happy with the shake but apparently they didn't understand the request . As I am leaving to pull out of the parking lot to head back to work with my food- I reached in the bag to get a French fry- (which was really why I went to McDonalds) and the fries were cold . ARE YOU KIDDING ME . Trying to rush me out of the drive through line , cant take the time to mix a shake properly and then give me cold fries. Not life threating issues of course but very disappointing. I won't be visiting that location again but I thought you should know how horrible the service was . And it was 11:40 am. I don't have a problem waiting a few minutes for my food to be done right . I do however have an issue with poor service and cold food.

Bonnie Reeves
from Spring, TX
I ordered breakfast on September 18. Two gift cards were swiped and they both said: transaction not approved. I was not given a response as to why two cards were not going through, such as: maybe the system was down. Is there a way that workers can check to see if systems are down? Just imagine the embarrassment of having 2 cards rejected! Fortunately I had my American Express card with me, so I was able to have breakfast this morning! I called the McDonalds 1-800 number to check my balance and there was money on both of my cards. This happened at the McDonald's at Louetta Spring Crossing, Spring, Texas.

Charissa Ragsdale
from Tulsa, OK
After going to McDonalds on Southwest Boulevard in Tulsa, OK for over 4 years every other morning during the work week, I had a terrible experience with this McDonalds and will never, ever go back. I saw the add Sunday night for either a sausage muffin or sausage biscuit with a hash brown for $1.50. We went there this morning and requested the muffin and hash brown and they told us that they did not have it. We got to the window and asked why they did not honor their TV add since they do have muffins and hash brown, seems simple to me to honor the add and not hold up the line and argue with us and make a regular customer mad, but they chose to do this anyway and were hateful - I will NEVER go to McDonalds from now on - Carl's Jr. here I come!!!!!!

Good morning
In Cape Town there is a taxi strike this morning. This morning, as I do every morning after I drop my child at school, I stop at the Plattekloof McDonalds for a cup of coffee since I only have to be at work at half past eight. The time 7h42.
Upon getting there, I tried to open the front door, but was shown, via a hand sign by the person behind the counter, to " go around", which I interpreted to be the door around the corner. Get there, but that door is also locked. Back to the front door and knocked, only to be shouted at by the person behind the counter that " their is a staff shortage, go around to the drive through".
I cannot begin to describe how outraged I was by this behaviour. A list of questions come to mind:
1. - you don't shout at the customer from behind a closed door.
2. - are the staff trained on how to deal with events such as these
3 - why is there not yet a sign on the door
4 - where is the night staff manager ( or was this member the manager?)
5 - oh!, and the best of all, there were customers inside the restaurant already. How did they get there?
The training of this branch's personnel has been a concern since I started going there about a year ago, and there are some other points to be addressed as well:
1. As I mentioned, I am a regular customer who orders coffee every morning. Every morning I have to ask to be given a tray, not offered.
2. No eye contact is made when I place an order. I have to fight with the conversation going on in the background ( between the personnel) to be heard. Not a "good morning, please may I take your order".
3. Trying to have a telephone conversation on your cell phone or the person sitting across from you, is out of the question, since the conversation between the personnel is too loud.
This is not the way I am used to or expect to be treated as a customer. The personnel is not at all client orientated, and carry on as if they are in their own kitchens at home. NO, absolute NO professionalism whatsoever. NO pride in their work. The customer are treated as an inconvenience which have to be gotten rid of as soon as possible, so they can continue their private conversations.
Please address this matter urgently, since this branch of McDonalds are not living up to expectations whatsoever.
Regards
Dee

Kvpintagro
from Jamestown, NY
On Saturday sound 7 pm I entered the Foote Ave location and placed an orderived for 3 adults and 4 children. I waited over 20 min for my food, patently bc I myself worked in McDonald and know dinner time is high volume. When my friend received his promotion sandwich the chicken gauqamoly, the chicken was dry to the point we couldn't even bend it to brake. When my friend asked politely for his chicken to be replaced he was told it was with in shelf life, and if he wasn't happy with that chicken he wouldn't be happy with any chicken. And there was NOTHING HE COULD DO. I then approached the counter and asked if he really just told him there was nothing he could do. I myself was a manager and know it's nothing to just replace the chicken on a $32 order. So I then took out my phone to take a picture of the sandwich and get his information to report to corporate. At that point my husband then began to record. The Manger tells us we need to stop talking pictures and videos now he will have us arrested. At this point he go's back to the office, I had recieved the information I needed and went back to the play area to join my kids. About a 30/45 min later an officer came to excoriat myself and my children off the property. I then upset and in disbelief posted a picture of the food I received and explained the situation. At witch point Deny Coca, his friends, and a few fellow employees begin to comment there opinions. Comments such as "we should have spit on it if it was to dry" to "his manager said he was in the right" . I myself have worked for the company and know that this is not corporates hospitality standards for management. I do not reflect one person actions on the company. I do expect the issue to be addressed.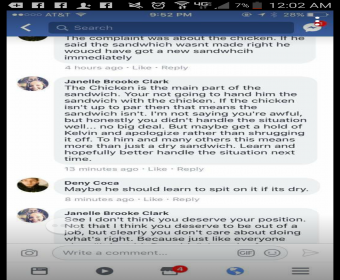 Manager refused to let an African American United States Air Force Veteran into his store in Castle rock Colorado at 1100pm. His reason was that he had no employees.Meanwhile an elderly Caucasian man was standing in the store waiting for someone to take his order. This was the exit 194 McDonalds.

Jeff Kosloske
from Des Moines, IA
I usually never have a issue with McDonalds, But the one tonight we went to pick up food at was terrible. I love Big Mac's and the fries are the best anyplace but when we got to work with our dinner it looked like our dinner went thru WW3. We are in Des Moines and went to the McDonalds on University Ave by Mercy Hospital. My god the fries were cold and burgers were all tossed in the box, Literally had to re-make them before we ate them. Its what Grandpa wanted for dinner in the hospital. It was very sad and the worst experience I ever had. Like I said I never complain but never ate at this one also. I always go to Urbandale where I live. I was so disappointed cause it might be Grandpa's last Big Mac and it was horrible. I will not ever use this one again and start going back to Burger King by work. Sorry even though your fries are the best around.

Denese Allen
from Charleston, WV
I went there yesterday sept 9,2017 my big Mac was cold and very nasty the fries same way the box the big Mac came in was all greasy looking on top I think they need to hire better help very rude employees

Alan Bazzini
from Grass Valley, CA
The Cameron Park McDonald's is by far the worst McDonalds ever.They run out of certain items. They do not have specials as advertised on t.v. and the help is poor to say the least.I end up going to Taco Bell a couple of doors away and everything is run like a fine tuned machine.Sorry for the lost business but someone needs a good quality check on this location.

Edith M Bergh #157 13401 Rancho Vistoso Oro Valley AZ 85755
from Tucson, AZ
I love my Mc Cafe drinks. But when I try to buy 5 and get one free it fails to give me my logo. It has happened at least 3 times now and I am tired of it.
What can I do.? I am a retired lady and I want my coffee. By the way I love those drinks. Please help me. I have at least 3 logos coming.
Thanks
Edith Bergh

From what I can affirm from. Mcdonalds does not like children. They fired my fiancé in Delphi, Indiana nearly 2 years ago for missing work for a miscarriage. I am now putting a youtube video together explain why mcdonalds is against children. I noticed as well that when the Delphi killer was around all the camera crews went to mcdonalds. OK so when mcdonalds fires a woman illegally for miscarrying a twin when the other lived in a risky pregnancy its OK, but when 2 kids get murdered its not. Mcdonalds is going down. I have everything in record with medical records for my fiancé. How much is a discrimination against a medical illness and pregnancy settlement for? couple hundred thousand,? maybe even a couple million? especially when she HAD doctors notes and written from her actual manager that it was ok to take time off for the doctors appointments but then turned around and fired her when she missed a day for miscarrying.!!! FUCKING BASTARDS YOU WILL PAY!!! I will make sure I destroy your food chain reputation in Delphi... I will be testing your managers legally as a customer and recording it on a hidden camera!!! btw I have heard the new one say spick, nigger and faggot quite a few times behind the line.... Fuck you mcdonalds Your Delphi Indiana food chain reputation will be ruined. :)

Gloria Sala
from Hollywood, FL
Came through Mcdonalds at 18250 NW 27th Ave at approximately 6:30 this morning which was September 1, 2017. The lady that took my order was very polite and energetic, her name was Mrs Janet, she's very professional. I'm garunteed to get awesome customer service when she's in the drive-thru. I haven't seen anyone else demonstrrate this type of service. I paid with my credit card, she informed me that the credit card machine was slow. It took 7 minutes for my payment to go through. Mrs Janet was very attentive to me as I waited, she apologized at least 3 times. Mcdonalds needs to do something about this.

Hope Lumpkin
from Baltimore, MD
WENT TO THE MCDONALDS ON PAXTON STREET IN HARRISBURG PENNSYLVANIA AND THE NIGHT MANGER WAS RUDE..ON 8/29/ AT AROUND 1239 AM EST MY SPOUSE PULLED UP TO THE ORDER BOX AND NO ONE WAS THERE..MY SPOUSE LATER BLEW THE HORN..THE MANAGER QUICKLY TOLD MY SPOUSE HOW HE BLEW HER EAR DRUMS OUT..WHICH BECAME A DEBATE FOR HER..BUT MY SPOUSE APOLOGIZED..AND SHOULD NOT OF HAD TO BECAUSE NO ONE WAS AT THEIR STATIONS AT THIS HOUR...THE MANAGER GOT RUDE AND LIPPY WHICH CAUSED AN EMPLOYEE TO DEFEND THE MANAGER AT THIS POINT STATED AHE HAD HEARD MY HUSBAND BLOW THE HORN WHICH HE STATED HE DID BECAUSE NO ONE CAME TO THE WINDOW...THIS LOCATION HAS POOR SERVICE, MANAGERS ARE RUDE AND THE EMPLOYEES ARE ARGUMENTATIVE
I WE LOOK FOR GOOD FOOD, BECAUSE WE PAY OUR HARD EARNED MONEY.....I CAN NOT STRESS ENOUGH
THIS LOCATION NEEDS TO BE CLOSED OR REHIRE NEW PEOPLE....SOMEONE NEEDS TO CONTACT ME

Dan Cortez
from Riverside, CA
Went to Mc Donald drive through on Spruce and Iowa in Riverside,CA I ordered a number 4 double quarter pounder meal. Just one meal. paid went to the window received my soda and was told to go to window two. Well nobody was at window two. After watching seven or eight cars behind me roll up get their food and leave at window one. I was frustrated it was 108 degrees outside and I'm stuck waiting. after ten minutes I left. Tried to call but the phone just said voicemail hadn't been set up. I got that message for half an hour. I don't know what their excuse is quite frankly I don't care. What I would like to know is Does McDonalds simply not want me at their establishment? It's an honest question.

Rafael Vicente
from Hollywood, FL
On today's date, 08/28/2017, I went to the Mcdonalds located at 17850 NW 57 ave miami, Fl. 33055. At the time of the visit, I went through the drive through and ordered a double cheeseburger which according to the sign was $1.69. When I got to the window to pay I spoke with a rude manager named Yaleny (would not give last name or id #). Yaleny stated that the price was $2.19. I told her several times that the price they have advertised is $1.69, she said no. I said every Mcdonalds I go to it's $1.69 she said so. She proceeds to tell me that she is pregnant and doesn't care. She was laughing and being unprofessional. There was also a worker behind her being unprofessional making comments about it not being a big deal. I know Mcdonalds does not care about any one customer but at the very least your workers should be polite and be able to explain any differences in price. All I wanted was for the price advertised to be honored. I left this Mcdonalds and went to one at 16701 NW 67 Ave and the price was $1.69. I believe Yaleny doe snot know what she is talking about, I know her English is not the best so I spoke to her in Spanish but she still did not understand about there being an error in the price advertised and the one that is being charged.

Robert Pena
from Phoenix, AZ
Your person at the register on Socorro N.M., very rude. I was paying with my card and swiped it then he said Chip, Chip, needs customer service training, then was in the process of handing my ice cream cone to the person behind me. I have never experienced this before at any of your other restaurants. Just a heads up from a frequent cistomer. at some of your other Mc Donalds

William Wasson
from Kansas City, MO
Went to the newly built store on the north belt highway in St. Joseph in Missouri. The service was so slow people were pulling out of the drive though lane and going somewhere else. This store, before it was torn down, had the slowest, laziest, employees I have ever watched work. My guess is poor management. McDonald's needs to start over and rethink their hiring practices. I love McDonald's and would hate to see their business fail.

Me and my son always we go to McDonalds in Mecca Maca mall. I asked for happy meal with 6 pieces but the lady on the cash did not know how to do it because I asked a toy with it. The same manager who always I had issues with him interfered and raised his hand and point it into my face (it was after 9 o'clock evening on 10,08.16) . The manager in duty his name is Mustafa is always rude and I do not believe that he should represent such well know chain like McDonald's. I officially raised a complaint by calling the phone number for the store by the manager hung up on me. So, I hope by posting it at Hissing Kitty I get some help!

Christie Rose
from Amarillo, TX
I sent in a complaint last week and I received an email back giving me some dumbass link to go to. I went to the link and it sent me right back to this page. I emailed back asking for explanation about what to do and heard nothing back! The last time I had to complain about this store I wasn't given this link so why this time? Pretty bad when the complaint department gives you the run around! So who do you complain to about the complaint department?
My initial complaint was about the McDonalds at 45th and Teckla in Amarillo Texas. Don't know the store #. Short version of my complaint, they are slow and never get orders right. Sat in drive threw for at least 20 minutes. 10 of those 20 minutes was being asked to pull to the side because my order wasn't ready yet. It was a Large Iced Carmel Mocha for crying out loud! Which by the way, they never get right. I always end up with a Chocolate Iced Mocha which tells me they do not know the abbreviations. They got 3 other orders wrong in this 20 minute waiting period. Last time this happened and I complained all I got was a sorry about your bad luck. Not going to cut it this time! Not only did I get the wrong thing, I was late to work because of it.
This needs to be fixed. Not only with me but with this store. And I don't want an email back telling me to go to some link that sent me back to this page.

Sue Holli
from Fort Wayne, IN
McDonald's double drive throughs are absolutely ridiculous! People don't pay attention as to who's next, but assume they are! These drive throughs cause too many problems! Most people have an equivalent 5th grade knowledge capacity, so this is too confusing for them. They should really please find a way to "dumb this down!"

Tammy Weldon
from Carrollton, GA
I went to the drive-thru at around 3am one friday night. Not a customer in sight. First of all, I waited 8 minutes for someone to take my order. Then I paid for it and went to the next window. There were , at least 2 employees in there. one white girl and one black. They glanced at me and snickered, a lot. After about 10 minutes, i went home.

Rick Ferrell
from Jonesboro, AR
I have been ordering a sausage and biscuit every morning for several years. I have noticed lately that the quality of the sausage is terrible with fragments of bone in every patty. i usually go to the Mcdonald located on the corner of Nettleton Ave and Caraway Rd in Jonesboro, AR. but lately I have switched to Burger King.

wayne burse
from Grimsby, ON
I went to get a fish filet at McDonald's in beamsville on at 4:30 Tues 2016 the fish was over cooked and the cheese was dried out and hard. This is the first time it happened it must of been sitting for hours for it was not even warm, if this how they serve (hot ) food then it will be my last. There is always A&W and Wendy's.

Annie Gilmore
from Baton Rouge, LA
Every Friday night and sometime during the week there's a bunch of employee in the store none of them working and the McDonald's On Essence Lane, Baton Rouge is always closed before time or the frapple machine is always broke. I thought the purpose is to make money, not have a bunch of lazy people on the clock Friday at 11.30 they are close several cars pull in an was told they are closed I reported this to management once before.

Claudette H Parker
from Jacksonville, NC
I ordered 2 ham biscuits on 4/8/16 paid for it at 7:14 and was told to wait at the 2nd pick up window, I waited 20 minutes and nobody ever came back, so I went inside and waited another 7 minutes at the counter and was ignored. I would like to have a refund for $4.90 and you will not have to worry about my business again. I was discriminated against because I am a senior citizen.

Tamra Kae Wheeler
from Broken Bow, OK
I am writing this for my ex-husband. He doesn't know a thing about emails or computers. He asked me to submit his information to McDonalds. He is an aggravated customer about McDonalds serves breakfast all day. He says that McDonalds is false advertising because every different McDonalds that he goes to in Oklahoma tells him that after 10:30am and some McDonalds say that after 10:00am he can't get breakfast. McDonalds does advertise breakfast served all day. Any how that he is his complaint. He has spent a lot of money at McDonald's for a long time.
He wants breakfast whenever he wants it and says McDonald's is false advertising about breakfast being served all day. He asked me to tell McDonalds to call him at his phone number above. If he doesn't answer, please leave him a voice-mail and what number to call and speak to someone in upper management and leave a person's name to speak with along with the phone number to call back if you reach his voicemail. Please call him or write to him. You can let me know via email what McDonald's plan is to settle this complaint from him. My email is twheeler7931@yahoo.com. I have no complaints about McDonalds. I don't like anything from McDonalds at all.
Sorry, but it is some awful food to me. Mr. Wheeler, however likes McDonalds breakfast. Please respond to me via email and/or call Mr. Wheeler at the number that I have provided for McDonalds. Please respond in a timely manner. Thanks.

Ginger Delvecchio
from Warsaw, IN
We took our grandsons to the McDonalds on Hwy 28, Mulberry (Miami Twshp/Milford, Ohio ) on Easter evening, April 27,2016. They each ordered a 6 pc. chicken nugget happy meal with fries and when asked what drink I asked if they could have a small shake, the worker said yes. When I was paying I noticed that I was charged for the happy meal and a separate charge for a small shake for each of them. When I questioned this I was told that the shake was a separate ordered item-it was not offered as a drink with the happy meal.
So I said since I paid separately for the shake that I wanted the 2 soft drinks that the boys would have gotten with their meals. The manager said it "doesn't work that way" and would not honor the happy meal compete meal purchase. With my meal and theirs it was a $19. + meal purchase, and I will not go back to that McDonalds again. After we ate, the boys, age 8 & 10 played in the play area-then 3 teenage boys went in and climbed into the tunnels and hid. I went and told the manager who simply looked in, didn't see the boys because they were hid in the tunnels, and did nothing. I had my grandsons come out & we left unhappy.

Jane Johnson
from Middletown, CT
I am a daily customer at my local McDonald's and buy hot coffee every day. On a visit in late February I ordered and received my hot coffee with 2 creams on the side. When I lifted it to put my creams inside the lid came off and the coffee spilled all over my hand resulting in 2nd degree burns. See photos below.. As a chemotherapy patient any infection can lead to death as my immune system is compromised by the maintenance chemotherapy that I receive every 6 weeks. I was treated with IV antibiotics and healed eventually.
As a citizen that doesn't believe in frivolous lawsuits I let it go but in reconsidering the seriousness of this situation I am hoping to receive a satisfactory response from McDonald's on my own. Please see photos below to verify the seriousness of the burn.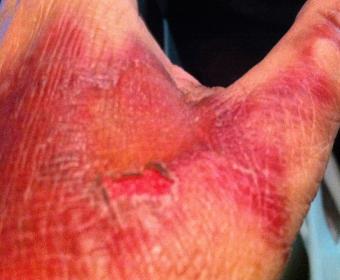 John Patterson
from Athens, GA
Ordered 20 piece chicken nuggets. Asked for 2 sweet sour sauce, 2 hot sauce, 2 barbecue sauce and received nothing but a 20 piece nugget that was hard as a rock. on top of that the expediter was rude and unprofessional. this seems to be a problem @ most McDonalds. I have had enough of the negligence and incompetence with the workers in this franchise. McDonalds needs to up there game and hire better quality people if they want to continue to be competitive in todays fast food market. the store in question is 3825 Atlanta Highway Athens, Georgia 30606.

Betty Stromer
from Bridgman, MI
I am not complaining about anything except for the lack of chairs, the owner will not get new chairs, so they are about 8 short. I am a daily customer every morning for years, since it opened. The crew and manager are wonderful, but since there are so many of us, we use chairs to sit at a table for 4. Yesterday someone could have been hurt, as the chair had a bad leg and one of these days they will have an injury. The manager Tina took it away.
I am a stock holder at McDonalds and my husband worked over 10 years in Michigan City, IN for a company run by the Lubeznick family, now they were very, very good business people who saw to it that everything was always fixed and in order. This owner, whoever he is, has a wonderful set up with 94 being right there and busses coming in, I believe he owns other places in MI also.

Andray M deCordova
from Milwaukee, WI
This morning I went to the McDonalds at 4925 W Hampton Avenue, and was very upset with the level of service there. The workers were extremely slow and the manager was useless at best. She was busy making fun of some customers and joking around with her staff. After I ordered my breakfast number 2 with a medium orange juice, and I saw customer after customer complaining about the service. I mentioned it to another customer and he said that he has gotten used to it. I told him it only takes one time for me.
After seeing that there was no change in the level of service asked to speak to the manager and asked for my money back. She just handed gave me the money and walked away. I wanted to tell her that I did not mean to be difficult but never had the chance to do so. I am a manager in a public utility and in my opinion she is in need of more training, mainly people skills. Lastly I would have been more patient if it was actually busy.

Mark Bennett
from Washington, DC
For 50 years, McDonald's fries have been one of the joys of my life. For the last year or so, Winston-Salem, NC area franchises have started a practice of pre-scooping fries into cartons and racking them under the lamp, RATHER THAN allowing the fries to remain in the bin until ordered. I understand this may be seen as a time-saving measure, but the end result is a few hot fries on top, and the remainder of the carton being lukewarm, or worse. I'm wondering at what corporate level this decision has been made, local? Regional? National? This may seem trivial, but has resulted in my hesitation to select McDonald's for lunch, with so many nearby options.

Barbara Hobbs Pollack
from Cabot, AR
McDonald's on 67th and Camelback had the flag upside down, so I went and ripped the rope and fixed that disrespectful scene. Not only is it illegal but so disrespectful to all our brothers and sisters in arms, let this incident go viral, and share it to all America, let everyone know that they disrespect all of us, share and tag others, please don't let this go unheard, God bless america and our troops.
This was written by a very angry marine in the Phoenix, AZ area. His name was Elizas Duarte-Muzeleno. He is sharing this all across Facebook along with a picture of the flag upside down. It came across mine and I live in Arkansas. Thought HissingKitty might want to see how it is representing McDonald's company.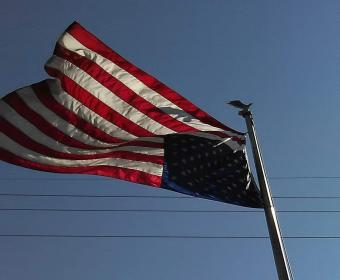 Mike Termini
from Pewaukee, WI
My name is Mike T. and I went to the McDonald's this morning located on 1425 West Av in Waukesha, Wi. My number receipt number was 370. I ordered a Sausage Egg Biscuit meal with a large coffee. I arrived at 9:40 am. Another 3 customers came in and had much larger orders and all received there meals before I did. At 9:55 I went to the girl at the register and told her that I had not received my order and for just to return my money and charge me for the coffee which by the way was luke warm at best.
The girl called for the manager who was approx. 5 feet from her but she was busy. I waited yet another 10 minutes to get the managers attention. Not mind you it is now 10:05 am and no one has yet to get my order. So make that 25 minutes and I'm still waiting for a sausage egg biscuit meal. Finally after I practically laid on the counter to get the managers attention she asked me what I needed. i told her that after waiting 25 minutes for my order that I wanted my money back. She returned my money and did apologize. Now let me say that the is not the first time that i have had issues at this restaurant.
One time I was there and there were 5 people ahead of me and only one person taking orders. I was in a hurry and left and as I was leaving I noticed a man in a white shirt and tie in the parking to smoking a cigarette talking two men who were outside a truck drinking a beer. now mind you it was 8:30am. I approached him and asked him if she realized that there was a back up at the counter. he said that he was on his break and would be in there shortly. This place has a habit of only working one person at the register and there is a back up at the counter. I have seen other people walk out. Ironically I can honestly say that i will not be going there any time soon as I'm moving to Florida tomorrow. I have gone to a Mc Donalds every morning now for coffee now for the last 5 years.
This store is probably the worse that I have been to. On a scale of 1-10 I give it a 1. Then tonight I tried the McDonald's at 1635 E. Main St. in Waukesha. I ordered the Buttermilk Chicken sandwich meal and a shamrock shake. I received 10 minutes later just the sandwich. I had to argue with the person who took the order that i ordered a meal. After finally showing him the receipt he said , OH! and then I got cold fries. I left everything on the counter but the shake and left. Your prices continually rise and your food gets worse tasting a service is terrible. I'm to the point that I an done with Mc Donalds.

Yah ayah Conteh
from Philadelphia, PA
I visited a McDonald's restaurant at 7500 City Line Avenue, Philadelphia PA 19152. Store #: 10545 @ around 8:49am. I ordered 2 egg white sandwiches and paid $7.75. To my surprise, the sandwiches were poorly prepared, watery, and completely unsafe for someone to consume. I immediately alerted the teller who mounted an aggressive argument and shows no sign of professionalism.
Since I was powerless not been allow by the teller & her teammates to express myself, I gave them back the sandwiches and left the restaurant with no recovery of my money. This type of behavior is totally unacceptable and a violation of customer service. I am not complaining to recover my money, but for the disrespect and misrepresentation of the staff persons towards valuable customers. I believed I was mistreated because of my accent. Had it been someone like them, that would have been a different story today. Praise God, I was able to restraint my self to avoid any further incident.

Carol Anello
from Victor, NY
Just left your establishment after a few months. We decided to give it another try, hoping the last fiasco was a fluke. NOT. Same crap, different day. We went to the Farmington, NY branch. Ordered 1 Fillet O fish, and 1 chicken nuggets with a small fries and drink: My husband ordered a double 1/4 pounder meal deal. The order was done and on the tray before we even paid for it. Right then I knew something was seriously wrong. First, our fries were COLD, they brought us new, microwaved fries.... Really? We ate a couple. They were chewy, but hot. The nuggets were OK, nothing to write home about. My fish smelled. You shouldn't be able to smell the fish.
I took it to the manager who refused to smell it. That says a lot, huh. Now I know why it's been a while since we ate there, and never again. I will surely tell everyone I know not to visit this franchise. The manager offered to make a, "different" one. Not in my lifetime. I think we're just done with the Farmington franchise. Tired of being sold old food and not even being offered a refund.when there was only one bite taken out of it.. I'm sure I'll never hear from you, so I will do my part in banning this franchise from selling to the public before they make someone sick. Why should I have to give them even one star. They deserve so much less than that.Thanks. Carol Anello

Stephanie Abernathy
from McDonough, GA
I stop at mcdonalds store 1938 just about every morning. Half of the time their mocha machine is down or not working. This morning I stopped by there and ordered a med hot mocha and she charged me for a med mocha, ran my debt card and when I got to the second window they then informed me that the machine was warming up and it would be about 10 minutes and offered me a large coffee instead. This really aggravated me because I love the mochas and this store always seem to have problems with this machine or they just don't want to use it. Not really sure if I will be stopping by there in the future any more.

William Smith
from Salt Lake City, UT
I went into McDonald's and ordered a large drink. After approximately 30 minutes I was approached by the manager and informed I had to leave. I was told, i had, had enough time to drink my soda, and was asked to leave again. management was very rude, disrespectful, and demeaning to an everyday customer and I take exception to the treatment I love and respect McDonald's and it's properties. I am giving HissingKitty this information in an effort, to resolve this issue to prevent McDonald's reputation from becoming tarnished further. The McDonald's was in Taylorsville Utah on 5400 South and about 3850 West at approximately 6 a.m.

Norma Wilson
from Fayetteville, NC
My main complaint at the moment is regarding the new coffee cups. I've seen these at other McDonald's and didn't like them. Now they're at the local McDonald's that I visit daily (West Jefferson, NC). These are the worst coffee cups that I've ever seen. They will burn you when the coffee is hot. The lids don't fit properly and continue to leak. I've spilled more coffee on my clothes with these cups than any others. I continue moving the lids around trying to find the spot where it doesn't leak.
Then I've noticed the coffee gets cold much faster than in the other cups. They are shorter and wider so they don't fit in my cup holder in my car easily either. Trying to reach down to pick up my cup from the cup holder is a major problem sometimes. I have a problem trying to pick up the cup because I have to pick it up from the top and I'm afraid the lid won't stay on. The cup seems to be made out of cheaper material and is flimsy. Please bring back the old cups! I buy several cups of coffee daily from McDonald's! I don't even make coffee at home anymore because I love McDonald's coffee so much. But if I continue having to fight with my coffee cups like this I may just have to start making it at home again!

Jeff Juranek
from Los Angeles, CA
The McDonald's in my neighborhood, located at 11300 National Blvd., Los Angeles, CA has had a broken milkshake machine for the last 3 months. Every time I go to this McDonald's, about once week, the shake and ice cream machine is always down. It has been my experience that the customer service has gone down over the last year, food is often cold, and the cleanliness is poor.
I have spoke to the local on-site management, and they are not helpful or courteous. My request is for the Corporate Office to get some help at this location. I would like to support my neighborhood McDonald's, but I am not happy with the service or capability of the staff. Please help.

James Stagner
from Sherwood, AR
I went through the drive through to get a breakfast special (egg, bacon cheese, biscuit) with medium coffee and received my order and drove away since other patrons were in line too for their order. Got to work and pulled out my biscuit only to find they had left off the egg. This is the second time I have not received my correct order at this McDonalds on Arch Street in Little Rock Arkansas.

Lindsey Prince
from Raleigh, NC
Went to McDonald's the manager was already yelling at the staff to get on line and help prepare food. Well she got on line herself and I noticed she was making my food (I had a big order) she did not have on any gloves after just coming up front touching the computer screen then going back to prepare food not washing her hands or putting on a glove to cover the huge band aid on her hand. I also asked for no pickles or onions and of course there was.

Denice Krumdieck
from Cincinnati, OH
After paying for my order I sat in my car for 13 minutes until I got my food. There was a problem with the fourth car ahead of me. Instead of making that car pull to the side to take care of what ever problem they were having they let that car wait until it got its order. This made me 15 minutes late to work. When I did sit down to eat my order is was cold and the fries where not fully cook. I eat at McDonalds at least three times a week. I found this unacceptable.

Robert
from Janesville, WI
I frequent McDonalds several times a week. I stop in for lunch at the S Park St location in Madison Wisconsin. I stood in line for at least 5-10 minutes. I was the only one. Employees just walked by and act if I wasn't even there. I finally left and went thru the drive thru. I don't want any response from your company. I can assure you I will not go to another McDonalds.

sandra gortz
from Fresno, CA
A am a regular customer of the McDonalds in Fresno, Calif, 689 Nees Ave 93720, and usually go for coffee through the drive-through. Yesterday, at 4:45 p.m. I ordered a medium decaf coffee. When I drove forward to the pay window, the girl was laughing as she took my money. When I went forward to the pick-up window, the other girl was smirking as she handed me my coffee. When I got home and opened the coffee, I saw dark sludge instead of coffee. Apparently she was too lazy to make fresh coffee so she gave me what was left from the first morning coffee. I guess these two employees think it is funny to give an old lady a cup of sludge. Who knows what else they do to people's orders for a laugh?!

Debra Brown
from Decatur, GA
The McDonalds location at 1429 Riverstone Pkwy, Canton, Ga 30114 was understaffed during the morning of Wed, Feb 24,2016. I went inside because the two drive through windows were impossible to even enter. The biscuit I received was tough and not in the condition it should have been. The outside trash containers were overflowing with trash and trash was on the parking lot pavement. I left with a very unfavorable impression of this location. This is not the first time I have felt disgusted with this location. Major improvements in staff, management and maintaining the location sorely need to be made. As much money as McDonalds takes in, surely someone could improve this location. Disgusting way to start my day for sure.

Debbie Fuoss
from East Chicago, IN
I went to McDonald's at 100 Sauk Trail South Chicago Heights, Il 60411 Store #1924 on Feb 23,2016 18:32. I have had several issues at this location in the past few months. I have contacted the store directly previously and it seems things have not been addressed or if they have nothing has changed. So I have decided to reach out another way because there is no reason for preventable issues. Last night I went inside to eat with my 2 daughters. I think it is first of all very unprofessional for employees regardless if they are clocked out to be hanging out in the dinning room. There were 4 employees one I assume was on break because by time we left he was headed back behind the counter.
During his time in the dinning room in his uniform myself and my daughters had to listen to his personal phone call which he was not quite about. Dropping the "F" word every other word and complaining about not taking care of no babies 2 & 3 years old that are not his! My order was not correct and I didnt even waste my time going to have them fix it because I have dealt with Veronica the manager on duty other times and she is EXTREMELY RUDE! While waiting for my order a customer hands her a cell phone with some lady trying to place her order over the phone or asking about orders all while the manager continues working while on the cell phone. This particular McDonald's is a joke with the employees and how they are allowed to behave!!! I asked 2 people why every time I have been in there not one but both Ketchup pumps are completely empty and no one had a response for me....
I wasted $15.00 last night there with RUDE service and ignorant phone conversations from employees topped off with my order not correct! What does it take to get these issues addressed at this location?? Customer service at that location is unacceptable! I work for a company and I am in charge of the companies customer service from who is hired to all of their training and expectations! So I am not a customer that is complaining in order to receive free product. I am complaining because all around it is unacceptable for a billion dollar company to not have a handle on its employees and continue to allow them to get away with their behavior. I would like to speak to someone on the phone regarding these issues.

Phil Griffin
from Melbourne, VIC
I attended Mc Donald's at Stawell on the 20/02/16 at 9:11 am. I ordered 2 x Mc Muffin meals, I x Coffee with 2 sugars, 1 x med sprite and 1 x extra hash brown. There were three cars in front of me and four behind me. I then waited until 9:27 a.m. before I got my meal. I understand that they may have been busy but honestly 15+ minutes to get my order. Not good enough. I could have driven to Ararat and got served faster. I have complained about the service at Stawell before and gave them the benefit of the doubt but after this I will not be returning to Mc Donald's and will be getting my food and coffee elsewhere. That whole place needs a damn good shake up. You have now lost a customer and will lose more. Wake up at Stawell or shut it down. Not darn good enough by a long shot.
Have feedback for McDonalds?
Thanks for your feedback!
Sorry. Please try again later!