McDonalds
McDonalds Complaints Continued... (Page 10)
1026+ reviews added so far. Upset? Call McDonalds corporate: 800-244-6227

Robert
from Naugatuck, CT
I go very often to Macdonald 751 New Haven Rd Naugatuck, CT .. but I'm not very happy because there are several things I do not like .. the first is that the store manager spends all his time in his cell and not it is the first time I'm late for my work attendance bad part of it .. the second, his manager serving on the front are very rude to customers and I do not like for me and my family. I hope to focus on this problem because as many more families to stop going there ... thank you very much.

rob pierce
from New York, NY
I went to Mcdonalds at 1045 am asked for cheeseburger the manager turned around at looked up at the board, turned her back and stood there embarrassing me because it wasn't lunch yet. I will not put up with this rudeness. Its not my job to know your damn rules in a paying customer. That was so damn rude I'll never go back ever. I'm not some stupid idiot standing in line. Old front street Binghamton my 13905. Purple uniform, black long sleeves, no name tag, I've never been more frustrated with McDonalds, no I don't want free food or coupons nothing.

Megan
from Murfreesboro, TN
Well, I turn in to McDonald's and I get up to the speaker to get my order taken.... No one responds I sit there for about 7 minutes and so I drive forward, I get to the window and then I tell him about it he was nice and said sorry but the I asked if they had pies at the moment he went to go check and no he didn't but he could make some, so there were cars infront of me and he told me 2 minutes are so. I said sure not a problem took both of my orders. The second window. I ordered a flurry apparently the ice cream machine breaks I get it and they ran out of strawberry pies, and the employee at the second window was nice as well offered me something else. He gave me pies that my friend ordered, and I pulled up.
I sit and wait for about 15 minutes and I told my friend to go inside so in return I wanted nuggets and then apparently they never dropped the nuggets so I have to wait for them even more. So I wait a little So I wait a little longer and it comes about 15 more minutes. And then I go inside wanting my money back! I tell the manager about why I was mad and just looked at me. What the hell? Then I said I want my money back and I want something in return for waiting 40 minutes. And he said I'm not going to give you anything. I'm a manager at a fast food restaurant and we give stuff out all the time for our mistakes. Never once has our customer waited on our property for 40 minutes then denied when wanting something!!! Joshua was the manager at the time. I would of rather went to another McDonald's if they would of told me the ice cream machine was out in the first place instead of making me pay. I will never come back to this mcdonalds.
Not to mention when I got home and looked at the pies he gave my friend they said 11:57 on them. It was 12:06 when I pulled up to the second window.

I hace recently learned Marjuana and other drugs have been going around in the Erwin Tn MCDonalds I fact one of the managers Julie Obryan has said to have bought pot there. I do not think this is good influence for children and is not fit for a family establishment. You need to start random drug testing

carrie mack
from Racine, WI
I was at McDonald's on Lathrop Ave/ in Racine,WI and I waited 10minutes in line for a dollar McChicken all because the manager stopped the workers running the line for the people having their food there so they could continue serving the drive-thru people because they were behind in orders. This McDonalds is rude/ghetto/ and slow at service.

warren laesch
from Grosse Pointe, MI
I went to the Harper Woods, MI drive through January 25, 2015. Ordered 2 sausage and egg biscuits. When I was pulling away I noticed they had cheese on them. Went back and told them order was wrong. Girl working window asked what I was supposed to get. She came back and gave me a bag. Opened them up and then I received just egg biscuits. Gave bag back and told her what I wanted again. Then she came back and said I was charged for just egg biscuits and that I would have to pay more. Now I don't mind paying what I owe but after order was messed up on their end twice already I thought this could have been let go. I asked to see manager and when she came to window she was rude and argumentative right off the bat. I told her I didn't think it was right to recharge me after my time was wasted by their incompetence. She stated she would tell the girl to listen better when taking orders then slammed window shut. Very rude. These workers want more than minimum wage but if you can't get a simple order right and you want to treat customers rudely then you shouldn't be rewarded. That manager has a bad attitude also and should be demoted or fired. The customer is always right. We pay their salaries.

I'm pissed they changed the gravy in the biscuit and gravy meal it is shit don't change stuff I go to McDonald's every morning for breakfast and some times in evening if change anything do breakfast all day that would be a good change I'm in mt Gilead, Ohio. Please bring back the good gravy not this flower gravy.

Carrie Hanser
from Gilmanton, NH
My family and I went through the Drive Thru tonight at the Tilton McDonalds, the girl that took our order was sighing and then after we sat at the first window for 5 min, she opened the 3rd window and yelled out 3RD window!!! We drove down there and my husband said I couldn't understand you, she said I SAID 3rd WINDOW! No eye contact, no smile, no nothing, handed us our shakes and said oh and by the way we are out of cherries, my husband said your attitude sucks, she continues to look down while she gets his change and throws it at him. Im not happy, this is not how we want to be treated as paying customers at your business! Now I wish we would have chose to spend our money at Burger King or Wendys down the road, at least we wouldn't have been treated badly for spending money.

When I go threw drive through I sit their for an hour waiting for my food and when I do get my food they forget half of it.

On 3/31/2014 I went into a Walmart location where one of your McDonanld's is located on the inside , I need to get something to eat due to I just left the doctors office. I was very hungry and ask for a hot cup of coffee for my sister and I remember seeing on the news that it was free for that day and the cashier tried to charge me, she rung it up and started to pretend that she did not understand what I was saying or asking for, So she turns to another worked asks him in Spanish if the coffee is free? Then he walks up and I tell him the same he says yeah yeah that he knows but I needed to place my order for my food before he could give me the coffee. So I placed my order and tell him that my sister is in the line in the walmart that I wanted one for her also he tells me only one per customer. I says okay by then my sister was there next to me, she ask for one cup of coffee from this same cashier that started out helping me the lady, and she tell her that the coffer is 1.08 I said mam no this coffee is suppose to be free, she look at me with this unpleasant look and give my sister the coffee and if she did not want to help her. My meal was cold and was not the way that I order it. did not notice it until I had already drove away. I end up tossing it in the trash. Some times people just make you act ugly when you don't want to, thank god I kept my cool. I tell you what I have had several incidents at different locations about my food and the service, I'm just going to look for other places to take my business, this is your company losing business due to unprofessional conduct. My family may be unhappy about it because this is where they love to eat all the time, but it pays to be safe and sorry and be happy with hot fresh meal and go customer service.

I visited the store on this past Saturday and the manager on duty was very rude and impatient. she was a heavy set woman with short hair. as she placed my order on the counter she called my number and as i was preparing my drinks she became rude saying that she did not have time to wait for people to decide to answer her. she dropped my order rolled her eyes and walked away. when i got my food she was saying how sick and tired of these people she was and that she would be glad when she got off. i was very offended and do not think that my family and i will be returning. I have been a loyal customer for many years and have never been so insulted in all of our visits.

The McDonald's that is located at 839 Westchester Avenue Bronx, NY 10455 lack proper training in customs and courtesy. The shift that works from Monday to Friday mornings lack courtesy to the customers. I seen the employees in that restaurant move slow in the morning and have an attitude while dealing with customers. The shift managers just stay there and watch it happen. There was an incident that a customer asked for orange juice which they didn't have. The informed the customer about which she wasn't too please. The Donald's employee refuse to service the customer becuse of the customer's reaction. Another incident is when I ordered a drink and the shift manager was telling her employee to give me that drink that was made hours ago. The employee was telling her that I was not going to take that drink and the shift manager today her that she didn't care. The employee told her I don't want to get wild if the customer gets upset. I don't know how McDonald's how they employee but they need to revamp the screening process. If you going to hire shift managers to hold the supervisory job then make sure you hire the right individual that are capable to do the job.

This is the third time I've took my 3 little boys to McDonald's at bramley and they have all recieved a different themed toy in there happy meal. This is upsetting for them as they see the toys that should be in the happy meals advertise on TV. They are excited to go but upset when they leave.

I'm a 71/2 month pregnant women who was craving McDonalds so I woke my husband up @ 10:00 @ night to ride with me to get something to eat. I drive to the McDonalds rite off of 6-10 and Cullen and order a 20 peice nuggets, two mc doubles with no onions add mc sauce, two apple pies and a large Carmel frappe with extra Carmel just like I like it as I always get… I pay for my order she gives me my change but she didn't give me my receipt, so I wait til she finishes taking the next order. She sees me and I tell her that she didn't give me a receipt she tells me that they will give it to me at the next window. I pull up to the next window and the next employee gives me my food then my Carmel frappe. I tell the worker that I ordered a Carmel frappe with extra Carmel but they didn't put the extra Carmel when i was charged for it and i paid for it. So she then tells the manager, she comes to the window and I tell her my problem. She asks me for my receipt i tell her the lady in the front didn't give it to me she told me to get it from here. So she looks in my bag checks the receipt and sees that i paid for extra Carmel. Then she tells me that it has extra in it already but I know I doesn't because I buy them all the time @ least once a day and no matter where I go they always fixes them the same, this time just happened to be different. So she then gets a attitude & trys to give me my money back for the Carmel but its not about the money for me I don't want the money I told her I'll pay another 30cents if I have to just to get extra Carmel. She then SNATCHES the cup from me & I tell her don't snatch anything from me, I didn't do anything to you and its rude and disrespectful, snatch one more thing from me and its going to be a problem. Once she's done she gives me my frappe and she tells me thank you bitch and still didn't give me my receipt. This was the worst experience I've ever had with any fast food restaurant and It makes me want to ever go to McDonalds again!!!! This is crazy especially coming from a manager. This happened exactly at 10:21.

On 3/22/2014 about 12:30pm my wife & I stopped for lunch. Our order was taken quickly and food was ready very quick. Fries were cold. This happens quite often at this McDonalds. I asked for fresh/hot fries. The woman filling order said to manager the I wanted new fries. The manager snapped back at her and said to tell me it would be 2.5 minutes. This was said right in front of me. The manager could have told me politely instead of snapping at the employee. I said all food would be cold by then.
The manger heard me and still did not talk to me, she just continued to yell at woman filling order. That is when I asked for my money back. When manager was told of my request she said to offer me new food. She still would not talk to me. The women (older) then refunded my money. I have been to the rest. many times and quite often get cold fries and cold food. This McDonalds definitely needs a few lessens on how to treat customers. I will continue to eat at other McDonalds in area but not this one.

Took my grandson on an outing to McDonalds only to find the food cold and it tasted like the oil in the french fries hadn't been changed in a while unless your company have changed the way you do french fries. I used to llike your food but the past couple of times I visited a McDonalds I have been disappointed one way or another. My daughter used to work for a Mcdonalds in Flordia but it seems Pennsylvania has different standards, shame on you.

We visited the McDonalds in Charleston, WV for some time but it got to the point that when we went for ice cream, the machine was frequently down. We started visiting the McDonalds in Quincy WV and are now seeing the same problem with the machine being down. With the cost of gas this is rather frustrating to take the time, effort and expense to drive there only to be told the machine is down. What is the problem with these machines that they are down so much? We expect better from a major corporation like McDonalds.

Mc Donald's 600 w. F st. Casper, Wyoming 82601-1300. March 10,2014 time; 19:03. (Drive-Up Window) I was handed a medium drink… lid half on… popped off completely as the employee handed it to me. . My hand and sleeve got wet because of this. I said nothing to her but "I need a new lid, it came off" She said nothing.
I checked the sack (my order) to see if it was complete. A straw and napkins were not in the sack. I waited till the employee returned to the window. I told her "I need a straw and napkins". As she handed me the straw and napkins out the window she was giving me a very bad look as to suggest I was putting her out and she had better things to be doing! She slammed the window (she never said a word nor smiled at any time). I asked her name as she closed the drive-up window, but she kept on walking away.
That will be the last time I visit this McDonald's. Is this the way you instruct your employees to treat their customers? I don't believe it is. I have never treated by one of your employees like this before, and it sure won't happen at this McDonald's again! So, I do not have the offending employees name but she has red hair and is heavy set, maybe early to late 20's. (maybe 20 something) and was working the 2nd window (pick-up window) at 19:03 pm .

I work the night shift on Fridays and stopped for food on March 7. I waited a total time of thirteen minutes before being served making me late for work. When I opened the big Mac it was just thrown together and my fries were only half filled and not fresh. The employee at the drive through rolled her eyes and acted put out to put ketchup in the bag. This is not my first time having an issue on Friday night food stops. This was the final straw. I will not be stopping at the McDonalds in Highland due to the repeat problems I have encountered and wanted to let someone be aware.

I bought a large cup of coffee this morning around 7:56 at the Mcdonalds #10155 in Columbia md. The Kings Contrivance store at the drive in window. When the server handed me my cup of coffee the lid was not on tight and the cup collapsed spilling hot coffee all over my hands, clothes, inside my car. I would like for McDonalds to pay for my cleaning of my clothes and my car interior. My hands was burned, don't know how bad but its painful. Please contact me on what you are going to do about this.

Me and my family was at McDonald's in Auburndale yesterday evening around 7:46 and my child got a chicken nugget happy meal the nuggets were hard fries nasty seems like they don't change the grease very often. Me and my mom we got quarter pounder with cheese meal the meat hard over cooked the fries cold and hard I took the sandwiches to the counter employee asked if she could help me I told her I would like to talk to a manager Kelly walked over and told me to talk to Tiffany manager which was taking care of another customer. Tiffany was very nice and she asked what she could do for me I told her about the sandwiches and showed her.She had them remade then my sandwich was good. Kelly is rude lack of customer service. Tiffany cares about her customers. At the beginning when the order was placed had to wait 39 minutes to even get food .863304-2516 cell

Every once in a while we will get a receipt at McDonalds that says go to the website McDonaldsFeedback.com leave feedback and get a free item but when you try to go there it doesn't exist. I called McDonalds and was told that promo had probably stopped in our area. This was on the same day I had gotten the receipt. Well it happened again. Can someone spell ripoff?

i eat at this mcdonalds all the time. i had went through there on april 22 2013 and placed an order and got the wrong thing. as i returned to bring the food back to let them know the manager told me she had no proof that that wasnt the food i was suppose to get. she took the food put it in the trash and told me to have a nice day. $27 worth of food and bad service!!!!!!!!!!!!!! 557 east dorsett avenue asheboro nc……would like sone kind of compinsation please contACT ME BY MAIL

April 30th, we visited the McDonald's here in Bardstown Ky. We got a quarter founder and the bun was hard like it was frozen. The burger was beyond cold. Went in again this morning for breakfast . Only two ppl in line, and we all was waiting at least 15min to get our order. We asked how much longer, and the reply was, oh, they haven't started making it yet. So, we along with the other two ppl cancelled our orders. As we were waiting, an employee came in to work, and without removing her jacket or even washing her hands, started making food WITHOUT gloves. This is always a problem with this McDonald's. Always a long long wait and you never get the right order. Its ridiculous…..

So this is the third time in 2 weeks I've gone to McDonald's on Missouri blvd in Jefferson City at it before 11am and been told that the machine was being cleaned. I understand that equiptment must get cleaned but why would you clean your coffee machine in the morning when people typically drink coffee. This concept completely baffles me and have to question the manager who put this system in place. In my Mind as a restaurant operator this is like cleaning your fryers during the lunch rush. This is a 24 hour a day McDonald's and it seems they could find a better time to clean the coffee machine than in the morning!! I called about this issue about 2 weeks ago and realize nothing will be done and you folks won't follow up but I'm so angry that I can't start my day with a cup of coffee.
Chris Johnson

I stopped at the McDonalds on Hwy #190 on Tues 4/8/13 The Big Mac I purchased looked as though the ingredients had been just thrown together and the sandwhich tasted and felt as though it had just been removed from a cooler The store itself had trash on the floor ands an odor of uncleanliness, Last time I will give into the urge to visit a McDonalds

We went inside the Mcdonalds and couldn't even get our food because there was no one there that spoke english. All of the employees spoke spanish. I was not the only one that got mad and left. The drive thru line was also very very long. You need to make sure that there are english speaking workers there at ALL TIMES!!!! I have been there before and have never seen anything like this until today. We couldn't even get our food, we had to leave empty handed.

My best friend from flew in from Nebraska and went to the Mc Donalds 11250 Port washingington Rd.The person that took our order was short with us ,like he was in a really bad mood.Like he looked grumpy and mad.His name tag said "Mark" he was short and bald.He never greeted us,just looked like he was in a hurry or something and when our order was done,he did not say anything at all. I told my friends and family in this area who happen to live in Mequon.And they will not go back to this location again,until this person is still working there. From now on I will go to another location. I hope this situation is solved and taken care of.The other employees seemed fine and of course I have been coming to this location for years and I had Never had an experience like this before.

To whom it may concern I'm writing this letter because of the bad experiences I had with McDonalds. The date was April 9 2013 at the store #25077 11311 Nuckols rd glen Allen Va. My daughter and son n law with my two grandchildren live in Richmond Va. I was visiting them on their spring break and like most grandparent taking my grandchildren to McDonald's. I ordered 2 happy meals 1 spicy chicken sandwich and fish sandwich. They told me to pull up to receive my order in which I did. We waited I know it was at least ten minutes, so I decided to go in to see what's going on. They did not have my order and acted so unconcern if it was my fault. I have been going to MCDONALD'S for years and never experience so irresponsible service in my life.

I have been collecting the stickers that are required, to try and win the certain prizes that are up for grabs. I found out that one of the prizes, happened to be a mobile phone that I have wanted for a while. So I thought that it would be great if I was to win the phone without having to spend a lot of money, actually buying this mobile, when I might have a chance at winning it through the Monopoly Fortunes Game that is currently running at the McDonalds Restaurant near myself in Merseyside.
I currently have two of the three property stickers that a required to win the mobile and the two that I have are 'Bow Street' and 'Marlborough Street' and therefore the last property sticker that I require, is 'Vine Street' I have been severally times to McDonalds in order to try and get this last sticker, this was when I was chatting with the shift manager about this game and the fact that I only need one sticker to get a certain prize. This was when she informed me that her friend was the same, in so far as they only required one sticker to get the prize that they were trying to go for, but she then informed me that when this game was on last year they actually found out that they had left one of the stickers from each set of properties, so that you would require a certain property sticker but you would always get doubles even triples of every other property sticker other than the one that you require to complete the set.
Therefore causing you the heartache and misery of buying a meal and never getting that sticker, this is misrepresentation and fraud as you are continuously buying meal after meal in order to hopefully get that sticker, meaning that you're spending pounds and pounds buying the meals several times a week or even a day in order to try and get the sticker. By which time when you actually top up the money that you've spent in order to try and get the last property sticker need for that prize, it may have been just as quick to actually go to a mobile phone store and buy the phone out right, which totally defeats the whole plan of trying to win the prize, through the Monopoly Fortunes Game because there's not a cat in hells chance of ever getting the last sticker that you require as that said sticker isn't actually available or that it does but just not in your area.

Your restaurant on McIntosh Road in Dover Florida was very rude to my husband and I. We sat in a drive thru line for 25 minutes before even getting up to the order box. There were two cars a head if us and the first car finally go to order and move up. We then waited another five minutes for the the person to order and they had not even came on to take her order.
I left the car to see if there was problems with the system to see they had no customers at the counter. They were only taking drive thru orders. I went back to the car to see that they still had not taken the car in front if us order. She finally ordered and we finally moved up to be told they would be with us in moment. I then went back inside and asked for the manager. She came out and after asking about the time limit she told me they were short handed and only had one firm on drive thru. I told her about no one being at the counter why were they not helping her.
She apologized. I then went back to the car to find out that my husband still had not ordered. When the girl did cone on he told her the order and said "What did you sat". So I spoke louder so she could hear because my husband is soft spoken. She then preceded to tell me to calm down or she could not take my order. She asked for the order again and we repeated it and my husband told here how long wee had been waiting and she told him they had a timer and that was not so.
He went to finish the order and we realized that there wasting listening. We pulled up to find two other girls at the window and the girl with the head set for the drive thru was gone. By this time we were done and told them we were reporting this. We then went across the street to McDonalds and hot food in a timely manner. I hope this us not how all your restaurants work. Especially those near an interstate

I was at the McD's in Fairhope ,Al 36533 Store #32314 at 12:49. The manager Christopher Johnson was working the back line and it was taking him forever to place orders,he also was not sending them out in the order they were placed. I was with a friend and it took us over 20,minutes to get chicken wraps and fries. There was a young girl that would try to put the orders together but she was mixing orders up repeatedly.
I felt so sorry for Kiersten Reed who was the cashier, because was trying to keep the manager and the young girl straight. Orders were backed up behind my friend and I, that Kiersten had taken but were not being filled ,because the manager was slower than molasses in Jan. I feel Kiersten should be manager, the young girl better trained and Mr. Johnson fired,he was worthless.
They didn't even have diet soda and did not let patrons know, so several of us did with out a drink while we ate. I frequent this store frequently, and like it because of thje service, but there are other places in Fairhope. When you pay almost seven dollars for a fast food meal you expect just that FAST SERVICE.

i went to mc d at 3.30 am.. she called me to the window directly.. she said they will not serve me lunch and they have only brkfast available.. but the sign said the brkfast starts at 4.30am.. i have the receipt.. as proof.. i told her i dont eat buscuits and i want 3 mc chickens for which aprox cost is 3.00 dollars..
she said she wont give me dat.. den she charged me for buscuits aprox 3$ EACH and gave me chicken in cold bun saying she has turned off her toaster.. she was not giving me a receipt untill i was about to dial 911.. made me stand der fr 15 mins saying her register was messed up.. i would like to sue mc d

Morning,
I wish to explain about the unexpected & unprofessional customer dealing by Mc Donald's management at Mount Waverley & Blackburn intersection.
I went for my breakfast at 9:45am on Saturday(14/02/13), no-one was there on front counter to deal with the customers & I wait for while. The manager was hanging out with mobile n crew. I usually go there 3/4 times a week n every time I had worst experience. Toilets & customer area floor was discusting. Toilets still ofel. Even the Store Manager (MEG) don't know how to interact with customers and she is too casual. I request you to please highlight his issue n take a strict action against management.

As I do every morning, I went to the drive-thru window at the Mcdonald's at 16 st and Alton rd. Miami Beach, Florida. Once at the window I ordered two small coffees and two orders of hot cakes and sausage. At the time I requested two additional syrup for the hot cakes; the young lady at the window was getting ready to hand them over; the out of nowhere the manager took them away from her and instructed her to charge me for the extra syrup and walked away.
I tried to get the managers attention, but he simply walked away. I did not get his name, but he was a young latin with a very rude attitude, This happend Saturday morining at 8:15 am 1/19/2013. I will no longer be a customer at this location.

I came through and got 6 double cheeseburgers and a 20 piece nuggets and 4 sweet teas yesterday evening on the way to take my family out of town at the luray Virginia store 22835 the burgers were solo sloppy with ketchup gobbing out the sides and they gave me unsweet tea and my nuggets were cold and old.
I am very unhappy about this. Please get your act together and give me my money back or food the way its supposed to be. Plus ur window worker at window one looks dirty and drugged up. If she would have to touch my food I wouldn't have even bought anything. U really should check it out. Not a good image for a family business.

Every time I go to mcdonalds werribee they put me in the waiting bay for 20min. Happens everytime a certain employee serves me.
Her name is ashleigh. I have done nothing to offend this worker but she does this every time she's serving food at the drive thru but it seems
That she only does this to me. The manager should be aware of this and do something about it as he/she must notice that their is a car in the waiting bay for nearing 20 MINUTES!!. This should not be happening as I am a paying customer and I do not deserve to be treated like this.
She did this to me again this morning, I was waiting in the wait bay while about five customers went past me with their food. 20minutes later my food
Arrives. I made him take back the food and give me a refund. I asked why it took so long, he replied "they forgot about my order".once again
This should not be happening as my money is as good as anyone's.
Im not one to complain about random miss haps, but this is an ongoing thing & will hopefully be dealt with.

to whom it may concern
I have been to mcdonalds loads of time and always been happy with the food.
On the 11|1|13 i was on my wasy to visit family and stopped at your mdonalds in thetford.
I ordered a happy meal for my little boy and a grilled chicken salad for myself.
I opened the happy meal for my son and was dissappointed at the amount of chips in there i know you dont get alot in the happy meals but i could easily have counted them just on my fingers.
I then opened my salad and it looked horrible the leaves were not crispy i had one cherry tomatoe. But the worst of it was the chicken it was pale in colour and warm. Now i know that chicken is not suppose to be that colour especially a grilled chicken so i didnt eat it at risk of being ill. I wsould of took it back but i had already left the restaurant and was back on the road.
So i wasted £6.08 of my money as was still hungry as didnt eat any of it.
So i am writing you this to say i would like a voucher or my money back if not you have lost one valued customer.
My address is 26 Clovelly court, Corby, northamptonshire, nn18 8ef
I look forward to hearing from you
Nicola Cooper

This complaint is for the McDonald's in Clinton Arkansas. For over 2 months, the toilet in the mens room has not flushed properly. You go in there and there is shit and paper in the toilet. When I picked up my breakfast sandwich, I told the girl waiting on me about it, and she rolled her eyes and said "I know, I've told the manager many times." I asked if the manager was there and she pointed her out. I told her that the toilet has not flushed right in months, and she needs to call a plumber. She said that she can get it to flush. That does not fix the problem, because we can not get it to flush. Hopefully, you can. Get a plumber there and fire that manager ! Roger

I was at your McDonalds in Burlington Wisconsin for lunch today. I saw that you have the new melted Cheddar with fried onions burger. I was excited to see that so I ordered for lunch. Upon returning to work to eat, this is what I got, a McDonalds Cheeseburge with onions. No melted cheddar and the onions were ice cold.
While I have NEVER complained about your food this just really made me mad. This sandwich was not at all what you had shown on your sign, plus being cold. I ended up just throwing it away. What a waste of my money.

On 1/6/13 I took my twin nephews to store #15569 in Plainfield Indiana and the play ares was as cold as outside!! It was maybe about 30 degrees outside!!!! I complained, along with others, to the manager. He said he couldn't adjust the temperature in the play area but he had called someone & he was waiting for response. Well evidently he never go a response because we were there for at lease 90 minutes and nothing was ever done about the temperature!!!
I was told by someone that use to work at McDonald's for years & they said that was untrue. I was told there is a key for the therm0stat and it CAN be adjusted by the manager.
We go there quite often and my nephews really love the play area & is good exercise in the winter months when it is too cold to play outside. I would hate to think that McDonald's doesn't care more for their customers than this. It was just ridiculous how cold it was in there. Against my better judgement, we stayed longer than we should have. I really thought they would be more concerned than what they were about the comfort of their customers using the play area!!!

At 67 th and Gore in Lawton Ok. your employee by the name of Lori Smallwood called my son a "fucking Punk". It is on tape so i hope you do a play back for 1/04/2013 between 11Am-1:00PM and discipline in the proper manner. I am overwhelmed that a person of that mannor is holding a managers position. Thank you Rachel Mckee 4621 SE Brighton Drive Lawton Ok 73501

Almost everytime i go to Macdonalds and this is almost everyday they never get my order right.This afternoon I went and ordered 6 chedder and onion burgers when i got home i only had 5. On Sundays I get breakfast for me and my wife and I order a big breakfast with pancakes and got home no pancakes in it .I am tired of going back and get the rest of my orders. I can understand every once in a while ,but this is a constant. Check my order before i leave,well i have a line in back of me and iIdont think its very hard for them to count to 6.I expect my order to be right its not that complacated.1,2,3,4,5,6, is that hard.If I was orderdering different things at one time I understand sometimes if it not right.It takes gas to keep running back to get my order and aggravating. From a concerned customer .I don't know if my opion counts since I am but a small fry in this francise that makes millions of dollars a year.This is my city and I expect it to be the best fast food restaraunt around. When I do my job the people I work for expect the best and thats what I give them.I take great pride in my job to do the very best for me,my company and the people i serve.By the way I am a ship fitter and welder so my job has to be good or someone can get hurt if I don't do my job with quality.I would think you would want your employees to do the same in work ethicf and pride in there job.I have done a lot of jobs in my lifetime form cutting grass to unloading trucks,to picking up garbage and I take everyone of them the same with quality and pride. So please address this asap if you can . the macdonalds i'm refering to is in Westwego,La. 70094 located on the Westbank Expressway.

On December 31, 2012 my children and I went to McDonald's at 17284 Main Street Hesperia, CA 92345 phone number 760-948-1202. We went for a late lunch at 3:05 pm, upon entering the restaurant there were people waiting for the orders, so we waited to be waited on. After 5 minutes NO employee, which I counted 9 behind the counter, greeted us or even made any attempt to acknowledge that we were there. After another 5 minutes two men in dress shirts with ties were discussing that the employees needed to be motivated to giving better customer service. Yet neither one made any attempt to take my order or even have another employee take my order. This was EXTREMELY RUDE, to say the least. Another 3 minutes went by before they finally told a young lady that there was enough people waiting to be helped. She took our order, she was VERY RUDE and UNPROFESSIONAL. When I got my receipt I asked her what number our order was and she said that they would call our what we ordered no number. When our order was ready they called number 1, the RUDE, I believe manager, said that the number is on the top of the receipt, he took the receipt an treated me like I was a child. I told him the his RUDE employee said that they would call out the order no number. When I told him he said that he was sorry but with a huge attitude. I have gone to this location before and have had problems so I quit going there, after a staff change and many years I went back. Now I will NEVER go back because they DO NOT KNOW HOW TO TREAT CUSTOMERS, and for fear that they will do something to any food that I order. Only because they are so unprofessional and immature. McDonald's corporation really needs to fine this location to make them get their act together and train their employees correctly on how to greet customers, wait on customers, and serve customers as this is the job that they applied for and were hired to do.

We have been going for the pass week to get ice cream at the McDonald's in Henderson louisiana, every time we go they always tell us that the machine is down every time.some one need to do something about the problem.

On the 31st December 2012 at around 4pm my son Don Parkinson received a telephone call from the duty manager of the Waterloo MacDonalds informing him not to be late for his shift.
My son informed the Duty manager that he had not been informed through the correct procedure of online time sheets and because there was no shifts on his online roster he made family arrangements for the 31st December 2012.
The Waterloo MacDonals Duty Manager began aggressively & angrily telling my son off implying that he should come in to do his shift.
My son again informed the Waterloo MacDonalds Duty Manager that he couldn't as he had made other arrangements as he had not been given a shift from the online roster.
The angry imtimidation towards my son to go to work which left my son upset.
The MacDonalds Duty Manager's aggressive attitude towards a sixteen year old is incorrect and I am asking for action to be taken against such intimidating behaviour please.
Ramon Parkinson

About 11:30pm – midnight about mid November 2012, Uhrichsville, Ohio McDonalds, my husband called and asked if they still had the 50 piece nuggets and the worker said yes. So my son in law and daughter went to McDonalds to get 50 piece, 2 large fries for us and then they put their order in of a 50 piece of their own and one large fry. One, the debit machine was down from midnight to 1:00am so they had to leave after placing order, to go to ATM then back to reorder. Two, when they got home I ended up with medium fry instead of a large and the fries were unsalted. This is not the first time that we have had unsalted fries. The fries aren't the same without salt, unless you request for no salt and we did not. Three, when they got there and placed the order for 2 50 pieces they were told that they didn't have the 50 pieces any more, after we had called to check before going out. We are to the point that we will stop going to Uhrichsville McDonalds and either go to Wendy's in Uhrichsville or drive 15-20 minutes to New Philadelphia, Ohio to go to Burger King. Hope to see improvements or no more McDonalds.

The morning of December 30, 2012, I went to McDonald's for breakfast with my family. I ended up ordering last. I had to wait over 25 minutes to finally recieve my order. My family and I were very irritated and complained several times to the staff in which they completely ignored us. Irritated, we left with intentions to contact their corporate offices where we feel that we should not be ignored. In spite of all of this, there were two young ladies who sought to quickly attend to us. I believe they were the manager and a co-worker.

I go to the McDonald's at 3072 SW 29th, Topeka, KS 66614. Multiple occasions I have gone here and have ordered stuff (ice cream, then tell me you don't serve ice cream even though it is on the menu, and a grilled chicken honey mustard snack wrap and then tell me that I cant order that because you already turned the grill off at 7:30!!). I just don't understand why this McDonald's is even open still or making money when they tell people they don't or cant fulfill someone's order.
Thank you for reading this
Kevin

My daughter works for the Terre Haute Indiana Mcdonalds, on SR 46. She has worked there for several months now. She is 16 years old and the verbal abuse that these kids are experiencing is apauling.
I have had my daughter come home for the last time in tears because a manager has implemented the "F" bomb in their daily managerial routine. I am choosing to take this route first, in hopes that some solution can be met.
If I cannot, I will be forced to take legal action!

On the 13th of December I picked up my usual morning coffee. Went to work and about half way thru my coffee I started choking. I pulled a white crayon ( used to write on the coffee lids) out of my throat. I was extremely scare and upset. Two days later I wrote an email to McDonald's telling them what had happened to me. Still no response!! Very upset about what happened and how your company doesn't care for the safety of their customers! I do have photos available if requested.

I have a 17 year old daughter, who works for Mcdonald's. This Mcdonald's located on 15th street in Midwest City OK. One of the members of management has been harrassing my daughter. We have filed a greivance and nothing has been done about this situation. I have talked to the store manager as well, still no results. The situation has gotten even worse. Now other crew members has began to make different statements about my daughter. These crew members are friends of the manager. My daughter has been asked to be transferred. No transfer has been done. They have began to call her out of her name. Names like "big girl". I find that very offense. I am at a dead end. The only thing left to do is consult an attorney. There has been several threats against my daughter. There's several managers aware of the situation. How you can maintain a business or hire people for positions and you allow your MANAGERS TO HARRASS THEM OR RUN THEM OFF!!!! I have asked for the district managers number. The store manager states, I cannot have his number. They will give him a message and he will call me back. I have not received a phone call, yet. The manager stated, this in November 2012.

On 12/24/12 I had a horrible experience with Mc Donald's Store Manager, Alicyn L, Store 33106 located at 2815 Business Center Dr, Pearland, Tx 77584. I informed her I accidently provided the incorrect card for payment and asked if she could void the payment and reprocess using the correct card. She stated "NO, I would need to drive around, reorder, and repay using the correct card". She then handed me my refund receipt and threw my card into my vehicle. The service received by her was so unprofessional, she truly does not appreciate a valued customer that spends over a thousand a year with Mc Donald's. My kids and I will not be visiting this Mc Donald's again! The time it took to voice this complaint with her was a waste of time, she could have stated I understand, retook the payment, saved a customer, and kept the line moving! Having Alicyn L running this Mc Donald's is a BAD decision! Please rethink this decision and give a professional individual this opportunity that values their job and customers!
Regards,
Very Dissatisfied Customer

I often go to mcdonalds at night time during winter to buy there hot chocolate. I've noticed that at night time since I've started going they say that there hot chocolate machines are shut down and to come back the next day. If that's the case all mcdonalds should post a sign at night time every night saying that there machines are down and to basically spend your money elsewhere. Also at night time they've told me I can not use my bank card I have to use cash, this is America Money is Money and it should be accepted! If not they should Also post a sign saying they don't accept credit cards at a certain time. Also Christmas eve I went to mcdonalds to purchase a snack wrap and one of the employees took there car and parked it in the middle of the drive through so that I couldn't even bother to ask if they were open. The employee even looked outside of the door as we walked up to it to ask him if they were open and he quickly walked away, quite rude to me. I've also noticed at times there speakers through the drive through don't work and you have to scream your order through the speakers just for them to hear your order. On several different occasions they've forgot to give me straws, ketchup, and barbecue sauce. Also many of times they've got my orders wrong. I hope these things can be soon fixed because I love there food but the service and employees need to work on
Some basic skills. I would like to add at night time when going to mcdonalds i have to wait a good 15 minutes to get my food. I hope my complaints can be resolved so that they do not lose business. Thanks!

My niece was reprimanded for not throwing away the owners' sons garbage away thru the drive thru window of mcdonalds in richfield wi on 12/23/12. I am sure it is against health dpt regulations for workers to throw away peoples garbage this way. Our family is furious and want this owner (Steve Killian West Bend WI) to apologize to my niece. If we do not get satisfaction we are contacting the local health dpt, local tv staion and the local newspaper.
respectfully,
Aunt Theresa Krueger
6836 Schroeder Rd #13
Madison WI 53711
(608)333-3040
tk101.488@gmail.com

you have a lair and rude store at your trenton store she is awful i called the store letting her know that my fries was cold and she called me a lair and she was cussing and screaming like a crazy lady. When I called i asked to speak to the store manager she gave me a unual name and when i told her the problem she start screaming and cussing calling me a lair if i knew you have a crazy person running your store i would have not came to it. my wife wanted to go up there with the police. just to let you know if i find i nothing has been done i with perceive to take legal action. On 12/24/12 12;30pm

On Saturday, 12/22/2012, my granddaughter and I ordered a meal and I asked the cashier could I use my cuopon to get the rib sandwich at 2 for the price of one. She told me yes. I went to get my coupon from the car. I didn't see the cashier put the food in the bag. I also told the cashier that I am
getting two sandwiches. I checked the bag when I got home and there was only 1 rib sandwich in the bag. I was highly disappointed. I called the store, and the cashier who waited on me told me that she explained to me 3 times about the sandwiches and she didn't. She took advantage of my 10 year old grand daughter. My granddaughter had $10.00. I would have paid extra, if she needed more money. I wanted my extra sandwich. She gave me a long speech. I didn't see the receipt. You can feel free to call me at (610)-383-5349. This e-mail might change soon. The cashier just decided to do our order theway she wanted to do it. We didn't tell her to do like that. My name is Oretha Williams.

April 18, 2012 time 19:45. Went thru drive thru ordered 4 complete meals. When i retuned home a 20 pc nugget was missing. I recieved the drink and fries just not the 20 pc. I called and spoke with the store manger (Lucy). She asked me to return for my missing meal and agreed that for compensation i would recieve my meal (big mac & fries) so i may eat a fresh meal.
When i got there (drive thru) they asked me to pull forward, reminded the young lady at the window who i was since 15 min. Had only gone by. Informed her that i had spooken to Lucy and a man in a dark blue shirt said among other inappropriate customer service that the added request of my big mac and fries was too much to give.
I repeated to him that i had spooken to Lucy and to pleae retrieve her. She was there but would not ask her. He was very rude and insinuated that i was taking from the company. His name is Jose and said he was a manager. Upset with his treatment i left. Called back and spoke again to Lucy. Informed her, gave her my name and let her know i would be making a formal complaint.
Two other employees were witnesses. Store number is (210) 682-7400 in San Antonio Texas on Potranco. I will be sharing my experiance with my rotary club as well as the chamber of commerce. I/we hope that with your support and our efforts we can make this city a customer friendly experiance. Striving for excellance is our goal.
Thank you for your time.

This is a complaint against Mc Donald's Family restaurant for serving raw meat product I had gone to the MC Donald's drive-in at Karma Lakeland, Naurangpur Manesar 122050-Haryana INDIA on the night of Feb 8th 2012 at 3:16am to order a takeaway for 1 McChicken Meal combo. I came home and my wife started eating. After a few bites we realized that the chicken patty was completely RAW inside. This caused my wife to vomit & she fell sick.
I had to give her a tablet of "Buccastem" which is to stop extreme vomiting. I almost had to take her to the hospital at around 4am. I am putting this complaint immediately as we have been traumatized and my wife had to physically & mentally suffer for Mc Donald's carelessness and below standard inedible food.
I would really appreciate if this is dealt with this seriously & I will also be filing a case with the Consumer Court. I have also taken photographs of the burger & raw chicken patty along with the receipt.
Details of the Invoice:
Invoice#: 003801600409736
TIN: 06551822816
Crew ID: 26811 Pradeep
Total INR: 158.38

I went to McDonald's in Dothan, Al located at 2251 REEVES ST, DOTHAN AL 36303 (334)702-8338 and ordered a filet fish sandwich without tartar sauce. It even had No tartar sauce on the receipt and had it attached to the box the sandwich was in. Mistakenly I did not check my food before leaving the restaurant. When i got back to my office I noticed not only did it have tartar sauce on it but it had double the amount. As if they had intentionally put alot on there.
I took the food back to McDonald's and as i entered the facility i saw all the employees standing at the front counter doing nothing but talking and laughing (not their jobs). I approached the counter and put my food on the counter. I was asked if i could be helped. I pointed to the box and stated that the next time a customer asked for a specific sandwich to be made a certain way to make sure they did it and checked the receipt on the box before sending it out to a customer. One of the employees then laughed (as if an upset customer was a joke) and i then was asked if i wanted them to fix it and i told them of course not and that I would not be returning to their store.
I just can not understand why fastfood does not try and do better at serving food than they do. Not to be ugly but handicap employees would be much better to hire than the teens and stupid idiots they hire now. Fastfood is not at all a hard job to perform and can be done by pretty much anyone that can speak or breathe so my suggestion would be for McDonal's to fire all their current employees and replace them with mentally and physically handicap employees because I know the public would get much better service as these people would enjoy their jobs and take pride in it.

On Feb 28, 2012 I went to the McDonald's In Murfreesboro TN At the corner of Church (HWY 231) and Broad (Hwy 41). Not only was the service in the drive through very slow, but I had also ordered a medium French Fries and it was only half way filled up. The worst part came when I took a bite into the sandwich and put it down (bottom side up) and saw a rather large spot of mold!!! I took it back to the restaurant and demanded to speak to the District Manager. I was told he was unavailable.
I requested to speak to his boss, also to no avail. They gave me an 1-800 number to call. I gave all my information and was told that I would receive a call the next day. The call never came. Any ideas where I may post a picture of the McMoldy?

This letter is a formal complaint regarding the service received today at McDonalds Located at 1294 Stoney Point Road Charlottesville VA 22903. During my lunch hour I arrived to this extremely busy location at approximately 3pm to grab a medium caramel frappe. I ordered at the drive through and paid at the first window, drove to the second window where the gentleman advised me they need to "change the bag" and he instructed me to pull into the customer waiting parking space and they would bring the drink out to the car. I patiently waited over 20 minutes and then decided to go inside.
I went to the counter and spoke with Josh who advised he was a manager and had Josh had no idea why I was waiting. I explained I was asked to wait for my drink and he said "ok let me check" he opened the drink machine and the bag inside was empty and he got a bag of drink mix to change it. I advised I had waited 20 minutes and they had not even changed the bag, he looked at me puzzled with no apology or understanding why I would be upset so requested my money back. Josh asked me what size drink I ordered and gave me a refund with no receipt, still no apology and proceeded to assist the next customer.
I asked who the store manager was and requested to speak with him and was advised the store manager was in a meeting. Another customer with similar experiences pointed me in the direction of where the Store manager was meeting and the door was open, so I excused myself and advised the store manager of the occurrence. Kelvins Pease's response was he is not aware of the situation, a manager in the front can refund my money and "sorry you were forgotten". There was no empathy, no sense of urgency, his tone was sarcastic and he could care less about the lack of customer service I received.
I am appalled at the experience and will make it known via every social media platform available if appropriate action is not taken to rectify the situation. Side note: the "meeting" Kelvin was in appeared to be his wife and 3 kids for lunch.

i work at walmart for almost 5 years at the valleyfield quebec canada's walmart and i went to mc donalds yesterday and ordered as usual my chipotle wrap to take out that i usually love so much but they never put enough sauce in it so i asked for extra sauce and lucky me .. she put so much that when i opened them .. the sauce was all over the place and i was kinda frustrated but when you're hungry .. you'd eat just about any kinda chit .. for a result today i'm stock to go at the toilet about 3000 times a minute and fortunately i'm off today ..
and then about a month ago i ordered a cheeseburger but the meat wasnt cook that much so i returned it to that girl but she got frustrated telling me that when the meat is pink like that .. it's considered cooked for them .. i said i'm sorry and i hear you but i dont eat my meat as pink as it is .. she stopped talking .. took my cheeseburger and left .. so i waited thinking she'll bring a better cooked one .. but she never came back so i ended up not having lunch ..
i was never offered a refund or something else against that cheeseburger and when i talked to the other girl about it .. she got kinda mad too and she said she doesnt have time right now but please next time ask for your meat to be well cooked .. no refund offered there too and that one was a manager .. i just wish i'd get an email address so i could write to the owner of that place and complain about those girls he's paying for helping to lose customers ..

My hometown of Oak Grove, LA just recently had a new McDonalds open. Everyone was very excited about this since we needed something like McDonalds in our hometown. But……..this particular McDonalds is loosing business each and every day due to the slowness of the staff preparing our orders. We have two seperate window areas to place your order yet only one window to pay as well as receive your order. Yesterday I sat in line in the same exact location for nearly 15 minutes before ever making it to the order place location. I as well as many others got out of line and went to other places to eat due to their slowness.
I work all over the US and as well have eaten at many other McDonalds and have never experienced the slowness that our new hometown McDonalds is having. Possibly someone can check into this matter and see where the delay is lying and possible changes can be made to make this a FAST FOOD restaurant like it is suppose to be.

I have to say I never thought McDonald's was this bad of a restaurant but turns out it is. I watched a video one time in health class called " Super Size Me". It was really interesting to know that McDonald's had or did so many things. Before 2011, in about 2004 and time before that McDonald's employees asked customers would they like to super size their meals, and response most people said "yes" which caused a lot of obesity.
Something else that was on the video was that the man talked to a few 1st graders and surprising me that they didn't even know who Jesus was but knew who Ronald McDonald was, and when I was just and preschool I knew who he was. According to Scientist kids these days know McDonald's before they can even speak. One time my dad had went to McDonald's and he ordered a cheeseburger.As soon as he got in the house and opened his wrapper and the only thing he had on his burger was lettuce and tomatoes.
I remember a time where I went inside McDonald's with my family and it took about 6 minutes to get our food, because it was so crowded and the employees were moving very slow. There was even a time where I found a piece of hair in my food. But I have to say McDonald's might sell tasty food but needs to work on some improvement they have rude employees, slow/bad service, and less room. Oh and did I mention McDonald's put twice as much sugar on their salads than any of their other foods!
My stomach turned in pieces when I found out this much information. But hey you can never change anybody's opinions!

McDonalds in Augusta, GA on Deans Bridge Road. I am tired of my orders being filled incorrect. Examples: If I order a plain cheese burger, that doesn't mean that I don't want cheese on the burger because I didn't order a hamburger. When I order the #4 two cheese burger meal with mayo and ketchup that means that I want them both prepared the same, not one with pickles, mustard, etc. and the other one with mayo and ketchup with mayo all over the top of the buns and under the buns. (SLOPPY!!!) When I order a fish sandwich that's exactly what I mean not a chicken sandwich.
When I order a Happy Meal (IT SHOULD MAKE SOMEONE HAPPY) and say a plain cheese burger happy meal that doesn't me a plain hamburger without cheese. (If I wanted a burger, I would say that I want a hamburger). When I order a sausage biscuit, I don't want to get down the street and bite into a piece of ham. And so forth and so on. I don't have the time to go over all the incorrect order that I have received from McDonalds. Management is not much better, Rodney should be trying to, first, hire people that can read and stop being their buddy and have them correctly complete order with hot food.
I have taken it long enough and really don't need to come to McDoanlds daily and sometime twice daily.

I will never go back to the McDonalds on 701 w spring creek I was surprised at their nonlack of knowledge of your food and drink the people or teens that work ther are not very. Professional tere help made me feel very Intense. I asked. Them to make me a flappe instead of the drink with my fish combo. The employees did not know what I wanted did not know how to fix it did not know what I was talking about 3 times they fixed different drinks until they finally came to the right one my fries were cold I would not recommend this McDonald's to my family or friends I felt very upset when I left there drivethu.

Comment: Very disappointed with the food and lack of service. At appox. 1:10pm we ordered 2 angus muhsr&swis meals. When we got to the cashier window, we were told that there would be a wait for the mushrooms and cheese. I asked how long and was told appox.5min. I asked the cashier why wasn't I told by the order taker that there would be a delay. I was told that this info had been given to the order taker but she failed to pass it on. Had I been told about the delay I would have changed my order. Having waited out front of McDonalds for a little over 5 min, the order finally came.
The bun, mushrooms coke (asked for med. and got large coke) and fries were the only things that were actually good. First of all there was no actual swiss cheese on the burger but some white glop sauce which I actually thought was mayo. I can't believe that this was suppose to be swiss cheese. Next the hamburger was over done and dry. It seemed that it must have been on the warming tray for hours. Needless to say we won't be order this tasteless meal again.

I live 7 miles from McDonald's store #7020 at 300 N. 193rd E. ave in Catoosa ok. Right next to the hard rock casino. I have been going there for years but since McDonald is next to the casino their service and attitude and their help has gone way down hill. I stopped by there tonight after donating my time to hometown Halloween in Catoosa to hand out candy & man a game that I brought for the great kids in Catoosa. The last time I went to McDonald's I ordered 2 jalapeño mcchickens which they charged me for but only gave me regular mcchickens. I swore I wouldn't go back to this McDonald again.
But, my two sons were with me and they wanted McDonald's so I went ahead and took them. I ordered 1 jalapeño mcchickens for my daughter and 2 regular mcchickens for 1 son, 2 mcdoubles for another son, and 3 mcdoubles for me and the wife and 2 small fries. Needless to say got home and no fries what so ever. So I call the McDonald's and tell them that I'm tired of them stealing from me. That I wanted a 20.00 check in my name tomorrow morning. If they were going to steal from me then I might as well steal from them. Instead of getting a response they hung up on me.
I called back and asked for the manager again and before I finished my sentence they hung up on me again. I will be going back down there tomorrow to get the district managers phone number and to file a formal complaint against the night shift manager and the entire crew. I'm fed up with these dumb a::Es that are mad at everyone else because we don't work for minimum wage. If I half assed my job I'd be fired in a heart beat. All McDonald's managers need a wake up call in the unemployment line.

Breakfast time at McD's yesterday with the family. Three young girls and my lovely wife. It was COLD………….outside. It became apparent in a few minutes……this place was as COLD as outside. Not really…………but if I had a temperature gage……I would guess at around 63-65. No one in the place had their coats off. Our daughters were complaining (one daughter has a cold or something…….not feeling well). I decided to check with the management (my lovely wife was not going to let this go) and now comes the reply to my compaint. "We can't do anything about it". OK. Didn't know what that meant .but I did repeat it to the family.
Then we noticed a older woman…..go to the counter and do her thing……..Wow………she was "upset" to no end. I gather she complained about the COLD. We were told by some "regulars"………..it is like COLD here…….all the time. This will be the last time we go this McD's………for the winter at least. Slippery Rock, Pa. 16057

Hi I'm complaining about the young girl manager at macdonalds in Midland WA 6056. It's Saturday the 29th at 3.00pm. She was not only rude to myself & my cousin by basically throwing our food at us not placing in a bag & wen I asked for a bag she grunted & complained. There was Also an older gentlemen that had been waiting for his fries & he questioned her & she Rudely & very loudly made a it clear she had already given them to him…. Which clearly he hadn't!!! It was given to a lady not him. My Cousin went and spoke to the manager & she was carrying on & I'm sorry if she cannot serve customers in the right way then she shouldn't be a manager…
She is unprofessional & has a very very poor lack of people skills just plain rude! We left & phoned midland macdonalds & asked for the managers name.. She would not give her name out but hung up on us… This isn't the only complaint I have about this store nearly ecery 2nd time I go here I receive the wrong meal I've ordered. It's getting ridiculous. This manager needs to pull her head in she us completely rude.. I will stop coming to this macdonalds because of her attitude.
I am very unhappy with how myself & my cousin were treated by macdonalds staff & especially a manager!!!!

I went to the drive-thru at a 24 hr franchise of which was after hours and purchased a Big mac, just a burger, no fries or soda. I then asked if I could get an extra sachet of tomato sauce. The reply I received was "you can only get if you buy fries with your burger". That reply just made me furious enough to almost throw the burger back at them. What if I ordered in and got sauce from a dispenser? If I like sauce on my burger then I do, I don't have to purchase fries in order to obtain some extra sauce to go with my burger. This is ridiculous and this is not the first time I've had incidents with this particular franchise…..
It has been sercice issues, attitudes and just pure lack of interest to provide customer service. I sincerely hope that this complaint is escalated to someone who will do something to say the least, if not, I feel that I should escalate it even further to get articles written about these issues.

On numerous occasions I have stopped in to McDonalds in Big Stone Gap, Virginia – for some unforseen reason, they NEVER can get the "Iced Mocha" right. They try to give me iced coffee (numerous times) and this morning was certainly no exception. I stopped for my office and ordered the "iced mocha" with my gut telling me not to. Of course, I pulled to the window and the young lady was making it – i watched her put "iced coffee" from the container into my cup. When the opened the window, I asked her about the whipped cream – she was absolutely stunned and had no idea that they put that in there.
The "manager" brought it over to me and I asked her if that was iced coffee? She said, no maam it's mocha. I asked her again and told her that usually they get it wrong, she then gives me a confused look and asks "are you talking about frozen" – duh!!! I told her no, that the young lady took the liquid out of the blue container marked "iced coffee" – she then turns around and asks the lady and the young lady says yes I took it from that. Then the manager informs her that she has to get it out of a different machine. Then here it comes – will you pull up and we will bring it out to you??
This is their way of getting the monkey off of their back and sweeping this mistake under the rug b/c no one is sitting in their drive through window making their window "time" extend. So, no one is the wiser. I asked the manager if it would be long b/c it would make me late for work. Oh no, we will bring it right out she says. Well, after sitting out there for a few more minutes, she brings it to me – thus making me late for work!!!! This is not the first time this has happened and as I said, I should have gone with my gut feeling and not order the iced mocha but you know if an item is on the menu, you would think each employee would know how to fix it!!!!

I visited McDonalds around 8pm in 1351 South University Drive, Plantation Florida is the nastiest dirtiest crappy smelly store I ever seen. It smells soo nasty by the machines and flies all over the catchup and over the soda machine, no trays available for customers or napkins. The floor wet and dirty tables and bad attitude when I told the employee about it telling me it is not his job. This is not the first time it is like that and I've seen other people laughing and complaining. I was about to throw up my food and I just had to throw the rest of it. yakkiii

Please be advised Mcdonalds store located on 31-46 21street Long Island City, NY 11106. Is the worst Mcdonalds ever. The Ice Cream machine seems to break down every night at about 9pm. I have visited this location five different times in a two weeks time frame. I would like an investigation done. There is no way that a machine breaks down that many times. I am very pissed off becuase today, I went in at about 9:23pm and the CSR stated the machine was broken again, really. This sound like crap. I expect that this location to fix the problem. My next step will not be to contact your website.
I will call Howard on my side. So please make every effort to place a investigation on this ghetto Mcdonalds.

On 13th of September,at time 10.21pm at night.i was make a call to McDonald to order delivered (Fried chicken for two (2) set,double cheese burger for one (1) set,MC chicken for one (1) set,and the toy of SMURFS for four (4),AND i was triple confirm with the person who are take order for me that i want the 4 SMURFS TOYS is ONE(1) OF THE GIRLS DESIGN,ONE(1)IS THE RED CAP SMURFS(also mentioned that name call "papa"),AND OTHERS TWO(2)DESIGN WANT OTHERS DIFFERENT TYPE'S SMURFS!!!!!!!!!ALL my order,the person who are taking my order also confirm with me for all my order and telling me that need to wait around 45minutes.
Time pass time…,at time 11pm,i call second time to checking my order,the answer that i get is raining and ask me to wait again,and i call for the third time and i also just get the same answer.
AT LAST,AT TIME 11.35PM "ALL" MY ORDERS IS JUST COME!BUT!!!!IS NOT ALL SAME LIKE WHAT I HAVED ORDERS!!!!!!!!I JUST GET A DOUBLE CHEESE BURGER!A MC CHICKEN BURGER!TWO DRINKS OF COKE!TWO FRIED CHICKEN AND TWO FRENCH FRIED!ALL I ORDER IS FOR SET!!!BUT WHILE I GET IS ONLY TWO ITEM IS SET OTHERS IS ALA CART!!!AND THE MAIN POINT THAT I AM VERY VERY VERY VERY DISAPPOINTED AND UNHAPPY IS ABOUT THE SMURFS TOY IS JUST TWO(2) ONLY AND TWO(2) OF THAT ALL IS THE SAME TYPE!!!!!!!!!!!!!!!!!!!!!!!!!!!!!!!!!!!!!!!!!!!!!!!!!!!
All that i return and on 14th i make a call to 03-78433388 to complaint and ask me to wait for some in charge will give me a call!But i wait whole day NEVER get/answer a call from any people of MC Donald!!!!On 15th i call again and i was get the same answer also!!!!but at noon time the mcdonld person are calling but the sound is like unhappy and ask me again about all the things and i was repeat and repeat again!!!!at last i ask her to check my the record that i order on that day and she was tell me that she will call me back soon,but until now 16th of September,i also dont have answer any call from her,but i got try to call around 8 time

I took my little granddaughter to McDonlads for lunch and there was a mentally challenged lady in there working and she was upsetting the customers. My little girl asked to leave because she was scared of her. The lady was talking to herself and looking out the window and making wierd sounds and gestures. It was very upsetting. With so many people needing jobs why don't they hire people that are qualified for the jobs? I realize they get a tax break but the rest of us have to suffer. We left the restaurant and the lunch was suppose to be enjorible for us but turned out to not be so!

I passed by McDonalds branch on queens blv and 58 st, tuesday at 9 pm to pick dinner with my family and ordered meals for $ 57 and only asked to get the seven cups to start filling it with the soda, but i was badly replied by the cashier as well as the other girl was beside her which i asked to see the manager, although they kepl laughing while i was indicating the bad treatment i found from the two girls and the manager even did not looked to them to stop their laughs to me. I had nothing to do beside returning all the meals and ask my money back, but i felt nervese and they faced me laughing infront of my kids. I felt sorry entering this branch and never feel happy entering it again.

I live just behind a McDonalds my son loved it so I spend about $20 a day about 3-4 times a week. While I was on vacation I decided to walk to this McDonalds to send some work related emails on their wifi while eating there the whole time!!! The manger approaches me and told me that I was there too long and need to leave I asked him if he had any idea of the amount of money I spend at this McDonalds his response was I don't care!!!!! I said fine I will not come back here ever he said I don't care!!!??? I left to walk home my son had stayed because he just came in as all of this started.
A few minutes later he came home told me the manager said for him to leave and never to come back!!!!??? I have never been a fan of McDonalds but now I will never set foot in one ever again! I will make it a mission of mine to keep people out of this one!!!!

I can't believe how rude managers are to employees they are really bad everytime I go a manager is telling their employees OH MY GOD YOU ARE FRUSTRATING ME OR I DON'T KNOW WHAT'S WRONG WITH YOU GUYS, I DON'T KNOW HOW THIS IS SO DIFFICULT WHEN I CAN DO FIVE THINGS WHEN YOUR NOT EVEN DONE WITH ONE…….by the look of the employee it looks like it really bugs then and I went through drive thru once and I had already paid for my food and ask if I can order something and she said yes and a manager goes back there and yells at her tells her to hurry up and plus I got my order wrong…. and the manager giving me dirty looks im done with that place.
I had enough with mcdonalds at high way 75 Sioux city Iowa im not asking for anything just to talk to your people I don't mean one I mean all of them managers and employees….

I have a profoundly mentally challenged 18 year old grandson who loves McDonalds. I am sorry to say that your pricing has finally caught up with me. For a very long time the fact that Evan enjoyed stopping at McDonald's was wonderful – but I don't feel I want to deal with McDonald's any longer and will certainly spread the word about this "fast food restaurant". Here's what happened today that just made me see the light of nothing but unfair pricing and prices that are unreasonable for the type of food served. I ordered a "big breakfast without hot cakes". The cost was $3.69 plus tax.
This is what was served:
– l sausage patty – 1 biscuit
– l hash brown patty (very dry & crusty)
– very small order (less than l egg) of scrambled eggs.
I could have ordered the sausage biscuit for $1.00 – Hash browns (hopefully 2) for $1.00 – so the egg is $1.69? Totally unreasonable – a complete breakfast of meat, eggs, potatoe, and toast would be served in a good family restaurant for this amount. Please don't call this fast food – the cost isn't – but the food is. I belong to many committees and very involved in the Detroit area – I will spread the word. By the way, I don't live my life to complain but to find the best in any situation – this is not anything but greed.

This evening, I went to the South Brunswick, New Jersey, McDonald's location (#11154). To say that customer service was poor would be a compliment, AS THERE WAS NOTHING APPROXIMATING ANY KIND OF SERVICE WHATSOEVER. We were second in line, and IT TOOK 35 MINUTES TO RECEIVE OUR ORDER for a McDouble, an angus wrap, an M&M Mcflurry, and a large fries!! We only received the food then because I demanded to have my money returned so that we could leave To add insult to injury, when we got home, we realized that the order was Incorrect! I was told the McDonald's manager, whose name I demanded and was given to me as Nina, was not there.
Someone named Emma told me she was also a manager and gave me the information. It was the most inefficient, poorly run operation I have ever seen!! Not only will I never visit that location again, but I will also avoid all other McDonald's locations in the future and will urge my family and friends to do the same. This was an outrage!!!

Over the last year or so I have had several Frappes at various McDonalds. Some of these did not cause any problems. However, it now appears there could be a high risk of getting diarrea from drinking the Frappe. It has happened to me several times. I think McDonalds should look into this and warm its customers of this possible risk, it's not a very pleasant experience for a customer to have at all. I like their food, but it will be hard to keep going back when it involves spending lots of time in the bathroom after each meal. Maybe the next McDonald's reality show should be called, superDiarrhea me!

Over the last year or so I have had several Frappes at various McDonalds. Some of these did not cause any problems. However, it now appears there could be a high risk of getting diarrea from drinking the Frappe. It has happened to me several times. I think McDonalds should look into this and warm its customers of this possible risk, it's not a very pleasant experience for a customer to have at all. I like their food, but it will be hard to keep going back when it involves spending lots of time in the bathroom after each meal. Maybe the next McDonald's reality show should be called, superDiarrhea me!

MacDonalds on West Interstate Drive (inside Wal Mart) in Norman, Oklahoma 73069. This is Definitely NOT the first time our order has been completed Incorrectly. Since THIS MacDonalds has, obviously, undergone new management, our Orders have Never been right and you can't exactly watch over their shoulder when you are in a bit of a hurry. Fist time, a few months back, a vanilla shake was requested, but the machine was down, ok fair enough. Second time, a couple of weeks later, we decided to get a snack on the way out. MacDonalds shake machine still not working, and 1 cheeseburger, 2 big macs and 2 orders of small fries.
RECEIVED 2 BIG MACS 1 ORDER OF FRIES AND when asked for the second order of fries It obviously was a Huge ordeal and 2 other customers were helped before us. AND the MacDonalds staff got one of those orders wrong too! OK so then my husband went again today, Sunday June 12 at about 4:30pm guess what ? the shake machine was working sort of BUT WHEN HE GOT THE ORDER HOME. HIS ORDER WAS 2 BIG MACS ONE SMALL FRIES, HE RECEIVED 2 BIG MACS AND 2 ORDERS OF FRIES AND A HALF FROZEN SHAKE. And there was another customer waiting with him with a small child and when she was given her order it was Wrong; she said "they Never get orders right here anymore"
Now I believe that MacDonalds has Always wanted to be known for their fast and courteous service and Always being friendly and making sure their customers are served well but, the amount of customers certainly has dropped, in case you are interested. And So Has the Attitude of the employees in this MacDonalds. Needless to say, we will be taking Our business elsewhere.
Regards,
Mrs. S. Venner

I was at the drive thru @ McDonalds in Myrtle Beach. I ordered a iced cappuccino. The said they don't have iced Cappucino. Its a hot day! I was dying of thirst! I asked if they could put ice in it. They didn't put any ice! Therefore I had to drink hot coffee on a blazing hot day! And I am appalled @ the service they provided! Or should I say. The service they didn't provide! The store address is U.S. 17 South Bypass, Myrtle Beach SC. Please resolve this issue and make sure no one has to put up with this type of service! Thank you, John Bayron.

i went through the mcdonalds drive thru to get food for my family. i had ordered a big mac value meal, a double cheeseburger value meal, 2 individual double cheeseburgers, a grilled chicken sandwich, a big mac sandwich, two kids meals, and a small nuggets. we were told it would be just a few minutes for our food to be done when in fact after waiting for fifteen minutes for our food i went inside to confront the mcdonalds manager on why our order was taking so long. the replaced the fries in the kids meals that they had already given us which by themselves were already cold.
we live just down the street from this particular mcdonalds so our food should be nowhere near cold when we get home. well that was not the situation. more than half the food was cold. the chicken sandwich ended up being crispy instead of grilled and it was very cold and you couldnt even bite into it. one of the big macs had barely any sauce on it and only one small piece of lettuce. all three double cheeseburgers looked and tasted like they sat premade for an hour. the fries were stale and cold. the nuggets were hard and dried out. the only thing that was even remotely good was the pop despite the fact of it being flat.
this will most likely be the last time i go to this particular mcdonalds.

Why would you take the large milkshakes and implement into the mc cafe joke . For the last 3 years I stop a a mcdonalds in Cromwell ,Ct and order a large strawberry shake now I pay the same price for a shake that I would consider a small shake if you think that by offering me a stupid cherry or whip cream I will be happy you sadly mistaken!!!!! This Is by far the worst and most rediculas idea mcdonalds has ever came up with !!!!!! It's really to bad cause now I gave up stopping everyday and now stopsybe once or twice a week and I am going to do my best. To make it one time a week!!!!!! Ray Kroc must be rolling in his grave!!!!!!

On Saturday 5/28/11(5:50pm) my Mother, my six year old neice and myself went into the McDonalds on Coffee Rd (93312l Bakersfield. When we approached the counter 4 workers hundled, pointed and began to laugh at my mother right in front if her face. First off i must explain that my mother wears her make up alittle heavy at times and is Japanese. The employees were all young and of African american decent. This was highly offensive and extremely un-professional. I'm extremely patient and understanding, but their actions were beyond blatant. Its sad that a Grandmother can't take her Granddaughter to McDonalds without being humiliated.

I am a regular customer at the local McDonald's. I also work in the fast food industry, so i can understand the chaos that can happen in the fast food environment. But its getting to become a habit.The past two visits I have had to repeat my order once I got to the window, and I just got back from there a few minutes ago, in which not only did I have to repeat my order once I got to the window, but they still managed to get my order wrong. i mistakingly thought that when i checked the McDonald's bag to make sure that my order was correct, that when my sandwich was labeled with a tag saying "no onion, add tomato, that it was actually made that way.
WHAT WAS I THINKING!!!! Next time I decided to go to McDonald's I think that I will drive out of my way just to go to a different McDonald's.

I was stopping at McDonalds everyday to get a Chocolate Shake, but in the past month I have been very disapointed in the outcome. I have tried 4 different times in the past month and my milkshake is the same. The drive thru takes so long; which I do not know what has change or if it is different help, but it takes forever. You can even check with the person taking the orders, she has to keep checking out of her window to see if cars are moving or what. I could see she was very frustrated along with the customers waiting.
Anyway back to my milkshake, by the time I get it it is all melted the cream is just about gone, which was my favorite thing I liked, the cherry is sunk to the bottom and the shake is not very cold, it is just like chocolate milk. So I have decided I can just make myself a chocolate milk and save myself some money. As I said I have given it 4 different tries and it was the same thing. I will no longer be going for those shakes. It is not worth it. This is at the Derby, VT McDonalds.

i have complained about this mcdonalds NUMEROUS times before. located @ the intersection of market st./south ave. in youngstown, ohio. today is the first time ive been back to this mccdonalds in 6 months because of the exact same reasons. i pull up, order 2 hamburgers, and 2 med. fries.. ok, is this hard????? the girl @ the window reads the order back to me, hands me the bag, only to find 1 hamburger, and 1 fry.. who does this???? is this mcdonalds hiring only drug addicts and people that really cant survive or 'read;' in the real world???
i deal with mentally challenged CHILDREN!!!!!!!!!!!!!!!! that have more sense and do a better job than the absolute fools @ this establishment. it's not even an establishment, it's a joke!!!!!!!!!!!!!!!!!!!!!!! the manager had the audacity to e-mail me, and apologize for the continuously HORRIBLE SERVICE this dump offers, and not even offer/send me coupons to use @ a decent mcdonalds that maybe could serve me correctly without being taught how to do their job. r u KIDDING ME!!!!!!!!!!!!!!!!!!!!!???????????????????????
your facility SUCKSSSSSSS and you, the "manager"-loser, should be FIRED for doing such a repititiously HORRIBLE JOB with your leadership. you suck, your restauraunt sucks, your food their sucks, and i wouoldn't even send a retarded child to apply @ your dump, only so they wont make you LOOK GOOD!!!!!!!!!

going thru mcdonalds drive tru and getting wrong order. on my way to work on a sunday and went i sit down to eat; but they gave me the wrong order, so i had to gety back into my car get there and you don't even gat an apology.they told me i hat to wait to get the correct order, unfortunately i had to get back to work, so i just asked for my money back,though this is not the first time it has happened. maybe they cannot handle the heavy traffic…who knows? this was the mcdonalds on 441 and ives dairy rd in miami, florida on a sunday may 22nd ,2011 @11:00 am.

Went to get a chicken sandwich here in Corpus Christi McDonalds. I payed and got my meal and aske for mayo. Well they were out, drove off to eat and when I took out the sandwich it looked like it was made yesterday. The bun was hard as wood and the chicken was old and tough. I turned around and went back to talk with the manager and to my suprise he told me I was lying and that he knew they just barely came out of the grease. Wow, I might expect that from an min wage employee but a manager. I called in to complain and they wanted to give me a sandwich at any store.
You know, I dont want a freebie I just want you to fix your obvious service problems here in Flour Bluff and you need to start at the top Cmon hoe many customers do you really want to go to the competitors becuase you dont care about customers????

I had to show the local McDonald's manager a document from their corporate office indicating that a full medium order of fries is 4.1 oz to get more than half an order. I would LOVE to be able to send pictures from my camera phone to McDonald's, but their feedback form won't let you, and was designed to make feedback as frustrating as possible. I guess it's time to visit the library website, get the names of all the corporate executives, and send paper pictures to them.

this particular mcdonalds by my house is the worst i have ever been too. they screw up my order every time. i think someone should drug test each employee. i love mcdonalds, but this one takes the cake. one morning, i went through the drive-thru, ordered bisquits and gravy, i got home, sat down with fork in-hand opened it up only to find a blob of gravy with no bisquits. i was livid. just the other day, the gal at the window asked me at least five times what kind of pie i had ordered. i told her one peach, and one cherry. i get home and find two apple pies. here i go again back to have it corrected.
i am boycotting this one mcdonalds, i will drive to the next county before i go back again. this is only a couple of examples of what i am pissed off about. i could write a book! thank you for letting me vent!

I've been to mcdonalds several times in PAMPA TX, 79065 when the people placed at the windows doesnt understand ENGLISH. I had Asked for a girl toy and got a boy toy and they didnt know what i was saying. this went on for a bit and finally she asked someone to come to the window that understood ENGLISH. Another example was when I asked for napkins at least 3 times and same thing happened again. There has been several other times this has happened. Its amazing that all the employees are 90 to 97% mexican.
How do others have a chance to get a job there when everyone is hollaring to each other in spanish, so no one else would have a chance with being hired since they dont understand spanish. If they were hired they would never stay cause they couldnt understand what was going on. WHATS GOING ON WITH U PEOPLE?? You should double ck the workers/management most are illegal with fake soc sec#. I just dont get It!!! Dont u run these #s to make sure the people to the #s didnt die in 1940 or were made up illegally! tank u bery mush!!!

Went to McDonald's on April 15, 2011 @ 19:47. Location: 11529 E Washington Blvd Whittier CA 90606-3123. This was not a rush hour time but line was super long in drive thru and inside, there were alot of employees behind counter-including 2 managers-which manager were not helping or doing anything to help customers and they only had one register open. I complained to manager "DELIA" and she was like "dah" clueless totally clueless she did not apologize all she said is and insisted there was 2 registers open. Other McDonald's customers in line were upset also.
Plus they forgot to give us our drinks and still had to wait for those.  McDonald's is going downhill as far as who they hire This is not the first time -nor the second. Whats going on?
Very unhappy
Sandra Almanza
562-699-4997

Dear mcdonalds manager, I yet again have been given the wrong order and have been charged for the wrong drink order. For a drink that I did not order I had to pay, and I'm sick to death of being con'd. It isn't the first time, this has happend 4 times now! You have poor customer service standards and I as the customer are not getting what I am paying for at your restaurant? I shall never eat or even give you my money, McDonald's food quality is poor and I'm sure some people agree we are being robbed!! I shall be taking this further with my complaint.

the mcdonalds resturant is located at hilltop in va. beach, va. i had low blood sugar and stopped at the drive thru to get an icecream cone $.54. i paid and i watched as they prepared my order. a lady who had handled money got the cone, filled it and set it on the counter (all with her dirty hands) then the guy in the window went over and picked it up (with his dirty hands) – then got a napkin and handed it out the window. i ask him if mcdonalds did not use gloves when handeling food, his reply, yes we do in the back. he was very nice and polite. i told him he could keep the ice cream and i drove off.

mae fallowfield
from Sun Valley, NV
the mcdonalds in sun valley Nevada sucks and the workers don't listen to what the customers want every time I go through drive thru I tell them ice tea with lots of ice and I get the tea and no ice get workers in there that don't have their heads up their asses are you may lose a lot of customers I rate you at no stars

Gregg Carter
from Seaside, CA
Piss poor service. I went to mcdonalds in sand city California and waited more than 40 minutes for my order. One staff member kept calling for order #268. He kept calling it so I went to the counter and asked if the order was mine and was told by the shift manager Lana that "it was still in the oven and it will be a few minutes for your order. Lana said the customer for order 268 must be in the rest room. I went and looked and I was still the only customer in the building. I was called to the counter for a bag of apple pies. I asked where is my order and they said that it was the order #268 that they kept calling. I am furious beyond imagination at the total ineptness of the people that are representing your brand/store. Sum total of my time spent was more than an hour. I asked for a refund and left the cold food with them. There was more ineptness because she did not give me the 2.99 for the apple pies that I left there. I am not going to end this until these two people are reprimanded. The names are Mgr? Lana, and the person Harold who took my order and did not even check to see whether it was my order, when asked about the order he shrugged and that was it!!!!!!!!!!!!!
I will pursue this until my satisfaction is met. I am now on my way to Jack in the box to buy there. This episode is absolutely untenable and inexcusable.
At my consultant fee of $102.00 an hour I will have by the time I go to Jack in the box and back will have been 240.00 dollars. I would if possible like to speak to headquarters concerning this horrendous service.
Gregg Carter (831-747-1664)
p.s. while I was waiting for my order she had the gall to be at the counter eating a hamburger instead of attending to her customers orders.

michael vialpando
from Phoenix, AZ
I ordered a cheese burer with no catchup and still got burgers with catchup

Constance Mitchell
from Brooklyn, NY
I placed an order on mobile app. When I reached the McDonald's at 875 Garrison Ave, Bronx, NY 10474. I informed the cashier that I was there to pick up my order. She stated you have to check in. I showed her the app stating that they see me at the location. She said you have to check in. When I tried to check in the app showed that there was no internet connection. I explained that to her. She said, "oh well you have to purchase the order again." I said, why when the money was already deducted from my checking account. She proceeded to take orders from other people like I was not standing there. Eventually, she said to cancel the other order. I explained that I do not know how to do this can you guide me. She stated, "I don't know how to do it." I ask to speak to the manager. She said, "I am the manager." I ask for the number to corporate office. She said, "look on your phone." At that point, I was very disappointed with the services I received from someone that has the title of manager. I went outside and contacted a mobile team representative. The representative told me to re-install the app to my phone and the order should erase. I went back inside and waited to be serviced and the manager that was taking the orders had disappeared. There was no one standing there to take orders. I said to the worker that was handling the food, is anyone coming to take my order. She stopped what she was doing and came to help me. I feel that I paid double for my breakfast. I feel that I wasted time when I was due at work. I am very unhappy with this location. Every time there is always an issue. I had two previous events where I used my card to purchase food and someone obtained my information and spend $49.00 in food and then proceeded to make other purchases at order merchants. Also, I used my credit card there and was told it decline. I went back to the job to get my other credit card and to obtain cash, just in case. My card was declined again. The same manager decided to say, "oh the credit card machine does not work." This is my fault for going back and patronizing this establishment because the service there is horrible and the employees lack proper training in customer service. I do not have money to give away!!!!!

DIANE BERRY
from Shelbyville, TX
I ordered food at the drive thru window . when I went to the window to get my order the young lady started handing me the wrong drinks. I told her I didn't order the items given. she had to ask for my receipt. after looking at my order. I was told she gave my order to the car in front of me. told me to pull ahead and wait while they had to make my whole order. this took at least 20 minutes. I was not given a sorry or anything such, not even an offer for a free drink or sandwhich.
very disappointed , my family uses Mcdonald's several times a week. never had any complaints. an apology could have at least been given.
thank you

Jennifer Daniel
from Shelby, NC
The McDonald's I went to tonight I had ordered a buttermilk sandwich and when I got home to eat it, it tasted like it was not cooked fully and had to end up throwing the whole sandwich away. I refuse to return to that McDonald's location since this is not the first incident like this and I'm tired of wasting my money on something that I have to throw away and the company will not compensate without having to waste gas to return to the same location.
Restaurant #11438
Order #86

Frank Guzzo
from Prairie du Sac, WI
The service is GREAT ..The burger was raw in the middle and I did not see it untill I had eaten half. brought it back to the. counter. The manager in charge,looked at the meat and agreed. She replaced it. Second one was raw in the middle. She informed me the kind of the meat has been changed recently and when heated up to temperature, it kills all bacteria in the meat. Needless to say, I had an upset stomach all evening. I won't be ordering hamburgers again, and passing the word onto my family.

Charlotte Jadicus
from Ipswich, ENG
Just been to MacDonalds in Colchester Stanway . Was told that i cant go though drive on my mobility scooter as i cant get into store with scooter. The lady was laughing at me .
This is not the way to treat customers and will be getting some legal advice about this . Macdonalds are discriminate against people with disability's

Keyisha
from La Grange, GA
Went to macdonalds on commerce ave in Lagrange Ga I advised the woman over the drive threw speaker that the dinner side was not lit up just the breakfast side and she said theres nothing I can do about that so I took my business else where....

Tim Walker
from Johnson City, TN
McDonald's advertises free fry Friday with the app then when I visit the store here in elizabethton, Tennessee today at 4:30 pm I order 4 cheeseburger 2 large fries and the Friday free fry... I pull up to the window and the girl taking money informs me she has no idea what the free Friday is... so..... I just buy the 2 lg fries and 4 Cb.. pick up my food at the next window and drive 3minutes to my house from McDonald's we get home sit down to eat and the burger is as old as I am, the fries are cold... I'm not happy at all..

i recive the worst service my oder was wrong and i wanted them to fix and they said they dont have to very rude

wendell murray
from Lexington, KY
tried to go into the store and the front door is locked (7:46am)but they are taking orders in the drive thru.i went to the window and told the manager and she just looked at me like I was crazy and left the window...

daisy aldridge
from Springfield, OH
I have been to this mcdonalds a lot and always so slow as needing help I assume. tonight long time to wait on in drive thru and then got cold fries again as I knew that upon leaving but the line too long to go back. . had enough of this mcdonalds. one car pulle d out from waiting. . went ahead and ate now stomach upset. #34778 .1480 hillcrest ave. springfield, oh 45503 7/26/18 1007 pm. order 63.

Darleen Dankert
from Madison, WI
Was in drive through line, cars all over the place no one was taking people's order some left I went inside to order a hot fudge sundae and after waiting 10 minutes was told no hot fudge. Finally got my money back.
Help all over the place but not paying attention to their job.
THIS WAS ON NORTHPORT DRIVE MADISON WI?
That place should be shut down or a manager who knows how to manage go in there and clean up staff and place. No one is in uniform and they saunter in and out as they please. Will never go back.
Should be a 0 on your rating scale.

Connie Phillips
from Hixson, TN
I am very upset that the last three big mac I have ordered were very dried why have you cut back on sauce that what makes the Big MAC so good please if you have to cut back on something don't put so much lettuce big macers love the sauce now all you have is a plain burger thank you Connie

hasmukhlal gandhi
from Monroeville, AL
on 24th july 2018 around 12.30 pm central time i went to mcdonald on exit 11 on I 85. north of montgomery..AL. four stupid cashier were talking and enjoying gossip and myself going from one cash register to another..they dont care about f. customer.i waited for few min. watching this idiot talking loudly on business premises busy with one customer. WHY THEY care for customer..After close to five min. one cashier came and took my order.
Then my wife gave order and the cashier charge close to four dollar. No meat in sandwitch only bread , one cheese and tomato ..Vow four dollar u bastard are f. Worst than beggers..?????? Shame on the whole F. MCDONALD CHAIN.?????
HER order came without f. cheese.,.Lucky she open in front of cashier and the lady cashier told cook to prepared again. NEVER EVER ENTER IN F. MCDONALD in LIFE.. what a f.. MCDONALD IS ??????. FIRE ALL STUPID BLACK IDIOT ASS doing nothing and taking paycheck. Go and see the video....

Juan Failach
from Jensen Beach, FL
I was accused of "racial slur" and trespassed from McDonald's. I'm an old Hispanic male with Indian Indigenous blood. I have never ever been a racist. A week before the trespass notice. The African American lady named " Diedre Edwards" was going to give me a contaminated Chicken Sandwich. I physically saw her use a dirty glove to make my sandwich and I asked for my money back. I also filed a complaint with McDonald's. On 7/23/2018, I was notified by Ms. Edwards that she was calling police and that I can no longer come to this McDonald's and she said all of this with anger and furry. I was humiliated and now have a record for what? being a racist? I have never in my life have been or will be a racist. I don't care if Ms. Edwards is African American or blue or yellow I could care less. I care that that her hygiene and dirty nasty manners. She tried to kill me with a contaminated Chicken sandwich. This McDonald's is located at 3199 SW Port Saint Lucie Blvd, Port Saint Lucie FL, 34953.

Diana Dalman
from Berne, IN
Called Customer service line 1-800-244-6227 was on hold over 10 mins hung up. The Only McDonalds in my town,m store #6306 is getting unbearable. I eat every morning sometimes 2 times, but after today can't take it. For three days the sausage mcmuffin was so dry a child got choked on it. I realized that the muffin was out of package not toasted with semi cold sausage and given to us. I finally spoke to manager Jane, said her GM Manager Angel, told them to serve them that way cause the TOASTER was broke oh my goodness that is too much to even imagiine. I waited in drive up line for 20 mins and there was only 4 cars. Hashbrowns was cold. This is the worst service and food ever. Was told by a former employee and not out of spite, that the health dept would close them down how nasty the kitchen is. WHAT IS GOING ON????

Michelle
from Grayslake, IL
7/24/18 @10:30pm, in Round Lake IL (Rollins & Hainesville Rd). I was at this drive thru McDonald's location to get a large coke with no ice ($1.08). There was about 3 cars in front of me. As I got up to pay, the girl was about to hand me a frap & said $31. I said it was a large coke no ice. She said it wasn't on the list order. When she got my order ready, I saw her get it. It disgusted me. The automated drink poured in the cup, she then added I believe with her bare hands to put some ice in it. Then she realized no ice so she tried to get it out, then took a cap to get the ice out. Then she got a put some coke in & poured in my cup. She gave me the cup dirty with coke around the outside. She didn't even wipe off so I had to ask for a napkin. I should've told her to get me a new one but it was late & I was tired to. This is at least the 5th incident that something simple as an order they can get it wrong. Last year I ordered a 6 piece nugget happy meal for my daughter for lunch. Came home & they put a chocolate chip cookie in the nugget box instead of the nuggets. This is the last time I will ever go to this McDonlad's again! I'd rather drive a little further with better service than this unsanitary, untrained teenage employees who don't care about service. She & this over teenage boy seem to be flirting with each other as well while taking messing people's orders in the mean time. I need to at least tell you guys this to do something about training these teenage kids or a serious manager older to keep an eye out.

Susan Kinsey
from Shelton, CT
Gone to this Mcdonalds many times. Store #6150, Milford CT. Tonight was the worst experience I ever had. Went through Drive-thru. Placed my order at 10:19 for two items. Told to pull over and the food would be brought out. Sat at window 5 minutes. The food was not brought out to me until 10:35 plus. Not acceptable.
Ate food on my way home from work. Order was wrong! Got a sausage McMuffin and bacon, egg cheese biscuit (wrong). I ordered the McMuffin and a McGriddle. Only ordered 2 items and they got it wrong. Took over 16 minutes to get the food. They weren't that busy!

sherman gibbons
from Brainerd, MN
received only a third of my fries and they were cold cold cold. was charged double and had to argue to get money back.. should i go on.. my grand daughter got about half her fries n were just as cold. probably never going back. took me eight years to try ur junk since the last time u pissed me off. u cannot call yourself a restaurant, maybe a fake one.

noel rodriguez
from Chicago, IL
I went to the McDoanld's at 3245 W. North Ave. bought 25.00 worth of food guess what happen with the credit card I gave. Decline I gave another 3 other credit card all decline. go to Burger King down the same street MY GOD The first card I gave at McDonld that was decline WORKED !!!!!!!
Please everytime I go there there always problems...either they leave off sandwichs or something....I live close by but I think that Burger King does a better job !! I KNOW YOU DON"T CARE !!!!!! GUESS WHAT I DON"T EITHER FOR YOUR STORE ON 3245 W> NORTH AVE EITHER !!!!

Jeff Lewis
from Kansas City, MO
I have to be at work at certain time in the evening, I send my surveys every night about my complaints. It takes 10 minutes or better for service in the drive thru at store number 10938. Last night I had to go in to get my order after ordering outside speaker and there was one person working the front line. Poor guy can't blame him when I came out the same seven cars still in line, also I keep telling in my surveys it goes a lot faster when they use both windows. The line person taking the money has to walk over to the front counter register pay and then back to customer with change than get the order, also the counter line window receipts have been getting where you can't read the print I ask for that to be fixed for over two months. The 1st window receipt looks great every time. The management has told me several time it's been resolved works great that night then back to always.
It's just not working for my working with the local management there, and I use this McDonalds day and night because it's close, only have this problem at night between 9-10 P.M. Hope this correspondence helps me thanks for listening love those cheese burgers. Jeff Lewis lucndoit@aol.com

Barbara Richardson
from Maryville, TN
I went through the drive through and ordered 2 double quarter pounders sandwich only. A single quarter pounder xtra pickles xtra onion meal with
and ex large unsweet ice tea. Repeated my order 3 times, got to the window, asked for her to repeat the order she said 3 quarter pounder meals
I said no and repeated my order again.
got to the window to pick it up it was wrong they called the manager the manager asked to see my receipt I gave him my receipt told him what my order was suppose to be and said look just give me my money back and I'll go elsewhere, He said well this is what I can do for you ,,,,, we never got
to the end of the conversation as I said this is not what I ordered just keep you're hamburgers and give me my money back as I had things in the car
that were melting he got all indignant and and walked away all in a huff- so here's the deal this is the 3rd time in 3 weeks that I ordered and not once was the order correct, this happened at 35773,2315
Market Place Drive, Maryville, TN 37802 phone number 865 982 7880 - July 20th 2018 at 3:45 pm can I blame the staff? well sure but in reality It's poor management policy, poor training., a lack of customer service a lack of taking pride in what they are doing and the manager on duty at that store needs to be demoted if not fired, This order came to $16.75

thomas wanko
from Granville, NY
poorchanges are made service at the Granville ny store. seems like my orders are always getting fed up pay for and do not receive all I paid for. this store has teenagers who value their social lives more than doing their jobs.I.am fed up with getting short end of my orders getting messed up 12 times in 3 years. I will not go back to this store or any other stores until

Ralf Toahty
from Dallas, TX
I ordered an ice cream cone from your Perry store just now and after I left driving down the road the cone was flat . Flat as in taste flat. And had a soggy rubbery texture about it. I can't find the store number when searching so I made the complaint here . Maybe let them know their cones suk. At 1.30 for an ice cream you get to hear it . Thanks

Jeff Carpenter
from Alliance, OH
I ordered a quarter pounder and my wife ordered chicken nuggets. Her nuggets were raw and disgusting and my burger was soggy and had a 20 inch hair in the middle of it which I discovered the hard way through choking and pulling half the length out of my throat with food still attached. The other half was still anchored inside the burger. I showed the contamination and demanded my money back and they said it was against company policy. Against company policy to return my money that I paid for them contaminating and undercooking my dinner. Unbelievable.

I AM ZIONSDAUGH2ER
from Fort Lauderdale, FL
ON JUNE 29/2018 I WALKED INTO THE MCDONALDS RESTAURANT- NUMBER 32379 ON PALM AVE/MIRAMAR, FLORIDA @ APPROXIMATELY 10:17AM; PLACED MY ORDER AT 10:22 (DUE TO A SHORT LINE OF PEOPLE ALREADY WAITING) BUT DIDN'T RECEIVE MY ORDER UNTIL 10:33AM..WHICH IS ABSURDLY, RIDICULOUS!!!!!!!!!!!!!!!!!!!!!!!!!!! I NOTED TWO (HAITIAN) SUPERVISORS/MANAGERS THAT WORKED THIS PARTICULAR MORNING. BOTH SEEMED DISCONNECTED IN THEIR OVERALL DUTIES AND PERFORMED FLOOR TASK TO A BARE MINIMUM. WHAT THEY'RE HAUTINESS DID ASCERTAIN [TO ME PERSONALLY] WAS THAT THEY WERE IN CHARGE. INSTEAD OF ASSISTING IN THE PREP SERVICES WITH STAFF, THEY SLOWLY FLOATED BACK AND FORTH IN THE FRONT. WAVERING OVER THE SHOULDERS OF THEYRE SUBORDINATES; WITH LITTLE TO NO HELP AT ALL. I FOUND THIS TO BE TOTALLY DISGUSTING AND WAS OFFENDED FOR THE WORKERS THAT WOULDN'T OPEN THEY'RE MOUTHS!!! PUT SOMEBODY ELSE IN CHARGE. THEY ARE AN EMBARRASSMENT TO THE DILIGENT REPUTATION OF THIS COMPANY AND SHOULD BE REPRIMANDED FOR LACK OF LEADERSHIP DISPLAYED AND POOR MANAGEMENT SKILLS.

Deanna Reich
from Houston, TX
First of all, as I approached the counter I wasn't greeted. Instead a manager yelled for the cahier to get on her registar. Then as I ordered the manager again yelled at the cashier as I had paid for sundae but wanted it after I The manager said to cashier why didn't you tell us this before. As I went back to get ice cream sundae, they did not even give me a full cup of ice cream. Another young man chimed in when I asked her why isn't the cup full. He said they got in trouble for filling up the ice cream. I took a picture of the ice cream and will be sharing it on my social media page. The behavior of this crew is loud and disrespectful. They completely lack customer service skills.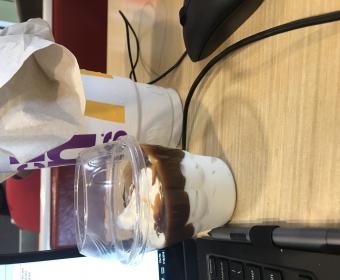 brian hannanm
from Halifax, NS
I was in Halifax for the day and decided to get a take out meal a one of your stores. I asked for no cheese because I am lactose intolerant. by the time I noticed that there was cheese I was some distance away from the store and could not return to get I new meal. I felt that I was robbed of my meal because I couldn't eat it with cheese on it. thought you should know that your employees should watch the screens more closely

LIONEL CROOKS
from Lakeland, FL
4 items on the dollar menu= 4 dollars
same items as a meal $4.39
why are they charging more for the meal when the items are on the dollar menu
specifically the burrito breakfast meal

Gayle Jackson
from Greenwood, IN
This is my last complaint it's pretty sad you are right next door to me and I have to take my business else where. I don't just complain, I am letting you know where you lack in customer service and believe me you restaurant at 31 and declaration drive is in need of people who care if I get an egg muffin that is so hard you couldn't eat it or that I came there with my grandson and waited 45 minutes in a parking space for food that was lost or never cooked and asked for a call back from the manager and never received it, or we got a frappe and the cup was cracked we took it in and it took twenty minutes to get another one when they could have just poured it into another cup maybe it's all due to poor training, it's not my job to figure out why it's so bad there it starts with the manager and when it gets so bad I guess the owner should look into it . I have known Paul and his family mom and dad, brother for years back when they were my customers at jerry's restaurants they are good people and good business people! So I believe they or Paul will take interest in what I have to say. Thank you Gayle jackson

Vickie Bennett
from Detroit, MI
Went through the drive thru first off no greeting just opened the window took my card went to 2nd window same thing no greeting no thank you come again NOTHING. Went back to hotel which is right behind McDonald's fries were cold and my quarter pounder was salty needless to say no happy with all the choices around I chose to go there but not again... They need help with customer service and in the grill area.

I'm a disabled veteran. Proud of my vet status too. I wear a vet cap everywhere I go. So ppl KNOW i'm a vet. Went to their drive thru. Unbeknownst to them, while I was sitting in the Drive thru (two lanes I'm in left one and only person ahead of me in that lane, five or six cars are in other one. My fr's were inside the store.) So I get in left lane, the car ahead of me pulls off, and I pull up to the box, and the employee asks me to wait for a few seconds. Ok fine I can wait a few seconds. So while I"m sitting there, the cars in the right lane, ALL get their orders taken and I"m still waiting wth? So finally I get fed up with waiting see my fr's are out anyhow and so I pull up to them. That's when the "prblm" began. They informed me, this employee had seen me pullin in, seen my vet cap, and had asked me to wait on purpose, and was inside laughing, about me waiting while others are getting their orders taken. Since this is how McDonald's treats veterans here is what I have decided to do. A: I am affording McDonalds time to respond to this complaint. Before I pursue the matter further.

Darell Leurquin
from Green Bay, WI
We went to McDonalds on East Mason St. in Green Bay Wisconsin. We got ice cream. The difference in price between different McDonalds is appalling. We seen a big billboard along side the highway advertising a $.59 cone. We were charged $1.19. What's up with that? Should'nt they all be the same? I would love to know why. That was quite a shock. Also the sundaes didn't come to the top of the bowl. Not happy.

Richard roussellr
from Biddeford, ME
My wife and I went to your macdonalds in Biddeford me. I ordered a quarter pounder and my wife ordered a sausage biscuit sandwich. After waiting about 10 minutes and watching your emplyeees just fooling around, they came back and told us that they were out of biscuits. Well we ask for our money back, with the promise of never going back. You need to hire managers that do their jobs, instead of just fooling around. We will never go back to your restaurant again. You need better management. Thank you for lousy service.

debbie best
from Chino, CA
I am extremely upset over the poor business practices of McDonalds on mission and Ramona in Montclair calif. I got buy 1 get 1 free quarter pounders they didn't honor.. I got them there.. then I used mobile app for coffee get 6th free scanner wouldn,t except it free...I tried to use the $1.00 sandwhich they honored 1 time now the guy says scanner doesn't except your qrt pounder sandwhich..........seriously they are scammers.. I am disabled and I look forward to eating out once in awhile and on a very low income they make it hard for me to treat my grandson who I am raising...this is crap..........ty

amanda derise
from Wheeling, IL
i went there to order a drink first my order was wrong to fixed it then get to next window and she was giving me a medium drink with no ice I ordered a large coke with extra ice she fixed it but had to redo it cause she put no ice in it she was very rude. I only get to work and realize its flat.

Sherri Edwards
from Lexington, KY
I went to McDonalds on 7/14/2018 I order the new Quarter pounder single. When I got home and bit in to my burger it was RAW inside and I tried to contact them by phone and no answer. Also I have been calling Corp office No answer.

johnny contreras
from Alamo, CA
I had ordered my food and was waiting go my order and 15minutes had gone by then 30minutes had gone by so I asked about my order and they said it got canceld so they asked what I had and I told them and I got home after about an hour of heating and did have all my order that was the worst visit I ever had at a McDonald's it was # 26873 I will not be going back to that McDonald's again.

Clarissa baker and James sawyer
from Port Angeles, WA
Me and my girl went to McDonald's in sequim and are food was not cooked all the way I got a new one and my girl eat hers and she gave it back and got her money back we are sick now.

Justin brooks
from Indianapolis, IN
My wife and daughter and myself went to McDonalds in Glenwood, AR at approx 7:10 p.m. on Thursday, July 12th . We went through the drive thru and ordered exactly this
2 mcdoubles
2 mcdoubles mayo onion only
3 small fries
1 large coke
2 apple pies
We sat in the drive thru for quite some time (approx 10 minutes) and received our order incorrectly. We got 4 mcdoubles mayo onion only and all the rest of the order was correct. When we then had to come back to the store to get burgerss corrected, the inside was completely empty. Not one customer inside and we had to wait extremely long for our food. And then given the wrong items to then be treated like crap. The burgers yanked out of.my hands and chunked in the trash right in frobt of me. Very rude. And to think, McDonalds is one of the only fast food restaurants in our small community to choose from. But they make it really easy to avoid them at all cost. Customer service is horrible and food is consistently incorrectly made.

Mary Ann Federico
from Winter Garden, FL
Cocoa fl,went in for a fish sandwich no cheese xtra target sauce,they were charging me additionall 45 cents for a condement,that's like charging xtra for kethup. Needless to say I did not stay cancelled my order and left, I will not pay extra for a condiment I just won't go there I mean the sandwich itself is 339 and its barely the size on the regular $0.89 hamburger.

Love McDonalds but ate and used the restroom at McDonalds in Le Mars Iowa. The bathroom was disgusting!!! The general appearance of this location floor and tables was not as clean as I would be comfortable eating at. This happened July 12 around 2 pm. Thanks and not the first time I was not impressed with that locations cleanliness

Debra DuBois
from Millbrook, NY
Hi, Iam writing this this morning my daughter was having a problem with her bank card .She goes there 4 times a week for my granddaughter they gave her food and then took it back , my granddaughter then was so upset, the thing that bothers me is i know that everyone has to pay, just don't know how they could take it back it was for only my granddaughter they went to the bank which is two minutes from there and then returned and got the food , she is only 4 years old and didn't understand there are good people in this world and she would of came back and paid, again all the hurt that was done all over a breakfast just upset me and was wondering if there is such a policy for customers that they see often Thank You and have a great day.

Larry Parker
from Fayetteville, NC
I am upset with the small amount of gravy that my local McDonald's at 3000 N. Main Street in Hope Mills NC 28348 -#5749. I have been informed by employees at this McDonald's that they will start giving you a reasonable amount of gravy on your Sausage Gravy Biscuit. Last week they did just that but this visit 07/11/2018 I ordered the Sausage Gravy Biscuit and there wasn't even enough to cover one Biscuit. When you complain and ask for more gravy they will charge you $1.00 more. I don't have a problem paying you $2.79 for the sausage gravy biscuit ,so you should at least allow me a reasonable amount of gravy on my order. Sincerely, Larry Parker , 914 Linda Ave. Fayetteville NC 28306.

Bonnie Van Pelt
from Mesa, AZ
While across town on my way home I stopped at 1785 e University in Tempe Az. store #22111 @ 5:18 p.m. used drive through, lobby was closed. orderd a bundle. As i got home to enjoy my meal with my family we notice that the big macs only had one hamberger patty. I called the # on the reciept, 480 446 8619 three x's with no answer. Again across town, no answer by phone, lobby is closed. Very disappointed. Ate anyways we were hungery. F.Y.I. KS# 13 07/11/2018 05:18 PM side 1 order 19 surveycode 22111-13190-71118-17182-00140-4

yes, today July 10 th at 9:03 am pulled into the McDonalds on 9mile in Eastpointe MI. to get a sausage mcmuffin before work. i pull up to the drive thru window. There is a hand written sign out of order pull to the 1 st window. Had to wait 13 minute while the car before me was searching there car for change. I pull up to the 1st window, there is another handwritten sign that states "exact change, debit or credit card only." I ask the attendant i only want a sausage mcmuffin can you brake a 5 dollar bill. She stated nicely Did you not read the sign. I state yes and thank you then left. I proceeded to Tim Horton's I guess my question is, this McDonads was open at 6 am how many customers did it lose to Tim Horton's, that is only 7 blocks away,because the had no money to make change.Did no one know how to open the safe. Did know one try to go to the corner store to break a 20.00. i am sorry but there is no excuse. Thank you for your time
Have feedback for McDonalds?
Thanks for your feedback!
Sorry. Please try again later!