McDonalds
McDonalds Complaints Continued... (Page 10)
967+ reviews added so far. Upset? Call McDonalds corporate: 800-244-6227

I went to McDonald's in Dothan, Al located at 2251 REEVES ST, DOTHAN AL 36303 (334)702-8338 and ordered a filet fish sandwich without tartar sauce. It even had No tartar sauce on the receipt and had it attached to the box the sandwich was in. Mistakenly I did not check my food before leaving the restaurant. When i got back to my office I noticed not only did it have tartar sauce on it but it had double the amount. As if they had intentionally put alot on there.
I took the food back to McDonald's and as i entered the facility i saw all the employees standing at the front counter doing nothing but talking and laughing (not their jobs). I approached the counter and put my food on the counter. I was asked if i could be helped. I pointed to the box and stated that the next time a customer asked for a specific sandwich to be made a certain way to make sure they did it and checked the receipt on the box before sending it out to a customer. One of the employees then laughed (as if an upset customer was a joke) and i then was asked if i wanted them to fix it and i told them of course not and that I would not be returning to their store.
I just can not understand why fastfood does not try and do better at serving food than they do. Not to be ugly but handicap employees would be much better to hire than the teens and stupid idiots they hire now. Fastfood is not at all a hard job to perform and can be done by pretty much anyone that can speak or breathe so my suggestion would be for McDonal's to fire all their current employees and replace them with mentally and physically handicap employees because I know the public would get much better service as these people would enjoy their jobs and take pride in it.

On Feb 28, 2012 I went to the McDonald's In Murfreesboro TN At the corner of Church (HWY 231) and Broad (Hwy 41). Not only was the service in the drive through very slow, but I had also ordered a medium French Fries and it was only half way filled up. The worst part came when I took a bite into the sandwich and put it down (bottom side up) and saw a rather large spot of mold!!! I took it back to the restaurant and demanded to speak to the District Manager. I was told he was unavailable.
I requested to speak to his boss, also to no avail. They gave me an 1-800 number to call. I gave all my information and was told that I would receive a call the next day. The call never came. Any ideas where I may post a picture of the McMoldy?

This letter is a formal complaint regarding the service received today at McDonalds Located at 1294 Stoney Point Road Charlottesville VA 22903. During my lunch hour I arrived to this extremely busy location at approximately 3pm to grab a medium caramel frappe. I ordered at the drive through and paid at the first window, drove to the second window where the gentleman advised me they need to "change the bag" and he instructed me to pull into the customer waiting parking space and they would bring the drink out to the car. I patiently waited over 20 minutes and then decided to go inside.
I went to the counter and spoke with Josh who advised he was a manager and had Josh had no idea why I was waiting. I explained I was asked to wait for my drink and he said "ok let me check" he opened the drink machine and the bag inside was empty and he got a bag of drink mix to change it. I advised I had waited 20 minutes and they had not even changed the bag, he looked at me puzzled with no apology or understanding why I would be upset so requested my money back. Josh asked me what size drink I ordered and gave me a refund with no receipt, still no apology and proceeded to assist the next customer.
I asked who the store manager was and requested to speak with him and was advised the store manager was in a meeting. Another customer with similar experiences pointed me in the direction of where the Store manager was meeting and the door was open, so I excused myself and advised the store manager of the occurrence. Kelvins Pease's response was he is not aware of the situation, a manager in the front can refund my money and "sorry you were forgotten". There was no empathy, no sense of urgency, his tone was sarcastic and he could care less about the lack of customer service I received.
I am appalled at the experience and will make it known via every social media platform available if appropriate action is not taken to rectify the situation. Side note: the "meeting" Kelvin was in appeared to be his wife and 3 kids for lunch.

i work at walmart for almost 5 years at the valleyfield quebec canada's walmart and i went to mc donalds yesterday and ordered as usual my chipotle wrap to take out that i usually love so much but they never put enough sauce in it so i asked for extra sauce and lucky me .. she put so much that when i opened them .. the sauce was all over the place and i was kinda frustrated but when you're hungry .. you'd eat just about any kinda chit .. for a result today i'm stock to go at the toilet about 3000 times a minute and fortunately i'm off today ..
and then about a month ago i ordered a cheeseburger but the meat wasnt cook that much so i returned it to that girl but she got frustrated telling me that when the meat is pink like that .. it's considered cooked for them .. i said i'm sorry and i hear you but i dont eat my meat as pink as it is .. she stopped talking .. took my cheeseburger and left .. so i waited thinking she'll bring a better cooked one .. but she never came back so i ended up not having lunch ..
i was never offered a refund or something else against that cheeseburger and when i talked to the other girl about it .. she got kinda mad too and she said she doesnt have time right now but please next time ask for your meat to be well cooked .. no refund offered there too and that one was a manager .. i just wish i'd get an email address so i could write to the owner of that place and complain about those girls he's paying for helping to lose customers ..

My hometown of Oak Grove, LA just recently had a new McDonalds open. Everyone was very excited about this since we needed something like McDonalds in our hometown. But……..this particular McDonalds is loosing business each and every day due to the slowness of the staff preparing our orders. We have two seperate window areas to place your order yet only one window to pay as well as receive your order. Yesterday I sat in line in the same exact location for nearly 15 minutes before ever making it to the order place location. I as well as many others got out of line and went to other places to eat due to their slowness.
I work all over the US and as well have eaten at many other McDonalds and have never experienced the slowness that our new hometown McDonalds is having. Possibly someone can check into this matter and see where the delay is lying and possible changes can be made to make this a FAST FOOD restaurant like it is suppose to be.

I have to say I never thought McDonald's was this bad of a restaurant but turns out it is. I watched a video one time in health class called " Super Size Me". It was really interesting to know that McDonald's had or did so many things. Before 2011, in about 2004 and time before that McDonald's employees asked customers would they like to super size their meals, and response most people said "yes" which caused a lot of obesity.
Something else that was on the video was that the man talked to a few 1st graders and surprising me that they didn't even know who Jesus was but knew who Ronald McDonald was, and when I was just and preschool I knew who he was. According to Scientist kids these days know McDonald's before they can even speak. One time my dad had went to McDonald's and he ordered a cheeseburger.As soon as he got in the house and opened his wrapper and the only thing he had on his burger was lettuce and tomatoes.
I remember a time where I went inside McDonald's with my family and it took about 6 minutes to get our food, because it was so crowded and the employees were moving very slow. There was even a time where I found a piece of hair in my food. But I have to say McDonald's might sell tasty food but needs to work on some improvement they have rude employees, slow/bad service, and less room. Oh and did I mention McDonald's put twice as much sugar on their salads than any of their other foods!
My stomach turned in pieces when I found out this much information. But hey you can never change anybody's opinions!

McDonalds in Augusta, GA on Deans Bridge Road. I am tired of my orders being filled incorrect. Examples: If I order a plain cheese burger, that doesn't mean that I don't want cheese on the burger because I didn't order a hamburger. When I order the #4 two cheese burger meal with mayo and ketchup that means that I want them both prepared the same, not one with pickles, mustard, etc. and the other one with mayo and ketchup with mayo all over the top of the buns and under the buns. (SLOPPY!!!) When I order a fish sandwich that's exactly what I mean not a chicken sandwich.
When I order a Happy Meal (IT SHOULD MAKE SOMEONE HAPPY) and say a plain cheese burger happy meal that doesn't me a plain hamburger without cheese. (If I wanted a burger, I would say that I want a hamburger). When I order a sausage biscuit, I don't want to get down the street and bite into a piece of ham. And so forth and so on. I don't have the time to go over all the incorrect order that I have received from McDonalds. Management is not much better, Rodney should be trying to, first, hire people that can read and stop being their buddy and have them correctly complete order with hot food.
I have taken it long enough and really don't need to come to McDoanlds daily and sometime twice daily.

I will never go back to the McDonalds on 701 w spring creek I was surprised at their nonlack of knowledge of your food and drink the people or teens that work ther are not very. Professional tere help made me feel very Intense. I asked. Them to make me a flappe instead of the drink with my fish combo. The employees did not know what I wanted did not know how to fix it did not know what I was talking about 3 times they fixed different drinks until they finally came to the right one my fries were cold I would not recommend this McDonald's to my family or friends I felt very upset when I left there drivethu.

Comment: Very disappointed with the food and lack of service. At appox. 1:10pm we ordered 2 angus muhsr&swis meals. When we got to the cashier window, we were told that there would be a wait for the mushrooms and cheese. I asked how long and was told appox.5min. I asked the cashier why wasn't I told by the order taker that there would be a delay. I was told that this info had been given to the order taker but she failed to pass it on. Had I been told about the delay I would have changed my order. Having waited out front of McDonalds for a little over 5 min, the order finally came.
The bun, mushrooms coke (asked for med. and got large coke) and fries were the only things that were actually good. First of all there was no actual swiss cheese on the burger but some white glop sauce which I actually thought was mayo. I can't believe that this was suppose to be swiss cheese. Next the hamburger was over done and dry. It seemed that it must have been on the warming tray for hours. Needless to say we won't be order this tasteless meal again.

I live 7 miles from McDonald's store #7020 at 300 N. 193rd E. ave in Catoosa ok. Right next to the hard rock casino. I have been going there for years but since McDonald is next to the casino their service and attitude and their help has gone way down hill. I stopped by there tonight after donating my time to hometown Halloween in Catoosa to hand out candy & man a game that I brought for the great kids in Catoosa. The last time I went to McDonald's I ordered 2 jalapeño mcchickens which they charged me for but only gave me regular mcchickens. I swore I wouldn't go back to this McDonald again.
But, my two sons were with me and they wanted McDonald's so I went ahead and took them. I ordered 1 jalapeño mcchickens for my daughter and 2 regular mcchickens for 1 son, 2 mcdoubles for another son, and 3 mcdoubles for me and the wife and 2 small fries. Needless to say got home and no fries what so ever. So I call the McDonald's and tell them that I'm tired of them stealing from me. That I wanted a 20.00 check in my name tomorrow morning. If they were going to steal from me then I might as well steal from them. Instead of getting a response they hung up on me.
I called back and asked for the manager again and before I finished my sentence they hung up on me again. I will be going back down there tomorrow to get the district managers phone number and to file a formal complaint against the night shift manager and the entire crew. I'm fed up with these dumb a::Es that are mad at everyone else because we don't work for minimum wage. If I half assed my job I'd be fired in a heart beat. All McDonald's managers need a wake up call in the unemployment line.

Breakfast time at McD's yesterday with the family. Three young girls and my lovely wife. It was COLD………….outside. It became apparent in a few minutes……this place was as COLD as outside. Not really…………but if I had a temperature gage……I would guess at around 63-65. No one in the place had their coats off. Our daughters were complaining (one daughter has a cold or something…….not feeling well). I decided to check with the management (my lovely wife was not going to let this go) and now comes the reply to my compaint. "We can't do anything about it". OK. Didn't know what that meant .but I did repeat it to the family.
Then we noticed a older woman…..go to the counter and do her thing……..Wow………she was "upset" to no end. I gather she complained about the COLD. We were told by some "regulars"………..it is like COLD here…….all the time. This will be the last time we go this McD's………for the winter at least. Slippery Rock, Pa. 16057

Hi I'm complaining about the young girl manager at macdonalds in Midland WA 6056. It's Saturday the 29th at 3.00pm. She was not only rude to myself & my cousin by basically throwing our food at us not placing in a bag & wen I asked for a bag she grunted & complained. There was Also an older gentlemen that had been waiting for his fries & he questioned her & she Rudely & very loudly made a it clear she had already given them to him…. Which clearly he hadn't!!! It was given to a lady not him. My Cousin went and spoke to the manager & she was carrying on & I'm sorry if she cannot serve customers in the right way then she shouldn't be a manager…
She is unprofessional & has a very very poor lack of people skills just plain rude! We left & phoned midland macdonalds & asked for the managers name.. She would not give her name out but hung up on us… This isn't the only complaint I have about this store nearly ecery 2nd time I go here I receive the wrong meal I've ordered. It's getting ridiculous. This manager needs to pull her head in she us completely rude.. I will stop coming to this macdonalds because of her attitude.
I am very unhappy with how myself & my cousin were treated by macdonalds staff & especially a manager!!!!

I went to the drive-thru at a 24 hr franchise of which was after hours and purchased a Big mac, just a burger, no fries or soda. I then asked if I could get an extra sachet of tomato sauce. The reply I received was "you can only get if you buy fries with your burger". That reply just made me furious enough to almost throw the burger back at them. What if I ordered in and got sauce from a dispenser? If I like sauce on my burger then I do, I don't have to purchase fries in order to obtain some extra sauce to go with my burger. This is ridiculous and this is not the first time I've had incidents with this particular franchise…..
It has been sercice issues, attitudes and just pure lack of interest to provide customer service. I sincerely hope that this complaint is escalated to someone who will do something to say the least, if not, I feel that I should escalate it even further to get articles written about these issues.

On numerous occasions I have stopped in to McDonalds in Big Stone Gap, Virginia – for some unforseen reason, they NEVER can get the "Iced Mocha" right. They try to give me iced coffee (numerous times) and this morning was certainly no exception. I stopped for my office and ordered the "iced mocha" with my gut telling me not to. Of course, I pulled to the window and the young lady was making it – i watched her put "iced coffee" from the container into my cup. When the opened the window, I asked her about the whipped cream – she was absolutely stunned and had no idea that they put that in there.
The "manager" brought it over to me and I asked her if that was iced coffee? She said, no maam it's mocha. I asked her again and told her that usually they get it wrong, she then gives me a confused look and asks "are you talking about frozen" – duh!!! I told her no, that the young lady took the liquid out of the blue container marked "iced coffee" – she then turns around and asks the lady and the young lady says yes I took it from that. Then the manager informs her that she has to get it out of a different machine. Then here it comes – will you pull up and we will bring it out to you??
This is their way of getting the monkey off of their back and sweeping this mistake under the rug b/c no one is sitting in their drive through window making their window "time" extend. So, no one is the wiser. I asked the manager if it would be long b/c it would make me late for work. Oh no, we will bring it right out she says. Well, after sitting out there for a few more minutes, she brings it to me – thus making me late for work!!!! This is not the first time this has happened and as I said, I should have gone with my gut feeling and not order the iced mocha but you know if an item is on the menu, you would think each employee would know how to fix it!!!!

I visited McDonalds around 8pm in 1351 South University Drive, Plantation Florida is the nastiest dirtiest crappy smelly store I ever seen. It smells soo nasty by the machines and flies all over the catchup and over the soda machine, no trays available for customers or napkins. The floor wet and dirty tables and bad attitude when I told the employee about it telling me it is not his job. This is not the first time it is like that and I've seen other people laughing and complaining. I was about to throw up my food and I just had to throw the rest of it. yakkiii

Please be advised Mcdonalds store located on 31-46 21street Long Island City, NY 11106. Is the worst Mcdonalds ever. The Ice Cream machine seems to break down every night at about 9pm. I have visited this location five different times in a two weeks time frame. I would like an investigation done. There is no way that a machine breaks down that many times. I am very pissed off becuase today, I went in at about 9:23pm and the CSR stated the machine was broken again, really. This sound like crap. I expect that this location to fix the problem. My next step will not be to contact your website.
I will call Howard on my side. So please make every effort to place a investigation on this ghetto Mcdonalds.

On 13th of September,at time 10.21pm at night.i was make a call to McDonald to order delivered (Fried chicken for two (2) set,double cheese burger for one (1) set,MC chicken for one (1) set,and the toy of SMURFS for four (4),AND i was triple confirm with the person who are take order for me that i want the 4 SMURFS TOYS is ONE(1) OF THE GIRLS DESIGN,ONE(1)IS THE RED CAP SMURFS(also mentioned that name call "papa"),AND OTHERS TWO(2)DESIGN WANT OTHERS DIFFERENT TYPE'S SMURFS!!!!!!!!!ALL my order,the person who are taking my order also confirm with me for all my order and telling me that need to wait around 45minutes.
Time pass time…,at time 11pm,i call second time to checking my order,the answer that i get is raining and ask me to wait again,and i call for the third time and i also just get the same answer.
AT LAST,AT TIME 11.35PM "ALL" MY ORDERS IS JUST COME!BUT!!!!IS NOT ALL SAME LIKE WHAT I HAVED ORDERS!!!!!!!!I JUST GET A DOUBLE CHEESE BURGER!A MC CHICKEN BURGER!TWO DRINKS OF COKE!TWO FRIED CHICKEN AND TWO FRENCH FRIED!ALL I ORDER IS FOR SET!!!BUT WHILE I GET IS ONLY TWO ITEM IS SET OTHERS IS ALA CART!!!AND THE MAIN POINT THAT I AM VERY VERY VERY VERY DISAPPOINTED AND UNHAPPY IS ABOUT THE SMURFS TOY IS JUST TWO(2) ONLY AND TWO(2) OF THAT ALL IS THE SAME TYPE!!!!!!!!!!!!!!!!!!!!!!!!!!!!!!!!!!!!!!!!!!!!!!!!!!!
All that i return and on 14th i make a call to 03-78433388 to complaint and ask me to wait for some in charge will give me a call!But i wait whole day NEVER get/answer a call from any people of MC Donald!!!!On 15th i call again and i was get the same answer also!!!!but at noon time the mcdonld person are calling but the sound is like unhappy and ask me again about all the things and i was repeat and repeat again!!!!at last i ask her to check my the record that i order on that day and she was tell me that she will call me back soon,but until now 16th of September,i also dont have answer any call from her,but i got try to call around 8 time

I took my little granddaughter to McDonlads for lunch and there was a mentally challenged lady in there working and she was upsetting the customers. My little girl asked to leave because she was scared of her. The lady was talking to herself and looking out the window and making wierd sounds and gestures. It was very upsetting. With so many people needing jobs why don't they hire people that are qualified for the jobs? I realize they get a tax break but the rest of us have to suffer. We left the restaurant and the lunch was suppose to be enjorible for us but turned out to not be so!

I passed by McDonalds branch on queens blv and 58 st, tuesday at 9 pm to pick dinner with my family and ordered meals for $ 57 and only asked to get the seven cups to start filling it with the soda, but i was badly replied by the cashier as well as the other girl was beside her which i asked to see the manager, although they kepl laughing while i was indicating the bad treatment i found from the two girls and the manager even did not looked to them to stop their laughs to me. I had nothing to do beside returning all the meals and ask my money back, but i felt nervese and they faced me laughing infront of my kids. I felt sorry entering this branch and never feel happy entering it again.

I live just behind a McDonalds my son loved it so I spend about $20 a day about 3-4 times a week. While I was on vacation I decided to walk to this McDonalds to send some work related emails on their wifi while eating there the whole time!!! The manger approaches me and told me that I was there too long and need to leave I asked him if he had any idea of the amount of money I spend at this McDonalds his response was I don't care!!!!! I said fine I will not come back here ever he said I don't care!!!??? I left to walk home my son had stayed because he just came in as all of this started.
A few minutes later he came home told me the manager said for him to leave and never to come back!!!!??? I have never been a fan of McDonalds but now I will never set foot in one ever again! I will make it a mission of mine to keep people out of this one!!!!

I can't believe how rude managers are to employees they are really bad everytime I go a manager is telling their employees OH MY GOD YOU ARE FRUSTRATING ME OR I DON'T KNOW WHAT'S WRONG WITH YOU GUYS, I DON'T KNOW HOW THIS IS SO DIFFICULT WHEN I CAN DO FIVE THINGS WHEN YOUR NOT EVEN DONE WITH ONE…….by the look of the employee it looks like it really bugs then and I went through drive thru once and I had already paid for my food and ask if I can order something and she said yes and a manager goes back there and yells at her tells her to hurry up and plus I got my order wrong…. and the manager giving me dirty looks im done with that place.
I had enough with mcdonalds at high way 75 Sioux city Iowa im not asking for anything just to talk to your people I don't mean one I mean all of them managers and employees….

I have a profoundly mentally challenged 18 year old grandson who loves McDonalds. I am sorry to say that your pricing has finally caught up with me. For a very long time the fact that Evan enjoyed stopping at McDonald's was wonderful – but I don't feel I want to deal with McDonald's any longer and will certainly spread the word about this "fast food restaurant". Here's what happened today that just made me see the light of nothing but unfair pricing and prices that are unreasonable for the type of food served. I ordered a "big breakfast without hot cakes". The cost was $3.69 plus tax.
This is what was served:
– l sausage patty – 1 biscuit
– l hash brown patty (very dry & crusty)
– very small order (less than l egg) of scrambled eggs.
I could have ordered the sausage biscuit for $1.00 – Hash browns (hopefully 2) for $1.00 – so the egg is $1.69? Totally unreasonable – a complete breakfast of meat, eggs, potatoe, and toast would be served in a good family restaurant for this amount. Please don't call this fast food – the cost isn't – but the food is. I belong to many committees and very involved in the Detroit area – I will spread the word. By the way, I don't live my life to complain but to find the best in any situation – this is not anything but greed.

This evening, I went to the South Brunswick, New Jersey, McDonald's location (#11154). To say that customer service was poor would be a compliment, AS THERE WAS NOTHING APPROXIMATING ANY KIND OF SERVICE WHATSOEVER. We were second in line, and IT TOOK 35 MINUTES TO RECEIVE OUR ORDER for a McDouble, an angus wrap, an M&M Mcflurry, and a large fries!! We only received the food then because I demanded to have my money returned so that we could leave To add insult to injury, when we got home, we realized that the order was Incorrect! I was told the McDonald's manager, whose name I demanded and was given to me as Nina, was not there.
Someone named Emma told me she was also a manager and gave me the information. It was the most inefficient, poorly run operation I have ever seen!! Not only will I never visit that location again, but I will also avoid all other McDonald's locations in the future and will urge my family and friends to do the same. This was an outrage!!!

Over the last year or so I have had several Frappes at various McDonalds. Some of these did not cause any problems. However, it now appears there could be a high risk of getting diarrea from drinking the Frappe. It has happened to me several times. I think McDonalds should look into this and warm its customers of this possible risk, it's not a very pleasant experience for a customer to have at all. I like their food, but it will be hard to keep going back when it involves spending lots of time in the bathroom after each meal. Maybe the next McDonald's reality show should be called, superDiarrhea me!

Over the last year or so I have had several Frappes at various McDonalds. Some of these did not cause any problems. However, it now appears there could be a high risk of getting diarrea from drinking the Frappe. It has happened to me several times. I think McDonalds should look into this and warm its customers of this possible risk, it's not a very pleasant experience for a customer to have at all. I like their food, but it will be hard to keep going back when it involves spending lots of time in the bathroom after each meal. Maybe the next McDonald's reality show should be called, superDiarrhea me!

MacDonalds on West Interstate Drive (inside Wal Mart) in Norman, Oklahoma 73069. This is Definitely NOT the first time our order has been completed Incorrectly. Since THIS MacDonalds has, obviously, undergone new management, our Orders have Never been right and you can't exactly watch over their shoulder when you are in a bit of a hurry. Fist time, a few months back, a vanilla shake was requested, but the machine was down, ok fair enough. Second time, a couple of weeks later, we decided to get a snack on the way out. MacDonalds shake machine still not working, and 1 cheeseburger, 2 big macs and 2 orders of small fries.
RECEIVED 2 BIG MACS 1 ORDER OF FRIES AND when asked for the second order of fries It obviously was a Huge ordeal and 2 other customers were helped before us. AND the MacDonalds staff got one of those orders wrong too! OK so then my husband went again today, Sunday June 12 at about 4:30pm guess what ? the shake machine was working sort of BUT WHEN HE GOT THE ORDER HOME. HIS ORDER WAS 2 BIG MACS ONE SMALL FRIES, HE RECEIVED 2 BIG MACS AND 2 ORDERS OF FRIES AND A HALF FROZEN SHAKE. And there was another customer waiting with him with a small child and when she was given her order it was Wrong; she said "they Never get orders right here anymore"
Now I believe that MacDonalds has Always wanted to be known for their fast and courteous service and Always being friendly and making sure their customers are served well but, the amount of customers certainly has dropped, in case you are interested. And So Has the Attitude of the employees in this MacDonalds. Needless to say, we will be taking Our business elsewhere.
Regards,
Mrs. S. Venner

I was at the drive thru @ McDonalds in Myrtle Beach. I ordered a iced cappuccino. The said they don't have iced Cappucino. Its a hot day! I was dying of thirst! I asked if they could put ice in it. They didn't put any ice! Therefore I had to drink hot coffee on a blazing hot day! And I am appalled @ the service they provided! Or should I say. The service they didn't provide! The store address is U.S. 17 South Bypass, Myrtle Beach SC. Please resolve this issue and make sure no one has to put up with this type of service! Thank you, John Bayron.

i went through the mcdonalds drive thru to get food for my family. i had ordered a big mac value meal, a double cheeseburger value meal, 2 individual double cheeseburgers, a grilled chicken sandwich, a big mac sandwich, two kids meals, and a small nuggets. we were told it would be just a few minutes for our food to be done when in fact after waiting for fifteen minutes for our food i went inside to confront the mcdonalds manager on why our order was taking so long. the replaced the fries in the kids meals that they had already given us which by themselves were already cold.
we live just down the street from this particular mcdonalds so our food should be nowhere near cold when we get home. well that was not the situation. more than half the food was cold. the chicken sandwich ended up being crispy instead of grilled and it was very cold and you couldnt even bite into it. one of the big macs had barely any sauce on it and only one small piece of lettuce. all three double cheeseburgers looked and tasted like they sat premade for an hour. the fries were stale and cold. the nuggets were hard and dried out. the only thing that was even remotely good was the pop despite the fact of it being flat.
this will most likely be the last time i go to this particular mcdonalds.

Why would you take the large milkshakes and implement into the mc cafe joke . For the last 3 years I stop a a mcdonalds in Cromwell ,Ct and order a large strawberry shake now I pay the same price for a shake that I would consider a small shake if you think that by offering me a stupid cherry or whip cream I will be happy you sadly mistaken!!!!! This Is by far the worst and most rediculas idea mcdonalds has ever came up with !!!!!! It's really to bad cause now I gave up stopping everyday and now stopsybe once or twice a week and I am going to do my best. To make it one time a week!!!!!! Ray Kroc must be rolling in his grave!!!!!!

On Saturday 5/28/11(5:50pm) my Mother, my six year old neice and myself went into the McDonalds on Coffee Rd (93312l Bakersfield. When we approached the counter 4 workers hundled, pointed and began to laugh at my mother right in front if her face. First off i must explain that my mother wears her make up alittle heavy at times and is Japanese. The employees were all young and of African american decent. This was highly offensive and extremely un-professional. I'm extremely patient and understanding, but their actions were beyond blatant. Its sad that a Grandmother can't take her Granddaughter to McDonalds without being humiliated.

I am a regular customer at the local McDonald's. I also work in the fast food industry, so i can understand the chaos that can happen in the fast food environment. But its getting to become a habit.The past two visits I have had to repeat my order once I got to the window, and I just got back from there a few minutes ago, in which not only did I have to repeat my order once I got to the window, but they still managed to get my order wrong. i mistakingly thought that when i checked the McDonald's bag to make sure that my order was correct, that when my sandwich was labeled with a tag saying "no onion, add tomato, that it was actually made that way.
WHAT WAS I THINKING!!!! Next time I decided to go to McDonald's I think that I will drive out of my way just to go to a different McDonald's.

I was stopping at McDonalds everyday to get a Chocolate Shake, but in the past month I have been very disapointed in the outcome. I have tried 4 different times in the past month and my milkshake is the same. The drive thru takes so long; which I do not know what has change or if it is different help, but it takes forever. You can even check with the person taking the orders, she has to keep checking out of her window to see if cars are moving or what. I could see she was very frustrated along with the customers waiting.
Anyway back to my milkshake, by the time I get it it is all melted the cream is just about gone, which was my favorite thing I liked, the cherry is sunk to the bottom and the shake is not very cold, it is just like chocolate milk. So I have decided I can just make myself a chocolate milk and save myself some money. As I said I have given it 4 different tries and it was the same thing. I will no longer be going for those shakes. It is not worth it. This is at the Derby, VT McDonalds.

i have complained about this mcdonalds NUMEROUS times before. located @ the intersection of market st./south ave. in youngstown, ohio. today is the first time ive been back to this mccdonalds in 6 months because of the exact same reasons. i pull up, order 2 hamburgers, and 2 med. fries.. ok, is this hard????? the girl @ the window reads the order back to me, hands me the bag, only to find 1 hamburger, and 1 fry.. who does this???? is this mcdonalds hiring only drug addicts and people that really cant survive or 'read;' in the real world???
i deal with mentally challenged CHILDREN!!!!!!!!!!!!!!!! that have more sense and do a better job than the absolute fools @ this establishment. it's not even an establishment, it's a joke!!!!!!!!!!!!!!!!!!!!!!! the manager had the audacity to e-mail me, and apologize for the continuously HORRIBLE SERVICE this dump offers, and not even offer/send me coupons to use @ a decent mcdonalds that maybe could serve me correctly without being taught how to do their job. r u KIDDING ME!!!!!!!!!!!!!!!!!!!!!???????????????????????
your facility SUCKSSSSSSS and you, the "manager"-loser, should be FIRED for doing such a repititiously HORRIBLE JOB with your leadership. you suck, your restauraunt sucks, your food their sucks, and i wouoldn't even send a retarded child to apply @ your dump, only so they wont make you LOOK GOOD!!!!!!!!!

going thru mcdonalds drive tru and getting wrong order. on my way to work on a sunday and went i sit down to eat; but they gave me the wrong order, so i had to gety back into my car get there and you don't even gat an apology.they told me i hat to wait to get the correct order, unfortunately i had to get back to work, so i just asked for my money back,though this is not the first time it has happened. maybe they cannot handle the heavy traffic…who knows? this was the mcdonalds on 441 and ives dairy rd in miami, florida on a sunday may 22nd ,2011 @11:00 am.

Went to get a chicken sandwich here in Corpus Christi McDonalds. I payed and got my meal and aske for mayo. Well they were out, drove off to eat and when I took out the sandwich it looked like it was made yesterday. The bun was hard as wood and the chicken was old and tough. I turned around and went back to talk with the manager and to my suprise he told me I was lying and that he knew they just barely came out of the grease. Wow, I might expect that from an min wage employee but a manager. I called in to complain and they wanted to give me a sandwich at any store.
You know, I dont want a freebie I just want you to fix your obvious service problems here in Flour Bluff and you need to start at the top Cmon hoe many customers do you really want to go to the competitors becuase you dont care about customers????

I had to show the local McDonald's manager a document from their corporate office indicating that a full medium order of fries is 4.1 oz to get more than half an order. I would LOVE to be able to send pictures from my camera phone to McDonald's, but their feedback form won't let you, and was designed to make feedback as frustrating as possible. I guess it's time to visit the library website, get the names of all the corporate executives, and send paper pictures to them.

this particular mcdonalds by my house is the worst i have ever been too. they screw up my order every time. i think someone should drug test each employee. i love mcdonalds, but this one takes the cake. one morning, i went through the drive-thru, ordered bisquits and gravy, i got home, sat down with fork in-hand opened it up only to find a blob of gravy with no bisquits. i was livid. just the other day, the gal at the window asked me at least five times what kind of pie i had ordered. i told her one peach, and one cherry. i get home and find two apple pies. here i go again back to have it corrected.
i am boycotting this one mcdonalds, i will drive to the next county before i go back again. this is only a couple of examples of what i am pissed off about. i could write a book! thank you for letting me vent!

I've been to mcdonalds several times in PAMPA TX, 79065 when the people placed at the windows doesnt understand ENGLISH. I had Asked for a girl toy and got a boy toy and they didnt know what i was saying. this went on for a bit and finally she asked someone to come to the window that understood ENGLISH. Another example was when I asked for napkins at least 3 times and same thing happened again. There has been several other times this has happened. Its amazing that all the employees are 90 to 97% mexican.
How do others have a chance to get a job there when everyone is hollaring to each other in spanish, so no one else would have a chance with being hired since they dont understand spanish. If they were hired they would never stay cause they couldnt understand what was going on. WHATS GOING ON WITH U PEOPLE?? You should double ck the workers/management most are illegal with fake soc sec#. I just dont get It!!! Dont u run these #s to make sure the people to the #s didnt die in 1940 or were made up illegally! tank u bery mush!!!

Went to McDonald's on April 15, 2011 @ 19:47. Location: 11529 E Washington Blvd Whittier CA 90606-3123. This was not a rush hour time but line was super long in drive thru and inside, there were alot of employees behind counter-including 2 managers-which manager were not helping or doing anything to help customers and they only had one register open. I complained to manager "DELIA" and she was like "dah" clueless totally clueless she did not apologize all she said is and insisted there was 2 registers open. Other McDonald's customers in line were upset also.
Plus they forgot to give us our drinks and still had to wait for those.  McDonald's is going downhill as far as who they hire This is not the first time -nor the second. Whats going on?
Very unhappy
Sandra Almanza
562-699-4997

Dear mcdonalds manager, I yet again have been given the wrong order and have been charged for the wrong drink order. For a drink that I did not order I had to pay, and I'm sick to death of being con'd. It isn't the first time, this has happend 4 times now! You have poor customer service standards and I as the customer are not getting what I am paying for at your restaurant? I shall never eat or even give you my money, McDonald's food quality is poor and I'm sure some people agree we are being robbed!! I shall be taking this further with my complaint.

the mcdonalds resturant is located at hilltop in va. beach, va. i had low blood sugar and stopped at the drive thru to get an icecream cone $.54. i paid and i watched as they prepared my order. a lady who had handled money got the cone, filled it and set it on the counter (all with her dirty hands) then the guy in the window went over and picked it up (with his dirty hands) – then got a napkin and handed it out the window. i ask him if mcdonalds did not use gloves when handeling food, his reply, yes we do in the back. he was very nice and polite. i told him he could keep the ice cream and i drove off.

In the last 3 months I haven't seen any of the McDonald's staff members wearing name badges AT ALL which in the industry is ridiculous. I have never been soooo disappointed in service. I wont be going back any time soon. In the last 3 month there has been problem after problem after problem. Month end weekend in February they had no chips. The week after that they had no milkshake mix.  Two weeks after that they had no buns for burgers. Every time I go to McDonald's Benoni staff have no name badges. I requested a rude ladies name and she didn't want to give it to me at all. I requested the head office number and she didn't want to give it to me at all.
When I got upset they spoke in a different language which is terribly rude to say the least. If that's not bad enough the security guard in the parking lot gets involved and waving his finger in your face and telling you he isn't scared of you will definitely convince you of bad service like never before and NEVER AGAIN!

This Past Friday my husband, daughter, two grandchildren and myself, stopped at the McDonald's Store in Many, Louisiana, I have never seen such a dirty place where you have to sit down and eat. The tables were greasy with flies every where looked like they had not been cleaned in a very long time. We had a 8 month old with us and the high chairs were so corroded with filth we could not let her sit in one. The ladies restroom was smelly and very dirty. I really think someone from head quarters should stop in unannounced to this McDonald's location and check it out for themselves. I am sure that they wouldn't like what they found in this restaurant.

I have noticed over the past several weeks that the sausage patty now being served at McDonalds has a different flavor than it had previously. The current one is not very good, this moring I stopped at the local store and asked, they confirmed that the recipe has been changed and that it is not as good. I also want to complain about the french fries, 40 years ago McDonalds had the best french fries anywhere, period. This it when they were being cooked in beef lard and tasted more like meat than the burgers did. Then the "health" craze took over and the "vegetarins" and it has been downhill ever since. I hope that McDonalds can change back to the ways of old, and bring some loyal customers back.

McDonalds sucks and here is my complaint about McDonalds. Their large thick shake is now a medium and watery, I couldn't believe it when I took off the lid and looked inside. Also very disappointing that the new McDonalds Mcdoubles have different cheese, are dried up, and only have a spec of onions on the hamburger. I was ripped off and won't ever go back to this place again. I'm freezing this so-called large thick shake and showing it to everyone to make sure they don't go back ever again. Instead of responding and making quality they get the lowest cheapest crap out their and hope that nobody will notice, not cool. PS McDonalds sucks!

I've been in Kingsville TX for a year now. I hit McDonalds about every weekend in the morning (don't know why I keep going). It's come to the point where I'm ACTUALLY on a complaint forum the service is so bad at this place. They literally get less than 50% of my orders right. I get everything from the wrong sandwich to jelly packets w/ my breakfast burritos it's pathetic. There are 2 McDonalds locations in this town. One has only hot picante and the other has only mild… it's been like this for a YEAR. You think the McDonalds managers could get together and swap some out. Obviously they don't care about their customers or their business.

Had recently filed a customer complaint to Mr. Paul Samuelson, a McDonalds customer service Representative about the wi-fi problems I was having. Dear Mr. Samuelson, received your mail about my complaint to you from 5875 -20th st vero beach about the wi-fi situation. I want to thank for listening to my wi-fi problem at that McDonalds location. And taking an interest to my complaint that was to me a disgusting scene there, causing me not to be able to use my wi-fi on location. Now i hope i can go back and enjoy that delicious chicken sandwich that we all love to eat, (in peace and quiet) at your location. Thanks Again Sincerely Jerry Epstein.

I just wanted to find out why is it every time I head do McDonalds at Night before work (I work 3rd shift) I would feel like having a Hot Mocha and they would say that their machine is down. I start work at 22:00 cst so it would be around 21:15 when I would come around to get one and can never get a hot mocha, it's really frustrating as McDonalds customer. You guys advertised it so much on how good it is but won't keep the machine's up until at least midnight before shutting it down. I'm getting pretty tired of having to go through this every time I want one, why not give me one? Can you please get this fixed for all the people that works third shift would like to maybe have one before work. It would increase profits and sell more hot mocha's!

I ordered a filet-o-fish today @ McDonald's in Green Bay, WI. This was the 91st McDonald's built in the US and has the ORIGINAL Golden Arches dating back to 1958. I began to eat the fish sandwich, & realized there was no slice of cheese. I went back to the counter and asked why there was no cheese. I was told by the [not-so-customer-friendly] manager, Jamie, that 1/2 slice of cheese comes on the sandwich,and has been for a long time. But there wasn't even "1/2 SLICE" to be seen. I lifted the top of the bun,…only TONS of tarter sauce. I lifted the bottom of the bun only to find a "1.5" by 1.5″ melted circle of cheese".
I couldn't tell if it has been a slice or a squirt of cheese. I requested a sandwich that was as pictured on the menu, and was told by Manager Jamie, "Well, you can't go according to the pictures." I think that McDonalds needs to be HONEST about what is and what isn't on a sandwich. If a slice of cheese, or even half is pictured, that is what I would hope to find on my sandwich….NOT a 1.5 by 1.5 inch circle of melted cheese located UNDER the fish filet. HOW long have you been doing this? Is this an attempt to hide the scant amount of cheese? SHAME ON McDonald's!!!!!!

I visited a McDonalds restaurant today for lunch. I love the $dollar$ menu. I ordered a cheeseburger with mayo and onion only. I'm thinking the total would be $1.10-$1.15. I literally had $1.25 in change. The cashier says $1.39! I know it is not a lot, but to someone who is counting change, every penny counts! I had $1.25. I asked why it rang up to that and she claimed because I asked for mayo and mayonnaise is not the condiment that comes on the sandwich. I thought maybe she heard me say EXTRA mayo, but no, that would be another $0.30. I ended up having to get a plain McDonald's cheeseburger because I was $0.14 short.
I would think it would be a more rational choice to just give me the burger, rather than throw it away and give me a "plain" McDonald's cheeseburger. My idea is to not charge anything for condiments. Maybe if someone requests extra, but not otherwise. Thank you and this is my only problem with McDonald's restaurant. Your coffee is the BEST.

I went the Irving Blvd, Mcdonalds and received sorry service. The Spanish people got good service, from what i observed over the course of 6 months. The redone Mcdonalds in Irving TX. And same thing at another one on Irving Tx, off Story Rd. Same thing at a Mcdonalds off 183 and Esters Rd in Irving Tx. Then i moved and went to the Mcdonalds in Stephenville Tx three times, same treatment from Spanish employees at Mcdonalds. They hardly speak any English language. Now i do not like Mcdonalds. I did want a job there, at a few of them i mentioned, but now i'll wait till they complain of their work a lot, then move in to them Spanish workers, what good customer service is, no matter what culture you are from…disgusted!!!!!

Spanish staff at McDonalds, Manhattan, NY, Penn Station, Madison Square Garden, discriminates against non-Spanish with the 30 min rule (eat and leave w/n 30 min). They told me it was a 20 min rule. Only non-Spanish persons was asked to leave. I spent $8 at McDonald's, I paid w/ Credit card but McDonalds machine was out of paper so I didn't get a receipt to prove to the police that my 20 or 30 min time limit was not expired. A floor sweeper/mopper (60 yr old male Spanish) told me "you must go now". I guess I was in the way, and this is the only way a frustrated staff can vent his anger about his "go nowhere because I can't speak proper English lowly" job.
Unprofessional, not courteous. I went to the manager, Spanish woman, no help whatsoever. Is this how you treat your paying customers? It is 2:45am at Penn Station. There is free WiFi at McDonald's, I had my computer. Later, 6 MTA Police are at McDonald's, some hands on their guns, saying I must go. Intimidation. Clearly, they wanted a confrontation. I asked the sole black staff to give me my other order of apple pies and I left. What was I supposed to do? The Spanish staff stereotype all blacks. Police do the same. The Spanish are taking over!!! They work hard, they may deserve it.

Here is a good scam going at McDonald's, I went to pay for the meal at the drive thru window and the lady accidentally dropped my change on the ground. I can't open the door to give her change from the ground, so I just said don't worry about it. I just happened to look on the ground and noticed there was lots and lots of change on the ground. It was a scam, she would collect the change when the cars slowed down in the drive thru. I found out later in the week and that person doesn't work at that McDonald's anymore so beware of the accidental drop of your change at McDonald's!

In a week's period, either me or a family member have had wrong orders given to us at McDonalds in Ogdensburg. I went inside, placed an order, got home to find out I was missing a filet of fish, and paid for it. My brother, the same day, was shorted a filet of fish. He was going through the drive through as I was ordering inside. Also, my niece was shorted 2 filet of fish at McDonalds within the same week. Luckily, her father told her what had happened to both me and our other brother, and she checked the bag at the drive through to realize she was given a quarter pounder in place of of the 2 filet. McDonalds workers need to pay more attention to orders and fulfilling them accurately. It's very frustrating to get home and realize that you are shorted food for someone that is waiting to eat!!
Burger King, here I come, which is located right across the street. Starving in Ogdensburg…

I know you might hear this a lot but i have had it. I needed to vent about the drive thru service in Rockford or Loves Park IL….every McDonalds you go to the service sucks…people make a joke that you have to do the job of the workers so you get your complete order. Today i ordered two happy meals in the McDonalds drive thru and they asked me if girl or boy toys i stated girl…well i got home WITHOUT checking my bags…thinking to myself omg i know better not to check and sure enough…NO FRIES…AND THE TOYS WERE BOY TOYS. Ok I can see messing up the toys but COME ON two easy meals and the same and NO FRIES. The last time i went to McDonalds they gave the car in front of me MY ORDER.
What do they hire for staff…And people REALLY NEED to take PRIDE IN THE WORK THEY DO…i dont care if you are washing toliets…TAKE SOME PRIDE…stop worring about boyfriends or if your hair is ok…SHOW some respect for your employment…. i am ticked off at McDonalds…

In store McDonalds #1807 order # 257 [3-09-11] my order was taken incorrectly and I didn't get my fish sandwich. I got chicken which the ticket read but did not check until I got home. In the last month I have been shorted chicken McNuggets twice which my wife and mother in law love. This time I checked the bag to see I had 2 boxes of chicken nuggets and a sandwich which I did so I was surprised when on arriving home I found no fish sandwich. If it wasn't for the terrific fries, apple pies and coffee I would go down the street to Burger King. Somebody needs to get these people at McDonalds to pay attention, they are not the only fast food restaurant in town.

I had to wait in line inside for thirty minutes at mcdonalds to place my order on march 5 2011. they had one new lady on the register who had very little experience. six times it took to get the order placed and i only had 1 happy meal, 1 #10 meal, and 1 mcchicken, 1 value fry, and 1 tea. this happened at store #12161 in port st. lucie, Florida . please if mcdonalds cannot do better than this as much business they have they need to close up and go home.

My husband and I stopped in at the Vincennes Indiana Mcdonalds on thursday morning and my english muffin was burnt and the edges of my egg was burnt. The hash rounds tasted like they was soaked in oil and had the oil taste. I told the manager on duty and she said don't know its not my store just filling in here. Will not eat breakfast there again. It was horrible.

My daughter got some coupons for McDonald's for valentines day. When I took her there to eat then use the coupon we were denied to use it. My daughter was crushed as she has several of the coupons from class mates. I talked to a Manager and his response was to find out where the coupons where purchased and used them there!!! I'm sorry, but how in the world would I do that and how humiliating to ask a parent where you bought your coupons!! There is NO where on these coupons where it say valid at the McDonald's where you got them from!!! I'm very disappointed and I may NEVER eat at McDonald's again! What has this world come to?

Had to do the the Heimlich maneuver to my friend who choked on a piece of plastic found in a double quarter pounder from McDonald's. This happened in Oromocto NB Canada on Friday 25th, February 2011 at 1130 pm. I am looking for compensation from McDonald's for this incident and don't know where to go from here. Contact me at, fabianhenry79@hotmail.com, Thank you.

I have a complaint about the mcdonalds on 1642 pitkin ave, brooklyn NY. the worst service ever, from mgmt down, no control, everyone has a poor attitude and the food sucks big time. I'm done with mcdonalds, first time shame on you second time shame on me!

My friends and I went to Mcdonalds to get some food from the drive through and we placed some specific orders. Then after arriving home we saw that the staff only gave us half of the order. We then had to get in the car and drive all the way back. We then queried the McDonalds staff, and they were totally clueless about what happened. We supplied them with the receipt, and only then did they find the rest of our order. By that time the food were already cold, and we also realized that they did not remove the onions from 2 of the meals as we asked for. This was not the standard we are accustomed to from Mcdonalds.

I went to all 3 McDonalds in my city. They each have a huge advertisement of the Monopoly game they have going. The first sentence is that no purchase is required to play. So I asked for a free Monopoly piece. They said you need to by a meal. I showed them their advertisement right in front of the counter. Their reply was always you buy and meal and the Monopoly piece comes free. I said you sign says no purchase required. Your telling me it is required. This is definitely false advertising. I tried to find a way to complain to the McDonalds headquarters, but there web site does not give you anyway to complain, only how do get a franchise or job or coupons, etc.

2/2/2011, purchased 2 breakfast sandwiches and coffee at McDonalds. employee wore no gloves putting the sandwiches together. witnessed McDonalds employee placing egg, meat and cheese using no plastic gloves for any customer. I ordered two sausage biscuits, one hashbrown, and a small orange juice at 1610 sycamore view 38134 memphis,tn. The sausage biscuits were both burnt. I'm an african american woman and my sausage biscuits were the same color of my skin. The hashbrown was cold and taste old as if it had been sitting out for years. A
And the small cup of orange juice was $2.99 and it was a very small cup that shouldn't have been worth $2.99. I couldn't take it back because I had no receipt and plus class for college had just begun, so I had no choice but to throw it away or eat it and die

I currently work at mcdonalds and I can either be the nicest worker there or the worst. Next time you complain, you might need to consider this before you do. When ordering through the drive thru at mcdonalds, be sure to look at the 12 inch screen displayed in front of you to ensure that your order is accurate. Don't say the mcdonalds big mac meal is yours when you clearly ordered a large coke and that's it. When we park you, we do it not in spite of you, it's because your food is obviously not ready. So don't come in all pissed voicing your observation! The reason nothing is stocked is because fat people like YOU GUYS keep coming in  to mcdonalds and ordering a ton of food!

I wanted a smoothie from McDonalds, so I pulled up to the drive thru window to order. The lady starts screaming something crazy through the mike and so I politely ask her to slow down and that I can't understand her, maybe it was her accent I dunno. Finally I got tired of this, drove up to the window, but she never came. I guess if you can't hear the crazy foreign immigrant on the microphone, McDonalds doesn't deem you a worthy customer! I get that America is diverse blah blah but seriously most people speak English McDonalds, can you not hire people who speak it as well! Da da da I'm hatin' it!

Jesus… I understand if i see an overweight person eating at subway , but mcdonalds? GUYS, CUT DOWN THE FAT OR YOU'LL DIE .

Bobby Adkins
from Marietta, GA
worst svc. ever = I had to wait over 15 minutes to receive my order + a 5 minute wait just to place the order
all in all = it took over 20 minutes to receive my simple order of 2 mcmuffins = all of the workers are evil obama clinton
deep state democrat racist scalawags who hate white americans = like myself = I will HATE mcdonalds for all eternity
you evil basdtards are ALL evil "obama-clinton" democrta communist nigger nazi thieves = damn you bastards to hell!

Louise Healy
from Tucson, AZ
Yesterday I went to the Mcdonalds at Park Place Mall in Tucson, Arizona; there were about 4 people ahead of me; while I was waiting I saw that one of the customers before me had 9 individual orders; each with its own money; the line was getting longer and the gentleman working the counter did not get more help to move this line along. After standing there for 20 minutes; I gave up and left even though I really wanted a Mcdonald's Fish Sandwich. When I looked around a little while later; the person with the 9 orders was waiting for the orders and the line has not gone down. In my opinion this was not what I would call fast food. if you have to stand and wait to order for a long time; that is bad. I will probably not ever go to that
Mcdonalds again and that's a shame because I happen to like their food. Could someone please contact me reference this matter; it was very disappointing and I don't know if I would recommend that place to anyone.
Thank You
Louise

Mary Pandey
from Elyria, OH
North Ridgeville, Ohio Lorain road location. Double Quarter Pounder was RAW... Took it back in and did not get a new one. Left disappointed.

Carol Spencer
from Jerseyville, IL
I am a regular at McDonald's. Coffee at least 3 times daily. I take my grandkids there and often grab a sandwich for lunch. Jerseyville, IL McDonald's has to be one of the worst..Often times, no complaints. However, the last month service has gone very poor.. I always get cream in my coffee.. Many times, 3 to be exact, no cream when I get my coffee to work. My granddaughters happy meals are not complete.. No fries, wrong items, etc. The turnover of employees seems to be very high... Today, I experienced the same thing. One poor girl working who appears to be training two new employees at one of the busies times for drive through.. I no longer see any familiar managers.. I think I need to look somewhere else for my coffee fixes...

boo bob
from Fort Collins, CO
Specifically referring the the south college mcdonalds in fort Collins, Colorado. they are going through yet another remodel and choose to stay open even though it horribly inconvenient and a disservice to their customers. the customers get nothing from this remodel, could care less what the building looks like. on top of this they have raised their prices again. they are thieves who think they can charge whatever and treat the customers poorly. I will go elsewhere, the food is very low quality, hamburgers so thin you can see through them and grainy. awful

Nancy moreira
from South Weymouth, MA
I purchased just a lg. hot coffee at rest.#2599 at 10;08 am.When I got back to the car and went to put the cup in the car cup holder,it popped open and sprayed hot coffee all over my car seat and my hand.I doused it with bottled water I had.it turns out that the paper cup was damaged on the lip and that is why the lid didn't fit correctly.My hand was painful and red the whole morning at work.

Barbie
from Milwaukee, WI
I just had a new quarter pounder and it was the worst thing I have ever had. The burger was dripping in grease and I had to use napkin just to eat it and catch all the grease. Could not even eat it. It was dripping grease all over me and my car. If you used quality beef there should have been that much grease. Come on this is not healthy. Never will have one again. Thanks for listening!

Roger and Pam Dalrymple
from Chantilly, VA
I would have given store 3663 in Westminster Md. 0 stars if that was possible -- the poor service, long wait, and poor quality of the food when we finally received it on 12 June was brought to the attention of the store manager, with many promises by him to make good by sending us a McDonalds gift card, to be used in any store -- to date, nothing has arrived -- the last message we received said the card(s) had been mailed on the 20th, nothing has arrived as of the 27th, and most of our inquiries go unanswered. Clearly not high on his priority list. We are asking for the name and contact info for the district manager, and/or of the owner, and are asking for any simple resolution to our request -- it's time for McDonalds to fix this. Thank you.

sherry
from Pleasanton, CA
Out here in Rwanda CA. Wanna the manager won't serve the home less for the past for years this is been going on so much tussle there's a bout a forget of us or more where going to the medeia

Milton Wilcox
from Foster, RI
I asked the weight of a mcdouble hamburger patty and it was a problem telling me. It was a simple question

C. Barth
from Chicago, IL
McDonalds Restaurant #12157
Mequon, WI on 6/22/2018 @ 9:55am
Upon entry the crew demeanor was horrible! No one smiled, no one seemed in a hurry to place my order. There was one person waiting for their food already. One female worker with an attitude , who I am assuming was trying to go on break, was standing about 4 foot from the cash register we asked if she was waiting she told us to go ahead. We stepped to the register to place order and a guy (who I assume was still training) had the register open attempting to break a coin sleeve he closed the register and very softly spoke while still holding the half opened coin sleeve. I told him I could not hear him so a tad louder he said "go ahead".I told him I wanted 2 sausage egg muffin meals with breakfast sauce and one with a coffee and the other with an orange juice. He looked at me very confused and said "two sausage muffin meals?" I said yes he said "oh I put in 3." At this point a few other customers walked in and the lady that was trying to go on break walked back around the counter, with an even worse attitude, to assist the guy with putting my order in. I had to repeat my order another 3 times and just to be told they didn't have orange juice. Meanwhile, a few other people walked in to order and one lady asked if they could open another register and the female worker just looked at her with an attitude and shook her head. I said oh ok then a milk. She told me my total and then walked off. I used my debit card to pay and then the guy handed me my the receipt and said have a nice day. At this point I was waiting for my food to come ready. Two different people from the drive though came in to get their order corrected. Another worker walked in to start her shift who also had an attitude, started to ring people up. Not once did she say hello to anyone or smile. Several people told them they were out of ice and lids. Not one worker said sorry or went to stock the empty stuff they just took a lid out of a sleeve from under the counter and handed it to the customer. Now, there are about 8 people waiting for their orders. Three people received their order before me due to the drive through girl clearing my order before I received it. The worker that was trying to go break ordered her food and went and sat down. The worker who had just clocked in a few minutes ago kept playing with her phone and even had her phone sitting on the counter next to her register. When she wasn't playing with her phone she either had her arms folded with a horrible look on her face or was too busy with her hands down the back of her pants trying to pull them up or whatever it was she was doing. Either way, that is absolutely unacceptable!!!! I do not want you handling my food or drinks or touching anything after you just had BOTH of your hands down your pants!!! It took 18 minutes for me to receive my food and then I still hadn't been given my milk or coffee. The front end manager handed me the drinks and I had to ask to get creamer. She had 3 very long fake nails and the others were missing making me wonder if they had fallen off in someone's order! Out of all the customers, I was the only one who was apologized to for the wait. As a former McDonalds employee, I know the standers that are expected of the employees. NONE of which were met at this location. Not one employee seemed to want to be there nor do their job. I know times can get busy and hectic but that still do not excuse the lack of worker ability nor customer service. The only crew member that was attempting to hustle was the back of house manager making the sandwiches. The women's bathroom had urine on the floor and needed some serious attention. The food and coffee was barely warm. As many of McDonalds I have visited in my life, this location is BY FAR the worse!!!!! This entire crew, minus the trainee, needs a serious attitude adjustment and need to be re-education on what customer service means and the expectations of the job they were hired for!!!!

Paula Smith
from Florence, KY
Your McDonald's store on dream street in Florence kentucky is the worst. I went there on June 15, 2018 at 9:30 pm . I was in the drive through for 30 minutes and when I did order the manager said there was only one other person working there besides her. She told me that she was going to close. That store lost so much money that night. The drive through was all the out to the street and a lot of them were leaving because of it. Someone needs new management. Sad very sad....

Anthony Arnold
from Fort Wayne, IN
I have lost all confident in the two McDonalds that we have close to us as they just don't care about the customers and the stores are ALWAYS dirty and can never find a seat and that they only care about drive thru. Its too bad you don't have someone who can impersonate a customer and see it thru their eyes as this will tell the whole story.
I have work in food service most of my life, and it's an embarrassment to see how these stores operate, and if there were competition in the area they would not be in business, as people deserve to be treated as guest not just another number on the screen.
One of the other stores that we visit we waited 30 min just for a plain chicken sandwich while fifteen other tables had been taken care of, when I talked to the manager on duty I was informed that they were short staffed and that they apologized but if I had any time to eat somewhere else I would have but instead my 30-min lunch break was over and had to eat on the run and ended up buying a Snickers bar just because I would not have time.
I hope this response and survey doesn't land on deaf ears as I feel it might, because the bigger a business becomes the less important a customer will become and more important is sales.
Please PROVE ME WRONG!!!!!!!!!!!!!!!!!!!!!!!!!!!!!!!!!!!!!
I submitted this complaint to McDonalds and they NEVER Followed up on this as I guess they would. God I hate being right.

Gerald Robinett
from Auburn, WA
I went thru the drive thru ordered a double quarter pounder meal with a coke went fine got my food pulled over in the Walmart parking lot to starting eating my meal Now I eat all my food before drinking anything so when I got to my coke and took a big drink and wow to my surprise my was not only coke but it had whiskey or rum in it and strong too at first I thought I was crazy so I took it home to have my wife taste it and she was surprised as I was it definately had alcohol in it I called the Spanaway MC and reported it to a manager she told me she was going to tell the other manager and would review the camera footage she took my name and number but I have yet to hear anything from them I have the coke in my fridge I'm not sure my next step is going to be this is a really serious thing and should find out how who and why someone put alcohol in my coke just lucky this time it was not a child who received this coke

Lori Petlock
from Hollidaysburg, PA
The person who took my order at the drive through window at station mall, Altoona, pa 16602 on 06/12/18 was very rude by making me feel rushed to order, extremely poor hygiene, and handed me my change and turned and walked away without saying thank you or have a good night. She seemed so disgusted that I was there to order food. I will never return to that location ever again.

Ray Tutor
from Glen Allen, VA
Waited in the drive thru of so minutes place order still waiting to pay get to window to pay waited some more get to next window to get food gave me my drink ask me to pull up they would bring food out. Waited 12 minutes they bring me my food. The food was cold not warm why did I have to wait 12minutes to get cold food . Extremely dissatisfied very poor service.I
Restaurant #17539
893 Garrisonville Rd
Stafford Va. 22554
Ray Tutor

greta bircheat
from Bowman, SC
2 drive through windows creates confusion for your staff in keeping orders straight, 4 out of 10 orders are not correct;correct (sounds like a small % ); however. when you live 12 miles away, it becomes a wrinkle in your day. My 9 year old grandson, a pain when his food is not right, likes plain burgers with cheese ( never eats bread) frequently has to have his fast food washed off and re-fixed at home. I have learned to pull over and check each burger before I leave. June 9th his burgers were wrong again so I drove around again, The order girl asked if I was the burgers and mocha, I said no 2 plain double cheeseburger; she said drive to the next window, At the 2nd window I was asked if I was the burger and mocha-repeated my order-she asked if I had my paper - she closed the window then returned with a bag, When she handed me the bag, I was trying to return the other food, she closed the window and walked away. I pulled down and checked my order and found 2 plain burgers in the bag instead of 2 plain double cheeseburgers. At his point I was to mad to go back and talk. Your staff at the windows should practice customer service and learn to smile and greet customers..People should feel they are welcome at McDonald's even if orders have to corrected.My grandson thinks we should eat more chicken and tacos until they learn how to get the orders right

FRANCIS J NICOLO
from Rural Valley, PA
I'M A US NAVY VET AND ON MY WAY HOME STOPPED AT MCDONALDS IN ST MARYS ON JUNE 8TH FRIDAY AND PLACED A ORDER
BETWEEN 1:30 AND 2PM, I WAITED 40 MIN. FOR A FISH SANDWICH AND FINALLY WENT IN TO COMPLAIN AND THEY PROMPLY
GAVE ME MY FISH SANDWICH AFTER I COMPLAINED, NO EXCUSE FOR THAT, POOR MANAGEMENT I WOULD SAY, SURE PEOPLE MAKE MISTAKES, BUT UNACCEPTABLE IN THAT PLACE OF BUSINESS, I BELIEVE THEY FORGOT AND I WILL NEVER GO IN THERE AGAIN, I'M SORRY BUT THATS THE WAY IT IS, BEST WISHES, FRANK.

Theresa Ann Burkholder
from Lancaster, PA
I was at the north reading rd Ephrata Pa McDonlds this morning and I sat in the drive thru line for all but 20 min. They only had 1 person working both windows and when I got my order (after I had driven away) I noticed my order was even wrong! This is ridiculous that they only have 1 person working at 7:30 in the morning!!!! I will probably not go back there!!
Theresa Burkholder

Michelle McKinnie
from Crete, IL
Good Evening, I am writing this letter to file a recent compliant. I went to the McDonald's in my neighborhood today 6/2/2018. Unfortunately, my experience in the drive thru was horrible. I sat in the line from 5:44pm to 5:54 pm just for a Southwest Salad. I am not certain what is going on with this McDonald's, however this is not expectable for a Fast Food restaurant. Possibly this site needs additional help? I know this is not how McDonald's wants to be recognized. However, this has happened on numerous occasion1s.
Richton Park-McDonald's ILLINOIS 60471

Brenda Batey
from Anniston, AL
I contacted the store directly and the manager had a awful attitude after 3 attempts to get what we wanted I called to discuss the issue an the manager who stated her name was Susan was sarcastic and very rude and would not resolve our issues nor did she want even talk about it she rather argue than try to explain to me that they were wrong so we paid for three items that we did not want nor do we order and she did not even attempt to fix it, sad that a manager is so childish an would rather talk over an I've worked in the restaurant industry for 25 years an never have I experience a manager that was an awful as she was,so we spent money on 3 items we didn't want nor ask for because we did not know the proper name of the coffee the drink that we ordered she refused to even look and she kept saying we don't have frozen coffee instead of explaining to me that their coffee was called certain things she wanted to argue about it, pathetic service when management can't control themselves 1 even 2 mistakes but 3 an to then have her conduct in a manner to which she did ,maybe McDonald's has just taken anyone who doesn't remember there job title and how to act,I've dealt with employees who had more common knowledge than her,I've been a customer for a long time an I'm ashamed of McDonald's an who they allow to resolve issues,very dissatisfied an shocked at this type of behavior she might not care but I work hard for my money an this is has a feeling of takin my hard money from me an didn't care shame on u

tonya trail
from Oxford, MS
They blocked off all the doors and said the lobby is closed and it dont close till 5am here. Then after they said they was closed they let people in but not me i feel like they was being racist toward me me cause im half white. And they told another lady they was closed too. A black couple they let in. There something needs to be done bout this. This is at your marion sc 29571 location.

Shaun
from Johannesburg, GT
Every time we come to Mc donalds by the entrance by carnival mall, which we visit twice a week they tell us that we need to go and park something doesnt work, but everything outside work and the card machine, is this purr laziness or what??? Also what happen is that u can place an order by the drive thru and pay then they will tell u to pay and go park when there is no one infront to wait for an order!!! We are a family of 5 and spend alot of money there and like i said twice a week, but this is getting out of hand and if this wount change we will rather drive to another mc donalds.
From a very very unhappy customer!!!!

Carol Phillips
from Portsmouth, OH
quarter pounder with cheese was not cooked completely. This has happened twice--yesterday, May 8, 2018 was the second time.
as expensive as these are, I do not appreciate having to throw 1/2 of it away.
this happened both times at the Mc Donalds in Thurman, Ohio.

Joyce Sankus
from Linville, VA
I placed and order when I got to the window to pickup I was told that the French fries were cooking would I move up. More than happy to wait for fresh cooked hot fries. To my surprise when I was given the bag the fries were not fresh cooked infact they were cold, (very cold) This is the second time I have not been happy with this McDonalds.

merle Overton
from Greenville, NC
this is the second time this has happen at the Mcdonalds on Greenville Blvd, Greenville, NC. Service was very slow and employees not friendly at all.
I ordered a large Moca Fappe, it was in al large cup but only about half full and whip was then added to make it look like it was full and the whip was not even at the top of the large cup. When I questioned if that was large I was told very rudely that it was. this is the second time I have gotten less than a full cup. thought maybe the first time was by accident so I did not say anything. I did not say anything then since it was packed with customers. I eat at Mcdonalds several times a week and was very sadden by the service at this location.

Don Myers
from Phoenix, AZ
I ordered the Big Box, extra plain burger and large f2f at 5:30 p.m. after approx. 20 minutes I went to manager asked if my order would be ready soon. He said "I thought that one had been served". I said "no I`m still waiting". Finally got my order at 5:53 p.m. From the temp. of the food as well as taste I believe they found my order sitting waiting to be served and they gave me my order that had been sitting for at least 20 minutes. There was no apology to go with my cold soggy ff and burgers no "sorry for the wait to go with my hard stale hamburger bun.
It was Restaurant #4518.
Don Myers
reggired69@cox.net

Atif malik
from Islamabad, IS
dear mcdonald my name is Atif malik Deputy captain of the army from askri 14 rawalpindi 03415772011 Today I went to your branch at jinnah park rawalpindi I am going there for eight years But today, for the first time I feel so bad there There was one of your female employee Naila This name was written on their shirt i was so hurt today by listening to such a dirty language With McDonald's Staff That my heart is broken today after going there That's why I can not go there with my family So please keep your quality as the first Otherwise we have some other options.

Stephanie hanway
from South Sioux City, NE
You gave us coupons so we could try McDonald's in Sidney me again no grilled chicken again this time machine broke what is wrong with this place

Ernest Anthony
from Franklin, NC
Bad meal didn't eat it about $8.50 want my money back April 14 at about 12 sylva NC 28713
today I ate at other place not a MCD
Ernest

patricia price
from Cincinnati, OH
it mcdonald on 5341 glenway cincinnati ohio i go to mcdonald a t least for 3-4 time a week because it right down street from me i have lot restaurants around me burger king/rally/subway /firsch/plus more i choose mcdonald lately i have not been complaint but this time your third shift is very bad about 5:00 in morning on saturday morning i alway stop at mcdonald before 5:15 in morning because i know it take at least 15 minute for order i was there on 4/21/ at 5:19 am no one didn't answer for a least 5 minute so i waited a couple x minutes no answer so i drove around to place order inside the door are lock and said on your door that they open at 5:00 am so knock on door they walking around like zombie didn't response so i call no answers call again at 6:45 no answer this time really disappointed at customer service i work at hotel front desk so this business is 24 hour so can imagine i not at front desk for 5 minute when a guest come up to checkout or not answer phone i in business of make sure guest is taken care of i have so very bad time to but i smile and deal with it that business you in with customer service

dora steele
from Jackson, MI
i went to drive thru at 1130 on 4/19. my order was wrong The fries were old and the nuggets were hard. I tried to call that night but didnt get an answer. So i called the next day and talked to the night manager and he said he would replace my meal. I went up there showed my receipt and first the lady manager acted like I was lying and she was very rude. The night manager finally figured out who I was. I waited for an hour to get my replacement meal and then they gave me the wrong size fries. I asked for a cup and she said I only replace food not drink. The lady manager that was there at 8 pm was very rude.

Pat
from Hendersonville, NC
I just watched an appalling incident on FB that someone took with their cell phone. A good Samaritan took a homeless man into a McDonald's to buy him a meal & the establishment called the police to have him removed. The meal was paid for & the good Samaritan & the homeless man were made to leave by police. The establishment would not give him his $$$ back. McDonald's is a public place & anyone should be able to go in & buy food & eat it w/o any discrimination. That is not what happened here. What's this country coming to? Please view this link to see what happened. I believe you also will be appalled. Hopefully some restitution can be made here & the mngr called on the carpet for treating a customer like this. https://www.facebook.com/ViralAudience/videos/166686257315103/UzpfSTE1MD...
Thank you for checking this out.

Terry K Ward
from Sebring, FL
I almost died today from choking on a Egg McMuffin today because it had Egg Shell in it! The egg shell cut my gums and the rest went down my throat, I only realized it had cut my gums after I had almost choked too death; now I know how people feel that has almost choked too death, it's a CHILLING FEELING!
P.S. I guess there is no Quality Assurance at McDonald's, people be sure you check everything that you eat from McDonalds first; because all the shortcuts they have been taking the last decade or so must be catching up too them!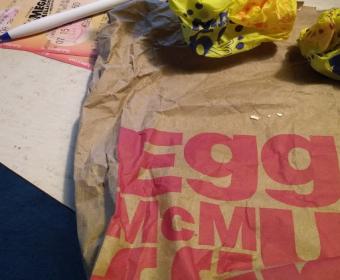 Doyle Yates
from Barstow, CA
My wife and I were at this location on 04/18/2018 @ 02:30 PM. ticket #351 order # 51. They took our order and I paid cash and was given my drink cups. When I got to the drink machine the whole area was dirty and drink spilled all over the place there was drink spilled on the floor in front of the machine and down the isle way for several feet. I let someone at the counter know. They had someone come out to clean it up. He did not do a very good job. Then we went to get a booth or table to eat our meal and we had to go to 3-4 tables and booths because the were so very unclean with food and drink on them and around the area. Then when we got our food it was not very good either the sandwich had old dark leaves on them. My wife and I at this point decided to leave. I did not talk to management about this because I did not want to cause any trouble. We will not be going to this location again.

Beverley Walls
from Mississauga, ON
I would like to start this off by saying that I was under the impression that the drive through was for convenience ! I have experienced nothing but slow incompetent service each time being served by Nadia !!! This morning as usual I went through the drive through , slow taking order, but we have come to understand that multi tasking is not her thing , however we ordered 2 medium blueberry smoothies, 1 large coffee and a medium hot chocolate. When we got to the window we paid the amount due only to have Nadia at that time inform us that the smoothie machine needed to be filled !!!!! Are you kidding me, we have jobs to get too, and her incompetence just put us back 20 minutes ! she told us to pull aside and wait for the attendant to bring out our order, which we did . I finally had to go in and see what the hold up was, no smoothies were made, I asked for a refund and told Nadia that this is not an isolated incident, that she's incompetent on the window and every morning we dread her being our server. Had she of told us that the smoothies were not available at that time , we would have just taken the rest of the order, the fact that we paid to sit and wait on her convenience is beyond disturbing !!!!!! This location does have extremely friendly staff, however Nadia is not one of them. Using the Creditview & Eglington location is an everyday stop for myself along with the many staff I work with . Nadia is not the girl to have on the window when people generally like to start their day in a refreshing mood too take through the day !!!
Thank you
Beverley Walls

john madey
from Berea, OH
I went to restaurant 3710 in Berea Ohio and placed an order at 10:17 pm today 4-17. This location closes at 11 pm.I ordered a hot apple pie and was told that "they were out." I asked the drive thru attendent why they did not have pies and was told they stopped making them at 10 pm because the manager tells them to to avoid waste.This has hapend before at this location to me and I complained as I am doing now.You're corporate office responded the location manager called me and I was assured it wouldn't happen again.so with enough time passing they again do what they want.I feel if you have a menus item it hold be available.

Tod M
from Walla Walla, WA
I seen the Mertle Beach incident where a man brought a homeless man in to buy him a meal. Management called the police to remove the homeless man just because he is homeless~!~ Then they made the good Samaritan man leave also. I WILL NEVER STEP FOOT IN A MCDONALDS AGAIN~!~ I personally know many people with whom we share experiences in life, and you can bet they will know about this~!~

Samuel
from Rhinelander, WI
The McDonald's in myrtle beach Florida is full of bitches! Kicking out a homeless man how horrible

went through the drive threw ordered a sausage mc griddle went back to work which i work maybe 3 minutes away, opened my sandwich no sausage inside so i go back maybe 30 minutes later and told the manager her name April what happened she asked me wheres my receipt i told her i didnt have it because i was working but that I'm a regular customer i come here everyyyyy day for breakfast and lunch she was veryyyyyyy rude and told me she needs the sandwich back or the receipt..then she just gave a sandwich which was ok with me... i didn't like the way she handled it by being very rude..,,when mcdonalds need s change they come to where i work and i give them excellent customer service....she should've just tell me ok I'm sorry heres another one .... not give me attitude....shes new there she should be more friendly with the customers...otheres that go there say the same thing about her she's rude....the staff is great been going there for the last 13 years Sara assistant manager is great if she was there she wouldve taken care of me the right way ....this has happened before and i never got any negative response.. Im not a satisfied customer anymore guess ill be going to burger King...

Terra Lewis
from Round Lake, IL
Today I drove home with my husbands, kids, and my meals. My 2 girls had happy meals and my husband and I had Qrt Pounder meals. $27.70 for the total. We where very upset to get the happy meals totally wrong. My husbands and my meals where fine but not the girls. My order on the receipt was all correct but not the happy meals which is why I think someone at the Lake Villa, IL Mc Donalds does not know how to read at all!!!! ! Happy meal Ch Burger ONLY Shredded Lettuce and extra Pickle is what i ordered. Well they gave her a Chicken sandwich with the lettuce and extra pickle not a burger. My daughter said it was gross and refused to eat it. My other daughter ordered 4 piece chicken nugget happy meal. She got a cheese burger w ketchup and one pickle. She hates cheese burgers. So my kids didnt eat there lunch and I wasted my money. Very unhappy! when my husband called they didnt seem to want to do anything about it.

Katy McLennan
from Weatherford, TX
We need the foam cups back! I have been to mcdonalds several times in the past few weeks and the new cups start to leak really bad and also do not keep the drinks as cold. thank you!

jesse smith
from Phillipsburg, NJ
on march 17 2018 at 10pm i went to the store at 660 memorial parkway Phillipsburg NJ 08865 when i pulled up we notice light were off, so the drive threw was wrap around the building and i was not waiting because they were taking forever. so i call the store and ask why the dining room was lock and there was no sign posted ( i have pic) and the time is post to be closed at 1 am , the lady told me there was only 2 people on because there was a call out, which means they should called more people in for that reason or put a sign up stating dining room closed due to lack of people working,,

Robert Gillespie
from West Chester, PA
WE GO TO MC DONALDS ON A DAILY BASIS MC DONALDS IN EXTON PA MANAGER JAKE 3/17/2018
.MY DAUGHTER HAS DIABETES TYPE 1
AND WE ALWAYS ORDER DIET SODA
THIS IS 3RD TIME WE HAVE GOTTEN WRONG SODA, BEING SUGAR SODA
I COMPAINED ON ALL OCCASIONS AND TOLD MANAGER JAKE HOW SERIOUS A SUGAR SODA CAN BE FOR A DIABETIC
HE WAS VERY SORRY AND REPLACED OUR ENTIRE MEAL THE FIRST TWO TIMES
THIRD TIME AFTER TELLING MY WIFE HE WOULD TAKE CARE OF US
HE TOLD MY WIFE REPLACE SODA ONLY YOU GET NOTHING ELSE
NOT GOOD CUSTOMER SERVICE MY, WIFE WAS VERY EMBARRASSSED
ROBERT & MARY GILLESPIE

Pallavi Sethi
from Sydney, NSW
I was at the Rydalmere McDonalds Restaurant Number #1535 on 14.03.2018 at 05:40 am. Me and my partner waited in the waiting bay for almost 15 minutes for coffees. When I placed the order I requested for Extra hot coffees and when I partner went inside he found the coffees were cold and just lying at the register.
He told the girl and asked to make the coffees again , The staff member gave him attitude and made the wrong order. My partner insisted the staff member that this is not my order ,can you please check it. She ignored the request and made the order incorrectly almost 3 times . She used inappropriate terms as well e.g. "you placed an order 8000 seconds ago".Then the manager intervened and served us.
order number was #84-REG#12

Michael hudson
from Mexico, MO
I went in to McDonald's in new Florence missouri and the first thing I see is a big a vary dirty mess of ketchup right in front of the main counter and then I get up to the counter to order and noticed that there were two people I thought were in line two order but then I noticed they were there just hanging out chating with the employees and were even going behind the counter and laughing and joking with people in the drive thru window then I asked for someone to take my order and was treated vary rudely and and when I placed my order I had to tell her several times what I wanted and had to ask her to take off things I didn't order because she was more into her friends conversations more then what my wife and myself were saying and then I get my drink cup and head over to fill my cup and the drink area was filled with spills and trash all over the counter as I get my drink I head over to the table and wait for my food when I got my food the fries were cold so I returned to the counter and asked for fresh fries because they were cold and got a additude and she mumbled under her breath by the time I drank two glasses of tea and my wife finished her food my fries finally was done and this is not the only time I have had problems at this location but this is the first time I have made a complaint and I will say this I will not ever return to this location I did take pictures of the mess but could not get the attachment to up load them and I as I was leaving the store the employee came out to clean the floor and I noticed she didn't have a mop she used a hand full of napkins .thank you for taking the time to read this

karina clay
from Dodgeville, WI
on march 4th 208 I went to drive through and this mcdonalds aloud strangers to come in and make fun of me and ake my order they served me garbage write off food and a large cup of urine I did not deserve this treatment they even made me pay full price for it mcdonalds restarunt number is 10423 order 53mks number 13 sidel I want them all fired for who took part in this I got sick and went to my family doctor on this because Ib een treated for a cervical cancer I don't want to have to do a lawsuit but I can if I do not get an appology letter and explaination of why they aloud tis at there store I worked mcdonald's 3 times and never had such disrespect before this is one of the reason why I wont comeback 608-408-0450 I want the managers replaced and fired for lack of ability to allow this to happen to me

dutchessangela@comcast.net
from Ridley Park, PA
I live North East PA and not far from DE. Every area McDonald's I go to is LOUSY!! (food, service). It's basically slop. The double cheeseburger's
are dried-out, the French fries are not cooked properly ex. not brown---I give them to the seagulls they love them. The quality is gone!
As far as the service sometimes I don't even get a thank you(that's in drive thru) just push the food in my face---I'm totally disgusted with
the food and go elsewhere to have lunch.
I've been wanting to send a complaint for years, but figure it's not going to make a difference. Like who cares?
Have feedback for McDonalds?
Thanks for your feedback!
Sorry. Please try again later!